What are the coolest neighborhoods in Manhattan?  It depends on what you're looking for.  World-class museums, theater, music venues, trendy clubs, great food from every ethnicity on the planet, you name it, Manhattan's got it. But certain neighborhoods tend to specialize in specific attributes and are famous for them. Midtown has Times Square and the Great White Way of Broadway (BTW, it's called the Great White Way because it was the first part of New York City to have electricity).   The Upper East Side has its glorious museums. The trendy downtown Manhattan neighborhood of The Financial District has the memorable 9/11 Memorial and Museum.
But there is more to this city of immigrants than its unique and famous attractions. There are also a surprising amount of underrated attractions in Manhattan.
Winter, spring, summer or fall, there are always fun, interesting and unique things to do in Manhattan and these are the coolest neighborhoods to do it in.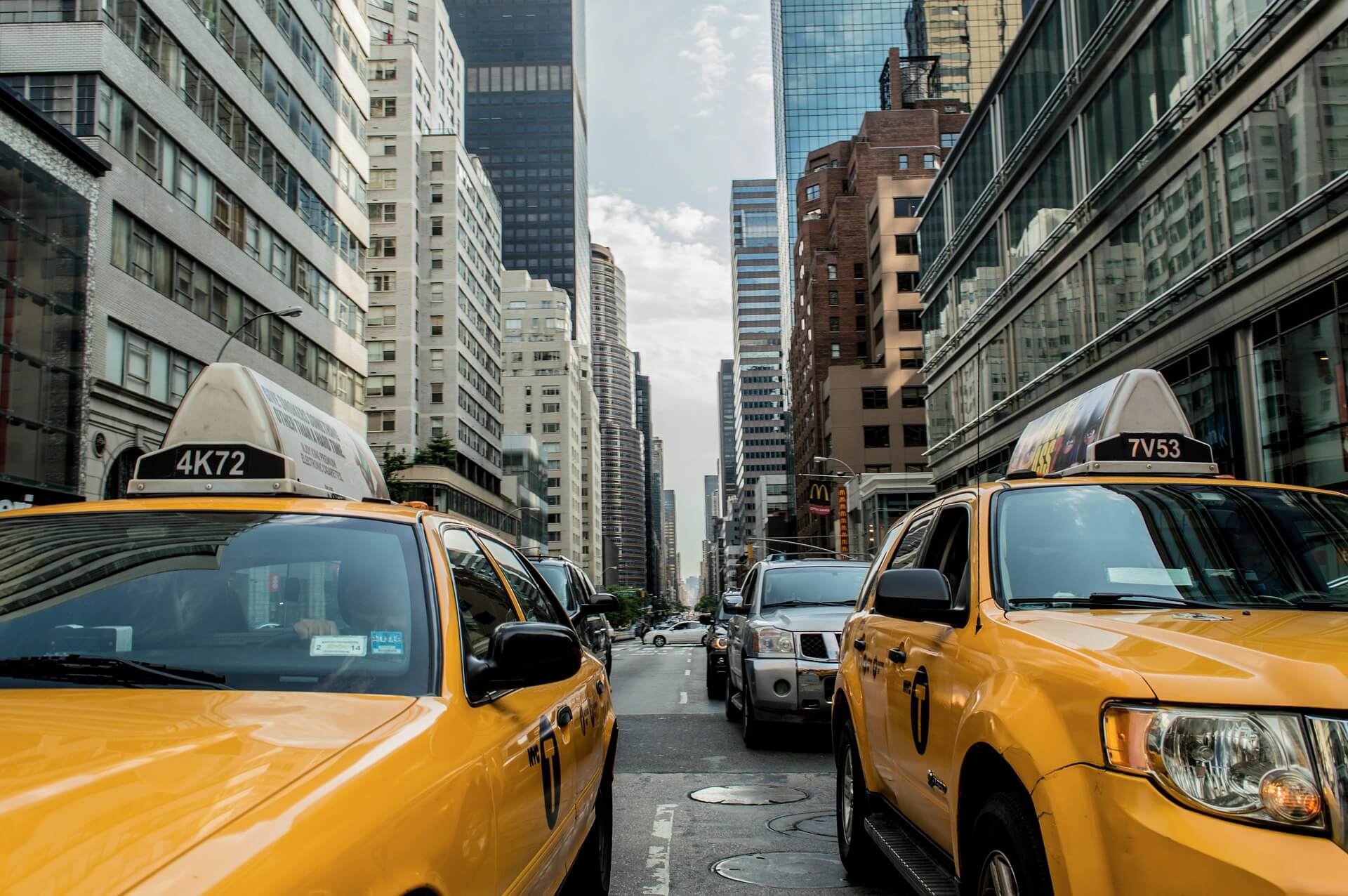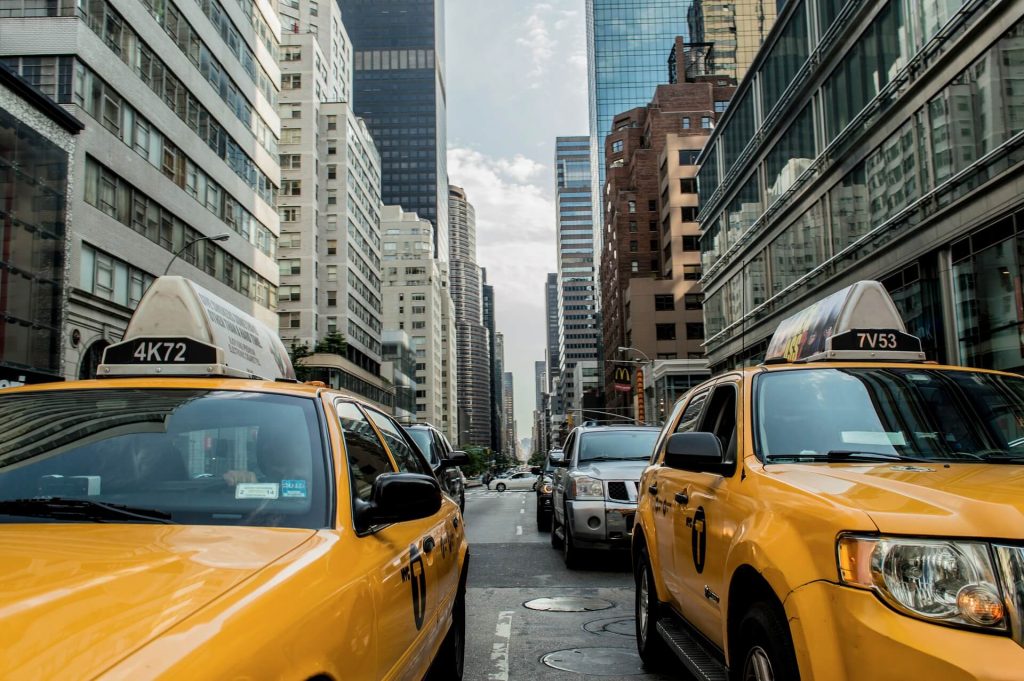 New York City neighborhoods have their own feel or vibe. Something as simple as finding a great, affordable restaurant in Manhattan – yes, they exist-  can make a neighborhood feel like your own special place. A place to return to time and time again.
"I go to Paris, I go to London, I go to Rome, and I always say, "There's no place like New York. It's the most exciting city in the world now. That's the way it is. That's it." ― Robert De Niro
Click To Tweet
We asked frequent visitors and residents to share their favorite Manhattan neighborhoods and what about them is so special. We hope that knowing a little more about the features of these coolest neighborhoods in NYC will make it easier for you to choose a destination next time you're in New York City.
*****
Harlem
Today's Harlem is one of the coolest neighborhoods in NYC.  It is one of the best places in town to take a New York City walking tour and learn about the history of this fascinating Manhattan neighborhood.
Harlem started life as a Lenape Indian settlement, from there it transitioned to Dutch farmlands, immigrant enclave, African-American cultural hotbed and now, trendy NYC neighborhood with vestiges of all its cultural past enriching its present.
What's your pleasure? Harlem's got it; museums, cuisine, music, and more.
My favorite restaurants in Harlem are Sylvia's for delicious down-home cooking; ribs, corn bread and desserts to die for.  Red Rooster is the brainchild of Swedish-Ethiopian celebrity chef, Marcus Samuelson. The cuisine is a daring, innovative, combination of flavors in a beautiful environment.  
The new Senegalese immigrants have added their own cultural influence to the local cuisine so come and try Senegalese food!
Jazz clubs in Harlem are legendary.  Ginny's Super Club is in the same location as Red Rooster and also serves dinner. The music is a wonderful selection of various artists playing Blues, Jazz, Latin and more.  The Sunday Gospel Brunch show at Ginny's is more than a show, it is an emotional experience. You end up saying "I love you" to total strangers from places as far away as Japan and Norway, and it feels so good!   There are so many great jazz clubs in Harlem.  Make a plan to try them all.
"There is no place like it, no place with an atom of its glory, pride, and exultancy. It lays its hand upon a man's bowels; he grows drunk with ecstasy; he grows young and full of glory, he feels that he can never die." ― Walt Whitman
Click To Tweet
The best experience you can have in Harlem – besides a Gospel Brunch show, is to attend Amateur Night at the historic Apollo Theater.  Many legends have passed through the Apollo's door including James Brown, Michael Jackson, Billie Holiday, Ella Fitzgerald to mention just a few. On Wednesdays wannabe greats perform and the audience votes for their favorites.  At the end everyone gets on stage and dances. A must do in this legendary, trendy Manhattan neighborhood!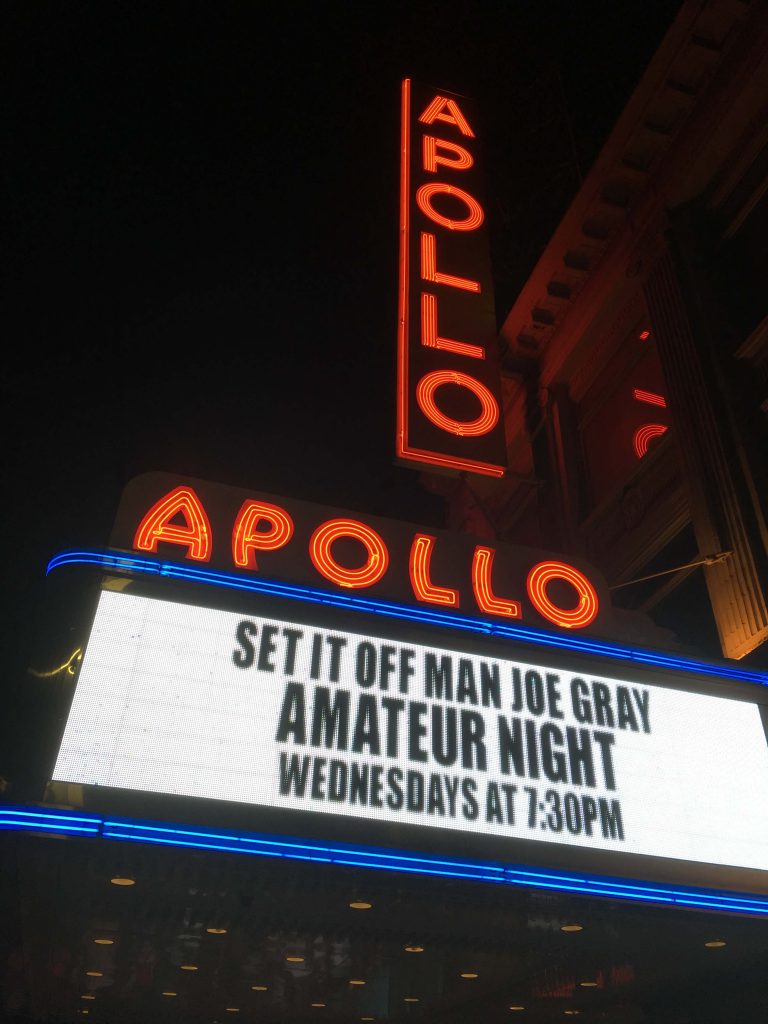 Talek blogs at travelswithtalek.com
*****
Soho
Soho is my favorite neighborhood in Manhattan for many reasons. The first one is that I live here, but apart from that, there are many cool things to see and do in Soho. It is full of designer stores and tourists so it can get very crowded, especially on weekends, but early in the morning, wandering the streets almost alone, is magical. Many of the streets are still cobblestoned, one of the few remaining areas in NYC where this is true.
Soho is also famous for being the Cast Iron District with beautiful buildings made of cast iron so that columns are narrow and elegant and windows large. Soho has great food and drink too. New York is home to many famous food crazes, and you can't miss having a cronut (a cross between a croissant and a donut) at the bakery that created them – Dominique Ansel Bakery on Spring Street. For pizza, visit Fanelli's café on Prince Street, one of the original and best pizza restaurants in New York City.
"The true New Yorker secretly believes that people living anywhere else have to be, in some sense, kidding." ― John Updike
Click To Tweet
For something more upmarket, make a reservation at The Dutch where great food, old world charm and enormous windows make the perfect night out. And for something off-beat, escape from the craziness of shopping and more mainstream art galleries to the Earth Room on Wooster Street. It's an art exhibition consisting of rooms full of earth. Yes, you read right! Soho truly has something for everyone.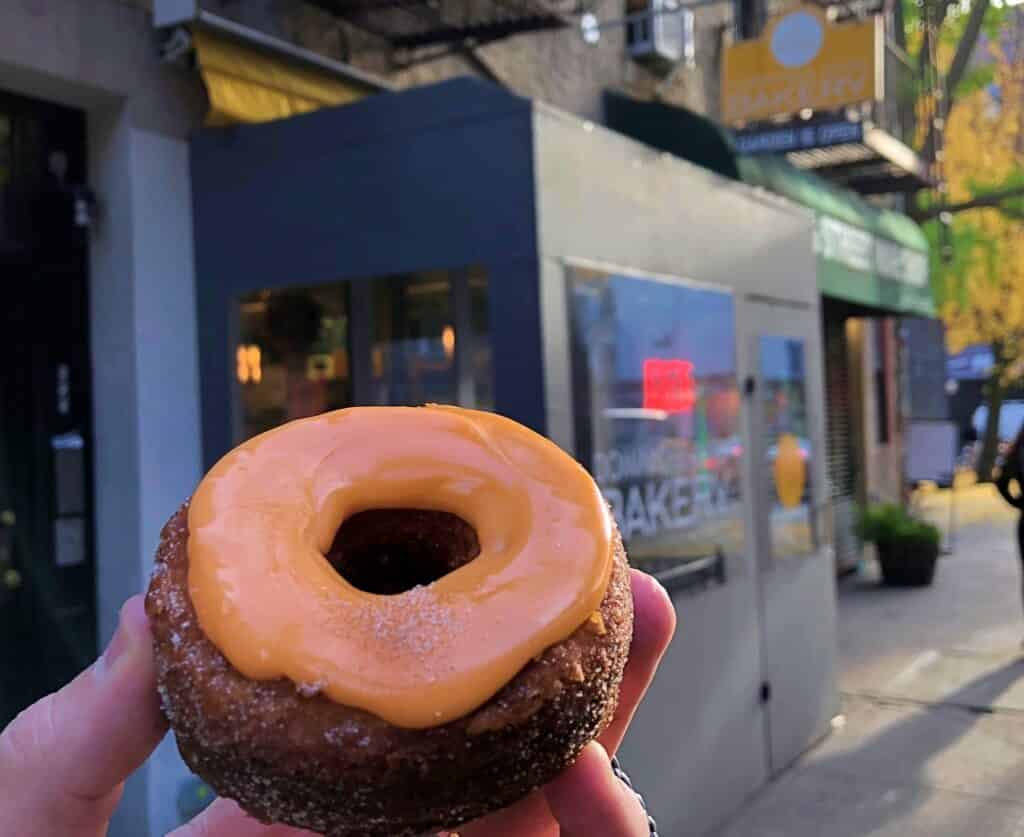 James blogs at travelcollecting.com
*****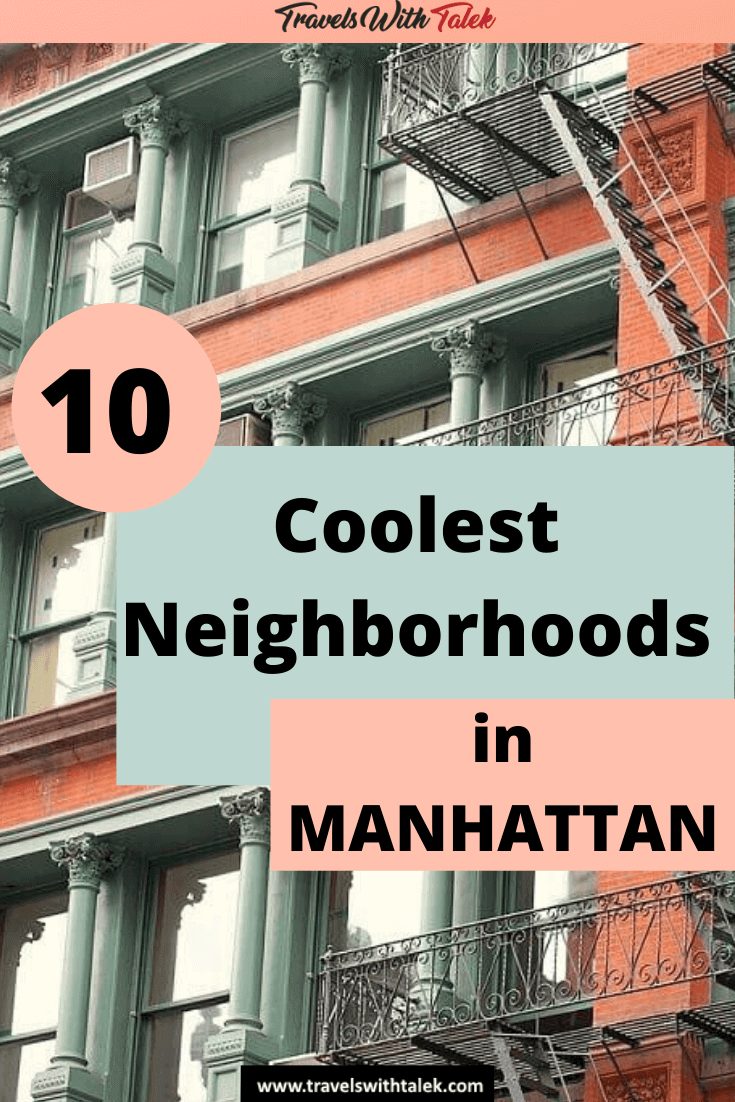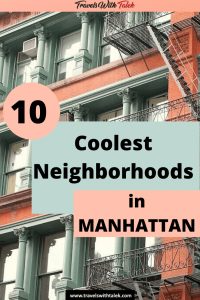 Greenwich Village
Greenwich Village has been one of the coolest neighborhoods in Manhattan since the 19th century.
Back then, artists in New York City used to congregate in Greenwich Village's Tenth Street Studio Building. The Tenth Street Studio Building no longer exists, but artists and bohemians have never left Greenwich Village. In the middle of the 20th century, creative geniuses like James Baldwin, Bob Dylan, Lenny Bruce, and Jack Kerouac used the bohemian vibe of the Village as inspiration for their work.
Nowadays, Greenwich Village is more expensive than it was in the 50s and 60s, but it's still extremely cool. When activists want to lead political rallies in NYC, Washington Square Park is the first place they look, and they might look for inspiration at Unoppressive Non-Imperialist Bargain Books afterwards.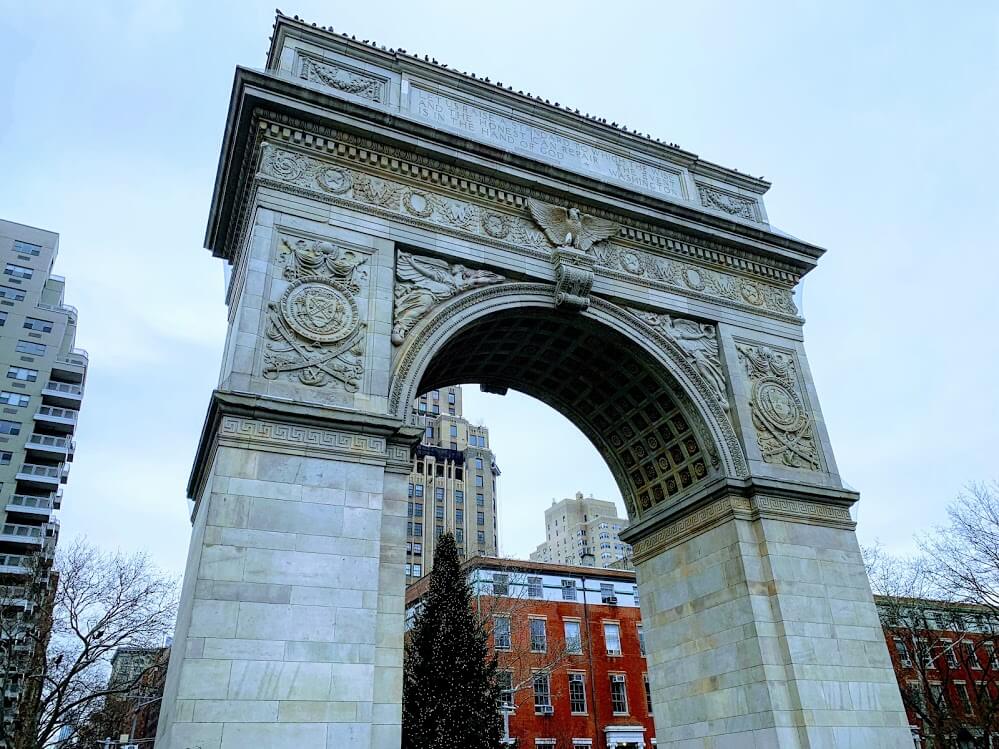 Stella Jane blogs at aroundtheworldin24hours.com
Chelsea
Whenever I'm in Manhattan I go to my favorite neighborhood: Chelsea. It's on the west side of the island, approximately between 34th and 14th Streets. Its vibe is cosmopolitan and classy while still retaining a "hip" factor.
The famous Chelsea market is there with vendors selling anything from seafood and crepes to loaves of bread and pasta dishes. If you're not hungry but passing through there's plenty of artisan shops, a flower store and a magazine stand. (There's often pop up sample sales of high end fashion designers too!)
The High Line is in this neighborhood and is accessible from right next to Chelsea Market as well but it has several street-level access points along the way.
The Vessel, a popular NYC tourist attraction that looks like a copper vase with stairs seemingly reaching the sky, is in Chelsea in "Hudson Yards". (Though Hudson Yards has become a Manhattan neighborhood all its own, the southern part where this attraction is does, in fact, reach into Chelsea.)
"It isn't like the rest of the country – it is like a nation itself – more tolerant than the rest in a curious way. All the viciousness that makes other cities vicious is sucked up and absorbed in New York." ― John Steinbeck
Click To Tweet
Take the subway to the neighborhood for fast and affordable, virtually traffic-free transportation. The blue line subway with the A/C/E trains stop there as well as the red line with the 1/2/3 trains.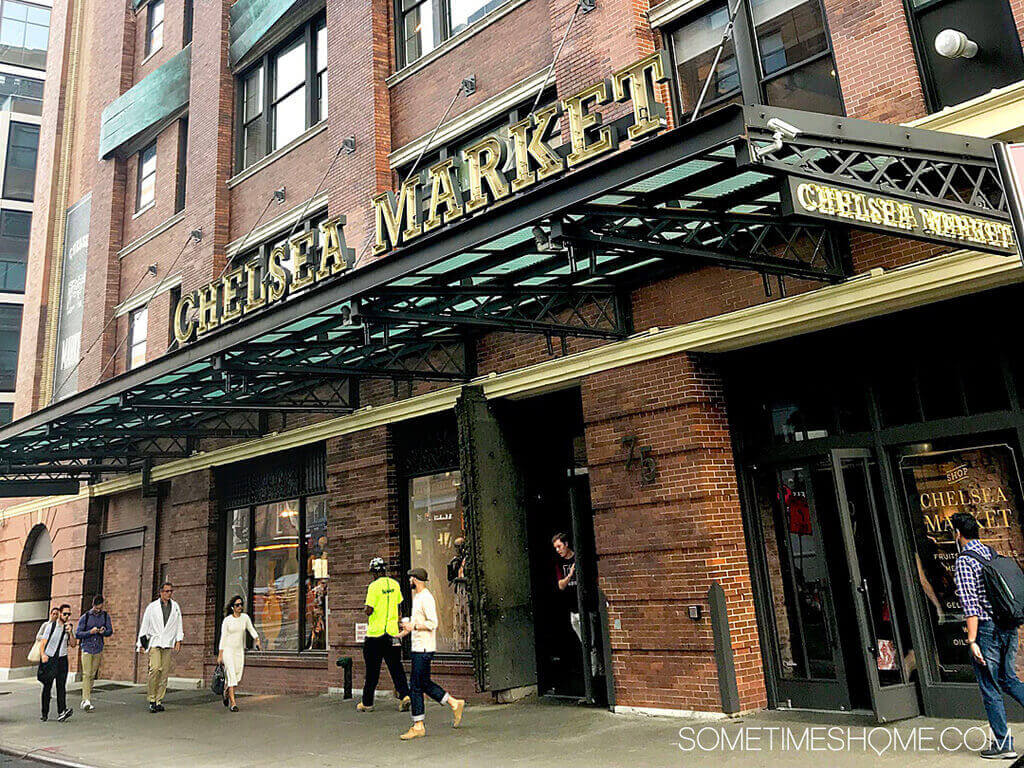 Mikkel blogs at sometimeshome.com
*****
The Meatpacking District
In the early 1900s the area was heavily involved in meatpacking and related activities which began to decline towards the 1960s when the distribution system began to change.
The Meatpacking District neighborhood in Manhattan took a different turn in the early 1990s when hip-boutiques like Diane von Fürstenberg, Alexander McQueen and Christian Louboutin appeared in the area.
Restaurants like Pastis which closed in 2014 and returned at a new location a few years later, attracted the fashionable crowds to the area and were famous for people watching and celebrity spotting.
Meatpacking District was also mentioned in Sex and the City, where four friends would spend their evenings in one of the hot night-clubs in the area. Some of the highlights of Meatpacking District are the Whitney Museum of American Art as well as a stretch of the High Line, which is an elevated park built atop former railroad track.
"I look out the window and I see the lights and the skyline and the people on the street rushing around looking for action, love, and the world's greatest chocolate chip cookie, and my heart does a little dance." ― Nora Ephron
Click To Tweet
The district is also known for its trendy restaurants and high-end boutiques.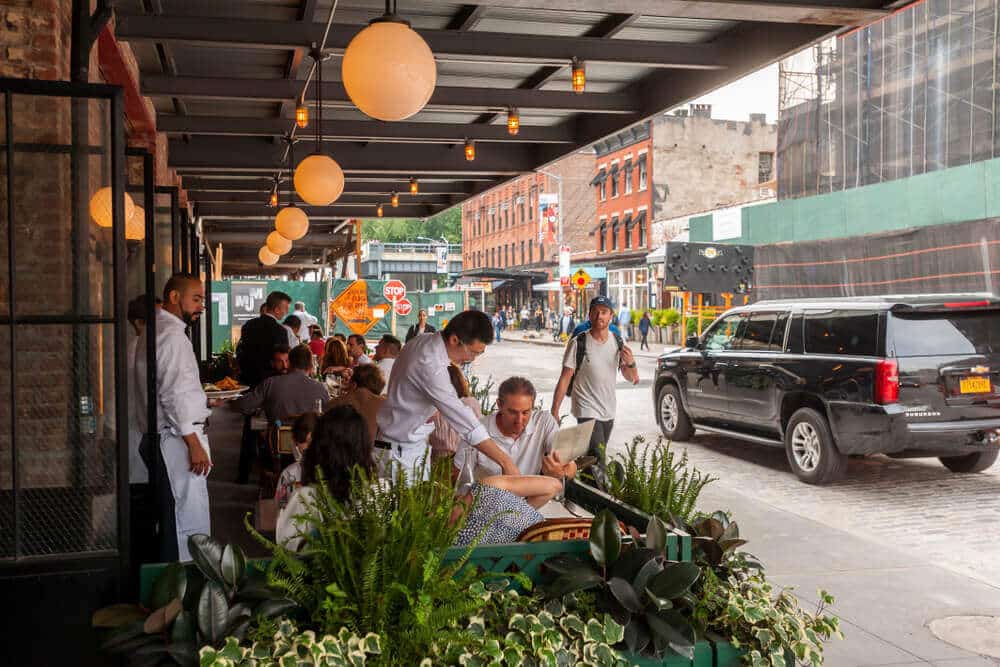 Elena blogs at passionfordubai.com
*****
Museum Mile
One of the best neighborhoods in Manhattan is a mile-long stretch along the east side of Central Park known as Museum Mile. This area is, you guessed it, made up of some of the best museums in New York and possibly the country. Along with the Museum of the City of New York, the Solomon R. Guggenheim Museum, and many others, the world-renowned Metropolitan Museum of Art, with over 2 million works of art, is a must-visit.
"If you want to become a real New Yorker, there's only one rule: You have to believe New York is, has been, and always will be the greatest city on earth. The center of the universe." ― Ellen R. Shapiro
Click To Tweet
Whether you're visiting New York City for an extended stay or only a day, Museum Mile is a great place to check off some bucket list items. Plus its proximity to Central Park allows for even more exploring when you get tired of the exhibits and collections. And if you visit during early June, don't miss out on the annual Museum Mile Festival, with free admission to 9 museums, musical performances and art-making workshops along the mile. For art and museum lovers, Museum Mile is a can't-miss neighborhood while visiting New York City. It is truly one of the great neighborhoods in Manhattan.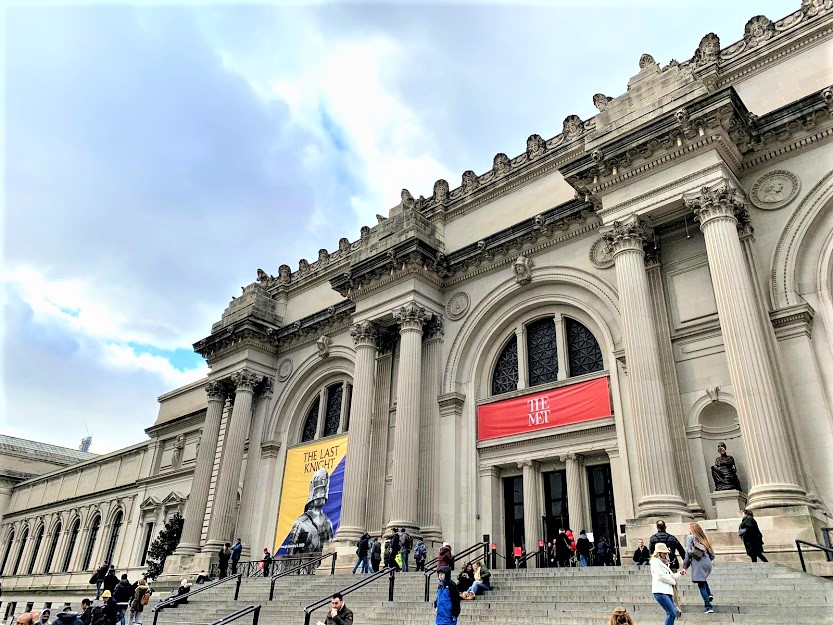 Jordan blogs at the sololife.com
Chinatown
Chinatown is a Lower Manhattan neighborhood bordered by Lower East Side, Little Italy, Tribeca, and the Civic Center. Home to one of the biggest populations of Chinese in the Western Hemisphere, visitors will feel like they have traveled to China when visiting Chinatown.
Once you have entered the Chinatown neighborhood, you will know. Chinese street signs hanging off the side of the buildings, street vendors on the street selling fruits and vegetables, and roasted pork and ducks hanging on the windows of restaurants, there is no doubt where you are when you enter Chinatown.
"As for New York City, it is a place apart. There is not its match in any other country in the world." ― Pearl S. Buck
Click To Tweet
If you have a chance, visit one of the dim sum restaurants and try out chicken feet or pig intestines, it is something unusual to do in New York City. You might forget the taste but you will never forget the memory. The only downside is that Chinatown really lacks nightlife, as there are only a few bars/clubs in the area. However, its neighboring district, Lower East Side, is one of the best and most affordable places for nightlife in New York City!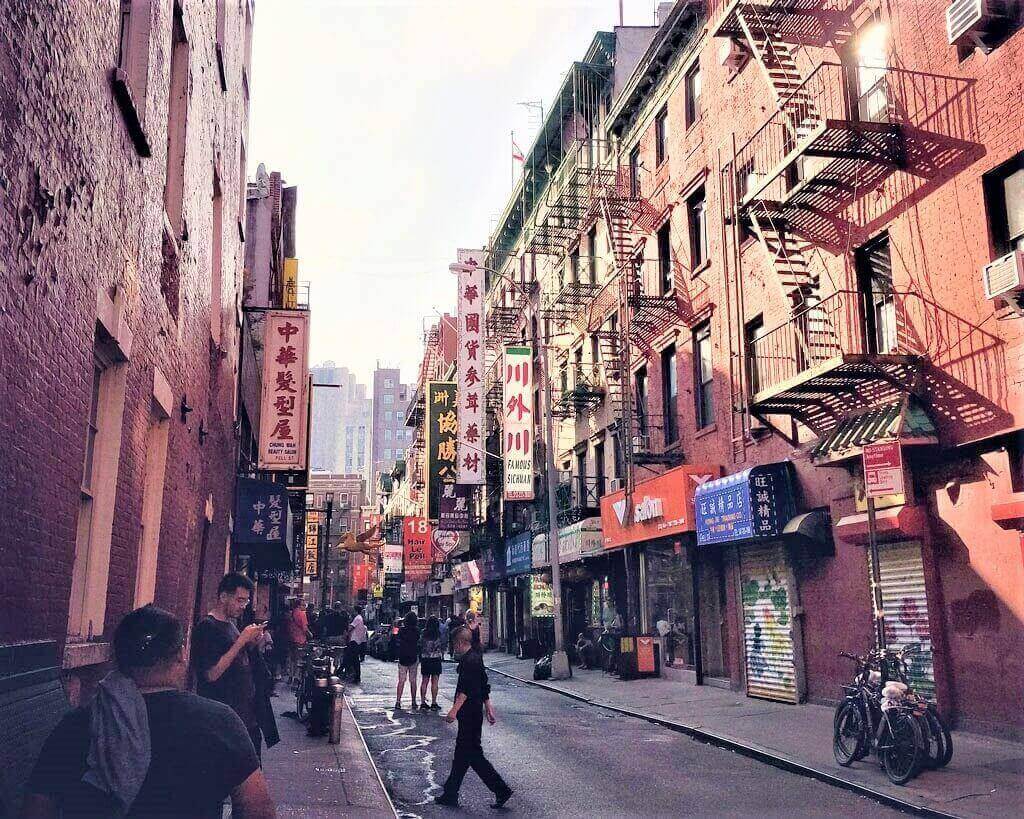 Sean blogs at Livingoutlau.com
*****
Little Italy
Ah, Little Italy. One of the coolest neighborhoods in Manhattan. Just the name signals romance. But aside from the charming lights that criss-cross the street, it looks a little rough around the edges.
A hundred years ago it stretched across much of lower Manhattan. Now it has shrunk to just a few blocks. I visited many times during the period a few years back when my daughter lived there above a cannoli shop. She had a teeny, tiny apartment in a walk-up, and though I adored stepping out into the bustle of Mulberry Street each day, she complained about the tourists sitting on her stoop.
It is a popular, touristy spot, and for good reason. The restaurants are a big draw, but they have a general reputation for being not so good. However, on Mulberry, which is the heart of the area, Da Nico Ristorante at #164 and La Mela Ristorante at #167 (it's described as "like walking into a Mafia movie") are both highly rated.
At the end of the street is Canal Street, famous for its selection of souvenirs and bargains on counterfeit goods. And just across that street is atmospheric Chinatown. A don't miss is the annual Feast of San Gennaro held for two weeks each September.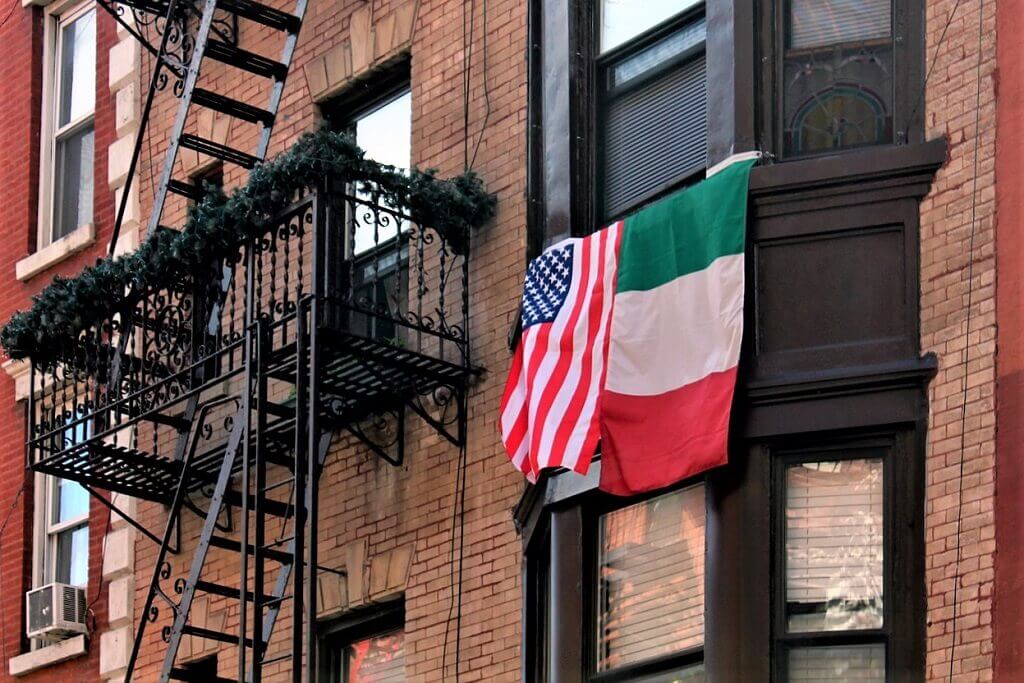 Carole blogs at travelswithcarole.com
*****
The East Village
The birthplace of funk was known to be in the East Village in lower Manhattan. Historically this multicultural neighborhood was home to many musicians and arts. Today it still has a large arts scene with many theaters. It's one of the most laid-back neighborhoods in Manhattan with a vibrant nightlife that draws a hip, bohemian crowd. You can find everything from dive bars to vintage clothing shops here.  This is one of the best neighborhoods in Manhattan for the arts.
To get a sense of the history of the neighborhood visit one of the old-school bars or clubs. Barcade combines the arcade games of your childhood with the drinking culture of today. Make sure to visit Spot Dessert Bar across the street from Barcade for some unique desserts that mix American & Asian flavors. Big Gay Ice Cream shop is another fantastic place to go if you have a sweet tooth.
While there are a lot of Asian restaurants and ramen places in the East Village, you can eat at a wide variety of places. Hole in the walls like Taqueria St. Mark's Place to trendy Asian fusion restaurants like Momofuku Ssam Bar can be found throughout the neighborhood.
Within the East Village you can also see the different communities grouped together. For example, Little Ukraine is a great area of the neighborhood to try some Ukrainian food and learn about the culture of Ukraine at the Ukrainian museum.

Elizabeth blogs at the fearlessforeigner.com
Lower East Side
The Lower East Side is a must-visit Manhattan neighborhood for anyone looking for the taste of old New York City. From art galleries and museums to some of the best rooftop bars in NYC, there is truly something for everyone.
However one of the best parts of the Lower East Side is the history. Visit the Tenement Museum to learn about the history and experiences of the immigrants that called the Lower East Side home upon first arriving in America.
After getting your fill of American history head over to Katz for the world's best pastrami sandwich. It is a NYC institution and a must-visit.
Finally, don't forget to satisfy your sweet tooth at the Donut Plant where you can have your pick or some of the best donuts around.
Aside from the food, culture, and history in the Lower East Side, one of the best-kept secrets is the waterfront views. Skip Dumbo for the less populated Pier 35. This small park is the perfect place to have a picnic or just take in the views of Dumbo, and the Brooklyn and Manhattan Bridges.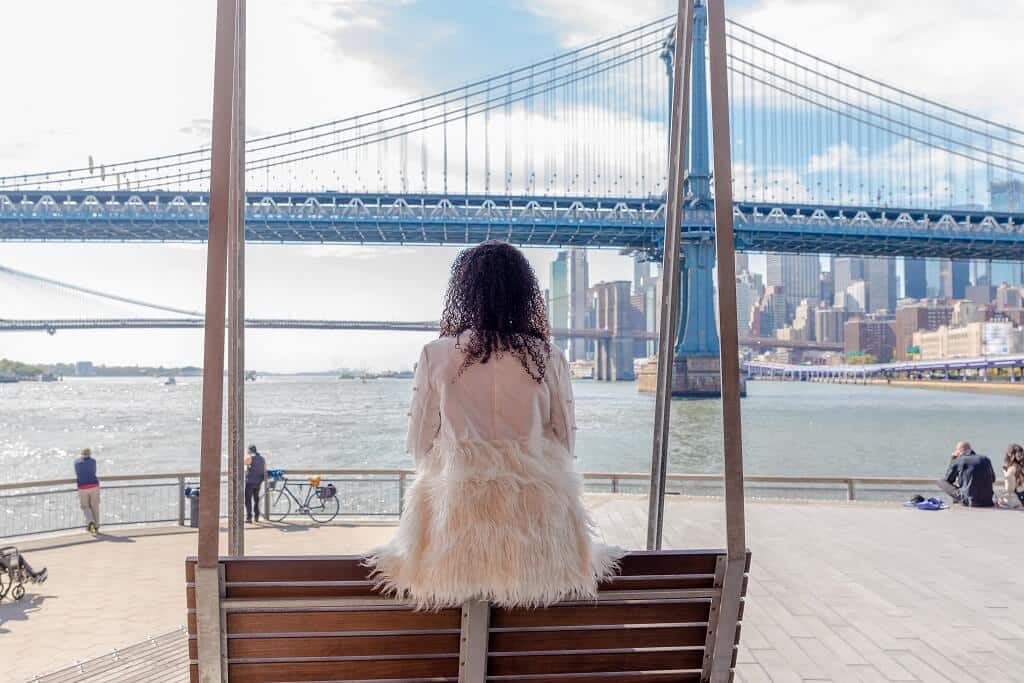 Taima blogs at poorinaprivateplane.com
DUMBO
Although not in Manhattan, DUMBO is just 10 minutes away and such a cool neighborhood that I wanted to include it.
The DUMBO area of Brooklyn is hipster heaven with industrial-style warehouses-turned-markets, urban art galleries and start-ups galore so it's no wonder it's one of the coolest spots in New York. Standing for "Down Under Manhattan Bridge Overpass", DUMBO is an area next to the river on the Brooklyn side which has spectacular views of the Manhattan skyline as well as having a wonderful character of its own.
DUMBO is the first neighbourhood you reach when you walk over Manhattan and Brooklyn bridges and it can also be easily accessed by ferry from the likes of Williamsburg and Wall Street.
While the area originally burgeoned thanks to the quirky artists who chose this as their favourite New York location in the 1970s, it has now become an Instagram dream with the cobblestone streets, industrial units and towering bridges making the ideal backdrop for that like-worthy Insta shot.
When you're not snapping the ultra-photogenic locations, indulge in some of the cool activities DUMBO has to offer. Wander through Brooklyn Bridge Park, watch locals playing basketball on the riverside courts, take a ride on a vintage carousel, visit the Time Out Food Market or check out one of the area's bars, galleries or boutiques.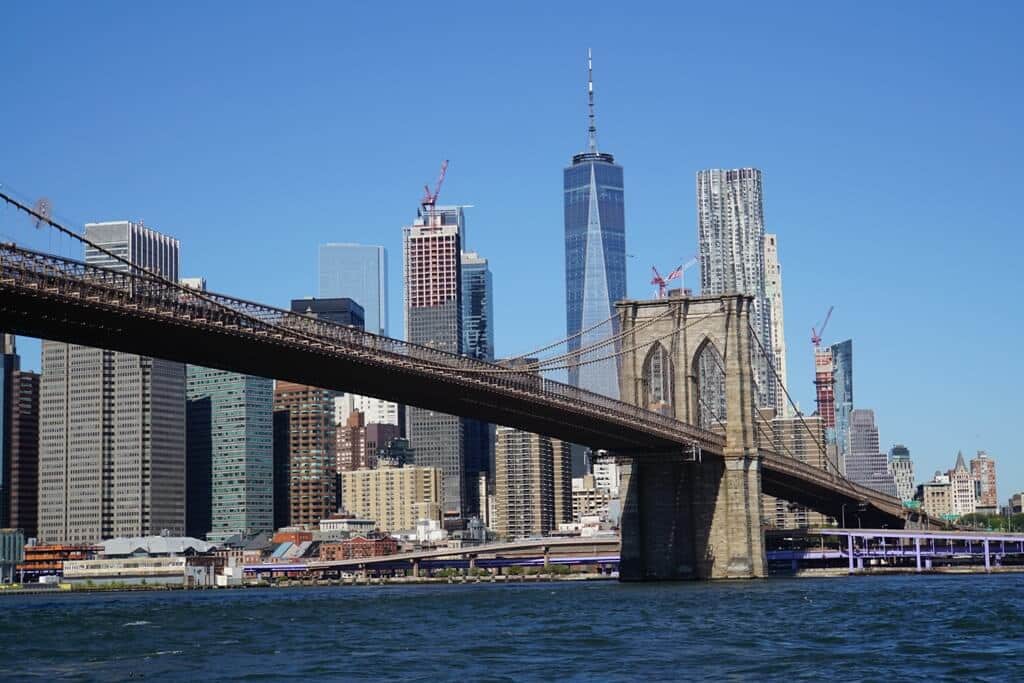 Chrissy blogs at Travelpassionate.com
There are lots of other exciting neighborhoods in Manhattan; the Upper West and East Sides, Hell's Kitchen, El Barrio. All of them are cool in their own way. Make a point to see them all with this useful Manhattan neighborhood map.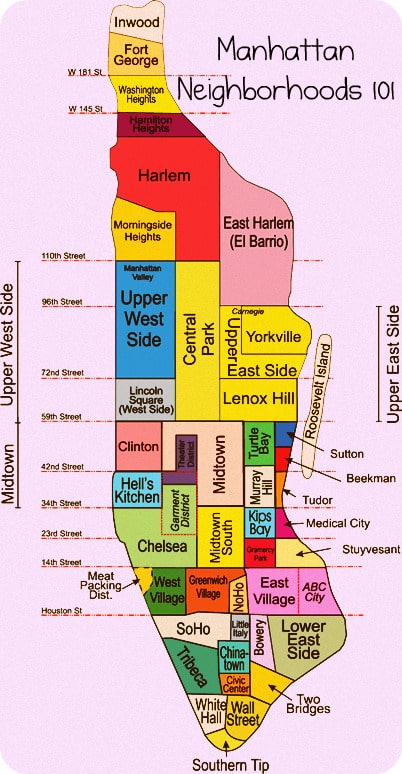 Learn more about where to go and what to do in the coolest Manhattan neighborhoods in these useful and entertaining books.
Which do YOU think are the coolest Manhattan districts?  Which ones did we miss?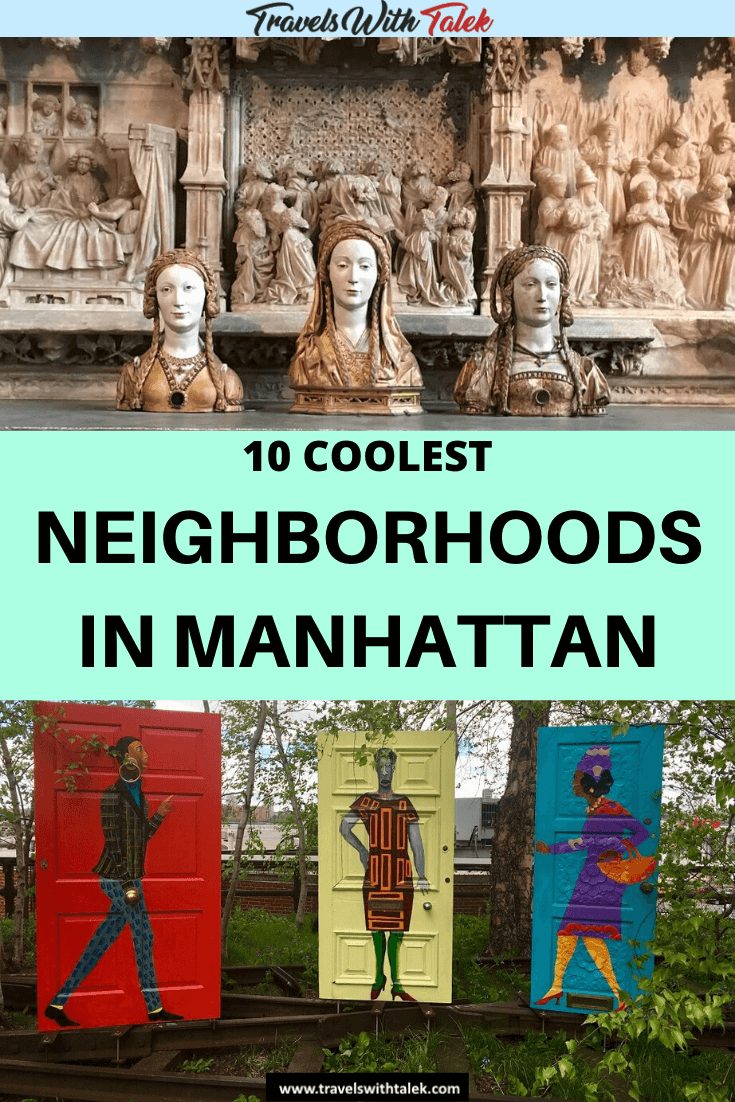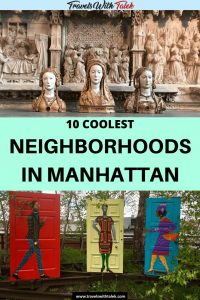 Where to stay in Manhattan
Manhattan has accommodations in every price range. If you are staying way down town close to Little Italy, Chinatown, Greenwich Village, the East Village and even Chelsea and the Meat Packing District, although those two are further north, The Walker Hotel is a good option. It is economical, close to everything, within walking distance to transportation and a nice place.
In Harlem, on the north of Manhattan there are a few hostels and a reasonably price, very pleasant hotel, Aloft – Harlem.
The Upper East Side of Manhattan around Museum Mile can be pricey. If you want to be near all the Museums on Museum Mile like The Met, Guggenheim, The Frick, Neue Galerie, Museum of the City of New York and many more, veco The Franklin New York is a good bet at a good price. If you want to spurge and be pampered, try The Mark New York.
---
Still can't get enough of New York City? You might like these posts designed to help you maximize your time in the Big Apple.
26 authentic ethnic restaurants in New York City: From A to Z.
18 famous places to eat in New York City without going broke.
11 most underrated places to visit in New York City.
Why Times Square is the crossroads of the world.
Coolest things to do in Harlem.
Beautiful places to visit in Central Park, NYC – with map!
What to do and where to go after a Broadway show.
What to do in NYC for the winter holidays.
Where to stay in New York City based on what you want to see and do.
BTW, if you are getting ready for your trip, make sure to take advantage of these useful, money-saving links to book your trip:
I personally use, and can recommend, all the companies listed here and elsewhere on my blog. By booking through these sites, the small commission we earn – at no cost to you – helps us maintain this site so we can continue to offer our readers valuable travel tips and advice.