Updated October, 2020
Is Times Square a tourist trap? Should you avoid it? Here are some Times Square facts so you can decide for yourself.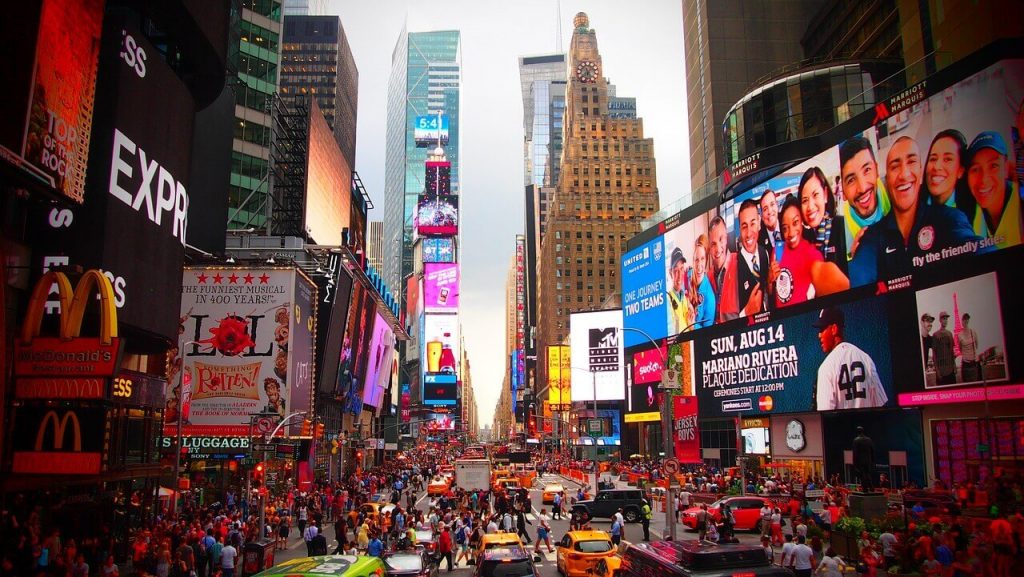 Apparently visiting this junction of Broadway and 7th Avenue between 42nd and 47th streets is now considered tacky? It's now too touristy, and not something that sophisticated and cool New Yorkers do? Where are people coming up with this nonsense?!
The crossroads of the world is how many New Yorkers refer to Times Square.
News flash! We all go there. Not only do we go there, we LOVE it! We love the energy. We love basking in the legendary neon lights of Broadway. We love looking at the costumed characters and marveling at their increasingly audacious outfits. We love the electricity, the edginess, the sheer massiveness of it all. We love the in-your-face dynamism in summer, winter, spring, and fall. And it's probably the coolest place in the city to get all your NYC souvenirs. 
Yeah, sometimes it's tacky but it's still the crossroads of the world and we love being a part of it. In a city like New York that defines excitement, Times Square is at the center of it.
7 Times Square Facts (You May or May Not Know)
Fact #1: It has a fascinating history.
So how did Times Square get its name? Did you know it hasn't always been called Times Square? It once went by the name Longacre Square. It took the name Times Square from the New York Times headquarters, which in 1904 moved to One Times Square.
While One Times Square is pretty much empty, it is the home for a giant wall of over 50 billboards that generates over $20 million in income each year. It's also the home to the famous New Year's Eve ball that millions of people watch drop to ring in the New Year. In fact, it was on December 31, 1907 when the first ball started its descent together with the countdown to the New Year.
To be there in the middle of it all, to participate in the countdown, to feel the anticipation and excitement is a feeling everyone should have at least once in a lifetime.

Fact # 2: It's not a square, home to the largest LED display in the world.
Here's one of the many fun facts about Times Square. It's not actually square! It's made up of two triangles, where Broadway cuts through the grid.  You can see how it's two triangles in the picture above.
You can also see the largest LED display in the world, a 37-foot high sign owned by the NASDAQ.
Fact #3: It has the best entertainment.
Another fun Times Square fact and reason why Times Square is the crossroads of the world is that it has almost unlimited entertainment possibilities. There are hundreds of Broadway plays and musicals in the area, from big-name blockbusters with stratospheric price tags like "Hamilton" to cherished revivals like "To Kill a Mockingbird."
But the best performances may be the humble off-off Broadway gems you happily luck into one night while considering entertainment options, or the long-running play you've already seen but want to see again…and again.
Check out Times Square's Red Steps TKTS booths for highly discounted tickets for the same day's performances. There is always a good selection to choose from.
If TV is more your thing, you can tour NBC studios, which lets you go behind the scenes of popular shows such as The Today Show and MSNBC. You can also try to snag tickets to a recording of Saturday Night Live.
It's also home to some rather colorful characters, such as the Naked Cowboy. Don't be surprised to find some superheroes walking around, too.
Fact #4: It has the best music.
Want music? Times Square has that, too, big time. A wide range of musical talent regularly performs live at the Broadway Plaza come rain or shine. Some of the best jazz clubs call Times Square home. 
Over the past 20 years, the recently renovated Iridium has built a reputation as a destination for some of the best rock, blues, and jazz in the city. You don't go to the Iridium to listen to music, you go to experience it.
And then there's Birdland. Named after jazz legend, Charlie "Bird" Parker, this place has been around since 1949. Birdland has hosted the greatest of the jazz greats including Ella Fitzgerald, John Coltrane, Count Basie, Dizzy Gillespie, Thelonious Monk, and many, many others.
It is the very definition of the classic jazz club; great acoustics, comfortable, roomy interior – everybody gets a good seat to see the band – small but tasty menu, serious drinks, great performances and all for an admission of $25 to $50 depending on the artist and a $10 cover. This is jazz heaven. The rumor is that a large percentage of the patrons are regulars, some frequenting as often as once a week.
Fact #5: It has the best international cuisine.
You want to talk food? It's a well-known fact about Times Square that it has some of the best food, anywhere.
Head down the side streets of Times Square for some of the best food in the city. Some will tell you the food in Times Square is a tourist rip-off. Sure, there's some of that, but anyone over the age of 12 should be able to recognize a tourist rip off restaurant when they see it and know to steer clear of it.
There are some fine restaurants in the area with names that are probably familiar to you like Sardis with their great steaks and perfect martinis, Victor's Café with their tasty Cuban fare and Latin music, and Carmine's for classic Italian. The culinary variety in Times Square reflects the ethnicities of the people that inhabit it; Chinese, French, Vietnamese, Argentine, Japanese, Mexican. You name it, it's there, waiting for you to explore.
Can't make up our mind? Stroll down Restaurant Row on 46th Street between 8th and 9th Avenues to become even more overwhelmed with the myriad of culinary options there; Brazilian, Thai, Greek or Spanish. And while you're there stop by Swing 46 for a drink and swing lessons you can practice all night to the sounds of the Big Band.
Take your photo at the red stairs TKTS platform, one of New York City's best Instagram spots.
Fact #6: It has the best hotels.
Another one of the many facts about Times Square is that there is no shortage of places to stay the night. There are six huge hotels you can stay in, and others aren't that far away. As you might guess, they aren't cheap. If you can swing the hefty price tag for one or two nights, it's totally worth it. There's the Marriott Marquis Hotel, famous for its 45-story lobby. If hip, modern decor is your thing, try W Times Square for its amazing views.
If you're looking for something a little different, you can try Yotel New York. It has an ultra-modern atmosphere with high-tech guestroom features such as a Techno Wall containing a flat-screen television, charging ports for portable electronics, and a motorized bed. There's even a robot that handles your luggage, storing it for you before or after check-in. While it's not right on Times Square, it's a short walk at only two blocks away.
Then there are the standbys, Sheraton New York, Doubletree Guest Suites, and Crowne Plaza Times Square, each having their own classic charm and appeal.
Fact #7: It's still popular, even if it is considered "too touristy."
And maybe the most important of all the Times Square facts…to whoever is telling tourists to avoid Times Square like the plague, NOBODY'S LISTENING! I recently checked out Trip Advisor's comments from tourists who visited Times Square. Here is a random sampling of their reviews from all over the world:
Always a must do when you visit NYC. The lights, the shops, the smells of delicious food, the people! Put on your walking shoes.
I love Times Square. Great places to walk around, easy access to uptown and downtown via subway.
You may love it or hate it and you will certainly be surrounded by lots of other tourists, but Times Square is a must see and a spot in NYC that can't leave you indifferent. I personally always enjoyed going through it.
Times Square is a must see for anyone that will travel to New York! The night lights are over the top! You can shop to 2 am or 3 am in the morning! You are blocks away from Broadway.
L.A., it's nice, but I think of sunshine and people on rollerblades eating sushi. New York, I think of nighttime, I think of Times Square and Broadway and nightlife and the city that never sleeps. Jimmy Fallon Read more at:…
Click To Tweet
A massive commercial junction where all things 21st century seem to collide. Love the red stairs provided for serious people watching!

Times Square is such an iconic place it's hard to not be wowed. The lights and nonstop action are awesome.

Such a surreal experience just standing in Times Square and watching the world go by. I was in New York whilst it was snowing and that just made it more special! From the billboards to the people on the street entertaining, the place just bursts with character and life!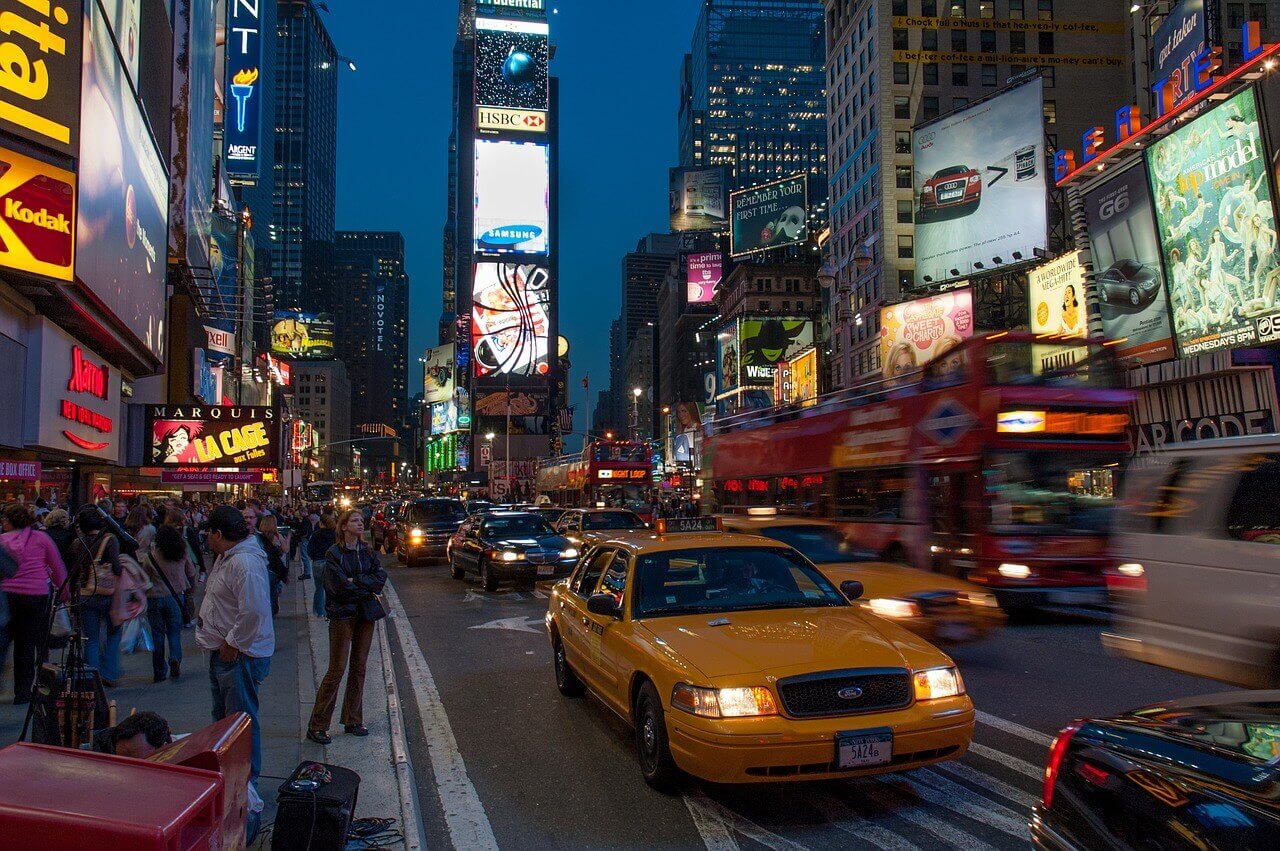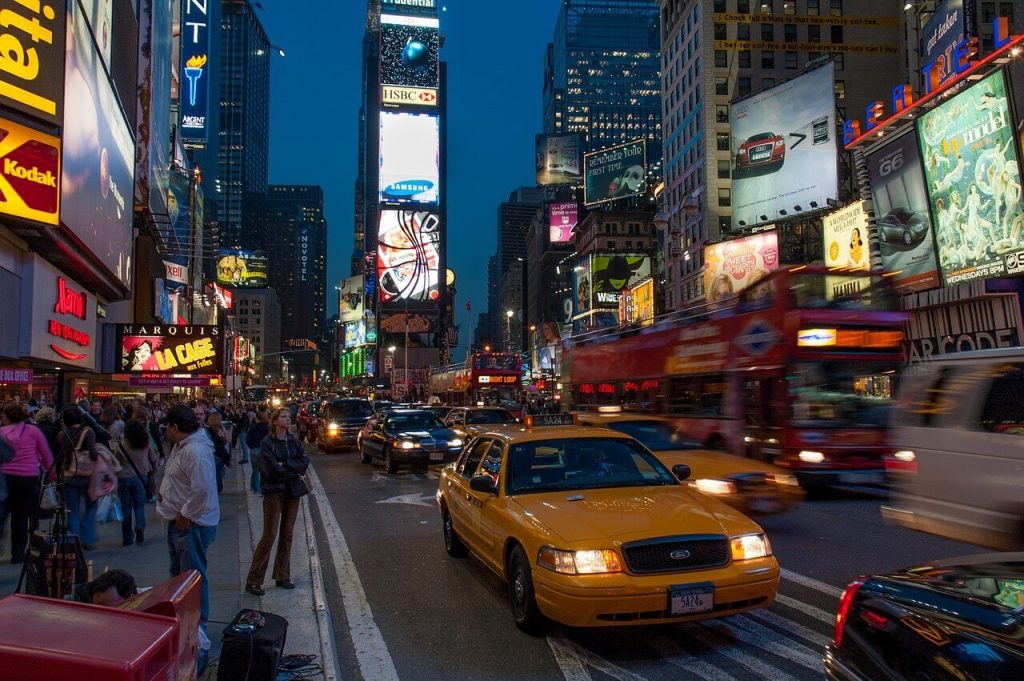 These are people who embrace, rather than fear, the occasional jolts of energy that life gives you. They are not likely to avoid Times Square like the plague. They're going to see and experience for themselves what all the hype is about. And they are going to love it.
Even people who've never been to Times Square think it's cool. Did I mention that every year for 10 seconds on a freezing December night, the world counts down the new year with us in Times Square? You can get some of the best New York City Instagrammable moments in Times Square.
There's nothing like the feeling of being in Times Square for New Year's Eve. It's such a great rush. You feel like the whole world is there. People from all over the world coming to celebrate together. Kimberly Guilfoyle Read more…
Click To Tweet
So, let's knock it off, guys. Stop misleading tourists and stop pretending you're too cool for Times Square. Your secret is out. You love it, everybody knows it, and that's cool enough.
Do you have other cool Times Square facts? Do you still want to visit it after reading all of these Times Square facts? I sure hope so.
Travel to the city with a good NYC guidebook. Save money on tours to the best attractions in the city.
I you can't get enough of New York City, check out these posts designed to help you discover the best things in New York City. 
21 Unique things to do in NYC you just can't do anywhere else.
26 authentic ethnic restaurants in New York City: From A to Z.
10 Coolest neighborhoods in Manhattan.
18 famous places to eat in New York City without going broke.
11 most underrated places to visit in New York City.
Coolest things to do in Harlem.
Beautiful places to visit in Central Park, NYC – with map!
What to do and where to go after a Broadway show.
What to do in NYC for the winter holidays.
Where to stay in New York City based on what you want to see and do.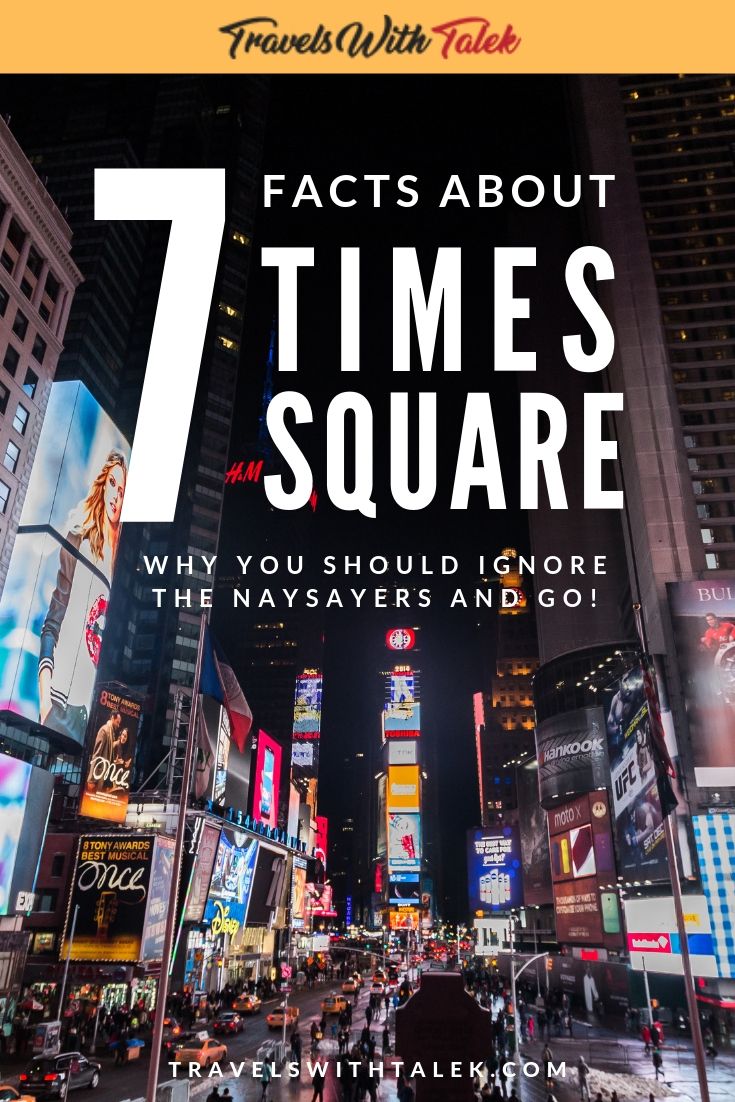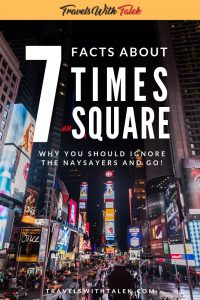 BTW, if you are getting ready for your trip, make sure to take advantage of these useful, money-saving links to book your trip:
I personally use, and can recommend, all the companies listed here and elsewhere on my blog. By booking through these sites, the small commission we earn – at no cost to you – helps us maintain this site so we can continue to offer our readers valuable travel tips and advice.