Finding famous places to eat in NYC that won't break the bank shouldn't be the impossible dream.  Yes, the $140 hamburger is not unheard of. Neither is the $275 pasta dish (all right, it has WHITE truffles).  But there are plenty of places to eat where you can get a great meal – from gourmet to vegan to every ethnic cuisine on earth – at a decent price. Here are a few selected by both natives (I'm one of these rare creatures) and visitors who love exploring the streets of this great city.
Affordable and Famous Places to Eat in NYC 
Katz's Deli
One of my favorite places to eat in NYC is Katz's Deli. This place has been feeding hungry New Yorkers on the Lower East Side of Manhattan since 1888.  Katz's Deli is famous first, for outstanding pastrami creations, the quintessential New York City sandwich. Second, it's famous for being the place where in the movie "When Harry Met Sally,"  Sally mimes an orgasm and the woman at the next table tells the waiter, "I'll have what she's having." BTW, did you know that woman, Estelle Reiner, was the director's mother?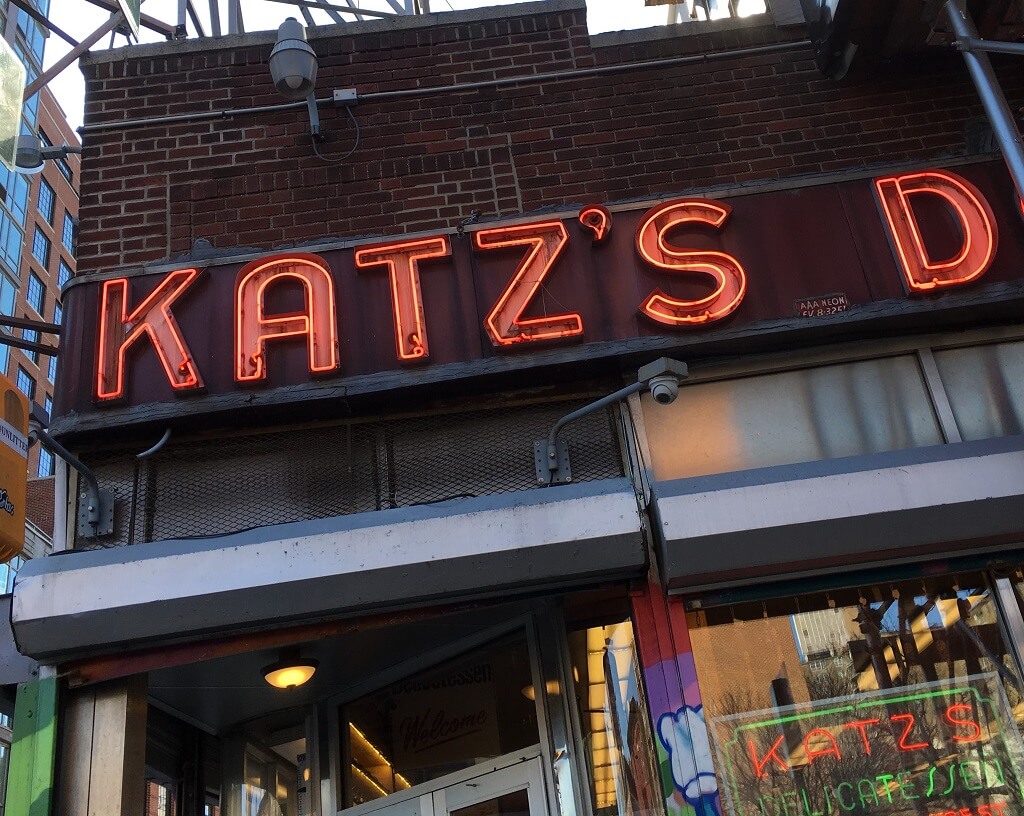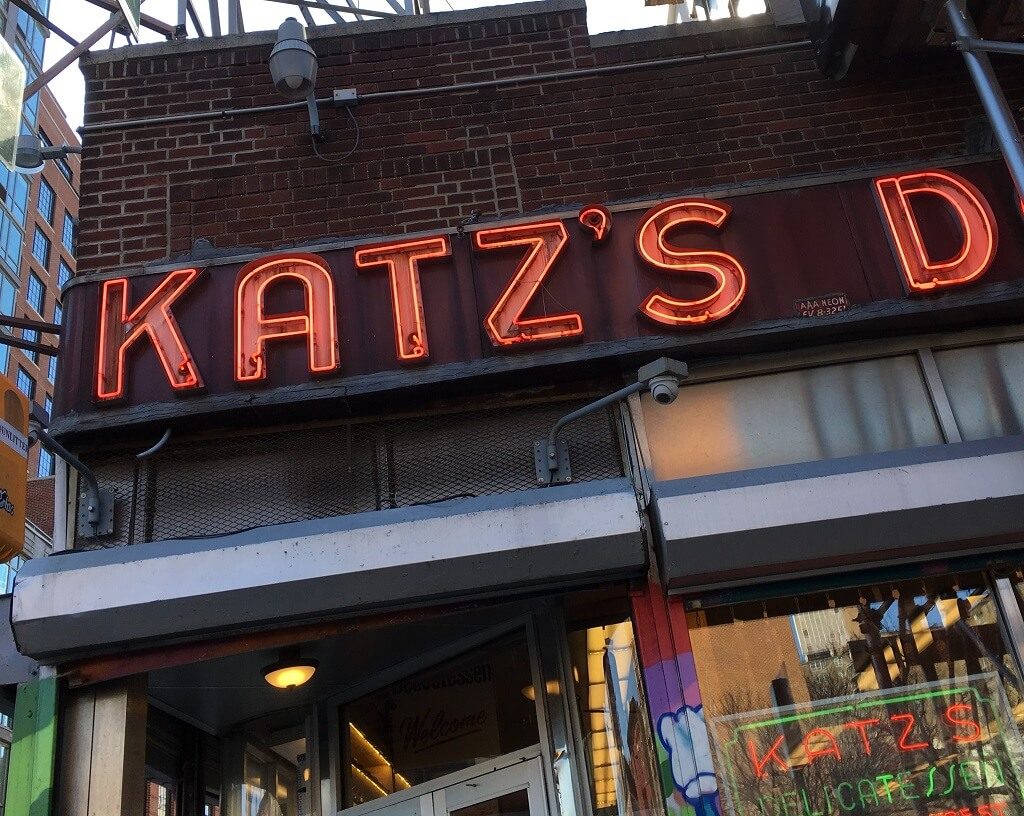 When you go in – there's usually a line – you are given a ticket. With this ticket, you go up to the deli counters and tell the staff what you want. They'll mark your ticket.  You can see them cut and expertly prepare your sandwich.  They also serve corn beef, hot dogs and knishes but the pastrami is the star. The sandwiches are huge enough to share and come with all sorts of little pickles, coleslaw and other trimmings.
The place is huge and looks like it hasn't been renovated since the 1950s but that's part of its charm, and nobody cares, you go for the food. This is really one of the best famous places to eat in NYC for an affordable and satisfying meal.
When you leave you take your little ticket and pay at the exit. Fast, cheap eats, fun and delicious. Katz's is certainly one of the best famous and affordable places to eat in NYC.
Another thing I like about Katz's is the neighborhood it's in, one of NYC's most interesting. You can walk around for hours and visit unique NYC spots like the Tenement Museum and SOHO.
Talek blogs at Travels with Talek
"One of the glories of New York is its ethnic food, and only McDonald's and Burger King equalize us all." John Corry, NY Times Reporter
Click To Tweet
---
Joe's Pizza
No visit to New York City is complete without a slice of its world-famous classic street-styled pizza. It's difficult to narrow down exactly where to find the best in the city, but Joe's Pizza, established way back in 1975, is a sure contender. Located in Greenwich Village, just a few blocks from the Freedom Tower, this classic spot has become renowned for its winning combination — cheap and great taste.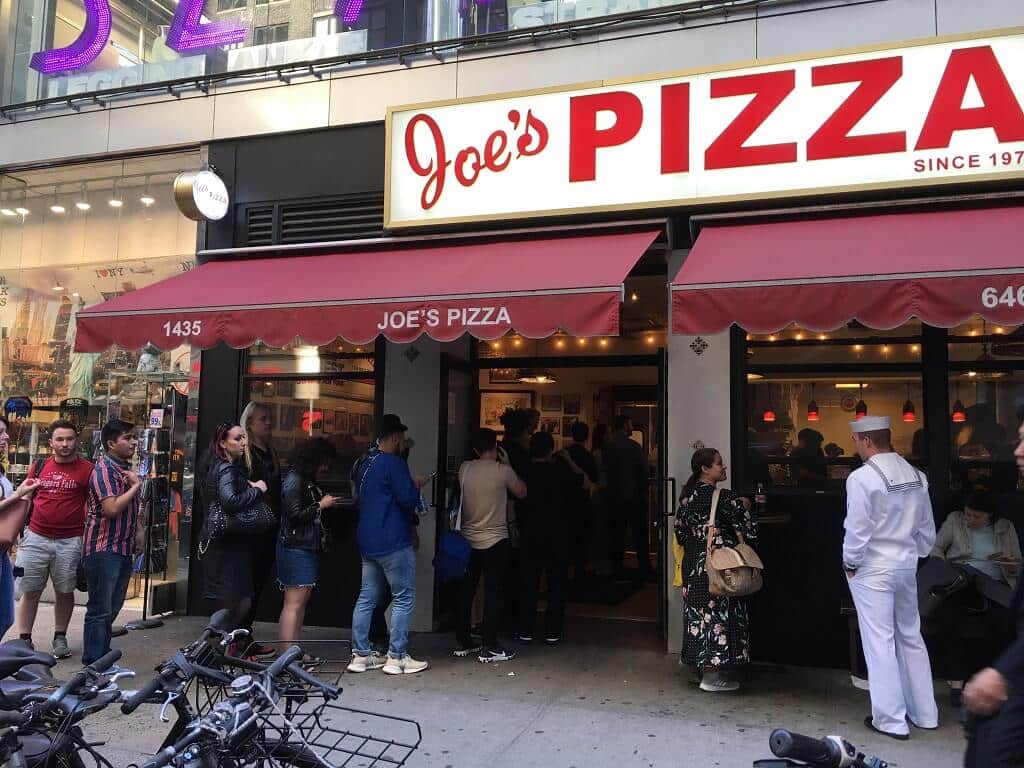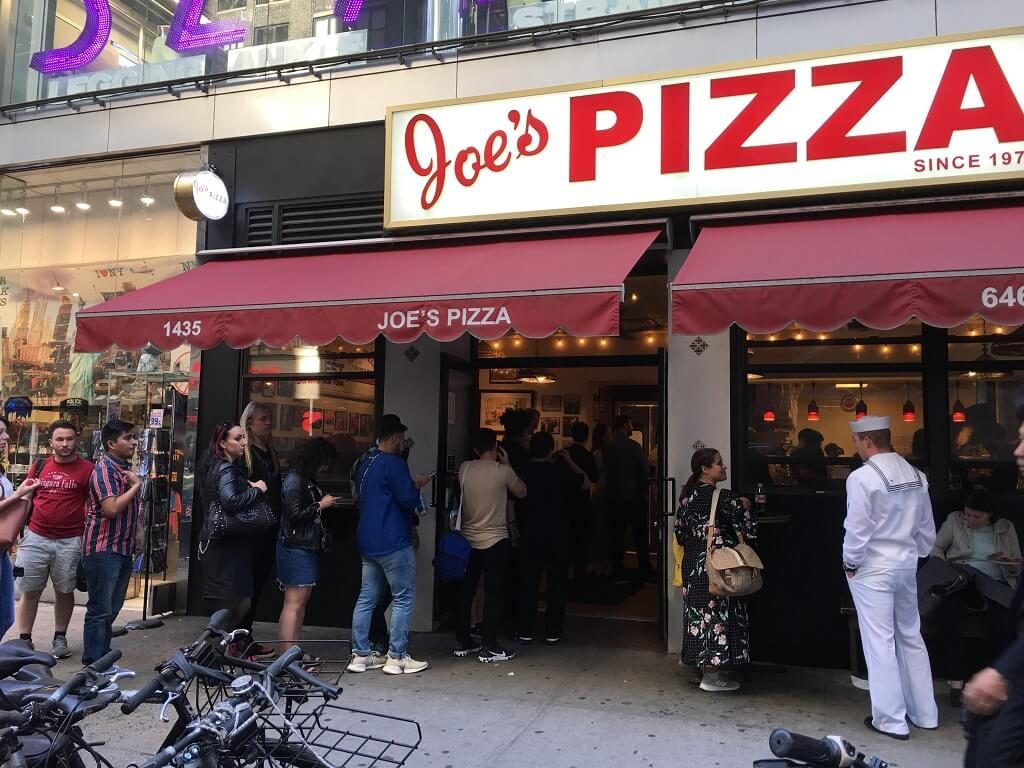 The place is generally busy with a line stretching out the door, although it does move fast. Once inside you have the option to buy whole pies or by the slice. There's not a lot of seating options inside, which is why you'll see lots of people eating their slices standing outside.
Thin, cheap slices dripping with cheese set in an awesome atmosphere makes Joe's Pizza a must try NYC experience.
Rai blogs at A Rai of Light
---
Stardust Diner
If you are spending the day visiting Times Square in New York City, the Stardust Diner, a '50s-themed restaurant, is a great place to end (or start) your day. They serve classic American food from seven in the morning till midnight. Some of your meal options include unusual names like Hot Diggity Dogs, Might Mo (a double cheeseburger), Be Bop a Lula Burger, Mama Mia Meatloaf, Gene Kelly's Beef Stew, and Dinosaur Chicken Nuggets.
The real reason to visit, though, is the wait staff. The diner is famous for its "singing servers." Most of them are out of work actors or up and coming actors working between gigs. They will walk around you and above you between the first-floor tables and sing down to you from the second floor. The performance by the staff is entertaining and can be exciting as they literally can be just a few inches from where you are seated. The whole atmosphere is alive, colorful, and fun.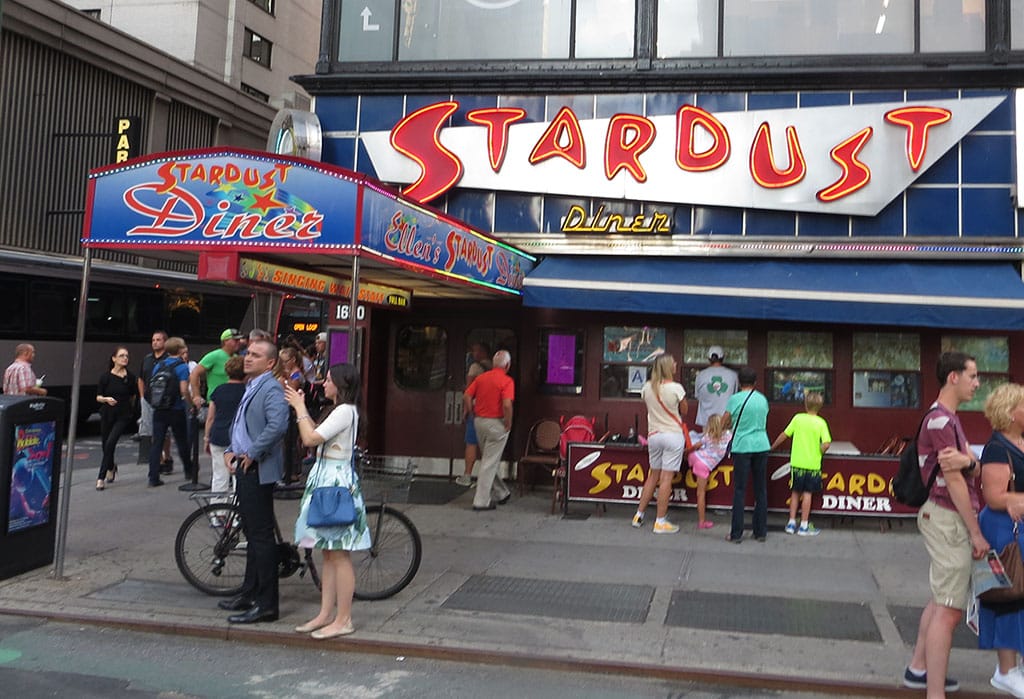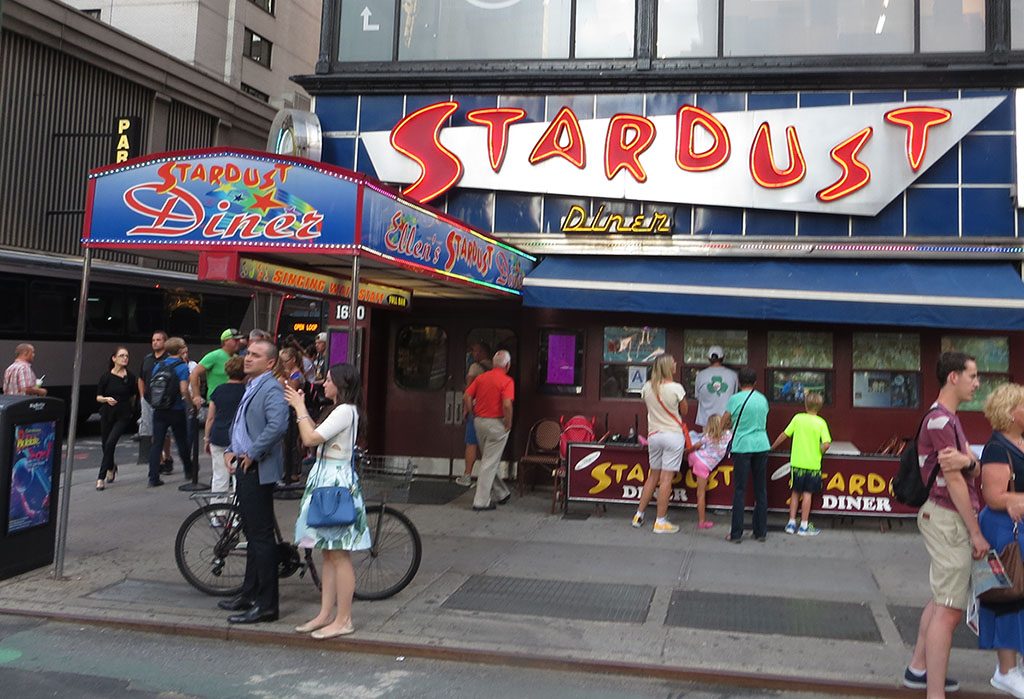 Stardust Diner, 1650 Broadway, New York, New York, 10019…at the corner of 51st Street and Broadway.
Cynthia blogs at Blue Bag Nomads
---
Sadelle's
If you want to eat brunch in Soho, Sadelle's is the place to go.
At first, we were puzzled by the "towers" we saw on the other tables, covered in white fish, lox and other delicious-looking smoked and cured fish and everything to go along with them. But the menu explained it all. Towers are a thing at Sadelle's, designed to serve you the maximum variety of food yet fit on your two-top. Accompanied by endless bagels, it's a definite feast.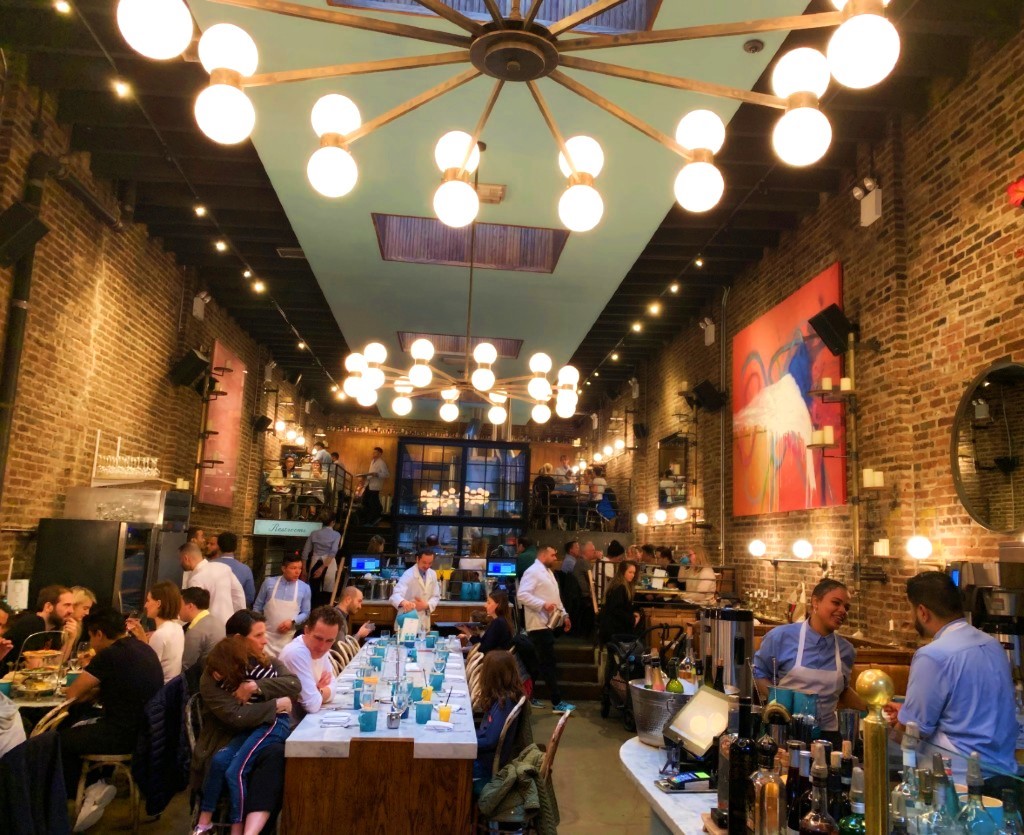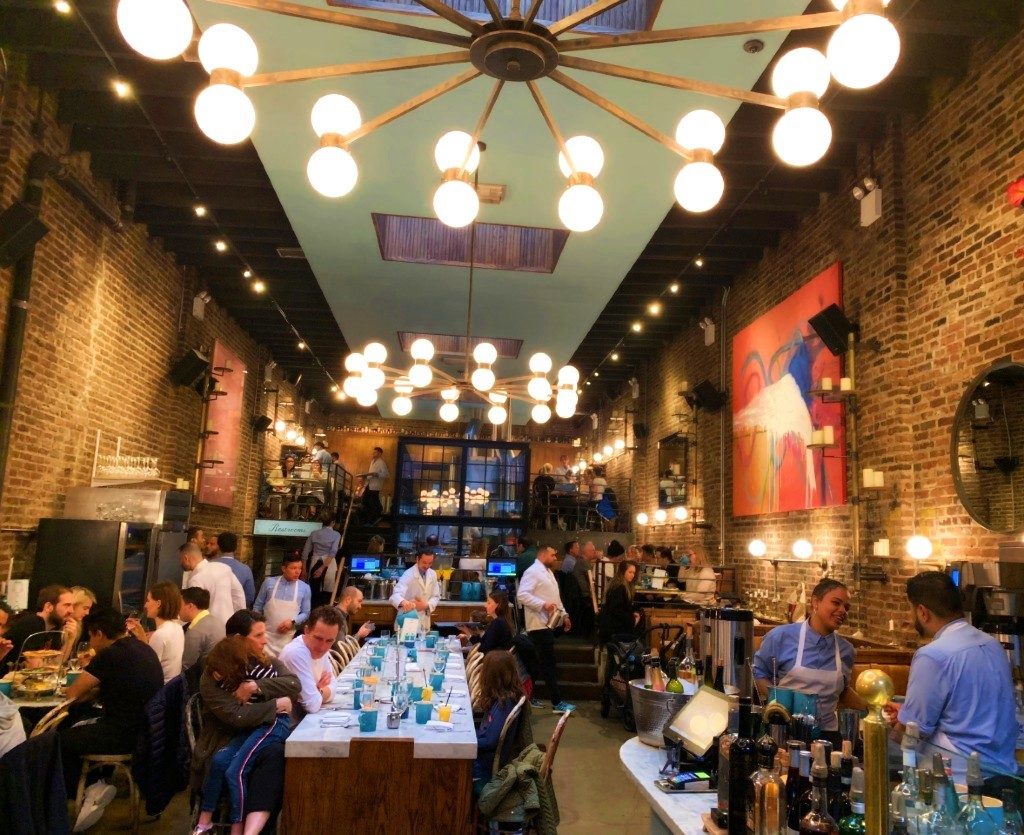 We shared the famous sticky buns (to die for), and I had the blueberry pancakes. I can honestly say they were the best pancakes I've ever eaten in my life. I couldn't place what made them taste so good but when I asked the waiter, he whispered that it was the Maldon salt sprinkled on the still-cooking batter.
Sadelle's take-out line is famous for its bagels and babka, and you can see the bakers hard at work in the enclosed glass tank in the middle of the restaurant.
Reservations are highly recommended for this very popular, and not ridiculously priced,  spot.
Lesley blogs at freedom56travel.com
---
Nathan's Famous
Nathan's Famous hot dogs, originating in New York City, is famous because they say so…it's in the name, see…"Nathan's Famous."  Also, New Yorkers have been happily munching on these franks since  1916.  Lastly, they taste great! Yummy and cheap eats in NYC.
The only thing more satisfying than that distinctive snap of your first bite into a Nathan's hot dog is the great American success story behind it. Chris Schott, Sr. Editor Thrillist Click To Tweet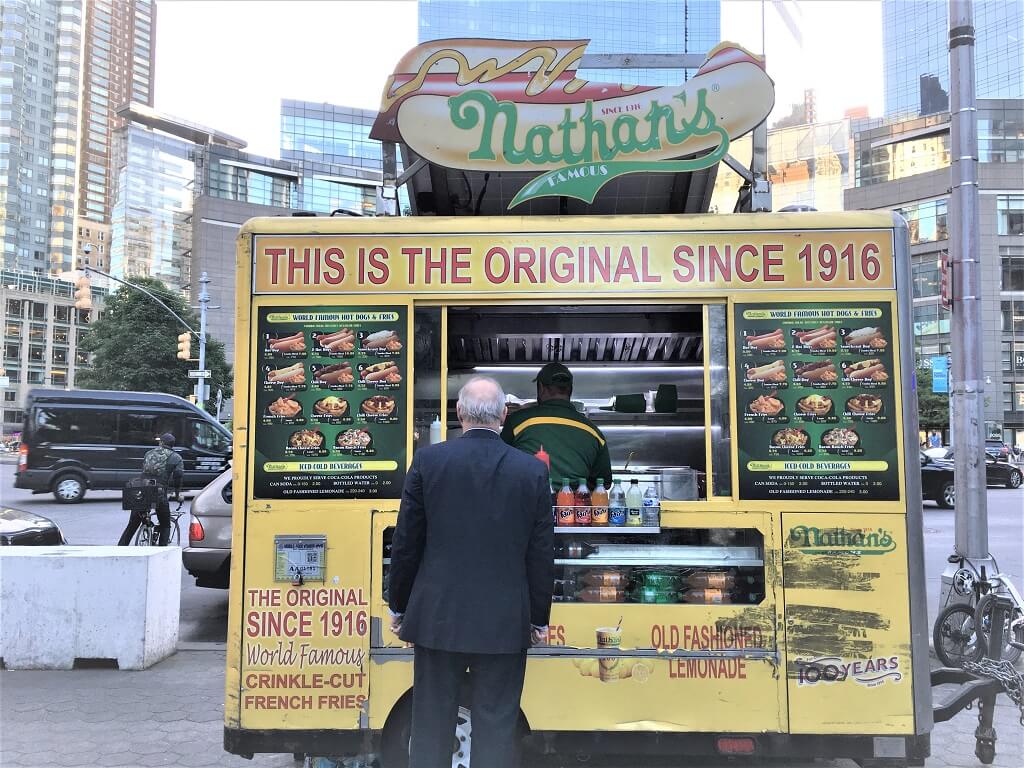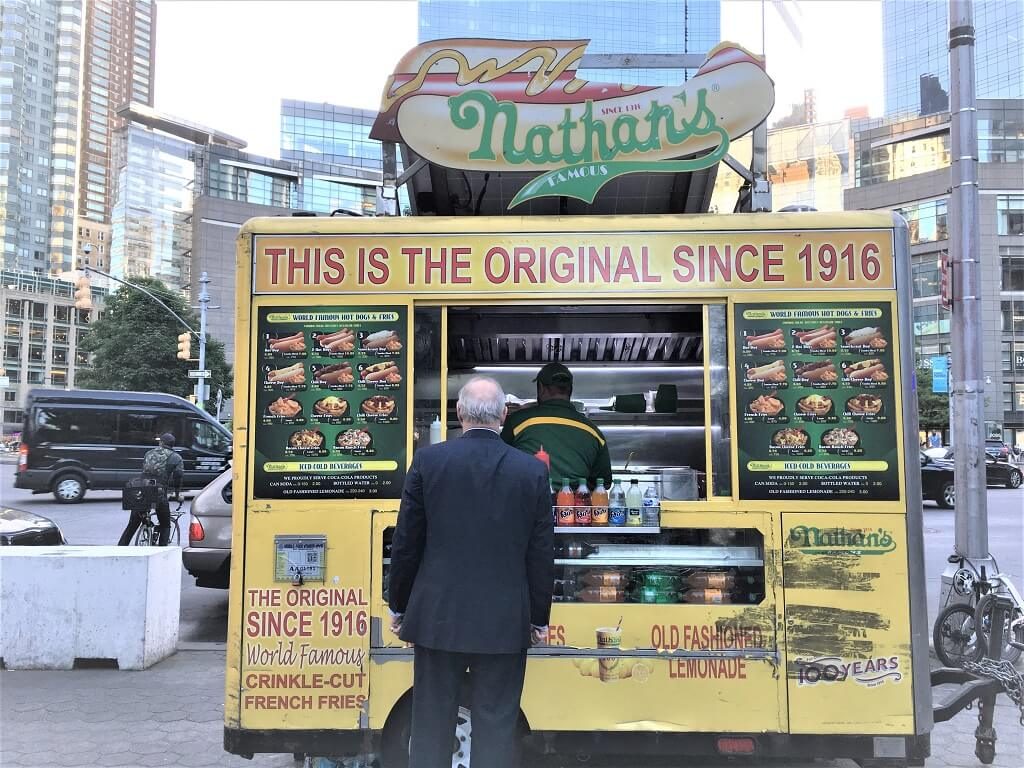 Nathan's Famous has a cool backstory. In 1916 Polish immigrant, Nathan Handwerker started a hot dog stand on NYC's Coney Island using his wife Marie's recipe.  It took off and the original store is still there today.  Looking for a way to promote his product, Nathan came up with the idea to have a hot dog eating contest every 4th of July.  That tradition is also going on.
Today there are over 300 Nathan's restaurants around the world and numerous hot dog carts. These are the kind of hot dogs you just gotta have in an airport.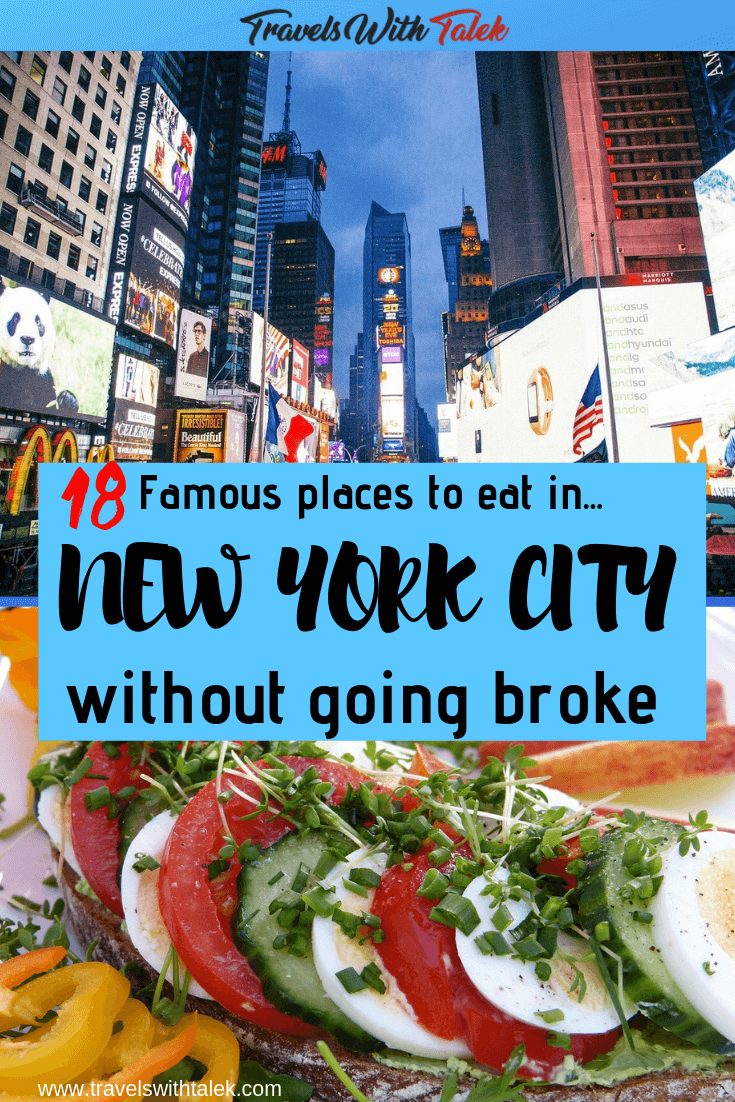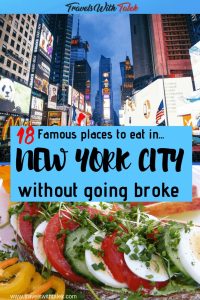 Next time you're in the mood for famous places to eat in NYC, head to the World Famous, Famous Nathan.
---
2nd Avenue Deli
Jewish food in New York City holds a special place in many New Yorker's hearts.
One of the most famous places to experience an old-school pastrami sandwich on rye is at the Second Avenue Deli, which feels like a throwback to an earlier period. As soon as you're seated, you're given an imposing menu, but don't underestimate how much food will come out.

I highly recommend visiting around lunch where you can get a half portion of a pastrami sandwich with a side of matzah ball soup, a Jewish classic. On the side, you get free pickles of different varieties.
The friendly staff and regulars are always happy to give good recommendations on what is best although the regular sitting next to me who has been coming for his entire life insisted that I make room for the chocolate rugalach. This Jewish pastry is crunchy yet satisfying at the same time, if you're not stuffed after your pastrami sandwich.
Karen blogs at Wanderlustingk
---
Tom's Restaurant
Tom's Restaurant gained its fame from the popular sitcom Seinfeld. It's exterior was used in the show to represent the cafe where Jerry Seinfeld and the rest of the Seinfeld crew gathered. In real life, Tom's Restaurant is a popular diner serving up popular American dishes. The food is affordable and delicious, and this restaurant gets great reviews on TripAdvisor. We visited this restaurant that is located in the Morningside Heights neighborhood of Manhattan.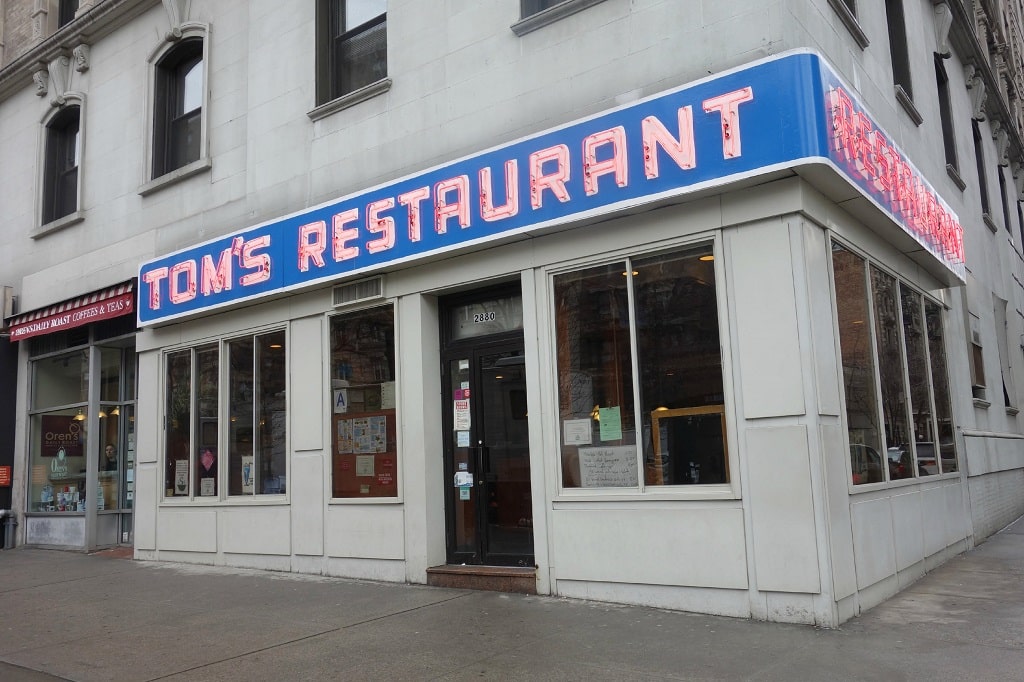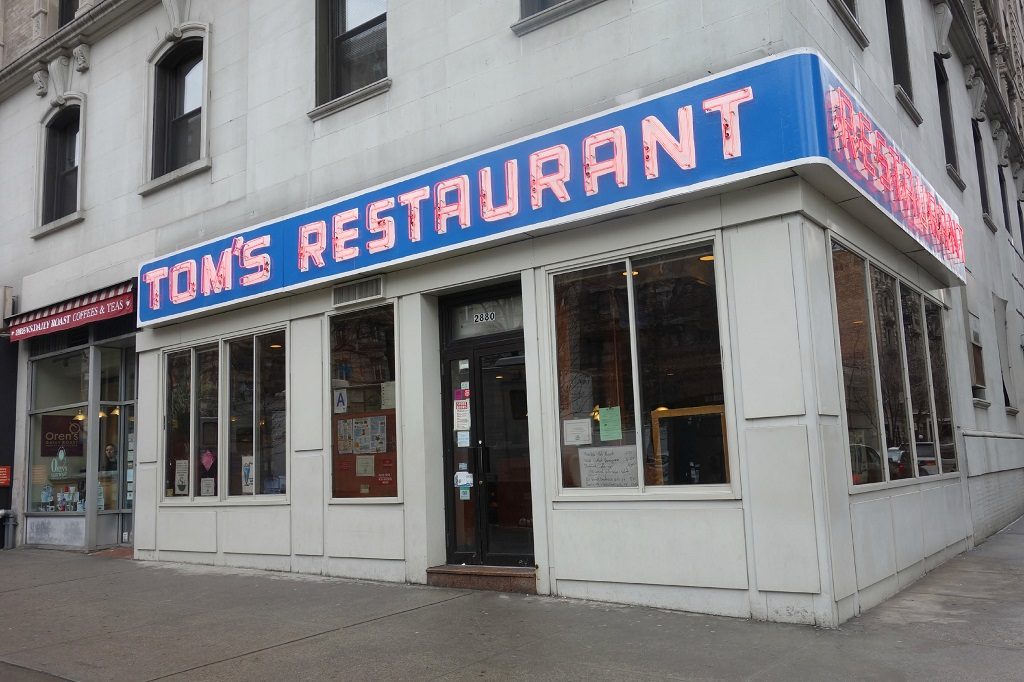 Tom's restaurant is located right next to Columbia and is a popular spot for students to dine before and after classes. Both Barack Obama and John McCain were frequent visitors of this restaurant when they were connected with Columbia. In the restaurant itself, of course, they have signed photos from the Seinfeld cast as well as other celebrities that have visited the restaurant. You'll often see people taking selfies from outside the restaurant of the iconic exterior. Tom's Restaurant is probably one of the most famous places to eat in NYC. It is located on 2880 Broadway, NYC, between W 112 and W 113th St. The closest subway stop is 116 St – Columbia University.
Kate blogs at Tear Free Travel
---
Russ and Daughters
Another great NYC Jewish Deli is Russ and Daughters.
Russ and Daughters is one of the famous places to eat in NYC for lots of reasons. This classic deli has been a NYC institution for over 100 years.  The original store is still in the same location where Polish immigrant, Joel Russ started the business in 1907 selling herring out of a barrel on the street.
Not having sons Russ had his daughters work in the business from a young age eventually making them partners.  Naming the business Russ and Daughters was radical at the time.  The business flourished and today has more locations; the original location on the Lower East side, the Russ and Daughters Café on nearby Orchard Street, The basement of the Jewish Museum, and most recently at the Brooklyn Navy Yard…4 great places to eat in NYC that are affordable and delicious.  The business has been in the same family for four generations.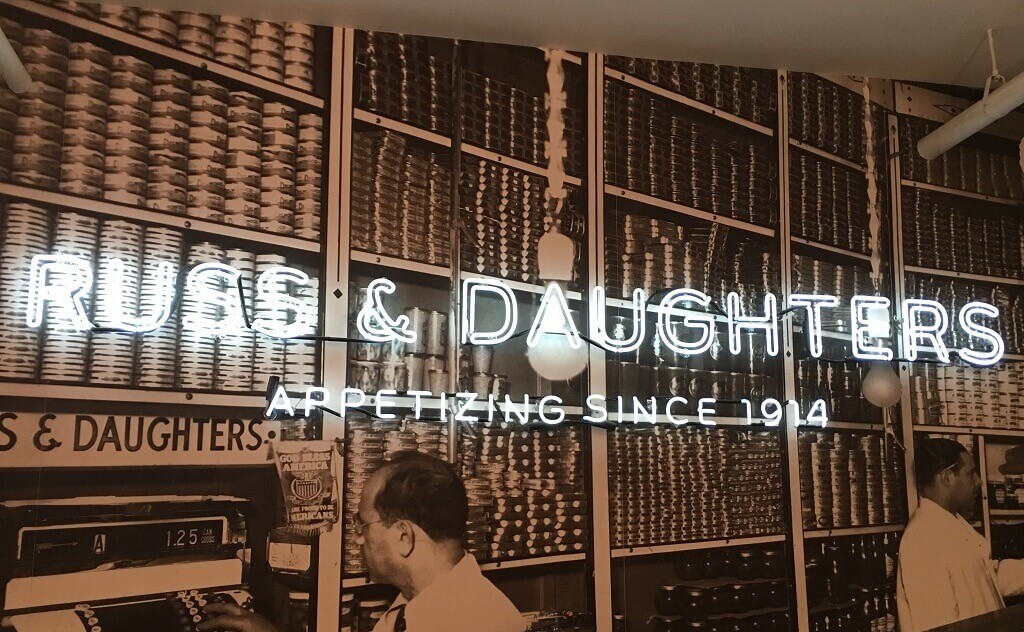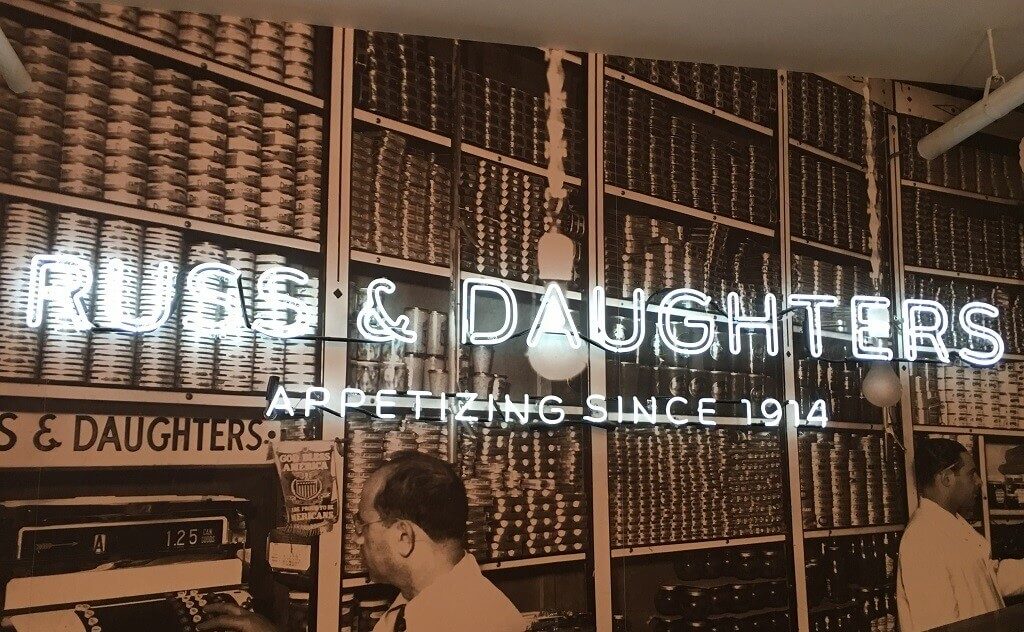 The food is reasonably priced and you get tons of fresh, delicious delights. There are platters loaded with pastrami, bagels and lox and all sorts of soups, salads and sweets.
For a nice experience, grab yourself a fat sandwich at the Russ and Daughters in the Jewish Museum and head to Central Park, a great place to have a picnic in NYC.
---
The Papaya Dog
There are three hot dog chains in NYC with the name Papaya; Papaya Dog, Papaya King, and Gray's Papaya, founded by a former partner of Papaya King.  They all have the same look to them; yellow and red colors and flashing signs and have been around forever. Some sources, including the New York Times, say that Gray's Papaya is the best, but I can't tell the difference.  They all serve amazing, juicy hot dogs that snap when you bite into them.  I like to ask for a hot dog with "the works," loads of onions in red sauce, mustard, and sauerkraut.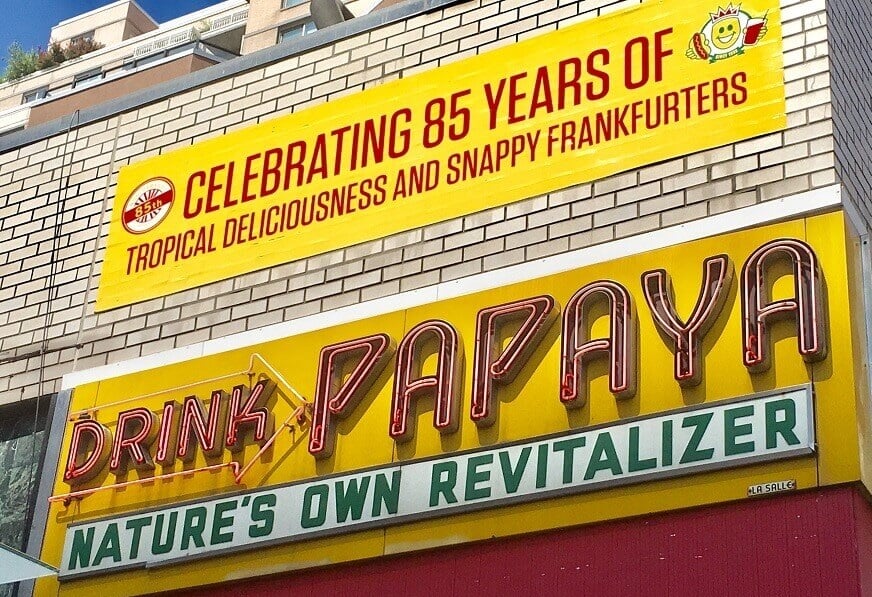 The locations serve their signature papaya juice along with other fruit drinks and sodas.  The idea to serve papaya – of all things – along with the hot dogs came from the original owner, Greek immigrant, Gus Pouolos. He visited Cuba on a vacation and fell in love with the abundant tropical papayas. He imagined everyone else would love it too.  And he was right. Definitely one of my favorite places to eat in NYC that won't break the bank.
---
Sarabeth's
Sarabeth

'
s is a mini-chain in NYC.  I've eaten at three of the five branches, but the one that seems to be everyone's favorite is the Upper East Side.  Located off the lobby of the Hotel Wales in the Carnegie Hill area, it is an especially good destination before or after a visit to Central Park or one of the many nearby museums.  The upstairs loft area is the filming site for at least one episode of TV's "Housewives of New York City," but I prefer being seated in the main dining room downstairs.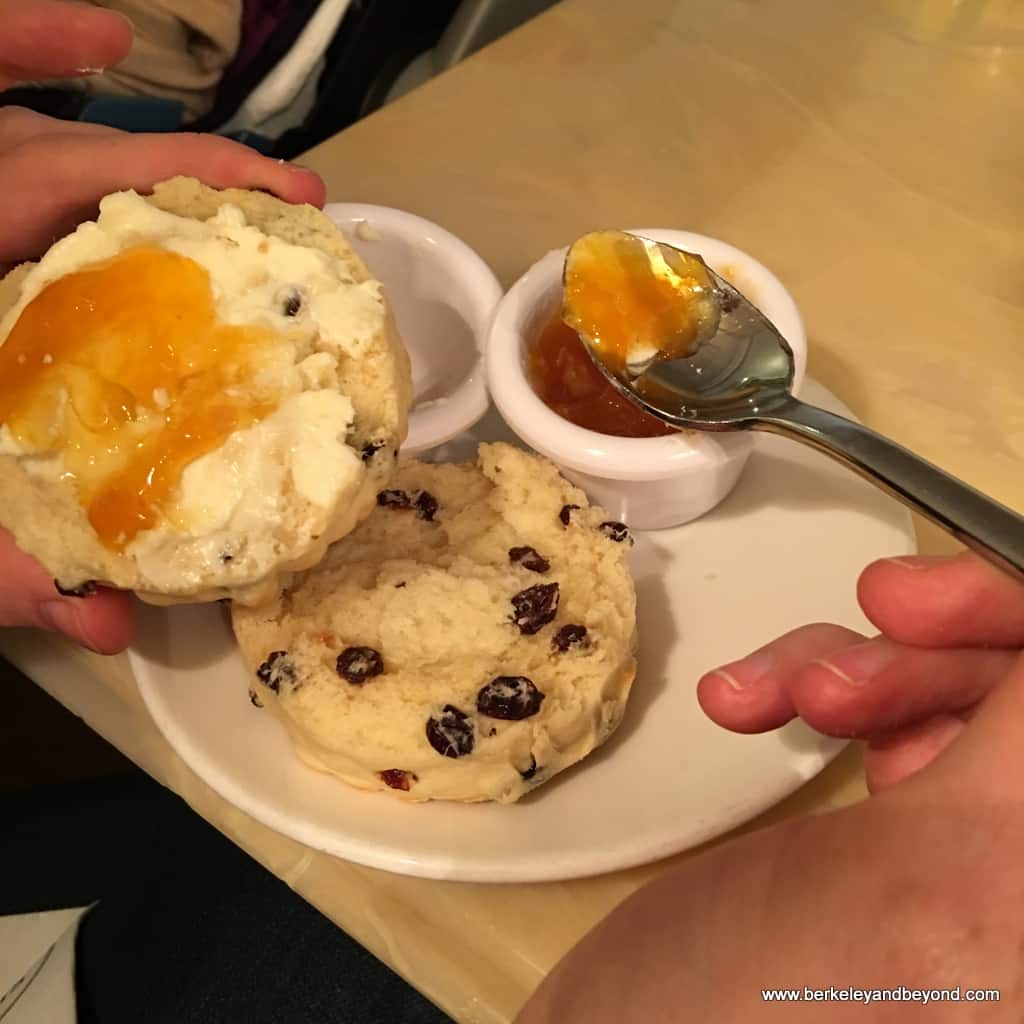 My favorite time to visit is for breakfast, when I can order either the eggs Benedict (they make the exceptional English muffins in house) or a cheese omelette with gruyere.  They are famous for their jams–I especially adore the peach-apricot and plum-cherry, jars of which you can buy to take with you.  It is good to know that breakfast is served until 3:30 p.m. on weekdays (it switches to brunch on weekends), and that the restaurant is open daily for breakfast, lunch, and dinner.
---
The Oyster Bar
The restaurant space was first opened as the Grand Central Terminal Restaurant in 1913. Over the years the restaurant prospered but fell into bankruptcy and decline in the 1970s.  It came back with a vengeance as a seafood restaurant and has been going strong ever since despite a brief closure in the late 90s for renovations after a fire.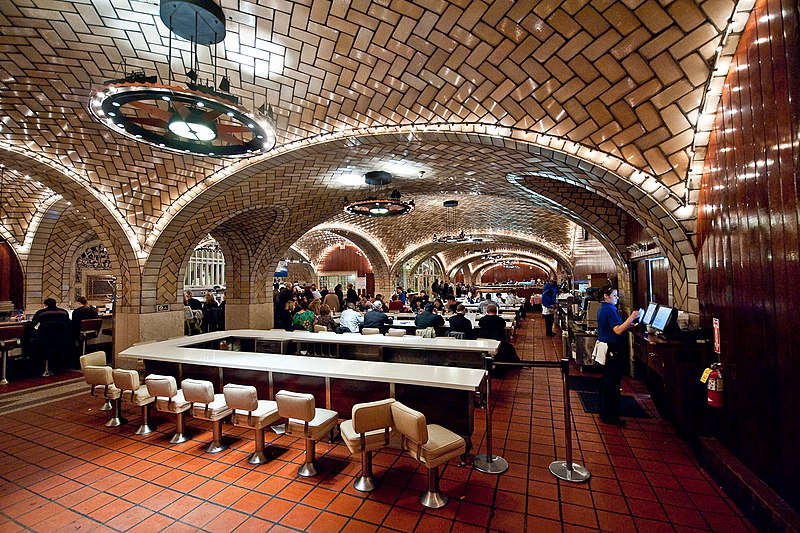 Oyster Bar is pure New York City. The specialty of the house is, as the name implies, the humble oyster. The restaurant offers every imaginable type of oyster, a delicacy that sustained New Yorkers for centuries. They have a nice Happy Hour and the seafood is outstanding.
The restaurant's interior is a marvel of design. The ceiling tiles are vaulted Gustavino tiles that were very popular during the restaurant's construction.  The vaulted section in the entrance is a "whispering wall" where one can stand in one corner, whisper softly and be heard by someone on the other side of the restaurant.
One of the Oyster Bar's most outstanding features is its location; Grand Central Station, a New York City architectural jewel.
This restaurant is definitely one of the top, reasonably priced famous places to eat in NYC.
---
The Bagel Hole
The best bagel joint in New York City will always be a hotly debated issue amongst the five boroughs with everyone defending their own camp. There is no denying however that you probably will never have a better bagel anywhere else outside the city than at
Bagel Hole
in Brooklyn. An unassuming shopfront in the middle of residential Brooklyn, this is NYC bagels at their finest. Crunchy on the outside, soft on the inside, perfect flavors and textures, there is no need to toast these New York delicacies (In fact, you probably will get a look if you ask for it toasted).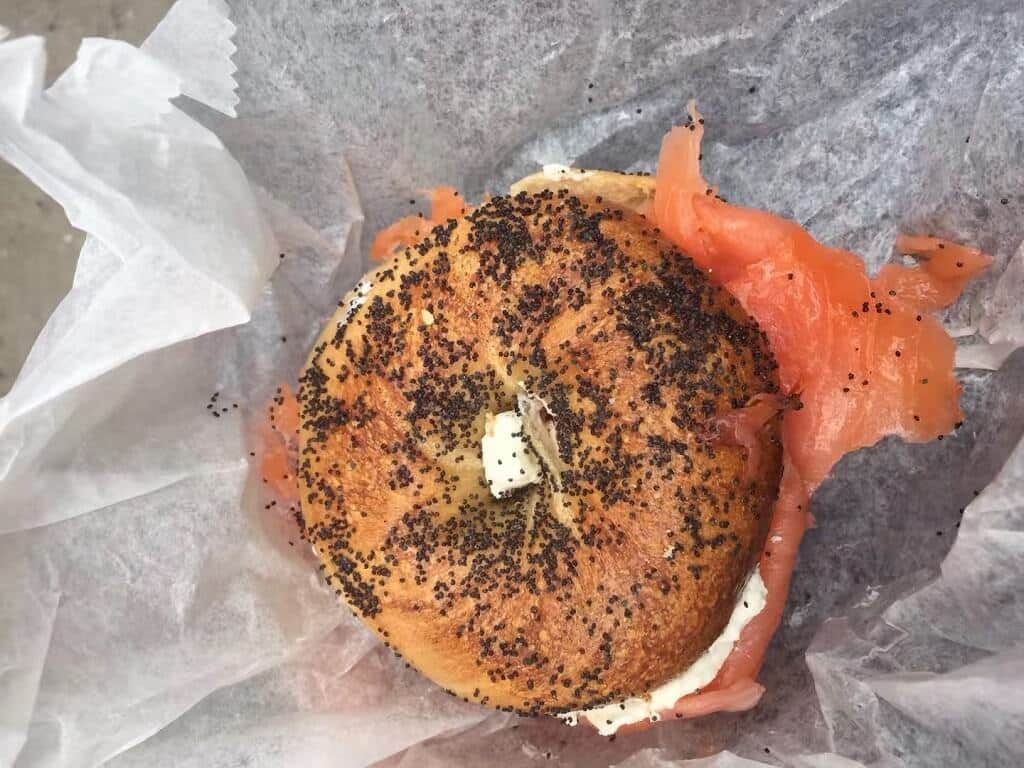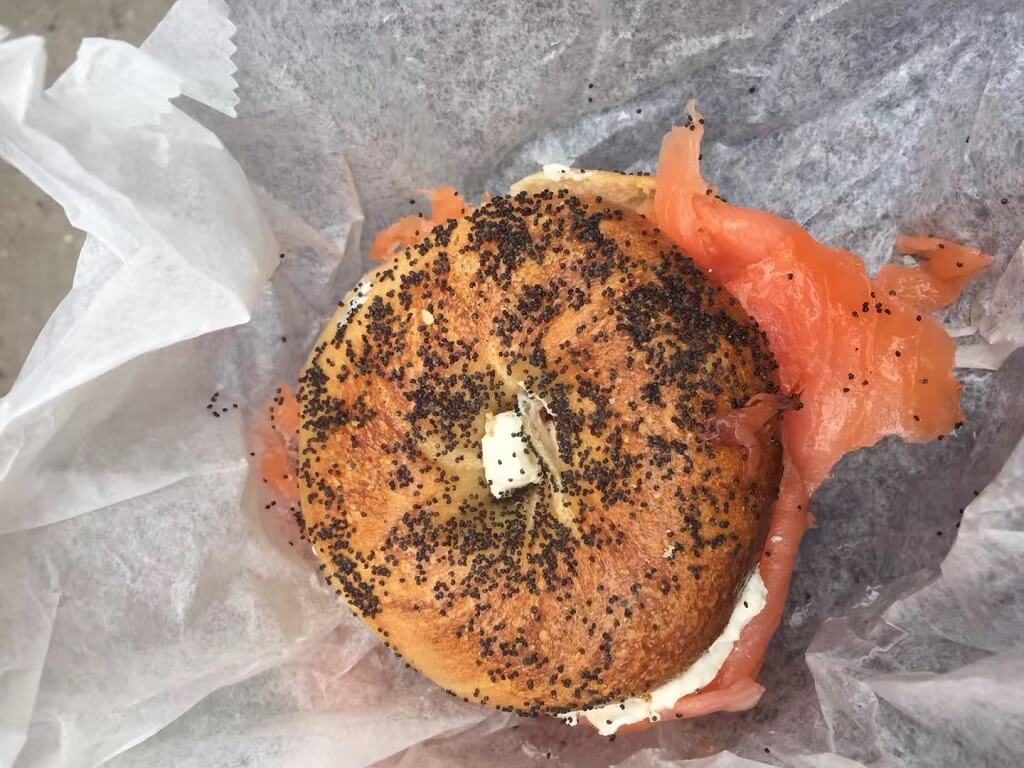 Bagels are boiled and baked fresh, with different varieties being produced as the day goes on. As for toppings, simple and complex in house spreads are the norm, while those looking to splurge a little can add smoked salmon or whitefish. No matter what way you decide to do your bagel, you are sure to love it and never see bagels the same way again.
---
Clinton Street Baking Company
Clinton Street Baking Company is a Lower East Side institution famous for its pancakes, which have been consistently voted best in the city. And rightfully so. They are perfectly fluffy and delicious, and come with a number of tasty toppings. The restaurant is homey and the people who run the place are friendly and down to earth. Weekend lines can get absurd (as they do at most popular NYC brunch spots), so we recommend going mid-week for dinner. In addition to serving to pancakes (and the most delicious biscuits) all day, they have a varied menu with great savory dishes too. And you can top off your meal with a boozy milkshake. Which you most definitely should!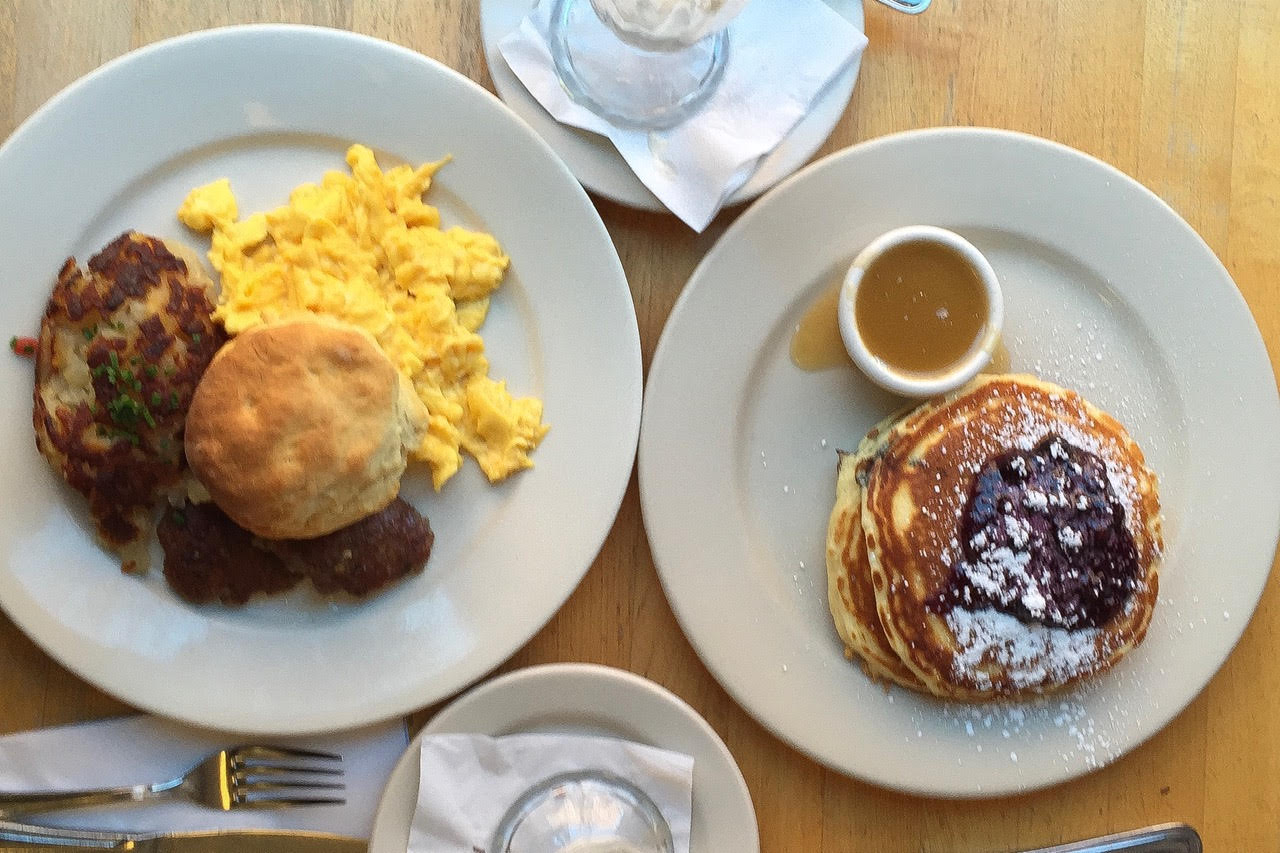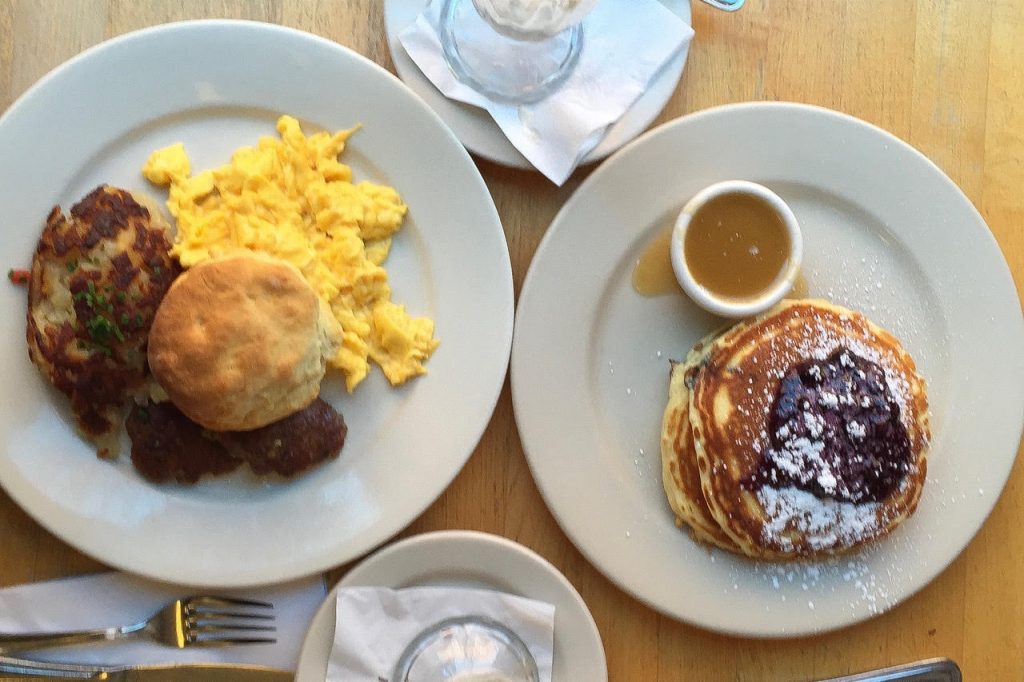 If you're visiting during February, you're in for a special treat. February is pancake month and every day they serve a different, special variety. Pancakes cost $15 (day or night). While they may be a little pricier than your typical diner plate, they're worth every penny and a pretty good deal for a NYC institution.
We love trying new foods when we travel. Read about some of our most memorable dishes around the world.
Justin and Sarah blog at Travel Eat Repeat 
---
Golden Unicorn Restaurant
Dim Sum in New York's Chinatown is a chance to experience Asia without the 20-hour flight. There are three Chinatowns in New York–Manhattan, Queens and Brooklyn—and all have places for Dim Sum. The Golden Unicorn in Lower Manhattan Chinatown is one of the most famous places to go. The crowd is largely Chinese, and you may have to wait for up to an hour for a table before you are sent upstairs. The lines tend to be shorter before 11:30 am. If you have a small number of people, agreeing to share a table will also get you seated sooner.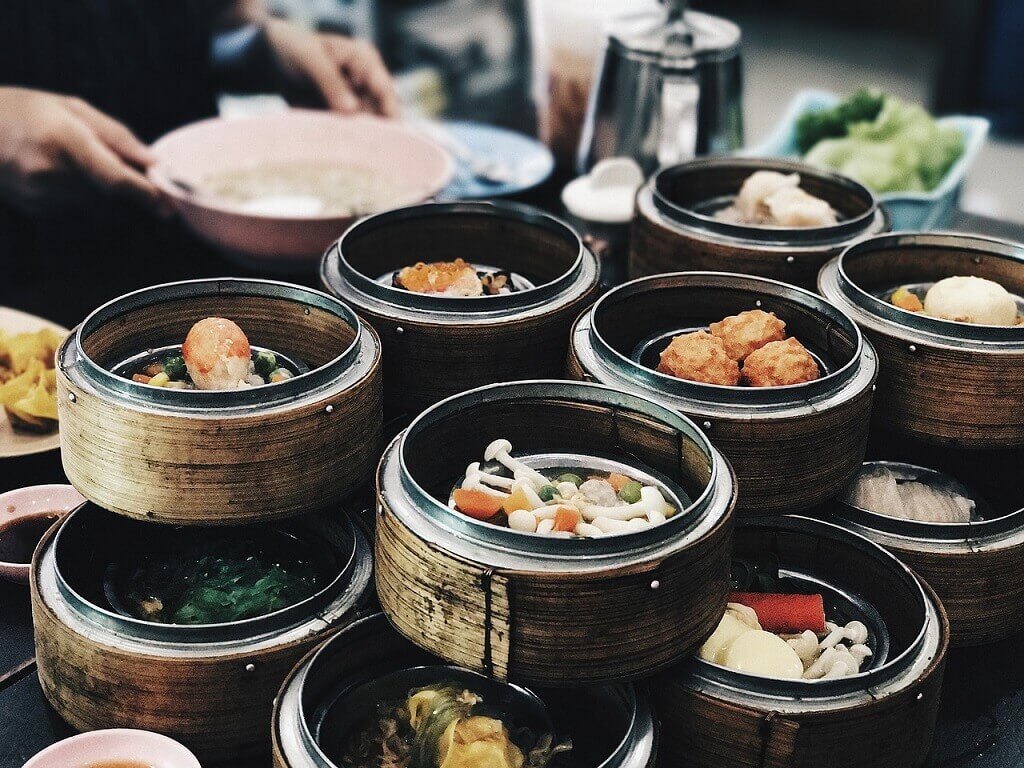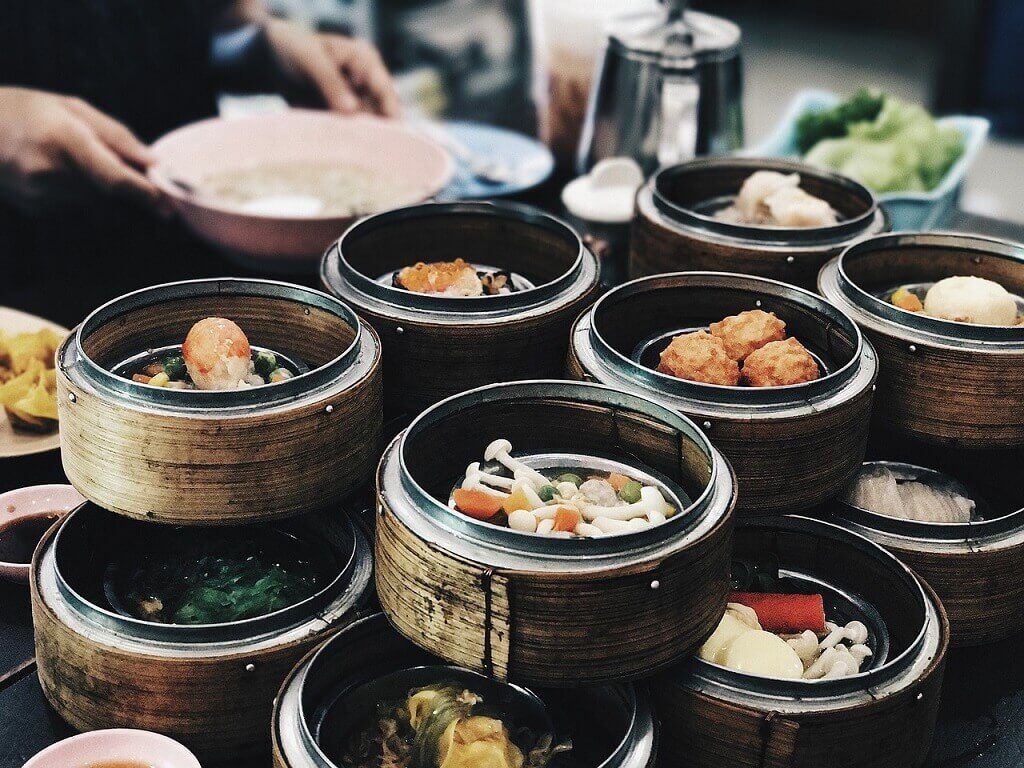 After you sit at your table, you'll see women pushing steaming carts around with buns, dumplings, ha goa, and other delicately made food. Wave someone over and select your dishes. The servers will stamp your check with a symbol as they put food down and there is no price on the stamp. Be prepared to be stuffed by the end. The Golden Unicorn is reasonably priced, but you pay per dish and the cost can add up (particularly if you order a lot of seafood dishes).
Sue blogs at Travel for Life Now
---
Lombardi's
Established in 1905, the oldest pizza parlor in the United States is in New York City's NOLITA neighborhood.
Lombardi's
has been an iconic NYC institution for almost 115 years!  When Gennaro Lombardi arrived in from his native Naples at the height of the Italian immigration into NYC, he brought with him the traditional coal oven baked pizza recipe that you can still taste today at Lombardi's.
The restaurant offers pizza pies (no slices) with every topping you have ever heard of, and many you haven't. The average price is about $20 per person for 8 slices of a truly outstanding classic New York pizza. When you're hitting the New York City highlights, Lombardi's should be on your list.
---
Magnolia Bakery
Magnolia Bakery started off in the summer of 1996 on a cozy street corner in the heart of New York City's West Village at 401 Bleecker Street. From the beginning, Magnolia bakery was loved for the delicious, classic American baked goods and for providing a warm and inviting atmosphere complete with vintage décor.
Magnolia Bakery now has an extensive handmade menu including cakes, cupcakes, cookies and bars to icebox desserts, cheesecakes and seasonal pies and is particularly famous for its classic cupcakes and banana pudding. The desserts from Magnolia Bakery, in particular, the cupcakes, captured the attention of a worldwide audience after being featured on the hit US TV show Sex and the City and in popular movies such as The Devil Wears Prada and Prime.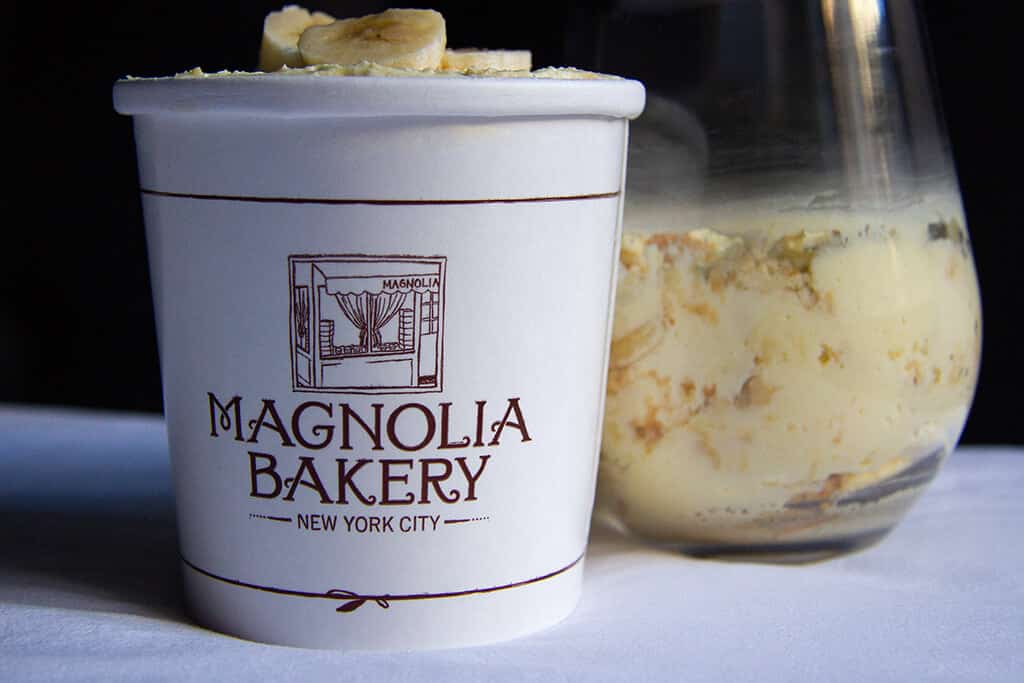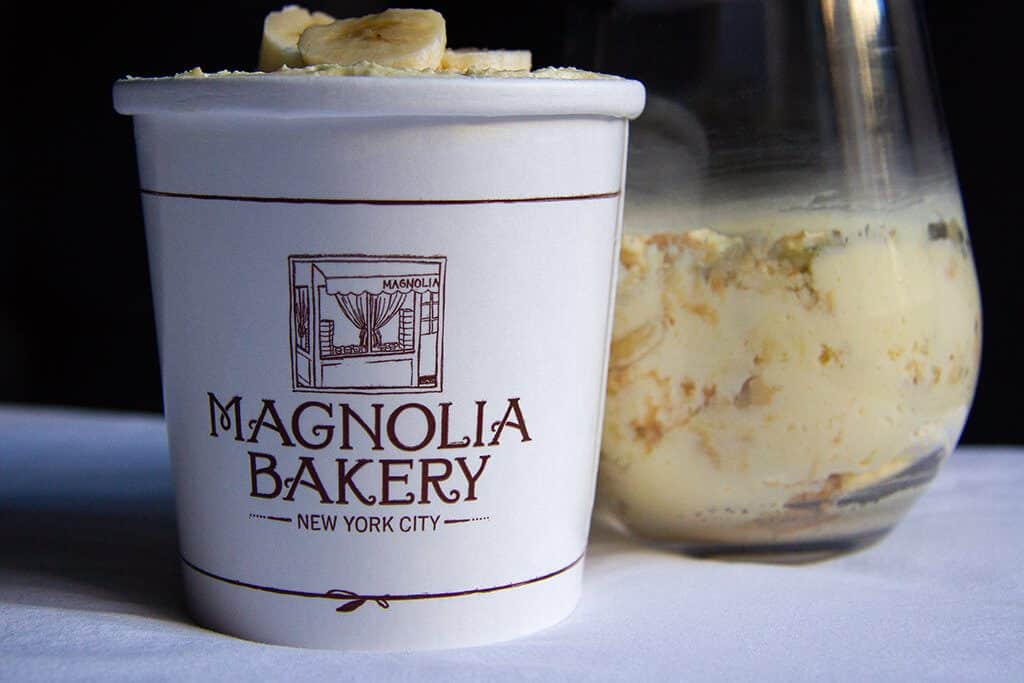 The original Magnolia Bakery is still open on Bleecker Street but they now have multiple New York City locations including, Upper West Side on 200 Columbus Avenue at 69th Street, Grand Central Terminal, Rockefeller Centre, Penn Station and Bloomingdale's on Third Avenue.
Laura blogs at Country Girl Explores
Getting a cupcake from Magnolia may make you feel like you're on a Sex and the City bus tour, but the ultra-sweet, buttercream-icing topped cakes hold an important role in NYC dessert history. Lucy Meilus, New York Editor, Thrillist
Click To Tweet
---
Junior's Restaurant
As a New Yorker, I am constantly looking for places in NYC that not only fulfill my cravings, but also do not break the bank. Regardless if the place is off the beaten path or famous, I truly enjoy recommending them to others, especially when they come to visit for a short time, like having 24 hours in NYC.
One famous place that I always recommend to everyone is Junior's Restaurant. In Junior's landmark restaurant (on Flatbush Avenue in Brooklyn), you can get the best New York cheesecake since 1950. Of course, Junior's nowadays has locations all over Manhattan. I can testify that their cheesecake is like no other and, when I am away from my dear NYC, is one of those items that I'm forever craving. It's just that kind of food that makes you homesick.
And as soon as I land back in the Big Apple, I usually run to get a piece of Junior's cheesecake. The price has gone up over the years, but it is still under 9 dollars and, honestly, the best money you will spend if you love desserts, especially cheesecake. They have so many flavors, but my favorite is the strawberry one. You do not know New York cheesecake until you've tried Juniors. It's the real deal!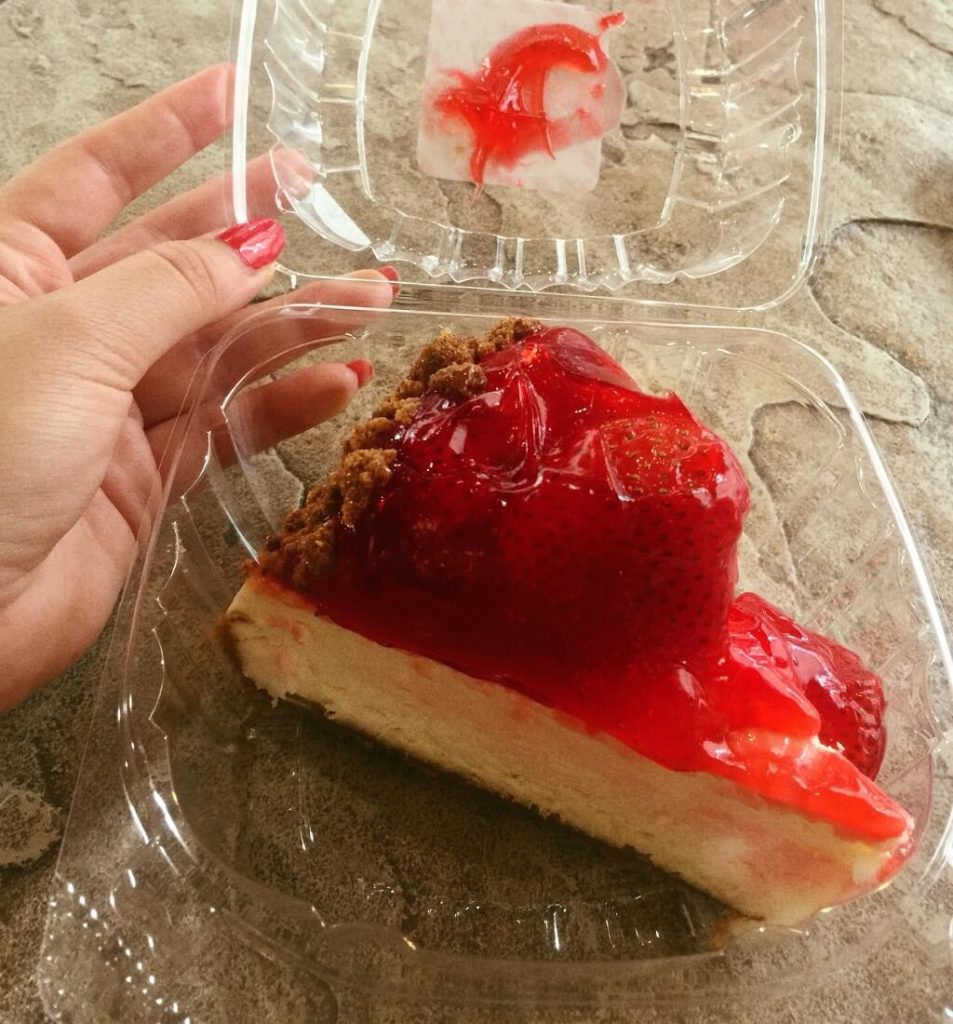 Olga Maria blogs at Dreams in Heels
---
Mamoun's Falafel
Mamoun's Falafel is one of the most famous "cheap eats" in New York City. Mamoun's Falafel was originally opened in Greenwich Village in 1971 and has since become a landmark eatery in Greenwich Village. It's the oldest falafel restaurant in New York and one of the oldest Middle Eastern establishments in the US.
The food at Mamoun's is cheap yet very high quality, following its traditional Syrian family recipes. Mamoun's offers both vegetarian and meat sandwiches and plates but its most famous menu item is the falafel sandwich at less than $5 a sandwich and available late at night (perfect for drunk food or a snack).
Mamoun's Falafel is sort of a legend in New York City and it's a stable fast food in the city. Due to its popularity, the chain has been expanding and there are 9 in the New York and New Jersey Area and has plans to expand to other cities in the US.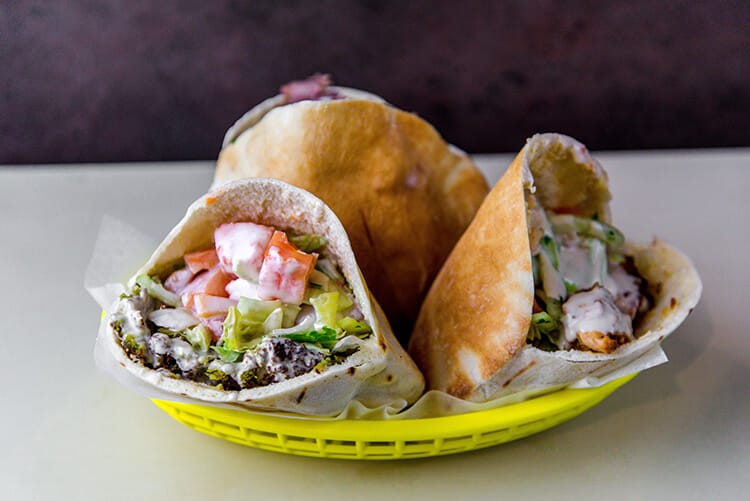 Serena blogs at Serena's Lenses.
---
The Ubiquitous NYC Hot Dog Stand
Last but certainly not least if the ubiquitous hot dog cart. It is one of the best places to eat in NYC that won't set you back a fortune.  Have a bite and become an honorary "New Yawker."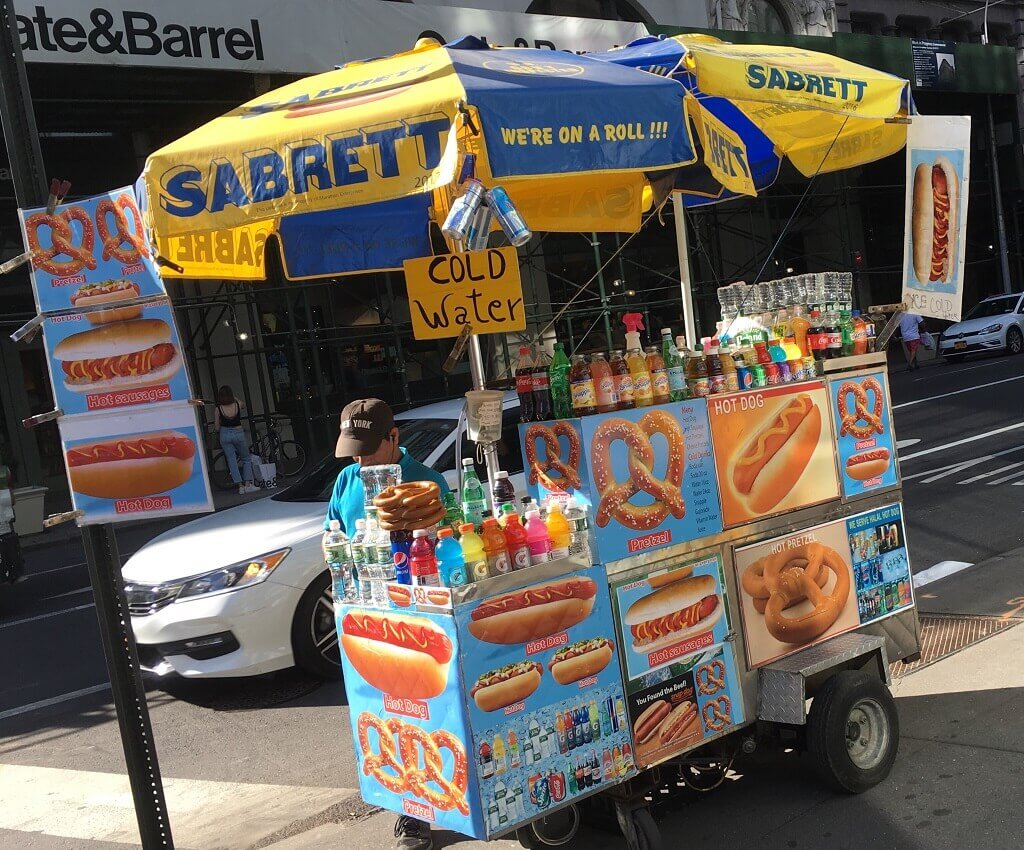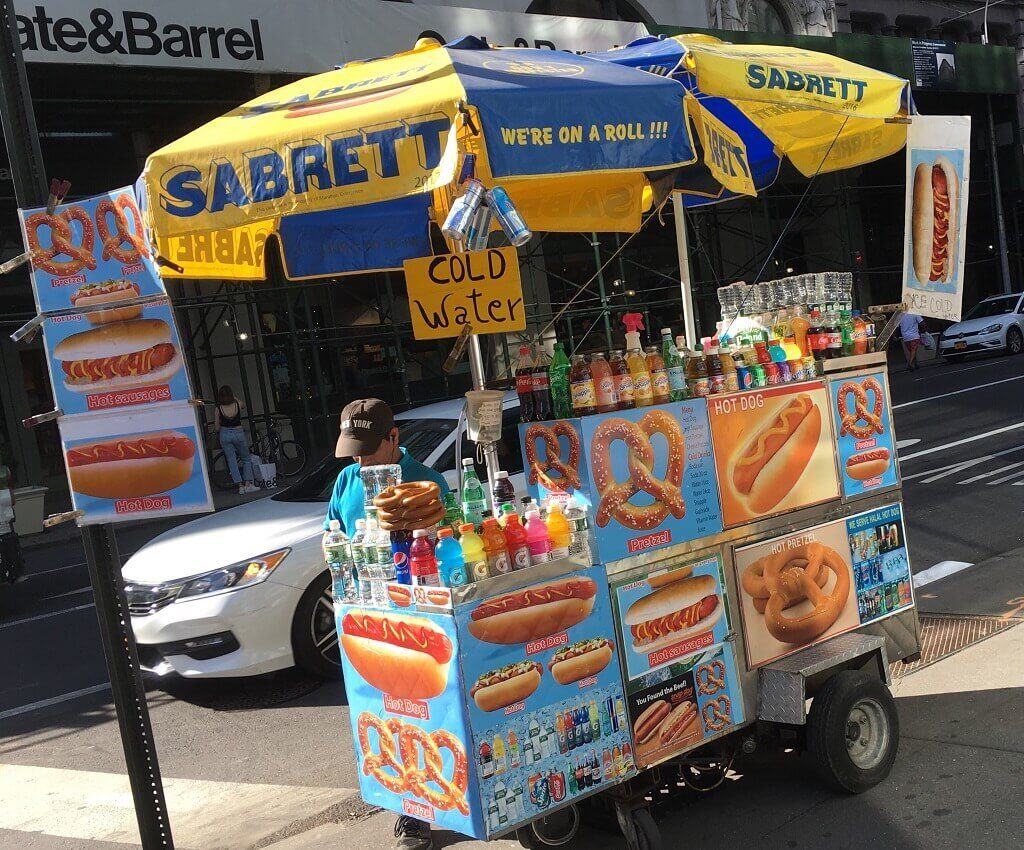 Don't dive into the local NYC food scene blind. Check out these reference books to help you grab yourself the best deals.
What have we missed? What affordable and famous places to eat in NYC would you include?
Love NYC's ethnic food scene? Check out 26 authentic ethnic restaurants in NYC.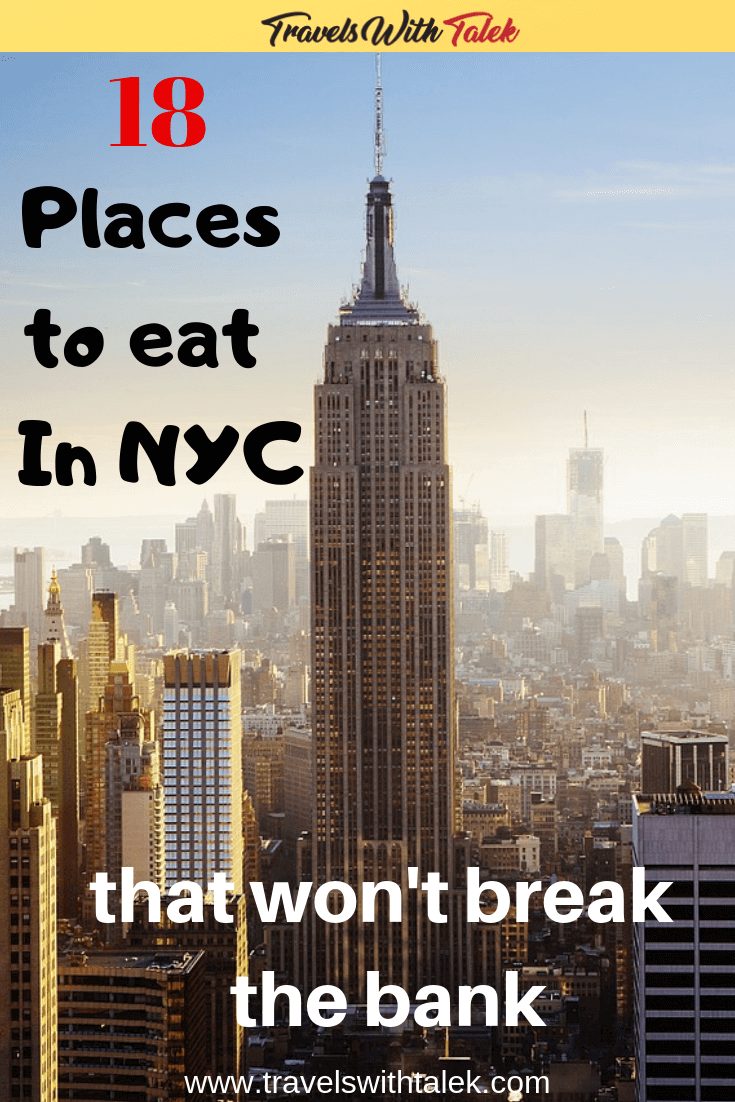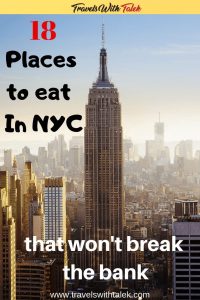 BTW, if you are getting ready for your trip, make sure to take advantage of these useful, money-saving links to book your trip:
I personally use, and can recommend, all the companies listed here and elsewhere on my blog. By booking through these sites, the small commission we earn – at no cost to you – helps us maintain this site so we can continue to offer our readers valuable travel tips and advice.