Updated October, 2021
If you're looking for some things to do in Times Square at night, we've got you covered for drinks, shows and more. Many Broadway shows have their final bows after 10:30 PM. But in New York City, being the city that never sleeps, the show does indeed go on.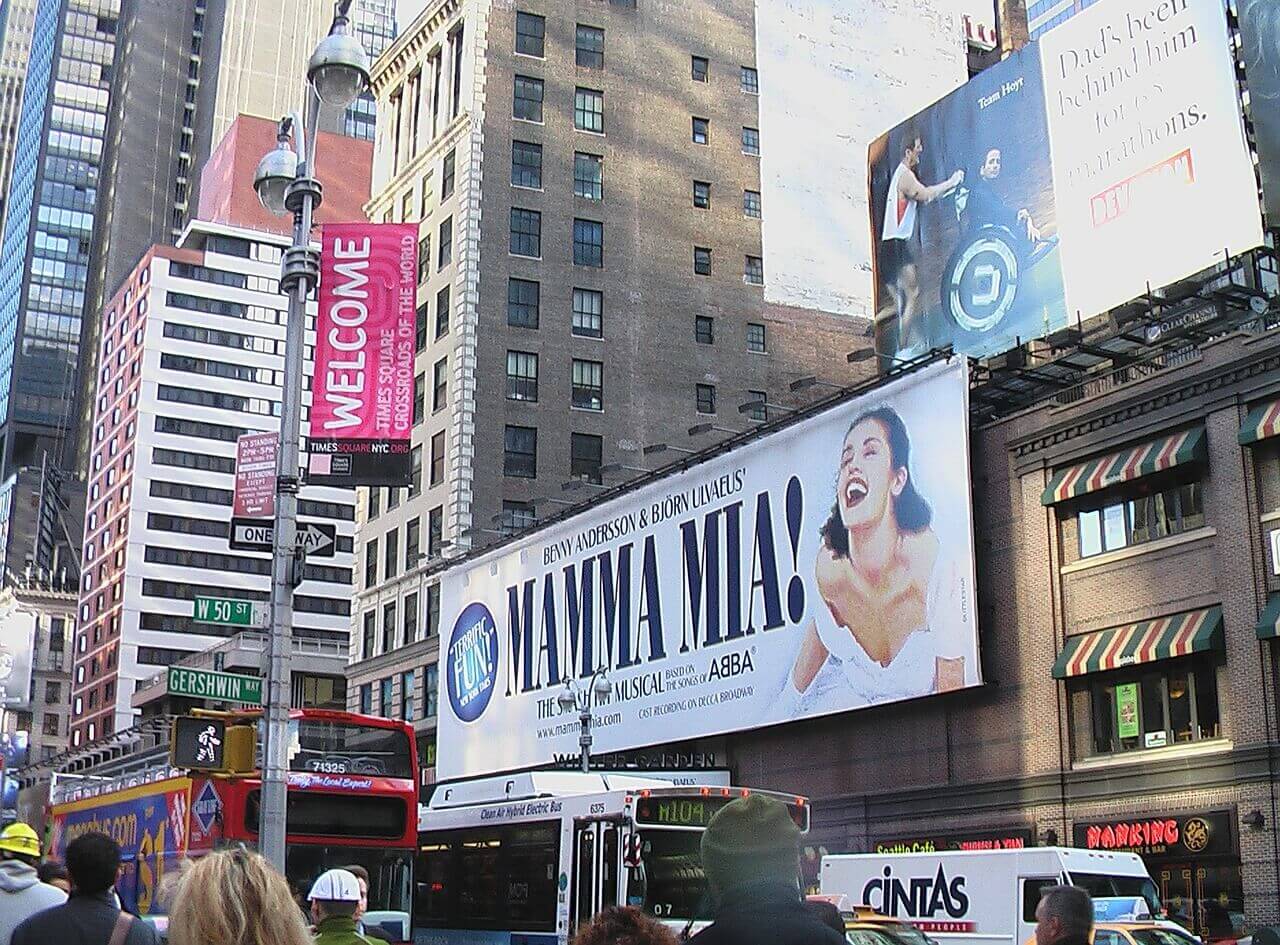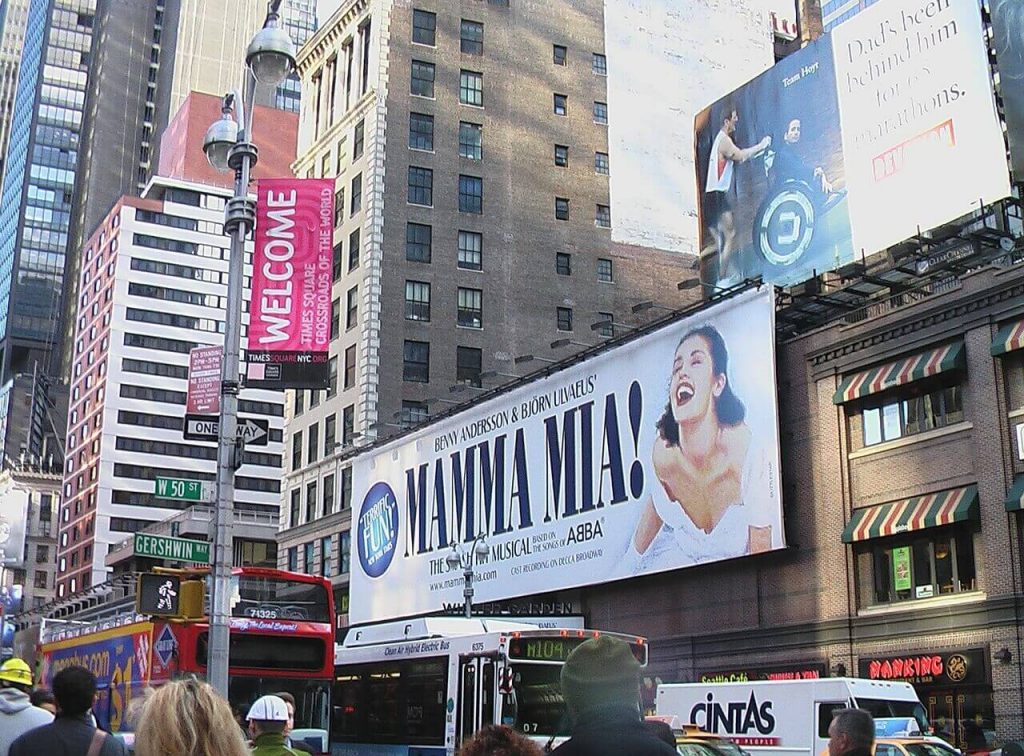 If You're Craving the Spotlight after a Broadway show
Maybe you want to sing your favorite songs from the performance or take part in some group singing. Grab a shot of liquid courage at Marie's Crisis, a popular piano bar located at 59 Grove Street. If you love karaoke and classic bar drinks like Bud Light and mixed drinks, then this is the perfect piano bar for you.
One of the most popular things to do in Times Square at night is to take your turn as a star at Don't Tell Mama, the world-famous entertainment destination. Located in the heart of New York's theater district, 343 W. 46th Street, this bar is one-of-a-kind, offering a piano bar, restaurant, and two separate cabaret rooms.
Things to Do in Times Square at Night if You Can't Get Enough of Theater
Perhaps one show in one night isn't enough…If you're still itching to see another show after your show, check out the popular cabaret venues scattered across the city. Feinstein's/54 Below is a popular concert hotspot, located on 254 W. 54th Street, and one of the most popular things to do in Times Square at night. This club is home to many traveling Broadway professionals, so you may run into some familiar faces.
If you're looking for more of a new and funky venue to see a performance, Green Room 42 may be the right option for you. This entertainment hall offers a wide variety of performances by your favorite Broadway stars as well as an amazing menu.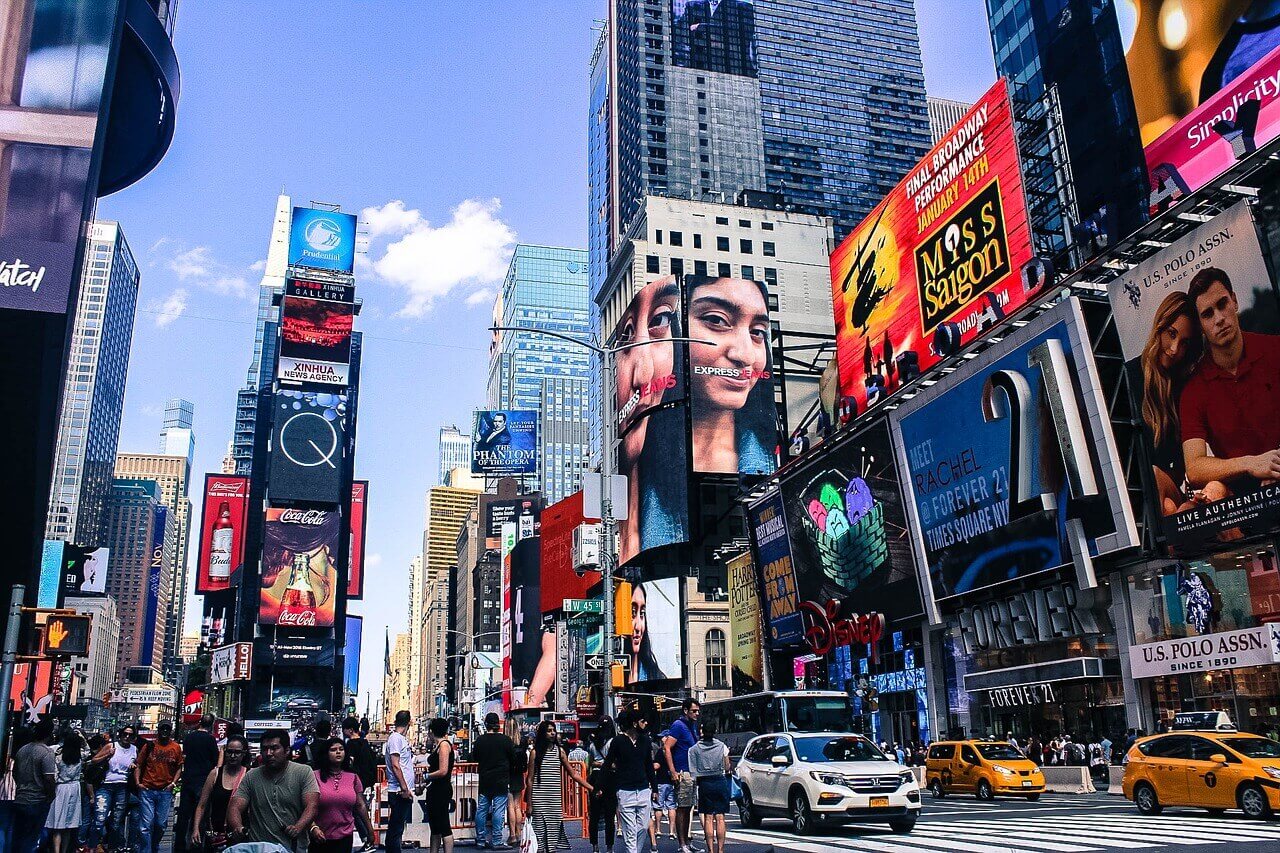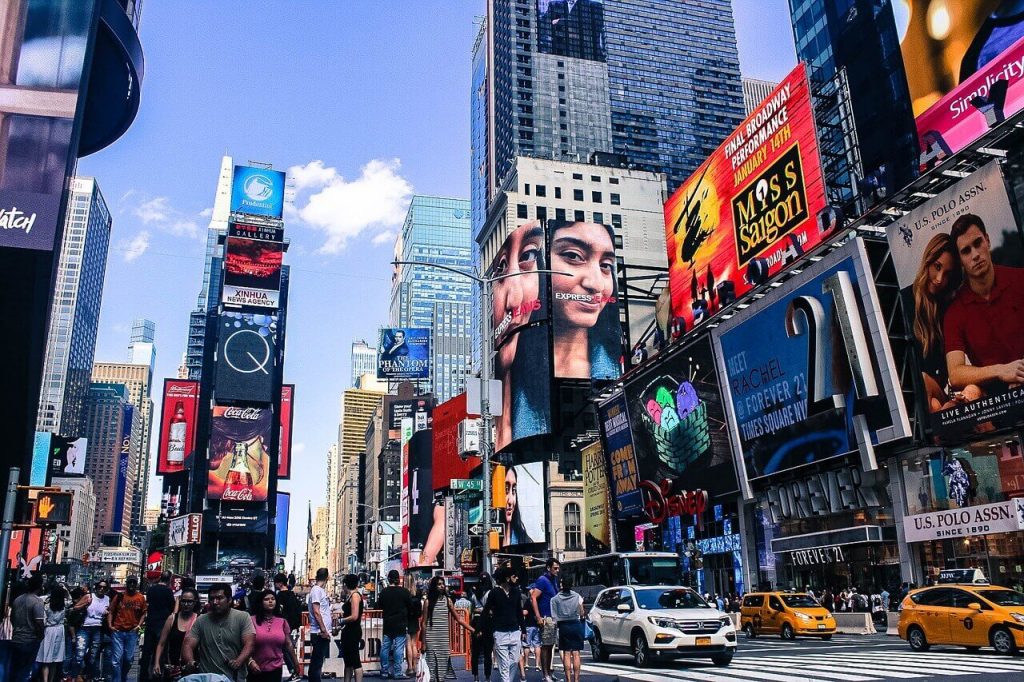 Things to Do in Times Square at Night if You Love Arcade Games
Maybe you're feeling a little competitive after your Broadway show. If you want to be the next Pinball Wizard, fill up your game card for an evening of air hockey or Dance Dance Revolution. The Fishbowl, located at 210 West 55th Street, is where Midtown Manhattan meets upscale game room. This arcade boasts a 5,000-gallon fish tank, classic games and bowling with a cocktail in hand.
Or, if you're looking to enjoy a full-sized bowling alley, go to Frames, located at 550 9th Avenue. Open until 2 AM on the weekends, this all-inclusive entertainment center has 28 lanes, private VIP rooms, dining and cocktail service, a ping pong room, billiards lounge, and private karaoke.
If You Need to Grab a Drink
One of the most perfect things to do in Times Square at night is to enjoy a drink with a date or friend right after a Broadway show. Enjoy happy hour at a few of our favorite bars while discussing your favorite moments from the performance. We suggest Bond 45, a bar that boasts two large fireplace alcoves with built-in seating and a sunken patio in the center. If you stop by Bond 45, you have to try The Bond Cup, made with pineapple infused vodka, passion fruit, and lime.
Or, stop by the classic watering hole, Glass House Tavern, which is favored by actors after they've taken their bows. Prior to curtain, it's a welcome place for audience members to indulge after the show.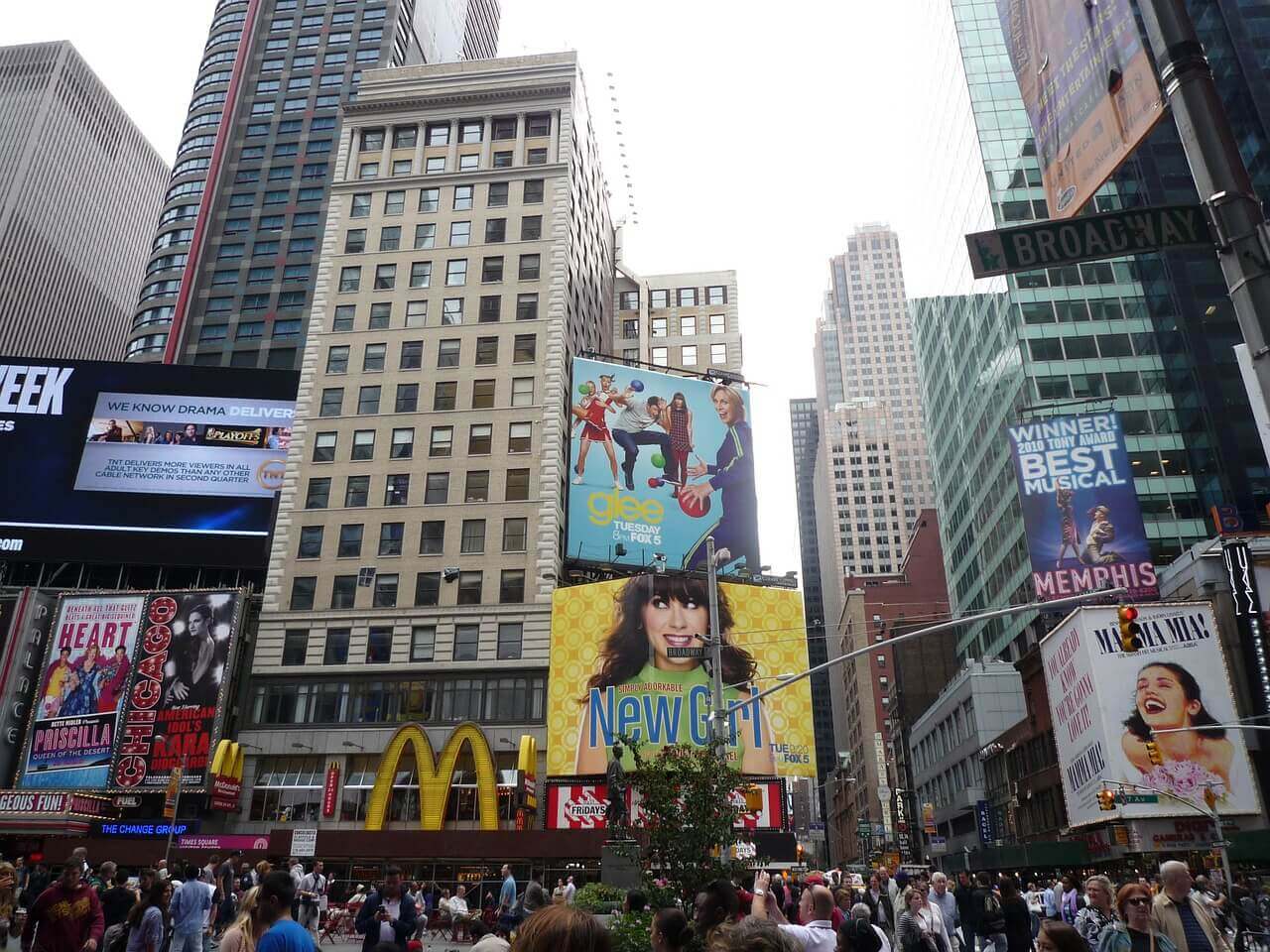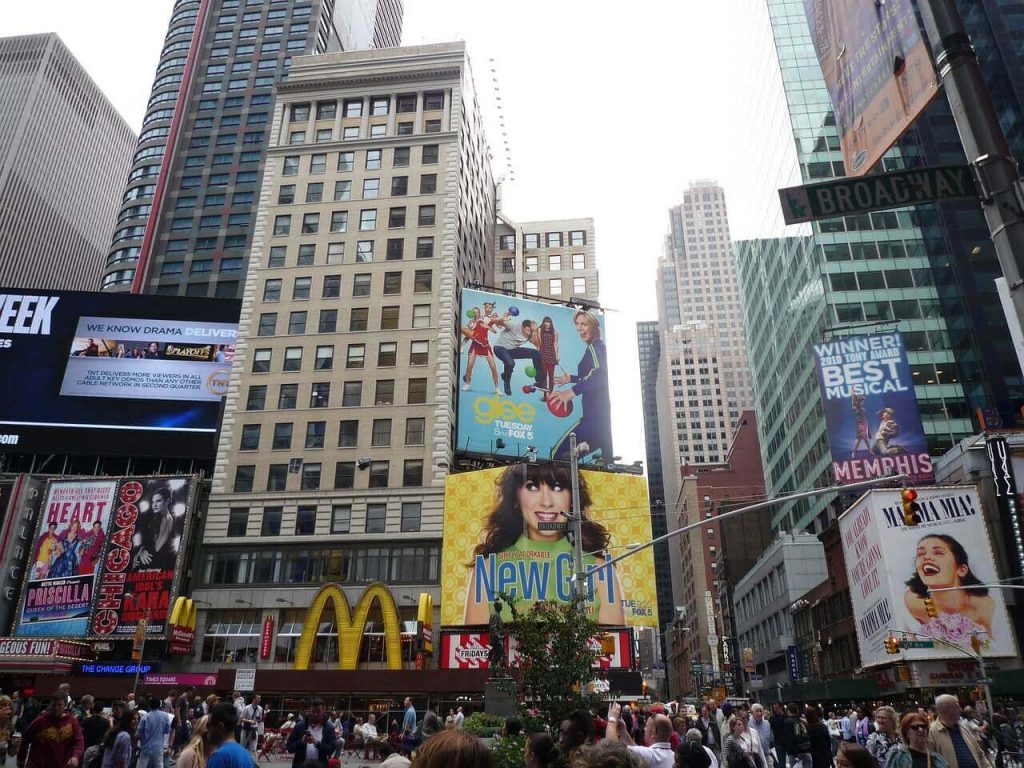 No matter what your favorite things to do in Times Square at night, NYC offers a large variety of bars, arcades, restaurants, shows and concerts to enjoy after 10:30 PM. Now that you have a list of things to do in Manhattan after your show, find last-minute Broadway tickets for you, a date or a friend. After you select a show, choose from the list of entertainment suggestions to enjoy once your performance is over.
Spending a few days in The City? Maximize your time and save money with a New York City tour. And be sure to check out these underrated attractions.
Still can't get enough of New York City? Check out these post designed to help you maximize your time in The Big Apple. 
Don't come to The City empty-handed.  Here are a couple of good tour books to give you even more great tips and bargains;  Nomadic Matt New York City guide, Fodor's New York City guide, and DK Eyewitness travel guide New York City.
---
BTW, if you are getting ready for your trip, make sure to take advantage of these useful, money-saving links to book your trip:
I personally use, and can recommend, all the companies listed here and elsewhere on my blog. By booking through these sites, the small commission we earn – at no cost to you – helps us maintain this site so we can continue to offer our readers valuable travel tips and advice.