Updated September 2020.
The recent proliferation of Cuban restaurants in New York City is both impressive and welcome. Some years ago, if I said "Cuban cuisine" you probably would have thought "rice and beans." Oh!, how things have changed. Little by little the range of Cuban culinary options has been growing; not just in quantity of Cuban restaurants but in diversity within the Cuban cuisine category itself.
Cuban food in New York City has been evolving at a rapid pace. Decades ago you would find restaurants serving traditional Cuban food throughout the city with a concentration of these in the Upper West Side. Also common were the once ubiquitous Chino Cubano (Cuban Chinese) restaurants. Today there is a lot more mixing of cultures.
This fusion is merely the continued natural evolution of Cuban cuisine throughout its history.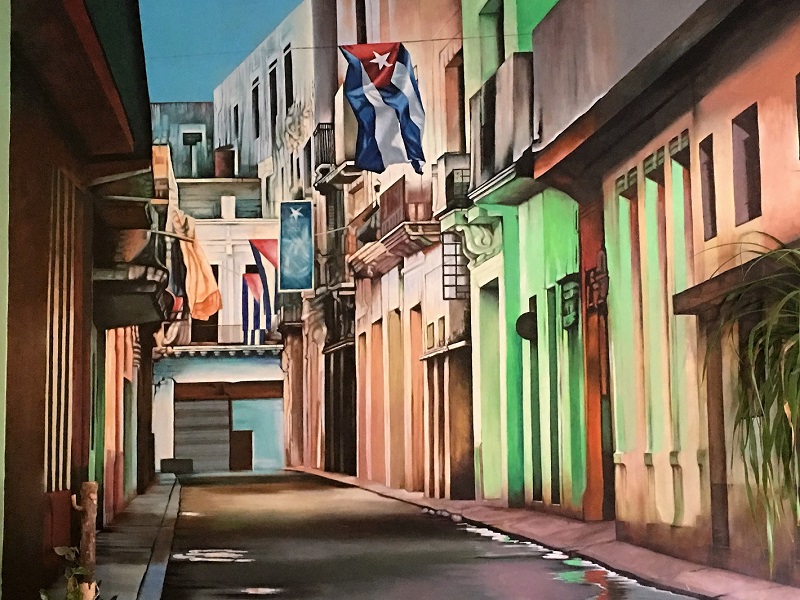 Tracing Cuba's Culinary Influences. How Cuban Food Evolved
In 1492 the Spaniards arrived in Cuba with their livestock and cooking methods which blended with native Indian ingredients like sweet potato, corn, and guava.
Shortly thereafter the West African influence arrived with the enslaved Africans who introduced plantain, okra and Guinea hen. The early 1800s experienced several waves of French immigration retreating from the Haitian Revolution. They too contributed their ingredients and methods.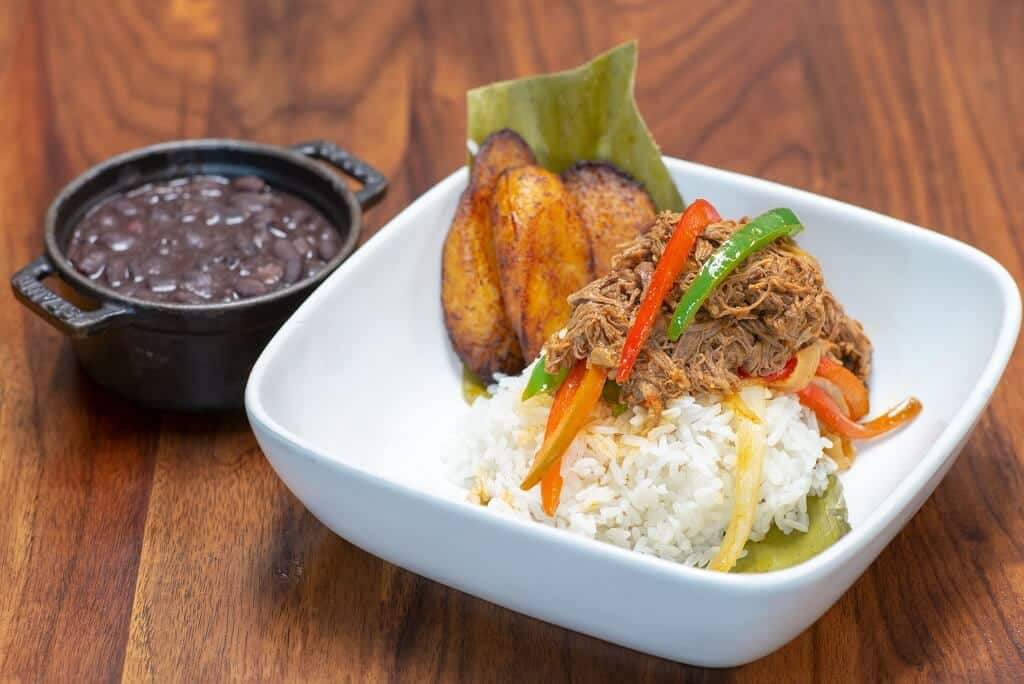 The influence doesn't stop there. As we continue into the mid-1800s we see over 150,000 Chinese contract workers arriving in Cuba to work the sugar plantations. Many of these workers stayed, and with this immigration of Asians came an introduction of new ingredients.
Cuban Food and Restaurants in New York City With Chinese Flare
Chinese immigrants opened Cuban Chinese restaurants throughout Cuba that became very popular with locals. In fact, Havana's Chinatown was once the biggest and most vibrant in Latin America. We don't really see these types of restaurants anymore in Cuba, as from 1959 these restauranteurs began leaving for the USA, mainly Miami and New York City.
You can still savor the Chinese Cuban restaurants in New York though today they have upgraded and many refer to them as Chino Latino.
Cuban restaurants with Cuban and Chinese influences that have prospered despite changing neighborhoods are Flor de Mayo on the Upper West Side, and Asia de Cuba in the East Village, a more upscale option for these kinds of fusion dishes.
Cuban Cuisine Changes with the Locals
The ever-evolving demographics of NYC are reflected in the changing characteristics of Cuban cuisine. In many restaurants, it's now all about Cuban fusion: Cuban-Brazilian, Dominican-Cuban, Cuban-Mexican and any number of other combinations.
These shifting demographics have prompted some restaurants to tweak their menu by offering meals beyond the traditional fare. "Although we pride ourselves on the authenticity of our food, we recognize the benefit of adjusting some of our offerings to appeal to the wider consumer base," says Julian Quevedo, manager of Amor Cubano, a trendy Cuban restaurant on Manhattan's Upper East Side. Menu selections like Argentinian empanadas and Ecuadorian ceviche appeal to a wider spectrum of consumers.
Innovation on classic fare is also trending. The result is great traditional selections (think mojitos) made even better (think guava mojitos).
Millie's Cuban Cafe
Nestled in the trendy neighborhood of Bushwick in Brooklyn is Millie's Cuban Cafe. The food is about as authentic as you can get, offering everything from the classic Cuban frita to roast pork with sides of rice and beans and yummy yuca swimming in garlic and olive oil.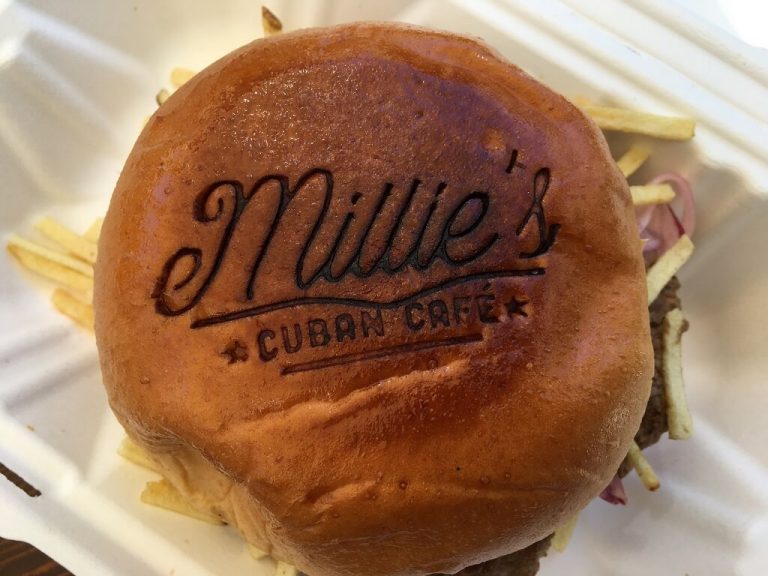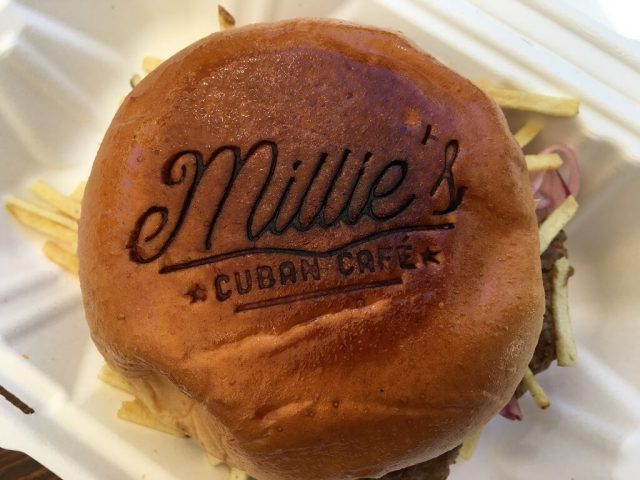 The atmosphere is casual with Cuba related photos and paraphernalia adorning the walls. Outside they have a nice outdoor seating setup with brightly colored umbrellas. And the drinks? They have all the classic Cuban drinks like Materva and Ironbeer. This is a fun place to get an authentic Cuban meal.
Madera Cuban Grill Steak House
Across the East River from Manhattan in trendy Long Island City is Madera Cuban Grill Steak House. The restaurant has been here since 2010 when the Madera family started serving classic Cuban cuisine to the delighted denizens of Long Island City.
The food is as authentically Cuban as it gets; lechon (pork), ropa vieja (shreded beef in seasoned tomato sauce) and chicken croquettes, to mention just a few of the classics, all perfectly seasoned like abuela used to make. Madera is a steakhouse, however, and their main offering is a wide selection of steaks from porterhouse to ribeye.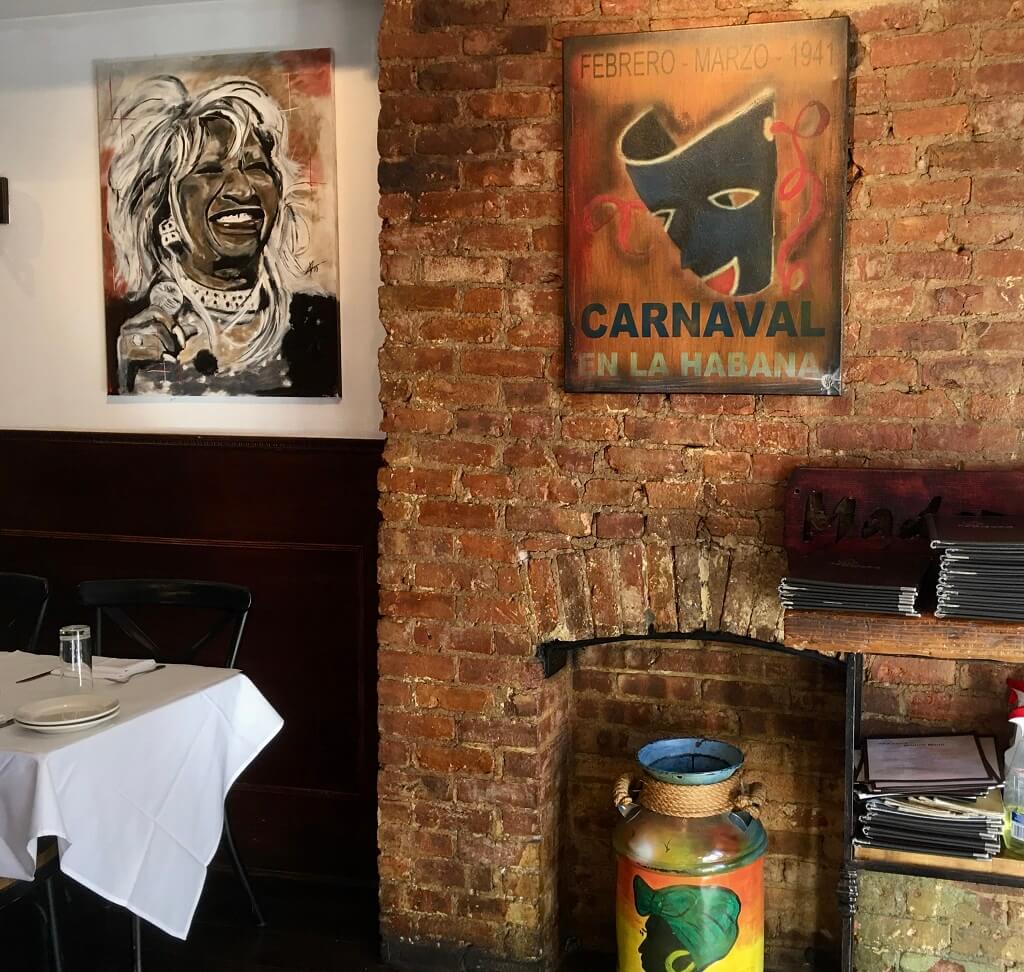 The standouts are the appetizers, innovative takes on traditional Cuban dishes like frituritas de bacalaito (codfish fritters.)
Madera has a full bar with a nice selection of drinks – think passionfruit mojitos! The service is friendly and efficient, and the ambiance is relaxing, welcoming and pleasant.
Victor's Cafe. A Menu True To Cuban Roots
Victor's Café has been one of the staple Cuban restaurants in NYC for almost 60 years. Originally established on Columbus Avenue and 71st street, this Cuban food heaven with live music moved to New York City's Theater District in 1980.
Victor's has a slightly different take on where the ever-evolving food of Cuba is heading. On their website, it states: "The evolution of Cuban cuisine is our interpretation of what an upscale Cuban restaurant would be in Cuba if politics had not interfered with its growth."
The menu remains true to its Cuban roots. New menu creations derive from already existing Cuban fare rather than borrowing from other cultures. Examples include Bartolito, a flavorful concoction of sweet plantain, pork stuffing, black bean puree and goat cheese or Harina con Camarones, corn grits and shrimp in enchilado sauce.
Victor's Café bucks the cultural trend managing to remain conceptually fresh and consistently delicious.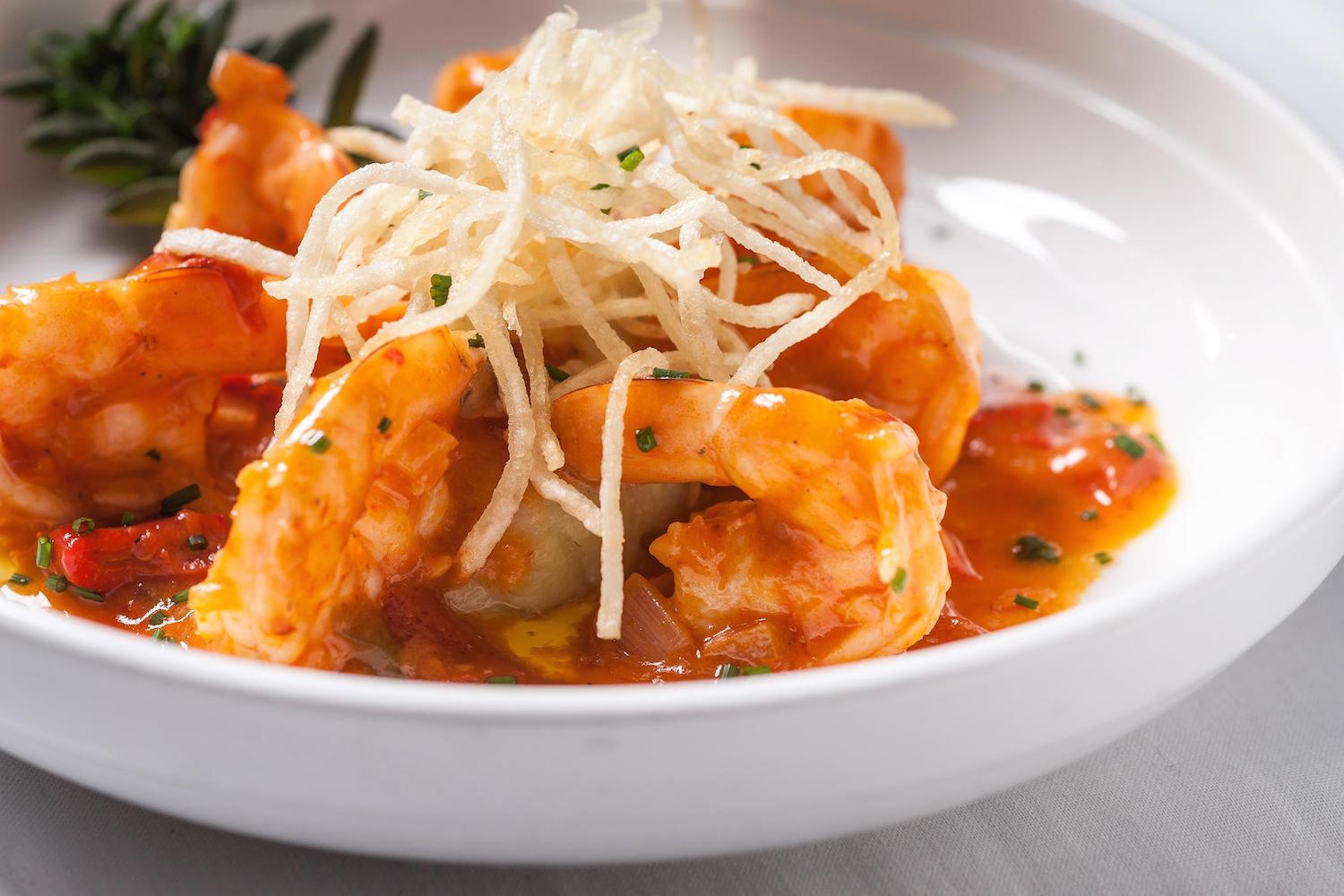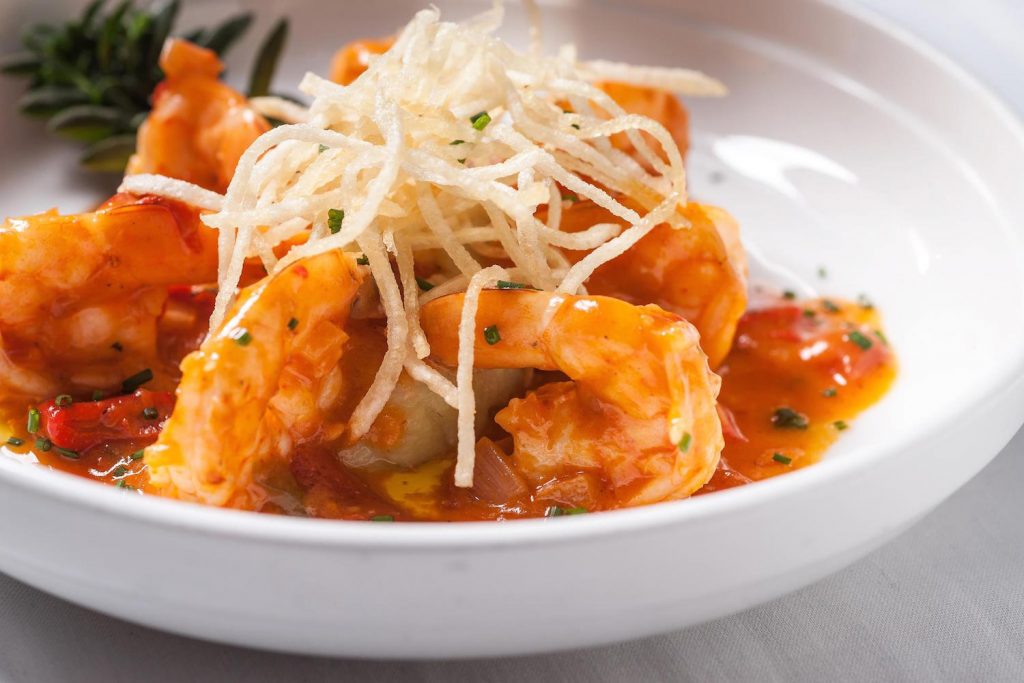 The New Wave of Cuban Restaurants in New York City
A group of inspired Cuban, Cuban-ISH and Cuban inspired restaurants have hit the city in the past years and joined the city's ranks of best ethnic restaurants in NYC, and if the food and ambiance is any indication, they're here to stay.
Coppelia
At the juncture of three of Manhattan's most dynamic neighborhoods; The Meatpacking District, Chelsea and Greenwich Village sits Coppelia, a diner with a Cuban flair. The brainchild of Cuban-born Beatriz de Armas, who named the restaurant after the cherished Coppelia ice cream of her childhood Havana, restauranteur Luis Skibar and executive chef Julian Medina, the restaurant serves both traditional Cuban food as well as other Latin- particularly Brazilian- inspired delectable dishes.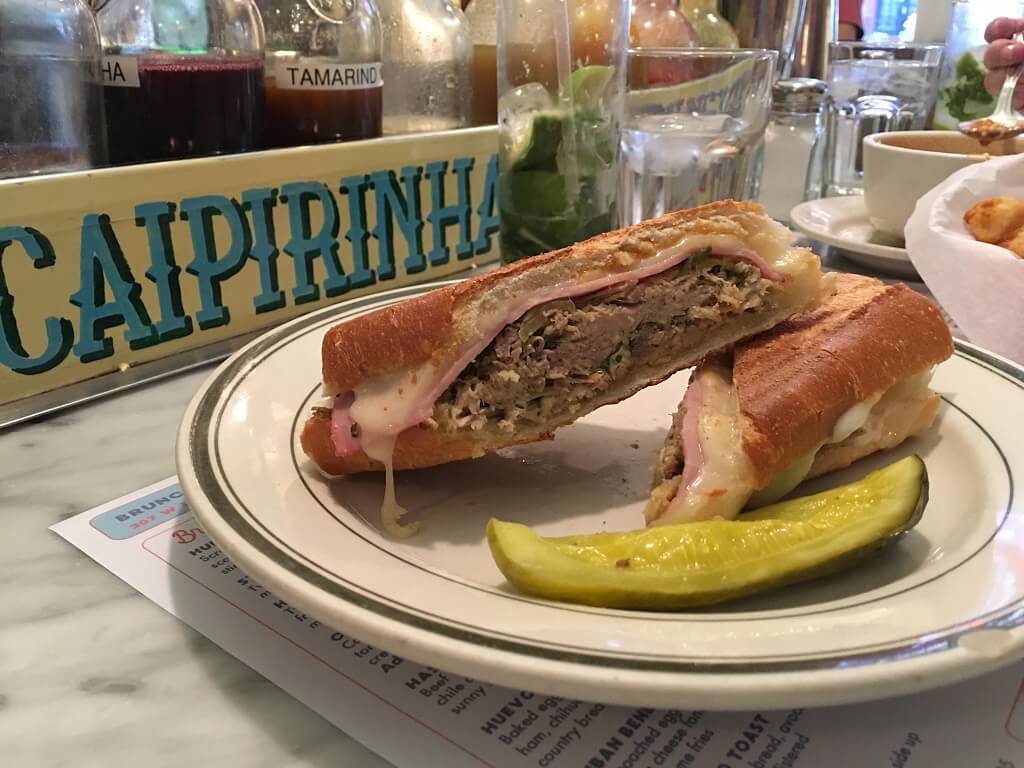 Established since 2011, Coppelia is a trendy hot spot open 24/7 and almost always packed no matter what time you go. It's been referred to as a mix between a Latin lunch counter and your favorite American diner. That's a pretty good description, only a bit more upscale.
Cuba Restaurant and Rum Bar
The group also oversees Cuba Restaurant and Rum Bar on Thompson Street in Greenwich Village. The name alone makes you want to go there. Cuba Restaurant and Rum Bar may be small in size, but it is huge in style and charm. The place is decorated with Cuba themed paraphernalia recreating a restaurant off some cobblestone side street in Old Havana.
For those who want their Cuban food straight, without any innovative, multi-ethnic flairs, Cuba Restaurant and Rum Bar is for you. The food there is no-nonsense, stick-to-your-ribs, traditional Cuban comfort food; ropa vieja (shredded beef in a spicy tomato sauce), arroz con pollo (chicken and rice), camarones al ajillo (garlic shrimp), croquetas (croquettes), and, of course, the mother of all Cuban food, lechon con moro y yuca con mojo (roast pork with mixed back beans and rice and yuca- a starchy tuber- drizzled with garlic and oil). Oh!…It doesn't get more Cuban than this.
Cuba Restaurant and Rum bar gets extra bonus points for their drinks like the classic mojito with its crisp, fresh ingredients. They also have live music on the weekends.
Calle Dao
Calle Dao – "Dao" (means knife in Chinese) – has taken the Cuban Chinese concept one step further. It's not a Chino-Latino restaurant in the traditional sense, it aims to recreate the Chinatown of pre-revolutionary Havana…only in midtown Manhattan. How cool is THAT??
The décor is Old Havana Chinatown in its heyday. An 1847 map of Old Havana covers one entire wall, glass cabinets hold jars of unidentifiable colored concoctions reminiscent of an ancient Chinese drugstore and faded Spanish and Chinese lettering are sprinkled on walls throughout. It reminds you of a quirky restaurant next to the Old Havana docks that also serves great food.
And talk about the food! If Old Havana's Chinatown continued to flourish without interruption, Casa Dao is what it would have looked like. The two culinary cultures, Cuban and Chinese blend seamlessly to elaborate fun and delicious creations like 5 spice skirt steak with rice and beans and fried plantains, oxtail croquettes with hoisin sauce and lechon (roast pork) steamed bao buns. The desserts are even more fanciful, like flan with crispy noodles.
If you ever regretted missing the Chinatown of Old Havana, you can still catch a glimpse of it in Calle Dao. These guys nailed it!
La Cubana
Cool and stylish as a fedora-wearing caballero at a classy 1957 upscale Havana bar, La Cubana is New York City's latest contribution to the Cuban restaurant scene. The restaurant opened in the summer of 2019 right smack in the middle of Manhattan's Meat Packing District to entirely justified stellar reviews.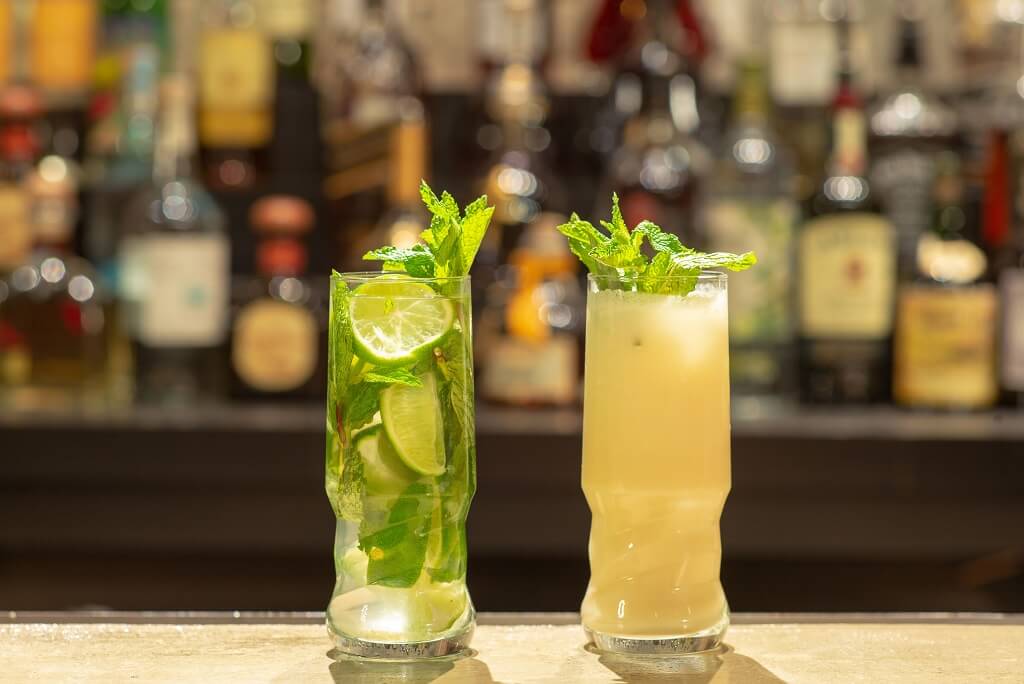 The location is beautiful; soft leather seats, polished brass, and sparkling chandeliers grace the interior. The dance floor is large enough for people to execute their most frenetic salsa moves when the live music starts to play.
What Lies Ahead for Cuban Cuisine?
What lies ahead for Cuban cuisine? How will it continue to evolve? "Everything depends on what happens next in Cuba," says Julian Quevedo of Amor Cubano. Despite hardships and the scarcity of proper ingredients in Cuba, Cuban chefs have continued to create. Cuban-American chefs Alain Rivas, Jaime de Rosa, and James Beard Award winner, Douglas Rodriguez are leading culinary tours to Cuba. A thawing of diplomatic relations between Cuba and the U.S. would have an interesting effect on the cuisine of both countries. I can't help but wonder what that would look like.
Can't get enough of Cuban food – outside Miami, that is. Check out these great cookbooks and learn how to make it yourself.
And if you're going to Cuba and looking for places to eat, check out these
unique Havana restaurants
.
What's your favorite Cuban dish? Let us know in the comments.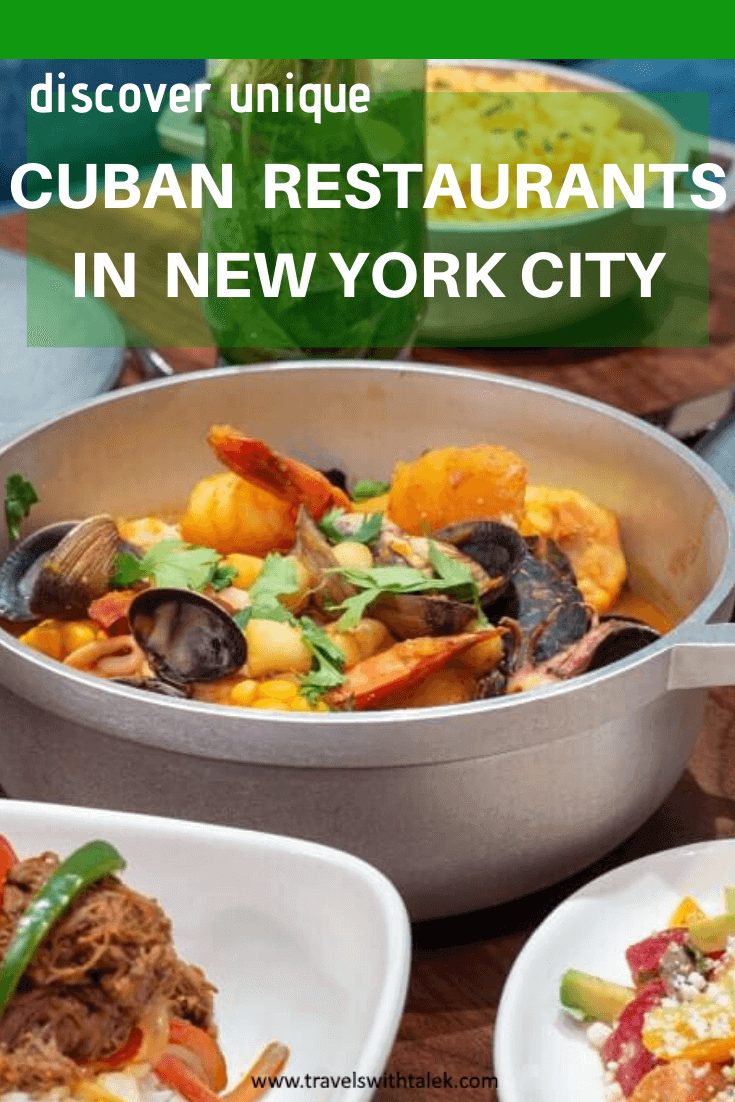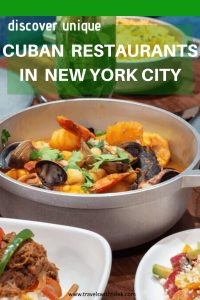 BTW, if you are getting ready for your trip, make sure to take advantage of these useful, money-saving links to book your trip:
I personally use, and can recommend, all the companies listed here and elsewhere on my blog. By booking through these sites, the small commission we earn – at no cost to you – helps us maintain this site so we can continue to offer our readers valuable travel tips and advice.