Fusion cuisine has been with us since the beginning of trade and conquest, i.e., forever. Whenever two or more cultures have come together, they have influenced each other's cuisine. Even dishes that have become iconic representations of a culture, like pasta for Italy, have origins elsewhere; the Chinese perfected the noodle before pasta became an Italian staple.
The Vietnamese banh mi is served on a baguette, a uniquely French vestige of the country's colonizers. People in Cuba have never heard of the increasingly ubiquitous Cuban sandwich as it originated in Tampa, Florida, USA, and never migrated to Cuba. The classic Indian dish, vindaloo, created during the Portuguese colonization of Goa, is actually a local take on the classic Portuguese stew, carne de vinha d'alho, made with wine (vinho) and garlic (alho).
Contemporary fusion cuisine incorporates the best of each culture to create innovative taste sensations that would not exist otherwise. The cultural combinations are as varied as the cultures themselves.
We've asked food-loving frequent travelers to contribute some of their favorite examples of fusion cuisine. Here are their delicious contributions.
Fusion Cuisine Around the World
Chino-Latino
In the early 1960s the Chinese population of Cuba left fleeing communism and settled in the United States. Many of these Cuban-Chinese had been in the Chinese restaurant industry in Cuba. Most of them went to New York City where they reestablished their businesses. Rather than open yet another Chinese restaurant, they leveraged their Cuban background blending both cultures to create Chino-Latino cuisine.
The dishes followed the old Chinese restaurant ordering method; one from column A, one from column B, but the food was both Chinese and Cuban, so a typical plate could consist of fried rice, sweet plantains, chicken croquettes and fried wonton. And it all works!
Chino-Latino cuisine was largely a northeast U.S. phenomenon concentrated in the New York/ New Jersey area. Over the decades, there were less and less of these restaurants and the trend declined as the descendants of the original restaurateurs moved away from the restaurant business and were not replaced by new immigrants.
You can still find some of these Chino-Latino restaurants in the New York City area, particularly in Queens, under the number 7 train, ground zero for ethnic restaurants in New York City. Some have morphed into gourmet haute fusion cuisine establishments. Others have combined Chinese cuisine with the food of other Latin cultures with large Chinese populations like Peru.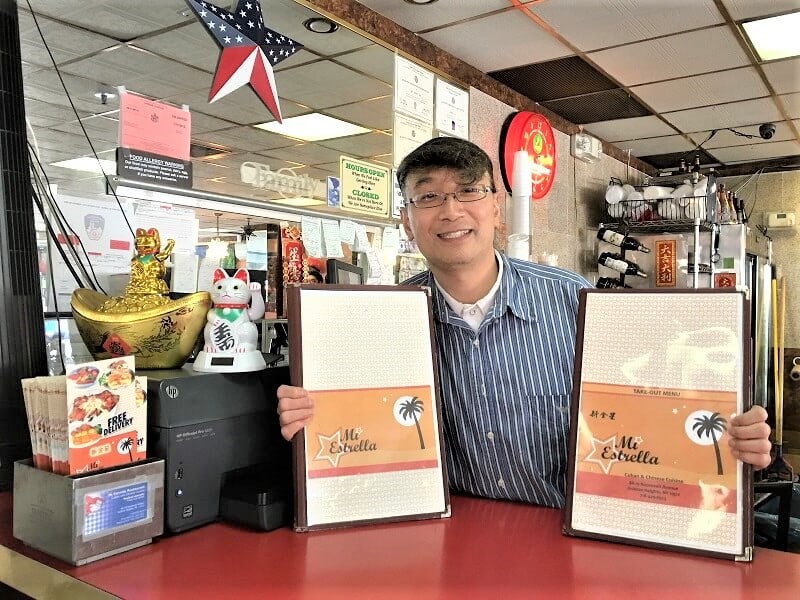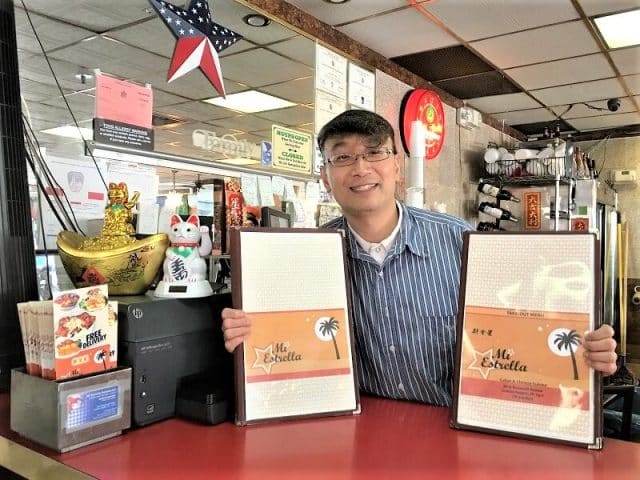 Talek blogs at Travels with Talek
Want to know more about New York City's hidden gems? Check out these secrets from a New York City native.
Most underrated attractions in New York City
Famous places to eat in New York City without going broke
*****
Tex-Mex
Though the U.S.A. itself is a melting pot, no culinary combo is more beloved than the Tex-Mex fusion of Texas and Mexican cuisine. While some critics will say Tex- Mex is not "authentic" Mexican cuisine, like say eating tacos in Mexico City, Tex- Mex food has flavors all its own.
Given that Texas and Mexico share about 1,250 miles (2,000km) of border, it makes sense the two cuisines merged. However, since Mexican food is thousands of years old, it makes up much of the flavor profile that is Tex-Mex.
In Mexico, corn, beans and chili peppers compose most of the main flavors and ingredients in Mexican food. In the northern Mexico states that border Texas, tortilla-wrapped foods like burritos and tacos are daily food staples.
Across the border in Texas, one of the main alterations is the use of crispy/fried tacos and taquitos, instead of soft/un-fried tortillas in Mexico. In fact, crispy tacos are one of the main Tex-Mex food staples, where soft tacos are more common throughout Mexico.
In San Antonio, Texas, they have a unique Tex-Mex fusion created in that city. When visiting, make sure to try puffy tacos, a masa dough that's fried in a way so it puffs up like a pillow. Puffy tacos are similar to a salbute in Mexico, but with a Tex-Mex twist.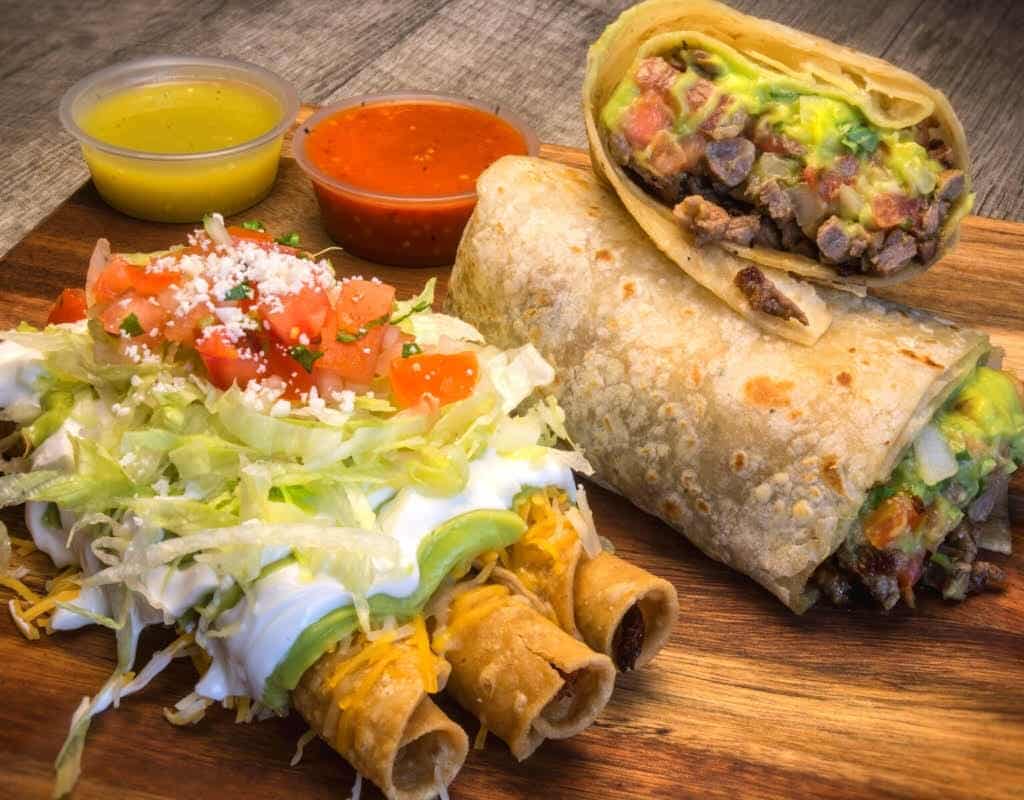 Shelley blogs at Travel Mexico Solo
*****
Cape May cuisine, South Africa
Cape Malay fusion cuisine finds its origins in the Western Cape province of South Africa, but more specifically, in Cape Town itself. It's a blend of Malaysian, Indian and Indonesian together with local South African cuisine.
In the 17th century, the Cape Malay people were brought to South Africa from Malaysia, Indonesia and India to work as slaves for the Dutch who in that time ruled the Cape province. The Cape Malay brought with them their traditional spices and recipes, but when working as household staff for the Dutch, the Cape Malay had to slightly adjust their recipes to the palates of the European settlers as well as to the ingredients they could source in South Africa itself. Their well known spicy food became more mild and fruity yet still had complex flavours. The use of cinnamon, kardamom, turmeric and nutmeg still reveals the origins of the food. However, the spicy power of the chilies has been somewhat reduced.
Today, Cape Malay cuisine is an integral part of South African cuisine. Some of the dishes are well known throughout the world as South African food, like koeksisters, various bredies (stews) and samosas. But the most famous Cape Malay dish is without doubt South African bobotie with yellow rice, which is often considered as South Africa's national dish.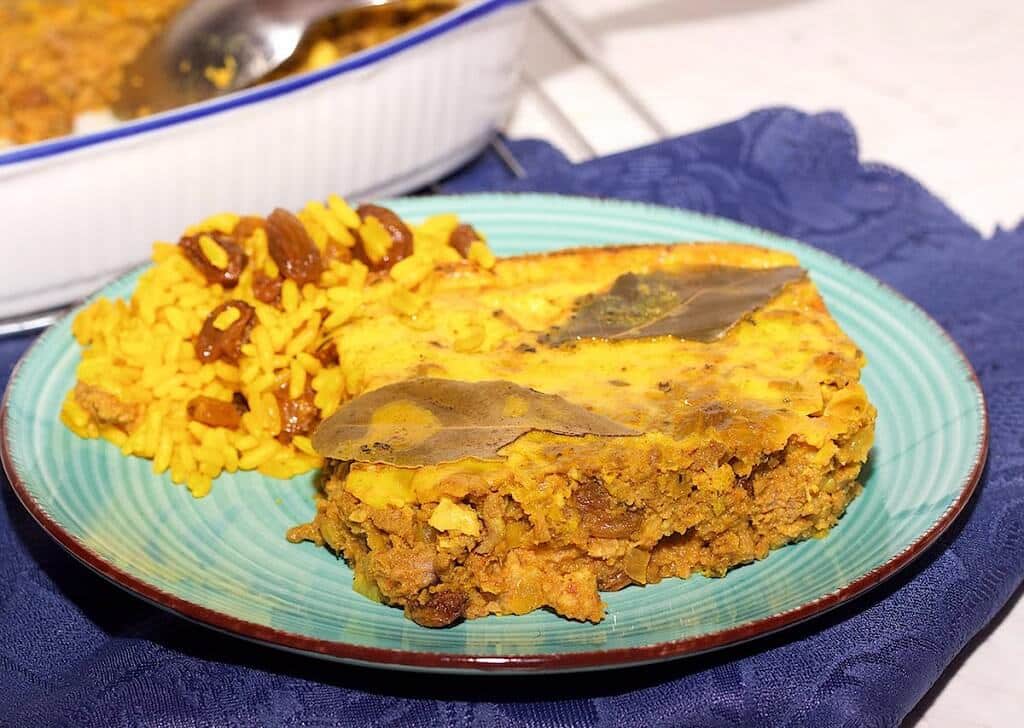 Sabine blogs at the Tasty Chilli
*****
Garifuna Cuisine, Central America
To begin to understand the cuisine of the Garifuna people you need to look to the past. They trace their ancestry to West Africans who were survivors of a slave ship that shipwrecked in the Caribbean who then intermarried with the Arawak indigenous people of St. Vincent and the Grenadines in the Caribbean. In 1797, they were exiled by the British to Roatan, Honduras where their population eventually spread out to form communities along the Caribbean coastlines of Belize, Guatemala, Honduras and Nicaragua. Also known as the Garinagu, their culture is a unique blend of African, Caribbean and South American influences. It expresses itself in food, traditional dress, storytelling and music featuring percussion instruments, song and drumming.
The cuisine of the Garifuna, while rich and flavourful, is not especially spicy and features foods such as fish, chicken, plantain, bananas, cassava and coconut. A wide range of traditional Garifuna dishes can be found during the Garifuna Settlement Day or National Day of the Garifuna that takes place in November each year. But famous Garifuna dishes such as bundiga (fish soup with okra), tapado (coconut seafood soup), coconut rice, banana tamales and ereba (cassava bread) are available year-round at small family-owned restaurants, in the markets and food stalls that line the streets in Livingston, Guatemala and Hopkins Village, Belize.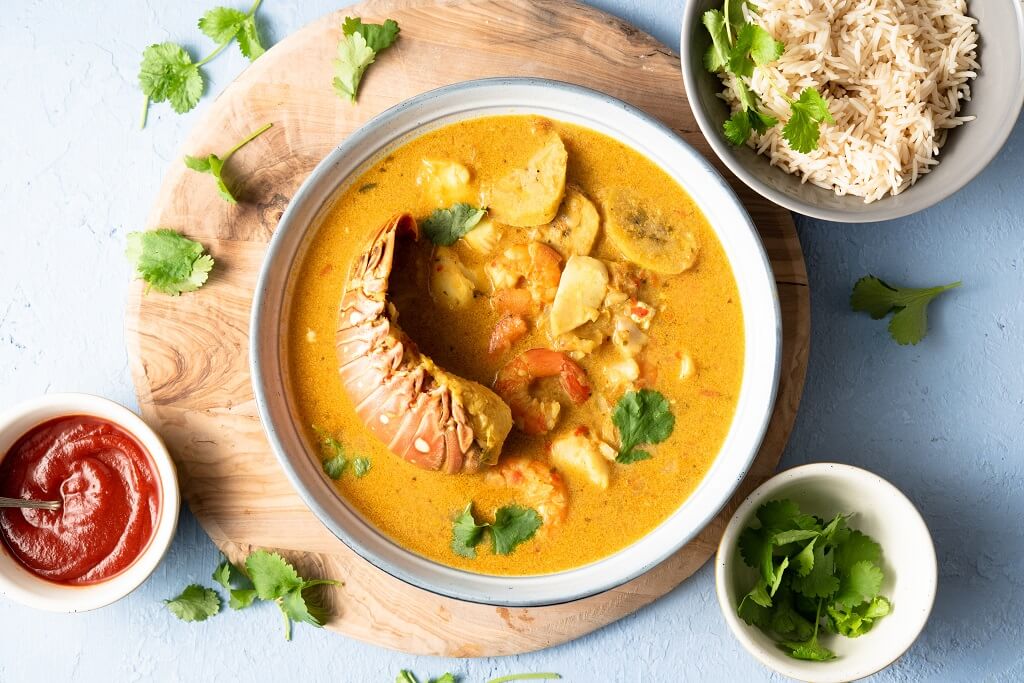 Michele Peterson blogs at A Taste for Travel
*****
New Mexican, USA
New Mexico is one of the best states in the U.S. if you are looking to experience cuisine that is truly unique to a particular region. The food is a blend between American Indian and Spanish cuisine. To truly understand the influence of these two cultures on New Mexican food, you must first understand the history.
Long before it was a state, this area in the southwest portion of the United States was settled by indigenous people from the Pueblo, Apache, and Navajo tribes, among others. But when Spanish explorers came on in the 16th century, they brought with them their own culture, including spices and foods typical in Spain.
Some of the staples in New Mexican cuisine are similar to those in Mexican-American or Latin American food, including enchiladas, tamales, and burritos. But there are also some notable differences. The main difference is in the type of chilies used to prepare these dishes. In Mexican-American, Tex-Mex, or even traditional Mexican dishes, green sauce used to top enchiladas and other main dishes is made with tomatillos, also known as husk tomatoes. But in New Mexico, green sauces are made from hatch chilies. Hatch chilies, which are primarily native to the Hatch Valley in New Mexico, must be roasted and peeled before they can be eaten or used in a meal due to their thick skin.
A popular way to order New Mexican enchiladas is stacked, served "Christmas style" with hatch green chili sauce on one side and red chili sauce on the other. Some also top off their stacked enchiladas with a fried egg. The state's cuisine can be on the spicy side, so if visiting New Mexico with kids, you may want to order something a bit more mild or bland for children.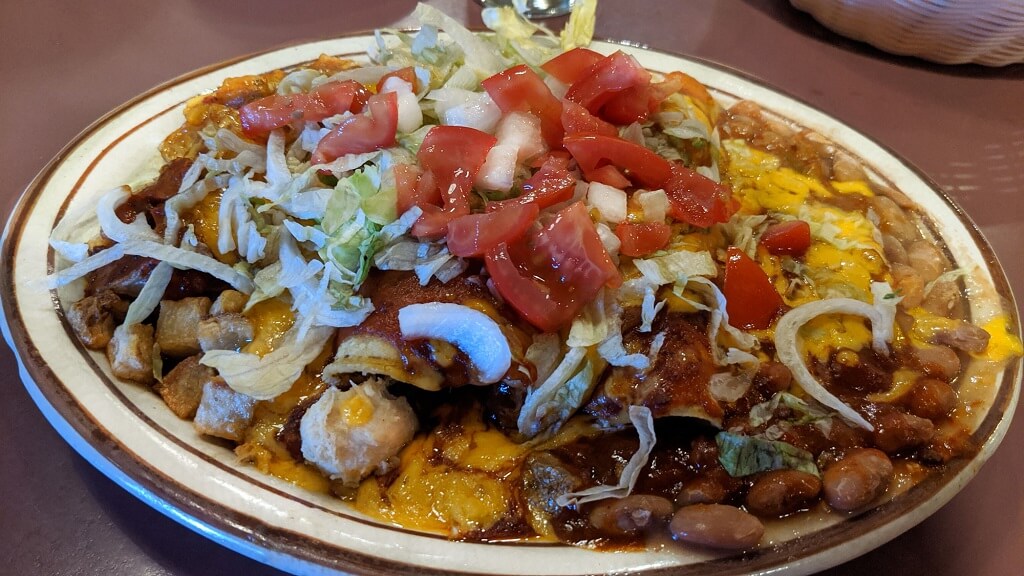 Melissa from Parenthood and Passports
*****
Malay-Chinese, Malaysia
Kuala Lumpur is a melting pot of different cultures who all bring in a unique cuisine. Most people living in KL are either of Chinese, Indian or Malay origin. These cultures have long since blended together and created a diverse group of people that make up Kuala Lumpur and the rest of Malaysia. KL is known to be a city where different cultures coexist peacefully and appreciate each other's traditions and, of course, the delicious dishes they all bring to the table.
The Chinese and Malay cuisine especially are often combined and mixed to produce unique fusion dishes that have become the norm in Kuala Lumpur.
A popular dish in the Malaysian Chinese cuisine is curry laksa or curry mee which are noodles served in a spicy curry soup. This dish is often served with tofu or seafood and eaten with spicy sambal. Many dishes in this cuisine are spicy and combine sweet with savoury flavours. You'll find this and many other dishes in affordable restaurants around the KL City Centre.
The traditional Chinese Pan Mee is another Chinese dish that has been adapted to Malaysian standards. These chewy noodles are served in a flavourful broth with mushrooms and greens. An absolute must-try when visiting KL.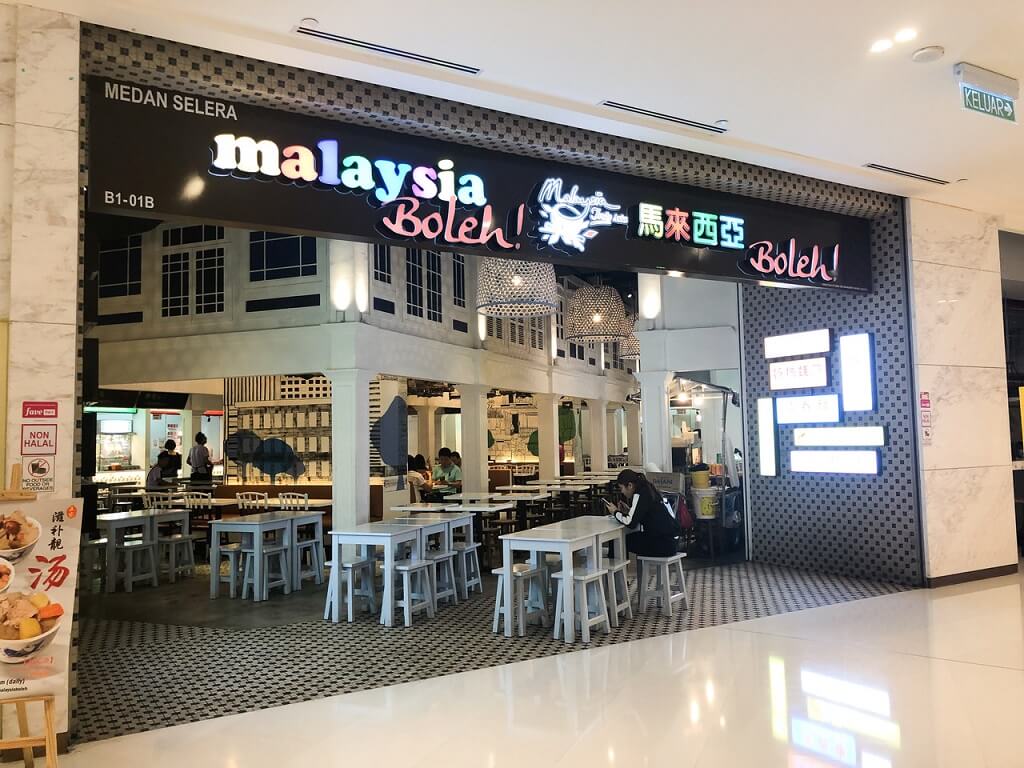 Victoria blogs at Guide Your Travel
*****
Cajun cuisine, USA
Fusion cuisines have become increasingly popular among foodie and travelers, and Cajun cuisine is a fine example. You'll enjoy this rich and flavorful cuisine with simple, locally-sourced ingredients when you visit places like New Orleans, Baton Rouge, and Lafayette along coastal Louisiana.
At one time Cajun cuisine was thought of as a "poor man's food", but today it has become a traditional world cuisine that defines a culture. The term Cajun derives from the French descendants of Acadiana living in southern Louisiana. Originally from French Canada, the first Acadians arrived in Louisiana in the 18th century, and brought French, Spanish, and West African cooking techniques with them. Those flavors have evolved over the years into today's Cajun cuisine.
The aromatic "holy trinity" of Cajun cooking — onions, bell pepper, and celery — is similar to the French mirepoix and is used as a base for just about every Cajun dish. A typical meal may include a main dish made with boudin sausage or local crawfish, blended with rice, pork, or shrimp. Along with this might be steamed Louisiana rice and seasonal vegetables — okra is the African influence and widely enjoyed today.
Spices from Spanish and French cuisines such as cayenne and black peppers, bay leaf, and paprika, give the deep flavors and aromas that will make your belly growl. A popular dish of West African origin is Gumbo, now the official state dish of Louisiana. It's made with the holy trinity along with okra, seafood or meat, and rice slowly stewed to produce a rich often spicy dish. It's definitely the first dish you should try in Louisiana — Cajun cooking at its finest.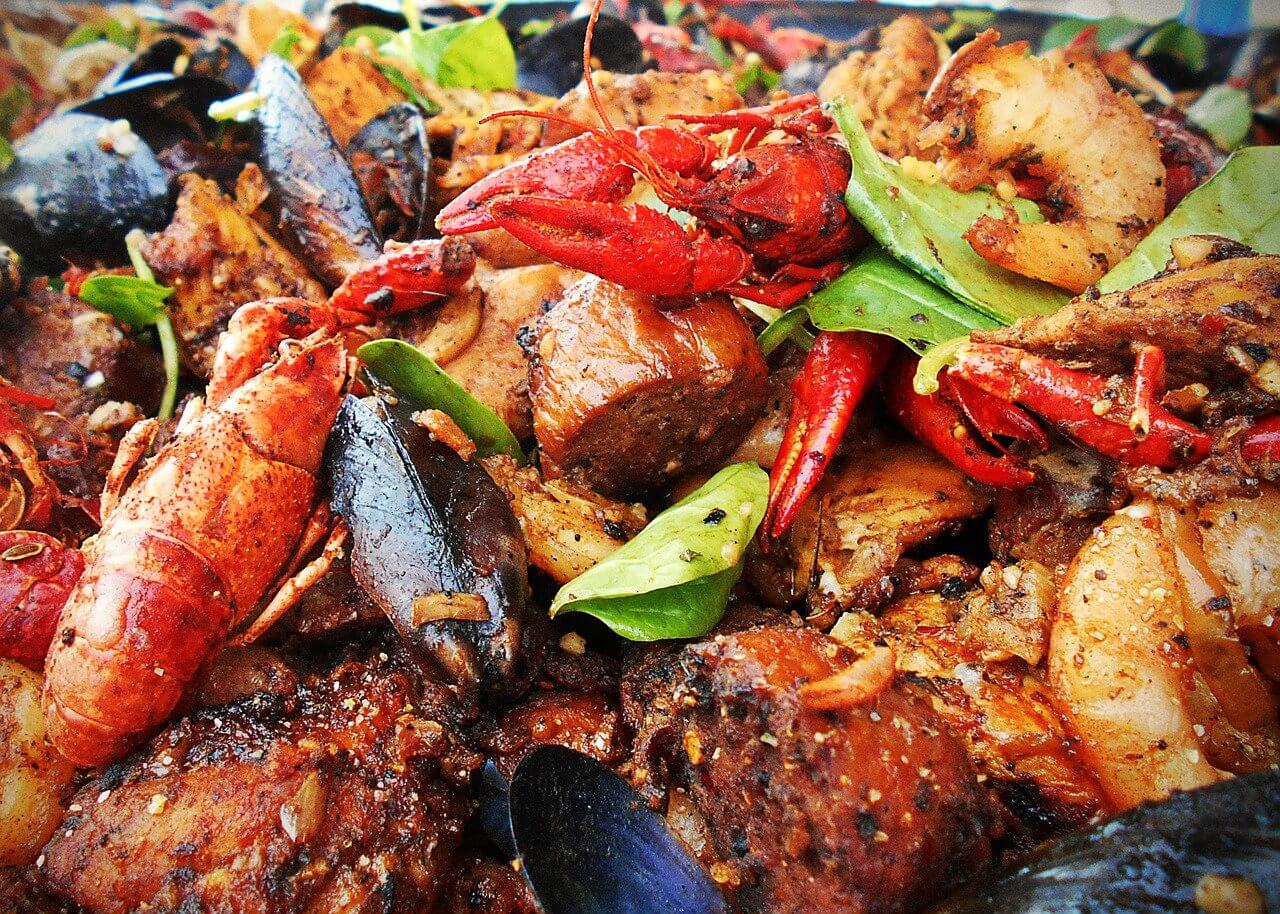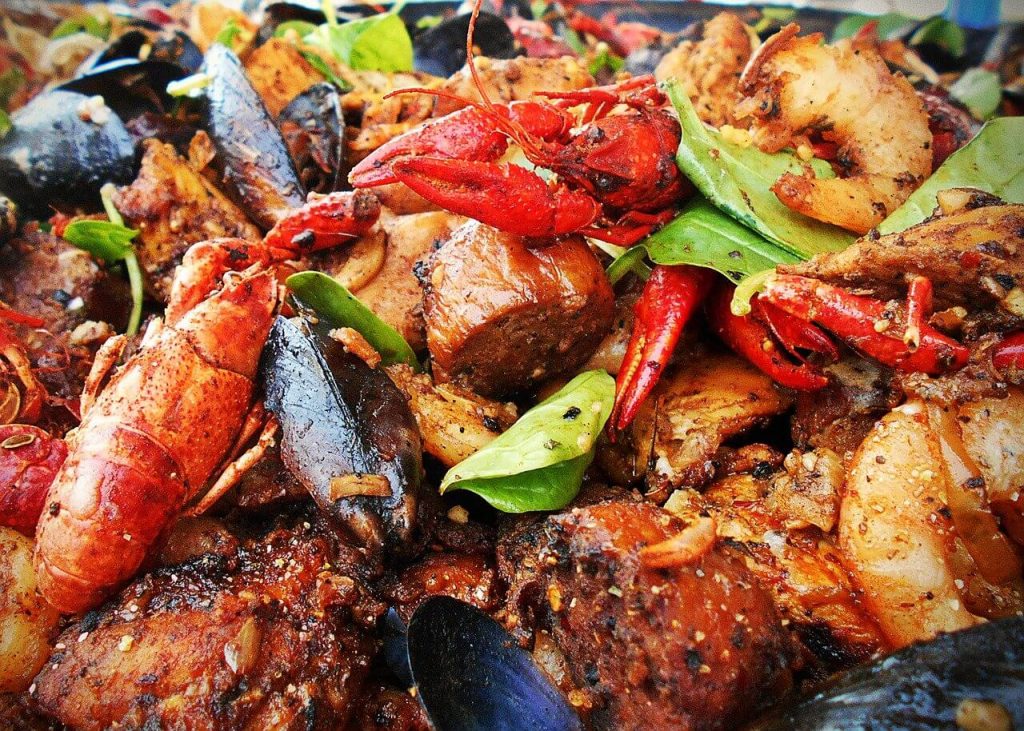 Lori blogs at Travlinmad.com
Check out the scariest things to do in New Orleans on Halloween
*****
French-Vietnamese, Vietnam
At first glance, Vietnamese food may not appear terribly different from its South East Asian neighbours but look closer and you will notice a hint of European influence that has crept in.
France moved into Indo-China in the last years of the 1800s and stuck around until 1954. Naturally, they brought some of their favourite foods with them. However, with such a different range of ingredients locally available, alterations, adaptations and collaborations occurred.
The most famous sandwich in Vietnam is the banh mi. (Let's face it, even the concept of a sandwich for lunch is pretty European). A crispy baguette is stuffed with ingredients such as picked vegetables, pork, coriander and sometimes cheese spread. In the early years of the 20th century, wheat imports were so expensive that bakers began mixing in the local rice flour finding it made the bread fluffier. It is now an extremely popular snack.
Another French import has become the national drink. Coffee was brought to Vietnam in the 1800s. Vietnam is now the 2nd largest producer of coffee in the world and 15th largest consumer of it. Vietnamese coffee is a unique experience. The Vietnamese didn't have access to fresh milk so they substituted sweeter condensed milk. Slowly dripping the strong espresso style coffee into a glass with this created both a delicious way to drink coffee, and the culture of sitting and chatting as you wait for it to finish filtering.
Even pho is a collaboration as the method of creating the broth was lifted straight from French stews and stocks.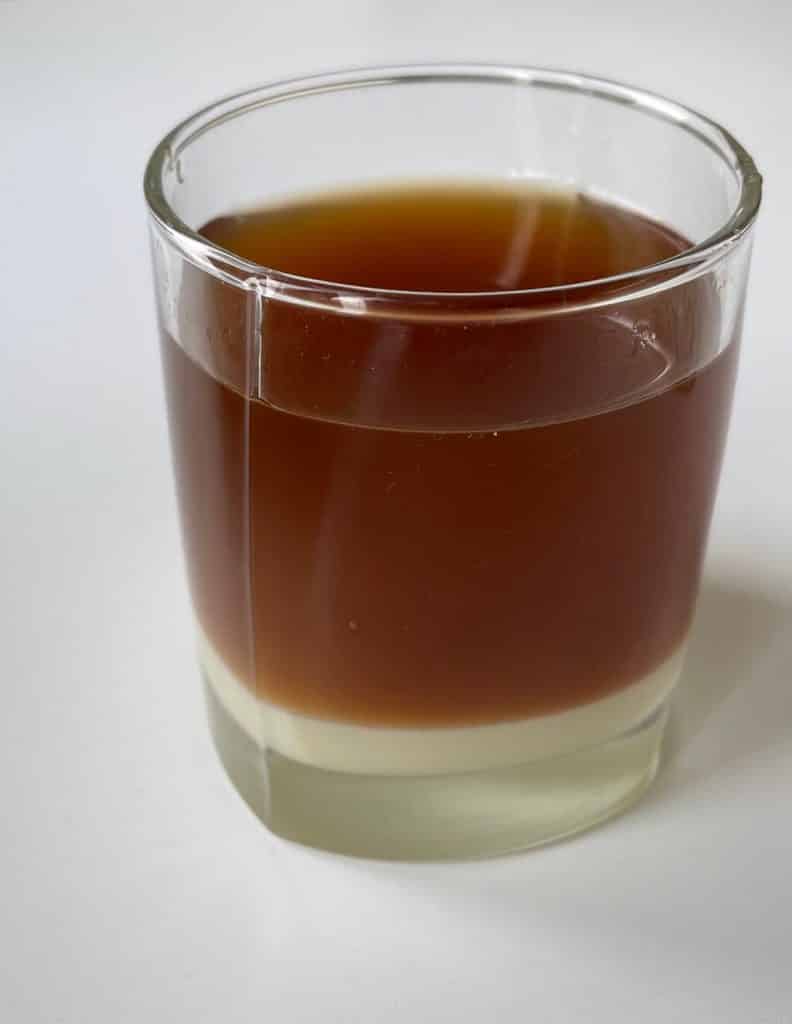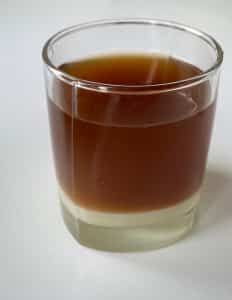 Rosie blogs at Flying Fluskey
*****
Chifa cuisine, Peru
Peruvian Creole cuisine is one of the most diverse cuisines on earth. Blending together the diverse ingredients and cooking methods from the coast, the Andes, the Amazon, Europe, Africa, and East Asia, Peruvian Creole cuisine has something for everyone. One of the most popular fusions in Peruvian cuisine includes Chinese-Peruvian cuisine.
Sold in Chinese-themed restaurants called 'chifas,' Chinese-Peruvian food is a favorite among Peruvians of all ages. The cuisine originates from the hundreds of thousands of Chinese immigrants who came to Peru in the 19th and 20th centuries as laborers and political refugees, mainly from China's southern provinces of Guangdong and Hong Kong. Missing the incredibly rich flavors of their homeland, these immigrants had to think of ways to enjoy traditional Cantonese food with ingredients that are available in Peru. This eventually gave birth to the celebrated Chinese-Peruvian cuisine and more and more chifas popped up in all parts of the country, from Lima all the way to the Amazon.
Nowadays, you'll find chifas wherever you go in Peru. The most popular dishes include Lomo Saltado (stir-fried beef steak with vegetables), Sopa de Wonton (wonton soup), and Arroz Chaufa (fried rice). But if you're looking for an even greater selection of Chinese-Peruvian food, check out Lima's Chinatown for some of the best traditional food in Lima. Besides the classics, you'll also find Cantonese-style dim sum, seafood, and Chinese bakeries in the area.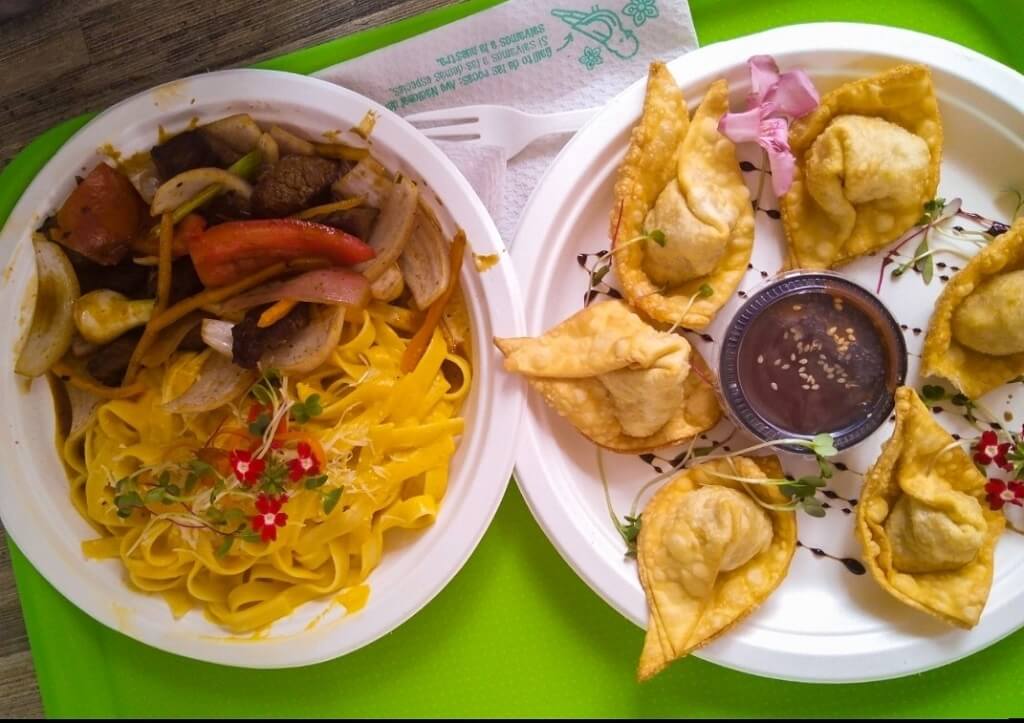 Arabela blogs at The Spicy Travel Girl
*****
Indian-Chinese cuisine, Kolkata, India
Indian-Chinese cuisine is a type of fusion cuisine that can be found in India, and is extremely popular amongst locals. This culinary style combines foods and flavors from both India and China, with origins dating back about 250 years ago to Kolkata's Chinese immigrant community. When some of them began to open restaurants in the city, they adapted their cooking styles to more closely align with favorite flavors of traditional Indian cuisine.
While Chinese-Indian cuisine can be found in many other parts of the country, it truly thrives in Kolkata where it began. Today Kolkata is home to India's only Chinatown neighborhood. The fusion contains traditional Chinese favorites like noodles and dumplings with an added extra-spicy kick to accommodate Indian preferences. Hot chili, ginger and garlic are ingredients frequently used in dishes. Another popular sauce is known as "Manchurian" which is sweet, salty and brown and typically served on top of chicken, fish, vegetables or paneer (Indian cheese.)
Schezwan is another popular Indo-China fusion dish which is a spicy red sauce over any type of meat, fish or vegetables. Chow mein is yet another favorite on the local scene, which puts a spin on the Chinese noodle meal with the addition of chili sauces and in some cases, mutton.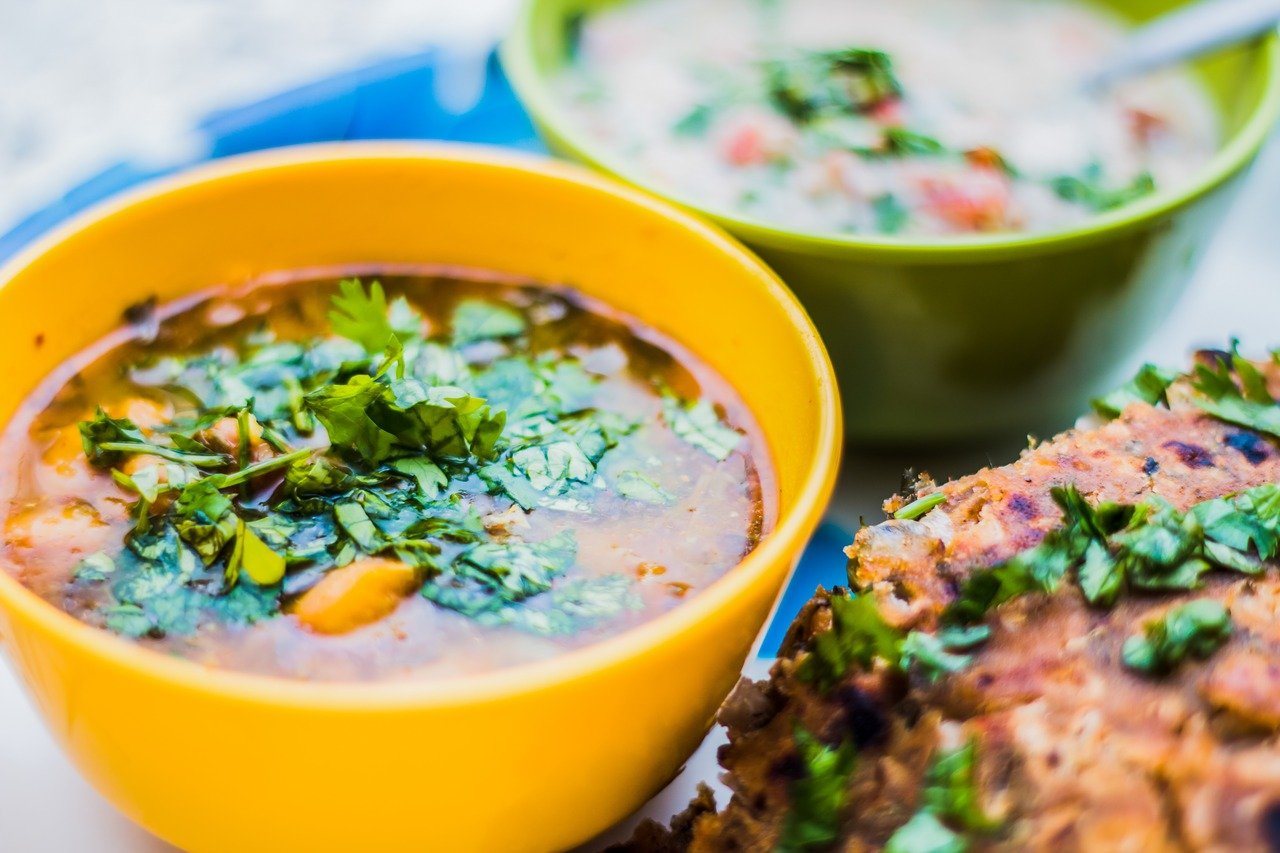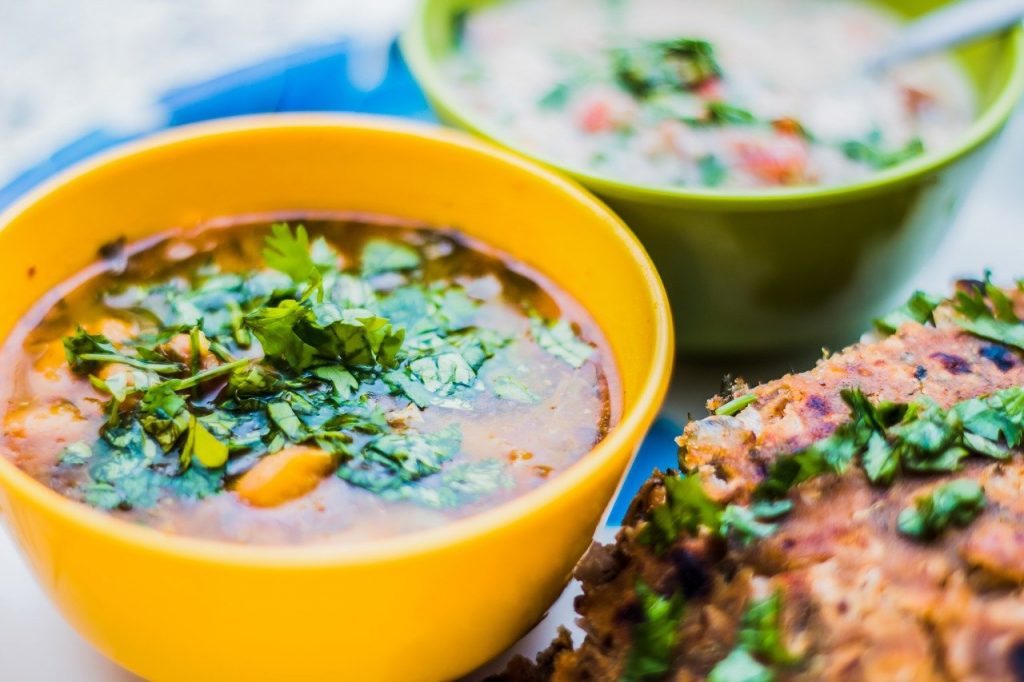 Samantha blogs at Intentional Detours
Learn about Kolkata's Territi Market specializing in Chinese-Indian street food.
*****
Arequipa cuisine, Peru
Peru's second of city of Arequipa is the ultimate foodie destination; the region boasts over 500 typical dishes that have been passed down from generation to generation. The cuisine is a unique fusion of those traditional dishes from the Incas and the Spanish who conquered them. Sample these delicious plates of food in unique eateries called Picanterias. The cuisine here is very distinct from the rest of the country. It's a little more spicy and highlights regional specialties, like crawfish.
In the early 1900's, the Spanish and other "gringos" came to Arequipa to help build an extensive railroad system. They were intrigued by the unusual cuisine and on their lunch breaks often wanted to "try a little bit of everything." This resulted in one of the most popular dishes being born, the Americano. This was a combination of a few of the most popular dishes together on one plate, a Peruvian take on "tapas."
Although each Pincantería serves up the dish a little differently, expect to find a Rocoto Rellano, pastel de papa, the vegetarian salad of Soltero de Queso, and usually one or two more typical dishes. Of course, this dish is best paired with chicha, a fermented corn drink. Arequipa even has its own distinct chicha, Chicha de Guiñapo.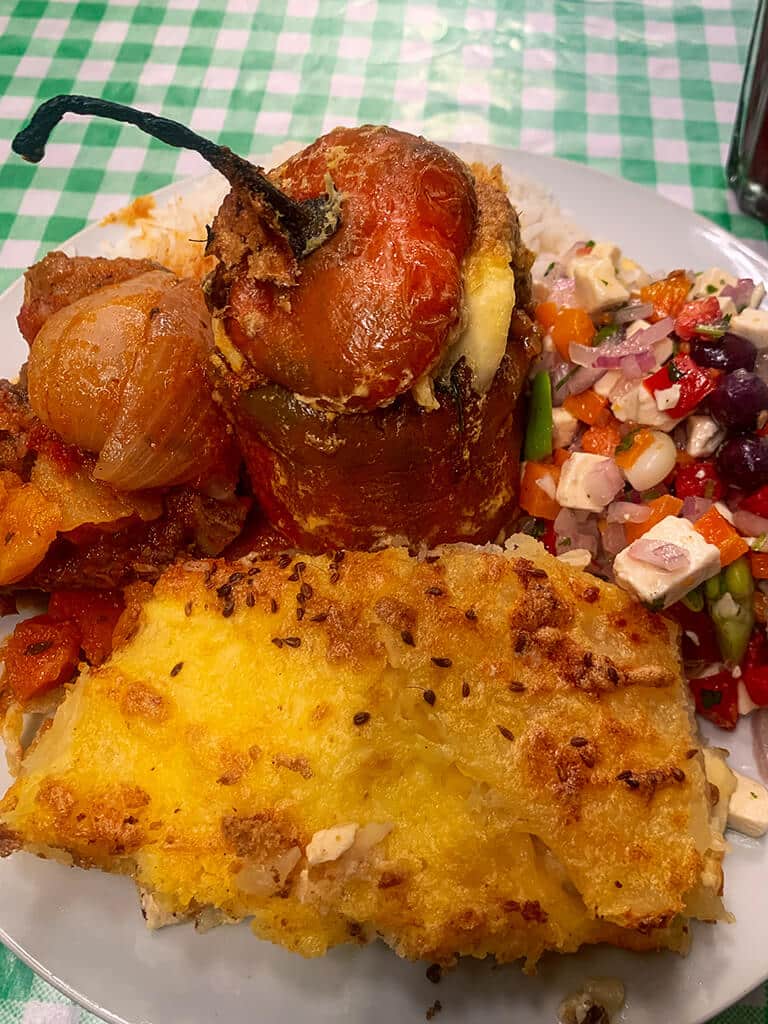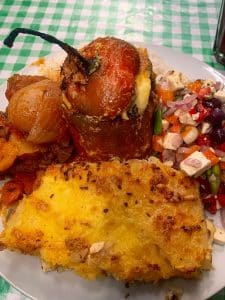 Megan blogs at Packing up the Pieces
*****
Hawaiian Fusion cuisine
Fusion cuisine is almost a natural occurrence with Hawaiian cuisine in high end restaurants to more mom and pop take out places. Fusion cuisine combining Hawaiian traditional food with Asian cuisine was a natural occurrence starting with traditional plantation workers from China, Japan, Philippines and Korea. The workers shared their lunch dishes with others potluck style and many dishes became standards at many take out places, cafes and more innovative restaurants around the various islands.
This island fusion cuisine is a creole style that was eventually created including Asian noodles, chicken barbeques, sushi and bento box food and kim chee spiced dishes. You can find plate lunches and bento boxes that combine different flavors from many of these Asian and Hawaiian foods.
If you are looking for more inspiration, check out my post on popular Hawaiian style dishes you need to try now for all the tastiest local dishes around the islands.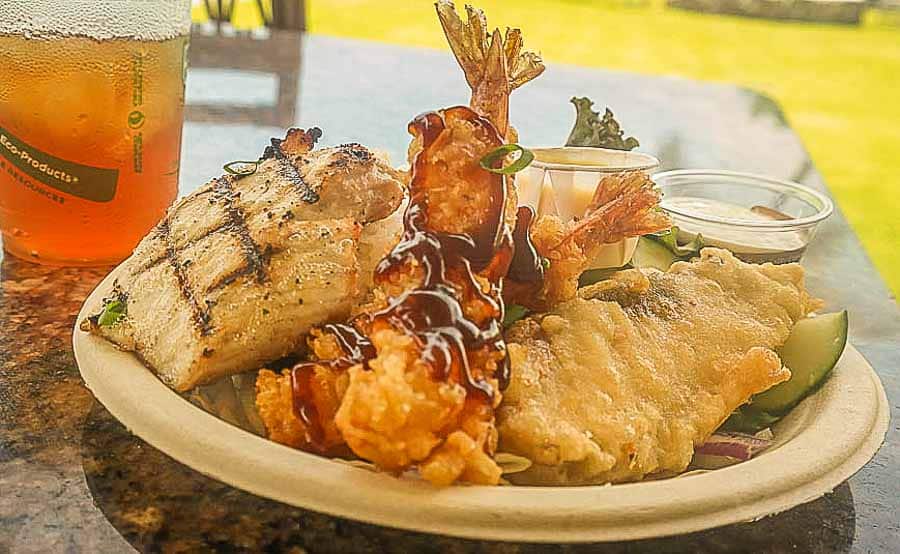 Noel blogs at This Hawaiian Life
*****
Indian-Portuguese cuisine, Western India
Vada pav is a popular street food from western India – especially from Mumbai. Vada means Potato fritter which is very much Indian but Pav is Portuguese styled Bun bread. The combination can be a sandwich or an Indian-Portuguese burger which makes a complete meal.
Vada Pav was invented in 1960's by local textile mill workers who wanted an easy and economical way to make complete meals. So they combined the potato fritters with Portuguese bread and made an excellent combination.
Pao or Pav – a Portuguese styled bread, came to India during Portuguese rule in western India and then spread throughout the area as it is fulfilling and also very cheap. Now mostly everything in western-India is served with this Portuguese bread instead of Roti (Indian Bread). The buns can be made in bulk quantity and have a shelf life of 3 to 4 days. It is great to see how different cuisines from Portugal traveled to India during colonization and became essential dishes blended with the local food.
Although this was initially a common man's dish served on the streets of Mumbai and other regions of western India, Vada Pav now reaches the tables of celebrities and is liked by all classes. Even McDonalds has come up with the concept of Aloo Tikki Burger to compete with Vada Pav in Indian markets.
Vada Pav tend to be spicy, but on request can me made into milder versions. It is a pure vegetarian dish served hot. You can find it in any Indian restaurant which serves street-style food. In the western part of India, you can buy Vada Pav from street trucks or lorries too. Some people eat Vada Pav as a complete meal.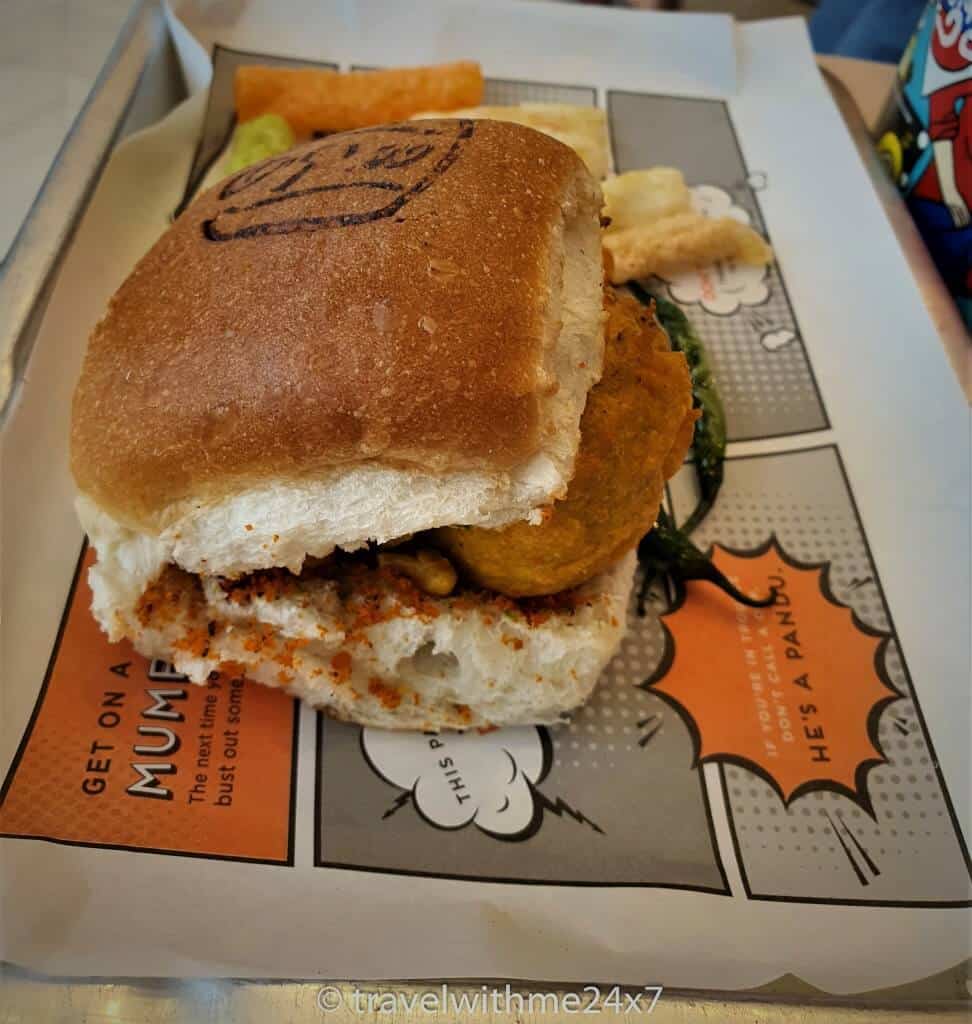 Yukti blogs at Travel With Me 27/7
*****
Want to know more about the world's great fusion cuisines? Check out these books.
What fusion cuisine have we missed? Let us know in the comments.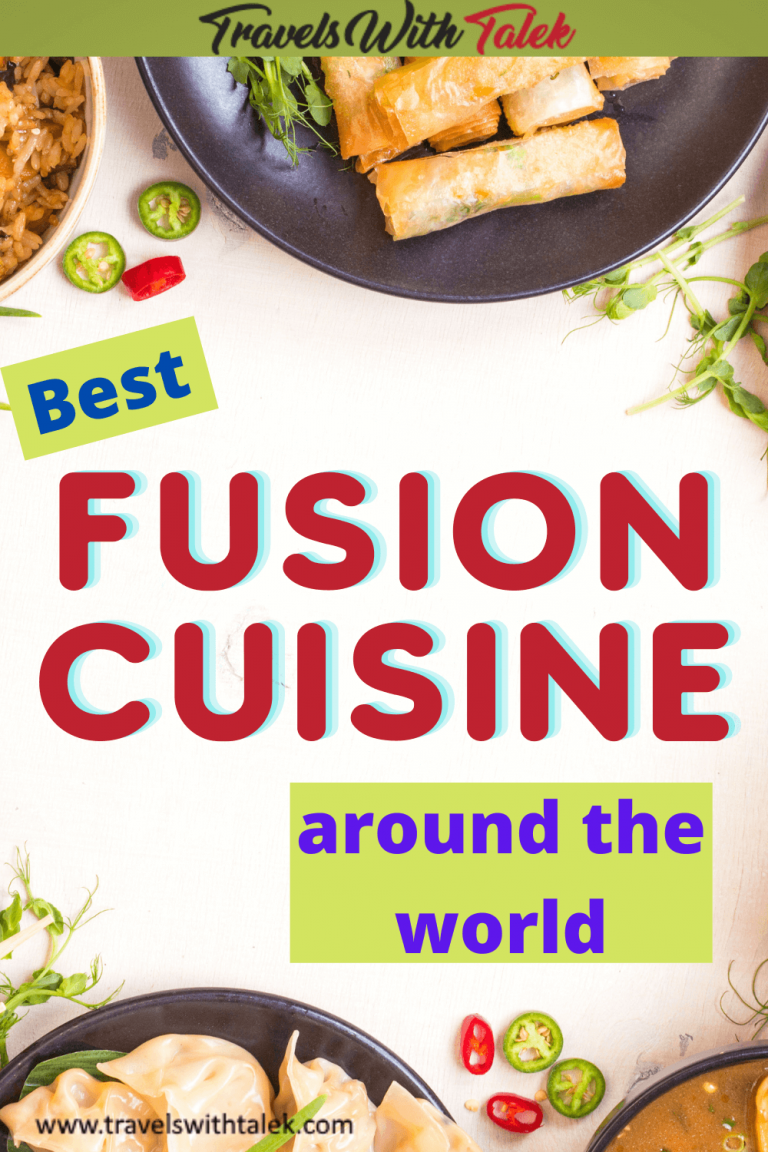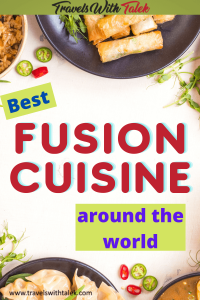 BTW, if you are getting ready for your trip, make sure to take advantage of these useful, money-saving links to book your trip:
I personally use, and can recommend, all the companies listed here and elsewhere on my blog. By booking through these sites, the small commission we earn – at no cost to you – helps us maintain this site so we can continue to offer our readers valuable travel tips and advice.