Updated October 2021.
New Orleans and Halloween go together like cookies and cream! You would be hard-pressed to find a better place to spend Halloween than in New Orleans. All of spooky New Orleans is into the scary holiday. Residents decorate their lawns with spooky denizens of the dark, ghost tours do a brisk business and to visit one of New Orleans's famous cemeteries you actually have to die.
Home to haunted cemeteries and legends of Voodoo magic, New Orleans is one of the spookiest cities in the United States. Here is a list of ghostly, scary, and creepy things to do in New Orleans (and some not so scary) during Halloween.
7 SPOOKY THINGS TO DO IN NEW ORLEANS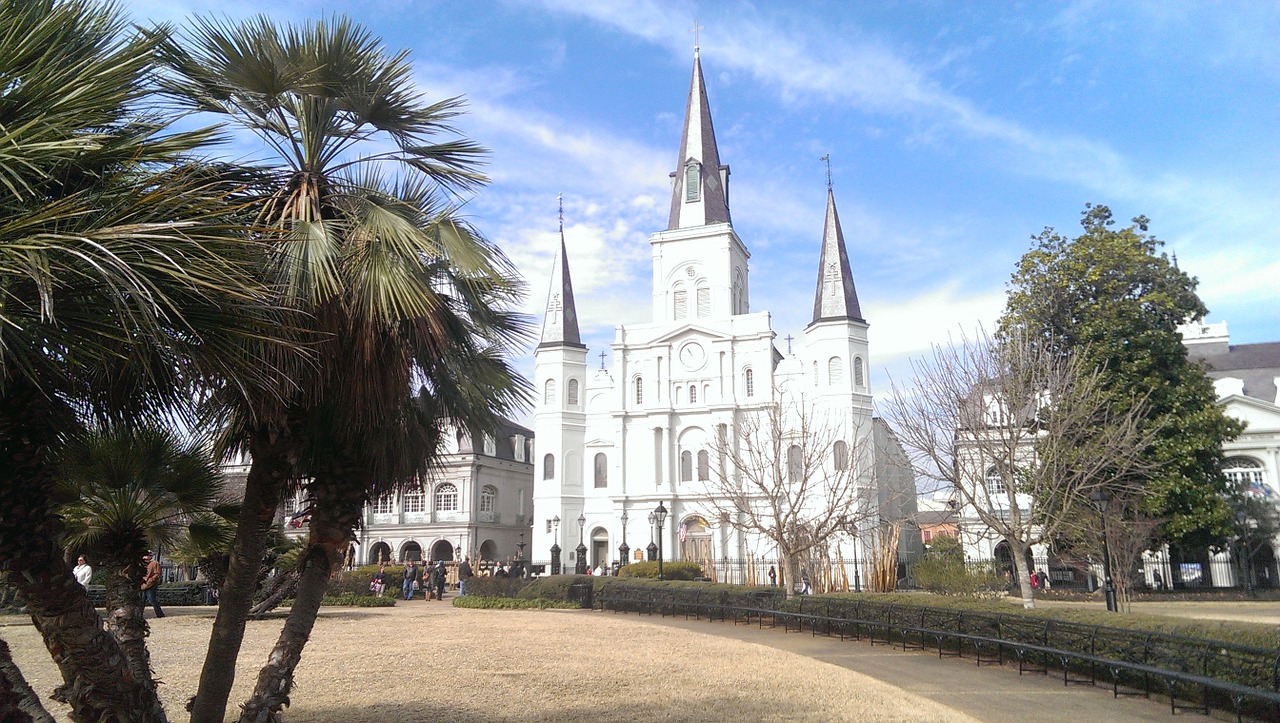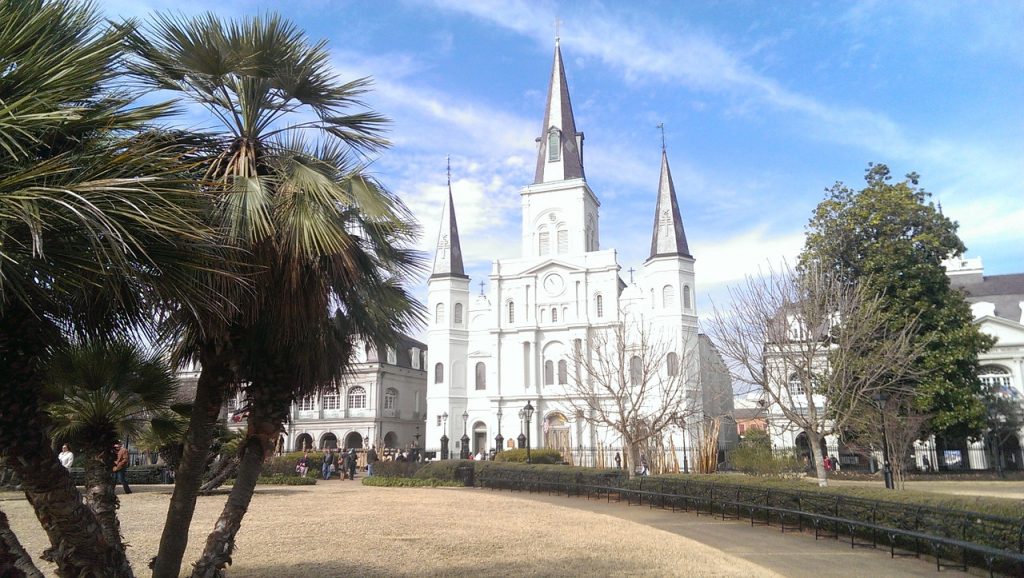 New Orleans is a blast any time of year, but Halloween is especially festive. New Orleans and Halloween were made for each other and finding creepy things to do in New Orleans during Halloween is a real treat.  I recently spent Halloween finding as many spooky things to do in New Orleans as I could cram into a weekend.  (I threw in a few cool things to do in New Orleans as well.) Here are my top seven.
Escape The Embalming Room while a zombie stalks you!
Topping my list of scary things to do in New Orleans is trying to escape The Embalming Room before a zombie is let loose!
The premise is you and up to five companions are locked in a dark morgue and given 60 minutes to escape. There are clues hidden throughout, and you must work together to find the escape route. In the midst of this, there is a "zombie" attached to a chain hindering your escape efforts.  As the prominently displayed clock ticks away, the chain is loosened, and the zombie gets closer and closer to you.
It is a testament to how realistic and well-crafted this fantasy is that you openly yell out escape strategies to your partners, assuming that the zombie is dead. So, of course, he can't understand.
"Hey Joe!" you yell to your companion over the zombie's head frantically waving your arms. "You figure out the combination lock while I distract the zombie. YO, ZOMBIE! ZOMBIE! Over here, fresh meat!"
Of course, the "zombie" is a perfectly healthy–and very much alive–actor who is listening and understanding everything you are saying. So much for our sophisticated escape strategy.
Allow yourself to be immersed in the fantasy, and you will have a heart-stopping, adrenaline-pumping good time. Well worth it if you, like me, love this kind of stuff. Check out The Embalming Room for just about the spookiest thing you can do in New Orleans during Halloween.
While not spooky or scary, eating at Middendorf's is one of the cool things to do in New Orleans. Daryl, from The Walking Dead, gave this waterside restaurant a big thumbs up.  Hey…if it's cool with Daryl.  He was right. Eat tasty Cajun fare, such as alligator, crayfish, and gumbo with a great view.
Join the Krewe of Boo Parade.
Nobody loves a parade like a New Orleanais (yes, that's how you say it.  I looked it up)…think Mardi Gras. This one is full of horror-themed floats, creative costumes, and blaring bands. It's definitely one of many creepy things to do in New Orleans.
Fourth on our list of spooky things to do in New Orleans is taking a ghost and voodoo tour. This is a fun way to see the city while visiting its haunted houses and learning their ghoulish legends. The guides also give you little tidbits of history and local culture that add perspective and depth to your visit.  Plus, they take you off the beaten track to places you may not visit otherwise.  Make sure to check for a Groupon before you go.
Visit one of the many cemeteries in New Orleans during Halloween.
The St. Louis Cemetery is believed to be the most haunted in the country. Marie LaVeau, the beautiful 18th-century voodoo practitioner, is buried here.  Locals believe her spirit walks the tombs at night. Good fun, and it's why it's #5 on our list of spooky, scary and haunted things to do in New Orleans.
The Saint Louis #1 with its delicately carved statuary and stately mausoleums is pretty impressive. We learned that the crypts are periodically cleaned out with ten-foot poles to make room for the newly deceased.  This is where the expression "I wouldn't touch that with a ten-foot pole" comes from.
See amazing Halloween decorations.
Scary decorations can be seen everywhere on State and Charles Streets and all over the city.  New Orleans takes its Halloween decorations seriously.
Party on Frenchman Street.
One last "must do" in N'awlins is a visit to Frenchman Street. Both sides of the street are lined with jazz clubs. It seems that's where the costumed ghosts and goblins go for serious jazz after the parades. We went to Snug Harbor and enjoyed Delfeayo Marsalis and his group playing some of the best jazz I've ever heard. It's a rip-roaring, foot-stomping blast, with reasonable drink prices to boot!
To really enjoy this city, it pays to immerse yourself in its historical, cultural, and culinary background.  See how to do that with this reference material.
The more time I've spent in New Orleans the more I've enjoyed the city. I recently went on what I call a "musical road trip" from Cleveland to New Orleans and discovered even more cool places.  All the cities visited were music powerhouses: Cleveland – home of the Rock and Roll museum; Memphis – home to Graceland; Austin, home of the live music venue; and finally The Big Easy.
Halloween is my favorite holiday. How about you?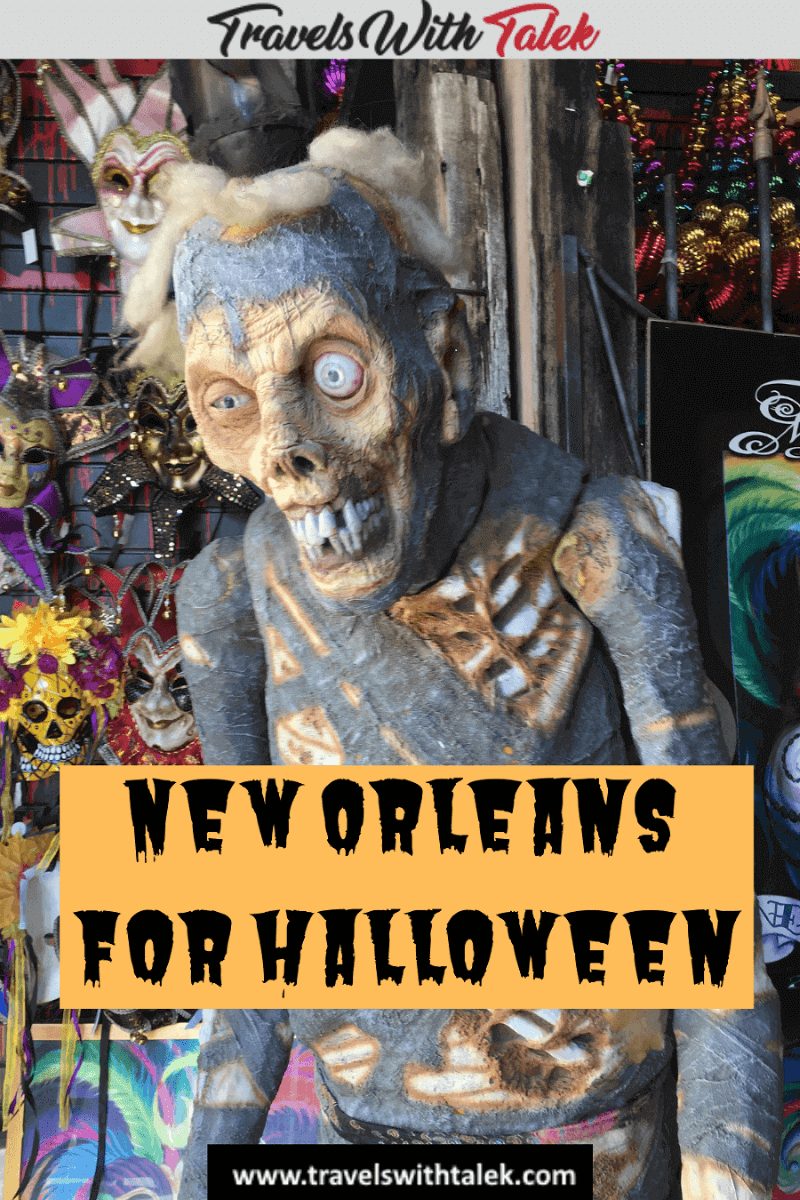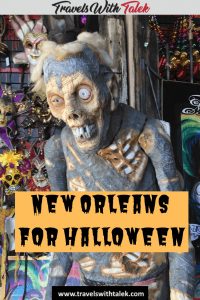 For a comprehensive collection of cool and spooky things to do in New Orleans any time of year, check out all 65 Things to do in New Orleans and don't forget tips for an unforgettable New Orleans weekend. 
What's your "must-do" in New Orleans?
BTW, if you are getting ready for your trip, make sure to take advantage of these useful, money-saving links to book your trip:
I personally use, and can recommend, all the companies listed here and elsewhere on my blog. By booking through these sites, the small commission we earn – at no cost to you – helps us maintain this site so we can continue to offer our readers valuable travel tips and advice.