Updated August, 2020.
What are the best music cities in the US?  A musical road trip across the United States from Cleveland's Rock and Roll Hall of Fame to the New Orleans jazz scene exposes just what a culturally rich country the United States is. We took a road trip to explore the country's best music cities with extensive musical heritage; The Rock and Roll Hall of Fame in Cleveland, Memphis, Austin and New Orleans.  Here is what we found.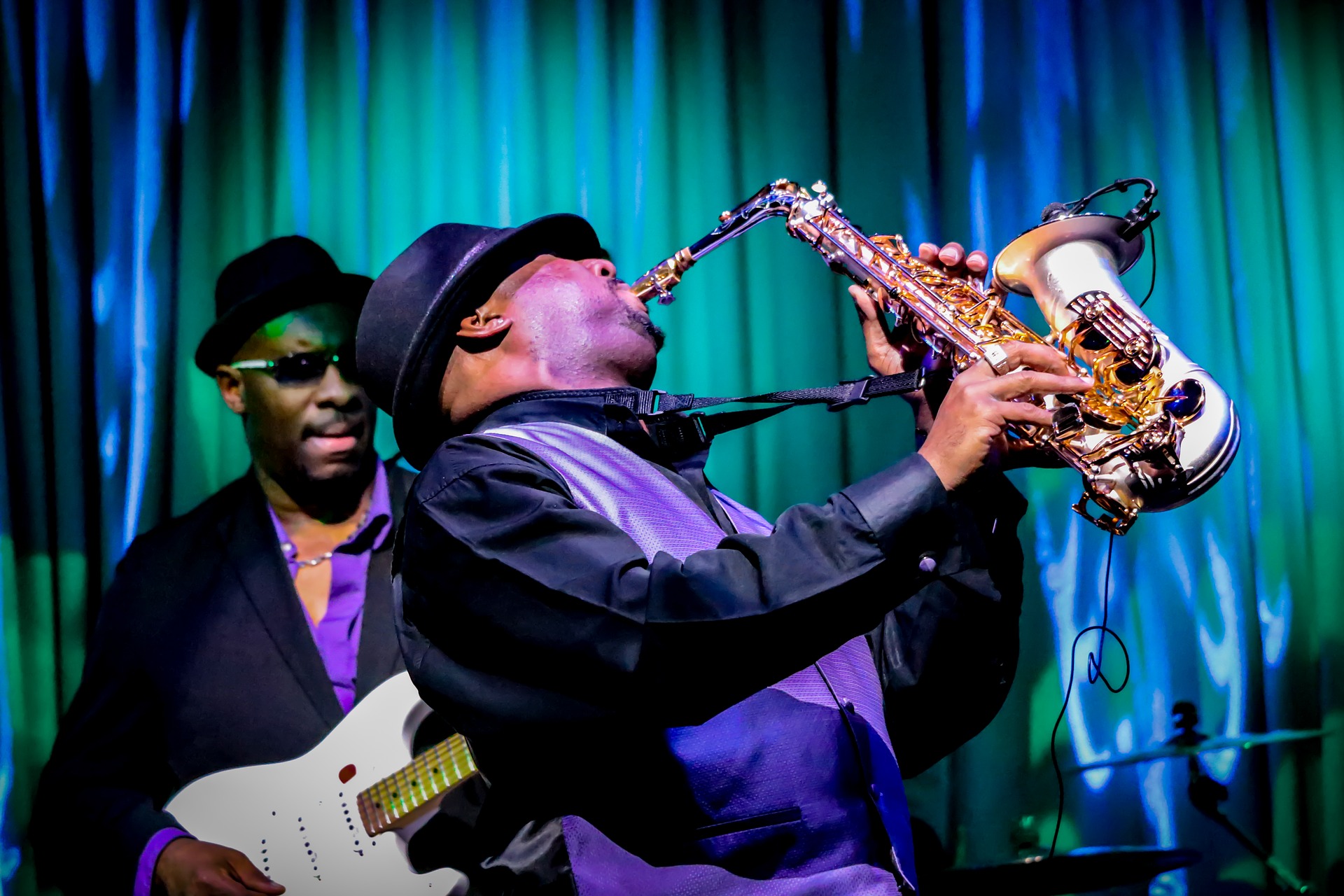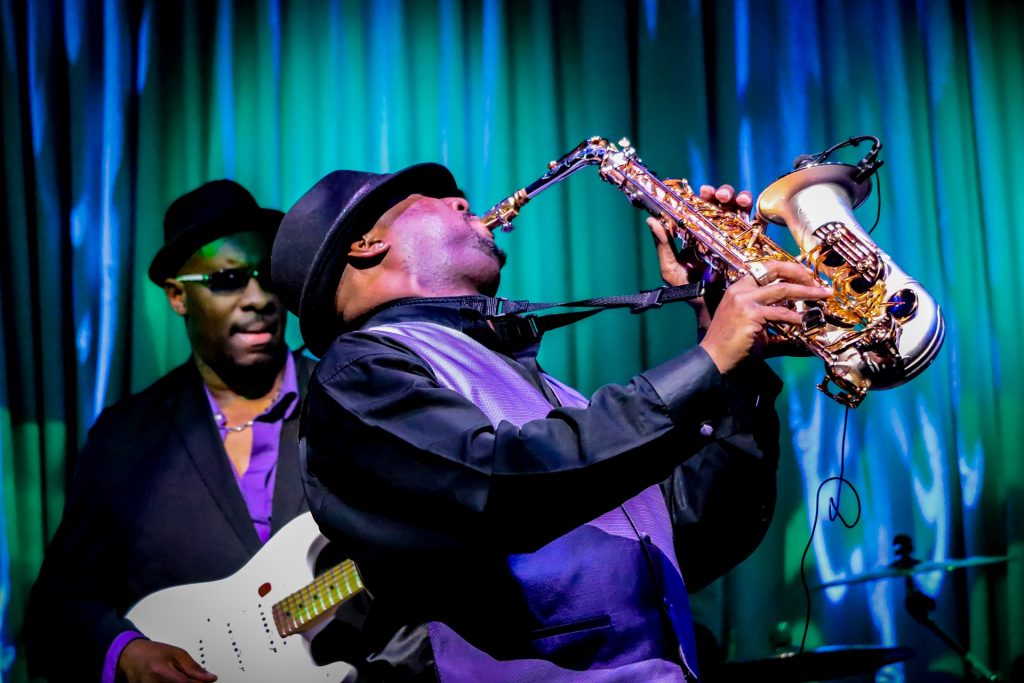 START OF THE MUSICAL ROAD TRIP: THE ROCK AND ROLL HALL OF FAME
One does not usually think of Cleveland as one of the best music cities in the US, but on the shores of Lake Erie in downtown Cleveland sits one of the meccas of the music world, the Rock and Roll Hall of Fame. This is an enterprise created with the mandate to preserve and promote the legacy of the rock and roll genre.
Established in 1983, the Hall of Fame is a multi-story building with a vast collection of rock and roll paraphernalia, exhibits and restaurants.
The Hall of Fame displays exhibits of the genre's most prominent performers in a well-organized and interesting format. The layout guides guests through a historical and geographical tour of rock and roll as it pays tribute to some of rock's earliest performers then works its way up to the most recent inductees.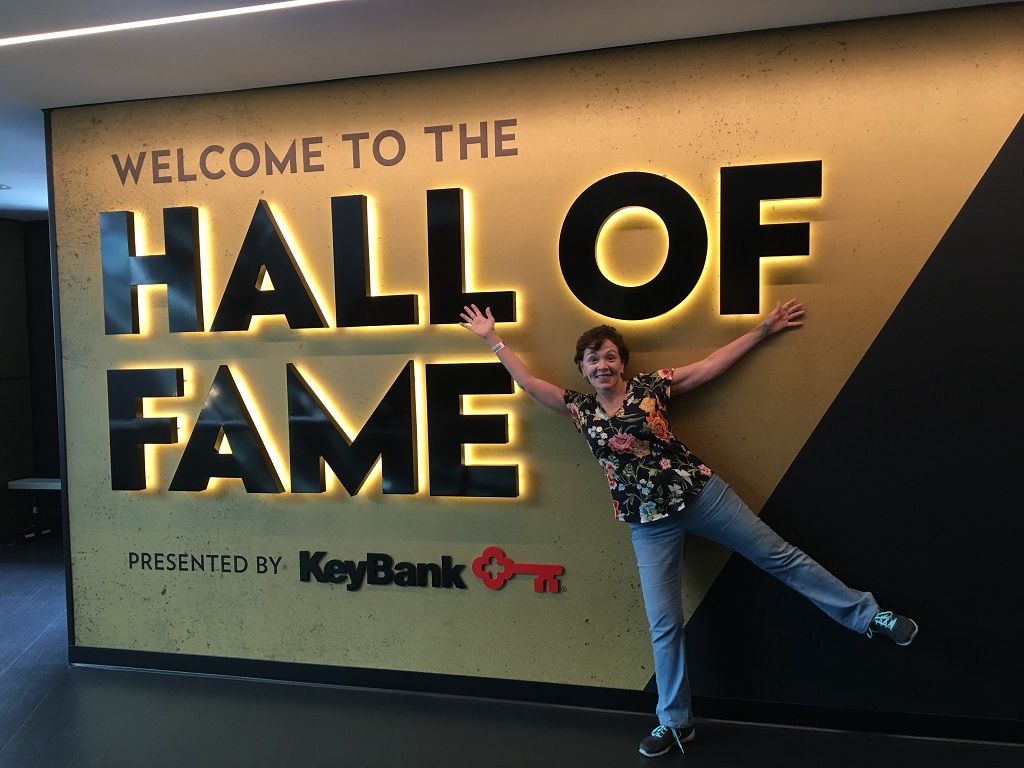 Interspersed throughout the building are venues showing snippets of prominent performers' historic moments; think The Beatles' debut at the Ed Sullivan Show, Elvis in Vegas or The Jackson Five at New York City's Apollo Theater.  Of course, there is infectious music throughout. You will be hard pressed to leave this place with anything other than an upbeat mood and a smile.
At $26.00 a ticket, – discounts for seniors and students – the price is reasonable for what you get; hours of musical memories and a very interesting insight into the magical world of music.
Insider tip: Look out for the Mahalia Jackson exhibit. Her voice will pierce your heart with its perfect beauty.
Also of interest: Rock and Roll Hall of Fame: The first 25 Years and Rock and Roll Concert and Backstage Photographs.
MEMPHIS: HOME OF THE BLUES
Memphis is a city without an identity crisis. It has no doubt it is THE quintessential blues city and one of the top music cities in the US. The city oozes blues.
There are fine blues clubs throughout the town, but Beale Street is where you'll find the bulk of the blues clubs congregated in one location.  Many of the clubs are open early in the day as they also double as restaurants, but the place starts really jumping around dinner time.  One club after another line both sides of the street. Mellow, soulful blues pour from the clubs on to the streets enticing passersby to enter and… sit a spell, y'all.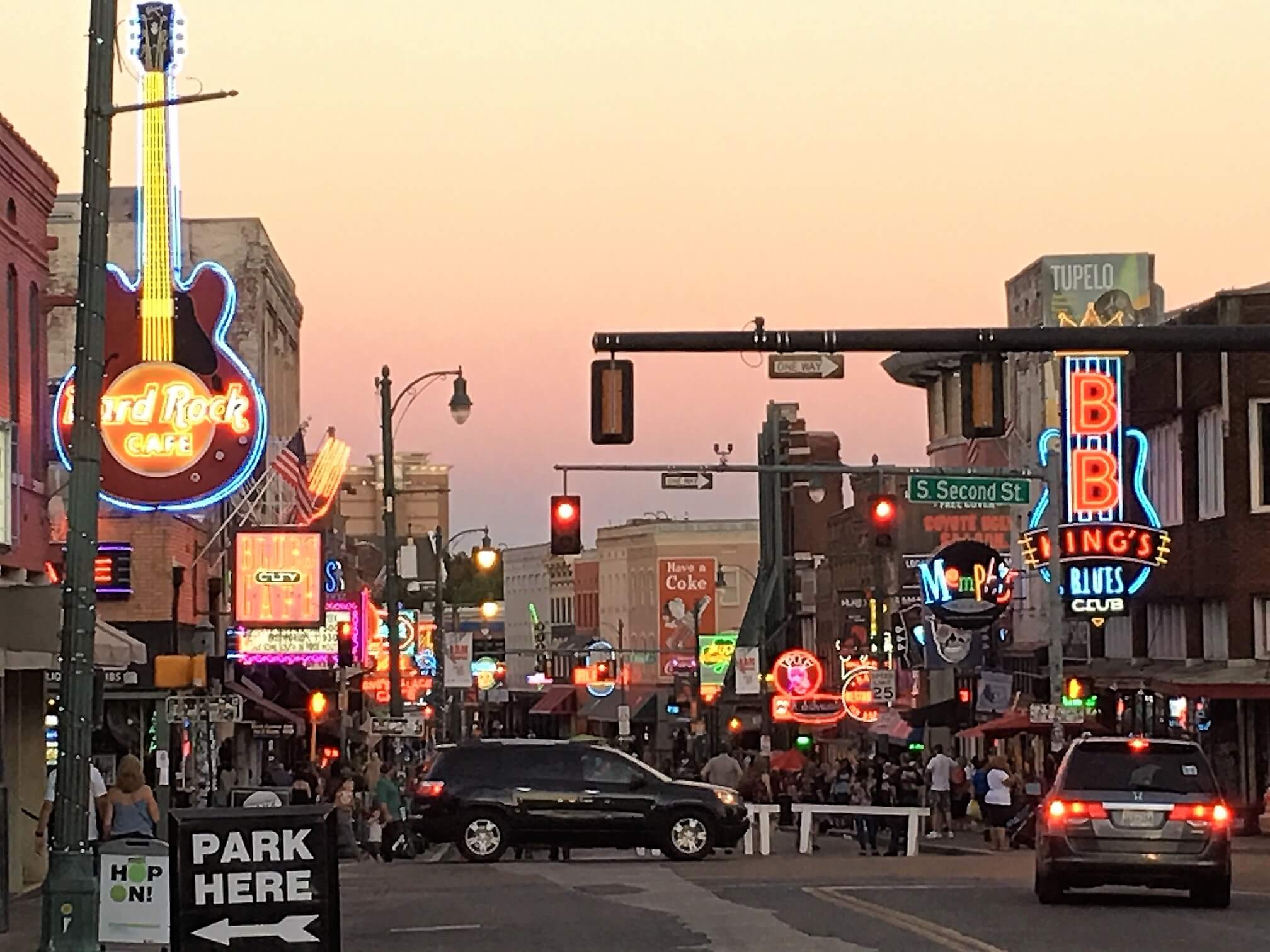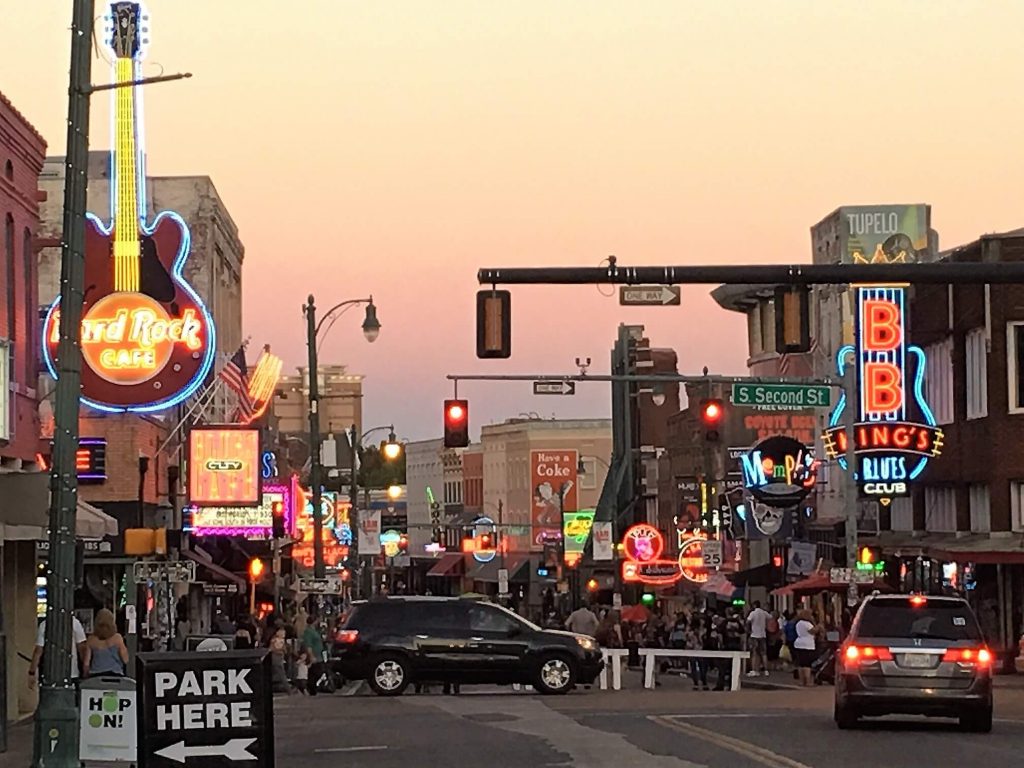 Historic Beale Street is pedestrian-friendly. You can club- hop up and down the street listening to some of the world's best blues all night as the drinks are reasonably priced and there is rarely a cover. Some outstanding clubs serve southern soul food and BBQ, Memphis' signature dish, along with the music. These include, B.B. Kings Blues Club and Blues City Café, across from each other at Beale Street's main intersection.  A recent rumor had Mick Jagger visiting Blues City Café. Imagine biting into a BBQ rib and turning to your partner saying, "Hey, there goes Mick Jagger."
Memphis is also the country's repository of blues memories and memorabilia.  The city is home to the Blues Hall of Fame Museum, the Rock and Soul Museum and the Stax Museum of American Soul.  Another important piece of music history is Sun Studio, a National Historic Landmark where notables like B.B. King and Elvis Presley made history by recording their first tracks…all of which brings us to…
 GRACELAND: A MUSICAL ROAD TRIP HIGHLIGHT
A visit to Graceland tells the interesting story of, Elvis Presley, a dirt-poor country boy born in the poorest state in the union in the middle of the depression who went on to become an icon of American music.
Graceland, a National Historic Landmark, was Elvis Presley's home from 1957 to his death in 1977.  He purchased the sprawling 14-acre estate for $102,500 at age 22. The mansion is the second most visited home in the United States after the White House.
Elvis fans travel from all over the world to see where and how he and his family lived. I remember when the former prime minister of Japan, Junichiro Koizumi, visited the U.S. as a private citizen, he specifically requested a visit to Graceland where he spent a full day touring the home guided by Elvis's former wife, Priscilla Presley.  Elvis had that effect on many people. His fans simply loved him.
The home itself is smaller than you would expect. The first floor consists of a foyer, guest bedroom, living room, dining room and kitchen. Downstairs are the converted entertainment rooms including the famous jungle room decorated in a Polynesian motif which Elvis loved. The upstairs remain private. All of Graceland is reflective of the singer's taste and a tour of Graceland is a peek into his character.
Ticket prices are segmented. The lowest admission, $40.00, will get you a visit to the home, family photos, memorabilia and planes – yes, he had two planes. Higher priced tickets allow you to visit the rooms packed with Elvis awards, cars and motorcycles.  All tickets offer the Presley family grave sites and peaceful meditation gardens.  There is an enormous gift shop on site which you will somehow gravitate towards like a zombie whether you like gift shops or not. There are also 2 cafeterias, each named after one of Elvis's parents, serving southern fare.
Can't get enough Memphis? Try these: 100 Things to do in Memphis before you die.  Elvis: The Legend, Memphis: Then and Now, Beale Street Dynasty, Last Train to Memphis: The Rise of Elvis Presley,
AUSTIN: THE LIVE MUSIC CAPITAL OF THE WORLD 
Austin's title as the live music capital of the world is well deserved, and the city has the chops to prove it. Big name artists started here; Janis Joplin and Willie Nelson just to mention a couple.
The entire city is one big music venue starting in the Austin Airport where performers entertain pleasantly surprised travelers. The city reminded me a little of Havana in that there is music everywhere.
Throughout the city there are little enclaves of music venues; Red River, Rainey Street, South Congress Avenue serving up everything from honky-tonk to blues to rock to norteño and every combination thereof. Truly one of the best music cities around.
The area that I found the most interesting of these music venue congregations was 6th Street, running roughly from the Inter-regional Highway to Congress Avenue.  Sixth Street is definitely, shall we say… edgy. Or is counter-culture a better word?  Dozens of clubs line the street. Some offer sedate piano music others…not so much. Some of the clubs have a bizarre vibe. Most offer live rock to a younger crowd.
One bar that is worth mentioning is Casino El Camino. This place continuously shows horror movies that look like they were made by a 14-year-old lunatic. They are mesmerizing in their incongruity.  We stepped in for a quick bite and ended up spending several hours happily sipping our cheap beers and watching Dracula's wife decapitate a pregnant pterodactyl while zombies toasted each other with Mexican beer on the screen.  Good fun. The drinks are surprisingly inexpensive, and the bar food is very good.
It is not surprising that one of Austin's mottos is "keep Austin weird."  The unique and unusual sights you find in Austin contribute to its charm.
Here are two Austin locations that have nothing to do with music, but I just had to include them because they are so out-of-this-world amazing.
The Salt Lick – Head to this spot for mouth-watering BBQ. You'll probably have to wait in line, but it is so worth it. In fact, it's so good there's even a book about it, The Salt Lick Cook Book: A Story of Land, Family and Love.  
Ai Weiwei's art exhibit, "Forever Bicycles" on view at the Waller Delta. An amazing piece of sculpture.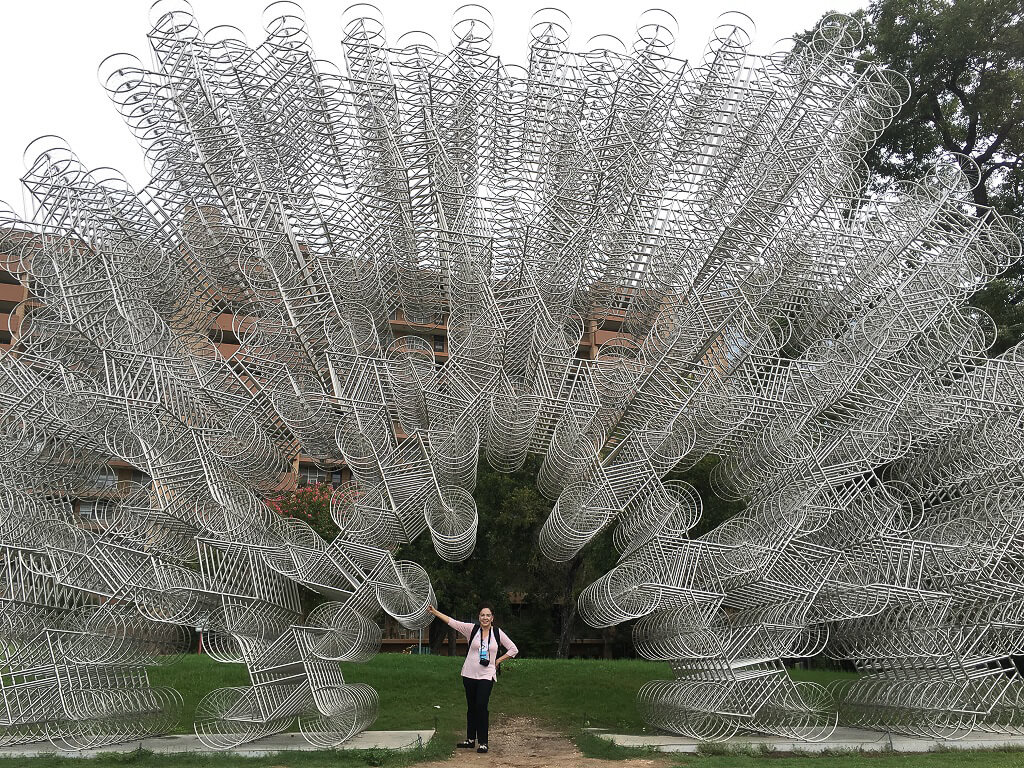 Insider tip: Enjoy both of Austin's signature features, music and BBQ, at the same time at Stubbs BBQ!  If you want to sample some of this good Austin cooking at home, try The Austin Cookbook.
Austin city guide, Lonely Planet Pocket Austin.
NEW ORLEANS: WHERE JAZZ WAS BORN
The Big Easy, N'Awlins, NOLA, The Crescent City, Let the Good Times Roll. Many nicknames describe this sultry, colorful, palm-fringed town that breathes music and, well…good times.
One well-deserved moniker is the Birthplace of Jazz. It was here in the late 1800s that the first notes of jazz drifted over iron-wrought balconies on to cobblestone streets, into lush garden patios and music venues…and the music world has never been the same again.
This city is in a class by itself when it comes to jazz and one could argue that it is one of the best music cities in the US, if not THE best.  One classic venue that has been around for generations is Preservation Hall. If you've been to New Orleans, you probably remember this place and yes, it's still that good.
I can understand how Bourbon Street can seem a little rough around the edges at times but don't be fooled. There are jazz gems pulsating behind those t-shirt and bobble-head-doll souvenir shops.  A couple of clubs that keep rising to the top of recommended destinations around Bourbon street include Irvin Mayfield's Jazz Playhouse at the Royal Sonesta Hotel and Fritzel's Jazz Pub, reputed to be the oldest in New Orleans.
Just a few minutes walk from Bourbon Street is the Faubourg Marigny district of Frenchmen Street, my favorite jazz mecca in New Orleans. This area is 3 blocks of jazz heaven in a colorful neighborhood of hundred-year-old wood houses with flower-laden balconies and street fairs selling local crafts.  As Bourbon Street turned more and more touristy, locals migrated to  Frenchmen Street for more authentic jazz and local cooking.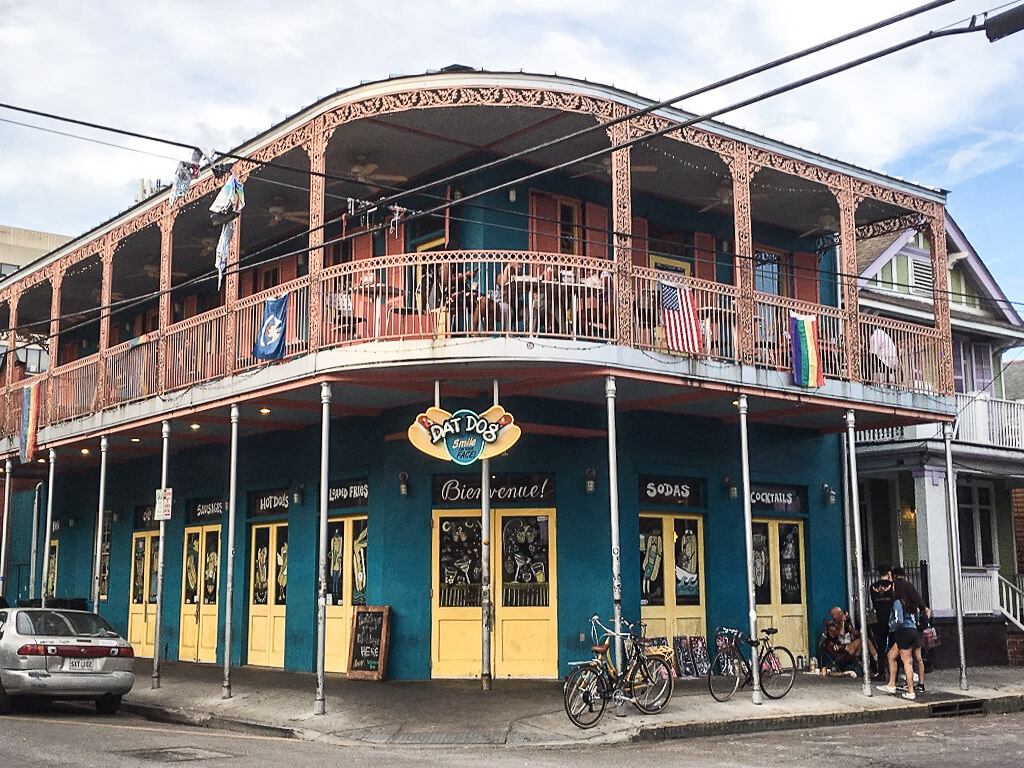 The clubs in this humble district regularly play host to jazz greats like Ellis Marsalis, Charmaine Neville and Delfeayo Marsalis. It doesn't get any better than this, guys.  For an evening of authentic jazz and good food in Faubourg Marigny, head to Snug Harbor Jazz Bistro, The Spotted Cat Music Club, Blue Nile, The Maison or Bamboula's. Or better still, club-hop yourself silly in one single night of jubilant jazz joy!  Come here for jazz and you will not be disappointed.
Short on time? Check out what to do with a day in New Orleans.  And for the history buff (that would be me!) you absolutely cannot miss a visit to the National World War II Museum of New Orleans.
Want to slow-travel these great cities with local tours? Check this out. 
…and don't forget your city and music guides! DK Eyewitness Travel Guide. Louis Armstrong's New Orleans, New Orleans Jazz, Up From the Cradle of Jazz.
What are your thoughts on this musical road trip from the rock and roll hall of fame to New Orleans?  How would you design your own musical pilgrimage?  We'd like to know.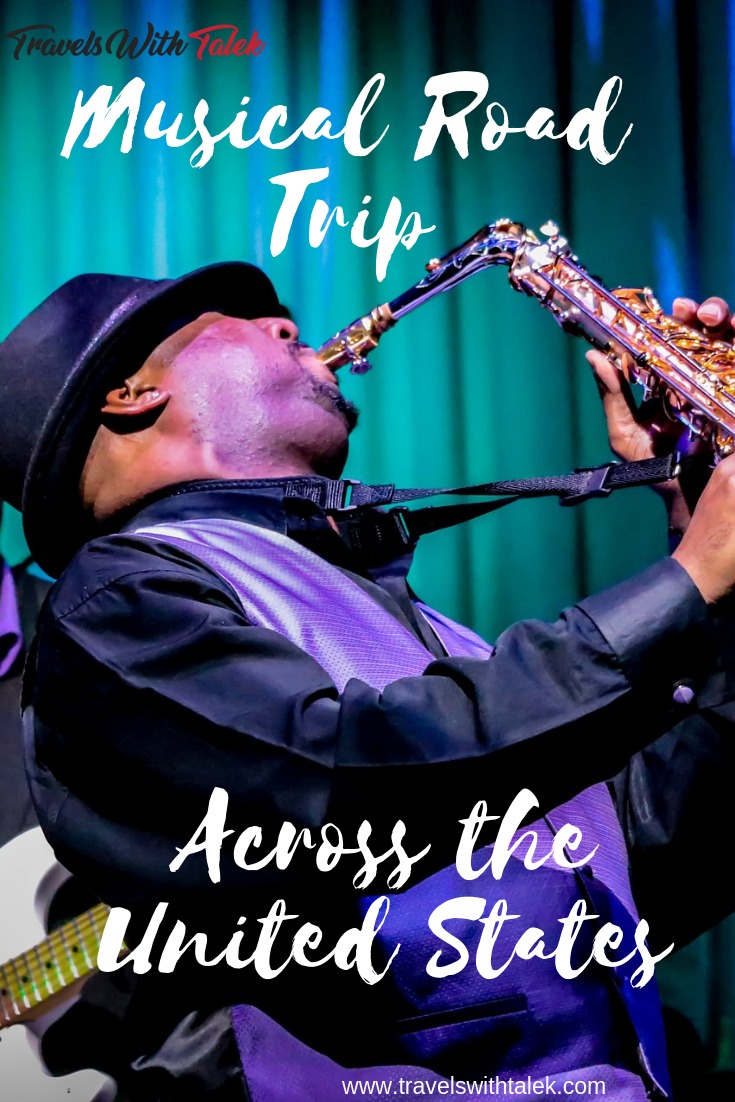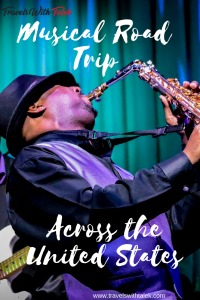 BTW, if you are getting ready for your trip, make sure to take advantage of these useful, money-saving links to book your trip:
I personally use, and can recommend, all the companies listed here and elsewhere on my blog. By booking through these sites, the small commission we earn – at no cost to you – helps us maintain this site so we can continue to offer our readers valuable travel tips and advice.