Kuala Lumpur is a gem of a city, the capital of Malaysia in Southeast Asia.  Its iconic attractions are found in the guidebooks, but if you want to know the coolest places to visit and fun things to do in Kuala Lumpur, ask a local.  To that end I've asked Kuala Lumpur savant, Aaron Chin, to give us a tour of the best places to go in Kuala Lumpur.
*****
I am Aaron and I'm a Malaysian who is currently finishing my medical degree in Melbourne. Having lived in Kuala Lumpur on and off for a few years, I bring to you the 5 hidden attractions in Kuala Lumpur that you must not miss during your visit!
This fascinating city will always have a special place in my heart. There are many things to do in Kuala Lumpur– it's not all about Petronas Twin Tower and Batu Caves! It is a capital in Southeast Asia that is overshone by the radiant light of Singapore, Bali, and Bangkok. However, I can assure you that Kuala Lumpur is on par with her competitors, or even better than most of them.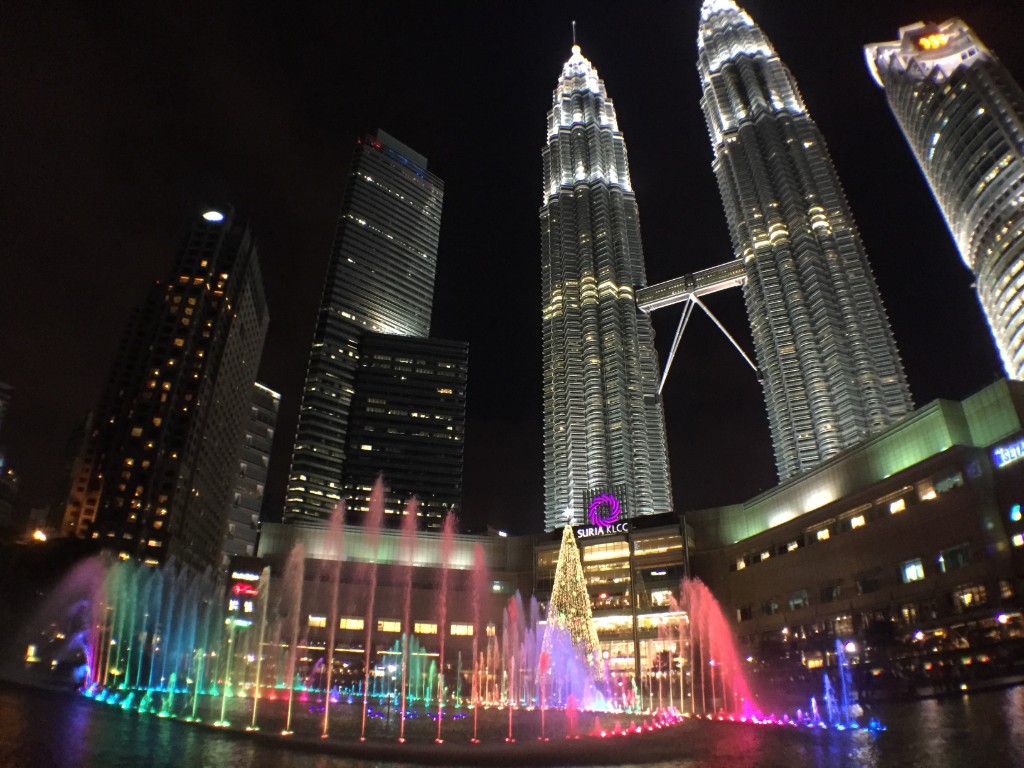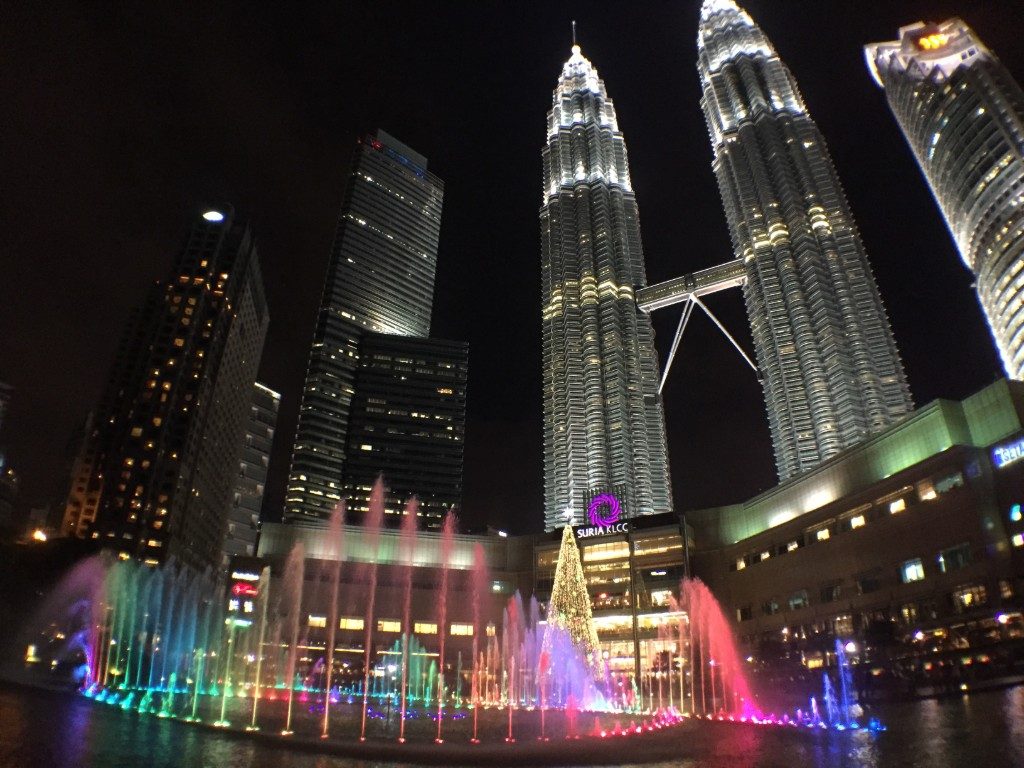 Top 5 Hidden Attractions in Kuala Lumpur
1. SS2 Pasar Malam
"Pasar malam" literally translates to night bazaar. It is part of the Malaysian culture and Malaysians embrace it very well. SS2 night market is one of the closest to the Kuala Lumpur city centre and the most underrated. It is very popular among Malaysians but not among the tourists and is my top recommendation for hidden attractions in Kuala Lumpur. That means, you will still be able to get an idea of what real Malaysian food tastes like, unlike Jalan Alor where food is overpriced and not authentic.
Stroll around the night market and you will soon find yourself tasting delicious Malaysian street food while appreciating how skillful Malaysian salesmen are at selling vacuum cleaners and kitchen utensils.
Insider tips: Many Malaysians love to shop at night markets because things are cheaper and stall owners are more likely to give free gifts. We also love to eat at night markets, be it dinner, a snack or supper. Things I would normally get include coconut ice-cream, oyster omelet, and some Malaysian-styled carrot cake. The carrot cake is actually a stir-fry – I vividly remember my Danish friend's horrified face when I pointed at a wok of stir-fry saying that it's our rendition of carrot cake.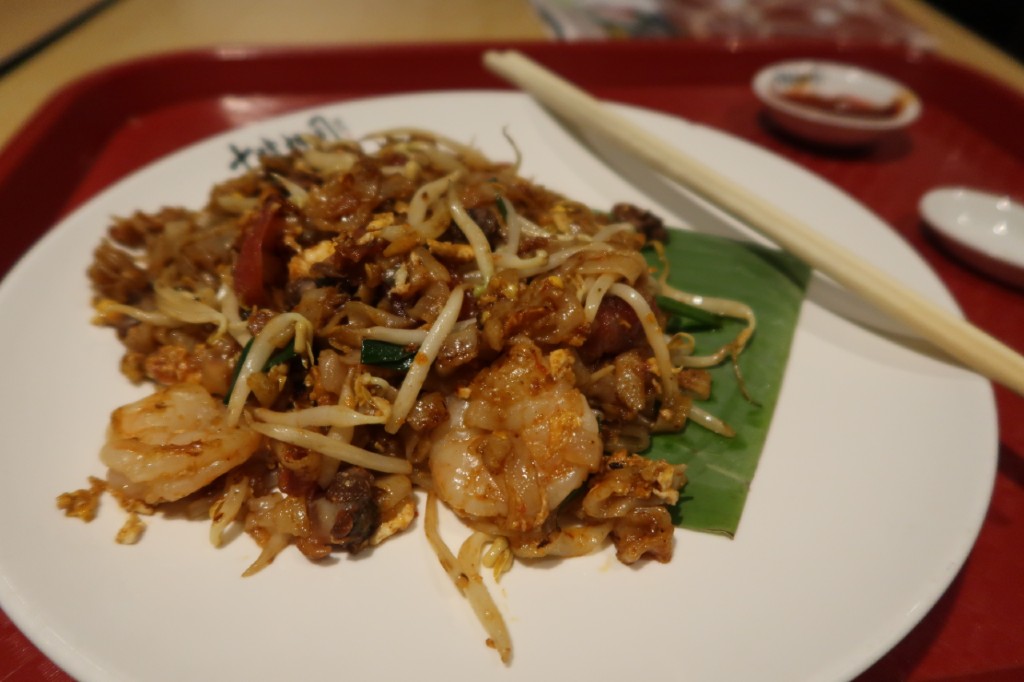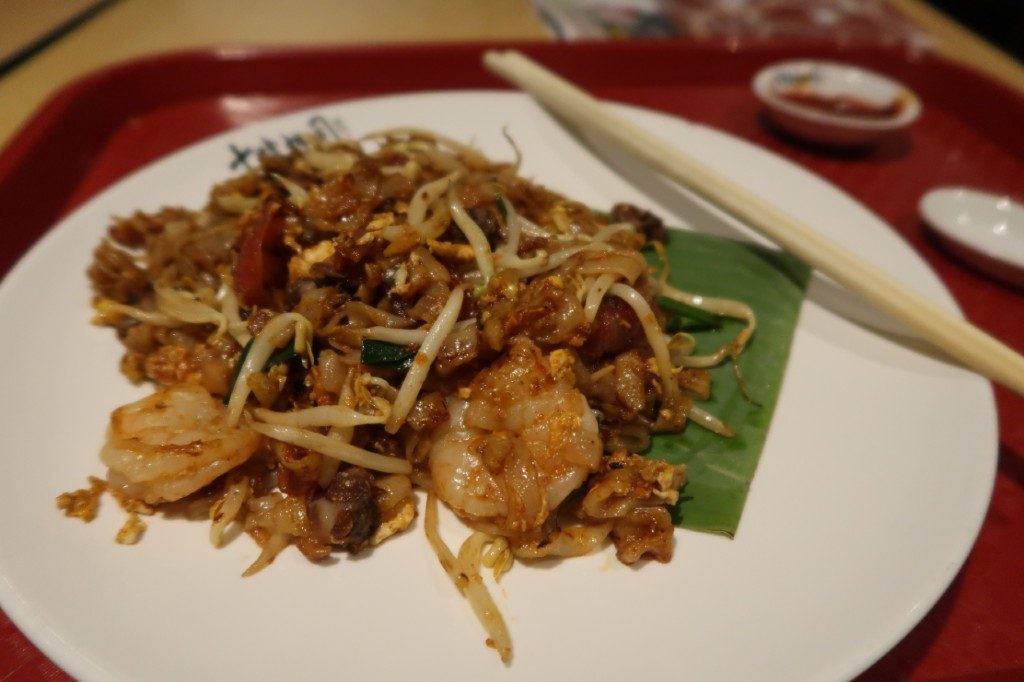 Bonus point: If you do go to SS2 pasar malam, there's a restaurant called Bumbung Nasi Lemak not too far away. They serve arguably the best nasi lemak in Kuala Lumpur – well, as a Malaysian myself, I approve.
2. Heli Lounge Bar
Every time I go back to Kuala Lumpur, I normally say goodbye to my friends and the famous Petronas Twin Tower at Heli Lounge Bar – simply because you get the best view of KL here!
Heli Lounge Bar is a helicopter pad that transforms into a lively rooftop bar as the sunset crosses the horizon.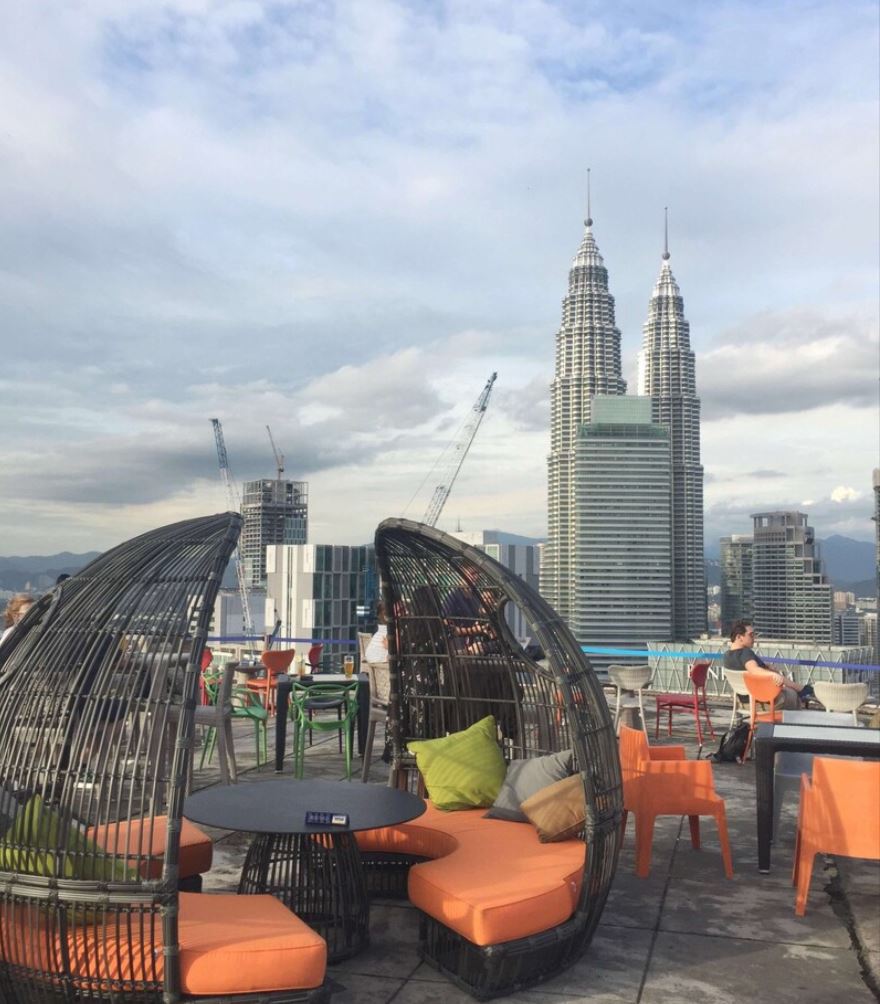 Insider's tips: I recommend coming here just before sunset so you can enjoy the stunning city view with a backdrop of the fiery sun setting as this is one of the best cities to be a digital nomad. Stay longer to see Kuala Lumpur in dazzling lights. Drinks are not cheap here so make the most of your bucks! Still, it is one of the hidden gems of Kuala Lumpur.
3. Chow Kit Market
I love going to markets as they give me an overview of what ingredients are utilised in the cuisine. At the same time, you seem to grasp a deeper insight not just from a food perspective, but the cultural aspects by going to a local market.
Chow Kit Market is another hidden attraction in Kuala Lumpur in a residential suburb called Chow Kit. It is a physical portrayal of my whole childhood. It used to be much bigger when Malaysians were still doing groceries in markets and bazaars. People nowadays tend to flock to air-conditioned supermarkets and shopping malls to get errands done.
That being said, Chow Kit market still has not lost its charm! Being the biggest wet market in Malaysia, you can find everything that would be used in a Malaysian kitchen, be it for a cuisine featuring Chinese, Indian, Malay or Nyonya dishes.
Make sure you get some local fruits such as rambutans, starfruit, mangosteen, langsat (a little sour), buah duku, soursop, jackfruit, cempedak, and other delicious tropical fruits!
4. Kampung Baru
"Kampung Baru" in Malay means "New village". However, that's far from being the truth.
Kampung Baru has been around for more than a century, making it one of the most historical places in Kuala Lumpur. It is pleasant to see traditional Malay houses in this sprawling, modern metropolis.
There are many traditional Malay eateries that you can try. The one that I frequent the most is Ayam Bakar Wong Solo. It features grilled chicken heavily in their menu but you can also get other traditional Malaysian dishes here! Do try their grilled chicken with a glass of refreshing sugarcane juice (depending on availability).
5. Tian Hou Gong 天后宫 Temple
Tian Hou Gong (or sometimes translated as Thean Hou Temple) is one of the most impressive temples in Malaysia.
Festive concerts, sometimes religious festivals, are held here a few times per year. If your visit coincides with the festivals, make sure you pay a visit to Tian Hou Gong as its stunning lights paired with calm religious processions will blow your mind.
This magnificent temple shows off hundreds of traditional red lanterns hanged diagonally to the main entrance. There is no doubt that Tian Hou Gong is one of the most impressive KL attractions for photography.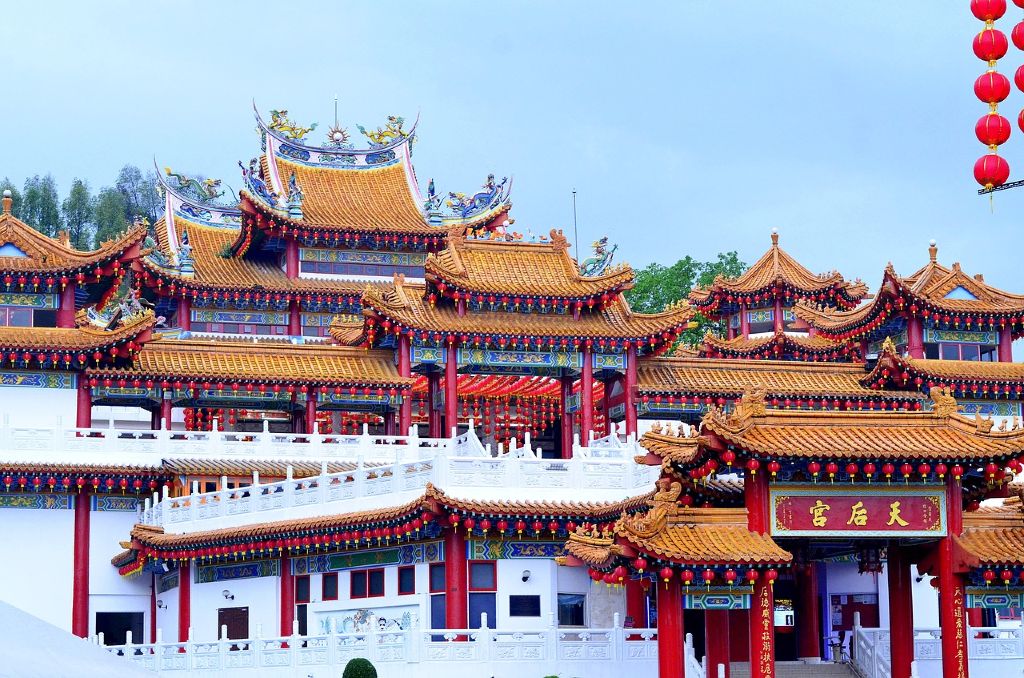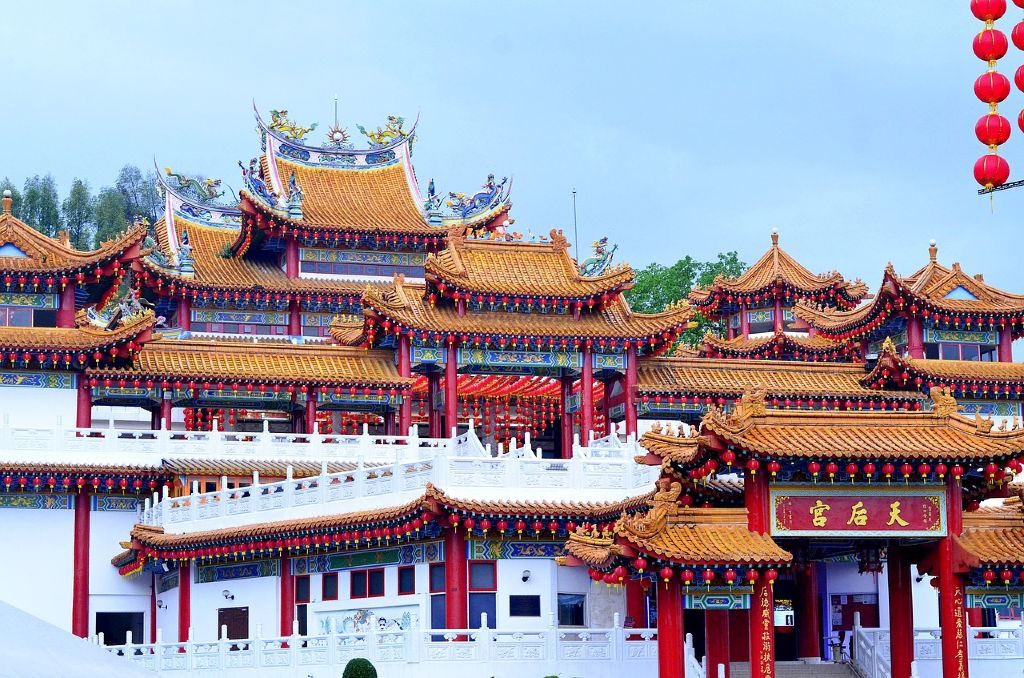 Insider tips: Tian Hou Gong is more impressive at night but the visiting hours have recently changed to 9 am to 6 pm. Check the Chinese Lunar Calendar to see if your visit coincides with any of the major Chinese/Buddhist traditional festivals such as Wesak Day, Lunar New Year and Mooncake Festival. Don't miss the celebration at Tian Hou Temple. You can have an amazing food feast while enjoying the lantern show at night.
6. Bonus: Heun Kee Clay Pot Chicken Rice
Eating is the national sport of Malaysia. If you ask a Malaysian what to do in Kuala Lumpur, I am pretty sure that s/he can come out with a list of restaurants easily instead of thinking of interesting places in Kuala Lumpur.
Heun Kee is another hidden attraction in Kuala Lumpur. This place has been around for more than 30 years, and its clay pot chicken rice can't be beat! This is my absolute favourite place to eat out in Kuala Lumpur so if you do come to Kuala Lumpur, enjoy a serve of clay pot chicken rice for me!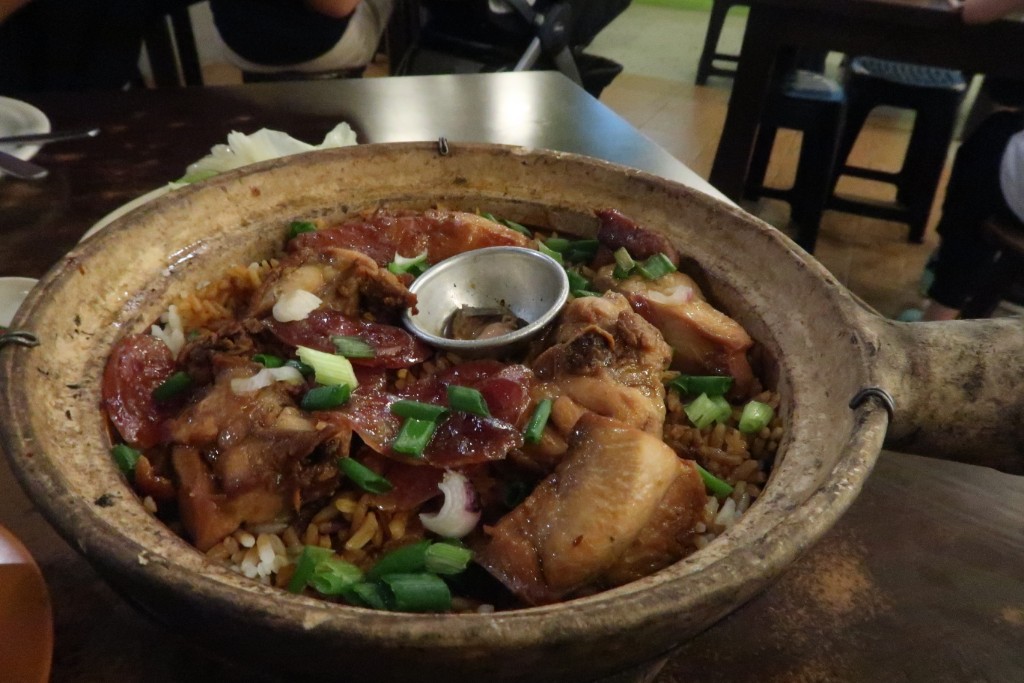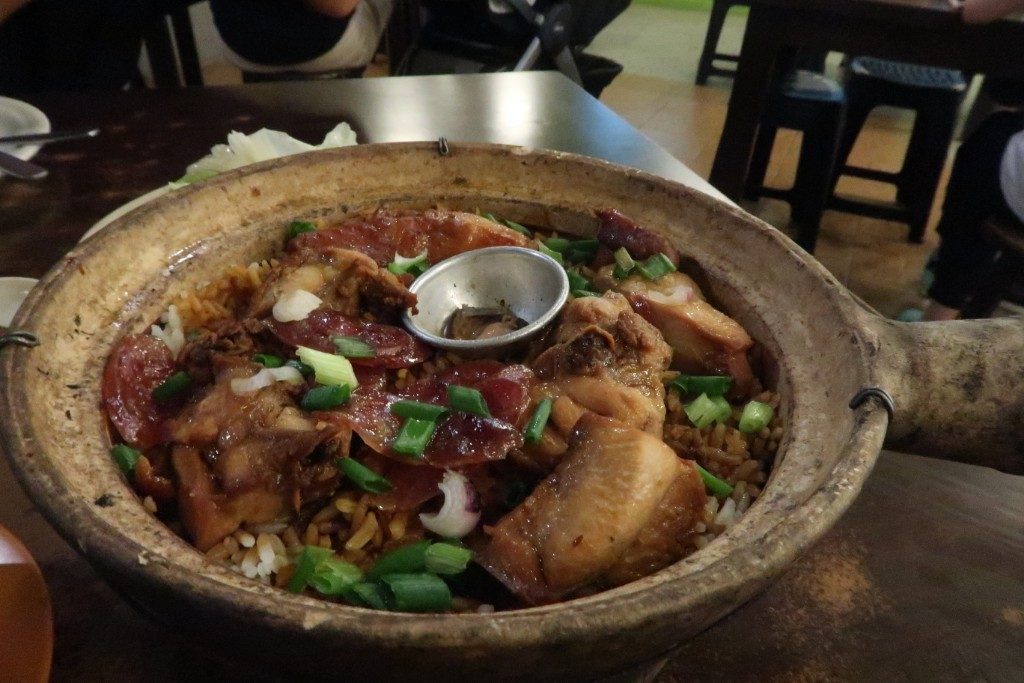 So here are the 5 hidden attractions in Kuala Lumpur + 1 bonus, which is my all-time favourite! I hope that you will have a good time travelling in Kuala Lumpur and tell your friends to keep coming here – not just Bangkok and Singapore! We will do better with the help of some international love!
If you don't have much time in Kuala Lumpur, you can check out my guide on how to spend an 8-hour layover in Kuala Lumpur!
If you like this post, check out these other posts: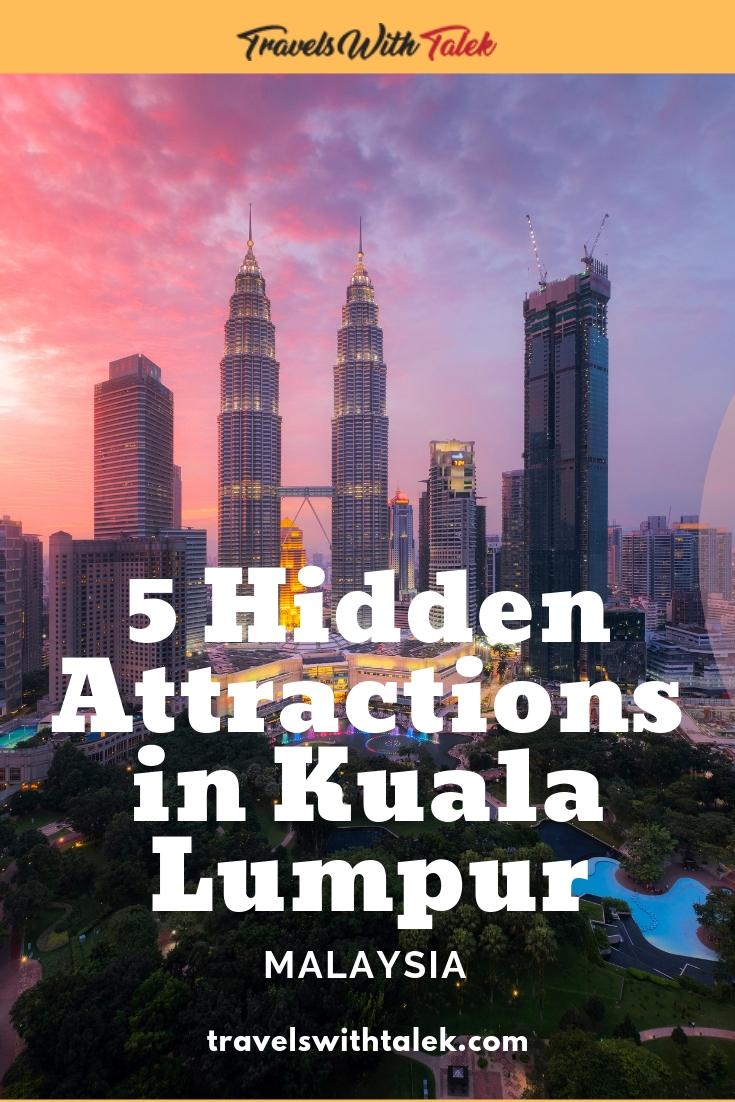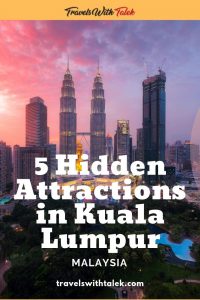 BTW, if you are getting ready for your trip, make sure to take advantage of these useful, money-saving links to book your trip:
I personally use, and can recommend, all the companies listed here and elsewhere on my blog. By booking through these sites, the small commission we earn – at no cost to you – helps us maintain this site so we can continue to offer our readers valuable travel tips and advice.