Updated January, 2021. Thinking about a trip to Cuba? There are several dos and don'ts and Cuba travel tips you need to consider before going. Especially for U.S. citizens.
Ever since the U.S. government eased its restrictions on U.S. citizens' travel to Cuba, after decades of near total prohibition on travel to the island, it seems everyone you talk to is either planning a trip there, returning from Cuba or seriously thinking about going.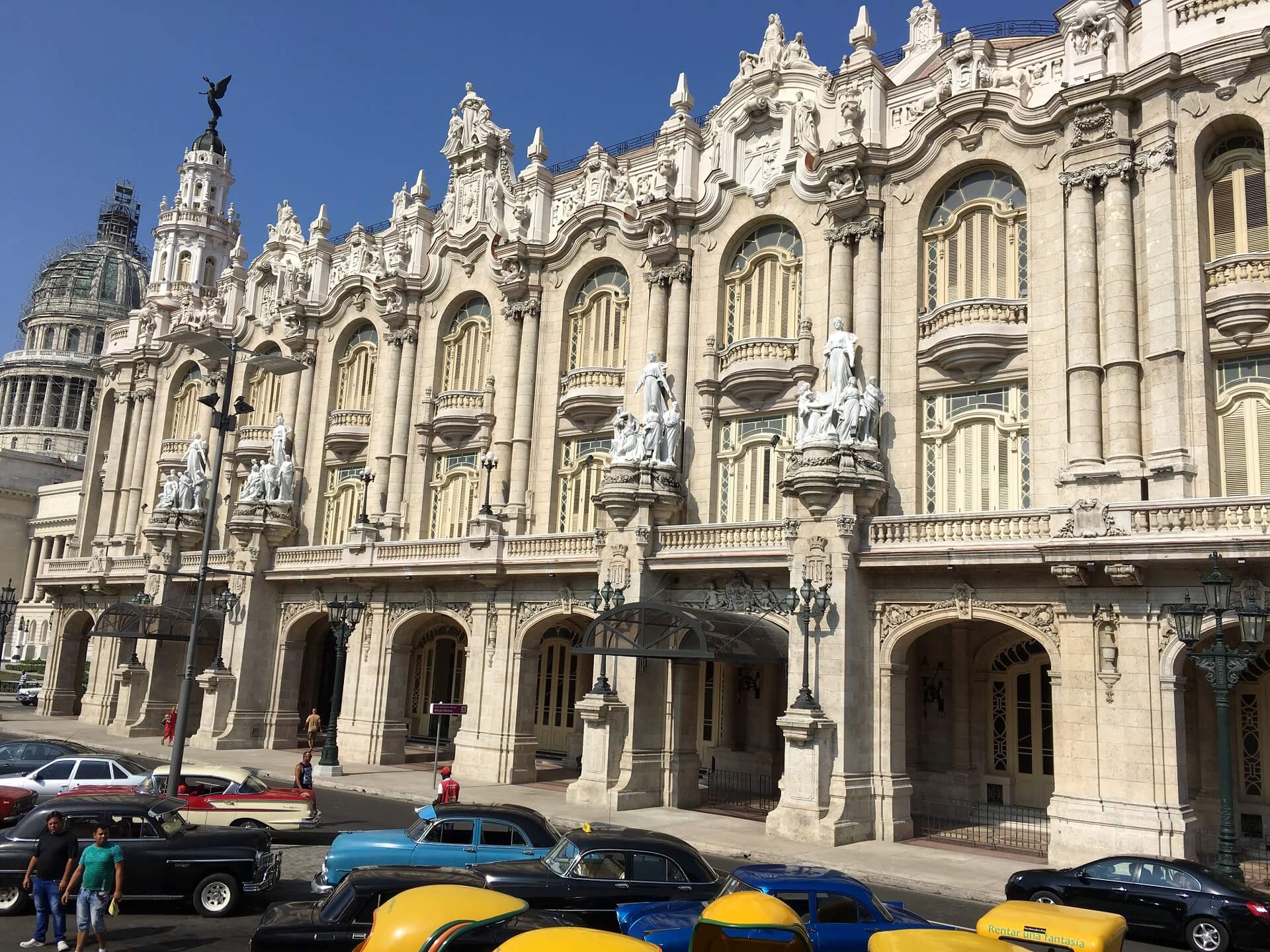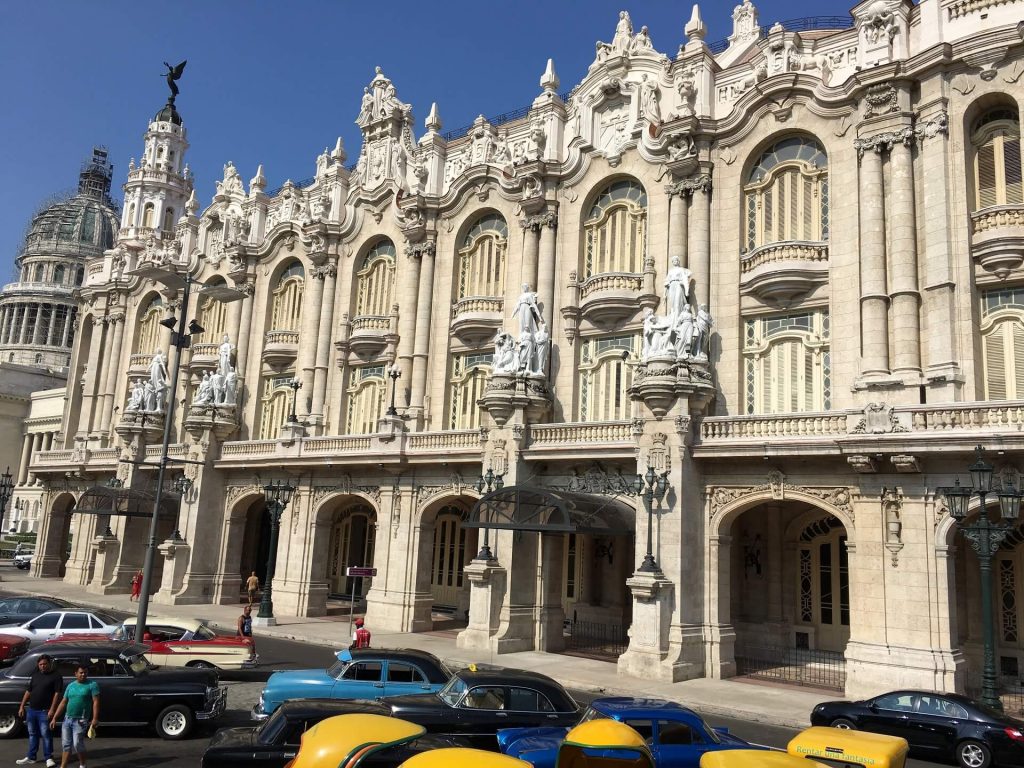 It is still relatively easy for U.S. citizens to go under one of 12 categories specified by the U.S. State Department.  U.S. carriers like JetBlue and American have direct flights from the U.S. at very competitive prices.
But don't assume Cuba is like any other Caribbean country. Getting there is now easier than in the past, but navigating the idiosyncrasies and peculiarities of this beautiful country can be challenging if you don't know your way around.  Here are some recommendations on dos and don'ts for your trip to Cuba.
There's really no best time to visit Cuba. There are better times to visit like the cooler and dryer months from December to May. Some would argue January and February are the best months to visit Cuba because of the milder weather. The warmer months from June to November can get pretty hot and humid but prices can be a bit lower as well.
TEN DO'S AND DON'TS FOR YOUR NEXT TRIP TO CUBA
Do dress down.
Wondering what to bring to Cuba? You won't stand out in casual clothes on your trip to Cuba, and you'll never have to worry about what to wear in Cuba. From the capital city of Havana in the west to Santiago, in the east and the quaint towns in central Cuba like Cienfuegos, Trinidad and Santa Clara, Cuba is an extremely casual country. When you visit Cuba, wear comfortable shoes because Havana is the ultimate walking city. Leave your jewelry at home. Bring sunglasses, a wide-brim hat and sunscreen. It is very hot and sunny.
When planning what to pack for Cuba in the summer months, you may want to bring rain gear like an umbrella and light poncho. Summer showers are brief but can be intense.
Remember most personal products like, sun screen, feminine hygiene, deodorant, etc. are not readily available in Cuba.  Bring your own when considering what to pack for Cuba. 
Do engage with the local population.
Cubans are among the friendliest and warmest people. They will ask you questions about yourself and share information about themselves freely. As with any other country, don't discuss the obvious no-nos; politics and religion.
Sure there are hustlers or "jineteros" like everywhere else; people may try to sell you cigars (guaranteed to be counterfeit) or offer other services. A simple "no gracias" will suffice to discourage them.  Cuba is very safe but it is still prudent to exercise caution as on any visit to a different country. But don't miss out on the opportunity to have genuine interactions with some very nice and gracious people.
Do bring enough cash.
If you are a U.S. citizen, you need to bring enough cash to last the entire trip to Cuba. Credit cards from U.S. banks are not accepted in Cuba. ATMs in Cuba will not deliver funds drawn on U.S. banks. U.S. citizens cannot buy Cuban currency in advance as it is not traded internationally. You need to buy it upon arrival in Cuba.
The Cuban government formally ended its dual currency system on January 1, 2021.  The local currency, the moneda nacional, or CUP will be pegged to the U.S. dollar.  The CUC, the former currency will be phased out completely by June 2021 leaving the island with one currency for the first time in over 20 years.
As you can now pay for some expenses in U.S. dollars, you may want to hold on to some of your cash dollars rather than exchange them all.
When you arrive at the airport in Havana, exchange your money at the "CADECA," the official government exchange booth. This is located to the right as you exit the airport. You can't miss it as there are signs leading to it.  You will need local currency to pay for the taxi to Havana. The cost of the taxi to the Havana city center is about the equivalent of 25 tp 30 U.S. dollars.
Make sure to have small change for tips or to purchase bottled water or some local transportation.

Don't patronize luxury hotels.
Many "luxury" hotels frequently feature bland food, indifferent service and can be far from the sights. Many of these are rated 4 and 5 stars. These ratings do not adhere to any internationally recognized rating system.
A typical 5-star government hotel in Havana is the equivalent of a 2 or 3-star hotel in any other Caribbean nation. The prices, however, are very much in keeping with a standard 5-star hotel. This results in an exceeding poor value for your money.
For the past several years, the government has allowed private citizens to engage in certain private-sector pursuits including renting out rooms in their homes to visitors. These are called "casas particulares" or private homes, "casas" for short. They are similar to Airbnb, homestays or your typical Bed and Breakfast establishments. In other words, a Cuban guesthouse.
On average these casas go for much less than a regular hotel room would cost. Many are modest but clean and well located for seeing the sights. Most offer a decent breakfast and any other meal for an additional, affordable cost.
Besides the price and quality, the advantage of staying in a casa is that you are interacting with a Cuban family and giving your money directly to them. Just don't expect anything very extravagant. 
Do patronize paladares.
As the casas particulares have revolutionized the hotel scene in Havana, so have the "paladares" or private restaurants transformed the food culture. Whereas a few years ago capitalist pursuits like selling peanuts on the street was a crime punishable by a fine and possible jail time, today Cuban restaurant culture is experiencing a renaissance.
At an average price of US$30-$40 for a seriously good meal in a cool location, paladares now flourish in every city but especially in Havana. Demand is outstripping supply, however.
To dine in some of the best paladares you need to reserve weeks or even months ahead of time. One trick is to request a reservation at some odd time like 2 pm and later just have snacks and drinks for dinner at one of the music hot-spots in any of the colonial plazas.
The best menu selections include chicken, pork and fresh seafood as the star attractions.  Lobster is also on the menu but is is being overfished so I advocate against ordering it. Beef, particularly steak, does not seem to be a good choice probably due to the cost of meat and its relative lack of availability.
The paladares venues vary. Some I enjoyed include a SoHo-chic renovated cooking oil factory attached to an art gallery "El Cocinero". Another is San Cristobal, a converted early 20th-century mansion where President Obama recently dined. Honorable mentions go to Dona Eutimia in a little alley off Plaza de la Cathedral and Paladar de Mercaderes on Mercaderes Street, one of the major thoroughfares. But there are so many more!
Although it's fun to explore and take a chance on a good paladar, you are better off sticking to a recommended one or you might end up in one of the rapidly emerging tourist traps. You can tell by looking at some Havana areas that they will soon begin to resemble Bourbon Street. There is undeniably some truth in the saying "see it now before it changes forever".
Do bring back Cuban goods.
The best products to buy in Cuba are tobacco, the superb rum, honey (yes, honey) and original art. The coffee is also a good buy at U.S.$20 for like, a ton of seriously good coffee.
In September 2020 the Trump administration prohibited U.S.  citizens from importing tobacco and rum from Cuba for personal use.  It is expected the new U.S. administration will reverse that order, but it remains as of this update. Check before you go to learn how much you can bring back. 
Don't take pictures of the military or police.
This is a serious "don't" and illegal in Cuba.  Not that you would want to anyway, but there you have it.
Do immerse yourself in the amazing culture.
Cuba, and Havana in particular has amazing museums, history, art, and architecture. This will blow you away. Check out my post on Why you should visit Havana and prepare to be amazed on your trip to Cuba.
Do be patient.
Things don't always work the way you expect in on your trip to Cuba. Customer service is poor. Wi-Fi and connectivity are expensive and slow when you can get it, which is not very often. Government offices open and close on haphazard schedules or don't open at all. Employees don't answer the phone, frequently give misleading or contradictory information and can be unhelpful or indifferent.
Important venues are frequently "closed for repairs" for years. As an example, a friend told me the bartender at the Nacional Hotel complained that he was stressed because tourists were asking for more ice in their drinks. Apparently, the stress was too much for him. Just roll with it and don't expect world-class efficiency or you may be disappointed.
Miscellaneous.
Order the terrific beer.  The local brands of Cristal and Bucanero are the best and only US$2-2.50. Avoid the wine.
If you're planning to visit the outstanding music venues, get a good night's sleep the day before as the clubs open and close late.
Visit the extensive Colon Cemetery, one of the world's most impressive.
Negotiate taxi fees before you take off. When taking a bicycle-taxi, or any other form of Cuban transportation, make sure to negotiate the fee beforehand.
Order seafood; fresh, delicious and reasonably priced.
DANCE! Never mind. You won't be able to resist anyway.
You will never run out of things to do in Cuba! 
Make sure to listen to our podcast interview on Cuba to learn insider tips and cultural insights of Cuba and check out the guides and reference books below.
What other dos and don'ts in Cuba do you think are important to know about?
And don't forget my new book, "Don't Just Travel to Cuba, Experience Cuba. The Ultimate Cuba Guide Book," Available on Amazon.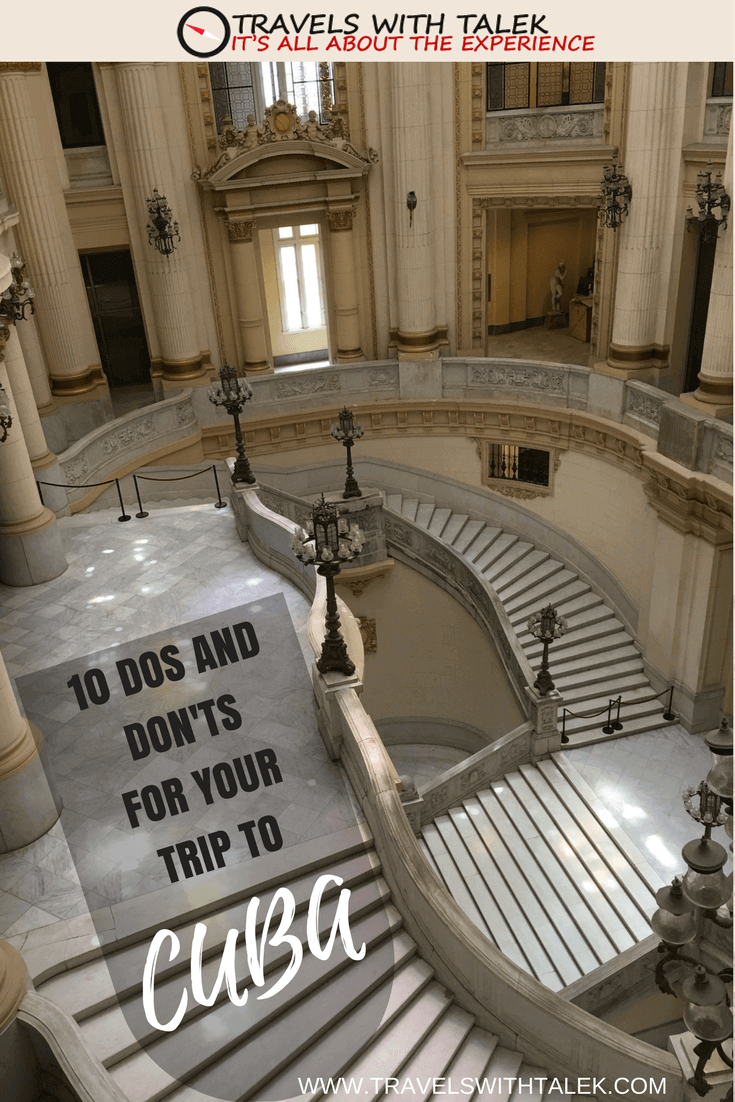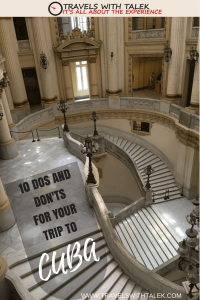 BTW, if you are getting ready for your trip, make sure to take advantage of these useful, money-saving links to book your trip:
I personally use, and can recommend, all the companies listed here and elsewhere on my blog. By booking through these sites, the small commission we earn – at no cost to you – helps us maintain this site so we can continue to offer our readers valuable travel tips and advice.