Updated November 2020. Havana is known for its colonial architecture, smooth rum and fine cigars. The best way to experience classic Havana is to take a self-guided walk in the old city center known as Habana Vieja (Old Havana.)
But there is another side of a Hidden Havana that remains concealed unless you know where to look. Magical, mystical, mysterious, pulsating and always fascinating. Cuba off the beaten path is at its best and Havana is its epicenter. Here are seven of Havana's most surprising hidden secrets.
THE BEST OF HIDDEN HAVANA: OFF THE BEATEN TRACK
Many of the best restaurants are in the least likely locations, in a "hidden Havana."
Case in point, La Guarida, which means "The Hideaway," is one of the best restaurants in Havana. From the outside, it looks like an abandoned building but inside, a burst of color and innovative design is the setting for delicious local food.
This is the case for many other fine restaurants in Havana. Tip: Don't be put off by the exterior. Hidden Havana can be deceiving. Once inside the décor and food will amaze you. That's one of Havana's secrets.
Havana's many religious denominations are alive and well.
A new mosque in Habana Vieja serves a long-established, vibrant Muslim community. Beautiful churches in prime locations serve the Russian Orthodox congregations.
There are also many synagogues, Buddhist temples, and other denomination temples and churches. You just have to explore the streets of Hidden Havana.
Santeria is an important part of Cuban culture.
The Afro-Cuban religion is very prominent. The religion is explained in detail at the Oricha Museum across from Parque Central. An oricha is one of the many spirit manifestations of the Santeria religion. The museum also houses the Yoruba Cultural Association of Cuba. Among the exhibits are regular religious performances and the history of the religion which traveled from Africa to the Caribbean via the slave trade.
Another Santeria related activity, albeit decidedly more touristy, is the Sunday performance at the Callejon de Hamill or Hamill's Alley. The dance performances are electrifying; full of pulsating energy and blazing color. There are also nearby art galleries and interesting street art.
Insider Tip: Get there early to get the best seats for the performances.
Havana music venues rock with a hot, Havana beat.
These venues range from sophisticated Vegas-style floor shows to elegant, stylish jazz clubs, like La Zorra y El Cuervo, to three guys on a corner with maracas and a guitar.
The music is pervasive; an integral component of the culture. What makes these such pleasant surprises is the high quality of the of the performers.
Historic Chinatown is reviving, no longer a part of hidden Havana.
This neighborhood is staging a slow comeback in fits and starts. In the mid-1800s over 150,000 Chinese workers were brought to Cuba. They mostly settled in Havana creating a vibrant, flourishing community that reached it golden age in the 1950s. The onset of the Cuban revolution forced many Chinese to flee, mostly to the US, and the neighborhood fell into decline. Today the local government encourages a resurgence recognizing the neighborhood's potential as a tourist draw.
Havana architecture will surprise you.
The architecture most people are familiar with is the crumbling colonial masterpieces of Habana Vieja or Old Havana, the colonial center of town. Few know about the elegant mansions to the far west of the city lining 5th Avenue.
This artist venue, the Cuban Art Factory, commonly referred to as F.A.C. is a truly unique concept. The setting is in an abandoned cooking oil factory converted into a venue containing several unusual museums, dance studios, photography exhibits, restaurants, bars, and music performances.
Admission is 2 CUC and you can easily spend hours experiencing this cultural candy store. No money is exchanged inside. Instead, you get a card on which whatever you consume is noted and paid for when you leave.
You stroll around the various floors and rooms, mojito in hand and are delighted at every turn. Patrons break out in spontaneous dance to the various bands; rum tastings are sampled on the open-air terraces and strangers take pictures of each other in front of the outrageous art. I've never seen anything like this.
Havana is changing. Even if you've been there already, it's worth taking another, deeper look at this fascinating city.  Discover your own little piece of Havana's secrets in Hidden Havana.
Is this what you imagined Havana to be?  
And don't forget my book, The Ultimate Cuba Travel Guide, available on Amazon.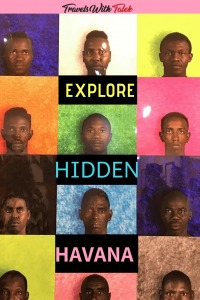 BTW, if you are getting ready for your trip, make sure to take advantage of these useful, money-saving links to book your trip:
I personally use, and can recommend, all the companies listed here and elsewhere on my blog. By booking through these sites, the small commission we earn – at no cost to you – helps us maintain this site so we can continue to offer our readers valuable travel tips and advice.