Updated April 2021.
There are tons of things to do in Viñales, Cuba, the certifiably spectacular town 3 and a half hours west of Havana.  A trip to Viñales is a definite MUST-DO on our list of dos and don'ts for your Cuba trip.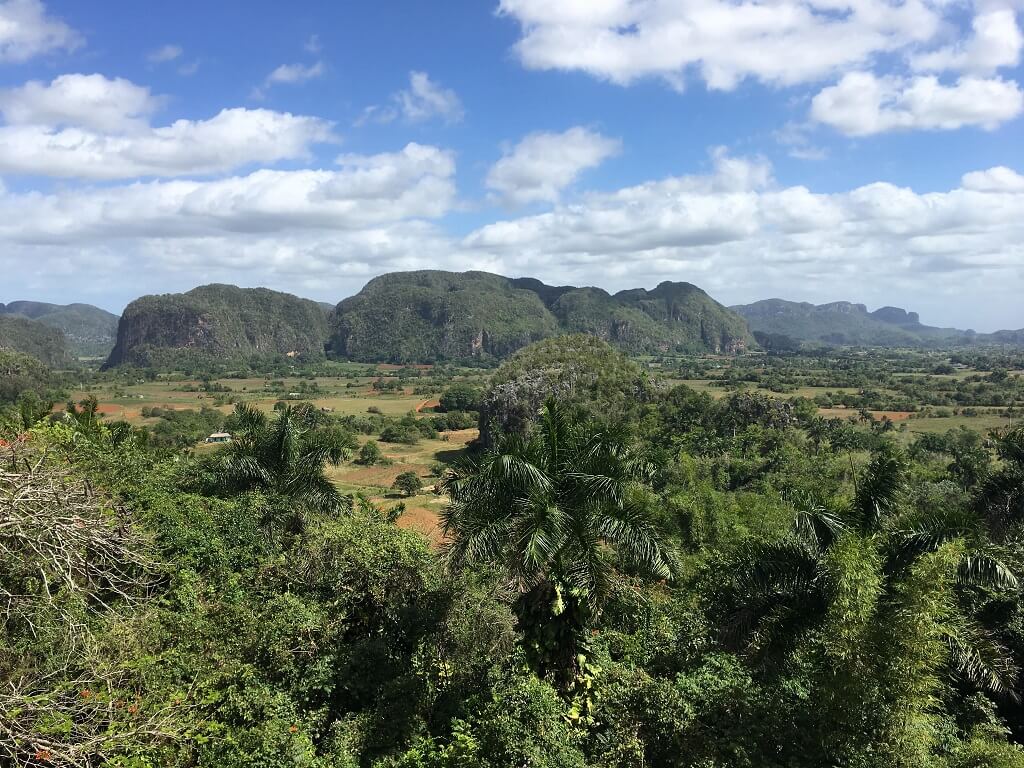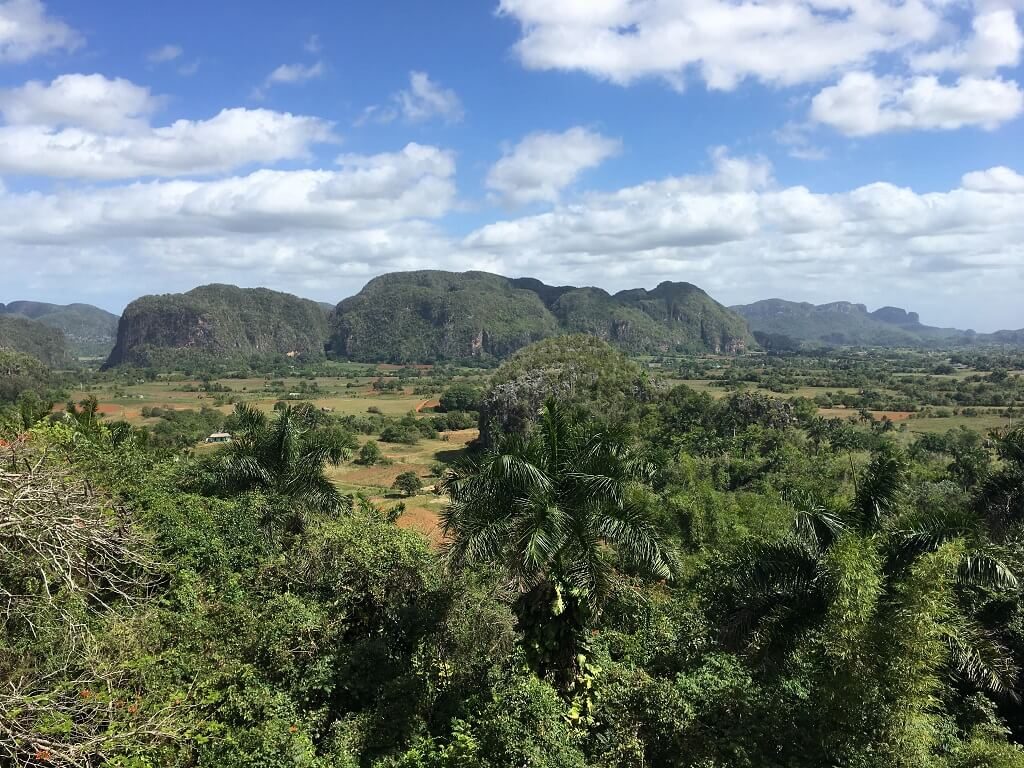 How many times have you said, "WOW!, this is the most beautiful place I've ever seen"? That's what I said the first time I saw the Valley of Viñales in Pinar del Rio Province, western Cuba.  I knew the area was lauded for its natural beauty but nothing prepares you for seeing it for the first time.  I'm not the only one that thinks so.  Christopher Columbus said the same thing when he first landed in Cuba.  Actually, he was talking about the northern coast but why split hairs.
We drove into this spectacular valley in a 1949 Chrysler with no air conditioner and a very friendly, talkative Cuban driver named Jose.
We stayed at a "casa particular," a Cuban guesthouse or home stay where you lodge with a Cuban family. Our casa particular hostess in Havana arranged a taxi for us. The cost was U.S.$70 one way.
No matter what city you are in, your casa particular hostess can arrange all activities for you; tobacco farm tours, horseback riding, restaurant reservations, taxis, a casa particular in the next city.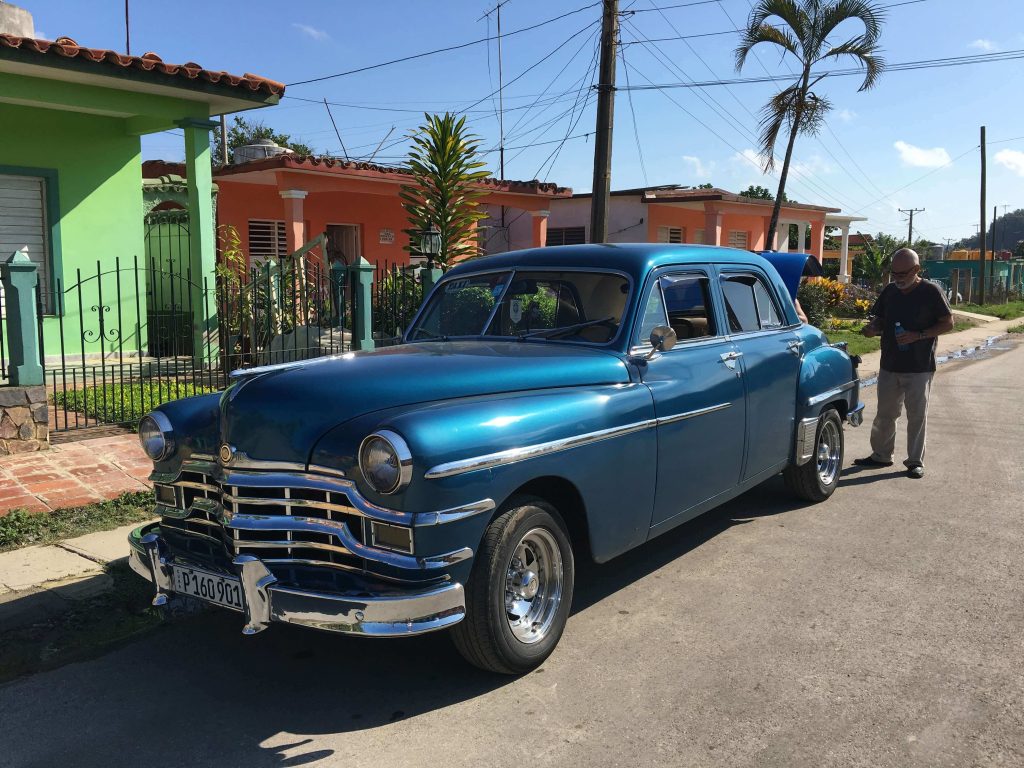 Things to do in Viñales, Cuba
Stare in Amazement at the Natural Beauty of the Valley of Viñales 
Very quickly you begin seeing the natural beauty.  The area is dotted with huge limestone formations called mogotes that rise high above the valley floor. I understand this phenomenon is unique to this area.
Visit a Tobacco Plantation
Besides the knockout beautiful scenery, Viñales is famous as the premier tobacco-growing region of Cuba, an area called Vuelta Baja. One of the area's big draws is a visit to the local tobacco and coffee plantations were, of course, they try to sell you something, but you also get to sample terrific coffee and buy the best cigars in the world at reduced prices because you're buying from the source.
These tobacco farm tours are fun destinations to see something completely different. When you arrive, one of the workers will walk you through a tobacco field to see the plant before harvesting. Next, you go into the leaf drying area, usually a large barn where the leaves are hung to dry on beams attached to the roof.  Finally, you are taken to an area where one of the workers explains the tobacco rolling process.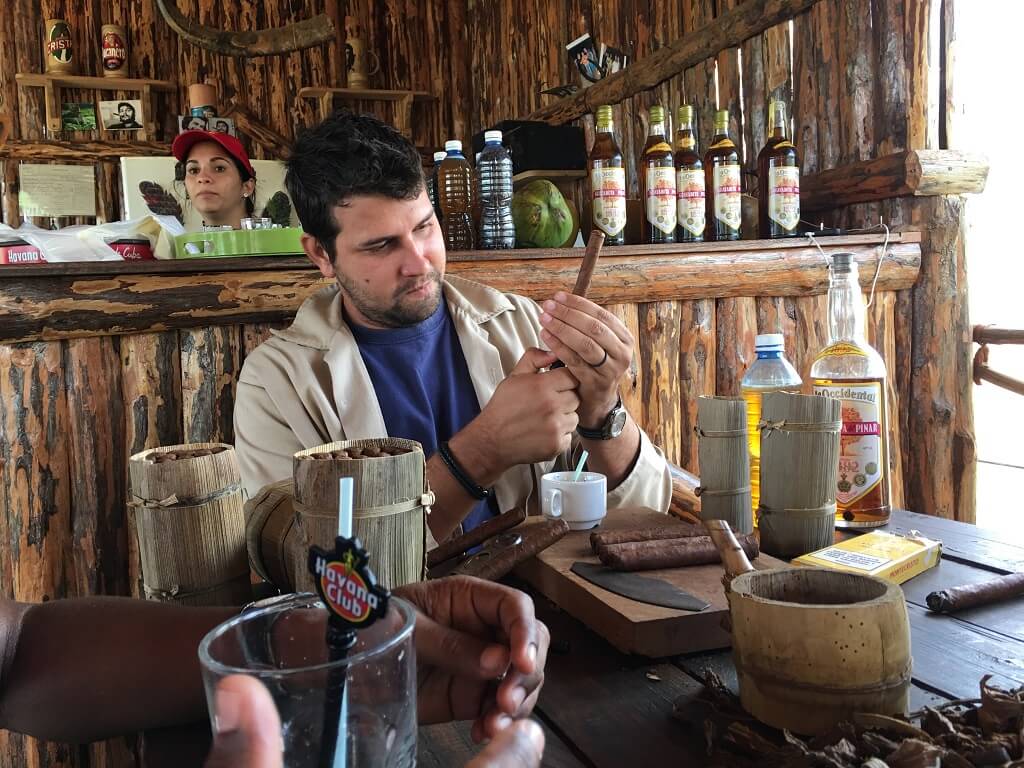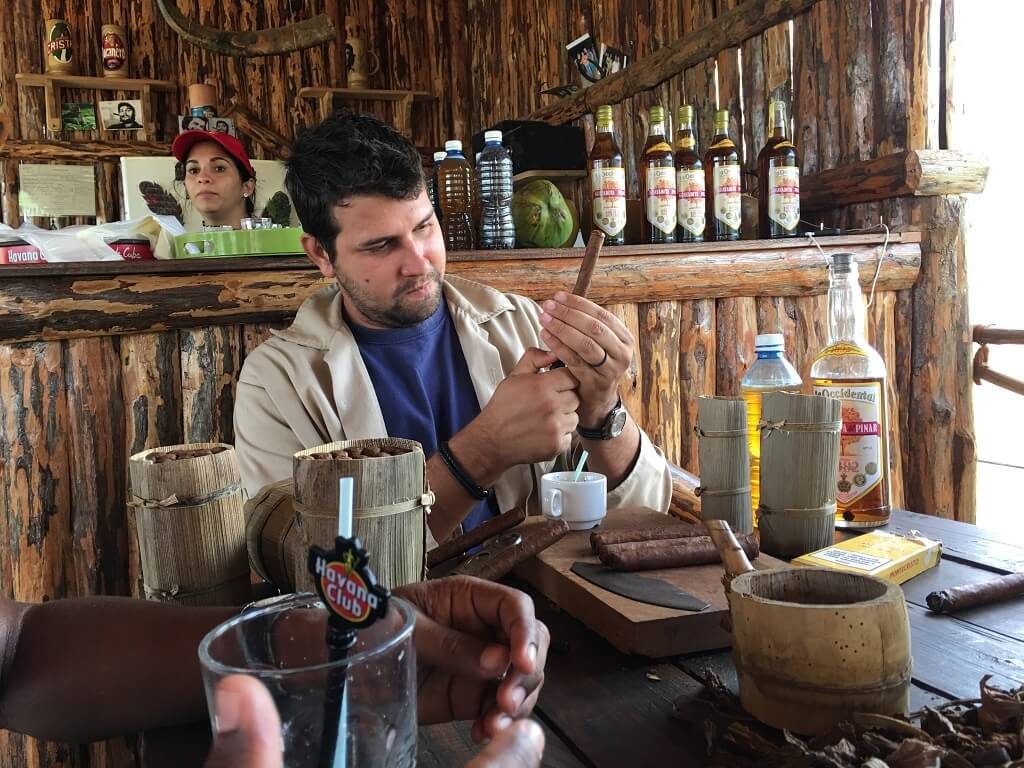 Delicious Cuban cocktails and beer are served at a cost of U.S.$2 to U.S.$2.5 each, and you can sample cigars.  I think the drinks are deliberately strong to induce you  to buy more cigars.  By the time you leave you are best friends with the farmers and everyone has a great time.
The quantity of Cuban products that U.S. citizens can bring into the United States for personal use has varied depending on what administration is in power in Washington. It is a good idea to check what U.S. citizens can bring to the U.S. beforehand.
Insider tip: Make sure to stay away from people in big cities like Havana who offer you cigars. Tobacco from anywhere other than authorized suppliers is probably counterfeit.
Explore the Valley on a Horse
You can tour the valleys by car, foot or bicycles which are available to rent in many locations but the best way to see the countryside is by horse.  Hire a horse and local guide (real Cuban cowboys) in town for a few dollars an hour, or ask you casa hostess to reserve for you.  This is the quintessential Cuban experience and one of the most fun things to do in Viñales.
Swim in Pristine Waters in Cayo Jutia
You can't leave Viñales without visiting Cayo Jutia.  This is a spectacular beach where you can snorkel, go on a boat ride to outlying islands with local fishermen, eat fresh seafood and drink coconut water with rum in one of the little shacks that serve food on the beach.  Local musicians frequently stop by to play for tips. You would pay good money anywhere else to listen to these talented itinerant musicians that seem to be everywhere in Cuba.  The beach is about two hours away by car or public bus but its worth it and the trip is interesting. You are really in deepest Cuba here. Any taxi will be happy to take you and wait in order to bring you back.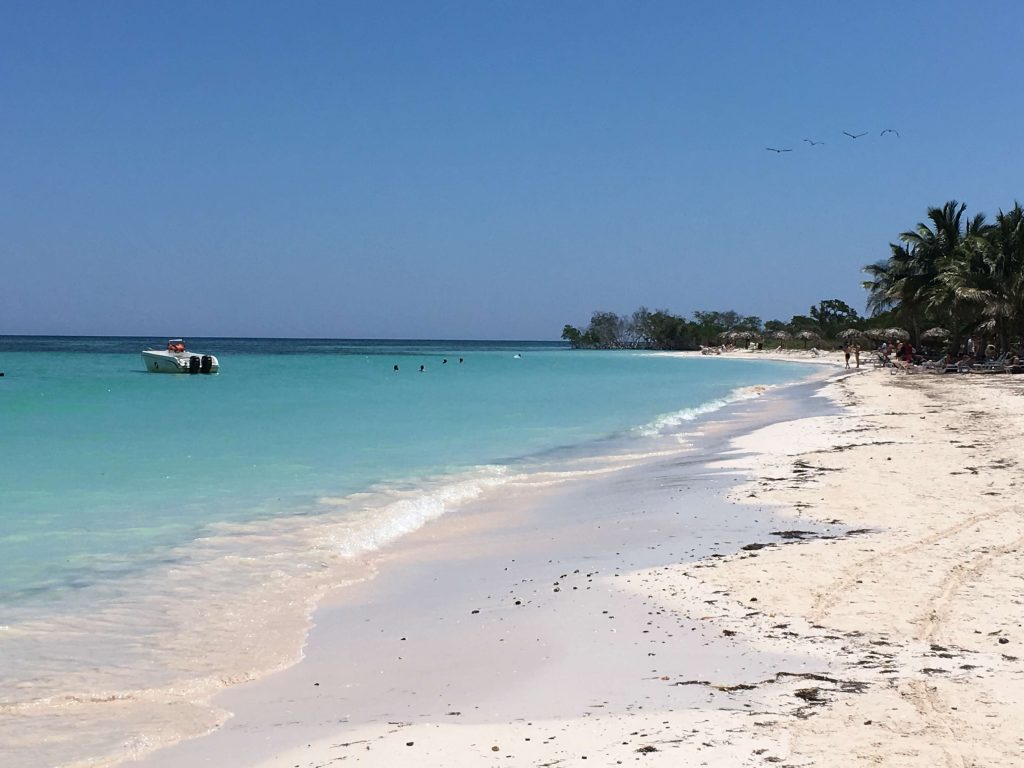 Tour the underground caves
Another one of the exciting things to do in Viñales is exploring the local caves many of which have underground rivers that run for miles. Tours run throughout the day. The cost is U.S.$5 per person.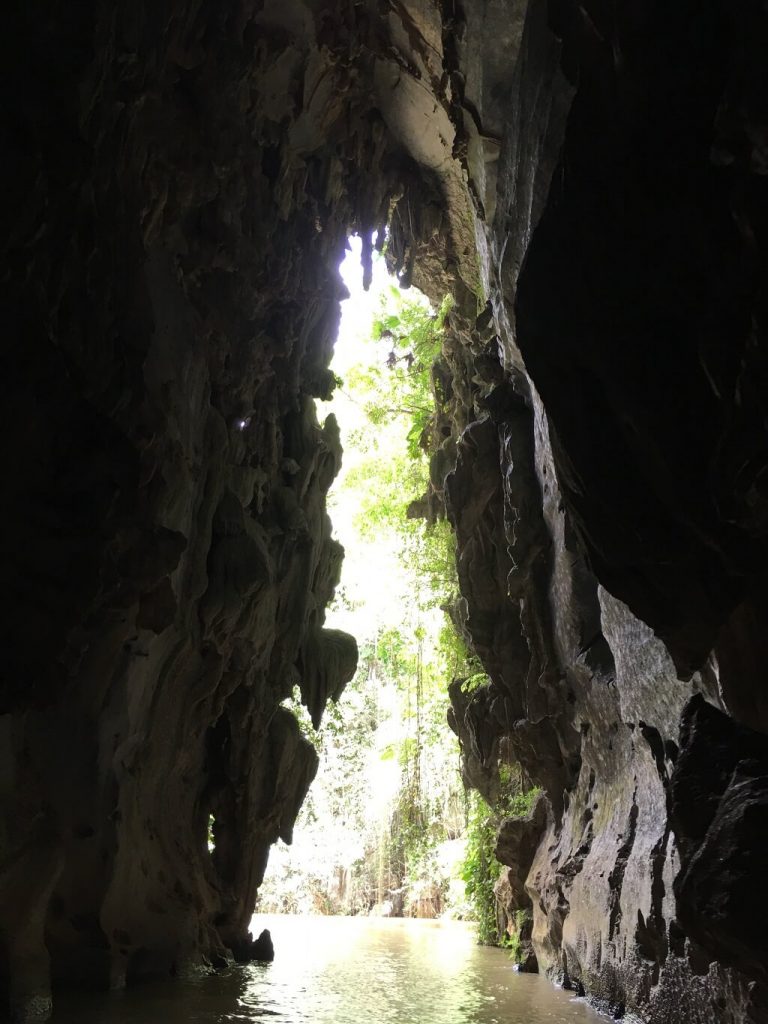 All the activities mentioned in this post can be booked from your hotel or homestay (casa particular) location.
Eat at a farm-to-table restaurant with a view
Another one of the delightful things to do in Viñales is to eat at an agro-ecological paladar, or private enterprise restaurant, in view of the stunning Valley of Viñales.  All the food is locally grown and the prices are reasonable.  A typical meal will cost U.S.$10 to 15 and drinks go for U.S.$2 to 2.5.  But you are really there for the breathtaking view.


Three of the best agro paladars are: Balcon del Valle, El Paraiso and La Casa Verde.
Indulge in the Nightlife
Believe it or not, perhaps one of the best things to do in Viñales can be to enjoy the nightlife. There are no less than six, SIX! major music venues along Cisneros Street, the main drag. The music is outstanding, as it tends to be throughout Cuba, and the rum is legendary.  One of the coolest hangouts I've found in Cuba is JP Bar and Tapas on Cisneros; good food, drinks, music.  You can chill on a wicker rocking chair on the porch sipping the local rum and watching the world go by.
One thing is for sure, you'll not soon run out of things to do in Vinales.
There are many Cuban "casas particulares" (guest house or homestays) casas for short in Viñales.  Just about every home in town has an extra room or apartment to rent. To book on the spot, just knock on any door that has the official sign outside and see if they have a vacancy. You can check out the room first to see if you like it.
Remember your casa particular hostess can arrange all tours for you; tobacco farms, horse back riding, restaurant reservations, taxis.
Guaranteed you will not run out of things to do in Viñales.
And don't forget my new book, The Ultimate Cuba Travel Guide, available on Amazon.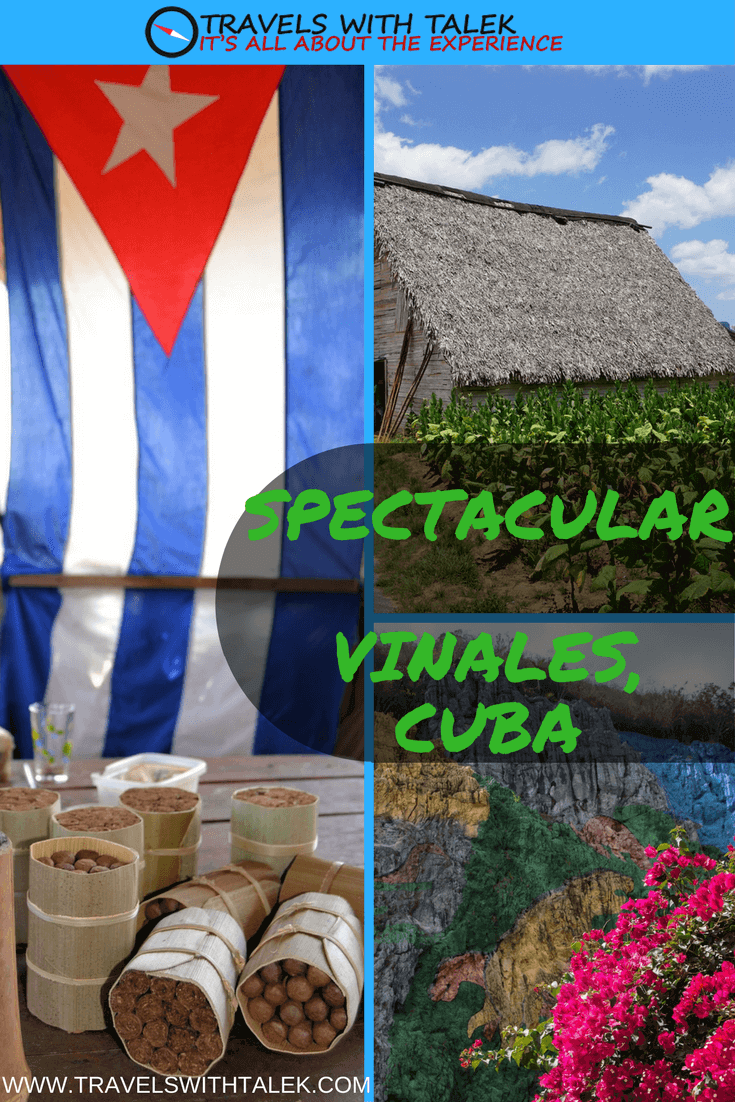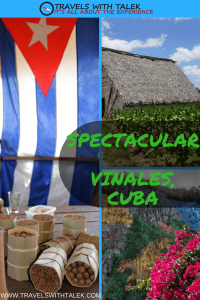 BTW, if you are getting ready for your trip, make sure to take advantage of these useful, money-saving links to book your trip:
I personally use, and can recommend, all the companies listed here and elsewhere on my blog. By booking through these sites, the small commission we earn – at no cost to you – helps us maintain this site so we can continue to offer our readers valuable travel tips and advice.