Get ready for some unique Santiago de Cuba activities. Sultry, hot, languid, bursting with color and rhythmic music, Santiago beguiles with its parks, history and tropical colonial vibe. From exploring churches and lively plazas to visiting interesting museums and biosphere reserves, there are plenty of things to do in Santiago de Cuba.  
15 Cool things to do in Santiago de Cuba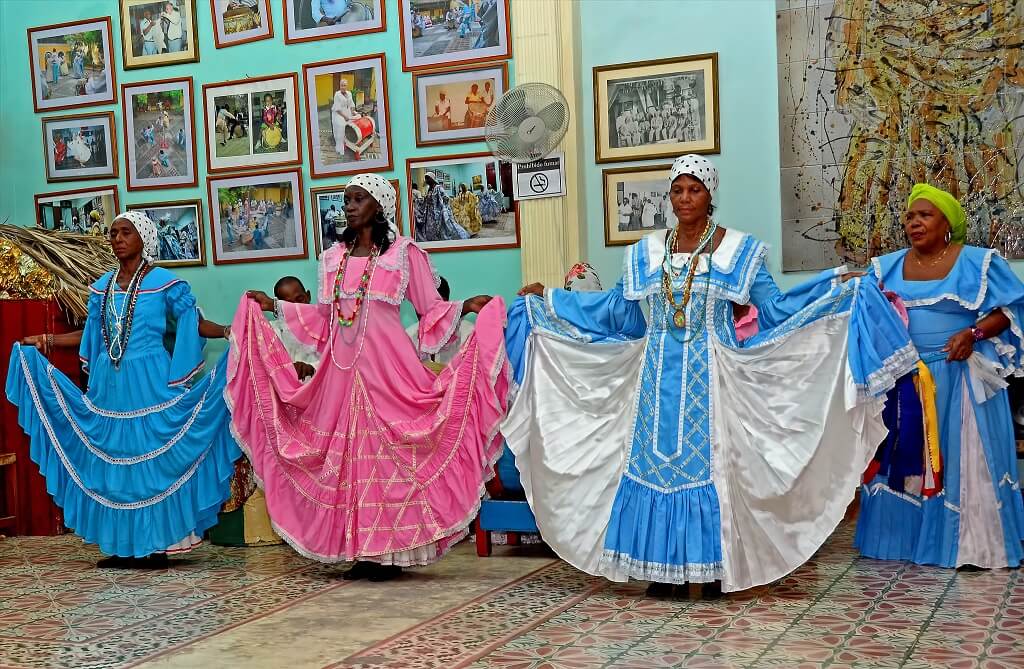 Brief history of Santiago de Cuba
Santiago de Cuba is the capital of the island's eastern province of the same name. With a population of about 450,000, it is Cuba's second most populated city after Havana.  The municipality contains 11 communities including the town of Daiquiri, one of the sites of the U.S. invasion of Cuba during the Spanish American War of 1898.  Daiquiri is also the birthplace of the eponymous drink, one of the four Cuban cocktails that circled the globe.  
Founded by Diego Velasquez Cuellar in 1515, several years before Havana, the city was the capital of Cuba from 1522 to 1589.  It is nestled on a spectacular bay amidst a picturesque collection of hilly streets and red-tiled rooftops.
It was from Santiago de Cuba's deep, natural harbor that Hernan Cortez departed for his Mexican expeditions and Hernando de Soto left to explore the coasts of Florida.
In the late 1700s and early 1800s, French refugees from the Haitian Slave Revolt of 1791 emigrated to Santiago and added to the city's already eclectic ethnic mix.
The year 1898 witnessed the defeat of the Spanish army in the Battle of San Juan Hill and the destruction Spain's Atlantic navy during the Cuban War of Independence.  At this point Cuba declared its independence from Spain.
Santiago was also the city where the Cuban Revolution ignited and the site of many of its critically important battles.
Unlike other not-to-miss Cuba cities like, Viñales, Cienfuegos or central Cuban towns like Santa Clara, Santiago de Cuba has a truly unique and vibrant ethnic mix. The rich blend of Spanish, French, Haitian and African cultures is evident in the faces of the warm and helpful locals, the culture and the cuisine.
The Afro-Cuban religion of Santeria is widely practiced in Santiago. It is worth attending one of the services to learn more about this interesting practice.
 Cool things to do in Santiago de Cuba  
Attend the Carnival de Santiago
If you can manage to be in Santiago in late July, attend one of Cuba's top ten sights, The Santiago de Cuba Carnival, one of the events Santiago de Cuba is famous for.   It is considered the liveliest of all the traditional Cuban festivals and one of the largest events in Latin America.
The festival is held annually from July 18 to 27 and is an explosion of dance, pulsating music, and elaborate costumes.  People come from all corners of the country and overseas to see, join and enjoy.
The city is draped in festive decorations, music venues celebrate with carnival specific shows and restaurants offer carnival specials.
Unlike carnivals of other cities like New Orleans, the Santiago carnival is not related to any pre-Lenten festivities, which are celebrated in February or March.
The Santiago carnival started life as a religious event celebrating the saint day of Santiago (St. James), on July 25. Over the years, the carnival added aspects of Spanish. French, African, and Cuban culture and traditions.
The original dates also coincided with the end of the sugar cane harvest which meant workers were free to attend and participate.
Lastly, the carnival date coincides with one of the most important dates related to the Cuban Revolution, July 26, the "Attack on Moncada Barracks" which signaled the start of the Cuban Revolution.  Some say the attack was planned to take place on that date in Santiago precisely to coincide with carnival celebrations. Today, although the carnival is a week-long celebration, the final and most elaborate parade is held on that fateful day, July 26.
*****
Stay in a refurbished 19th or early 20th century "casa particular."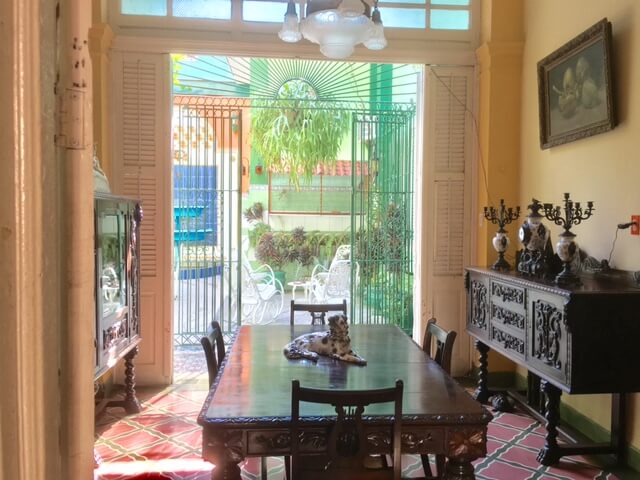 Santiago de Cuba hotels are plentiful throughout the city, but the best accommodation option is a stay at a casa particular or Cuban-owned private homes.  These casas are Cuba's version of a B&B. Not only is the architecture in many of these "casas" true to the era, the furnishings also frequently date from that time period.  This experience offers a nice peek into the city's history.  These homes often have indoor patios where traditional Cuban breakfasts are served. This is hands-down, one of my favorite Santiago de Cuba activities. You can book a casa with Airbnb and here is a $55 credit towards your first stay.
One great advantage of staying at a casa particular is that the hostess, usually a woman, functions as a sort of concierge recommending and reserving taxis, restaurants and tours for you and generally seeing to your needs. She'll receive a commission for her efforts but it is minimal and worth it.
*****
Visit the Catedral de Nuestra Seora de la Asuncion
This cathedral, Our Lady of the Assumption, is in Cespedes Park, the city's main square.  Dating from 1522, this church has been recently renovated leaving the ceiling looking like a wonderful, riotous wedding cake.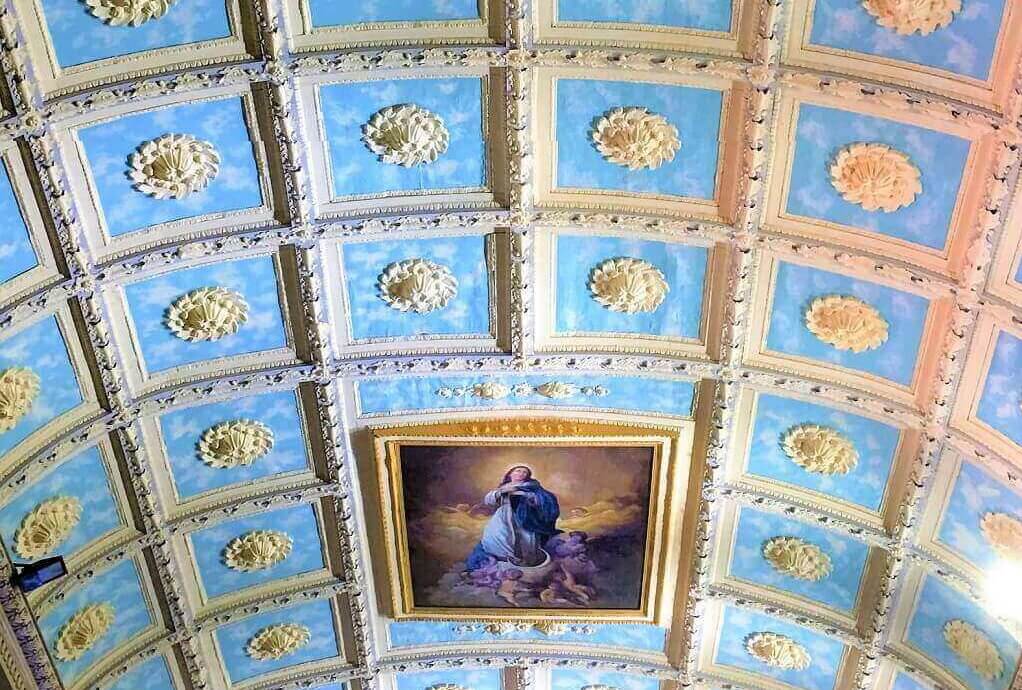 If you climb to the top of the right cupola of the cathedral, you will be rewarded with a spectacular view of the city.  A night view of the Cathedral is an equally impressive sight.
*****
Spend a couple of hours in Casa Velasquez
On the same square to the left of the Cathedral is the Casa Velasquez, the oldest standing house in Cuba.  Named after Diego de Velasquez, the first Spanish governor of Cuba, the Casa Velasquez is now a remarkable museum displaying furnishings and artifacts from three different centuries in Santiago's history.
The rooms are all arranged to surround a faithfully restored indoor patio from the Spanish colonial era.  I found a visit to this museum to be one of the most interesting Santiago de Cuba activities.
*****
Visit the Emilio Bacardi Museum
Emilio Bacardi was the son of Facundo Bacardi who founded the Bacardi distilling company, makers of the famous rum that you are probably familiar with, in 1862. The family moved the Bacardi headquarters to Hamilton, Bermuda to avoid the Cuban Revolution.  Bacardi is now the largest privately held liquor company in the world. It has been family owned for seven generations.
Emilio Barcardi was born in Santiago de Cuba, raised in Spain and returned to Cuba as a young man. While in Europe he developed a taste for fine art and started a remarkable collection.
The Emilio Bacardi Museum in central Santiago de Cuba is Emilio Bacardi's collection enhanced over the years.  The collection is housed in a beautiful three-storied building with each floor displaying a different collection of paintings, sculpture and archaeological artifacts on the first floor – including a mummy.  The quality of the paintings is outstanding, definitely on a par with the art work in the Cuban wing of the Museum of Fine Arts in Havana. And that's really saying something!   A visit to this museum is a can't-miss activity in Santiago de Cuba.    
A big bonus of this museum is that the air conditioning is great. You'll need it in Santiago de Cuba.
Don't forget to bring back a couple of bottles of Santiago de Cuba rum. Here is a handy guide on how to choose the best Cuban rums to bring home with you.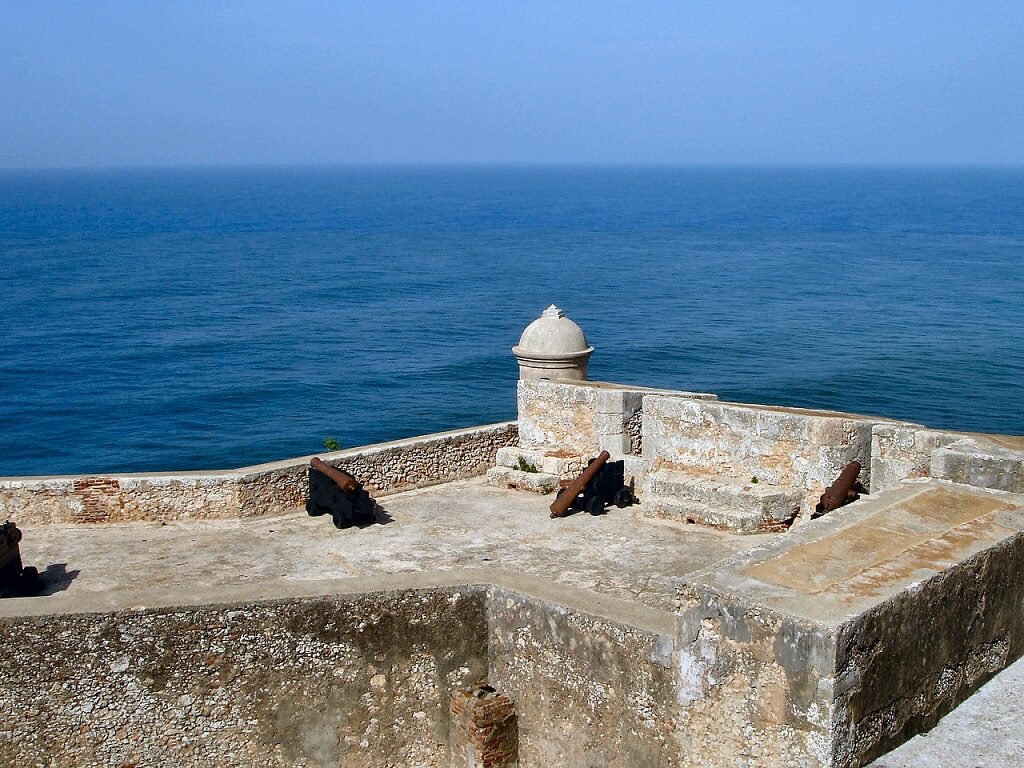 More commonly known by its nickname,  El Morro, this is a massive 17th-century fortress built to protect the key city of Santiago from pirates. It is the best-preserved example of Spanish-American military architecture in the Americas. It is also a UNESCO World Heritage site.
This incredible fortress is only about 15 minutes from the city.  To get to the Castillo, secure a taxi from the taxi stand in front of the Casa Granda Hotel across the street from Cespedes Park. It shouldn't cost you more than 10 to 15 CUC  (see post on Cuban currency) which includes the taxi waiting for you. You may want to have the taxi drive your around the beautiful coastal area for a few CUC more.
*****
Party at Santiago's music venues
Casa de la Trova features traditional Cuban music in a family atmosphere.  Club 300 and Iris Jazz Club, offering top-notch jazz, are just three of Santiago's music clubs. These Santiago de Cuba activities are all about the outstanding music. Everything else is secondary.  These clubs are all a short walk from each other in the center of town.
*****
Experience the Sanctuary of La Virgen de la Caridad
Some of Santiago de Cuba's best activities involve churches. Peek into the religious soul of Cuba with a visit to the sanctuary of Cuba's patron.
Legend has it that three fishermen were close to drowning in a storm. Suddenly the Virgin appeared calming the waters and saving the fishermen who reported the vision to the local priests. The sanctuary was built in gratitude.
The architecture is interesting and the sanctuary sits on a lush, plateau dotted with those majestic, impossibly tall Cuban palm trees.  But the real draw is the people you see that come to pray and their shows of devotion.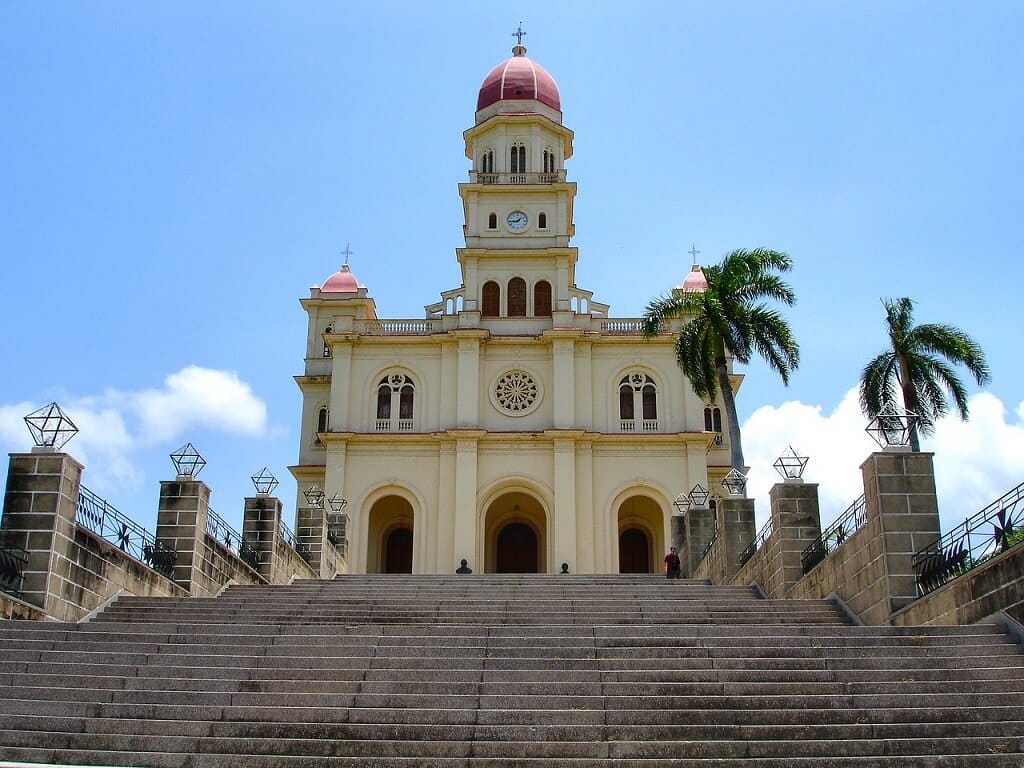 *****
Stroll the walkways of the Santa Efigenia Cemetery
This magnificent cemetery with its blindingly white marble walkways is the final resting place of Cuba's notables and one of the most beautiful cemeteries in Latin America.  Santa Efigenia Cemetery is landscaped with lush, tropical foliage which contrast beautifully with the white of the stonework.  The funerary statuary is as elaborate as you would expect for mausoleums created for former presidents and world renowned artists.
Poet, statesman and father-of-the-country, Jose Marti, rests in a simple and elegant tomb. One of his poems says, "don't bury me in the dark, bury me with my face to the sun, with a flag and a handful of flowers."  Here he rests…his final wishes respected. His coffin is positioned in a way that, as long as it is daylight, a ray of sun will fall upon it. It is draped in a Cuban flag and lies next to an arrangement of flowers.
Update: On December 4, 2016, Fidel Castro was buried in Santa Efigenia cemetery.
Relax at the Hotel Casa Granda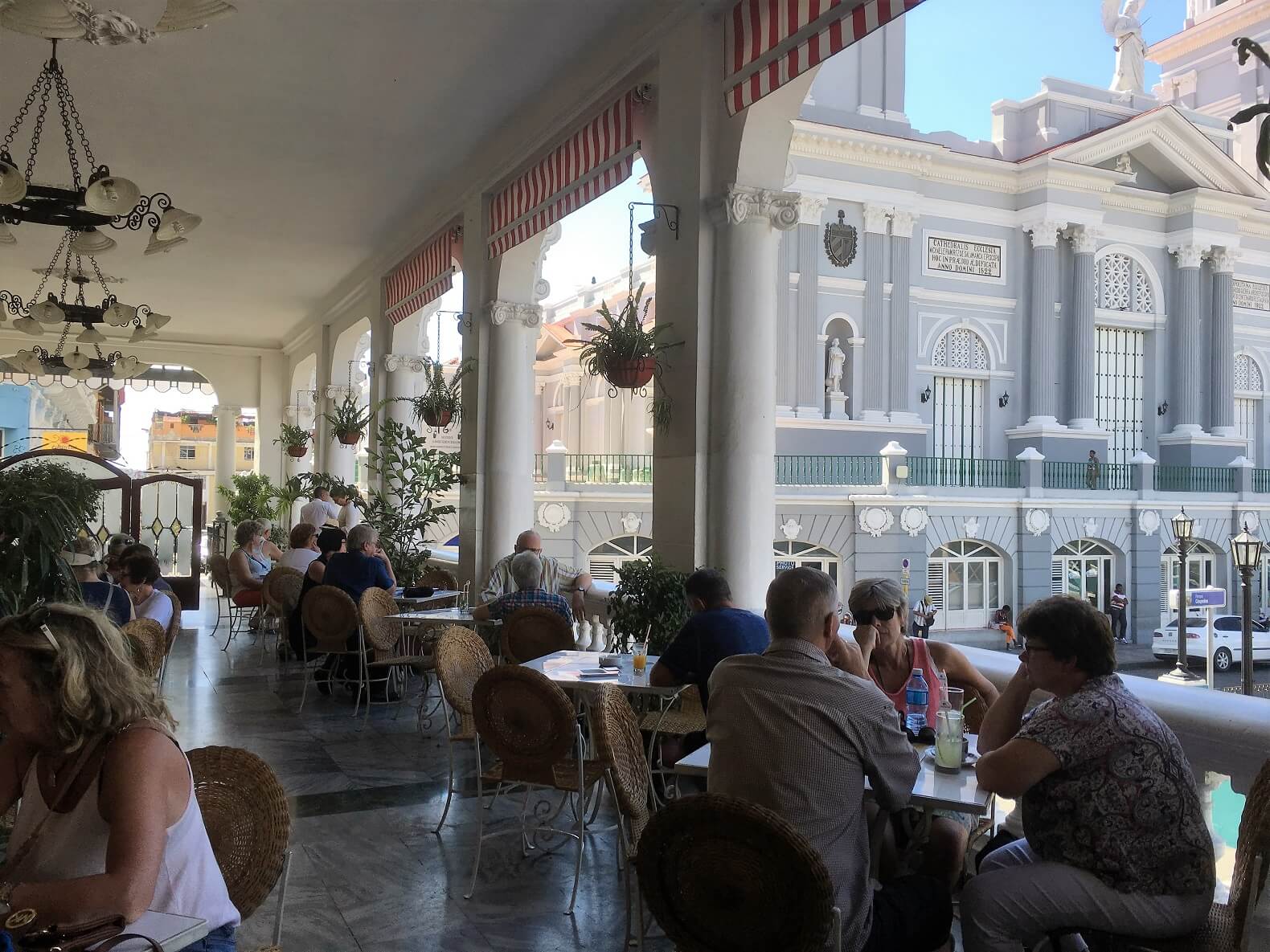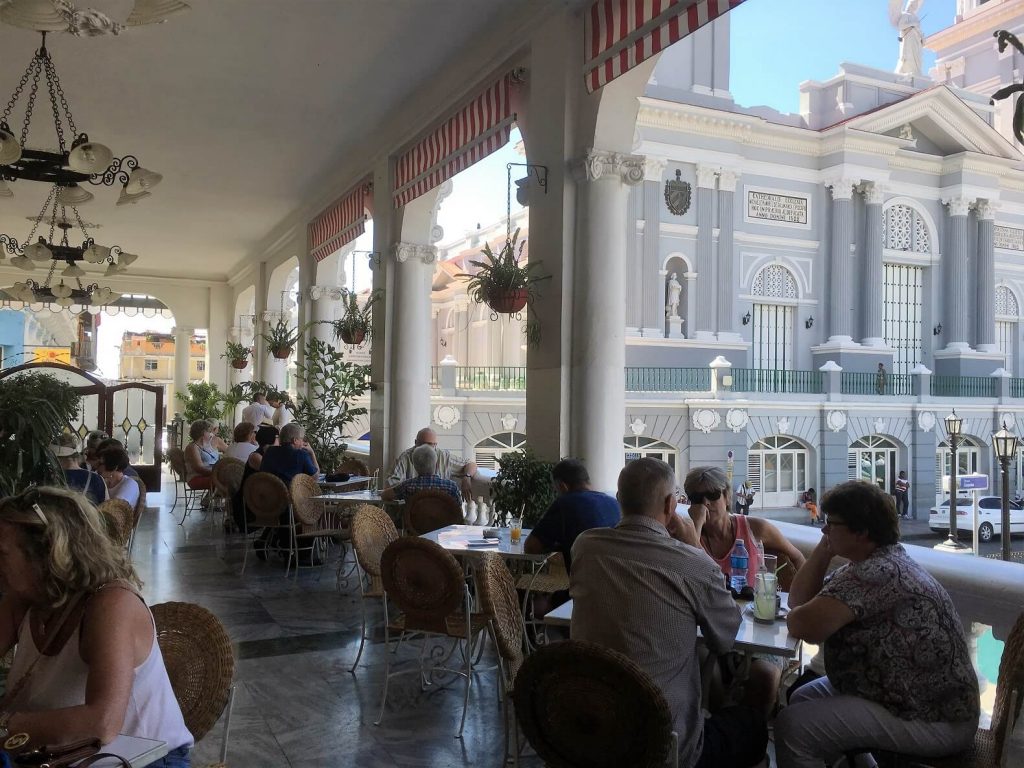 Balcony of Hotel Casa Granda.
[iframe src="https://www.youtube.com/embed/keBGmGkWIVI?rel=0″ width="650″ height="515″]
Santiago is hot! Enjoy a shady respite from the sun with a cold drink in the outdoor café or rooftop terrace of the Hotel Casa Granda, said to be the best of the Santiago de Cuba hotels. A great way to soak up the culture and people watch, and one of the most charming Santiago de Cuba activities. 
*****
Sample the local cuisine
Although the terrace at the Casa Granda (above) is best for chilling with a cool drink and enjoying the view, you can also get a quick sandwich there or a pretty good pizza for 4 CUC at the 4th floor open air terrace.  But you could have that anywhere including your hometown.  You've got to try the local cuisine!
Two good options are Roy's Terrace Inn and St. Pauli.  Roy's follows the typical Cuban tradition of rooftop culture. Many of the best restaurants in the country are in rooftops. Santiago is no exception. Roy's serves classic home-cooking Cuban cuisine at reasonable prices.   There are only a few tables and, like most of the better restaurants, you need to reserve beforehand.
St. Pauli has a menu with a focus on seafood.  The octopus in garlic sauce will make you want to move to Santiago de Cuba just so you could access it regularly.
*****
Learn about Cuartel Moncada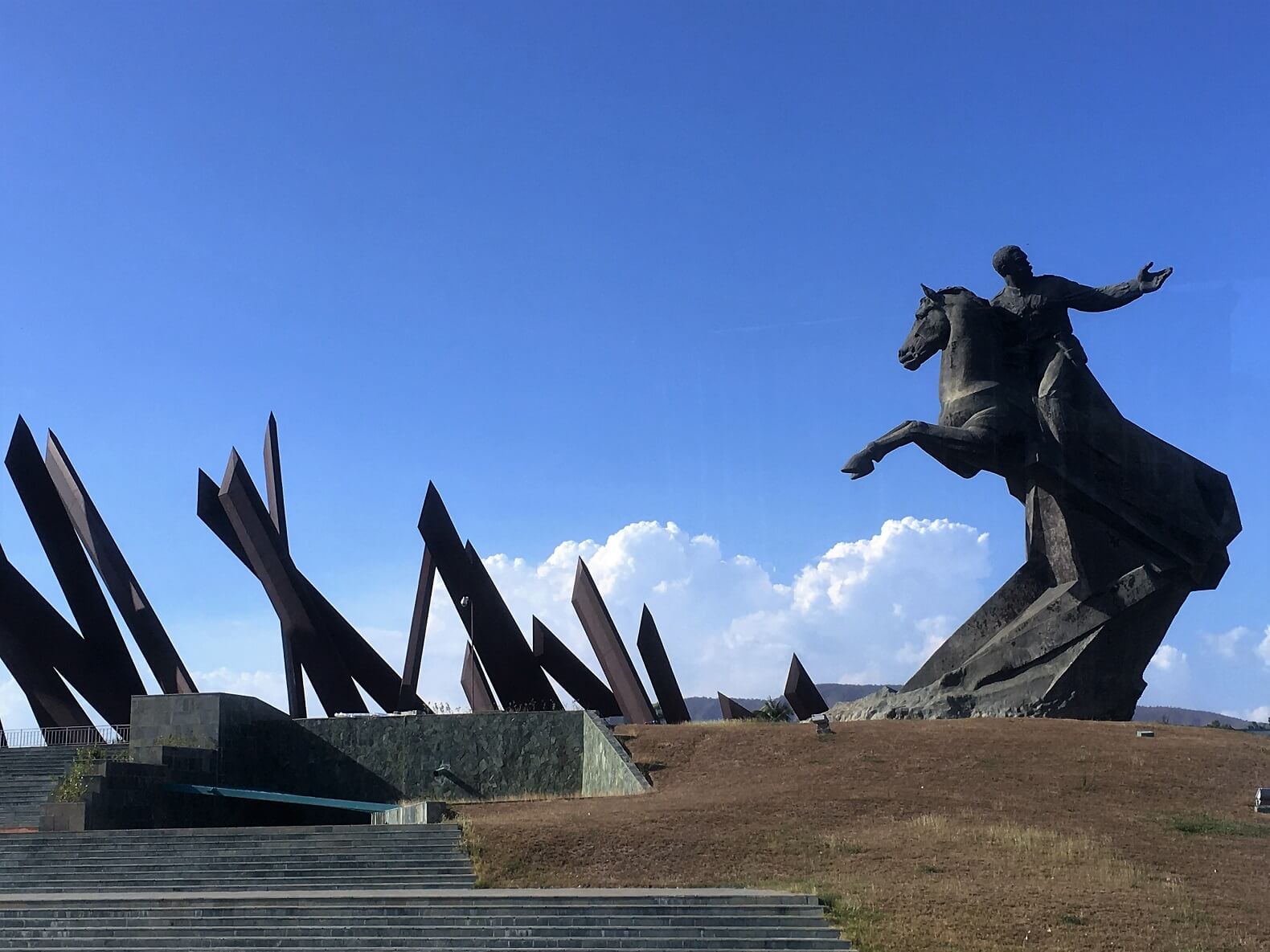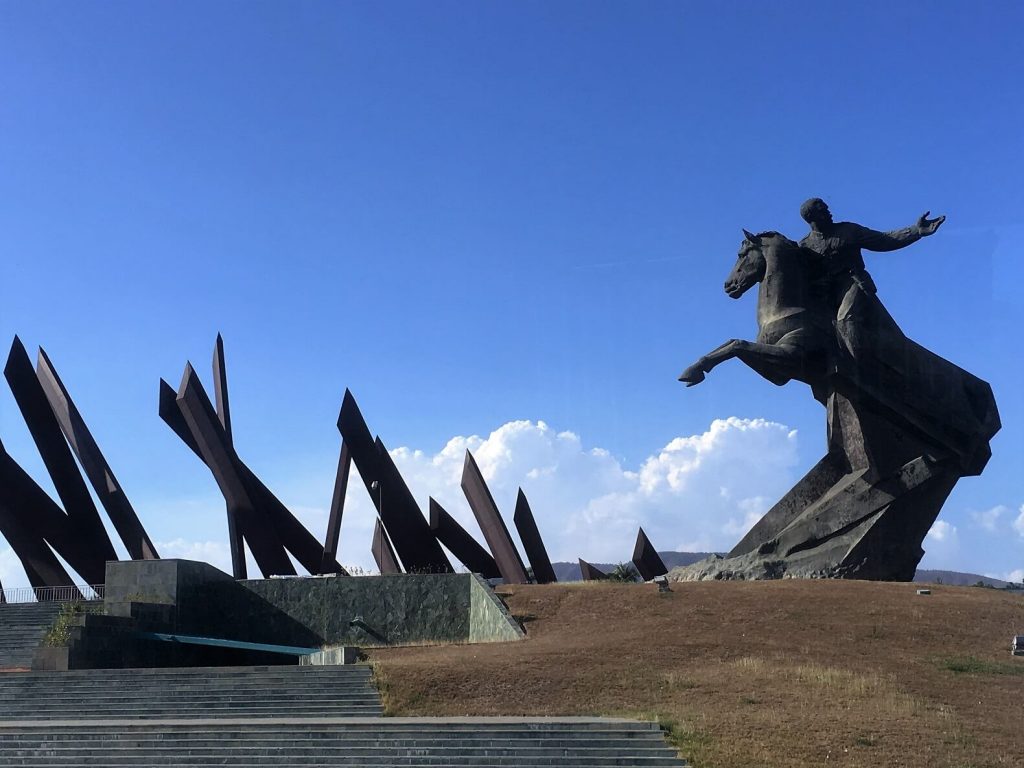 If you are interested in Cuba's more recent revolutionary past, pay a visit to the Cuartel Moncada where Castro launched his ill-fated attack on Batista's forces in 1953.
Another interesting sight is the massive statue of General Antonio Maceo, another hero of the War of Independence, at Plaza de la Revolucion.
Chill at Plaza de Marte
If you are lucky enough to be in Santiago on a weekend, head to Plaza de Marte where the locals go to listen to music and eat tasty street food. There is something for everyone here; from puppet shows to live performances by well-known artists.
Hike and explore Baconao Biospere Reserve
This lush, verdant park is one of Cuba's six UNESCO Biosphere Reserves and one of the Santiago de Cuba sites you cannot miss.  About 20 kilometres from Santiago de Cuba, Baconao covers about 800 square kilometres. The biosphere is luxuriant, palm dotted stretch of greenery extending from the Caribbean Ocean to the mountains. The perimeter of the reserve is dotted with dozens of abandoned coffee plantations similar to the ones you see in Las Terrazas in western Cuba. These plantations were founded by French planters fleeing from the Haitian Revolution of the late 1700s.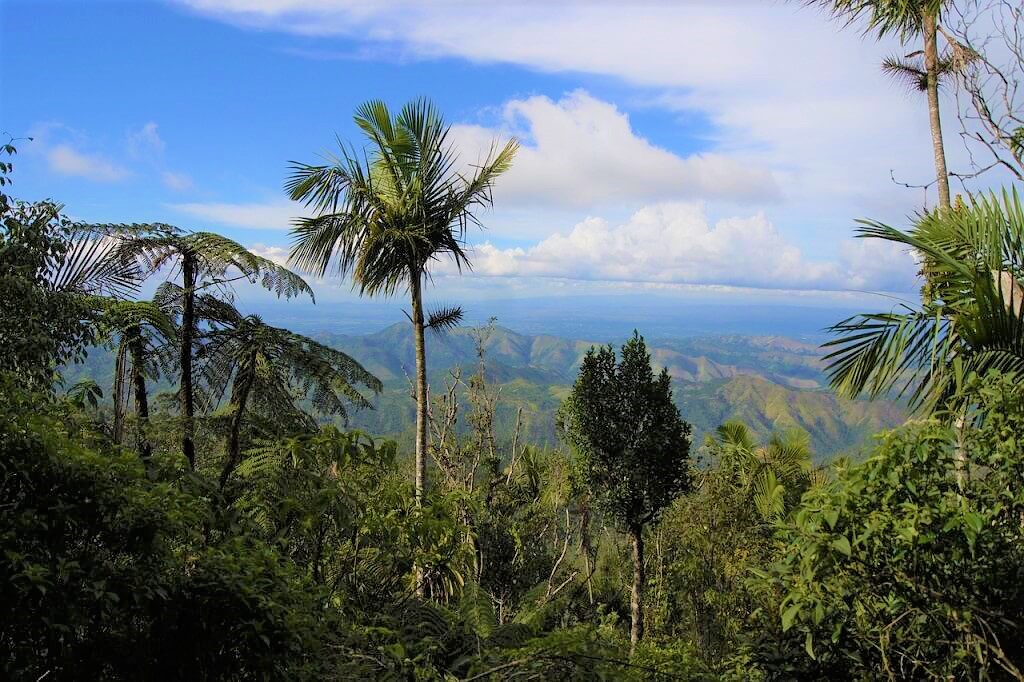 Santiago de Cuba beaches are not as spectacular as those in other parts of the island but you can find some little coves with pebble beaches or dark sand that can make for a pleasant stop for a swim.
For a truly spectacular beach as well as a pretty unique oceanside town, head for Baracoa, about 5 hours away by bus.
The Baconao area offers many activities for the nature lover and explorers in general.  The coast has several sunken ships and many dive sites.  There are several hotels at the park and activities include hiking, kayaking, horseback riding and swimming.
The real draw of the Biospere is the native flora – over 1800 species – and fauna. The area is also home to many threatened endemic species like bats and spiders that live in a vast network of natural caves.
There is a "prehistoric" park in Baconao that has life size recreations of dinosaurs scattered about, and an antique car museum. Adults may find it incongruous and bizarre, but kids will probably enjoy it.
*****
How to get to Santiago de Cuba
Santiago de Cuba has an excellent airport with direct flight from many countries. Another option, especially for visitors, is to make their way to Santiago from other cities by private taxi, shared or "colectivo" taxi, or by bus. Viazul is Cuba's national bus service and runs regular service to Santiago from all cities. Prices are very reasonable. The service can be slow but it'll get you there.
Santiago is often referred to as the capital of the Caribbean. Although frequently overlooked by travelers focusing on the Havana circuit, Santiago de Cuba is well worth a visit to get a comprehensive understanding of this fascinating island country.
With all of these things to do in Santiago de Cuba, you could spend a week or more here and still not see it all. What do you think is the most interesting aspect of Santiago? Which are your favorite Santiago de Cuba activities?
And don't forget my book, The Ultimate Cuba Travel Guide, available on Amazon.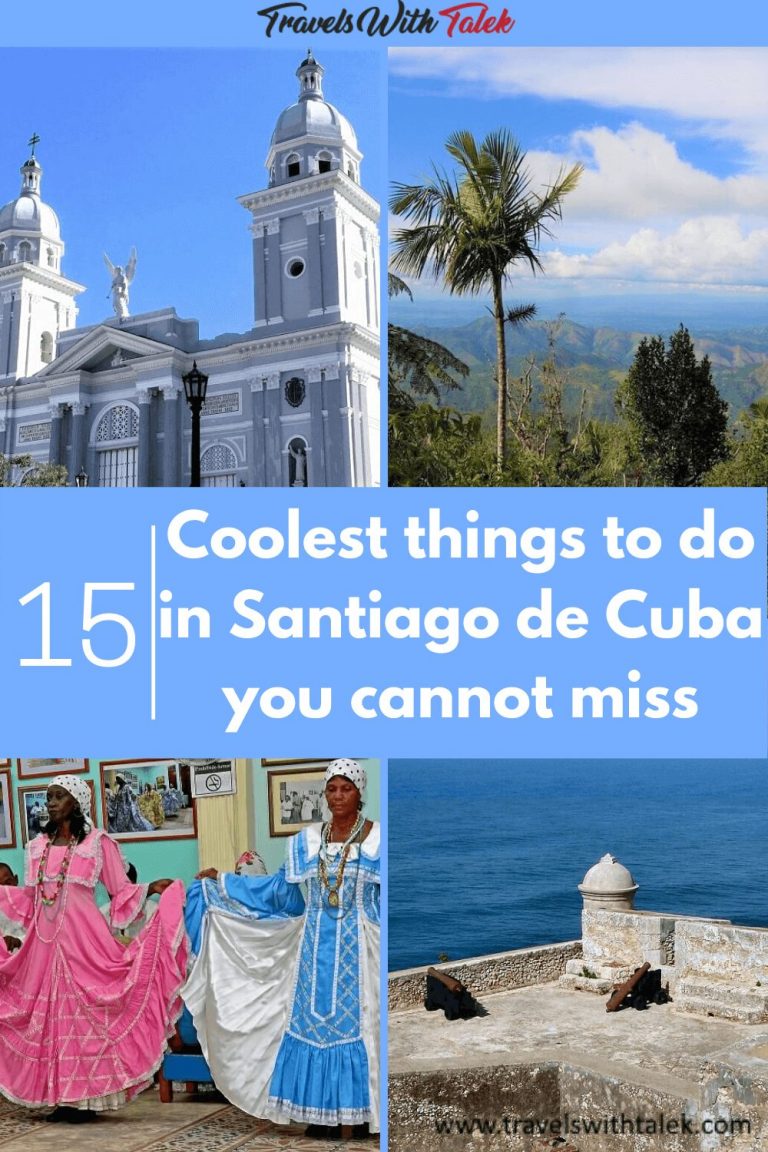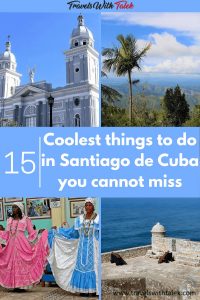 BTW, if you are getting ready for your trip, make sure to take advantage of these useful, money-saving links to book your trip:
I personally use, and can recommend, all the companies listed here and elsewhere on my blog. By booking through these sites, the small commission we earn – at no cost to you – helps us maintain this site so we can continue to offer our readers valuable travel tips and advice.