If you're looking for some of the best craft beer brewery road trips in the United States, look no further! With cool breweries from Boston to Ashville, North Carolina to Cleveland, and more, there's certainly several you can include on your next brewery road trip.
Brewery Road Trip with the Best American Breweries
East Coast Breweries
Trillium Brewing Company – Boston, Massachusetts
Our brewery road trip now takes us back to New England. Boston tends to have been "the first" for a lot of things in the U.S. and craft beer in Boston is no exception. Back in 1984, Sam Adams became one of the first craft beer breweries in the U.S., and the city has been producing tastier and more innovative brews ever since. That's where Trillium comes in…
Located down a little alley on the edge of Southie, an unassuming sign adorned with a flower marks the entrance to Trillium Brewing Company. Its "taproom" is barely large enough for a dozen patrons to stand in. But a trip to Trillium isn't about the atmosphere; it's about having a pint of truly amazing beer.
In 2016, Trillium was rated the world's third-best brewery. Let that sink in; this little three-year-old upstart in Southie beat out all those European breweries with hundreds of years of history and hard-to-pronounce names.
Not only that, three of Trillium's IPAs – Congress Street, Summer Street, and Melcher Street – have been ranked as among the best beers in the world. Hopheads love them for the upfront bitterness, usually only present in West Coast brews, combined with bursts of citrus flavor.
In addition to their location in Southie, Trillium also operates a taproom in Canton and a summer beer garden on the Rose Kennedy Greenway, and they're in the process of building a much larger taproom just around the corner from their current location.
You can stay at the Hyatt Centric Faneuil Hall after you have had your fill of Trillium's world-class beer.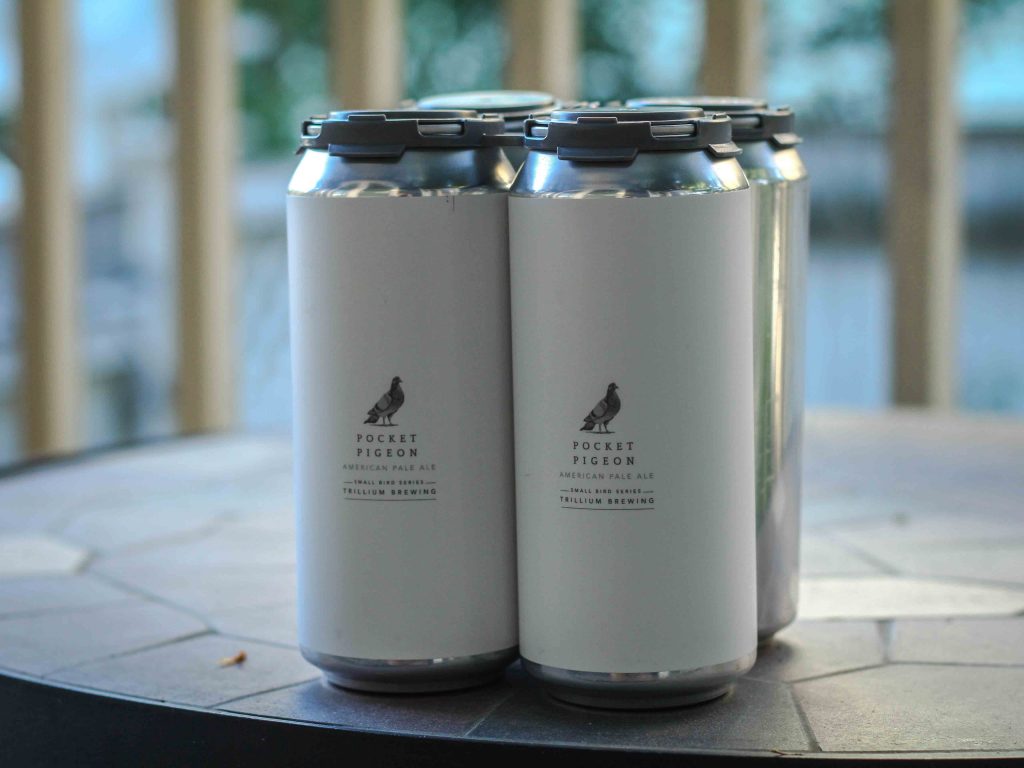 Ryan Victor blogs at Passions and Places.
*****
Dirt Farm Brewing – Bluemont, Virginia
Our brewery road trip now takes us to the Mother of States. Dirt Farm Brewing in Bluemont, Virginia is somewhere where you can truly enjoy a brew with a view! The family-run brewery is set on a hill in Northern Virginia, with a stunning mountain vista. It's based in Loudoun County, which is becoming a popular craft beer and winery destination; however, I must say, out of all the breweries I've tried in the area so far, Dirt Farm is the best all-around experience!
"I am a firm believer in the people. If given the truth, they can be depended upon to meet any national crisis. The great point is to bring them the real facts, and beer." ― Abraham Lincoln
Click To Tweet
They grow their own hops and experiment with local produce in their beers.  The results are some absolutely delicious craft beers. It's well and truly a farm to table brewery or, in their words, "plow to pint"! Alongside the beers, they serve delicious flatbreads and pretzel bites. Oh, and their merchandise is pretty cool, too, if you're a country gal or guy!
If you visit, make sure you try the "Stout of Control" stout and one of their homegrown beers, which are chosen based on the best harvest crops that year. The family that runs Dirt Farm Brewing also runs a winery down the road (Bluemont Vineyard) and a Pick Your Own farm (Great Country Farms) across the way, so there's definitely something for everyone in the area!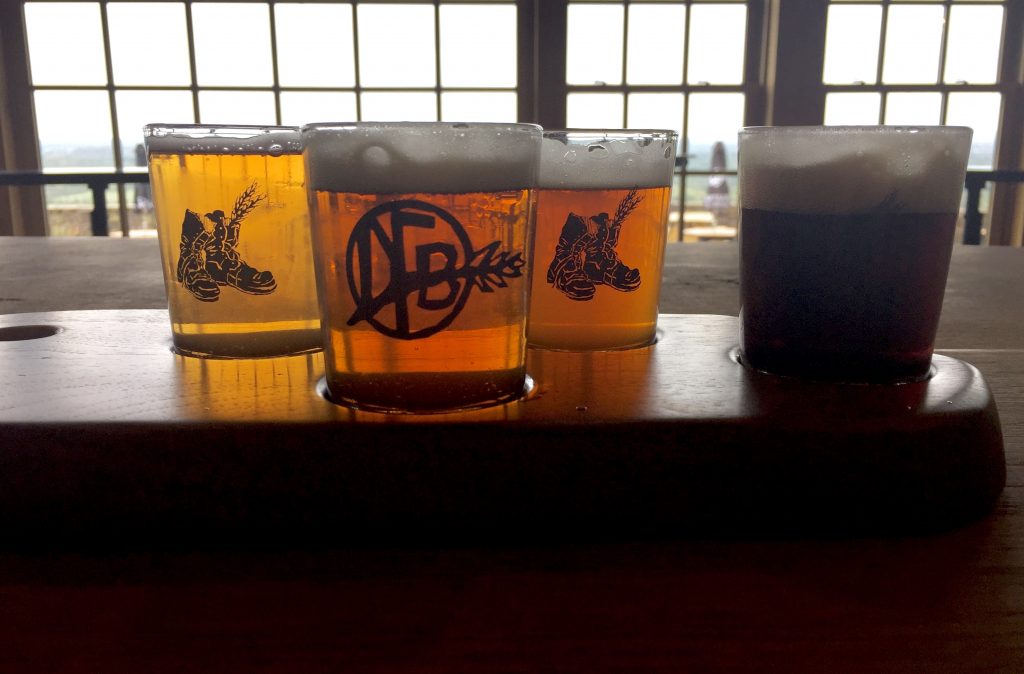 Kelly Mongan blogs at A Pair of Passports.
*****
Lickinghole Creek Farm Brewery – Richmond, Virginia
Richmond, Virginia has become an East Coast craft beer mecca — and is the next stop on our brewery road trip. Full stop. That said, while urban craft beer breweries have taken over many corners of this historic city, what's still rare in the Richmond area are farm breweries, like Lickinghole Creek Farm Brewery, located about 45 minutes from downtown Richmond in nearby Goochland County. If you make the drive out to their location, and journey down the long gravel road to the brewery, you'll find yourself passing their hops, pumpkin, and other ingredient fields before you roll up to their warehouse. This sets the mood to truly appreciate their beers, made with as many fresh, local ingredients as possible.
"Work is the curse of the drinking classes." ― Oscar Wilde
Click To Tweet
Their tasting room is largely situated outside on a large patio and seating extends to an open field adjacent to the warehouse with plentiful picnic tables and corn hole boards, plus an area for kids to play. Whether you're here for a wedding, their famous sunflower field, one of their festivals-slash-beer releases, or just to enjoy a nice night outside with your dog and kiddos, there's a little something chill for everyone. Brews to try include the Enlightened Despot, Magic Beaver, Three Chopt Tripel, and many of their riffs on these core beers as well as their huge selection of seasonal varieties.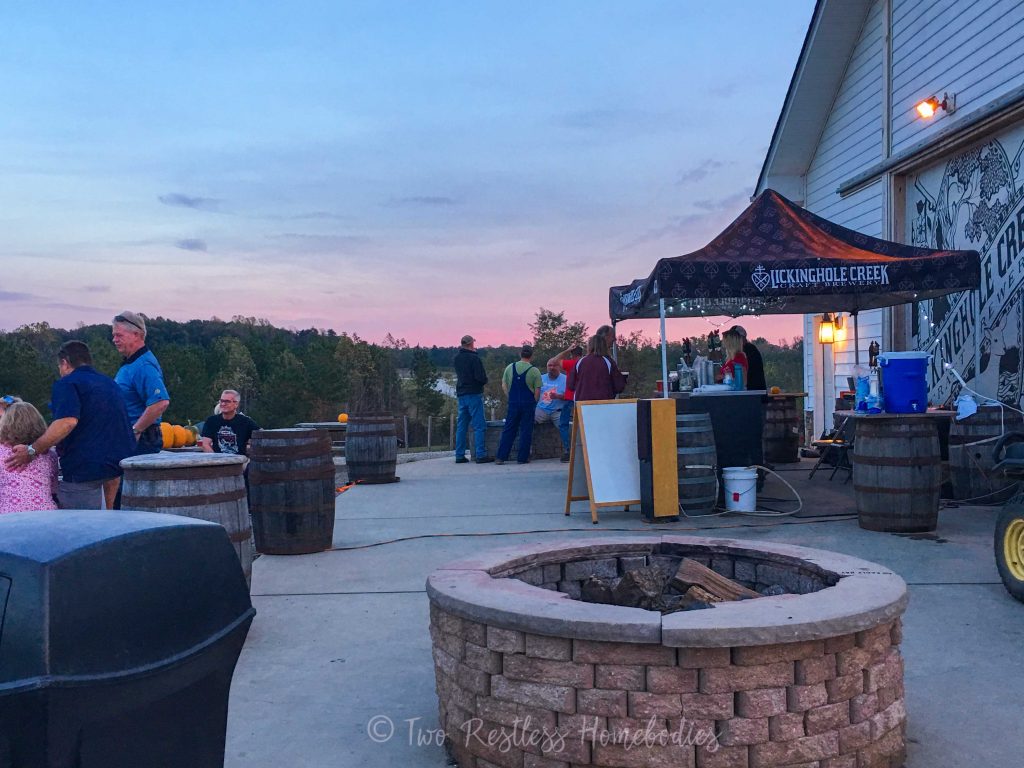 Luke and Meagan blog at Two Restless Homebodies.
*****
Fullsteam Brewery – Durham, North Carolina
Head down south for the next stop on our brewery road trip. Located in Downtown Durham, Fullsteam is a big part of the community in the city and is recognized throughout North Carolina for its contributions. The owner, Sean Lilly Wilson, was behind the famed Pop the Cap movement which successfully led to the raising of alcohol limits and relatively freeing up brewers to make stronger beers.
Aside from his strong activism against limits, Wilson is also passionate about sourcing ingredients from local, organic farmers. Step inside the taproom and you'll learn that "Plow to Pint" is more than just a sign or t-shirt. It's the Fullsteam way.
They do brew new beers pretty regularly according to seasons, but their mainstays always seem to grow better after each sip or glass. My personal favorite is Rocket Science, a 7% American IPA that goes well with pretty much any meal. For starters, though, I think you should also grab a flight that's served on a board shaped like North Carolina. That'll give you a nice feel for five of their top-notch beers before moving on to Rocket Science or something else.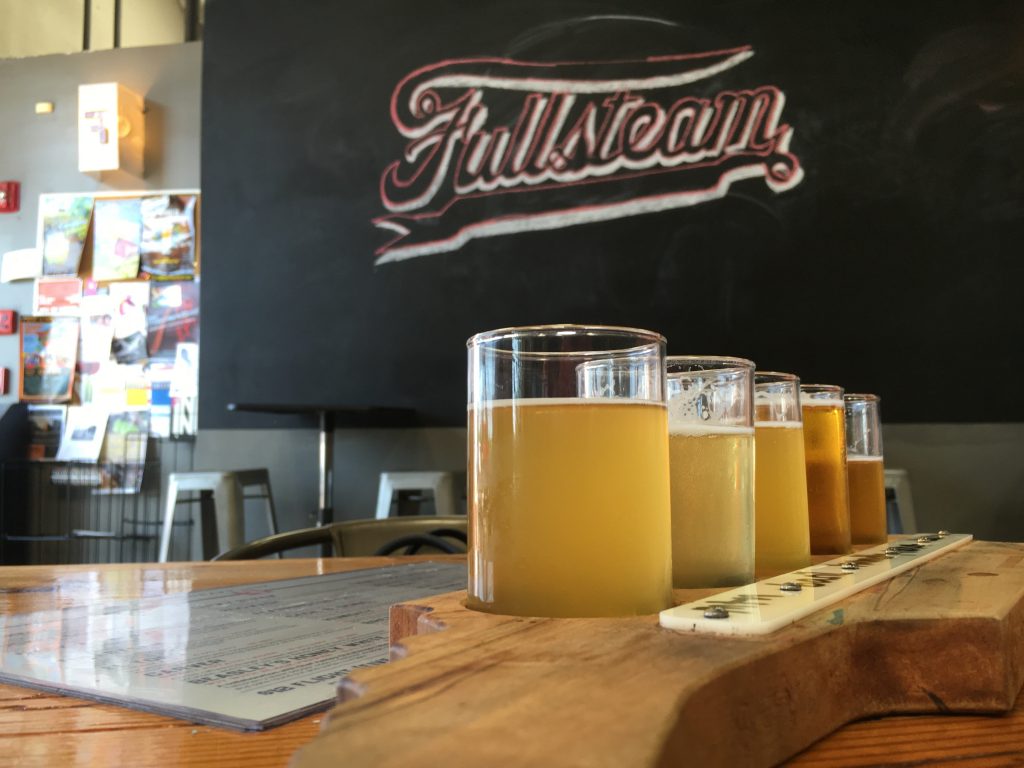 Carl Hedinger blogs at NC Tripping.
*****
Sierra Nevada Brewery – Asheville, North Carolina
Our brewery road trip once again takes us down south. Sierra Nevada Brewery is one of the largest craft beer breweries in the United States, so it's only fitting that they have a massive production facility to go along with their success! Their 185-acre campus in Asheville, North Carolina houses a massive 400-seat restaurant, outdoor dining terrace and beer garden, outdoor amphitheater, and an impressive and expansive brewhouse.
"You can't be a real country unless you have a beer and an airline - it helps if you have some kind of football team, or some nuclear weapons, but in the very least you need a beer." ― Frank Zappa
Click To Tweet
They offer a variety of tasting and tour options, but tours fill up quickly and reservations must be made online in advance. Of course, you always have the options to just grab a pint of their signature IPA or any one of 22 other options on draft and enjoy the stunning scenery of the western North Carolina mountains. I'm a big fan of their Kellerweis, which is one of the only American Hefeweizens made using the traditional Bavarian style of open fermentation. It was a refreshing addition to the live music that accompanied the warm summer air during our visit!
When you've had your fill, you can relax in your room at the Hyatt Place Asheville Downtown near the River Arts District. Or, try a more rustic stay at the Deer Run Cabin.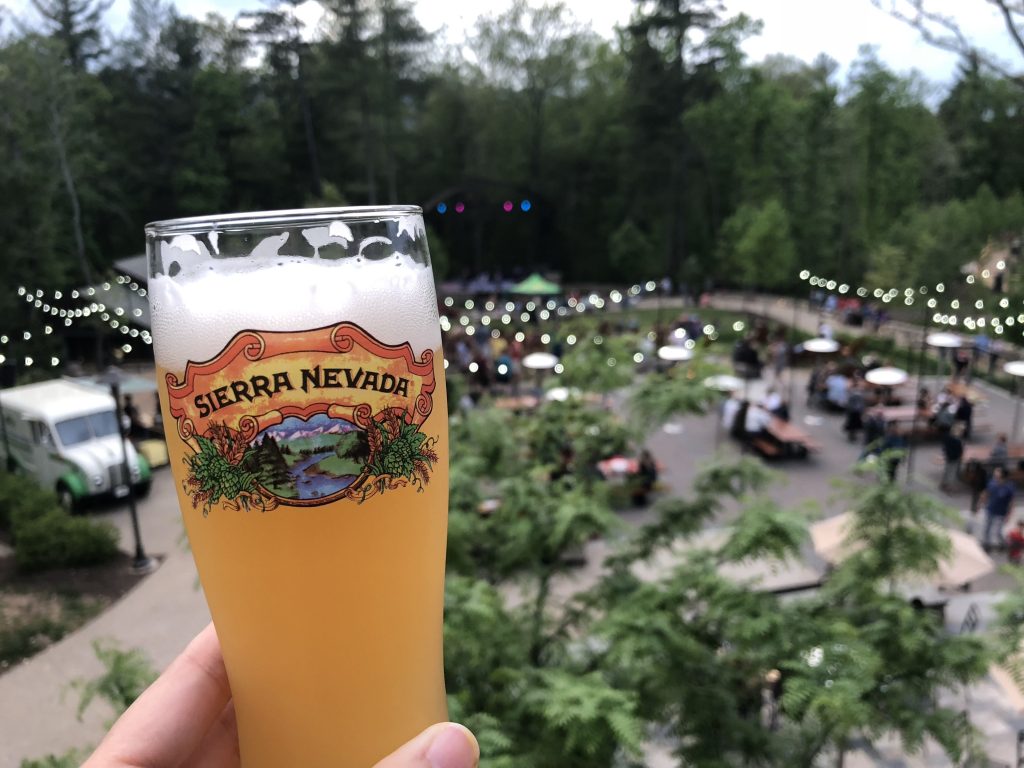 Sam and Toccara blog at Forget Someday.
*****
Cerveceria La Tropical – Miami, Florida
In 1888, Cerveceria La Tropical was established in Havana, Cuba on the banks of the Almendares River. The brewery ("cerveceria" means brewery in Spanish) grew dramatically and by 1958 it supplied over 60% of all the beer produced in Cuba.
La Tropical was a must-visit destination with gardens, restaurants, dancing and, of course, beer. The future was bright. In 1959 the Cuban Revolution expropriated the brewery and the owners emigrated to Miami.
Over the next decades original family descendants fought to secure rights to the La Tropical brand and in 2021 La Tropical opened in Miami in the trendy Wynwood Arts District.
Cerveceria La Tropical offers a wide range of beers including the original from pre-revolutionary Cuba. How cool is THAT? Other selections include "Nativo Key" a refreshing IPA, and the high-octane double IPA appropriately named "Gasolina."
The beautiful, tropical themed, full-service restaurant serves tapas to main courses, all with a nod to the brewery's Cuban roots; black bean hummus, lager steamed mussels and citrus braised pork, just to mention a few delectable dishes. One mind-blowing take on a Cuban classic is a Cuban sandwich transformed into an empanada.
The desserts are, as they say, to die for. The individual dessert selections include some Cuban classics like coconut flan and flavored banana fritters, but the sampler, consisting of 4 small dessert selections is the star; think passion fruit and dark chocolate!
Set in Wynwood, one of Miami's most interesting and artsy neighborhoods, La Tropical is a brewery destination with history and amazing food and drink. The décor is airy, artistically designed and tropical-themed with a stage for live music events.  A must stop on any U.S. brewery road trip.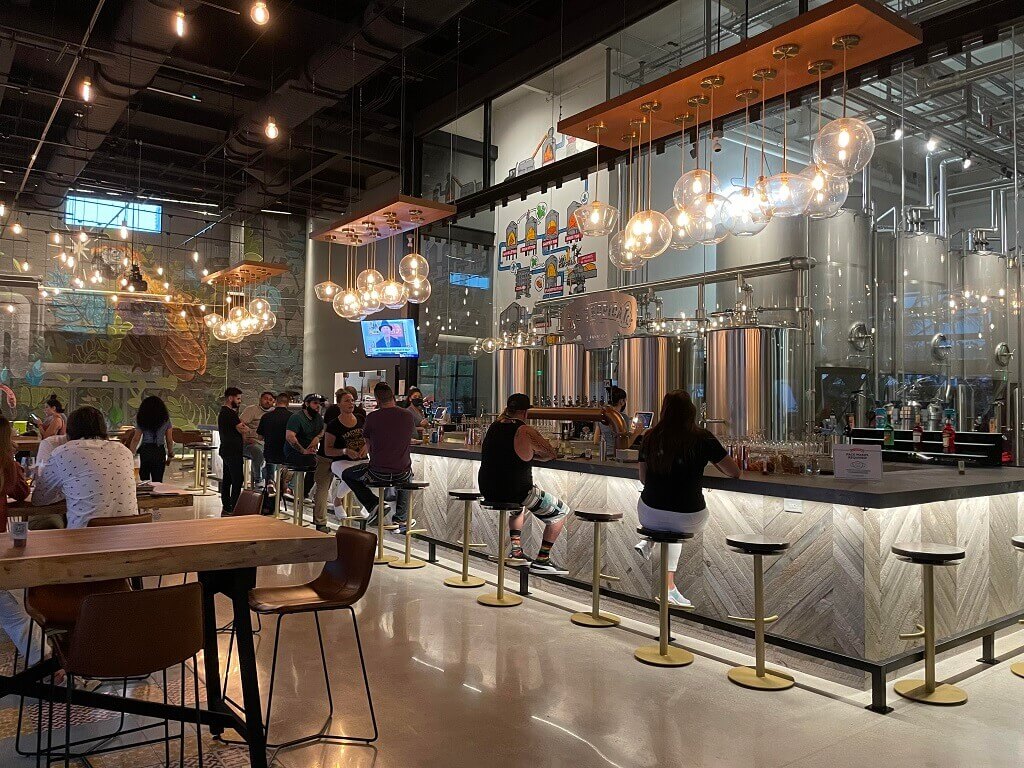 Mid West Brewery Road Trip
Ellicottville Brewing Company – Ellicottville New York
So maybe it not EXACTLY in the Midwest, but it is closer to Ohio and  western Pennsylvania than it is to the east coast and is a better fit for the Mid West Brewery Road Trip.
Just a few miles north of Allegheny State Park,  Ellicottville is a small village in western New York known for its ski slopes and called the Aspen of the East. Founded in 1820, the town has artsy shops and some really good dining options serving classic Americana fare; think bison burgers, ribs  and mac and cheese.  It is also home to one of the top breweries in the area, The Ellicottville Brewing Company or EBC.
EBC has wide and interesting collections of brews from lagers and ales to porters and stouts and everything in between.  The season selections are fun to try as are the popular releases with quirky names like Pumpkinville Latte Nitro Ale and Pineapple Upside Down Shake IPA.
A walk through the bar, indoor restaurant and brewery brings you to the outdoor German Beer Garden where you can create your perfect evening dining, tasting the beer samples and deciding which one is your favorite.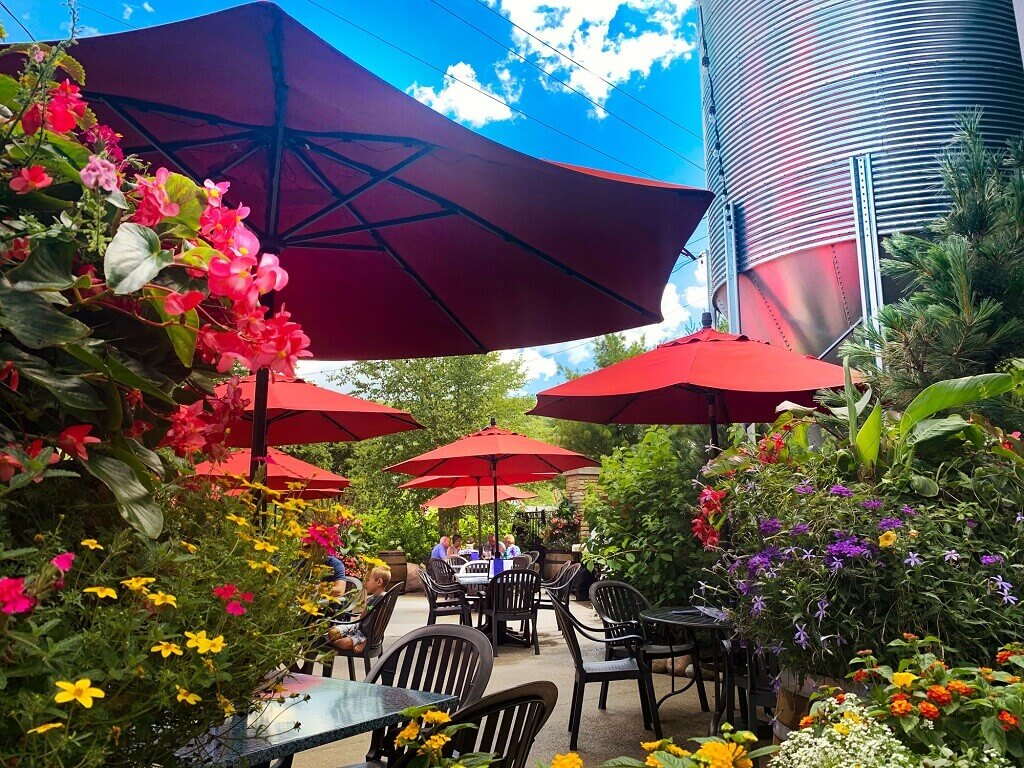 Talek blogs at Travels with Talek
*****
4 By 4 Brewing Company – Springfield, Missouri
4 By 4 Brewing Company is hands-down my favorite brewery — and my favorite stop on our craft beer breweries road trip. This laid-back brewery is the perfect place to just grab a beer and spend time with your friends, family, or strike up a conversation with the bartender – it's likely you'll be talking to one owners. They're always brewing up something special and unique, but my personal favorite is their Java the Kolsch. This coffee kolsch is incredibly flavorful, but light enough you'll need at least one more. In addition to their exceptional brews, they have a wall of games, free popcorn and a Beer-it-4ward-Wall. Any patron can buy a beer for someone, then they put their name on the board. Normally it's $5 for a beer, but if they will take a picture and tag the person and 4 By 4 Brewing to any social media, it will only be $4 at the time. How cool is that?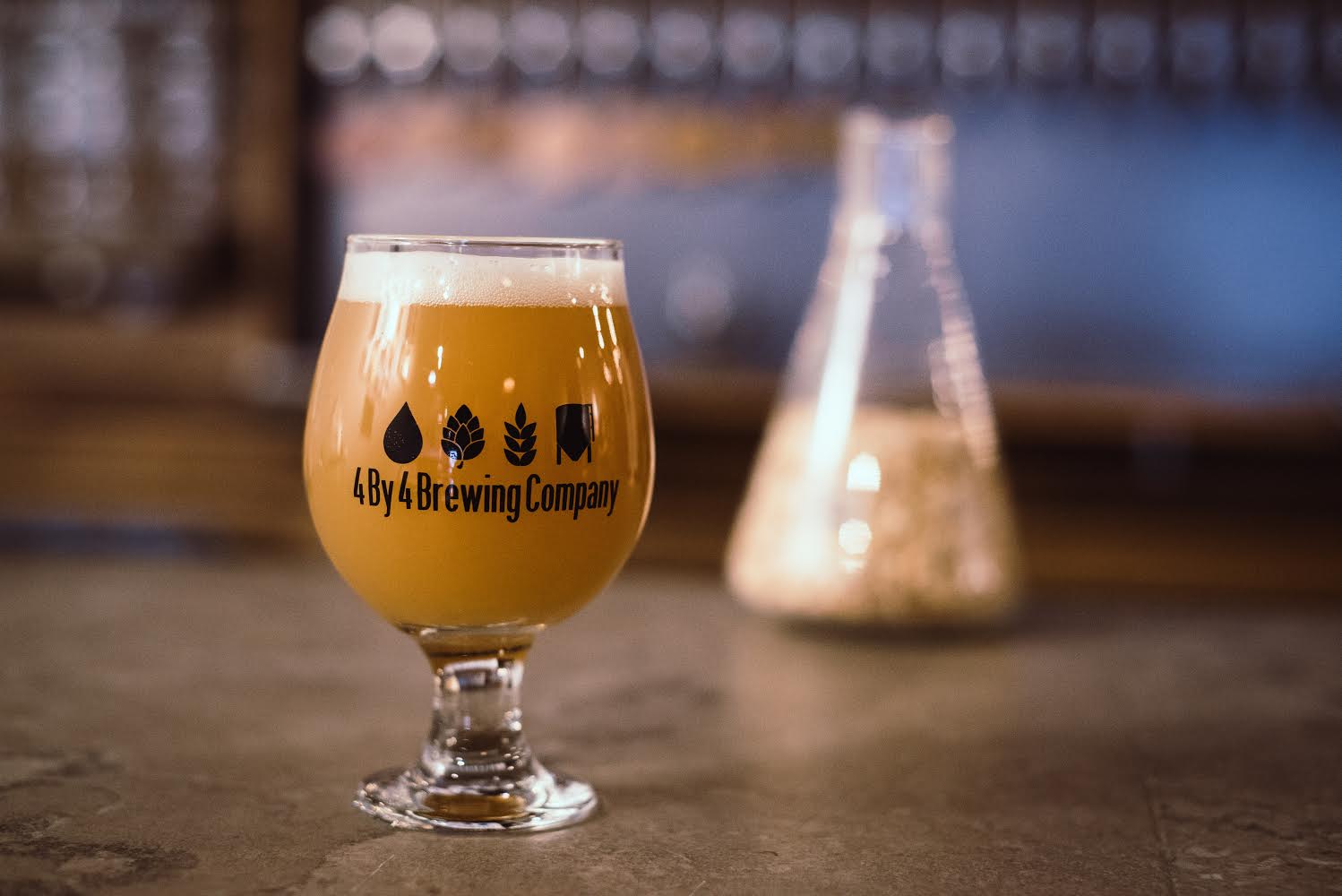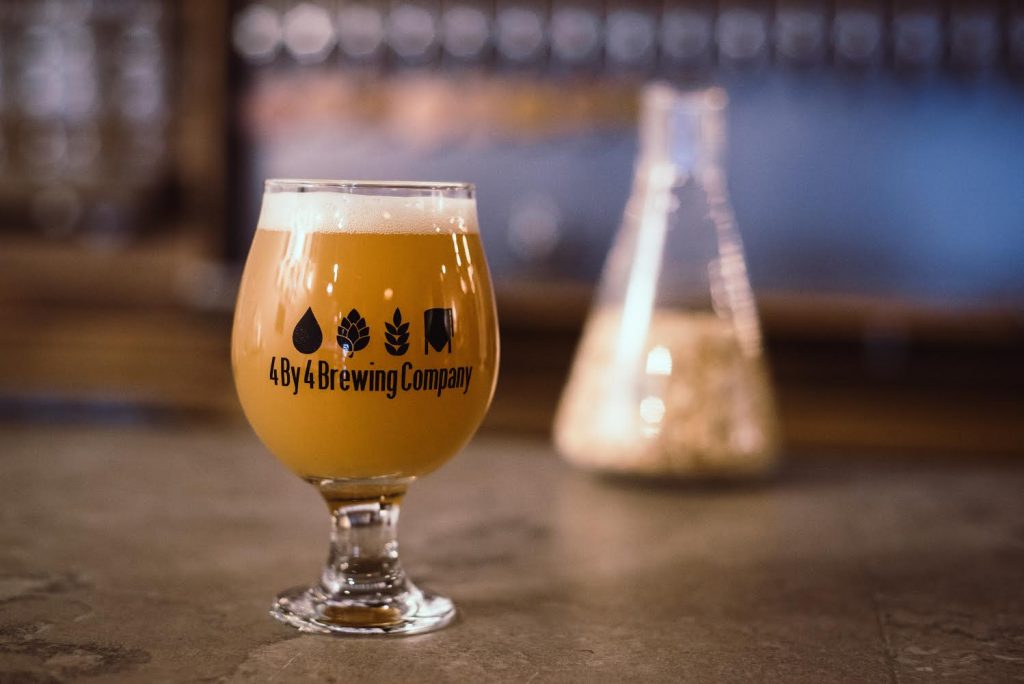 Paige Wunder blogs at For the Love of Wanderlust.
*****
Badger State Brewery – Green Bay, Wisconsin
Our brewery road trip now heads north. If there's anything the people of Green Bay, Wisconsin love more than the Green Bay Packers, it's beer. A few years ago, a Green Bay local decided to take his love for craft brew and create what today is known as Badger State Brewery. Badger State offers an extensive list of creative, Wisconsin themed beers like "On Wisconsin Red Ale" and "Buzzy Badger Coffee Ale", along with 24 local Wisconsin beers on tap.
But the beer at Badger State is just the icing on the cake. With a beer garden, taproom, and Barrel Haus event hall, Badger State is a venue for multiple events throughout the year. You can find larger, seasonal events like "Firkins in Fall" to smaller, mid-week activities like "Oysters and Beer Pairings" and "Yoga and Beer." Pay a visit to Badger State Brewery and you get a taste of Wisconsin in every sense: community, fun, and really, really good tasting beer.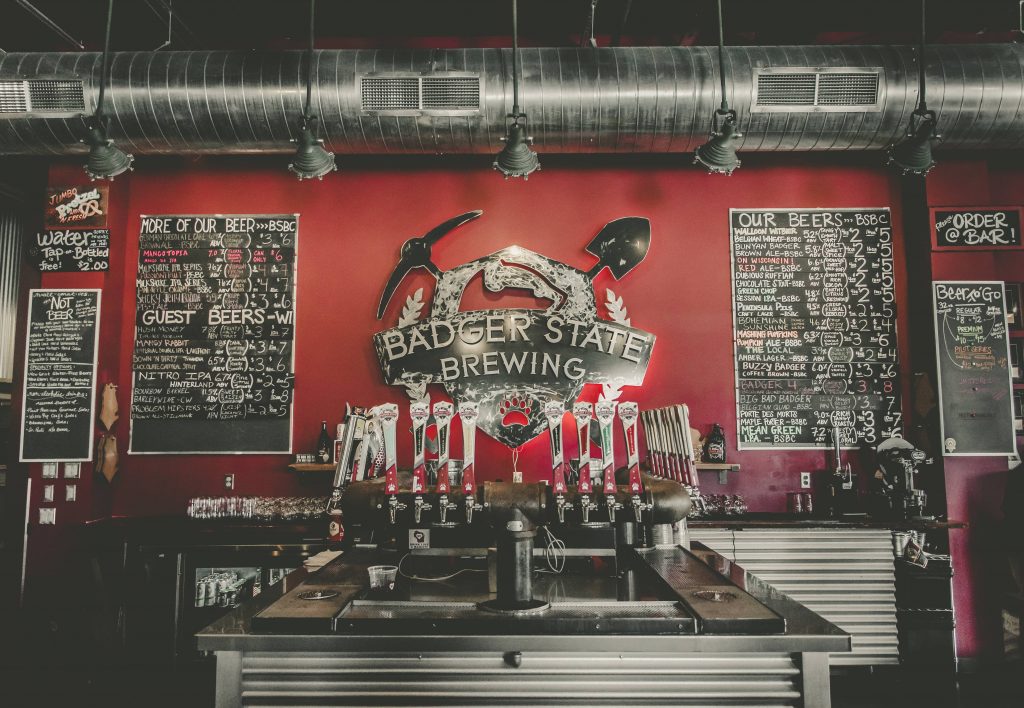 Jennifer Kanikula blogs at The SoFull Traveler.
*****
Great Lakes Brewing Company – Cleveland, Ohio
The next stop on our brewery road trip is one of the best craft beer breweries in the U.S., located in Cleveland, Ohio. Great Lakes Brewery in Cleveland not only serves up tasty craft brews, but each of the cleverly named beers and logo designs have a connection to the history in either Cleveland or the Great Lakes. You can find the beer in stores all across the country but actually going to the brewery in Cleveland is an experience of its own.
One of their brews is named after Eliot Ness, a famous prohibition officer who took down Al Capone in Chicago and later came to Cleveland. The actual bar in the Great Lakes Brewery has a real bullet hole in the wall by none other than Eliot Ness himself, a bartender will point it out during your visit.
Dining here is also a treat, all the food is farm to table, sourced from farms within 10 miles away. Great Lakes Brewery prides itself on its low waste solutions by sending all their restaurant scraps to compost. Ohio's first microbrew is seriously cool inside and out.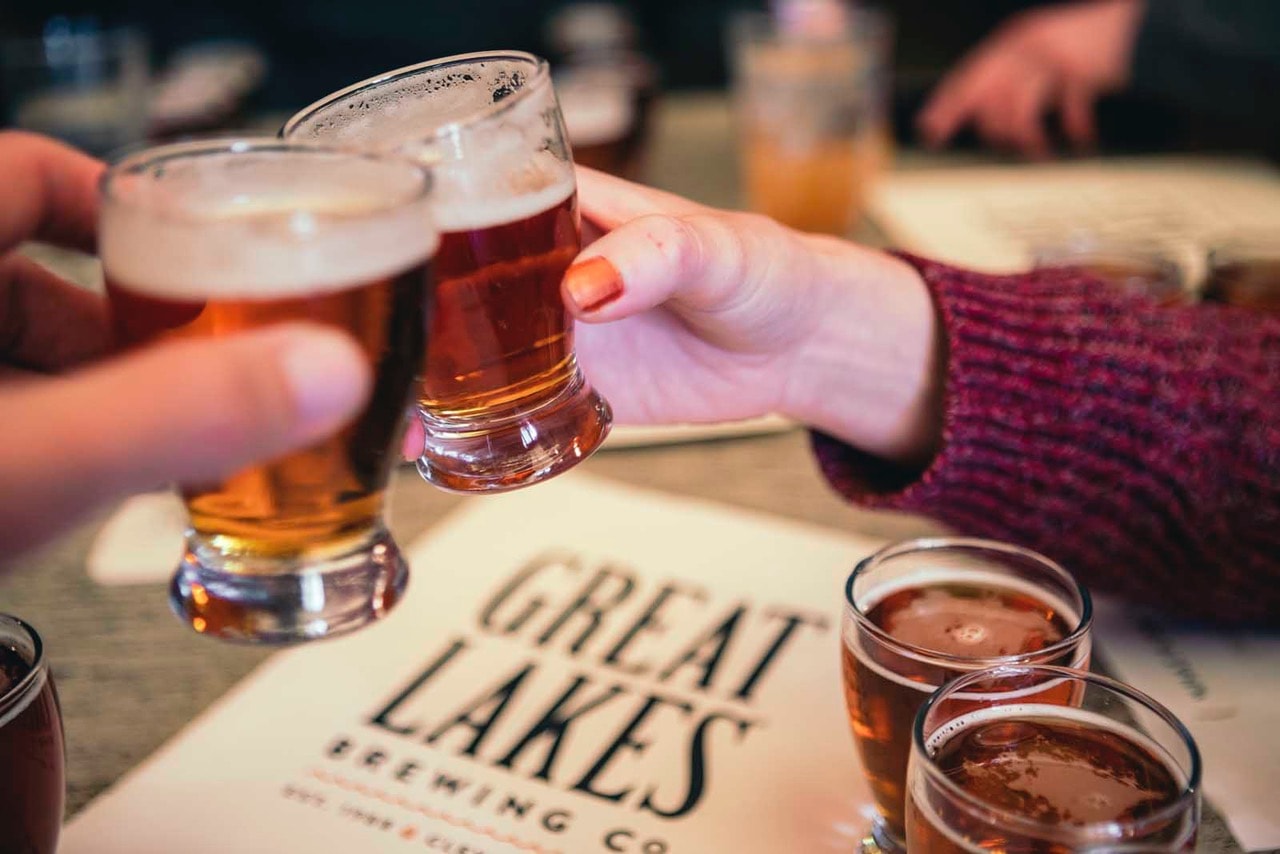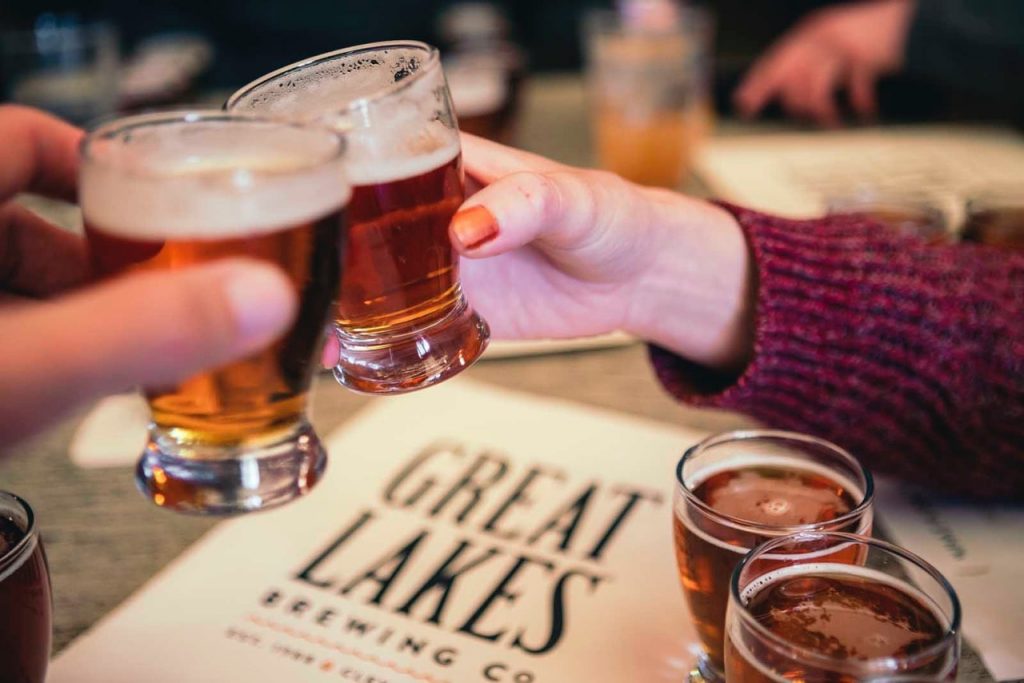 Scott Herder and Megan Indoe blog at Bobo and Chichi.
Pacific Coast Brewery Road Trip
Pike Brewing – Seattle, Washington
Head to the Pacific Northwest to the next stop on our brewery road trip. The third microbrewery in Seattle, Pike Place Brewery, was founded by a beer-loving couple, Charles and Rose Ann Finkel in 1989. The name was inspired by the famous market in historic downtown Seattle which is also the location of this successful brewery. Today it is known as simply Pike Brewing but there is nothing simple about this iconic establishment. Over the years the Pike has grown to a 30-barrel brewhouse brewing 12,500 barrels of craft beer annually.
You can experience Pike Brewing through a brewery tour, the large, family-friendly Pike Pub, and the newest addition, the Tankard and Tun Restaurant. They even have a Microbrewery Museum where you can explore the history of beer and browse an impressive collection of beer art and memorabilia all with a pint in hand. Be sure to try some of the year-round favorites like Pike Space Needle IPA and Pike Kilt Lifter Scotch-style Ale. Depending on the time of year you can also get a taste of delicious seasonals like Pike Auld Acquaintance Holiday Ale and Pike Seafair Summer Ale.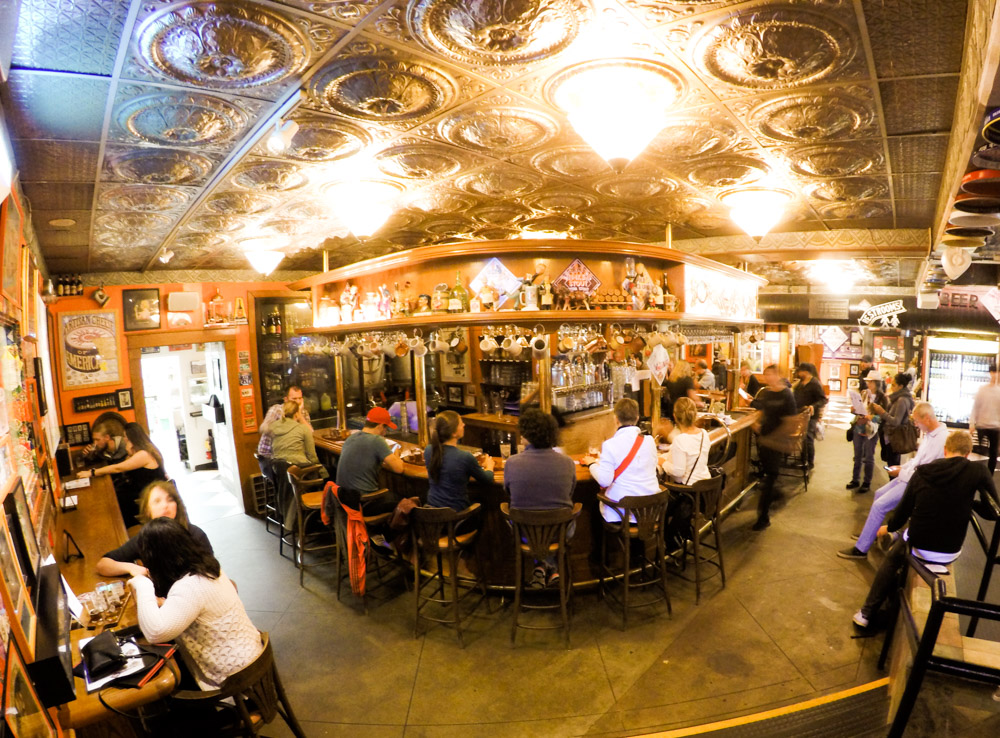 Sarah Hughes blogs at Discover the Pacific Northwest
*****
Top Rung Brewery – Lacey, Washington
Our brewery road trip starts at Top Rung Brewery in Lacey, Washington started as a dream for two firefighters. Friends and coworkers, they wanted an escape from their busy jobs and started brewing beers at home. Their love for beer finally turned into a real brewery in 2014. Top Rung is a 10 barrel craft beer brewery with a tasting room.
The owners both still work as firefighters and also work at the brewery. Top Rung partners with local food vendors and food carts and they also allow guests to bring food in. Top Rung has finally brought great craft beer to the South Sound area.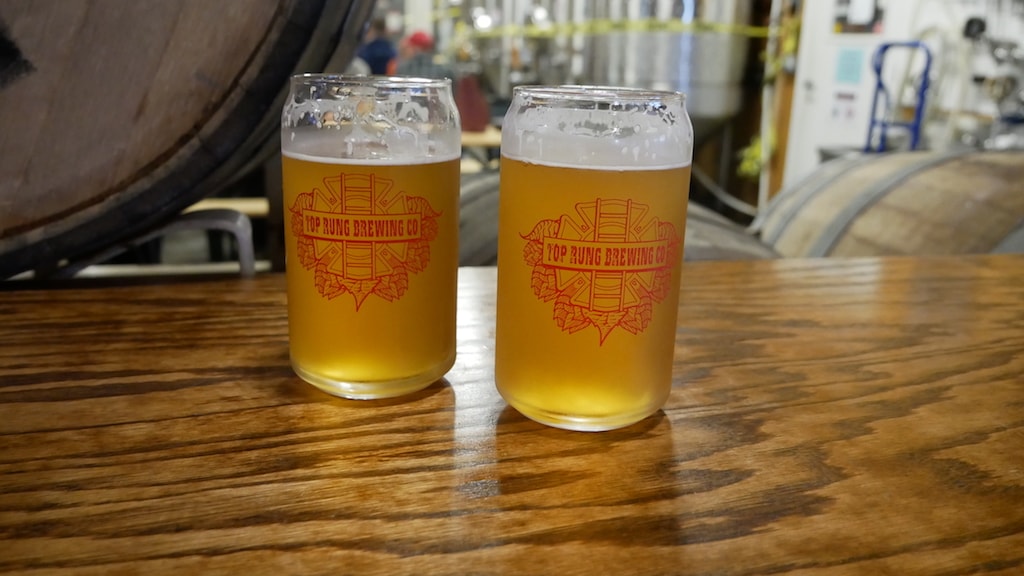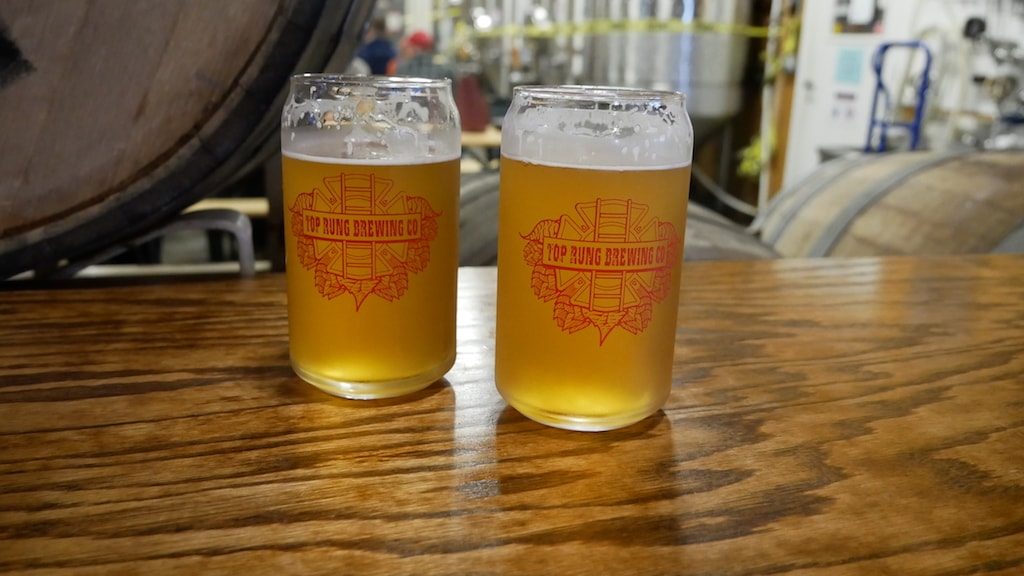 Tarah and Tip blog at FitTwoTravel.
*****
Deschutes Brewery – Bend, Oregon
Founded in 1988, and the third stop on our brewery road trip, Deschutes Brewery (pronounced "duh – shoots") makes some of my favorite craft beer in the United States. They grew from what was once just a brew pub in Bend, Oregon, into the 8th largest brewery in the U.S., with a brewery in Bend, a brew pub in Portland, and a new location on the East Coast in Virginia.
In Oregon, everyone knows Deschutes, and it's quickly becoming available throughout the U.S. They brew 8 year-round beers, plus a handful of special reserves and seasonals, like my favorite Jubelale, which is a bold, complex winter ale.
A special feature of Deschutes is the way they name their beers after local landmarks, like Black Butte Porter. Deschutes itself is named after a river, a county and a National Park in Oregon. Black Butte (pronounced beaut) is a popular hiking spot in the national park. If you like whisky, Deschutes now makes a Black Butte whisky from this popular beer.
We typically visit the brew pub, so we can sit down for a beer and food pairing. Both locations have a Pacific Northwest feel and enjoyable atmosphere. They are always completely packed, as a testament to their popularity. At the Bend tasting room, they offer regular tours throughout the week. In an industry that often ends up being owned by conglomerates and big business, Deschutes stands firm as a 100% family- and employee-owned company.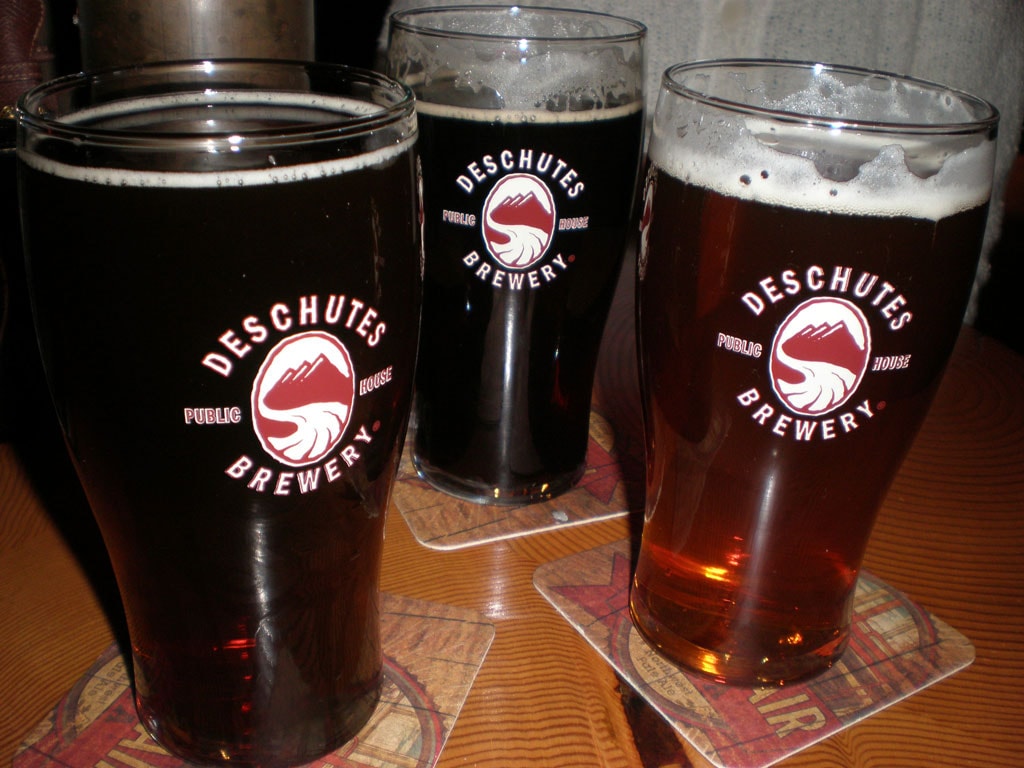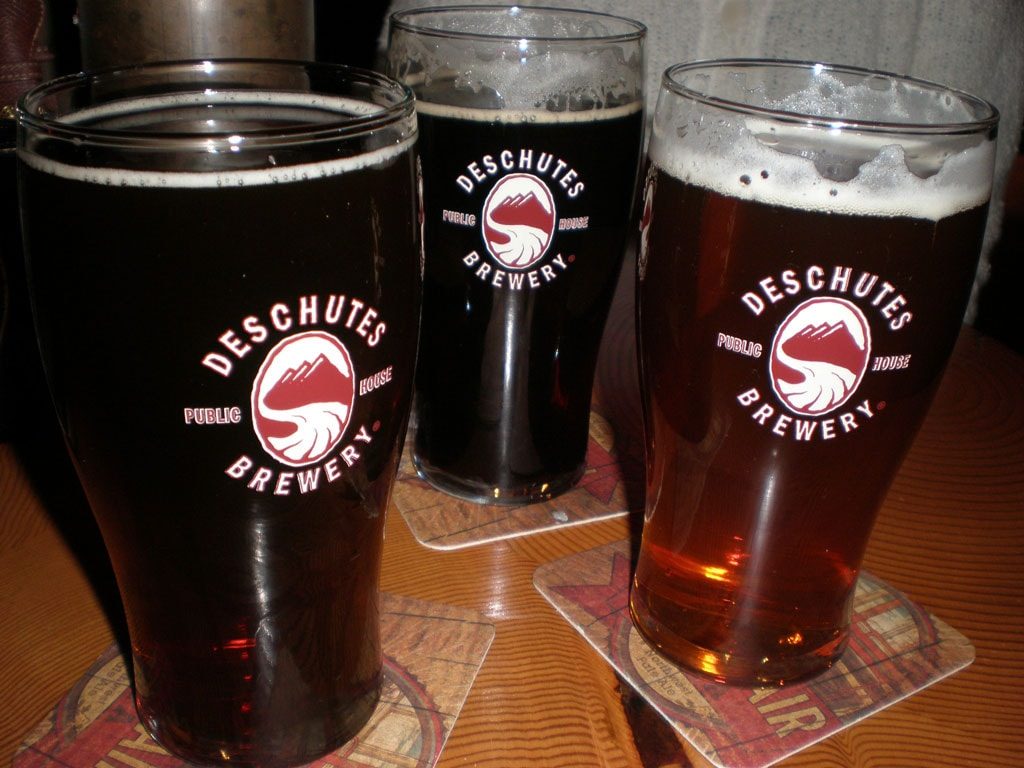 Laura Lynch blogs at Savored Sips.
*****
Russian River Brewing Company – Santa Rosa, California
Our brewery road trip now takes us to Wine Country! Russian River Brewing Company in Santa Rosa, California is one of the most important craft beer breweries in the history of craft beer. The brewery was opened in 1997 by Vinnie Cilurzo, who was the brewer who first created the now-ubiquitous double IPA. Russian River is now famous for both their strong IPAs as well as their Belgian-style & barrel-aged beers. The famous Pliny the Elder is a double IPA that has always been rated as one of best beers in the world. It will always be a classic, no matter what new beers are released elsewhere.
The city of Santa Rosa hosts the annual release of Pliny the Younger, Russian River's triple IPA. For two weeks each February, beer fans from all over the world line up for a chance to try the rare beer. If waiting in a line like that isn't of interest to you, Russian River still has great beer & food all year long. Most importantly, Russian River is a pillar of the community in Santa Rosa. Following the tragic fires in the area, Russian River organized a fundraiser called "Sonoma Pride" that generated over $1 million to help the local community.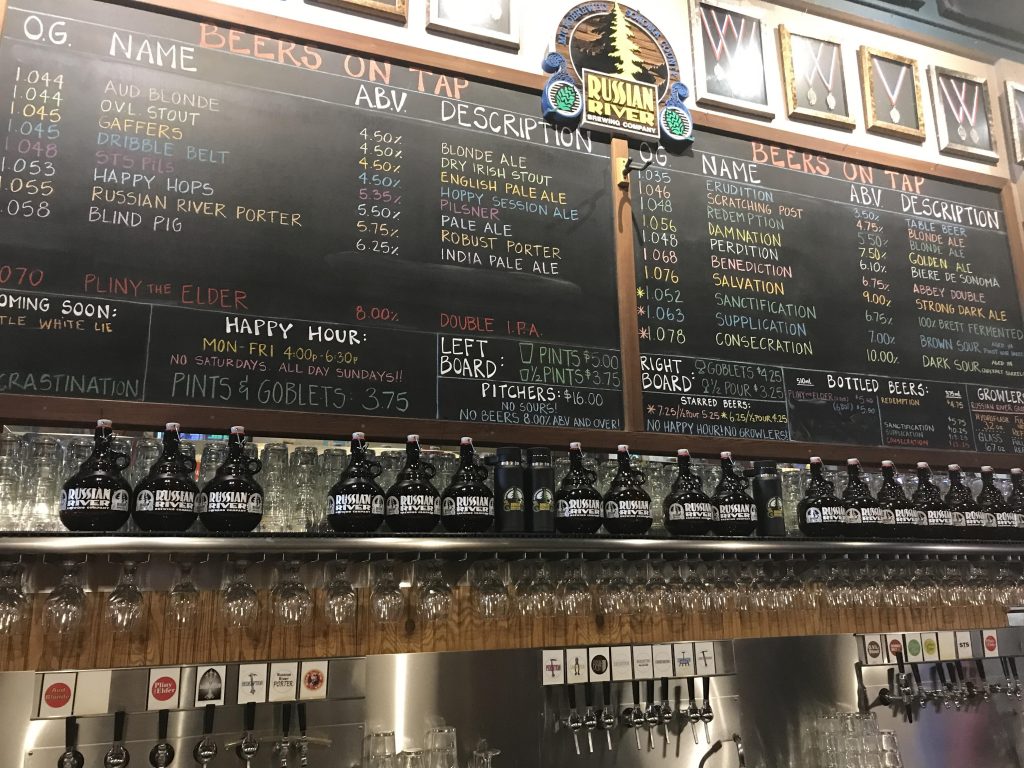 Jonathan Sacks blogs at Everybody Hates a Tourist.
The Ultimate Island Brewery Road Trip
Kona Brewing Company – Hawaii
The next stop on our brewery road trip is in Hawaii. Kona Brewing Company was started in spring 1994 by a father and son team, followed by a pub in Kailua-Kona on Hawaii's Big Island. Kona's year-round beers include Big Wave Golden Ale, Longboard Island Lager and Fire Rock Pale Ale. All three are very popular on the islands of Hawaii. Additionally, Kona Brewing Company has three rotating seasonal brews in their Aloha Series including Koko Brown, Wailua Wheat and Pipeline Porter.
"Whoever drinks beer, he is quick to sleep; whoever sleeps long, does not sin; whoever does not sin, enters Heaven! Thus, let us drink beer!" ― Martin Luther
Click To Tweet
Kona Brewing Company distributes its beers in 36 states and 10 different countries, which is an amazing, given the fact that they brew on Big Island. Design of the bottles is especially young and modern. Also, a tour of the brewery in Kailua-Kona is good fun. It takes about one hour and can be topped by a meal in their own pub. A nice additional fact is that Kona Brewing Company supports some community events on the islands, including surf and events and more.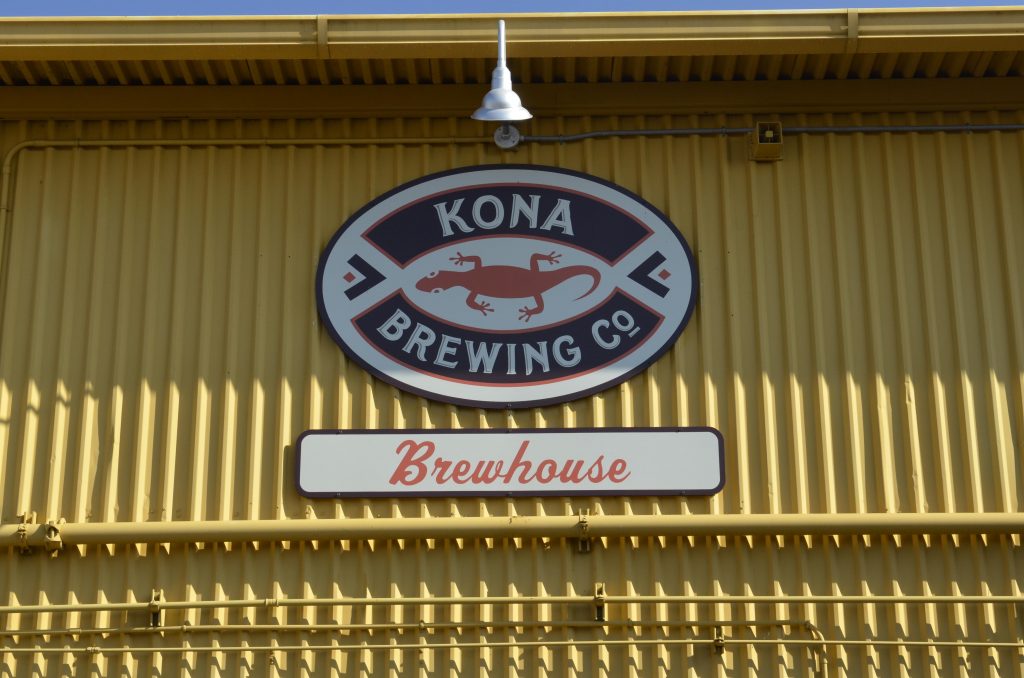 Clemens blogs at Travellers Arch
Want to know more about the perfect brewery road trip and to learn about craft beer breweries? Can't get enough of it? Want to cook with it, read about it, learn about its history? Try these books.
If this list of craft beer breweries in the U.S. appeals to you, you might like these posts (especially if you're also a fan of good wine and food!):
11 Outstanding Wine Regions of the Americas
World's Best Street Food in Amazing Cities
26 Authentic Ethnic Restaurants in New York City A to Z
Famous Places to Eat in New York City Without Going Broke
Which is your favorite craft beer brewery road trip? We'd like to know.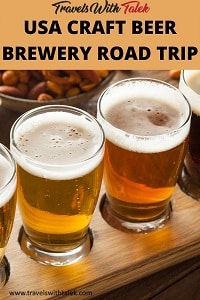 BTW, if you are getting ready for your trip, make sure to take advantage of these useful, money-saving links to book your trip:
I personally use, and can recommend, all the companies listed here and elsewhere on my blog. By booking through these sites, the small commission we earn – at no cost to you – helps us maintain this site so we can continue to offer our readers valuable travel tips and advice.