Looking for off-the-beaten-track travel destinations that are in the open air, display jaw-dropping natural beauty, have cool places to stay and eat and have tons of fun things to do nearby?  You will find them here.  We've asked frequent travelers to share their hidden gems, off-the-beaten path travel destinations that are as remote as they are beautiful and accessible. Their responses will delight you. They are a combination of unique, isolated destinations coupled with enough activities to keep any visitor busy.
Off-the-beaten-track travel destinations in the United States
Allegheny State Park, NY
Remote, off-the-beaten-path and breathtakingly spectacular, the Allegheny State Park is a little piece of heaven in southwestern New York State. Actually, at 65,000 acres, it is a big piece of heaven.
The park is frequently referred to as the wilderness playground of Western New York.  The next biggest cities in the area are Buffalo, New York, 65 miles north and Erie, Pennsylvania, 73 miles west of the park.  It is divided into two areas, Quaker and Red House, each equally beautiful and full of fun activities for families and sports lovers.
Open year round, the park is a pleasure in any season. There are 90 miles of snowmobile tracks for the winter enthusiasts, a beach and 2 lakes for boating in the summer, and a kaleidoscope of fantastic foliage in the fall. Campers will love the rustic cabins and well-maintained BBQ areas available – reserve in advance!- and hikers will appreciate the miles of well-marked trails. One is just as likely to come upon a hidden waterfall as to encounter a deer family.
There is a large educational center in the middle of the park with exhibits showing the park's history and explaining the local wildlife. For lovers of the outdoor, you won't find a more remote, hidden gem than Allegheny State Park. As the park sits adjacent to the equally impressive Allegheny National Forest, there is plenty to see and do for an extended off-the-beaten-track vacation.
Bonus: The famous New York Finger Lakes wine region is about an hour's drive east of Allegheny State Park. Add an extra day because you won't want to miss this.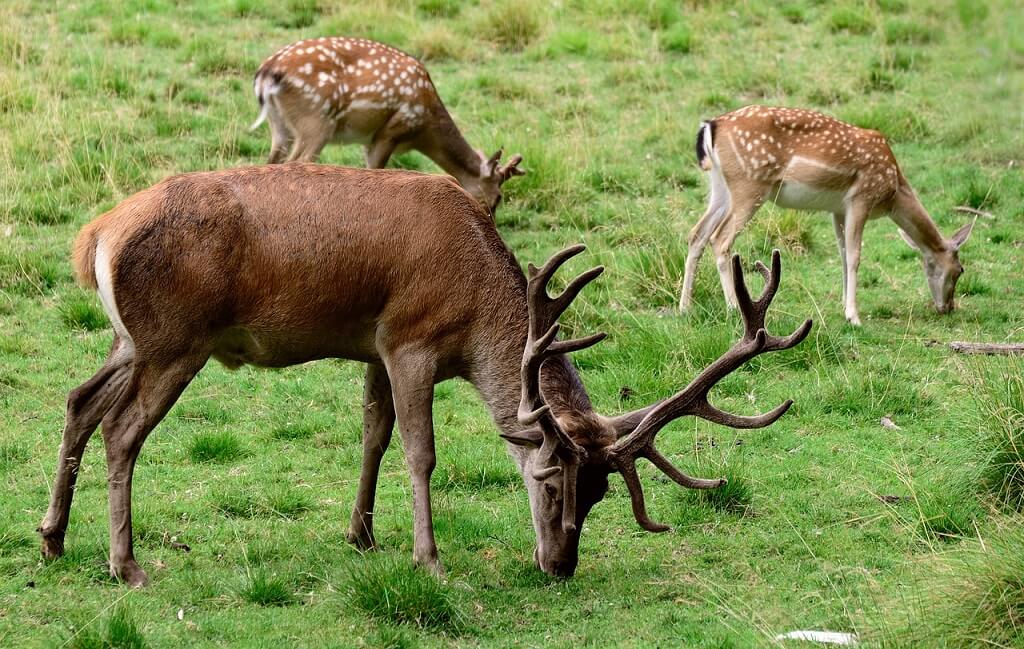 Talek blogs at Travels with Talek
*****
North Wisconsin
If you are a nature lover then North Wisconsin is a must-see destination for you.  This hidden travel destination is situated in the Midwest, Great Lakes and north-central regions of the U.S. It is one of the most beautiful and relaxing places you can ever be to. It is the home of several magnificent waterfalls. Some of the best waterfalls in North Wisconsin are Potato River Falls, Upson Falls, and Manitou Falls as well as Lost Creek Falls.
One can easily reach North Wisconsin from Michigan and Minnesota. You can either fly or take a bus or train to reach the destination. One of the spots that you cannot miss to visit in northern Wisconsin is Apostle Island National Lakeshore. It is a stunning destination with a chain of 21 islands with 8 historic lighthouses, elaborate sea caves, marine wildlife, and beaches making is unique in its own way. There are several ways by which you can explore the islands. If you wish to be on your own then boating or kayaking in Lake Superior is the best option. There are Apostle Islands Cruises available that will provide you with the best views of the islands. Visitors can paddle, hike, and cruise to experience the beauties of Lake Superior.
The islands provide opportunities for camping and scuba diving as well. So, what are you waiting for? Gear up and get ready to explore the exquisiteness of Apostle Islands, one of the most spectacular off-the-beaten-track travel destinations in the U.S.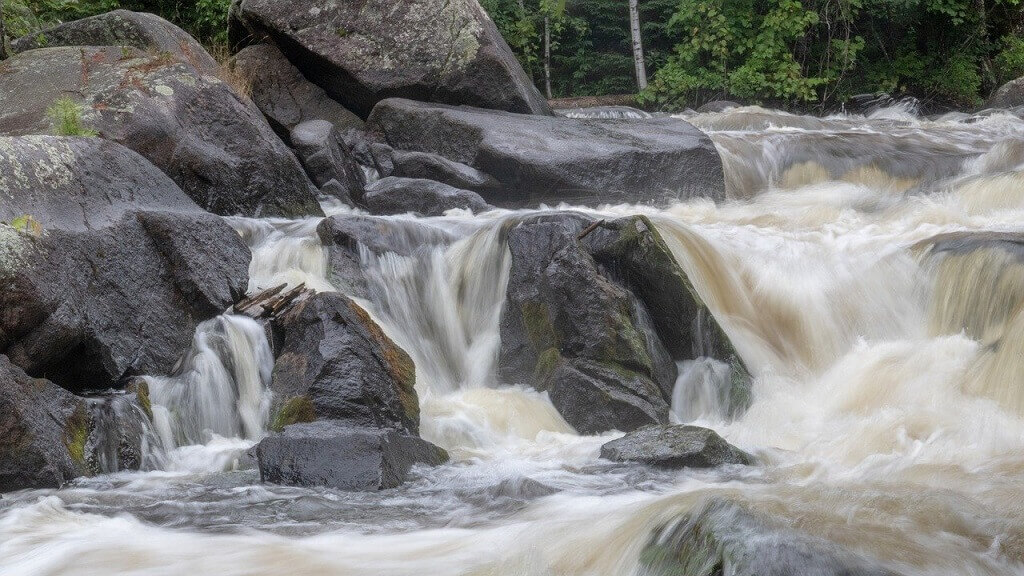 Paulina blogs at Paulina on the Road
*****
Solvang, CA
To get the flavor of Europe you don't need to go there when there is Solvang, a little Danish village in California. It is also known as 'Little Denmark' and just two and a half-hour drive from Los Angeles. Solvang is a Danish word that means 'sunny field'. It is a quaint little village nestled in the picturesque Santa Ynez Valley in the north of Santa Barbara. Solvang is mostly known for its spectacular Danish-inspired architecture and beautiful wineries, an ideal location for an off-the-beaten-track vacation.
Solvang is a small village but it has plenty of things to offer its visitors. Walk around the town or rent a bicycle to get around the city. Explore the downtown and visit the Danish icons including the giant wooden windmills, Little Mermaid Fountain and the Red Clog & Round Tower. Next visit the Rusack Vineyards, a boutique winery that produces award-winning wines. When exploring the town and the surrounding Santa Ynez Valley, don't miss the Danish bakeries. There are lots of small bakeries and restaurants at the central point. Stop at any and enjoy mouthwatering Danish cookies and snacks. Next visit the Hans Christian Anderson Park, a great place to visit with kids. There is a playground, a climbing wall, and a music-making machine that creates old-fashioned chimes just like in fairy tales.
There is no shortage of affordable hotels in Solvang as it is one of the cheapest places in California. I will recommend staying in Hotel Corque that features an outdoor pool and all the modern facilities at an affordable price. There are a ton of great restaurants in Solvang and nearby areas. Enjoy an amazing charcuterie plate from Succulent Cafe.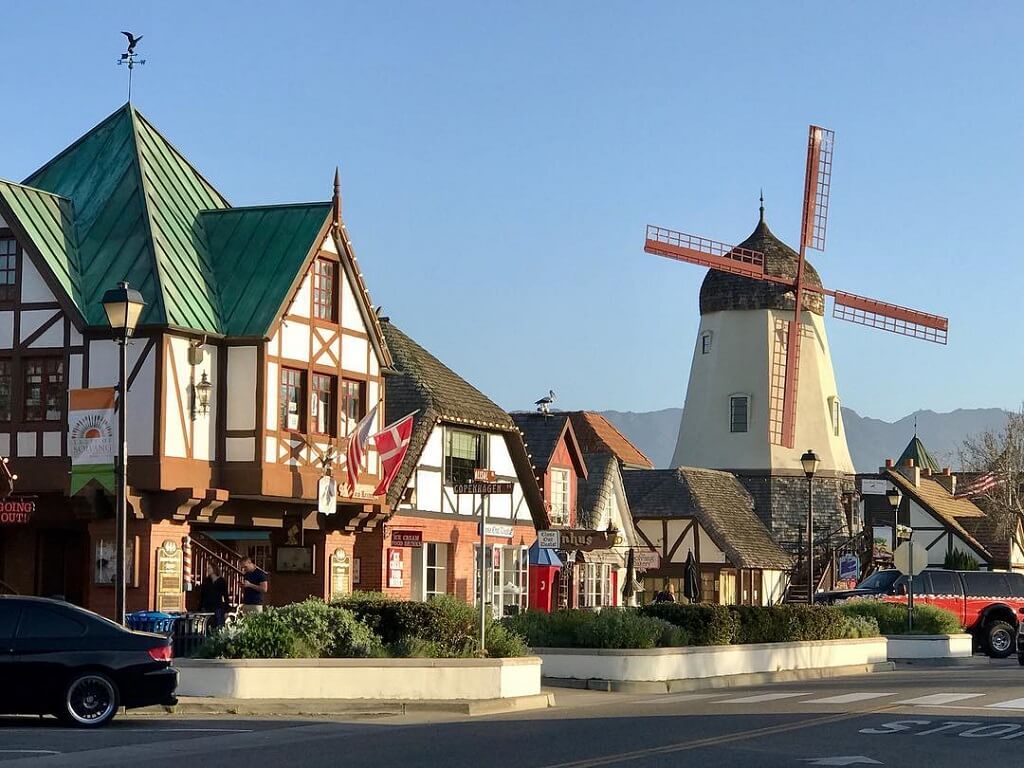 Trijit blogs at Budget Travel Buff
*****
Helen, GA
Would you believe that there is a Bavarian style town in the mountains of north Georgia in the United States? Helen, Georgia is a replica Bavarian alpine village where you can enjoy authentic German food like bratwurst and sauerbraten, celebrate Oktoberfest, shop for European trinkets, and enjoy live music.
To get to Helen from Atlanta, take the US-19N for 60 miles to GA-115, then after ~17 miles turn left onto Appalachian Pkwy and after ~3 miles turn left onto GA-75N where you will run into Helen after about 7 miles. It will be clear that you've arrived because everything will suddenly look European! Helen, Georgia makes for a great weekend getaway destination in the US because there is plenty to do in the area like "Shoot the Hooch," where you take an inner tube down the Chattahoochee River starting in Helen.
Families can mini golf or even ride the alpine coaster on Helen's mountainside. The best time of year to visit is during the fall when Oktoberfest activities are happening and the fall foliage starts appearing. It can get crowded on autumn and summer weekends and lodging often gets booked well in advance so plan accordingly.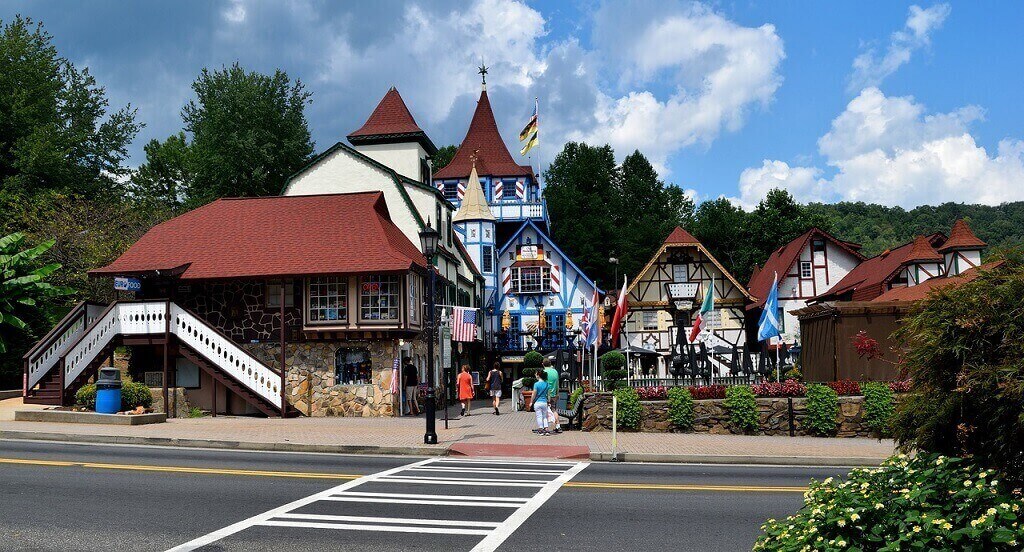 Alanna blogs at Periodic Adventures
*****
Marfa, TX
One of the more remote places to visit in the U.S. is Marfa, Texas. This town of around 2,000 people is way, way west, close to the Mexican border. Out here, there are no big cities, just wide, open deserts, stunning mountain ranges and clear night skies. It's the perfect place to really get off the grid and one of the coolest off-the-beaten-track travel destinations around.
The easiest way to get to Marfa is to fly to El Paso and then rent a car. Even then, though, it's a 4-hour drive to Marfa.
Marfa is known for its small-town vibe and as a hub for artists and creatives. It was originally made famous as the filming location for the Elizabeth Taylor and Rock Hudson film Giant. Later, artist Donald Judd brought more interest when he began to purchase land and buildings and fill them with his art.
Now, there are several art galleries as well as boutiques selling custom cowboy boots and handmade soaps. One of the most popular things to do in Marfa is visit the Prada store. Not really a Prada outlet, this art installation attracts people keen for a photo opp.
Marfa marches to its own drum, so the best time to visit is on the weekend when you're more likely to find shops and restaurants open (but even then, don't be surprised to find plenty of places closed).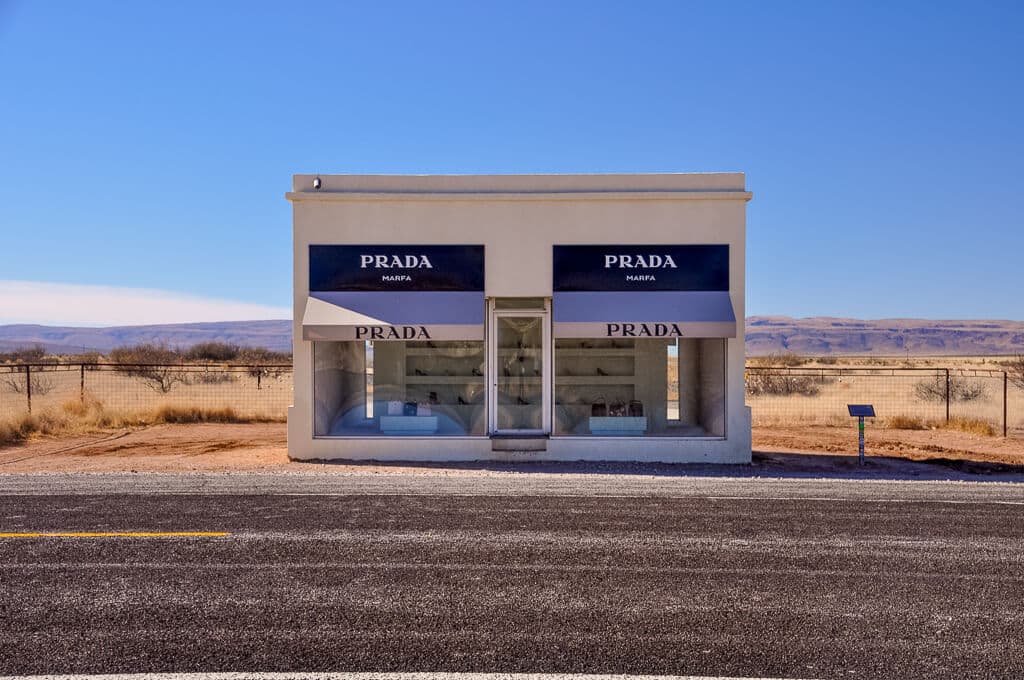 Rebecca blogs at Rebecca and the World
*****
Aztec Ruins Monument, NM
One of the most incredible and remote destinations in the USA has to be the Aztec Ruins National Monument on the western bank of the Animas River in New Mexico. One of the United States 24 World Heritage Sites  this place deep in the desert, is a true hidden gem — where you get to see up close and personal with a millennia-old civilization.
The archaeological site protects traces of a comprehensive pre-Columbian empire that ruled the southwestern United States between 850 and 1250 and the Aztec Ruins National Monument, along with the nearby Chaco Culture site. The ruins today can be explored via a well-marked trail, and signboards to inform you of the incredible perseverance and ingenuity this culture possessed.
The name "Aztec" is inaccurate just as much as the name "Indian" is.  19th-century settlers misattributed their construction to the Aztecs, but it was actually ancestral Pueblo people who resided here. This site was a significant focus of the ancestral culture, including ceremonies, trade, and political activity – and is extraordinary for its impressive public and ceremonial structures, and constructed roads that linked urban areas together.
The great Kiva is particularly awe-inspiring. The site is unlike anything achieved before or since and even more exceptional given the harsh desert conditions of the surrounding region. The Aztec Ruins National Monument is most accessible from Farmington, New Mexico, or Durango, Colorado – or those exploring the four-points area. You can book a stay at the Casa Blanca Hotel in Farmington or The Strater Hotel in Durango.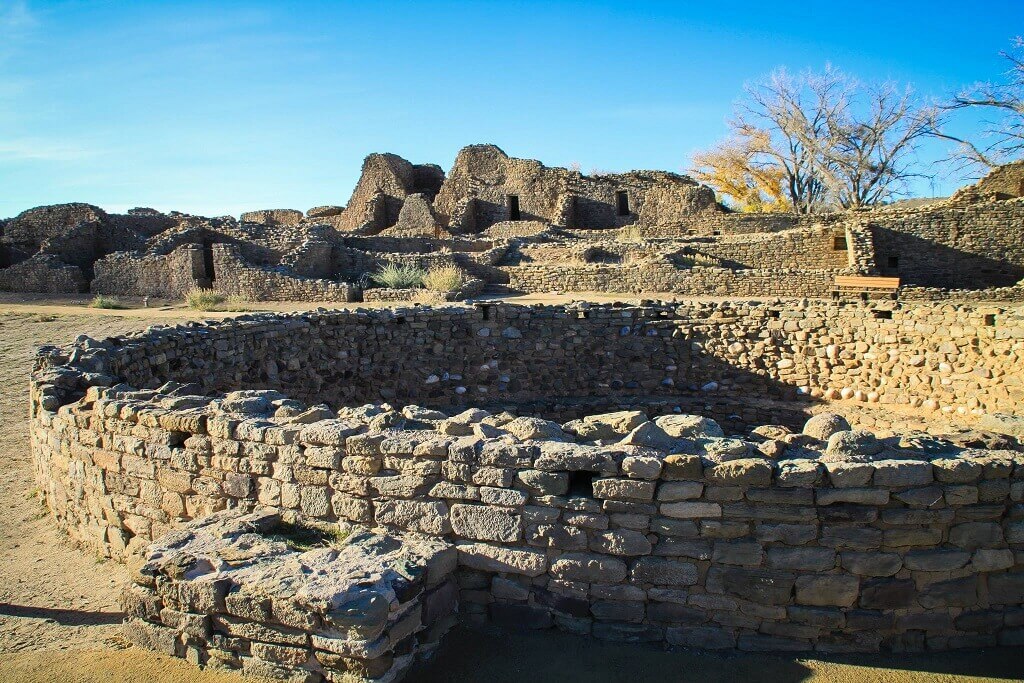 Jordan blogs at Inspired by Maps
*****
Assateague Island, MD and VA
Would you believe me if I told you there is a place in the United States where you can camp on the beach and wake up to the sound of wild horses playing in the water as the sun rises over the ocean?
Yes, this place exists.
Assateague Island, located on the east coast of the United States is one of those destinations that you hear about via word of mouth. And while it has gained popularity over the years it is still one of the East Coast's Best Kept (not so) Secret.
Located approximately 10 miles from the more popular Ocean City, MD, Assateague Island is best accessed via car. There is no public transportation. Once on the island, you can choose to go hiking, ride a bike or even rent a kayak. This is an ideal isolated vacation spot; beautiful and off-the-beaten-path.
Camping on Assateague Island is an amazing experience. You can easily just go for the day but spending the weekend is definitely recommended. It truly feels like you're a million miles away.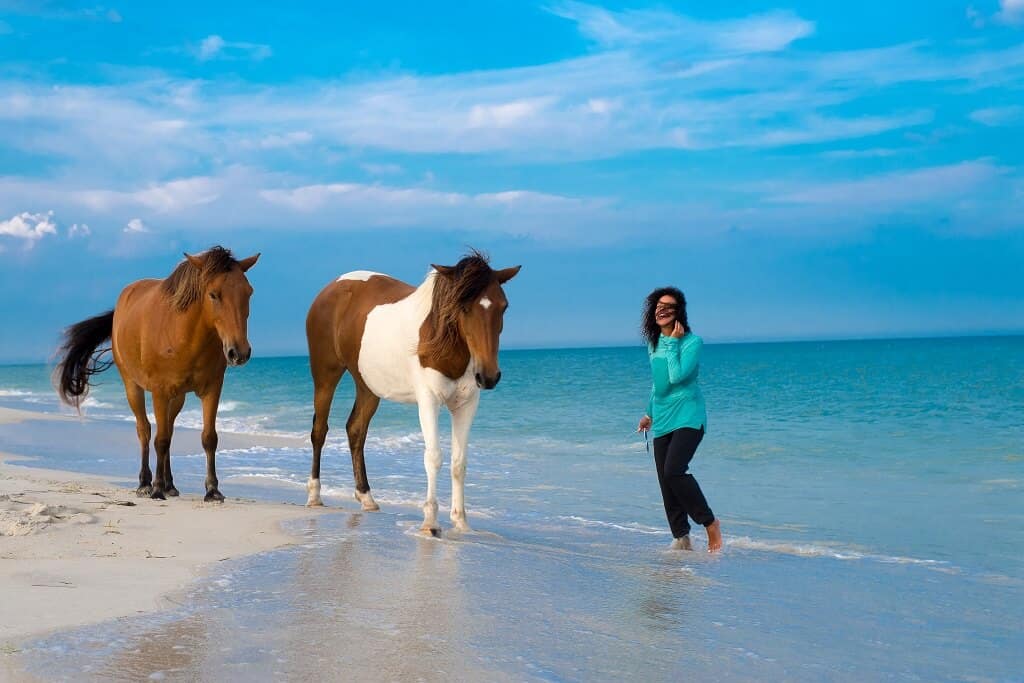 Taima blogs at Poor in a Private Plane
*****
Luray Canyon, VA
There's a beautiful, small town in western Virginia called Luray in Page County. I was happy to visit on a road trip to visit the Shenandoah Valley and escape the hustle and bustle of the bigger city I live in.
Luray is a quaint area that's easily accessible via Interstate Highway 81 if you have a car to drive there and the time to explore. It's just a bit off-the-beaten-path and lesser known than its nearby neighbors. (Staunton and Charlottesville aren't too far from Luray.) They have a lovely main street and enough to do – including restaurants, shops and activities – but not an overwhelming amount of options. It's also a perfect destination if you are desiring a change of scenery but want a lesser populated city to visit.
One of my favorite things there is their famous caverns. Luray Caverns offers guided tours of their centuries-old underground world, which is the largest cavern in the eastern United States. Their tour guides are incredibly knowledgeable about geology and you'll learn a lot about the Earth. Another fantastic way to enjoy nature in Luray is to explore their Hawksbill Greenway, where you can walk, run, bike or even fish for trout year round.
Mikkel blogs at Sometimes Home
*****
Cantil, CA
Cantil, CA is a small and unknown town roughly 2 hours north of Los Angeles.  The area is home to Red Rock Canyon State Park, a stunning area that is home to towering red and orange rock formations, which have somehow escaped the knowledge of most California natives.  The isolated park is nearly empty every time I visit.  
Whether you are on a quick day-trip from busy Los Angeles or are passing through the state, Cantil is worth an overnight stop to hike the state park and explore the surrounding area.
Hiking and photography are my favorite two activities at Red Rock.  The park offers everything from a short 1-mile loop to a more than 10-mile trek, so there is something for everyone.  Red Rock Canyon State Park is located within the Mojave Desert, so plan ahead and pack water, food, and safety supplies.  Also bring your camera – you will definitely want to document the gorgeous landscapes.  
If you enjoy camping as I do, you can set up camp inside of the park for just $25 After spending time in Red Rock, I also suggest checking out the nearby Desert Tortoise Research Natural Area, which is home to a native population of tortoise.  Entry is free and the land is preserved specifically for these reptiles.  Both attractions are within 30 minutes of each other off of Route 14, and are a spectacular quiet escape from LA.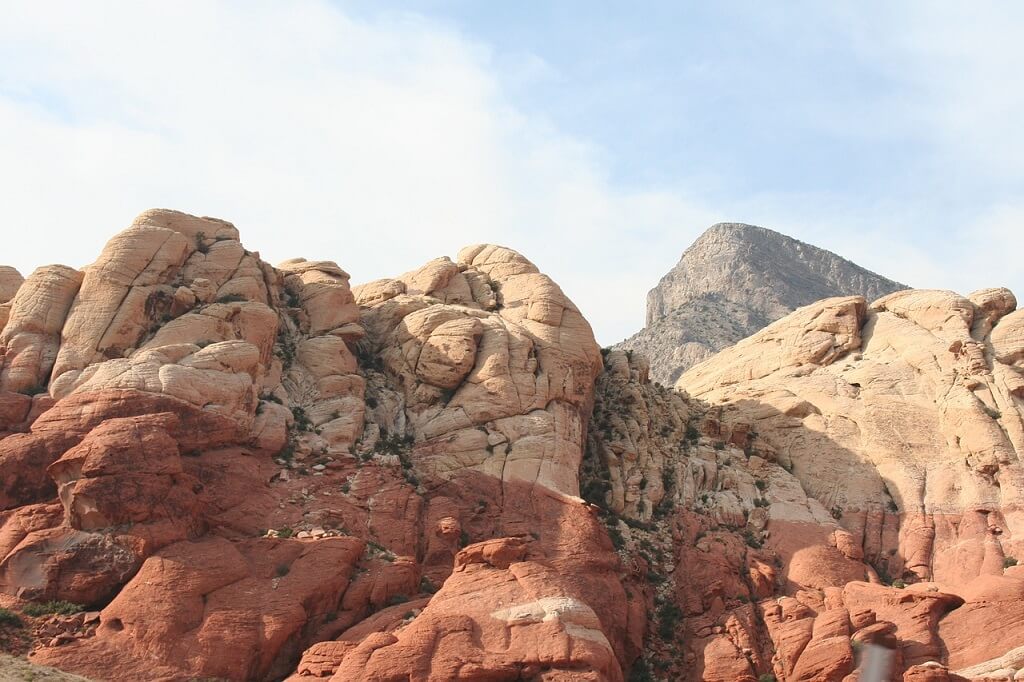 Monica blogs at This Rare Earth
*****
Ocracoke Island, NC
North Carolina's Outer Banks are a popular summer vacation spot. But if you want to get off the beaten path and away from the crowded beaches, head to Ocracoke Island. Best known for its wild, beach-roaming ponies, Ocracoke also boasts a cozy village that's perfect for a romantic staycation. Travelers also come here for the island's pristine beaches, iconic lighthouse, charming shops, and amazing restaurants (a reservation at Dajio is a must).
Thanks to its remote location, Ocracoke is also a designated Dark Skies destination for viewing the Milky Way. There's no better way to cap off a day of sightseeing and fun than with some late-night stargazing next to rolling ocean waves. This is the perfect off-the-beaten- path vacation spot. 
Fortunately, getting to this remote destination in the US is not complicated, though it does take time and advanced planning. While it's possible to reach Ocracoke Island using a private boat or charter plane, the most popular route is via the 60 minute ferry ride from Hatteras Island. There is a paid passenger-only ferry as well as a car ferry to Ocracoke Island. The island's amenities are within walking distance from the passenger ferry dock. But if you want to visit the famous ponies or catch a glimpse of the Milky Way, you'll want to use the car ferry.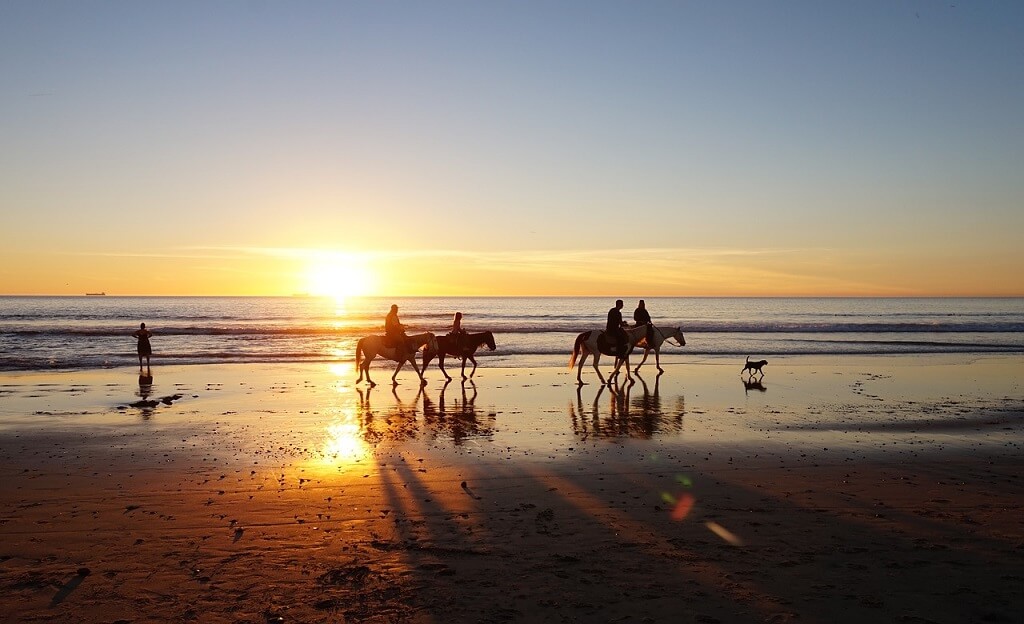 Chelsea blogs at The Portable Wife
*****
Eastern Oregon
While most flock to the coast or hang around Portland, Eastern Oregon often gets overlooked. You'll go from the rainy and rough coast covered in verdant forest to the dusty, arid, and even sometimes alien-looking landscapes the further you drive east.
Eastern Oregon features quite a few cool spots you can explore. You'd probably need a week or so to drive and enjoy it all!
Hart Mountain Antelope Refuge – Antelope run wild, there are beautiful sandy hills painting the scene and there's a little hot spring to dip into here too.
Summer Lake –  Another hot spring, a few hikes and even some off-road trails are here too if that's your idea of fun!
Alvord Desert – Yes, another hot spring is awaiting you here but better yet, the playa is so much fun to camp and drive on!
Steens Mountain – Hikes and a scenic drive overlooking Alvord Desert and the Steens Wilderness.
Owyhee – Hikes galore, camping spots perfect for stargazing, and white water rafting through epic canyons.
Strawberry Mountain Wilderness – Camp at the campground located here and hike to Strawberry Lake, Strawberry Falls, and the summit of Strawberry Mountain too! Sadly, there are no strawberries here though.
John Day Fossil Beds – This will be the most popular spot on the list. There are three units to explore in the John Day Fossil Beds—Clarno, Sheep Rock, and The Painted Hills. The latter being the most popular due to its insanely beautiful and weirdly painted layers!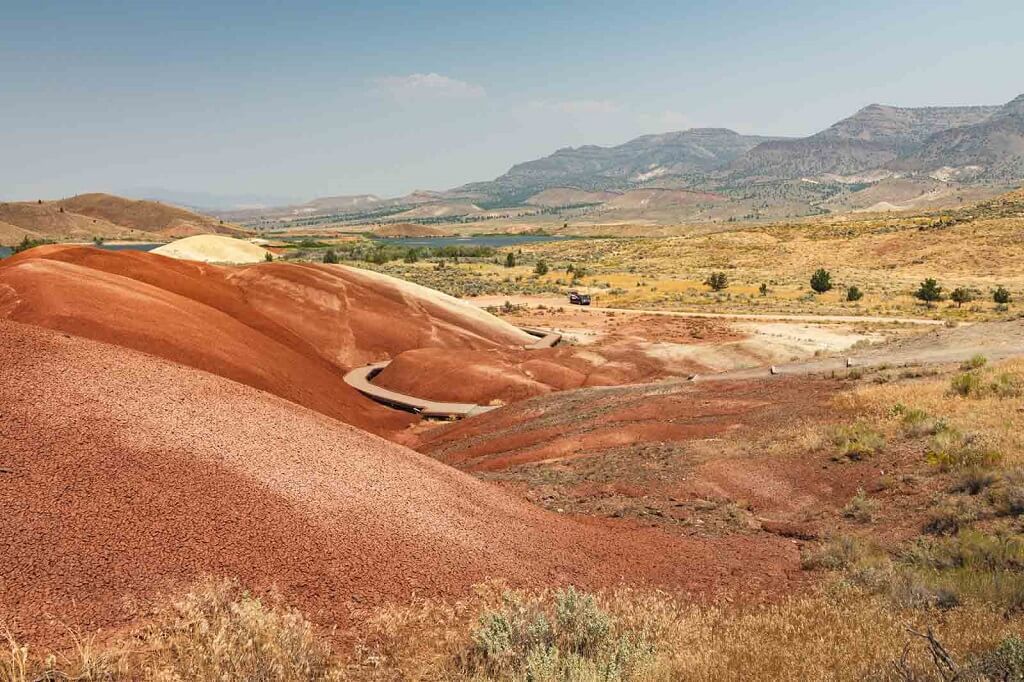 Nina blogs at Oregon for Adventure
*****
Pine Island, FL
There's a tiny tropical island off the coast of southwest Florida that's as hidden a gem as you can find in the Sunshine State, and a must-visit from just about anywhere from Tampa to Marco Island. If you blink, you just might miss the small artsy town of Matlacha, Florida (mat-la-SHAY) on your way to Pine Island, since parking is limited and only a two-lane road runs through it.
You won't find chain stores, restaurants, or parking garages here — just locally owned art galleries, salty bars, tackle shops, local restaurants and ice cream shops. The small island located not far from Ft. Myers is a magnet for anglers, paddlers, and water lovers, since it's surrounded by saltwater and some of the best fishing, boating, and paddling in the state.
It's the colorful art galleries you'll notice when you arrive. Stroll over the "Fishingest Bridge in the World" to and from galleries and shops filled with antique treasures, island clothing, and the signature funky artwork the town is known for.
When you get hungry, the freshest seafood awaits you at local joints like The Blue Dog Cafe and Bert's — famous for fresh red snapper sandwiches, Gulf Coast shrimp, and mouthwatering fish tacos. Getting here is easier by boat than car (exit I-75 at Punta Gorda or North Ft. Myers) which is one reason it feels so remote. But no matter how you get here, this undiscovered gem is so worth a visit!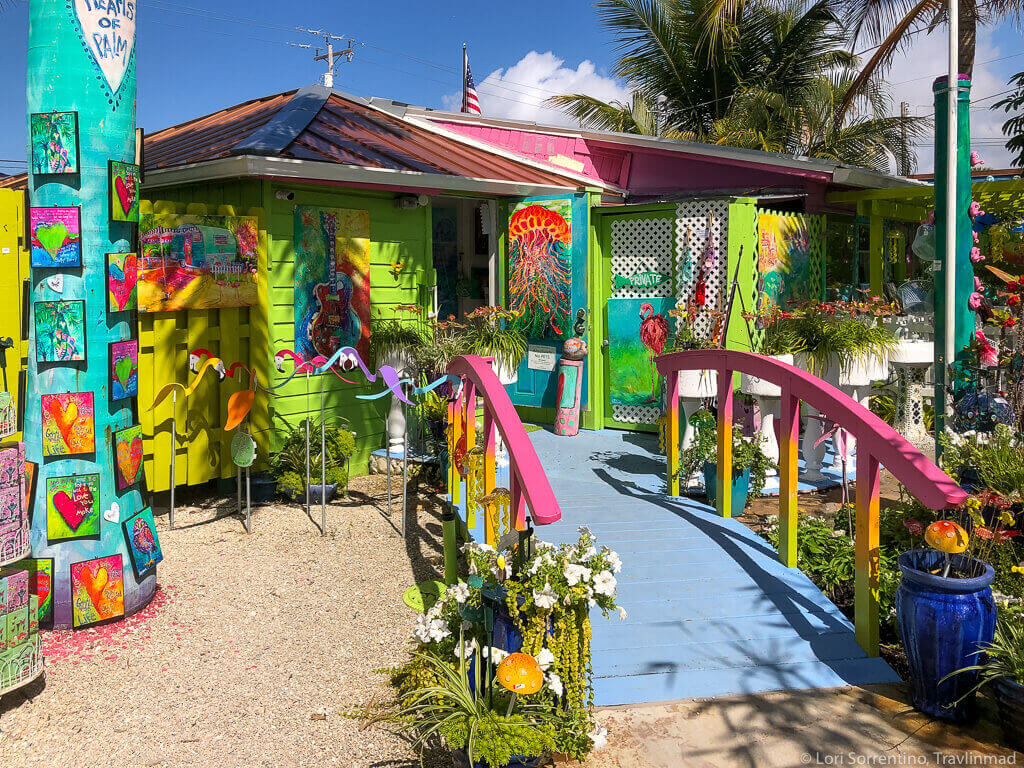 Lori blogs at Travlinmad
*****
Ouray, CO
Located in the mountains of Colorado, Ouray is a tiny mountain town bursting with charm. It is often called the Switzerland of America for its alpine beauty and remote location.
We stumbled across Ouray on our Colorado road trip and couldn't be happier that we did. This historic town has roots as an old mining town and you will find hints of its past along its historic main street. Explore the quirky shops, cafes, and chat with friendly locals.
Given that Ouray is located in the mountains, there are lots of hiking opportunities nearby. The Perimeter Trail gives hikers a birds eye view of the little town, crosses over bridges and passes by waterfalls. It is very accessible from town. After hiking, indulge in the area's natural spas. Orvis Hot Springs is an all natural spa with a stunning setting. It is about a five and a half hour drive to reach Ouray from Denver. Therefore we suggest you make the most of it by embarking on a Colorado road trip to break up the drive. It is the best way to see this off the beaten path destination in the USA.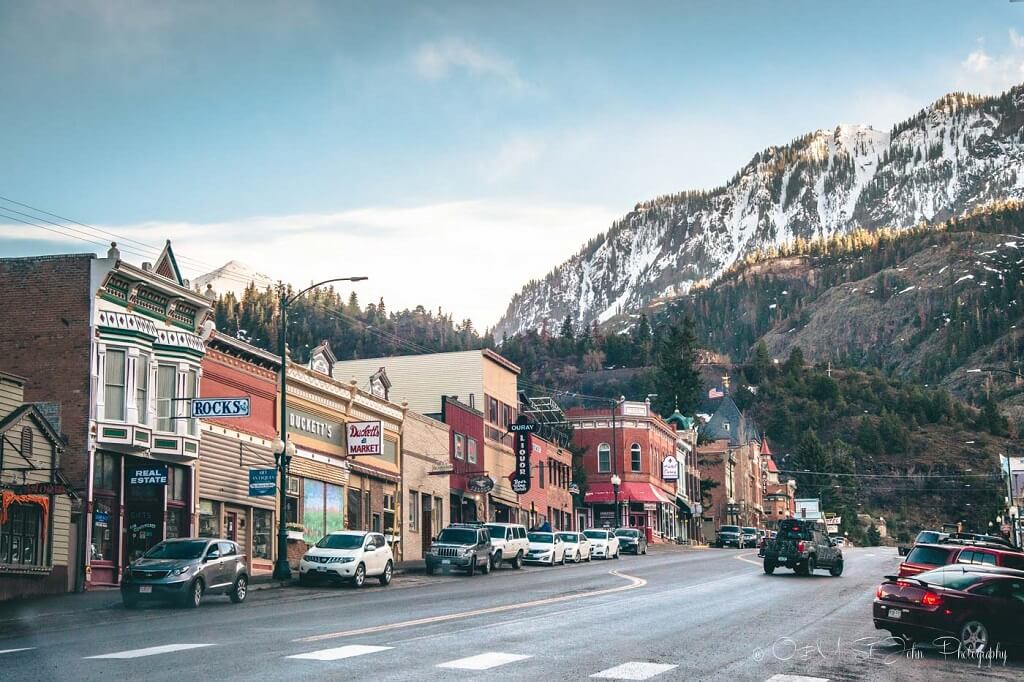 *****
Which is your favorite off-the-beaten-track travel destination in the United States?  We'd like to know.  Tell us in the comments.
Like this post? You'll love these posts highlighting vacation destinations in the United States:
13 Extraordinary things to do in the United States
How to visit the Newport Rhode Island mansions 
15 Things to do in America before you die
Cool and spooky things to do in New Orleans during Halloween
A musical road trip from Cleveland to New Orleans
The perfect Miami Beach self-guided walk
If you are visiting these amazing travel destinations by car, don't forget the 10 safe driving tips for a healthy and worry-free road trip.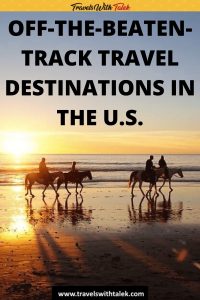 BTW, if you are getting ready for your trip, make sure to take advantage of these useful, money-saving links to book your trip:
I personally use, and can recommend, all the companies listed here and elsewhere on my blog. By booking through these sites, the small commission we earn – at no cost to you – helps us maintain this site so we can continue to offer our readers valuable travel tips and advice.