Slow travel is a mindset rather than an actual method. It is an approach to travel that emphasizes specific aspects of the travel experience.
First among the characteristics of slow travel is a focus on connection to the local culture through meaningful interactions with the local people. Traveling slowly is seen more as an opportunity for the slow traveler for education on local art, food, music and history. It rejects traditional concepts of tourism and instead focuses on new experiences.
Rather than eating in restaurants near tourist sites, take a cooking class and learn about the local cuisine. Instead of staying in a hotel, stay in a local B&B with a local family. Don't visit a zoo, volunteer at the local animal shelter. These cultural exchanges emphasize protection of the environment and sustainability.
Travel experts predict slow travel and slow travel tours will become a major trend in the near future. Slow travel experiences are certain to create more lasting memories than traditional tourism.
Following are suggestions from frequent travelers on the best slow travel destinations to savor local culture.
*****
Cuba
For a culturally fascinating slow-travel experience, you just can't beat the island nation of Cuba.
The country is a vibrant ethnic mix of many groups. Africans were brought over as enslaved workers throughout the 1700s, and Europeans came from Spain and Eastern Europe seeking economic opportunity. About 150,000 Chinese were imported as indentured servants in the 1800s, Haitians and Jamaicans arrived for different reasons in the 18th and 19th centuries respectively.  Add to that a dash of immigrants from the Middle East and you have an ethnic melting pot worthy of the most diverse of cities.
Cuba is one of the rare countries where the moniker "unique" really applies. The country appears to have been frozen in time in the late 1950s when the Cuban Revolution succeeded in converting the county to communism. Classic American cars imported in the 50s are still on the country's streets today and wonderful Spanish colonial and Art Deco architecture remains untouched.  The lack of diplomatic relations with the U.S. – a country just a 45-minute flight from Havana – means no fast-food franchises or U.S. chain stores anywhere on the island. If that's not unique, what is?
What Cuba DOES have in abundance is natural beauty; 1500 miles (2,400 km) of pristine coastline, 9 natural and cultural UNESCO World Heritage sites, multiple national parks and an array of provincial and local parks to delight any nature lover.
The most beautiful land human eyes have ever beheld. Christopher Columbus
Click To Tweet
How to slow travel your way around Cuba? Park yourself in a centrally located city in a "casa particular," Cuba's equivalent of a B&B and make little day trips from there.
A casa particular costs an average of US$30/night. The best part is that you stay with a typical Cuban family you can interact with and enjoy a truly authentic experience. These stays can be booked through Airbnb or any number of other websites offering accommodations in Cuba.
The island nation is long, 750 miles from east to west. So, to truly slow travel the island, depending on how much time you have, divide your stay into three locations: Havana, Trinidad and Santiago de Cuba. Each one of those important cities are fascinating in themselves, but they also make great kick-off points from which to visit the surrounding attractions.
Cuba is safe, budget friendly, beautiful, culturally fascinating, and full of friendly people. What more could you ask for in a slow travel destination?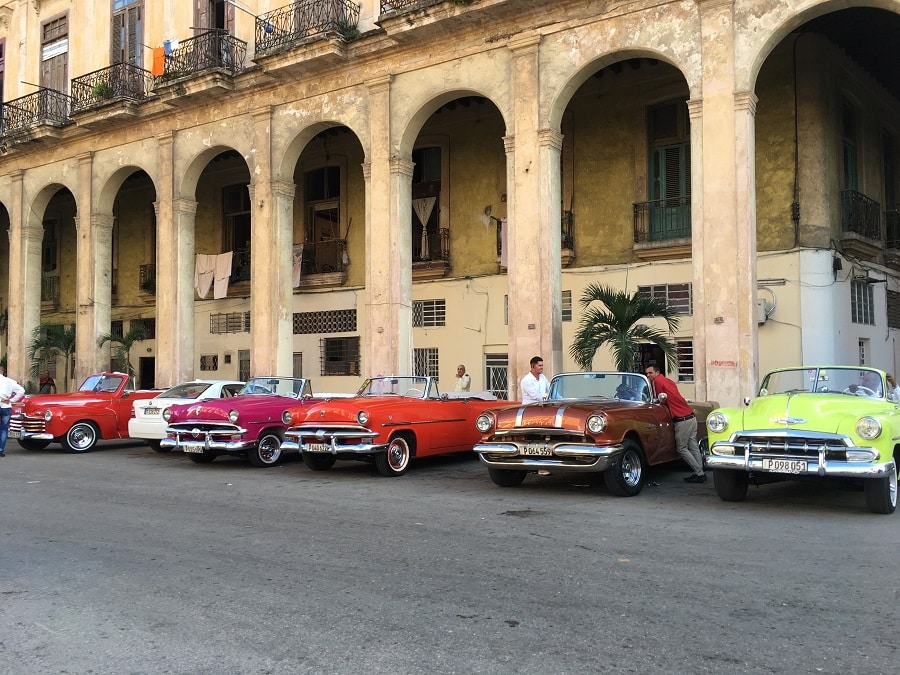 Talek blogs at Travels with Talek
*****
Israel
Israel is such a small country that it is easy to explore, and most people spend there 10 days at most. That's enough to explore the best places to visit in Israel and appreciate its unique beauty and history. However, if you really care to get an understanding of the country's culture, vibe and – most importantly – its people and its reality, make sure to spend at least a month or so there.
Tel Aviv is an excellent place to base yourself and fully appreciate what's so special about Israel. It has an incredibly varied gourmet scene, with restaurants for any budget and taste and a strong focus on veganism. It is a culturally thriving city, with festivals, concerts, shows, rallies and political and social protests on a daily basis. Together with Jerusalem, it's the most visited city in Israel and yet it has retained its local character.
And most importantly it is place where meeting locals is extremely easy. Rent a room in an apartment off Florentin or Levontin and chances are you'll befriend your host. And in case you are renting a whole apartment to yourself, worry not. All it takes to meet locals is to literally sit at a bar, a park, on the bus and soon enough you will be talking to someone who will let you into their life, and into their circle of friends. Do that, and you will quickly realize that Israel is one of the most misunderstood countries in the world. Do that, and you will fall in love with it and end up going again and again.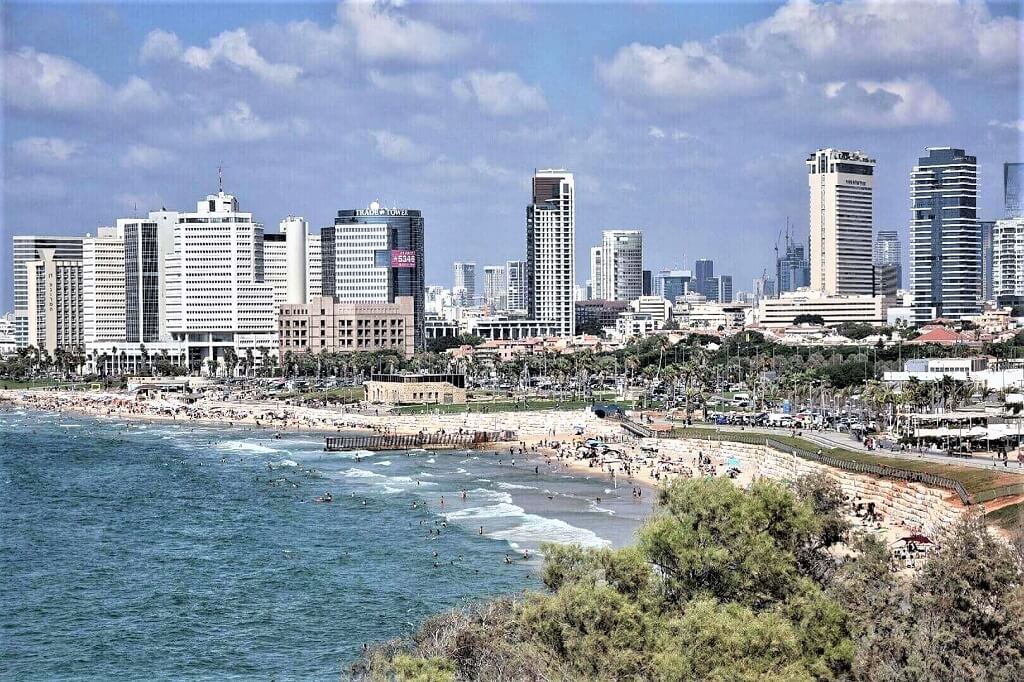 *****
Armenia
One of the best destinations for slow travel in 2021 is definitely Armenia. The small country in the Caucasus is an ideal getaway for a longer duration of time for several reasons but the first is that many nationalities can stay there for up to six months visa-free. This makes settling in and really exploring the land easy and stressless.
The eyes of the Armenians speak long before the lips move and long after they cease to. Arshile Gorky
Click To Tweet
Another reason that Armenia is fantastic for a slow travel trip is that it is a small country and it'll give you time to explore most of it rather deeply and at your own pace. There are family guesthouses and places to stay in every corner of the country and slowing down and learning the culture and village life is very easy to do.
Armenia is extremely mountainous with breathtaking nature that never is crowded or seems like you can't escape away from the city life of Yerevan. One of the best places to set off to for a long, extended stay is from Debed Life in the village of Debed, in Lori province. This gorgeous guesthouse is modern and built as a co-living facility for those looking to unwind and be inspired by the surrounding greenery. There are gardens on-site with the most delicious and freshest food you can imagine. Debed Life is also located near other renowned places such as Odzun and the UNESCO World Heritage Monasteries of Haghpat and Sanahin. It truly is an essential place to stay for a while to catch your breath and take in the best that Armenia has to offer!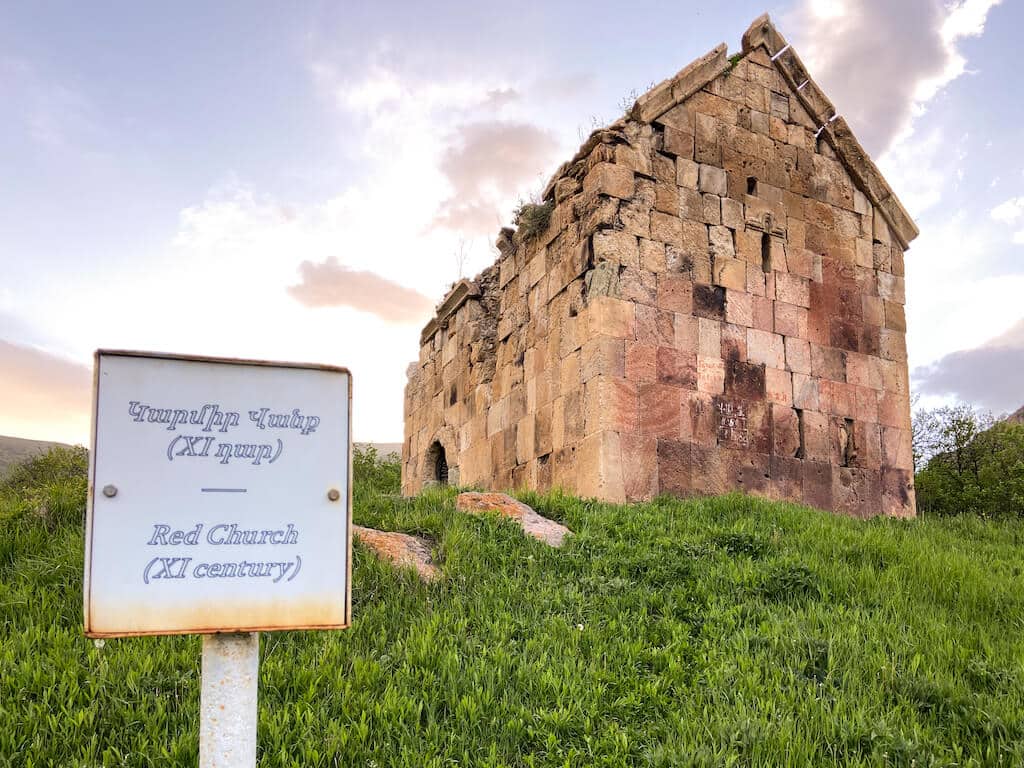 *****
*****
Southern Utah
If there is one state in the U.S. worth spending weeks or even months exploring, Utah is hands down the best state for slow travel. With five stunning national parks, some of the top mountain resorts in America, and countless scenic hikes, Utah is a nature lover's paradise. The southern portion of the state is home to both Bryce and Zion National Parks. Some of the most acclaimed nature hikes in the U.S., like the Narrows and Angel's Landing, are found in the national parks in this area of Utah.
Squeeze through picturesque, narrow slot canyons, surround yourself in colorful rock formations spiraling high into the sky, or hike along the edge that offers panoramic views of southern Utah's iconic red rocks. Every day can be a new adventure.
But the beauty of Utah isn't just found in its national parks. Southern Utah is filled with remote, unspoiled scenery begging to be explored. Whether you are slow traveling or on a southwest USA road trip, the towns of Springdale or Kanab, Utah make for a great base to take your time exploring southern Utah. Both towns have unique lodging options, like tiny homes, yurts, and glamping-style luxurious tents for those wanting to get away from the crowds and experience serenity in the southwest.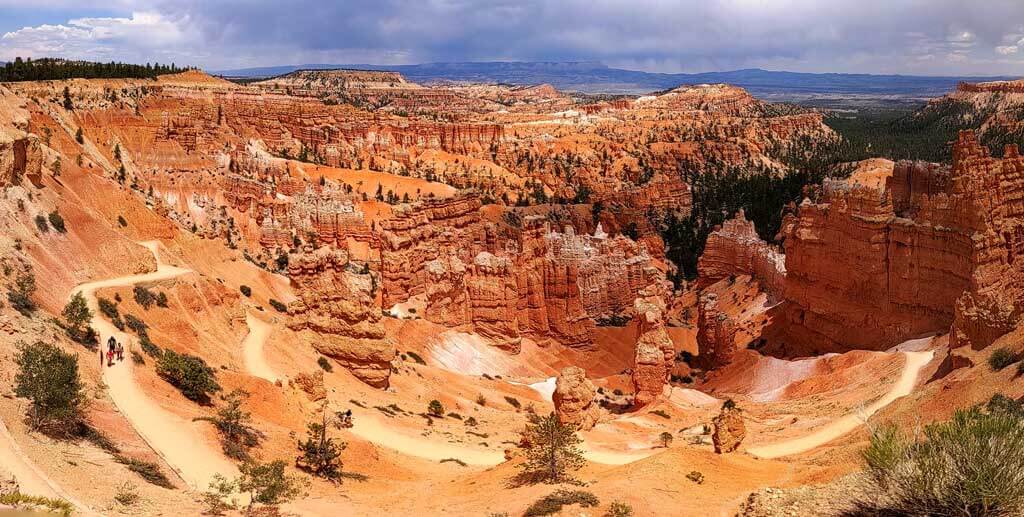 Explored by Melissa from Parenthood and Passports
*****
The Caribbean
The Caribbean islands are ideal to slow travel as each island is so unique and offers intriguing adventures.  Additionally, it is easy to island-hop from one island to the next as there are several regional airline carriers who offer competitive airfares.  The beaches in the Caribbean are also stunning for example the long pink sand beaches on the island of Barbados to volcanic black beach sands on the nature island of Dominica.  The Caribbean islands are known for their diverse culture as many of them were former colonies and depending on which country colonized them there are influences seen throughout each island in not only food, drinks, and music.
Each island additionally offers a range of tour experiences hosted by local tour operators that share the history and culture with visitors.  The Caribbean also has a large stock of long term stay accommodations ranging from modest apartments to luxurious villas.  Caribbean people are also very friendly and it's not rare for them to speak to strangers or invite you into their home to experience local cuisine.  What also makes the Caribbean so enticing is also the natural beauty of each island.  Any slow traveler will truly find the Caribbean islands offer something for everyone.
And more good news, several of the Caribbean islands have opened their doors and are offering long term visitors visas.  What better opportunity to enjoy slow travel.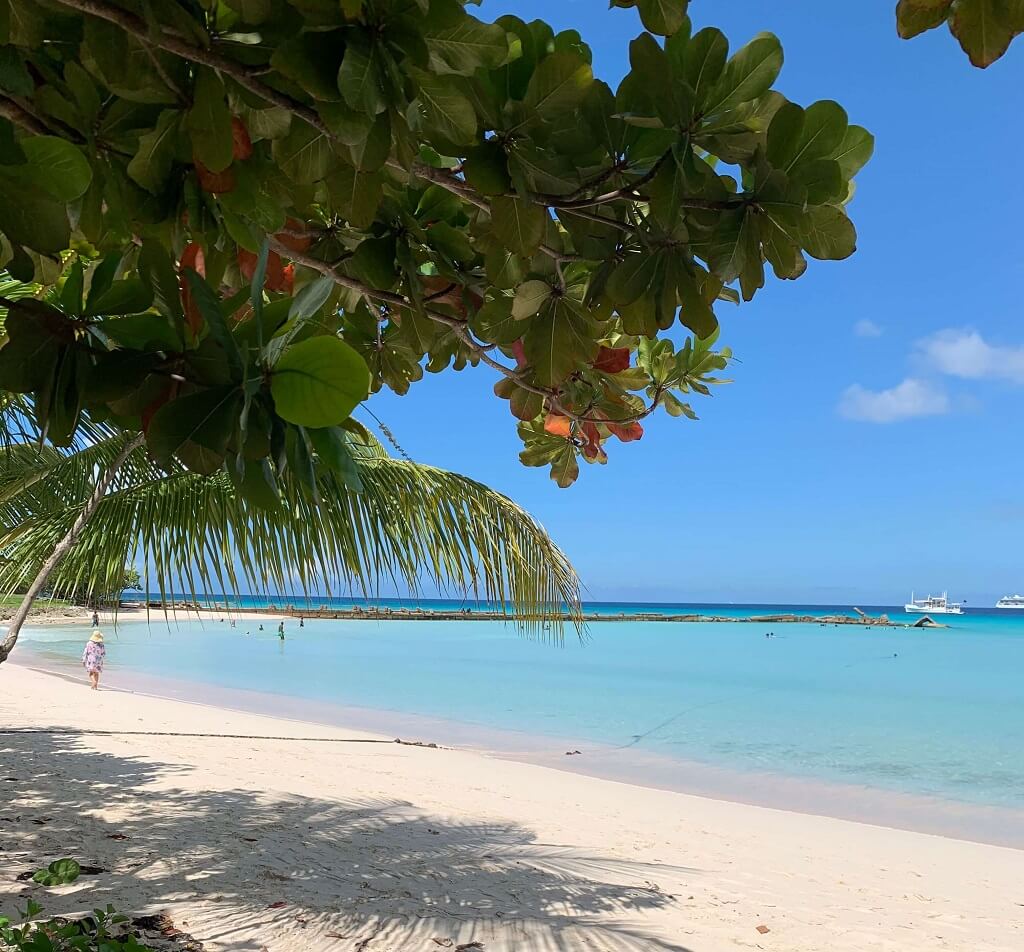 Leticia blogs at Chicatravelaroundtheworld.com
*****
Alsace
Alsace is a historical region located in Eastern France, at the border with Germany. It has beautiful forests, endless vineyards, fairytale villages, a strong cultural identity, and great food and wine.
Most people visit the region on an Alsace Road Trip starting from Strasbourg or Colmar. However, Alsace is an excellent destination for slow traveling too. You can set your base on a homestay in Colmar, and from there, explore other parts of Alsace on day trips by bike or local bus.
There are many fun things to do in Alsace for slow travelers. You can visit the lesser-known Alsace villages, usually without tourists, hike one of the endless trails through the Vosges or around the vineyards, or climb up to the highest hills dotted with ruined fortresses.
If you like good cuisine, you will love Alsace too. The Alsatian cuisine has many common dishes with southern Germany like the tarte flambée or the choucroute. The wine is good, but the beer is even better, and you will find many small breweries producing small quantities of excellent craft beer. The best places to taste good traditional cuisine and drinks are the winstubs, warm, and cozy cheap places with a local atmosphere.
*****
Chiloe Island, Chile
Chiloe Island is probably one of the most fascinating places that you can visit in Chile. Connected by the mainland by a ferry, the nearest town you can start your journey to Chiloe Island is Puerto Montt. From Santiago, Chiloe is about 1000 kilometres away.
There are two main towns on Chiloe Island, Ancud in the north and Castro in the south. Usually travellers spent time in both, exploring first the north and then the south, before boarding another three days long ferry journey towards Patagonia.
On Chiloe Island it feels like time stood still. The island is famous for its fabulous mythology the locals still believe in today. It is not uncommon to see representations of the Trauco, the goblin who lives deep in the woods, or hear about the El Caleuche, a phantom ship said to carry dead sailors.
Time here passes slow, without too many distractions from the real world. The WiFi is sporadic and people spend time talking to each other rather than texting. The south of the island is covered by the Chiloe National Park. Besides many trails for hiking, you can also spend the night in the park, at one of the camping sites. One of the fascinating experiences to do here is kayaking before the sunrise, when the mist is raising from the water. This is when you feel that the myths of Chiloe come to life.
For her book "Maya's Notebook", the famous Chilean author Isabel Allende spent months on the island researching its folklore. In fact, you can actually have a traditional chilote curanto with the woman who hosted her and who inspired the main character in the book.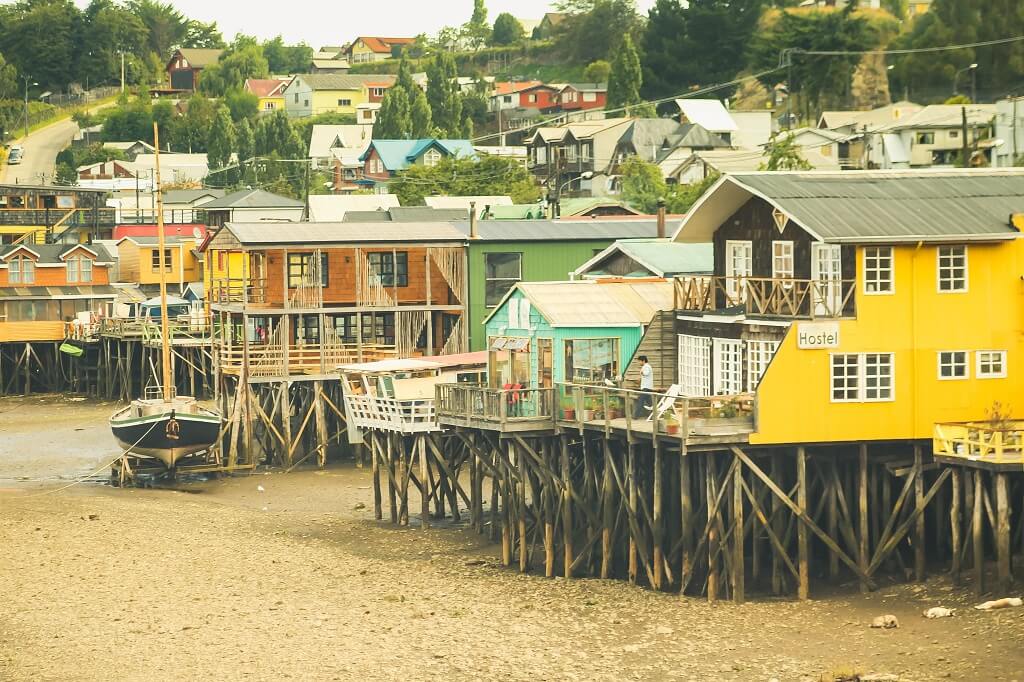 Joanna blogs at The World in my Pocket
*****
Borneo
Borneo is the largest island in Asia. It's so big that a lot of people commonly mistake Borneo for a whole country. The fact is that the island is geographically and politically divided into three different countries: Indonesia, Malaysia, and Brunei.
If you're a slow traveler who's interested in understanding the local cultures while being able to travel to more destinations without rushing from one place to another, Borneo is your ideal place to go.
You can start your trip from the Indonesian part of Borneo, which is known as Kalimantan amongst the locals. You can begin to travel slowly from the western part of the island. Starting from Pontianak, a city located across the Equator line, you can experience Equinox, the rare phenomenon without a shadow in either March or September every year.
If I'd learnt one thing from travelling, it was that the way to get things done was to go ahead and do them. Don't talk about going to Borneo. Book a ticket, get a visa, pack a bag, and it just happens. Alex Garland
Click To Tweet
From Pontianak, you can opt to stop by Singkawang. The city of a thousand temples offers you not only delicious food but also a chance to grasp Indonesia's diversity.
There are a few options to cross the border from Indonesia to the Malaysian part of Borneo. It is relatively easy to find different transportation modes from West Kalimantan to Malaysia or Brunei.
While the easiest way to travel around the island is by flight, you can also find a way to get on a road trip throughout the island. The beautiful landscape on the island will amaze you and make you understand why it's called the Emerald of the Equator in the first place.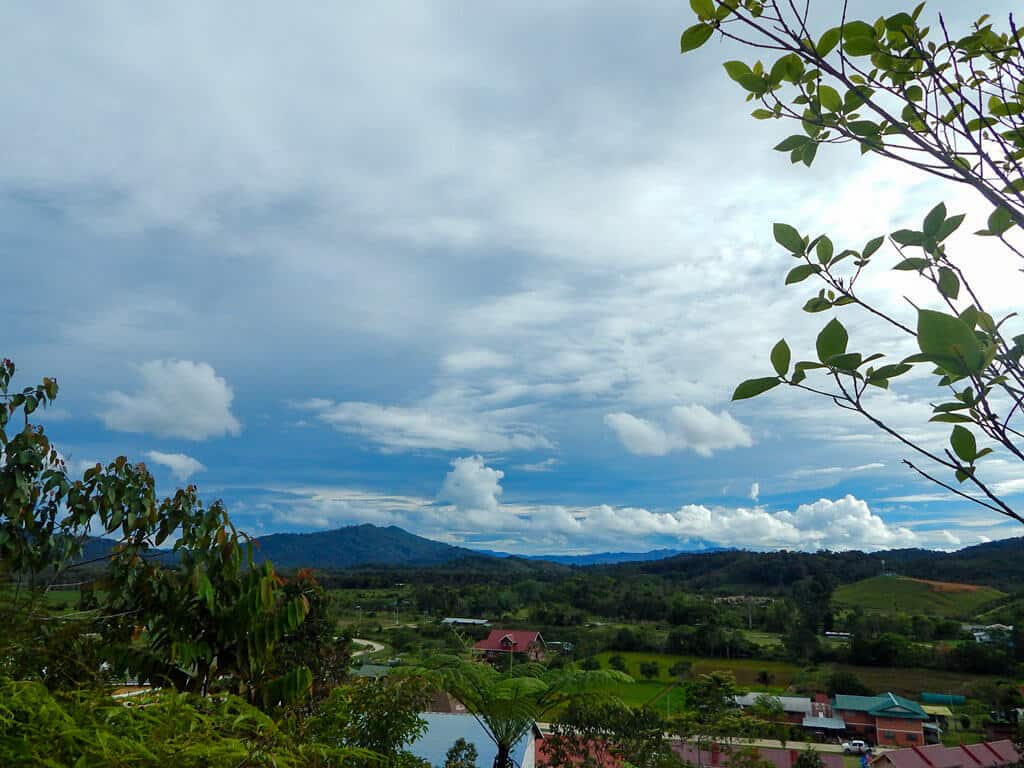 Marya blogs at Thebeautraveler.com
*****
Central Otago
Central Otago is renowned for excellent wine, adventure sports and beautiful lakes. This combination of interesting activities, good food and wonderful views makes it the perfect place to stop, take your time, and experience the best of what New Zealand's South Island has to offer. Base yourself in Queenstown to get all the city perks while enjoying a slower experience.
Downtown Queenstown can be a bit busy, so pick a pretty spot a little out of town – think Lake Hayes, Shotover or Arthurs Point. Hiring a house or apartment is the way to go as a kitchen is essential for a long stay in New Zealand – eating out can get expensive. You'll also want to hire a car. Many places aren't accessible by public transport and long, scenic drives are part of the experience. The Crown Range pass over the mountains and the route around the lake to Glenorchy are especially stunning.
Spend your days visiting one of the many lakes – Lake Wakatipu in Queenstown, Lake Hayes, Lake Dunstan and Wanaka, about an hour's drive away. See the old historic towns of Cromwell and Arrowtown and have long lunches at the nearby wineries. Then, fill your remaining days with bungy jumping, skiing or water sports.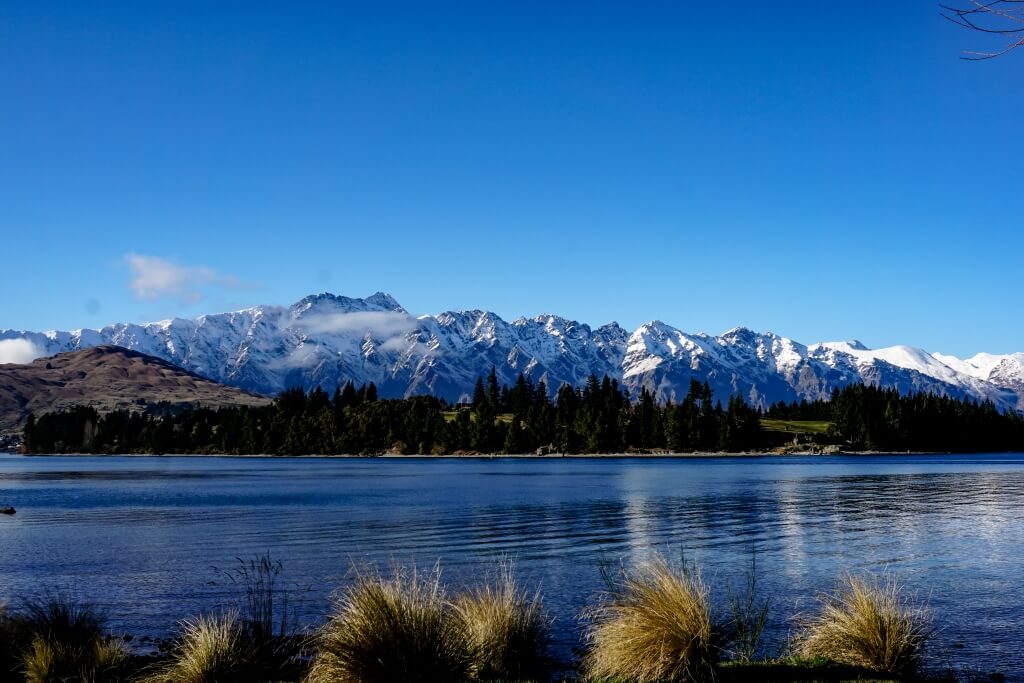 Roxanne blogs at Faraway Worlds
*****
Can't get enough of New Zealand? Read these posts:
Christchurch to Queenstown: An epic New Zealand South Island road trip
A 3-week itinerary for Australia and New Zealand
*****
Lake Atitlan, Guatemala
Perched between a range of active volcanoes and only a two-hour drive from the beautiful town of Antigua Guatemala is Lake Atitlan. This lakeside region (there are actually multiple, small towns/communities around the lake) offer some of the most incredible views in the country, rich cultural heritage and amazing food.

You could easily spend a month or more just exploring the various areas of the lake, which are all famous for their own specialties. 
Colourful weaved materials are one of the most abundant local crafts and the company Hiptipico is changing how the world views these beautiful pieces.

There are a variety of homestays and budget friendly Airbnb options around the lake to choose from including some amazing eco retreats such as La Fortuna. While not likely affordable for long term stays this eco hotel is definitely worth a couple of nights for a treat.
Be sure to shop at the local market in Panajachel on Tuesdays and Sundays for fresh produce, including homemade tortillas!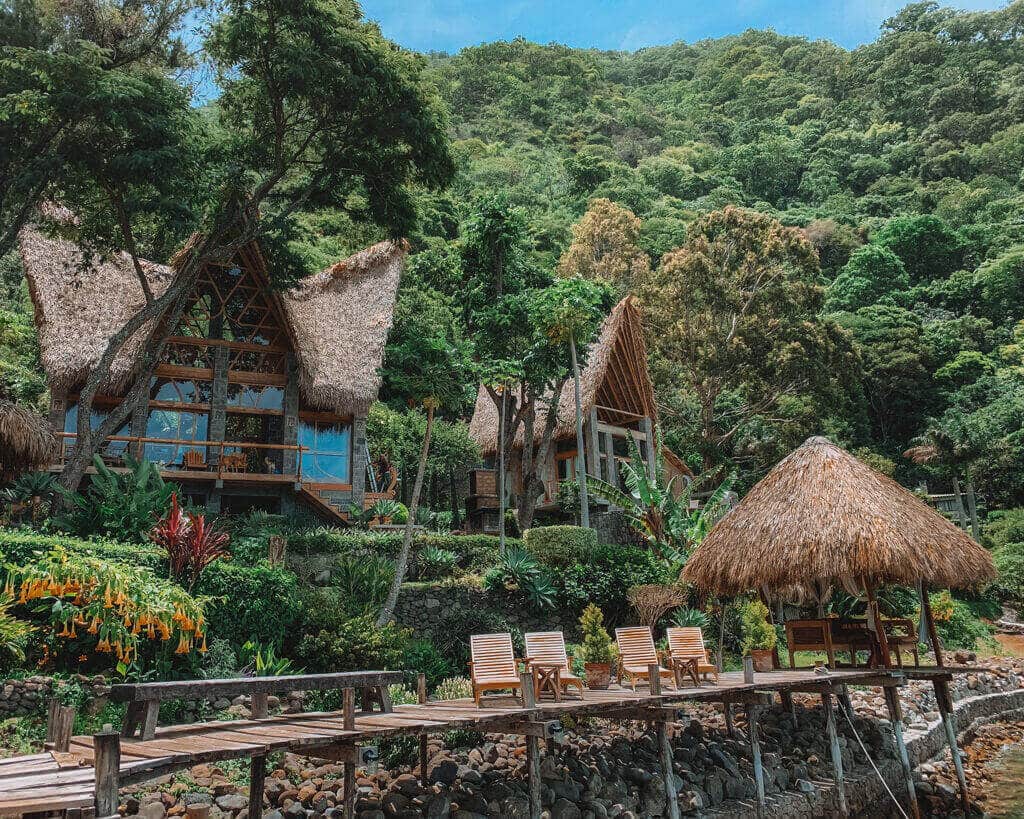 *****
Luan Prabang
When it comes to slow travel, there are few countries that do this as well as Laos. In fact, many locals jokingly say that the PDR in Laos' People Democratic Republic actually stands for Please Don't Rush!
The entire country is adorned with natural beauty; hazy mountains in the north, sleepy islands in the south, and languid rivers in the central provinces. Laos' cities are also surprisingly charming – the capital city, Vientiane, feels more like a large town.
Why not spend an extended period of time in Vang Vieng, where days can be spent cycling in the countryside, enjoying the sunset at a waterfront bar, or getting involved in adventure activities in the surrounding mountains? Or, head to Luang Prabang, where you can dine at the daily night market and explore the plethora of Buddhist temples which pepper the city.
All over Laos, you'll find homestays and guesthouses perfect for the slow traveller. And, as Laos is an inexpensive country to visit, you can find somewhere to stay for really good value. My personal favourite location for slow travel in Laos, though, has to be Don Det – a quiet island on the Mekong, featuring riverside bungalows overlooking the water.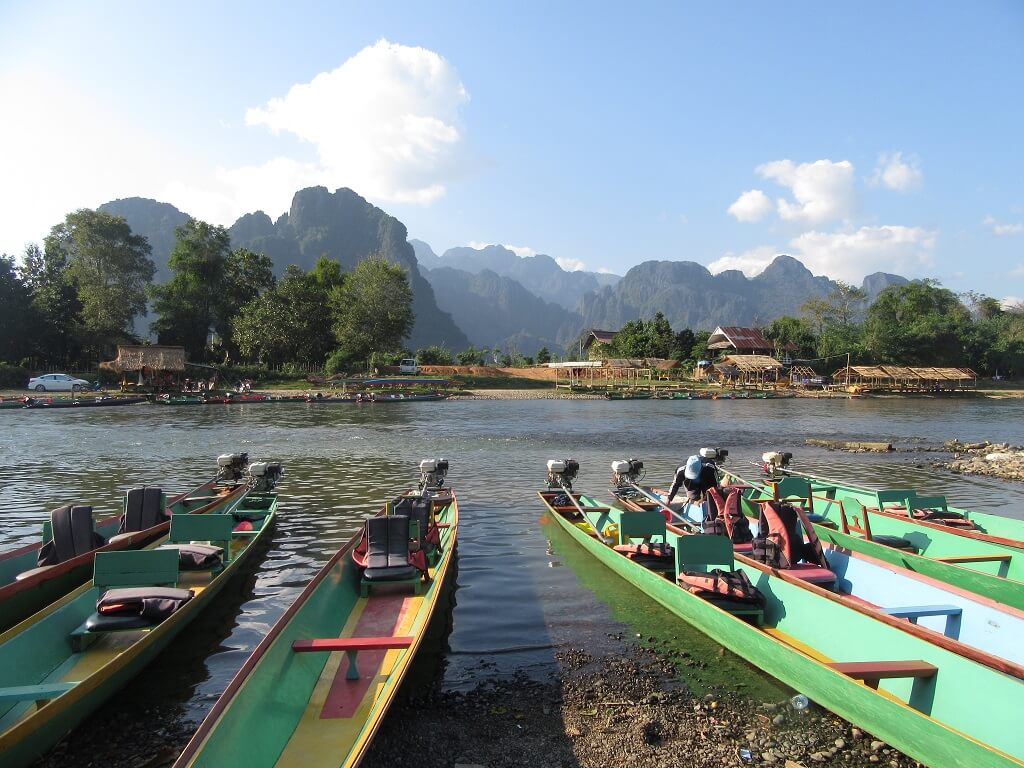 Lauren blogs at The Planet Edit
*****
Morocco
Morocco is the perfect country for slow travel. It offers so much, amazing nature, yummy food and one of the most hospitable people I've ever encountered.
Depending on your preferences and the time of year of your stay, you might want to consider different locations as your base. In the summer, a stay in the mountains, e.g. Imlil, with plenty of hiking options might be the right place. This also gives you many opportunities to get in touch with the locals. There are homestays, local guides and many families in the small hamlets that are happy to invite you for tea, even if you don't speak their language.
Morocco is built on tolerance Mohammed VI, King of Morocco
Click To Tweet
In the winter, you will find the nicest temperatures along the coast. You could base yourself in Essaouira to have the option of visiting a few cities, like Marrakech or El Jadida. Or go further south and stay in Mirleft or Legzira for the most amazing coastline walks Morocco has to offer.
You can rent apartments in any city or village after you arrive. So, I recommend getting a hotel room for 2-3 nights and then look for a local rental agency. They will show you a few apartments, so you can compare. Just make sure you haggle for a good price.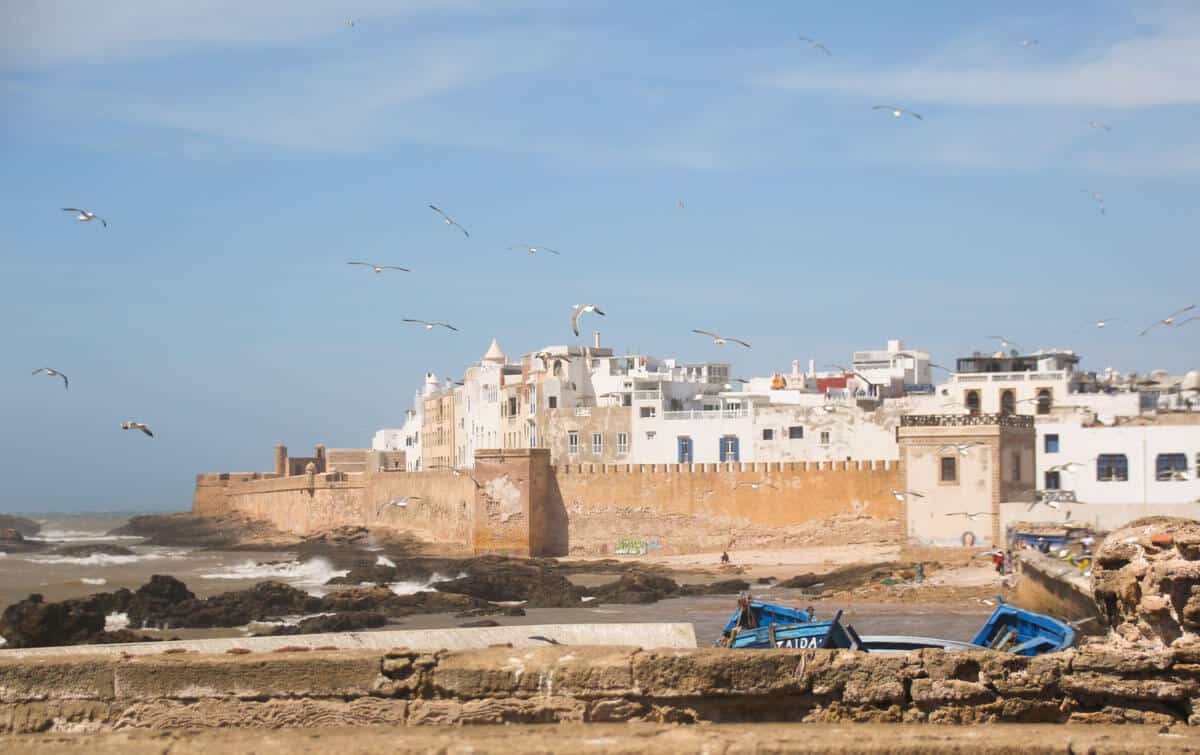 Eva blogs at Not Scared of the Jetlag
*****
Cambodia
Many travellers' experience of Cambodia is of racing around Phnom Penh in a tuk-tuk or speeding between the temples in Siem Reap. But the Kingdom of Wonder has a slow-travel side that not many people take the time to discover. In 2021, swap the usual rapid-fire Cambodia itinerary for a slower paced, culturally focused trip.
After visiting Angkor, linger a little longer in 'Temple Town' – it's the perfect place to learn about Cambodia's spiritual traditions. A full-day Introduction to Buddhism tour with social enterprise Ayana Journeys is the perfect immersive activity.
It requires more time and effort, but travelling to lesser-known temples such as those at Banteay Chhmar, three hours north-west of Siem Reap by car, is also extremely rewarding. The Banteay Chhmar Community Based Tourism Project organises homestays and local guides.
The languid Upper Mekong region and the small cities of Kampong Cham and Kratie are perfect for sauntering bike rides and boat trips. Further east, the remote provinces of Mondulkiri and Ratanakiri are the perfect place to learn about Cambodia's Banlung ethnic group through a forest trek and homestay experience.
Finally, Kampot is just a stone's throw from the busy southern islands and beaches – and yet it feels a world away. Relax in a secluded riverside bungalow, go kayaking in the green cathedral, and join a culinary class at La Plantation where you'll learn to cook with the region's world-famous peppercorns.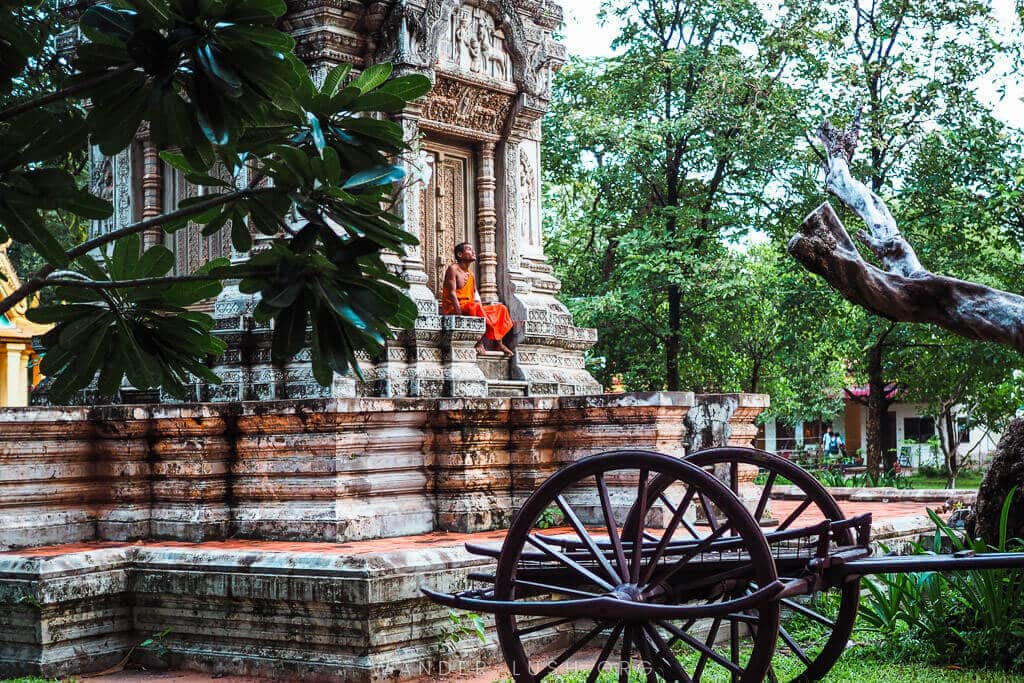 Emily blogs at Wander-Lush
*****
Read about The Great Monkey Attach of Angkor Wat in Cambodia 
*****
The Wild Atlantic Way
The Wild Atlantic Way is a trail that spans 2,500 km through 9 counties along the west coast of Ireland. This stunning region of Ireland is perfect for slow traveling because it has so much to offer that you could spend months exploring it all.
The rugged coastline, dramatic mountains, remote islands, and beautiful beaches make up some gorgeous parts of Ireland that are begging to be explored slowly. Get off the beaten path by visiting Fanad Head Lighthouse, exploring the Glengowla Mines, snorkeling at Coral Strand, and visiting Nohoval Cove.

If you are looking for a true cultural immersion along the west coast of Ireland, try staying with locals through Homestay or Workaway. There are also towns/regions along the Wild Atlantic Way that are called 'Gaeltacht', where Irish is the primary language spoken. Gaeltachts have a culture that is distinct from the majority of Ireland that speaks English, so staying there would be unique.
Find immersive local food experiences along the Wild Atlantic Way through Traveling Spoon, like seaweed foraging or learning about Irish cooking. There are also local oyster, goat cheese, salmon, etc. tastings that are all led by locals!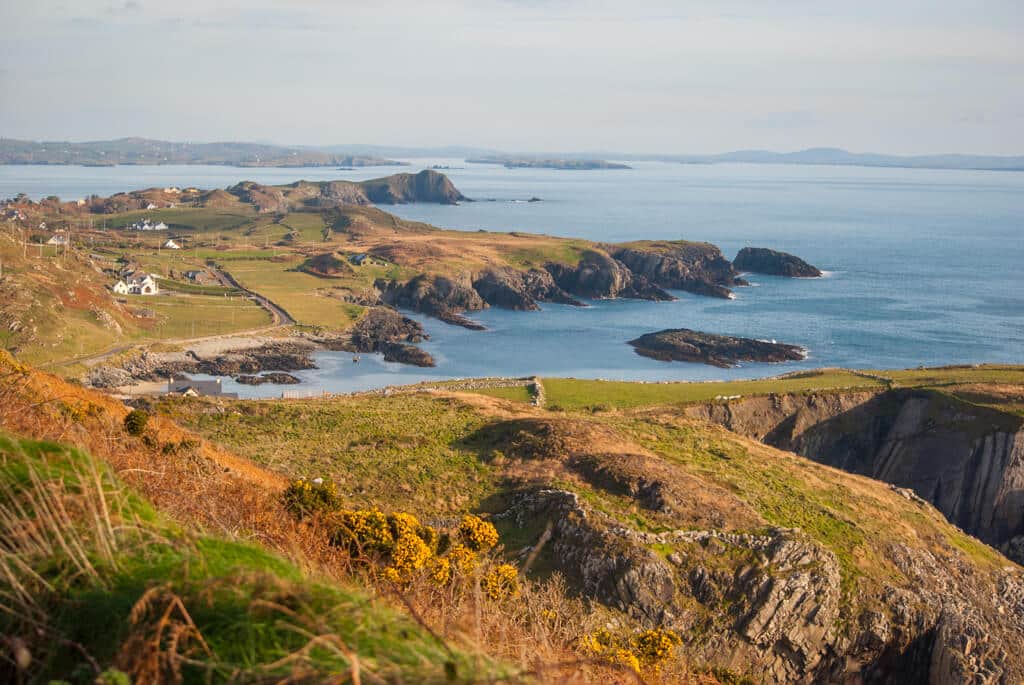 Maria blogs at Maptrekking
*****
*****
What are your thoughts on slow travel? Will it replace traditional tourism? Let us know in the comments.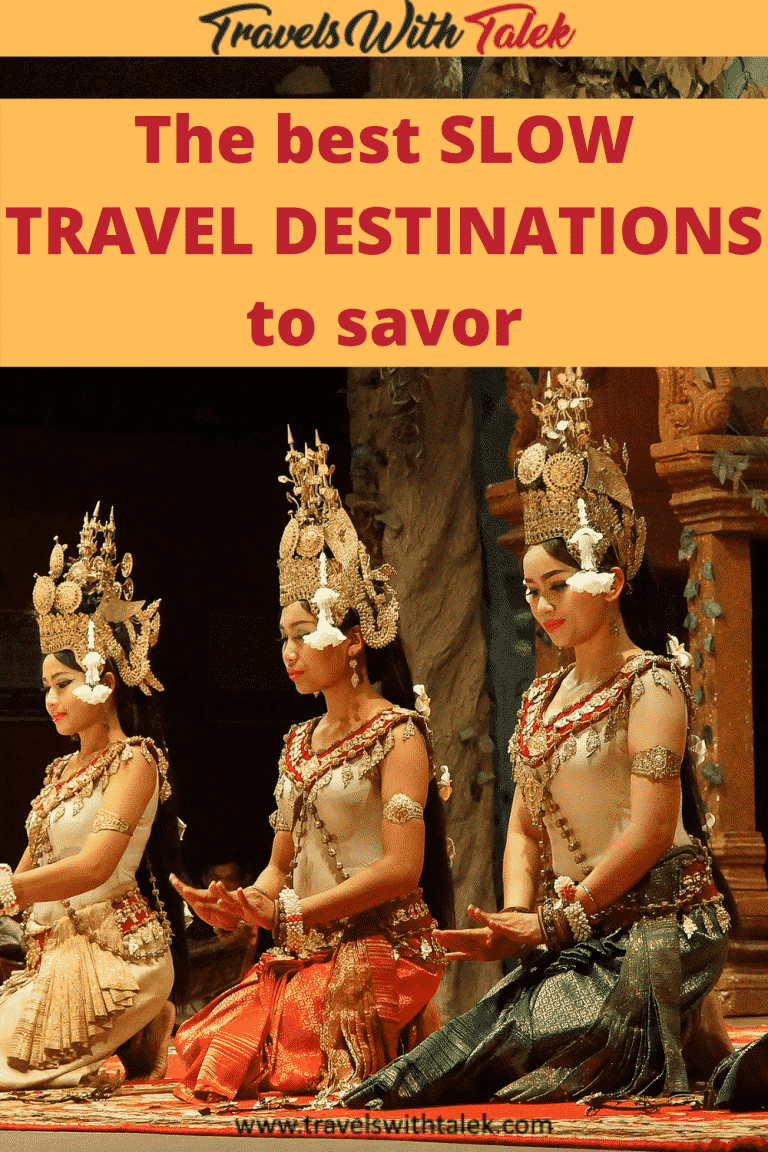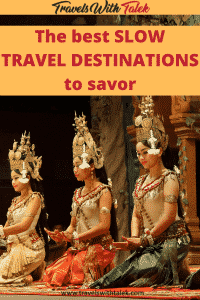 BTW, if you are getting ready for your trip, make sure to take advantage of these useful, money-saving links to book your trip:
I personally use, and can recommend, all the companies listed here and elsewhere on my blog. By booking through these sites, the small commission we earn – at no cost to you – helps us maintain this site so we can continue to offer our readers valuable travel tips and advice.