Updated November 21, 2021
The best things to do in Savannah are to absorb the historic atmosphere and sample the mouthwatering southern cuisine. If you're planning a day trip to Savannah and want to maximize your visit to this beguiling city, check out these eight suggestions.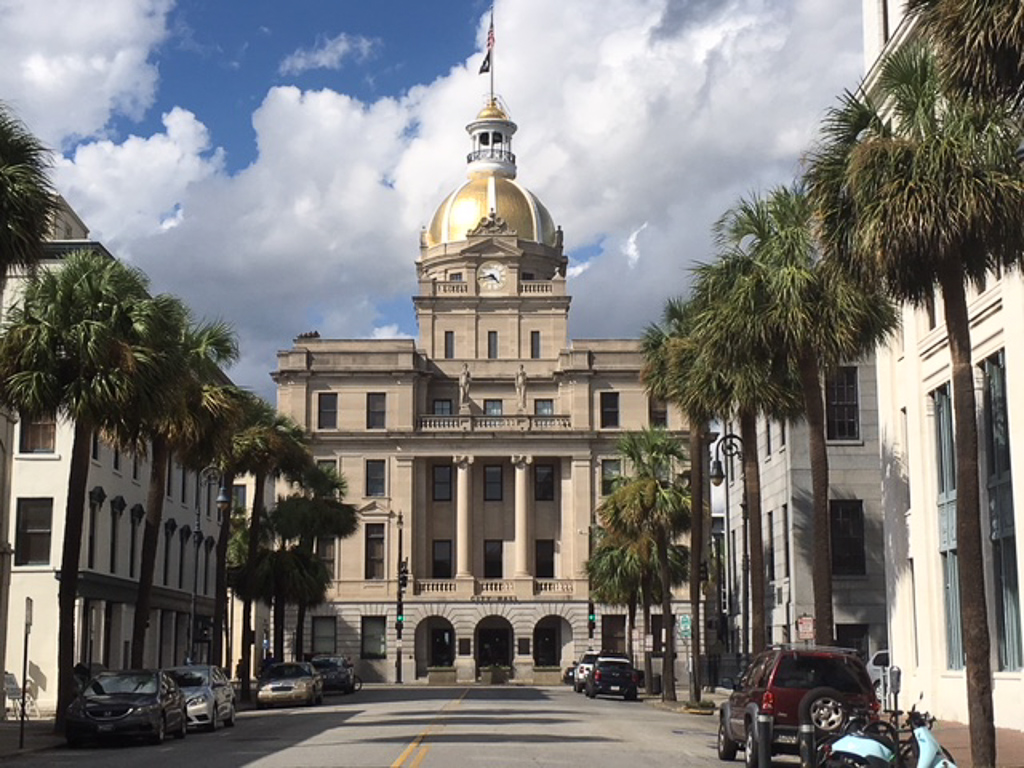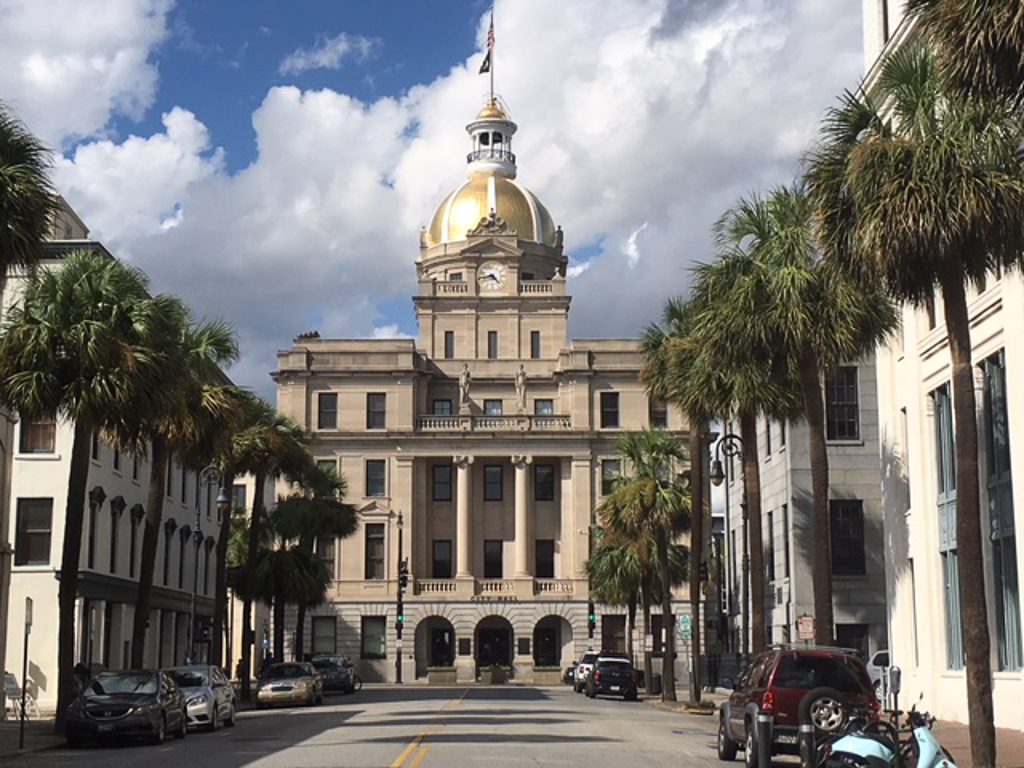 BEST THINGS TO DO ON A DAY TRIP TO SAVANNAH
Take a Trolley Tour
If your time is limited on your day trip to Savannah, Hop-on-hop-off buses and trolleys are an efficient way to get a feel for a city quickly. Old Town Trolley Tours does a good job of highlighting the city's main points of interest on a 15-stop tour. For $30.00 the tour will take you through the main neighborhoods, parks, and riverfront. Get off where you want and hop back on when you're ready.
We were lucky to get a good tour guide with a solid grasp of the city's history, gossip, and facts. A big plus of this tour is the free parking provided, which in the historic center of Savannah is a major advantage.
Explore Savannah's Squares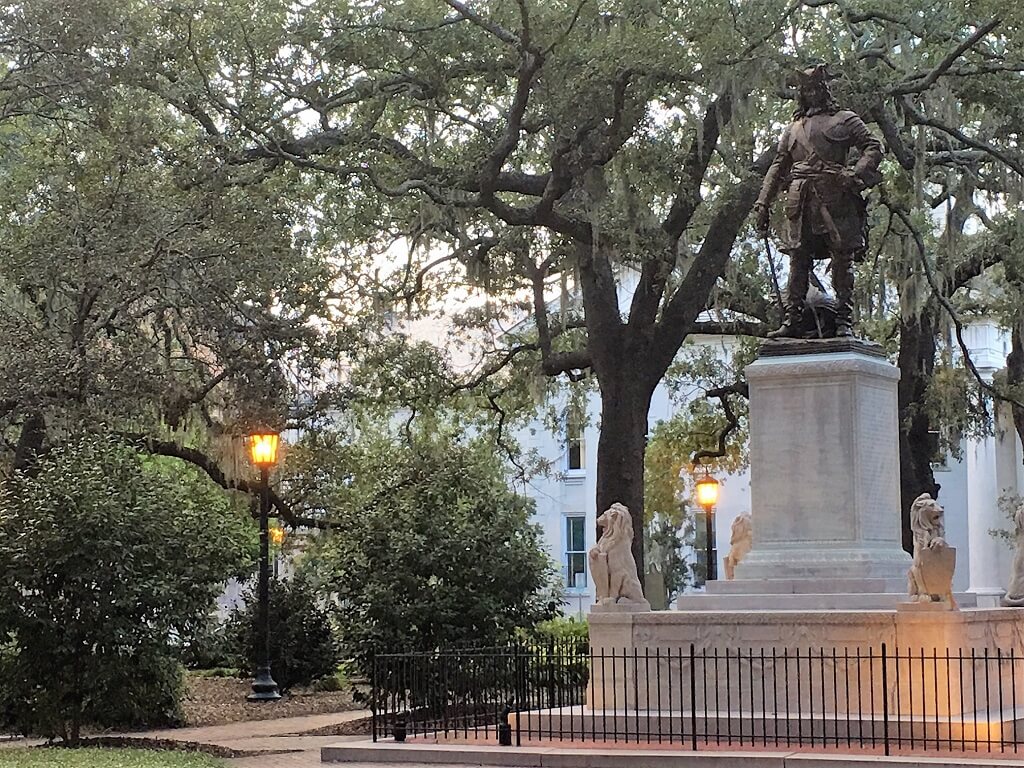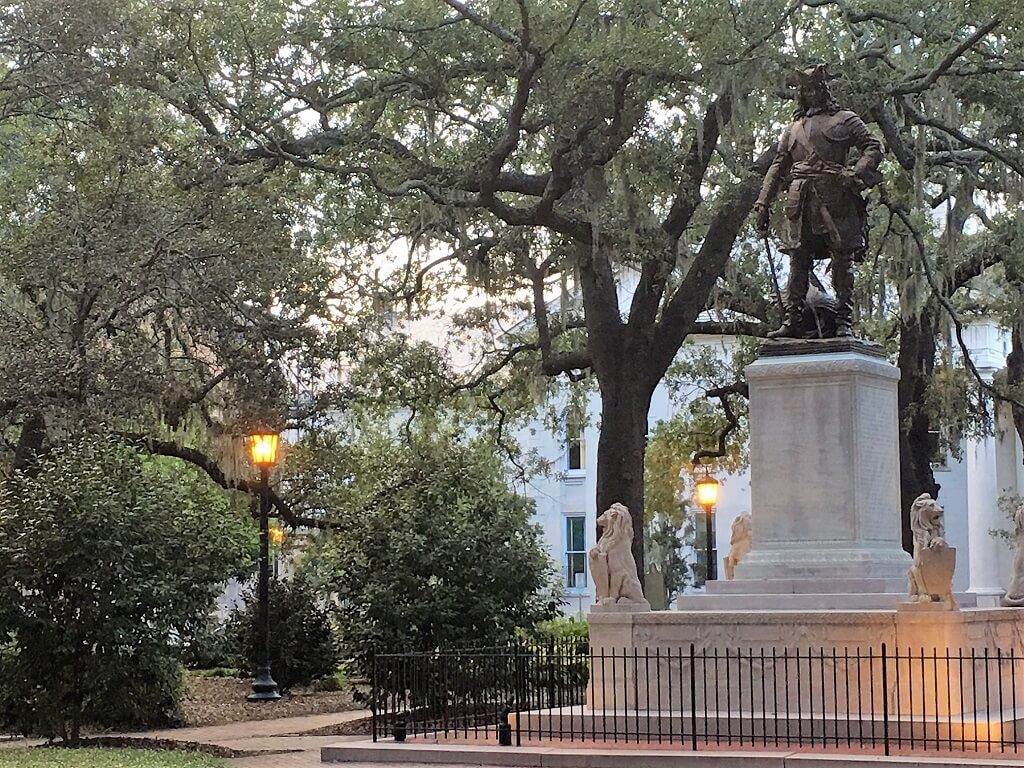 Savannah is a city of firsts.  It was the first planned U.S. city. In 1733 Englishman James Oglethorpe and a group of 114 colonists arrived on the banks of the Savannah River and founded America's 13th colony.  Oglethorpe planned the layout of the city establishing 24 squares. Twenty-one of these squares still remain today.
The best way to discover the city on a day trip to Savannah is to wander around these squares reading the historic markers and absorbing the atmosphere. The squares were originally planned as strategically placed locations where the citizens could meet and organize to protect themselves against the Spaniards to the south, and potentially dangerous native Americans.
The squares are all beautifully maintained with thick, leafy foliage, manicured lawns, monuments to local heroes and plaques explaining the city's history.  Most squares are surrounded by architecturally impressive mansions or stately homes steeped in history.
Savannah is a . . . lovely pastel dream of tight cobbled streets. . . . There are legendary scenes . . . to rival any dreamed up by Tennessee Williams.
Click To Tweet
Get Spooked at a Haunted House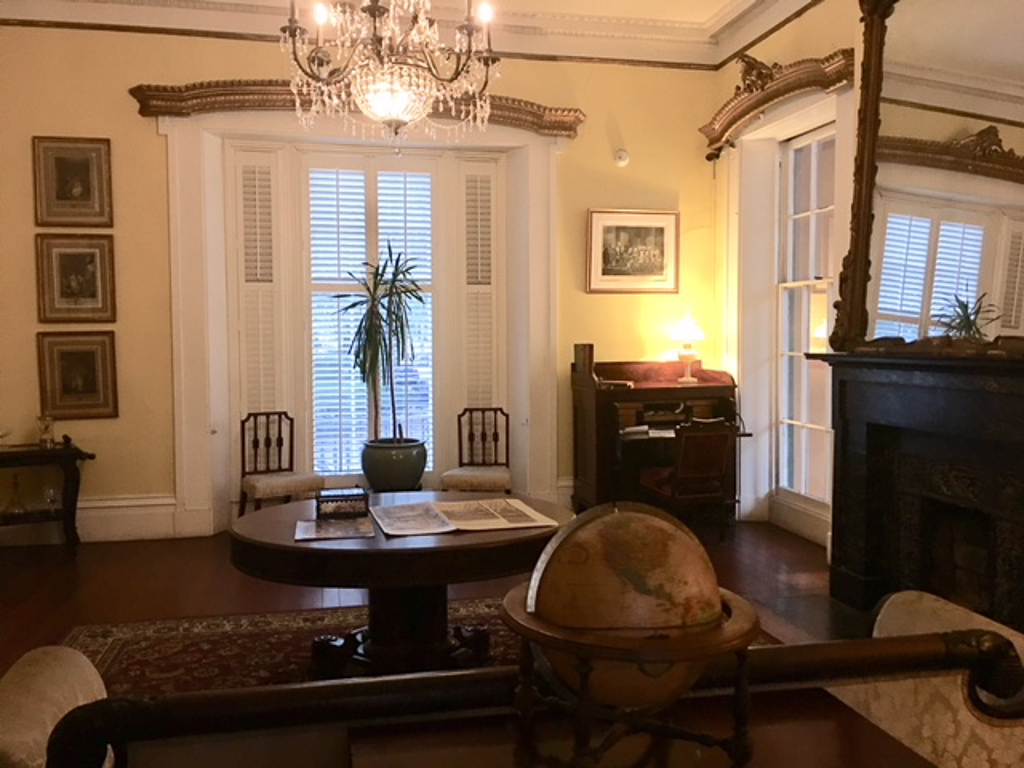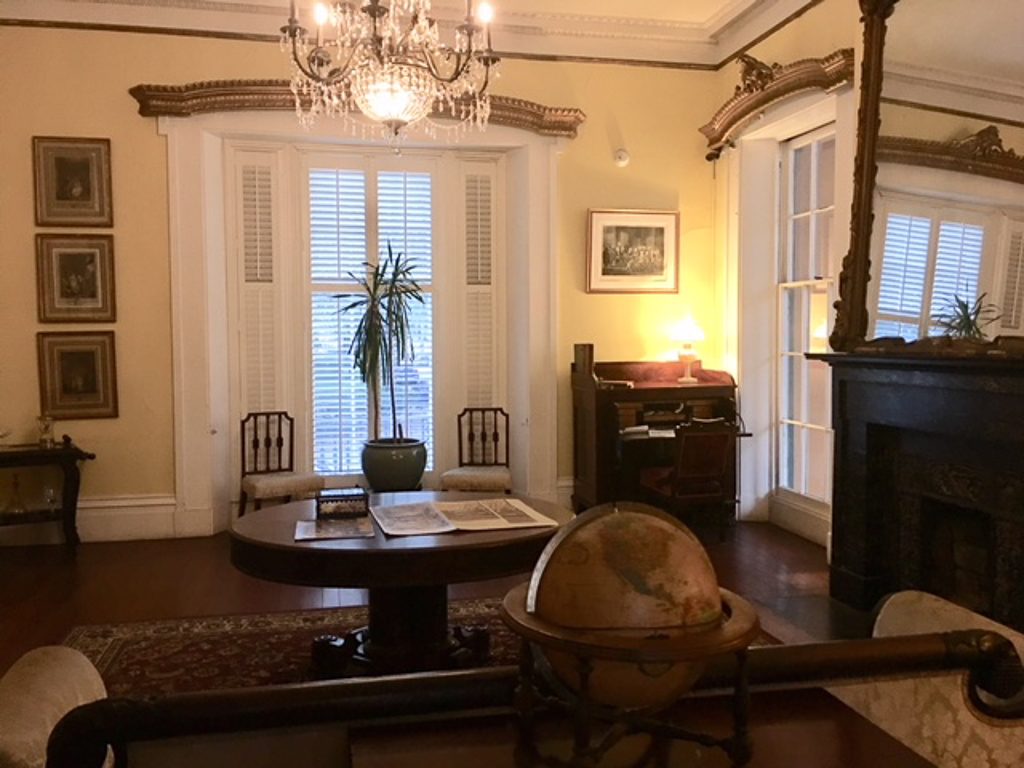 Savannah loves its ghosts and meeting them is one of the best things to do on a day trip to Savannah.  There are several haunted tours in the city.  One that gets a lot of press is the Sorrel-Weed House, rumored to be the most haunted in Savannah.  The 2-hour tour takes you through the 19th Century rooms where the tour guide will show you photos of ghosts that appeared in photos taken by unsuspecting tourists.
More ghosts are reported to lurk in the basement and other parts of the home. Guests are cautioned to hold on to their earrings as a certain ghost named Nellie may pull the earrings off and hide them.  The management takes no responsibility for the mischievous antics of their resident ghosts.  Good fun, and even if no ghosts annoy you, you will still get a chance to see a beautifully appointed, typical period home, one of the best things to do in Savannah.
Enjoy an Authentic Southern Meal
It's pretty easy to get good, southern cuisine in the low country — even if you're just on a day trip to Savannah. Any cursory search will yield a wide range of cuisine specialties. Without a doubt, one of the best things to do in Savannah is to EAT! Three restaurants kept rising to the top in any search undertaken.
The Pirates' House, specializing in seafood, is a complex with multiple dining rooms said to be in existence since 1753. It is here where you will find what the tour guides say is the oldest house in Georgia. Pirates gathered here to recount their sea-borne adventures and Robert Louis Stevenson was inspired to write Treasure Island in these taverns.
Vic's on the River, as the name implies is on the Savannah River, an area ringed with historic building sitting on the original cobblestones. Vic's specializes in southern cuisine with a focus on seafood.  Here is where I tried one of Savannah's specialties, she-crab soup.  Everything was good here, the food, service, location and value-for-money price.
The Olde Pink House, on one of Savannah's most beautiful squares is an 18th Century mansion converted into an upscale restaurant specializing in southern fare. The mansion is beautiful with several dining rooms decorated in period furniture It's like eating in a museum. As impressive as the restaurant is, the underground bar is even more so. It is a dimly lit, cozy welcoming venue resembling a speakeasy. It also offers one of the best martinis I've ever had.  This location is definitely a Savannah highlight.
You can't beat Savannah for eats. And here is a guide to the best food in Savannah and where to eat it.
Mandatory Day Trip to Savannah Activity: Eat Ice Cream at Leopold's
Eat ice cream at Leopold's.  Apparently it's the law in Savannah. You MUST go here and indulge in decadently rich and creamy ice cream. Ask anyone who has even a passing familiarity with Savannah what they think you should do in the city and they will invariably tell you, "Have ice cream at Leopold's." They're right. The stuff is amazing.
Leopold's is an old-time ice cream parlor on Broughton Street, Savannah's main drag.  The location is decorated in the style of an American movie theatre lobby from the 50s complete with vintage movie posters and polished wood paneling. They offer tons of flavors and little samples to tempt you. Yum!
Explore Bonaventure Cemetery
Explore Bonaventure cemetery.  About 20 minutes from the center of Savannah is Bonaventure Cemetery, on the grounds of what was once a plantation.
This cemetery was made famous by the novel-turned-movie Midnight in the Garden of Good and Evil by John Berendt.  The book tells the story of a local antique dealer who kills a young man, goes to trial and is eventually acquitted.  Along the way, the book introduces the reader to an interesting collection of local Savannah characters. One of these is a voodoo priestess who performs ceremonies late at night in Bonaventure Cemetery.  The book and movie are worth exploring to set the mood for a day trip to Savannah.
The stately mansion where the murder took place, the Mercer Williams House, is a museum today offering daily guided tours of the property.
The cemetery itself is not large, but the grounds are beautiful, and it does have a nice collection of interesting monuments. A popular one is "Grace" the pretty little 6-year-old whose charm inspired the sculptor to create her life-size statue.  It is worth wandering the tombs under the large live-oak trees covered in Spanish moss.  As is the case in most cemeteries, if you read the tombstones you get a mini-history lesson of the area.
Visit the Jepsen Center for the Arts
One statue you won't find here is the "Bird Girl," which is the symbol of the cemetery and the picture on the cover of the book by John Berendt. After the popularity of the movie and book in 1994, tourists began to flock to Bonaventure to see the statue.  Fearing the statue might be damaged, the city of Savannah moved the statue to the local Telfair Museum's Jepsen Center for the Arts to protect it.
There is a sign on the museum's door that says, "She is here!" along with a picture of the statue. If you like art and architecture, a visit to the museum is one of the best things to do on your day trip to Savannah.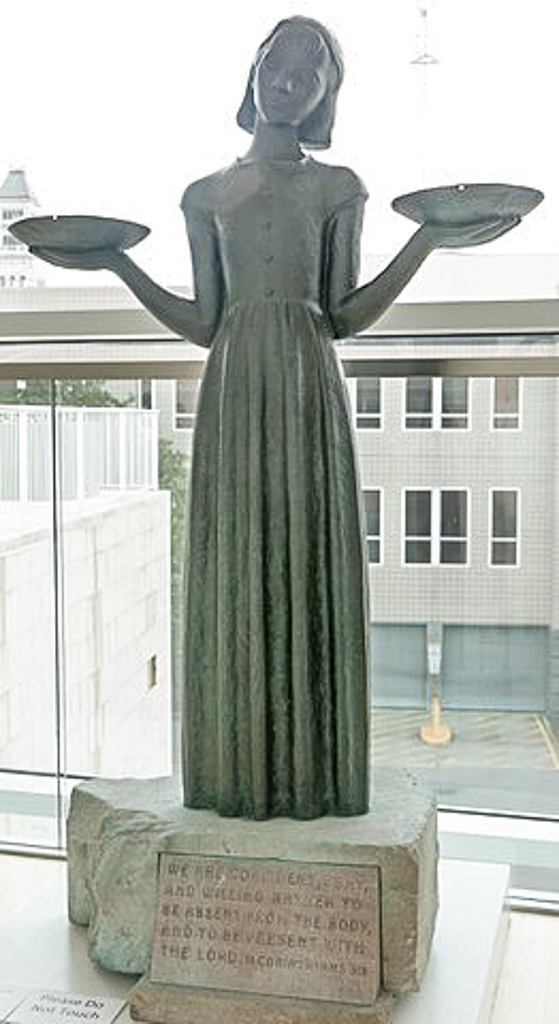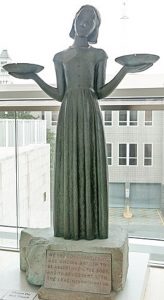 A day trip to Savannah is nowhere near enough time to truly appreciate all this beautiful and quirky city has to offer. My one regret is that I didn't realize how interesting Savannah was going to be before I visited. I should have made arrangements to stay longer.
If you are planning your trip and wondering if one day is enough in Savannah, it isn't. Try to plan for 2 or 3 days to really experience the best things to do in Savannah and make sure to explore more fun and cool things to do in Savannah.
Here are some top guide books to help you maximize your trip: Fodors in Focus: Savannah,  The Savannah Walking Tour, Savannah Historic District, and A Self-Guided Tour of Savannah.
Discover cool hotels to stay in Savannah here.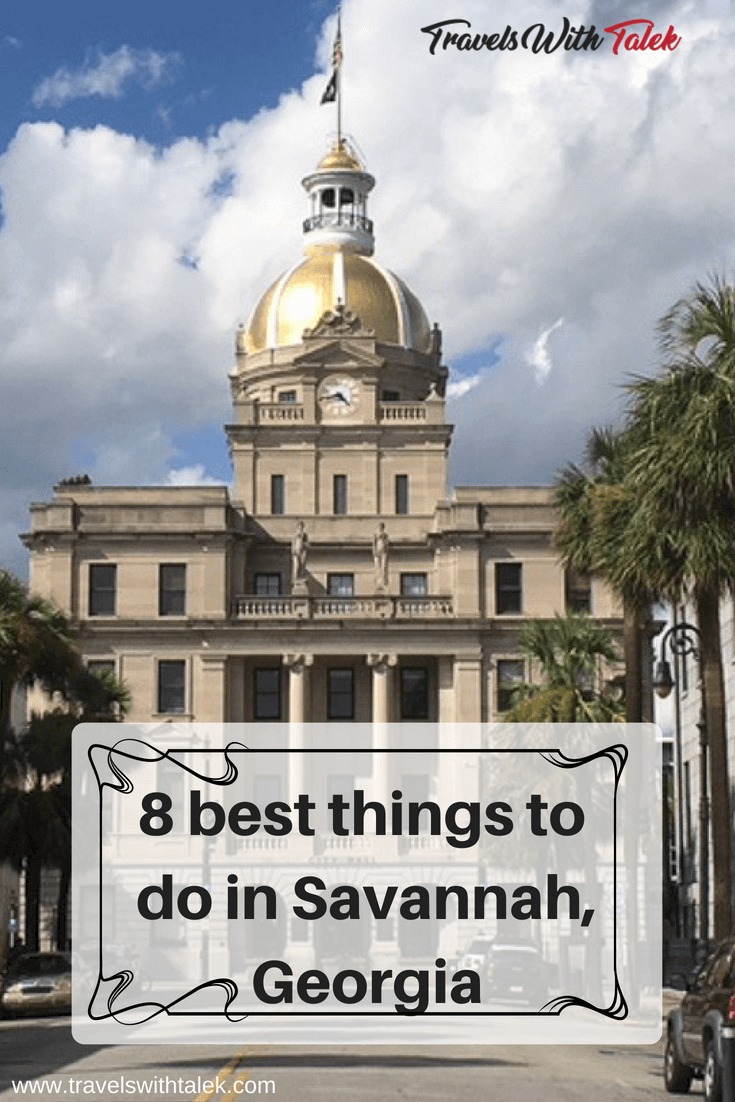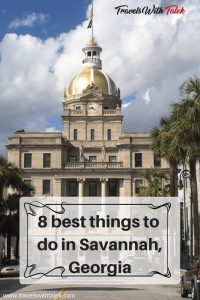 BTW, if you are getting ready for your trip, make sure to take advantage of these useful, money-saving links to book your trip:
I personally use, and can recommend, all the companies listed here and elsewhere on my blog. By booking through these sites, the small commission we earn – at no cost to you – helps us maintain this site so we can continue to offer our readers valuable travel tips and advice.