Foodie travelers rejoice! Here are 22 gourmet ice cream shops around the world you will hate to miss. With entries from India to Iceland to the United States, surely there is an ice cream shop that will suit your fancy.
These are some of the best ice cream shops in the world. Is YOUR local ice cream shop on the list? 
22 Gourmet Ice Cream Parlours
Around the World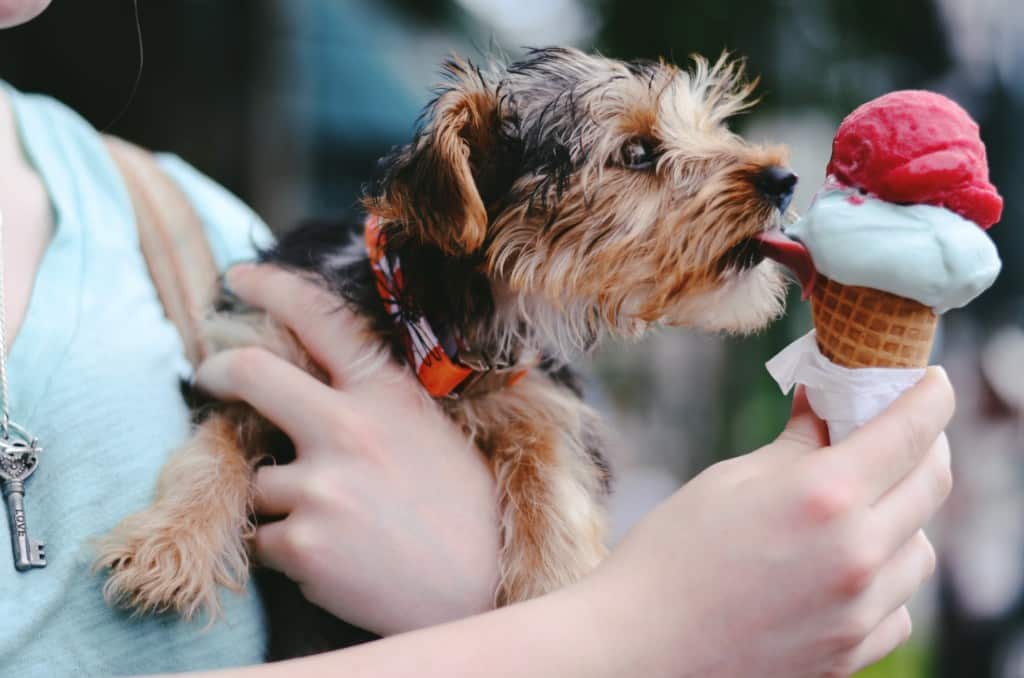 Europe, Mexico, and India
Murphy's Ice Cream, Ireland
How does sea salt ice cream sound? I wasn't interested when I first heard of it, but when I sampled the flavor made by Murphy's ice cream with their own sea salt, I was sold. I asked myself, "Is this the best ice cream in the world?" It is delicious on its own, but also great combined with chocolate or one of the other flavors. If you are in Ireland, make sure you find your way to one of Murphy's six locations and try a few of their unique flavors like caramelized brown bread, caramel honeycomb, or Irish coffee with whiskey.
While in Ireland, check out all the things Ireland is famous for or take a tour of Ireland.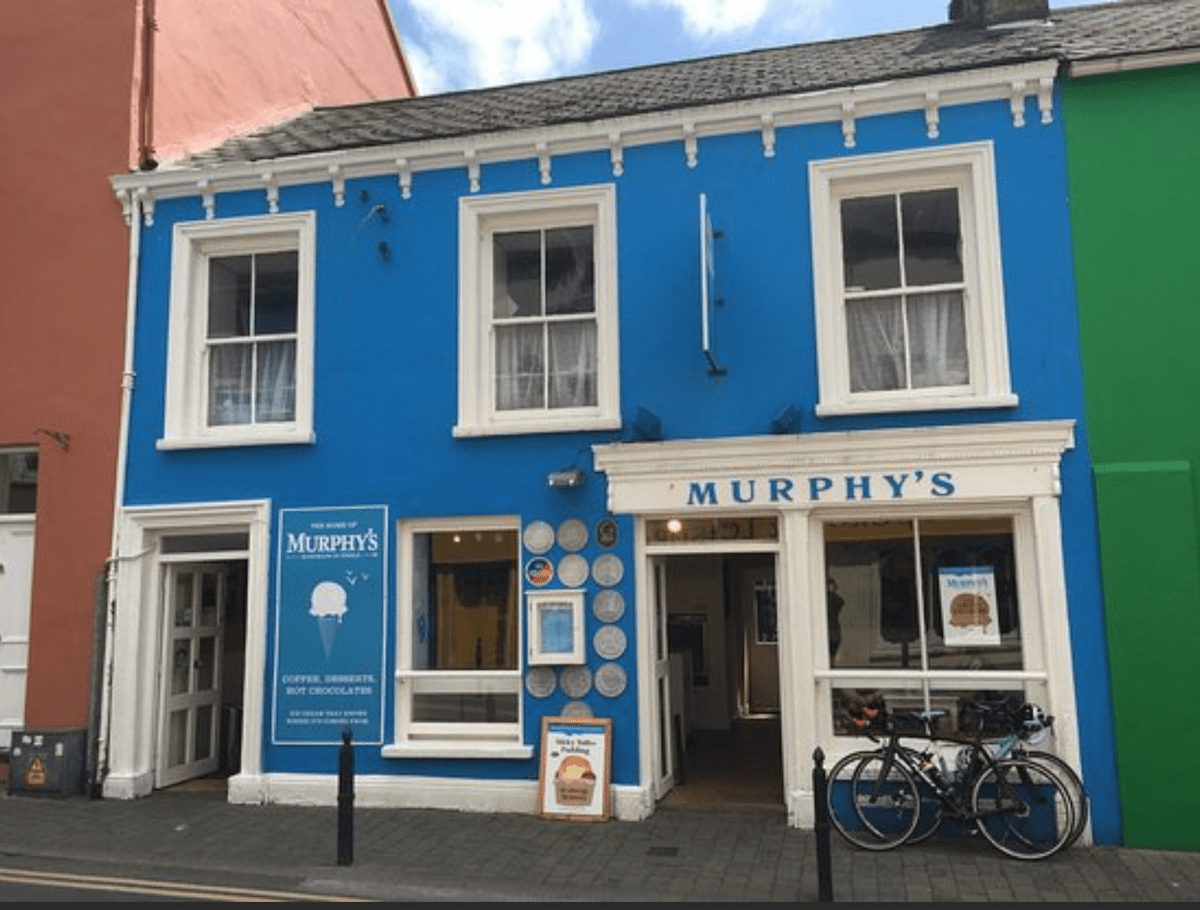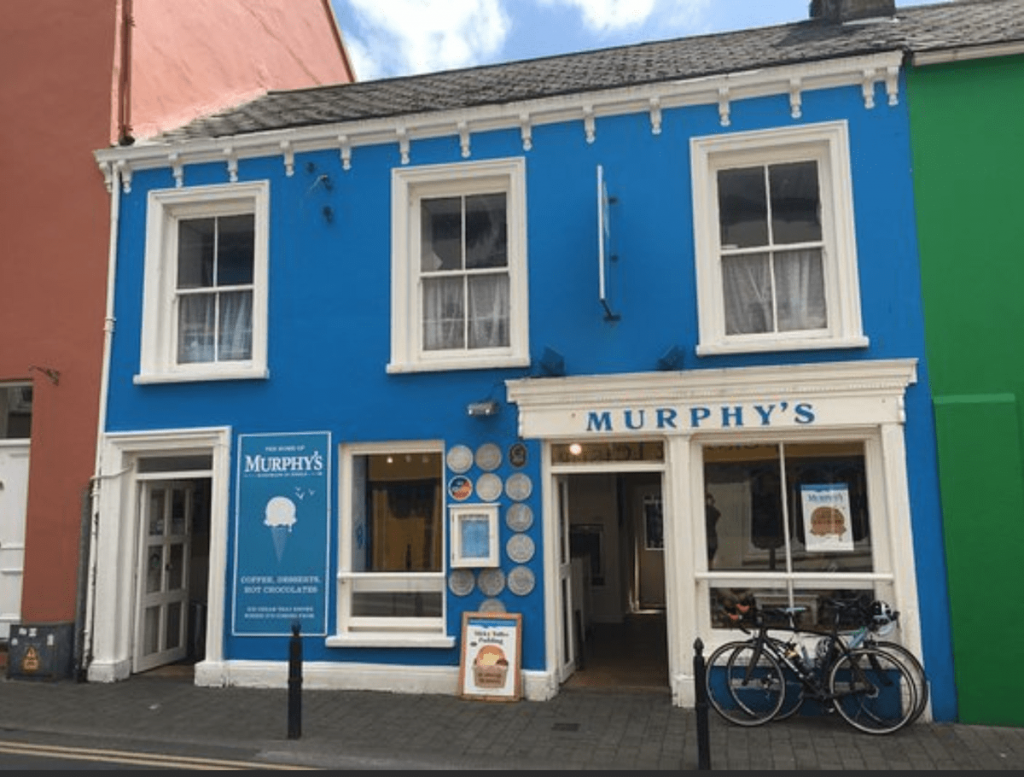 Dan Bagby blogs at Honeymoom Always.
---
Fusciardi Ice Cream Parlor – Eastbourne, England
Eating ice cream on the beach is as British as that other popular beach snack, fish and chips. The best local ice cream parlour in Eastbourne, a traditional English seaside resort, made popular by Victorians is Fusciardi Ice Cream Parlor on Marine Parade. The lines can go around the block to get some of their ice cream, and it's easy to see why. It was started by a local family of Italian origin and brings the best of Italian gelato making to the British scene to get fun fusion blends like Eton Mess ice cream!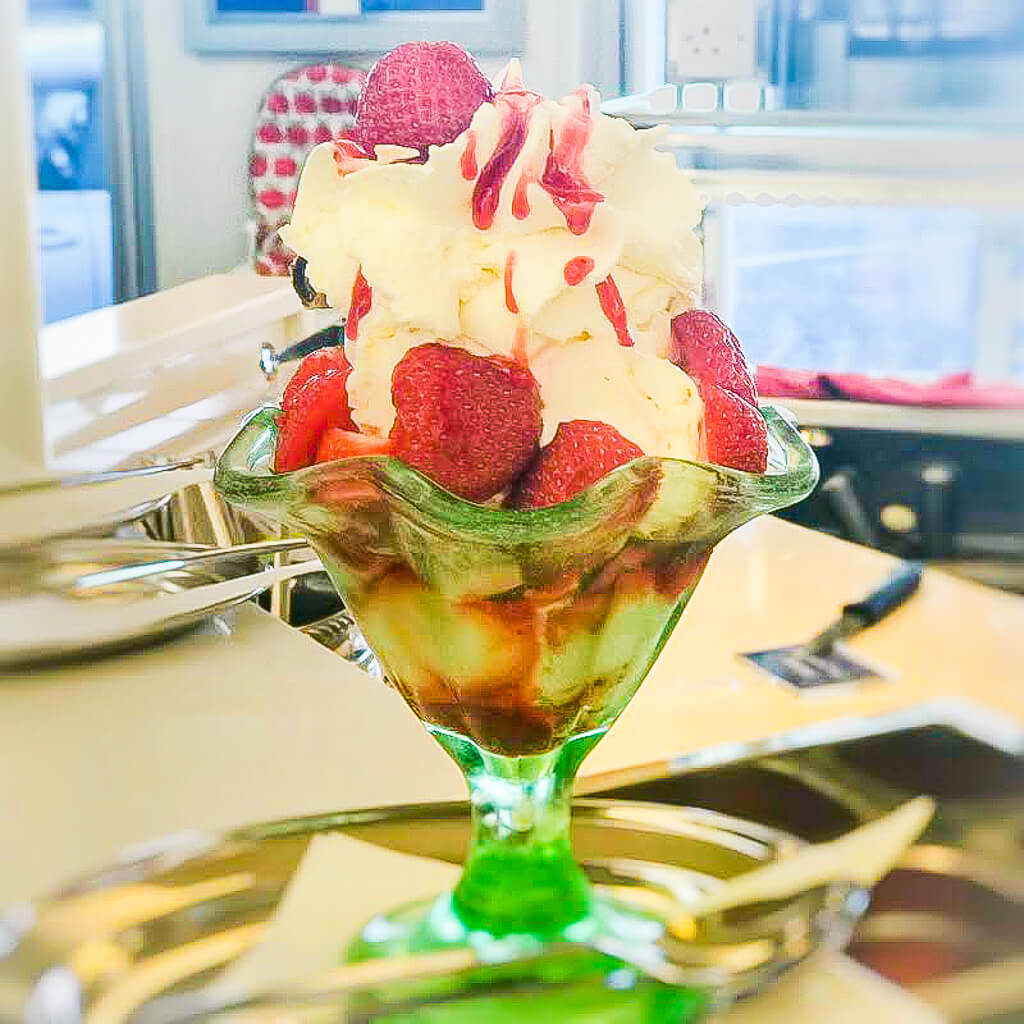 Shobha George blogs at Just Go Places.
---
Zanoni & Zanoni / Ferrari Gelato – Vienna, Austria
Vienna's ice cream tradition dates back to many decades ago, with one of the top 10 local gourmet ice cream parlours in the city opening in 1952, while another famous one in 1971. There are 154 ice cream parlours as of 2016, and many coffeehouses serve ice cream and gelato as a dessert.  There's even the Vienna Ice Cream Festival to celebrate in the summer. Surprisingly, Vienna is said to be Europe's ice cream capital, despite Italy's more famous gelato culture. It's because most of the ice cream parlours in Vienna were brought about by Italian ice cream makers.
Two of the more famous gourmet ice cream shops are Zanoni & Zanoni (founded 1952) and Ferrari Gelato (founded 2014). Despite the very big difference in their "experience", these two top my favourites: Zanoni for their dark chocolate ice cream and large servings; Ferrari gelato for their matcha ice cream and freshness.
Zanoni & Zanoni also has a wide selection of ice creams, probably the most in Vienna. The branch in Schwedenplatz has a big sitting capacity within its dining area (inside and outside) – even late at night. They also have frozen yogurt and fresh fruits if you prefer more fiber in your dessert.
Ferrari gelato, despite being newly opened, has already made a name for themselves in the Viennese market. Ferrari is a self-service ice cream parlour, and although it has a smaller dining area, most of us only take our cones out, enjoying the beautiful landscape of Vienna with it in one hand.  Ferrari also serves yummy sorbet in case you are in a mood for some fruity flavor, less the cream.
Gizelle blogs at 101 Facets.
---
Østerberg Ice Cream – Copenhagen, Denmark
If you want to taste the best gourmet ice cream in Copenhagen, you'll have to head a little further from the main tourist routes. When in the Danish capital, come taste the world at Østerberg Ice Cream. Owner and ice cream scientist Catherine Østerberg is also a flavor artist. With two locations in Denmark to serve you, there are delicious traditional Danish tastes like sea buckthorn, elderflower and the classic licorice. Catherine has another shop in Vietnam and brings those exotic flavors back to Copenhagen. Look for pretty pink yuzu hibiscus, red dragonfruit, soursop sorbet and more.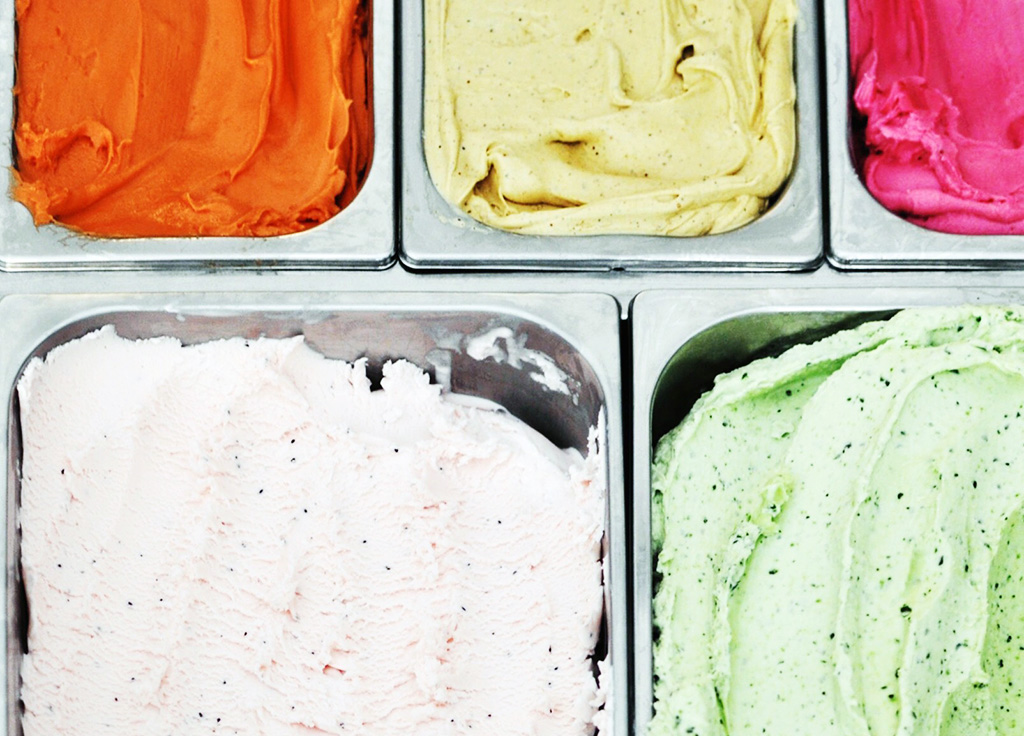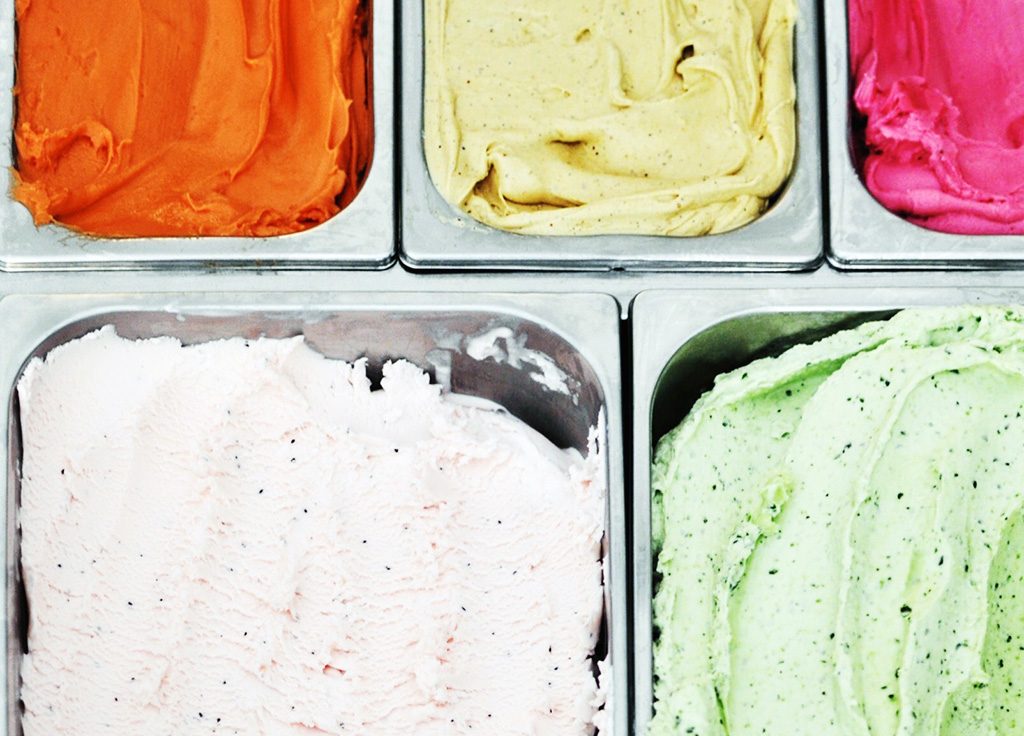 Erin Gustafson blogs at Oregon Girl Around the World.
---
Apsara Ice Creams – India
India's secretly famous ice-cream company, Apsara Ice Creams, have been delighting their customers since 1971. They make these frozen desserts using traditional wooden contraptions called "sanchas." I absolutely love the creamy texture of their ice creams! Interesting flavours include sweet lime with almonds, orange with dried apricot, Indian kulfis in local fruit flavours, pani-puri (a savoury Maharashtrian street-food) sorbet, chikki, paan (betel leaf) and thandai (north Indian dessert). They also have a range of sugar-free ice creams for those who are diabetic. 
I have to believe this is the best ice cream ever. At least this has got to be in the top 10 ice cream shops in the world.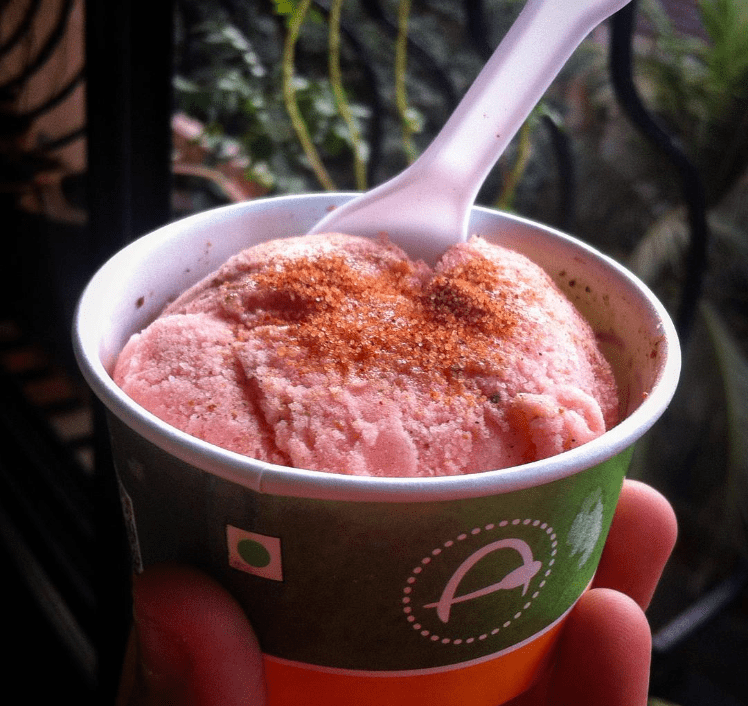 Oindrila De blogs at Oindrila Goes Footloose.
---
David's Gelato – Gouda, The Netherlands
Gouda is best known for its cheese and stroopwafels, but you can't visit this quaint Dutch city without visiting David's Gelato parlour on Lange Tiendeweg.
When I arrived in Gouda, almost everyone I met told me I had to go there, and every time I passed, there was a queue trailing out the door. Available in a variety of flavours, the gelato is hand-crafted using locally sourced fresh fruit and fresh milk.
I treated myself to a double scoop cone with strawberry and passion fruit gelato. It was so big, it took me half an hour to eat – and it tasted amazing!
Local tours of The Netherlands.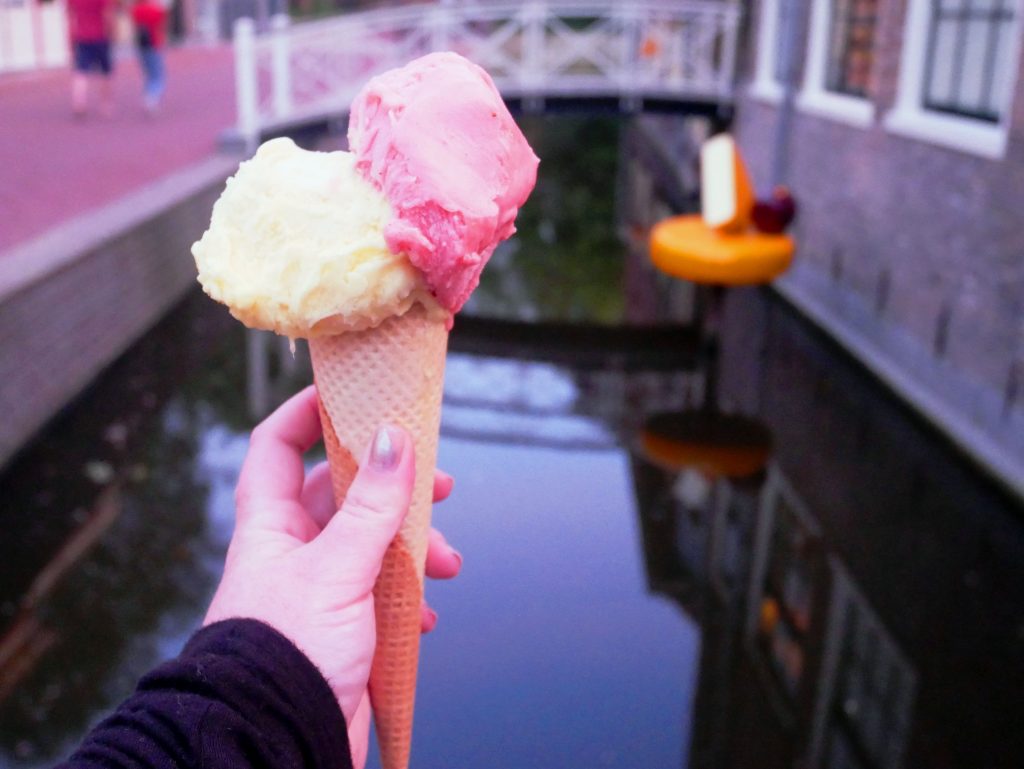 Kacie Morgan blogs at The Rare Welsh Bit.
---
Il Vizi degli Angeli – Matera, Italy
We've eaten a lot of gelato in Italy, but nothing compares to the gelato at Il Vizi degli Angeli on Via Ridola in Matera, a wonderful Italian ice cream shop. offering gourmet ice cream. The gelato and sorbets here are made fresh every morning – and they taste like it. We loved some of the more unusual flavours like pine nuts, bergamot, profumo di primavera (milk, thyme and lavender) and asteroide (caramel cookies with huge chunks of caramel biscuits). Order a cone with two scoops so you can try some of their heavenly combinations – pineapple with ginger is my new favourite ice cream combo ever.
What's more, this gelateria is in one of Italy's most exciting places. Matera, in the southern region of Basilicata, is one of the oldest cities in the world. It's a city of caves, perched on the edge of a ravine and it's one of the most extraordinary places you'll ever visit.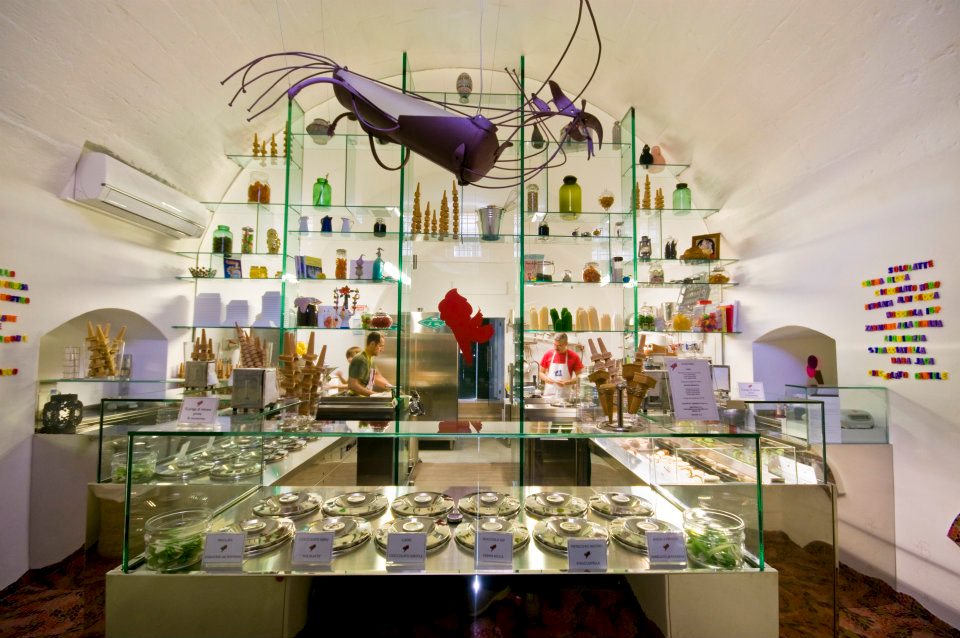 Clare Thomson blogs at Suitcases and Sandcastles.
Want to learn more about southern Italy? Check out this road trip from Naples to Palermo, the capital of Sicily.
---
Gelarto Rosa – Budapest, Hungary
Budapest is home to Gelarto Rosa, one of our favourite ice cream shops on the planet. Located in the historic Szent István Square, close to beautiful St. Stephens Basilica on the Pest side of the city, Gelarto Rosa creates truly visually stunning ice creams and always has a steady queue outside its doors.
Its signature gourmet ice creams are sculpted to resemble delicate roses, and there is an air of romance with every scoop. The selection of flavours is mouthwatering (pear and salty chocolate is our top pick!), and the rose sculpted ice-creams look so pretty you honestly may not want to eat them!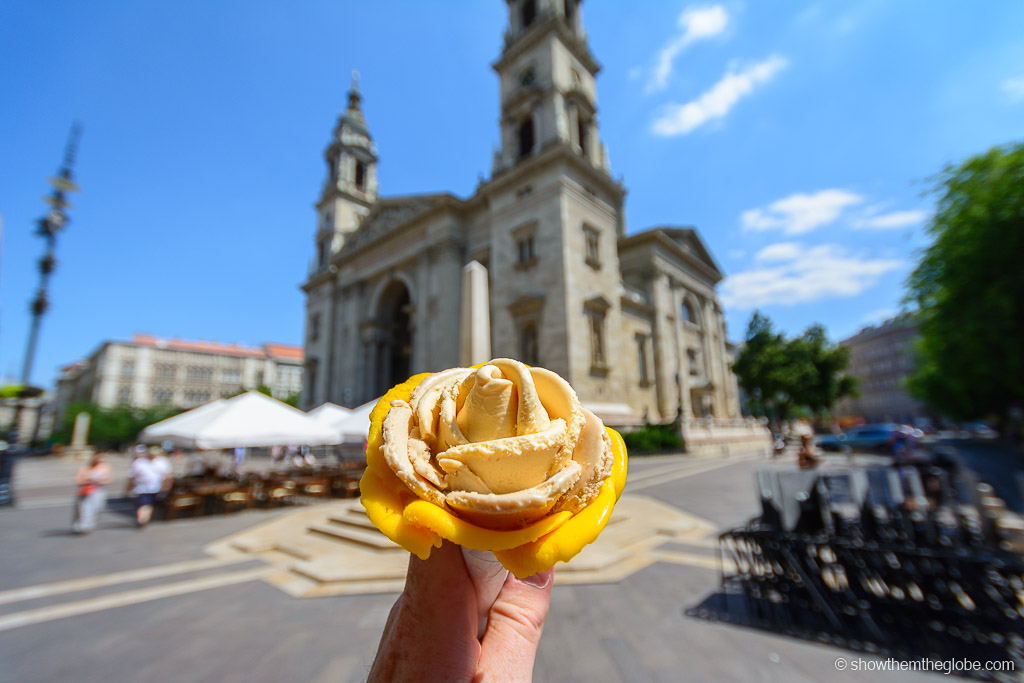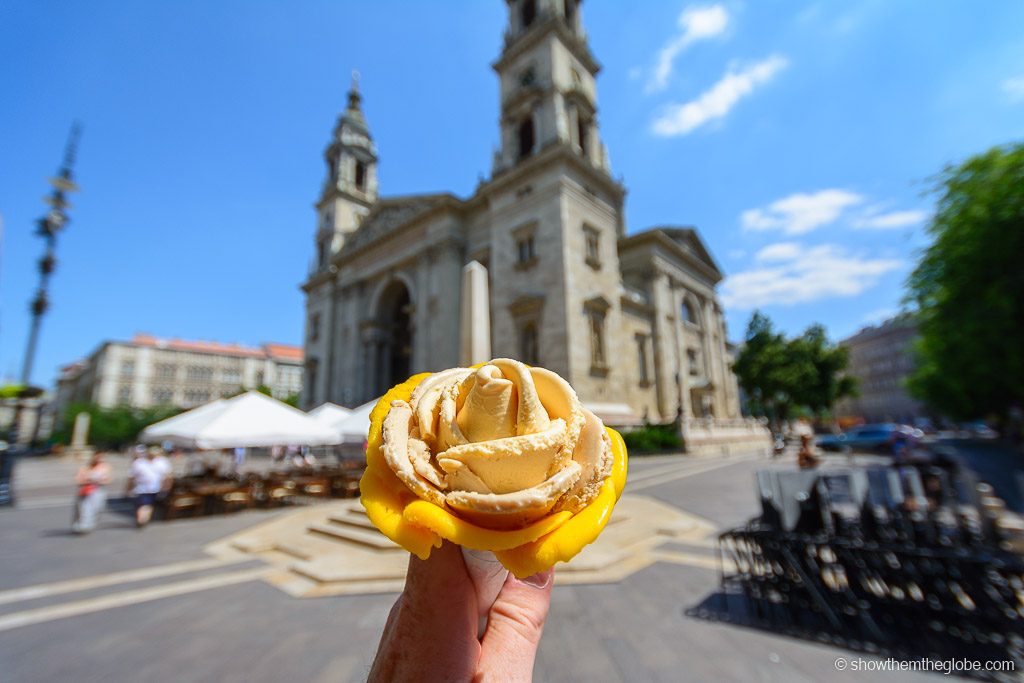 Elaine and Dave blog at Show Them the Globe.
---
Come il Latte Gelato – Rome, Italy
My vote for the absolute best gelato in Rome goes to Come il Latte.
Come il Latte means "like milk." And true to their name, they make creamy gelato that is decadent and delicious, with more than 40% sweet cream in every gelato flavor! (They also have several non-dairy flavors and those are wonderful as well.) Gelato artigianale at its best, Come il Latte serves up fresh, natural, flavorful ingredients in every flavor, from classics like pistachio to exotic combinations like mascarpone with biscotti.
And the kicker? You can have rich dark or white chocolate swirled around your cone before the gelato is added. Aaaand…you can have flavored whipped cream on top! How cool is that?! Go, Italian ice cream! 
If that is not pure, sinful decadence, I don't know what is. So make sure you visit Come il Latte when you are next in Rome!
If you want to explore Rome's beautiful and historic surroundings, check out the hidden gems of the Roman countryside.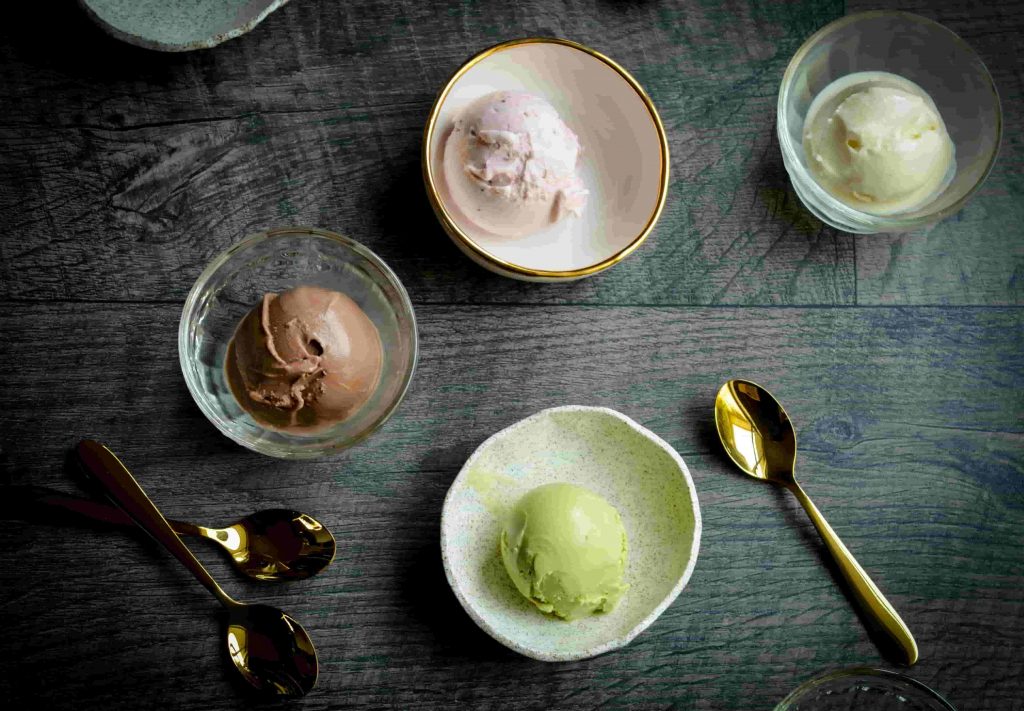 Dhara blogs at It's Not About the Miles.
---
Efstidalur 2 – Iceland
If you're driving along the Golden Circle in Iceland, I recommend stopping by Efstidalur 2 for homemade ice cream. This family-run farm has been around since 1850 and over time it has grown to include horse rentals, a restaurant, ice cream barn, and bed and breakfast.
Although you can order salted caramel, white chocolate, and licorice, strawberry and vanilla were my favorites. I especially liked that Efstidalur 2's ice cream is creamy and flavorful but not overwhelmingly sweet.
Made with local ingredients, the milk is sourced fresh from the farm's cows. And after you've had your fill, go see some of the cute calves next door or admire the beautiful countryside views before hitting the road.
Here are some tips to help you make the most of your visit to Iceland.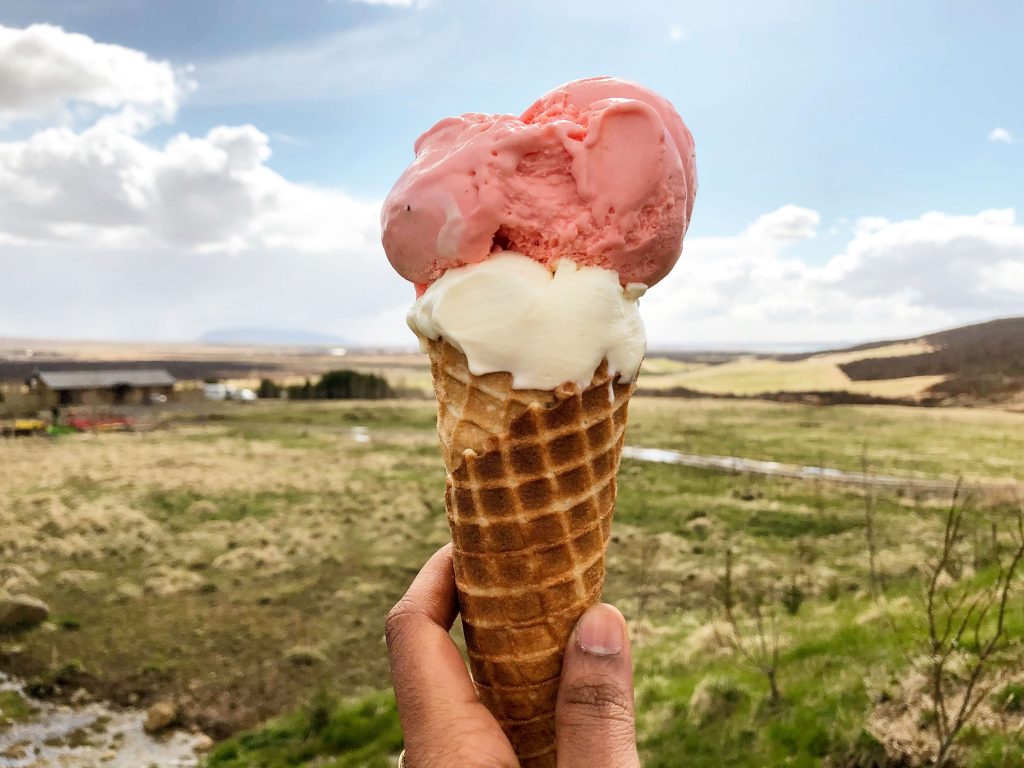 Danielle Desir blogs at The Thought Card.
---
The Land's End Ice Cream Parlour – Cornwall, United Kingdom
This is one special location, topped off with very special flavours. Your setting is breathtaking, along the steep cliffs of the point that is the furthest west in the U.K. It's the perfect place to watch the blue waves and cool down with an ice cream. The shop here is cute and sells only Kerry's real Cornish cream ice creams – delicious! Top of my list to try were raspberry and white chocolate and the locals' favourite, cream tea ice cream – which includes pieces of jam and toasted scone. Absolute heaven! Eat from a tub, not a cone, for the authentic experience.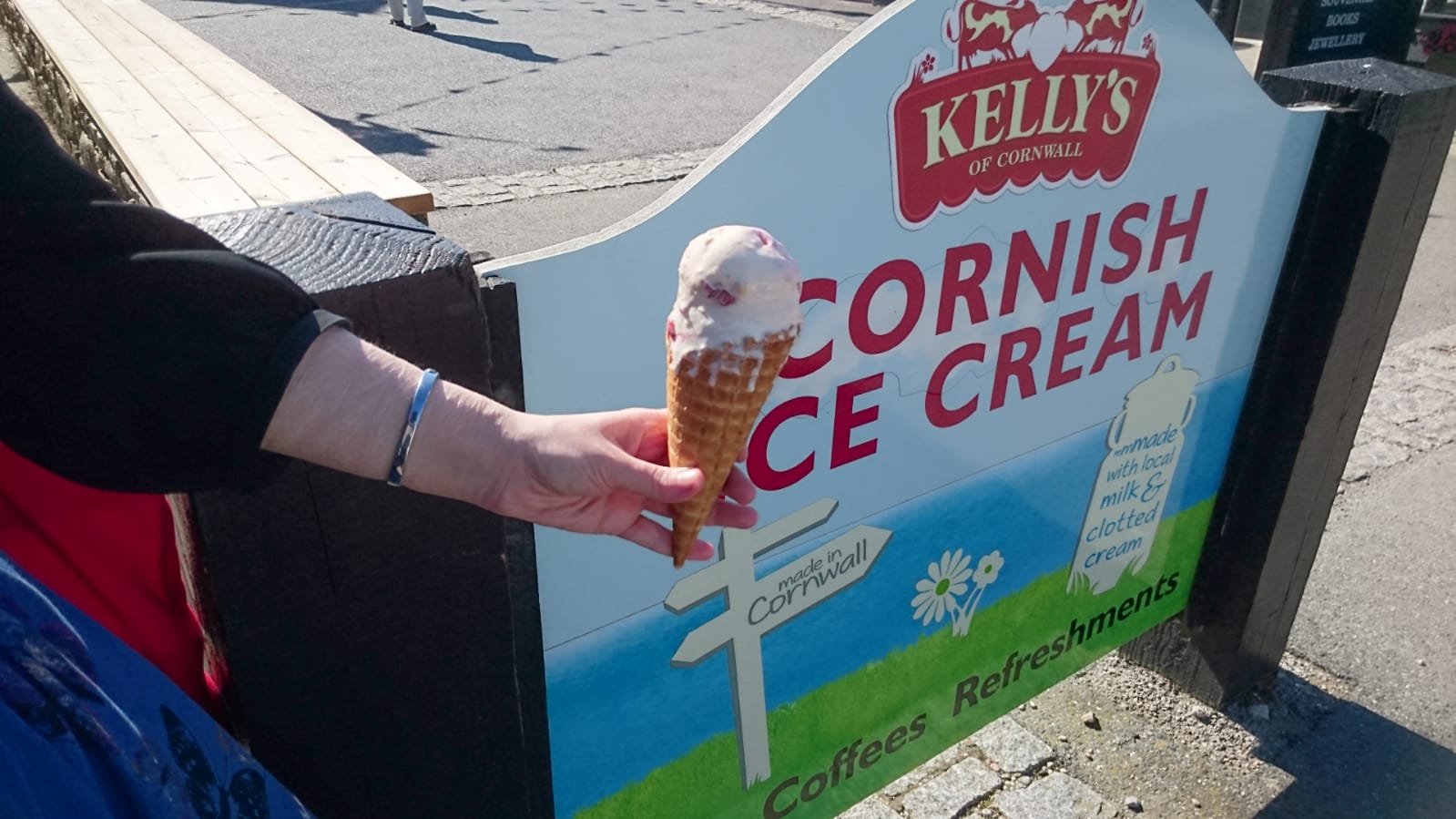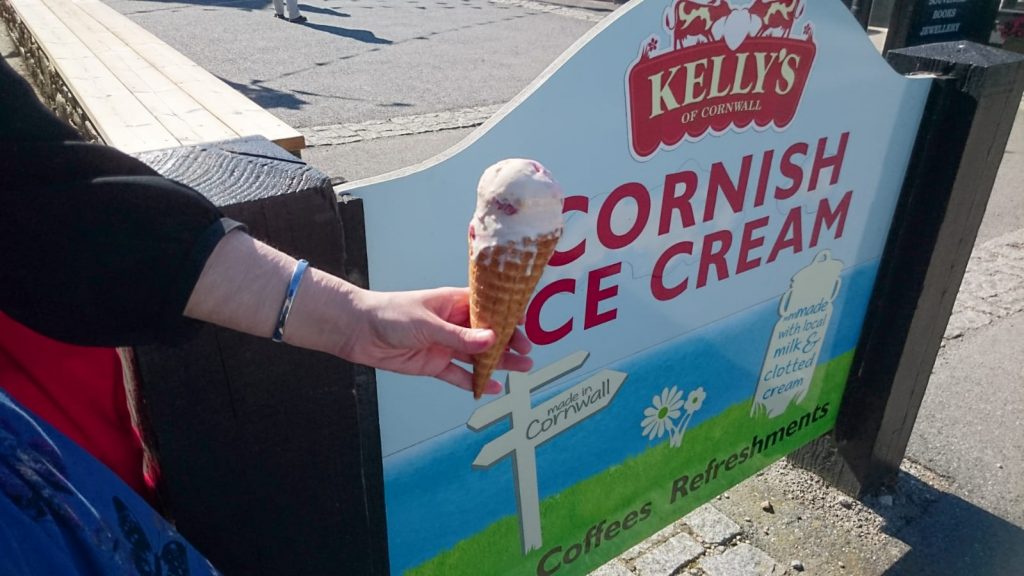 Danni blogs at Live in 10 Countries.
---
Gelateria 3BIS
My favourite ice cream shop in the world is Gelateria 3BIS in London's famous Borough Market. Whenever anyone comes to visit me in London, I make sure I bring them here for dessert after a stroll and graze through the food market. The gelato is incredible — creamy, luscious and available in an array of delicious, classic flavours like Eton Mess and Panna Cotta. They also have liquid chocolate literally on tap, and serve a shot of thick melted chocolate sauce at the bottom of their ice cream cones and cups. Condé Nast Traveller agrees with me, by the way, naming Gelateria 3BIS one of the best gelato shops in London. Can it also be one of the best ice cream shops in the world? 
There are actually two London branches, one just next to buzzy Borough Market, and the other on charming Portobello Road in Notting Hill (their other two branches are in Rimini, Italy!) The Portobello Road branch also serves ice cream sandwiches, with scoops of gelato served in a light brioche bun.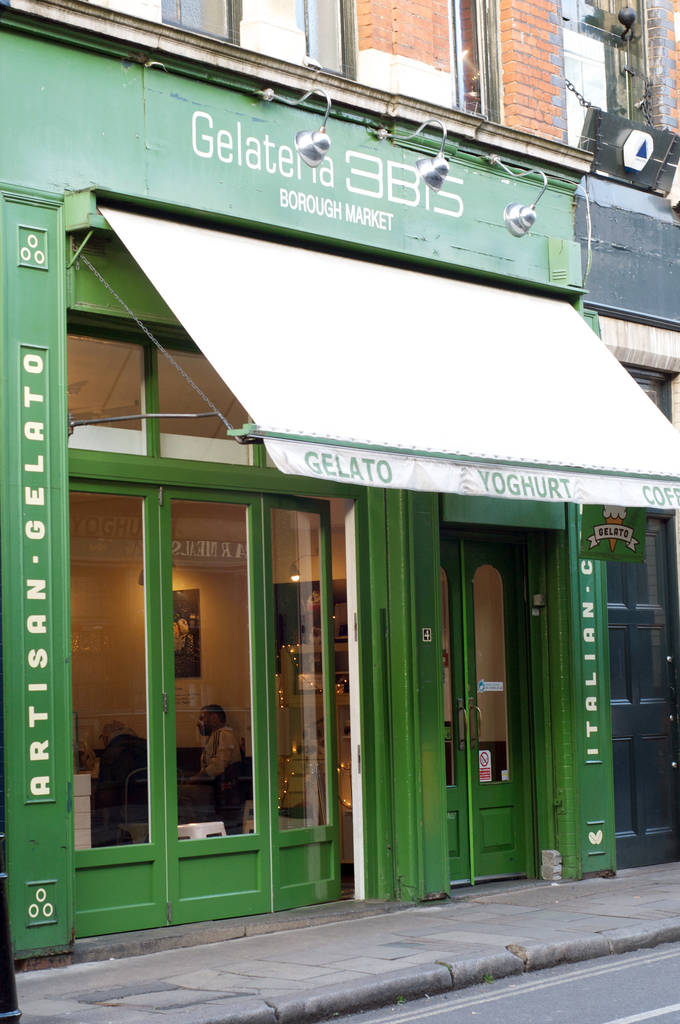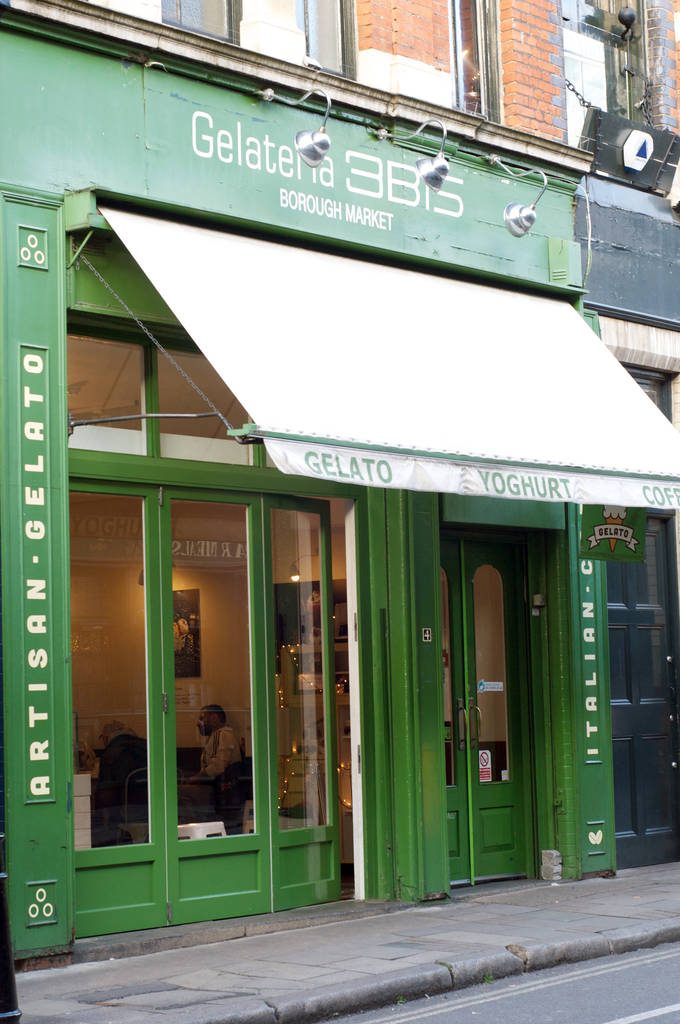 Maire Bonheim blogs at Temples and Treehouses.
---
Pola Gelato Shop in Merida, Mexico
This unique gelato shop with two locations in Merida's historic center is run by four creative young people from different countries. Pola's ice cream has a delicious and creamy texture, and the intense, all-natural flavors are developed with creativity and a sense of humor. Many are inspired by traditional Mexican foods such as mazapán, tascalate (made with local red achiote paste), cinnamon, sweet potato with honey, and beans and pork (offered only on Mondays, since it's a Yucatán dish traditionally served that day).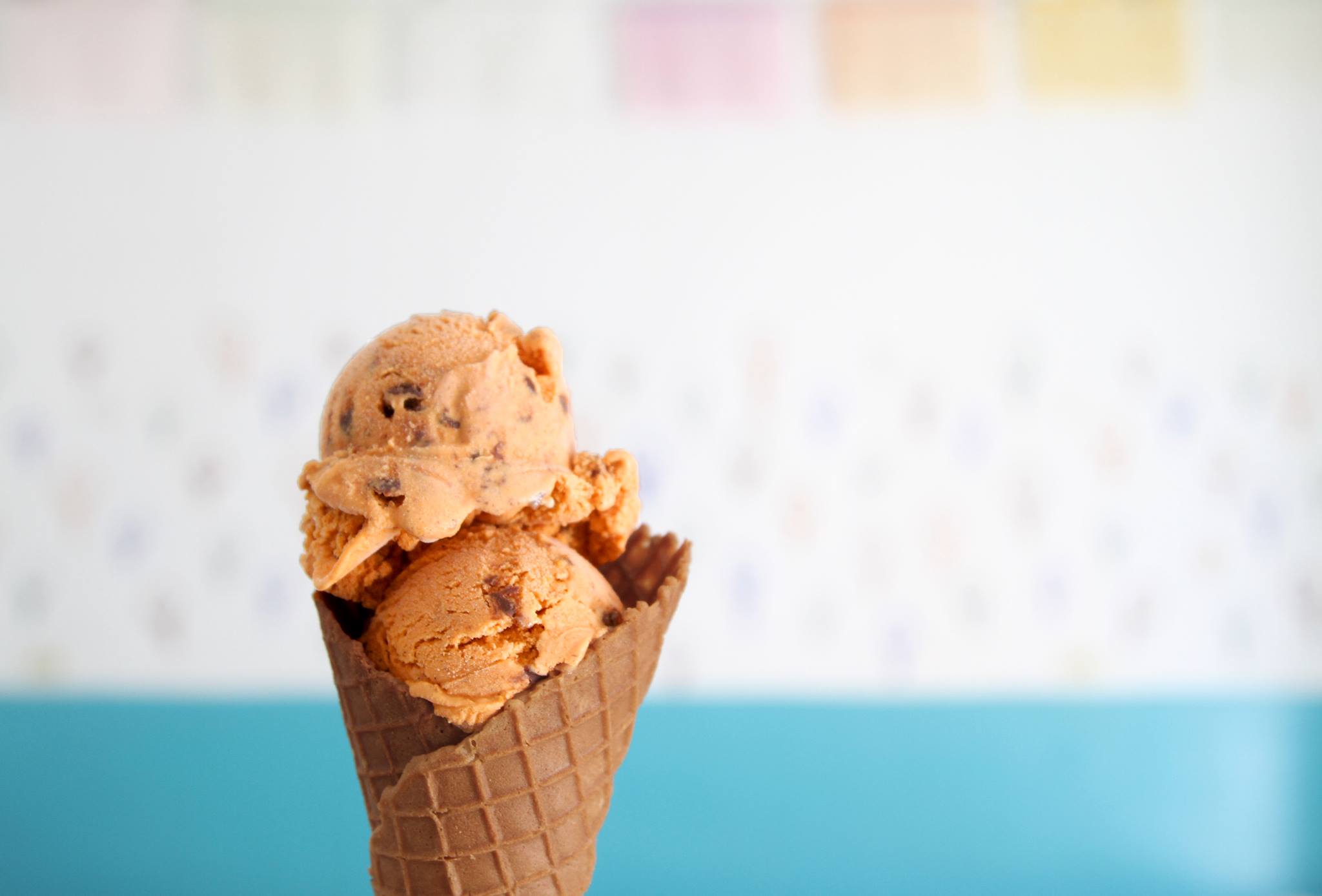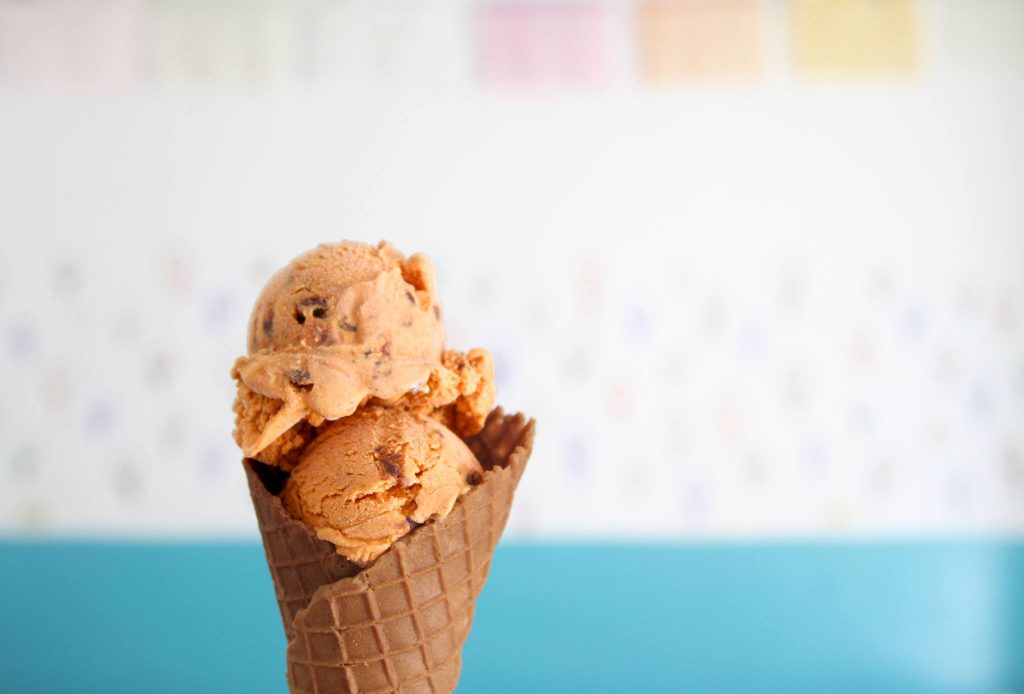 Ingrid Truemper blogs at Second-Half Travels.
---
The United States
Walls Old Fashioned Ice Cream – Miami, Florida
Walls Old Fashioned Ice Cream is as old-time Miami as it gets. When you walk into the shop, located in South Miami, you are immediately greeted and feel as if you have been transported into the 1950s due to the classic red and white striped decor. It is a family-owned, old-school ice cream parlor that not only offers over 25 flavors of locally made ice cream, but also has homemade fudge, cones, shakes, and sundaes. It is definitely a Miami classic!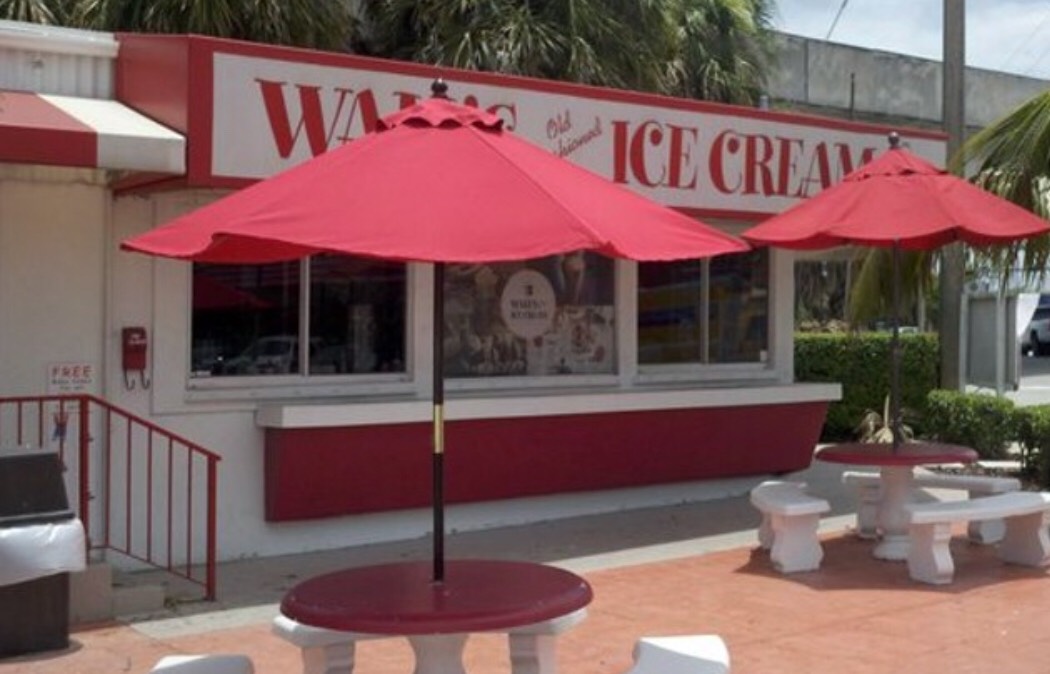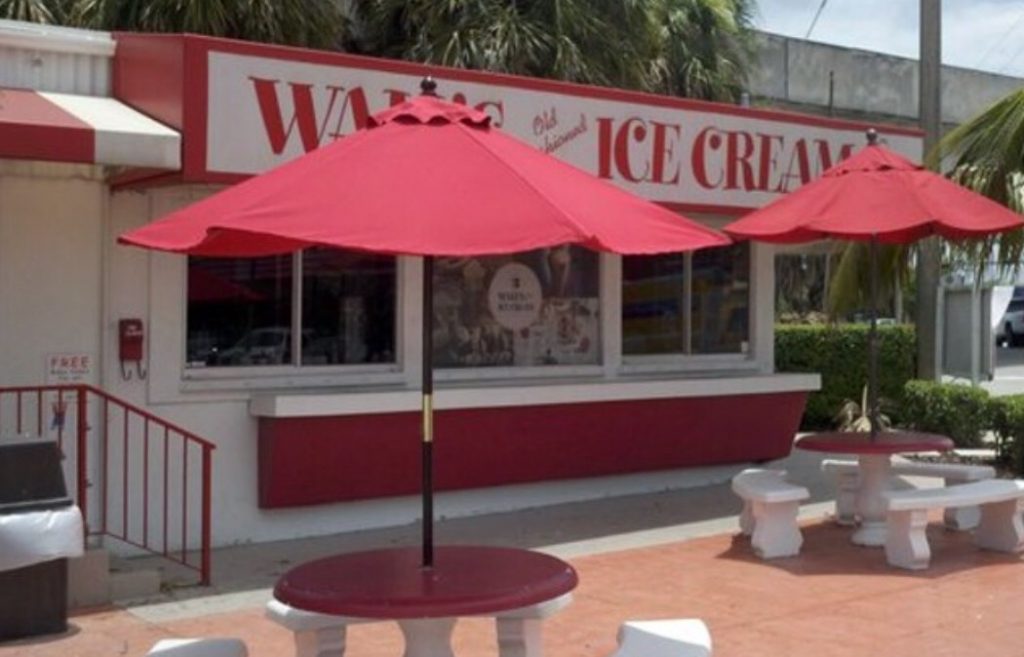 Margie DQ blogs at DQ Travel.
---
Marco Polo Italian Ice Cream – San Francisco, California
Marco Polo Italian Ice Cream in San Francisco is an unassuming, local spot with amazing gelato. Though their name says "Italian ice cream," they are much more than that! They also have delicious flavors from Asian cultures, such as durian, soursop, black sesame, taro, and guava. My personal favorites are lychee, mangosteen, and Longjing (Dragon's Well) green tea. Aside from Asian fruity flavors, they also have your typical chocolate, mocha chip, and fresh strawberry, but with such unique flavors who needs those "normal" ones!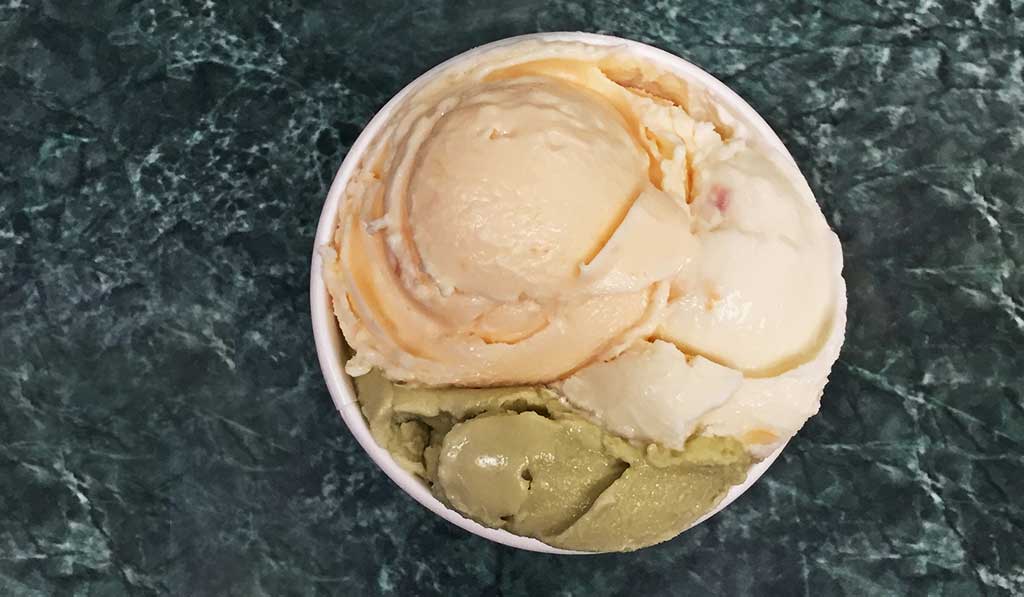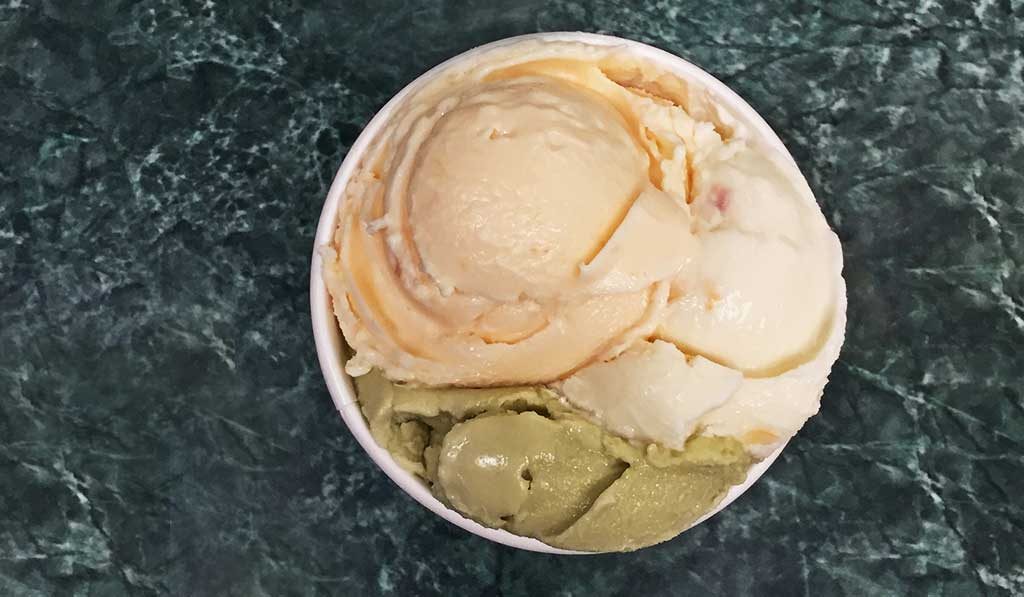 Life is like an ice-cream cone, you have to lick it one day at a time. Charles M. Schulz
Click To Tweet
---
Tipsy Scoop – New York City, New York
Tipsy Scoop, in New York City,  serves liquor spiked ice cream in a myriad of creative and enticing flavors including red velvet martini, tequila Mexican hot chocolate, and strawberry white sangria. The owner's Italian ancestors brought ice cream to Scotland in the 1800s. The business grew and eventually came to the United States.
Continuing the family ice cream tradition, the latest generation began to experiment with adding an innovative boozy take on ice cream. What resulted is the best of two delectable delights; traditional ice cream flavors infused with different liquors. There is always a line outside the store, and you must be 21 to enter and partake of these tasty treats.  This is really one of the best gourmet ice cream shops around and a cool place to eat in NYC that won't break the bank. Cheers!
Looking for other cool things to do in the Big Apple? Check out these unique activities you can only do in New York City.  Make sure to visit NYC's highlights, but also the best underrated attractions in New York City.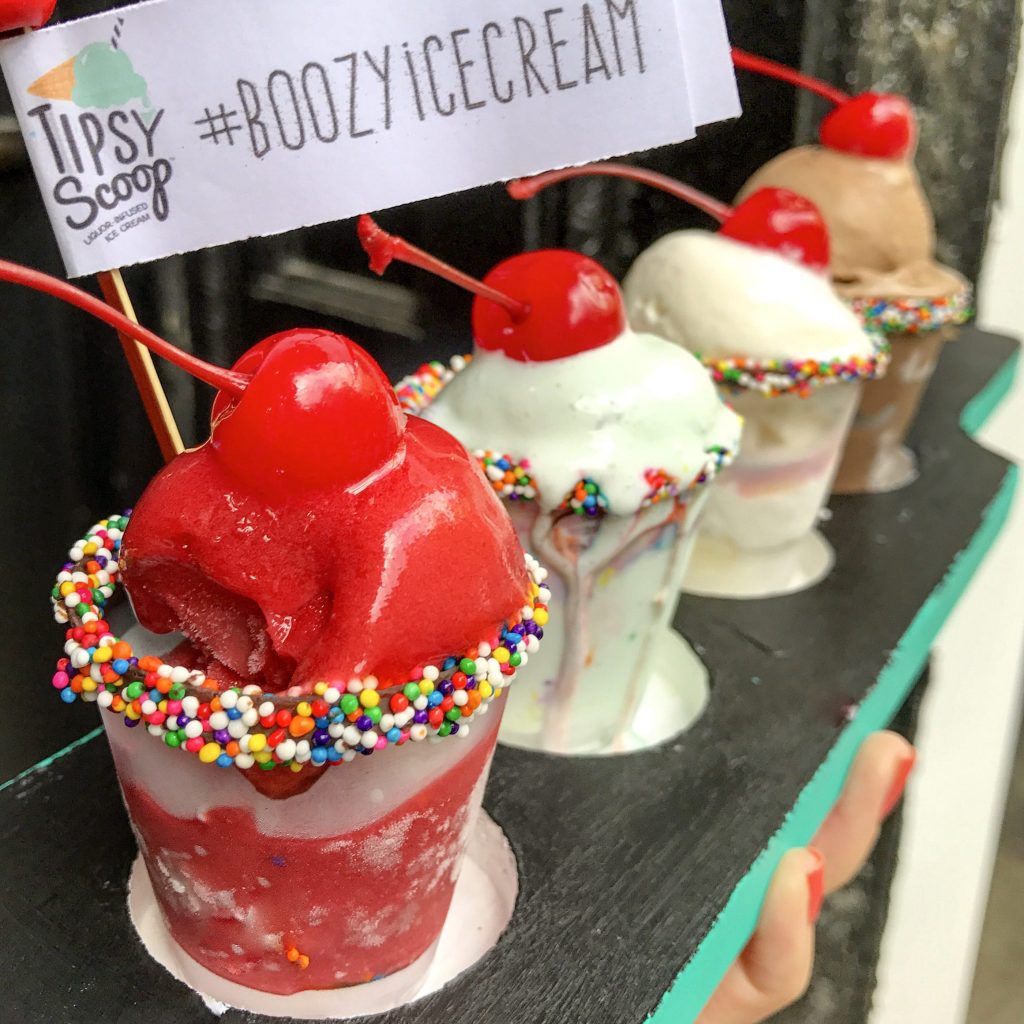 Talek Nantes blogs at Travels with Talek.
---
Bi-Rite Creamery – San Francisco, California
Bi-Rite Creamery, conveniently located in San Francisco's hippest neighborhood—the Mission—is a MUST when in the city. On one California road trip recently, I made a San Francisco pit stop and even braved the parking challenges to get my Bi-Rite fix. Flavors? Think peach cobbler with Masumoto peaches, blueberry crisp with pecan oat crisp crumble, or balsamic strawberry. It's true there's a line every time of day, but it moves fast, so don't let that deter you. Walk across the street to lovely Dolores Park with your ice cream to join locals and check out the scene.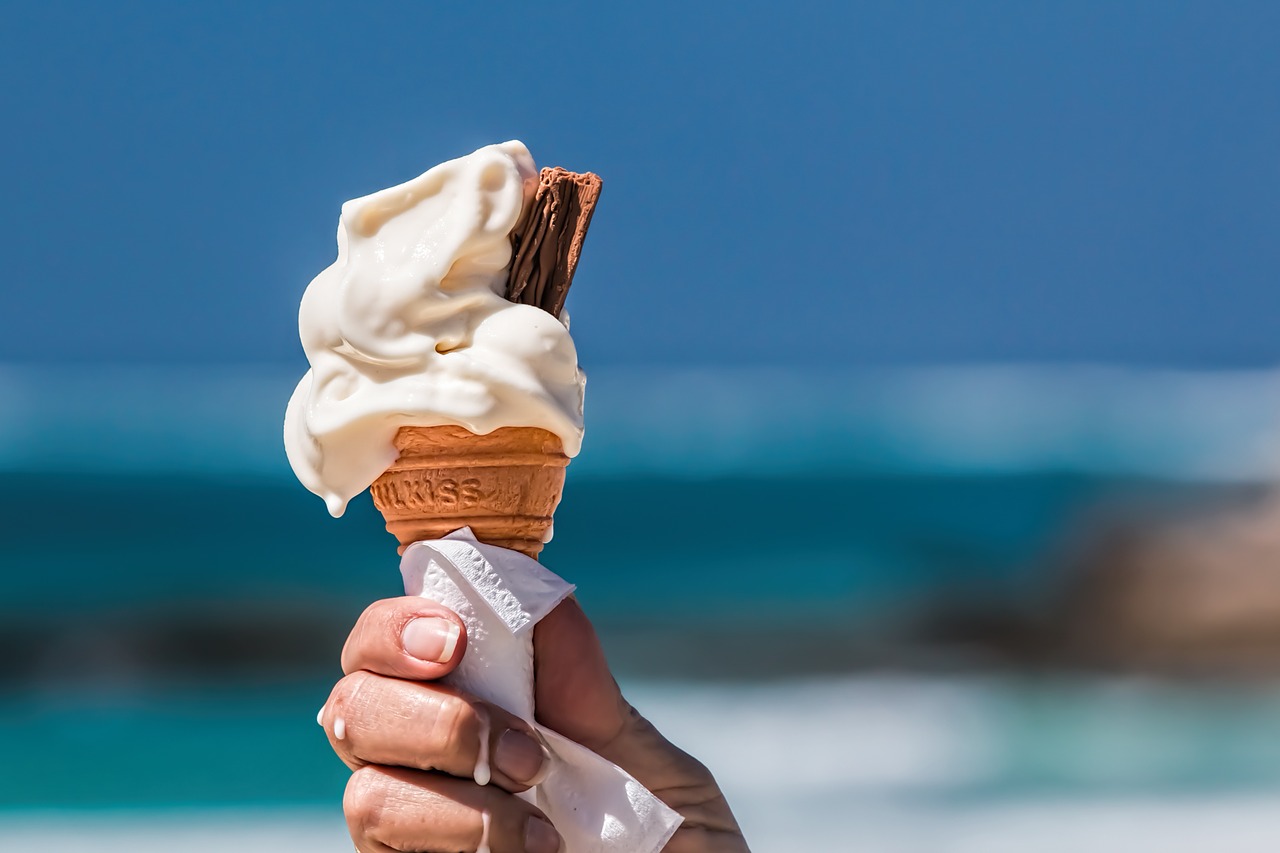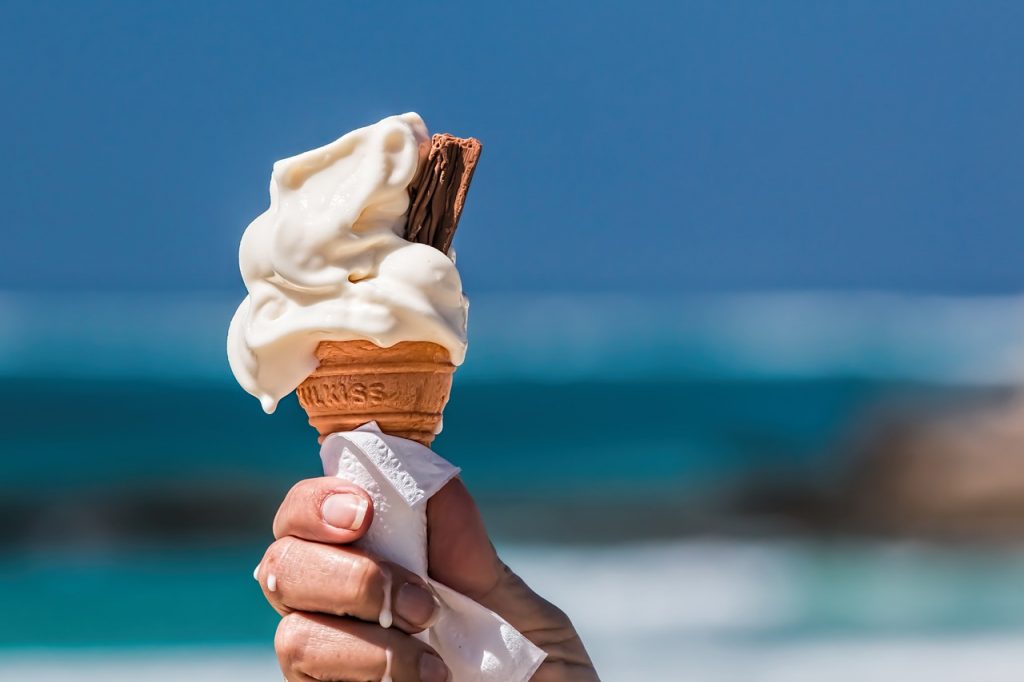 Christina Román blogs at Explore Now or Never.
Age does not diminish the extreme disappointment of having a scoop of ice cream fall from the cone. Jim Fiebig
Click To Tweet
---
SomiSomi – Los Angeles, California
SomiSomi located in Koreatown, Los Angeles is my favorite ice cream shop at the moment! They magically combine two of my favorite things: Taiyaki (aka Ah-Boong in Korean) and creamy, delicious soft-serve ice cream. The soft-serve ice cream comes in four main flavors: matcha, ube, milk, and black sesame, yummy! Finally, you choose your filling for the Taiyaki: red bean, custard or Nutella. I'm salivating just writing about it! Not only is this gourmet ice cream incredibly delicious, it makes for a killer Instagram photo.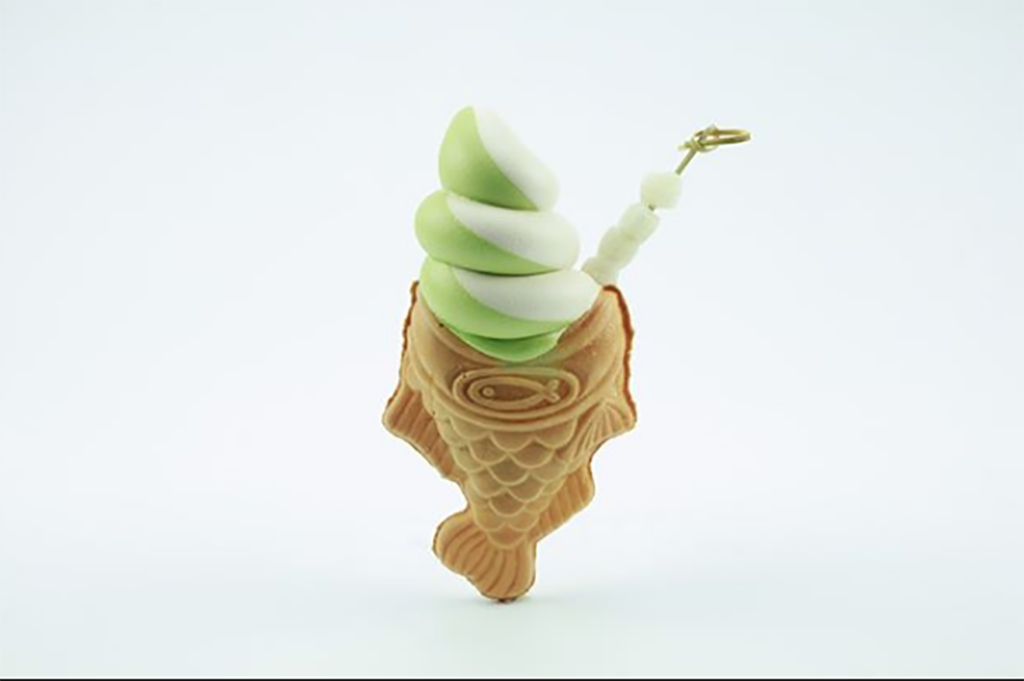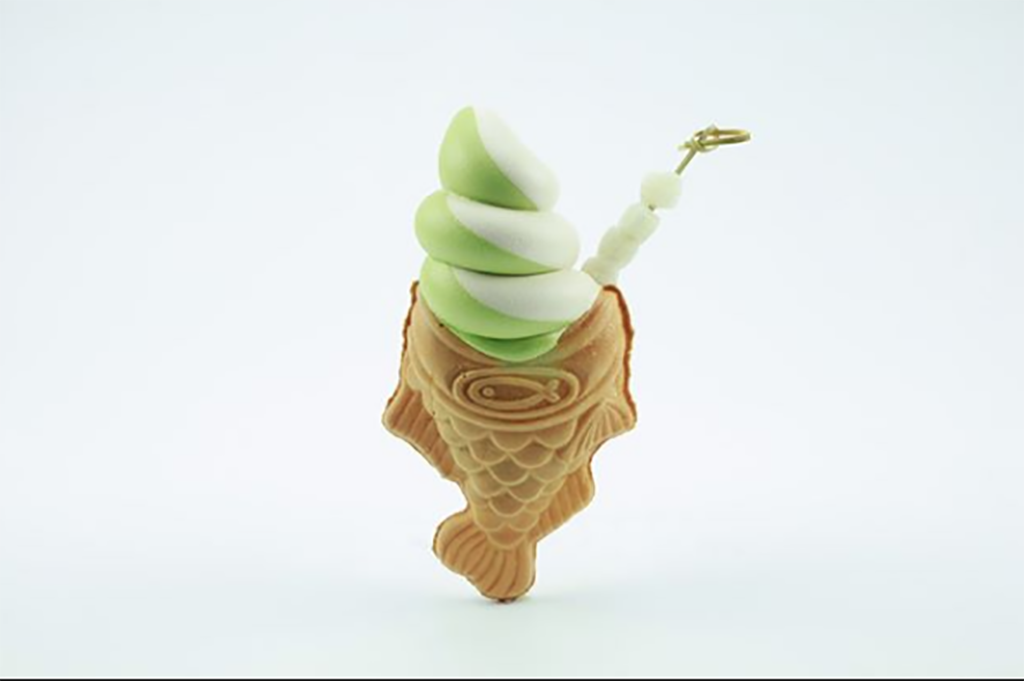 Kaila Yu blogs at Nomlist.
---
The Original Rainbow Cone – Chicago, Illinois
Perhaps ice cream isn't the first thing that comes to mind when you think of the Windy City, but Chicago has a unique ice cream treat courtesy of The Original Rainbow Cone, established 1926. This famous Chicago food gets its name from the colorful layers of ice cream flavors on top of a wafer cone. The layers of The Original Rainbow Cone are chocolate, strawberry, Palmer House (New York vanilla with cherries and walnuts), pistachio, and orange sherbet. Visitors to Chicago can get a rainbow cone at the original location, or at their stand on the Navy Pier.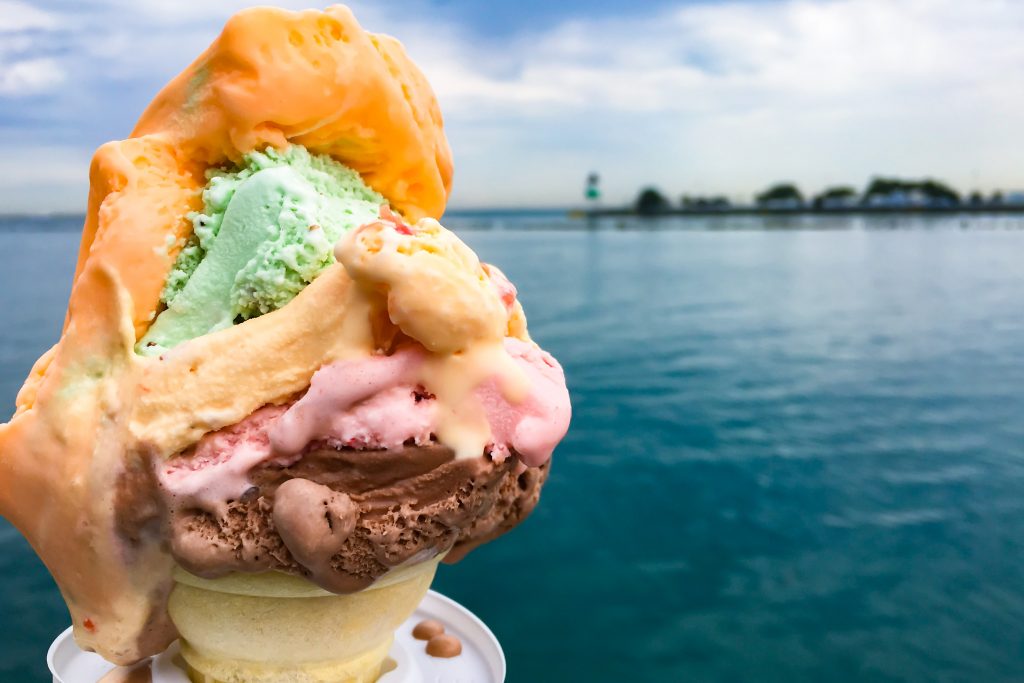 Katherine Belarmino blogs at Katherine Belarmino.
---
Graeter's Ice Cream – Cincinnati, Ohio
Since 1870, Graeter's has been making gourmet ice cream using an all-but-forgotten method, producing some of the creamiest, mouthwatering ice cream you've ever tasted. Made with fresh cream and milk from Ohio farms; 100% cane sugar, egg custard, and gourmet chocolate for their signature chocolate chips (more like chocolate bars!). Graeter's uses 2-gallon French Pot freezers. This a method that has been around for more than a century, but is no longer used by the commercial ice cream industry.
Ice cream cravings are not to be taken lightly. Betsy Cañas Garmon
Click To Tweet
With flavors like black raspberry chocolate chip, bourbon pecan chocolate chip, Madagascar vanilla bean, fruit sorbets, as well as seasonal flavors like pumpkin spice, peppermint, and peach, there's surely something to satisfy your ice cream craving.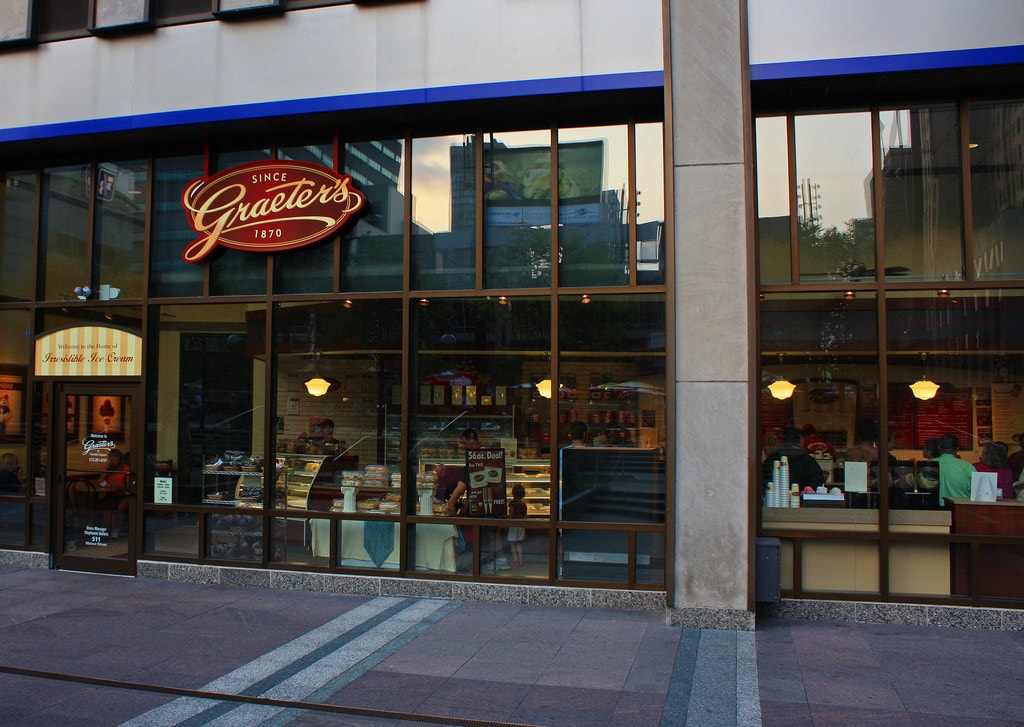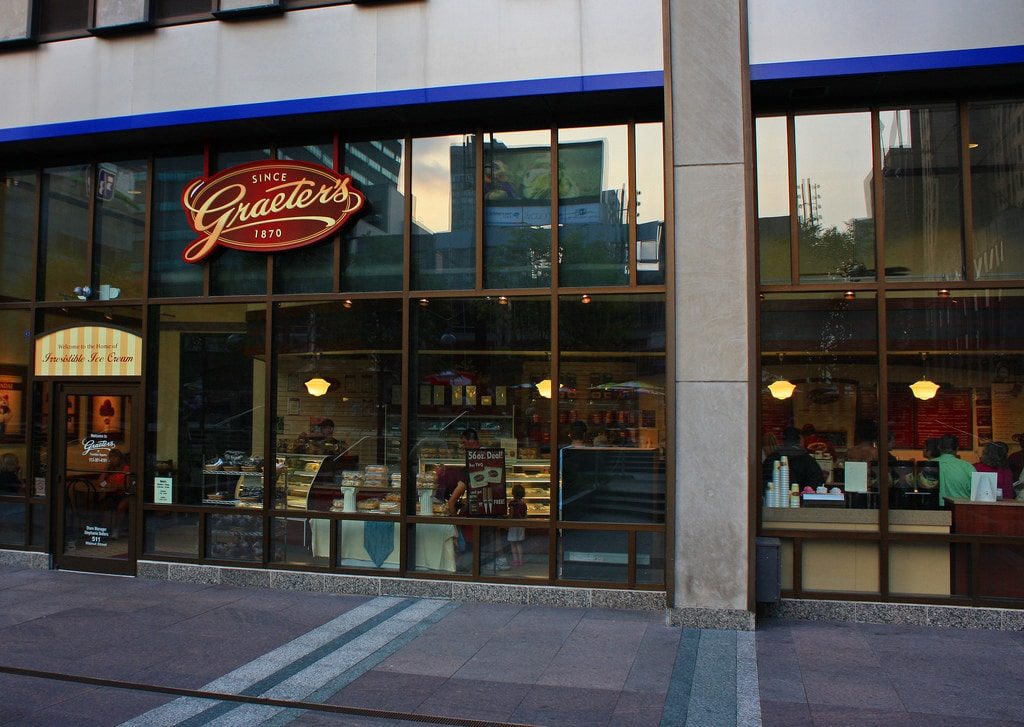 ---
Azucar Ice Cream Shop – Miami, Florida
One of the best things to do in Miami is to visit the Azucar ice cream shop. Azucar Ice Cream Shop, conceptually inspired by the owner's Cuban grandmother, sits right in the middle of Little Havana on Calle 8, one of the coolest neighborhoods in Miami. This area is ground zero for Cuban food and culture in the U.S. The name "azucar" means sugar in Spanish but it was also the signature phrase of Celia Cruz, an icon of the Cuban entertainment industry. The ice cream flavors reflect the culture, drawing on tropical fruits common in Cuba like guava and mango.
Also on offer are flavors representing cultural aspects like "Domino" an Oreos cookies 'n' cream concoction named for a game Cubans commonly play, "Willie Cherrino" named after a popular Cuban performer and "Noche Buena" spiced sugar plum, named after a Christmas Eve feast Cubans celebrate.  What an amazing collection of inspired tastes making this one of the coolest local ice cream shops! 
While you're in Miami, make sure to head to South Beach and enjoy the perfect South Beach walk. Another option is to use Miami as a base while you visit the wonderful national parks and cities near Miami.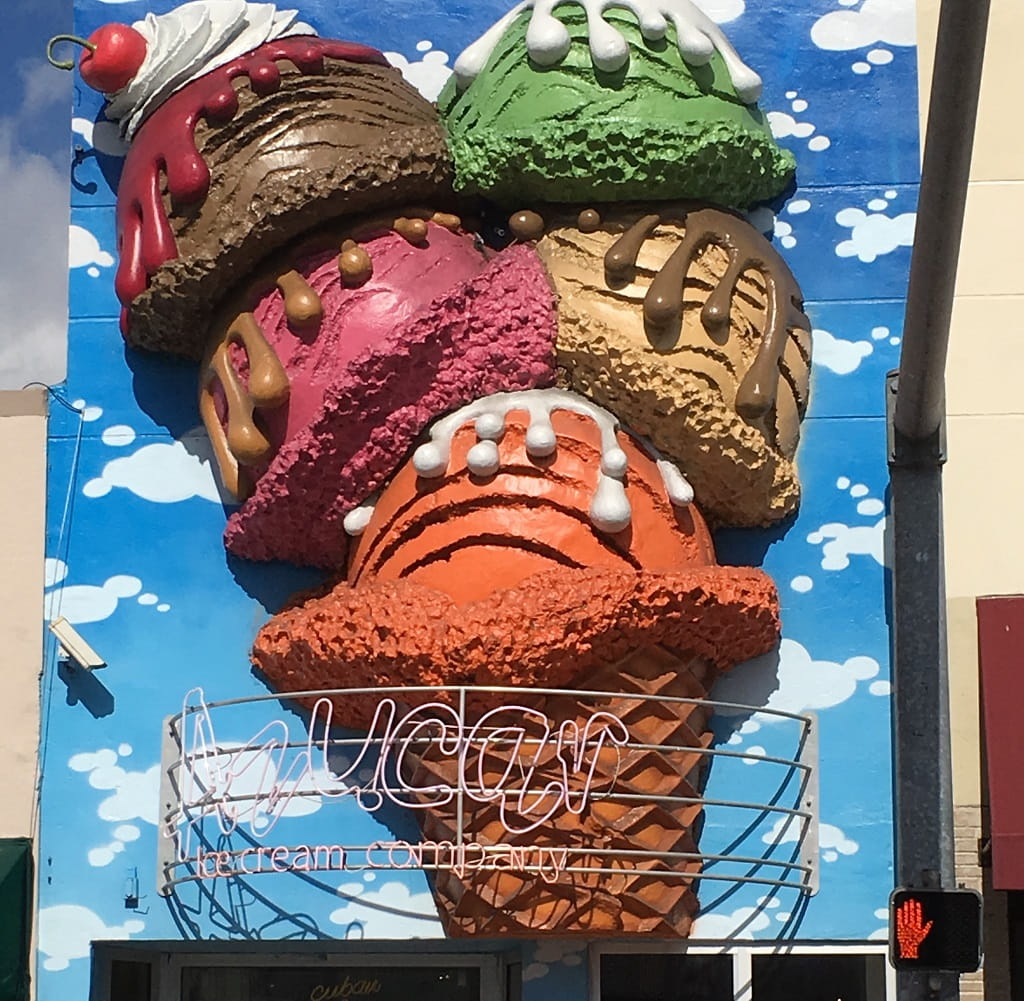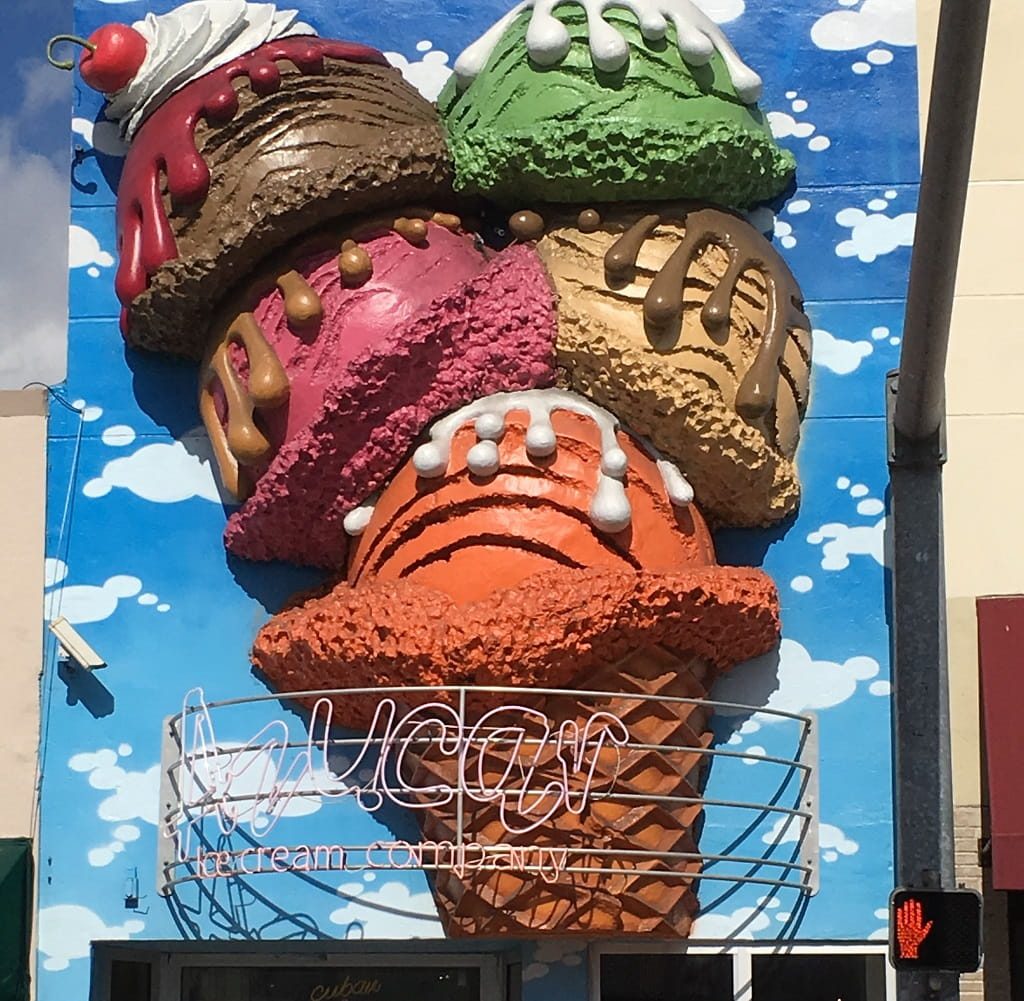 ---
Venchi, New York City
Venchi started their delicious story in the early 1800s in the northern Italian city of Piedmonte. Silviano Venchi began to explore his love of chocolate at only 16 years of age in his little gourmet ice cream shop in Cuneo. It was not long before people noticed the remarkable quality and taste of Silvio's chocolate.
Silvio's competitive advantage for superior chocolate in a country known for outstanding sweets was to package the treats and present them as if they were jewels.
Success built on success and in 1878 the Venchi company was officially founded.  Growth continued and today the company has more than 100 stores in over 70 countries. Many of these stores, like the sparkling new store in Manhattan, offer ice cream.  It is just as good as their chocolate.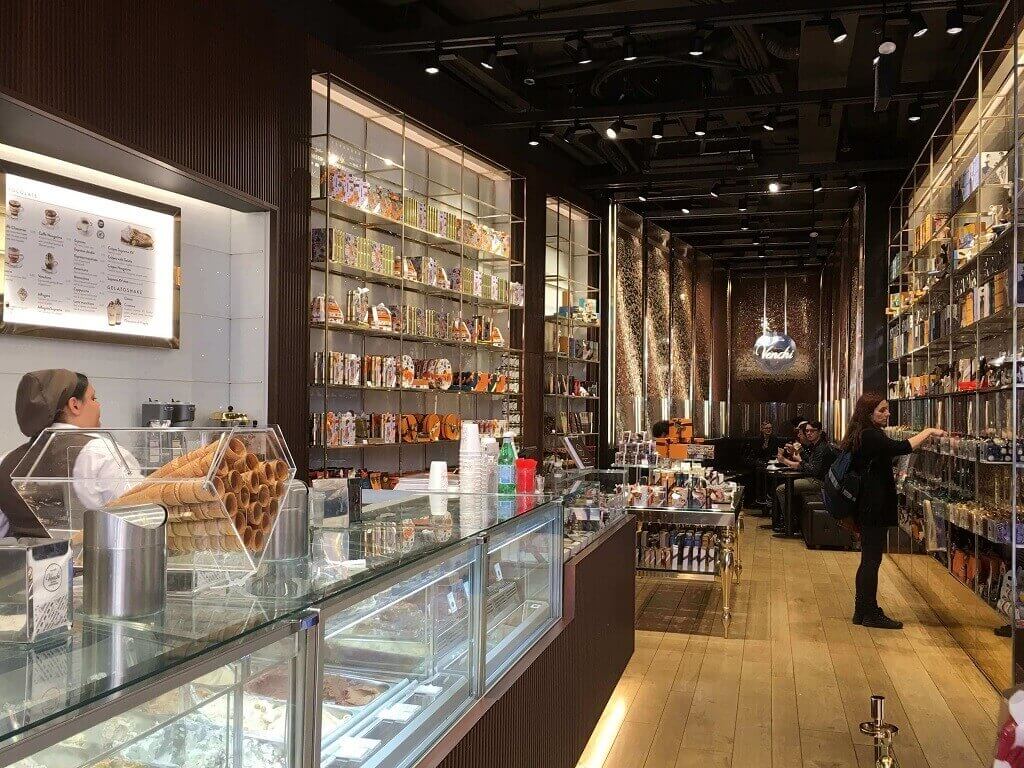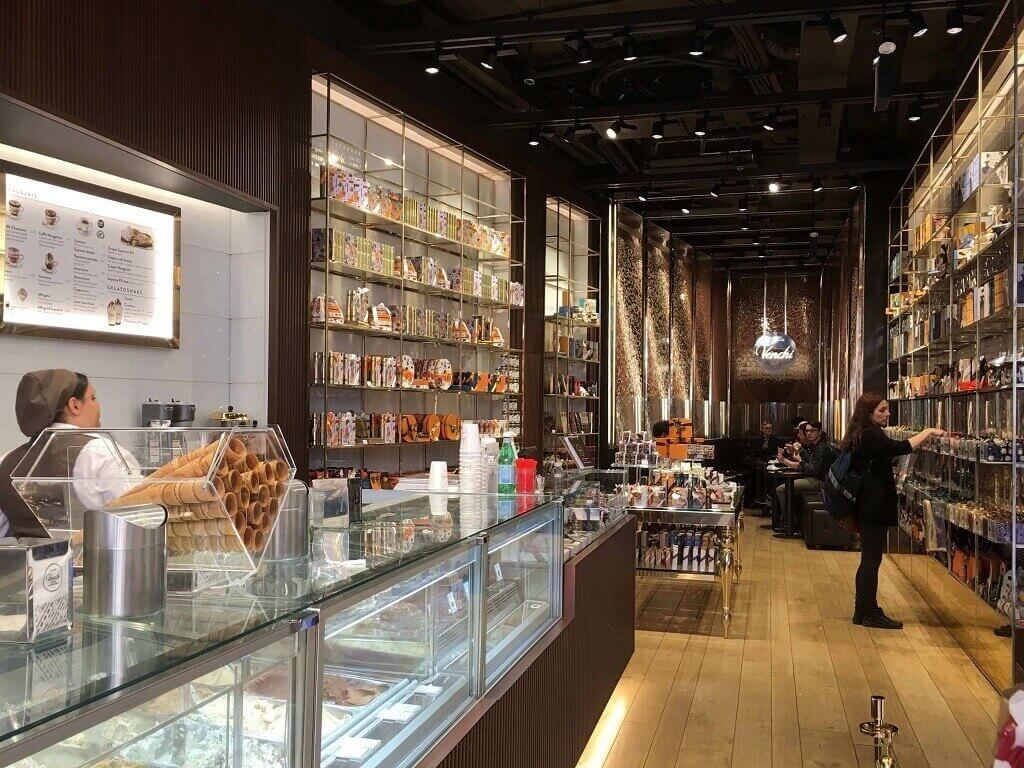 Talek blogs at Travels with Talek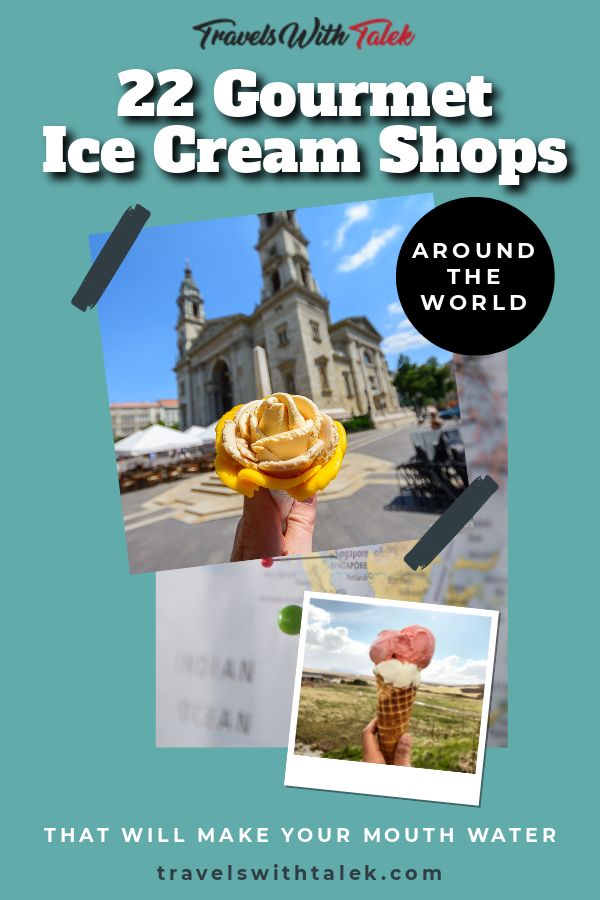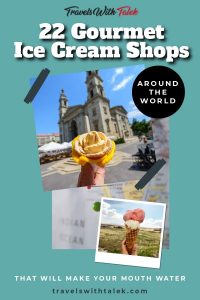 BTW, if you are getting ready for your trip, make sure to take advantage of these useful, money-saving links to book your trip:
I personally use, and can recommend, all the companies listed here and elsewhere on my blog. By booking through these sites, the small commission we earn – at no cost to you – helps us maintain this site so we can continue to offer our readers valuable travel tips and advice.