Miami seems to have it all. It's a high-energy city that gives larger metropolises like NYC and LA a run for their money when it comes to attractions, nightlife, and restaurants. Yet, it also has a laid-back side, too; you can't walk too far in Miami without passing by a white sandy beach, and the Miami neighborhoods that go from trendy to glitzy seamlessly are fascinating.
Located on the southernmost tip of South Florida, Miami is a great place to escape cold winter weather and appreciate great views of Key Biscayne — maybe even with a mojito or daiquiri in hand.  It is also an ideal base from which to explore the national parks and cities near Miami.
Discover the best neighborhoods in Miami. From Coconut Grove to Downtown to South Beach and everything in between.
Miami Neighborhoods
The area of Miami-Dade stretches across the southern tip of Florida. It's home to over 2.7 million residents and welcomes more than 23 million visitors each year. Miami is full of areas geared toward young professionals as well as family-friendly neighborhoods.
The city is truly like no other. It's both upscale and down-to-earth. It's both high energy and laid-back. You can easily find the best budget tacos and the best five-star meal within city limits.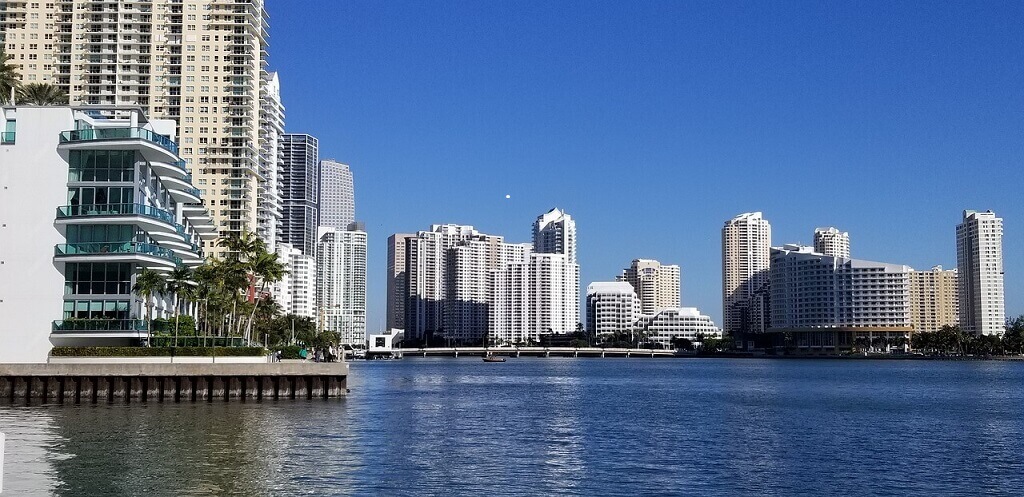 The city is divided into four areas: northeast, northwest, southeast, and southwest. It's comprised of 34 municipalities, and there are dozens of Miami neighborhoods. Yet, the most popular areas (especially for travelers) include Coconut Grove, Coral Gables, Downtown, Little Havana, Historic Overtown, South Beach, Wynwood, and the Design District.
Miami Culture and History
Miami officially became a Florida city in 1896. It was named after the Miami River (which was named after a local lake, called Mayaimi by the Native Americans who lived in the area).
The city's population in the late 1800s was only around 300 residents. It wasn't until after the turn of the century that immigrants, Northeasterners, and tycoons began flocking to South Florida.
In the 1920s, the city's iconic art deco hotels were erected, attracting North Easterners to its warm, sandy shores to escape the harsh New England winters. Yet, the city's golden age didn't last long, as first the housing bubble burst in 1925 and a hurricane destroyed much of the city in 1926. The Great Depression didn't help the city rebound either.
It wasn't until large droves of immigrants from Cuba began fleeing to Miami in the 1960s that its population began to increase exponentially.
Now, it's home to immigrants from all over the world. Yet, 70% of locals are of Latin American descent. It's known for its art deco architecture, Latin cuisine, Cuban coffee, wild nightlife, and stunning beaches.
Coolest Neighborhoods in Miami
Miami has dozens of neighborhoods, full of culture, art, food, history, and more. Some of our favorite areas do a great job of highlighting the city's diverse history and offer a glimpse into Miami's present — all while paying homage to the city's past.
Coconut Grove
Called simply 'The Grove' by locals, Coconut Grove is one of the most popular neighborhoods in Miami.
It's rich with ritzy history (famous tycoons flocked here in the early 1900s, searching for a warm paradise far from the snowy Northeast winters), and it's also known for its literary history, as the neighborhood was once home to both poet Robert Frost and playwright Tennessee Williams. Its original inhabitants were Bahamians looking to claim some free Floridian land.
The area was also home to musicians like Joni Mitchell and David Crosby in the 1960s.
Today Coconut Grove is returning to its roots of glitz and glamour, as it draws both tourists and locals away from the more widely-visited areas of South Beach and Downtown. Top attractions include Barnacle Historic State Park and Vizcaya Museum and Gardens as well as a mangrove forest and plenty of scenic views of Biscayne Bay.
Stay at the Mayfair Hotel in the Grove to get a good feel for the neighborhood.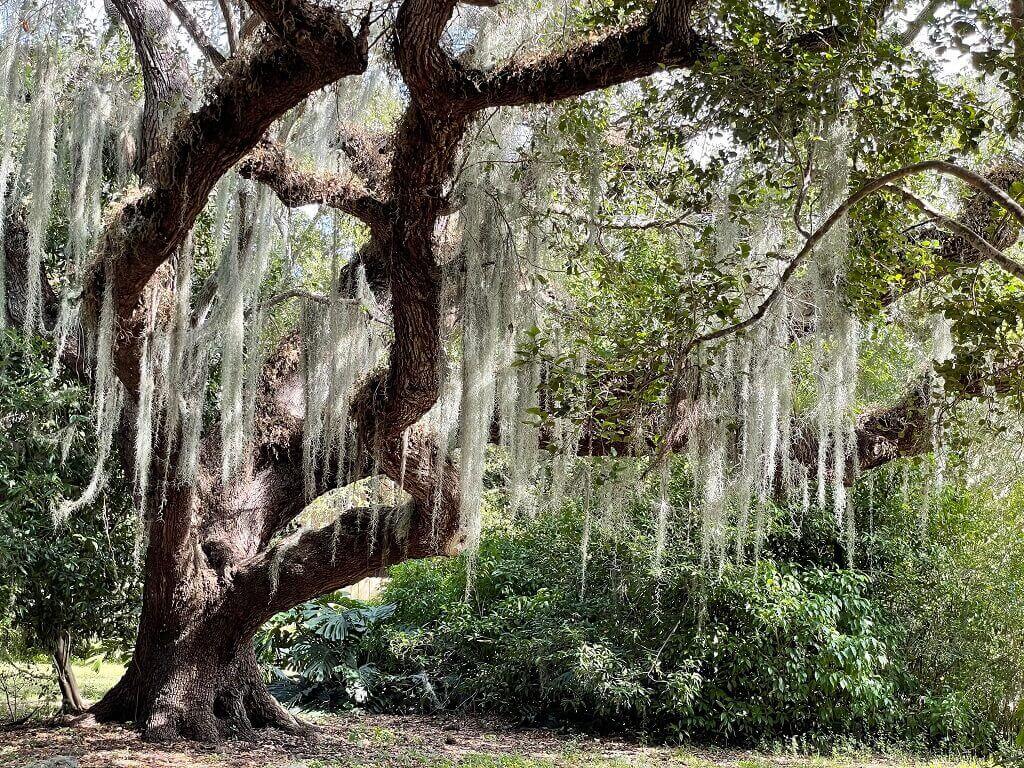 Coral Gables
Coral Gables may be one of Miami's hottest neighborhoods for dining and nightlife, yet, it's also home to plenty of history, art, and architecture (three things Miami is most known for!).
One of the biggest attractions in the neighborhood is the Venetian Pool, a historic swimming pool where visitors can still take a refreshing dip. Built in the 1920s, this pool was designed by Phineas Paist and Denman Fink. While it's known for its swank, a ticket to swim here only costs about $15 for adults and $10 for children.
While you won't get Miami's amazing waterfront views in this neighborhood, there's still plenty of natural landscape to appreciate. Other local attractions include the Coral Gables Merrick House and the Fairchild Tropical Botanic Garden. Both pay homage to the glamour of Miami's past and offer scenic views and a little background of local history.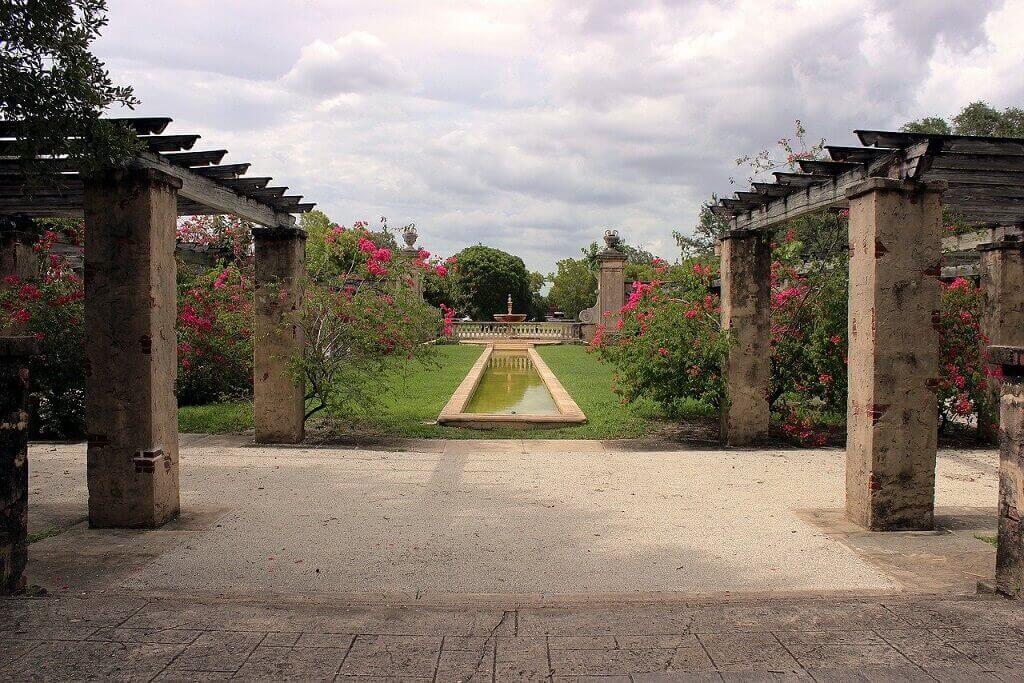 Art lovers flock to the Lowe Art Museum to check out one of the most thorough collections of Cuban and Caribbean art.
Coral Gables is possibly most well-known as a bit of a party area. By night, the neighborhood comes alive with live music and happy hours.
The Hyatt Regency Hotel is close to all the coolest goings on in beautiful Coral Gables.
Downtown Miami/Brickell
Most downtown areas are one of the busiest parts of the city and include a financial district — and Downtown Miami is no exception. Yet, Miami stands out when it comes to an atmospheric downtown area, as this historic neighborhood still retains some of its charm from yesteryear.
Home of the American Airlines Arena (soon to be FTX Arena) where the Miami Heat plays basketball, sports lovers flock to Downtown for games. The area is also filled with department stores, malls, shops, and restaurants. It's also home to the Miami City Ballet and Florida Grand Opera. Art lovers come here to see contemporary art shows at the Pérez Art Museum, Miami. The local mall, Brickell City Centre, is where you'll find dozens of restaurants and upscale shopping.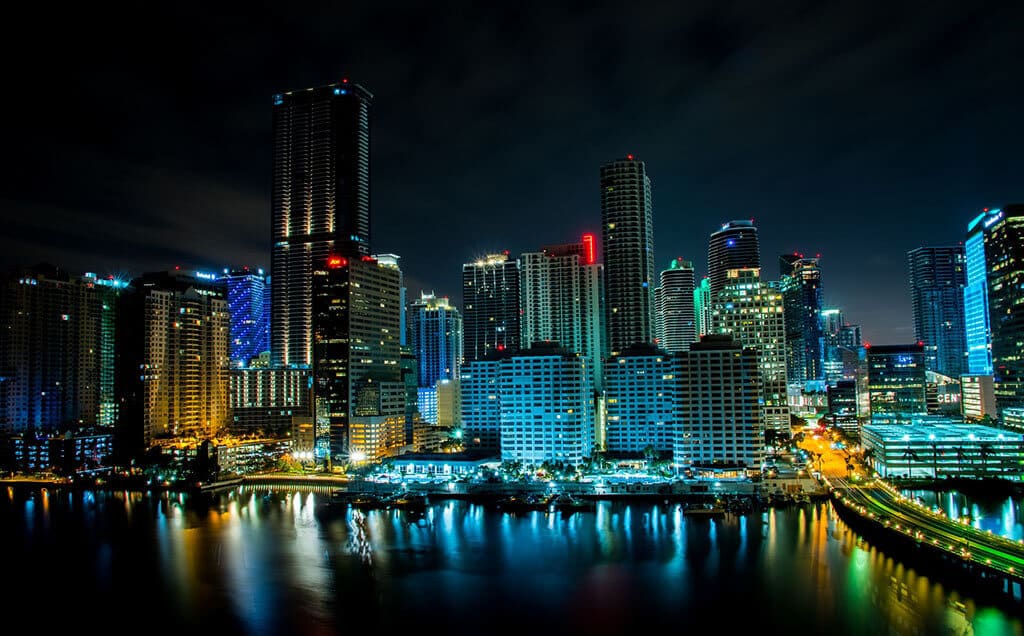 To the south of Downtown sits Brickell. The neighborhood is characterized by its steel and glass skyscrapers. Famous architectural sites included Henry Flagler's original Royal Palm Hotel and Freedom Tower.
Henry Flagler's Royal Palm Hotel opened in 1897 and was the city's first luxury hotel. Freedom Tower, designed by Schultze and Weaver, was considered the Ellis Island of the South, where thousands of Cuban immigrants were processed to enter the country.
The Hyatt Regency Miami is surprisingly good value for the money in the downtown area and it is close to everything.
Little Havana
Another one of the most visited neighborhoods in Miami, Little Havana is home to Cuban-American immigrants. It's known for its crowded streets, Caribbean flair, Cuban cuisine, art galleries, and cigar shops.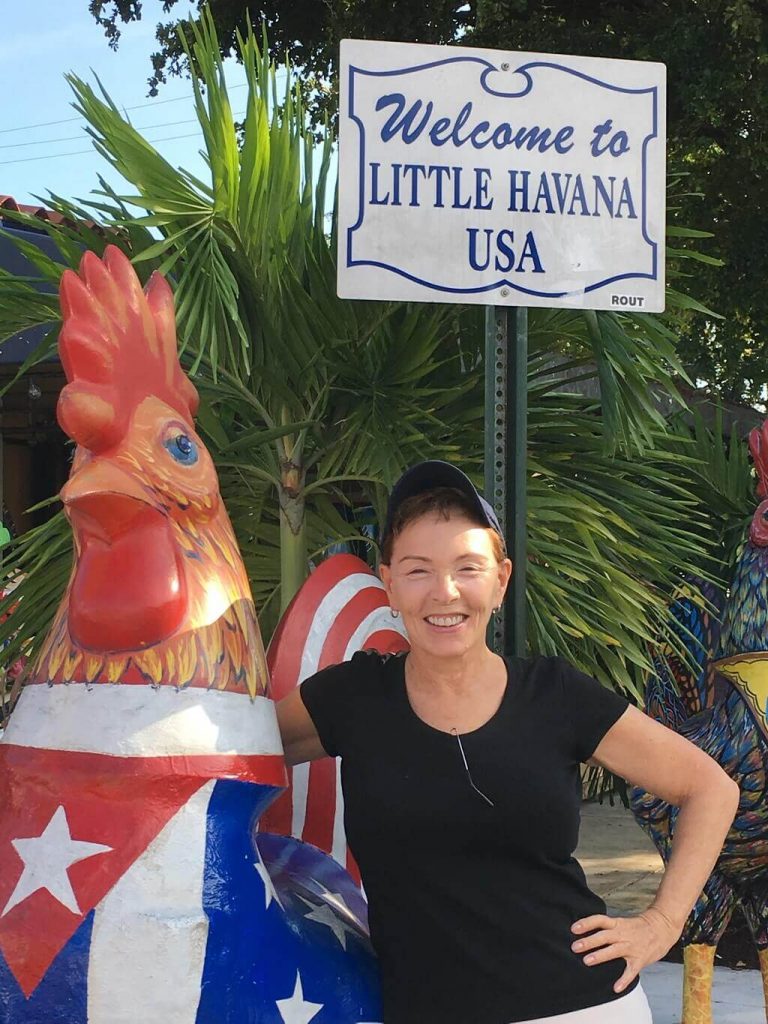 The most well-trafficked street is Calle Ocho which shares its name with the famous Cuban music, dance, and culture festival that takes place each March to mark the final day of the Miami Carnival.
Points of interest include Maximo Gomez Park (also known as Domino Park, thanks to the plethora of locals that gravitate here to play dominoes all day long) and Tower Theater, a historic movie house that plays indie movies.
We recommend taking a food tour through Little Havana so you can try all the Cuban-American delights, such as Cuban coffee, Cubano sandwiches, and pastelitos. The neighborhood's eclectic and energetic vibe alone are reasons enough to head to Little Havana.
The Hampton Inn and Suites at Brickell/Downtown is the closest to Little Havana as well as other Miami attractions.
Historic Overtown
Otherwise known as 'Miami's Little Broadway', Overtown is famous for its live music, theater, and entertainment.
A historically black neighborhood, Overtown is one of the oldest neighborhoods in the city. It was home to nightclubs that featured black artists, such as Billie Holiday, Ella Fitzgerald, Count Basie, and Josephine Baker.
Today travelers flock here to see its many famous museums, murals, and street art (and of course, for the food).
Jackson Soul Food is one of the most famous restaurants in all of Miami and has welcomed legends, such as Nat King Cole and Lebron James. Menu items include fried chicken and waffles, fried chicken livers, and biscuits. A new addition to Overtown's food culture is Red Rooster. The original Red Rooster is in Harlem, NYC and the Overtown version is every bit as good; amazing food and soon to include a music venue.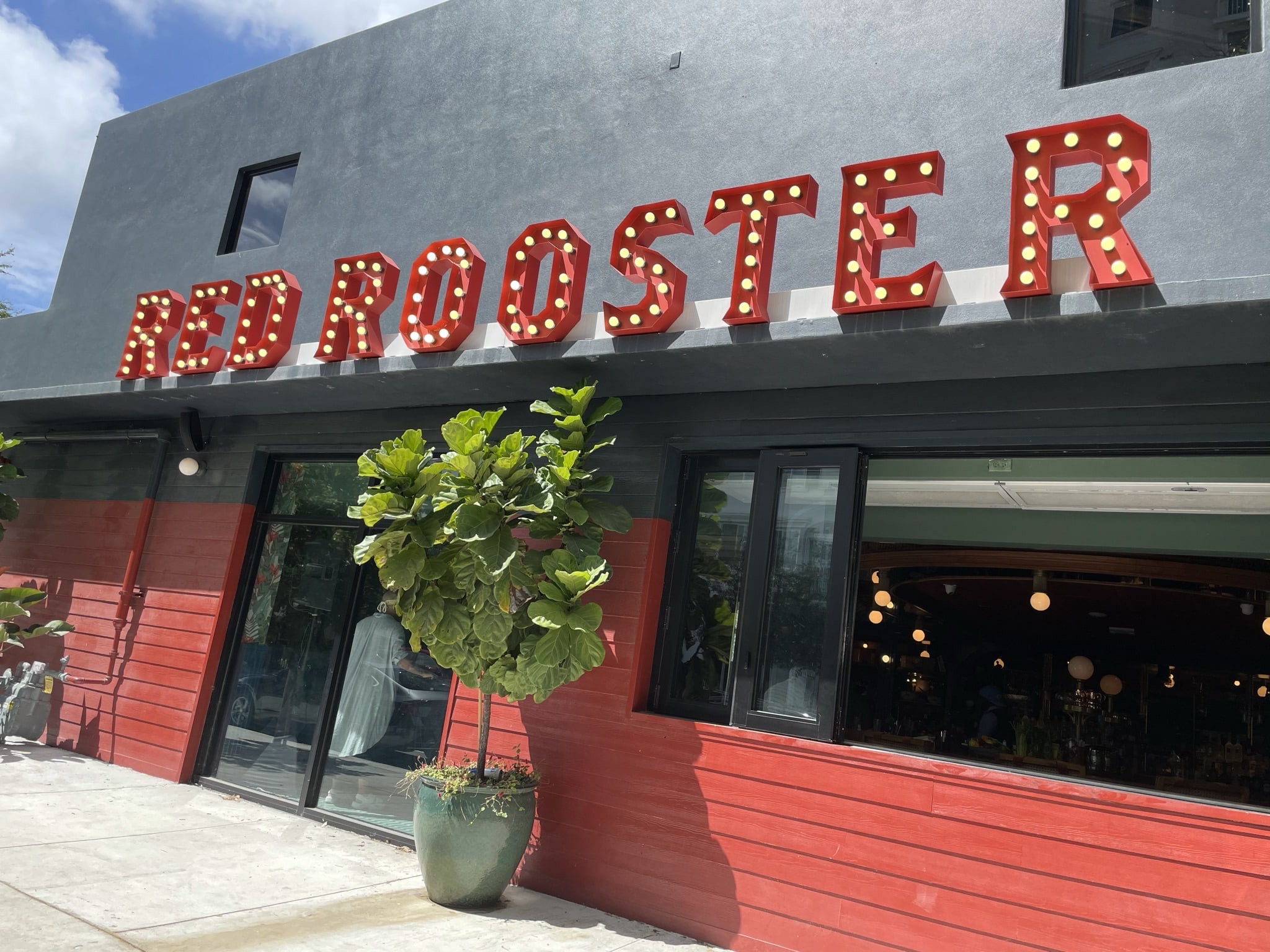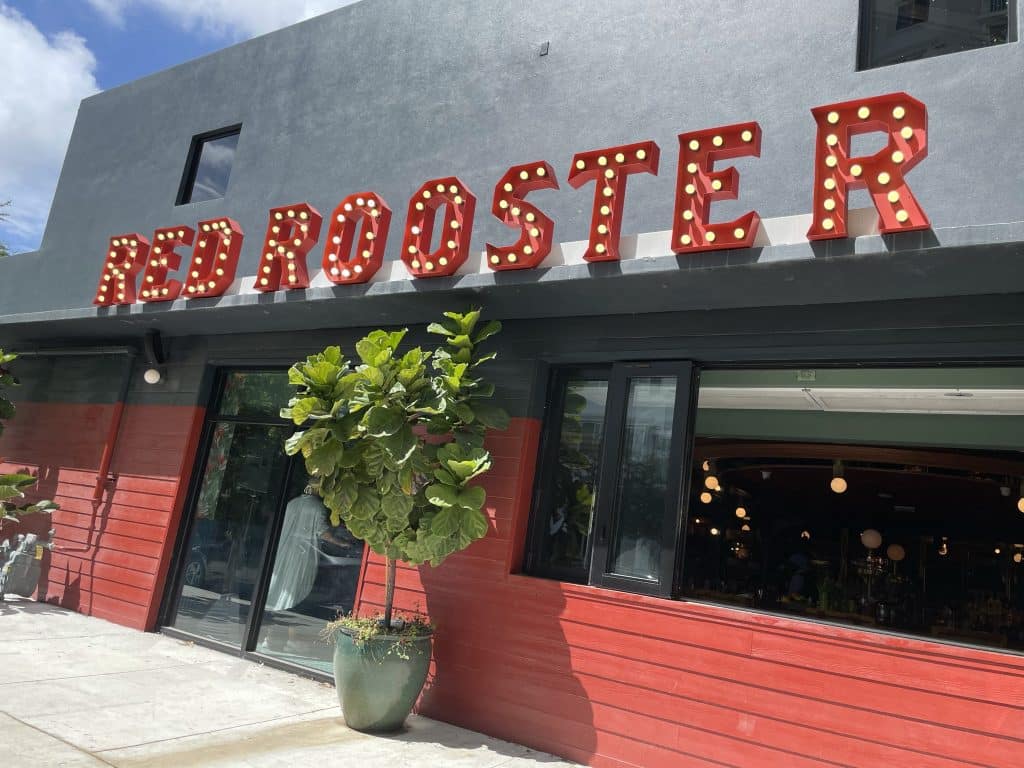 Points of interest include The Black Police Precinct & Courthouse Museum and Black Archives Historic Lyric Theater.
The Black Police Precinct & Courthouse Museum tells the story of Miami's first black policemen. The site was also one of the first of its kind, where black residents' cases would be overseen by a black judge.
The Historic Lyric Theater was graced by famed musicians, such as Louis Armstrong, Josephine Baker, Count Basie, Cab Calloway, Billie Holiday, Nat King Cole, and Sammie Davis Junior.
South Beach/Art Deco District
South Beach is possibly the most well-recognized neighborhood in Miami.
The neighborhood, on the southern part of Miami Beach, runs alongside the eastern edge of the city and gazes out on the Atlantic Ocean. It has been featured in countless movies and TV shows, including The Bird Cage, Dexter, The Marvelous Mrs. Maisel, Miami Vice and Scarface.
This neighborhood is known for its impressive art deco architecture, Miami cuisine, wild nightlife, and pristine beaches. It's also home to the South Beach Food and Wine Festival each winter.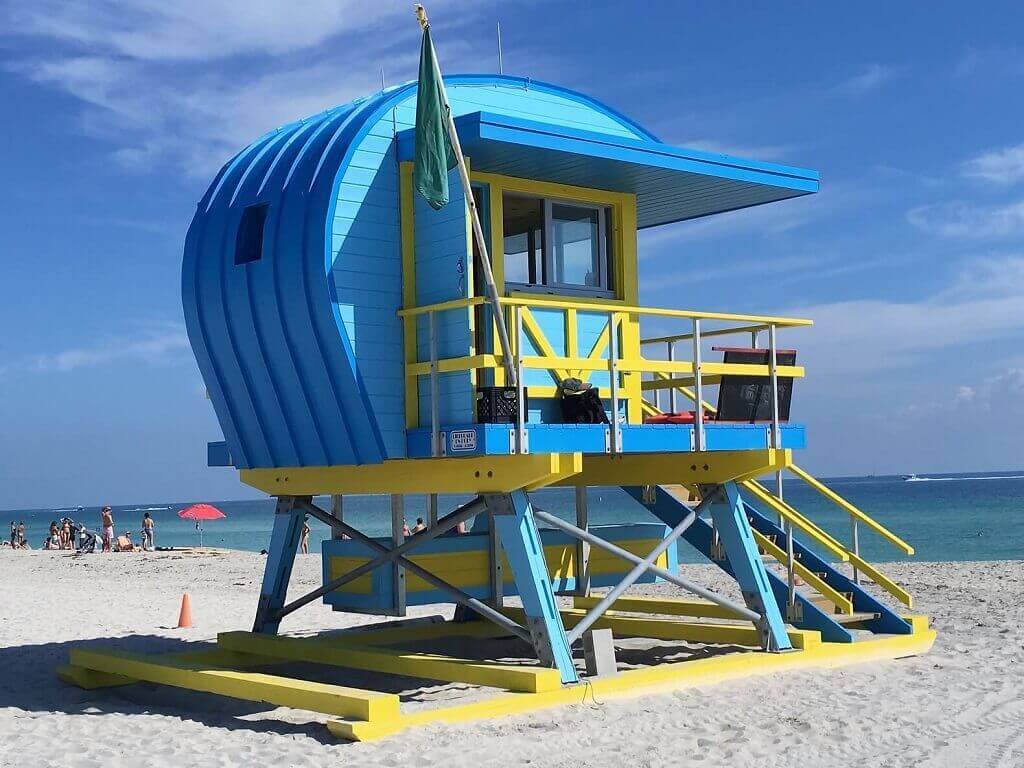 We recommend taking a few tours of the neighborhood (if your feet can stand it). Daily art deco tours are led by the South Beach Historical Society and cost only $20 per person. You'll get a peek inside some of the most iconic art deco hotels and learn the history behind each building.
Walking and biking along the promenade are also both great ways to see the neighborhood.
South Beach is as well-known for its food as it is its architecture. As an added bonus, most restaurants face the ocean, so you're bound to get an amazing view with your meal.
Within South Beach itself, at the very tipy-tip of southern Miami Beach is the neighborhood known as South of Fifth. This upscale neighborhood is reminiscent of the south of France with its high-end restaurants, leafy streets, ocean-facing multi-million dollar condos and beautiful South Point Park.
Some top restaurants in the South of Fifth neighborhood include New York City transplants Smith and Wollensky, Carbones and, of course, the local, legendary Joe's Stone Crabs.
If you're in this Art Deco heaven, why not stay in an Art Deco hotel? A reasonably price hotel right in the center of the action is The Shepley Hotel.
Wynwood
Wynwood has been one of Miami's 'up-and-coming' neighborhoods for a few years now. And it appears that this trendy, industrial neighborhood is finally coming into its own. Not only do visitors flock here for its artsy vibe, but even locals are heading to Wynwood in droves to check out pop-up art shows, murals, street artists, trendy boutiques, and craft distilleries and breweries.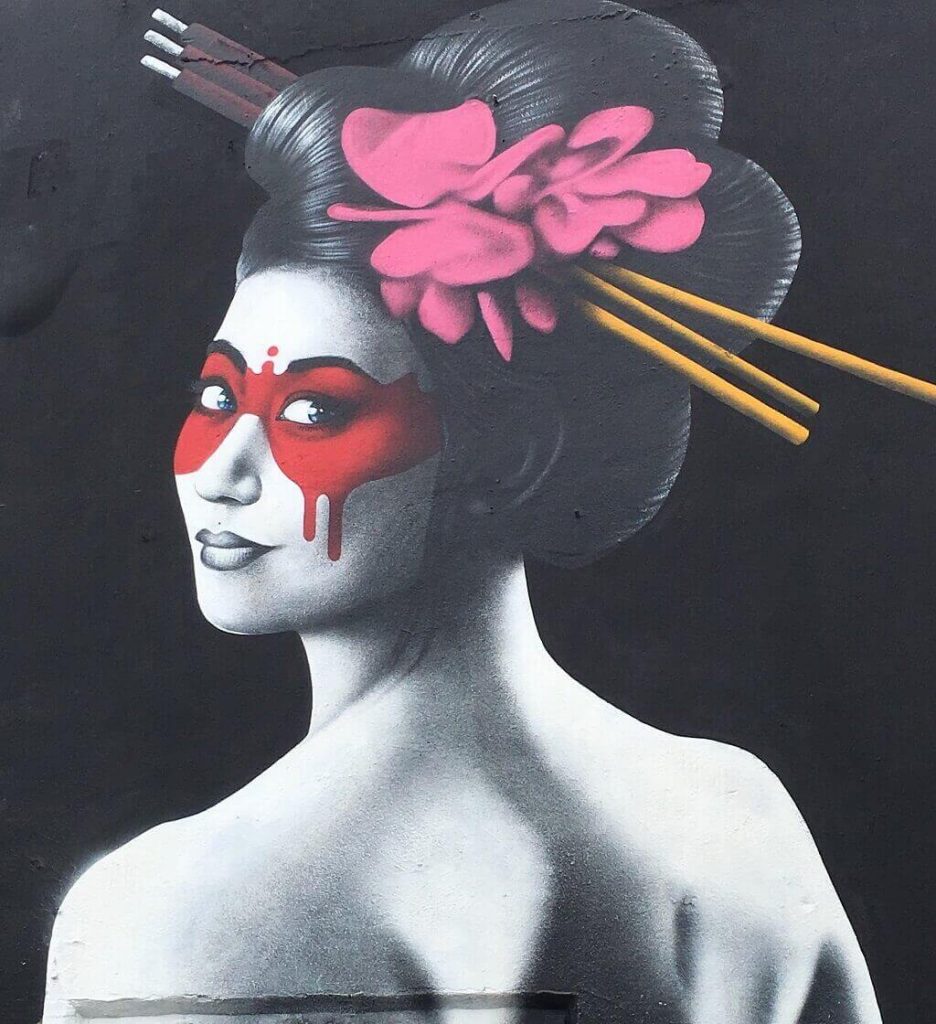 This neighborhood is just as known for its art as it is its nightlife — most of which are housed in converted warehouse spaces.
We recommend heading here during the day to check out the murals (or even take a tour of the local art in the neighborhood). If you're an art lover, you'll also want to check out a few of the local art galleries, including the Margulies Collection at the Warehouse and the Bakehouse Art Complex (where you'll even get to see the artists hard at work on their latest pieces).
The neighborhood really comes alive at night, so you'll want to stick around for dinner, drinks, and even a little dancing after nightfall.
When it comes to dining, you'll find everything here from taco trucks to James Beard award-winning restaurants. Of course, the focus here is on Latin American cuisine, but you'll find everything from New American to Asian in Wynwood, too.
After dinner, we recommend checking out one of the craft breweries the neighborhood is known for like Cerveceria La Tropical, a duplicate of the original brewery in Havana. Or, dance the night away at one of the dozens of dance clubs and bars in the area.
The Hampton Inn and Suites Midtown is less than a mile from Wynwood and good value for the money. It is also a good base from which to explore the Miami Design District below.
If you like street art, you'll love this post: AN EPIC LIST OF STREET ART CITIES FROM AROUND THE WORLD (travelswithtalek.com)
Miami Design District
Miami is an art-lover's dream destination. It's home to one of the largest art festivals in the world (Art Basel Miami Beach) as well as hundreds of galleries and dozens of museums.
The Design District is one of the most art-centric neighborhoods in all of Miami. Here, you'll find contemporary architecture, high-end art galleries, and the Institute of Contemporary Art (as well as plenty of street art).
Artsy attractions include the Fly's Eye Dome, a geodesic dome that has an Insta-worthy exterior and lives up to its name (the dome is designed to look like a fly's eye); the de la Cruz Collection Contemporary Art Space, and Swampspace.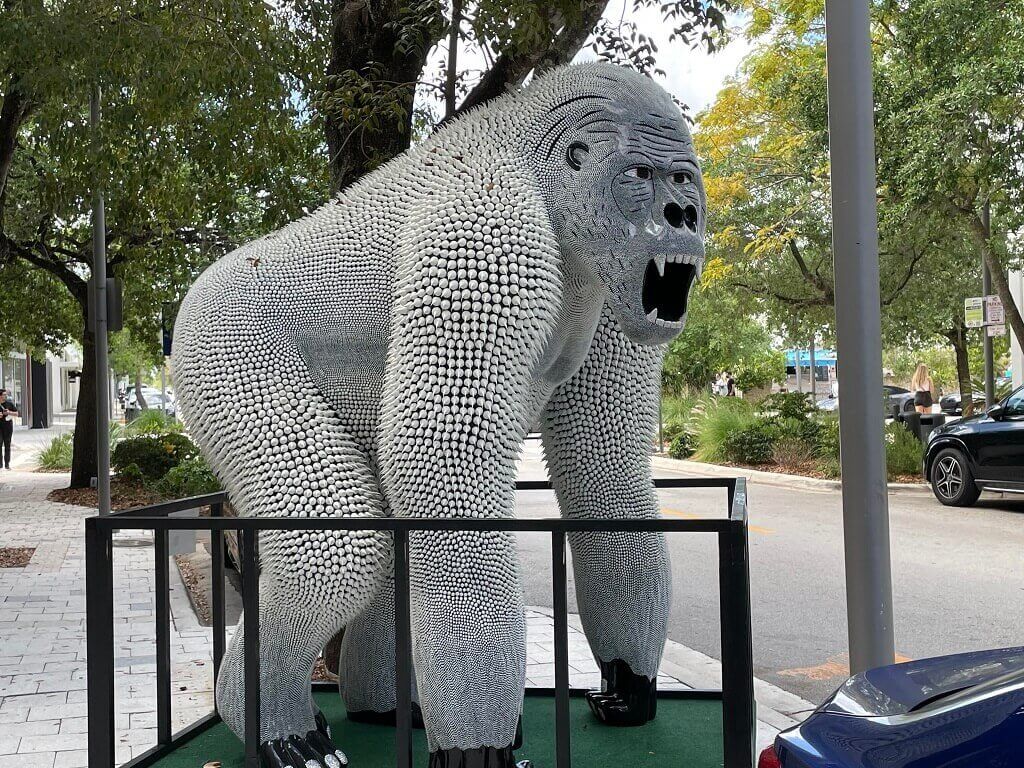 Other points of interest include The Moore Building and The Haitian Heritage Museum.
If you're looking for a special occasion restaurant, you'll find plenty of high-end eateries, Michelin-starred restaurants, and celebrity chefs here. Big-name restaurants include Ghee Indian Kitchen, Michael's Genuine Food & Drink, and Swan (founded by Pharrell and David Grutman).
There's also plenty of high-end shopping here should you need a little retail therapy during your visit.
No matter where you go in Miami, you're sure to find ways to blow off some steam, chillout, and fuel up. This city is full of history, amazing Latin American cuisine, and cultural atmosphere. It marries high-end culture with a laid-back Caribbean flair you will find in all the Miami neighborhoods.
If you want to know more about this fascinating city, check out these useful guidebooks.
What is YOUR favorite Miami neighborhood? Let us know in the comments.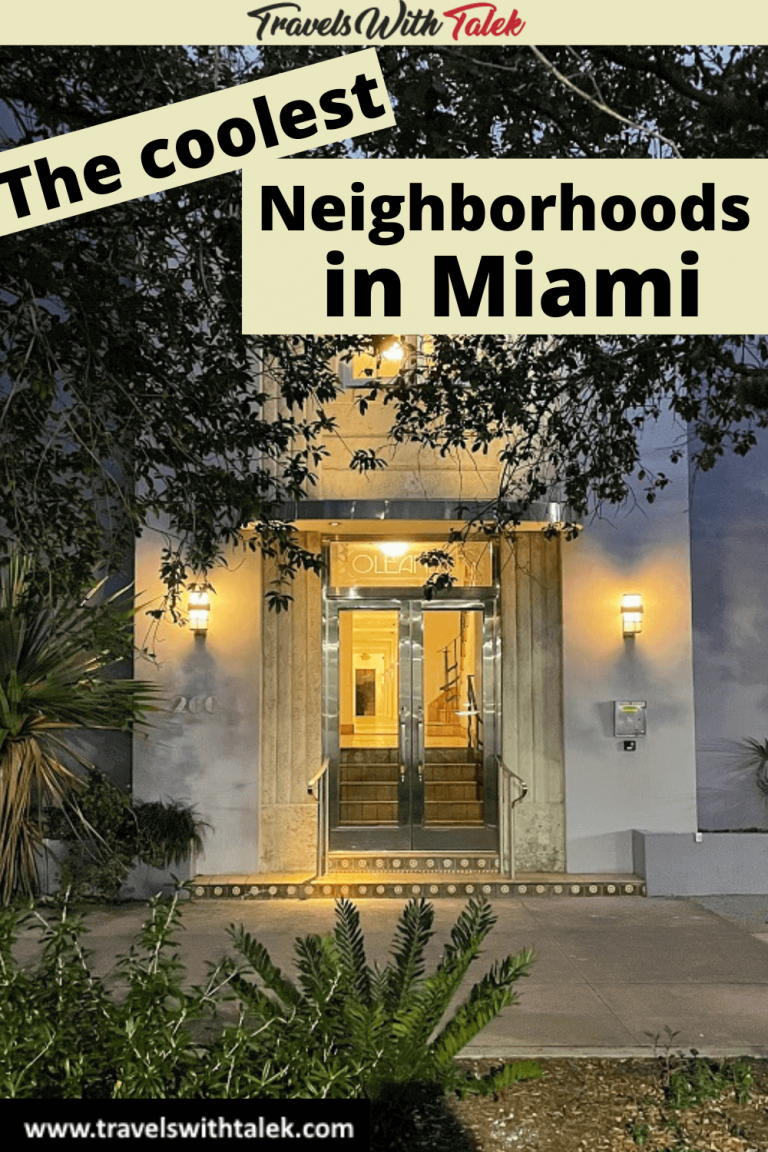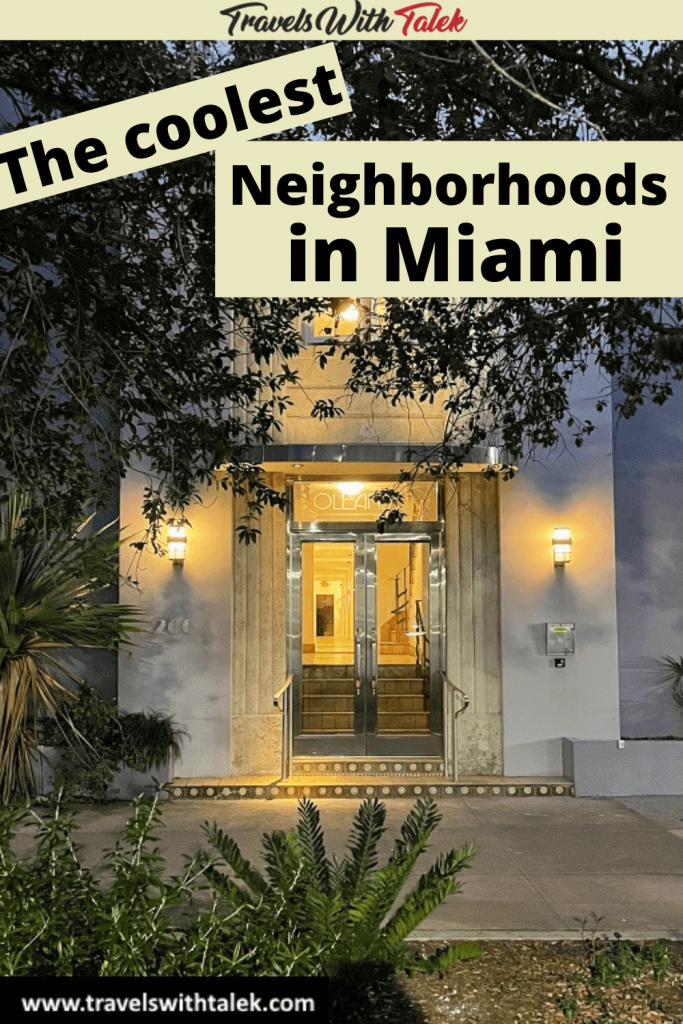 BTW, if you are getting ready for your trip, make sure to take advantage of these useful, money-saving links to book your trip:
I personally use, and can recommend, all the companies listed here and elsewhere on my blog. By booking through these sites, the small commission we earn – at no cost to you – helps us maintain this site so we can continue to offer our readers valuable travel tips and advice.