If you're a fan of street art and graffiti, then you're in for a treat. We asked fellow travel bloggers about their favorite street art cities they have visited and the most memorable examples of this type of modern art.
While some view street art as vandalism, others see it adding to a city's overall character. While there are some well-known street art cities mentioned here, such as London and New York City, there are also some lesser-known areas where you can find amazing graffiti.
Here is an epic list of 27 masterpieces showing the best street art in Europe, South America, Asia, Australia, and North America.
Best Street Art Cities
 Around the World
Best Street Art Cities in Europe
London – Skate Park
On our first vacation with our infant son to London, our travel pace slowed down significantly.  We noticed striking street art at the Skate Park on the South Bank of the River Thames during one of his frequent feedings that we might have just quickly passed otherwise.  This ever-changing wall of graffiti is like a living art installation that we remember as the most distinctive street art we've ever seen.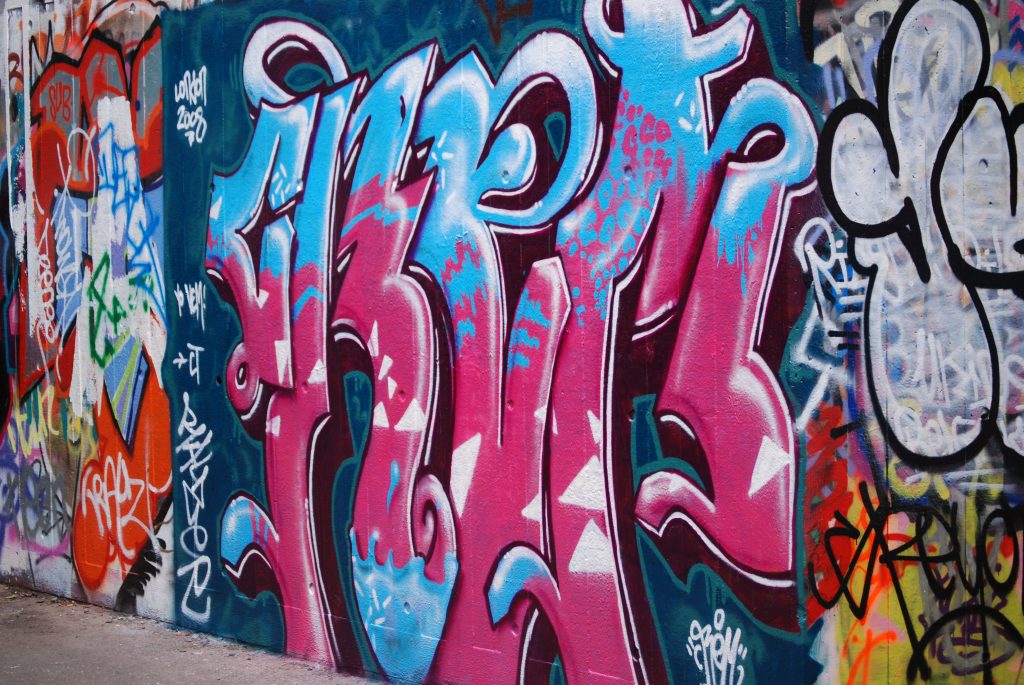 Catherine D'Cruz blogs at We Go With Kids.  
If you like this, read all about the top things to do Southbank, London.
Amsterdam
Amsterdam is a quirky city in itself and so there is no doubt that it would also be home to some amazing street art. This piece was one of my favourite pieces I found depicting the red light district and clambering men trying to get there. From a distance it only looks like a pair of lips; however the closer you get the more interesting it becomes.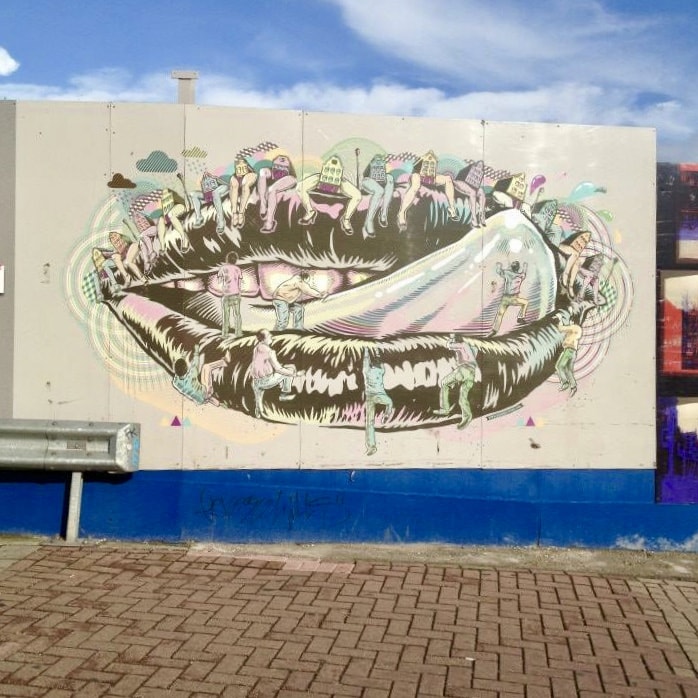 Verity blogs at Veritru.
Reykjavik, Iceland
There is nothing more fun for an art lover/appreciator to turn a corner in Reykjavik, Iceland and run directly into some street art.  I find them interesting and they just seem to fit in Reykjavik.  I love that this whole building is wrapped in art.  It even looks Icelandic!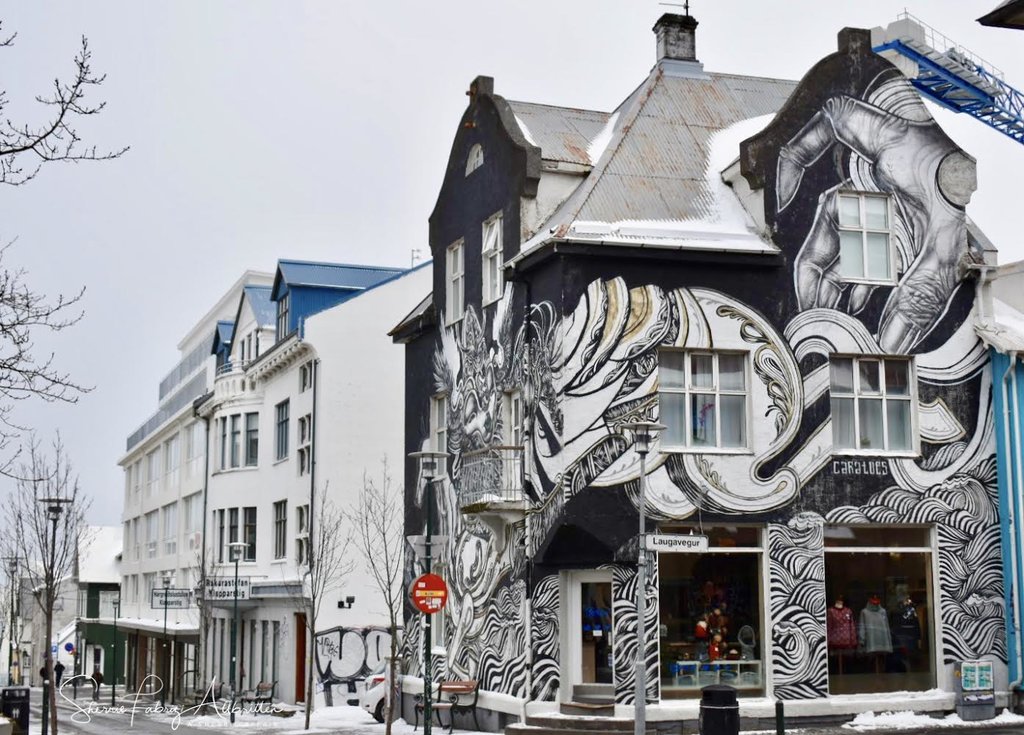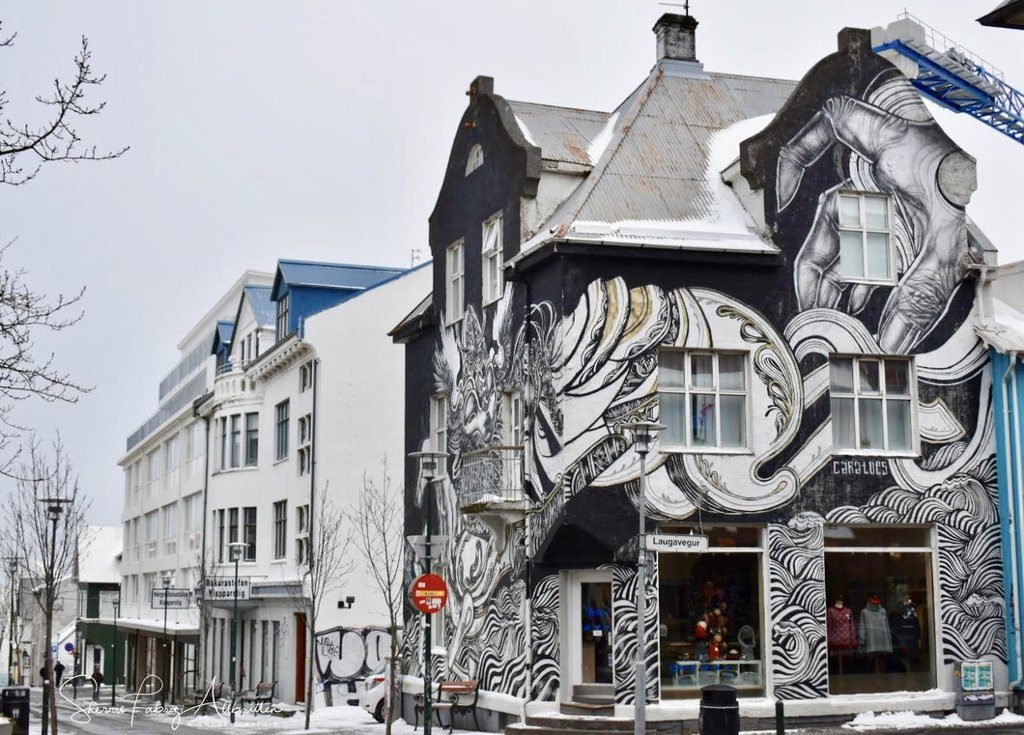 Sherrie blogs at Travel by a Sherrie Affair.
City Centre – Reykjavik, Iceland
One of the unexpected pleasures of our visit to Reykjavik was the wonderful street art we found all around the city centre. From tiny pieces to artworks covering entire walls, they were vibrant and fascinating. I spotted a row of little bee-eaters huddled on a branch, a little girl peeking around a corner, a muscled strong man in a red cape and a realistic cat painted onto the bottom of a front door – I thought it was real for a moment! My favourite street artwork was a piece called Days of Gray, a circular abstract landscape of grey earth and bright blue sky.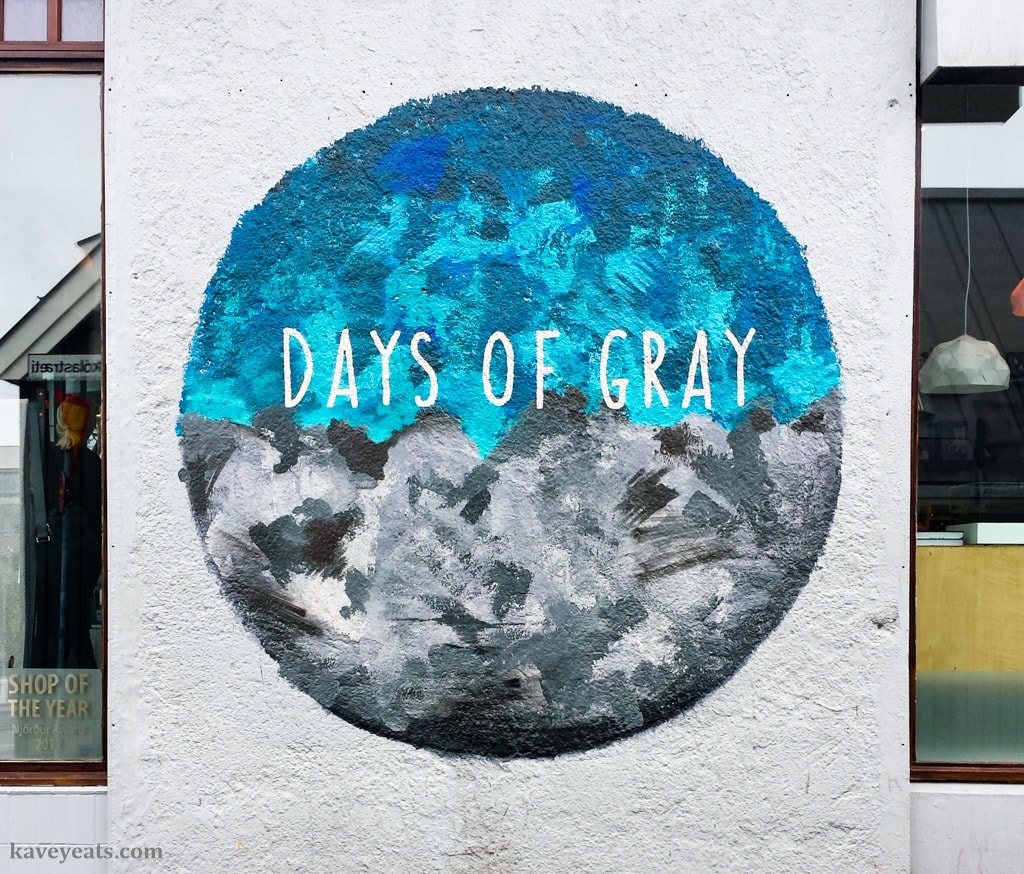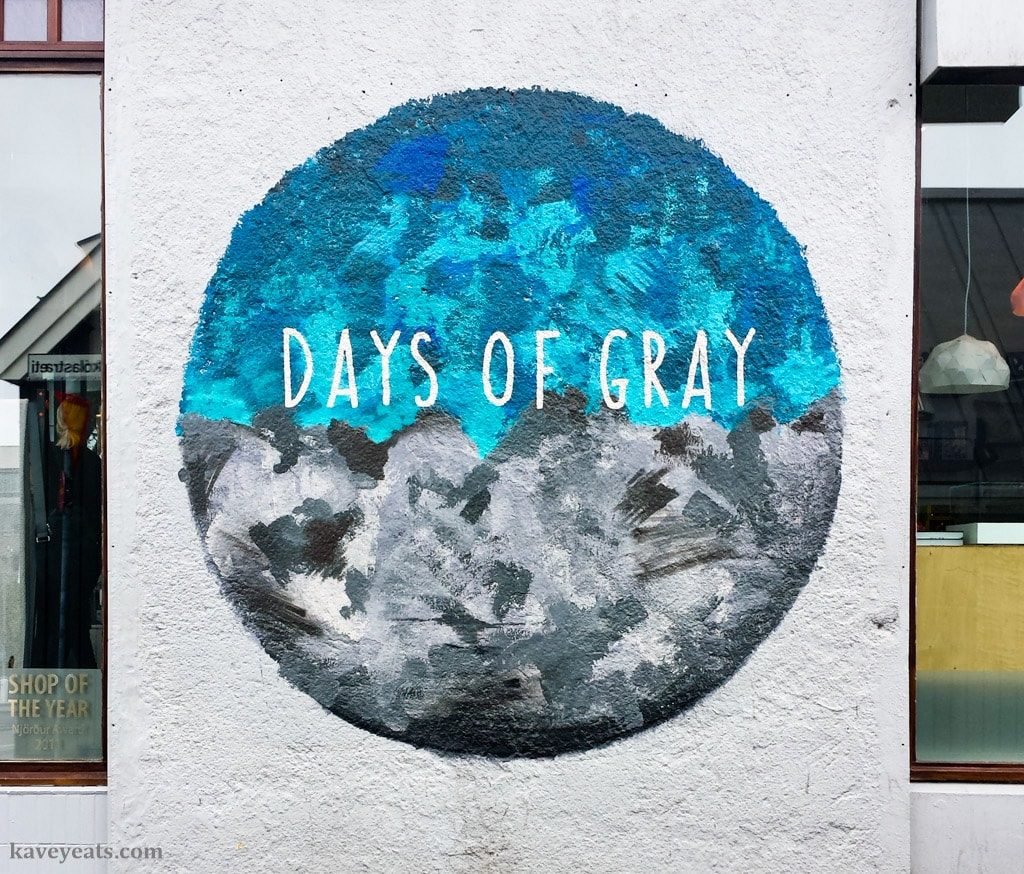 Kavita Favelle blogs at Kaveyeats.com.
Learn about 10 things to see and do in Iceland.
Athens, Greece
The street art scene in Athens is overwhelming, boasting some of the best street artists in the world. Even after visiting cities all over the world known for their street art, Athens always strikes me as one of the places that have embraced it the most.
You see murals and tags in almost every part of the city, even in parts of the more upscale and historic districts. True street art enthusiasts should wander around Exarchia, which is an anarchist neighborhood full of students and other young people and is positively packed with murals.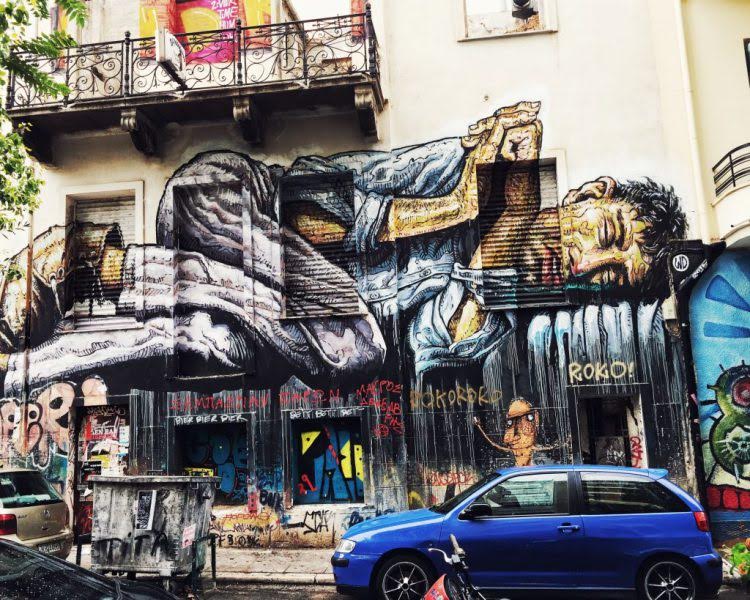 Stephanie Craig blogs at Historyfangirl.com.
Street art graffiti is a universal self-expression art form. It is found in the prehistoric caves of northern Europe and in today's teeming barrios. Humans need to create, and create they do.
Belgrade, Serbia
Belgrade is home to one of the best cities for street art in all of Europe. You can even take a tour of Belgrade's street art scene with some of the artists themselves! The art in Belgrade is very often colored by political undertones, which makes sense given the city's recent past. But I was particularly enthralled by the vibrant colors of this piece, which (to me, at least) evoke a sort of connection between man and nature.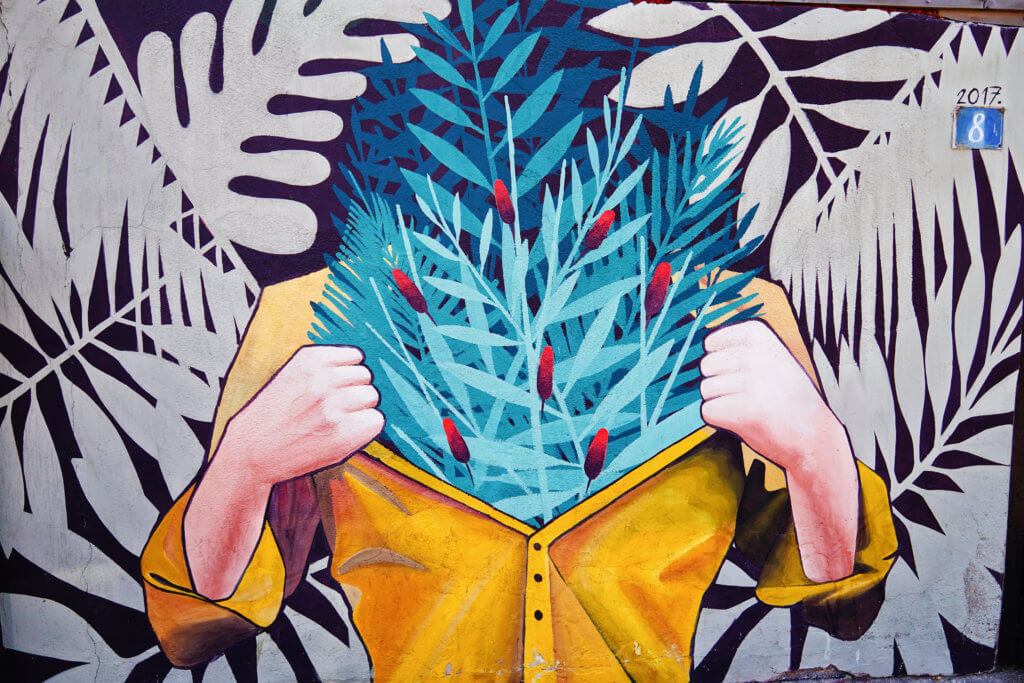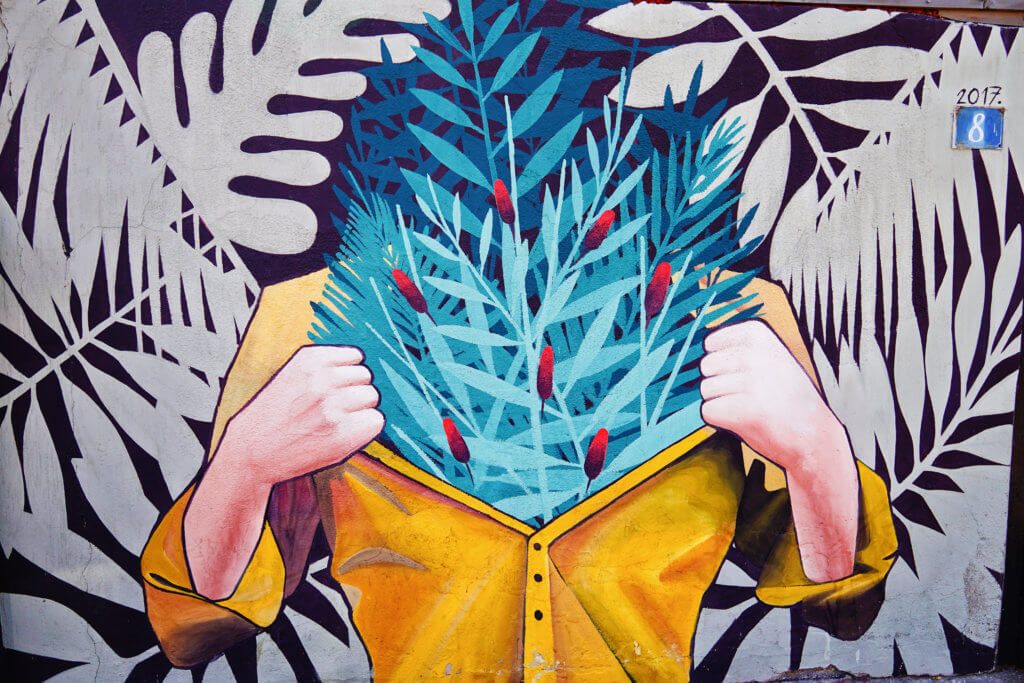 Nate blogs at Travel Lemming.
Super Mario Street Art – Basel, Switzerland
Who doesn't love Mario? I definitely do and I also really like these mosaic street art pieces you can find in Basel, Switzerland. Mostly there are mosaic space invaders, so this little fella on Uferstrasse in Basel felt like a really rare find. What's really great about it, is that it is so small. Like so many good things in life, you can't see it unless you pay close attention to your surroundings.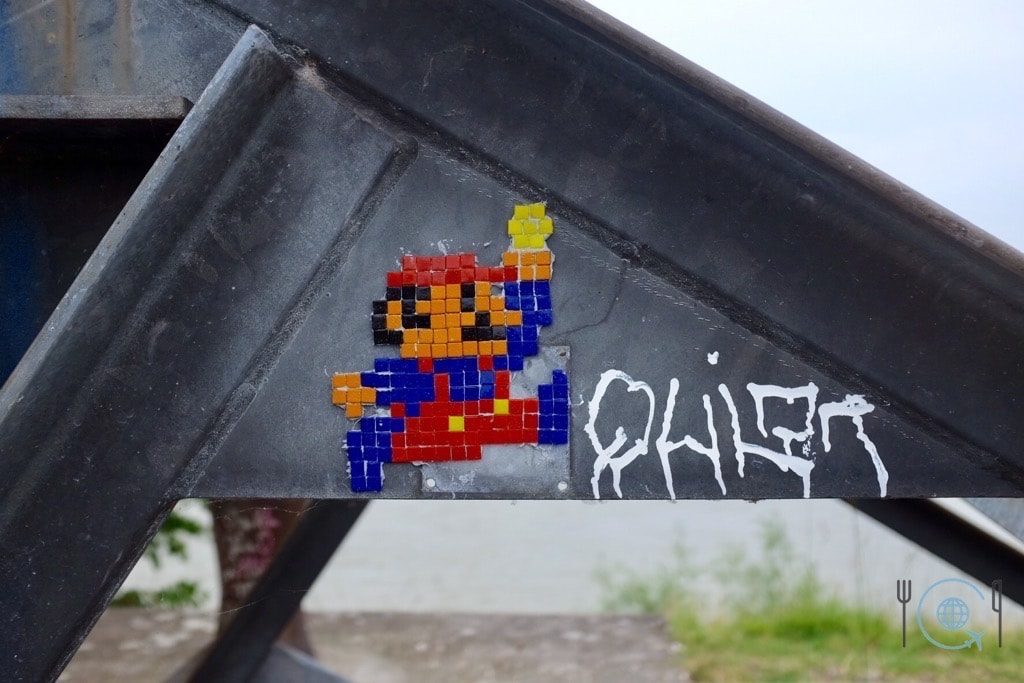 Thomas blogs at Trip Gourmet
Urban Spree – East Berlin, Germany
Berlin's history over the years has seen many ups & downs, but it is impressive how the locals leave no chance at rebellion, awareness and expression through the many examples of amazing street art graffiti, found in abundance across Eastern Berlin, including the Berlin Wall.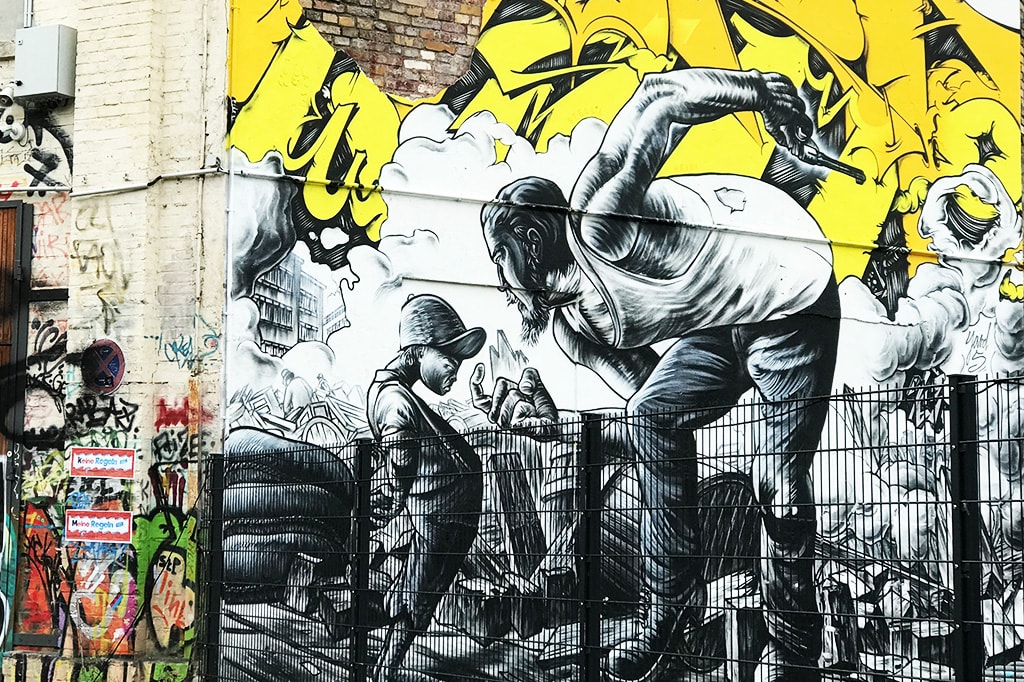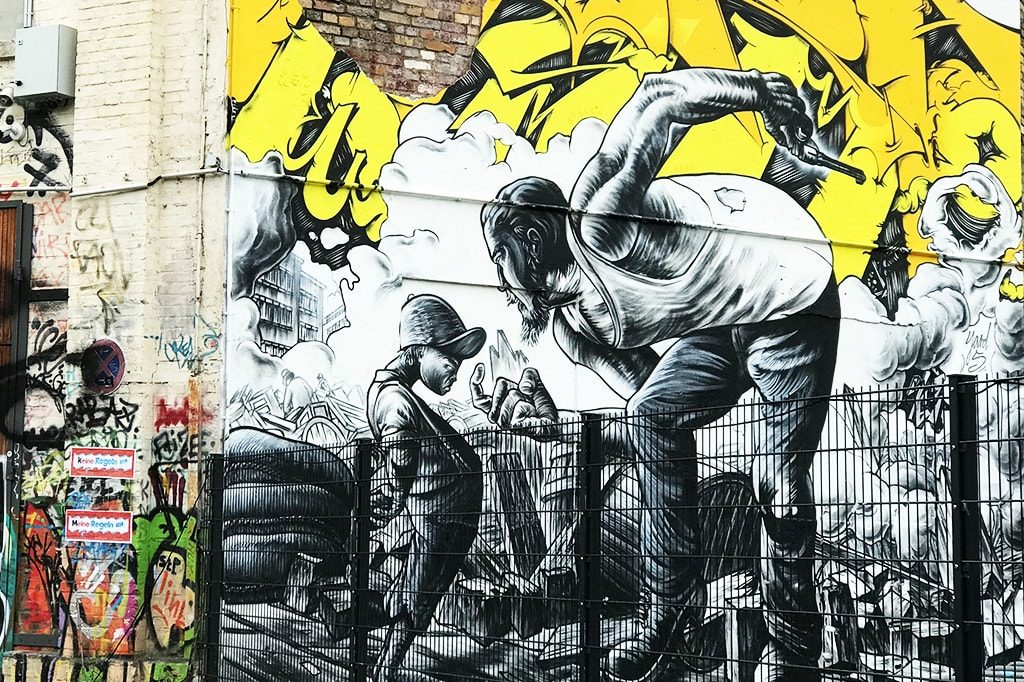 Parampara blogs at Awara Diaries.
Ghent, Belgium
This image is located in Werregarenstraatje, a long alleyway dedicated to street art in Ghent, Belgium. This particular piece of amazing art caught my attention because it left me wondering if the central figure is the leader of the chaos all around or if he's a concerned citizen mad at the chaos. I still can't decide. That's the greatness of art.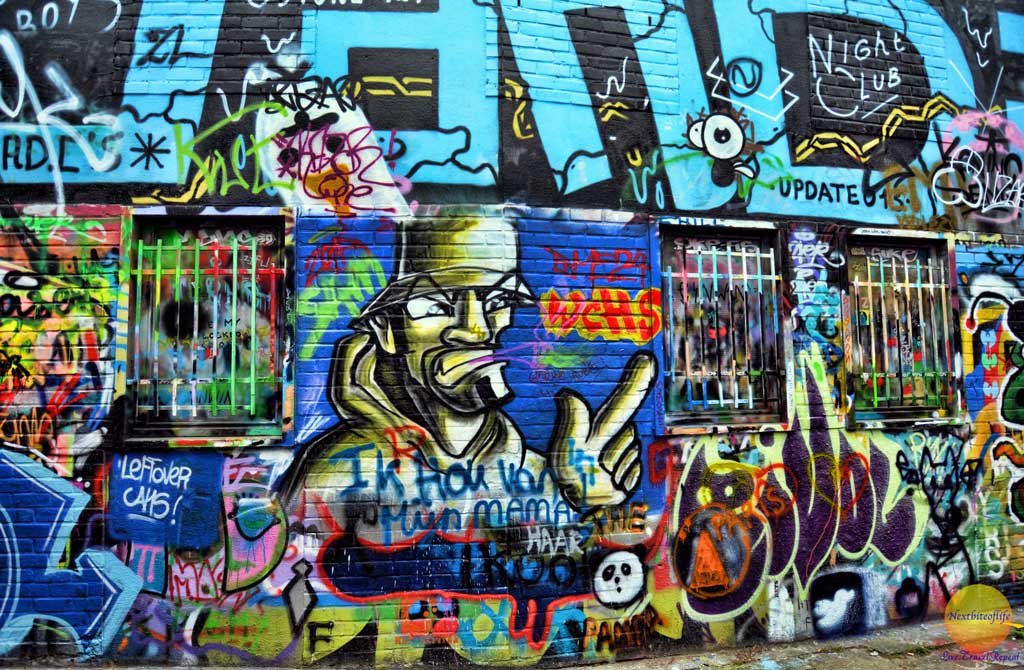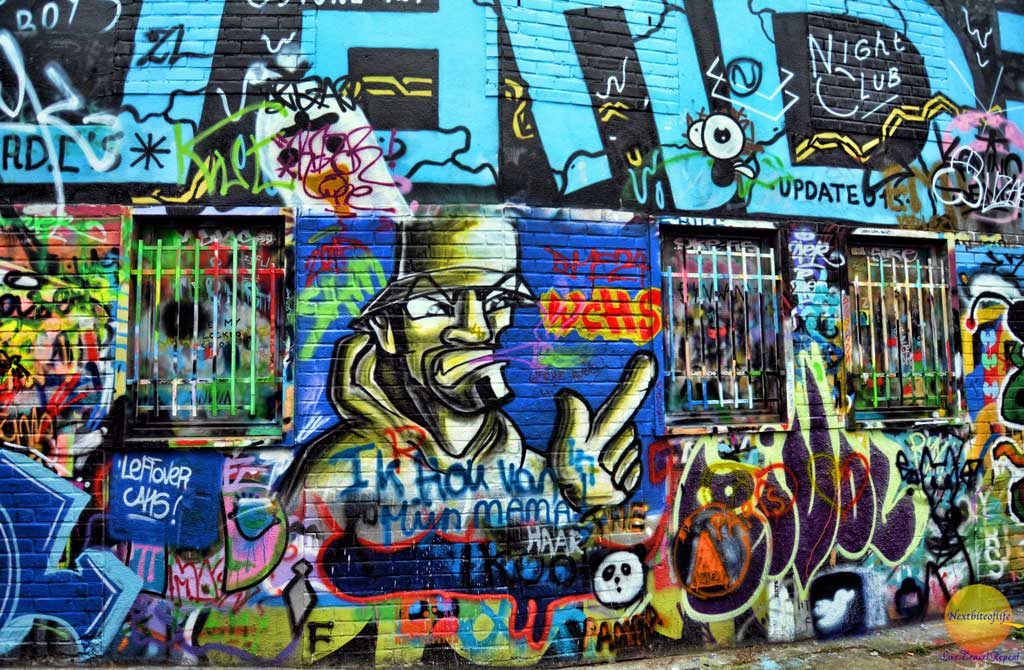 Kemkem blogs at Next Bite of Life.
Paris, France
The best street art in Paris is located in the 13th Arrondissement. Some years ago, the mayor of this district launched a program of giant murals made by famous street artists from all over the world. Most of these murals are concentrated along Boulevard Vincent Auriol and today street art is part of the landscape in this area.
The picture shows a mural made by Seth (France) but there are other interesting murals by Sainer and M City (Poland), Vhils (Portugal), Kislow (Ukrania) OBEY (US), Inti, Maher, and Aner, (Chile), Ethos (Brazil), ZED (Tunisia + Morocco) and Jana & JS (France-Germany).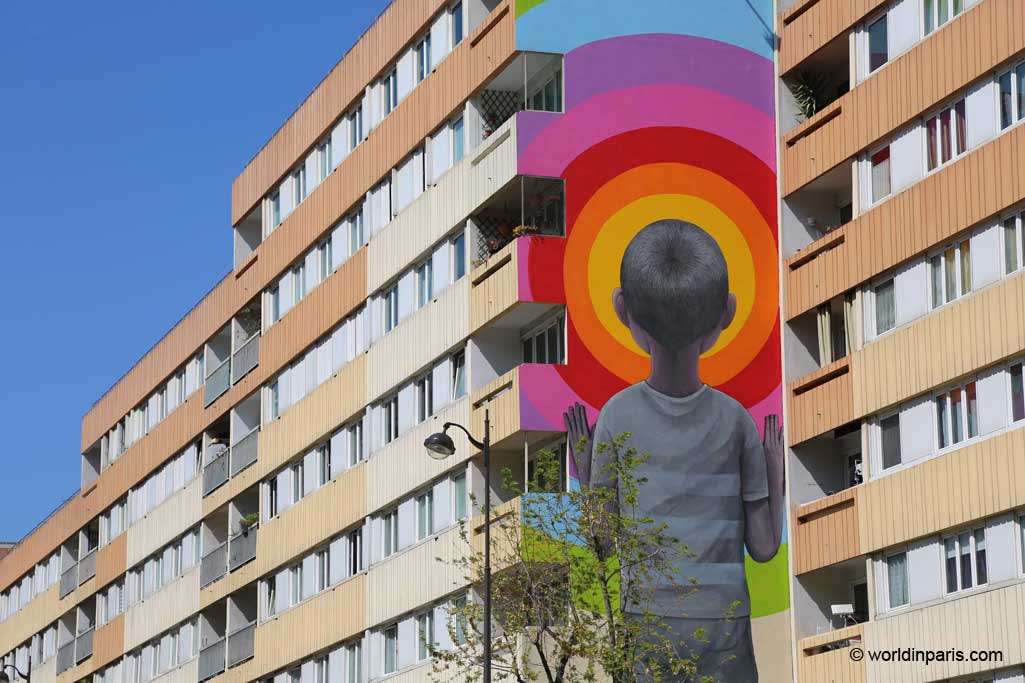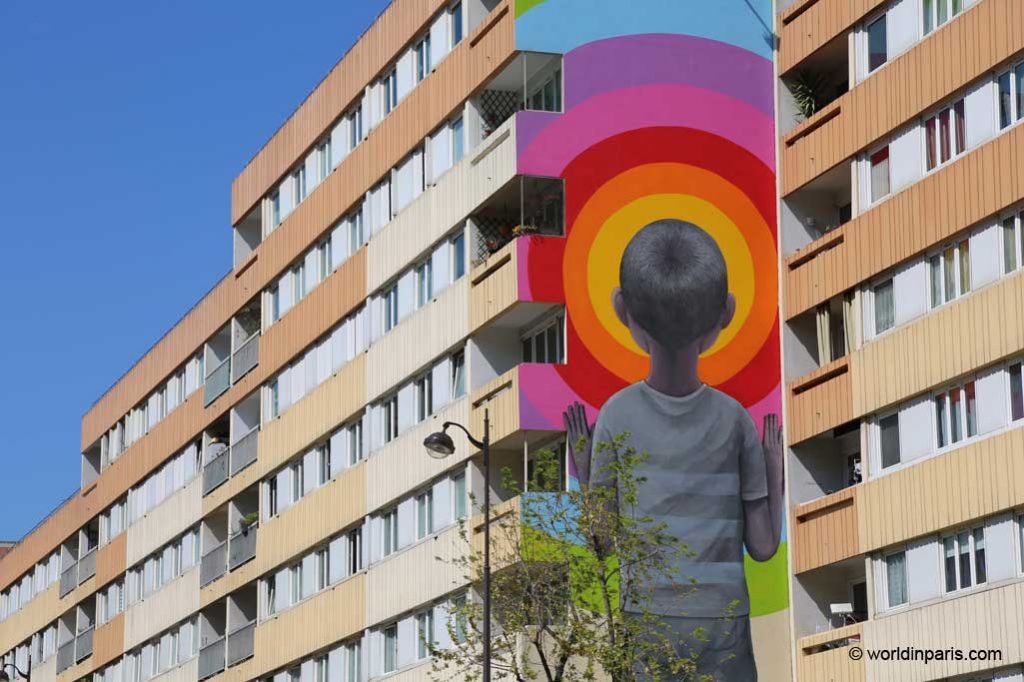 Elisa blogs at World in Paris.
Barcelona, Spain
Another of the best street art cities in Europe is in Barcelona, Spain. La Carbonería is one of the most famous pieces here. After the coal factory closed it became a famous "okupa house" from 2008 – 2014. The squatters living there helped save this building from demolition.
Now categorized as a historic and artistic building, one of the most photographed buildings in Barcelona is once again abandoned.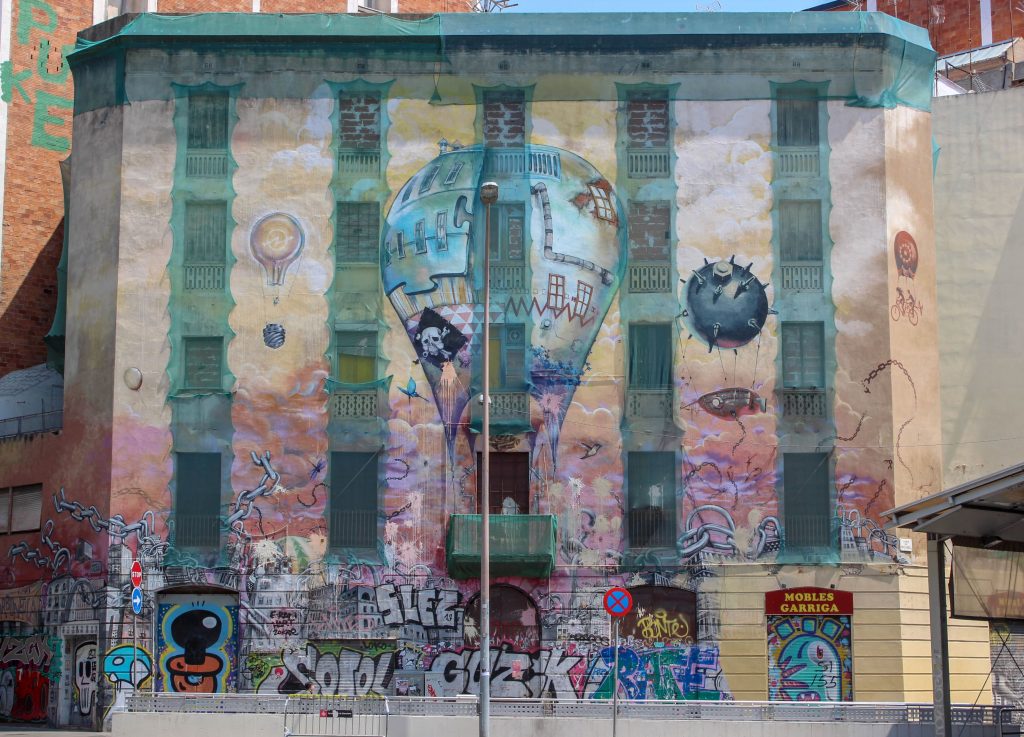 Sally blogs at Luxurious Lifestyles.
---
The Best Street Art Cities in South America
Mendoza, Argentina
As one of the top wine-producing regions of the world, Mendoza, Argentina is all about wine.  Even the local reptiles have been known to savor a sip or two. Here's one right here in this beautiful example of street art graffiti!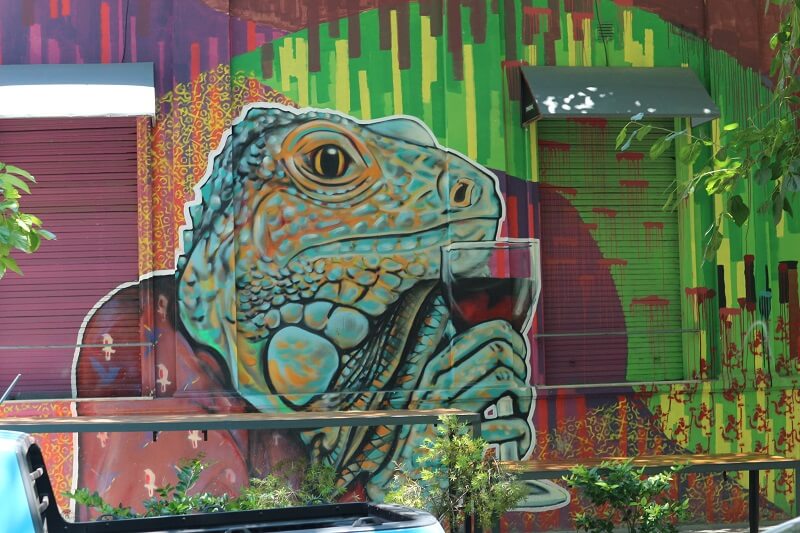 Talek Nantes blogs at Travels with Talek.
Barranco District, Lima, Peru
Lima, Peru is one of the top street art cities in South America. The artsy Barranco District in Lima is a hub for colourful street art and brings the walls to life. This mural, by Limeno, Yandy Graffer (real name Abraham Portocarrero) is typical of his style with flowing swirls, vibrant colours and black outlines. The themes of the sea, fishermen and farming reflect the city's culture and trades.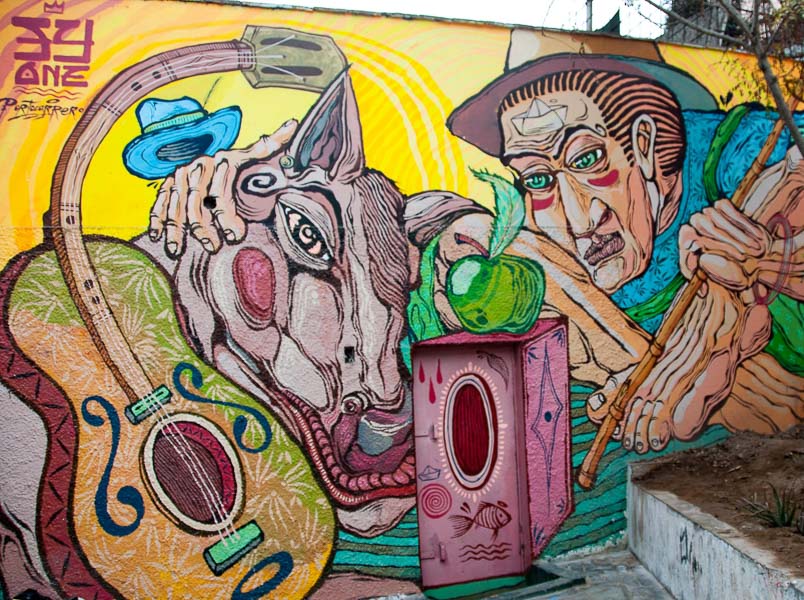 Suzanne Jones blogs at The Travel Bunny.
Medellin, Colombia
When you visit Medellín (Colombia) don't miss the Stairway Storytellers' tour of Comuna 13! The street art here is different and goes deeper, as it deals with the neighbourhood's violent past and expresses its struggle for peace and a future filled with hope. The guides are locals and your donations go towards community projects.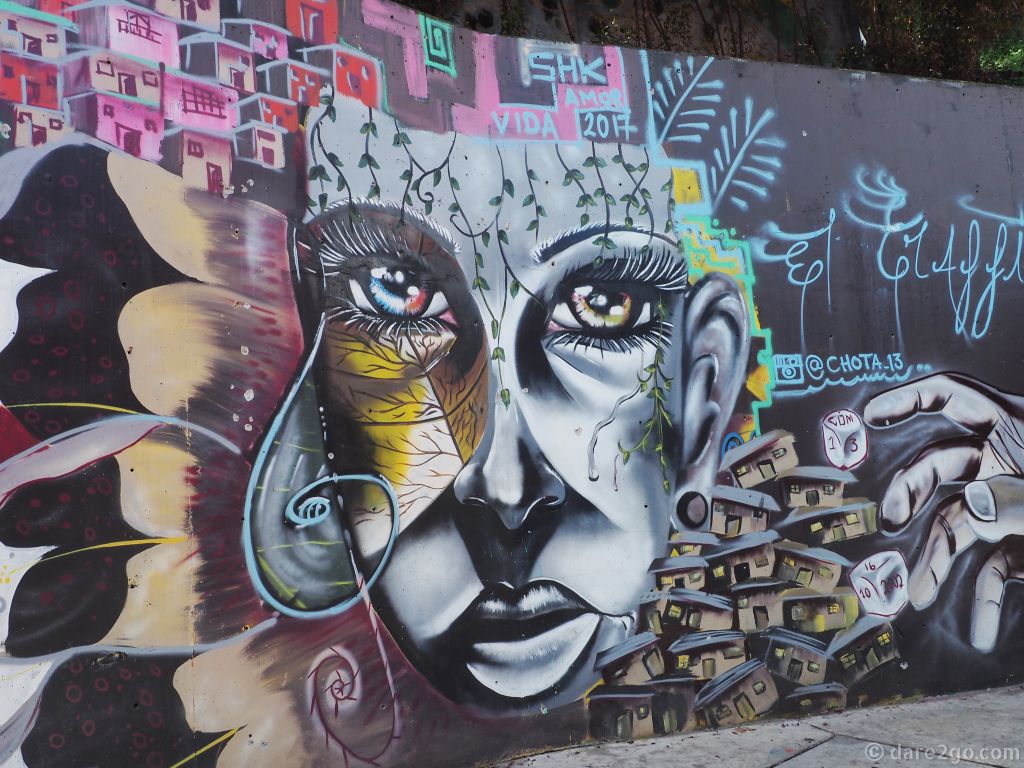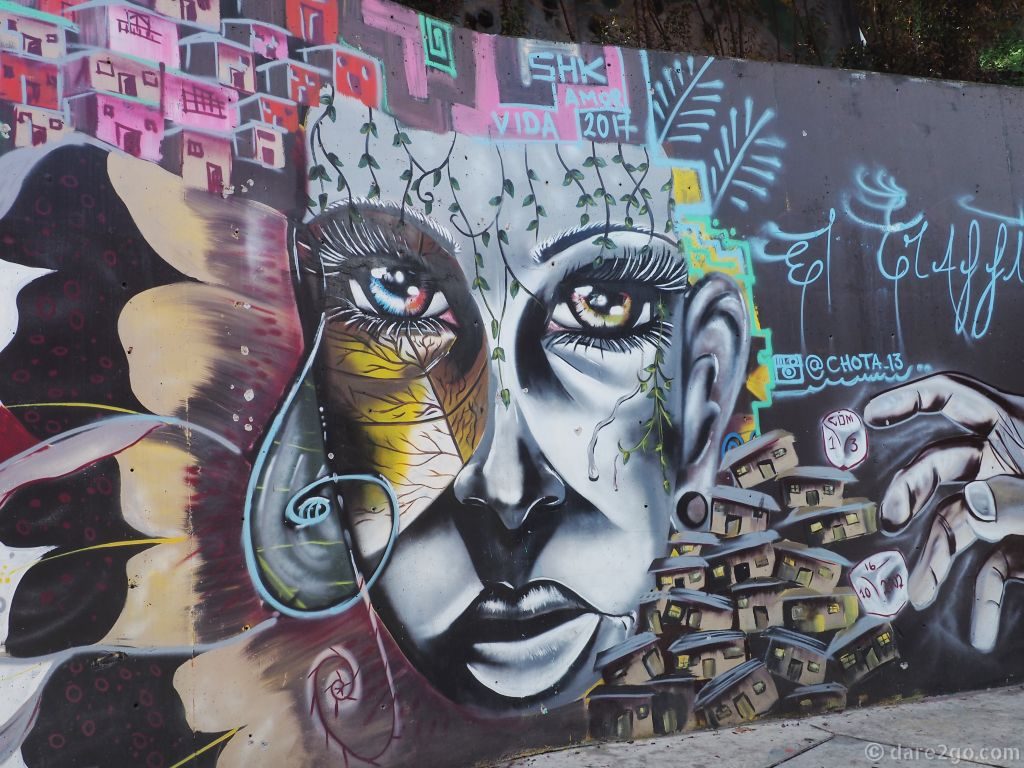 Juergen Klein blogs at Dare2Go.com.
Buenos Aires, Argentina
Buenos Aires is filled to the brim with street art, so I always have my eyes peeled for something new. I love this mural of a man asleep on his horse. Despite being painted by two artists from Holland, it's so perfectly fitting of Argentine cowboy culture. I particularly love how it's split, partially painted on the wall of a house and the fence in front.  If you play with perspective and find the perfect spot, it lines up into one work of art.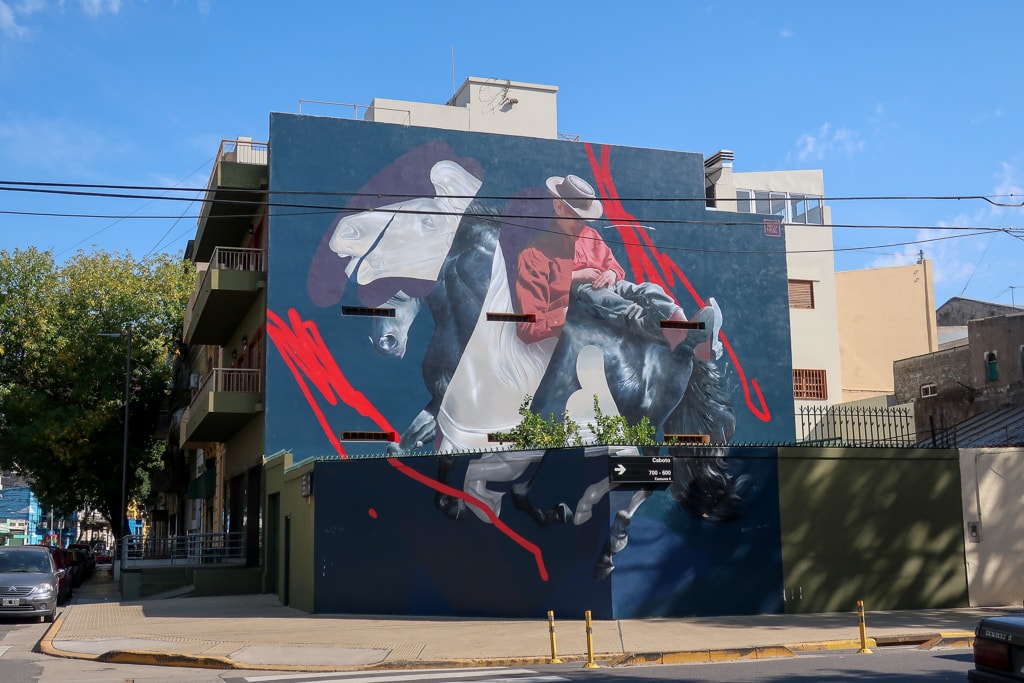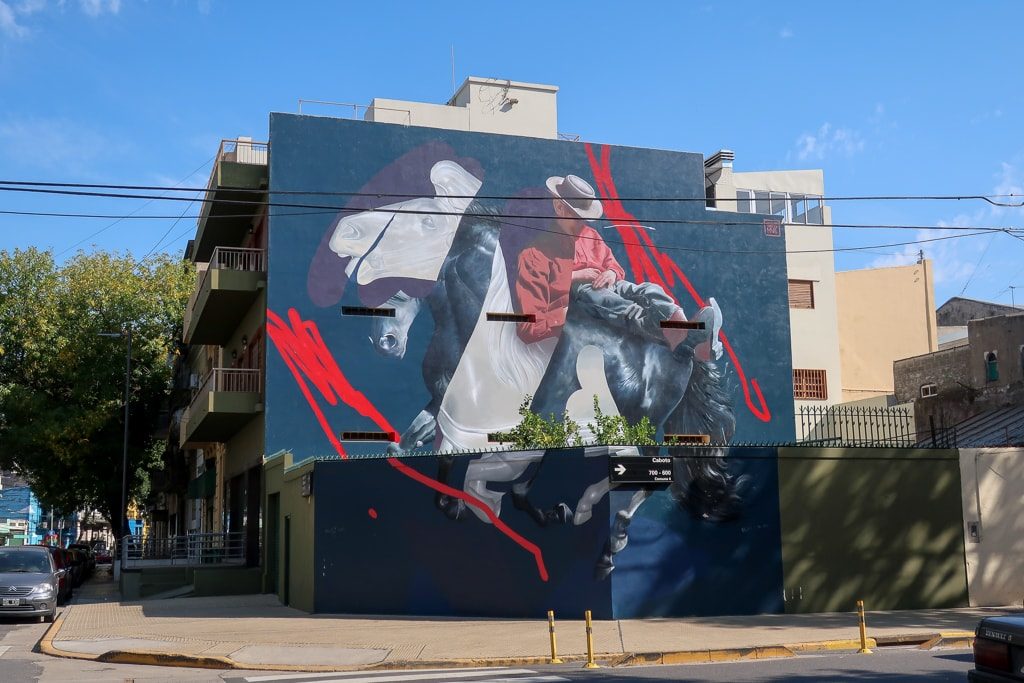 Erin Mushaway blogs at Solsalute.com.
Check out our comprehensive Buenos Aires travel guide.
Valparaiso, Chile
The coastal town of Valparaiso is located 1.5 hours from the Chilean capital of Santiago. It is one of the coolest destinations in South America for those of us who are inspired by tasteful and free street art. Valparaiso has tons of beautiful street murals, pathways, and artsy staircases. Colorfully painted buildings dot the cityscape, along with artists' studios and communities.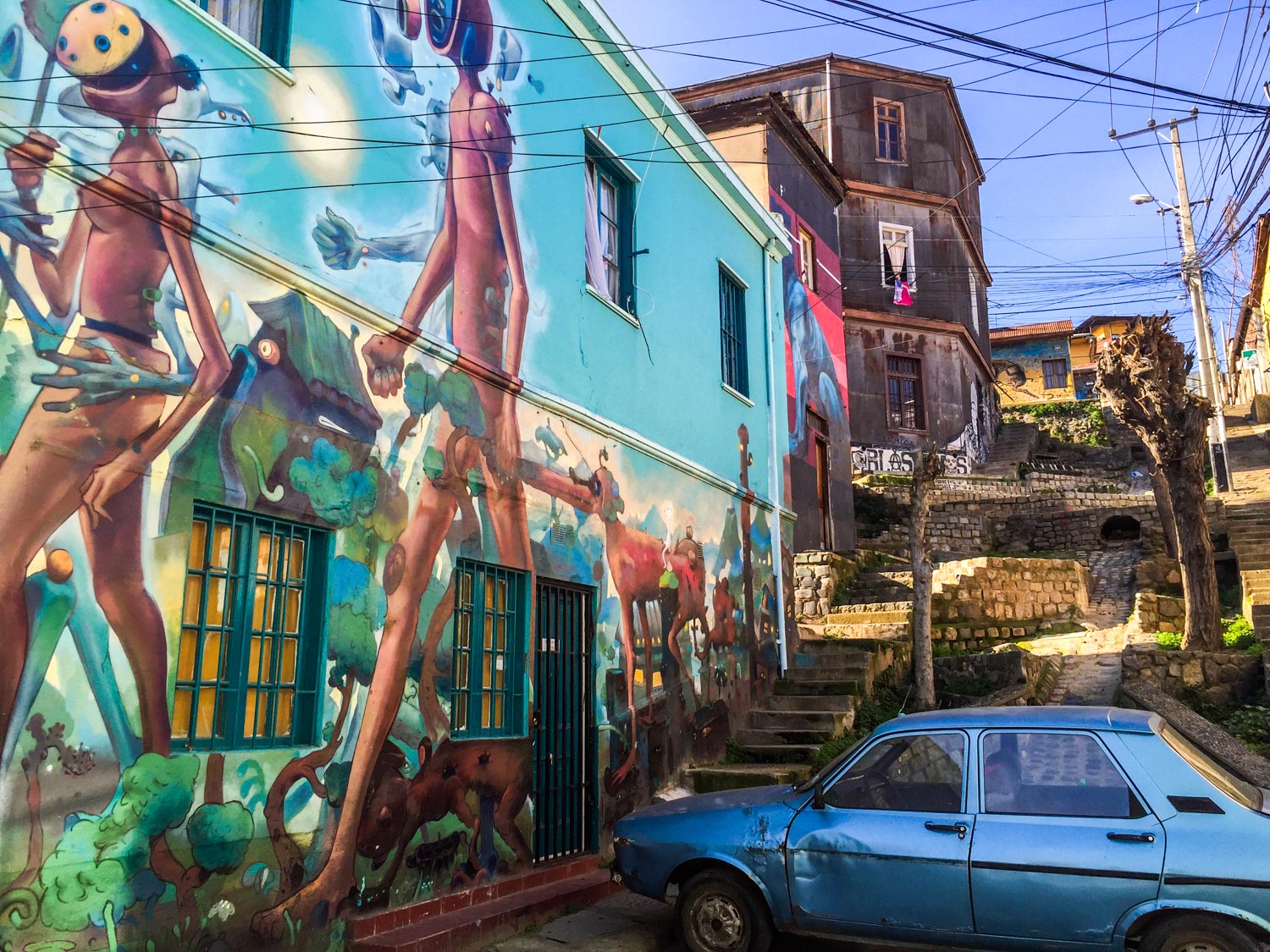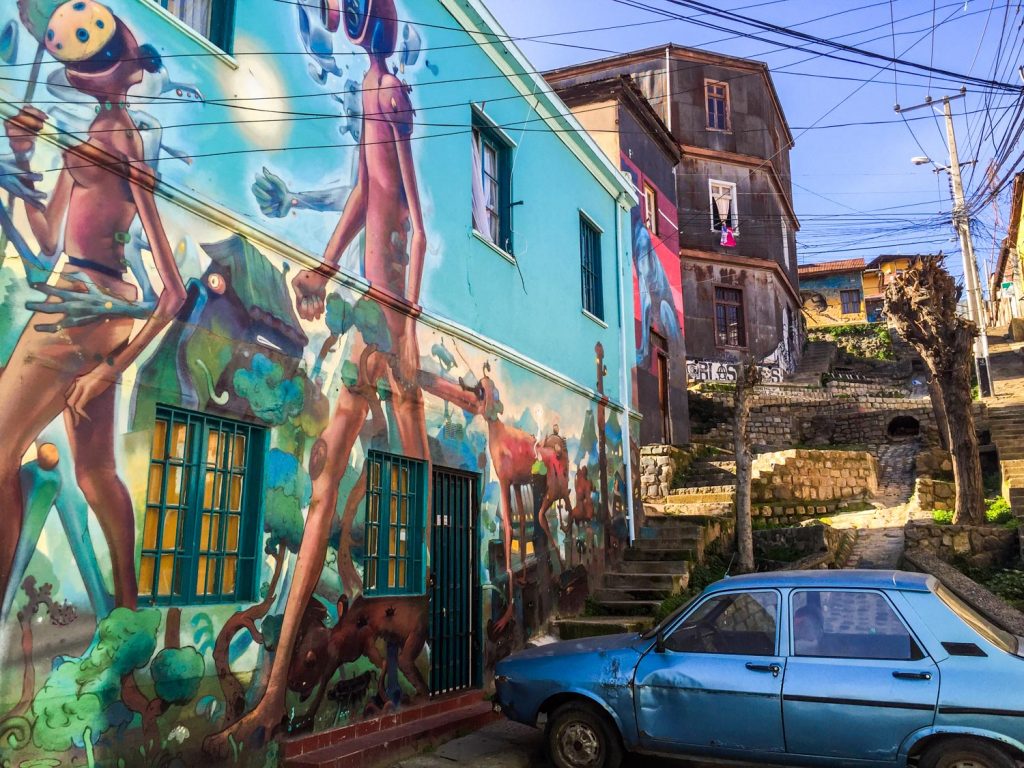 Halef blogs at The Round the World Guys.
---
Amazing Places to See Street Art in Asia and the Middle East
Kochi, India
Kochi is warm introduction to the colours of India, made more so by its beautiful street art. Local artists have brought the history of the old town lanes alive with their vibrant work and makes for a fascinating stroll when combined with the Chinese fishing nets, Portuguese churches and Dutch architecture; the fusion is truly captivating.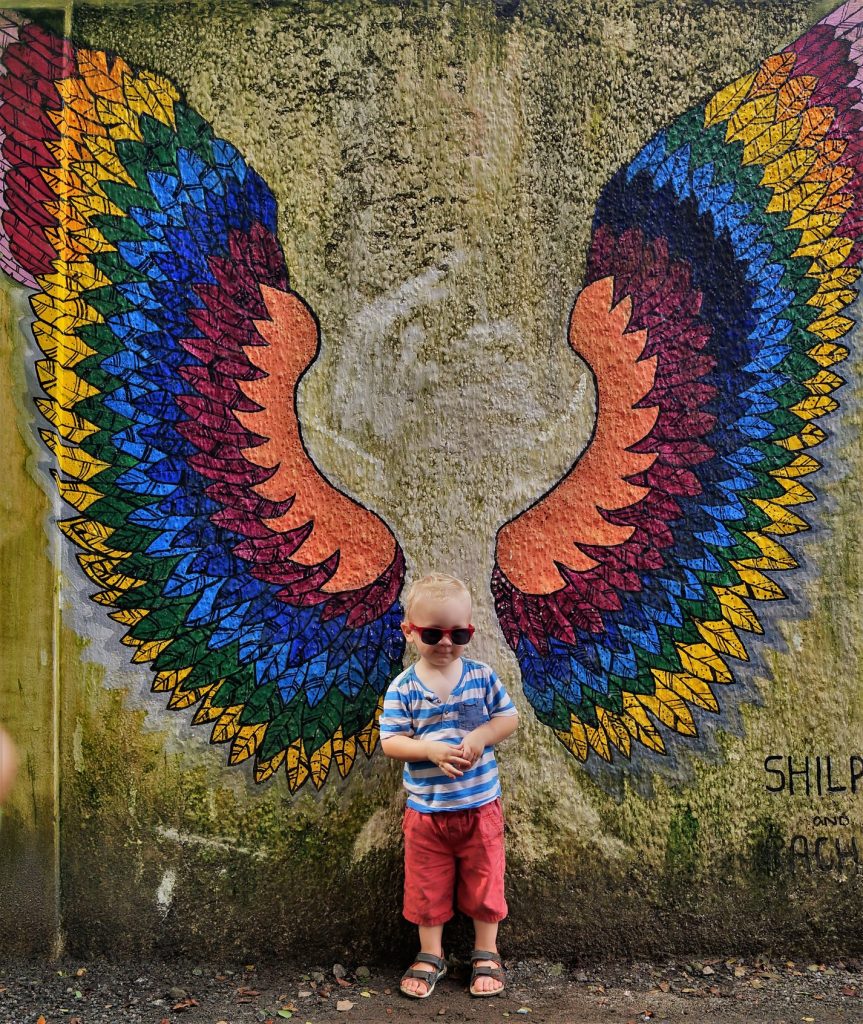 Lynn blogs at Travelynnfamily
Ipoh, Malaysia
On my fourth visit to Ipoh, I came across this new piece of street art. You'll find it on the same building as Restoran Frens Corner Snow Beer (you can find this on Google Maps) near Concubine Lane. What I liked most is the details that are so Malaysia.
The man has his belly showing, a common sight during the hot season
The bamboo blinds, which you see around Ipoh old town
The text which has a sense of self-deprecating humour about them.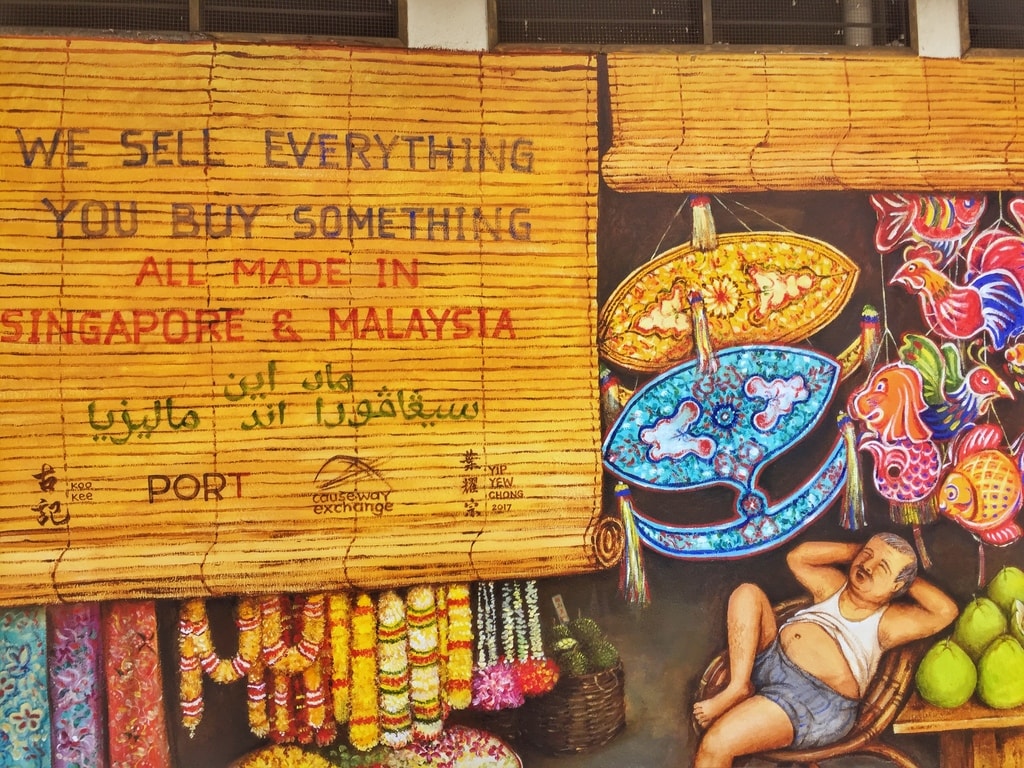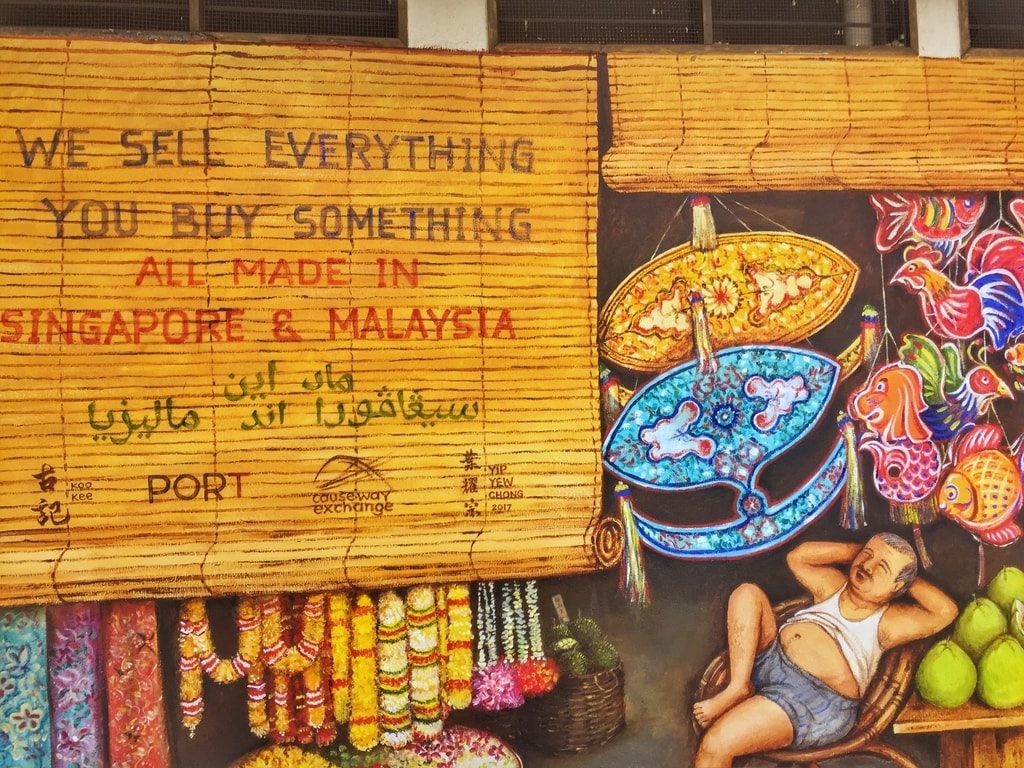 Jub blogs at Tiki Touring Kiwi.
Singapore
When I visit cities, I like to indulge in numerous walks in every neighborhood. So Singapore was no exception, and one day I ended up on Everton Road where this mural painting grabbed my attention. I particularly liked this one because of its vivid images, the fact that this painted provision shop looks so real, and the people so alive. So next time you're in Singapore, make sure you take a walk on Everton Road and find its cool street art.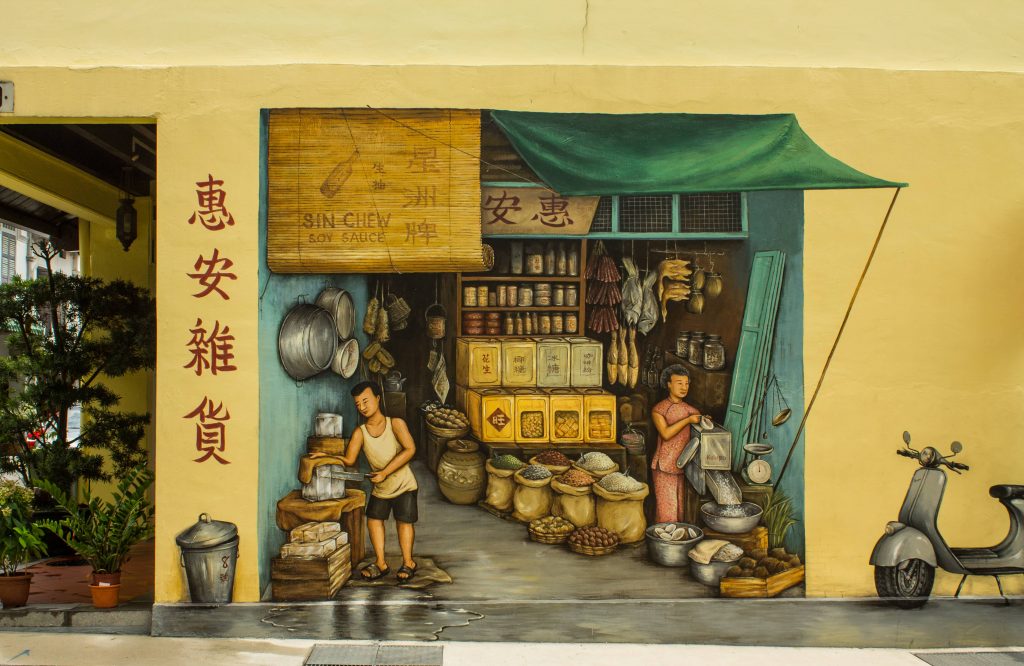 Andra blogs at Our World to Wander.
Dubai, United Arab Emirates
When you think of street art, one rarely thinks of Dubai. While the city is starting to mature, destruction of public property can have dire consequences.
But since one has to pay homage to current life and times, the government themselves have interestingly commissioned several street artists to contribute to the art in the city in a legal way. The artists even get paid for this, which we can say is also impressive. I was particularly amazed that the street artists cared to pay homage to the founder of the UAE, Sheikh Zayed in Bastakiya, one of the most Instagrammable parts of Dubai.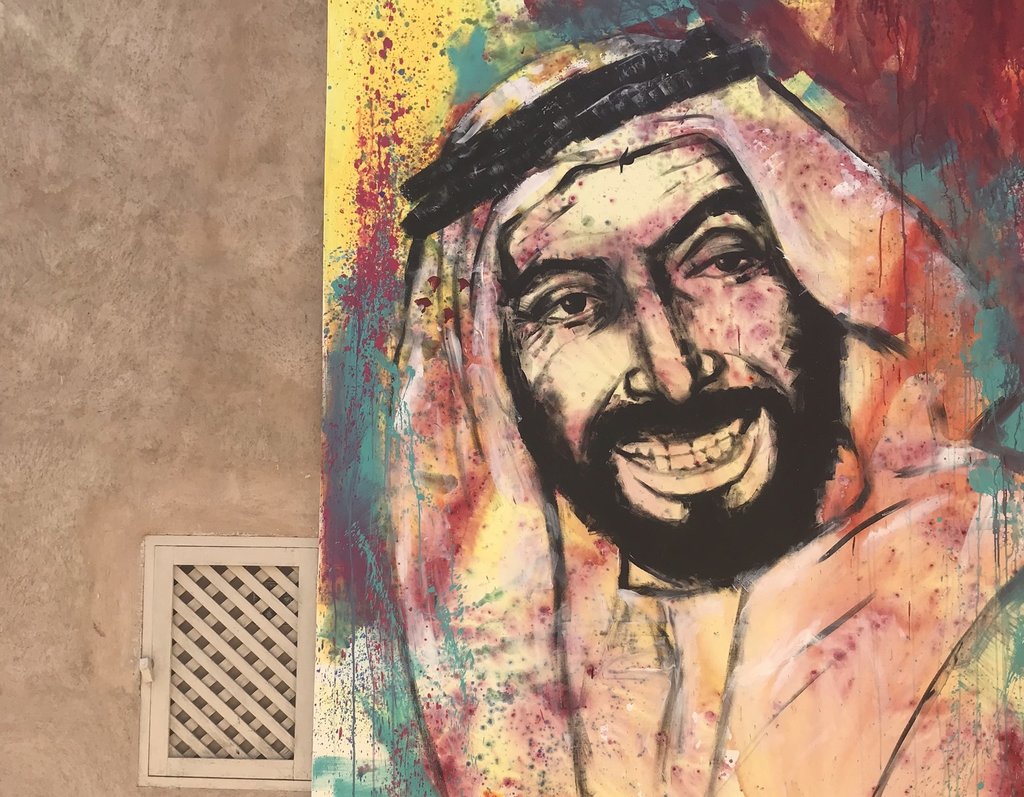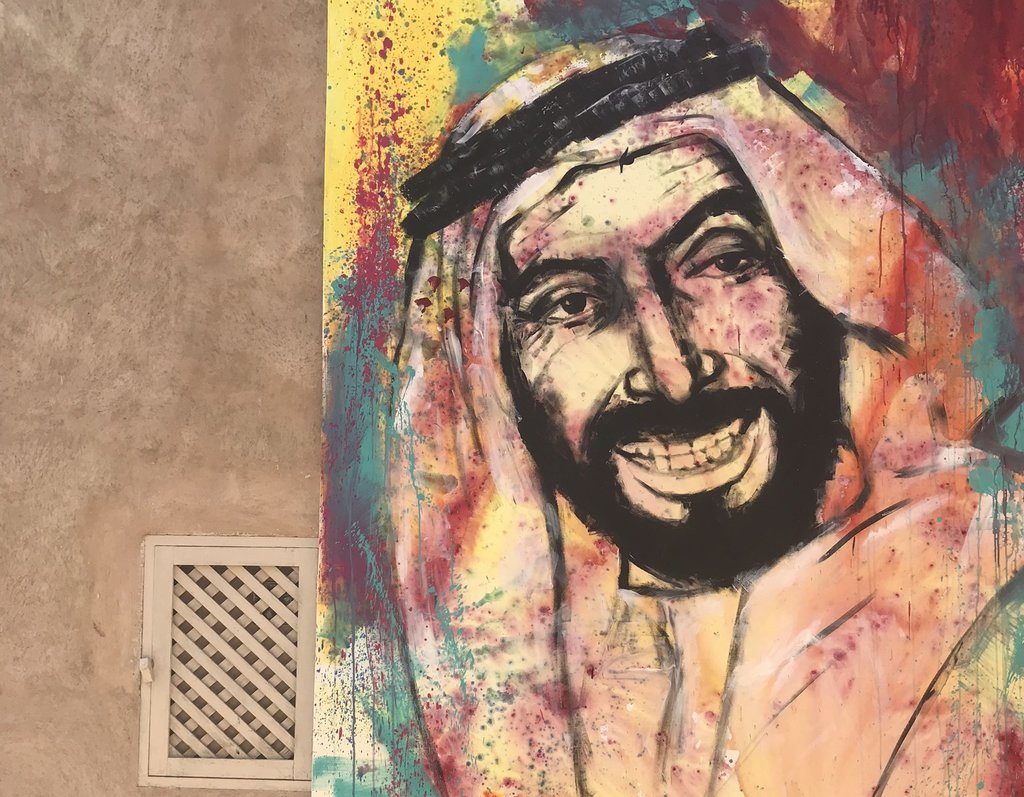 Aneesha Rai blogs at Om Nom Nirvana.
If you like this, check out my Dubai travel guide. 
---
Best Cities in Africa and Australia
Woodstock – Cape Town, South Africa
Woodstock is a hip and gritty Cape Town neighbourhood where the tiny side streets hide fascinating street art with everything from superheroes to political statements and some amazing wildlife depictions. Our favourite is the Rothschild giraffe, one of the species most endangered populations, and its message which reminds us of how fragile the incredible wildlife of Africa really is.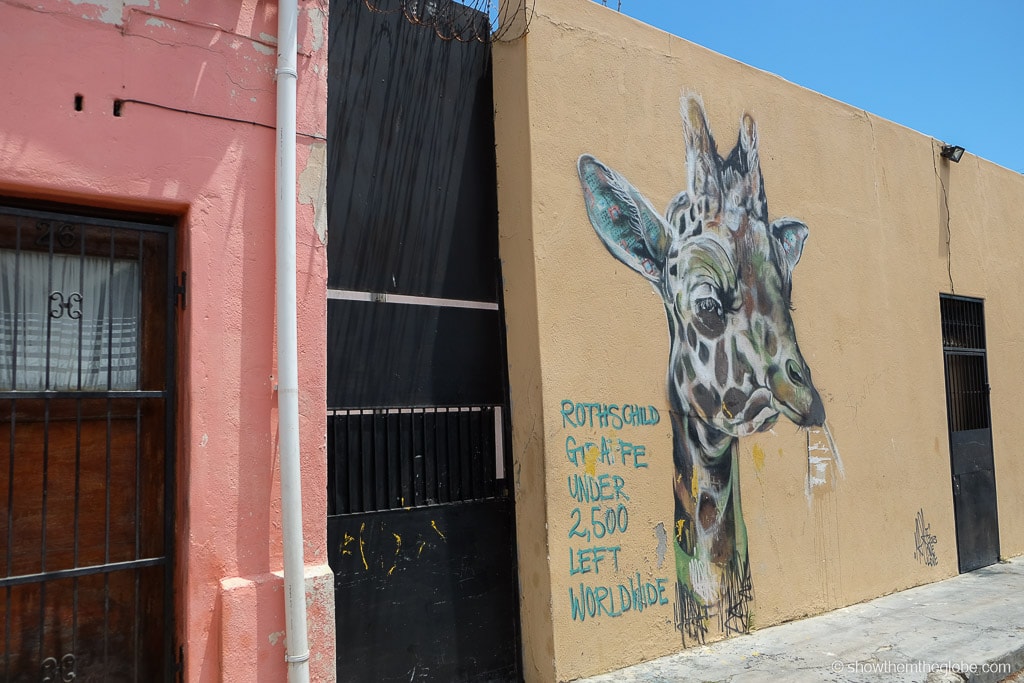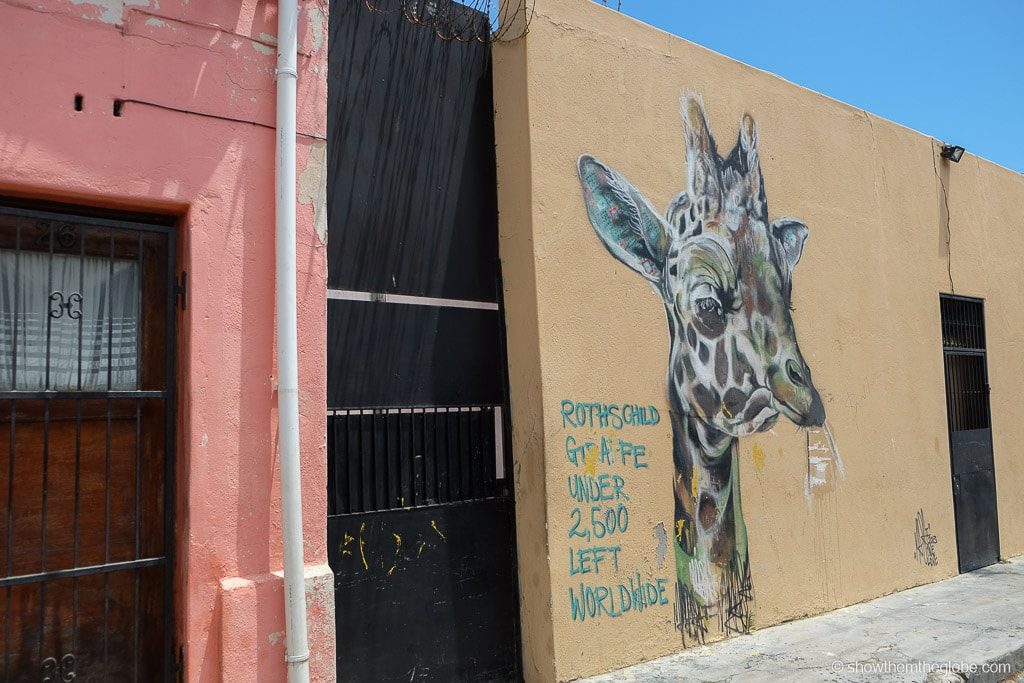 Elaine & David blog at Show them the Globe
Casablanca, Morocco
I was walking through the old medina of Casablanca consumed by noise and flurry of activity. Another turn and I found myself in front of a wall bursting with colors. Behind the intense stare of a girl, butterflies were preparing to take off into the deep blue skies. A gust of wind flown a multitude of tiny crosses and splashed them against the wall. Forgetting about all mundane market activity around, I was admiring a whimsical world painted by a talented Moroccan street artist Morran Ben Lahcen.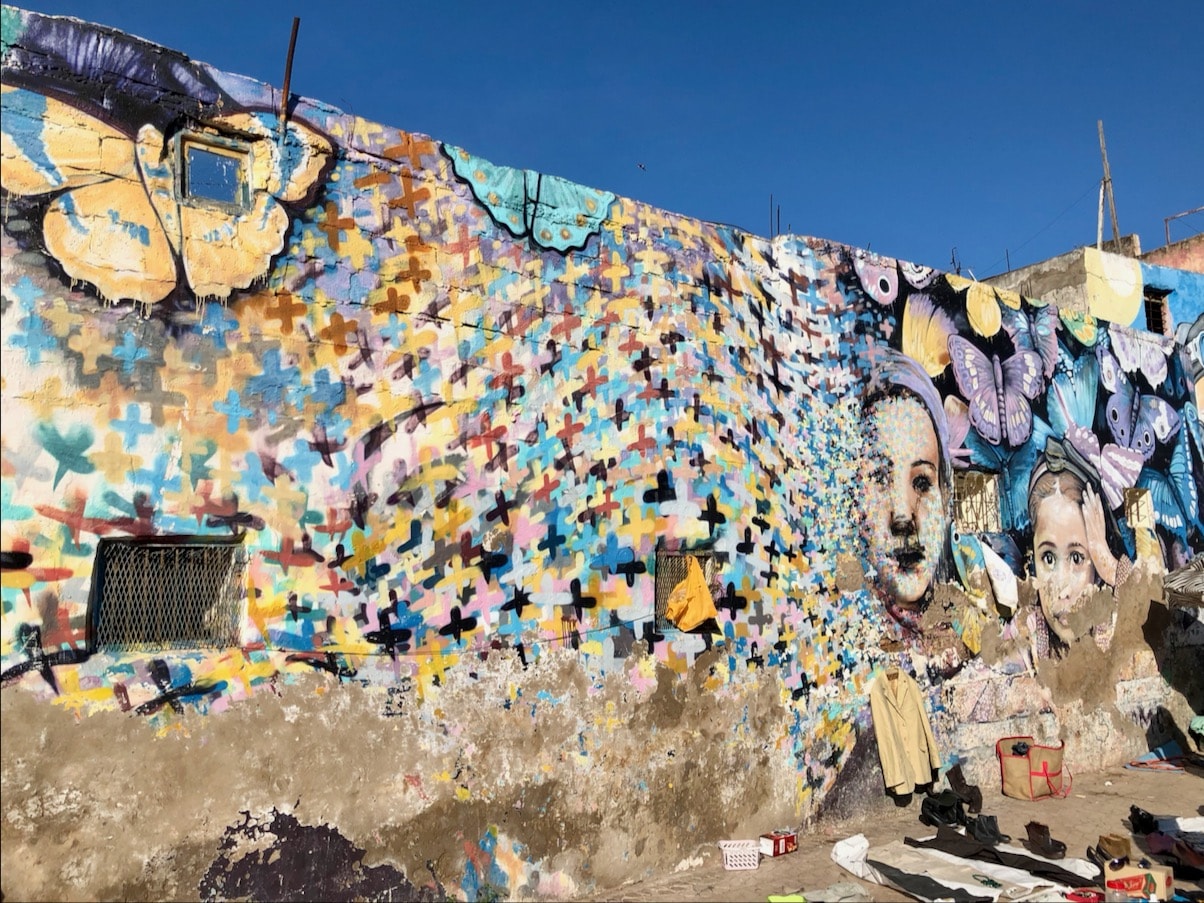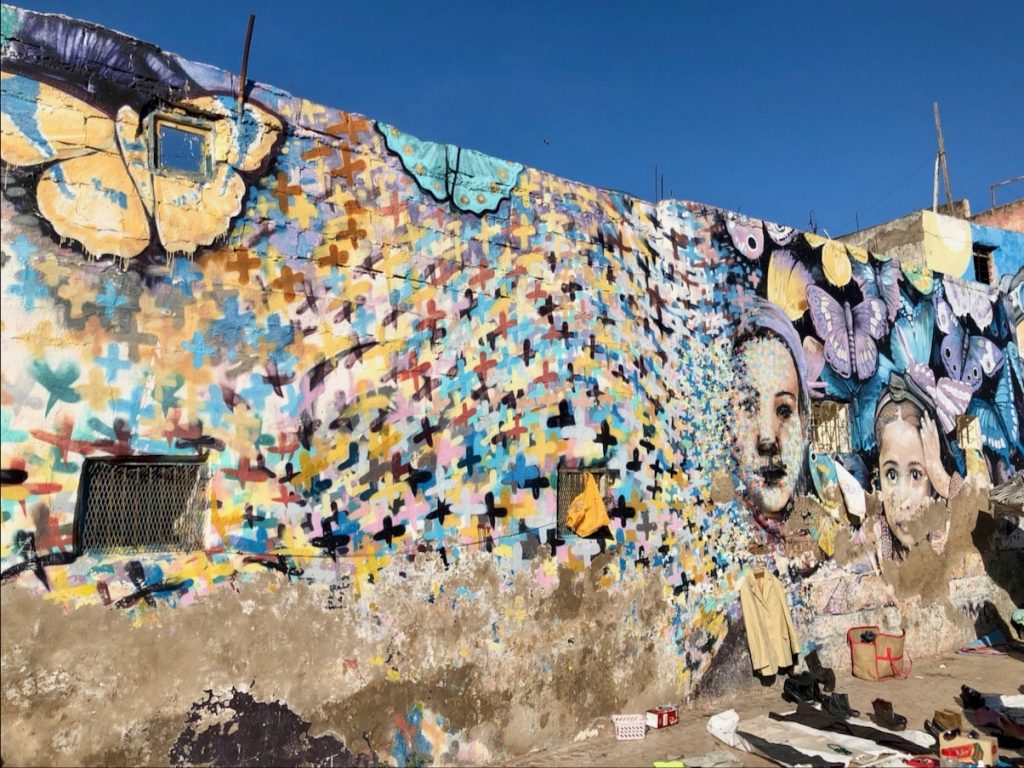 Credit: Elena Tchijov
Johannesburg, South Africa
Johannesburg's street art scene is on the rise. Artists, both international and local, are flocking to the mother city to colour the streets.
One of the most remarkable street art pieces is named "Una salus victis nullam sperare salutem" and was done by an artist called Faith47. The work is a massive rendering of galloping zebras and can be seen from the street. It takes up a whole city block and was painted in the deserted lot after a huge department store was demolished a few years ago. We love it, as it showcases the connections between nature and big city life.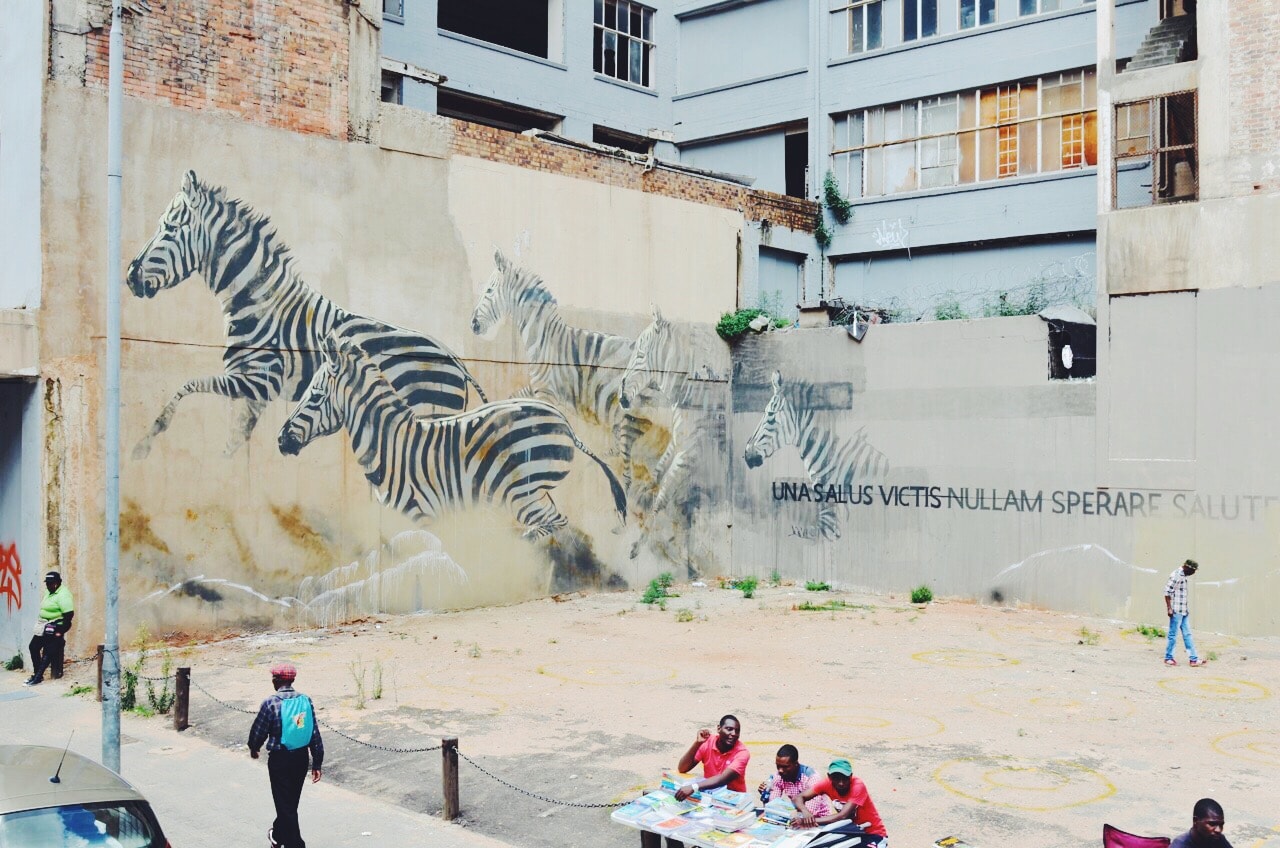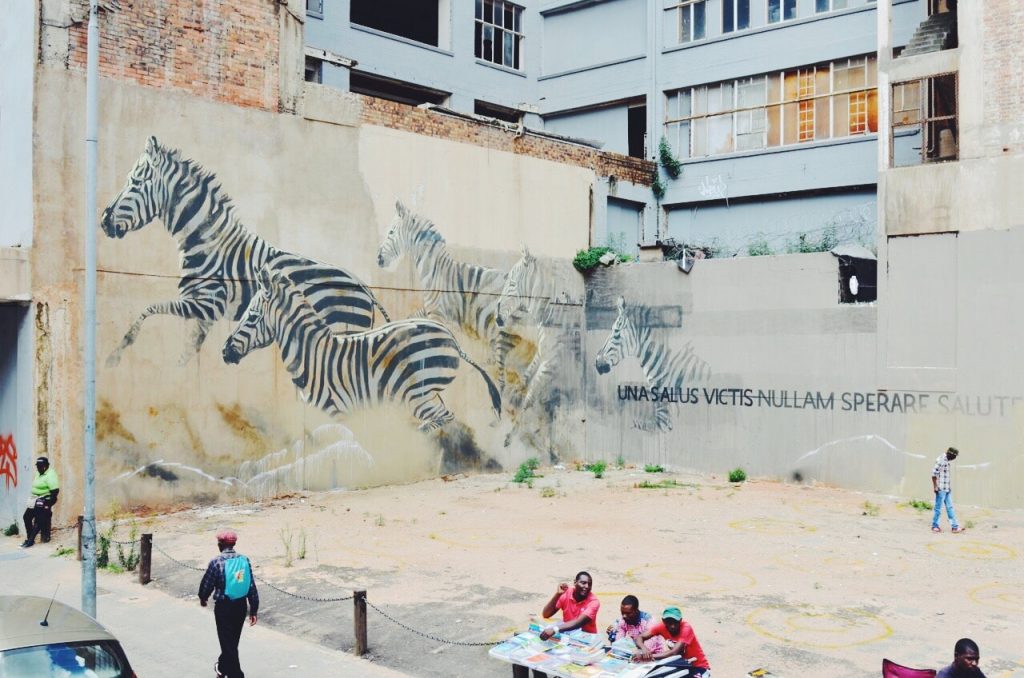 Clemens blogs at Travellersarchive.de.
Melbourne, Australia
While ambling through one of the many hidden lanes and alleyways of Melbourne – I felt like savoring an infinite exhibit of wall art, open and absolutely free of cost. Among the vibrant gallery mostly showcasing the eccentric side of the city's personality, what impressed me about this particular piece of art was how thoughtfully, using the canvas of colors, Melburnians had integrated a sacred reminder, an essential expression for life.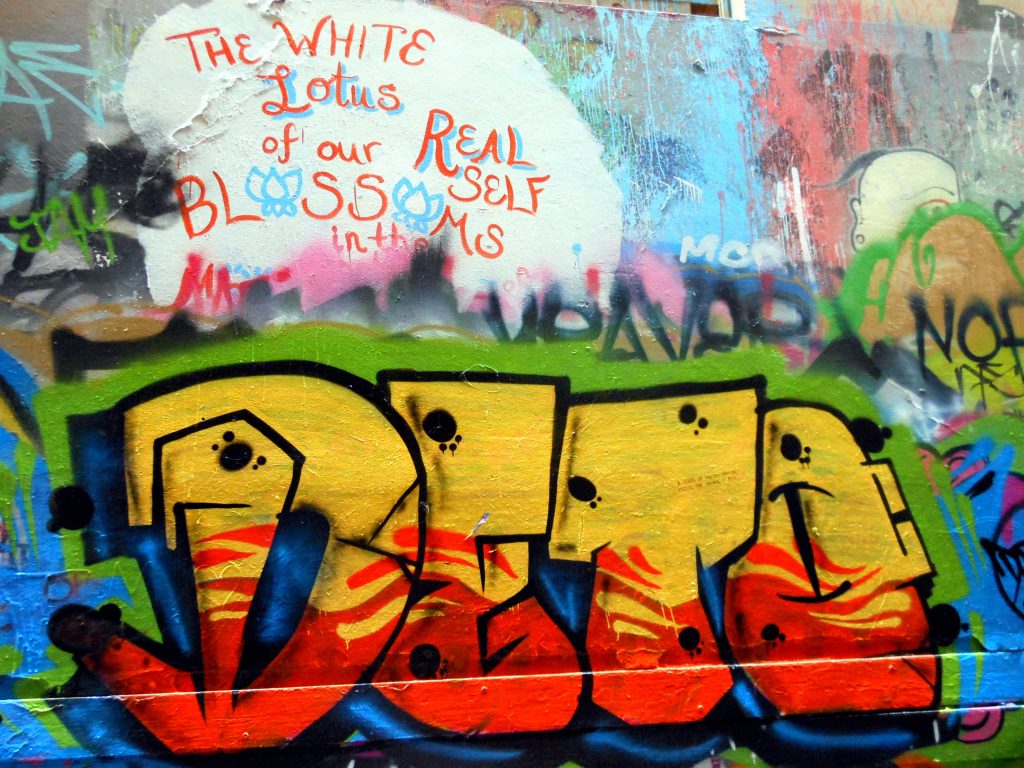 Arti blogs at Myyatradiary.com.
If you like this, you'll probably like reading more about Melbourne here and here. If you want to see more of Australia, check out my epic 2-week Australia itinerary, jam-packed with places to see and things to do. 
---
Top Cities in North America
Harlem, New York City, USA
New York City is one of the best U.S. cities for street art. This example of street art graffiti in Harlem called my attention as it was reflective of recent tensions in the city.
Street art has been one way for artists to express their thoughts and call attention to important social issues. I was born and raised in New York City and have seen Harlem rise to become one of the coolest neighborhoods around.  Today Harlem is a hotbed of cool jazz and a culinary destination.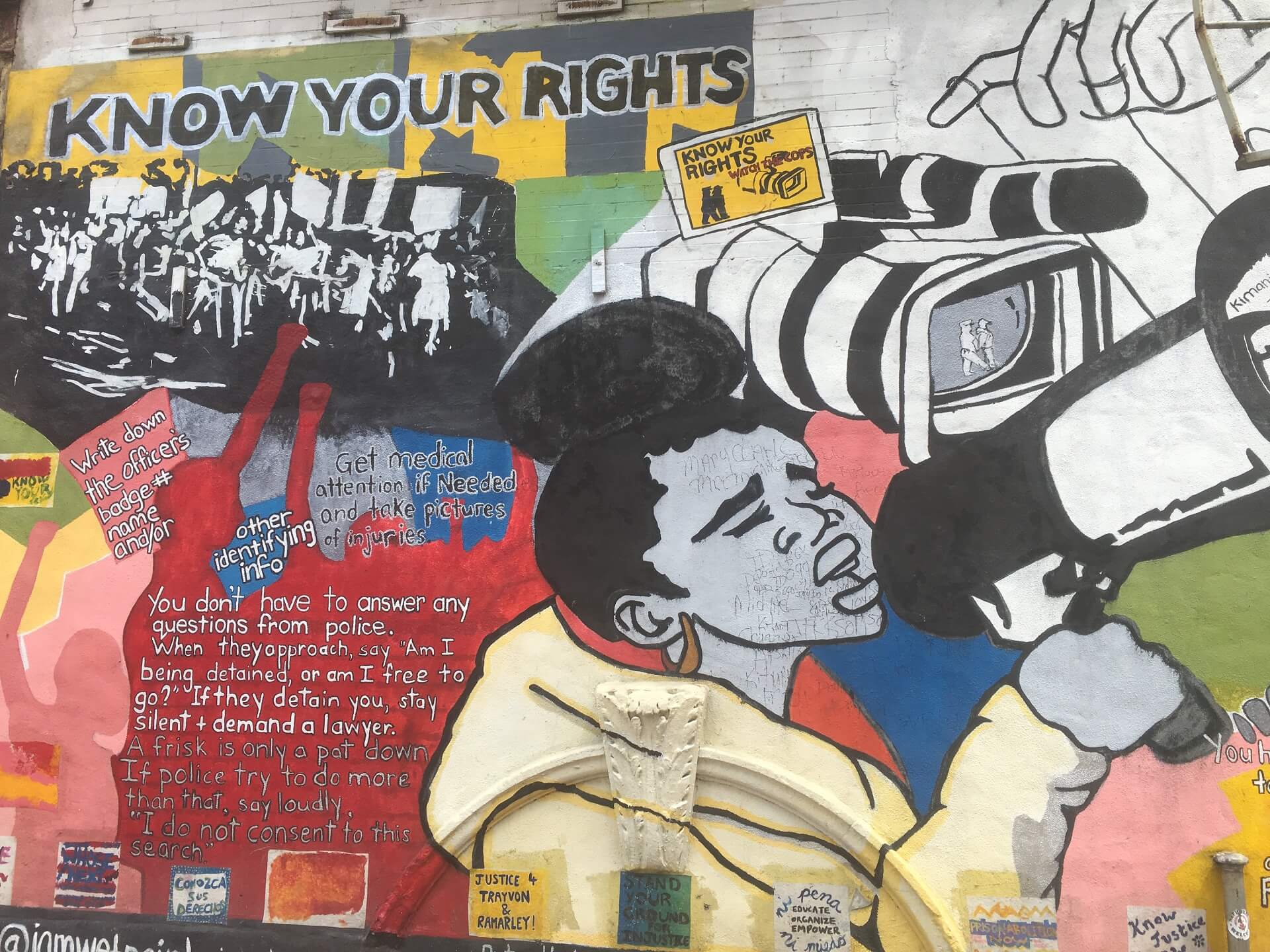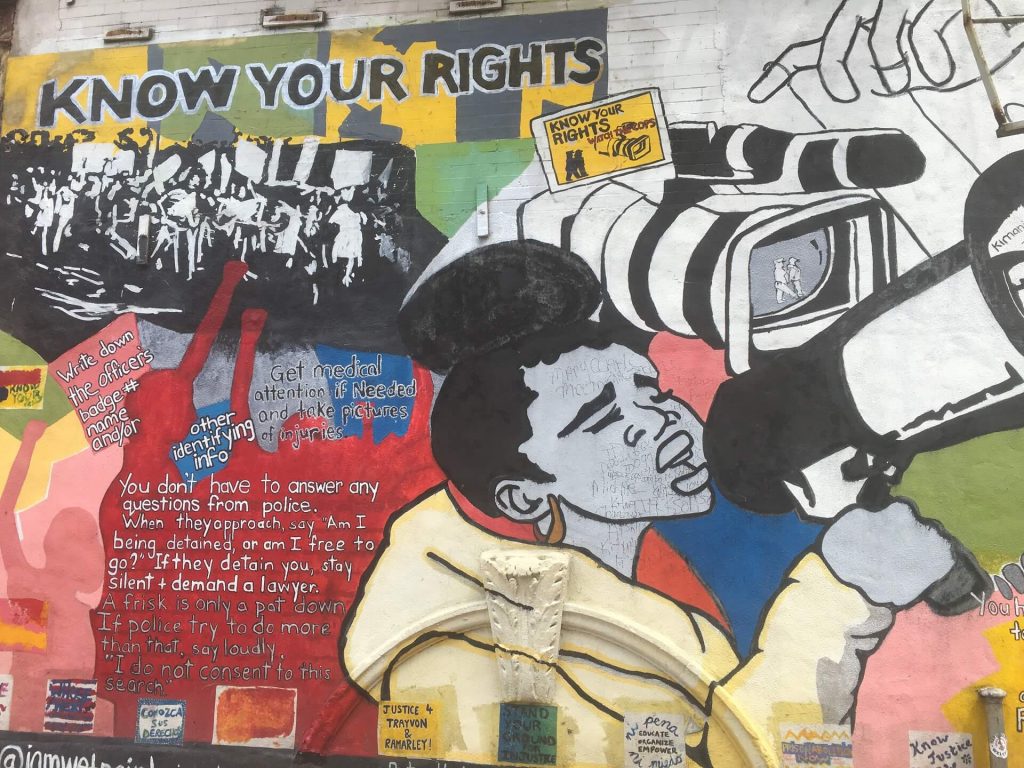 Talek Nantes blogs at Travels With Talek
Read more about Harlem and all it has to offer. And be sure to check out all the unique things you can only do in New York City.
Oaxaca, Mexico
While Mexico City street art is famous, not many know about Oaxaca's street art scene. I was wandering down the narrow streets of Oaxaca, Mexico, feverishly looking forward to catching my first glimpse of the wonderful Templo de Santo Domingo when this young lady stopped me in my tracks. Mexico is full of great street art but there was something special about this one. The colours, the details and the longing look in her eyes evoked plenty of emotion in me.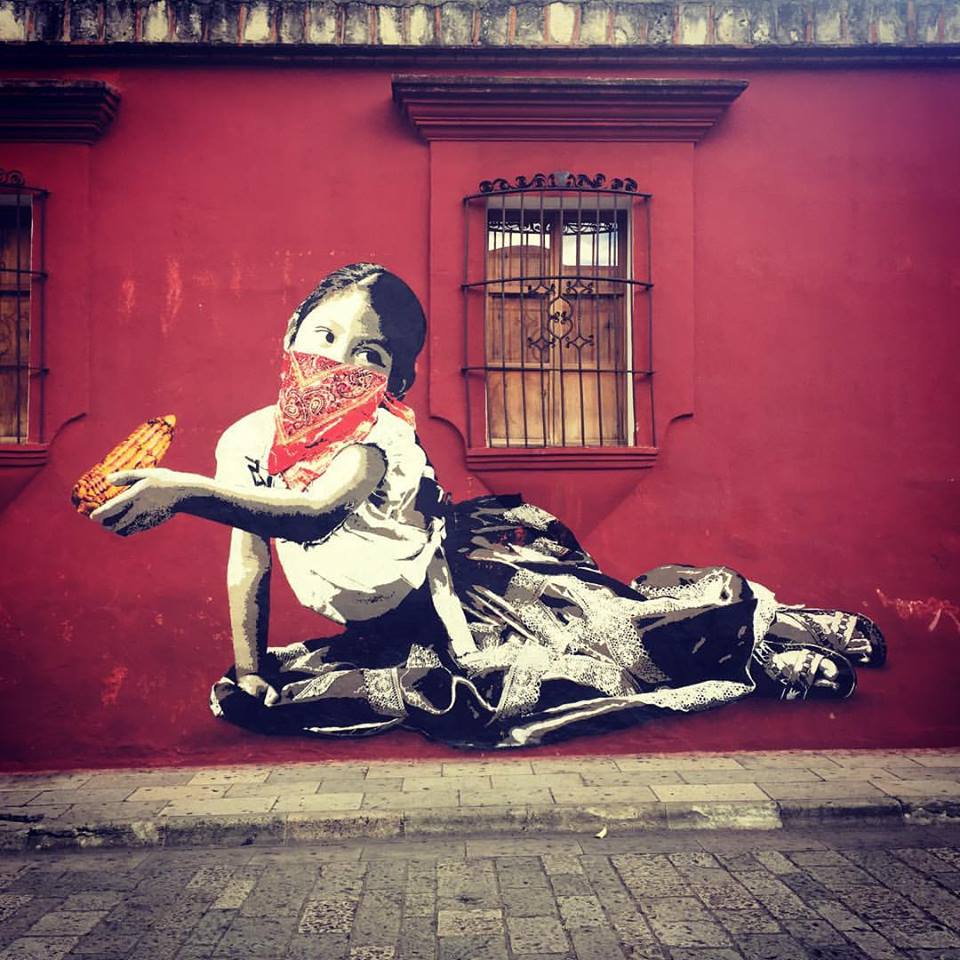 Tim Tunnicliff blogs at Tunnocks World Tour.
If you'd like to know more about graffiti street art, check out these books.
These wonderful manifestations of street art graffiti can represent the human connection to nature, our need for self-expression and the never-ending pursuit of a better world.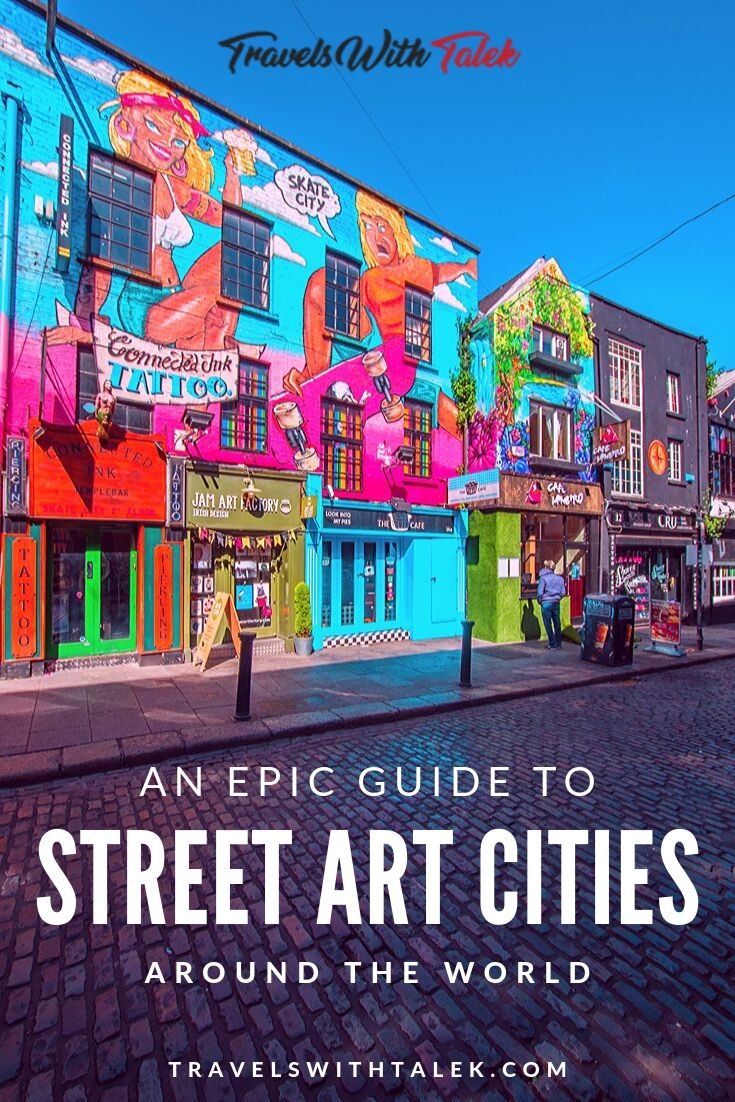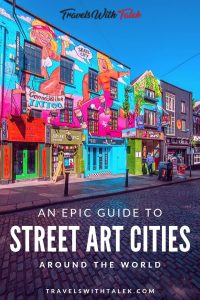 BTW, if you are getting ready for your trip, make sure to take advantage of these useful, money-saving links to book your trip:
I personally use, and can recommend, all the companies listed here and elsewhere on my blog. By booking through these sites, the small commission we earn – at no cost to you – helps us maintain this site so we can continue to offer our readers valuable travel tips and advice.