Amsterdam is a very special city with lots of hidden gems. To make sure I don't miss the top ones, I've asked Amsterdam expert, Valentina Djordjevic, to give us her impressions of the top attractions in one of her favorite cities.
---
Looking for more than just your average Amsterdam tourist attractions? You're in the right place! We'll show you our favorite hidden gems in Amsterdam. Ditch the crowds & explore Amsterdam like a local.
9 Hidden Gems in Amsterdam
Diamond Factory
Amsterdam has always had a rich history in diamonds (no pun intended)! During the 17th century, Amsterdam was called "The City of Diamonds."
Amsterdam's diamond industry was substantially reduced after WWII. Although, a few legendary companies remain. This is one of the hidden gems in Amsterdam (pun intended).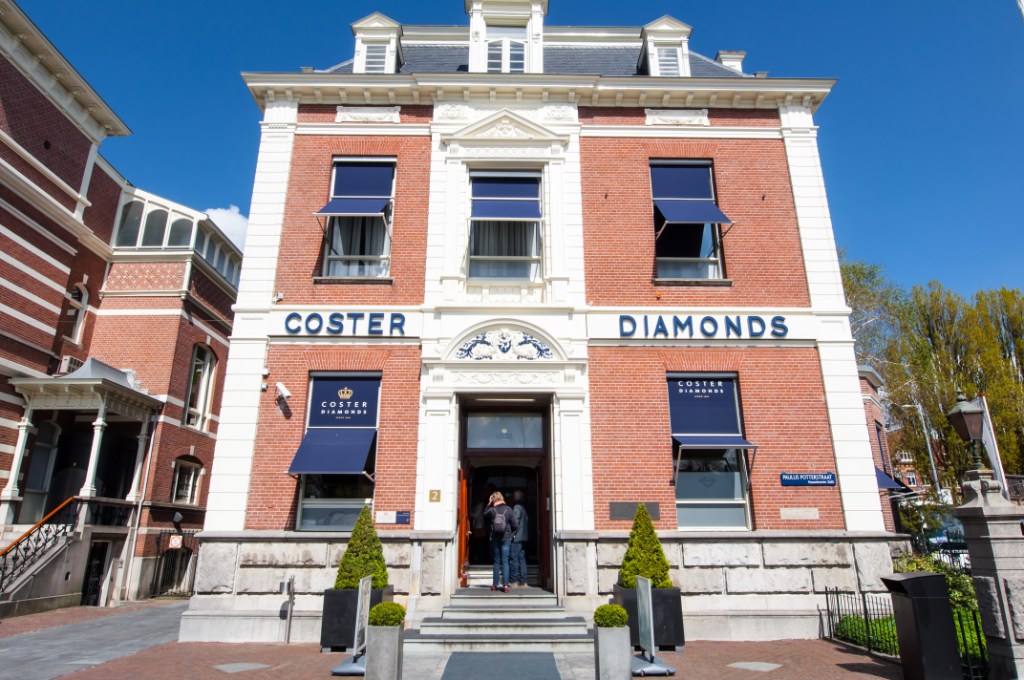 Royal Coster Diamonds is the oldest Dutch diamond polishing company that's still in operation today. They famously fashioned diamonds for Empress Elisabeth of Bavaria, King Willem III of the Netherlands and King Rama V of Siam. Coster offers a special €12.50 tour called "The Royal Experience" where you can learn more about the royal families from around the world that bought Coster Diamonds.
Royal Coster Diamonds also offers a free tour of its diamond polishing factory. You'll learn more about where diamonds come from, how diamonds are evaluated and how they are refined. Also, you'll get to visit their spectacular collection of unset diamonds. Finally, you'll be privy to some tax-free shopping. Reserve your spot online today!
Cat Boat
This is Amsterdam's hidden gem for cat lovers. The "Cat Boat" is literally a floating sanctuary for feline friends.
Catboat was originally started by a concerned citizen who wanted to take care of a mother cat and her kittens. It's since blossomed into an official charity. Up to 50 cats can live on Cat Boat at one time, and 14 of them are permanent residents.
We passed by the Cat Boat on our canal cruise of Amsterdam. It's located on the Singel Canal just south of Brouwersgracht Canal. You can also visit the Cat Boat in person and on foot. It's open to visitors 1 to 3 pm on most days.
Find Cat Boat and other Amsterdam attractions on this Amsterdam Sightseeing Map.
Tiny Hidden Houses
The tiny hidden houses are one of the lesser-known hidden gems of Amsterdam. It's quite an unusual find! On Westerstraat, just west of Eerste Boomdwarsstrat is where you'll find them.
You'll notice that on the north side of Westerstraat, the addresses skip from 54 to 70. What happened to all the missing numbers? Look closely at the space between the two buildings, and you'll find seven tiny houses.
In the past, there was a door to a courtyard where actual houses once stood. After many renovations, the courtyard was removed and land consolidated. These tiny houses were an advertising company's solution to the mishap of the nonsensical numbers.
The Brewery Windmill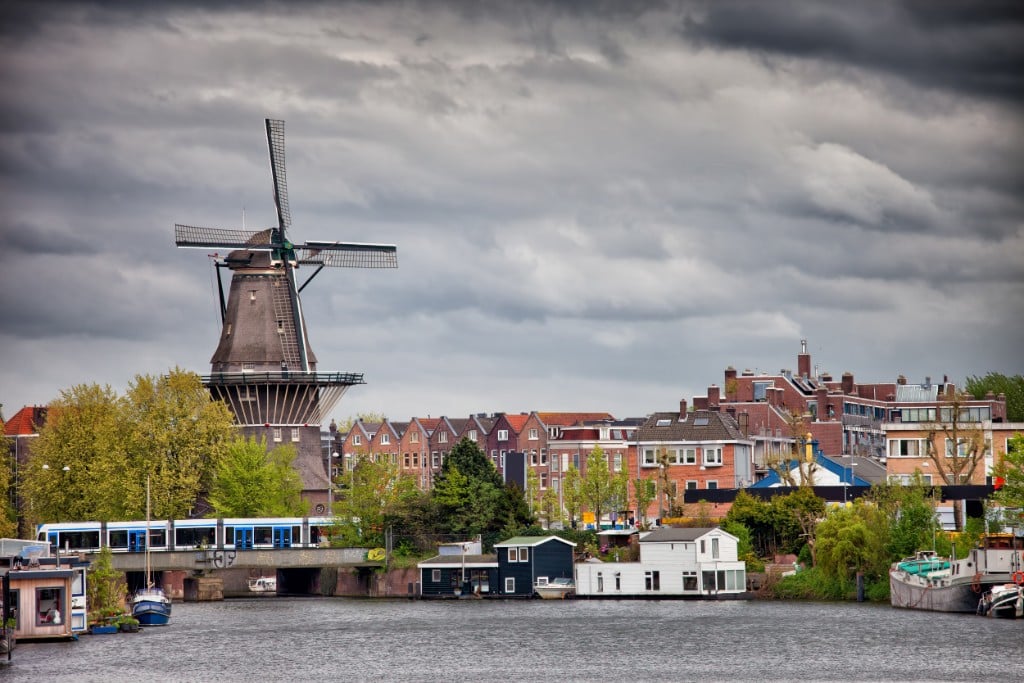 Most Amsterdam tourists visit the Heineken Brewery. Heineken is one of Europe's most popular beers with strong Dutch roots, especially to the city of Amsterdam. They offer a reasonably affordable tour of their brewery that includes two beers.
However, there's another incredible Amsterdam Brewery that barely gets any attention at all —Brouwerij 't IJ. This brewery is especially Dutch because it offers scenic windmill views right from their outdoor taproom–not just any windmill views, but a view of De Gooyer (this is the windmill's name). How cute is it that the windmill has a name?
De Gooyer is Amsterdam's biggest wooden windmill! While this massive windmill sits adjacent to the brewery, it bears no other connection to the brewery besides location. It certainly gives Brouwerij 't IJ an element of Dutch charm and makes it one of Amsterdam's hidden gems.
Brouwerij 't IJ also offers brewery tours. It's a very short but fun tour. It's also cheaper and shorter than the Heineken tour, so it might be a good option for those who don't have all day. This is also a perfect Amsterdam couples activity!
Our Lord in the Attic Museum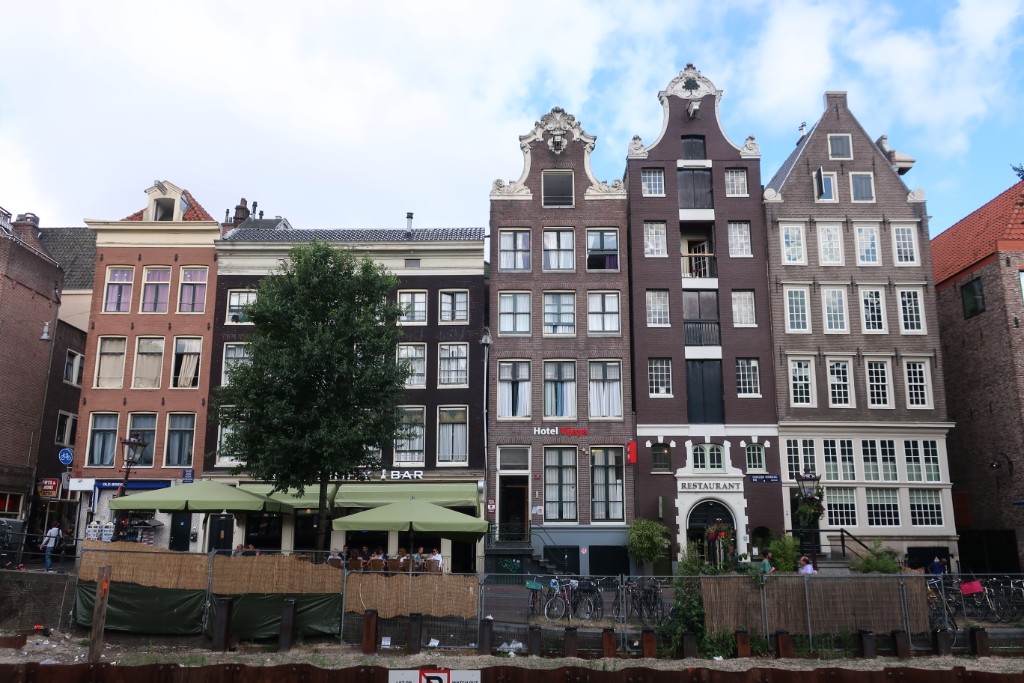 Our Lord in the Attic has become a nickname for a secret Catholic church. It's tucked away in one of Amsterdam's canal houses. The museum displays the uniquely preserved 17th-century canal home and church. You'll see some original decor and relics from the famous Dutch Golden Age.
The church in the attic of this canal home was kept secret during the Protestant Reformation. It's a symbol of Holland's longstanding history for religious tolerance. At that time, Catholics were prohibited to celebrate mass. However, the authorities allowed practice as long as it was done privately. It was essentially "decriminalized" like marijuana use is today.
Museum of Bags and Purses
This is one of Amsterdam's hidden gems for fashion enthusiasts. It's conveniently located in the heart of Amsterdam's historic canal district on Herengracht. Also, it's one of only three museums worldwide dedicated to this subject.
The Museum of Bags and Purses has over 5,000 bags and purses! That's epic, right? Their collections aren't only modern, but they span time all the way back into the 16th century.
If you decide to visit this museum, make sure to check out the garden. It's essentially a hidden gem within a hidden gem! Also, the art installation along the stairs is a stunning contemporary piece that is beautiful to photograph.
Prinsenland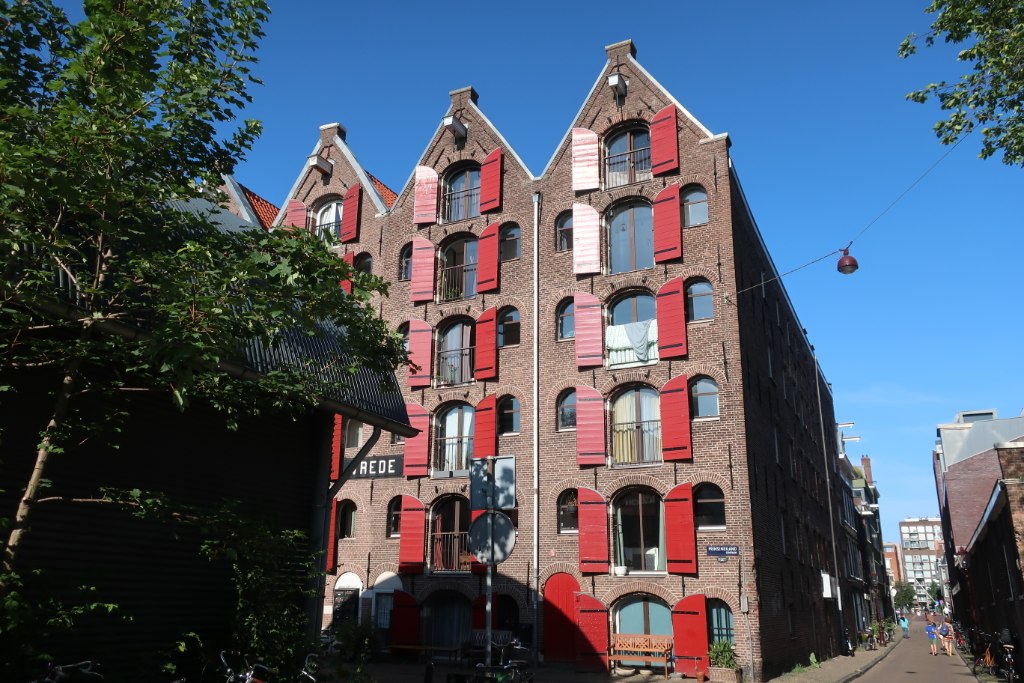 You can get to Prinsenland in about 25 minutes walking from Dam Square. Prinsenland is known as a tiny and charming island community, regarded for its local vibes and tourist-free streets.
Once you get to Prinsenland, you'll notice a scenic bridge and many quaint homes with dramatic red shutters. Walk around this quiet artist neighborhood to get a good feel for a less touristy Amsterdam.
Fo Guang Shan He Hua Temple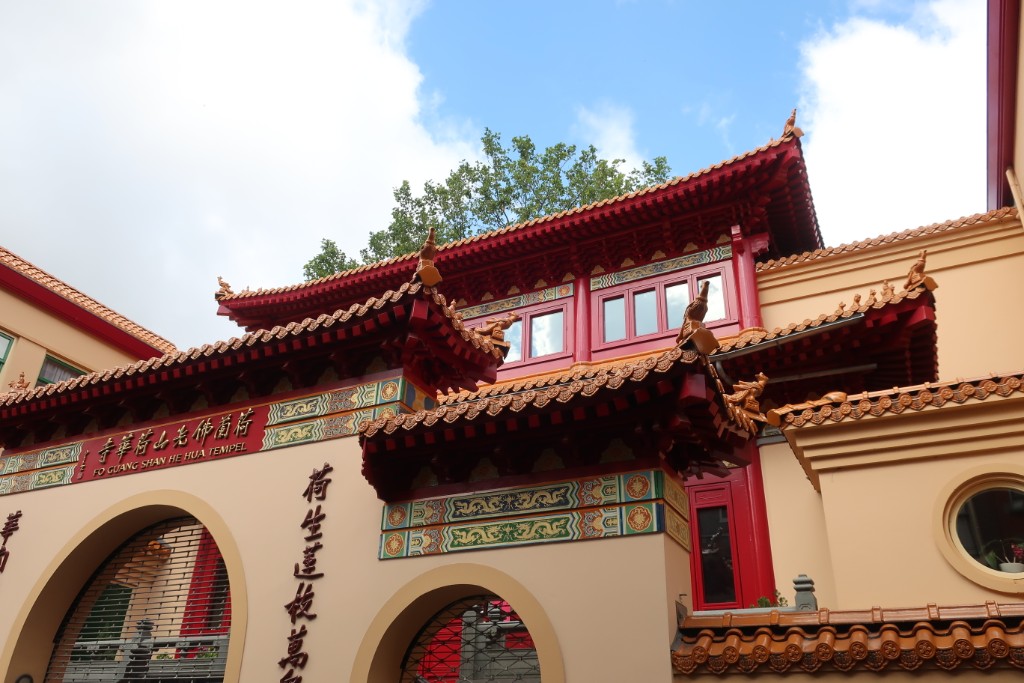 Amsterdam's Chinatown might itself be a hidden gem. If you're walking aimlessly through the Red Light district, you might even miss this! Take the time to find the He Hua Buddhist temple.
It's the largest Buddhist temple in Europe, and it serves an important religious and cultural purpose. You'll notice it's nestled in Amsterdam's little Chinatown.
The He Hua Temple is free for all to visit. There are two types of free guided tours offered on Saturdays. The first includes an introduction to Buddhism and an overview of the temple's symbolic features. The second type of tour includes a guided meditation.
There are also unique cultural experiences offered at the temple. That includes Chinese Dharma courses and calligraphy workshops.
He Hua means lotus flower. It is a symbol of enlightenment in Buddhist culture. However, He can also be found in Helen meaning Holland. Therefore, He Hue has a second meaning, the "Dutch flower in Buddhism."
The Cuypers Library at Rijksmuseum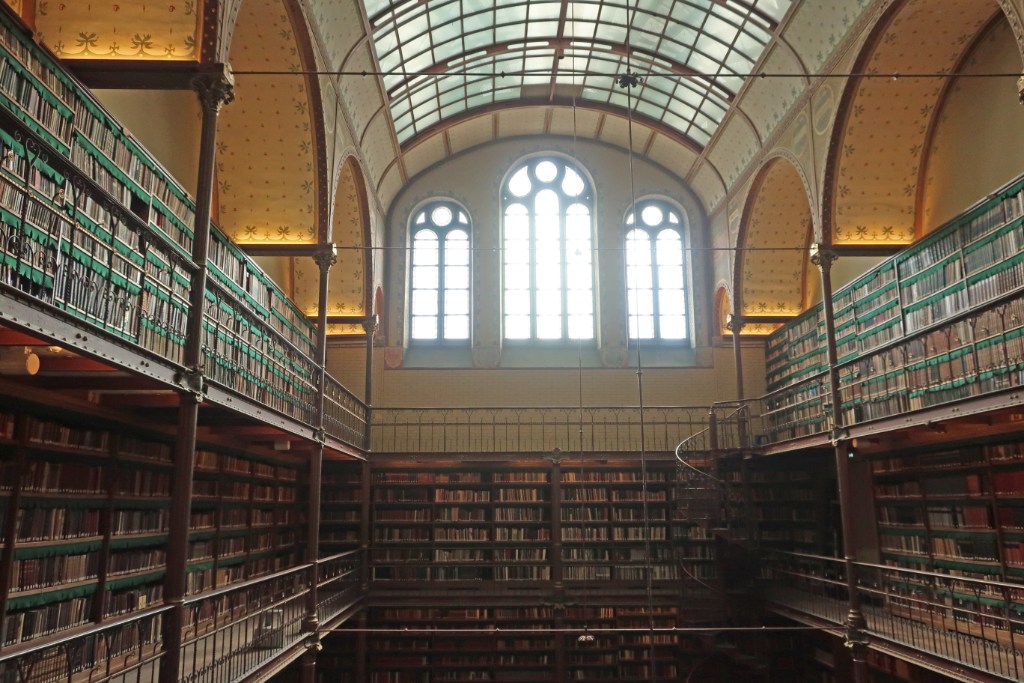 Rijksmuseum isn't exactly a hidden gem! It's one of the most visited museums in Amsterdam, if not the world.  It's a big museum and it might be easy to miss the Cuypers Library, a unique treasure inside.
The Cuypers Library is one of the best-hidden gems in Amsterdam. It's a journey into another time –immense, historic and awe-inspiring. It holds the largest and oldest collections of art history texts in the Netherlands.
You can find the Cuypers Library just off of the 1.13 section in Rijksmuseum.
Honorable mention goes to the Muiderslot Castle, a UNESCO World Heritage site.
Amsterdam's hidden gems are wonderful discoveries!  Learn more about this fascinating city with these handy reference and history books.
Is Amsterdam on your bucket list?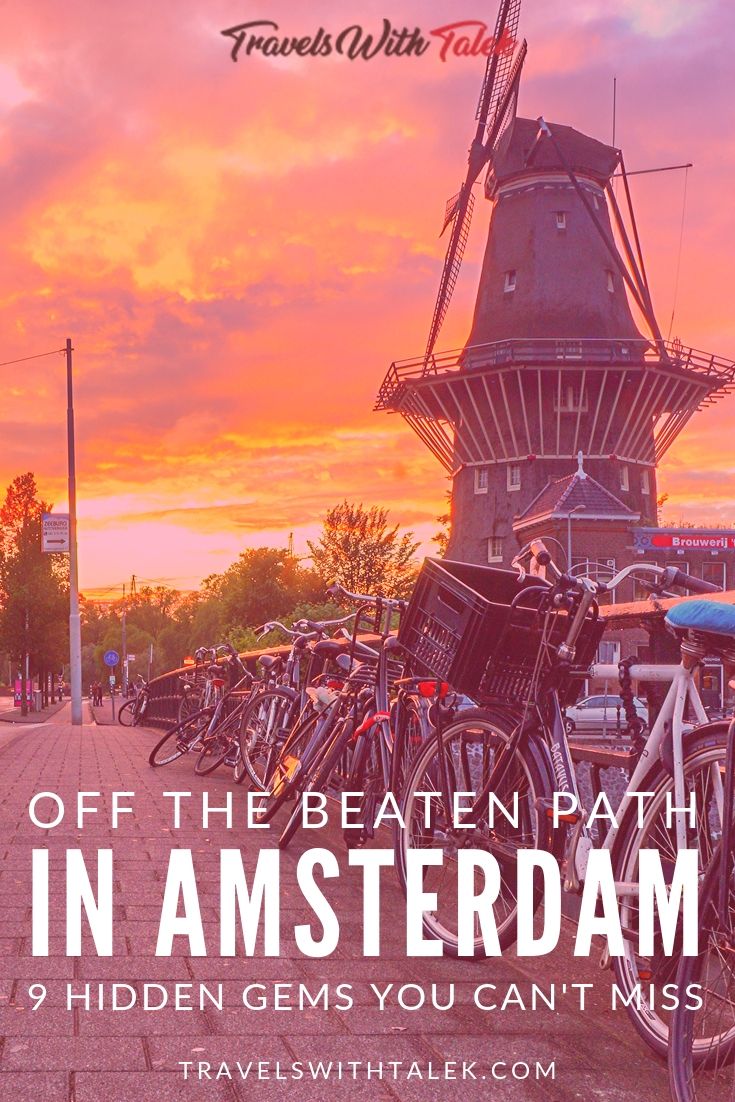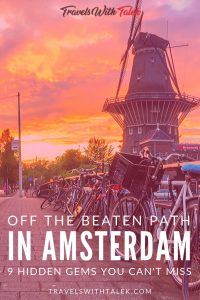 BTW, if you are getting ready for your trip, make sure to take advantage of these useful, money-saving links to book your trip:
I personally use, and can recommend, all the companies listed here and elsewhere on my blog. By booking through these sites, the small commission we earn – at no cost to you – helps us maintain this site so we can continue to offer our readers valuable travel tips and advice.