Updated July, 2021
Interested in exploring all the things to do in Southbank, London? Taking a Southbank walk through this fascinating London neighborhood will not disappoint and should always be included in any London sightseeing list.  
Many London visitors hit only the big sights: The Tower of London, Westminster and the Abbey, the West End shows, and SOHO.  If you're going to see London for the first time, you DO have to see these London sights…and you'll love everything about them. These are wonderful places, full of history, music, glorious multi-ethnic cuisines, art, you name it, it is all here and it is all top-notch. And don't forget to visit London's hidden gems.  
But if you are looking for the cultural heart of London where the locals go to stroll on the promenade by the banks of the Thames, then taking a Southbank walk is the ideal activity to discover all the things to do in Southbank.
The area of Southbank lies by the river Thames across from Westminster. It is loosely defined as extending from Westminster Bridge in the west to Blackfriars Bridge in the east and has a history as interesting as any in London. Londoners consider Southbank among the coolest places to visit in London.
Over the years, Southbank has experienced many transformations; from a marshy outpost, slum, center of prostitution and bear-baiting, potter's field, to its current status as London's cultural and creative center. Hanging out in Southbank is among the best things to do in London.
If you really want to delve into all the entertainment options in Southbank, stay at accommodations in Southbank. 
Where to stay in Southbank  
Exploring Southbank
Seeing 10 of the Top London Attractions
The best way to cover the South Bank area is on foot. You'll cross either of the bridges and walk east or west, depending on where you started. This Southbank walk can take a couple of hours, a day or two, or even more depending on your interests.
You'll want a map of South Bank or a smartphone app such as Google Maps (seen above) to help you navigate this self-guided London walk and still see all of the top London attractions.
Your First Stops When Exploring Southbank London
This first stop in Southbank is the trifecta of kids entertainment; The Aquarium, London Dungeon and London Eye, one of the best places to visit in Europe with kids. So if you have kids, or if you ae a big kid yourself, there are plenty of fun things to do in Southbank.
The Sea Life London Aquarium
When you cross the Thames at Westminster Bridge, you will immediately come to the Sea Life London Aquarium, It is the perfect learning experience masquerading as entertainment.
Here you can come face to face with some of the world's most fascinating sea creatures and learn about the aquarium's important conservation efforts. You can snorkel with several types of sharks or witness the shark feeding process.
Tip: Don't do both simultaneously.
The London Dungeon
Next to the Sea Life Aquarium is The London Dungeon. I love these types of attractions: haunted houses, cemetery walks, Jack the Ripper tours, "Crimes of the Century" wax museum exhibits. Give me a good escape-the-room-with-a-zombie chained-to-the-wall attraction or a scary mummy exhibit, and I'm happy. So naturally, The London Dungeon attraction is right up my alley and definitely one of my favorite places to visit in London. 
It is an exhilarating, heart-thumping, rip-roaring good time. With scary rides, a cast of notorious characters and several shows featuring audience participation, there will be nowhere to hide. The London Dungeon is more than a horror funhouse.
You also pick up quite a bit of London's history as you travel through the eras of the Black Plague, The London Fire, highway robbers, religious wars and other events that shaped the city.  The London Dungeon is really one of the top quirky things to do in London.
Tip: If you have kids, consider their ages before buying a ticket.
The London Eye
Across the road to your right is the famous London Eye, a Ferris wheel that will give you epic views of London during a 30-minute rotation. It is definitely one of the top London Southbank attractions you can see when exploring Southbank.
I've taken the London Eye both at night and during the day. Both times have their unique charm. It is a unique experience that shouldn't be missed. Make sure to explore the special offers, such as a ride combined with a 40-minute cruise on the Thames, a private capsule, champagne experience, and more.
Tip: No time to wait in line? Get a fast-track ticket and enter through a dedicated entrance. See details here.
Need a break? Continue east on the riverbank and stroll through the Jubilee Gardens to enjoy the green spaces and manicured landscapes.
London's Cultural Center on a Southbank walk
Southbank Centre
It's not all about attractions in Southbank. If you're looking for more, try exploring Southbank London from a cultural perspective.
As you continue your self guided London walk, you will soon come to the Southbank Centre, a world-class entertainment complex consisting of several venues.
The Royal Festival Hall houses important classical music companies including the London Philharmonic Orchestra.
The Hayward Gallery is a center for contemporary art.
The Queen Elizabeth Hall and Purcell Room, both of which were recently renovated.
Southbank Centre is also a great place to explore dining options. The center has a wide array of choices including street and global food, cocktails, and restaurants in all price ranges.
British Film Institute
A little further west by the Waterloo Bridge is the BFI (British Film Institute) your go-to for independent cinema and foreign films. The complex houses three cinemas as well as cafes and exhibition space. It is also home to the IMAX theatre with its impossibly high and wide screen. The large bar area in the foyer sometimes hosts smaller performances.
National Theatre
Take a few more steps on your Southbank walking tour, and you're at the National Theatre. Originally founded by Laurence Olivier, this theater offers a pretty eclectic selection of performances. They showcase everything from Shakespeare and other international classic drama to funky and innovative new plays by contemporary playwrights.
The complex houses several theaters: the Olivier, Lyttelton, Dorfman, all of which can run several plays simultaneously. All these choices will make it hard for you not to find a play to your liking.
Tip: To score preferred seats and performances at Southbank Center, The BFI and the National Theatre, make sure to research events online beforehand and return later, if possible.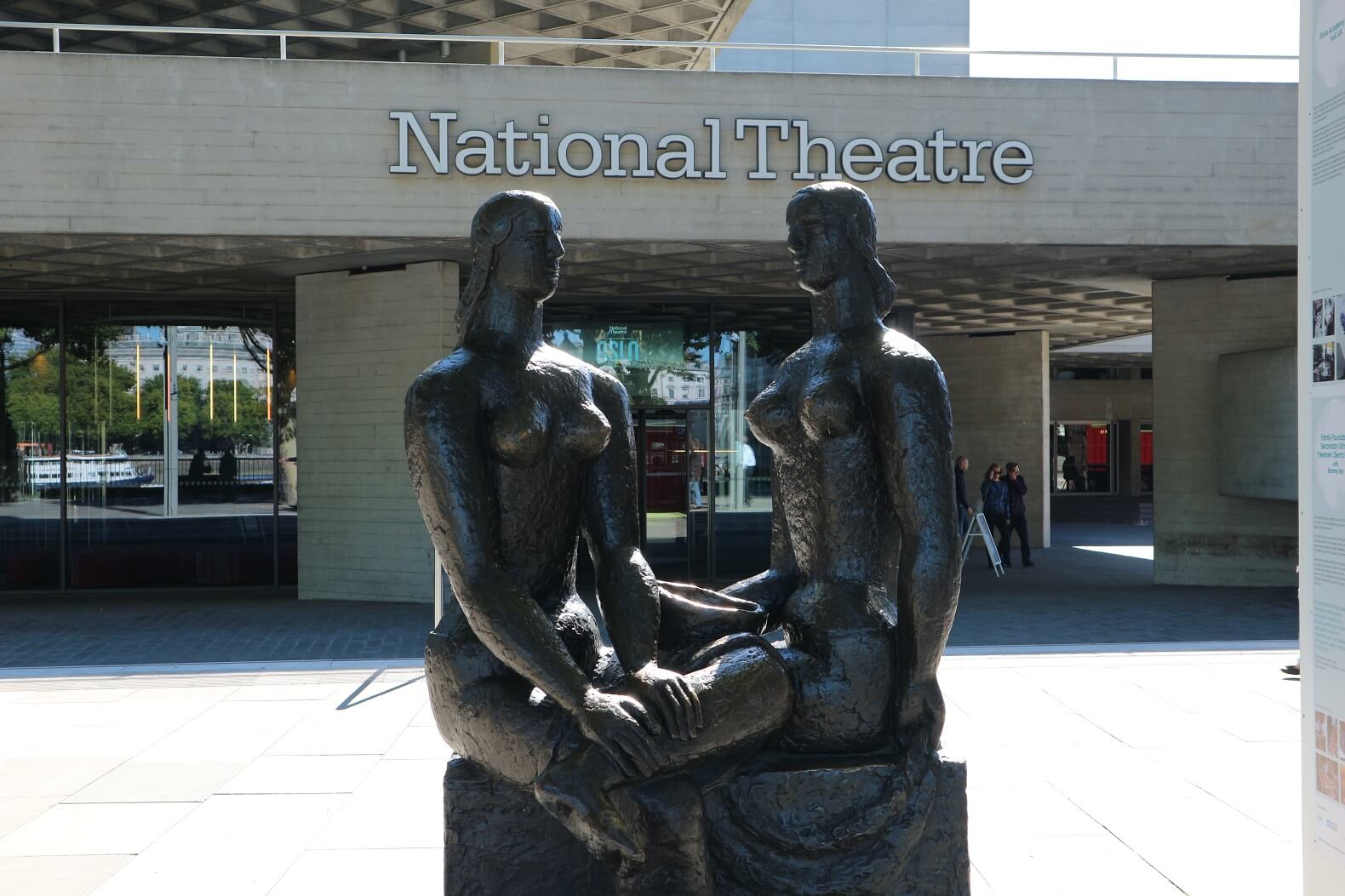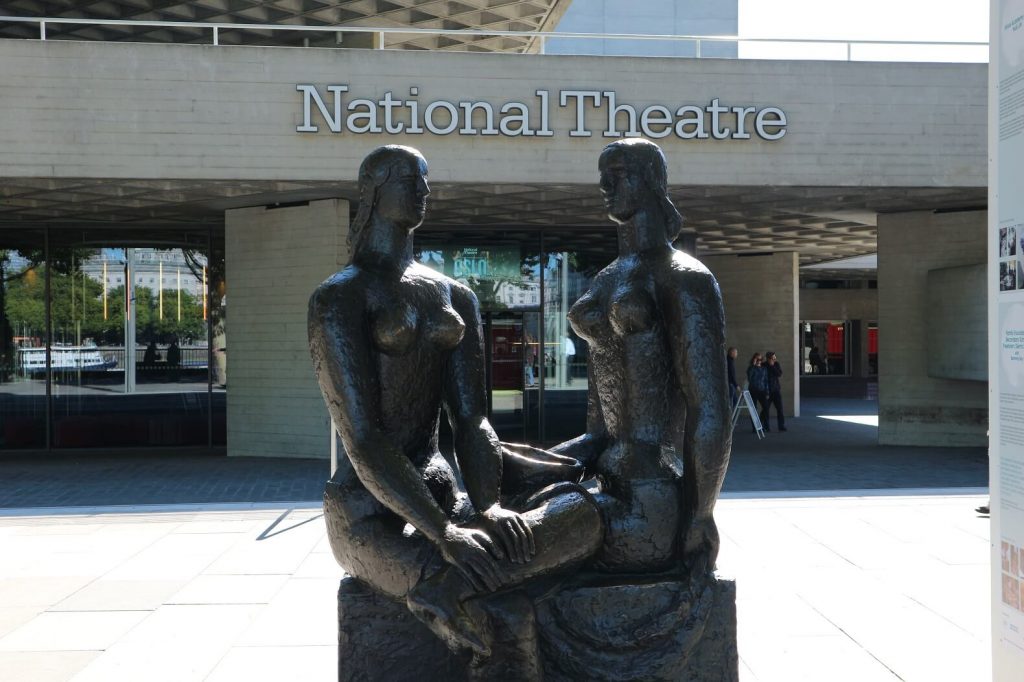 History is Everywhere on our Southbank walk
Doggett's Coat and Badge
By Blackfriars Bridge is one of my favorite restaurants in Southbank, Doggett's Coat and Badge. I like the food. I like the view of the river. The service is spot on and pleasant.
But most of all, I like the history of the place. On one of the restaurant's walls is a legend stating that "For almost 300 years, there has been an amateur rowing race on the Thames, from London Bridge to Chelsea. Originally organized by Thomas Doggett, the winner was awarded a coat and badge, hence the historic origin of our name."
Another legend has it that during the Middle Ages, the current location of this restaurant was a brothel run by twin sisters with the last name of Doghead. The brothel was named The Dog's Head. The women became successful entrepreneurs and passed the business on to their children, also named Doghead.
Over the years the business remained, but the name was distorted, and Doghead became Doggett.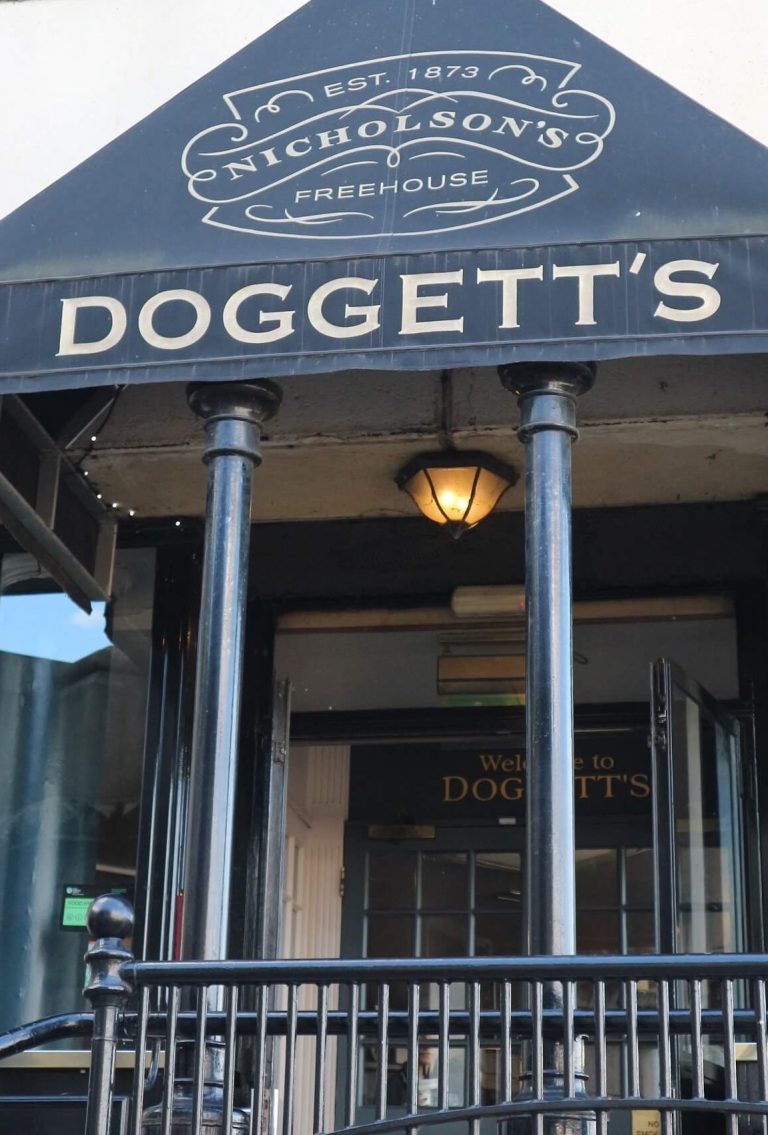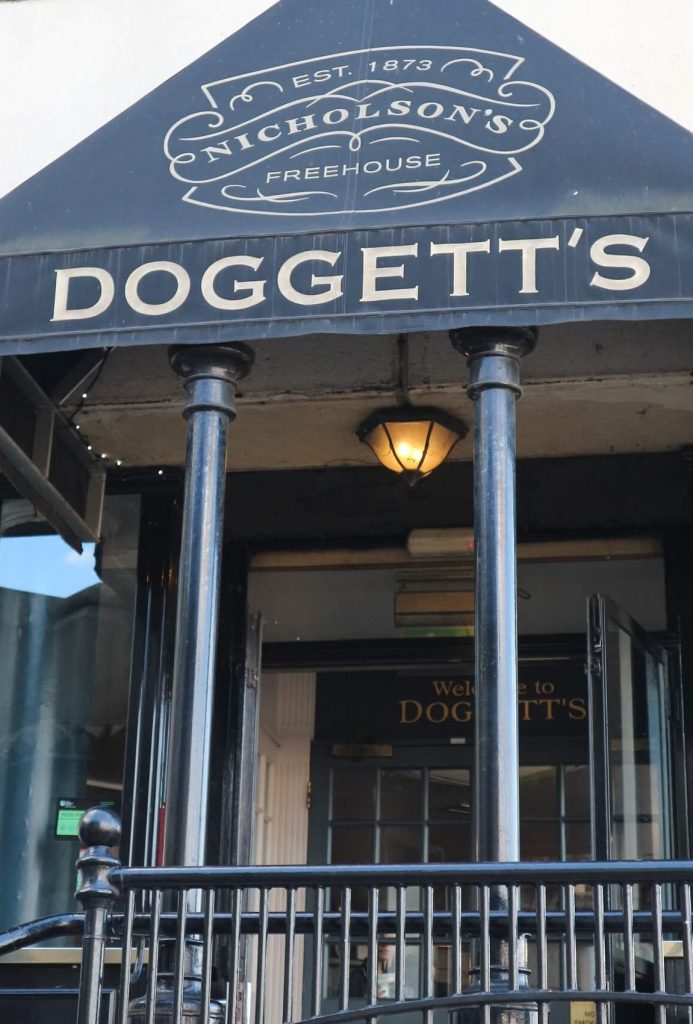 Where Southbank turns into Bankside, the edges of the Southbank walk
Tate Modern
Blackfriars Bridge makes the loosely defined boundary of Southbank and Bankside. Once you cross this bridge you are in Bankside, which is basically a continuation of the wealth of history, museums, restaurants, and markets that make up this area of London.
The first notable Bankside attraction you will see is the Tate Modern. The Tate showcases modern and contemporary art featuring rotating exhibits from top artists.
The outside is an imposing structure, built in an old renovated power station, which is in stark contrast to the bright, innovative spaces on the inside. The fact that it is free to the public is an added perk.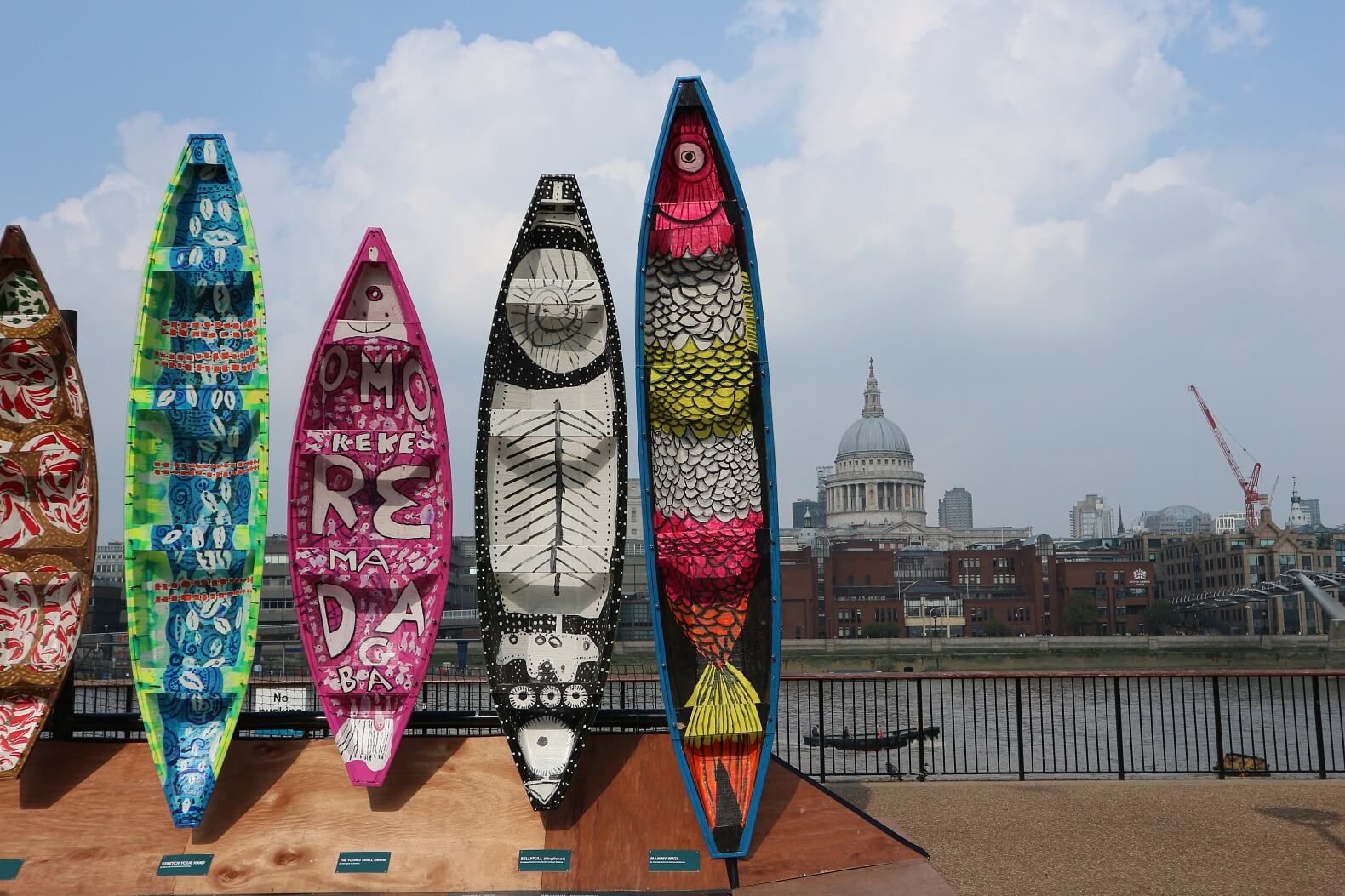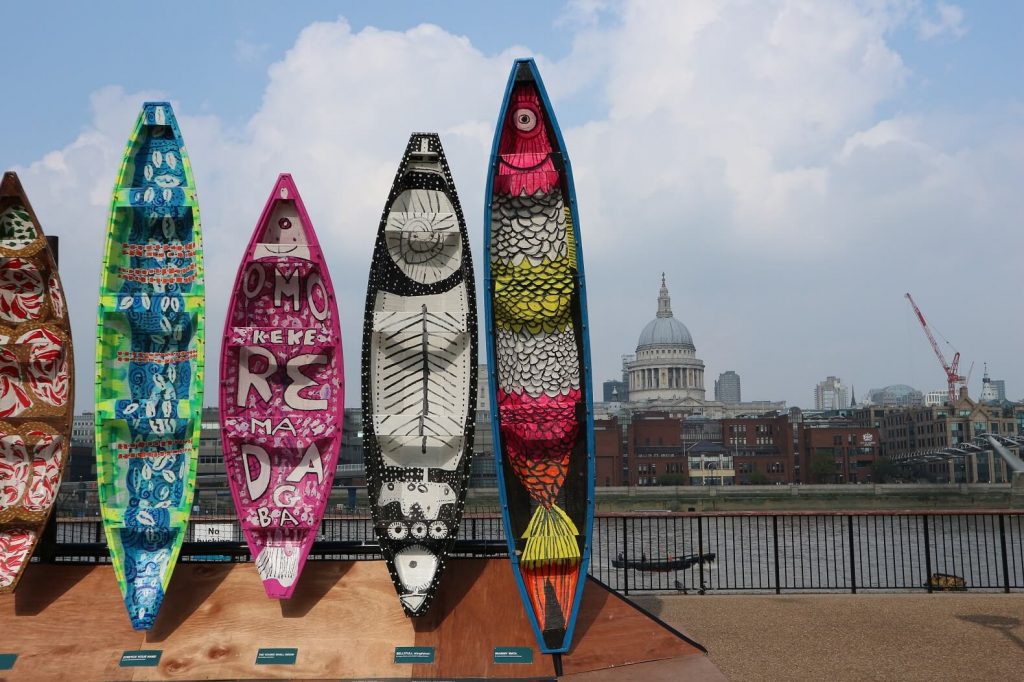 The Globe Theater
Further west you will come to the Globe Theater, built about 750 feet away from the original structure constructed in 1599.
The theater is a faithful rendition of what it looked like when actors performed Shakespeare's famous plays. I would argue this is a must-do experience, simply due to its unique, open-air architecture and history.
The fact that you may be sitting in the same seat witnessing the same performance as someone in 1603 just adds to the appeal.
Tip: Plan your visit. Some plays can be had for as little as £5 on certain performances.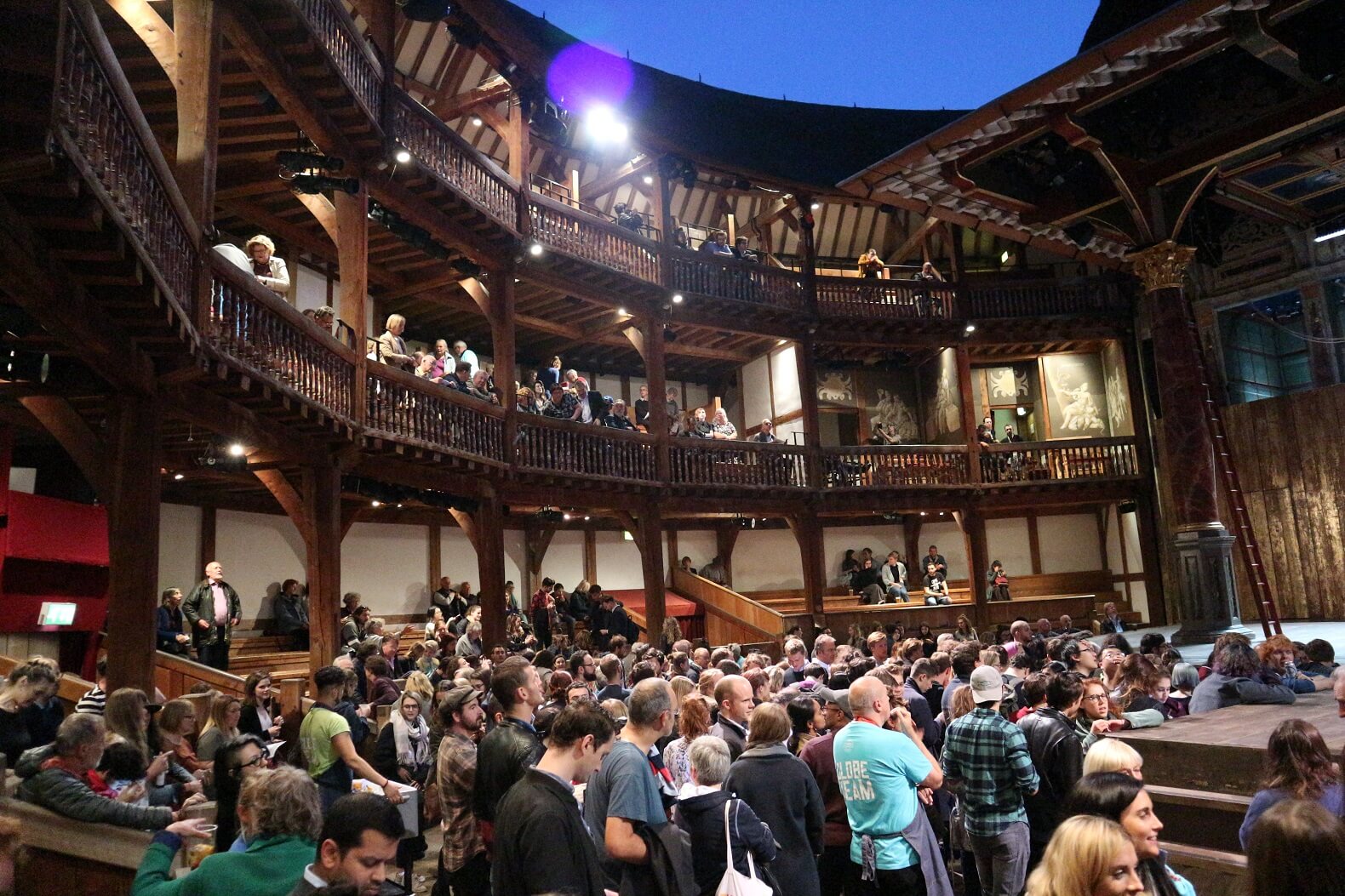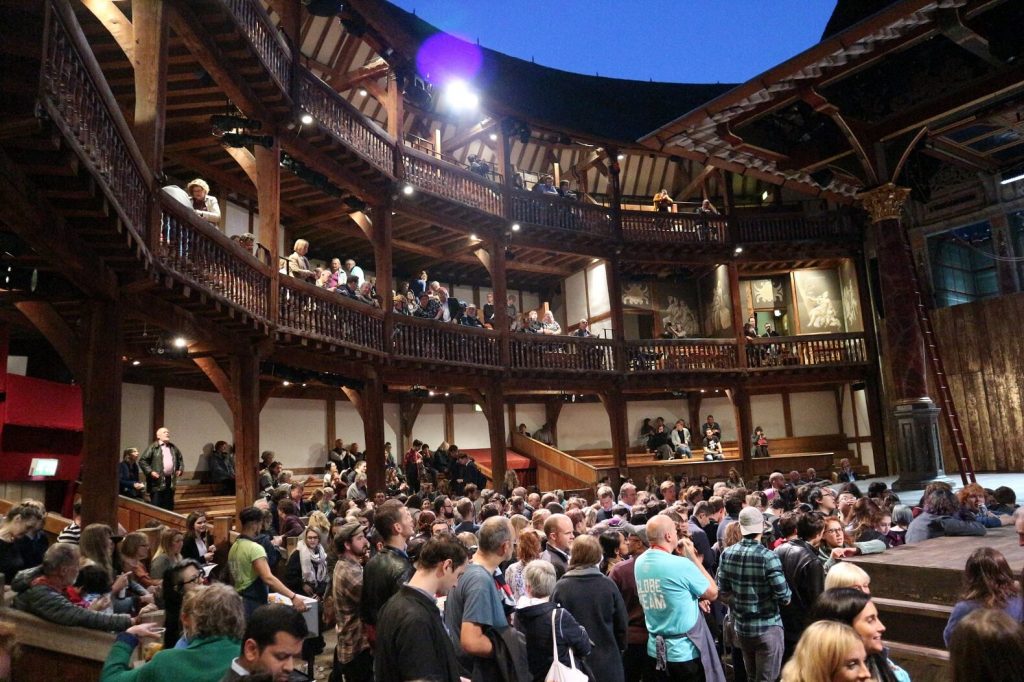 Borough Market
A short walk from the Globe Theater, right by London Bridge, is Borough Market. This is the last stop on your Southbank and Bankside walking tour. As you walk through this colorful market, the song "food, glorious food" will continuously play in your mind.
Borough Market lays claim to a 1000-year-old pedigree. The first mention of a market in this area is referenced in a chronicle dated 1014. By the Middle Ages, the market had been firmly established for centuries and became an extension of London in the early 1400s.
As London grew over the centuries, so did the market, which evolved into a major wholesaling operating by the 1900s.
The rise of supermarkets influenced the decline of the market's wholesale incarnation. By the late 1990s, the artisanal food trend found a welcome home in the market. It has since transformed into what it is today, a large and varied collection of food stalls that feature a commitment to sustainability.
Many of the vendors are also producers. The stalls include seafood, game, and baked goods. Every conceivable type of cheese, coffee, confectionery is all here. The market has a definite international component, which is to be expected in a cosmopolitan city like London.
Borough Market also offers prepared foods, samples, and restaurants. It's fun to wander the stalls sampling whatever tempts you.
Or you can take a three-hour "Taste of Borough Market" gastro tour with well-known travel writer, Celia Brooks.
Tip: Make sure you give yourself enough time to relish Borough Market. You will need it. Come very, very hungry.
If a sit-down meal is more your style, check out these 15 unmissable places to eat in South Bank. 
Honorable Mentions
This post is just a brief sampling of the many things you can see and do when exploring Southbank London. There are so many unique experiences you can create for yourself, especially if you have more time:
Read up on London and South Bank before you go using these useful and handy guidebooks. 
What do you like the best about London's Southbank and Bankside while on a Southbank walk?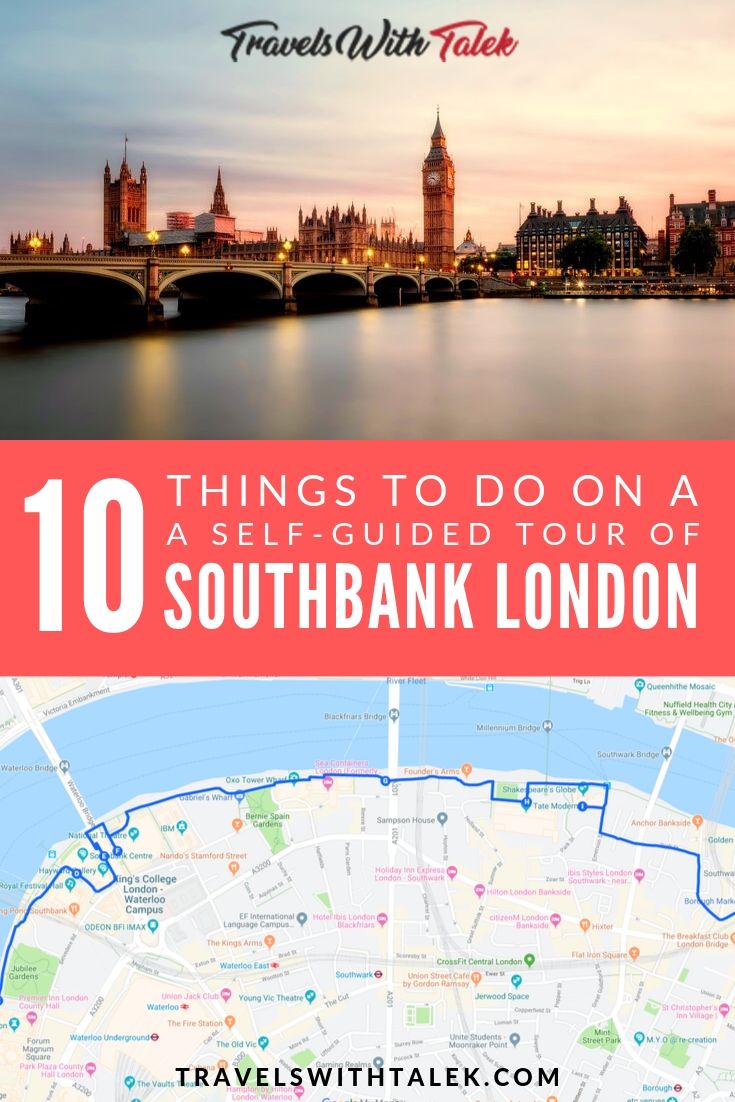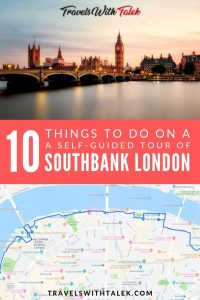 BTW, if you are getting ready for your trip, make sure to take advantage of these useful, money-saving links to book your trip:
I personally use, and can recommend, all the companies listed here and elsewhere on my blog. By booking through these sites, the small commission we earn – at no cost to you – helps us maintain this site so we can continue to offer our readers valuable travel tips and advice.