Updated March 2021.
It is easy to see why Ireland is famous for so many things; stunning landscapes and wild coasts, a culture of music and dance, fascinating legends. This ancient land has it all. Here are some highlights that Ireland is known for that will make you fall in love with this beautiful country.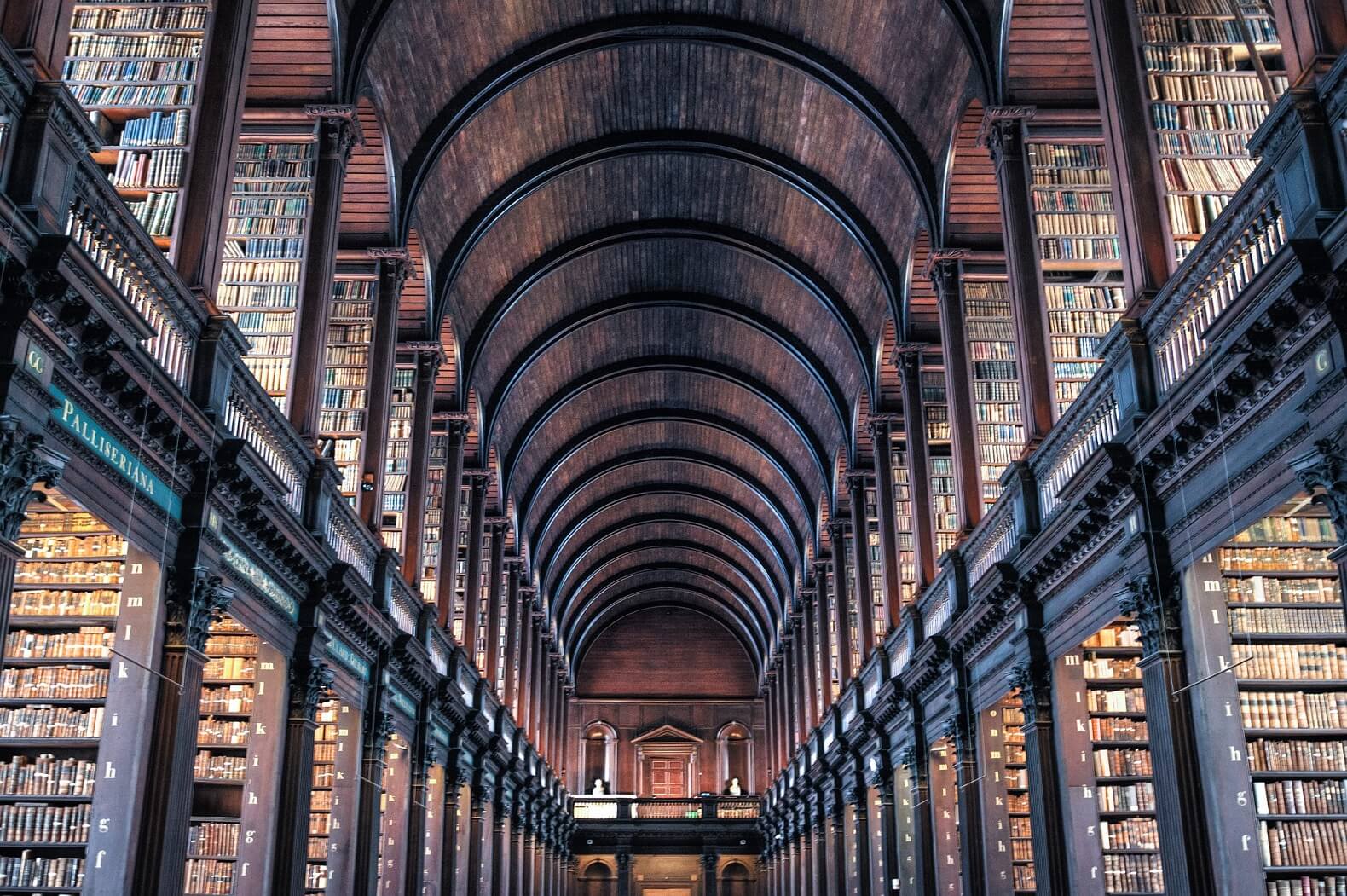 What Is Ireland Known For? Castles, castles, and more castles
There are 345 castles in Ireland all around the country. Irish history is characterized by minor lords vying for regional dominance. To be successful, a lord needed to have a castle to protect his territory and use as a base to grab territory from fellow lords. Also, any self-respecting lord wannabe needed to have a castle if anyone were to take him seriously.
Most castles are now in ruins but others are in excellent condition having been refurbished and converted into tourist attractions and hotels. If you've ever fancied sleeping in a genuine medieval castle, this might be your best opportunity.
A must-see is Dublin Castle in the center of town. This imposing structure is the site of many important events in Ireland's turbulent history.
Want to stay near Trinity College? Stay at the Trinity Townhouse Hotel. 
Probably the best-known castle in Ireland is Blarney Castle, site of the kissable Blarney Stone that Ireland is famous for. Visiting the castle is doable on a day trip from Dublin but better scheduled as a stop on your way to or from Ireland's spectacular west coast.
Legend has it if you kiss the Blarney Stone you will be given the gift of gab or eloquence. Depending on your tolerance for silly touristy gimmicks you may or may not feel compelled to visit Blarney Castle and kiss the stone. I'm a sucker for these things so, alas, I succumbed to the promise of the gift of gab and kissed the stone.
The castle itself is a total ruin. All that remains are a few walls and a staircase leading up to the stone. What is worthwhile are the beautiful and extensive gardens on the grounds of the castle.
Still can't get enough of these fascinating structures? Check out this definitive list of Irish castles.
"A good friend is like a four-leaf clover, hard to find and lucky to have." - Irish Proverb
Click To Tweet
"The heart of an Irishman is nothing but his imagination." - George Bernard Shaw
Click To Tweet
Check prices for accommodations in Dublin.   
The Spectacular Coasts and Countryside
Another thing Ireland is known for is its beautiful coastline. To say Ireland is a beautiful country would be an overused cliché and massive understatement. Since there is nothing I can say that would convey the country's beauty, here are some photos.
One especially beautiful coast is found in Mizen Head and the surrounding area although the most well known are the dramatic Cliffs of Moher reachable on a day trip from Dublin. And you shouldn't miss the Wild Atlantic Way.
Irish Cemeteries
There is something about an Irish cemetery that compels you to photograph it. Is it the Celtic crosses that rise above the gravestones, the locations on rolling green hills or village graveyards that have overgrown with vines and thistles? They are certainly among the iconic things Ireland is famous for.
If you are a lover of cemeteries and the history, statuary, and peaceful grounds that characterize them, you will enjoy Unique and historical cemeteries around the world.
"Love is never defeated, and I could add, the history of Ireland proves it." - Pope John Paul II
Click To Tweet
What Are the Irish Famous For? Pubs, Local Libations, and Food
Irish food definitely does not get the respect and accolades it deserves. Well, I'm here to do my part, albeit a small one, to testify as to the innovative culinary delights that await the visitor to Ireland.
Ireland has an extensive collection of home-grown spirits that have achieved popularity throughout the world. First and foremost among them is Guinness, Ireland's dark beer. Established in 1759, the brand's popularity is still going strong.
A visit to the Guinness Storehouse in Dublin is a must visit if you're in town. Irish whiskeys (the word comes from the Gaelic "water of life") have been enjoying a resurgence in popularity for many years. Many of the most popular brands are worth sampling; Jameson, Bushmills, Paddy, and Glendalough. All of these can be tasted while reveling in the vibrant Irish Pub culture.
The pubs of Ireland are a great place to socialize, grab a bite, join a sing-a-long, sample the local libations and absorb a bit of the fun and jovial Irish pub culture.
Ireland is famous for its musical culture
Some other famous Irish things are its music and dance. The Irish take their musical culture very seriously. From an early age, many school children are sent to dance school to practice Irish dancing, commonly referred to an Irish jig.
Brought to the United States by Irish immigrants, the Irish jig is credited with having influenced the development of the uniquely American tap dance. Traditional Irish dance is fascinating to watch, the steps increasing velocity with astonishing speed while the feet seem not to barely touch the ground.
Traditional Irish Folk music is also popular. A good way to sample a wide variety is to go on a pub crawl. Sample the local drink, listen to the folk songs and enjoy a dance spectacular in a traditional Irish pub all wrapped up in a neat little package. What a great way to spend an evening; entertaining and educational. Guaranteed to help you fall in love with Ireland.
Legends
Leprechauns exist and Ireland is famous for them. Rumor has it they are not difficult to find, either. Just follow the signs to where they live. I myself have never actually seen one but I've met many people that claim sightings.
Before you visit, make sure to read 13 facts about Ireland. Ireland's literary traditions and folklore are full of legends from fairies to leprechauns to fictional characters. The country has a rich, ancient and unique culture. It invites you to explore and rewards you with all the wonderful things that Ireland is famous for. Whether you're traveling solo, as a couple or visiting Ireland with kids, there is something for everyone.  I certainly fell in love with Ireland. I hope these reasons have compelled you to fall in love with Ireland too.
Can't get enough of Ireland and other great European cities? Check out this impressive list of things to do in Ireland and these 7 of the best summer destinations in Europe for the perfect getaway.
Want to know more about Ireland before you go?  Here are a few resources sure to be helpful.
What do YOU think Ireland is famous for? What did we miss?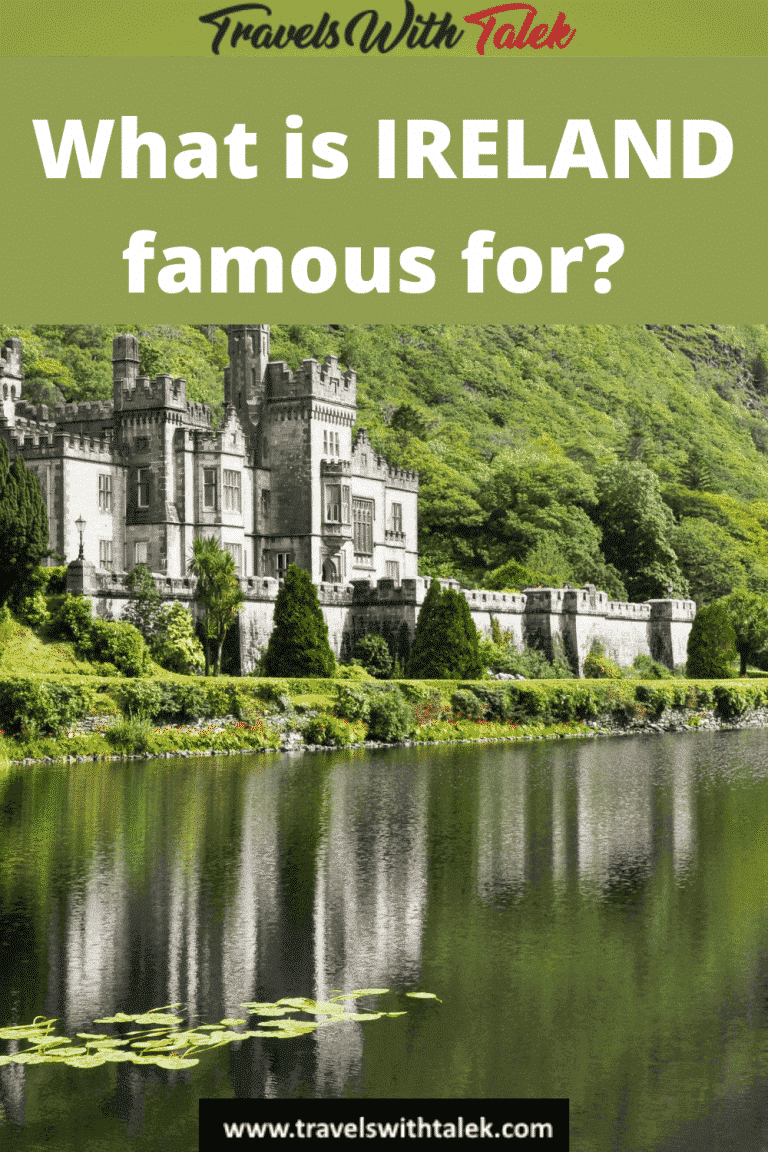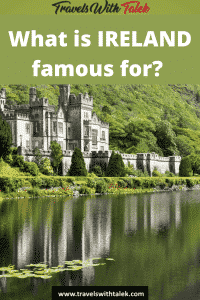 BTW, if you are getting ready for your trip, make sure to take advantage of these useful, money-saving links to book your trip:
I personally use, and can recommend, all the companies listed here and elsewhere on my blog. By booking through these sites, the small commission we earn – at no cost to you – helps us maintain this site so we can continue to offer our readers valuable travel tips and advice.