Cemeteries are not usually at the top of travel itineraries. Some people are spooked by them, but others know that they hold a treasure trove of history and can be a surprisingly satisfying part of their trip. We've put together a list of some of the most famous, unusual, and historical cemeteries around the world that you should see.
Europe
Many famous and unique European cemeteries boast spectacular and elaborate funerary art. Throughout the ages it was believed the more elaborate the final resting place, the more beloved was the deceased.   You can find outstanding examples of funerary art in Pere Lachaise Cemetery in Paris, Poblenou in Barcelona, and Cimitero monumentale di Staglieno, among others.
Another notable feature of many European cemeteries is their religious connection. People wanted to bury their dead in a religious environment. When space ran out new graves were created on top of old ones or remains were stored elsewhere to make room for new graves. As a result, some cemeteries have over 12 layers of burials and have been operational for hundreds of years.   The Old Jewish Cemetery in Prague and St. James in Brno are great examples of these unique and famous European cemeteries.
One activity I find interesting in cemeteries is to locate the graves of famous people. Some graves are almost as famous as the people buried there. Jim Morrison and Oscar Wilde's tombs are part of the tourist route in Paris as is the tomb of Karl Marx in London's Highgate Cemetery.   The tombs of literary personalities are particularly common. Daniel Defoe, Percy Shelly and William Blake are all easy to find in London's cemeteries.
France, Spain, and Italy
Non-Catholic Cemetery – Rome, Italy
Did you know that there is a Protestant (or Non-Catholic) cemetery in Rome? In the 18th century, Pope Clement XI gave permission for the exiled members of the Stuart Court to be buried here and extended the invitation for others to be buried there as well.
The most famous statue is The Angel of Grief by American sculptor William Wetmore Story, which represents an angel kneeling over the resting place of Emelyn Story, the sculptor's wife. Later, he was also buried there.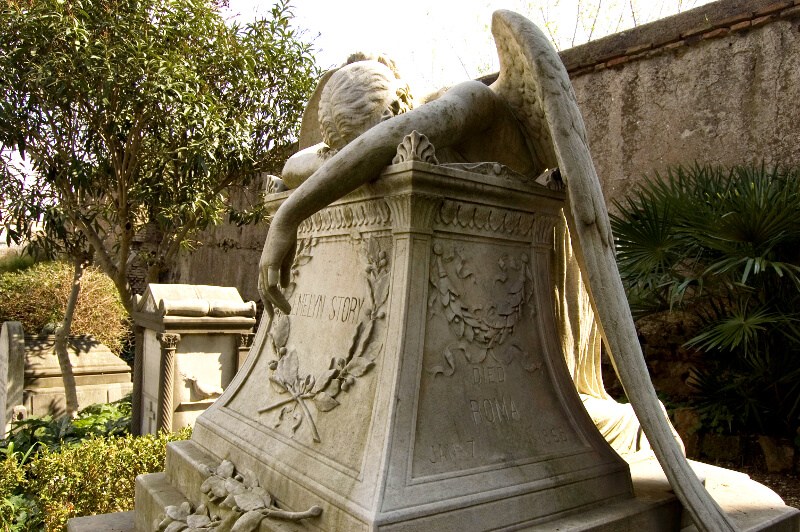 Père Lachaise Cemetery – Paris, France
As the largest cemetery in Paris, Père Lachaise Cemetery is one of the most visited graveyards in the world.  Often referred to as a sculpture garden cemetery, taking a walk along the paths in this 44-acre garden offers a nice escape from the more popular tourist attractions in Paris.
Some of the popular tombstones with unique sculptures include Victor Noir, a French journalist popular for the way he died, Jim Morrison, lead singer of The Doors; Félix Faure, president of France from 1895 to 1899; and Théodore Géricault, a French painter famous for his painting "Raft of Medusa". Père Lachaise's most popular tomb is Oscar Wilde's, which is represented by an angel carrying a stone, always covered in lipstick prints.
Poblenou Cemetery – Barcelona, Spain
Found in a neighborhood very close to the beach, the Poblenou Cemetery was opened in the 18th century after space in the Montjuic Cemetery became scarce. Designed by the Italian architect known as Ginesi, this cemetery is divided into two sections. In the front you will find thousands of burial sites, but in the back you will find large crypts and family mausoleums. Probably the most famous landmarks in the cemetery is the "Kiss of Death" statue, which is a winged skeleton kissing a young man. For the full experience, you can pick up a leaflet at the entrance and tour the major sites of the cemetery.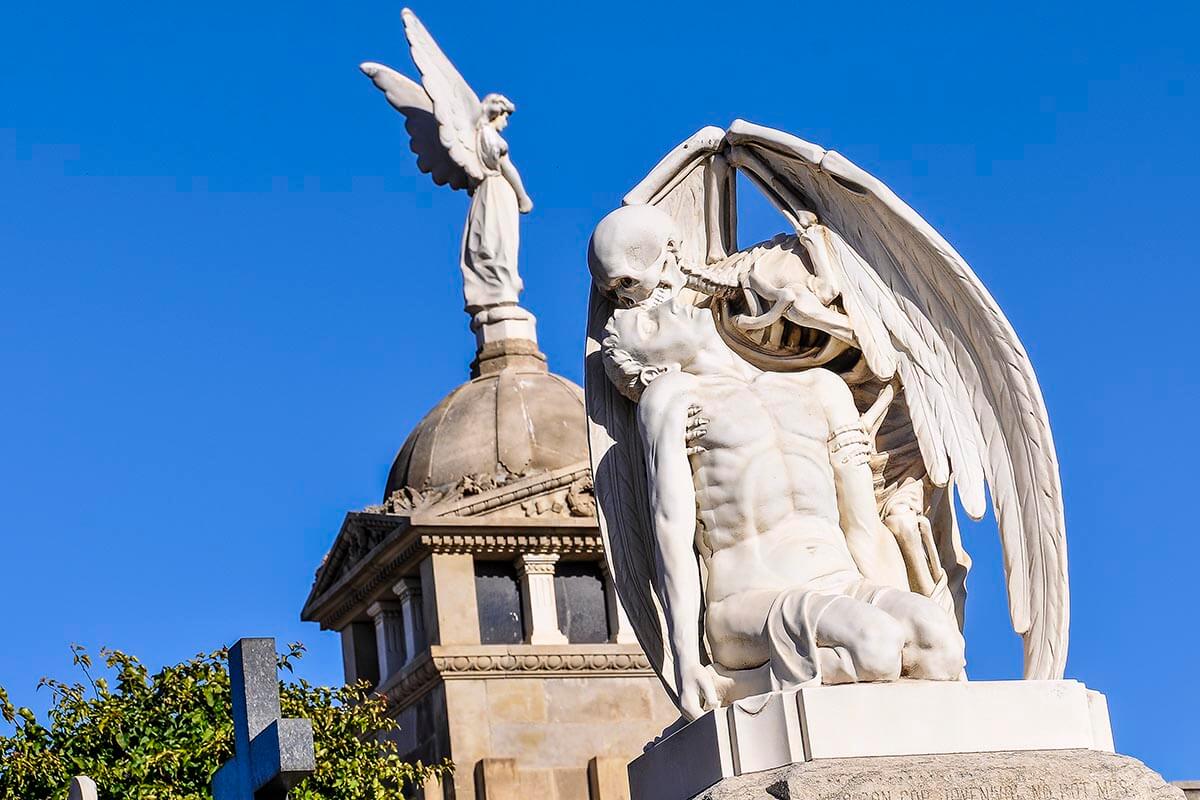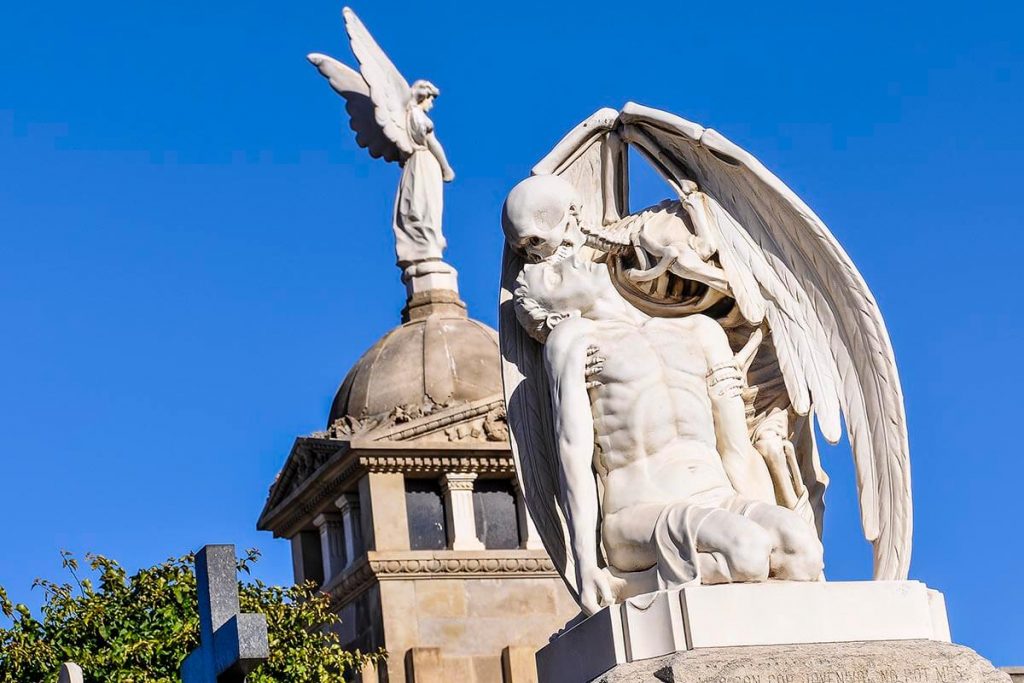 Some other cemeteries worth visiting in Europe are:
Cimetière du Château in Nice, France
Staglieno Cemetery in Genoa, Italy
Cimitero Monumentale di Bonaria
United Kingdom
Greyfriars Cemetery
In the heart of Edinburgh's Old Town, you can find Greyfriars Cemetery, one of the most famous cemeteries in Europe. Dating back to the 1560s, it features gothic style, grand, and elaborate graves. The author of the Harry Potter series, JK Rowling, was inspired by these graves and named some of the characters after some of the people buried there: Tom Riddle and McGonagall. There is also an adorable ghost of the little Skye Terrier named Bobby, who is said to have watched over his owner's grave for 14 years. There's even a bronze statue of Bobby just outside the graveyard.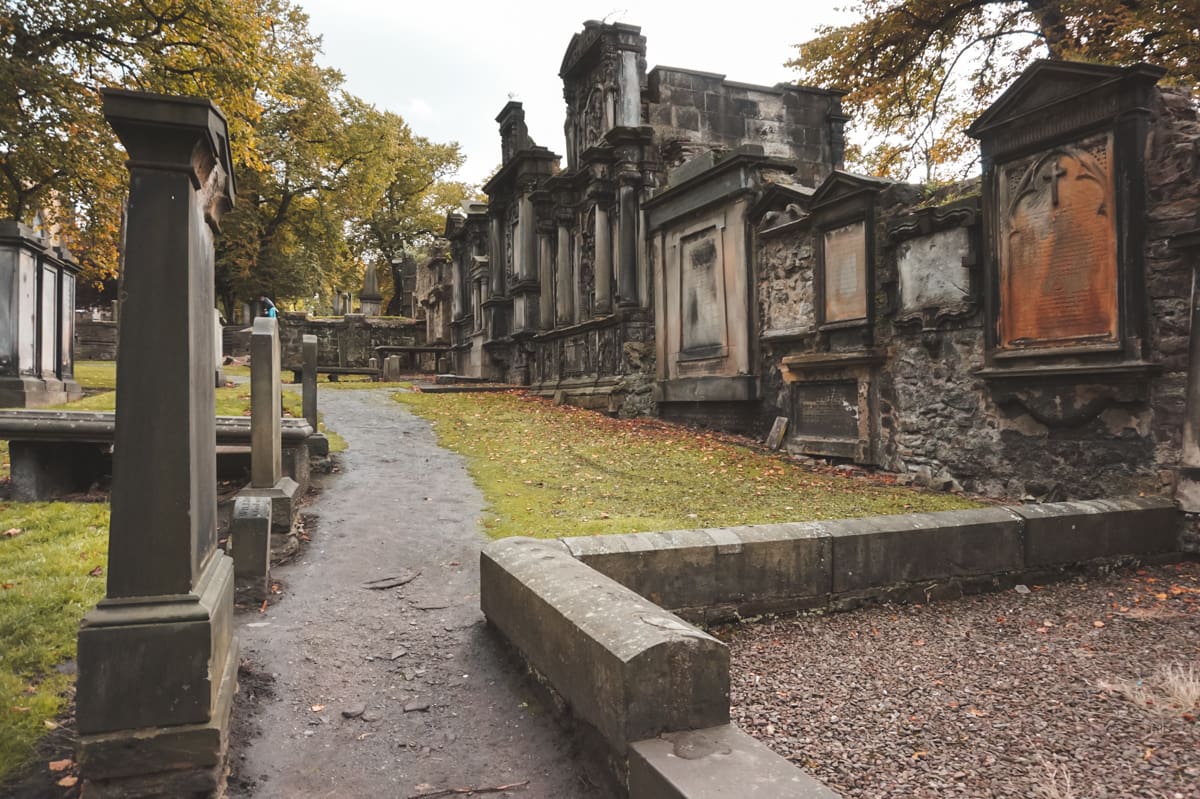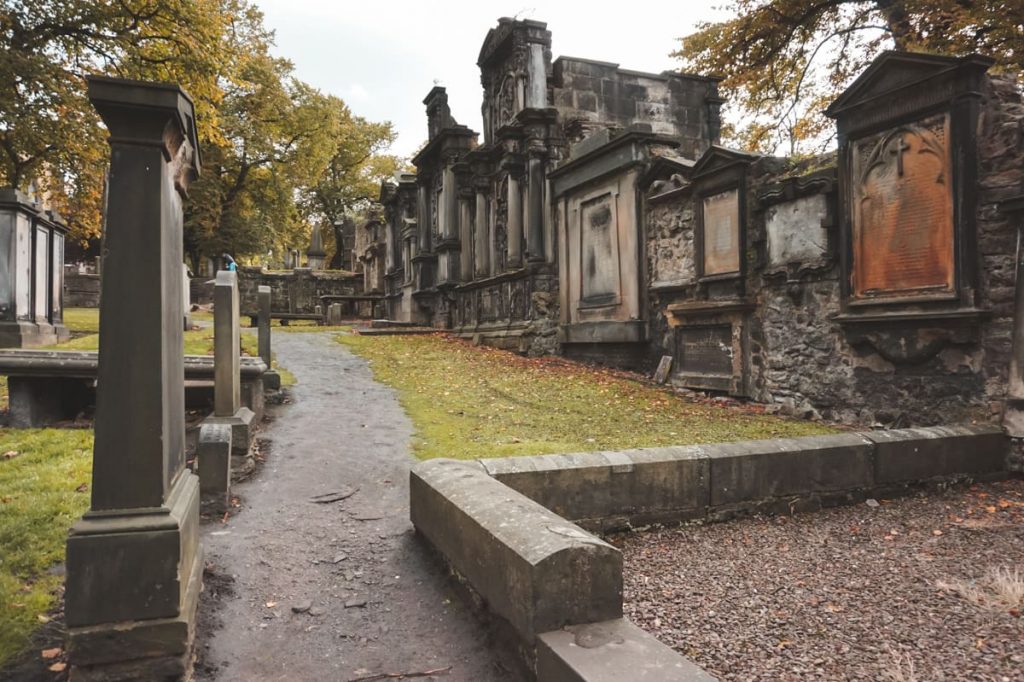 Brompton Cemetery, London
Known as one of the "Magnificent Seven" cemeteries in London, Brompton is a prime example of a Victorian cemetery, along the lines of Sherlock Holmes and Finding Neverland, both of which were filmed here. Built in the 1840s, it's one of London's oldest cemeteries and has over 35,000 grave sites, from modest headstones to grandiose mausoleums. Some of its most notable residents include Emmeline Pankhurst, the famous suffragette.
You would be disappointed if you missed the chapel and colonnade. And if you're there during the one time a year they open the catacombs, you shouldn't miss the chance.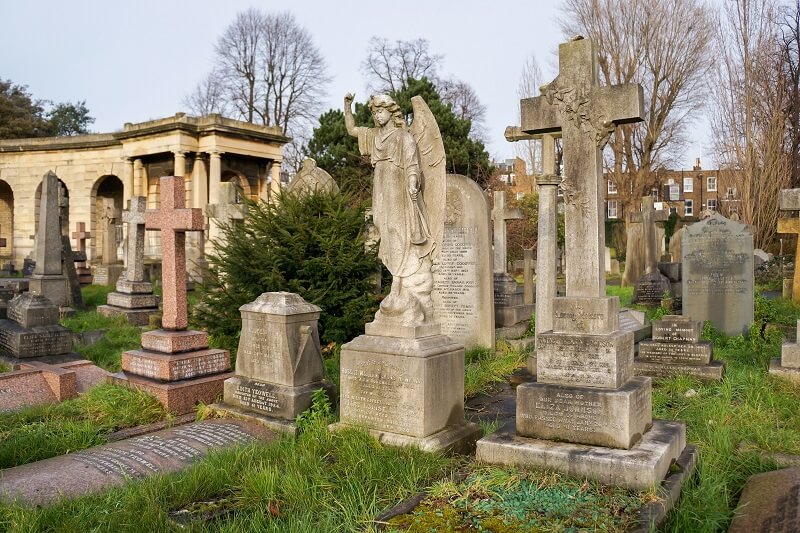 Other famous cemeteries not to be missed in the United Kingdom are:
Abney Park Cemetery – London
Bunhill Fields Burial Ground, London
Glasgow Necropolis – Scotland
Czech Republic & Romania
Old Jewish Cemetery, Prague
As one of National Geographic's top 10 cemeteries to visit, the Old Jewish Cemetery in Josefov, the former Jewish ghetto in the center of Prague, is full of history. Before Prague's Jewish population was banned from burials inside the city walls, this cemetery was in use for about 300 years and holds around 12,000 bodies buried in a space the size of a city block. Because the Jewish population wasn't always allowed to buy land, the shortage of burial space became a problem. And because the Jewish faith does not allow graves to be abolished, people started layering up the cemetery. There are places where you can find up to 12 layers of bodies with gravestones leveled up to the top.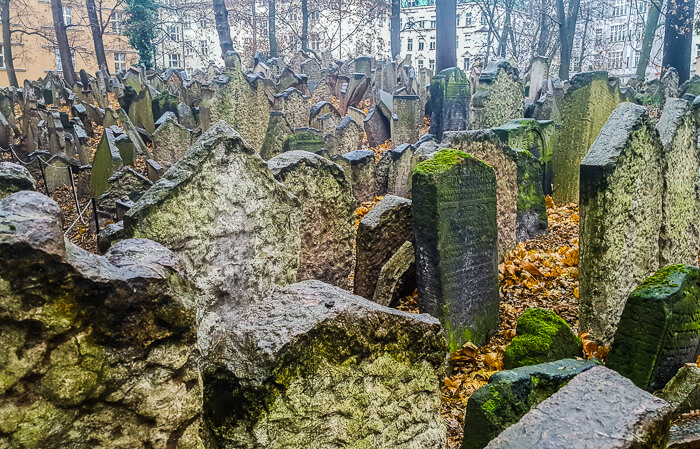 The Merry Cemetery in Romania
Known worldwide for its vibrant, colorful, and poetic grave sites, the Merry Cemetery in Sapanta is a testament to the lives and personalities of the departed. Dating back to 1935, it currently serves as the main attraction for the "Long Road to the Merry Cemetery" festival.
There are more than 800 wooden-carved monuments that tell stories about their occupants through lyrics, artistic images, and poetry. One of the most popular lyrics is the following:
"Under this heavy cross, my poor mother-in-law lies. Three more days if she had lived, I would've been down and she would've been reading." Obviously, this guy had a very nice relation with his mother-in-law."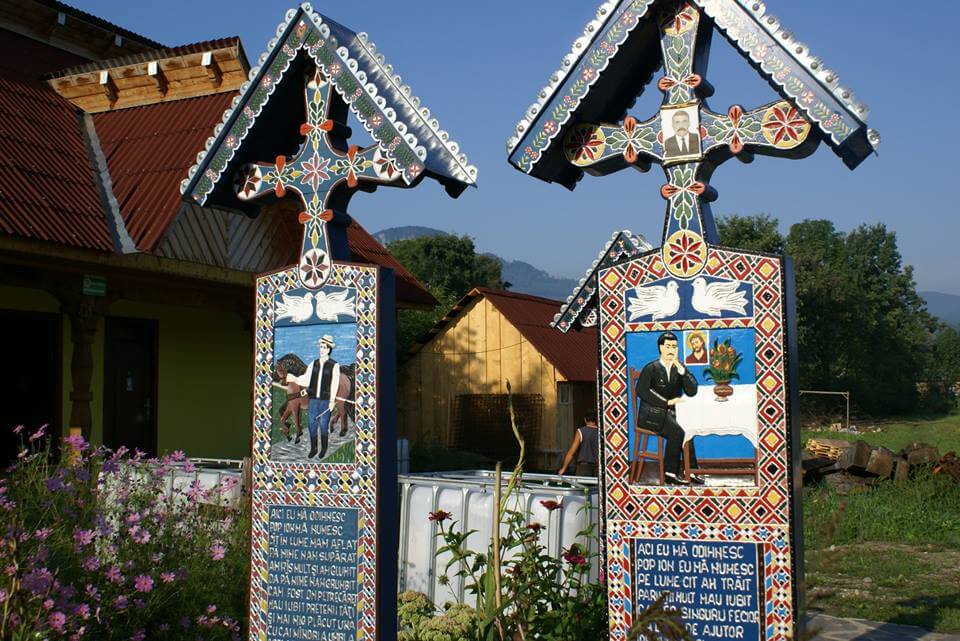 Some other historical cemeteries you should see in Eastern Europe are:
St. James Church – Czech Republic
Olšany Cemetery – Prague, Czech Republic
Latin America
The Latin American descendants of European immigrants followed much the same burial customs as their forefathers. If they could afford elaborate mausoleums they built them.  No where on the continent is this more evident than in Cuba, Chile and Argentina.  The historic cemeteries of Latin America are bursting with elaborate funerary art and manicured grounds.  There is also more than a touch of the macabre in these cemeteries like the Mummy Museum of Guanajuato and the Sucre General Cemetery in  Bolivia.
Cuba
Cementerio Santa Efigenia – Santiago de Cuba
If you want to see the final resting place of more than a few notable Cubans, then you must visit Cementerio Santa Efigenia in Santiago de Cuba.  first presidents, Tomas Estrada Palma and Carlos Manuel de Cespedes are buried here. You can also see the simple but elegant tomb of Jose Marti, who is viewed as the father of the country, but also a poet, and statesman. He wrote a poem requesting that he be buried with his face to the sun. And here he lies, with his coffin positioned so that as long as it's daylight, a ray of sun always falls upon it. The most recent famous burial is the interment of Fidel Castro's ashes in December 2016.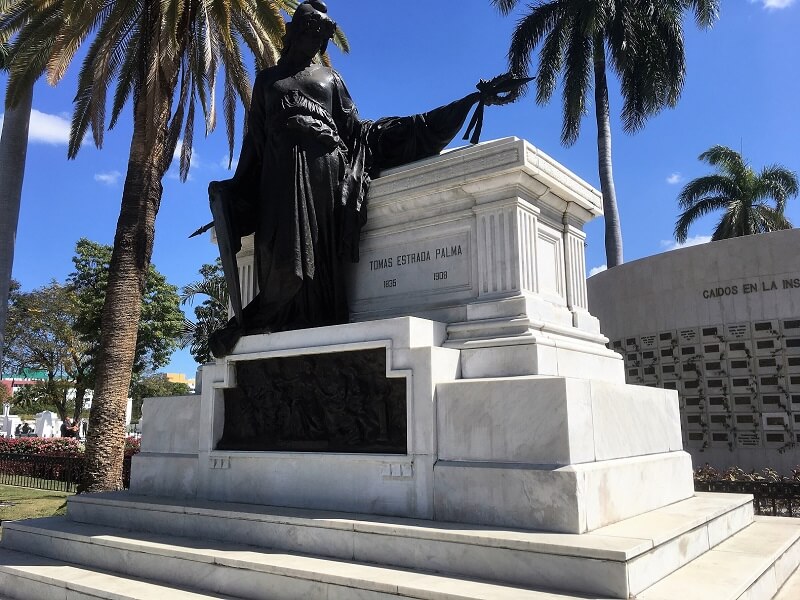 Other famous and historical cemeteries of Cuba include:
South America and Mexico
La Recoleta, Buenos Aires, Argentina
Arguably the most beautiful of the cemeteries in Latin America, La Recoleta is the final resting place of Eva Peron. Married to Juan Peron, a president of Argentina, Evita became very popular with the people, who elevated her to an almost goddess status. At the young age of 33, she died of cancer and was buried here. It is also the final resting place of Nobel Prize winners, the founder of the Argentine Navy, and one of Napoleon Bonaparte's granddaughters. Named one of the world's best cemeteries in 2011 by BBC and in 2013 by CNN, it is surely worth the visit if you are planning a trip to Buenos Aires.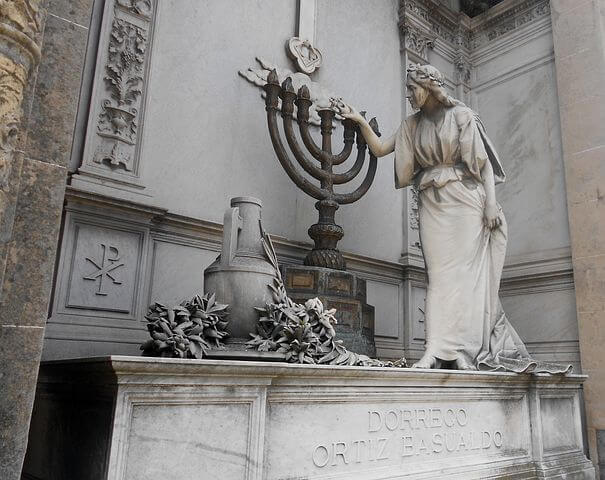 Saint Paola Cemetery – Guanajuato, Mexico
While this cemetery looks a lot like other cemeteries, with walls of crypts stacked several layers high, there is a story about it that will make your hair stand on end. To learn more about this story, just visit the
Museo de las Momias
, which houses…mummies!
In 1833, there was a cholera outbreak that resulted in the Saint Paola Cemetery becoming full some 30 years later. In an attempt to free up space, a tax was put in place. If families couldn't or wouldn't pay the tax, bodies would be exhumed and placed in storage. Upon exhuming the bodies, it became apparent that something in the soil had naturally mummified the bodies. Some of the more enterprising locals decided to start charging for viewing the mummies, which eventually led to a legitimate mummy museum.
Some other famous and historical cemeteries of South America to consider are:
United States
Cemeteries in the United States are mini history lessons. At Trinity Churchyard in New York City you can learn about Alexander Hamilton and leave a memento in honor of his contributions to the United States. Uniquely and appropriately, you can watch a movie right on the lawn of the Hollywood Forever Cemetery and you can follow the path of the protagonists of the movie "Midnight in the Garden of Good and Evil" at Savanah's Bonaventure Cemetery. The cemeteries of the United States are every bit as intriguing as those of Europe and you should strive to visit them.
Trinity Churchyard – New York City, New York
Opened in 1697 at what is present day Wall Street and Broadway in lower Manhattan, Trinity Church Cemetery is the final resting place of Alexander Hamilton along with several other famous statesmen. Actually one of three cemeteries that all form part of Trinity Church Cemetery, this one at the southern tip of Manhattan is the most famous.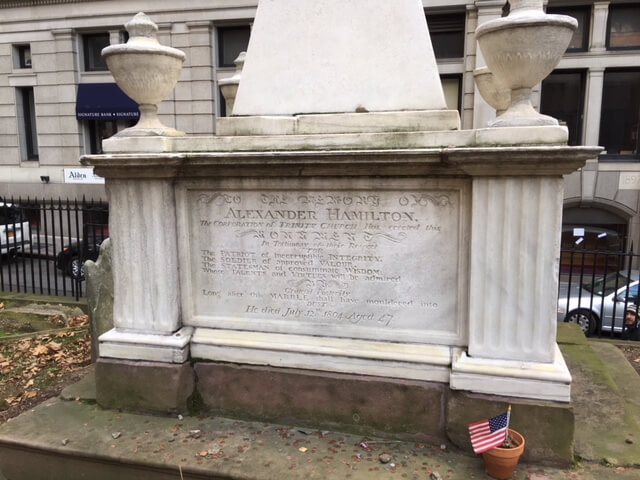 The Hollywood Forever Cemetery – Los Angeles, California
Located right smack dab in the middle of Hollywood, California, and next to Paramount Studios, this cemetery is the final resting place to many of the Hollywood "royalty." You can find Judy Garland, Alfred Hitchcock, and Johnny and Dee Dee Ramone of the punk band The Ramones. If you happen to be there during a Cinespia event, you can watch a movie under the stars complete with a full bar.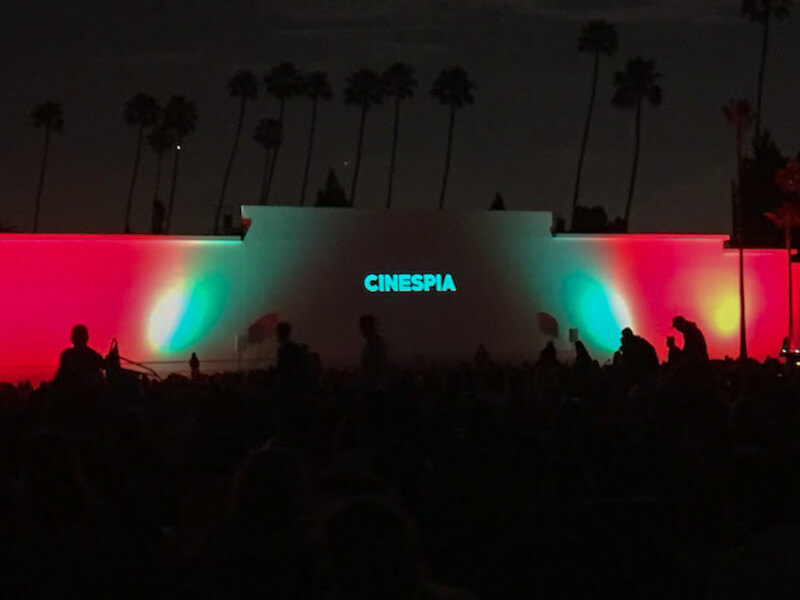 And if that's not enough, you can also visit these historical cemeteries in the United States:
St. Louis Cemetery #1 – New Orleans, Louisiana
Bonaventure Cemetery – Savannah, Georgia
Arlington National Cemetery – Washington, DC
Woodlawn Cemetery – New York City, New York
Granary Burial Ground – Boston, Massachusettes
Southeast Asia, Oceania, and the Middle East
Asia is in a different world when it comes to cemeteries. Here is where you find burials in jars, coffins hanging off mountainsides and monuments to insects. They are truly unusual cemeteries.
Hanging Coffins in Sagada, Philippines
There is a place in the Philippines with an interesting tradition of burying the dead. Instead of the traditional cemeteries that we all know about, these coffins are hung high up on cliffs.
The practice began over 2,000 years ago and continues today in the Mountain Province. Members of the Igorot tribe hang the coffins on the cliffs for two reasons: to bring them closer to ancestral spirits; and to keep the bodies safe from quick rot, wild animals, and raids from rival tribes who might want a trophy or two. It should be noted that this practice is reserved for the elite members of the tribes, and that regular land burial is what most people get.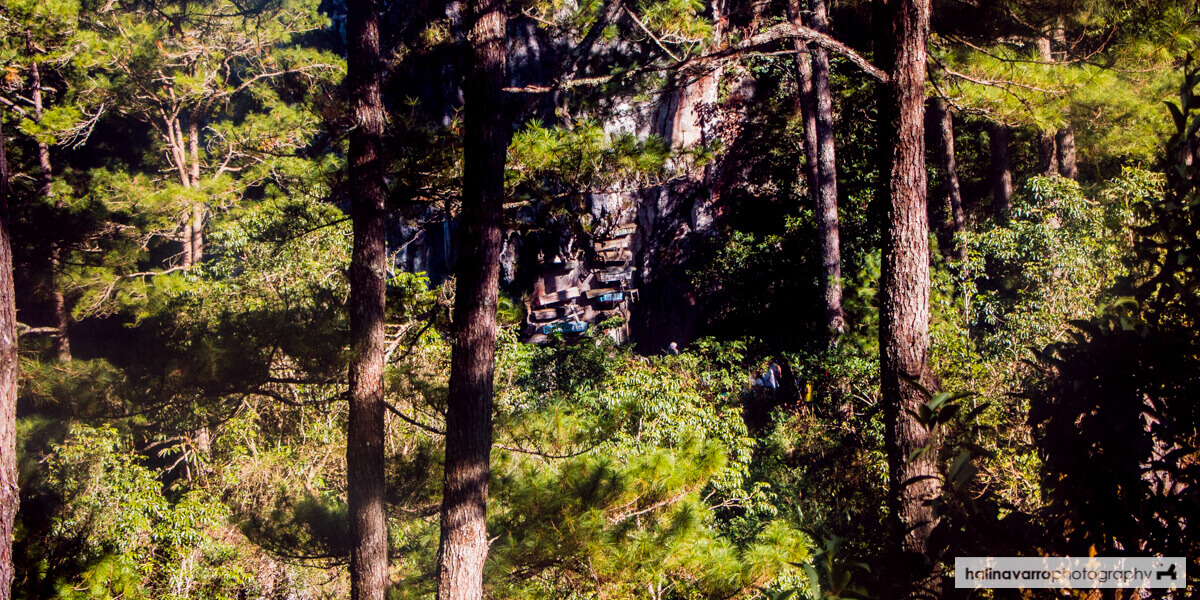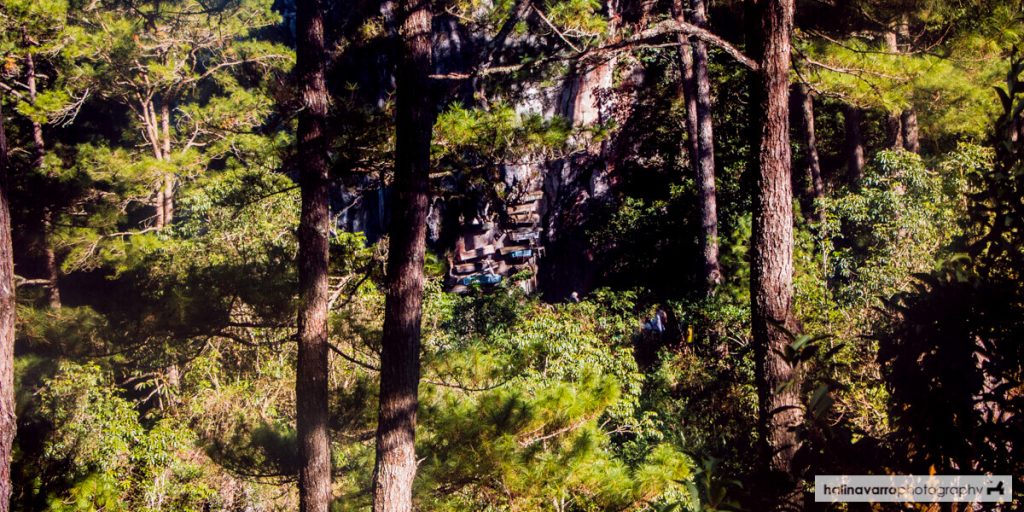 Israel Cemetery, Jerusalem
Just outside the old city wall of Jerusalem is a large cemetery dating back to the period of the Second Temple, around 500 BCE. According to Jewish tradition, this is where the resurrection of the dead would start when the Messiah appears on the Mount of Olives and walks toward the Temple Mount. There are many famous Jews buried here including former Prime Minister Menachem Begin.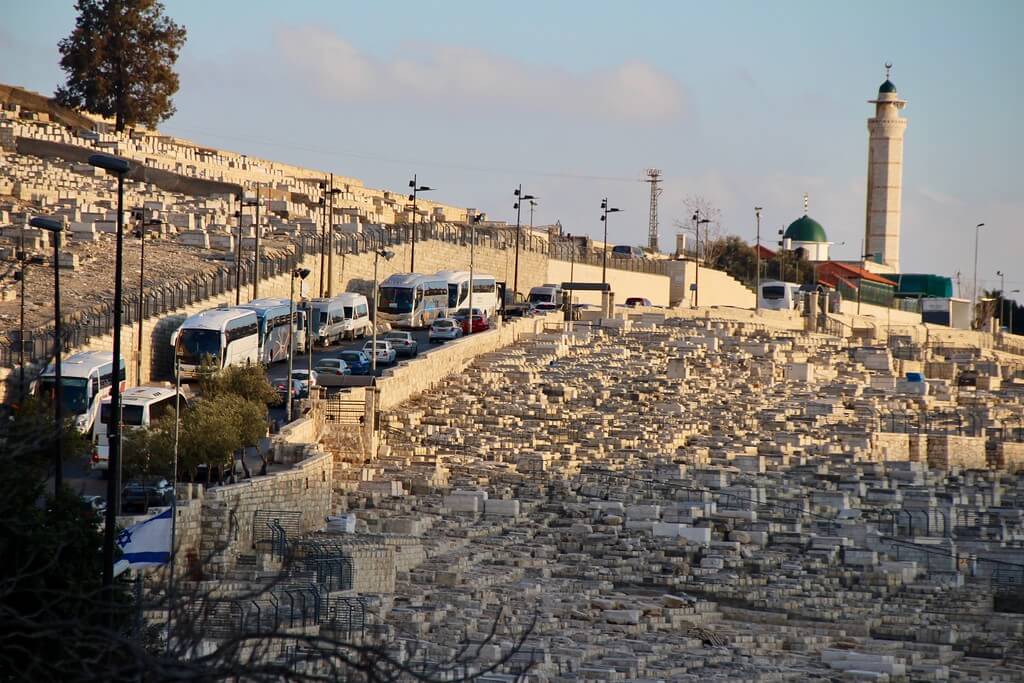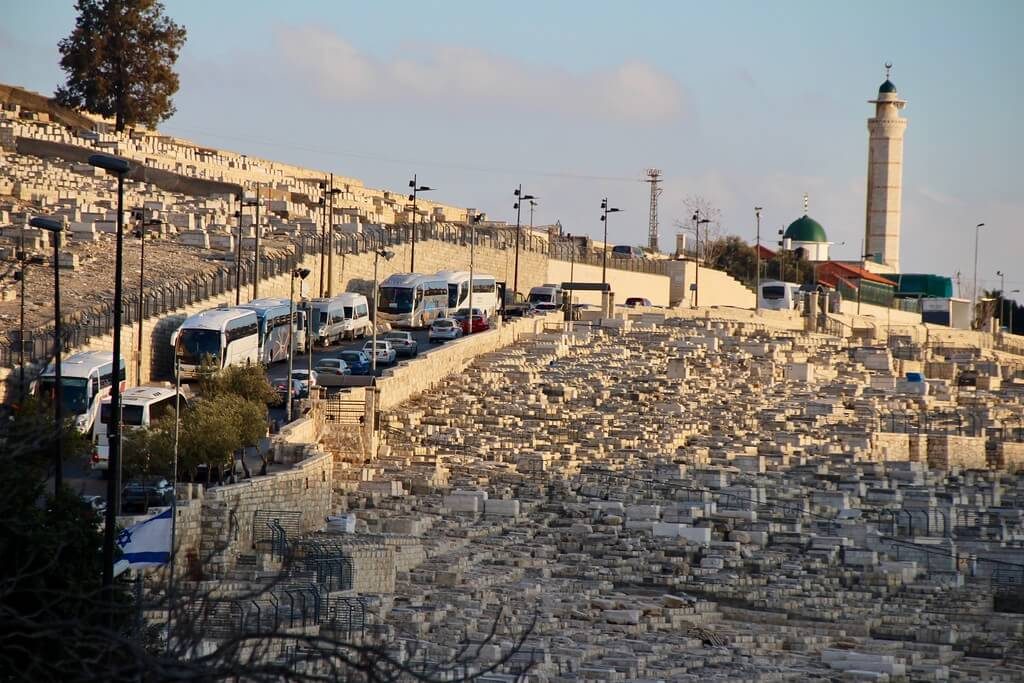 Some other unusual cemeteries in Asia you shouldn't miss include:
Toraja, Indonesia
The Plain of Jars, Laos
Bolton Street Cemetery, New Zealand
Japan
Okunoin Cemetery
As fascinating as cemeteries around the world are, one stands out as the most intriguing and mystical of them all, the Okunoin Cemetery at Koya-san in Japan.  Okunoin is the country's oldest cemetery and a UNESCO World Heritage Site. The monuments are very different from a typical grave stone, representing insects, cooking utensils and spaceships. But the most touching and poignant gravestones are the Jizo Bosatsu, the little statures representing children taken before their time.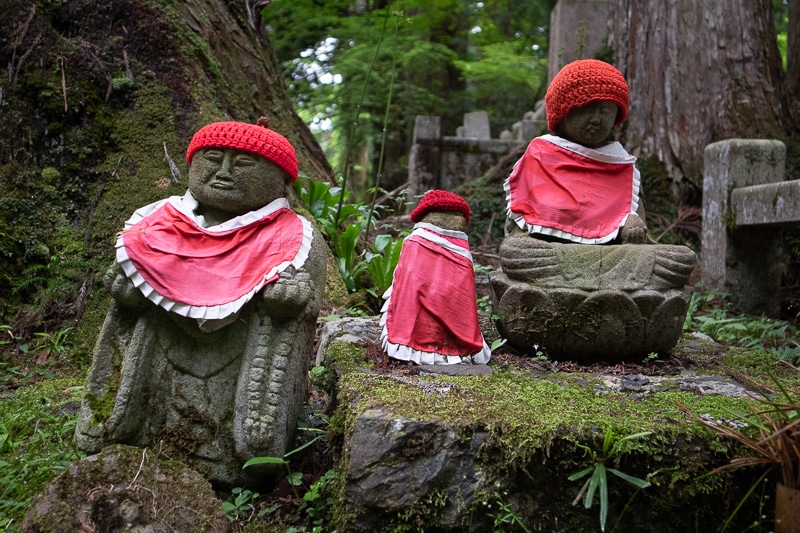 If you like this post about unique, famous, and historical cemeteries around the world, then you will enjoy these posts: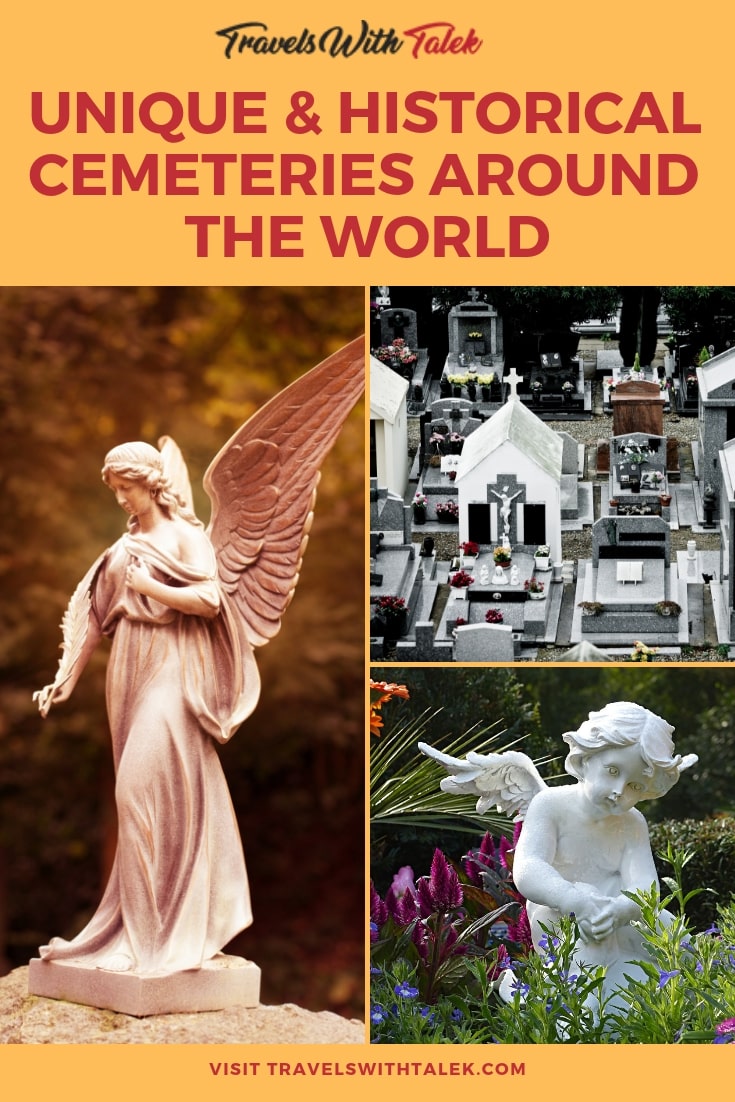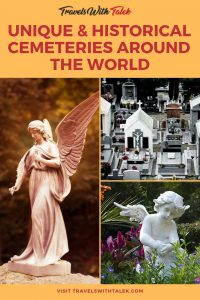 BTW, if you are getting ready for your trip, make sure to take advantage of these useful, money-saving links to book your trip:
I personally use, and can recommend, all the companies listed here and elsewhere on my blog. By booking through these sites, the small commission we earn – at no cost to you – helps us maintain this site so we can continue to offer our readers valuable travel tips and advice.