Updated November 5, 2019
There are many strange and unusual cemeteries in Asia and the Middle East, but here are a few that really stand out. Join travel bloggers as they reveal some of their best tips for visiting cemeteries and their favorite strange and unusual cemeteries of the world.
TIPS FOR VISITING CEMETERIES: STRANGE AND UNUSUAL GRAVESITES
Hanging Coffins in Sagada, Philippines
One of our best tips for visiting cemeteries is to find the most strange and unusual ones. There is a place in the Philippines with an interesting tradition of burying the dead. Instead of the cemeteries that we all know about, the coffins are nailed high up on cliffs.
In particular, hanging coffins can be found in Mountain Province. The practice started 2 millennia ago and continues until today, although not as common as before. Accordingly, members of the Igorot tribe hang up the coffins to bring them close to ancestral spirits and to keep the bodies safe from quick rot, as well as wild animals and members of rivaling tribes who might be looking for trophies. When we visited the hanging coffins in Sagada in Mountain Province, we were told by our guide that the practice was exclusive to elite members of society since a regular land burial was reserved for common people.
You can visit the hanging coffins cemetery as part of the tourist trail in Echo Valley in Sagada.
Tara blogs at Tara Lets Anywhere
Toraja, Indonesia
Visiting cemeteries in Indonesia? For the status-conscious Toraja people, not even death can erase class distinctions. This entire mountain district in the highlands of South Sulawesi in Indonesia has a unique outlook on death, dictated by the "Aluk Todolo" (traditional ways) that couldn't be erased even after the conversion of most Torajans to Christianity.
Death, after all, is just a stage in a person's life, and the kind of send-off and final resting place you get depends largely on your family's wealth and prestige. Rich Torajans slaughter hundreds of water buffalo to feed mourners for their loved ones' funerals or else risk their loved ones not entering the afterlife properly. Even middle- and lower-class Torajans sacrifice a few water buffalo or lesser beasts.
Most deceased Torajans are buried in hand-carved crypts called "liang patane," the most picturesque of which can be seen in the Toraja town of Lemo. Wooden effigies called tau-tau guard the occupied crypts, their unseeing eyes staring blankly at the rice paddies beyond. Torajans still use the liang patane at Lemo, carving new crypts and holding ceremonies almost every month to add new "residents."
A disused funeral cave in Tampang Allo shows how nobility used to be buried. Tampang Allo outside Rantepao town holds the bones of the area's former ruling family; intricately carved boat-shaped coffins called erong have fallen apart from age and the bones that have fallen to the floor have been respectfully stacked by locals. Offerings of cigarettes still litter the cave floor. Truly one of the classic strange and unusual cemeteries of Asia.
Mike Aquino at South East Asia Time Traveler
"Stop digging up the past, lay down your shovel, the past is dead." ― Bert McCoy
Click To Tweet
The Plain of Jars, Laos
The Plain of Jars in central Laos tells a great story from the Iron Age and definitely qualifies as one of the strange and unusual cemeteries of Asia. The jars are thought to have been created around 2,500 years ago and have consequently been declared a World Heritage site. There are over 90 known sites where mysterious, large stone jars of varying sizes, lids and discs can be found scattered throughout hills and valleys. Historians have acknowledged that these jars were likely used as part of the burial process. It is thought that people were put in the jars to decompose, before being taken out for burial.
Although not a cemetery in the traditional sense, these sites are definitely fascinating. When visiting you can't help but get lost in the history and intriguing nature of the site. The locations themselves are spread far apart so the best way to see them is to travel to each via a scooter. We visited during the early morning and there weren't many tourists around. This added to the eerie feel of the place.
Rob & Kim at Simply Travelled
Israel Cemetery, Jerusalem
The west side of the Mount of Olives, just outside the old city wall of Jerusalem is a vast cemetery that dates back to the period of the Second Temple around 500 B.C. In Jewish tradition, this is where the resurrection of the dead would start when the Messiah shows up on the Mount of Olives and proceeds towards the Temple Mount. So these many many graves are really just people trying to get first in line, just like at your boarding gate at the airport. Many famous Jews are buried here such as former Prime Minister Menachem Begin. Christians and Jews alike should note that at the bottom of the Kidron Valley (between the Mount of Olives and the Temple Mount)you can also find the tombs of three of the Prophets: Haggai, Zechariah, and Malachi. Learn more about travel to Israel at Amateur Traveler.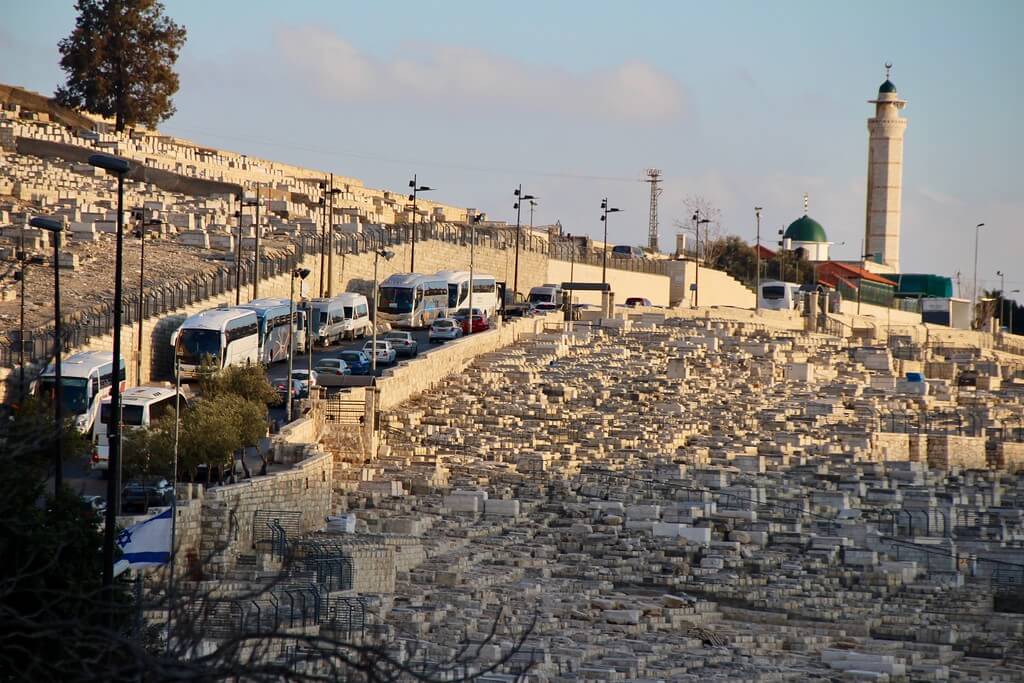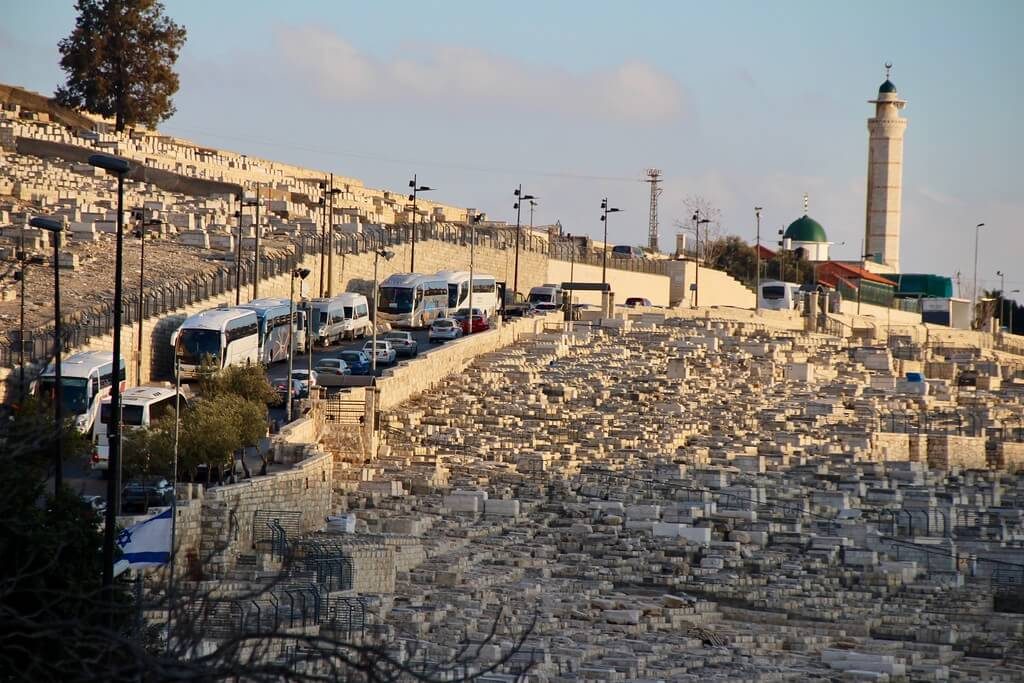 Chris Christensen at Amateur Traveler
Bolton Street Cemetery, New Zealand
When it comes to fascinating cemeteries, you wouldn't think that one of the world's smallest capital cities would have much to offer. However, Bolton Street Cemetery in Wellington is not only worthwhile exploring in any season with its magnificent flora and birdsong among the shady trees, but it also has quite a controversial past. One of our best tips for visiting cemeteries is to never overlook a town because of its size!
With graves dating back to 1840, you'll be transported back in time to the Victorian era. Interwoven between the white headstones throughout the cemetery are many stunning varieties of heritage roses, picket fences and wrought-iron plots typical of the time.
In the 1960's, enormous controversy whipped up as the council decided to run a major motorway through a section of the grounds to accommodate the growing population. As a result, this split the hilly cemetery in two and over 3,700 burials were exhumed then relocated to a large vault beneath the Early Settlers Memorial Lawn.
Regardless of this fact, it's especially lovely to stroll through after visiting the adjoining Botanic Gardens towards the end of winter. New life in the form of bulbs such as daffodils and lilies burst alive among the headstones in abundance. During my regular mind-spring visits, I was able to walk between rows of agapanthus that were taller than I am!"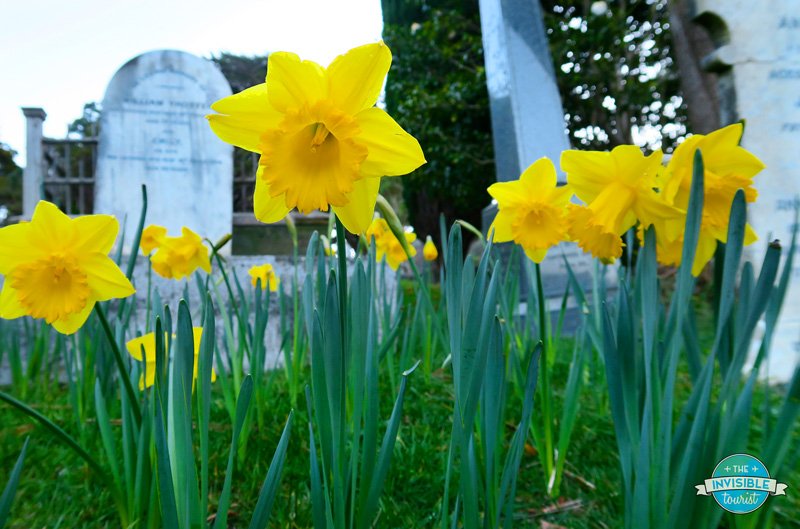 Alyse at The Invisible Tourist
Want to know more about fascinating cemeteries? Visit the other installments in the series, Famous and Unique European Cemeteries, parts 1 and 2. Historic Cemeteries of Latin America and Famous Cemeteries of the United States.
What are your thoughts on visiting cemeteries, like these strange and unusual ones? Do you know of any other? We'd like to know.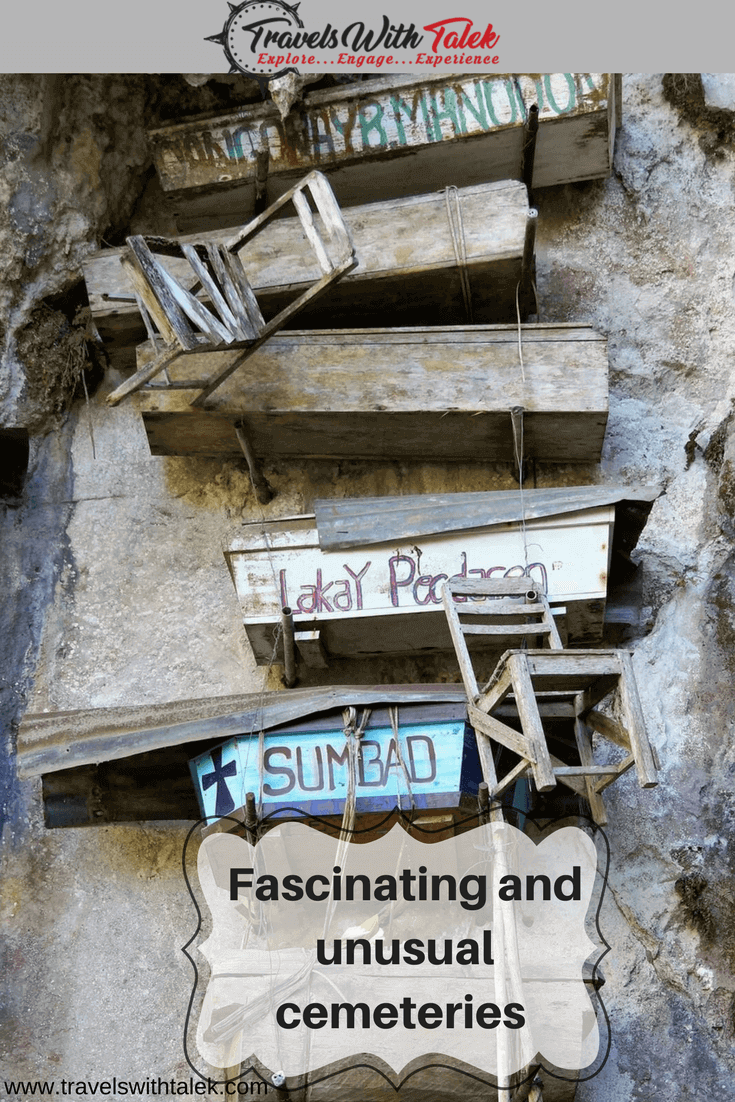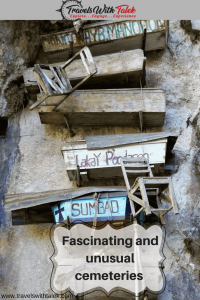 BTW, if you are getting ready for your trip, make sure to take advantage of these useful, money-saving links to book your trip:
I personally use, and can recommend, all the companies listed here and elsewhere on my blog. By booking through these sites, the small commission we earn – at no cost to you – helps us maintain this site so we can continue to offer our readers valuable travel tips and advice.