The best day trips from Havana are not far from the city and easily accessible.
It's understandable to want to spend several weeks in the Cuban capital city of Havana. Wandering along the cobblestone streets of Old Havana, exploring off-the-beaten track neighborhoods, visiting the city's museums and enjoying the local nightlife is a great way to spend your precious time. Those are certainly some of the best things to do in Havana.
But there is so much more to this country including coffee and tobacco plantations, perfectly preserved colonial towns, eco-tourism, bizarre art venues, snorkeling, beaches, history and so much more.
Best Day Trips From Havana
In Havana, or anywhere else in Cuba, your best accommodation option is a "casa particular" casa for short. These are private homes or rooms rented out by their Cuban owners as Bed and Breakfasts or homestays. The advantages are many; the prices are reasonable and you get to enjoy a truly authentic experience staying with a Cuban family.
The hostess in a casa, usually a woman, functions as a sort of concierge. She will help you navigate and book the sometimes tricky Cuban transportation, make restaurant reservations and generally help you understand the lay of the land.
She makes a small commission on these services but it is worth it and will help you have great day trips from Havana. Use Havana as your base from which to explore the best day trips from Havana.
To save money on transportation, especially between cities, consider shared taxis called "colectivos." Your hostess can show you how to book one.
The better casas also offer WIFI. The hostess will also point you to the closest CADECA or bank where you can exchange your money for local currency.
Finca Vigia
10 km from Havana
Ernest Hemingway moved to Finca Vigia in 1939 and lived here until 1960. The famed author penned parts of For Whom The Bell Tolls and all of The Old Man and the Sea.
The book, The Old Man and the Sea, went on to be possibly his most well-known novel as well as win both the Pulitzer Prize and Nobel Prize for Literature.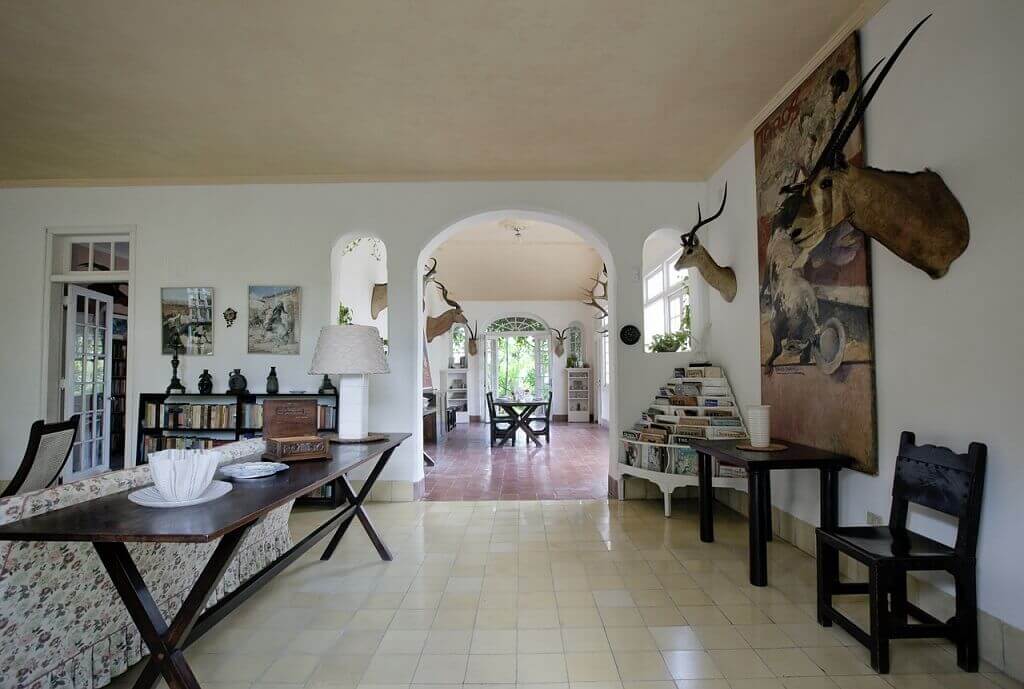 You can still visit the 15-acre property and museum today. The museum has preserved the home to look like it did when Hemingway lived here.
You can ooh and ahh at his original typewriter and fishing boat that was the inspiration for The Old Man and the Sea. It was here that Hemingway bred his six-toed cat, the descendants of which you can still visit at his home in Key West.
Getting to Finca Vigia
Want to get here as quickly as possible? Take a cab for around $14USD from Havana. Most cab drivers won't have any problem finding the place, as many visitors make their way there.
If you have a lot more time -and a little less cash- take the Omnibus Nacional (local bus) P2 or the P7. Both are ridiculously cheap, less than a US dollar. The P2 takes about 40 minutes, and the P7 will get you there in only 20 minutes.
Note: Public buses in Cuba are crowded, not air conditioned and frequently unreliable. It is recommended you stick to taxis or tourist buses which are not that expensive by tourism standards and are reliable.
Fusterlandia
11 km from Havana
One of the best day trips from Havana (and easiest) by bus, Fusterlandia is a gallery created by Cuban artist José Fuster. To call this complex a gallery almost doesn't do it justice. Fuster began building the studio back in 1975 as an homage to the Gaudi's public works and European galleries.
Fuster covered the building with mosaic tiles. When he ran out of space, he asked his neighbors for permission to decorate their buildings, too. Now mosaics cover public and private spaces, such as buildings, offices, fountains, and benches.
The artist continues his work throughout this once crumbling neighborhood to this day. It is now a lively destination, thanks to the artist's reclaiming of its spaces.
Getting to Fusterlandia
A taxi here from downtown Havana costs around $20USD. The hop-on-hop-off bus tours stop at Fusterlandia, so you can always coordinate your trip here to coincide with a day you plan to use your pass.
You get the hop-on-hop-off bus in front of the Hotel Inglaterra in Parque Central. The taxi ride takes around 15 minutes. Add an extra hour on to that time for the bus.
Regla
12 km from Havana.
Regla is a neighborhood that sits just across the bay from Old Havana. It's known for its Afro-Cuban heritage, beautiful architecture, Santeria, history and makes for a fascinating day trip from Havana. 
One of the most stunning buildings is the Iglesia de Nuestra Señora de Regla (Our Lady of Regla), a church that boasts a pieta of the Virgen Negra (Black Virgin), the patron saint of sailors in Cuba. The church is still active, so mind the patrons — they'll be the ones wearing blue, the colors of Yemayá, the sea goddess of Santeria.
To get around town, you'll need to hop on a horse-drawn carriage which is a really cool experience.
The Museo Municipal de Regla (Regla Museum) is also worth a visit, as it offers a little information on Yoruba culture and the history of Santería in Cuba. Note that most of the information is in Spanish.
Getting to Regla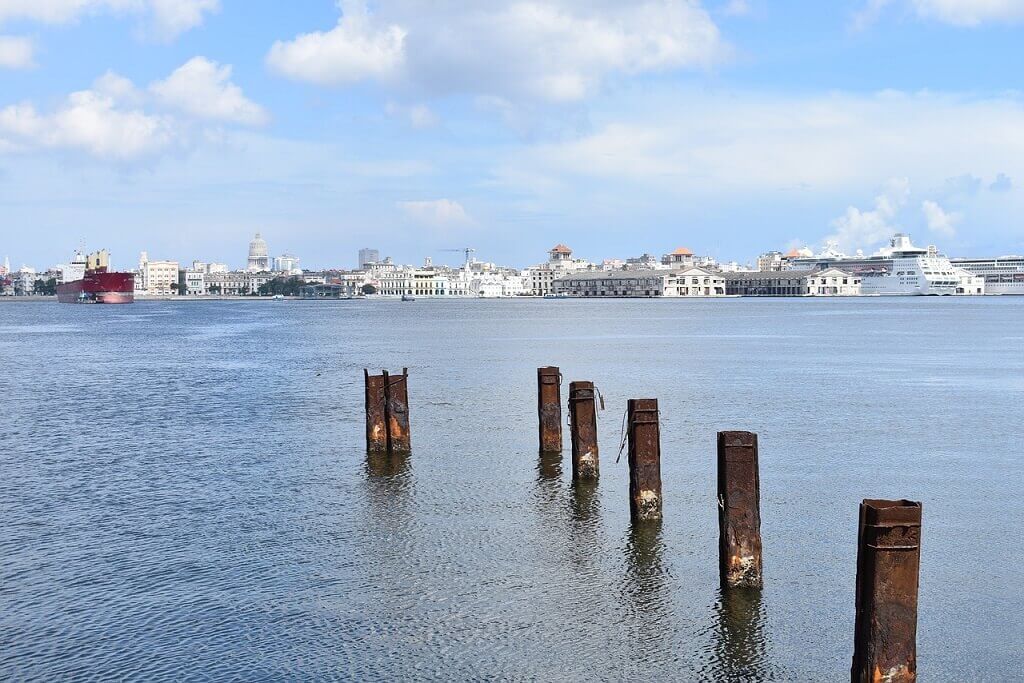 Head to the ferry terminal in Old Havana, and hop on the Regla ferry. You'll get a 10-minute boat ride for only 1 peso (about 5 cents U.S.) You can also use the ferry to get back to Havana, or take a taxi, but the ferry is more fun.
Playas del Este
East of Havana there is a long and beautiful five-mile stretch of sandy beaches called the Playas del Este. Here, you'll find not one — but seven — beaches with plenty of soft sand to sink your toes into. The quietest options are Bacuranao Beach and Playa Tarará Beach.
My personal favorite is Tropicoco, with both quiet bliss and little food shacks with cold beer. It's the last stop.
Playa Santa Maria is where you'll find most of the popular resorts, so it's a great spot for lunch and a good bet for water sports. If you're more into a hike than a day at the beach, be sure to hit Playa Jibacoa for trails and coral reefs.
Renting a beach chair will cost you 2USD for your stay.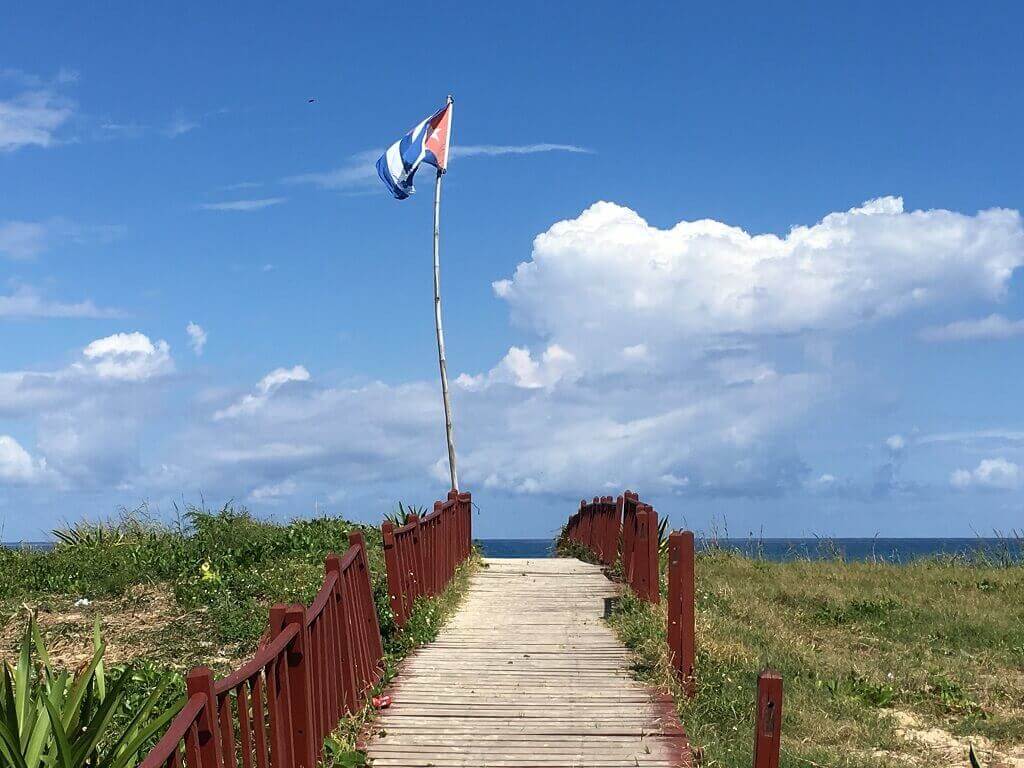 Don't forget to taste a little Havana Club rum before heading back. This is the classic Cuban rum used to make all the famous Cuban cocktails that circled the globe like daiquiri and mojitos. 
Getting to Playas del Este
You can get to Playas del Este by taxi. Only a 20-minute ride from Havana city center by car, the trip will only cost you around $20USD. A better option is the T3 bus at Parque Central for 5 USD. That's roundtrip so hold on to your ticket. 
The bus will take you about 45 minutes but it's a comfortable tourist bus with air conditioning. It also stops at the formidable fortresses of La Real Fuerza, so you could visit the fort then take the next bus to the Playas del Este.  Your ticket will still be good. 
Las Terrazas/Soroa
73 km west of Havana
The big attraction in Las Terrazas is the Sierra del Rosario Mountains and biosphere reserve, a UNESCO World Heritage Site.
Once the site of more than 50 coffee plantations, the reserve now protects 117 bird species. If you decide to stay the night, your best option is Hotel Moka or a local casa.
The eco-friendly Restaurante El Romero is known for its locally-sourced vegetarian cuisine. There is also a pretty cool zip-line for $35USD.
If you're planning a trip to Las Terrazas, you might want to add Soroa to your itinerary, as the two communities are situated close enough to visit in one day. Only 20 minutes from Las Terrazas, Soroa is home to a waterfall you can swim in, a Medieval castle (well, a reasonable facsimile of one), and an orchid garden.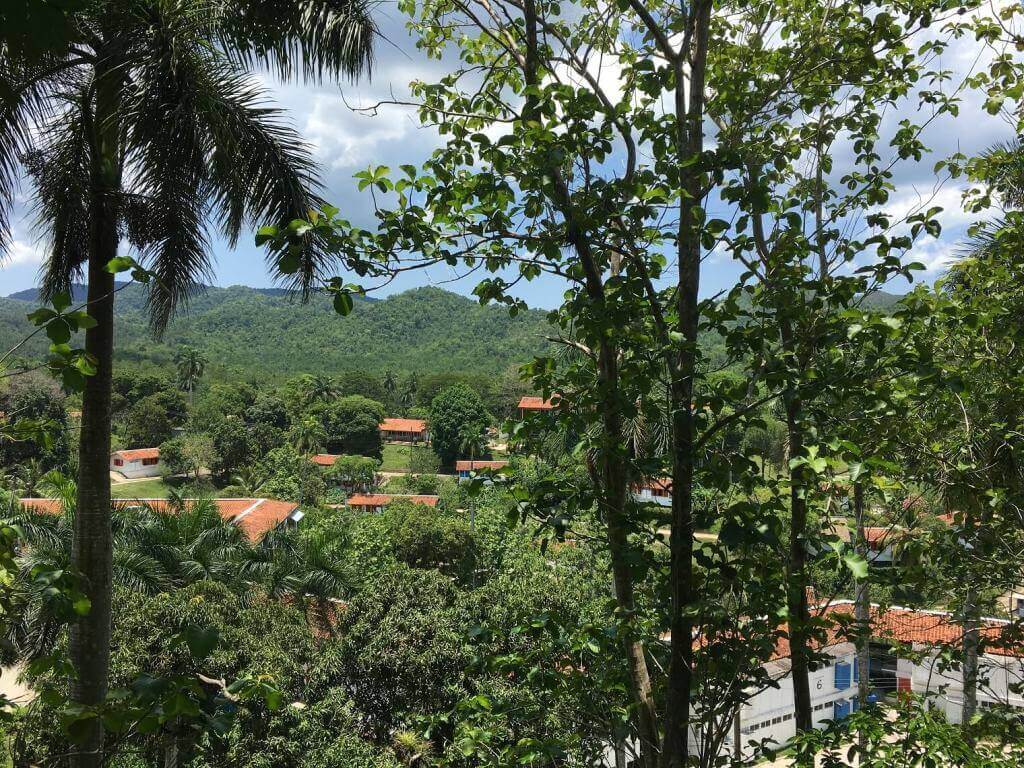 Getting to Las Terrazas/Soroa
Soroa is 20 minutes past Las Terrazas, and getting to both towns is relatively easy, though, not many tourists know about either — bonus! 
A taxi from Havana will cost you about $55USD. From Las Terrazas to Soroa it's $8USD.  The Viazul bus, the same one goes to Las Terrazas that goes to Soroa, is $5USD.  A taxi ride takes around 55 minutes, while the bus takes nearly 90 minutes to get to Las Terrazas. 
Matanzas
102 km east of Havana.
Matanzas was a haven for the bourgeois in the 1700s and 1800s. It is one of the best day trips from Havana for dance enthusiasts as it's known as the birthplace of the danzón and rumba, two classic Cuban dances.
Now it's a quiet little city that's not too touristy but is worth a visit. The town is home to San Severino Castle, a fortress where enslaved Africans were housed when they arrived in Cuba. There is a museum there that explains Cuba's role in the slave triangle in the 1700s.
Also notable are the Bellamar caves. A 300,000 year old network of fascinating caves. Exploring Matanzas Bellamar caves is one of life's great pleasures. Descend below sea level to get a glimpse of stalactites and stalagmites illuminated in a rainbow of colors.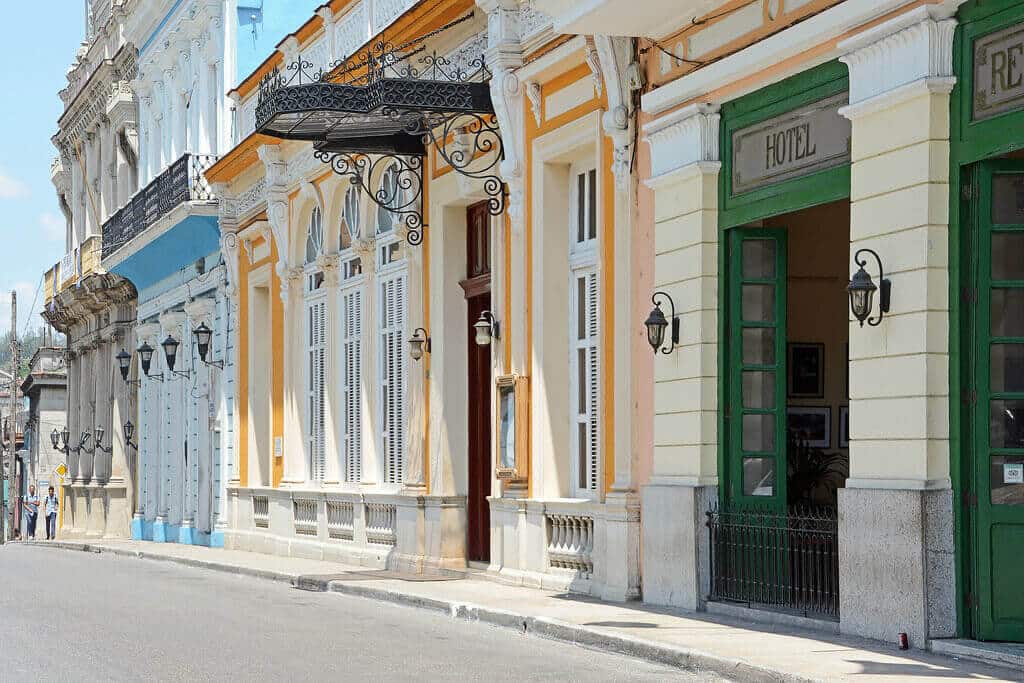 Getting to Matanzas
One of the most atmospheric routes to Matanzas is via the Hershey train (yes, built by that Hershey). It's truly one of the most scenic train journeys.  It costs $3USD and is a two-hour ride each way.
The bus costs a little more ($7USD), and the journey takes about the same amount of time as the train. If you want to shave 30 minutes off your travel time, a taxi takes about 90 minutes and costs around $70 USD.
Note: Keep in mind that the old Hershey train runs whenever it feels like it which may, or may not, accommodate your schedule. So don't get too excited.
Varadero
150 km east of Havana
Situated on the Hicacos Peninsula, it's easy to see why Varadero is a beach lover's haven. It's home to more than 50 hotels and features 20 kilometers of uninterrupted beach.
Of course, there are plenty of water sports available here as well as a handful of restaurants offering both Cuban and international fare.
Stay in the town of Varadero in a local casa particular and walk or take a short taxi ride to the beach. It's a more authentic experience then the hotel and a lot more fun.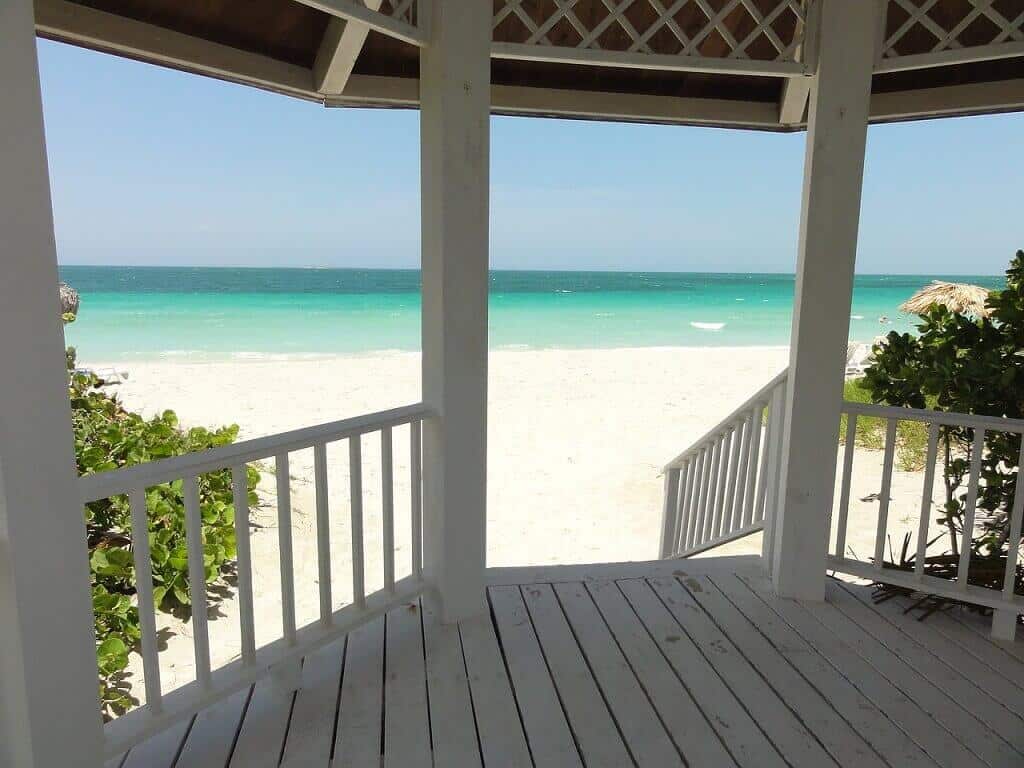 Getting to Varadero
The fastest way to get to Varadero is -you guessed it!- by taxi, which costs around $100USD and takes approximately two hours. The Conectando Cuba Shuttle costs only $13USD but takes the longest to reach its destination, over four hours.
The Viazul bus takes three hours, costs $20USD, and leaves three times a day. 
Beyond day trips from Havana
These are destinations that are close but not so close that you could see them comfortably in a day trip from Havana.  You could reach and see them within a day but you'll spend too much time driving. 
These towns are worth spending a day or two there. Both Cienfuegos and Trinidad are so close to each other – about an hour – that you could see them both in one day.
Trying to see them both on a day trip from Havana is not a good idea as you will have very little time to explore
Viñales
178 km west of Havana
The Viñales Valley near the town of Viñales is one of the most spectacular natural landscapes on earth. That is soooo not hyperbole. I am totally serious and convinced of that statement's accuracy. It's just gorgeous.
If you're pressed for time, you could just about visit this town on a day trip from Havana but you'll' miss some attractions.   
A farming region that's popular with hikers and bikers, one of the biggest attractions here is the tobacco plantations.
Sail in an underground river. When have you ever done this? You can also wander through the botanical gardens to get a glimpse of natural flora and fauna.
And while plenty of travelers head here to whiz past the lush green scenery by bike, a hike through the countryside is the best way to explore the area.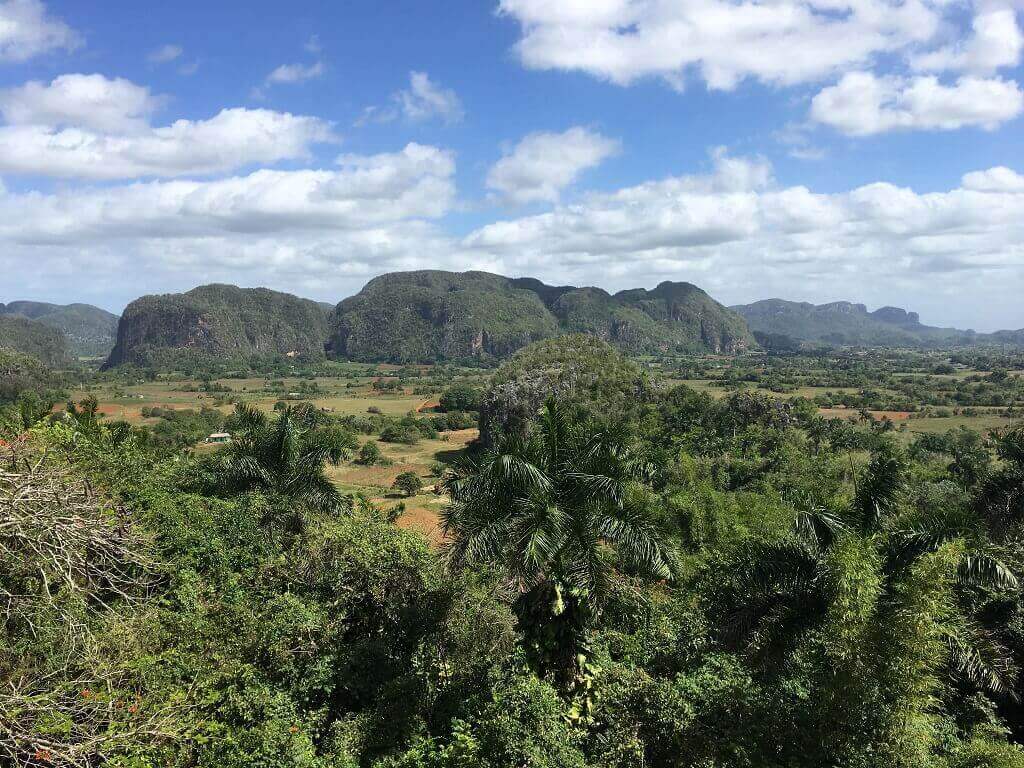 Getting to Viñales
Taxi rides to Viñales take around two hours and 30 minutes and cost about $70USD one way. For a little over twice that, the driver will wait for you and bring you back to Havana. However, there is enough to do in this beautiful town that you will want to stay the night or two. 
The journey by the Conectando Cuba Shuttle takes the same amount of time and only costs $15USD. If you want to take the Viazul bus, tack on an additional hour to your travel time; the cost is also $15USD.
Cienega Zapata
179 km from Havana
Parque Nacional Ciénaga de Zapata, otherwise known as the Ciénaga de Zapata UNESCO Biosphere Reserve, is the Everglades of Cuba. This 4,520-square-kilometer park is a hotspot for wildlife enthusiasts, especially bird watchers and travelers wishing to spot crocodiles from a safe distance.
The nearby Bay of Pigs is popular for snorkeling. It's considered some of the best in the country thanks to its plethora of multi-colored fish and coral reefs.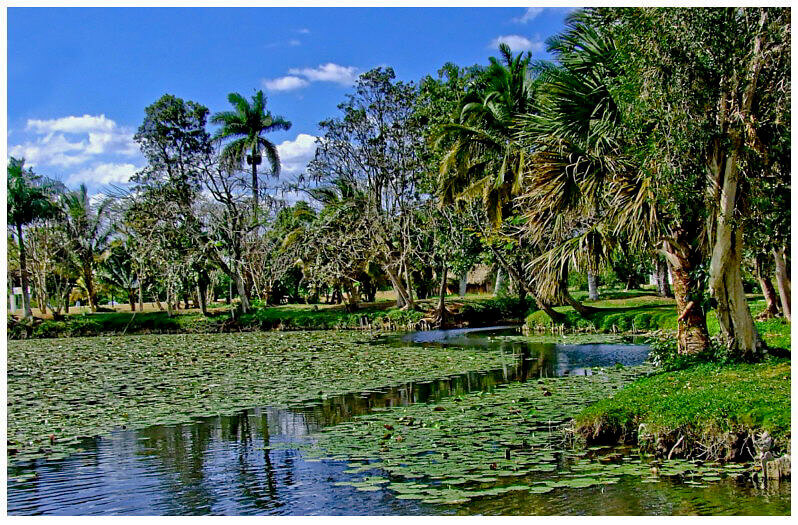 Getting to Cienega Zapata
Getting to Parque Nacional Ciénaga de Zapata is a little trickier than the other destinations on this list, as there is no direct route there. The bus takes 4 hours and 30 minutes to make the entire journey and costs $35USD.  It is best to see Cienega Zapata together with other nearby towns in order to maximize the trip.   
Cienfuegos
190 km from Havana
Cienfuegos is another charming old town in central Cuba with remarkable and incongruous architecture. You are as likely to find a Moorish palace here as you are French chateau.
Another UNESCO World Heritage site, the city was founded in 1819 by French settlers from Bordeaux, France and Louisiana, USA. Visitors head here for its stunning colonial architecture, mosaics, and frescoes.
Don't miss the Jardín Botánico de Cienfuegos, the oldest botanical garden in Cuba.
There is a fortress across the bay which you can visit with a short ferry ride. And don't miss one of Latin America's most interesting cemeteries, Cementerio La Reina on the outskirts of the city.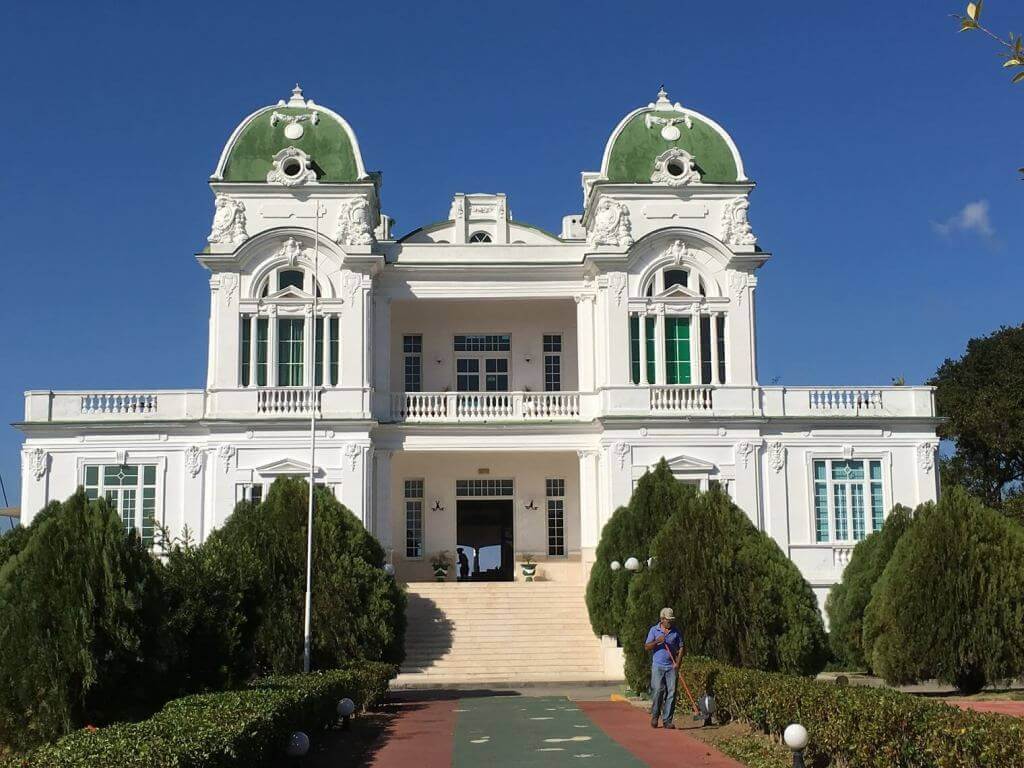 Getting to Cienfuegos
Hop on the Viazul bus from Havana, around $20USD. The journey to Cienfuegos takes just under five hours. 
Trinidad
Founded in 1514, this pretty, well-preserved colonial town is a delight! Trinidad is one of Cuba's nine UNESCO World Heritage sites along with nearby Valle de los Ingenios with its abandoned sugar mills in interconnecting valleys. Guaranteed Trinidad will be one of your favorite day trips from Havana.
Interesting little museums surround the lively town square, Plaza Mayor. Climb to the top of the adjacent Iznaga Tower for a breathtaking view of the multi-colored colonial structures and the surrounding countryside.
One of Trinidad's major revenue streams is tourism – along with tobacco – so expect a lively nightlife in many musical venues, including one in a cave!  There is also a good collection of local restaurants most of which have music throughout the day.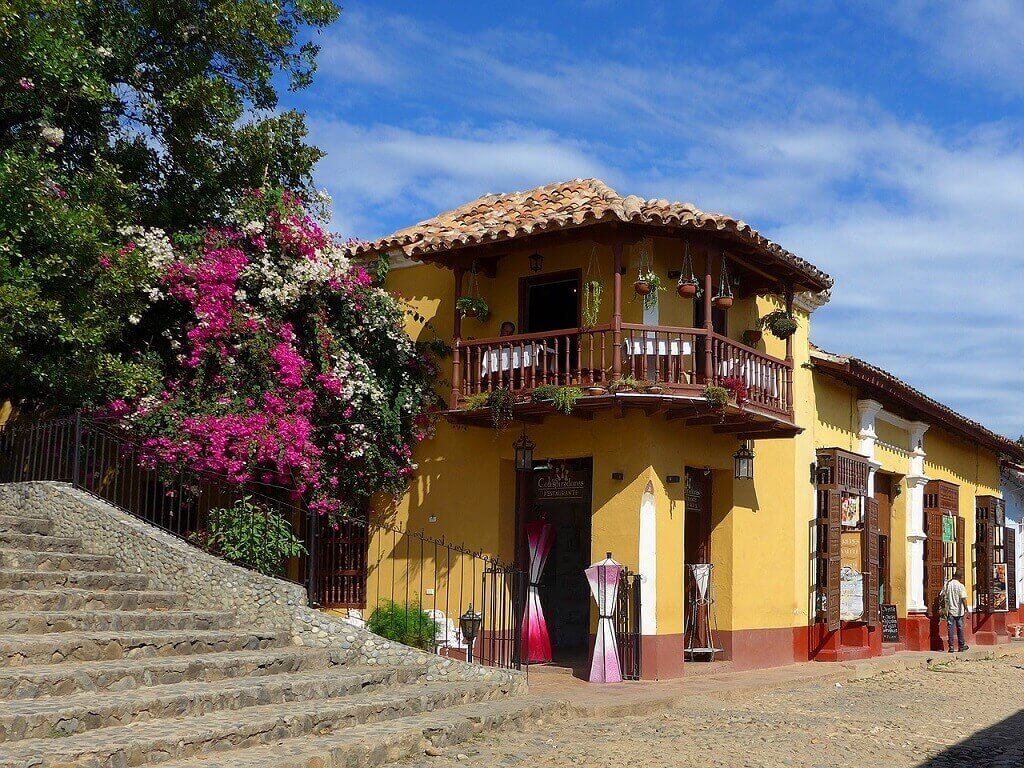 Getting to Trinidad
The journey by taxi from Havana to Trinidad is about 4 hours by taxi, 315 kilometers, and should not cost more than $80 to $100USD. A shared taxi will be about $20 to $25USD.
The Viazul bus will cost you $20 to $25USD but it makes many stops and takes a circuitous route as there are no direct buses from Havana to Trinidad. Therefore, tack on an additional couple of hours to an already long trip.
There is so much more to see in Cuba. If you are planning a more extensive trip covering more of the island, don't miss unique Santa Clara in central Cuba or Santiago de Cuba on the eastern tip of the country. Make sure to include these cities in your perfect Cuba itinerary.
Want to know more about these fascinating day trips from Havana and Cuba in general?  Check out these reference books. And don't forget my own book, Don't Just Travel to Cuba, Experience Cuba: The Ultimate Cuba Travel Guide. 
When in Cuba, stay at a casa particular, Cuba's version of a Bed and Breakfast.
The best day trips from Havana aren't super far and don't cost an arm and a leg in travel expenses.
What are your favorite spots outside of Cuba's capital city?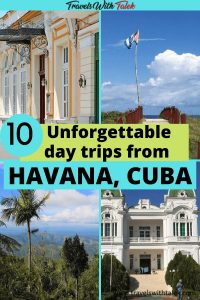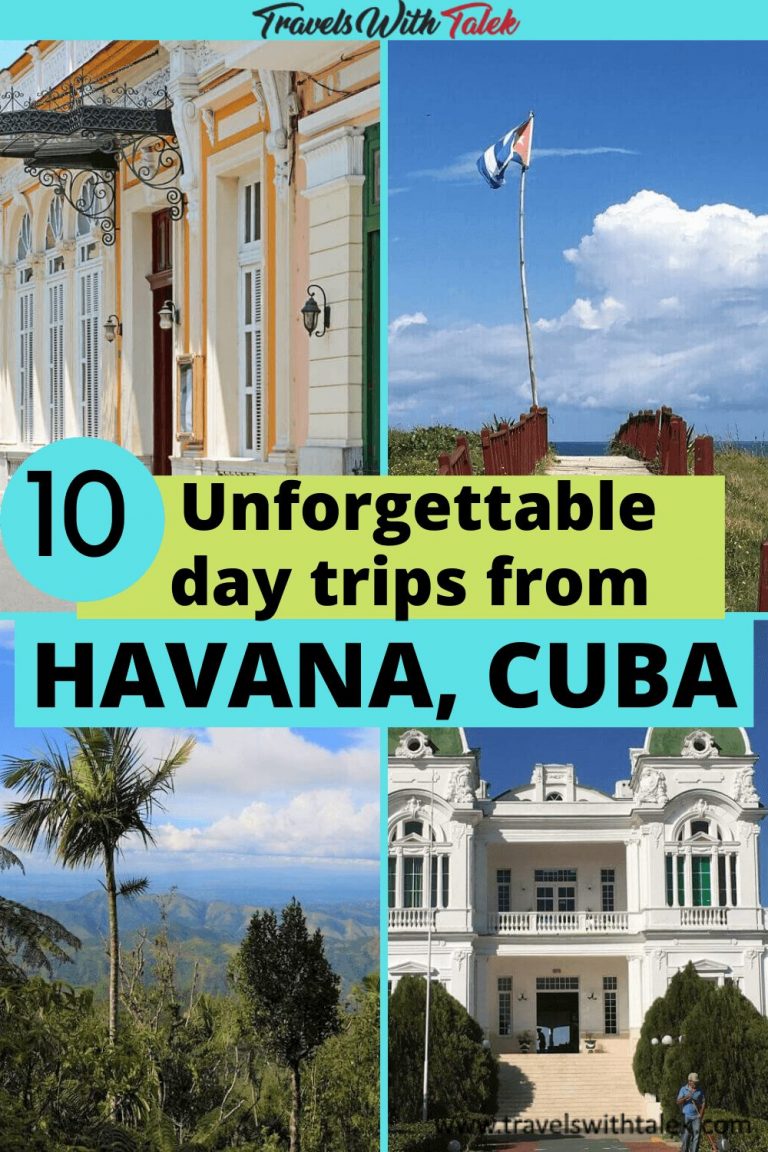 BTW, if you are getting ready for your trip, make sure to take advantage of these useful, money-saving links to book your trip:
Research and book your flight with Skyscanner. I have found them to be the best because they list all airlines including the budget ones. You are always sure of having researched all options.
For car rental around the world, Discover Cars has flexible pickup and drop-off options, I recommend Discover Cars.
Book your accommodation with Booking.com. I find they have a wide selection and a nice, user-friendly, transparent website.
Protect your trip and, more importantly, protect yourself with travel insurance. I use Travelinsurance.com and have been very happy with them.
Looking for a small group tour to unforgettable destinations with top professionals? Intrepid Travel is your choice.
For more general tours to any destination or attraction, book with Viator. Check them out.
Need a visa? Get your visa for all countries with iVisa.
I personally use, and can recommend, all the companies listed here and elsewhere on my blog. By booking through these sites, the small commission we earn – at no cost to you – helps us maintain this site so we can continue to offer our readers valuable travel tips and advice.