Certainly one of the top reasons to visit Melbourne, Australia is that it is a beautiful world-class city with something for everyone.  Here are a few more sights that I hope will delight and inspire you to travel there. Don't forget to check out the top reasons to visit Melbourne, Australia, part 1.
TOP REASONS TO VISIT MELBOURNE
1. Melbourne, Australia is famous for its lanes, alleyways and arcades.  Pick up a map at Federation Square, in the center of town, and stroll the recommended 2-mile walk.  It will take you through winding little streets, up-market arcades and restaurant rows.  Along the way, you will discover unusual museums and galleries, all sorts of restaurants from ethnic to beer halls and some of the most unique little shops I've ever seen.  You can make this stroll a couple of hours jaunt or an entire day affair depending on your interests. The walk traditionally begins at Federation Square although you can pick it up wherever you want along the route.  This is truly an off-the-beaten-track activity rarely found in other cities and one of the top reasons to visit Melbourne.
Here are Melbourne specific tours to take a look at.
2. Phillip Island is an ideal day trip from Melbourne. About 90 minutes south of the city the area is a wildlife paradise. The southern and western coasts of the island host several protected bird sanctuaries and a wildlife park. The western part of the island supports the largest fur seal colony in Australia. Previously endangered ocean life native to the area, like dolphins and several types of whales have started to recover population.
But the big draw, the main reason visitors come to Phillip Island are the Fairy Penguins. At an average of 13 inches high, these cute little guys are the smallest of the penguin family and the stars of the Penguin Parade.
Here's what happens at the Penguin Parade. You purchase your tickets and the park staff directs you to a spot where you will see the penguins emerge from the sea at dusk and make their way to their nests. The staff announces that photographing penguins is strictly prohibited as it will damage their eyes. The visitors whisper to each other in hushed anticipation. Shortly after dusk one single little penguin emerges from the water and looks around – like a scout or a lookout – before continuing onward. It's as if the penguins drew straws and this guy lost. That's the way it is every night; one single penguin leads the way. Shortly thereafter small groups of 5 or 6 penguins emerge from the sea and pause on a sand dune to survey the area. They too proceed. Meanwhile, there are crowds of awestruck humans looking at them but the penguins seem oblivious. Then the floodgates open and hundreds of twittering penguins come on shore in groups of 30 or 40 passing right before your eyes. It's a unique site to see and definitely one of the best reasons to visit Melbourne.
A large part of the admission fees to these sites and parks go towards local conservation efforts which have been successful.
3. Melbourne has awesome street art. And lots of it.
Want to learn more about this interesting city? Check out these guides.

4. Melbourne has terrific museums. The National Gallery of Victoria on Federation Square has exhibits ranging from Aboriginal to modern art. The city is also home to many other museums for diverse tastes.
5. You can work on your appetite at the Queen Victoria Market.  Make sure you arrive hungry and eat at one of the many restaurants and food stalls.
Melbourne, Australia is one the friendliest, most interesting, accommodating cities I've ever visited.  Make sure you maximize your trip with these quick tips for planning your visit to Australia.
What are some of  YOUR favorite reasons to visit Melbourne?
Some of the links on this page are affiliate marketing links. If you purchase products through these links I make a small commission at no cost to you.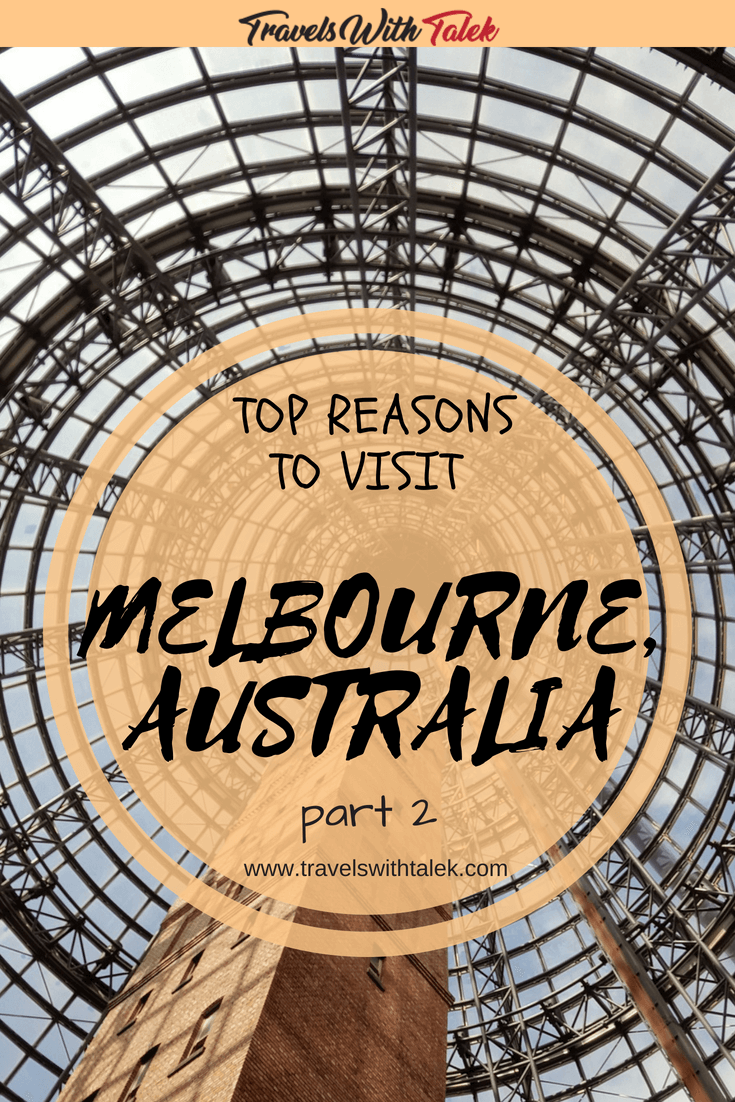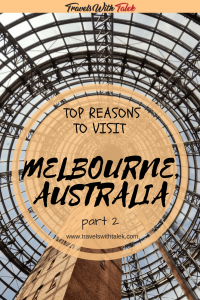 BTW, if you are getting ready for your trip, make sure to take advantage of these useful, money-saving links to book your trip:
I personally use, and can recommend, all the companies listed here and elsewhere on my blog. By booking through these sites, the small commission we earn – at no cost to you – helps us maintain this site so we can continue to offer our readers valuable travel tips and advice.