Experiencing Cuban culture in the United States is one way to learn more about the culture and people of Cuba without traveling there.
Historically Cubans have been among the top 10 immigrant groups to the U.S. since 1970. In 2018, Cubans were the seventh largest group of immigrants to the U.S. Although well dispersed throughout the United States, Cubans are largely concentrated in the cities of Miami/Ft. Lauderdale, Tampa, New York, Orlando, Los Angeles and Las Vegas.
Cuba has been more prominent in the news lately and people want to learn more about this culturally fascinating island nation just 90 miles from the United States. If you want to delve deeper into Cuban culture within the United States, here is a brief guide of culturally significant destinations in the U.S. that you can visit.
THE BEST PLACES TO EXPERIENCE CUBAN CULTURE IN THE UNITED STATES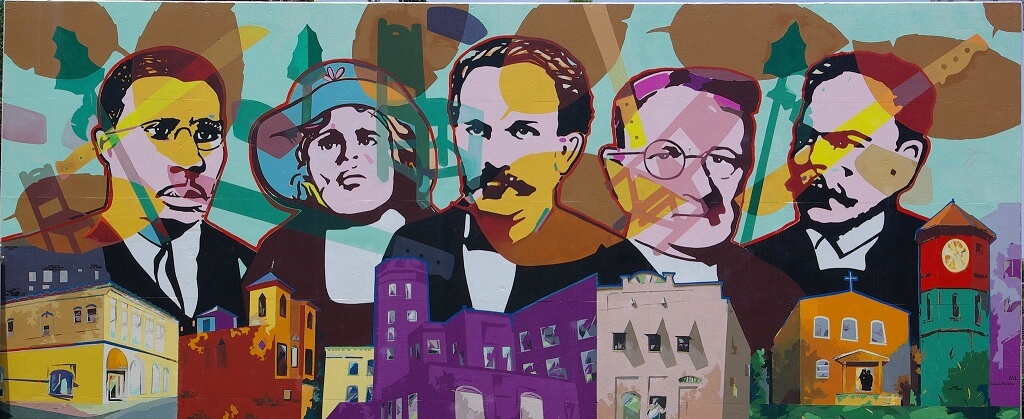 Miami's Little Havana, Florida
Miami is, of course, ground zero for "Cubanism" in the U.S., and Little Havana remains its center. Over the years the area has welcomed new immigrants from other countries as Cubans have moved out. Now Little Havana has become a beacon for tourists receiving busloads of visitors from as far away as China. Wandering Calle Ocho, the main drag, is one of the coolest things to do in Miami.
Little Havana has evolved into one of Miami's most interesting neighborhoods with its ethnic restaurants, gift shops, cigar stores – some with cigar rollers – clubs and a smattering of art galleries.
It is worth spending time here when visiting Miami especially if you are interested in Cuban culture.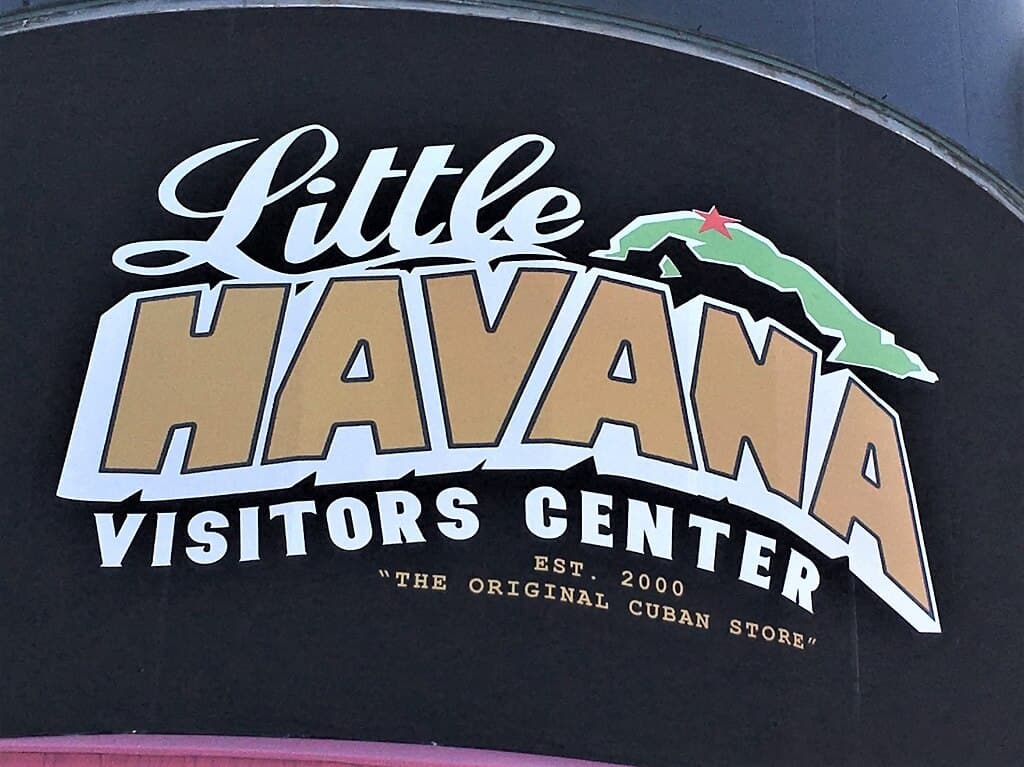 Cuban Memorial Boulevard, Little Havana, Miami, Florida.
In the center of Miami's Little Havana neighborhood is the Cuban Memorial Boulevard. This sunny tree-lined street has several monuments commemorating Cubans who had significant roles in Cuba's history. Among these are:
Eternal Torch of Brigade 2506, a memorial to the Cuban volunteers who died in the Bay of Pigs invasion of 1961.
A bronze map of Cuba in a lovely setting with stone benches.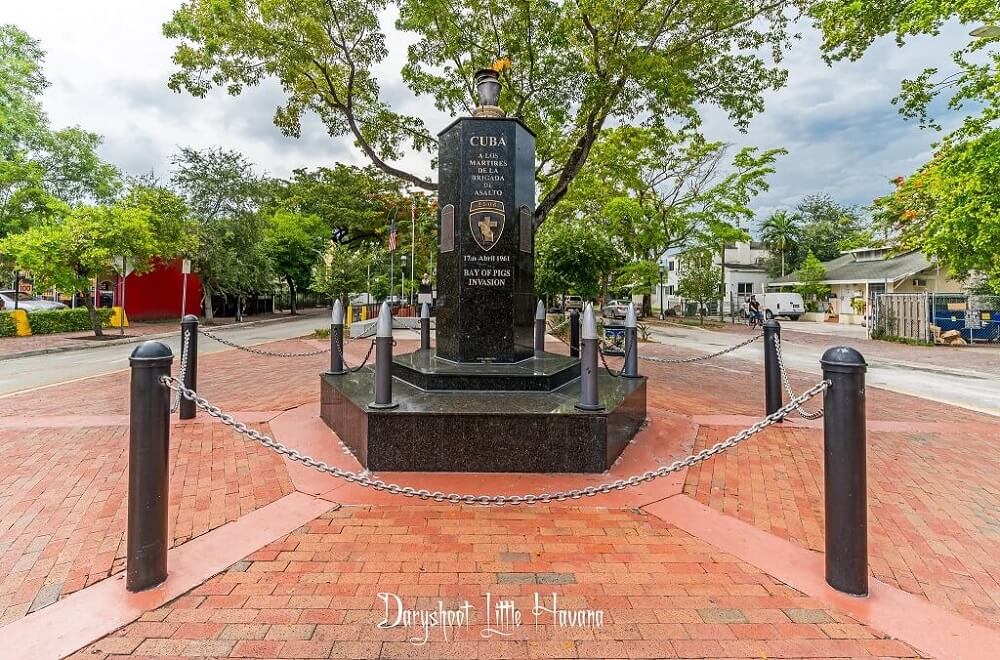 A statue of the Virgin Mary.
A bronze statue of Antonio Maceo, one of the heroes of the Cuban War of Independence against Spain.
Statue of freedom fighter Nestor Izquierdo
The Boulevard is located on Southwest 13th Avenue between 8 an 12th Streets in Little Havana, Miami.
Where to stay near Little Havana: The Aloft Miami at Brickell is a modern, pleasant, conveniently priced accommodation just 15 minutes from Little Havana.
The American Museum of the Cuban Diaspora, Miami, Florida
The American Museum of the Cuban Diaspora, affectionately known as "The Cuban" is a well put-together museum displaying a collection of artifacts and documents that showcase the culture and contributions of the Cuban exile community.
"The Cuban" offers different exhibits showcasing specific themes related to Cuban culture such as the iconic performer, Celia Cruz. One recent exhibit is the history of Operation Pedro Pan, a clandestine operation assisted by the Catholic Church. The movement organized the exodus of almost 15,000 unaccompanied Cuban minors ages 6 to 18 to the United States over a two-year period from 1960 to 1962. The children were sent by parents who had heard the Cuban government intended to politically indoctrinate children in Communist countries.
The museum is located a short distance from Little Havana at 1200 Coral Way not far from Downtown Miami.
Where to stay in Downtown Miami: Downtown Miami has an abundance of hotels. The Hampton Inn and Suites Downtown is good value for your money and conveniently located to all attractions. If you want to splurge a bit, head to The Conrad, also well located.
Versailles Restaurant, Little Havana, Florida
You might think a restaurant, however iconic, doesn't belong on this list. However, Versailles is more than just a restaurant serving solid, authentic Cuban food in Miami's Little Havana. It is a political meeting point. Whenever there is an important development in the Cuban community, people gather at Versailles to express their support or to protest. It is also a mandatory stop for politicians wooing the Cuban American vote.
Established in 1971, Versailles proudly bills itself as the world's most famous Cuban Restaurant. Versailles added a bakery and several additional rooms expanding across the entire block under the management of Felipe Valls. Valls is arguably the most successful restaurateur in Florida who owns several other restaurants,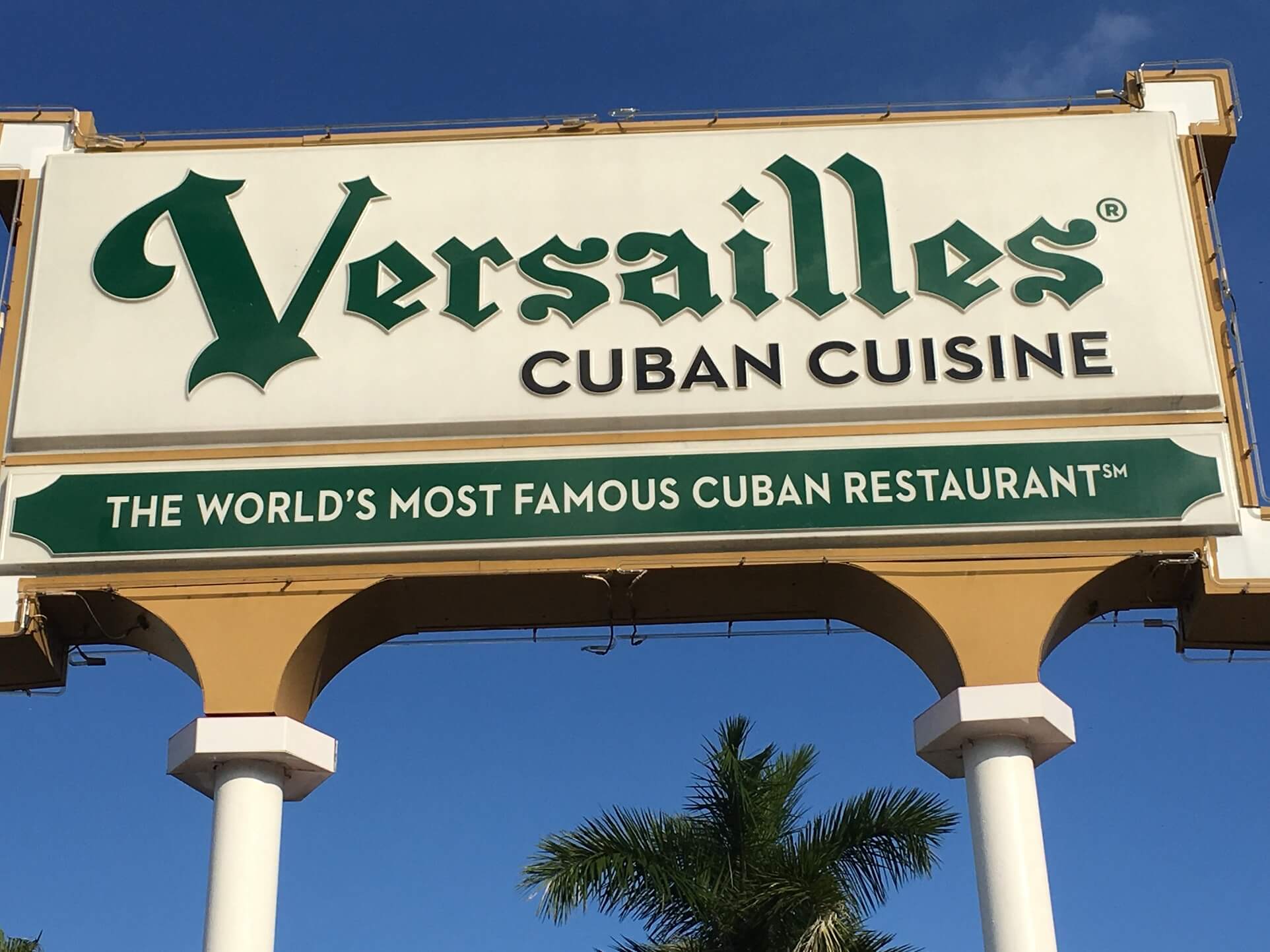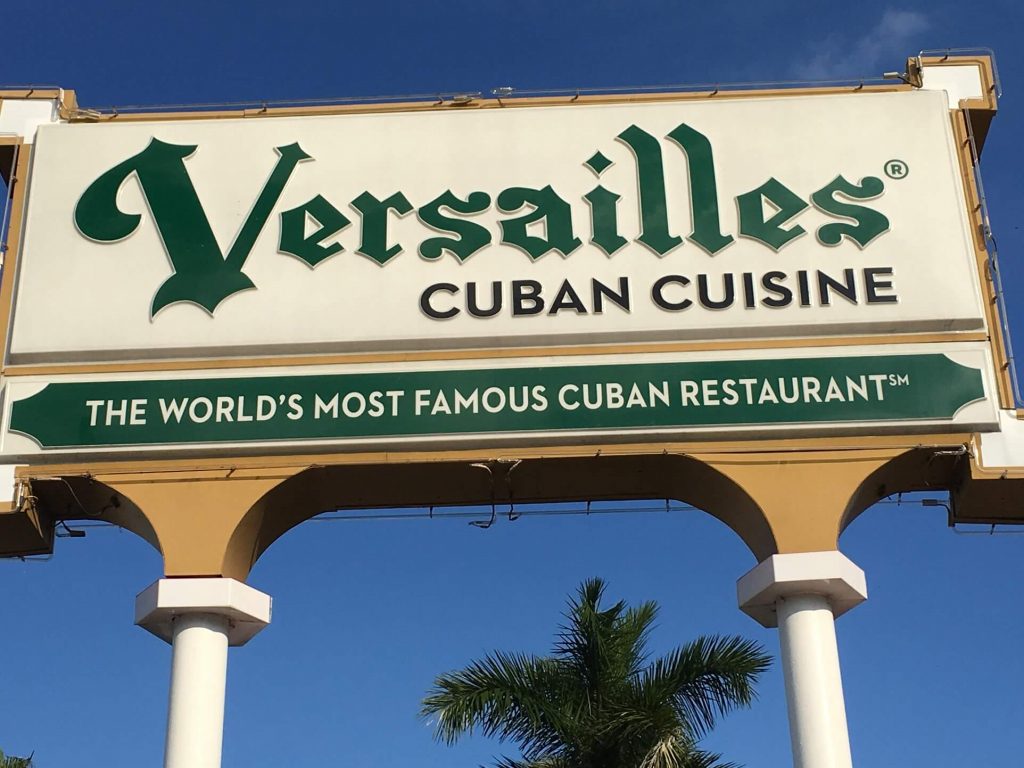 When in Miami, Versailles is a must visit for anyone wanting a good meal and a shot of Cuban culture.
Portos Bakery, Los Angeles, California
A Cuban business that looks to approach iconic Versailles status is Portos Bakery in Los Angeles. The establishment is culturally significant because the food is outstanding, but also because the story of its founder, Rosa Portos, is typical of many Cuban entrepreneurs who were forced to leave Cuba and ended up wildly successful in the United States.
Rosa Portos learned baking from her mother who was originally from Galicia in northern Spain. When she and her family decided to leave Cuba after the Communist takeover, they lost their jobs. Rosa started to bake and sell her creations to support the family. The enterprise was successful and once in the United States she continued the endeavor.
Through hard work and determination Rosa built the business with the help of her husband and three children. Today Portos has 6 locations throughout California and a delivery business. Rosa passed away in 2019 but her legacy lives on.
The statue of Jose Marti in New York City's Central Park, New York
At the end of Avenue of the Americas, or 6th Avenue in New York City, where the avenue meets one of the entrances to Central Park is the statue of Cuban patriot, Jose Marti.
Cuban national hero, Jose Marti advocated for Cuba's independence from Spain. Fleeing the Spanish, he arrived in New York in 1880 where he continued to advocate in exile and organized the Cuban Revolutionary Party in 1892. He spent almost 20 years in New York City where he supported himself as a journalist, teacher and translator. Marti returned to Cuba in 1895 at the start of Cuba's fight for independence.
The monument shows Marti on his horse at the moment he was fatally shot by the Spaniards at the Battle of Dos Rios. It was crafted by artist, Anna Vaughn Hyatt Huntington who was in her 80s at the time. She presented it as a gift to the Cuban government to be presented to the people of New York where Marti spent so much time. This was her last major work. The statue was dedicated in 1965. Another identical statue is located in Havana.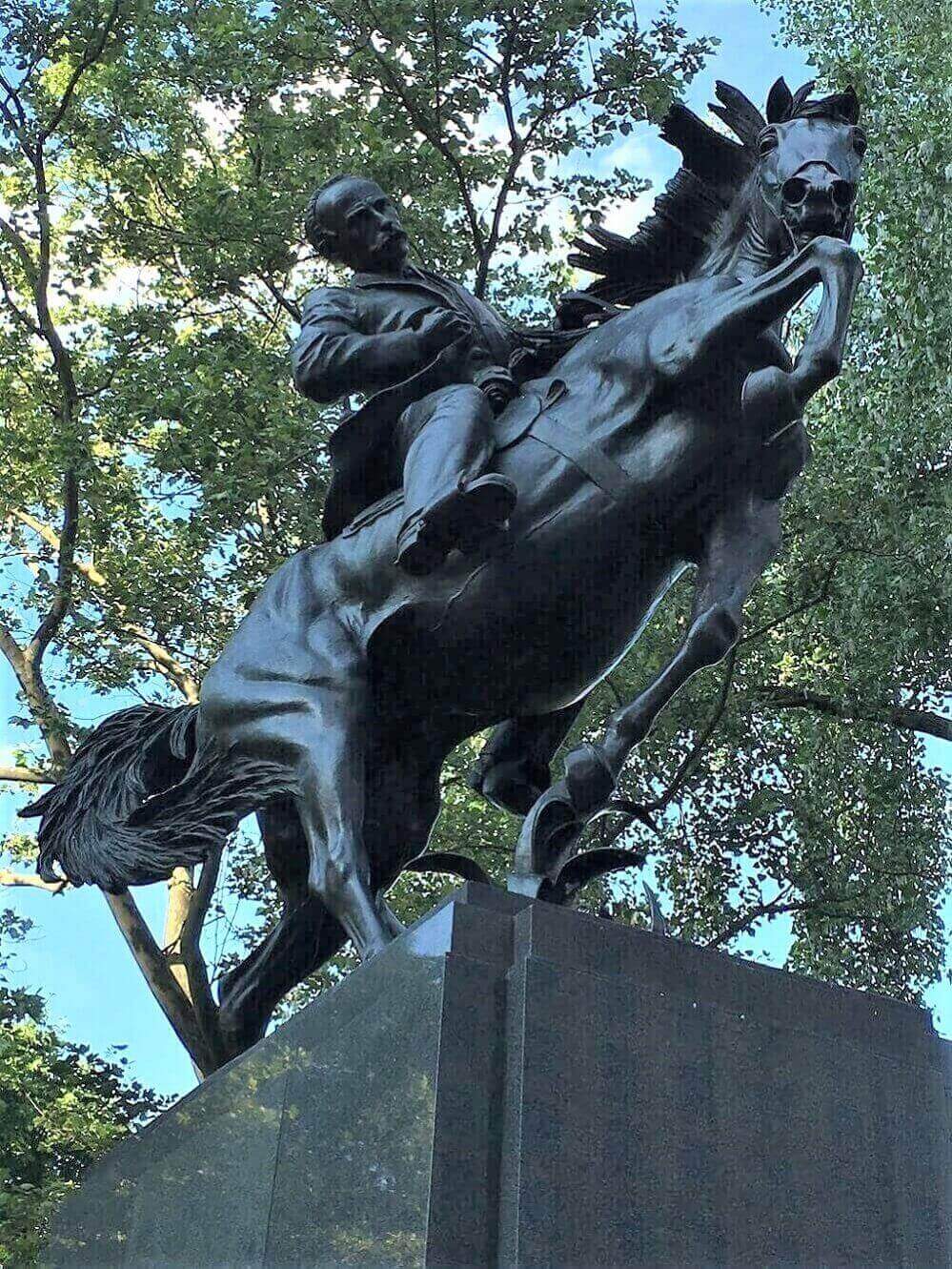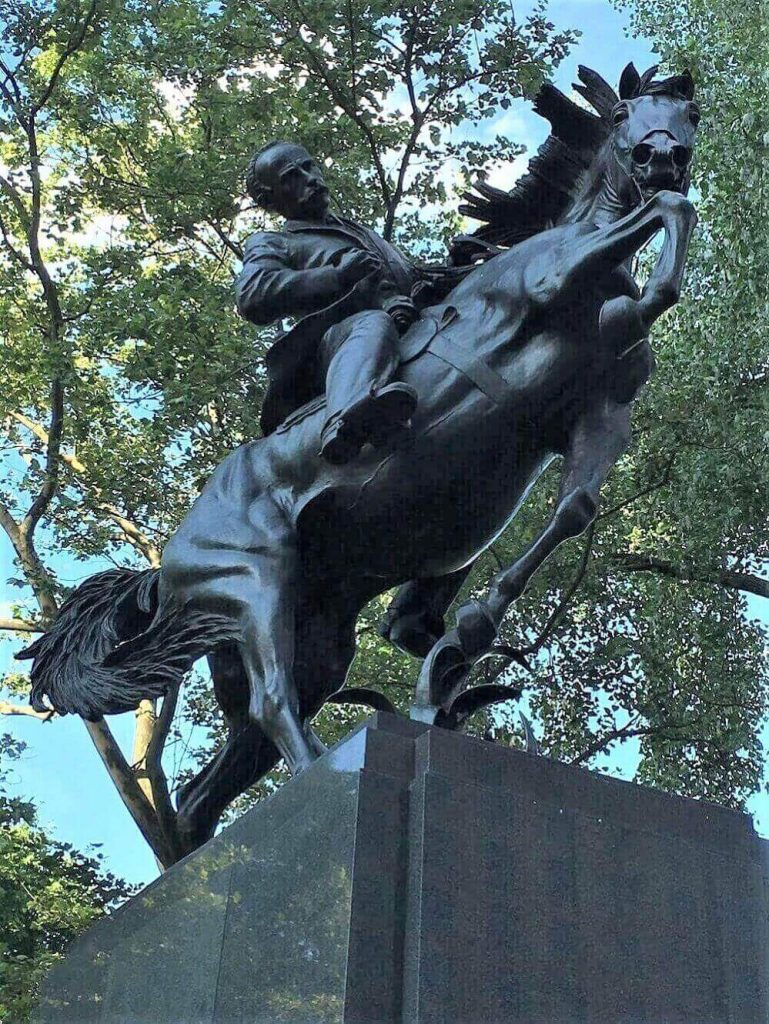 New York City was always a magnet for people struggling to make a difference in their own countries and for immigrants in general. The Cuban population in New York City at the time Marti lived there was the largest in the country and, until 1960, New York remained the most important city for Cubans. Cuban businesses flourished in New York City. Cuban entrepreneurs maintained large accounts with mercantile houses and invested in New York real estate according to Lisandro Perez, author of "Sugar, Cigars and Revolution: The Making of Cuban New York." New York certainly left its mark on Cuban identity. "Distinctly modernist" Perez calls it. "A rejection of old-world European sensibilities." But Cubans also left their mark on New York City in so many ways, starting with the abundance of Cuban restaurants in New York City.
So, if you're looking for a dash of Cuban culture in New York City, you'll find it.
Where to stay in New York City: Yes, New York City can be expensive, but there are also quite a few reasonably priced accommodations in the center of everything. The Holiday Inn Times Square is one. The Hilton Garden Inn in Chelsea, one of Manhattan's coolest neighborhoods, is another good option.
Instituto San Carlos, Key West, Florida
Founded in 1871 by Cuban exiles in Key West as a cultural center, the San Carlos Institute is one of the most architecturally graceful and historic landmarks in the state. It is located in the center of Key West's historic district.
The San Carlos is considered to be the cradle of Cuba's independence movement. This is the spot where Jose Marti, Cuban statesman and hero of the War of Independence from Spain, united the exile community in 1892 and launched the final stage of his campaign for the Independence of Cuba. Martí referred to the San Carlos as "La Casa Cuba."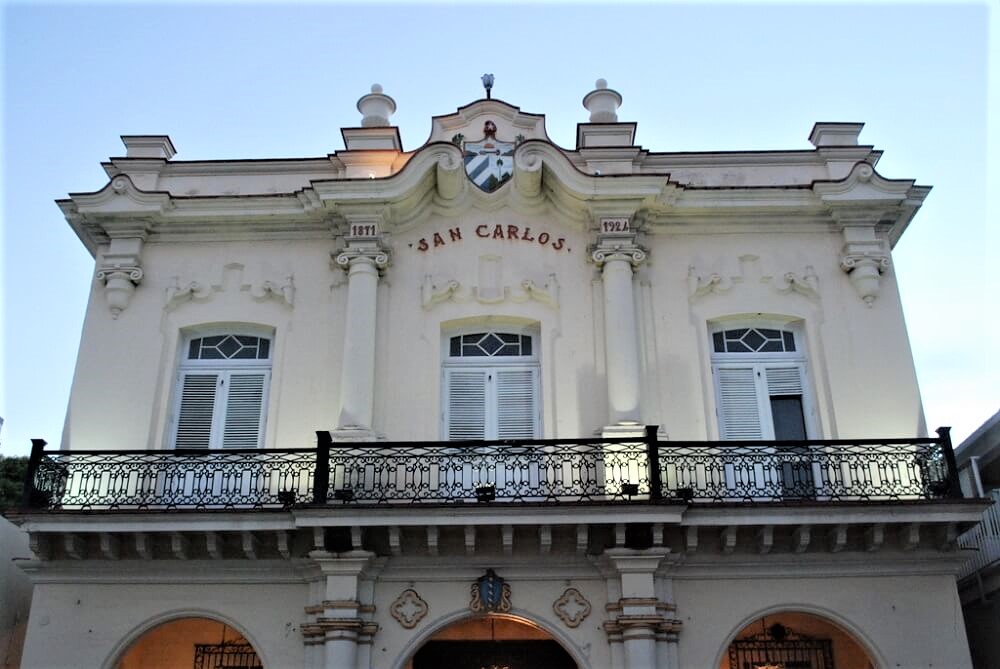 Today the Institute serves many functions; a theater, museum, library, art gallery and social center hosting many events. It is open to visitors. Key West makes for a great side trip from Miami for a one or two day jaunt.
Where to stay in Key West: If you're looking for a place to stay in Key West, remember the area is very seasonal. Prices are significantly higher from November to March.
Jose Marti Park, Tampa, Florida
On the corner of 8th Avenue and 13th Street in Tampa's historic Latin Quarter, Ybor City, you will find Jose Marti Park, a little plot of land that actually belongs to the Cuban people.
How did the Cuban people come to own a piece of land in the United States? Cuban patriot, Jose Marti visited Tampa frequently during his years in exile as he struggled to mobilize exiles to his cause for independence from Spain. His impassioned speeches attracted the ire of the Spanish government who tried to poison him. He survived the assassination attempt and was nursed back to health by a local woman, Paulina Pedroso, in her boarding house. Many years later, in 1956, Pedroso's house was torn down and the property given to "The Cuban People." To this day it is owned by them.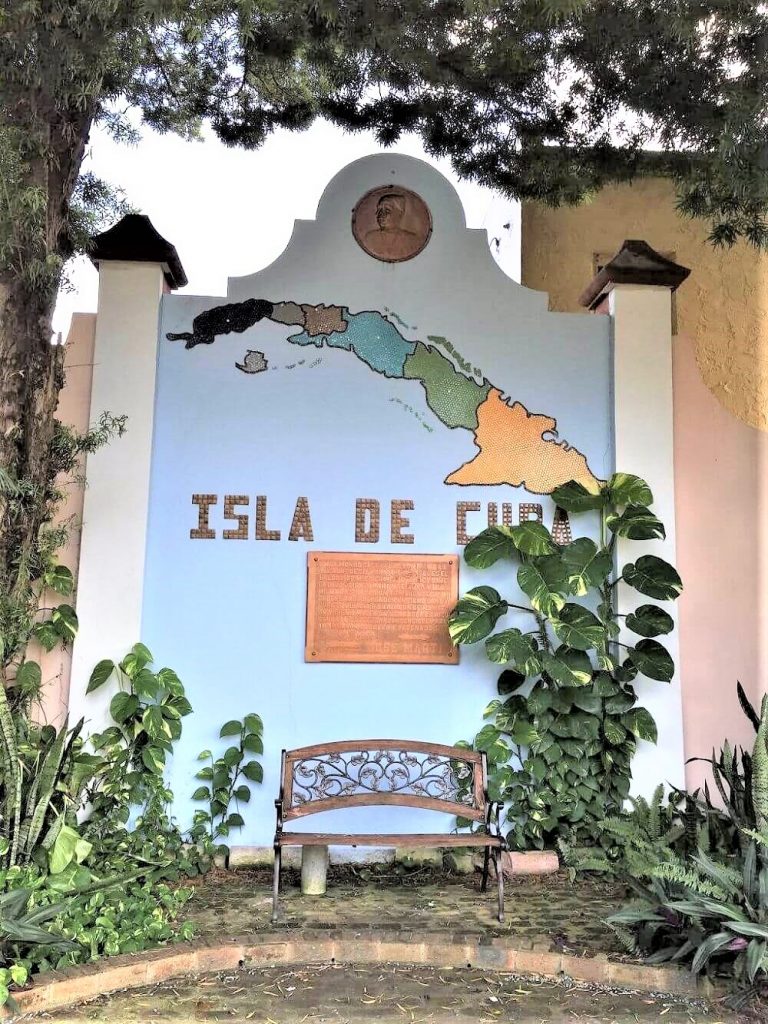 Jose Marti Park can be visited during the day. There is a statue of Jose Marti at the center. You can also see plots of earth from different parts of Cuba in a landscaped presentation.
Tampa has a long history of Cuban culture. Ybor City is a great place to begin exploring the deep connection between Tampa and the Cuban people. Stop by at Florida's oldest restaurant, The Columbia for a classic Cuban sandwich (said to have been invented in Tampa).
Tampa was a major tobacco producing center and the original factory still stands. On the steps you can see a marker commemorating the speech that Jose Marti gave there in 1893.
Where to stay in Tampa: When in Tampa, stay at the Ybor City Historic District. Two good hotels there are Hilton Gardens Inn Ybor City and the Hampton Inn and Suites also right smack in the center of Ybor City.
Celia Cruz Park, Union City, New Jersey
Built in honor of the Cuban American entertainer and salsa queen, Celia Cruz, the park is located in Union City, New Jersey.
The Celia Cruz Park was built as a tribute to her and dedicated June 4, 2004. Her widower, Pedro Knight was present at the inauguration along with other prominent Cuban Americans.
In addition to several artistic representations of Celia Cruz, the park has a Walk of Fame collection of 51 prominent artists like Paquito D'Rivera, Willy Chirino and others.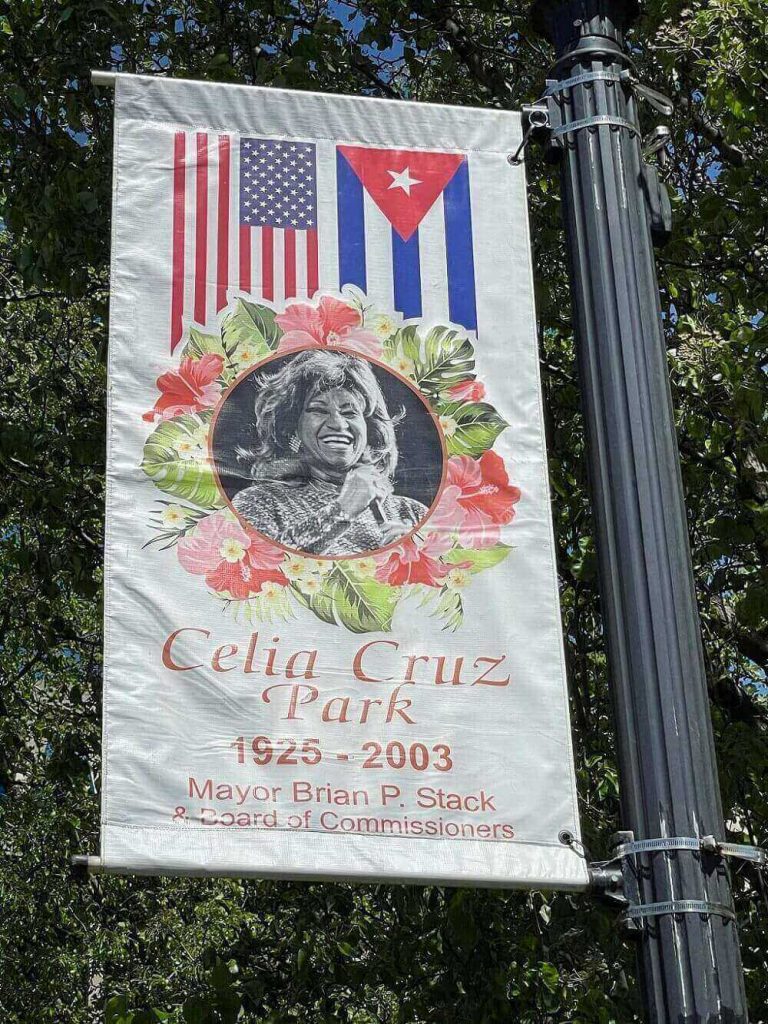 It is located on 31st Street on busy Bergenline Avenue in the heart of Union City. To learn more about Cuba and Cuban culture in general, check out these excellent reference books.
I realize this compilation of places to experience Cuban culture in the U.S. is but a tiny sampling, but it's a good start.
---
Do you have examples of other places to experience Cuban culture in the U.S.? Let us know in the comments.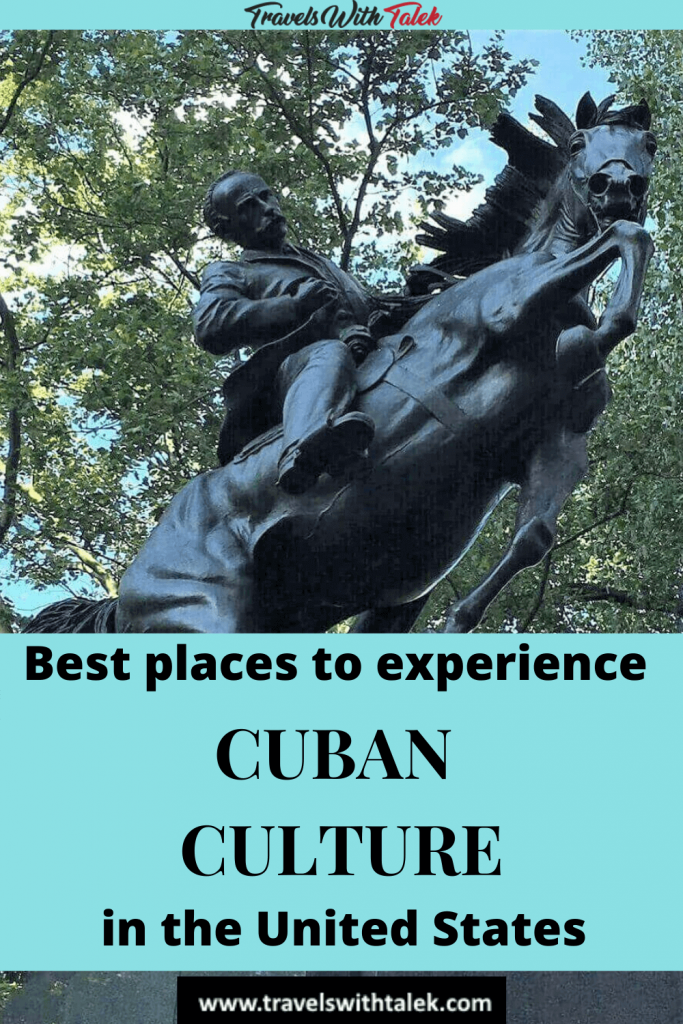 BTW, if you are getting ready for your trip, make sure to take advantage of these useful, money-saving links to book your trip:
I personally use, and can recommend, all the companies listed here and elsewhere on my blog. By booking through these sites, the small commission we earn – at no cost to you – helps us maintain this site so we can continue to offer our readers valuable travel tips and advice.