You won't run out of things to do and see in Palermo, Sicily. This ancient capital city is a wonderland of fabulous, mystical, wondrous and mysterious must see Palermo attractions. 
Palermo is ground zero for World Heritage Sites. Why is that?  Italy has the most UNESCO World Heritage Sites of any country in the world.
Sicily has the most UNESCO sites in Italy, so Palermo, the capital of Sicily, is king of UNESCO World Heritage Sites…and with good reason!
Palermo must-see sites include imposing palaces like the Palazzo dei Normani, mysterious underground crypts of the Catacombe dei Capuccini, and the most mouth-watering street food in Italy. And when you consider that Palermo's restaurants and culinary delights are competing with places like Florence and Rome, that's really saying something!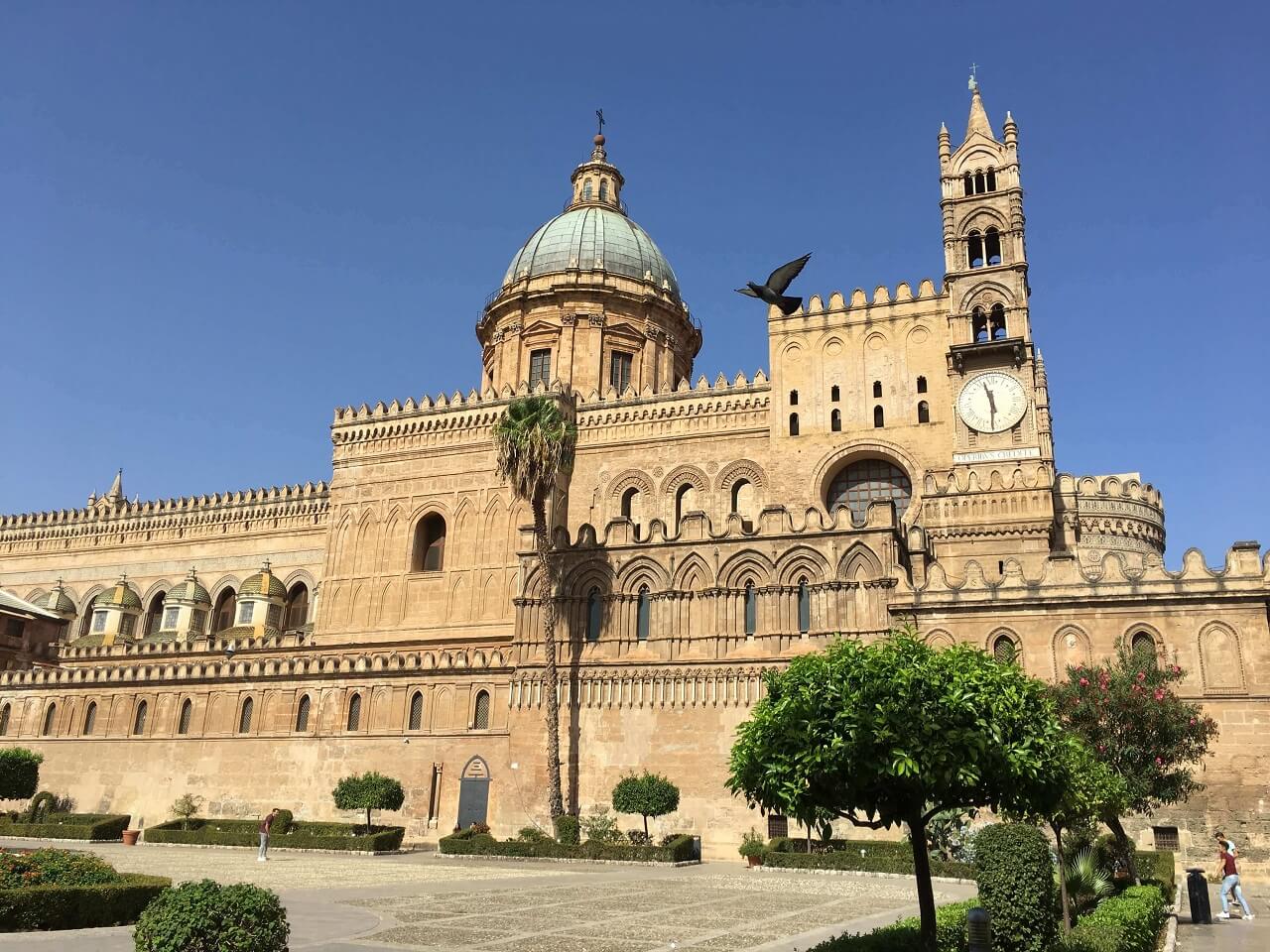 Palermo City Palaces
Palermo, Sicily itself is like a cultural amusement park with its winding alleyways, ornate decaying palaces and street markets with the strangest vegetables I've ever seen.
Among the top 10 Palermo sights are the cathedrals with unusual architecture and religious street processions. It's all a little bizarre and surreal…like a Fellini movie. That's why some of the best things to do in Palermo include absorbing the architecture.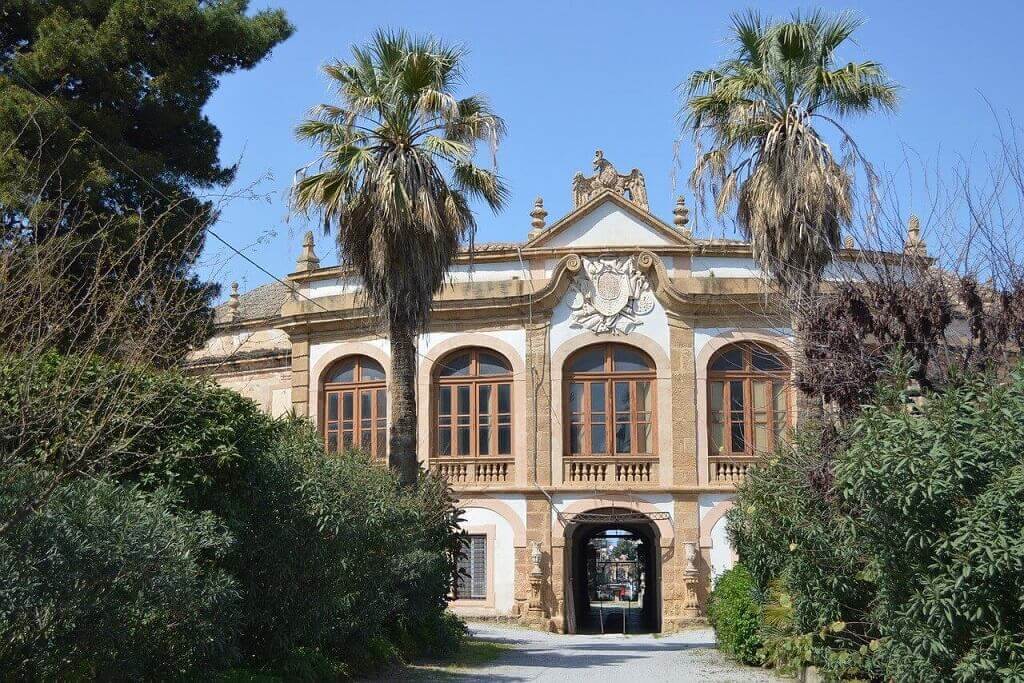 The prime examples of Palermo's unique Arab-Norman architectural style are the Palazzo dei Normanni with its golden Cappella Palatina and the majestic Cathedral.
Sicily was conquered and inhabited by a diverse group of people with different cultures and architectural styles; Normans, Arabs, Spaniards, Greeks.  For this reason, the most impressive structures are a wonderful mix of styles, unlike anything you see elsewhere. This is one of the things that make the must see Palermo cathedral so fascinating. You won't see these styles anywhere else in the world.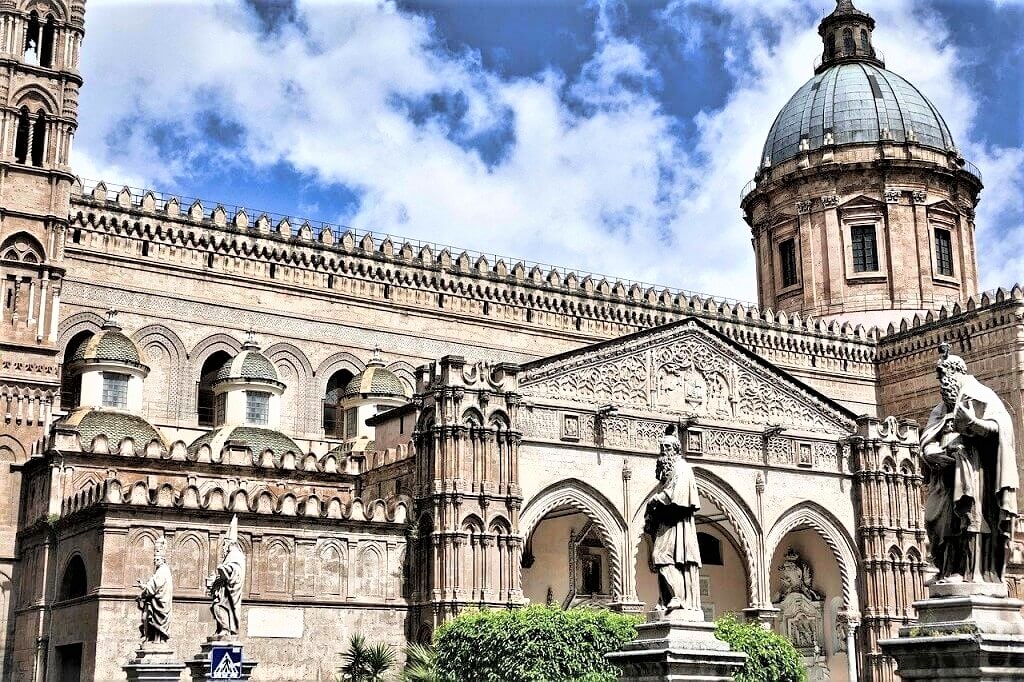 Built around the late 1100s, the Cathedral has been many things, a tomb, a mosque, a farm. The style is ornate with Moorish arches, Gothic spires and a touch of the Italianate Baroque.  The inside of the building is even more sumptuous guarding religious icons and objects as well as the tombs of Sicilian royalty.
Palermo, Sicily Streets and Markets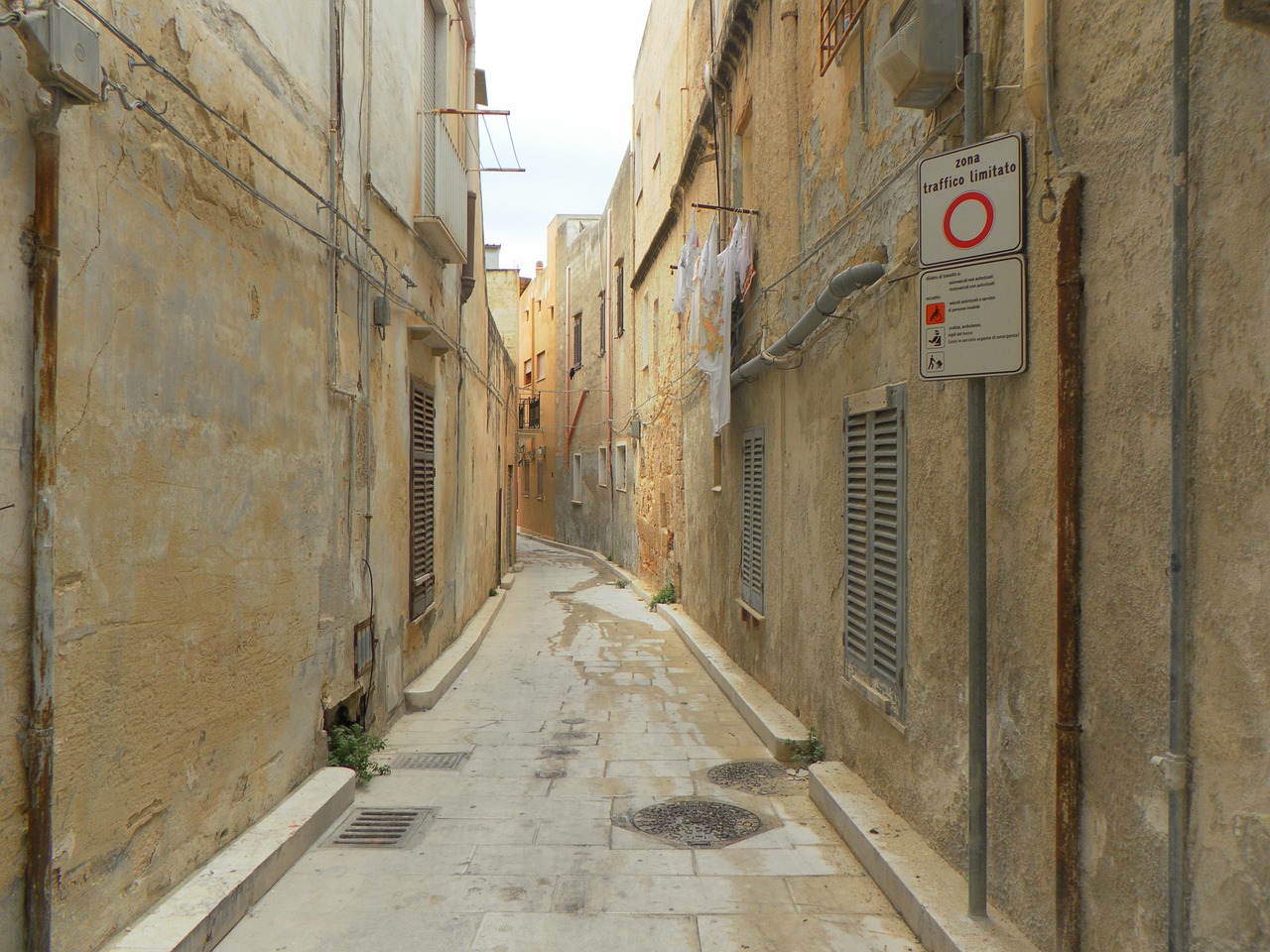 As impressive as Palermo's architectural gems are, the real Palermo is experienced in its streets, markets, and in its food.  Palermo markets are a festival of food. During our three-day stay, our street was closed for an ice-cream festival.
The pedestrianized Palermo streets made it easy to wander around the ornate palaces some of which have been turned into museums. Palermo's plazas function as the city's living rooms filled with little cafes, music venues, art exhibits, and strolling citizens. Street food in Palermo can be found all over town in little stalls selling tasty snacks for about 1 – 2 Euros. Try as many as you can especially the "arancini" little, fried rice balls.
We were lucky enough to be in town the night of a religious street procession. A crowd was singing religious hymns and carrying a statue of Mary down a major street accompanied by priests and musicians. I felt like I was in the original Godfather movie.

The Bangladeshi and Sri Lankan immigrants to Sicily seem to have taken over the small vendors markets selling jewelry and the ubiquitous Indian garments. I got into a conversation with Dileep, one of the Sri Lankan immigrant vendors. He told me he had really wanted to go to the States but it was easier to get to Italy. He had family in Manhattan and would try to get there.
I wondered if he would make it to the U.S. Probably. He was a young, outgoing, engaging hustler. He spoke English, Italian, his own language, and had family in New York. Odds are I'll bump into him on Lexington and 23rd street in New York someday.
At the Ballaro market, one of three major markets in Palermo, we saw some very strange looking vegetables. Looks were deceiving. When we tasted them at a nearby food stall and they were delicious.
The 16th-century cemetery of the Capuchin monastery of Palermo grew too small to accept new bodies.  The priests were forced to unearth the tombs beneath it to buy their fellow clergy. The bodies were treated with various preservation methods; vinegar wash, embalming, or sealing them in glass. The townspeople began to see these catacombs, or underground crypts, as sacred ground.  Why else would priests be buried there?
The residents offered donations in return for burial in the catacombs until having the catacombs as a final resting place became a status symbol for the upper classes.  sensing a financial opportunity, the priests began offering tomb maintenance in return for donations.  Donations poured in, more ground was excavated until a virtual underground city was created beneath the monastery.
Once donations stopped for the maintenance of a particular body, it was placed on an above-ground shelf–essentially a spiritual hostage–until the donations resumed.
The exhibit is filled with mummies, some remarkably well-preserved.  Most interestingly, you can learn about the customs and traditions of the local residents of the time.  Well worth a visit and one of the key Palermo points of interest.
Palermo Restaurants
As in the rest of Italy, food is close to being a religion in Sicily. Easting is what to do in Palermo any time of day.  The residents celebrate food and wine.  Sicilian wine is extraordinary, velvety smooth and thick on your tongue. There is no bad food.  Even the tiny eateries down side alleys serve extraordinary food.  It is truly a foodie's paradise.
Although we didn't have one even mediocre meal in Palermo, two restaurants that stood out are Il Maestro del Brodo and Palazzo Sambuca, both specializing in Sicilian cuisine. As soon as I returned home I attempted to recreate some of their dishes…so far unsuccessfully, but I'll keep trying!
What are your thoughts on things to see and do in Palermo, Sicily?  What if your favorite activity on a trip?
Want to know more about Palermo's main points of interest and its fascinating history?  Check out these reference books:

Read the other installments of the series: Seven Adventures in Southern Italy including Naples, Matera, Taormina, Ortygia, Agrigento, and Monreale.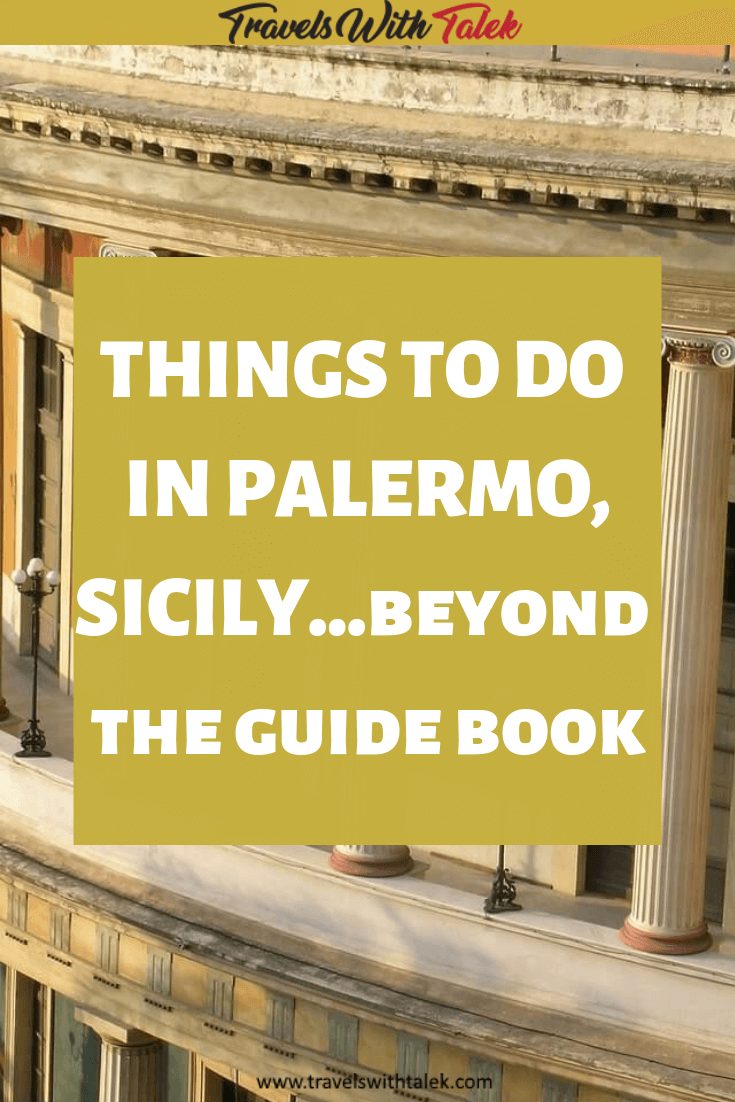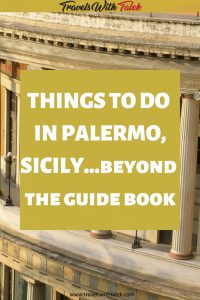 BTW, if you are getting ready for your trip, make sure to take advantage of these useful, money-saving links to book your trip:
I personally use, and can recommend, all the companies listed here and elsewhere on my blog. By booking through these sites, the small commission we earn – at no cost to you – helps us maintain this site so we can continue to offer our readers valuable travel tips and advice.