Ortigia, Sicily, Italy, spelled both Ortigia and Ortygia, is everything you imagine an ancient Sicilian town to be. It is a jumble of disparate cultural influences combining to create impressive architecture, a laid-back attitude, and food so good you want to stop strangers on the streets and induce them to try it.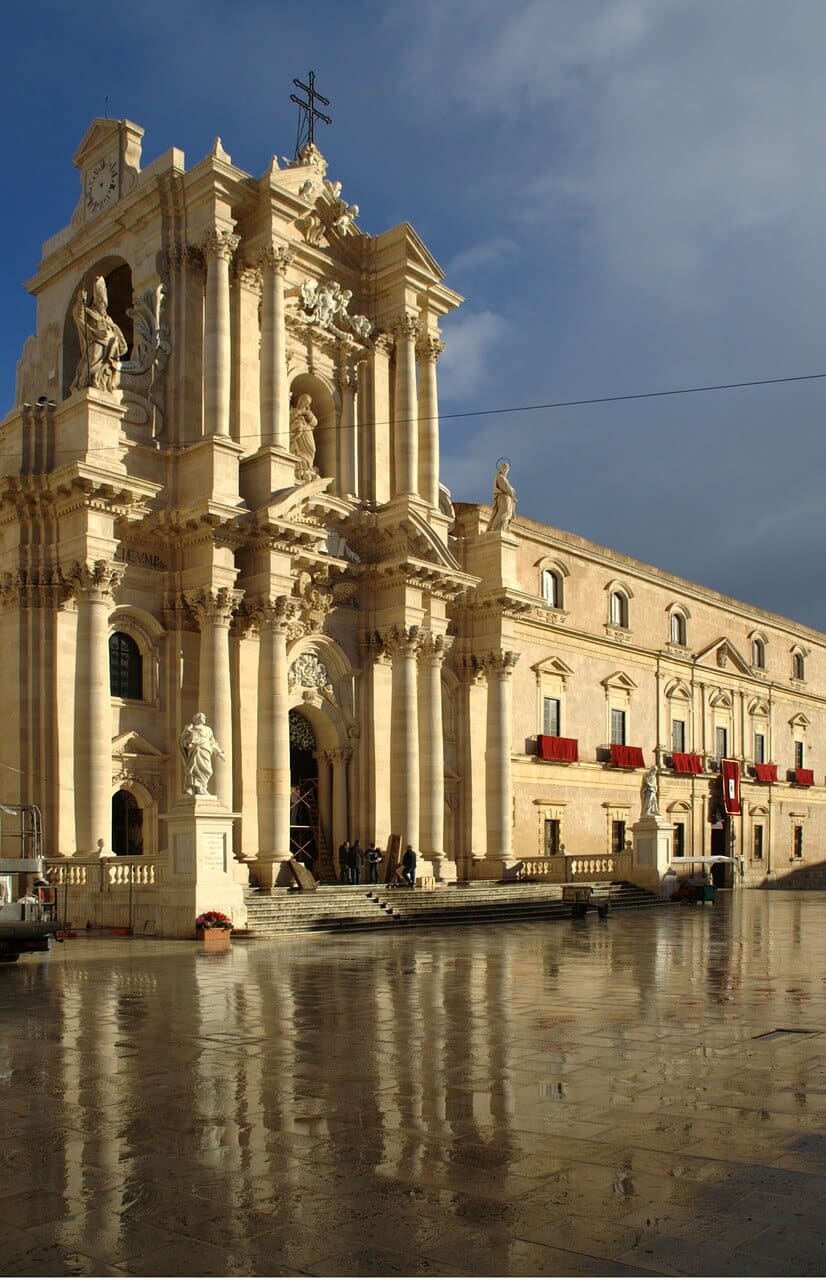 ORTIGIA, SICILY, ITALY. MAGICAL ISLAND.
Where Is Ortigia, Sicily?
Siracusa is the main town, but the little adjacent island of Ortigia, Sicily, which is the original, historical settlement is a more enchanting place to stay.  This is an amazing little town on Sicily's east coast connected by bridge to Syracuse.  
Just wandering its narrow alleyways was one of the trip highlights. It is a well-preserved medieval island with authentic trattorias and specialty shops selling home-made goods down every alley.  The colorful alleyways suddenly open up on spectacular plazas, brilliant fountains and ancient ruins. I wondered how a place like this managed to remain below the radar. It was overwhelming.  
I love places that have an incredible history. I love the Italian way of life. I love the food. I love the people. I love the attitudes of Italians. – Elton John
Click To Tweet
A Brief History of Ortigia, Sicily
Unlike Palermo, the big bustling capital of Sicily, Ortygia is small.  It is impossible to get lost in this 1 kilometer long and 600-meter wide island. It's also old, about 2500 years. Throughout its history, Syracuse and the adjacent Ortygia was part of several cultures; Arabs, Roman, Normans Byzantines, Spaniards, and others. The waves of different conquerors, settlers, visitors and invaders of the city are reflected in the island's architecture.  It's fascinating to see the different architectural styles as you wander the city's streets.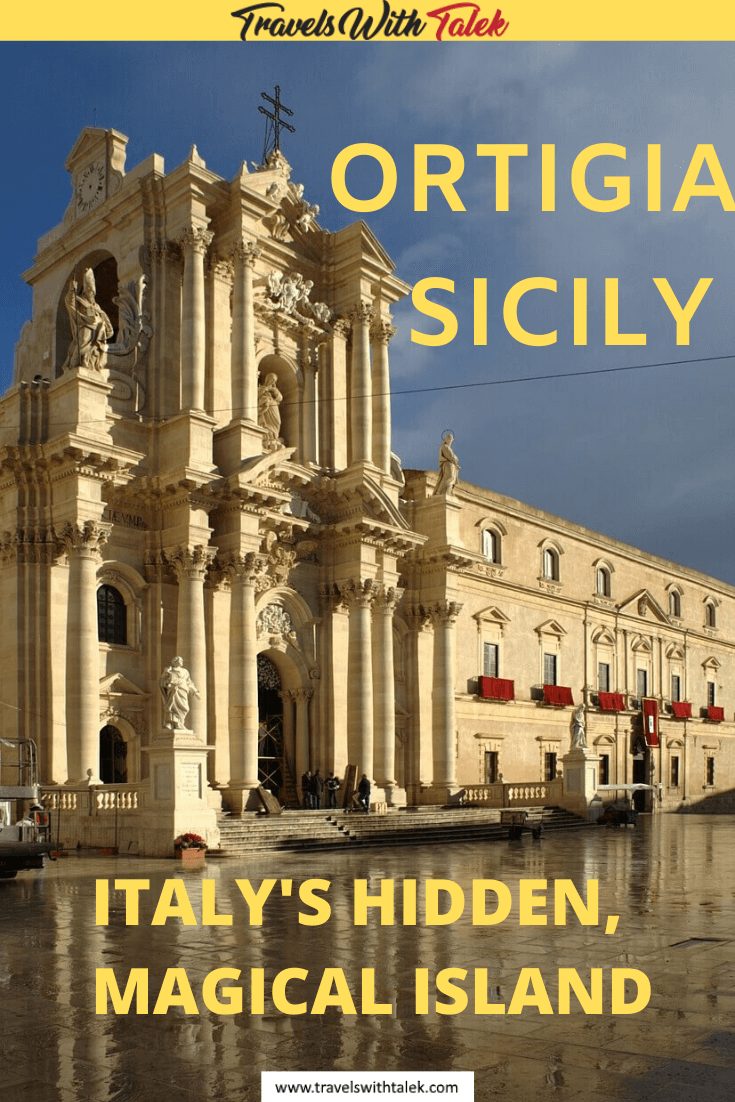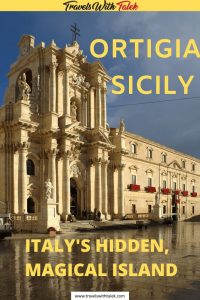 Can't Miss Attractions in Ortigia, Sicily, Italy's Magical Island
Temple of Apollo
Just after crossing the bridge from Siracusa the first attraction you see are the ruins of the Temple of Apollo.  Over the centuries this structure was a church, market, mosque. Today it sits in ruins as a reminder of the different cultures that flourished here.
Piazza Archimedes
Archimedes, the famous mathematician was from Ortigia and the town has honored its native son with a plaza that sits regally in the center of Ortigia. Nearby is the fountain of Diana with its elaborate stone carvings.
Ortigia Market
Every day except Sunday you can visit the Ortigia market open from 7 AM to 1 PM where you can buy anything from shoes to cheese.  I love markets because they give you an opportunity to see how local people live and go about their daily chores.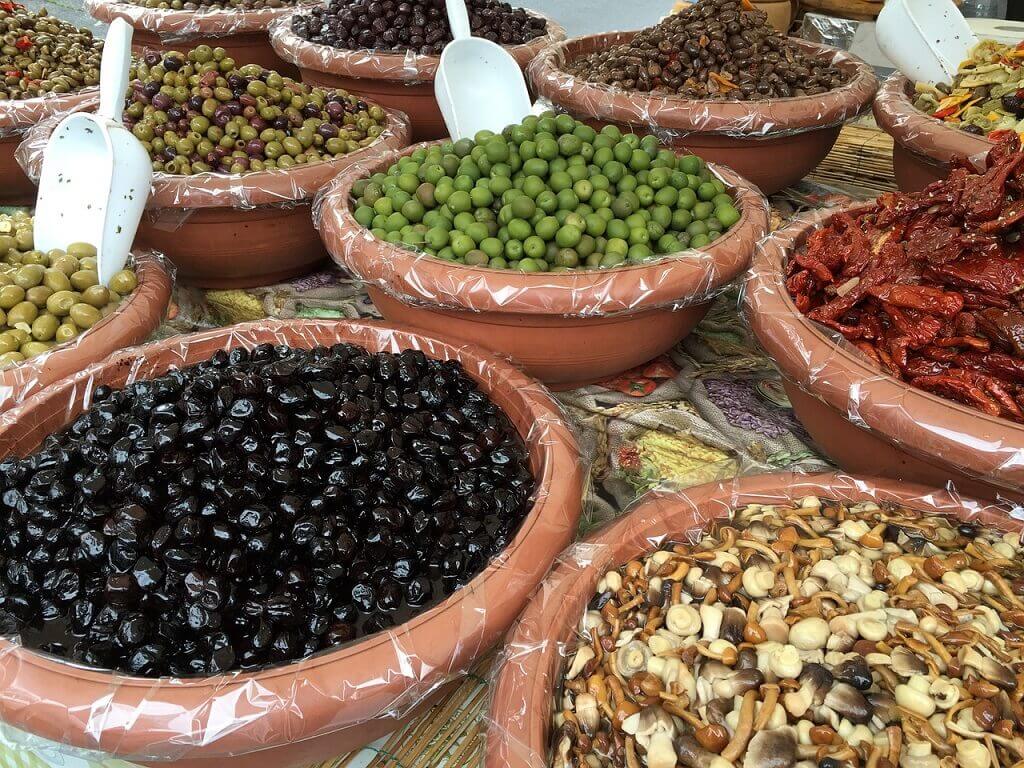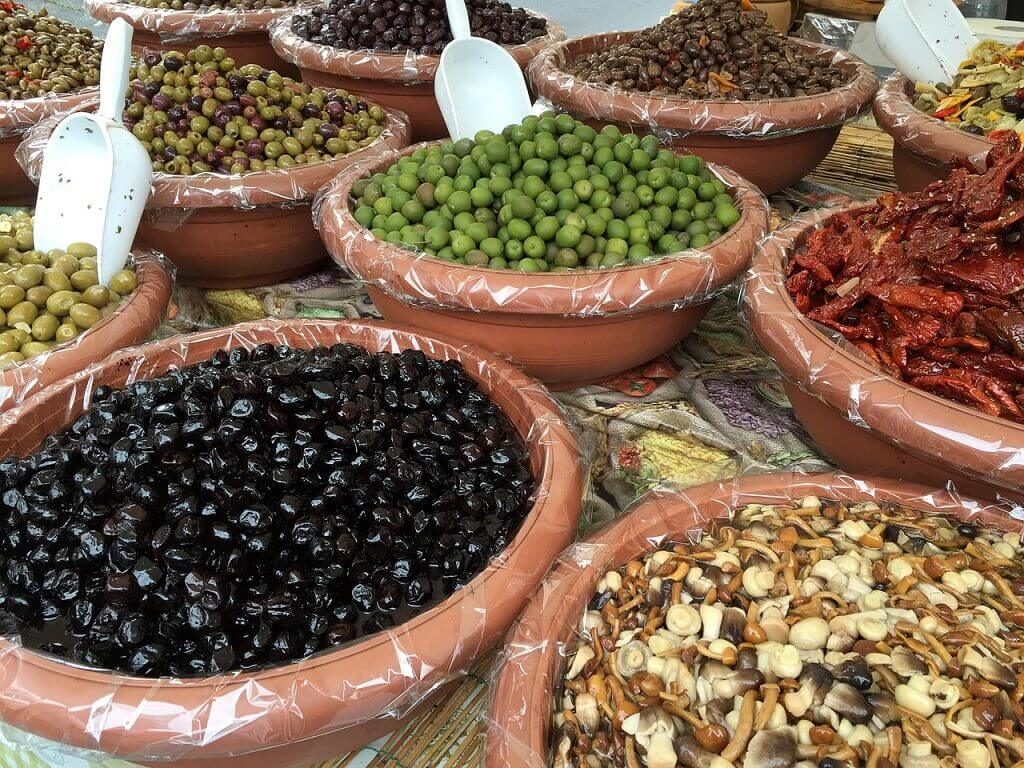 A really nice experience in this market is to buy yourself a nice lunch; prosciutto, olives, cheese freshly baked bread, and have your self a picnic at a local park or plaza as you watch the Sicilian world go by.
Piazza Duomo
This ancient square is considered by many to be sacred ground and is a UNESCO World Heritage site.  For millennia local residents of Ortigia have worship here and built their houses of worship. One of these was the Temple of Athena, built in the 5th century.
Its remains can still be seen today incorporated into the magnificent Cathedral of the Nativity of Mary dating from 1753.  The plaza is in the Baroque style designed in a semi-elliptical design with glorious buildings on both sides.
Make sure to watch out for the many cats that haunt the Plaza.  They make for great photo opportunities.
And don't forget to book your stay in Ortigia! We suggest the Apollo Suite. 
Places to Eat in Ortigia
We got a recommendation for a good, typical Sicilian restaurant, L'Osteria da Seby, and headed out in a rainstorm that flooded the streets. The food there was on par with the rest of the town, fantastic!  One of the dishes was so unusual and delicious it merits special mention.  It was a delicate fish wrapped in what looks like an edible brown paper bag. Definitely a culinary highlight!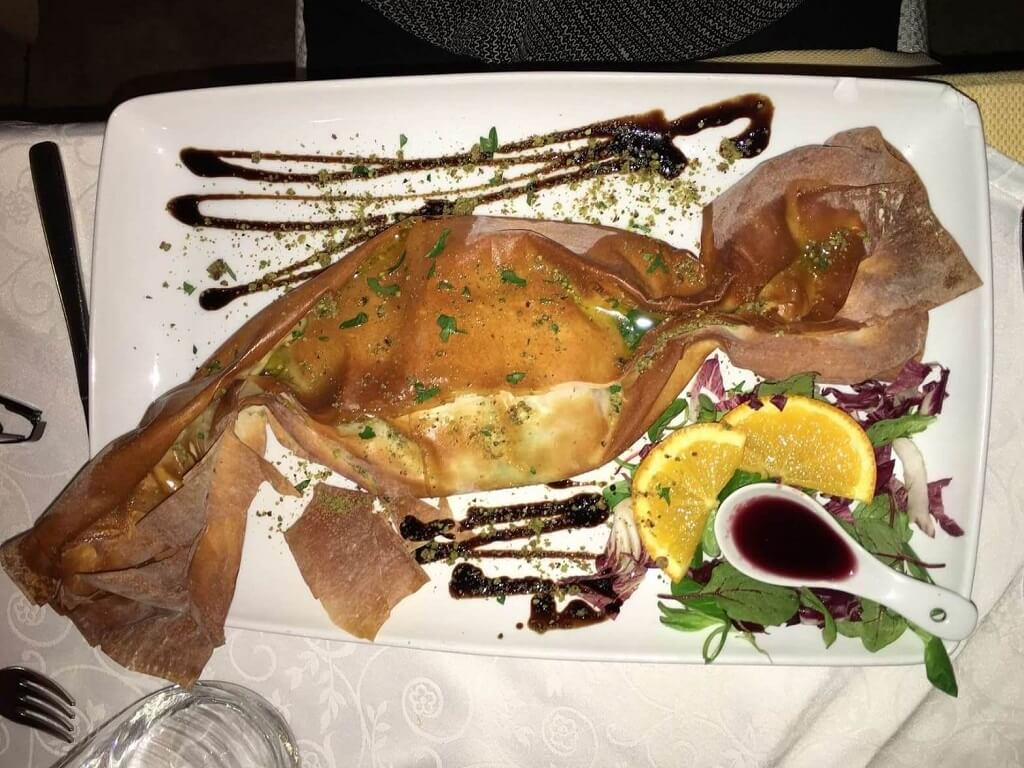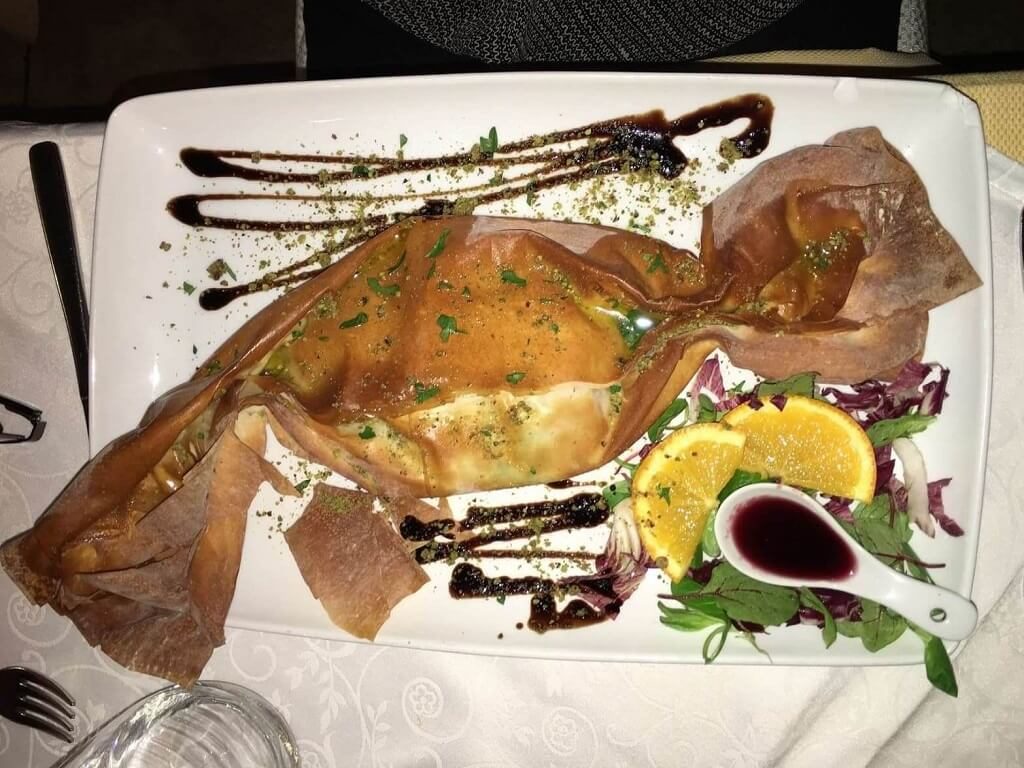 Ristorante Porta Marina for seafood specialties everyone raved about.
Regina Lucia  Sit at one of their open air restaurants in the plaza right in front of the Duomo di Siracusa. The combination of the magical plaza and the delicious Sicilian cuisine is unbeatable!  Great pasta, desserts and seafood.
A Nice Day Trip from Ortigia
Noto, A Big Surprise
Basking in the afterglow of Ortigia, Sicily, we headed to Noto not really expecting much.  That's the charm of Noto.  It takes you by surprise. The main pedestrian street is lined with beautiful baroque palaces built with a golden color stone that shines in the sunlight. That seemed to be the only outstanding sight the town had, but it sure was enough.  
Learn more about the rich cultural history of Sicily and Ortigia in particular.
Ortigia, Sicily, Italy.  I will always remember it as the town whose charm took me by surprise. What destination has thoroughly taken you by surprise?  And don't forget, while in Italy, make sure to take souvenirs from Italy home with you.
Don't forget to read the other wonderful southern Italy cities in the series.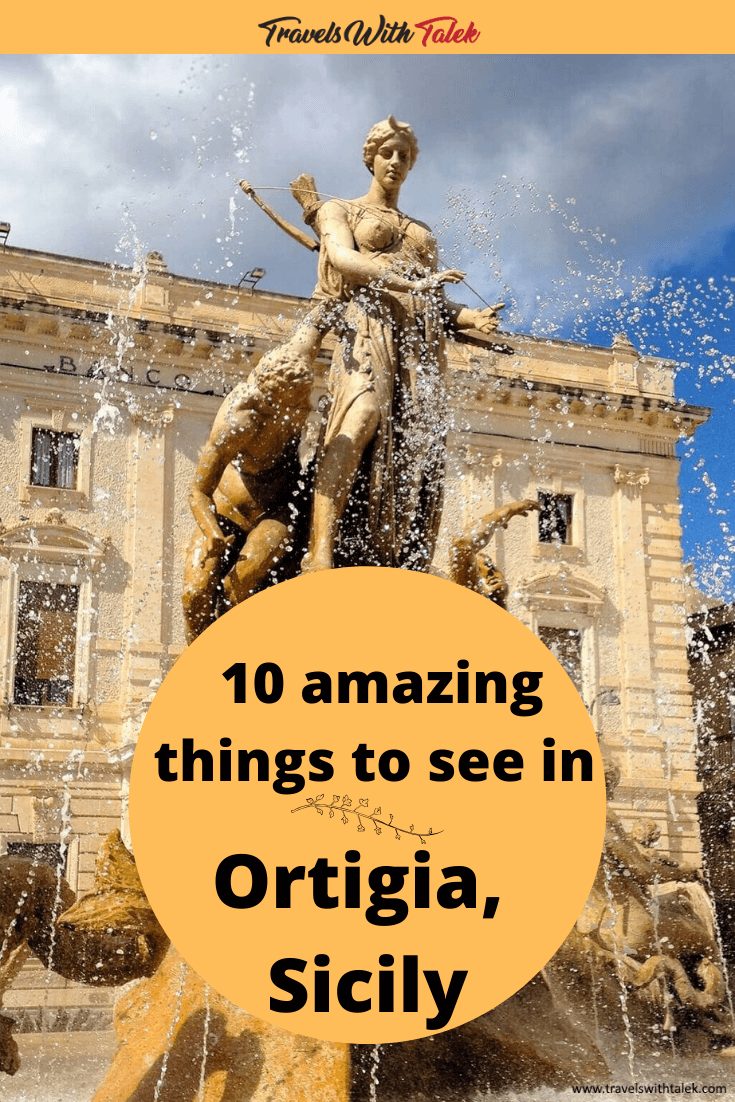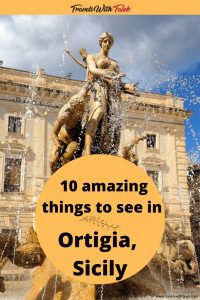 BTW, if you are getting ready for your trip, make sure to take advantage of these useful, money-saving links to book your trip:
I personally use, and can recommend, all the companies listed here and elsewhere on my blog. By booking through these sites, the small commission we earn – at no cost to you – helps us maintain this site so we can continue to offer our readers valuable travel tips and advice.