The Mendoza wine region in central Argentina is one of the premier wine regions in the world.  Mendoza provides 70% of Argentina's wine production. The region is dotted with pretty vineyards and rustic wineries. An ideal day in the Mendoza wine region is to winery-hop across the vineyards with one of the many Mendoza wine tours.
"Beer is made by men, wine by God." ― Martin Luther
Click To Tweet
You will never run out of things to do in Mendoza. Although the city thrives below the tourist radar, it is a hidden gem. This scrappy, proud capital of Mendoza province doesn't take a back seat to cosmopolitan Buenos Aires, the country's capital city.
Although most famous for its wine, Mendoza has much else going for it. I think the top three things to do in Mendoza are to visit its tree-shaded center city, experience its wine culture and enjoy its adventure travel options. Here's how to spend a perfect three days in Mendoza.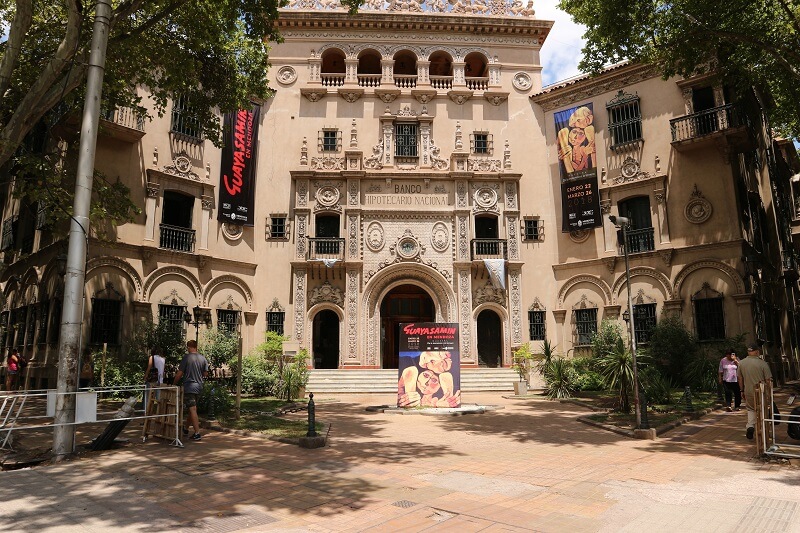 Where to Go and What to See in Mendoza, Argentina and the Mendoza Wine Region
Wandering Mendoza's Plazas 
Much of Mendoza was reduced to rubble during the devastating earthquake of 1861 that killed 5000 people. As the city rebuilt, it created five airy plazas in the city center designed to provide some safe open spaces in the event of another disaster. These have become the cornerstones of the city, especially on the weekends.
At the biggest and most popular square, the Plaza Independencia, ice cream and yerba maté vendors sell their goods while kids run around, and locals relax and congregate in little groups listening to the bands. Wander from here to the other four plazas and you get a good sense of the city's layout.
In Mendoza's Financial District, the Plaza San Martín is dominated by a statue of the general who led Argentina to independence. Plaza Chile has the best children's playground, like a little amusement park. Plaza Italia is dedicated to the country that gave Mendoza so many immigrants -there is a statue of Romulus and Remus and a fountain with 1,400 ceramic tiles from the Cathedral of Bologna. Plaza España, with its green spaces, is arguably the most beautiful of all.
Start your Mendoza visit with a simple walk. A perfect morning or afternoon in Mendoza is to stroll through these plazas stopping for lunch or coffee at any of the numerous cafes on the popular pedestrian avenues. And don't miss the outstanding architecture and whimsical street art around every corner. It's one of the best free things to do in Mendoza.
The Hathor Hotels Mendoza or the Urbana Class Hotel are both great places to stay near the city centre. You can also try one of these home or apartment rentals if you want your stay to feel more like home.
Experience Mendoza's Wine Culture 
Argentina's wine industry dates back over 500 years. Many visitors to Mendoza are wine lovers that go with the express purpose of visiting the Mendoza wineries outside the city and experiencing wine tastings.
"Wine enters through the mouth, Love, the eyes. I raise the glass to my mouth, I look at you, I sigh." ― William Butler Yeats
Click To Tweet
Today the country is the 5th largest wine producer. Mendoza was awarded the 8th Wine City of the World in 2005 and its reputation continues to grow, especially with its flagship wine, Malbec. You might be surprised about the history of the famous Malbec wine.
The name "Malbec" loosely translates into "poor taste" in French. It originated in France where it was considered a second-rate wine, hence the name. Vines were brought over from France to Argentina and planted in a different environment which just happened to be ideal for this particular grape. The vines flourished in Mendoza's vineyards into what is today one of the most popular wines, the Argentine Malbec.
How to visit  the Mendoza Vineyards 
Of all of the things to do in Mendoza, visiting the wineries is probably the most popular. There are many ways to visit the wineries. Among the most popular is to rent a car. This option will give you the freedom to explore at your own pace. But with 1500 wineries in Mendoza to choose from, you may want to maximize your visit with a guide.
"Wine is the most healthful and most hygienic of beverages." ― Louis Pasteur
Click To Tweet
One guided tour option is Viatour which includes lunch with wine pairings. Biking your way around the wineries has become increasingly popular. And, of course, riding horses between Mendoza's vineyards as part of a horseback riding winery tour has got to be one of the ultimate Argentina wine tour experiences. As with any winery tour, your tour will involve sampling. You may want to take the hop-on-hop-off bus, that travels a loop through some of the best wineries. This way you can sample to your heart's delight without worrying about getting tipsy or driving back to your hotel with a buzz.
Accommodations in Mendoza are plentiful. Choose from cozy boutique hotels in the center of the city to homestays near vineyards. Check out where to stay in Mendoza.
Many of the wineries require advance reservations. When planning your trip to the wineries, check before you go to make sure you will be able to visit as many wineries as possible.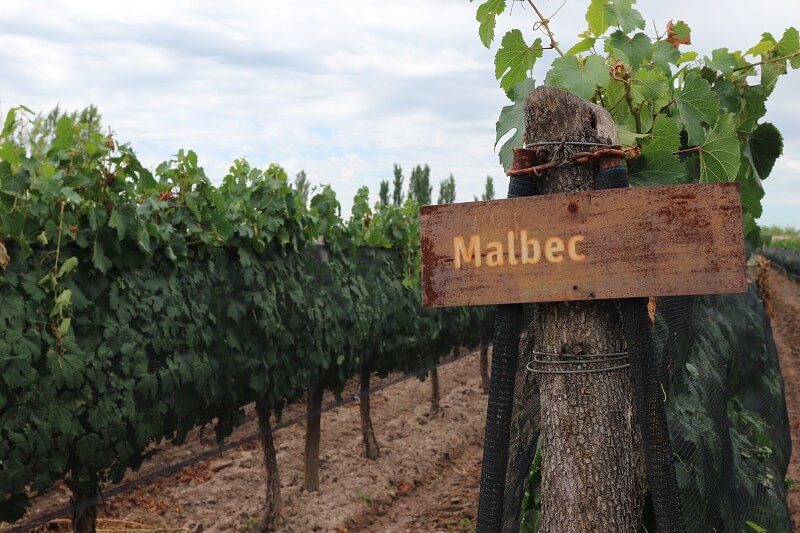 The winery tours themselves are leisurely and educational. The guides explain the history of the vineyards – did you know many vineyards have their own patron saint?  After a tour of the wine-making process, it's on to the samplings, reasonably priced selections all in beautiful surroundings. It's the perfect way to begin three days in Mendoza. Two of the best Mendoza wineries I visited include  BodegaA16 and Bodega Dante Rubino. 
The Wine Regions of Mendoza
At over 350,000 acres of vineyards, the region is a wine lover's paradise. Three Mendoza wine regions are must-visit destinations; Lujan de Cuyo, UCO Valley and Maipu. Let's explore each in more detail.
Lujan de Cuyo
This is the legendary land of Malbec. Half an hour south of Mendoza, Lujan is frequently referred to as the birthplace of Argentina's culture and production. It was here that the first AOC (Appellation d'origine Controle) for Malbec was instituted. This designation was instrumental in establishing Malbec on the worldwide wine stage.
Maipu
The Maipu region is synonymous with great wine.  There are also olive oil producers offering tastings. Maipu is also great for exploring wineries by bicycle because the wineries are closer together.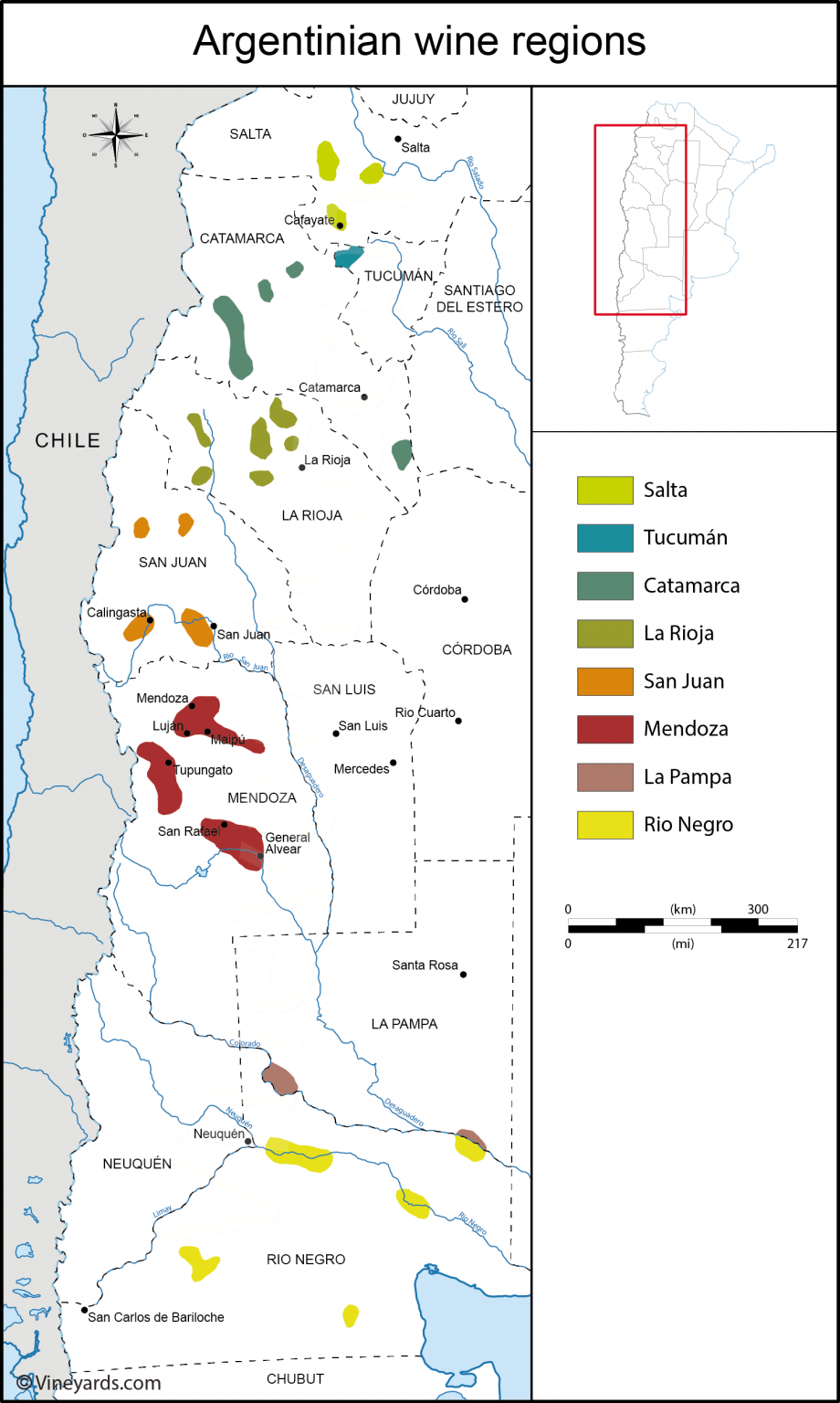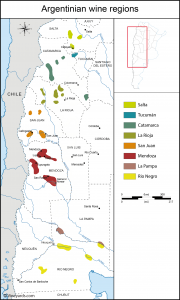 UCO Valley
The UCO Valley region is the newest in Mendoza and has been receiving much international acclaim.  It is known primarily for Malbec but also produces Merlot, Pinot Noir, Semillon and others.  This wine region is one of the highest in the world at 900 to 1,200 meters (3,000 to 3,900 feet) above sea level.
Adventure Tourism in Mendoza 
With growing tourism in Mendoza's wine region and the wide variety of things to do in Mendoza, the city is successfully adding adventure tourism to the selection of things to do. The activities include whitewater rafting, zip-lining, trekking, and horseback riding, locally known as "cabalgatas." Also available are tours to the surrounding spectacular Andes region including Aconcagua the highest peak in the Andes mountain range at 6,962 meters (22,841 feet).  Mendoza Viajes, an outfitter,  specializes in adventure tourism.
Learn about the other great wine regions of the Americas.
Make sure to have your handy travel guides available when you visit Mendoza.
How would you spend three days in Mendoza? What are some of your favorite things to do in the Mendoza wine region? We'd like to know.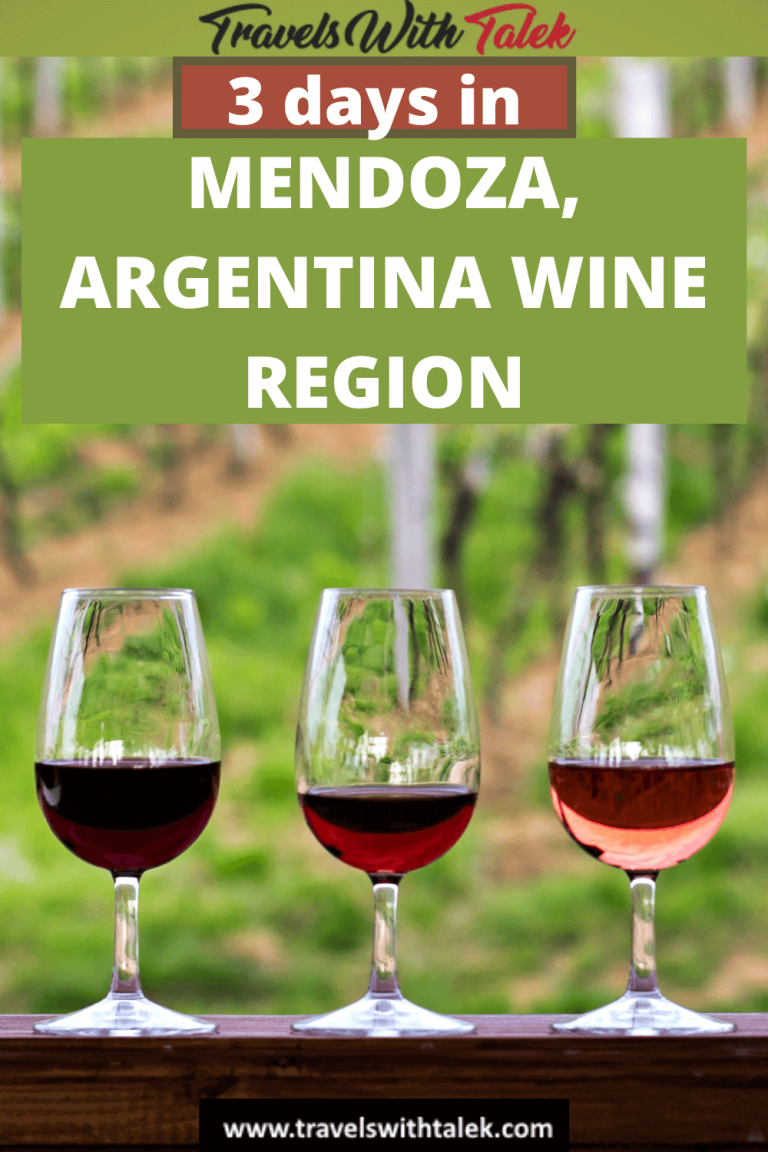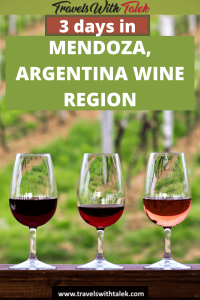 BTW, if you are getting ready for your trip, make sure to take advantage of these useful, money-saving links to book your trip:
I personally use, and can recommend, all the companies listed here and elsewhere on my blog. By booking through these sites, the small commission we earn – at no cost to you – helps us maintain this site so we can continue to offer our readers valuable travel tips and advice.