Updated December 6, 2019
Traveling from Buenos Aires to Patagonia, you see a stunning collection of sights from the colorful cosmopolitan capital to the southernmost city in the world, Ushuaia, Argentina. Though, getting there is quite the journey. If you're wondering how to get to Patagonia, you're not alone.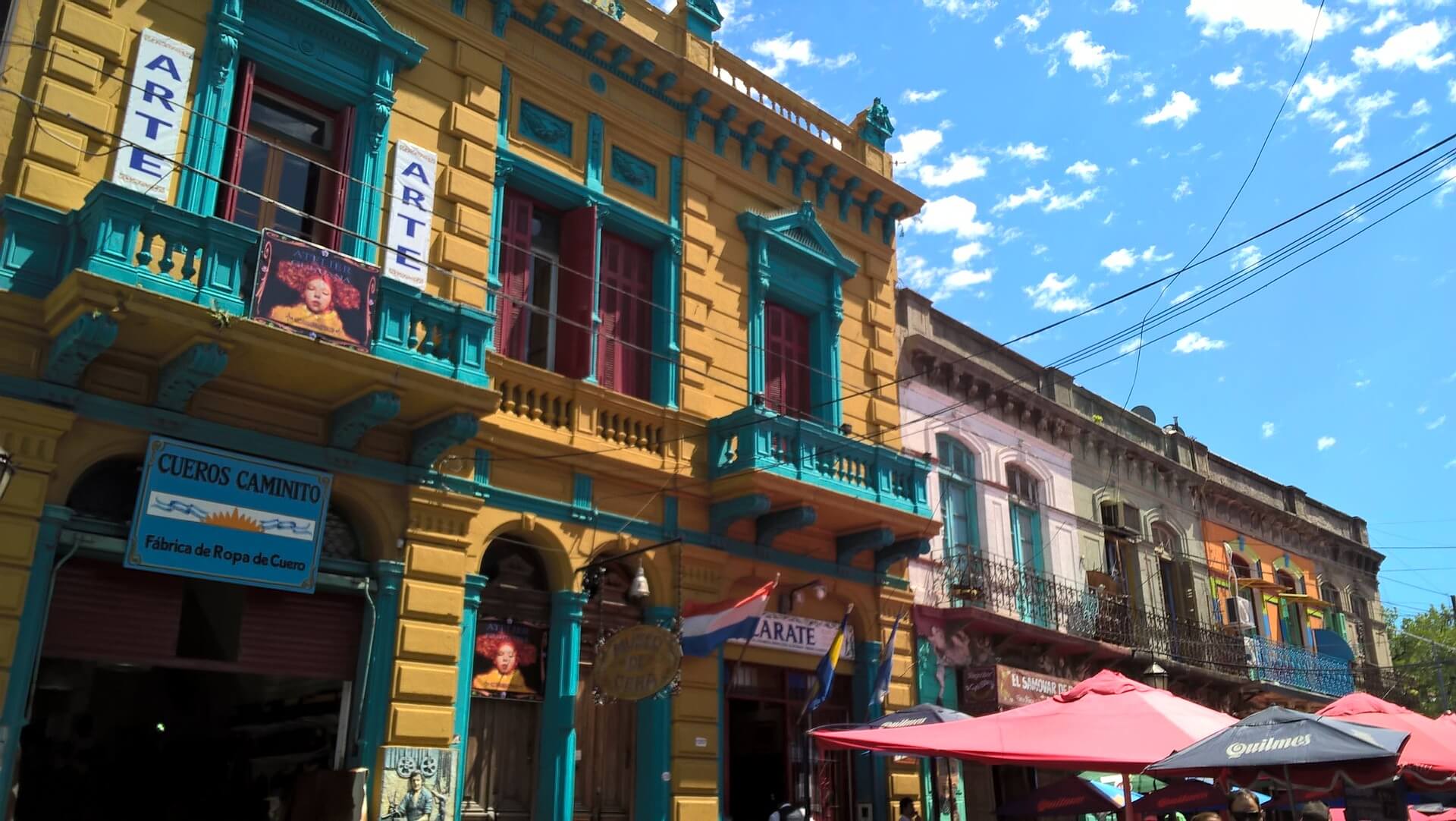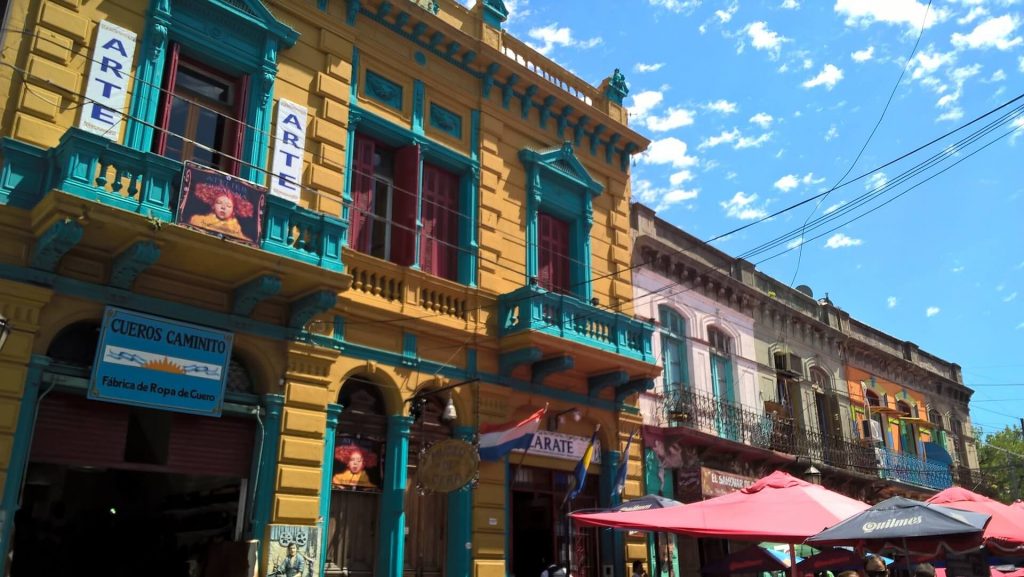 How to Get to Patagonia

If you're wondering how to get to Patagonia in one day, here's a short primer. Most trips to the Patagonian reaches of Argentina and Chile begin by flying into one of the major cities.  Buenos Aires is a popular option with many direct flights from there to Patagonia.  Colloquially known as BA, this city is one of the great capitals of the world.  It is a top-notch cultural center brimming with museums displaying native and international fine art, making a visit to Buenos Aires one of the best things to do in Argentina.
The city is divided into several neighborhoods each with its own particular vibe; from the trendy and cool SOHO to the elegantly refined Palermo to the artsy port area of Boca, there is something for everyone in this fabulous city.  One particularly interesting spot in the Palermo neighborhood in Buenos Aires is the cemetery of La Recoleta, a must-see for its stunning statuary and historical significance.
Buenos Aires. Seductive and cultured, sophisticated yet earthy, eclectic but with a strong identity, it never bores, seldom sleeps and invariably mesmerizes its visitors.
Click To Tweet
An excellent option for accommodations in Buenos Aires is Airbnb. Read a description of the different neighborhoods first, then select an Airbnb in the area that suits you best.  And here is a $40 credit on your first stay with Airbnb to get you started.  If a standard hotel is more to your liking, check out these accommodation options in Buenos Aires.
Looking for a tour to explore Buenos Aires in greater depth? Check out these local tours.
The food in Buenos Aires is outstanding and tends to specialize in meats.  A "parillada" or grill of several different cuts of meat and a bottle of wine is an ideal dinner selection in Buenos Aires.  You can even top that by combining it with a Tango show at any of the club venues around town. The nightlife in Buenos Aires is one of the liveliest in Latin America.  Plan for four days including travel.
One city you shouldn't miss in Argentina on your journey from Buenos Aires to Patagonia is Mendoza.  You can fly, drive or take a bus to Mendoza, a beautiful colonial city in northwestern Argentina which is also the capital of the country's important wine industry.
Wine is the city's lifeblood with wineries ranging from sophisticated establishments to cottage industries in people's backyards.  Everyone is involved.  The city has hundreds of wineries that  have become an important tourist draw.  A fun day activity is to visit several wineries and sample the wide variety of excellent wine accompanied by lunch in a welcoming vineyard. Get your Mendoza winery tour information here. 
One of Mendoza's more charming aspects are the five central plazas which were rebuilt after an earthquake destroyed a large part of the town.  These are tree-lined, shady squares built in the traditional Spanish style where the locals meet to stroll and enjoy the beauty of the fountains and sculptures. Three days including travel.
How to Get to Patagonia on Its Chilean Side
Wondering how to get to Patagonia by land? Bus service in Argentina is very good. This makes crossing the Andes by bus a once in a lifetime adventure. The crossing from Mendoza to Santiago, Chile, on the way to Patagonia, especially impressive.  The buses have night coaches where they not only serve you dinner, provide you with a totally flat, cozy sleeping experience but they'll throw in a shot of whiskey to boot! And all at very reasonable prices. Budget one full day for the crossing due to time spent at the border crossing.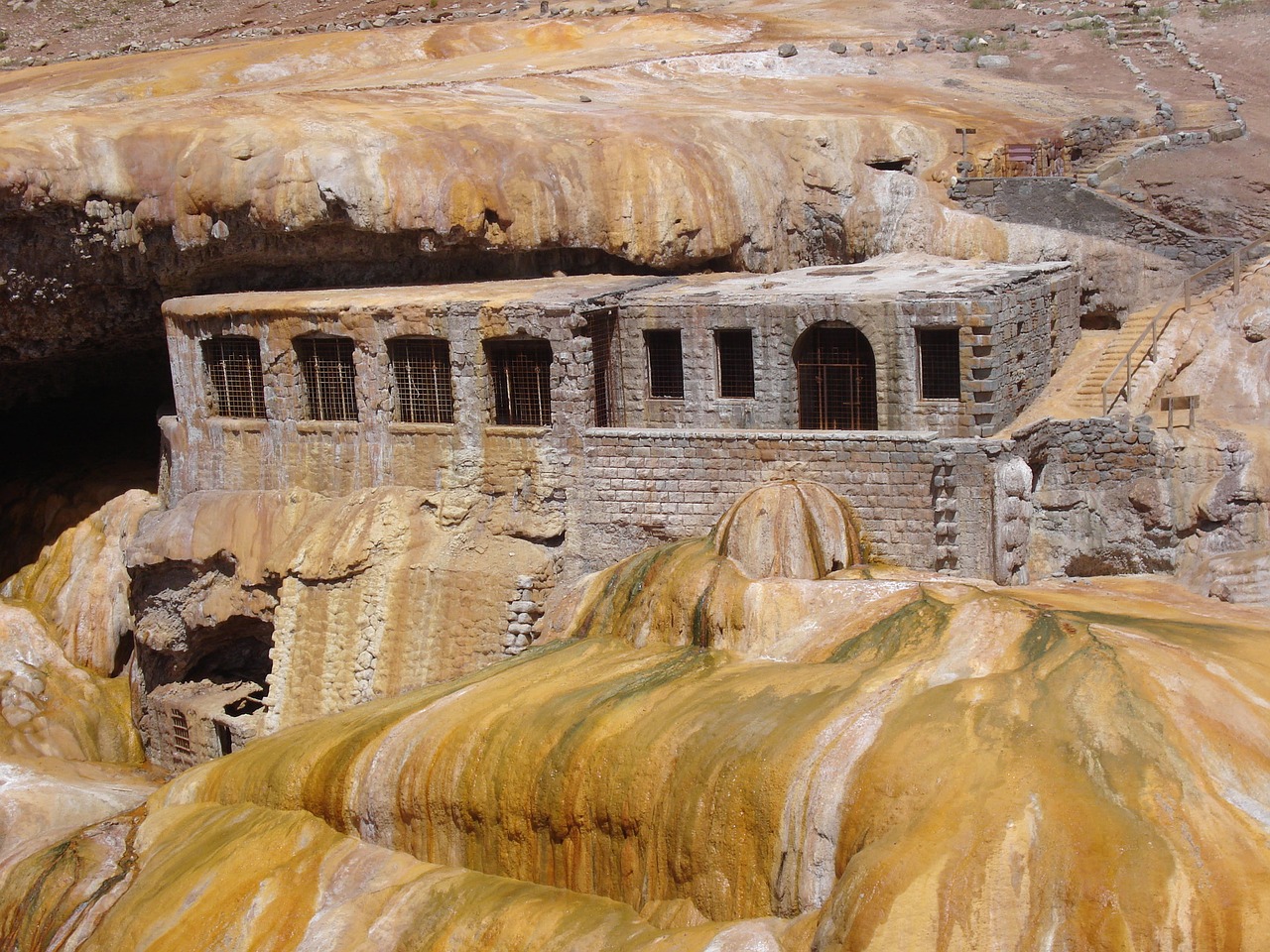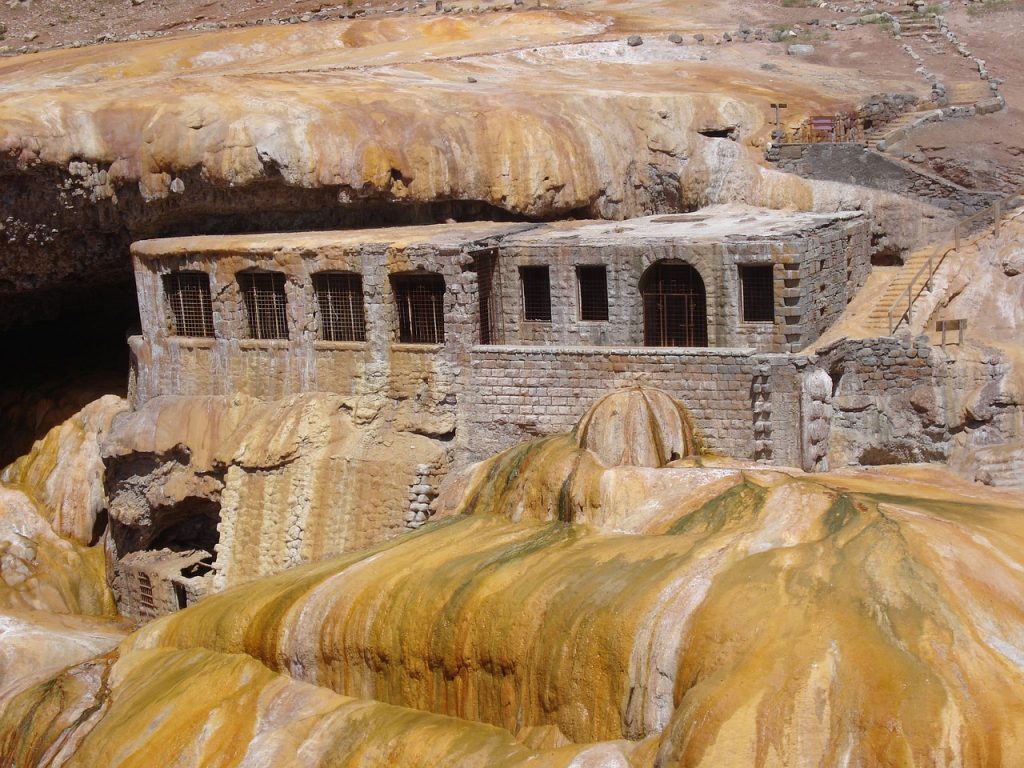 The views across the Andes mountains on a trip from west to east are stunning ranging from soaring snow-capped peaks to lonely deserts to charming mountain villages. Be ready for the descent as the bus travels down hairpin curves where you can't even see the bottom of the road.
From Santiago, it's an easy flight to Puerto Natales, the kickoff point for entering the Torres del Paine National Park, one of the gateways to Patagonia. Puerto Natales was looking for an angel to exploit its proximity to the big tourist attraction which is the national park.
The town hit on the idea of becoming a foodie mecca and did a pretty good job of it with a slew of fine dining options. As long as people have to come through Puerto Natales anyway, they won't be hungry in the process.
The National Park is a stunning stop on your journey from Buenos Aires to Patagonia with some of the most breathtaking landscapes on the continent.  It is a paradise for hikers wanting to trek the "W" or "O" trails to the top of the three "torres" or towers.  But you don't have to be a hiker to enjoy the scenery, wildlife and cuisine of this popular national park. These are attributes that appeal to everyone. Four days including travel.
Here is a good selection of tours in Puerto Natales, Torres del Paine National Park and the surrounding areas.
How to Get to Patagonia on Its Argentinian Side
About 3 and a half hours northeast of Puerto Natales, across the border into western Argentina, is the trendy and cool town of El Calafate. El Calafate feels like a ski town in Europe or the western U.S. It has upscale restaurants, stylish shops and an abundance of outfitters promoting trips to nearby Perito Moreno Glacier. 
This glacier is one of Argentina's natural wonders.  Trips from El Calafate, named after the local berry, and Perito Moreno can be arranged via one of the tour agencies in town.  Regular round-trip bus service from town to the glaciers is also an option.
Wondering how to get to Patagonia's glaciers? Buses leave regularly from the local El Calafate bus terminal. A roundtrip ticket cost about US$30. Entrance to the glacier in Los Glaciales National Park is about US$30 not including the optional boat ride to see the glacier up close (very up close.) There is a walkway surrounding the glacier which enables people to get a classic view of this monumental glacier.
Besides seeing the glacier for the first time, a breathtaking sight, the other highlight is to see a calving of the glacier. A calving is when a chunk of ice drops off the main glacier and crashes into the ocean creating waves and thunderous sounds.  It is nature at its most majestic and an unforgettable sight on a trip from Buenos Aires to Patagonia.  Budget three days if you are crossing the border from Chile, two days if traveling within Argentina.

Further south in the Chilean Patagonia is Punta Arenas, the town that once grew rich as the mid-point on the journey between the Atlantic and Pacific oceans. In 1914 the Panama canal cut 8,000 miles from that long trip, bypassing the city completely and igniting its decline.  Nevertheless, the vestiges of past splendor can still be seen throughout the city in its elegant architecture, broad avenues and the Sara Braun Municipal Cemetery, one of the most beautiful in Latin America.
Punta Arenas is the kick-off point to the depths of the Chilean and Argentinian Patagonia. This is where most cruise ships sail to and from Ushuaia, Argentina as they explore the Straits of Magellan, Beagle Channel and Cape Horn. The Ventus Australis is a company specializing in cruising the Patagonian waterways.
Sailing these treacherous waters it is amazing to imagine how the first explorers navigated successfully with their rickety, wooden ships. It is well worth the trip to explore the glaciers, wildlife and landscapes of one of the wildest and least explored places on earth. Budget four days for the cruise including travel time.
How to Get to Patagonia at the End of the World
Once you reach Ushuaia you have reached the southernmost city on earth and the end of your journey from Buenos Aires to Patagonia.  Ushuaia is literally the town at the end of the world. Every tourist attraction makes reference to and exploits the city's unique geographic status; end of the world bar, nightclub, hotel, train and more.
For such a remote town, Ushuaia has a good selection of restaurants and hotels.  The cruise ships stop in Ushuaia for a few hours before making the return trip to Punta Arenas.  One of the town's highlights is the prison museum or El Presidio.
The exhibit tells the story of when Ushuaia was a remote backwater where Argentine prisoners were exiled to live out their sentences building the local railroads.  The museum is located inside the original prison which has been refurbished and includes interesting exhibits. One full day, no travel time included.
Looking for a place to stay? Check out these accommodations in Ushuaia.
Want to know more about how to get to Patagonia and the activities at the end of the world? Here is an excellent book that stands the test of time.
How did you get to Patagonia? What was your favorite stop on the journey from Buenos Aires to Patagonia and why?  We'd like to know.
Some of the links on this page are affiliate marketing links. If you purchase products through these links I make a small commission at no cost to you.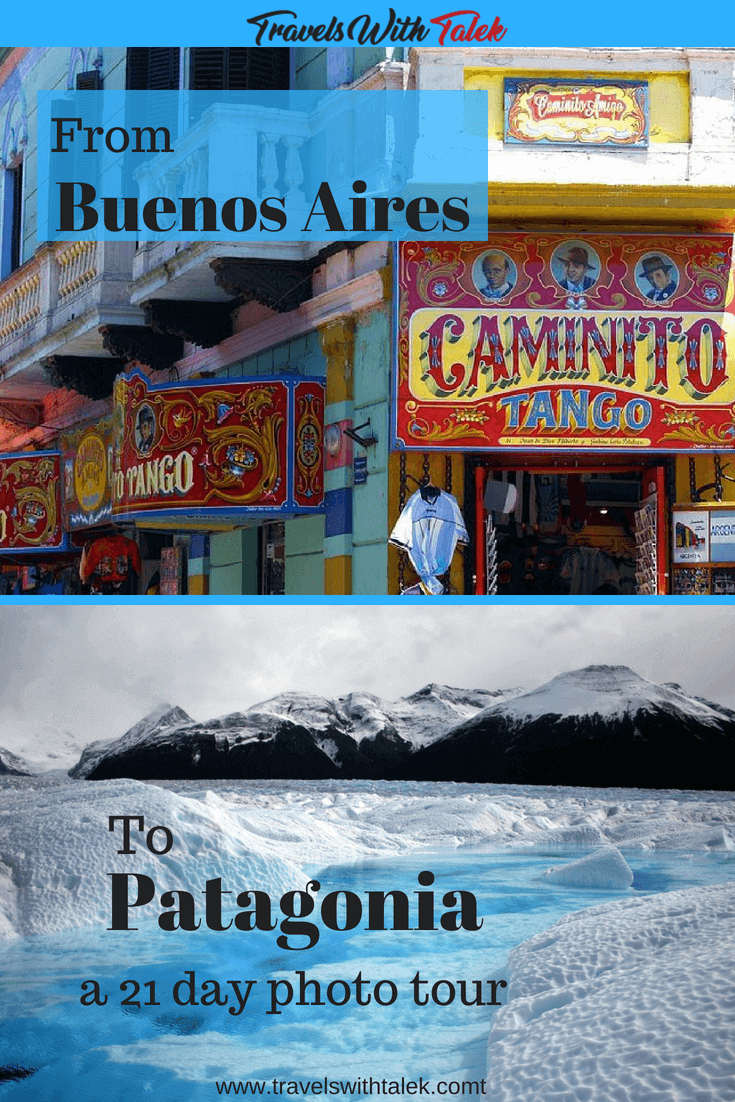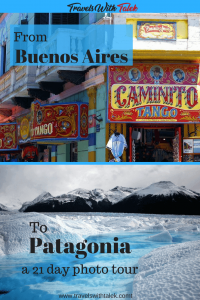 BTW, if you are getting ready for your trip, make sure to take advantage of these useful, money-saving links to book your trip:
I personally use, and can recommend, all the companies listed here and elsewhere on my blog. By booking through these sites, the small commission we earn – at no cost to you – helps us maintain this site so we can continue to offer our readers valuable travel tips and advice.