Torres del Paine National Park and Puerto Natales are two key attractions in the Chilean Patagonia in the southernmost extremes of South America, an area frequently referred to as "the end of the world."
Torres del Paine National Park
Torres del Paine National Park started its life as a collection of haciendas, or ranches in southern Chile, about three hours flight from the capital of Santiago. The Chilean government bought out the local farmers and ranchers and, little by little, the park grew into the 700 sq mile natural wonderland it is today and makes it a worthy addition to add it to your Chile bucket list.
Despite being compensated for the loss of their land; the local farmers still sneak their animals into the national park to graze. As a result, travelers are likely to see a herd of horses stamped outside the cabin window or navigate a herd of sheep on the way to breakfast.  Torres del Paine, "blue mountains" in the local native language, is nature at its rawest and most beautiful.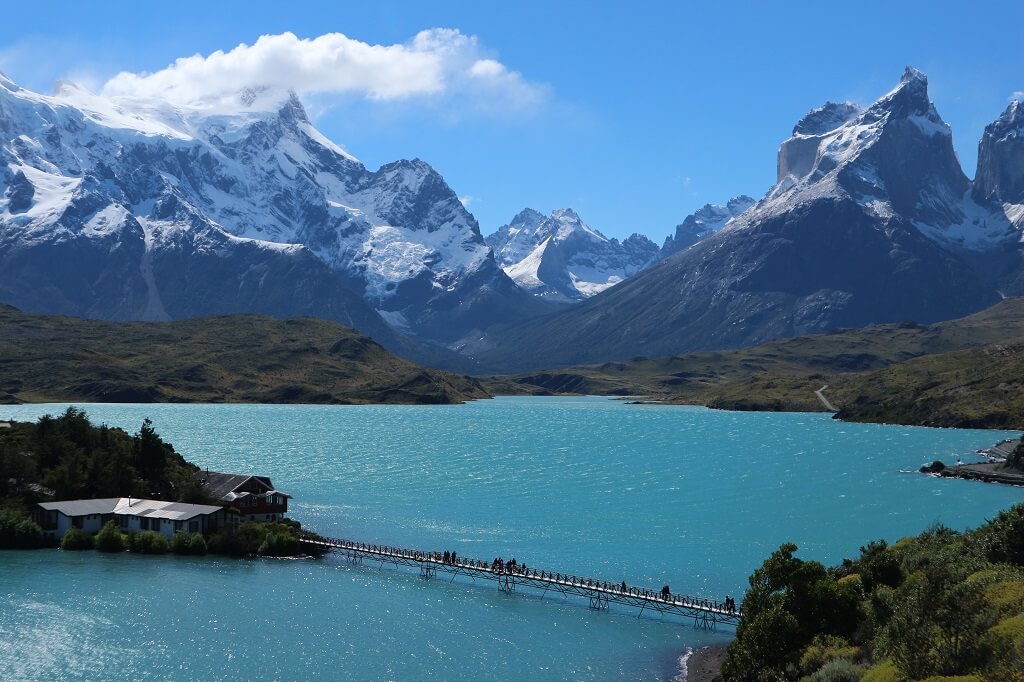 The Torres del Paine National Park and Puerto Natales are so close together and each has such different and special charms that they are worth exploring on the same trip.  The most common way to get to the park is from the town of Puerto Natales, about 50 miles to the northwest of Torres del Paine.
There are three bus companies; Buses Gomez, JP and Maria Jose servicing that route leaving in the mornings and afternoons.  The round trip cost is about US$25.00.  All buses leave from the town bus station in Avenida Espana. The park is such a magnet for hikers and nature lovers that Puerto Natales is frequently overlooked. Big mistake. The best way to enjoy all the charms of Patagonia is to make sure you visit Torres del Paine National Park and Puerto Natales.
Puerto Natales
Puerto Natales is a cute, pleasant, outpost type of town similar to what you would find in parts of Alaska or the Pacific Northwest. It is the capital of Chile's Ultima Esperanza (Last Hope) province.
The city lies on a wide bay ringed by a park decorated with whimsical sculptures. In the evenings the leafy central plaza is filled with Nataleños riding go-carts, singing rap and strolling hand in hand.
Puerto Natales has an interesting backstory. With the spectacular natural attractions in the area such as Torres del Paine, Glaciares National Park, Perito Moreno and Patagonia in general, travelers would just stop in Puerto Natales overnight and quickly move on. Sensing an opportunity, the merchants and officials of Puerto Natales met to discuss how they could capitalize on the town's position as the kick-off point to a Torres del Paine National Park adventure and hold on to transient travelers and their tourist dollars for at least one more day. But what to offer?
Puerto Natales cuisine
The city had no significant historic attractions, no great natural beauty, no notable culture havens. Finally, the city hit on an idea. It would become the city where people went for exceptional local cuisine! Puerto Natales has audaciously designated itself as a gastronomic hub, and they do a pretty good job of it. With a surprisingly large number of good restaurants for a remote town of 15,000 people, Puerto Natales now successfully tempts visitors to stay a while longer to sample reasonably-priced, tasty, authentic fare, impeccably served in inviting restaurants.
To emphasize the point, the city advertises a gastro-route, similar to the wine routes common in wine producing areas, where travelers can follow a map to the city's best restaurants serving local dishes as well as international cuisine. Exceptional restaurants in town serving local and international cuisine include El Bote, La Ultima Esperanza and Asador Patagonico.
We stopped in Puerto Natales going to and coming from Torres del Paine. Each night it was a challenge to select from the many appealing restaurant options. So, spunky little Puerto Natales has succeeded in enticing visitors to stay awhile and ensure that their visit is not just to the park but to a Torres del Paine National Park and Puerto Natales combo.
For years, I never knowingly went on a holiday. When I traveled, it was for work. Now I am a huge advocate, particularly to places which have amazing wildlife, such as Antarctica, India and Patagonia. Miranda Richardson
Click To Tweet
Where to stay in Torres del Paine National Park and Puerto Natales
Options for accommodations in Torres del Paine National Park are to stay in Puerto Natales and drive or take a bus one and a half hours to the park each day. Rr to stay in the park itself. Accommodations in Puerto Natales are plentiful and in all price ranges.  Accommodations in Torres del Paine National Park are less but pretty cool as you are in the park itself which is spectacular. 
Tours to the park can be booked in Puerto Natales or through various websites including one of my favorites here.   Tours range anywhere from a basic US$65 for a few hours tour to upwards of a thousand dollars for a multi-day trek.
Check out these books to begin familiarizing yourself with the area.
The big draw in the National Park is the hike up to the three towers or pillars of stone that rise above the park. The main trek is called the "W" due to its shape. There are several other treks with varying degrees of difficulty; all with major "wow" appeal.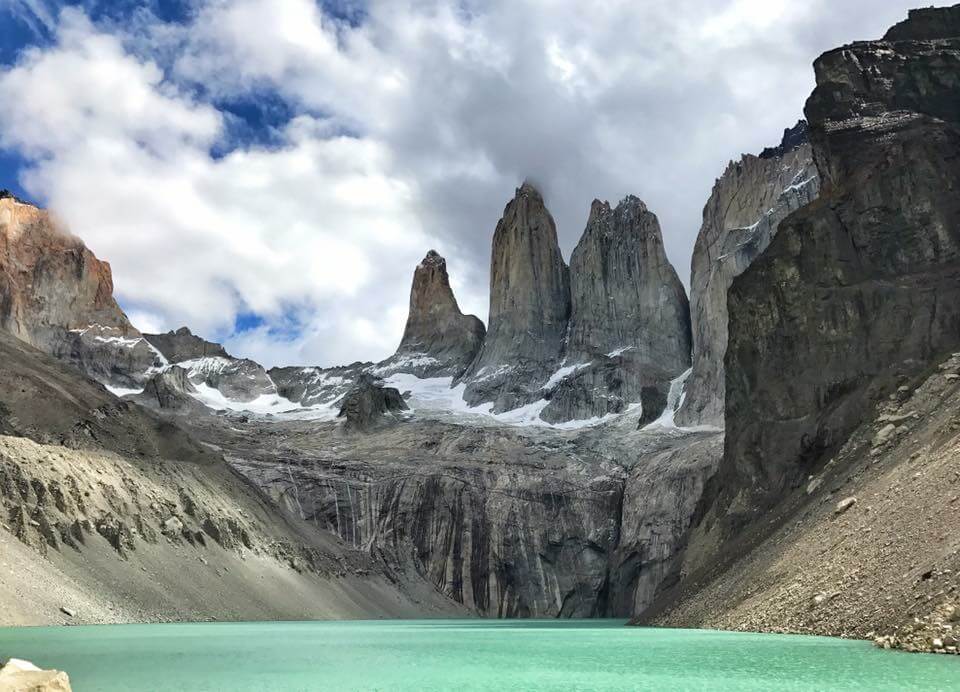 The park's vistas are stunning and encompass rivers pouring into churning waterfalls, forests, glaciers and vast pampas. The Cordillera del Paine, a small mountain range is the centerpiece of the park. The mountains cast a reflection on the many lakes creating stunning views.
He who does not know the Chilean forests does not know the planet." Pablo Neruda
Click To Tweet
The Torres del Paine National Park and the surrounding area is home to Guanacos, a common sight. Guanacos live in large groups and are related to camels and are similar to llamas and alpacas. Guanacos are wild animals and, unlike their cousins the llamas and alpacas, they cannot be domesticated.  Although they were once hunted for their warm coats, these beautiful animals are now protected by law.
There are lots of ways you can maximize your Patagonian adventure by combining Torres del Paine National Park and Puerto Natales into the perfect trip. If you prefer a scenic drive in southern Chile, you can take a Carretera Austral road trip.
If you enjoyed this post, here are more post on the area.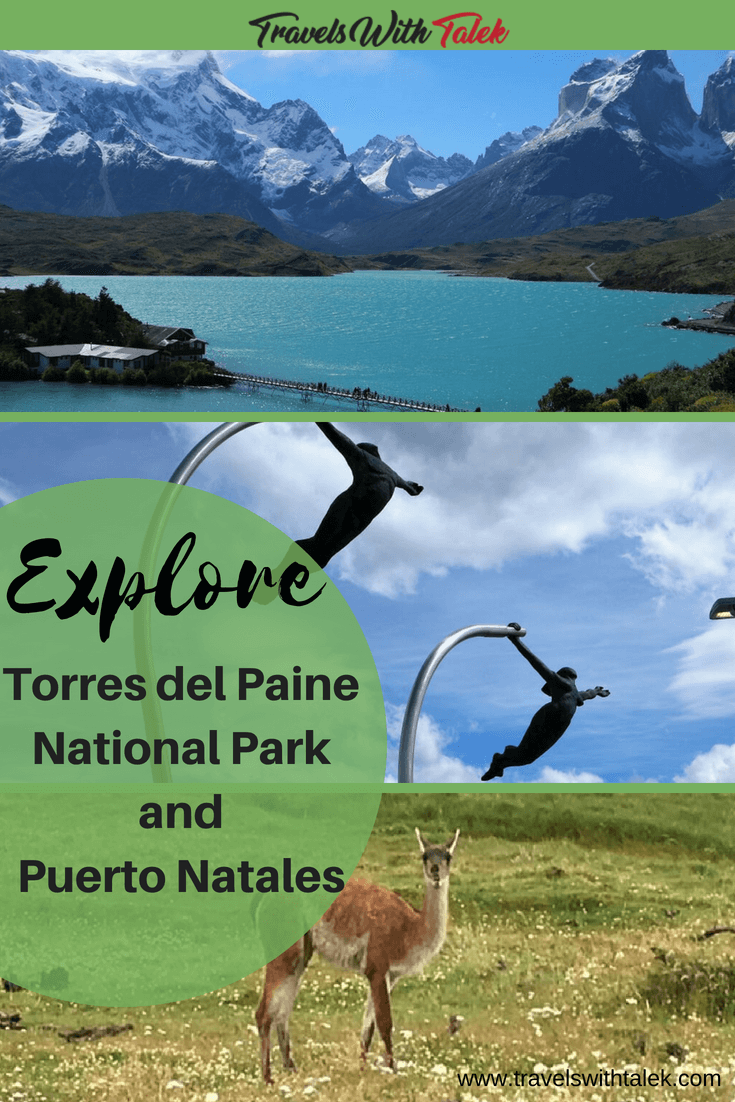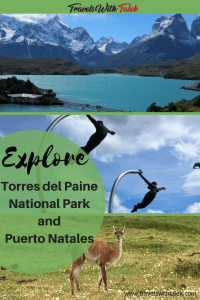 BTW, if you are getting ready for your trip, make sure to take advantage of these useful, money-saving links to book your trip:
I personally use, and can recommend, all the companies listed here and elsewhere on my blog. By booking through these sites, the small commission we earn – at no cost to you – helps us maintain this site so we can continue to offer our readers valuable travel tips and advice.