People have often asked me what are some travel items I can't live without, so here are the things that I always pack, no matter what.
My Top 15 Travel Items
I love anything from the PacSafe brand. They don't make items that can also be used for traveling, and they make travel items that can also be used at other times, like for work or casual outings. In 2008 I bought a PacSafe bag for work.  It had to be sturdy to carry my computer and other electronics, files, and other items. It had to be theft-proof. It had to be reasonably stylish. The bag I finally purchased from them was exactly what I was looking for.  I used it to death for years.  It was virtually indestructible.
Finally, the bag began to fray.  I tried to replace it with a new one but they had discontinued the model.  I was so used to it that I tried to see if PacSafe could patch it up a bit.  Much to my utter shock, they agreed.  They repaired the minor wear and tear issues and left it looking very close to new.  Now THAT's service.  Since then, I've purchased other models from PacSafe, always with the same positive results.
Lessen your chances of having your purse stolen with this stylish yet sturdy crossbody purse. It has RFID blocking material.  All PacSafe products are made with some weird stainless steel wire mesh – called eXomesh – embedded in the body and strap. There is no way a thief could cut through this material in a crowded train station or street.  Definitely a travel essential for absolute peace of mind!
This bucket bag is my other go-to choice for a travel bag because it also has amazing anti-theft features like RFID blocking material, slash-resistant material, locking compartments, and an LED light.
Most PacSafe products came with straps that can be attached to a stationary item so it cannot be spirited away.  For example, a bag can be attached to a chair you are sitting in at a restaurant. If someone tries to grab it and run they will be very surprised when they try it.
This is one of the most versatile pieces of luggage I've ever used and is one of my top recommendations for travel essentials. You can use it in 8 different ways: a rolling-wheeled carry-on, backpack, duffel bag, backpack, and more. And with bag fees on the rise, it's a great way to save money by using less luggage.  This is a well-thought-out piece of luggage for people that only want a carry-on.
Carry all of your valuable items such as your identification, keys, money, phone, etc. in this lightweight belt (or fanny pack). It's fully adjustable and waterproof.  I like this product because:
I use a money belt when I travel and this one is so slim and well designed that you can barely feel that you are wearing it.  Also, no one else knows you're wearing it which is the whole point of a money belt.
It is waterproof so when you are out running or exploring on a hot day, perspiration won't penetrate the inside resulting in soggy currency bills or a moisture-damaged cell phone. Everything inside remains completely dry.
The zippers are one of those plastic ones that kind of zip closed; no catching on the material like the metal ones!  Yay!
Another purposeful and simple design that works.  Perfect for when you're out and about exploring your new destination.
Like this post? Check out 20 of the Best Travel Accessories for Women for more ideas.
Another one of my favorite travel items is this duffel bag that you can collapse down into almost nothing and store in its own pocket when you're not using it.
We've all been there. We had all the intention of not buying too much on a trip, but you found a couple of things you really, really like. You're not going to buy another bag to pack it in and it won't fit in your regular bag no matter how hard you try. Here is your solution.
Coming with its very own storage bag, this lightweight rain jacket is perfect for packing in your suitcase to keep you dry on your next trip. You're always going to need one of these on your travels.  This one is particularly stylish and useful. It doesn't even have to be for rain.  You can also use it as a windbreaker. I also like the compact little bag it folds into.
Every time I tell myself that I don't need an umbrella on a trip, I end up having to purchase one in a rainstorm for twice what I would have paid back home. I'm not doing that anymore.  Just pack a small, wind-proof, compact umbrella like this one and leave it in your bag when you return home. Don't unpack it. It'll be your "travel umbrella."
At some point, this is going to save you money and keep you from getting drenched on a trip.
This small but mighty umbrella stands up to wind and sun and folds down to 13″ when not in use. One button expands and collapses it for easy use. It also has plenty of colors to choose from to match your sense of style.
Anyone of the e-readers is a good substitute for lugging around pounds of books. What I especially like about the paperwhite is that you can read in a dark area like a bedroom or train travel compartment. With a backlight and a high-resolution e-ink screen, the now waterproof Kindle Paperwhite will be your new best friend.
For the men in your life who love to travel, be sure to check out 20 Travel Essentials for Men Who Love to Travel.
Big enough to watch a movie on, but small enough to put in your carry-on, the Kindle Fire HD8 is a smart purchase for anyone who can't go without their favorite TV shows, movies, Audible books, and even e-books when traveling.
When you sign up, you get 1 audiobook and 2 Audible Originals each month. Exchanges are easy, and you can swap out any audiobook you don't like. Just download the Audible app, put on your headphones, and escape into your next adventure while on your next long-haul flight.
I especially like using this product when I'm exercising. Sometimes I can barely drag myself to a gym or go on a jog. Knowing that I will have a good read while I run makes it easier to get going and pass the time.
Forget corded headphones! These in-ear Bluetooth headphones allow you to listen to your audiobooks, movies, and even take phone calls without being tethered to your device. And having them fit over your ears helps keep them in place, unlike a lot of earbuds out there. 'Nuff said. This is the latest evolution of earphones.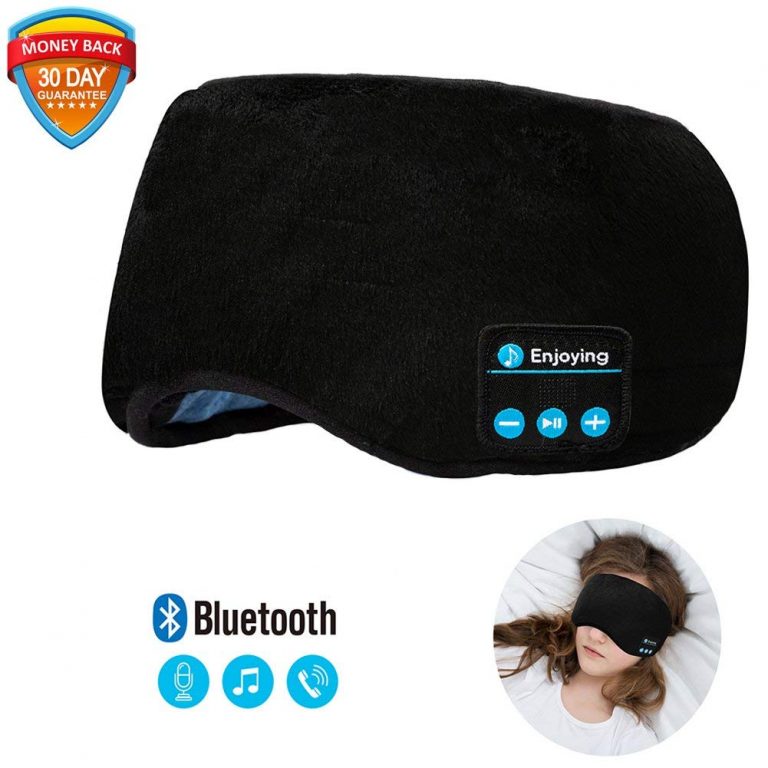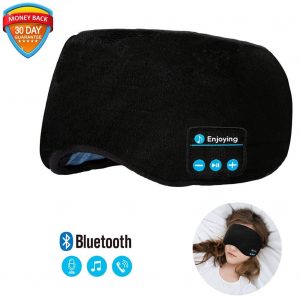 Block out sound AND light with this combination eye mask and Bluetooth headphones. I can't live without these on a long flight and when trying to adjust to the time change and get over jet lag.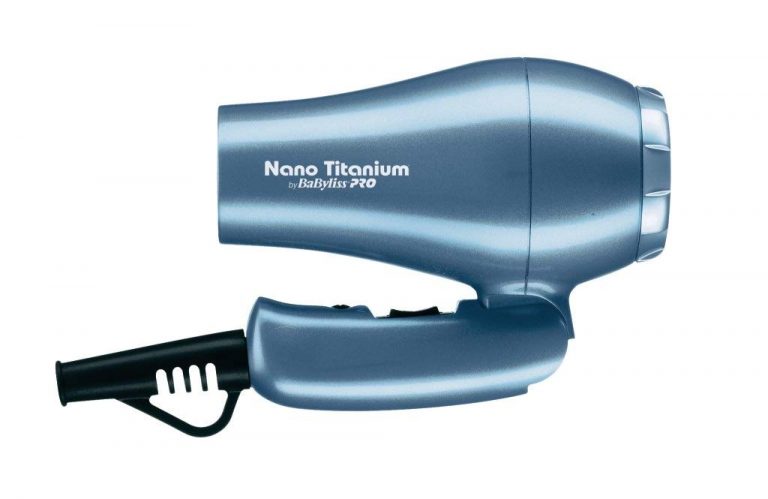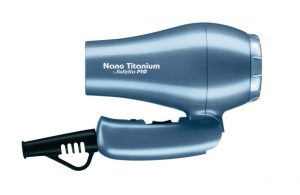 Have you ever played "find the hairdryer" in a hotel room?  Sometimes it's in the closet, sometimes in one of many draws. Sometimes you have to ask housekeeping for one. And once you find the hairdryer it can have so little power that you might as well just leave your hair to air-dry. This little compact creature has the perfect power for drying and is so small that it barely takes up any space.
This lighted magnifying mirror is also a travel essential. When folded, it's compact and protected from getting scratched from other items in my suitcase. The lights are more than adequate, and you can recharge it via a USB port. No batteries required!  Great for applying makeup in dimly lit rooms.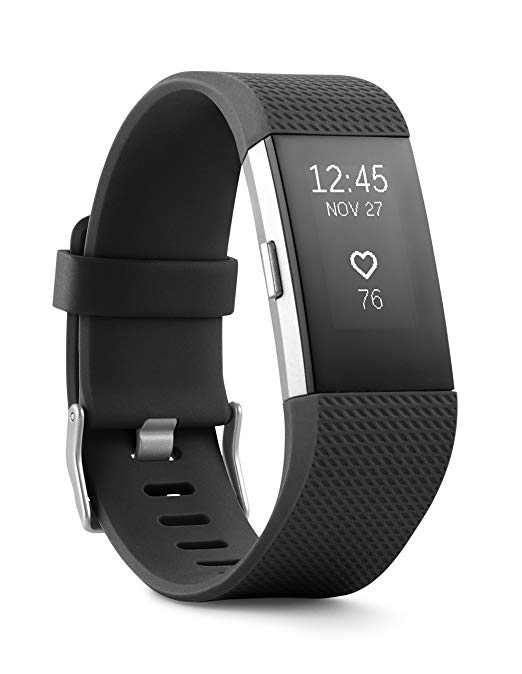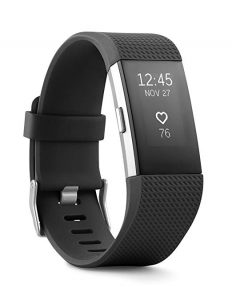 Ever wonder how much you walk when you travel? This is something I like keeping track of, and this version of the FitBit is my favorite. It forces me to try and walk more because I see the distance I cover in a day then try to beat my personal best.  It's a nice little motivator while traveling.  It comes in a few different colors as well as small and large sizes.
So what are some of your favorite travel items? Tell us in the comments below!
If you like this post, you'll also like 30 Best Gifts for Travel Lovers.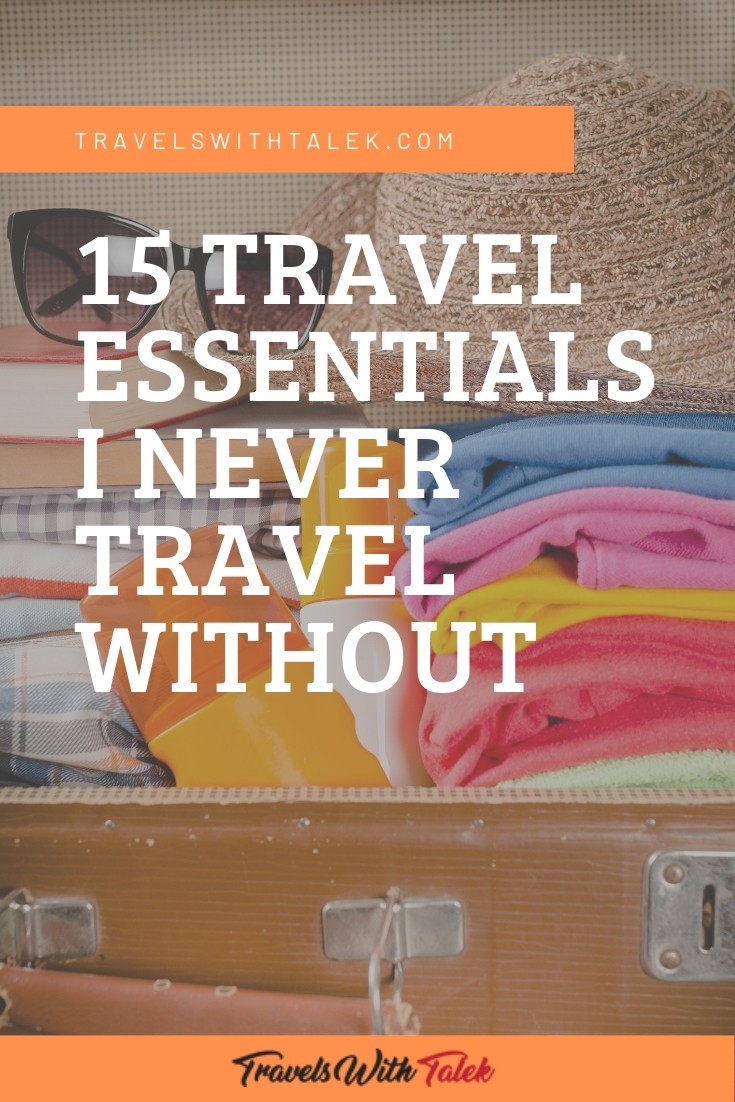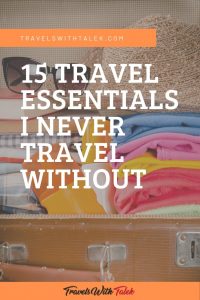 BTW, if you are getting ready for your trip, make sure to take advantage of these useful, money-saving links to book your trip:
I personally use, and can recommend, all the companies listed here and elsewhere on my blog. By booking through these sites, the small commission we earn – at no cost to you – helps us maintain this site so we can continue to offer our readers valuable travel tips and advice.