Updated November, 2021
Looking for the best travel accessories for women? You've come to the right place. We've put together a list of the 20 top travel accessories, from tech to packing to travel fashion.
20 of the Best Travel Accessories for Women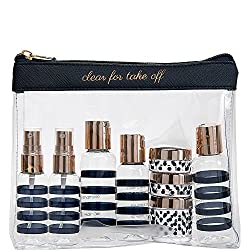 It's a dream come true for those of us who are always cold on flights, and the airline blankets just won't cut it. Besides, it's super stylish and can be worn out and about on your trip.
I don't know about you, but electronics sure make up a good-sized portion of what I take with me when I travel. Here's a nice, compact way to keep all of your items organized and in one place.
Next on our list of the best travel accessories for women is this all-in-one travel power adapter. Gone are the kits that overflow with every size adapter you can think of. Take this compact and cute adapter, which also includes USB ports for charging those electronics.
Take along your favorite shampoos, conditioners, creams, and styling products with these refillable silicone travel bottles set.
Going somewhere for the weekend? Here's a super cute weekender bag with a clever trolley handle to make it easy to stack on top of your carry-on suitcase.
No more clunky razor kits! This compact Venus razor by Gillette is perfect to take on your next trip.
Keep your jewelry organized in this compact jewelry box, perfect for travel.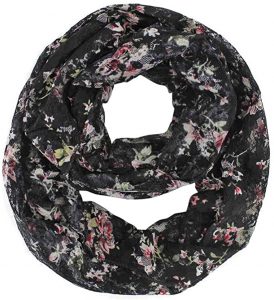 We couldn't have a list of the best travel accessories for women without mentioning this infinity scarf with hidden pockets. It comes in a variety of colors, so you can mix and match with your daily outfits.
Hate having to buy travel-sized toiletries? Then this is for you! There is an assortment of face and body care, hair care, and oral care products along with a cute bag.
Keep your suitcases organized with packing cubes. With many colors and patterns to choose from, there's something that's bound to strike your fancy.
Stay hydrated with this foldable silicone water bottle. Just roll it up when you're not using it!
Keep your travel-sized shampoo, cleansers, moisturizers and the like organized with this hanging toiletry bag. It comes in a variety of colors and patterns to go with your sense of style.
Conquer wrinkled clothing with this top-rated clothes steamer. It's so compact that it hardly takes up space, and may possibly save your clothes from less-than-trustworthy hotel irons.
The chic and flattering SCOTTeVEST Chloe Hoodie has 14 pockets to keep your essentials organized and secure when you travel and is one of our favorite travel accessories for women.
Be safe on your travels with this personal safety alarm pack. With an ear-piercing alarm, you can let people know if you're hurt or if you're the victim of a mugging.
Make your luggage stand out with these colorful luggage tags with sturdy steel loops. Your personal identification is kept safe behind the privacy flap.
With three microfiber towels in this amazingly compact set, you'll be ready for whatever adventures await you. They wash easily and dry quickly and are an essential for overseas travel.
Just add a few drops of water, and voila! You have a 100% biodegradable viscose wet wipe to help you freshen up and stay clean wherever there is water available.
Crossbody bags are a great way to keep your personal items easily accessible. This goes one step further and adds RFID protection and is a must for travel gear.
If you liked this post, then you'll enjoy this post:
30 Best Gifts for Travel Lovers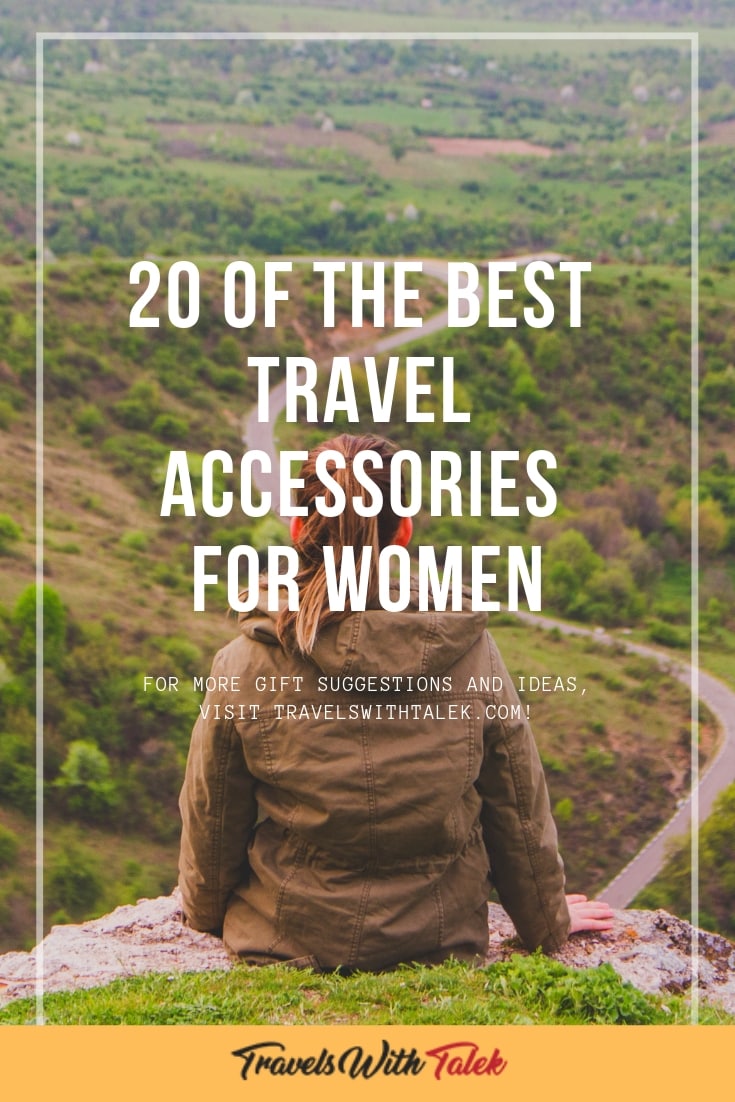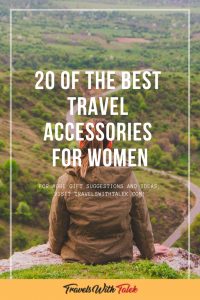 BTW, if you are getting ready for your trip, make sure to take advantage of these useful, money-saving links to book your trip:
I personally use, and can recommend, all the companies listed here and elsewhere on my blog. By booking through these sites, the small commission we earn – at no cost to you – helps us maintain this site so we can continue to offer our readers valuable travel tips and advice.