Updated December 4, 2019
Love wildlife adventures when traveling?  A great place to see wildlife is on the African continent. We asked some fellow travel bloggers what their favorite wildlife adventures in Africa were, and they shared their stories with us.  Read on to discover my African safari animals list and some amazing stories of experiencing lions, whales, and wildebeest, just to name a few.
African Safari Animals List of Wildlife Adventures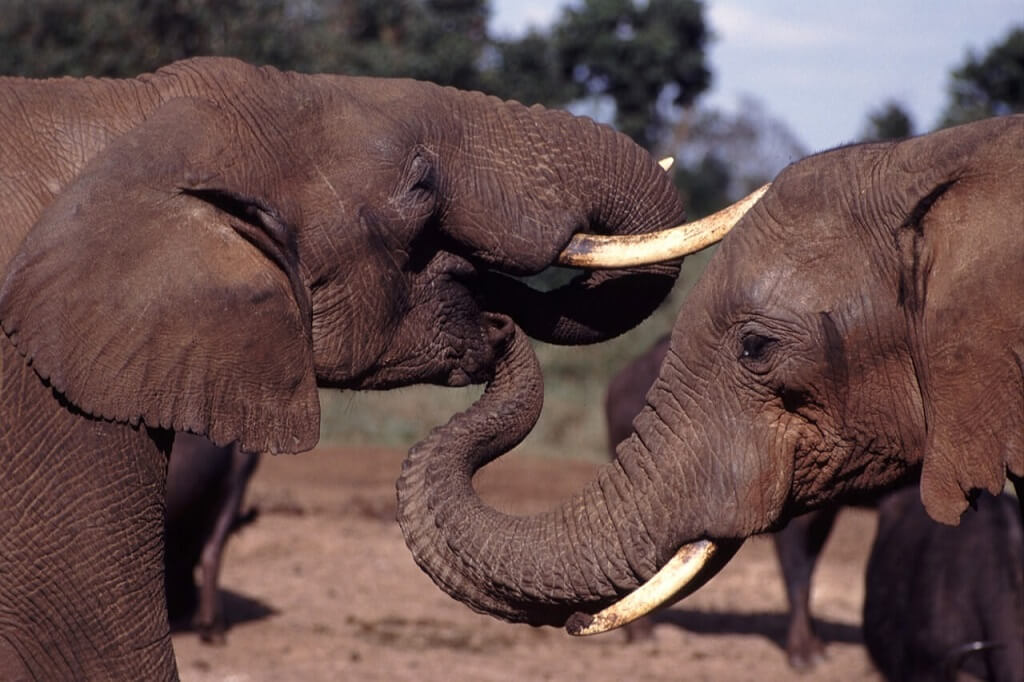 I believe sustainable use is the greatest propaganda in wildlife conservation at the moment. - Steve Irwin Click To Tweet
Hermanus, South Africa
The first animal on this African safari animals list is actually five. A marine big five expedition is a safari that belongs on every ocean lover's bucket list. The famous African Big Five is the lion, leopard, buffalo, rhino and elephant. The Marine Big Five: the great white shark, whales, seal, dolphin and African Penguin is less well known. The biggest animals on the planet, whales, are on top of the list. The town Hermanus, 2 hours drive from Cape Town in South Africa, is often referred to as the whale watching capital of the world with three whale species commonly seen on these expeditions: Southern Right, Brides, and Humpback Whales.
The Southern Right Whale is the most common in the area and the star of whale tourism here, they can be identified by the callosities on its head, and lack of a dorsal fin on its back. Adult whales are between 14-16m in length and can weigh between 40-60 tonnes. These whales migrate from the Antarctic around June, then calve and mate in August and September. They are found along the coastlines in South Africa between July and December. During the peak season in October, these impressive mammals can even be seen from shore and when the whale crier blows his horn scores of tourists flock to the cliffs to see the whales below.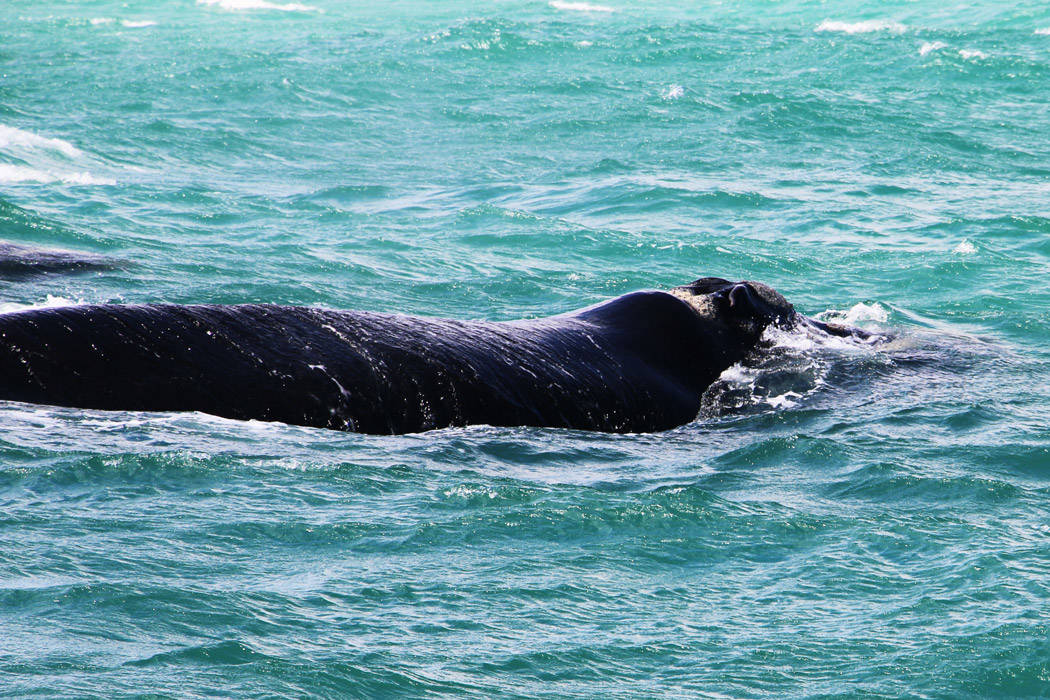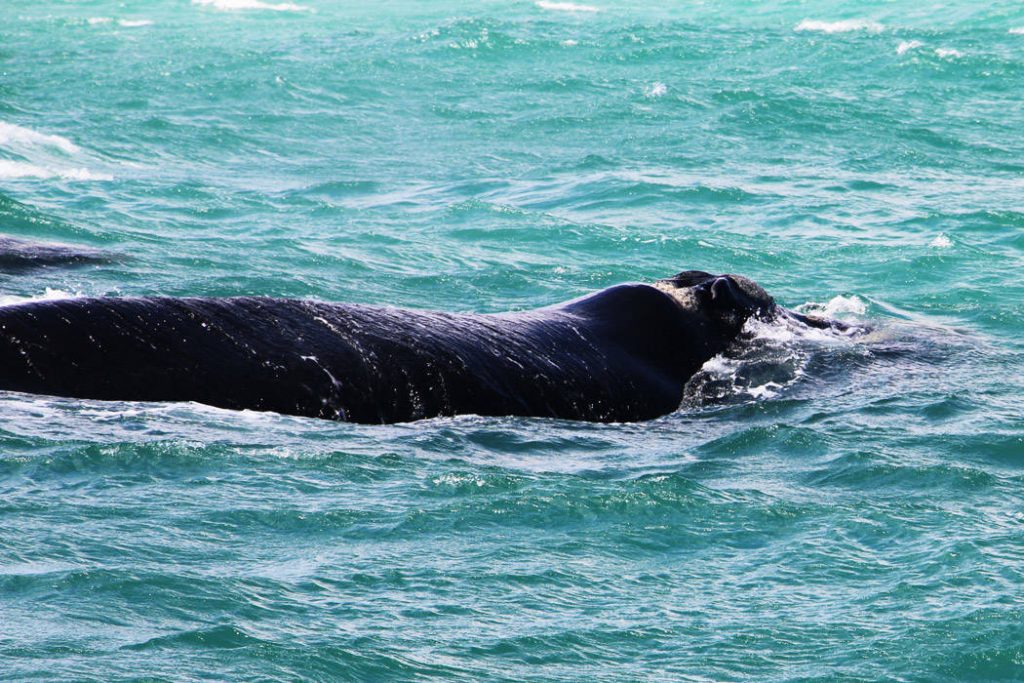 Campbell Louw blogs at Stingy Nomads.
Ngorongoro Crater, Tanzania
The second spot on our African safari animals list goes to the majestic lion. This was to be one of the wildlife adventures of a lifetime. However, I didn't know at that time that I would have left my job in a few years and travel full time. So this trip was it. My best trip ever. Six weeks in Tanzania. A fortnight in the savanna watching the beautiful animals and 4 weeks volunteering which eventually became 3 weeks as I decided to hike the Kilimanjaro as well.
The highlight of the wildlife portion of the trip was definitely the Ngorongoro Crater. I have never seen so many lions and hippos and elephants at the same time, besides the beauties of the dry vegetation. A flat carpet of multiple shades of greens and yellows. The lions could easily camouflage in the vast savanna but as we were driving along a dry meadow here they are.  Three males and one female could be seen. Two of the males were at a certain distance while the other male lion, who must have been the leader of the pride, and the female were starting the mating rituals. It was amazing to watch and learn, a gift from nature to be able to witness it.
The continued existence of wildlife and wilderness is important to the quality of life of humans. - Jim Fowler
Click To Tweet
I felt like a bit of an intruder invading their intimacy. Silly thoughts, I know. Actually I felt like an intruder the entire trip, like I was invading their natural environment, their home. I was not supposed to be there. So I tried to keep silent and pay respect to this blissful moment when Mother Nature was at work. I was hoping they would keep reproducing and live freely in their environment without people bothering them or, even worse to take them to stupid zoo. Soon, other cars would stop by to watch the natural show. Silly girls kept laughing and shouting. No matter how we told them to be quiet, they didn't understand why and went even louder. Silly human beings. We need to learn a lot from the animal planet.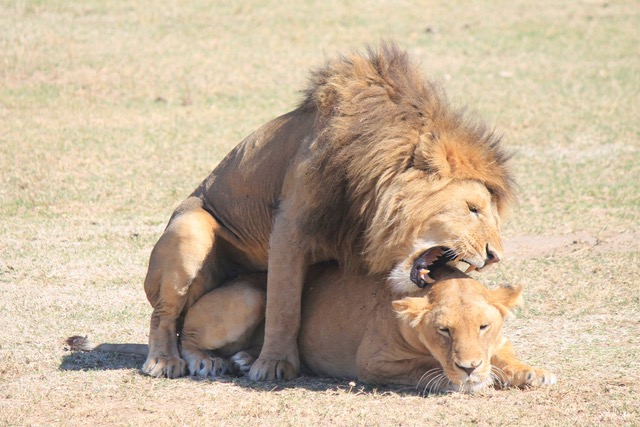 Isabella Biava blogs at Boundless Roads.
Cape Fur Seals in Namibia
The third animal on our African safari animals list brought us to Namibia. Our travels through Namibia formed the last chapter of a four-month trip traversing sub-Saharan Africa in a Land Rover and our two boys (then aged 2 and 4). We saw plenty of wild animals on our safari drives through National Parks, although Namibia also offered something a little different.
On the West coast of Namibia, a 1.5-hour drive north of Swakopmund, lies Cape Cross Seal Reserve. Here, more than 100,000 Cape fur seals and their pups come to bathe on the shoreline of the Atlantic Ocean and feed on the rich concentrations of fish in the cold Benguela Current, making it one of the largest seal colonies in the world. A wooden boardwalk allows you to wander amongst a small section of a seemingly endless stretch of seals draped over rocks (and each other) or playing in the surf. You are literally inches away from these characterful seals, who seem to constantly argue over space, and you'll find some wriggling under the boardwalk. The constant chatter with each other is rather loud, but just be prepared for the overwhelming smell of seal poo; you may want to wear a bandana over your nose and mouth! This encounter is a must-see in Namibia and certainly gets our seal of approval.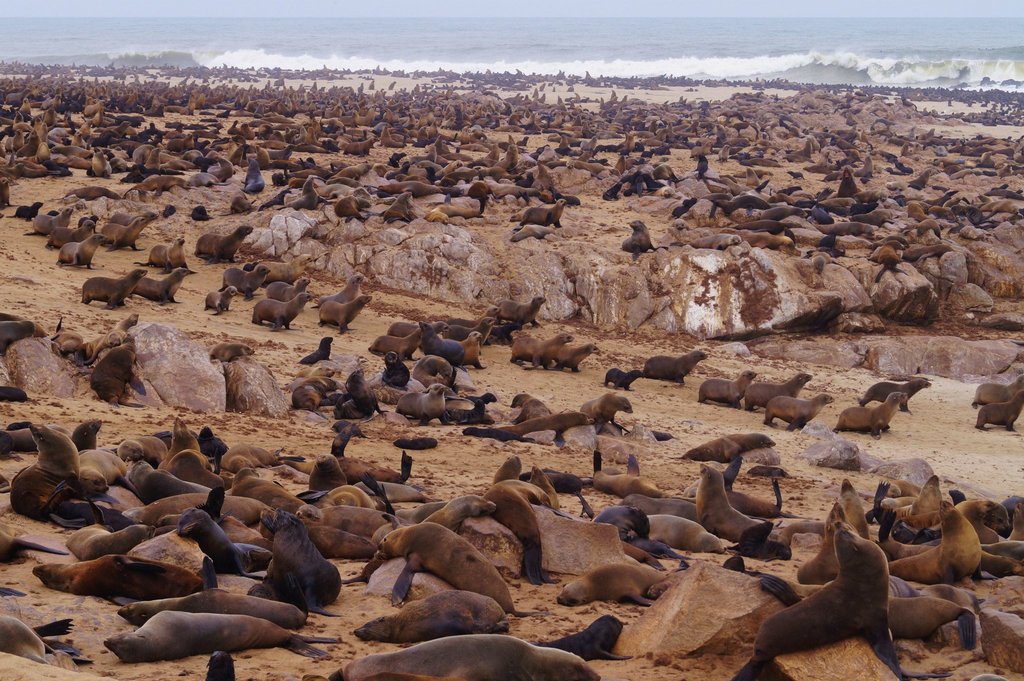 You can read more of TraveLynn's adventures at TraveLynn Family.
Wild Dogs in Okavango Delta, Botswana
Wild dogs are one of the most endangered species in the world, so we just had to include them on this African safari animals list. They have fallen victims of poaching, of hunting, of diseases and of local shepherds who kill them by the bunch whenever they trespass their land and threaten their animals. Wild dogs can be seen in Sub-Saharan Africa (especially Botswana and Namibia) but, truth be told, it is incredibly difficult to come across these fierce predators, famous for managing to keep their speed when running after a prey and for eating the prey alive while it is still running.
Wild dogs live in small groups, typically a male and a female that mate, and an extra male that hangs around, plus whatever puppies there may be.
One of the few places where wildlife can be spotted is Nxabega Game Reserve, in the Okavango Delta region of Botswana. It takes a lot of patience looking for them, and teamwork among various safari guides who typically radio message their colleagues whenever they have come across an incredible spotting. In other countries, these animals have been tagged for research and protection purposes. I was lucky enough to spot 3 beautiful wild dogs during my safari in Botswana.
Plans to protect air and water, wilderness and wildlife are in fact plans to protect man. - Stewart Udall
Click To Tweet
It was my very last day in the country, and the group was setting to go to the airstrip to catch a plane to Maun airport, when a ranger called our guide to let him know that he spotted some wild dogs and gave him the exact location of the sighting. We rushed there and got to spend some good time observing these beautiful animals as they rested in the shade before we went to catch our flight. This was one of our favorite wildlife adventures.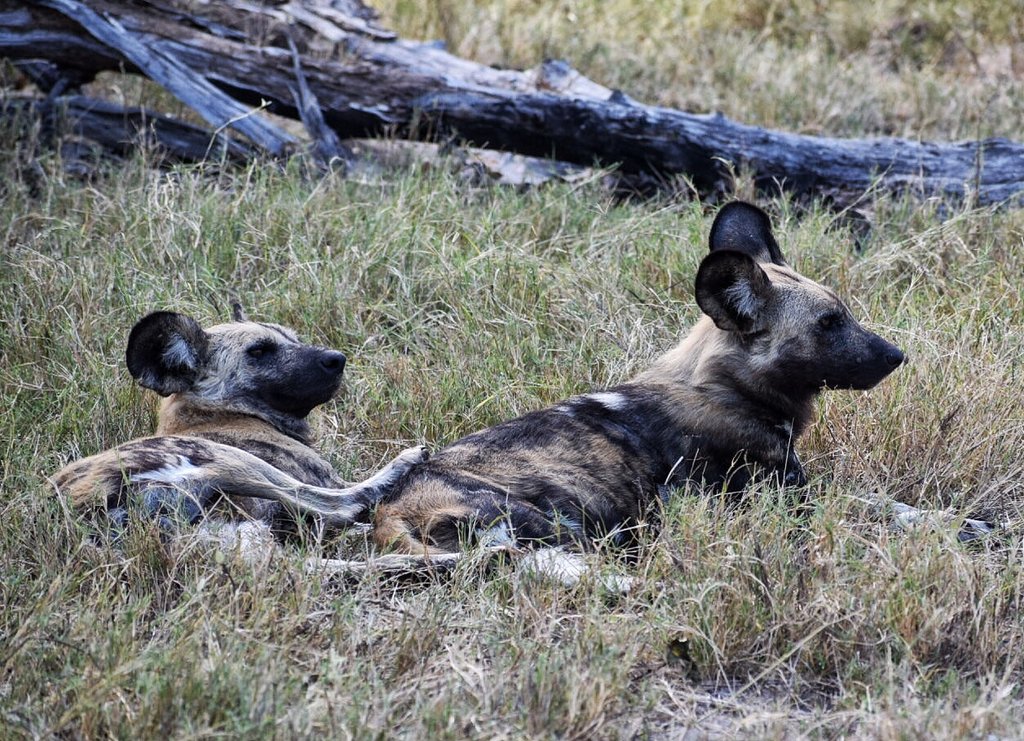 Claudia Tavani blogs at My Adventures Across the World.
The Masai Mara Great Migration, Kenya
The next spot on our african safari animals list goes to several packs of animals. As the plains in Serengeti dry out, the animals spend the summer and early fall in Masai Mara before heading south again in the fall to repeat the cycle. The scale of this event and the encounters between predator and prey, offer an extraordinary and an amazing wildlife spectacle. We had the opportunity to see the animals in the wild and the awe-inspiring migration during our visit to East Africa this summer.
The Masai Mara Great Migration is the largest mass movement of land mammals on earth, when more than a million wildebeest, along with thousands of zebra, topi and gazelle, stalked by predators like big cats, vultures and hyenas circle through the Serengeti plains in Tanzania and Masai Mara Reserve in Kenya. The Mara River crossing is the hardest part of their journey, a life-or-death situation since there are vicious Nile crocodiles and territorial hippos is the river waiting to attack. Hippos are herbivores but we saw one feeding on the zebra that fell prey to the crocodiles.
We saw thousands of zebras cross the river and watched in horror, as a severely wounded yet brave zebra walk slowly across the other side followed by hyenas. We were lucky to witness hundreds, maybe thousands of wildebeests waiting on the riverbank in masses before the first ones made the daring leap. It was a bumpy two hour drive each way to the river but worth every bit. We stopped en-route for a picnic in a field filled with wildebeests. Masai Mara Great Migration is definitely one of the greatest wildlife shows on earth and one of the best wildlife adventures.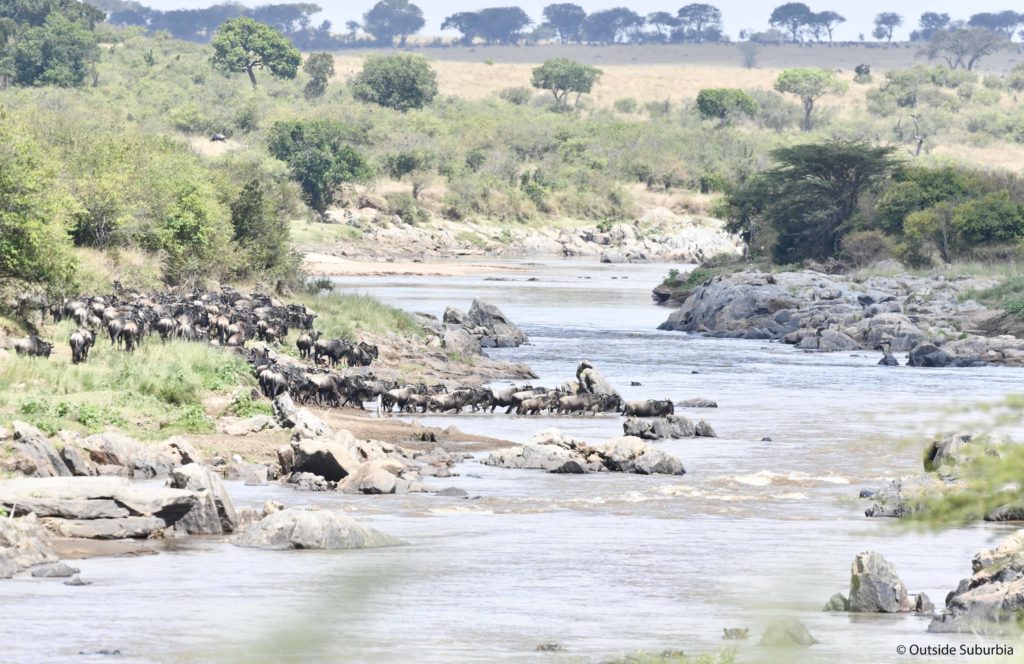 Priya Vin blogs at Outside Suburbia.
Seeing Chimpanzees in Uganda
Uganda is home to an astounding number of primates, which we could never omit on this African safari animals list. And we got the opportunity to go chimp trekking in not one but two locations – Kibale National Forest and Kyambura Gorge. While Uganda is known as the home of gorillas, chimp trekking shouldn't be overlooked and is a completely different experience!  The chimps are loud, confident and aggressive, while gorillas are calm and passive.
As you walk through the forest to see the chimps, you will be surprised as the forest comes alive with their calls. We found ourselves running through the forest to keep up with group as they swung through the trees until they finally made their way into the forest floor. Though you are told to stay a regulated distance away, we found the animals constantly strayed into our territory. It is truly a wildlife adventure experience like no other.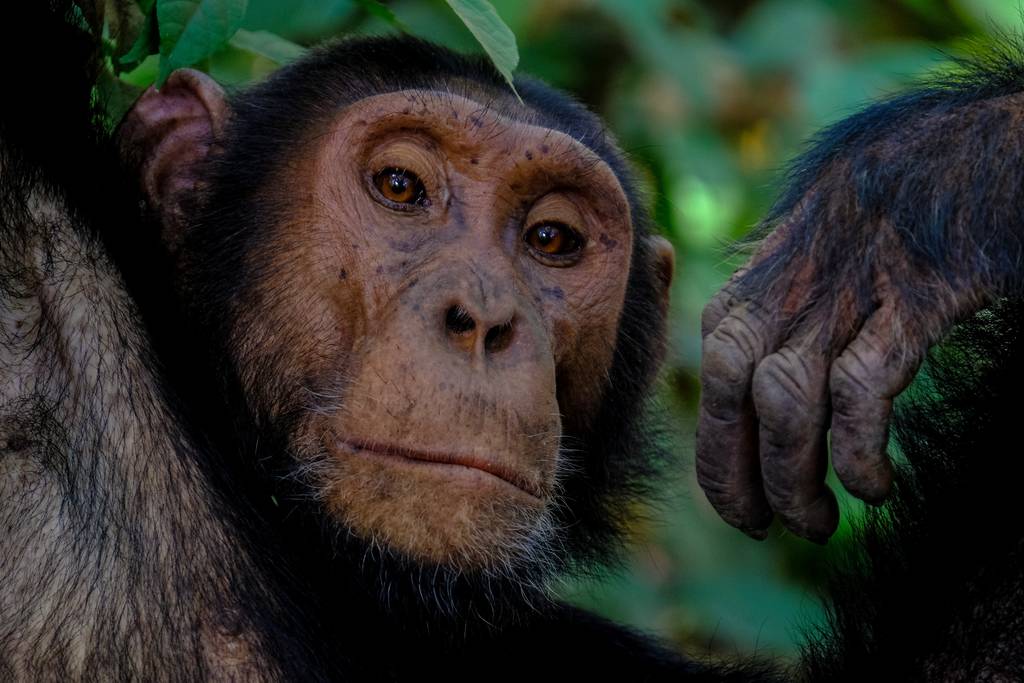 Read the complete adventure at Wandermust Family.
Serengeti National Park, Tanzania
The Serengeti is home to several exotic wonders on this African safari animals list. A trip to Tanzania is incomplete without going on a safari. With many national parks to choose from, consider Serengeti National Park. Serengeti is a vast, flat plain where you can drive around for hours and see an array of animals from giraffes, elephants, gazelles, and more. The area is known for the year-round "Great Migration" of thousands of wildebeests and zebras moving throughout the park.
On the second day of our safari, we encountered a group of lions who finished breakfast and decided to block the road. Some lounged in the middle of the road, while others took advantage of the shade behind several of the Jeeps. Several female lions needed a stretch break and walked next to the dozen Jeeps in the area. They were quite the celebrity as everyone snapped photos and recorded videos of them. It was incredible to see them brush up against our vehicle. They were very close at only an arm length away! We weren't scared and loved seeing the lions in their natural habitat. As we departed to the next destination, the male lion dragged a part of their breakfast in front of us as a parting gift. Although we didn't accept the gift, seeing the beautiful lions was a memorable way to start the day!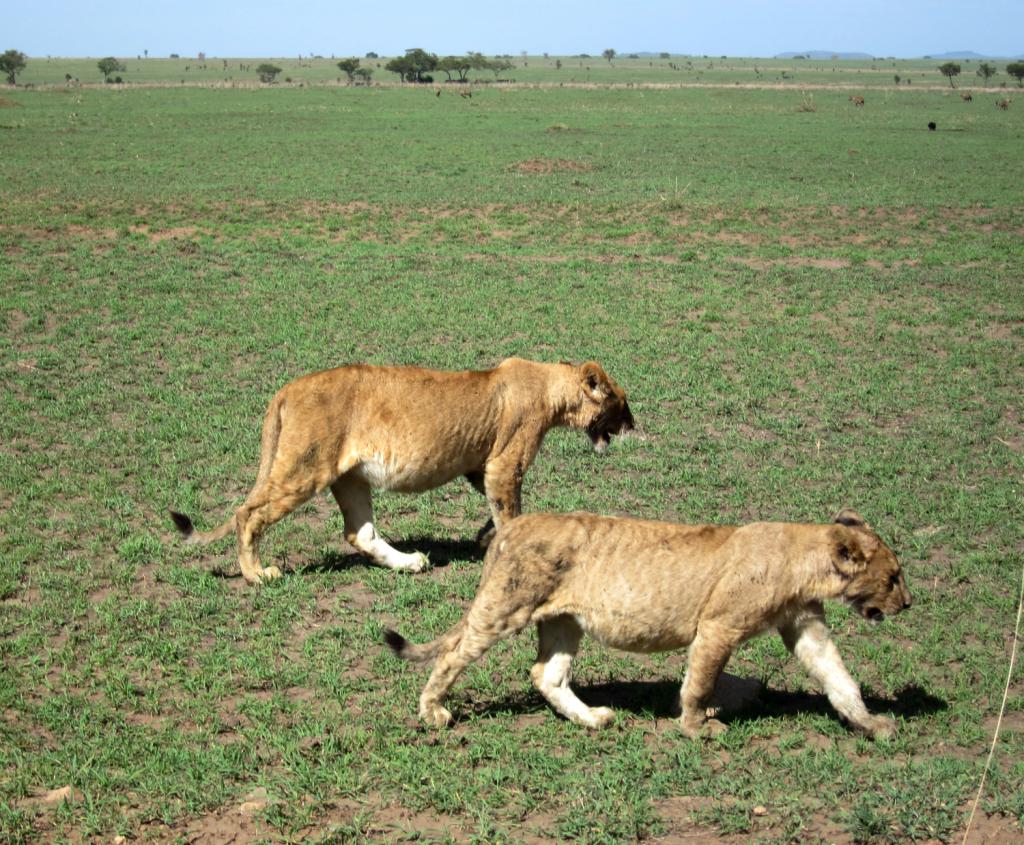 Jackie Szeto & Justin Huynh blog at Life Of Doing.
A Safari on Chobe River, Botswana
While perhaps not as well-known as Tanzania and Kenya, Botswana is one of the best safari destinations in Africa. With nearly one-third of the country's geography protected for wildlife, it is the perfect place for wildlife adventures.
One of my most memorable experiences on our Botswana safari was taking a boat cruise on the Chobe River. The river forms the northern border of Chobe National Park, an area renowned for having the largest concentration of elephants in Africa.
As we travelled along the river we spotted African dart birds, fish eagles and crocodiles sunning themselves in the late afternoon sun. Pods of hippos watched us silently from the depths of the river, popping up occasionally to observe us as we floated by. Water buffalo grazed on the islands peppered along the river.
But it was the elephants that stole the show that day — and they take the next spot in this African safari animals list. As we drifted silently along, we spotted a large herd making their way to the riverbank. The elephants waded into the river metres from our boat. We watched in awe as dozens of elephants, both young and old, frolicked effortlessly in the water. Some fed on reeds from the river. Two young elephants played a game of what we can only describe as "who can hold the other underwater the longest!" Being so close and observing them in their natural environment was simply incredible. We had many amazing wildlife encounters in Botswana, but seeing the elephants in the Chobe River was a perfect moment.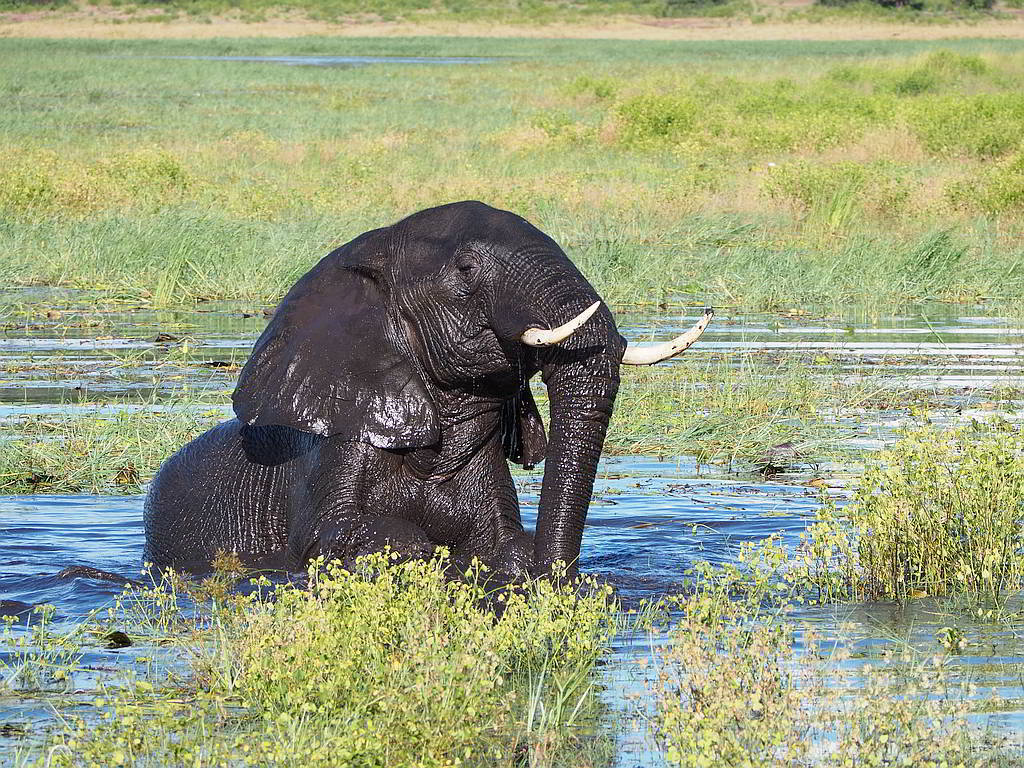 Rachel blogs at Adventure and Sunshine.
A Safari in Kenya/African Safari Animals List
A safari had been on my bucket list for a while, and it certainly lived up to my expectations. Starting in Nairobi, Kenya, our brilliant guide took us on a tour of several game parks, including an ark, where you can watch animals at night. The safaris take place early morning or late afternoon when the animals are most active. This makes for long days, and the less than smooth roads between places mean sleeping on the journey is probably not going to be possible. Our guide referred to the jolting we got as we drove between places as a "Kenyan massage"!
>We were lucky enough to see all the big five – lion, leopard, rhinoceros, elephant and buffalo, as well as giraffes, zebras, monkeys, dik-diks, hippos and more. Thanks to our guide's amazing vision, we even saw reptiles that on full zoom were quite small. How he spotted them, we weren't quite sure. The most amazing part of the trip was a dawn hot-air balloon ride. The driver somehow navigated through the brush to get us to the take-off point and off we sailed into the dawn light. We soared silently over the plains. Seeing giraffes and lions below us was a magical experience, so we had to include them in this African safari animals list.
We ended with breakfast right where we landed – in the middle of the plain. The final highlight was crossing the equator where standing on the exact point on the planet between the poles was a cool thing to do.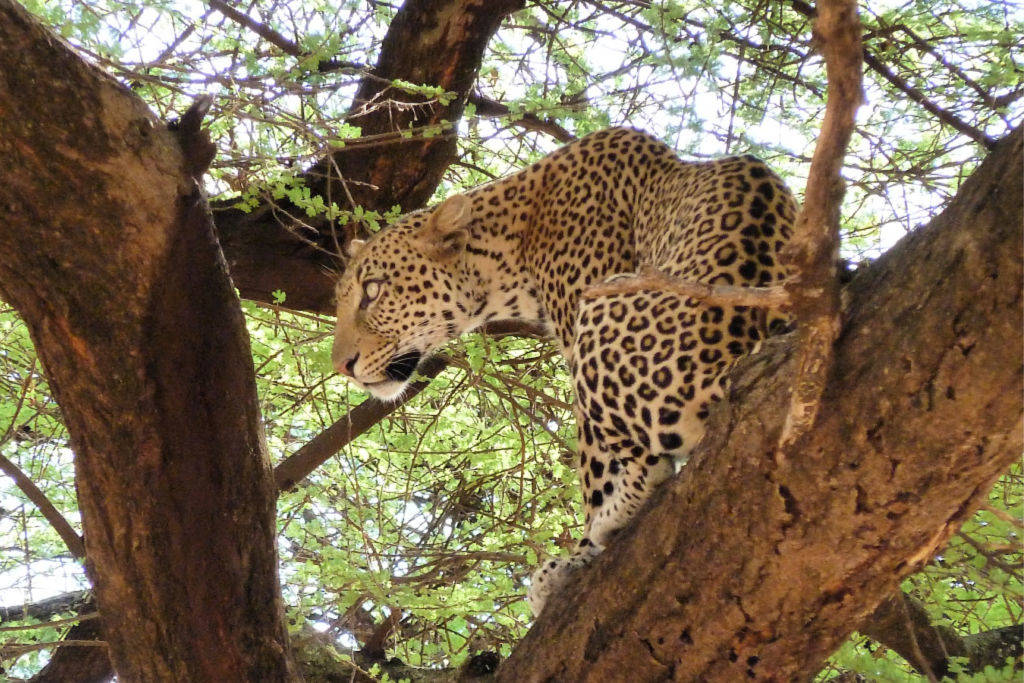 Lee and Stacey blog at One Trip at a Time.
Silverback Gorillas in Rwanda
The final spot in this African safari animals list goes to the silverback gorilla. "Don't run in Africa" They'd told me… I hadn't taken this comment to heart when I'd heard it from our guide in the previous days. I'd dismissed it as mostly embellishment to entertain the tourists and safari-goers. At this moment, however, faced down by an angry Silverback Gorilla, it couldn't have resounded in my head any more clearly.
I was on a Silverback Mountain Gorilla trek in the mountains of Rwanda, Africa when I'd managed to place myself between the alpha gorilla and his family. In his mind this was a major issue, and he wasn't afraid to let me know about it. These are not small animals; Averaging 5' to their shoulders while on all four and up to 700 lbs, I could be the David to his Goliath.
Everything in Africa bites but the safari bug is worst of all.
Click To Tweet
Charging me and stopping only 3 feet short of running me over, he'd made his point clearly and quickly. From that point on, I maintained a heightened awareness of what was happening around me. I enjoyed every second of my three separate visits into the Virunga Mountains. Spending time with these very humanesque animals made me somehow feel as if I was part of the amazing research done by Dr. Jane Goodall. Visiting the silverback gorillas of Rwanda is something any traveler should have on their bucket list!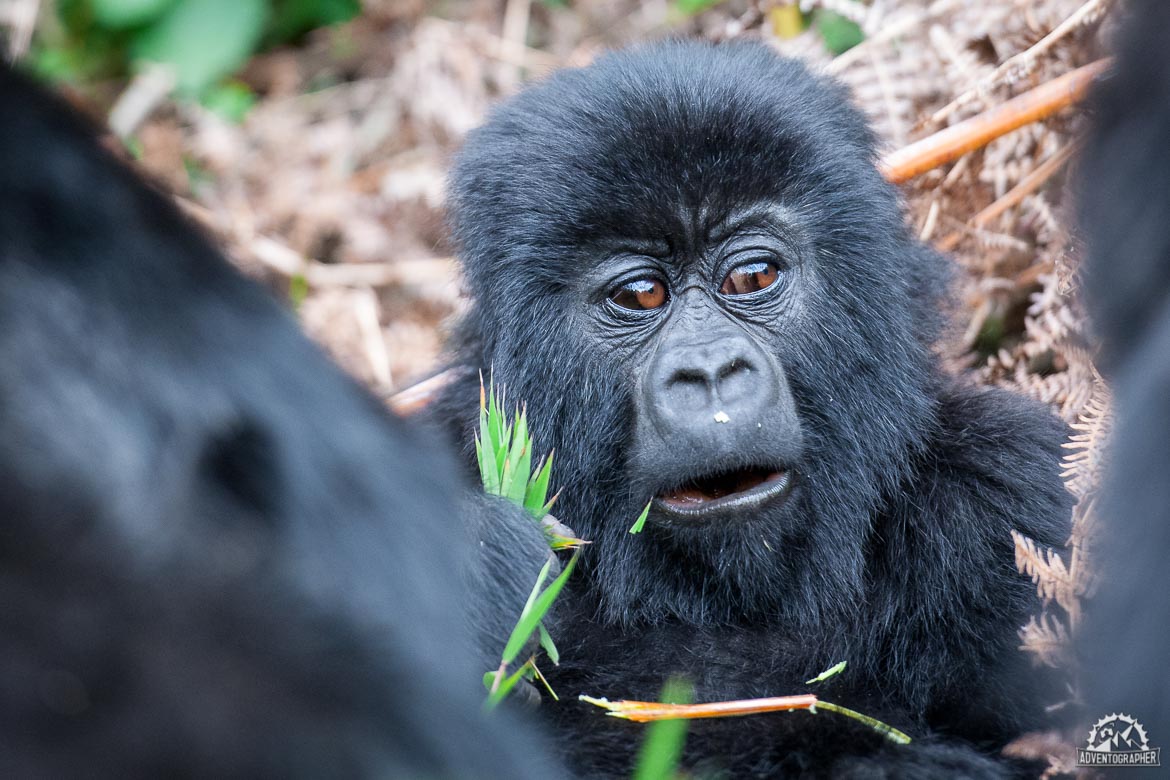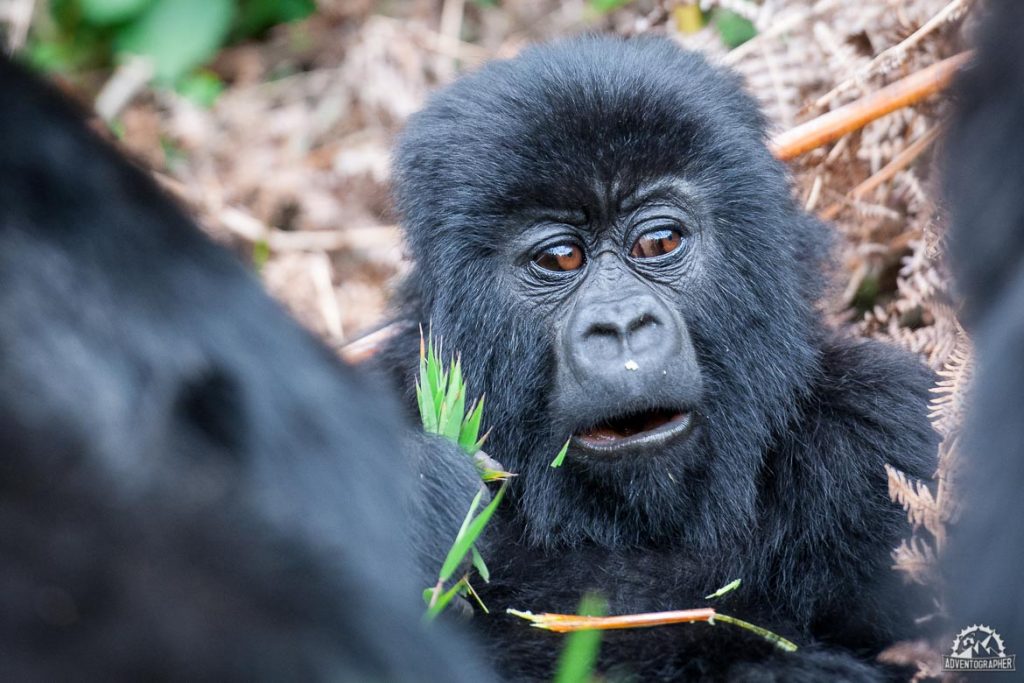 Patrick Horsfield blogs at Adventographer.
I'm happy to say that this African Safari animals list was featured in The Best Travel Blogs to Follow in 2019.
Want more stories of wildlife adventures? Check out Wildlife Adventures in the Americas, and Wildlife Encounters in Asia.
In the meantime, if you can't get enough wildlife, you might like this post:
Best Wildlife Sanctuaries to See Amazing Animals of Australia
You may also be interested in these books on African wildlife: Audubon Society Field guide to African Wildlife,  African Wildlife, A Folding Guide to Popular Species and African Wildlife, Portrait of the Animal World.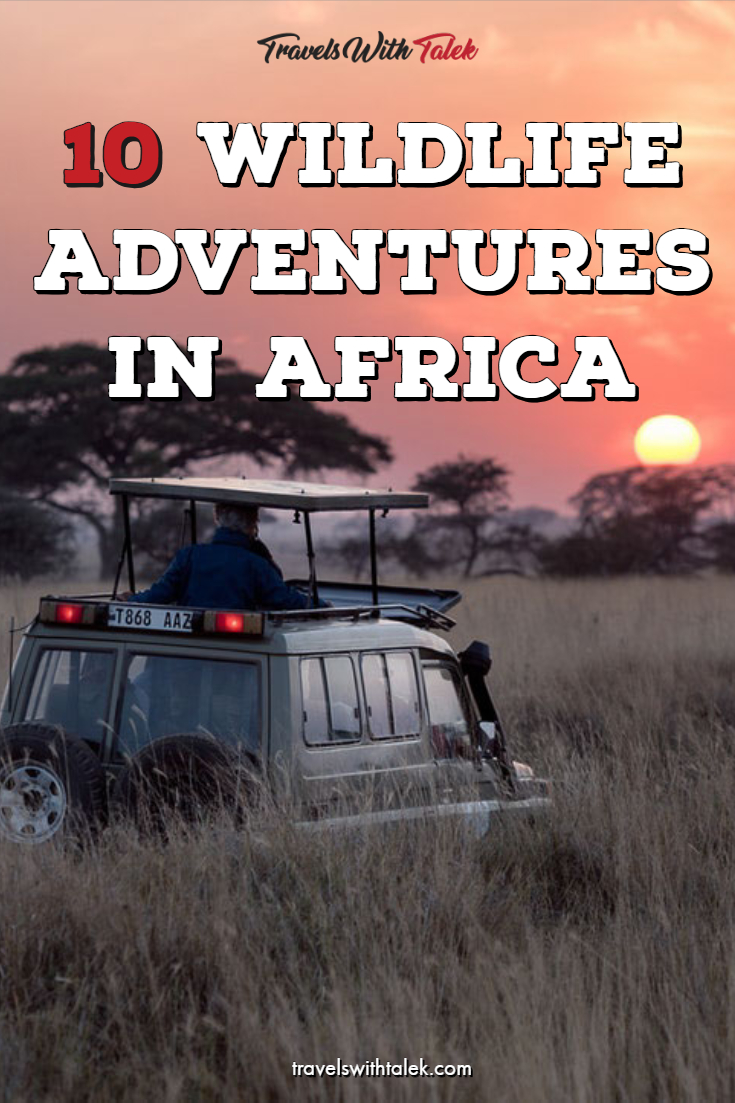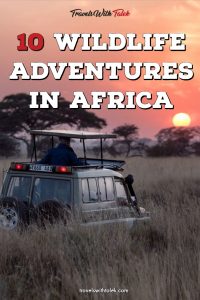 BTW, if you are getting ready for your trip, make sure to take advantage of these useful, money-saving links to book your trip:
I personally use, and can recommend, all the companies listed here and elsewhere on my blog. By booking through these sites, the small commission we earn – at no cost to you – helps us maintain this site so we can continue to offer our readers valuable travel tips and advice.