Virtual tours of museums, national parks, zoos, landmarks are a great way to see the world without leaving your house. Now that it looks like a large portion of the population will be stuck at home for the time being, this is the perfect opportunity to explore them.  Armchair travel has become "a thing" since we're self-isolating. Virtual visits to much of what the world offers is a great way to indulge in travel when you're forced to stay home.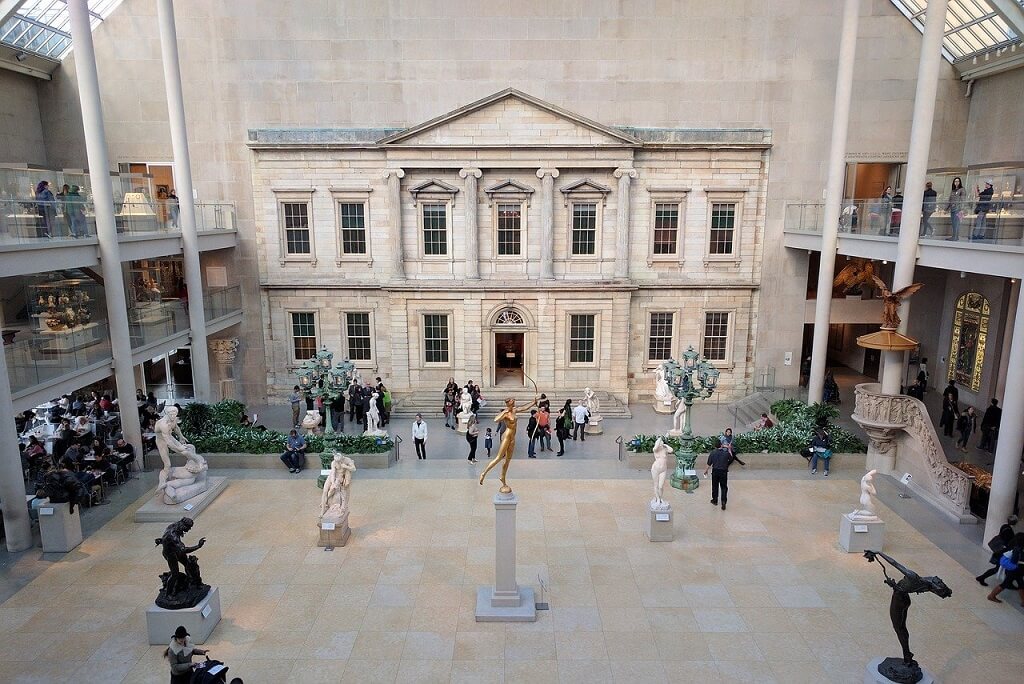 Join us – virtually, of course – on this tour of many of the virtual entertainment and learning opportunities available.
Virtual museum and culture tours.
Google arts and culture has a series of programs that allow you to visit museums virtually. The site has several categories, each designed to provide in-depth commentary and visual aides pertaining to different art and history topics.
Collections and exhibits
The most interesting categories – at least for me – are the collections and exhibits from over 2000 museums including  MOMA, The Met -with over 200,000 pieces- Museum of Natural History and The Frick Collection in New York, The National Gallery and British Museum in London, Washington DC's National Gallery of Art and other Smithsonian institutions, The Palace of Versailles and so many more.
At the bottom of the pages of these collections is a 3D museum tour that allows you to move through the museum with your browser as well as transporting from one gallery to another with the click of your mouse. You can also take 360 degree videos and street views of the famous landmarks. How cool is THAT!
Granted these tours are not as satisfyingly as the real thing but there is an appeal:
You can enjoy many virtual tours of museums without all the crowds.
You're stuck at home so what's the down side?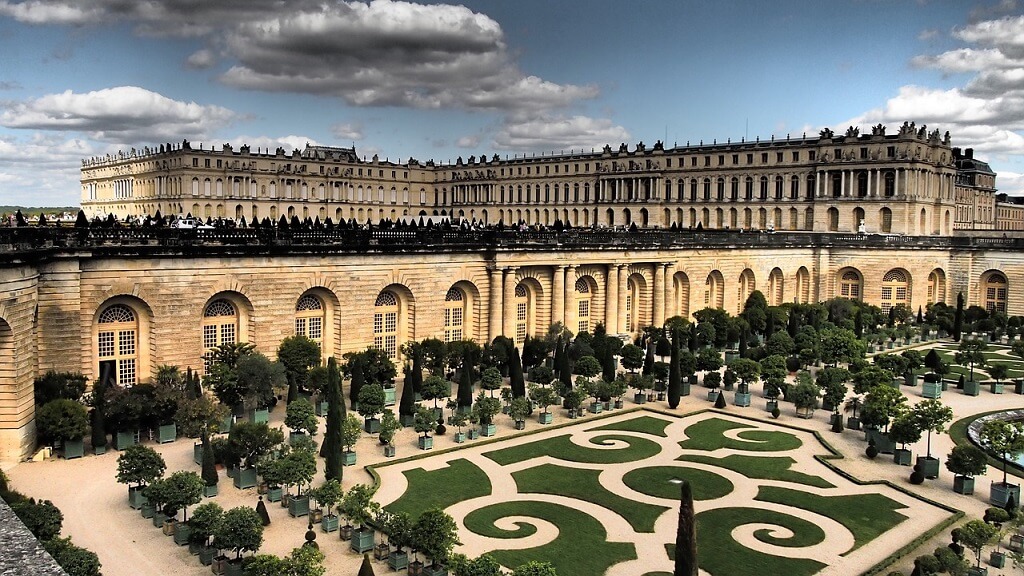 All the virtual museum collections and exhibits are worth visiting but those that stand out include:
Uffizi Gallery, Florence displays works from all centuries but its main claim to fame is the best collection of Italian Renaissance art. Virtually visit the 16th century palace that houses the collection and see works by Botticelli, Giotto, Michelangelo, Leonardo da Vinci just to mention a few.
Rijksmuseum in Amsterdam is the home of Rembrandt's "Nightwatch" the most famous and important painting in the Netherlands.  See this and the talented artist's other paintings as well as works from the Dutch Masters – Vermeer, Bosch, van Gogh – from the Dutch Golden Age of the 17th century.
The Frick Collection in New York City is displayed in the actual former home of Gilded Age industrialist, Henry Clay Frick. The collection is outstanding on its own – it houses the amazing painting Sir Thomas Moore by Hans Holbein The Younger. But what will really impress you is the home itself. Virtually walk the large rooms filled with masterpieces and period furniture. Stroll around the interior fountain – yes, the guy had a fountain in his house. Imagine this mansion, with Central Park as its front lawn,was built for just one family!
Anne Frank House, Amsterdam. Virtually visit the secret annex where the writer, Anne Frank lived for 2 years with her family.  Learn what the forced isolation was like for Anne and her family before they were discovered and shipped to a Nazi concentration camps to die.
Many of these organizations have their own virtual tours of museums and attractions independent of Google arts and culture. Check those out as well to get a different perspective.
Artists
The Artists category displays bios and examples of the artists' work. Click on the various art works to magnify them and see incredible detail you would never be able to appreciate in person. If you thought some of these artists were magnificent before, this level of detail with amaze you.
Some artists with interesting back stories in their bios include El Greco, Titian, Rembrandt, Georgia O'Keeffe, Botero and Leonardo da Vinci.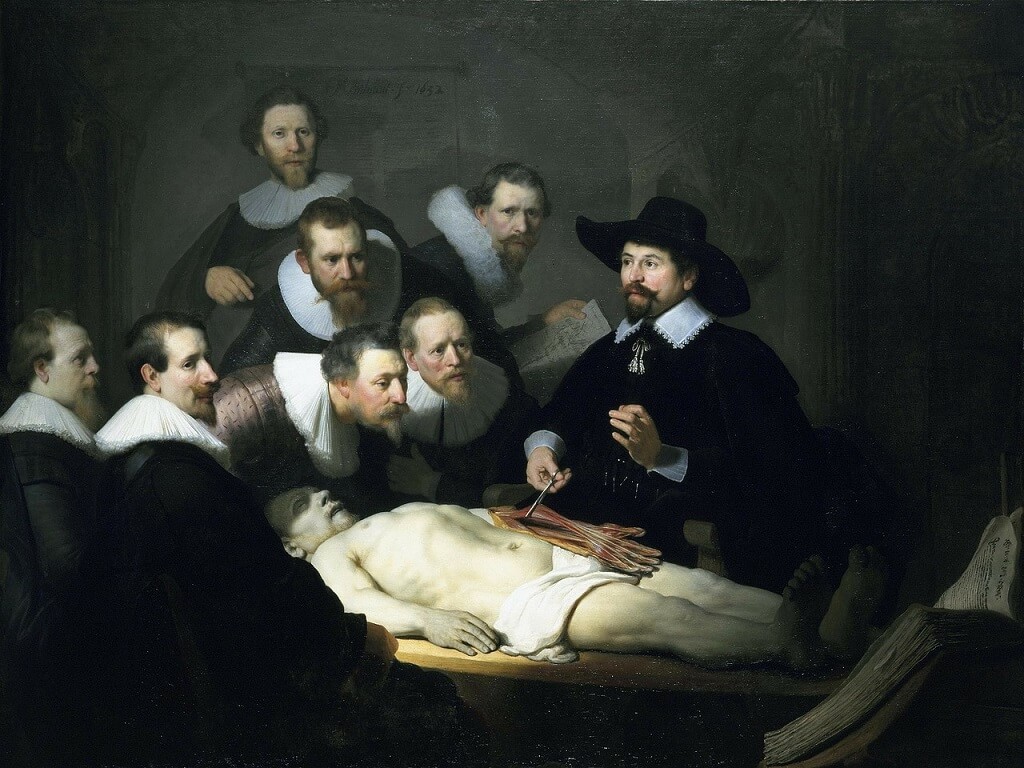 Art movements
Learn about the various art movements, Renaissance, Surrealism, Art Deco, Art Nouveau and more, each with hundreds of examples.  If you've ever wondered what the difference is between Contemporary and Modern Art, this is your chance to find out.
There are even sections on less traditional movements like Street Art with thousands of examples from all over the world.  Virtual museum tours will enrich your knowledge base.
Historic Events
Each event, for example, World War II, The Holocaust, Spanish Civil War, 9/11, The Trojan War is presented in detail accompanied by photos and illustrations  many of which are rare and vintage.
If you are a history buff you will love this. This is also a great opportunity to discover a new fascination as you're stuck at home.
Historic Figures
Fascinating biographies, portraits and photos of historic figures at your fingertips. Virtually visit with Winston Churchill, Queen Elizabeth I of England, George Washington and others.
These virtual tours of museums, art movements and other cultural aspects will keep you interested for hours while you're stuck at home in quarantine.
*****
Virtual visits to national parks.
Google arts and culture has also joined with several national parks in the United States to make these open nature reserves available to the public virtually.  These can be seen at this site  and include: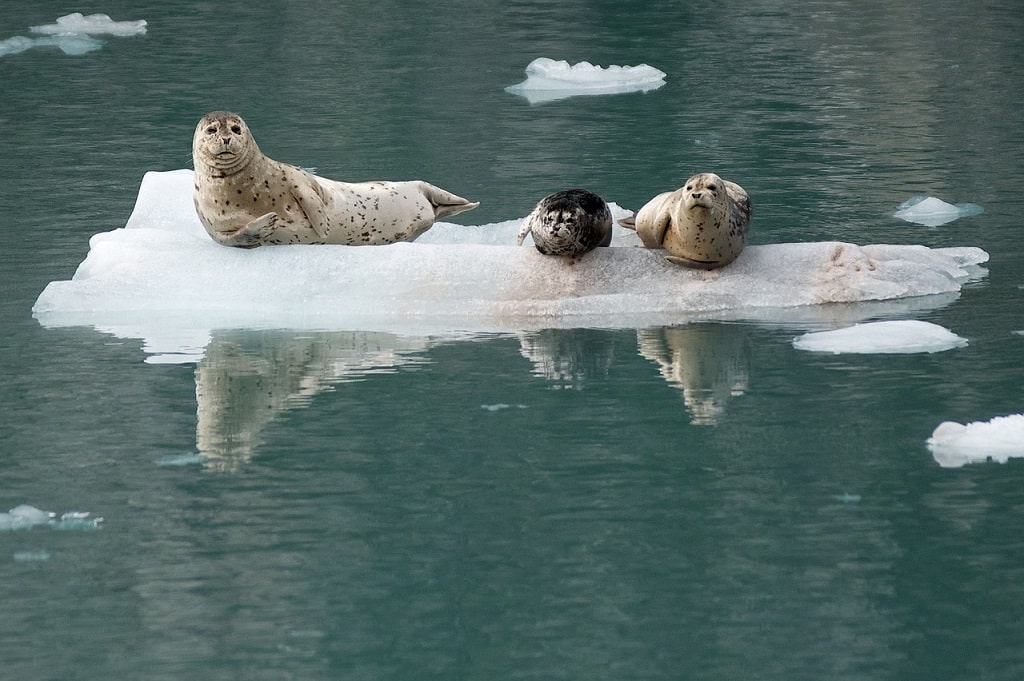 Not as well known, but no less spectacular, than the spectacular Denali, Kenai is on the Kenai Peninsula near the town of Seward in central Alaska. The park is known for the many fjords and glaciers in the area, including the largest, Bear Glacier.
There is only one road into the park. Most visitors arrive via boat, plane or on foot.
The park is a wildlife photographer's dream with an abundance of bears, moose, whales and seals.
Established on August 1, 1916, Hawaii Volcanos National Park is located on the island of Hawaii in the eponymous U.S. state. It was designated a UNESCO World Heritage Site in 1987.
As the name would imply, the park has two active volcanoes: Kilauea and Mauna Loa.
The park provides jaw-dropping volcanic landscapes as well as rare flora and fauna sightings.
Carlsbad Caverns National Park is a natural wilderness area in southern New Mexico.  People visit to enjoy the visually striking landscapes, but the main attraction is the natural cavern for which the park was named.
This enormous cave is famous for its unusual formations. A large limestone chamber – the fifth largest in North America is over 4,000 feet long and 255 feet high!
Dry Tortugas National Park is located west of Key West at the mouth of the Gulf of Mexico.  It is the westernmost outpost of the Florida Keys, one of the least visited and most isolated national parks, but certainly one of the most breathtaking with the lest disturbed and pristine coral reefs.
This isolation is one of the reasons for the abundance of sea life and tropical birds. The park is only accessible by plane or boat. It was designated a UNESCO World Heritage Site in 1976.
In the center of the island, taking up most of the land, is the massive Fort Jefferson, the third largest fortress in the United States.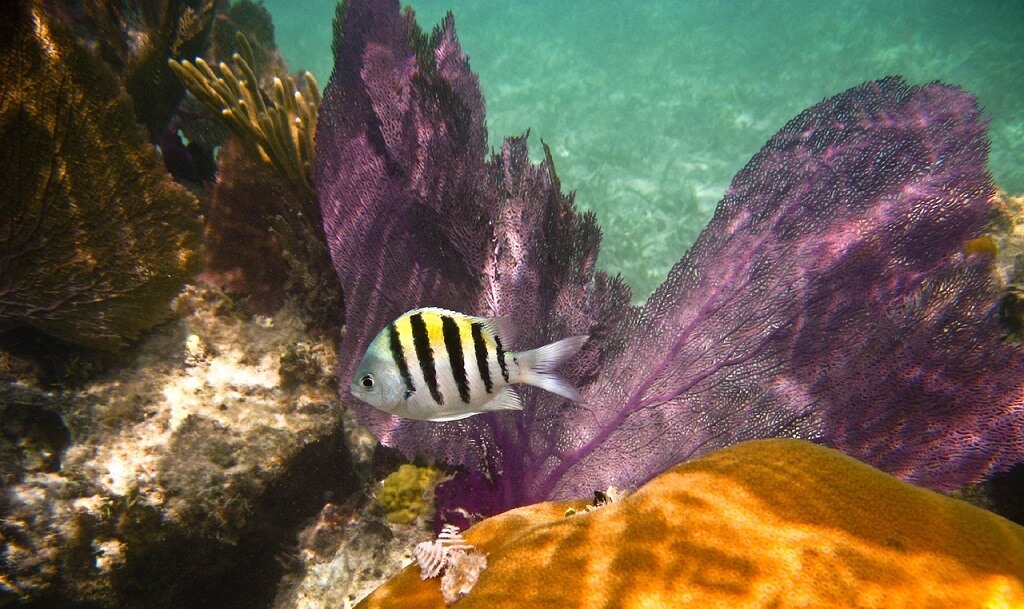 *****
Enjoy virtual opera, symphony and jazz.
NPR has a list of live virtual concerts and other live performances streaming during the coronavirus shut-down for music lovers stuck at home.
*****
Explore virtual zoos and aquariums with webcams.
You can explore zoos and aquariums through webcams installed in the enclosures.  See what the zoo keepers and aquarium attendants see.
*****
Take a virtual cooking class.
Learn to cook with a virtual cooking class or improve your own cooking skills.  These courses from some of the same folks that offer online recipes are just the thing to entertain yourself as well as educate during these stay-at-home-times.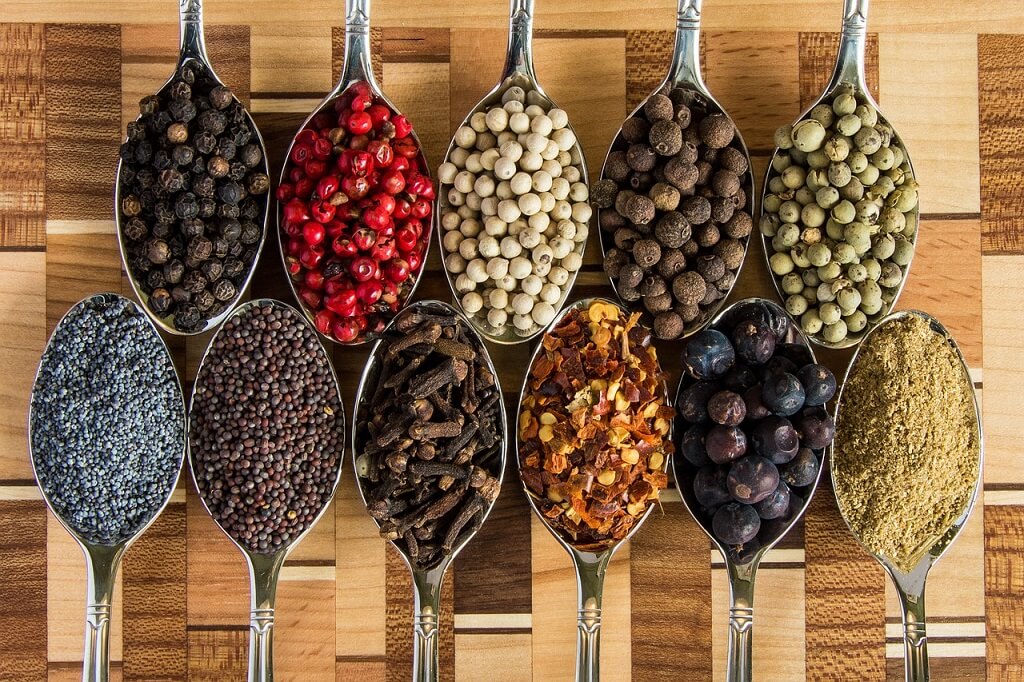 You can travel through a country's cuisine. Virtually visit Japan and learn the art of making sushi.  Delve into China's ancient and fascinating culture while learning the secrets of stir-fry. Virtually bar hop Barcelona's famous tapas joints while you explore Spanish cooking.  Bake a German cake, sauté an Italian sauce or flambe a French desert.  It's all here!
*****
Attend a virtual school and learn…ANYTHING!
Take a virtual course. Class Central offers over 3,800 courses in fields such as personal development, social sciences, art and design and more!
*****
Virtually visit a city. Start with London.
Visit London virtually. Start with a birds eye view from the London Eye then fly off to your favorite London attraction. See the crown jewels at the Tower of London, watch the changing of the guard at Buckingham Palace or go on the ultimate pub crawl through the streets of London's coolest neighborhoods.
*****
Go virtual castle and palace hopping.
From Windsor Castle to the Palace of Versailles, virtually visit a wide range of castles and palaces around the world.
*****
Want to learn more about these destinations? Check out these guides.
Virtual tours of museums, castles, national parks and other attractions broaden your mind and feed your soul.
Want more cool things to do while you're housebound? Check out these 35 things to do at home that are so much fun you won't want to leave. And here are great gift ideas for people to enjoy indoors.
What are YOUR favorite virtual tours of museums, cities and the world's other wonderous destinations? Let us know in the comments.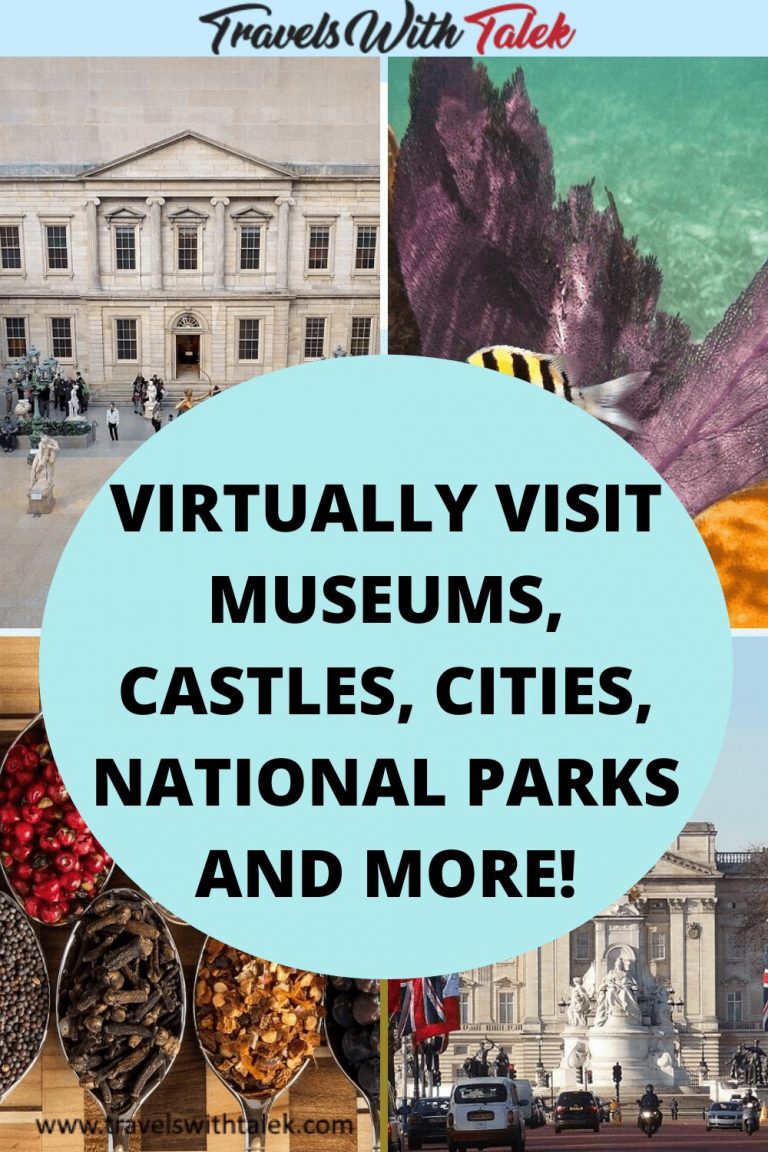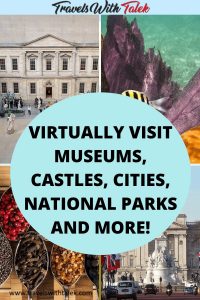 BTW, if you are getting ready for your trip, make sure to take advantage of these useful, money-saving links to book your trip:
I personally use, and can recommend, all the companies listed here and elsewhere on my blog. By booking through these sites, the small commission we earn – at no cost to you – helps us maintain this site so we can continue to offer our readers valuable travel tips and advice.