Southwest Colorado travel is packed with everything you need for the perfect road trip. Colorado's southwest corner is one of the most underrated areas of Colorado. It is full of natural splendor, history, and (of course) the perfect ski conditions, the towns stretched along the Million Dollar Highway (and a few others) are the ideal destinations to escape the crowds.
Southwest Colorado travel will expose you to the prettiest places in Colorado's tucked away, lovely southwest corner including Cortez, Telluride, Durango, Ouray, Silverton, Salida, Gunnison, and Aspen.
Southwest Colorado road trip tips
Pay attention to the weather
Southwest Colorado travel can be challenging when it comes to weather. Colorado has some extreme weather, and it's also home to several mountain ranges (including the Rocky Mountains). These two factors combined can make for some pretty serious driving and camping conditions.
Before you head to the Centennial State, you'll want to prepare yourself for the weather to come — including snow, ice, and extreme heat — and prepare accordingly.
If you're driving through Colorado in the summer, be sure to bring along plenty of water and snacks in case your car breaks down. If you're driving through the desert, you'll also want to bring some warm clothes and blankets because it can get really cold here at night!
One southwestern Colorado weather fact is that it is extremely changeable. You could be driving through a temperate forest and snow-capped mountains in the morning and a windy desert with massive sand dunes in the afternoon of the same day!.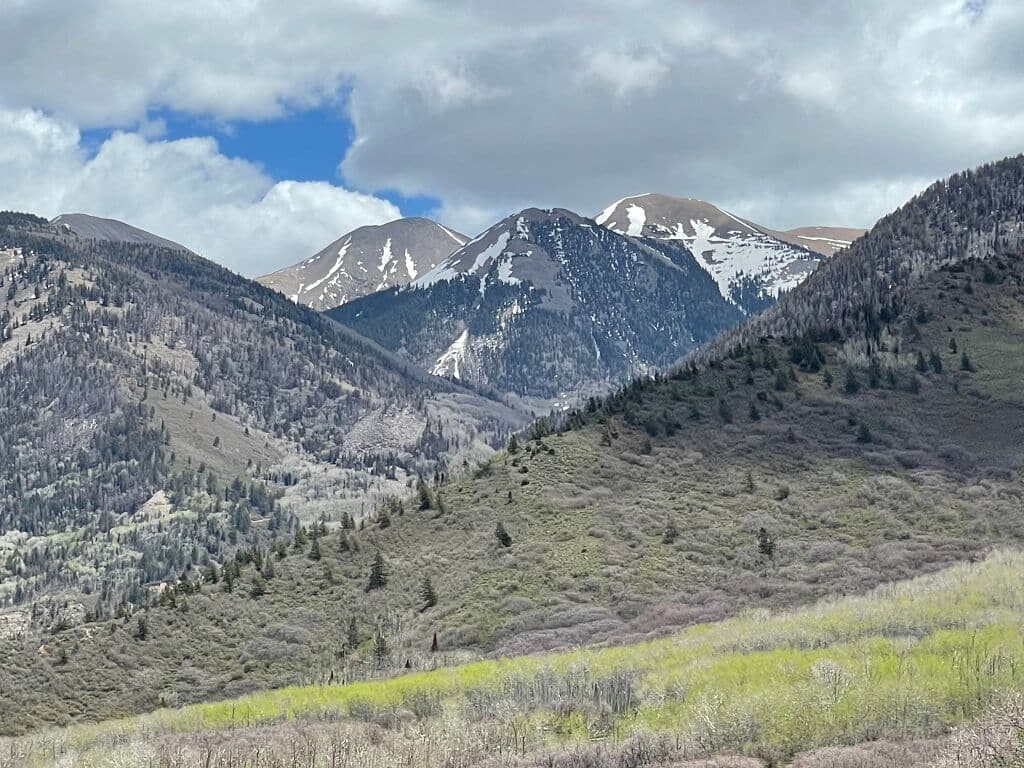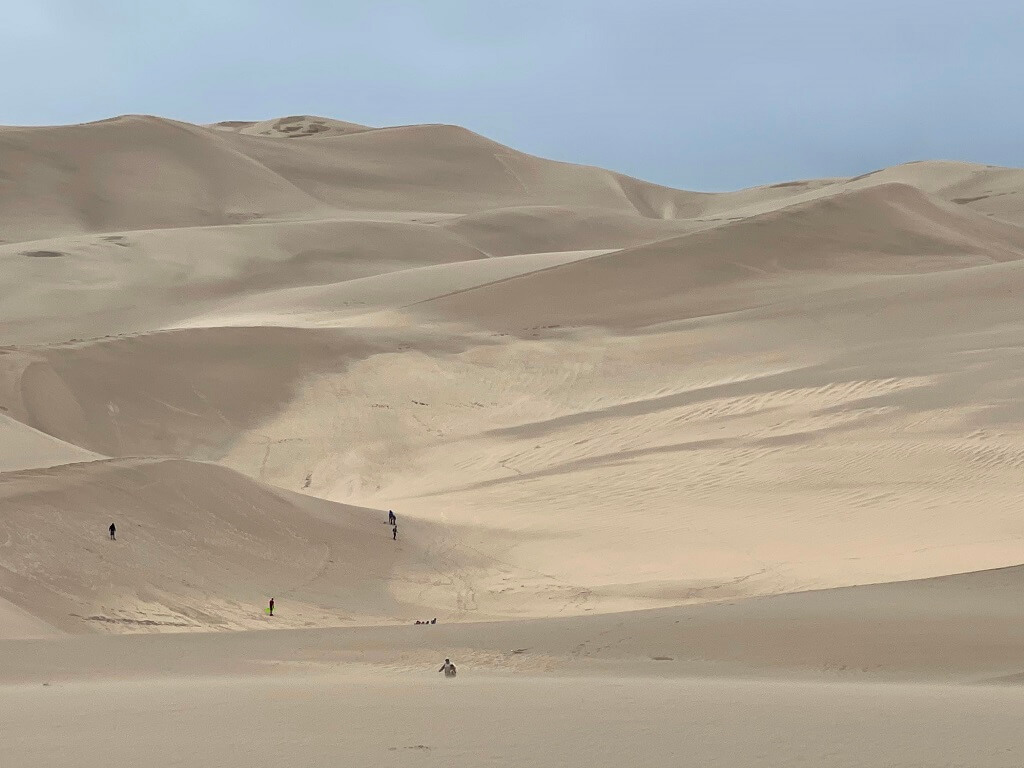 Getting to Colorado. Take a southwest Colorado map!
I learned the hard way that the GPS won't always work due to poor connectivity. Make sure to take a southwest Colorado map with you on your road trip.
If you're heading into Colorado by car, the easiest routes in and out of the state are I-25 and I-70. I-25 runs north and south, while I-70 runs east to west.
Of course, the very nature of the road trip suggests that you probably won't want to stick to the highways, as you'll miss Colorado's natural beauty, scenery, and roadside attractions! Southwest Colorado travel is all about the secondary roads. The San Juan Skyway, however, (also known as the Million Dollar Highway) is one you should not miss. It stretches past much of Southwest Colorado's scenic landscape.
If you're headed here by plane and plan on renting a car, you can fly into Denver International Airport or Colorado Springs Airport and make your way to the state's southwest corner. Or, fly directly into Aspen/Pitkin County Airport and start your Southwest Colorado road trip right away.
It's also possible to fly into Salt Lake City, Utah and make Southwest Colorado a cool side trip if you're already planning on visiting the Beehive State. Or, combine both states in the ultimate Colorado to Utah road trip.
Know the rules of the road
Every state has its own road rules, and Colorado is no different! You'll want to make sure you familiarize yourself with common Colorado traffic laws before driving here.
For example, you can't drive in the left-hand lane on a Colorado highway unless you're using the lane to pass another car. Colorado also has a minimum speed limit (in addition to a maximum speed limit), so you'll want to ensure you're driving fast enough in those areas of the state.
As in many states, it's illegal to drive while wearing headphones. Our suggestion? crank up the radio, roll down the windows, and finally make peace about the music selection with the other passengers in your car.
Plan for the unexpected
The one thing we know to be true while traveling? The unexpected is the only thing you can reasonably expect.
Maybe you get caught in a hail storm in May or the temperature is too warm for snow in January. Or, your favorite park gets flooded out.
We're not saying these misfortunes are bound to happen, but something in your trip is almost certainly not going to go as planned. When this happens, just go with the flow. But before your trip, make sure you've done enough planning to ensure you're able to safely pull off the road while you're getting into that flow state. Plan for a safe and worry-free road trip.
Southwest Colorado Road Trip: Prettiest Places in Colorado's Southwest Corner
Cortez
Cortez is possibly one of the most ethereal towns in Southwest Colorado. With a population of only a little fewer than 9,000 residents, it's also one of the best spots for travelers that abhor crowds.
Top sights in Cortez
Two must-see sights in Cortez include Mesa Verde National Park and Crow Canyon Archeological Center. Both show off the beautiful scenery of Cortez and explain a little history of one of the prettiest places in Colorado.
Mountain biking enthusiasts also flock to Cortez, thanks to its miles of mountain bike trails — built by none other than other mountain bikers. One of the most popular trails is Phil's World, a trail that was created for bikers of all levels.
Of course, you can't visit Cortez without heading to the Four Corners, the iconic spot where you can stand in four states at once!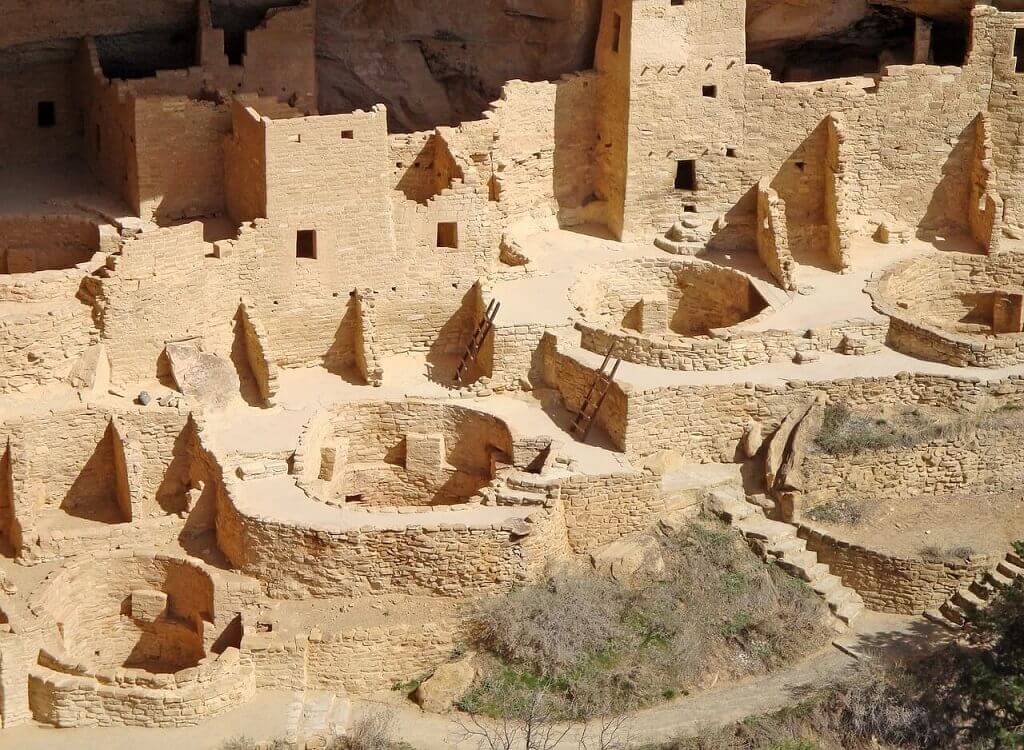 Durango
Like many of the prettiest places in Colorado's southwest corner, Durango is known for its mountain views, skiing, and historic railroad. There's also a picturesque downtown, famous for its well-preserved historic buildings, craft beer, and boutiques.
But what Durango is probably most famous for is its star power — Hollywood that is. Since Butch Cassidy and the Sundance Kid was filmed here in the 60s, producers have headed to Durango to film their movies. You'll recognize sites from National Lampoon's Vacation and City Slicker
Top sights in Durango
Durango has not just one — but three — historic hotels. These structures didn't just witness the wild west, either. The Strater Hotel, the Rochester Hotel, and The General Palmer all lay claim to having hosted many celebrities. The Strater was amazing. It has a period saloon downstairs with the staff in costume. You really feel like you're in the Old West.
Durango is a great spot to base yourself as you explore the area.
If you're in Southwest Colorado for its wilderness, head to Mesa Verde National Park, Chaco Canyon, the Weminuche Wilderness, and the San Juan National Forest.
Ready for more history? Hop on the Durango and Silverton Narrow Gauge Railroad, for a ride through areas of Colorado that aren't accessible by car.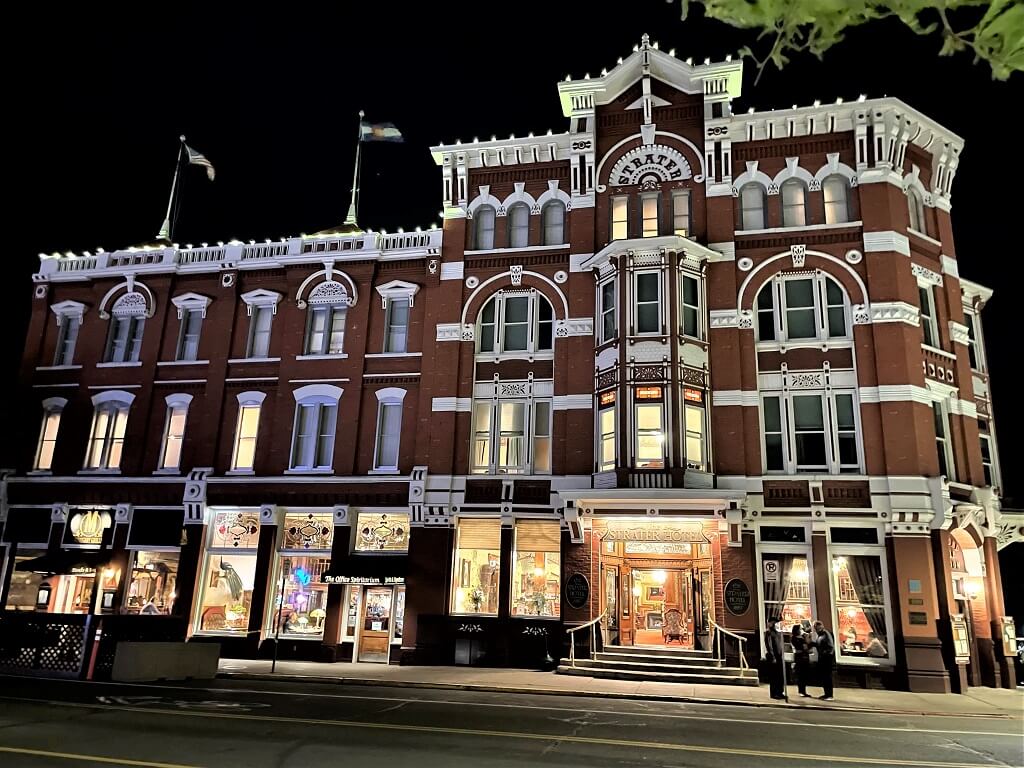 Silverton
Another one of the prettiest places in Colorado, Silverton is a straight shot from Ouray on the Million Dollar Highway (also known as the San Juan Skyway), a stretch of road that loops through six of the eight towns on this list!
Top sights in Silverton
While all the towns on this list will offer amazing views, we kind of think the scenery in Silverton is — well, the most scenic! If you're headed here, get ready to do some ah-ing and ooh-ing. With a population of less than 1,000, this town is for anyone craving to escape city life.
Hiking and biking are two of the top activities in Silverton. History lovers love staying at the Grand Imperial Hotel and waking up each morning to catch a glimpse of Colorado history at the Durango & Silverton Narrow Gauge Railroad and Museum, the San Juan Historical Society, and Silverton's old gold mines and gold mills.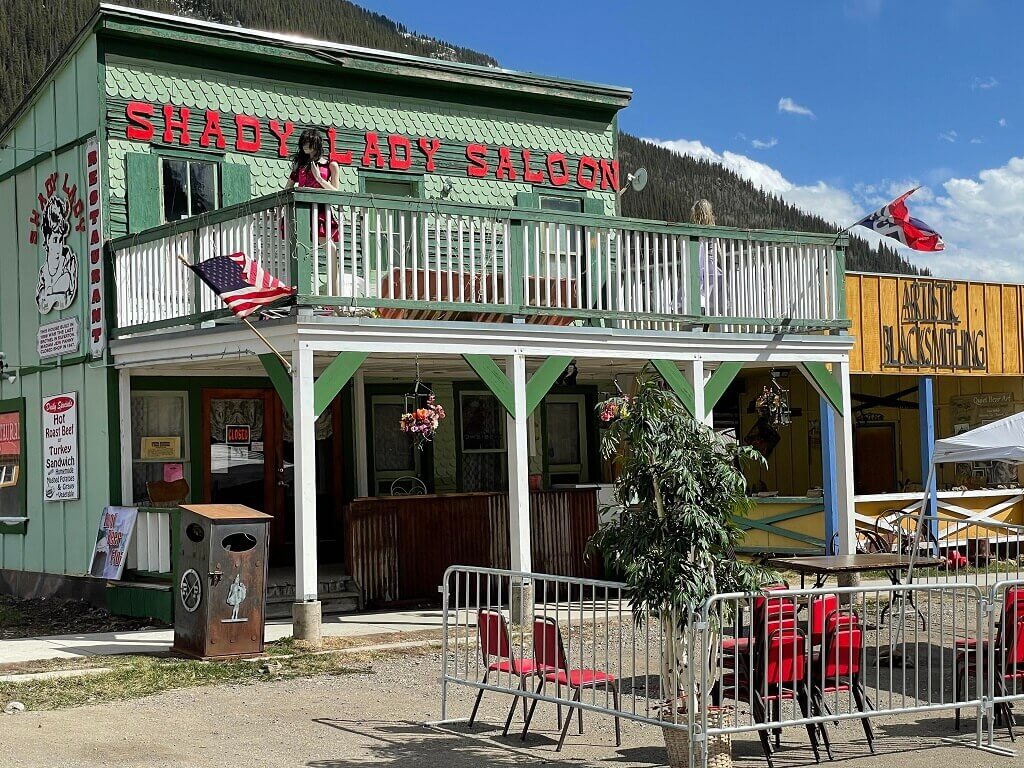 Telluride
Telluride is possibly one of the most underrated cities in the U.S. While it's lesser-known than the cities of Aspen and Park City, UT, Telluride is home to some of the best skiing in the state and a film festival that gives Sundance a run for its money.
Top sights in Telluride
Once a Victorian mining town, Telluride is now home to world-class skiing and golfing as well as a burgeoning art and culture scene.
Possibly one of the most picturesque sites in all of Telluride (and trust us — Telluride is one picturesque town) is the Sheridan Opera House. This historic theater is now owned by the Sheridan Arts Foundation and features live music and entertainment. Just down the street is the Sheridan Hotel (a boutique hotel that's home to a chop house and historic bar).
If you can't get enough history, don't forget to stop at the Telluride Historical Museum, which tells the story of the miners that originally settled and built the town.
In both winter and summer, the Telluride Ski Resort is a hotspot for sports enthusiasts who flock here for skiing and golfing.
The area is also known for its scenic hiking and the Telluride Film Festival, which is held annually over Labor Day Weekend.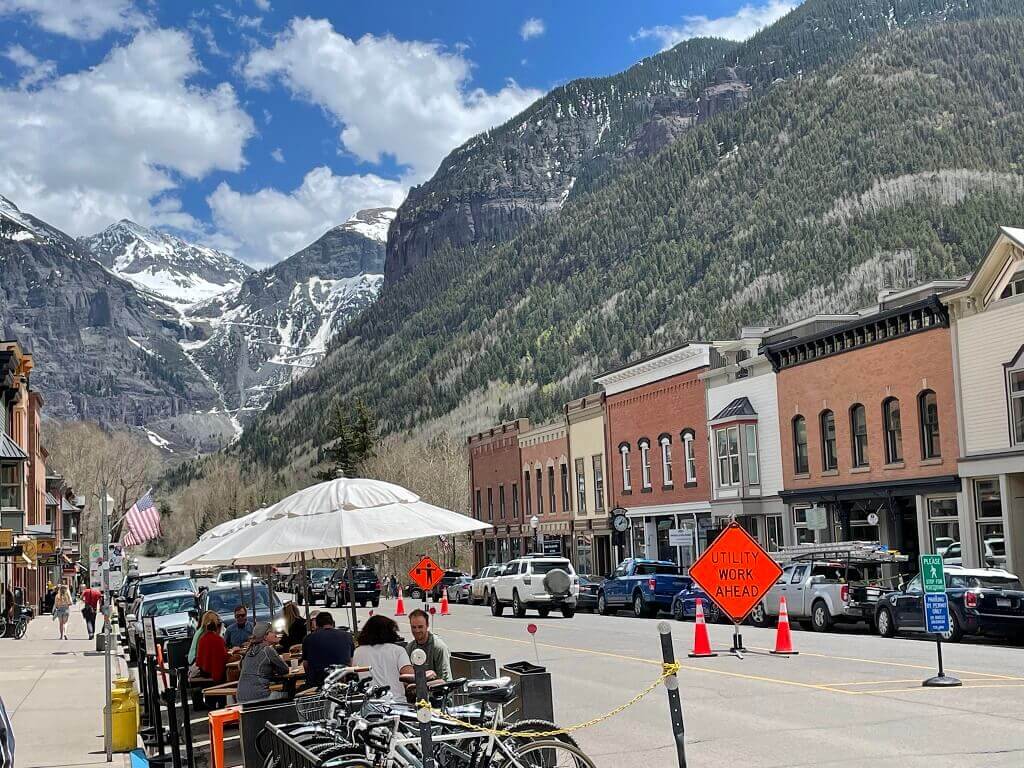 Ouray
Officially dubbed the "Outdoor Recreation Capital of Colorado," Ouray is known for its outdoor activities, such as hot springs and hiking at Box Canyon Falls Park and Yankee Boy Basin.
Not to be outdone, the town is also nicknamed, "The Switzerland of America," thanks to its location, situated at the foot of the Rockies.
Top sights in Ouray
One of the best reasons to visit Ouray is if you love outdoor activities, like hiking. We recommend visiting both Yankee Boy Basin for its delicate flowers, Box Canyon Falls Park for its beautiful waterfalls — and trails that are suitable for most levels of hikers.
Of course, you can't visit this town without taking a dip in one of the hot springs, and Ouray Hot Springs is one of the most popular in town.
Even if you're just here for the outdoor activities, you shouldn't skip town without spending at least half a day in Downtown Ouray. Known for its historic buildings, quaint museums, and refreshing breweries, it's the perfect place to recharge after a few days of being in the wild.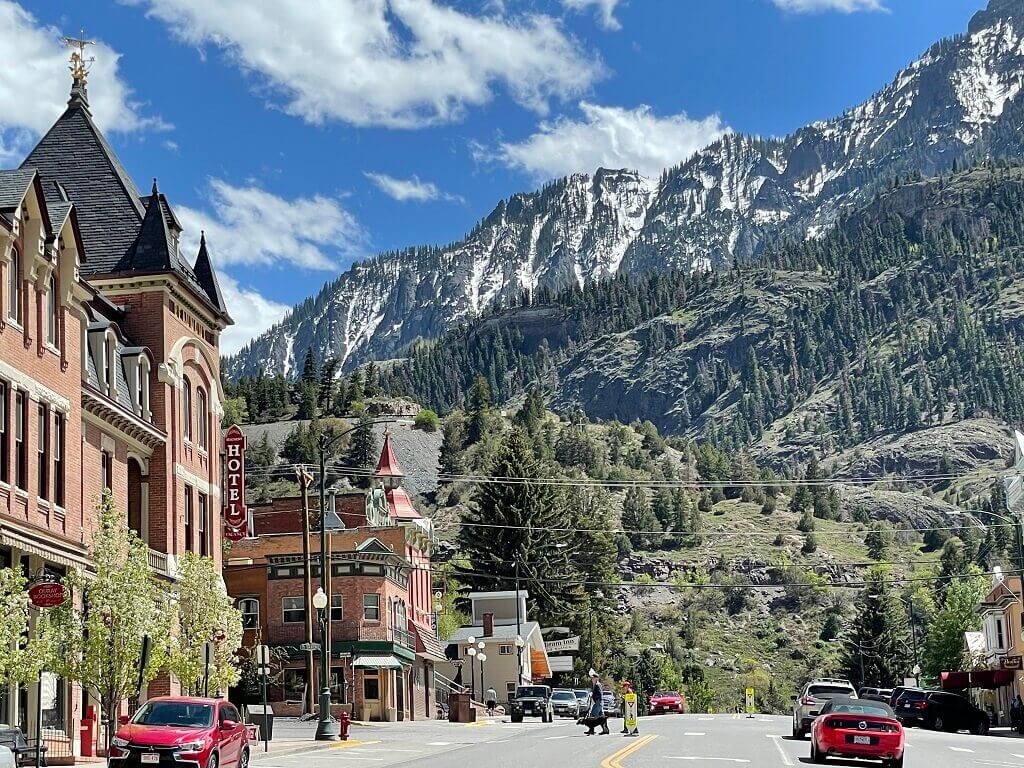 Gunnison
Lovingly called Gunny by locals, Gunnison is a magnet for hiking, fishing, and history. If you happen to be passing through in July, be sure to do so during the Cattlemen's Days Festival, three days of rodeo, live music, and food.
Top sights in Gunnison
There's great hiking at Gunnison National Forest and the Blue Mesa Reservoir. In the winter, you can experience world-class skiing at the Crested Blue Mountain Resort and the Monarch Ski Area.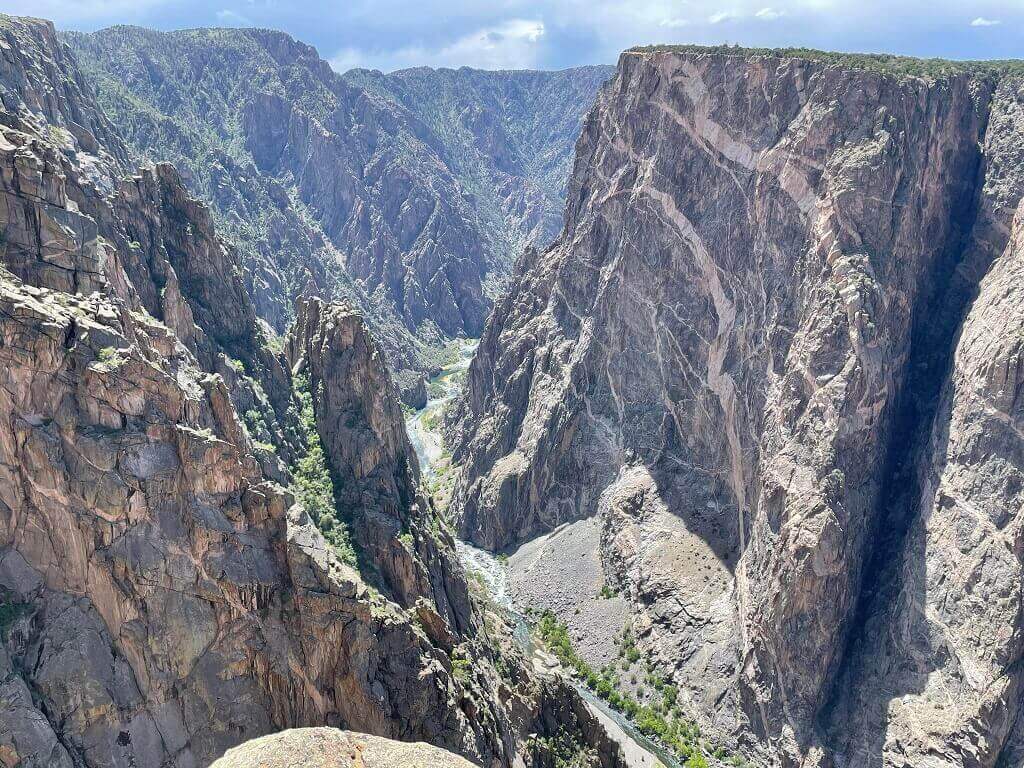 Salida
Feel like you're at a crossroads in life? Salida 'gets' you. Nicknamed Crossroads, Salida sits in the heart of the Rockies.
The town is home to the largest National Historic District in Colorado and boasts a population of about 6,000. Like Durango, it has a 'wild west' vibe, and one of the top activities is a walking tour of the town's 136 preserved historic structures.
Salida is another great town to base yourself as you explore the surrounding towns and national parks. The town is just as cool as other Colorado cities nearby at about half the price. Salida accommodations are reasonable and well located.
Top sights in Salida
Situated on the banks of the Arkansas River, Salida is a hotspot for those who love nature, hiking, and fishing. Head to one of three natural hot springs resorts, or go rafting down the Arkansas River.
Enjoy a little wildlife at Browns Canyon National Monument, or go fishing in gold metal waters. When you're ready for a break, head into town for a beer and a meal on the banks of the river.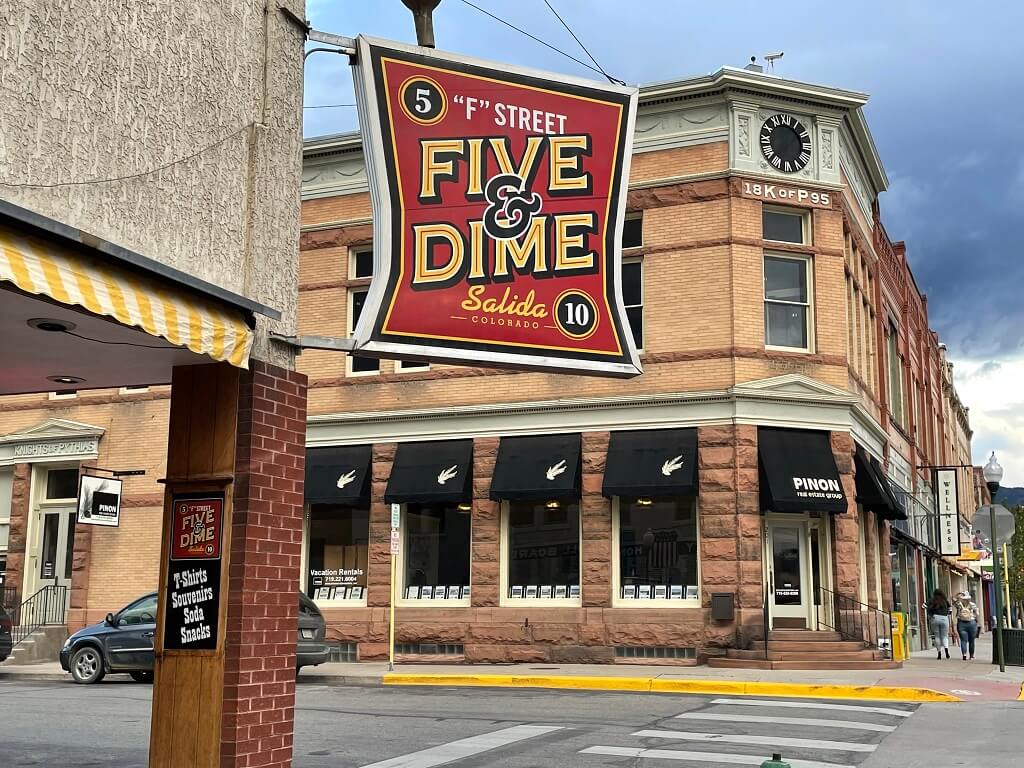 Aspen
Possibly one of the most recognizable towns on this list, Aspen is not just a magnet for skiing enthusiasts — it's the magnet for skiing enthusiasts in the U.S., as it's widely considered some of the best skiing outside of Europe.
Top sights in Aspen
Yes, you should ski while you're here. But when you're ready to take a break, check out a few of these other sites.
Downtown Aspen (like most other historic downtowns in Southwest Colorado) is quite picturesque. Wander through the pedestrian mall, grab a bite to eat at one of the world-class restaurants, and dip into one of the many boutiques to keep warm.
Heading here in the summer? This ski-famous town is known for its hiking and paragliding, too.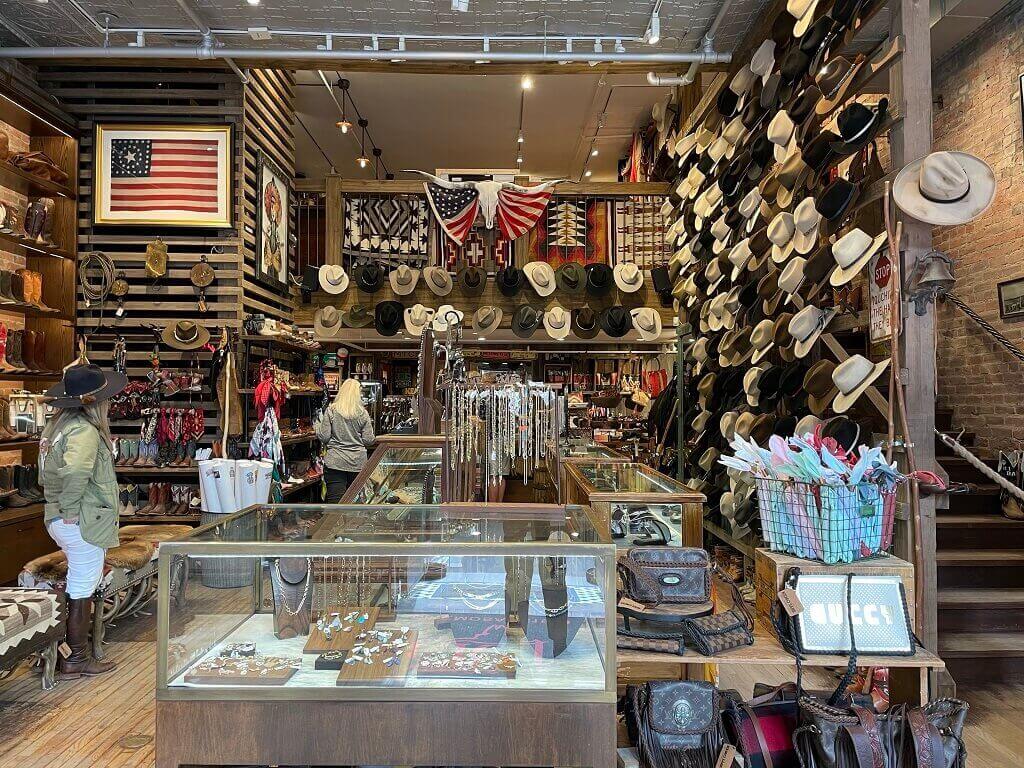 Southwest Colorado travel is full of natural beauty, exciting outdoor adventures, history and a major western vibe. The southwest corner of Colorado is the ideal getaway for a summer road trip, ski vacation, whitewater rafting or just chilling out.
Refer to these guide books, maps and reference books to help plan your ideal southwest Colorado travel adventure.
What are your thoughts on southwest Colorado travel? What would YOU add. Let us know in the comments.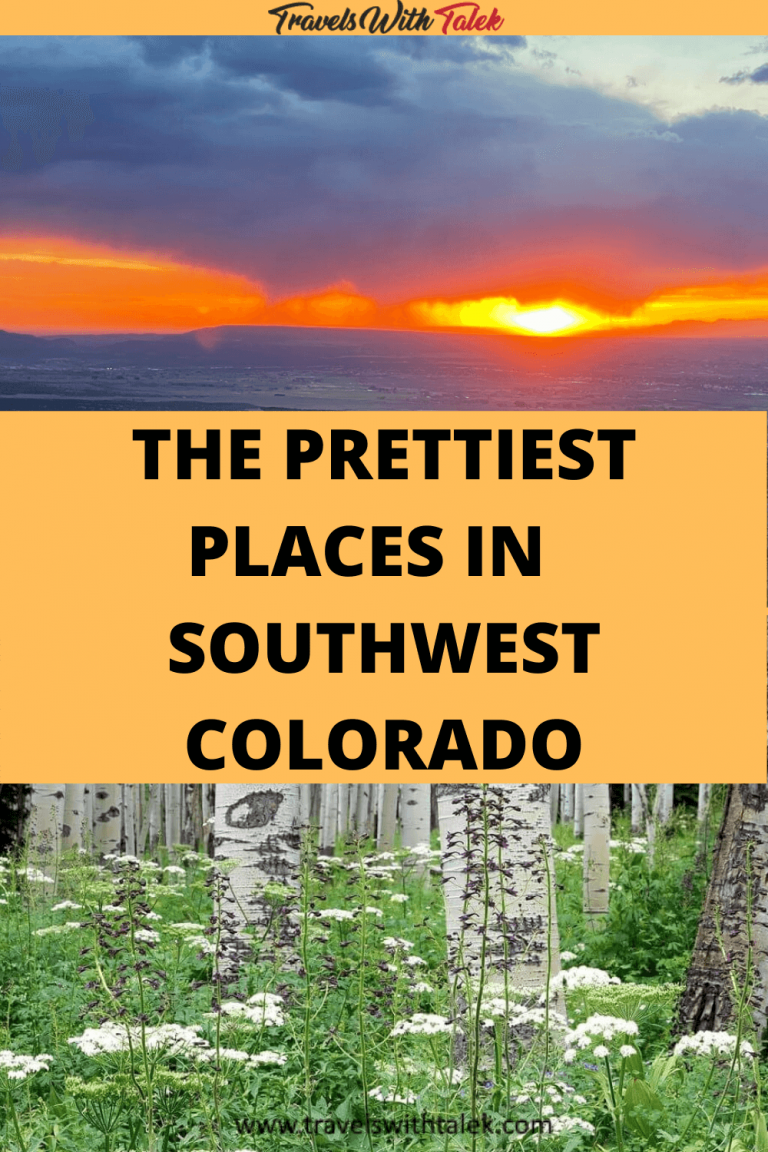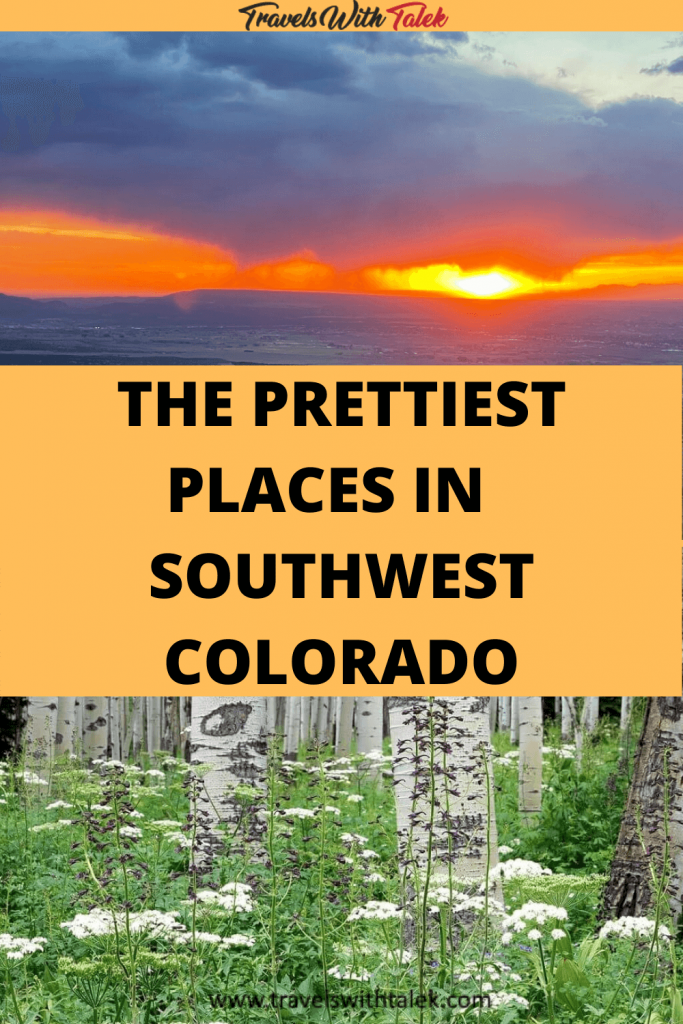 BTW, if you are getting ready for your trip, make sure to take advantage of these useful, money-saving links to book your trip:
I personally use, and can recommend, all the companies listed here and elsewhere on my blog. By booking through these sites, the small commission we earn – at no cost to you – helps us maintain this site so we can continue to offer our readers valuable travel tips and advice.