A Utah to Arizona road trip is one of the highlights of the great American Southwest. After taking my own Colorado to Utah road trip I became fascinated with the area and eager to know more about its national parks, picturesque western Colorado towns and different Utah and Arizona road trip itineraries. That's why I asked our guest writer, Jennifer Paquette, to tell us about her own memorable trip. Jennifer shares her secrets of the southwest with us in this this informative post.
---
The Southwest has always been on my "bucket list" especially a Utah to Arizona road trip, however an international trip always seemed to take precedence over exploring my own country. As the months loomed ahead with time carved out for our annual spring trip but no pen or even pencil marks on the calendar, I realized "need to plan something!" But where could we go that would be new and exciting, plus keep us outside enjoying the great outdoors as much as possible?
Without hesitation, we pulled out our Southwest folder of articles, navigated blogs and national parks sites and began to plan a good 'ole US of A adventure. Having only seen the Grand Canyon from an airplane, we figured we'd get a little closer. Soon one of my famous aggressive itineraries began to form: a 1,000+mile loop of Zion National Park, Bryce Canyon National Park, Lake Powell, the Grand Canyon and back to Las Vegas on the famed Route 66. A Utah to Arizona road trip started to take shape. The next step was to apply my three basic travel rules:
I want to be where the people…aren't.
I want to do things out of the ordinary.
I don't want to spend a lot of money if I don't have to.
This might seem next to impossible for a trip that would surely hit a few Disney-like national parks, but my rules had yet to be broken!
Researching dos and don'ts in three different states provided a challenge, as well as a few sets of flight cancellations and shuffling around of new dates and times, which meant hotel and car changes as well. But it was well worth it, for not only did we journey through an amazing part of our country, but I managed to apply my three rules as well. The end result was a delectable feast for the eyes and senses, as we unearthed some sizzling southwest secrets that were just waiting to be revealed.
Where to stay in Las Vegas for all budgets.
A UTAH TO ARIZONA ROAD TRIP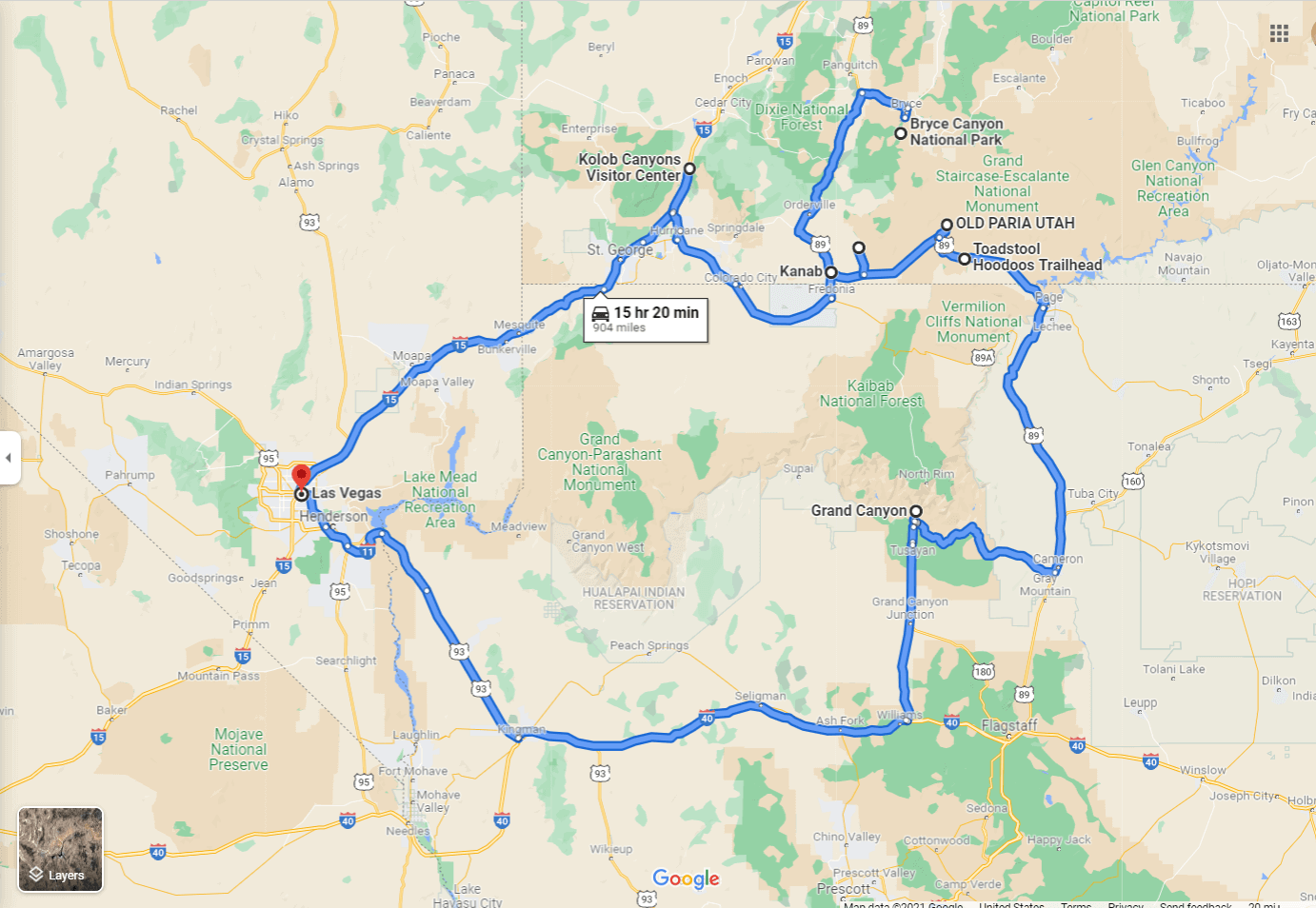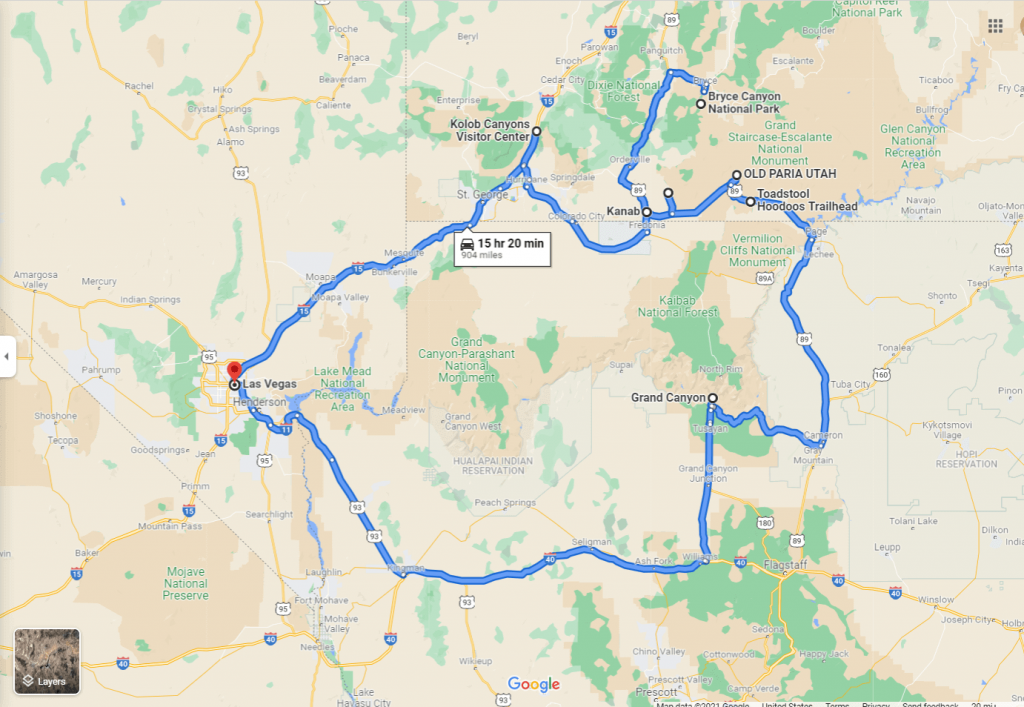 THE UN-ZION
I thought Zion would be a great introduction to the national parks of the west, until I saw that during the months of March – November the only way you can get up to the trails is on a Disney-like shuttle that left every half hour, with a lottery for the $1 ticket that opened up two months ahead. Determined not to break my first rule of travel, I discovered that about 40 miles north of Zion's main entrance is the sleeper sister of Zion National Park – a spectacular set of finger canyons and trails called Kolob Canyons.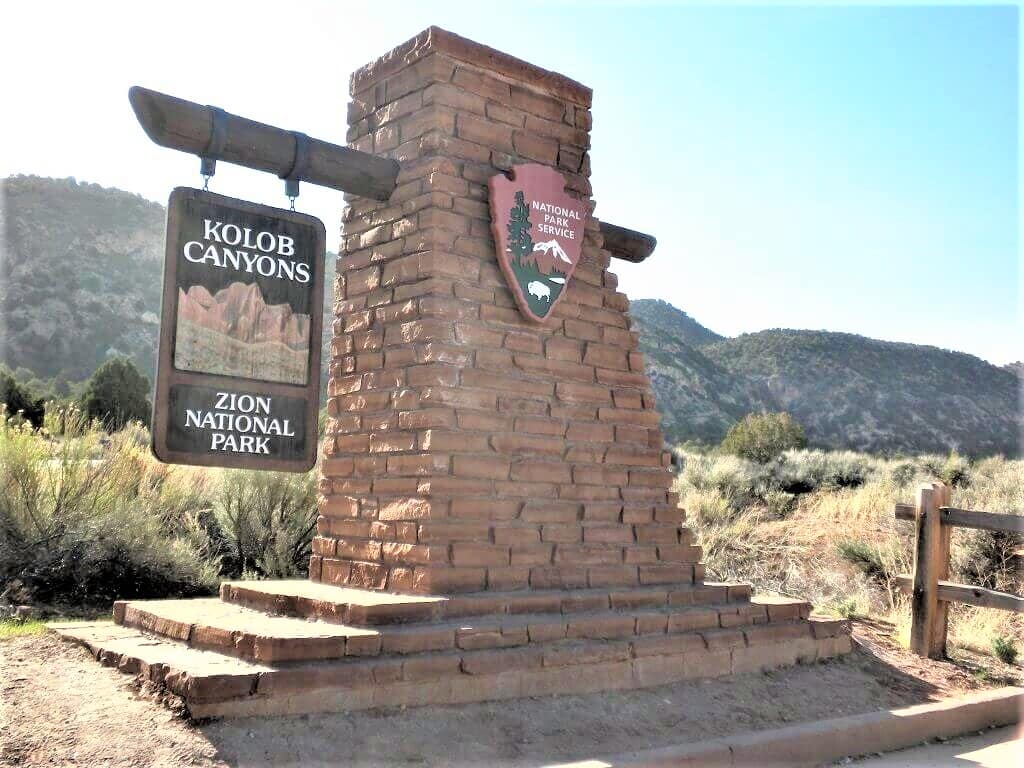 The word "kolob" is from Mormon scripture meaning "residence closest to heaven". And indeed, it did seem that way.
The five-mile stretch of Kolob Canyon Road begins at the park entrance and crosses the major fault line which gives rise to the great plateau that houses some of the oldest and youngest rocks in all of Zion. There are two major trails, the one-mile roundtrip Timber Creek Trail at the ridge top offering sweeping vistas of canyon country, and the almost six mile roundtrip Taylor Creek Trail that takes you down the narrow box canyon and across the Zion Wilderness.
Both trails did not disappoint with majestic geological formations as well as very little, to no crowds. Hopping across river rocks in the shade of the canyon valley as the trail crisscrossed a winding creek, was a how-close-to-nature-can-you-get experience. At the end of the trail was an awe-inspiring geological wonder – a double arch formation where you could rest in its shade before hiking back.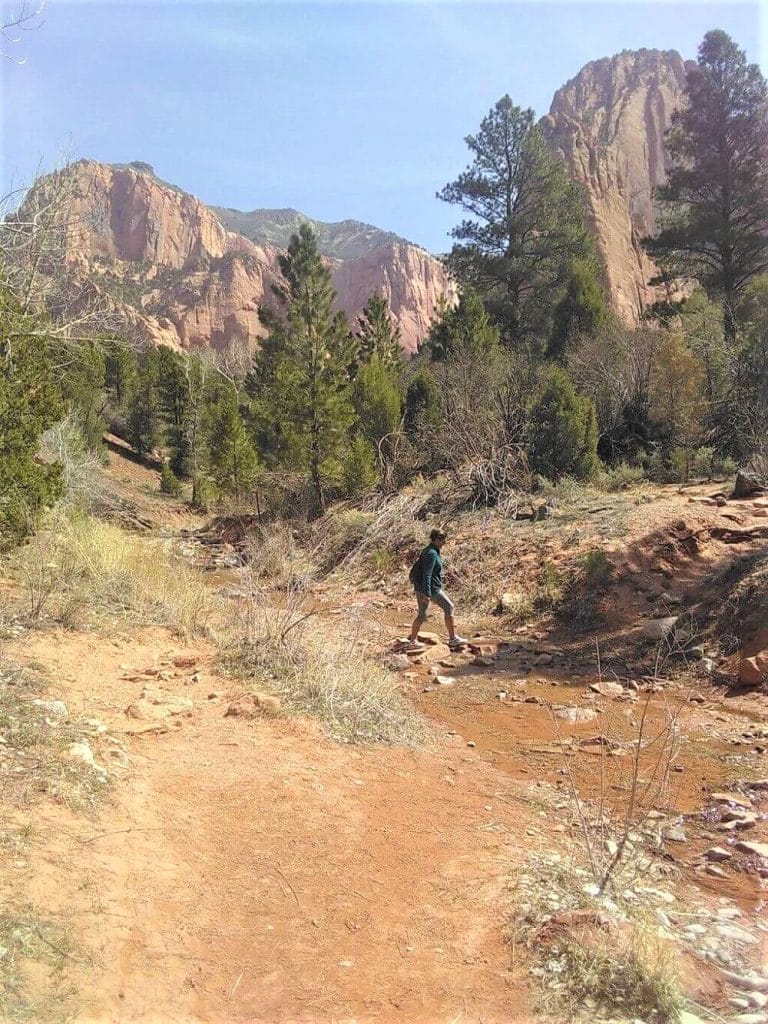 These two trails were like a mini version of the main park of Zion – canyons, rivers, arches and other geological wonders all combined in one un-Disney section.
HOW TO HANG WITH THE HOODOOS FROM UTAH TO ARIZONA
On to one of the "Mighty Five" national parks on our Utah to Arizona road trip. The trip to Bryce Canyon is on the famed Highway 89, a stretch of road that overpowers your senses with sweeping ranches (can you say Dallas? Dynasty?), livestock only seen in westerns (longhorn steer really do exist!), and teeny tiny towns that consist of a few houses, a gas station and at one junction, an "outlaw saloon."
Bryce is known for its hoodoos (columns of soft, weathered rocks topped by harder, less easily eroded stone) and the vastness and beauty of the hoodoo amphitheaters is nothing short of breathtaking. There are two main trails, Navajo Loop and Queens Garden, and I highly recommend descending Navajo and ascending via Queens Garden, as the elevations differ between the two.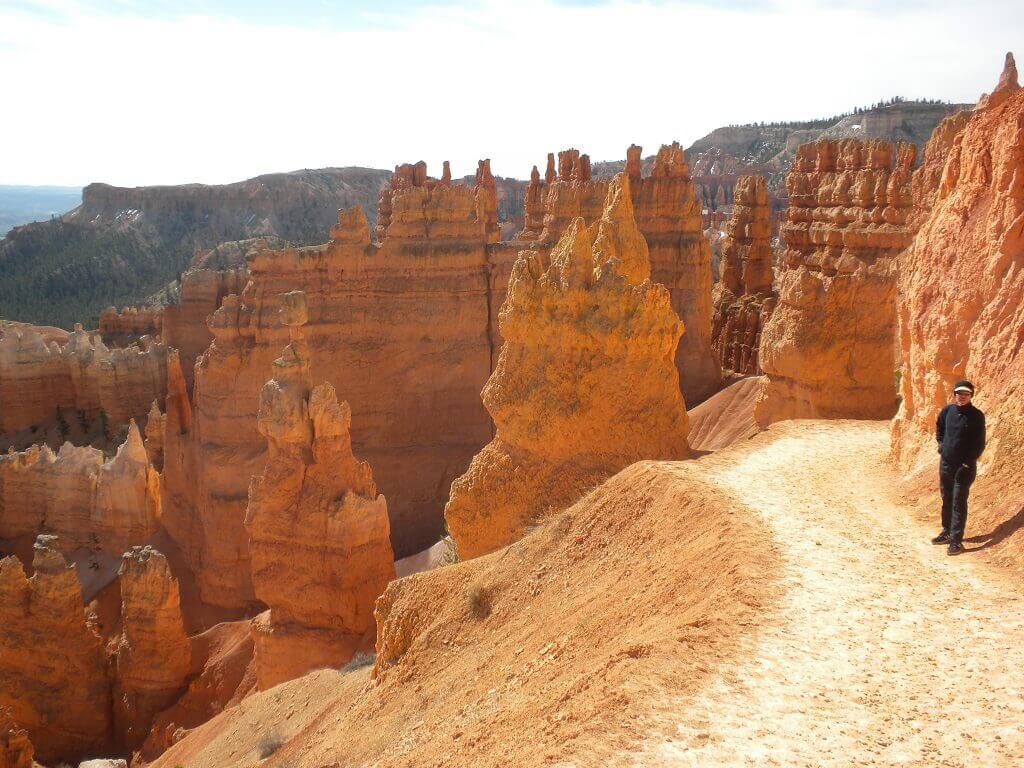 Bryce's scenic 18-mile drive is definitely worth it, providing restrooms, a picnic spot, gorgeous vistas and trails to stretch your legs at the final (but should be your first) stop, Rainbow Point. The trick is to stop at all the overlooks on the return trip down, as they're all on the right-hand side.  My favorite was Natural Bridge Overlook, which showcased an 85-foot arch formation of red-hued limestone formed over millions of years by wind, water and chemical erosion. This was one of the most spectacular sites on our Utah to Arizona road trip.
Can't get enough of beautiful Bryce Canyon and the surrounding area? Here is another spectacular road trip, Bryce Canyon to Capital Reef.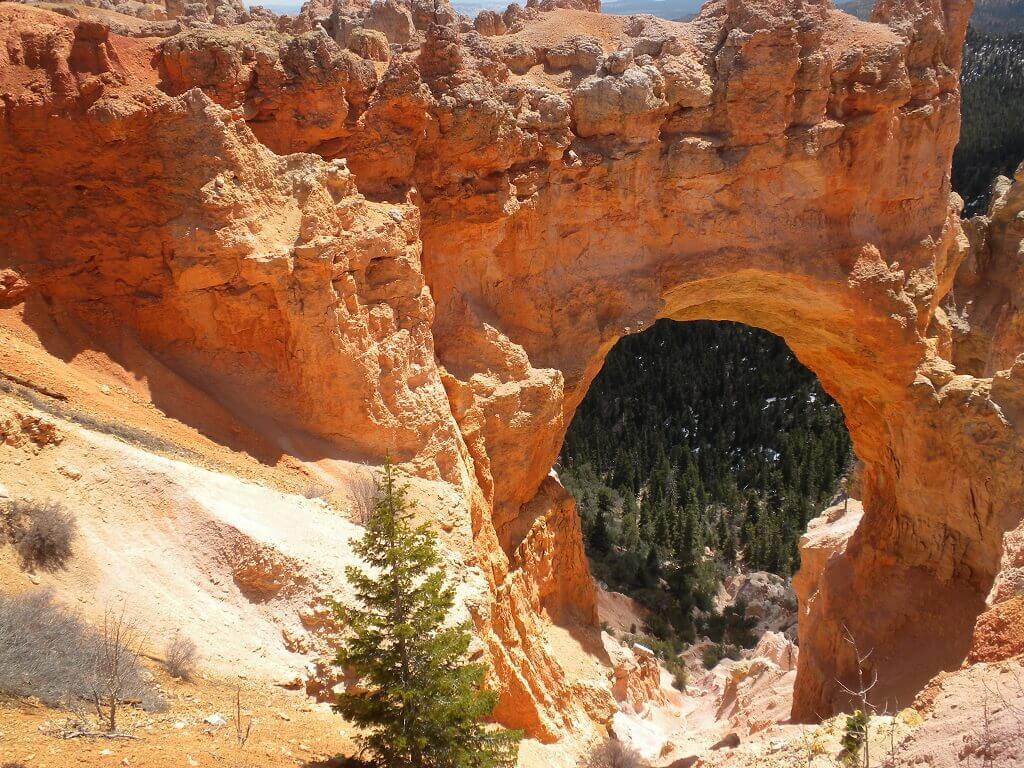 Don't miss the Bryce Point Overlook, yet another expansive and breathtaking view of the Silent City, an assemblage of hoodoos resembling figures frozen in rock.
Accommodations in majestic Bryce Canyon.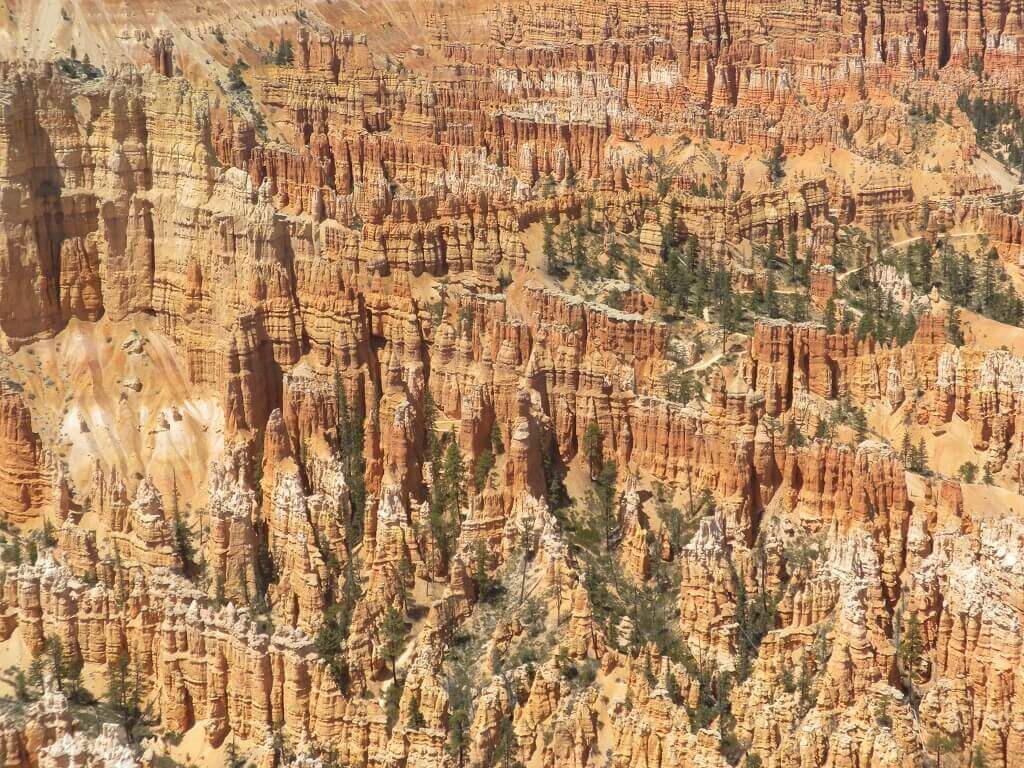 Hoodoo'd out? Give it one last shot as you exit the park. Half a mile north of the Visitor Center is the turnoff for Fairyland Point. The spectacular views of the ballerina-pink hued Fairyland Amphitheater will dazzle you and leave the wonders of Bryce imprinted in your mind for a very long time.
KANAB : READY FOR MY CLOSE UP
Known as "Little Hollywood" for having provided the backdrop for many famous Western movies and TV commercials, Kanab, Utah lives up to true wild west kitsch and more. Perfectly located and practically equidistant from Zion and Bryce, this is the place to call home base for your national parks ventures from Utah to Arizona. We stayed at the simple but overly accommodating Days Inn Kanab, whose hearty breakfast of coffee, homemade waffles, omelets, fruit, breads, oatmeal, juices and more gave us the jet lagged jump start we needed by opening their doors at 6am (thank you, thank you!)
No matter how long and exhausting your day is, make the time to explore Kanab. Every turn is photo-worthy, from the covered wagons that adorn the gas stations to the giant "K" scrawled across the mountain overlooking the town. Visit the free Little Hollywood Museum, making sure to head out back and wander among original old movie sets. Eat at Escobar's for inexpensive and authentic Mexican food with big portions.
Kanab was a secret treat in so many ways.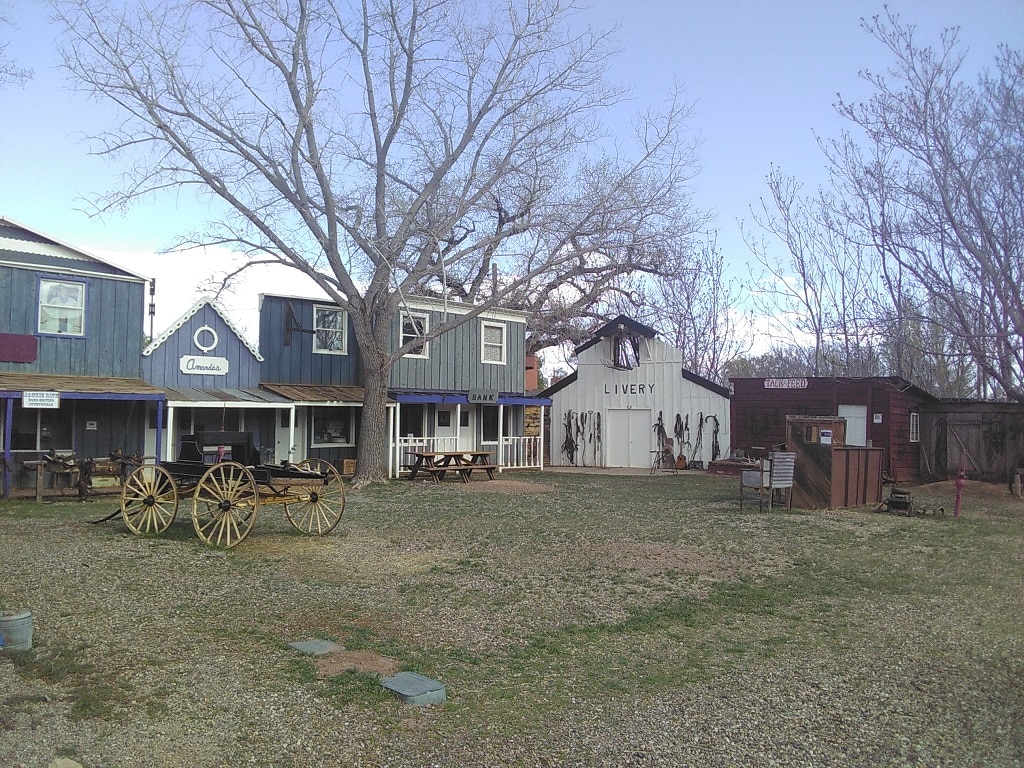 WHEN GOING FROM UTAH TO ARIZONA, GET BAD IN THE BADLANDS
The road from Utah to Arizona is a pretty cool stretch. Who knew there was so much to do in the 74 miles between Kanab, Utah and Page, Arizona?
Initially we chose Page as it is a gateway to the wonders of the Colorado River, including Lake Powell, Horseshoe Bend and of course, the Grand Canyon. But first, we had to cross the Badlands of Utah to get there. I had only heard of the Badlands through Stephen King novels, so I was pretty psyched.
Here is where historic Highway 89 can either be just a road from point A to B, or the most remarkable leap back in time to some pretty cool hidden natural wonders of southern Utah.
We were now in the uncharted land of no wi-fi and no cell service so our only guide was the milepost markers. It's also a place to watch that speedometer and have a good pair of sunglasses. Approximately 11 miles out of Kanab is Johnson Canyon Road, which stretches north along the colorful cliffs of the Grand Staircase Escalante. At first glimpse are idyllic farmhouses and grazing horses, and after about five miles, on the right, were the remnants of the true old West: the dilapidated buildings from the Gunsmoke film set, now on private land. At the eight-mile mark we started to climb through the White Cliffs, with steep bone colored edges and green juniper and sage at the base. The cliffs continue for 18 miles, and if you choose, you can then continue deeper into the Escalante on a dirt road called Skutumpah Road.
Heard songs about the Badlands? Read The Stand by Stephen King? Welcome to milepost marker 31.
A sign that reads "Old Pahreah Townsite", and a plaque and landmark await you in a small, dirt parking lot. There was a brief "are our tires going to make it?" and "is this in the rental car agreement moment"? before we threw caution to the winds of the Badlands and headed out, billowing clouds of red dust behind us. We were now on a six-mile long dirt road, with undulating hills and narrow twisting turns that crossed rainbow-hued foothills comprised of encrusted minerals of iron oxides, manganese and cobalt. We finally reached a "parking lot" and were pleasantly surprised to find picnic tables and a simple, clean (much needed) restroom. Down a few more narrow, steep hills was the Old Paria Cemetery, which has about 20 graves. Not only were we surrounded by the breathtaking Rainbow Mountains, but we seemed to be the only people there basking in its majesty.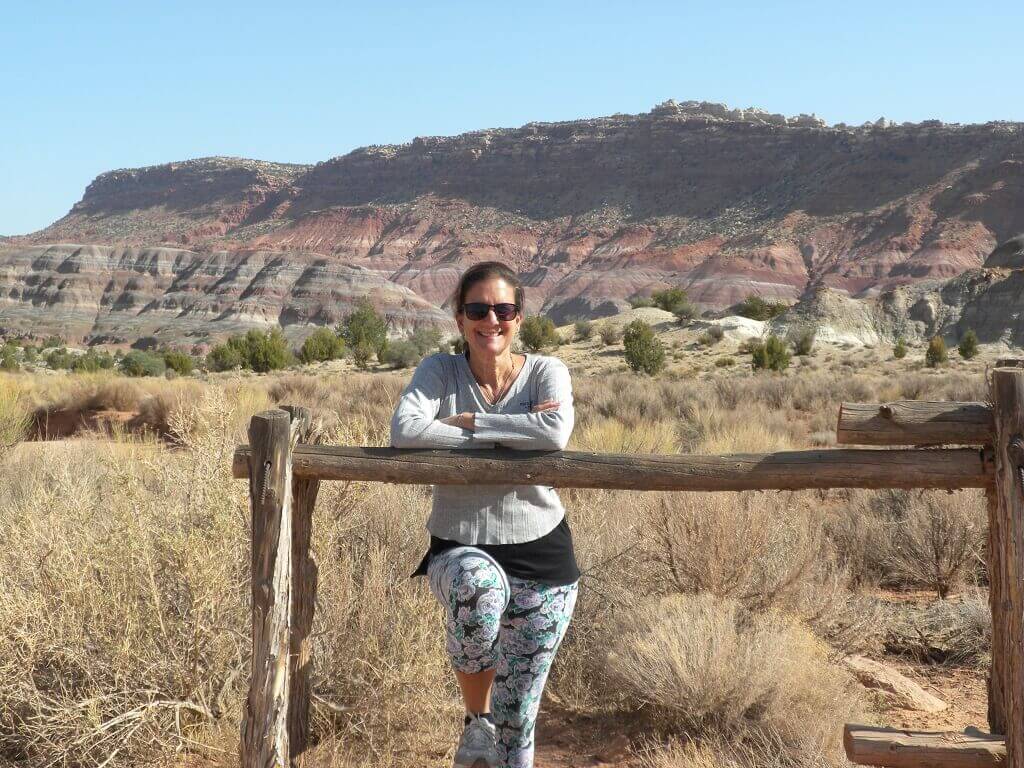 Moving right along on Highway 89…who would have thought one could be obsessed with toadstools? At milepost marker 19.3 is a sign marked "The Toadstools." Here you'll find a less-than-a-mile flat ground hike showcasing panoramic views of the colorful badlands and an assortment of wildflowers. The end reward is the majestic Red Toadstool holding court over the Toadstool garden. We roamed child-like through the garden rim discovering other mushroom-shaped hoodoos hidden within the cliffs and few other humans. This was one of the more magical sites we experienced from Utah to Arizona.
Continuing on from Utah to Arizona, highway 89 leads into Page, Arizona, home to Lake Powell, the second-largest manmade lake in the United States. It also houses the Glen Canyon Dam and the secret vista point of Glen Canyon Overlook, where you can climb and roam rock formations and soak in your first glance of the Colorado River, and the mighty dam that supports it.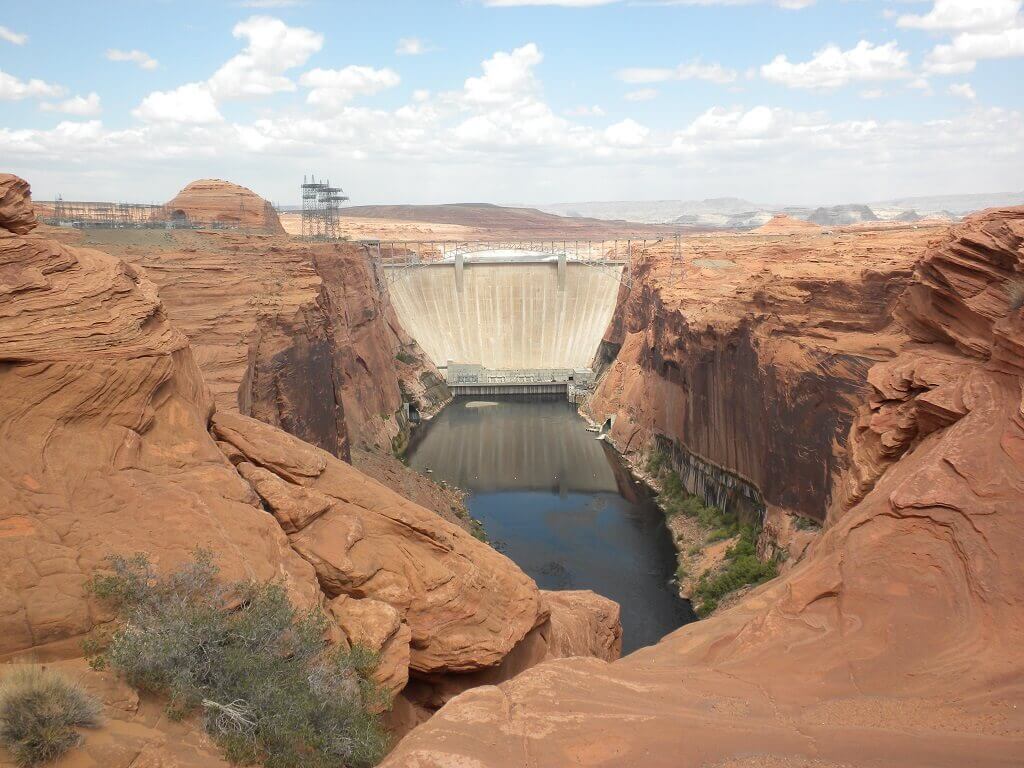 Ten miles due south is Horseshoe Bend, the only place I capitulated to not only pay for parking, take a selfie, then leave, but also endure the most people seen so far on this trip (and some feisty mosquitoes). But it was worth it to soak in yet another breathtaking natural wonder of the southwest.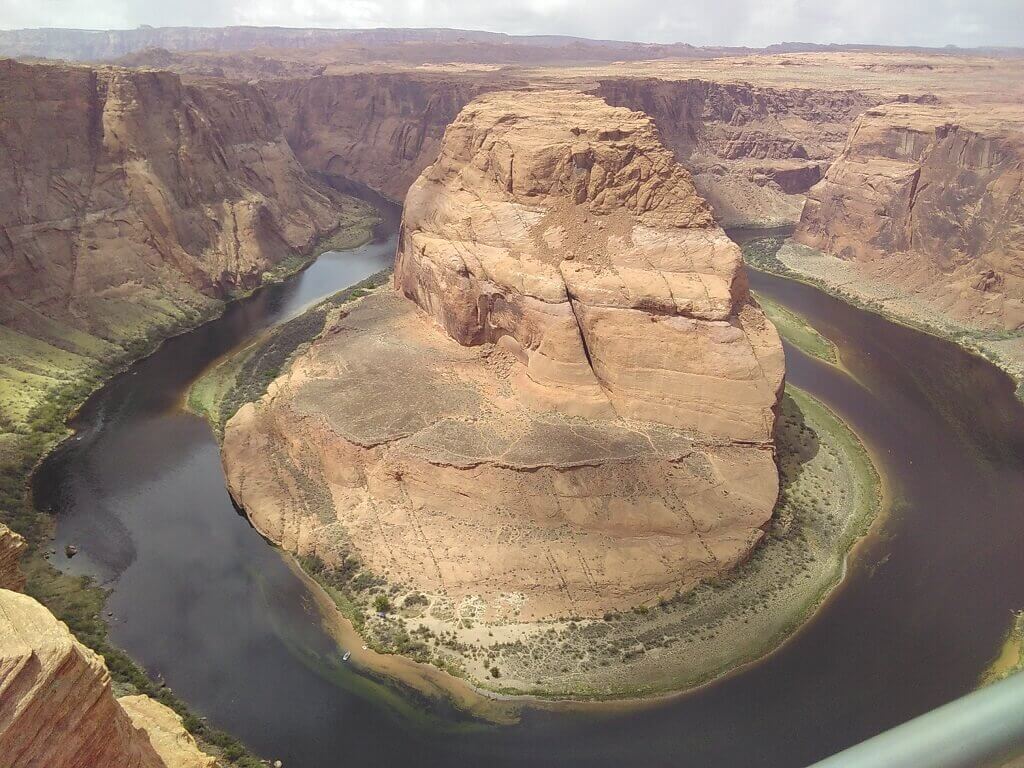 GO EAST YOUNG MAN
I was torn. I wanted to go to the Grand Canyon, but I did not want the crowds. Enter Google, because by simply typing "Grand Canyon no crowds", I found out about entering the park on Desert View Drive, via the East Entrance. However, depending on where you're coming from it may be out of the way, but it is well worth it.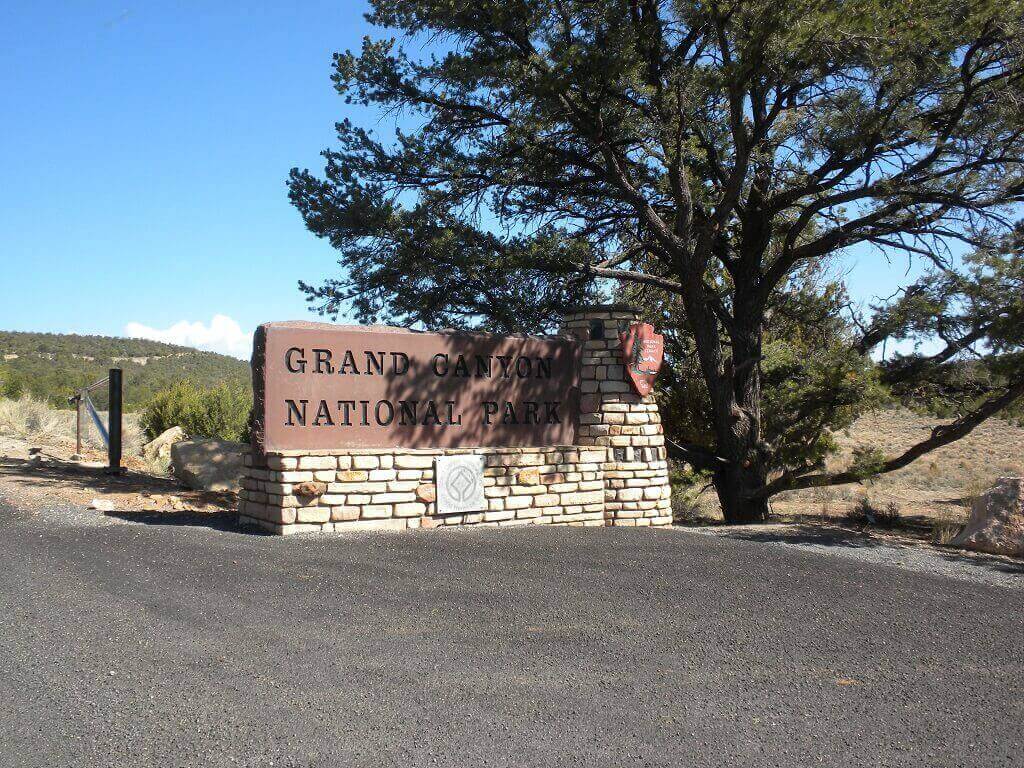 The Desert View entrance, via Highway 64 from the east, is the easternmost entrance on the South Rim of the Grand Canyon, and one of the highest, with an elevation of 7,348 ft. The entrance goes through Little Colorado River Navajo tribal park and Little Colorado River Gorge, and we immediately noticed there were fewer cars using this gateway to the Grand Canyon.
Desert View Drive offers some of the most beautiful views of the Grand Canyon, many including the muted blue of the Colorado River as it snakes its way through the rock. There are about eight overlook stops, each more breathtaking than the next.
Where to stay near the Grand Canyon.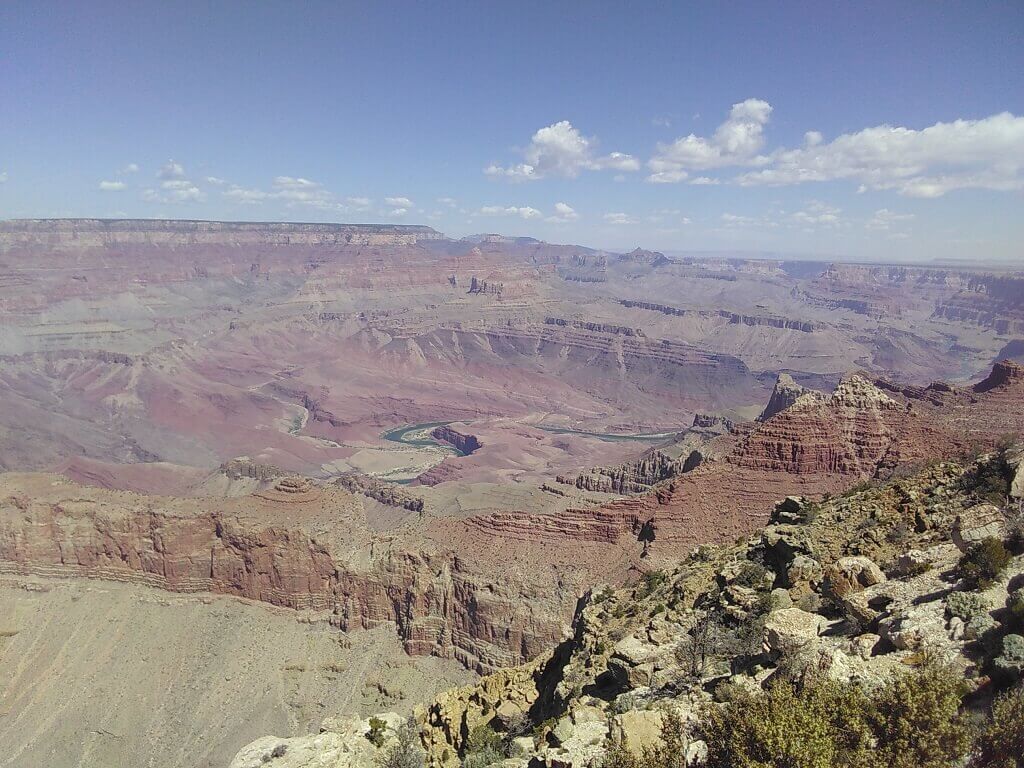 We enjoyed leisurely stops at vistas that provided historic stories, incredible views and places to park. Oh, and minimal people.
Nestled somewhere between mile markers 243 and 245 is an unmarked dirt parking lot that is not on any map. Once you park, go around the gate and follow the one-mile trail through the ponderosa pine forest to Shoshone Point, a spectacular rocky overlook vista with an unforgettable canyon view. Picnic tables and restrooms complete the experience. Note that this is not advertised on any park maps, so it is truly a special viewpoint.
Later on, when we got to the main park and did a quick walk to some of the tourist bus vistas, we realized that the Colorado River wasn't visible from this part of the South Rim. This made our time exploring Desert View Drive even more special, as everywhere we looked, the blue ink of the Colorado River winked back at us.
Note that you can get to Desert View Drive from the main entrance on the South Rim, but since we were coming from Page, we entered from the east.
OTHER NEED TO KNOWS ON A UTAH TO ARIZONA ROAD TRIP
To date, the price for a car to enter the national parks is $35. The America the Beautiful pass, for an annual fee of $80, can be used at over 150 national parks.
– Utah is a "dry state" so buy all your libations before you cross the border. Get more than you think you'll need, especially if you have a rent a car. Just buy it and let it roll around in the back seat.
– Williams AZ, about 60 miles due south of the Grand Canyon's main (Southern Rim) entrance is well worth a stop and a walk along Main Street, which is part of historic Route 66.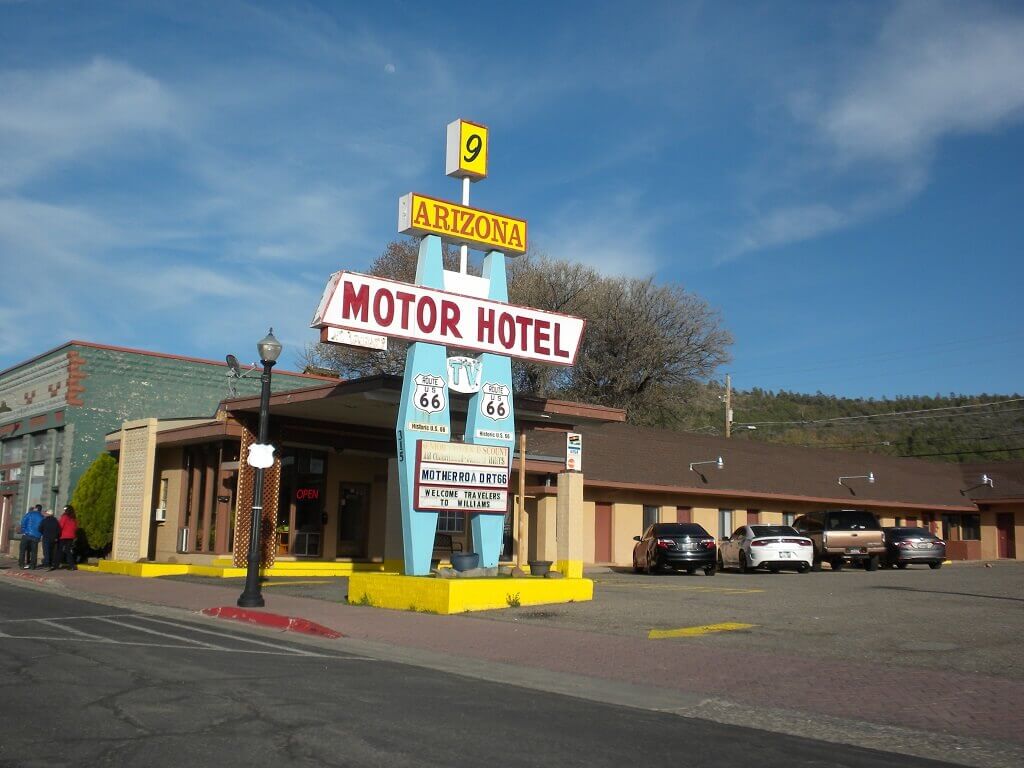 – Don't wait until your tank is near empty to buy gas because there may not be a station for hundreds of miles. Distances from Utah to Arizona can be long and populations sparse. Cell service is sketchy and at times you can be the only car on a stretch of road.
Want to know more about this beautiful part of the country? Here are a couple of books to refer to as you explore this spectacular part of the USA.
What are your thoughts on our Utah to Arizona road trip? I'd love to hear your secrets of the southwest! I'm sure we all have a few…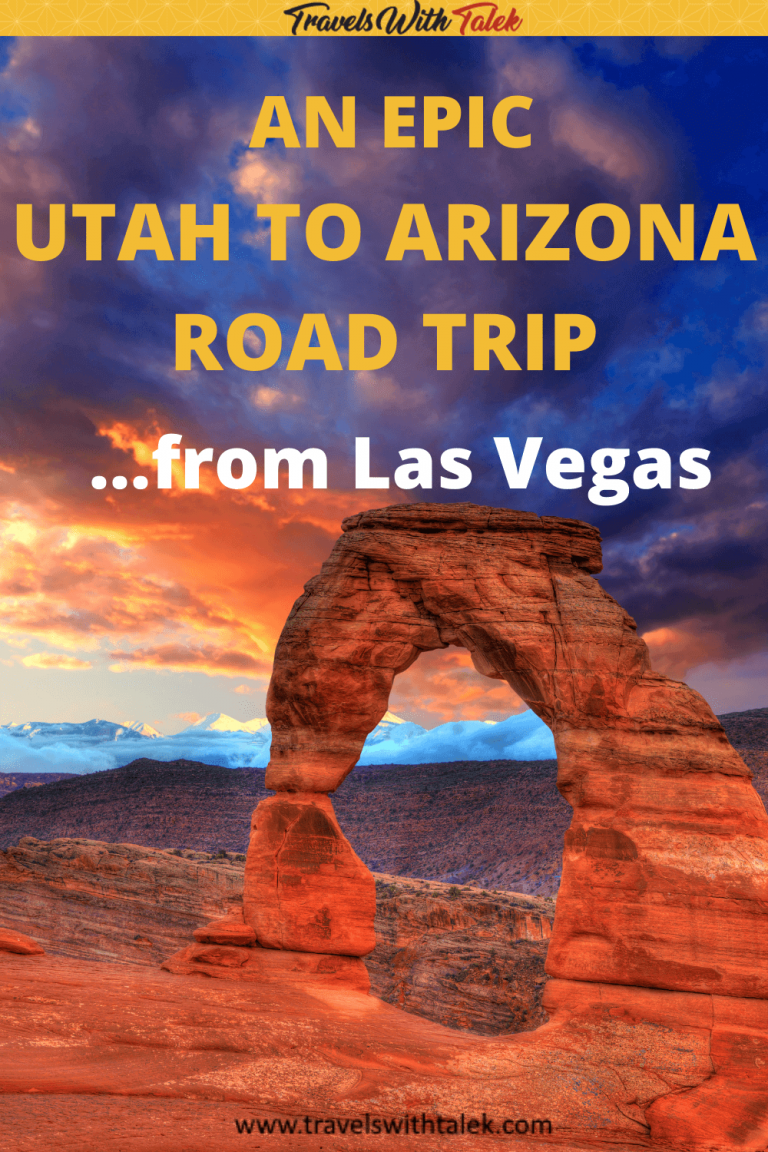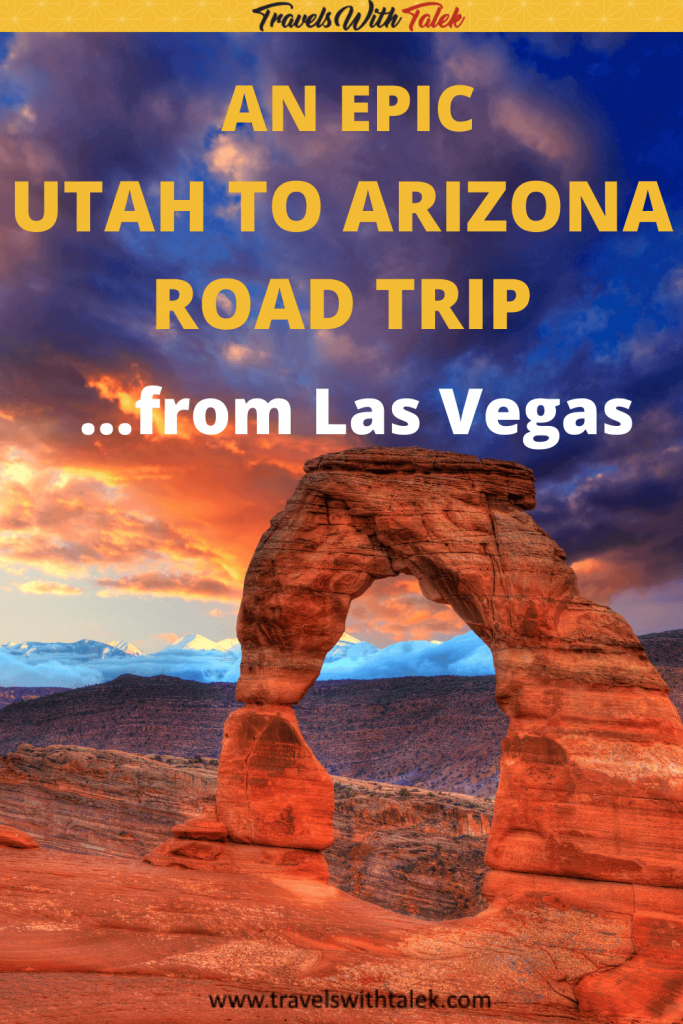 BTW, if you are getting ready for your trip, make sure to take advantage of these useful, money-saving links to book your trip:
I personally use, and can recommend, all the companies listed here and elsewhere on my blog. By booking through these sites, the small commission we earn – at no cost to you – helps us maintain this site so we can continue to offer our readers valuable travel tips and advice.