Updated October 2020.
We didn't really intend to go white water rafting on the Zambezi River. We just wanted to see Victoria Falls. Then we saw the sign. But more on that later.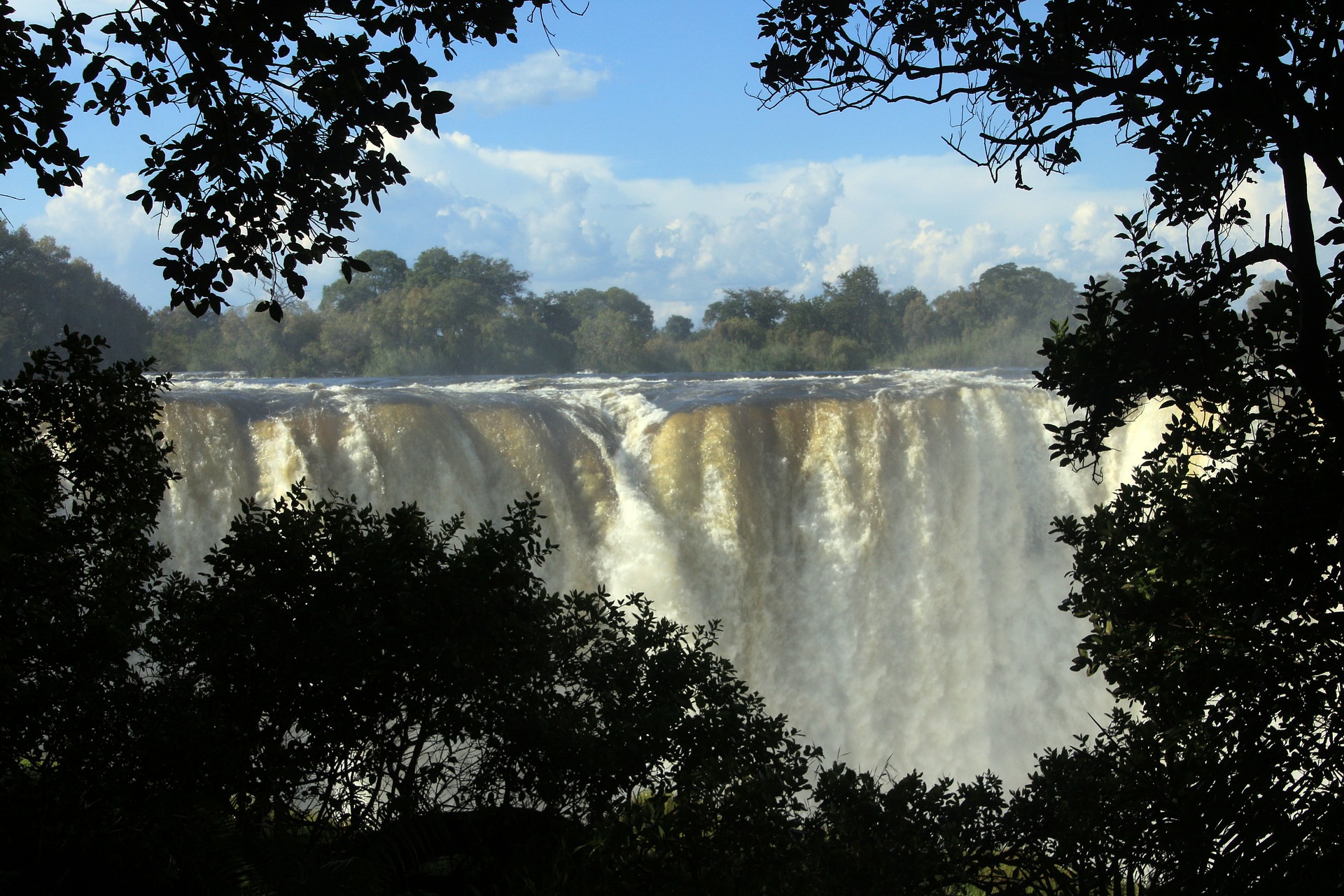 THE SMOKE THAT THUNDERS
Victoria Falls, or Mosi-ao-Tunya in the indigenous language, means "the smoke that thunders". This spectacular waterfall is part of the Zambezi River straddling the border between Zimbabwe and Zambia.  It is one of the seven wonders of the natural world declared a World Heritage Site in 1989.
My frame of reference for waterfalls was Niagara Falls so when I saw Victoria Falls for the first time I was shocked at the height and width. At 354 high, Victoria Falls is twice as high as Niagara Falls and is considered the world's largest sheet of falling water.  It looks like there was a large crack in the middle of the massive Zambezi River and the water just plummets into the crack.
We were there during the rainy season which runs from November to April.  This is when the water is at its highest so we were able to see the falls in all its thunderous majesty.  The landscape surrounding the Zambezi River is lush and deep green contrasting beautifully with the blue of the river and the white of the falls.
There is a very wide range of lodgings in the area; everything from the colonial luxury of the River Lodge and Victoria Falls Hotel to your standard hostels. Some of the restaurants have breathtaking views of the falls. And there are so many things to do; camping, nature and wildlife tours, helicopter rides over the falls, ecotourism.  Adventure activities are also worth mentioning; zip-lining, horseback riding, bungee-jumping, snorkeling.
DON'T LET GO OF THE RAFT!
We stopped at a local food store for a cold drink.  That's where we saw the sign "Go white water rafting on the Zambezi River".
"Why not", we figured.  "We're already here". We had rafted in the States and Costa Rica and had enjoyed it immensely. We followed the directions to an open-air clearing, signed up along with about 30 other unsuspecting souls and listened to the orientation.
"You have to sign a release saying we're not responsible for any injury to you", the administrator told us.  I thought this was a reasonable request as it was common in the States so we signed.  He then proceeded to explain the safety features, rescue procedures and equipment.  The equipment looked like it had been through quite a few river trips. Towards the end of his speech he rubbed his hands together, gave us a creepy smile and said, "This is dangerous. You will likely fall out of the raft and may get hurt.  There are many 4 and 5 level rapids on this river as well as whirlpools that can suck you underwater. You need to stay calm and remember the instructions.  And above all, no matter how rough it gets…DON'T LET GO OF THE RAFT!".
The guide made us repeat the mantra and we dutifully replied in unison "DON'T LET GO."   After this ominous warning, he asked if anyone wanted to back out.  A couple of people giggled nervously and left the group.  I watched them leave and thought, "I could walk out of here right now" but I didn't move. Then he asked those of us remaining to signify our consent to stay by raising a hand.  By this time I was a little nervous. I couldn't bring myself to raise my hand in an enthusiastic gesture.  Instead, I lifted it halfway in a wimpy, almost embarrassed gesture.  And we were off.
They drove us in a dilapidated van to a clearing by the river.  Rather than embarking from that point, we had to carry our rafts over our heads through the jungle until we reached a much broader waterway. We were assigned a very nice guide named Banu. Banu was a funny guy, over six feet tall, muscular without an ounce of fat on him.  He grew up on the river and said he did about four raft trips a week.  I felt reassured that we were in a raft with such an experienced river guide. "Yeah," I thought. "We're with Banu. We're cool".
THE POINT OF NO RETURN
We got into the raft and shoved off.  About 15 minutes later, when the shore was way behind us, Banu leaned towards me and whispered in a conspiratorial tone, "there are level 6 rapids on the Zambezi River."  You know how you feel when you're driving and barely miss a bad accident?  Your adrenaline level shoots way up, your heart races and your palms sweat. That's how I felt when Banu said that.
Shocked, I replied, "Level 6 rapids are illegal everywhere in the world!"
"No worries, no worries" he laughed.
There was no way off the raft by now. There was also no time to think as the rapids were quickly approaching and we had to maneuver the raft. We paddled for dear life. Continue reading below or listen to the story by playing the episode.
Rather than working our way up to level 4 and 5 rapids as usually happens, we were immediately thrust into challenging rapids with very little time to recuperate before the next rush of water.
During one brief respite Banu recited the names of the rapids we would encounter; the washing machine, cyclone, the roar. After about an hour of extreme physical exertion, we entered an even rougher patch where several rafts were overturned. The guides miraculously righted the rafts and began pulling people in. As the soaked rafters recovered they, in turn, pulled others in. One rafter sped past me with a large gash on his forehead and a guide pulled him to the shore.
Throughout this ordeal, Banu remained calm and seemingly unconcerned. I kept looking at him thinking "if he's not worried maybe it's not so bad" the way you look at a flight attendant's face during turbulence.  In the midst of this Banu yelled to us over the roaring water to get ready because we were going into the Devil's Throat.  He was suddenly serious.
We braced ourselves and in the distance saw only a furious mist. We couldn't even see where the river fell into the coming drop. Within seconds we were pulled over the edge of the river and dropped onto the lower level as the water raged around us. My fingers were wrapped so tight around the raft rope that I couldn't feel them. I couldn't believe we landed upright.  As I looked behind me to see how far we had dropped we crashed against a large rock and began to overturn.
SURVIVING A LEVEL 6 RAPID
I often relive the next few seconds in my mind. It always happens in slow motion. The raft began to lift from the front until it had to tip over. I was furiously holding on to the rope but the raft was falling in a direction that I knew would break my arm if I didn't let go. But the guy had said whatever happens YOU CANNOT LET GO. In the milliseconds it took for this to happen I weighed my options; if I broke the cardinal rule and let go I could drown, but if I continued to hold on my arm would break, I wouldn't be able to swim with a broken arm and would definitely drown.  I let go.
Everything went fast forward.  Immediately I was swept into a whirlpool and sucked underwater.  My shoes and watch were torn away. I kicked furiously trying to reach the surface where I saw light but no matter how hard I tried I couldn't reach it.  The whirlpool was too strong. I began to think that if I didn't reach the surface within the next few seconds I wasn't going to make it. I remember being sad at this realization.  Suddenly I broke the surface but the water was still raging around me slapping my long hair on my face so that every time I tried to breathe my wet hair covered my mouth and nose suffocating me.
It occurred to me to turn in the opposite direction of the rushing water. I could now breathe and saw my raft in the distance. I also saw the next rapid alarmingly close and knew I could not survive the coming rapid without a raft. A guy in the water holding on to my raft saw me and realized my danger. I could tell he was debating letting go of the rope to reach out to me knowing that if he let go he risked the same fate.  I tried to propel myself towards him but knew I would not make it in time. Then I saw him let go and reach towards me. We clasped hands and he pulled me in in time to navigate the next rapid.
I barely remember the rest of the trip.  I do recall a long, uphill climb back to my hotel with Banu helping me along the way because I had no shoes.  I was sore for days.  I researched what hotel the guy that helped me was staying at and bought him a drink.
I since read that whitewater rafting trips in the Zambezi River have become more regulated and are now as safe as rafting elsewhere. And, yes, I would again go white water rafting on the Zambezi River.
What is the scariest thing that ever happened to you on a trip?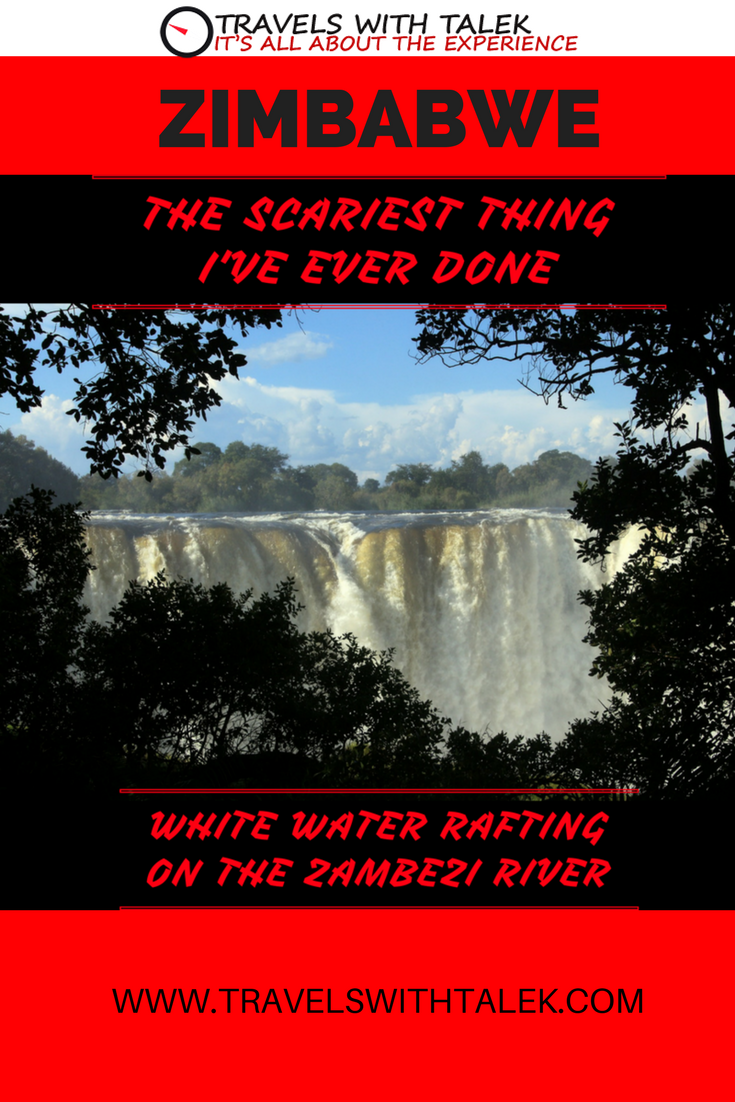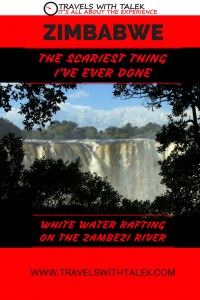 BTW, if you are getting ready for your trip, make sure to take advantage of these useful, money-saving links to book your trip:
I personally use, and can recommend, all the companies listed here and elsewhere on my blog. By booking through these sites, the small commission we earn – at no cost to you – helps us maintain this site so we can continue to offer our readers valuable travel tips and advice.