A horse decorated in multicolored ribbons clops down cobblestone streets pulling a carriage in Old Quebec. Narrow alleyways open up onto sun-splashed plazas with colorful open-air cafes. Signs tout steak pomme frites, petite d'journe and poutine,  the city's signature dish of fries, gravy and meats. The aromas of lavender and freshly ground coffee linger in the air. You are not in France; not even close.  You are in the beautiful city of Old Quebec  in Canada.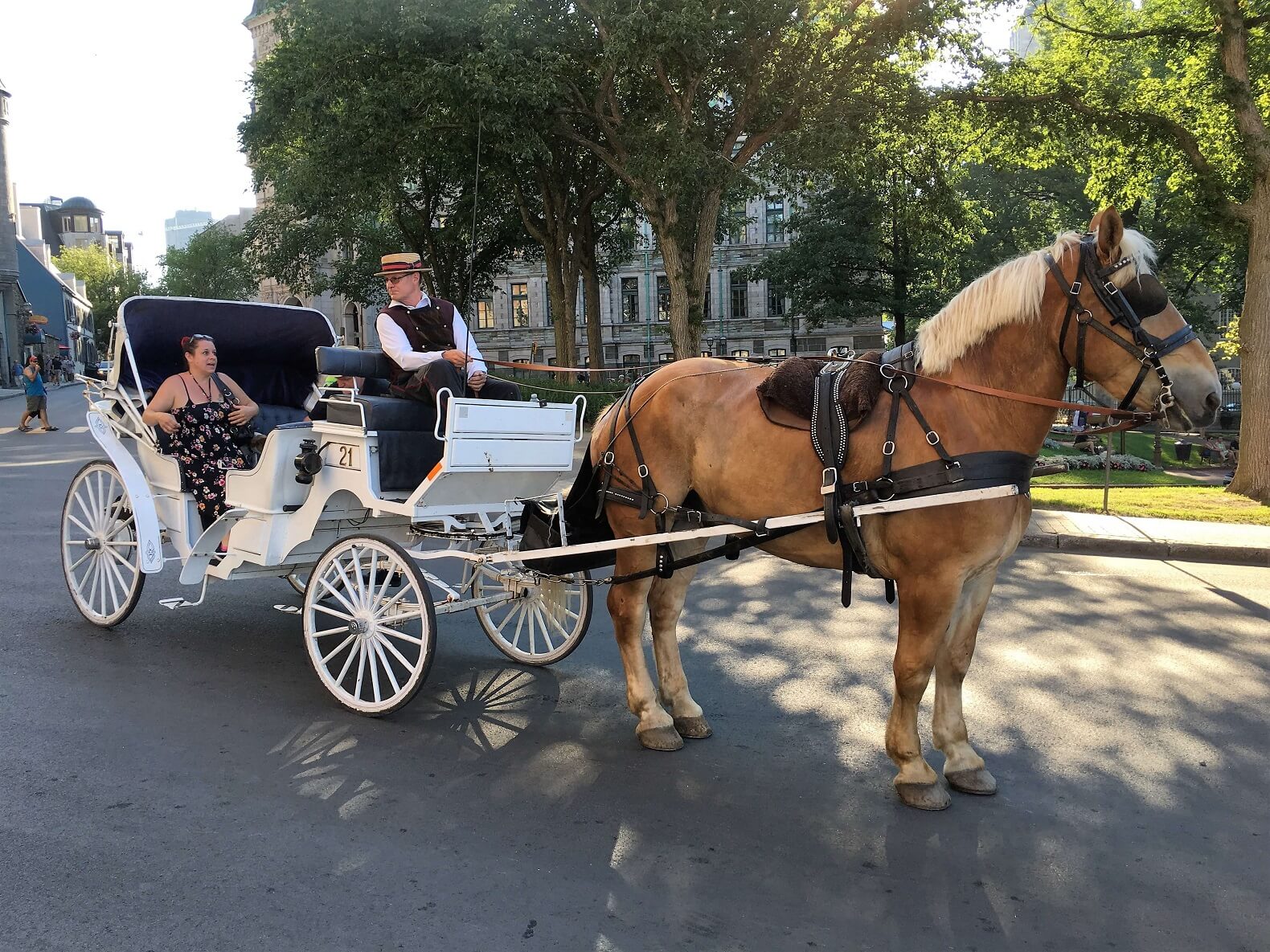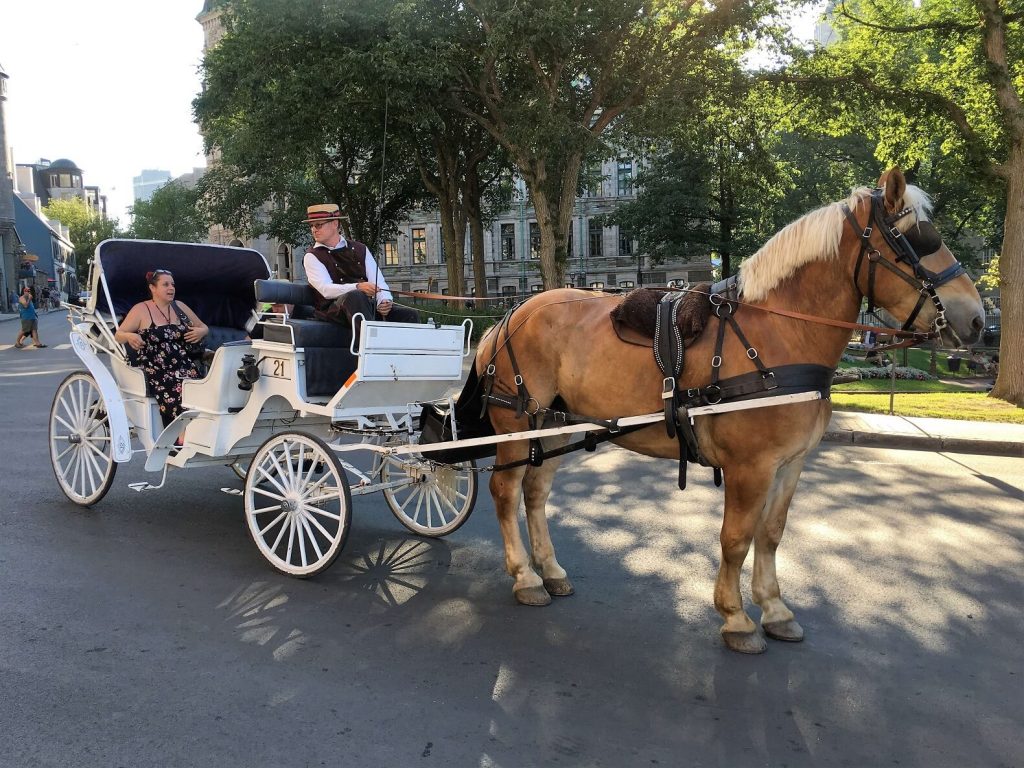 THE FRENCH INFLUENCE
Old Quebec enjoys a heavy dose of French influence.   You see this in the graceful architecture so reminiscent of Parisian structures and in the picturesque streets and shops. You taste it in the food where even a lowly cheese baguette in a corner café is a culinary treat.  And, of course, you hear it in the French language which is spoken by the vast majority of the population.   Spending a day in Old Quebec you could easily convince yourself you are in a mid-size town in central or northern France.  But of course, Old Quebec is also part Anglo which is what gives the city its unique Anglo-French culture and feel.
Check out some top Old Quebec sights.
CHATEAU FRONTENAC
The area surrounding the Chateau Frontenac is a great place to start exploring the city.
Rumor has it the Frontenac is the most photographed hotel in the world. Named after a former governor, the hotel is over 100 years old and stands atop one of the city's highest points in the middle of an expansive plaza facing the Saint Lawrence River. You cannot beat the view! The plaza is a gathering point for street performers and open air art galleries displaying unique exhibits.
THE STREETS OF OLD QUEBEC
There are two wonderful pedestrian streets in Old Quebec that, despite being right smack in the center of the tourist area, still manage to maintain an air of old-world French authenticity. Rue Saint Jean (pedestrian only in summer) and Rue Petite Champlain are streets lined with restaurants, shops and galleries.   Both are great for strolling, a leisurely meal and people watching.
PLACE ROYALE
Rue Petite Champlain will take you to Place Royal, the site of Old Quebec's original foundation and the city's busy commercial center for 200 years.  In recognition of this area's historical significance, the city has recreated a faithful rendition of what Quebec  looked like about 300 years ago.  There are a couple of can't miss sights in this small but cozy and charming plaza.  The first is the church of Notre Dame des Victoires built on the very spot of the city's first settlement. The other is a massive mural depicting a collection of historical characters and regular citizens throughout the centuries. Also worth a visit is a small museum with 5000 year old artifacts found beneath the city.
[iframe src="https://www.youtube.com/embed/8aOPP3t9Yzs?rel=0″ width="700″ height="515″]
[iframe src="https://www.youtube.com/embed/jJ-8eTCKx7E?rel=0″ width="700″ height="515″]
THE OLD PORT
Rue Saint Paul faces the port of the Saint Lawrence River. The street is packed with all sorts of stores especially antique shops, art galleries, sidewalk cafés and restaurants. Nearby is the Musée de la civilisation, featuring a history of the city as well as interesting exhibits and interactive workshops.  But the crowning jewel of the area is the Old Port. The city has done a great job of transforming the old port area into a lively attraction full of exhibits, ships, ziplining courses and so much more. Its really one of the nicest waterside developments I've ever seen.
…OH, AND DID I MENTION THE FOOD?
As expected in a city with so much French influence, the food in Old Quebec is excellent. Every restaurant we went to no matter how small or informal served delicious food. Were we just lucky or is this pretty standard? Here at a few we truly enjoyed: Le Chic Shack specializes in poutine which you should try at least once. Les Trois Garcons is an imaginatively decorated location with a more varied menu. La Picada is a welcoming little spot right off busy Rue Petite Champlain. The food is shared snacks and platters with a Latin flair – think chorizos, Iberian ham and empanadas. The drinks are reasonably priced and the service is spot on. The best part was the music, an eclectic mix of Cuban and other Latin elections.   What a laid back and pleasant experience!
A local dish worth sampling, the "poutine" is a base of French fries, covered with different types of meat and gravy poured over it. This is a hearty dish found all over the city.
Old Quebec is so close to the U.S. you could even go for a long weekend depending on where you are in the U.S. Have you visited Old Quebec?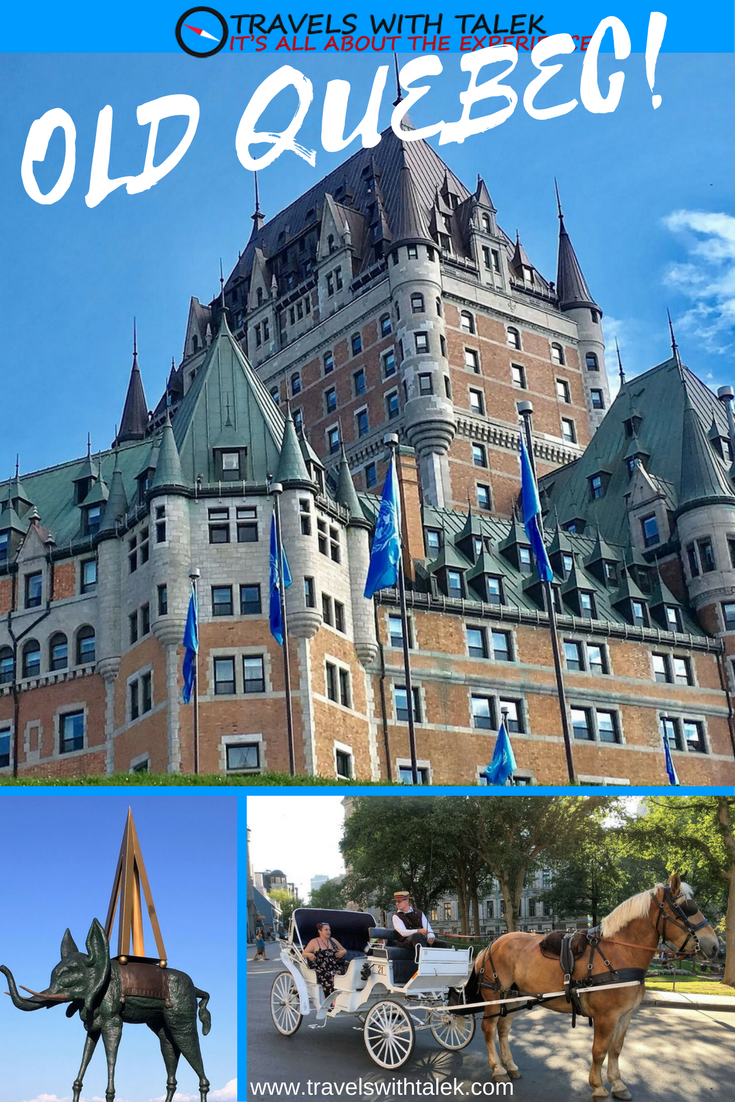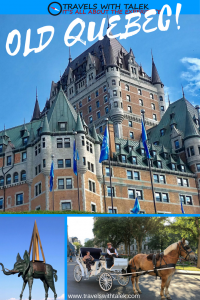 P.S. Looking for more guides to visiting Canadian cities? Here's a great guide to Toronto, Ontario.
BTW, if you are getting ready for your trip, make sure to take advantage of these useful, money-saving links to book your trip:
I personally use, and can recommend, all the companies listed here and elsewhere on my blog. By booking through these sites, the small commission we earn – at no cost to you – helps us maintain this site so we can continue to offer our readers valuable travel tips and advice.