Hidden gems in Spain are hidden in plain sight. They are easy to get to and glorious to enjoy. Thing is, they are frequently overshadowed by the bigger, more popular cities like Barcelona, Madrid, Valencia and Bilbao. Most visitors hit the high spots due to lack of time. Unless you live in Span, you are likely to miss these hidden gems that are often off-the-beaten-path.
To help visitors put these lovely hidden Spanish gems on their radar, we asked frequent travelers to share their favorite small towns, regions and experiences in Spain. It would take a lifetime to see them all.
HIDDEN GEMS IN SPAIN
ASTURIAS
If you want to experience Spain away from some of the big tourist destinations, you can't do better than the beautiful Kingdom of Asturias.
Spain's northern region is often referred to as "Green Spain" because, contrary to much of Spain, the northern region enjoys substantial rainfall and has ideal weather to nurture emerald, green hills and deep forests that almost seem tropical. Asturias is part of that amazing Green Region and one of Spain's hidden gems.
Fully one third of Asturias is designated protected parkland. The region is also dotted with national parks like "Picos de Europa" Europe's first national park and the site of natural beauty like the region's sparkling lakes. Asturias also boasts the UNESCO biosphere reserve of Somiedo and many nature reserves.
Not to be outdone by Asturias' breathtaking natural beauty, its towns also offer many not-to-be-missed sites. Oviedo, the capital city of Asturias, is home to several pre-Romanesque structures from the 9th century. These are UNESCO World Heritage sites that were once the private residences of Asturian royalty. The many plazas of Oviedo feature a dizzying combination of architectural styles like: Renaissance, Gothic, Romanesque and Baroque. The perfect example of this is the city's cathedral, Catedral Metropolitana Basilica de San Salvador. Oviedo is the perfect base from which to explore the rest of the region.
Asturias loves to showcase its customs and traditions. You will see centuries old performances playout in town plazas throughout the year.  The area is ideal for a two or three week road trip to Asturias to at least touch on everything the region has to offer.
Enjoy regional dishes like fabada Asturiana, a hearty meat, bean and vegetable stew. For a Spanish experience as authentic as you can get, make sure to try the local alcoholic cider in one of the region's many cider houses.
An ideal accommodation in Oviedo is the Hotel Campoamor. It is centrally located and has tons of old world charm.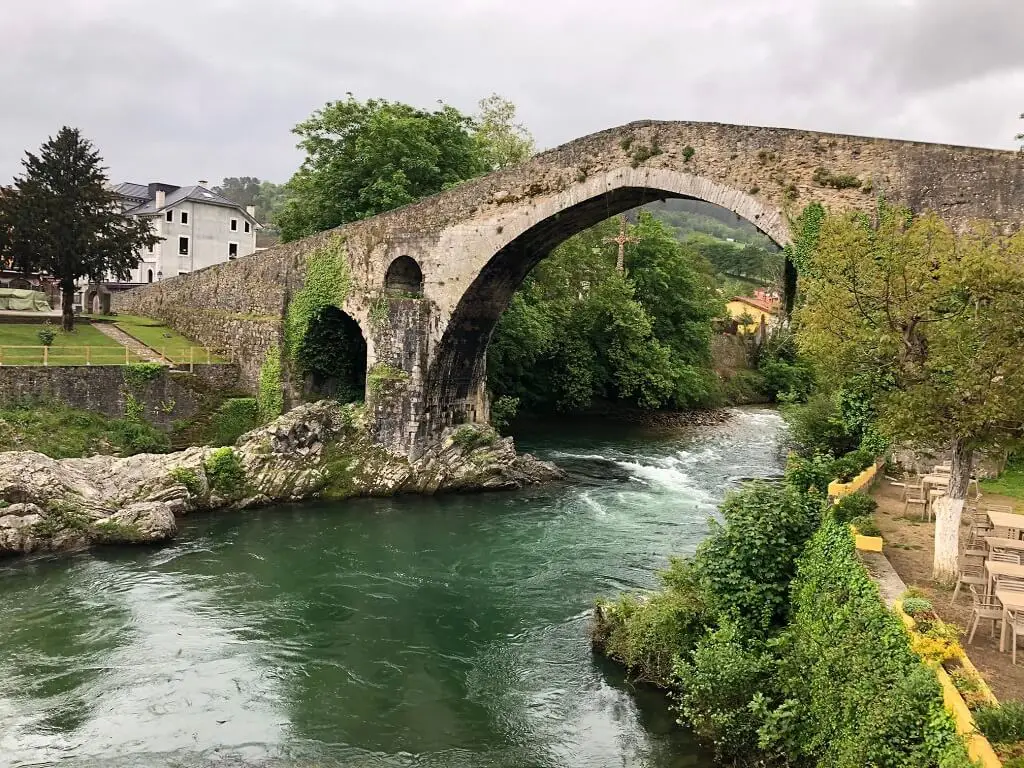 Talek blogs at Travels with Talek
---
CARTAGENA
The beautiful city of Cartagena with its marble streets, amazing food and ancient sites is one of the fabulous hidden gems of Spain.
Cartagena is located in Murcia, south-eastern Spain facing the Mediterranean Sea. Called the "winterless city," it has some of the best weather in Europe. Its maritime history is replete with tales of Phoenician ships, Roman wrecks and the Spanish Civil War.
Cartagena's' historical significance as the centre of the trade route linking Africa to the Middle East can be seen in its outstanding architecture that includes a castle, Roman arena, Punic ramparts, a Byzantine wall, and a museum dedicated to the Spanish Civil War.
The Castillo Conception is a highlight of Cartagena and the views from the top are simply incredible. To get up to the Castillo take the heart-pounding Panoramic Lift.
The main pedestrian street in Cartagena is Calle Mayor. A busy and vibrant area it is a beautiful pedestrian centre complete with Modernist and Belle Époque architecture.
Enjoy a Café Asiatico in one of the many cafes. This local specialty coffee is similar to Vietnamese coffee. Only be found in Cartagena it is made by mixing coffee, condensed milk, cognac and topped with local liquor known as Licor 43.
I recommend the NH Cartagena Hotel located in the centre of the historic district. This elegant hotel is set on a quiet pedestrian area of the city and offers superb views of the Roman Theatre.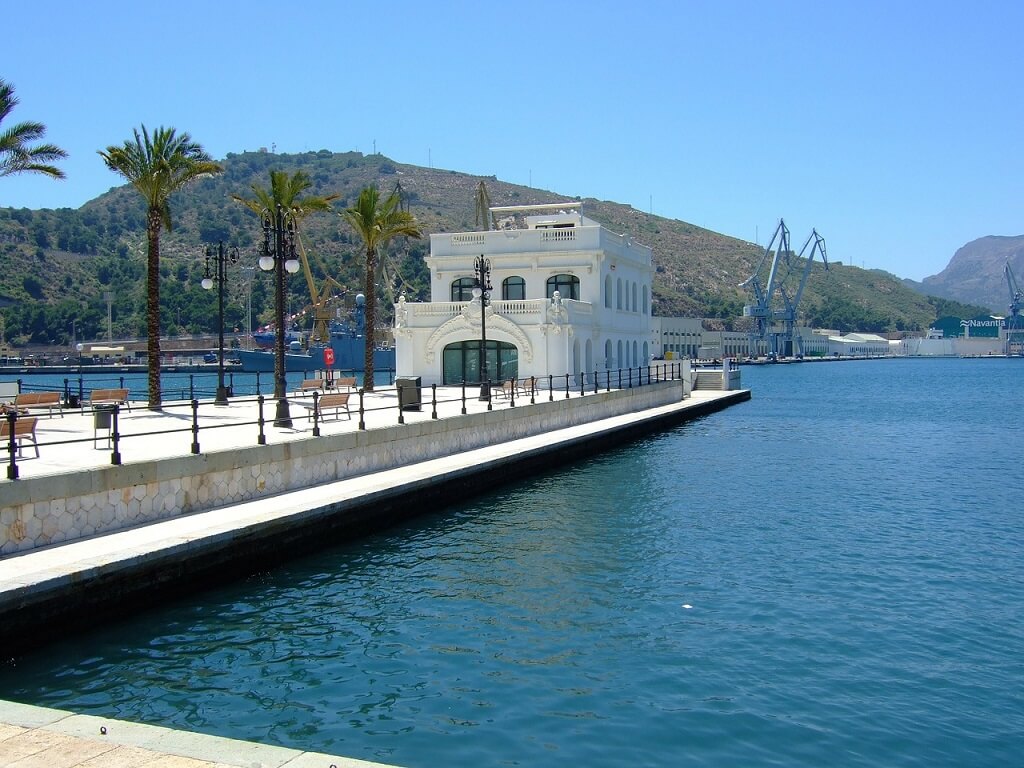 Faith blogs at XYU and BEYOND
---
DENIA
Dénia is a historic port city in the stunning Marina Alta area of Valenica. In the middle of the popular Costa Blanca, but eschewing the high rises and tourist excesses of its coastal neighbours, Dénia is both charming and cosmopolitan.
With a modern marina, easy ferry access to Ibiza and the Balearic islands, well preserved city walls and a castle, as well as rocky coves and sandy beaches nearby, Dénia makes a perfect stop on a Spanish road trip along this coast.
If you're an adventure seeker, you'll find diving, paddle boarding, water sports and hiking on the doorstep. Les Rotes, a group of small coves to the south of town provide fantastic spots for divers and snorkellers, whilst the long sandy beaches to the north are popular with kite surfers and windsurfers. If you prefer dry land, test yourself with a hike up Montgo, the mountain which seperates Dénia from it's equally charming neighbour Javea.
If laid-back holidays are more your style, you'll find excellent restaurants in the historic quarter of town serving fish caught that morning. Check out Els Magazinos, an eclectic collection of restaurants offering street food and local fare. Across from the old town in the new marina, are several cool bars serving cocktails with castle views and live music.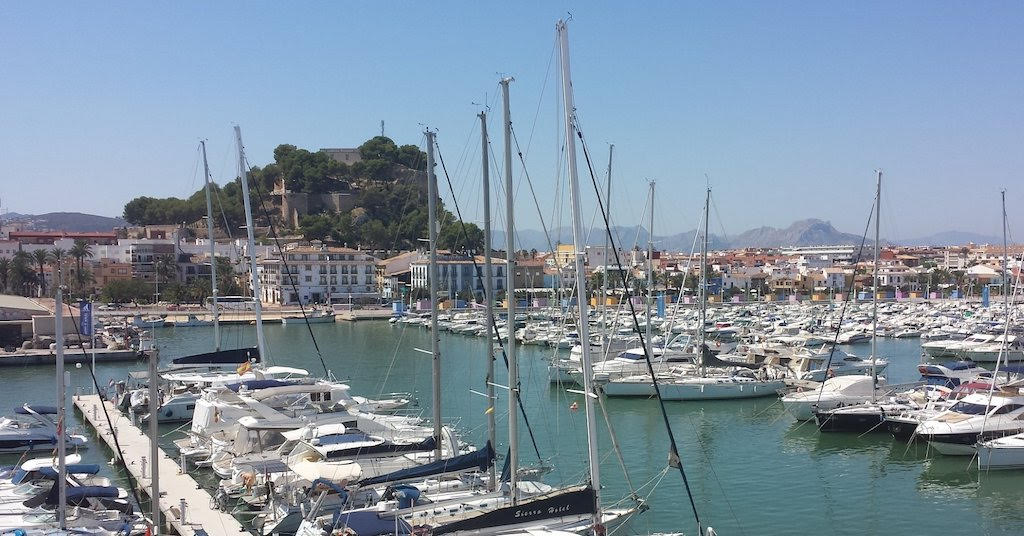 Izzy blogs at The Gap Decaders
---
FRIGILIANA

Frigiliana is one of the prettiest off-the-beaten-path white villages you will find in the Andalusia region of Spain. You can reach it by taking the bus from Malaga to Nerja and then another local bus up to Frigiliana. The journey time is one and a half hours and it is completely worth the visit!
You will enjoy wandering the plethora of white-washed houses as you make your way through the cobblestone pathways. There are many shops to stop by as well as cafes to enjoy a beverage and pass the time.
The best time to visit is in August during the Three Cultures Festival which celebrates the joining of Christian, Jewish, and Muslim cultures. Here there is music and festivities to entertain you. Other interesting points in this quaint village are visiting the gorgeous San Antonio Church and enjoying the viewpoints at the top of the town after hiking the trail that way.
If you are planning a trip to Spain, Frigiliana is one of those off-the-radar towns you just can't miss! In fact, the Spanish Tourism Board called it the prettiest village in Andalusia and you can definitely understand why after you travel there.
Frigiliana has an excellent assortment of accommodations ranging from seaside villas, B&Bs and standard hotels.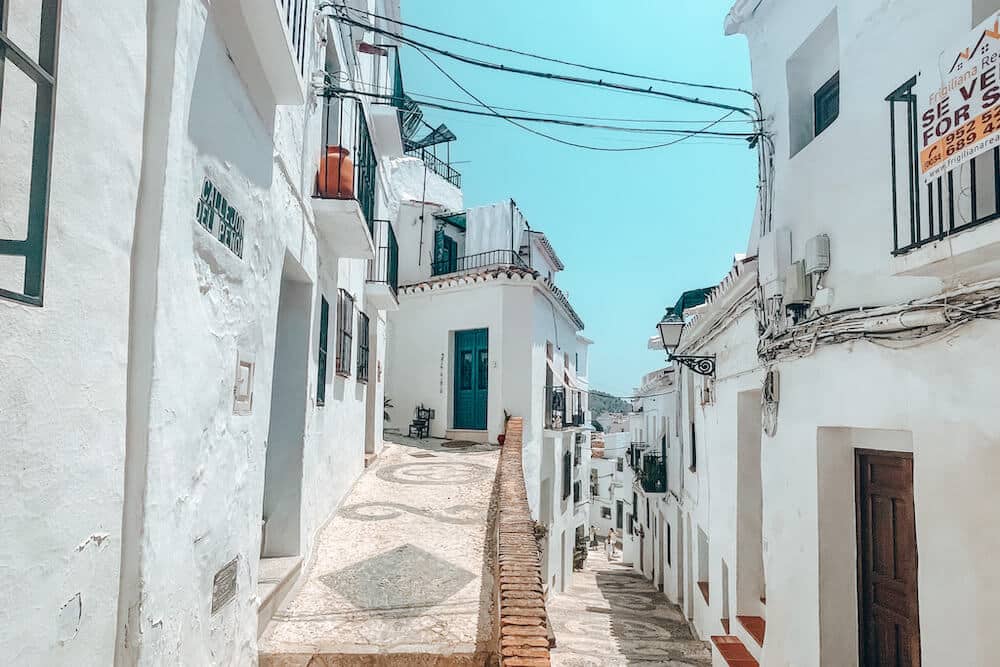 Jackie blogs at Jou Jou Travels
---
TARRAGONA
Tarragona is a port city in Spain's Catalonia region. It offers Roman history, great seafood options, and some really nice beaches. Being a smaller city, Tarragona is attractive due to the smaller number of tourists in the spectacular places of interest that you just have to visit.
The Roman Wall of Tarragona is a stone wall that used to surround and protect the city in Roman times when Tarragona was the second most important Roman site in Spain. Nowadays you can take a walk here and enjoy the views of the massive walls, nice gardens, and the newer parts of the city from the higher point.
Another place not to miss in Tarragona is Amfiteatro de Tarragona where gladiator fights and public spectacles took place in Roman times. If you don't want to pay the entrance fee, you can just simply walk around the amphitheater and get the panorama view for free.
Just outside of Tarragona is The Ferreres Aqueduct. It was built in Roman times and now is a place for scenic walks or picnics. You can actually climb to the top of the aqueduct and walk across it, which is an adventure on its own.
One of the best hotels in Tarragona is H10 Imperial Tarraco, where you can get a sea view room, a great breakfast, and a rooftop bar with a swimming pool.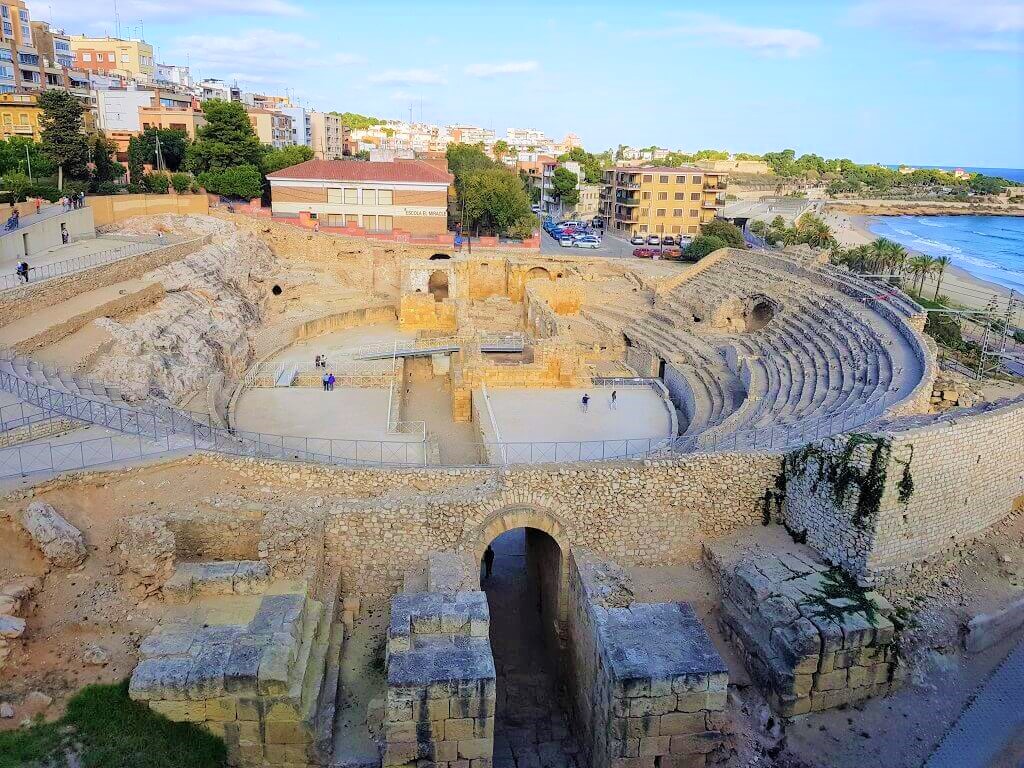 Una blogs at Wandernity
---
GIJON
If you want to get a peek into everyday life in Spain, visit Gijon, a coastal city in Asturias in Northern Spain. Somewhat off the usual tourist route, Gijon's old town is perched on the top of a cliff, overlooking the sea. Below the town, is a long golden beach, which is popular with locals in summer.
For beautiful views of the city and its beaches, head up to the Cerro de Santa Catalina, a park near the edge of the cliff. The park is home to the Elogio del Horizonte sculpture by the Basque artist Eduardo Chillida – when you stand underneath the sculpture, the sound of the waves from the ocean below is amplified.
Gijon's old town is a lovely place to explore, full of colourful, old houses and twisting alleyways. There are many bars and restaurants where you can try pintxos (tapas made with bread and local toppings) and the local cider. This cider is a speciality of the Asturias region and is traditionally poured from an impressive height – watching a waiter pour the cider is an experience in itself!
Hotel recommendation: El Môderne Hotel for elegant, comfortable rooms in a lovely location.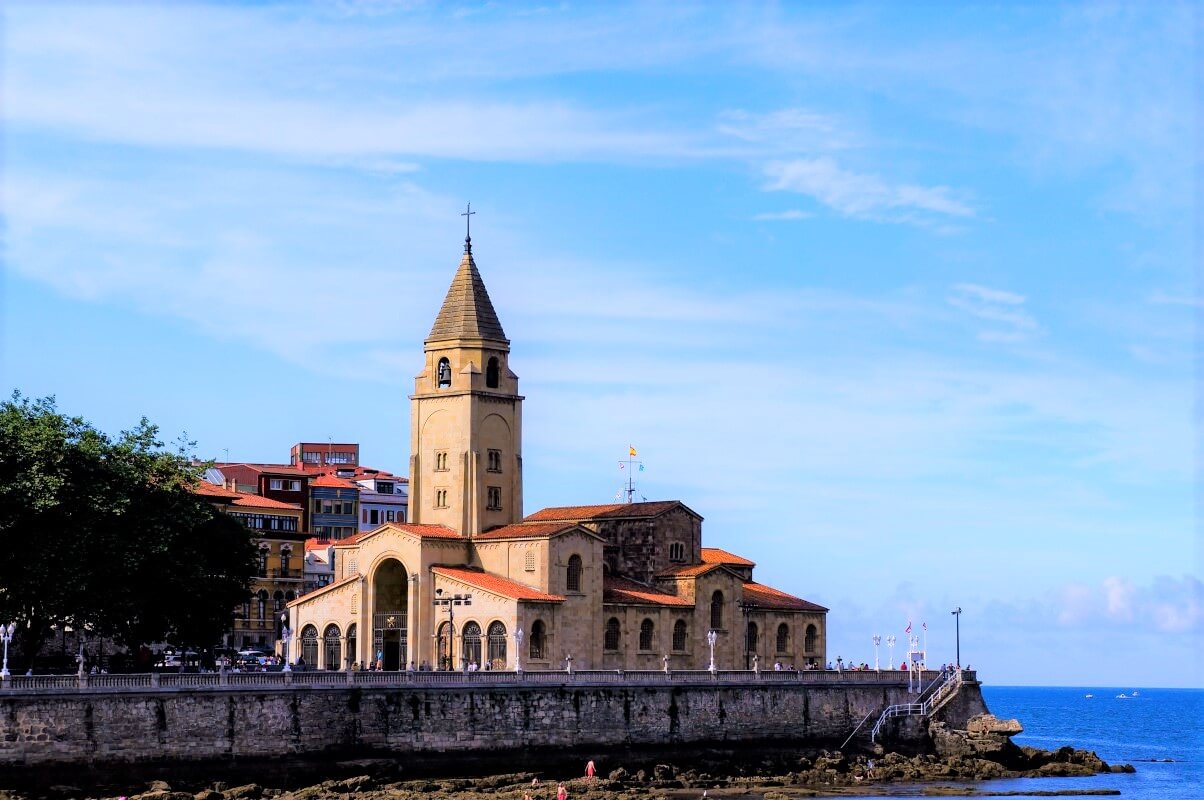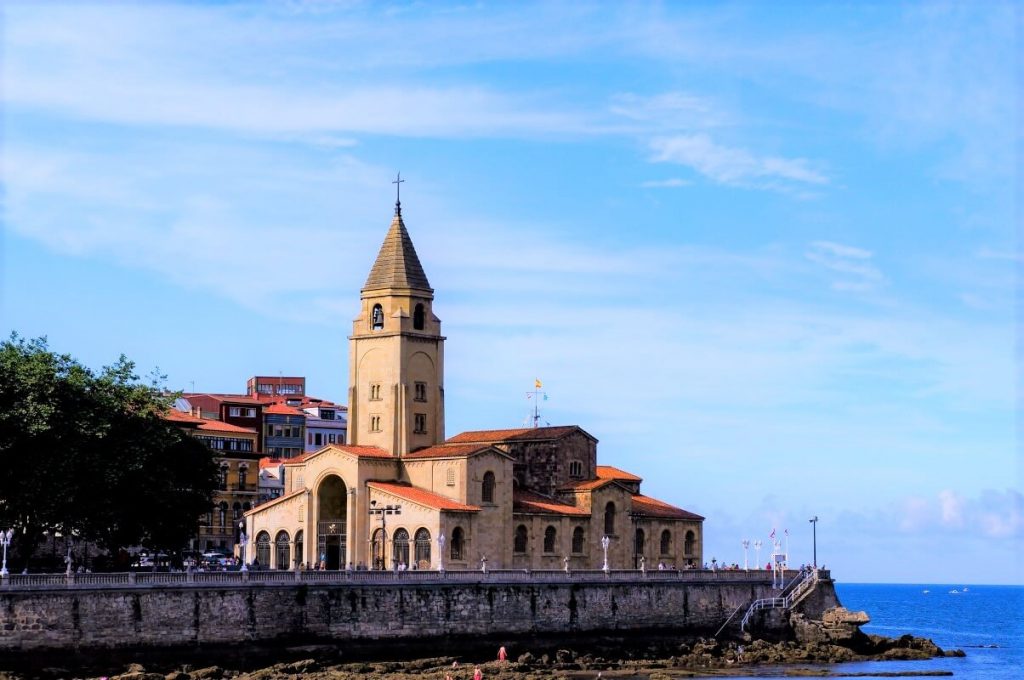 Roxanne blogs at Faraway Worlds
---
ESTEPONA
As a true hidden gem, Estepona captivates its visitors with every step. Usually not on many Southern Spain itineraries this city located in the province of Málaga offers an experience to enjoy a real urban garden. The network of white cobbled streets features colourful flower pots, and the façade of houses are covered with blossoming plants.
Take your time to wander through the streets leading to the old centre square, the Plaza de las Flores. This green oasis will welcome you with fountains and bars to grab a refreshing drink or try some local specialties. If you are interested in botany, you should pay a visit to a botanical garden stretching over 1000 m2 with waterfalls and over 1500 different types of orchids.
But it's not only flowers that make Estepona worth the visit. Here you can find the largest wall painting covering six buildings, countless beautiful murals and dozens of poetry plaques with inspirational verses. Among other attractions you can add to your list are the modern Puerto Deportivo marina with its lighthouse and 15th century Castillo de San Luis.
Whether you decide to visit this garden of the Costa del Sol as a day trip or to be based here for a few days, you will not regret it.
Estepona is ground zero for high-end spas and hotels but there are also more budget friendly accommodations.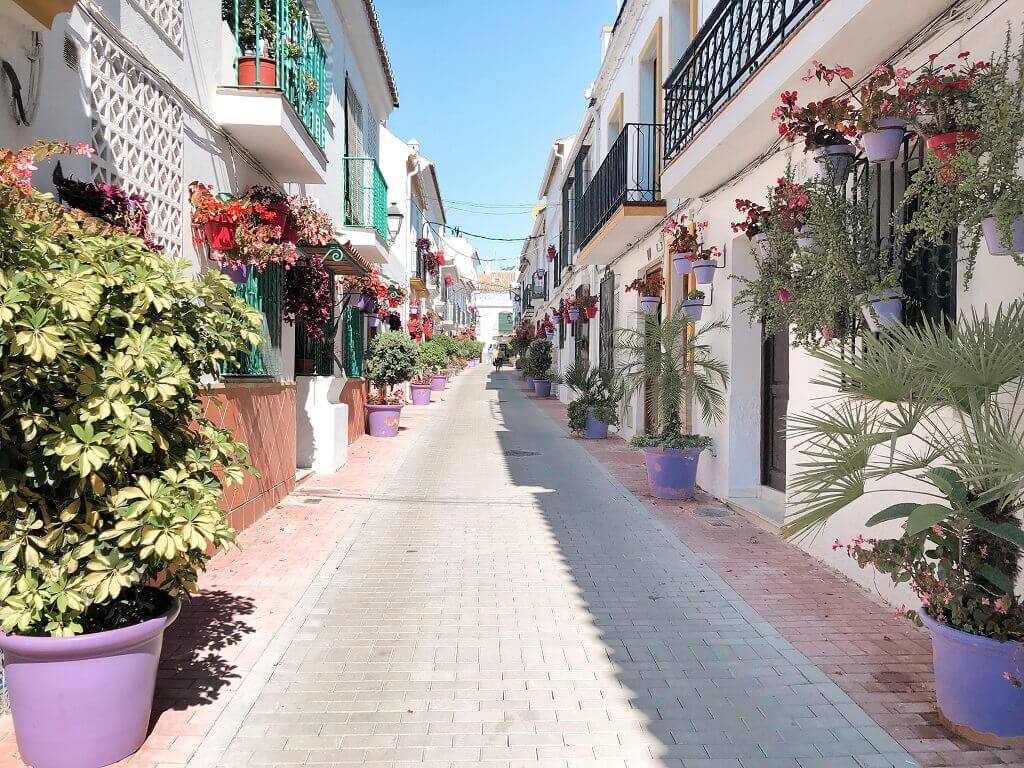 Tjasa blogs at The Travel Momento
---
TORLA
Torla, Spain is a small community, just a blip on the map really, of just over two hundred habitants in the Spanish Pyrennes. The village is tidy, with grey stone buildings which balconies are adorned with flowers in the summer, with a few restaurants and guesthouses tucked away from main street. The Ara River flows nearby where rafting is a possibility. However the main reason people visit Torla is obvious as one looks up at the towering peaks above the town. Torla, along with its sister towns along this stretch of an offshoot from N-260 highway are known as the gateways to the Ordesa y Monte Perdido National Park. The main feature of the park is the Ordesa Valley, also known as the Grand Canyon of Europe.
In the summer, there are shuttle buses that take you from the village to the National Park high in the Pyrenees – the stretch of mountain range that forms a natural border between Spain and France. One of the best hikes in Ordesa y Monte Perdido National Park is the famous La Faja de las Flores. It's a high altitude adventure that goes high above Ordesa Valley with extreme exposure – not for those who are afraid of heights.
For its small size, Torla is well-equipped. There are plenty of restaurants and guesthouses in all budgets. There's a small outdoor store and a couple of grocery stores to get your hiking provisions. Restaurante Pizzería El Taillon in Torla serves great food for after your hikes.
Everything in Torla is within walking distance, however Hotel Bujaruelo Ordesa is the closest to the shuttle bus stop and has a great restaurant.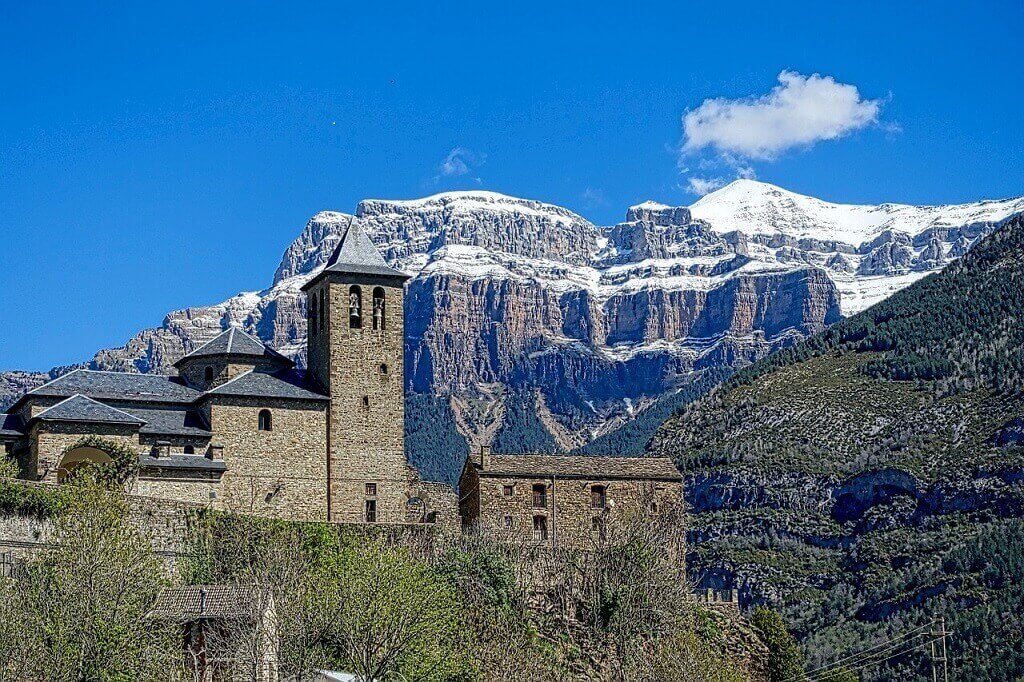 Caroline blogs at Jack and Jill Travel
---
CONSUEGRA
If you're a fan of literature, then you'll have read about the windmills of Consuegra. They're known as the Windmills of Don Quixote del La Mancha and are one of the most iconic landmarks of Spain. Consuegra is located only 60 kilometers from Toledo, is also easily reached from Madrid and is definitely on of the hidden gems of Spain.
The Muela Castle was built in the 12th century on the Cerro Caldico ridge. Along the road to the castle are 13 Molinos de Viento (windmills). They are actually tower mills for grinding grain and they were modelled on Dutch windmills.
This photogenic sight is best seen at sunset when the sky above the dry plains turns pink and purple, but you can also see inside two of the windmills if you visit earlier in the day.
Below the Cerro Caldico ridge is the old Roman town of Consuegra. It has 10,000 residents and is particularly lively during the Saffron Festival which is held on the last two days of October each year.
The Saffron Festival has been held every year since 1963 and showcases the saffron growers of the region. Saffron cooking, picking, and grinding competitions are held, and local music, crafts, and dancing are on display.
Consuegra offers charming accommodations at surprisingly affordable prices.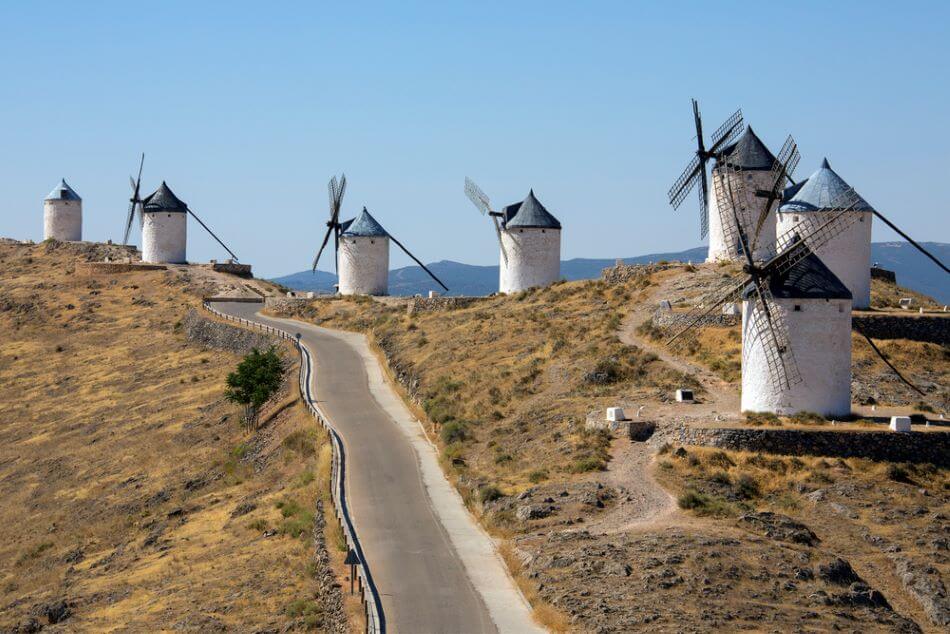 Monique blogs at Trip Anthropologist
---
VITORIA-GASTEIZ
Vitoria-Gasteiz is a great place to visit, perfect for a day trip from Bilbao. The city has great architecture, both old and new, and the city has a ton of history that's basically unheard of unless one makes a point of researching it.
For fans of Ken Follett's "The Pillars of the Earth" book, the Cathedral of Santa Maria de Vitoria is open for tours. Behind the cathedral is a medieval wall.
Vitoria-Gasteiz won the European Green Capital in 2012. The city is proud of the designation and it shows in their parks and green spaces. The Europa Convention Center is so committed to being 'green' that the entire front of the building is covered with plants.
Vitoria-Gasteiz has many beautiful buildings and amazing architecture. Being in the Basque region, the city has lots of pintxos to sample for a snack or a full meal. There are many churches in the city; almost one on every street. Most remain closed during the week and open only for Sunday services.
The city is entirely walkable, but there are also trams for public transportation. No need for a car as it is hard to find parking unless one is lucky to find one in the city center.
This city is a must-see and one of the classic hidden gems of Spain.
The AC Hotel General Alava is a great place to base your stay. It is just a 5 minute walk from the 'old town' area, and has comfortable rooms.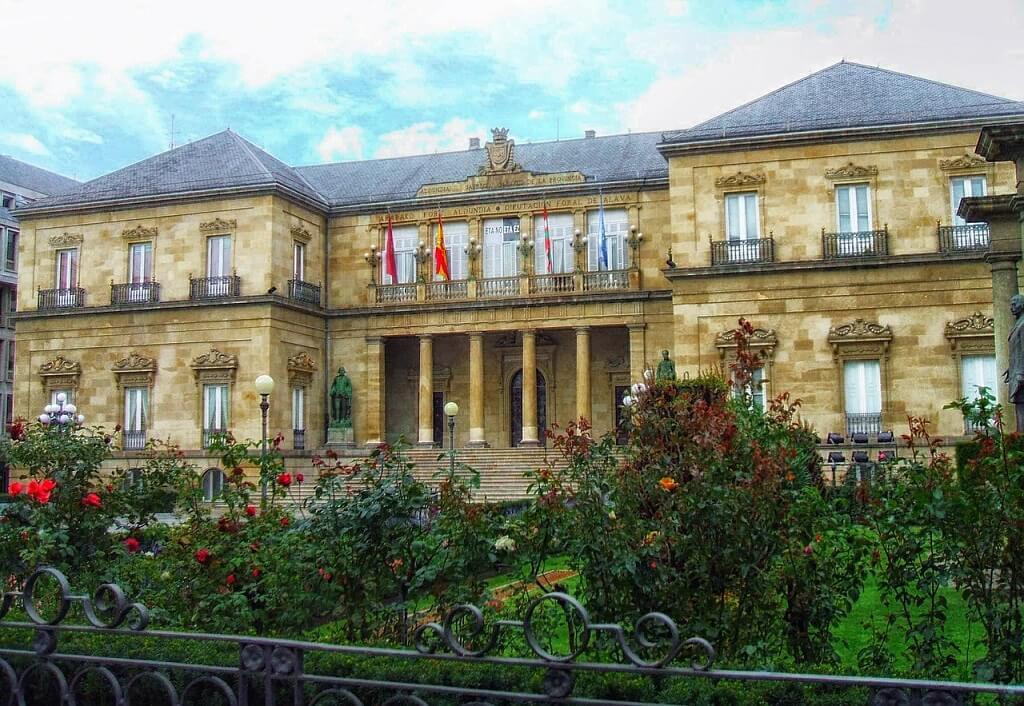 Ruby blogs at A Journey We Love
---
JEREZ DE LA FRONTERA
Jerez de la Frontera is popular as a day trip from Seville but, to really appreciate what makes the city so special, it's worth spending at least one night.
Despite being the fifth largest city in Andalucía, Jerez never feels too busy especially if you choose to wander around the cobblestone streets of the old town where, in spring, the scent of orange blossom hangs in the air. It's in the old town that you'll find the impressive cathedral and the Alcazar, both of which are worth a visit.
Jerez makes up one of the points of the Sherry Triangle so, naturally, you should take a tour of one of the many Sherry houses in the area. Some, like the popular Tio Pepe bodega, are right in the centre of Jerez but others are further outside the city nestled among the vineyards.
If you visit in April you can take part in the Sherry Marathon which winds its way through the vineyards before reaching the finishing line in front of the Alcazar. There can't be many races where you get to drink sherry and taste traditional Spanish delicacies en route!
If you choose to stay overnight the Hotel Bellas Artes is in a prime location in front of the cathedral and just a few minutes' walk from the Tio Pepe sherry house.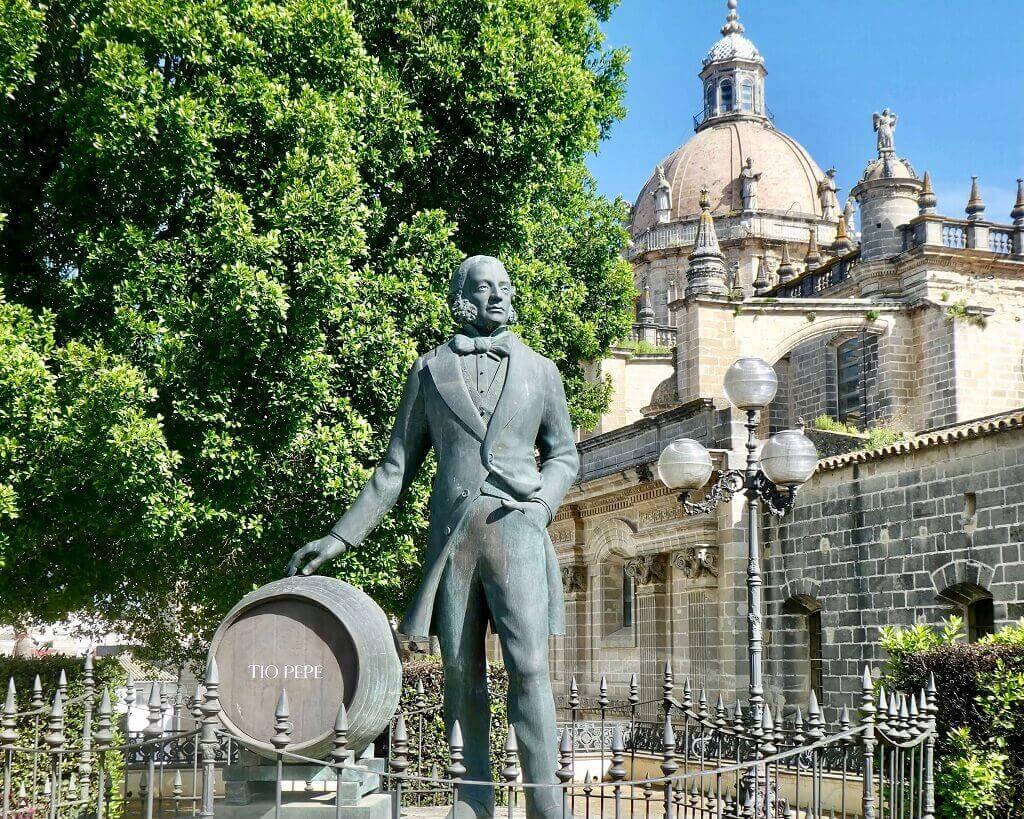 Alison blogs at Alison in Andalucia
---
ALICANTE
Alicante is a town where you can find almost everything: sea and white sandy beaches, rich history, and attractions from a medieval fortress to a classic Mediterranean "old town" with narrow cobblestone streets.
Even though Alicante is not the most popular city to visit compared to Barcelona and Madrid, it is a dynamic and modern city, one of Spain's hidden gems and best vacation destinations.
The travelers in Alicante will find museums and ancient fortresses, mosques and orthodox temples, well-kept parks, and colorful local markets.
Do not miss the Santa Barbara Castle in Alicante. This beautiful fortress dates back to the 9th century when it was built by the Moors, whose rule over these lands lasted until the end of the 13th century. From the castle's observation decks you can admire the stunning views of the sea, the port, and the town.
You may be surprised, but there are still bullfights taking place in Alicante. You can visit the bullfight or at least the historical bullring of Alicante.
If you are thinking about where to go after the beach, take a walk through one of the prettiest areas in the city, the Santa Cruz neighborhood.
This district is filled with white houses decorated with bright colors and handmade ceramic tiles. The main attraction of the quarter is the Basilica of Santa Maria. The most beautiful street is Callejón del Agua.
In Alicante there are many festivals and holidays all year round. One of the biggest is the festival called the Hogueras de San Juan. It is celebrated annually on the summer solstice. Locals make bonfires on the square and the beach to welcome the sun.
Alicante has a large selection of hotels for all budgets and tastes. Boutique hotels in Alicante have a unique design, history, location, and first-class service. For example, Casa Alberola Alicante is a charming historical boutique hotel with a fantastic sea view. It's a great option if you are looking for a stylish, small, and cozy hotel in Alicante.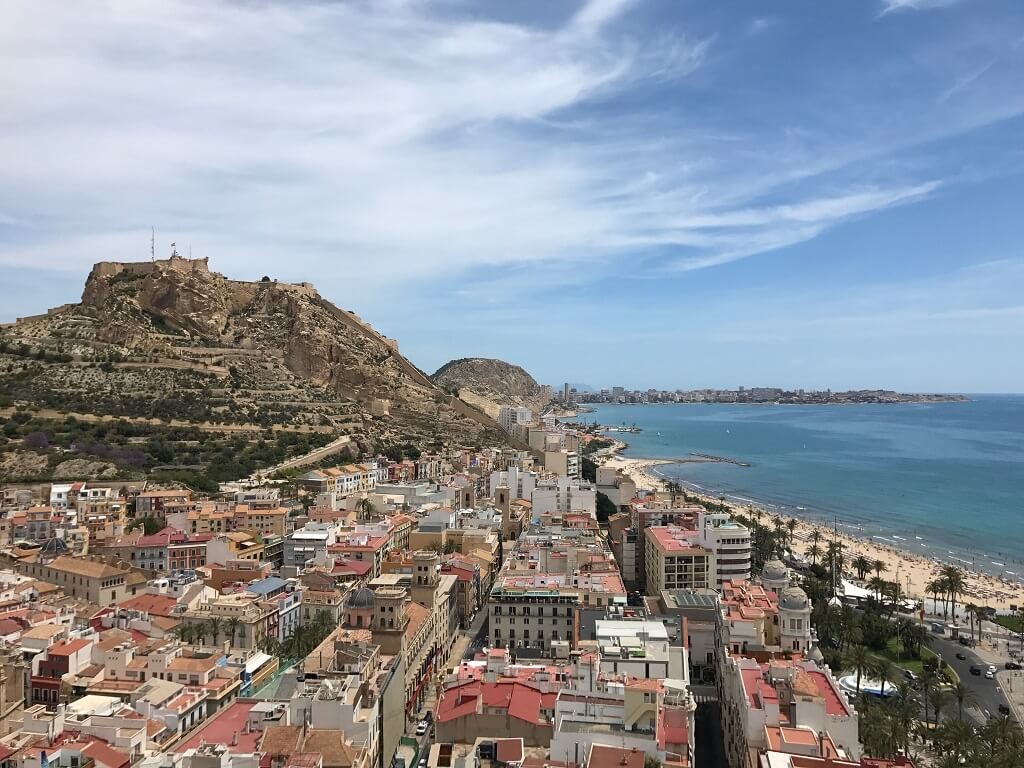 Sasha blogs at The Alternative Travel Channel
---
CADIZ
Located in Andalucia and the gorgeous coastline areas in the Costa del Sol, Cadiz is an ancient port city worth visiting and exploring both its past and present. Started in the early 16th century as a trading city with over 100 towers to watch for activity and defend the city, Cadiz's military and trading prowess brought prestige and wealth to this port city. A stunning Andalusian city with so many well preserved historical landmarks and spectacular ocean views, the city is wonderful to explore on foot and visit the many plazas, historic monuments and beautiful vistas from around this ancient city.
The old town or Casco Antiguo is broken down into different neighborhoods or barrios including La Viña, El Populo and Santa Maria. Here you'll find farmers markets, outdoor cafes and locals enjoying the open air in the plazas. These neighborhoods are connected to newer parts of the city by wide walking promenades. The Casco Antiguo also has shopping venues, the historic cathedral, theater, municipal buildings and some watch towers left over from the original city wall.
Spending some time along the coastline and the many beaches and smaller coves is a favorite pass time. There you can explore the broad Malecon, the oceanfront street promenade with the Playa de Caleta beach taking center stage. Don't miss imposing Santa Catalina Castle, more like a fortress, built to defend the port area of the city. Cadiz truly inspires with so much to see and explore all around this fascinating and colorful hidden gem of Spain.
A fantastic place to base yourself while at Cadiz would be Hotel Cadiz Paseo del Mar located fronting Playa De Victoria. A beautiful hotel, comfortable surroundings, with renovated and modern rooms and amenities to enjoy while staying there.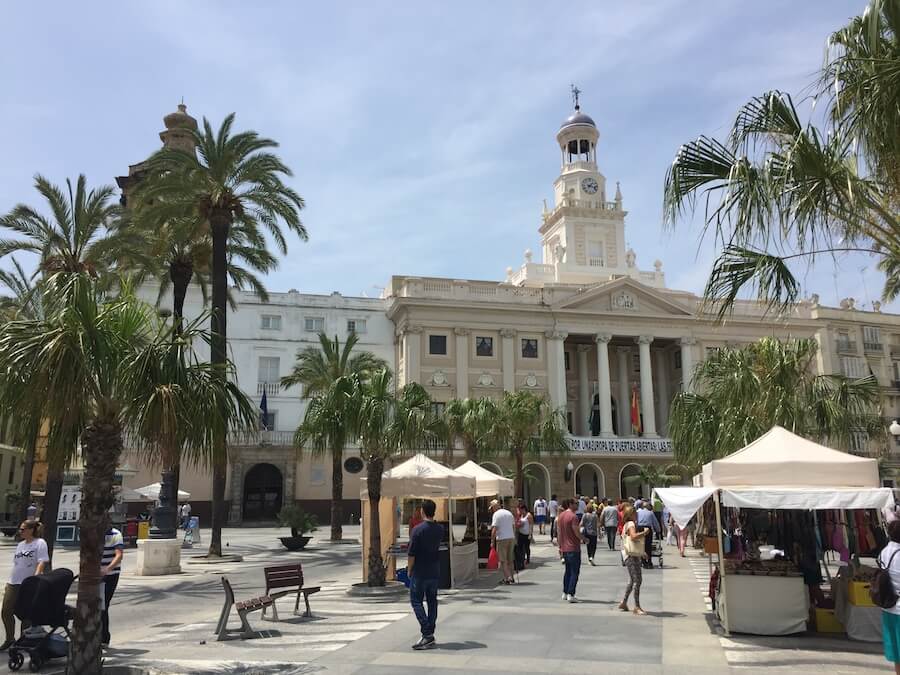 Noel blogs at Visit California and Beyond.
---
RONDA
Ronda is one of the top hidden gems of Spain. Seeing Ronda for the first time the word that immediately comes to mind is "breathtaking." Of course, you would be looking at Puente Nuevo, or New Bridge in English. This remarkable feat of engineering is a bridge that spans the Tajo River gorge connecting the modern part of town with the old Moorish quarter. Completed in 1793 after 40 years of construction, the bridge was an improvement on the Puente Viejo or Old Bridge built in 1616. Older still is the Puente de San Miguel or Arab Bridge from Moorish times between the 8th and 15th centuries. The Arab Bridge is also referred to as the Roman Bridge for no apparent reason as it was built centuries after the Romans left. It is thought that this bridge replaced an already existing bridge from Roman times, and the name stuck.
Rondas's truly spectacular bridges alone are worth a visit, but the city offers much more. The Coño balconies are a must-experience. They are perched precariously at the edge of an abyss. Coño is a rude word in Spanish but is used liberally, and in this case implies shock. When you stand on these balconies and look down, you'll say "coño!"
The 18th century bullring, created by the same architect that built the New Bridge is the largest in Spain and considered a work of art. A stroll in the city's Moorish quarter will transport you back to the times the Moors ruled Spain.
The city prides itself on its delicious regional cuisine specializing in roasted meats and stews. But where the city really shines is in its wine, especially the reds. Wine tasting in Ronda's vineyards is an unforgetable experience. Visiting Ronda is the very definition of an epic off-the-beaten-track Spanish adventure that will take your breath away.
Hotel Don Miguel has a balcony overlooking the gorge and the New Bridge. The prices are very reasonable and it is highly rated. This hotel is usually booked way in advance so give yourself a long lead time when booking.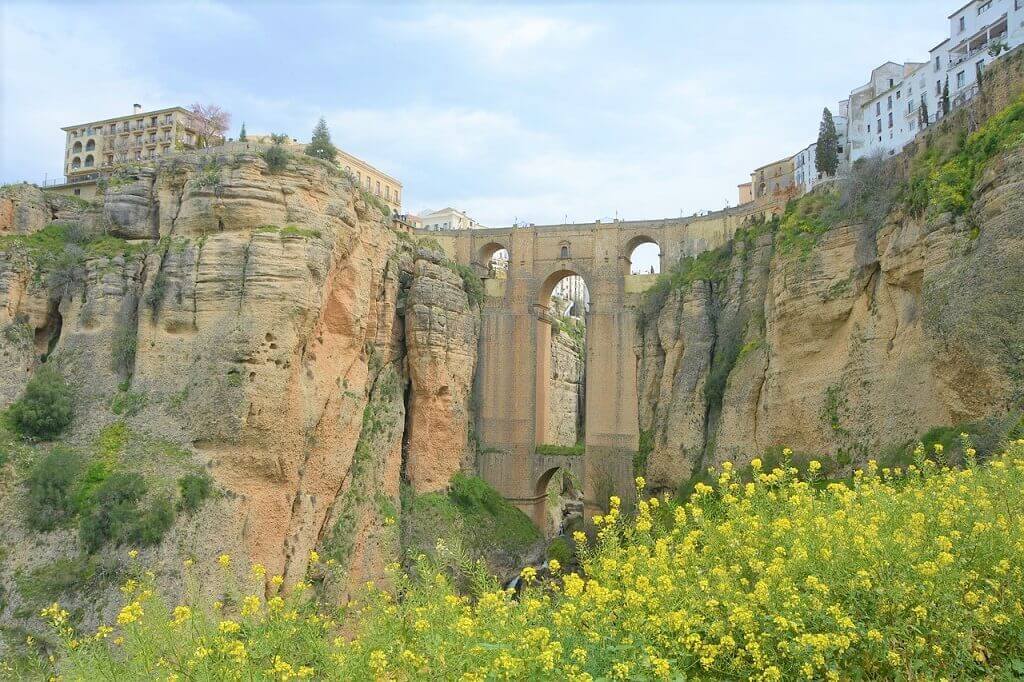 Talek blogs at Travels with Talek
---
MERIDA
Merida is a fantastic city that lies over 200 miles south of Madrid and is the capital of Extremadura. This sleepy Spanish city holds many wonderful secrets though and as the former Roman city of Emerita Augusta it is packed full of history.
Originally founded in 25 BCE by Augustus it was built as a home for soldiers discharged from the Cantabrian Wars. Scattered all through the main streets are some fantastic archaeological remains including an amphitheatre, theatre, numerous temples and a beautiful aqueduct snaking across the land.
This is a city to really enjoy wandering through as with every turn you take there are more sights to see. The theatre is still being used for performances today so it's great to catch a show while you're here. There's a wonderful cafe culture in Merida too with restaurants spilling out on to the road and plenty of bars open until late. If you're visiting Spain with kids https://www.globalmousetravels.com/spain-with-kids/) then definitely take the time to stop in Merida as the city feels alive with the history which you can see and feel everywhere you go.
Stay at the TRYP Mérida Medea Hotel in the center of the city with a pool to cool off in in summer.


---
Be sure to learn more about Spain before visiting. Enhance your experience referring to these handy guides.
Which are your favorite hidden gems of Spain? Do you agree with our selection? Which ones did we miss? Let us know in the comments.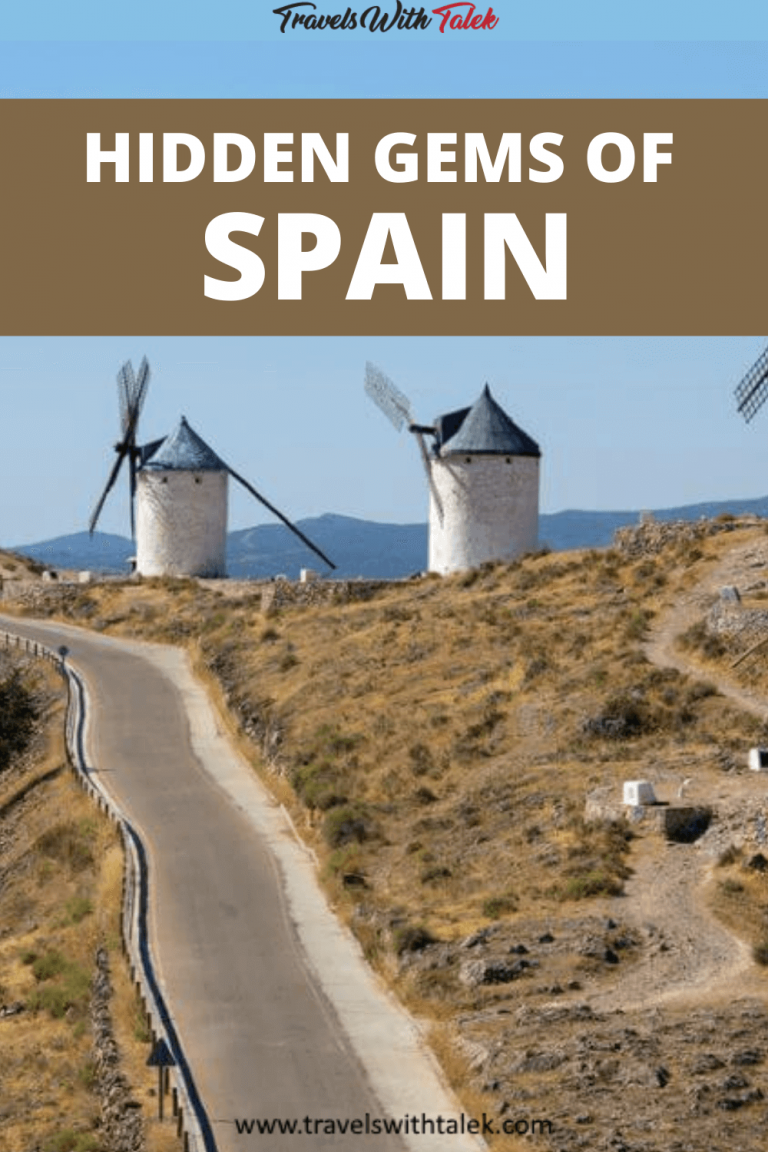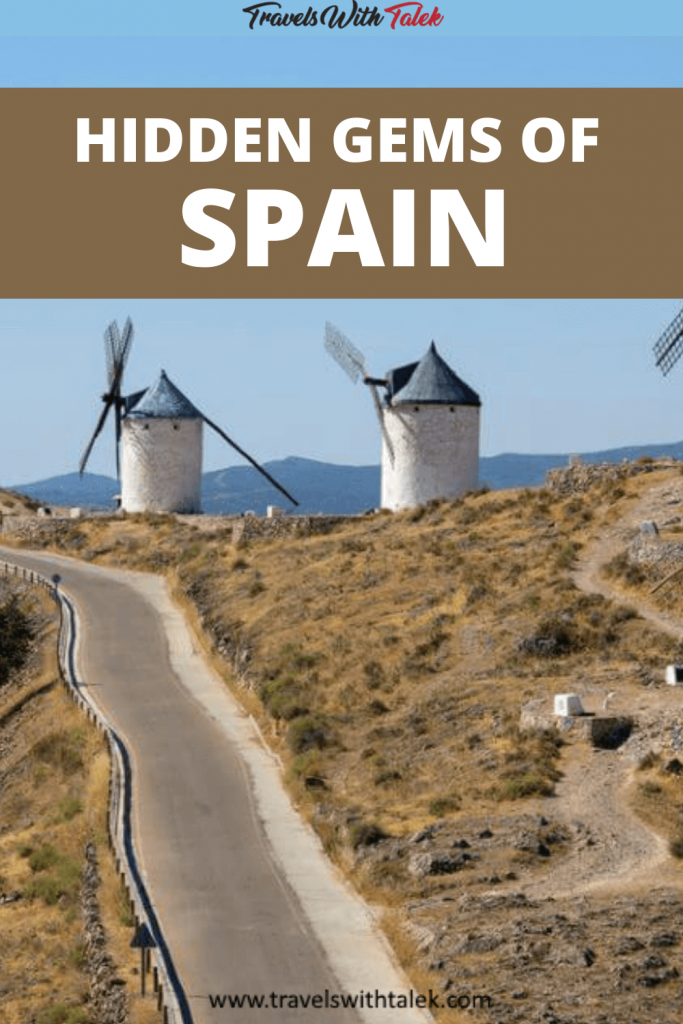 BTW, if you are getting ready for your trip, make sure to take advantage of these useful, money-saving links to book your trip:
I personally use, and can recommend, all the companies listed here and elsewhere on my blog. By booking through these sites, the small commission we earn – at no cost to you – helps us maintain this site so we can continue to offer our readers valuable travel tips and advice.