A two-week itinerary for Asturias is not enough to see all this region has to offer, but it's a start.  There are lots of reasons to love it. Asturias' moniker, "Spain's natural paradise" is well deserved. The region is greener and more lush than other parts of Spain to the south, hence its nickname, "the green coast."  This itinerary for Asturias will take you to snow capped mountains, lush green valleys, sparkling sunny beaches and picturesque medieval towns.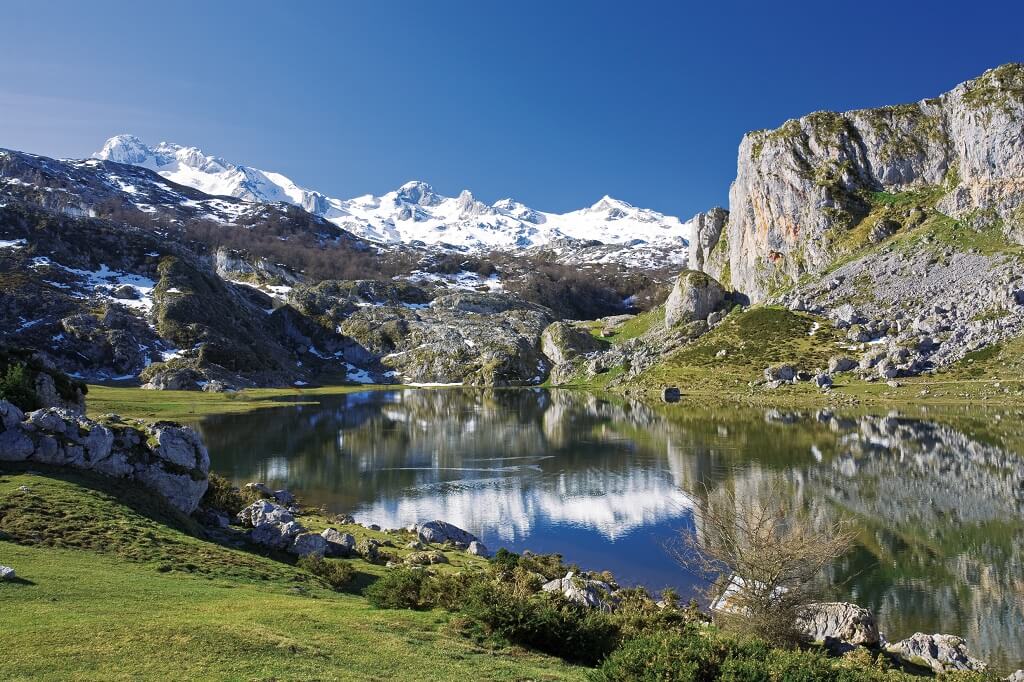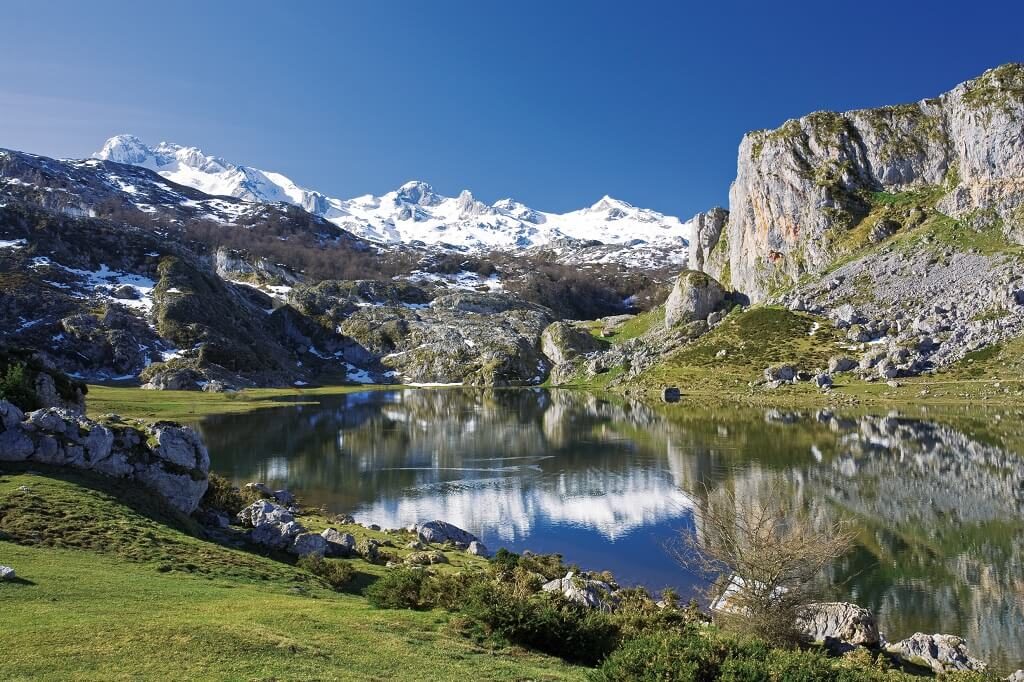 With a northern coast stretching for over 345 km along the Bay of Biscay, the area is dotted with sandy beaches, soaring cliffs and some of the most picturesque fishing villages in all Europe.
As a history buff, I fell in love with Asturias. The region's history dates from the Paleolithic, around 36,000 years ago. Cave paintings dating from this period are found throughout the region. Asturias has a collection of 1,200-year-old UNESCO World Heritage palaces in Oviedo, the region's capital city. Perfectly preserved medieval villages make for an ideal historical tour.  Contemporary art is also visible in Asturias' museums as well as world-renowned cultural organizations like the Oscar Niemeyer Center in Aviles.
Asturias is also foodie heaven. After all, this is Spain!
Here is a two week itinerary for Asturias that can be stretched or condensed to fit time constraints or interests. A collection of unique and extraordinary experiences that only Asturias can deliver.
If you fly into Asturias, you likely will arrive in the airport near Oviedo, an ideal place to begin your journey.  You can rent a car in the Asturias airport when you land.  The airport is about a 30 minute drive from the city of Oviedo. Another alternative is to take a taxi or bus from the airport to Oviedo then rent a car when you are ready to continue your two-week itinerary.
Oviedo: First Stop on a Two-week Itinerary for Asturias
Oviedo has it all. Top museums include the Museums of Fine Arts and Archeology.  The city's wide plazas are ideal for strolling.  Plaza Porlier is where you'll find the Cathedral of San Salvador built in the 1300s in a jumble of architectural styles; Baroque, Gothic, Renaissance and pre-Romanesque.   The Plaza del Fontán, located in the city's old town has been used as a marketplace for centuries. The more modern Plaza de la Escandalera, located in the downtown area is surrounded by elegant buildings and right next to Oviedo's pedestrian commercial streets.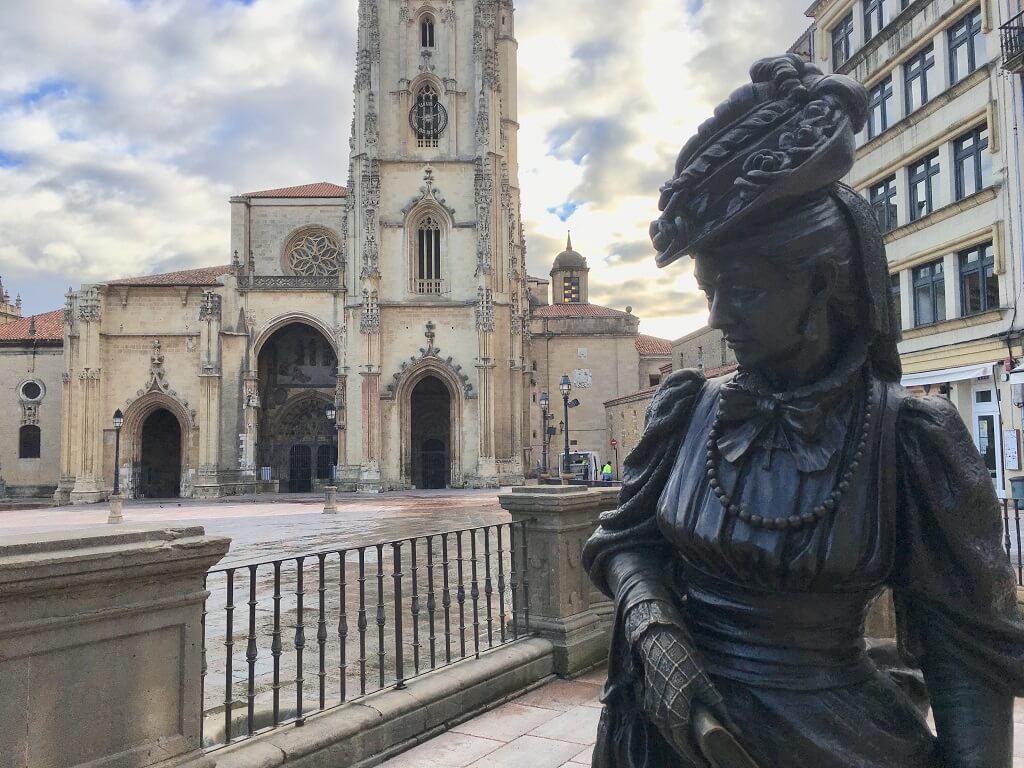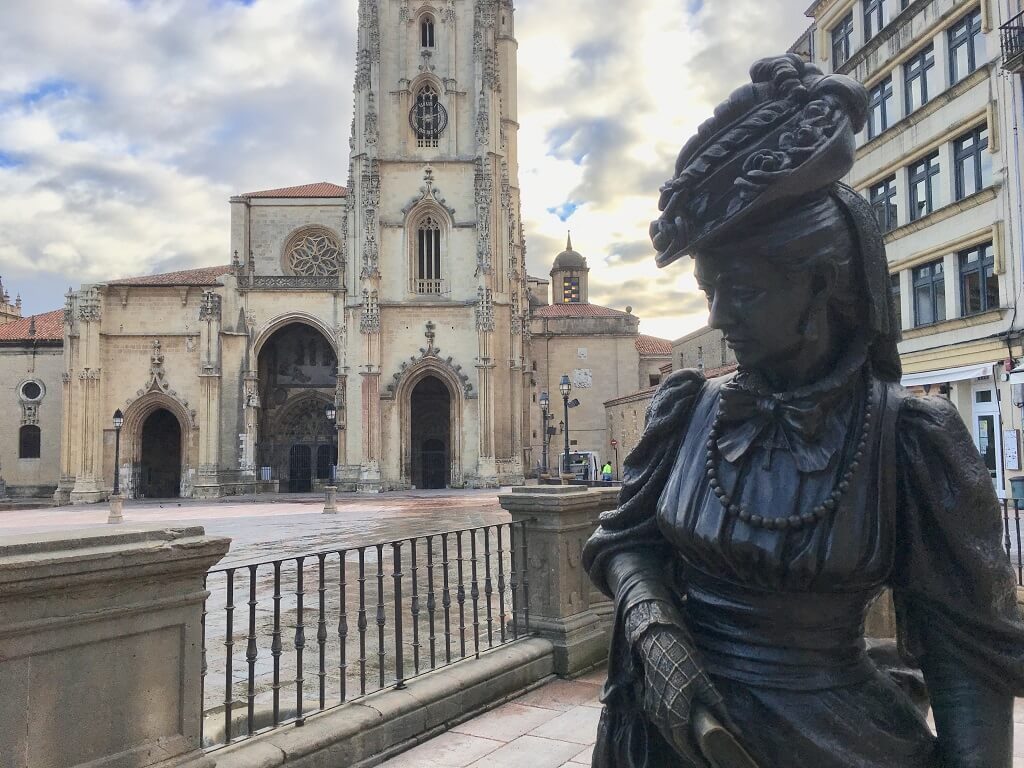 Three can't-miss structures around Oviedo are the UNESCO World Heritage monuments from the 9th and 8th centuries CE. These remarkably well-preserved, pre-Romanesque structures include the church of Santa María del Naranco, formerly the residence of Asturian royalty.  Nearby are the churches of San Miguel de Lillo and San Julián de los Prados where you can still see wall frescoes that are over one thousand years old! You definitely want to add them to your itinerary for Asturias.
Oviedo is not just about history and culture.  It also punches above its weight when it comes to cuisine. One standout restaurant on one of the main plazas is La Corte de Pelayo, specializing in traditional Asturian cuisine (they claim to have the best fabada, Asturian bean stew, in all Spain). Try to get a window seat to enjoy the views of the expansive plaza and avenues outside.
A short walk from La Corte de Pelayo is pedestrian Gascona Street with traditional Asturian restaurants lining both sides of the street.  This is also where you find the sidrerias, or cider bars, where waiters pour alcoholic cider into a glass from several feet in the air without missing a drop!  On most nights local musicians play traditional Asturian music to accompany the cider fueled revelry.  Even the customers will join in the singing and sometimes follow the musicians out to the restaurant next door. A meal here is a must-have experience. It is the Spanish equivalent of a rip-roaring good time.
I've stayed in a couple of hotels in Oviedo but my favorite is the Campoamor, mainly because of its location. It sits right across the majestic Campoamor Theater. It is also walking distance to the Old Town, the commercial streets and the city's expansive parks.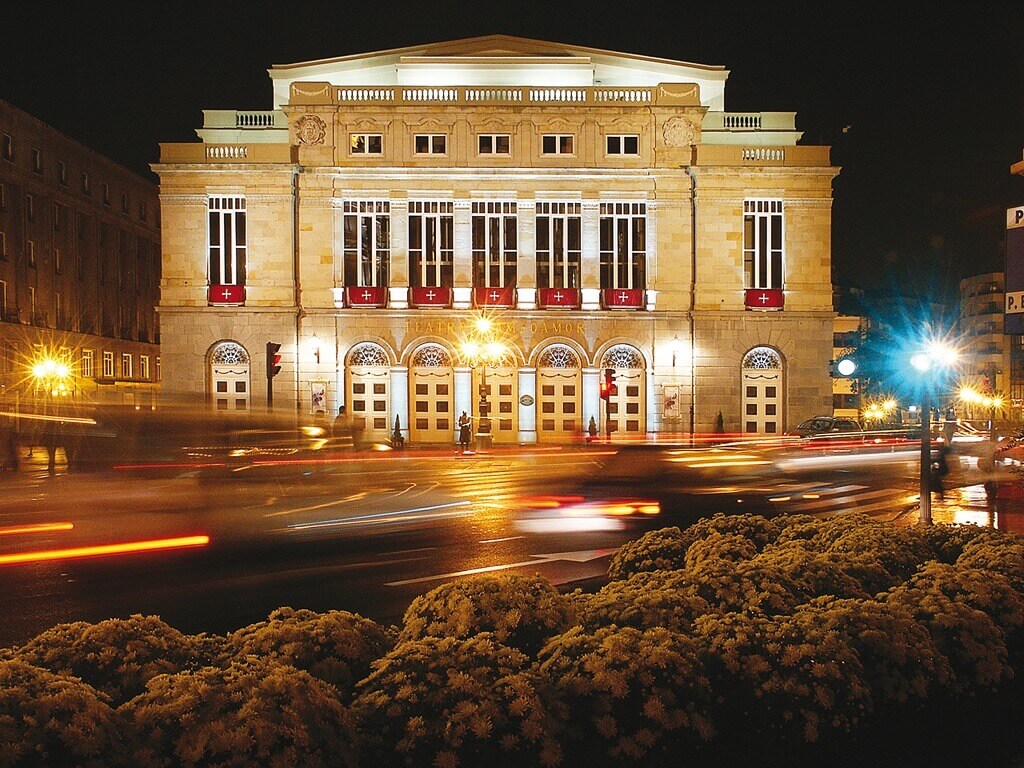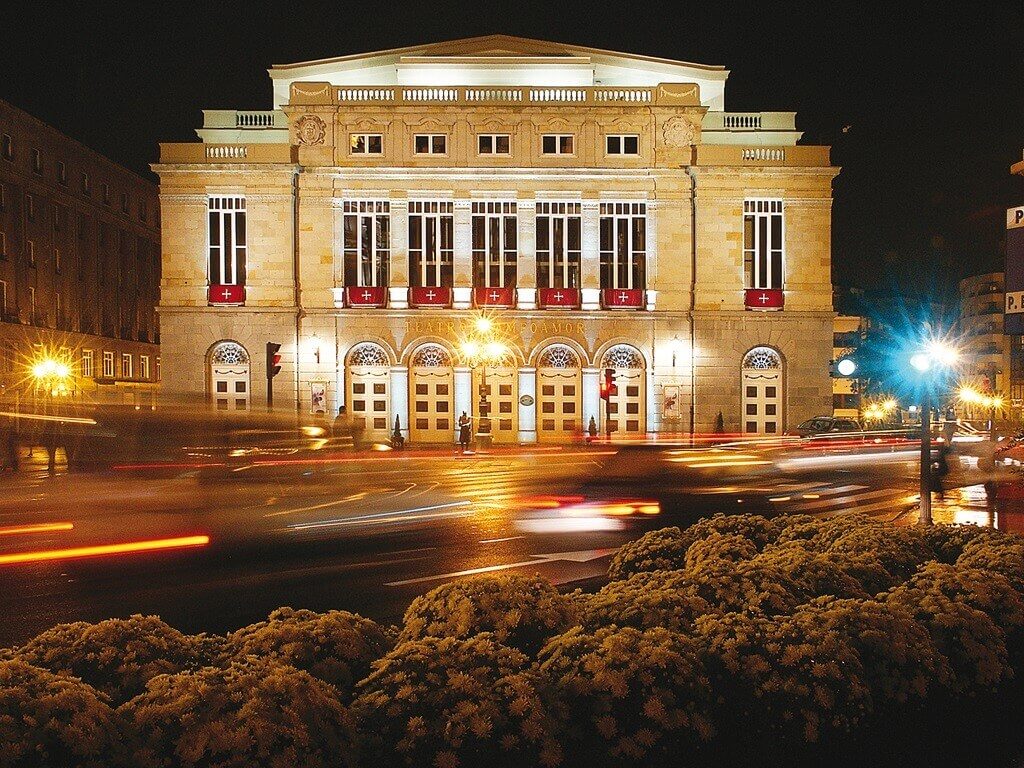 Tour Asturias' Mining Culture
Asturias has traditionally been a coal producing region delivering up to 70% of Spain coal needs.  To understand Asturias, it helps to understand the mining culture and history.  The Mining and Industry Museum, MUMI for short, about 20 miles southeast of Oviedo, is just the place to learn.  The MUMI is not just a museum in the traditional sense.  It is a recreation of the mining experience. The displays and exhibits show mining life from the previous centuries to modern times.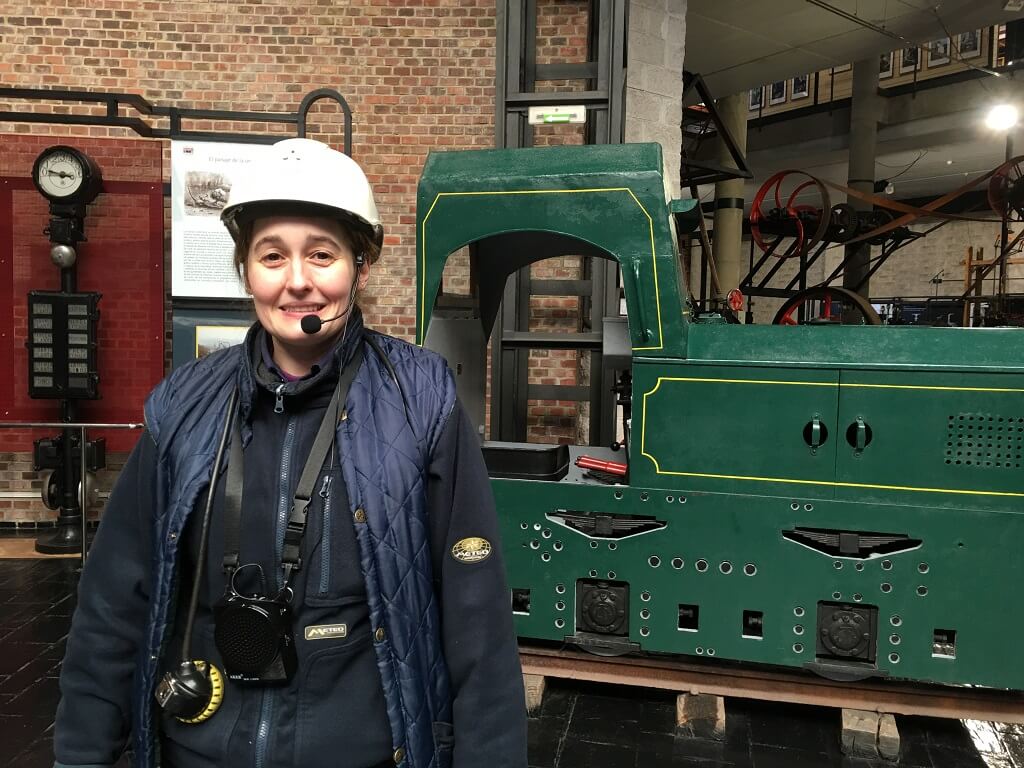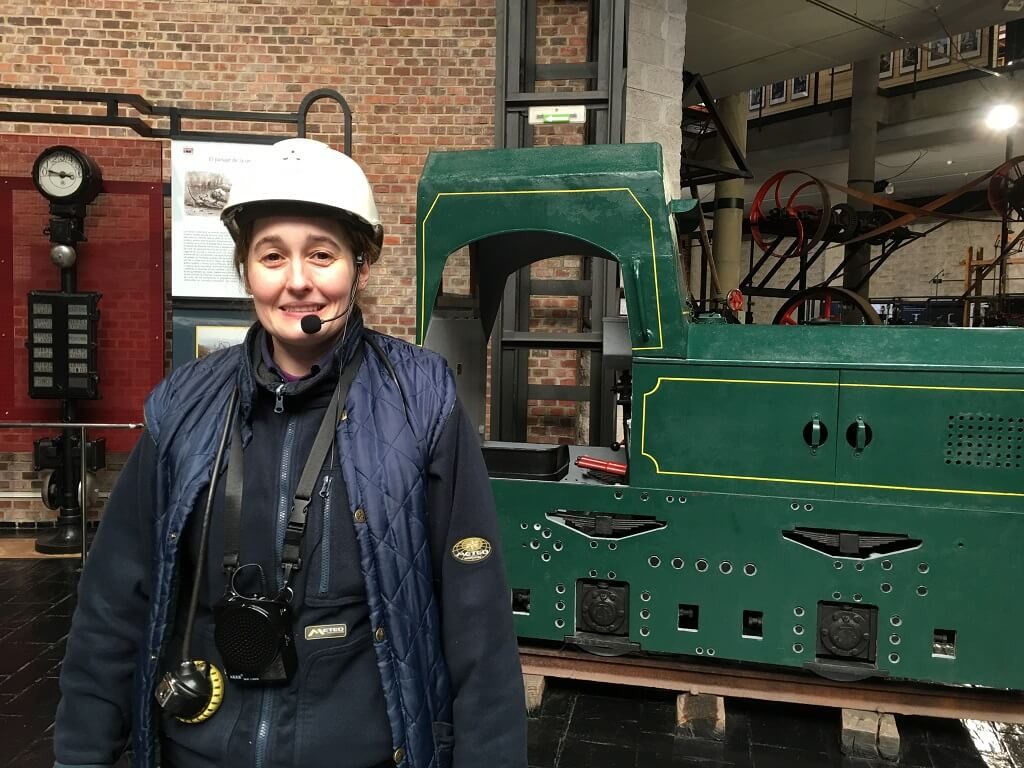 The highlight of the museum is traveling in a mining elevator shaft to a recreated mine complete with coal carts and winding tunnels.  The exhibit is so realistic that I actually believed I was descending 600 meters (almost 2,000 feet) deep into the earth and reaching an abandoned mine!
The MUNI provides a unique learning experience made all the more effective because it's a lot of fun.
The Port City of Gijon
Oviedo to Gijon: 35 km north via A66
From Oviedo, head north to the port town of Gijon with its Roman ruins, top-notch museums, oceanside promenade and an abundance of Michelin rated restaurants.  For a traditional sidreria, or cider bar, with traditional Asturian cooking, try El Otro Mallu. They have great 3-course daily specials for lunch. You just can't beat their fresh seafood.
It is from Gijon that the majority of Asturian emigrants left their homeland for the new world in the Americas. So many left that the city honors the Asturian mothers, who grieved over their departing children, with a statue on the promenade.
If you have time, don't miss Cabo de Peñas, 30 km north of Gijon. This is the northernmost point of Asturias jutting deep into the dark, blue Bay of Biscay.  The view of the soaring cliffs is stunning and provides outstanding photo opportunities (which I missed when I ran out of batteries on my camera).  The view is impressive from the lighthouse but is even more spectacular if you climb beyond. This is likely to be a highlight of your 2 week Asturian tour.
Gijon is worth a deep and leisurely stay, especially in the summer months when the beaches beckon.  There is certainly enough here to keep a family busy for a couple of days.
Picturesque Lastres
Gijon to Lastres: 62 km east via A-64
Lastres is the first of many oceanside fishing villages and beach towns you will encounter on this 2 week itinerary for Asturias.  It has a population of about 1000 people and a whaling heritage evident in the town's signs and decorations.
Walk down its winding streets and alleys to the port and stroll around until you find yourself a nice seafood shack and relax.  A nice town to have a break and experience a Spanish fishing village.
Llanes, the Town that Has It All
Lastres to Llanes: 52 km east via A-8
Llanes is one of the larger oceanside towns on this itinerary for Asturias in Spain's north coast.  This area is dotted by dozens of beaches many of which are said to be the best in Asturias. Llanes has a small but interesting Old Town with a defensive medieval tower and 13th Century wall surrounding the town.
For a small town, Llanes has a remarkable collection of good local restaurants.  One that you should not miss is La Tertulia.  No matter who I asked for a restaurant recommendation, the response was always the same, La Tertulia. And boy were they right!  This place is a legend. In a country like Spain where eating well is culturally ingrained, La Tertulia stands out. This is one meal (octopus) I will remember years from now.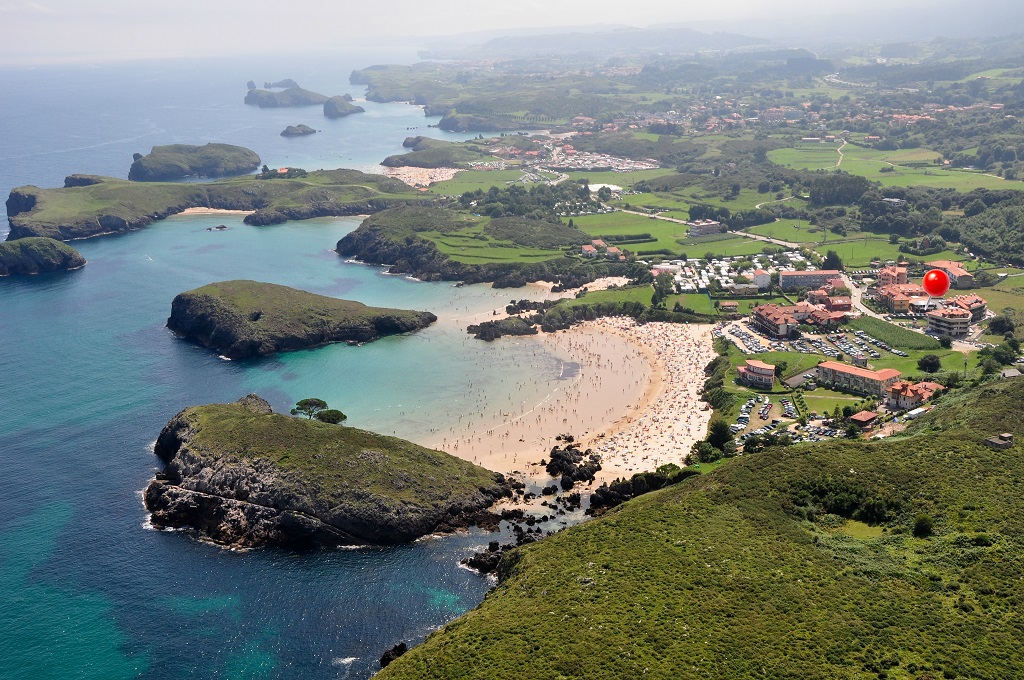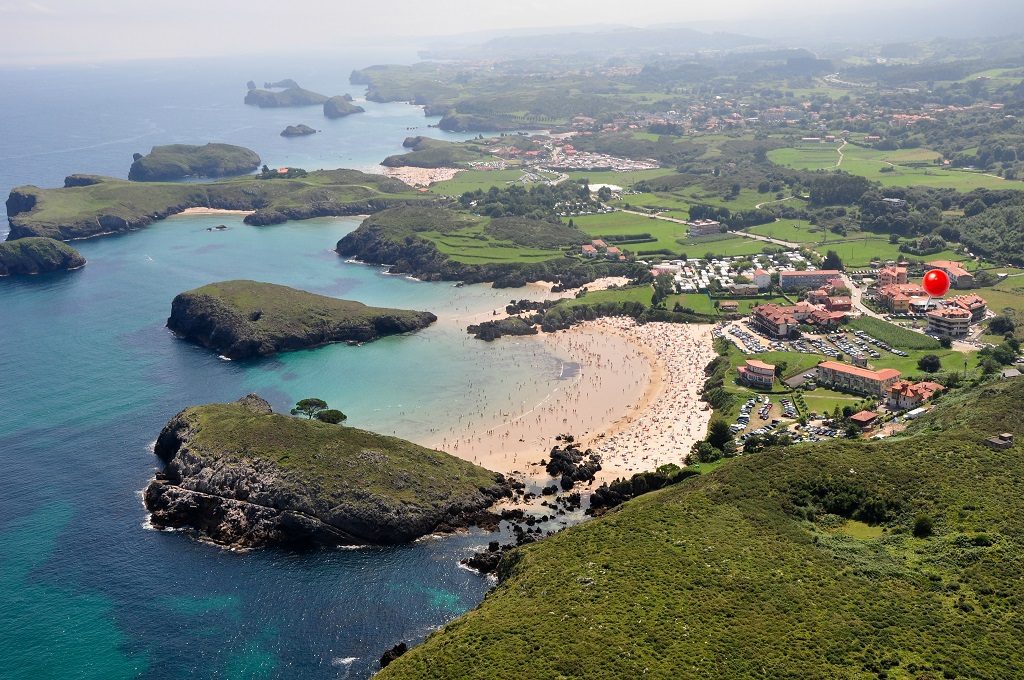 Llanes is the ideal town to park yourself for one or two nights to explore the surrounding attractions. This will avoid you checking into yet another location because there is that much to see nearby.  The perfect place to stay is the centrally located, welcoming and well-appointed Hotel Miracielos.  The breakfasts are hearty and feature Spanish specialties. There is a cozy bar which gets lively at night. The rooms are comfortable and the staff could not be more hospitable. A lovely experience.
Cueva del Soplao  (Soplao Caves) 
Llanes to Cueva del Soplao: 46 km east on E-70 then south on CA-181
The Cueva del Soplao are a network of 250-million year old caves with spectacular interior formations. Although it is only 46 kilometers from Llanes to the Cueva, they are 46 torturous, winding and challenging kilometers.  Give yourself twice the amount of time necessary to get to the caves.  This is especially important because you need to have timed reservations in order to visit the caves.  You can buy your tickets, €13.50 for adults, at the caves but they may be sold out so buy online beforehand to ensure you get the visiting times you want. The visits are controlled in order to protect the environment and to avoid large crowds.
To enter the caves you take a little train similar to a mine cart. You proceed in the dark, led by an employee with a flashlight until you reach a clearing. It is at this clearing that they turn the lights on for the first time. The first sight of the stalagmites, stalactites and crystalized formations is astonishing as you continue to other cavernous areas through winding paths. I've never seen anything like it. The guide's explanations are interesting enough for a lay person and detailed enough for someone that wants more information on the geological formations of the cave.  You return via the same train and are deposited at the gift shop (of course).
Journey through Medieval Santillana del Mar
Cueva del Soplao to Santillana del Mar: 43 km via CA 850 and A-8
Continue east to the medieval town of Santillana del Mar. Santillana is actually a few minutes from the Asturian border in the region of Cantabria but as long as you're close by, it is worth going out of your way for.
Described by French philosopher, Jean-Paul Sartre as "the prettiest village in all Spain," this picturesque little town of 4,000 looks much like it did in the Middle Ages.  The winding cobblestone streets are lined with perfectly -preserved stone houses dripping with flowerpots. Little alleyways open to sunny plazas with fountains and lounging, lazy cats.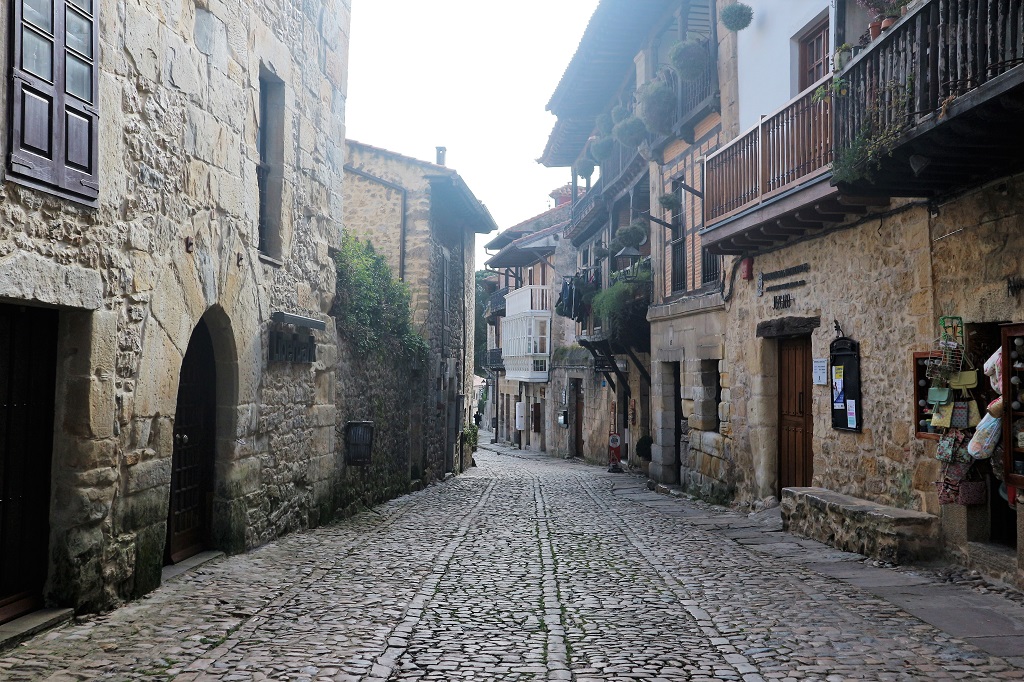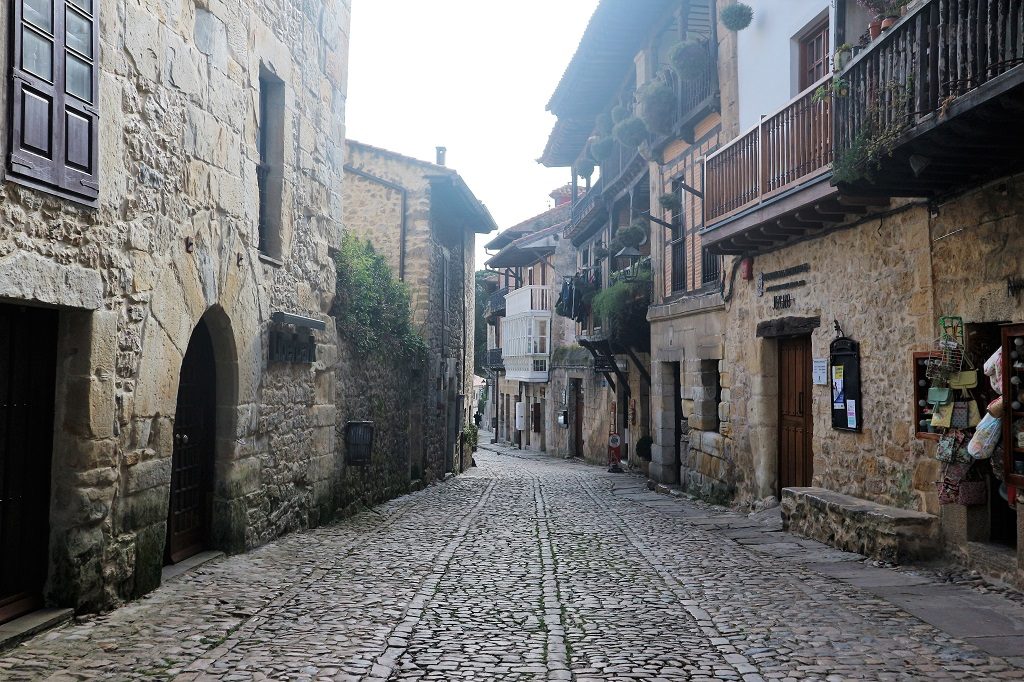 The town's historical highlight is the Colegiata de Santa Juliana, an impressive church with accompanying cloisters.  The structure was built to house the remains of the town's patron saint, Santa Juliana who was martyred for her faith. The original church dates from the 9th Century, but the major structure you see today dates from the 12th Century.
A good place for lunch in Santillana is El Porche Restaurant featuring local fare at decent prices. The lunch special for €14 is good value in a pleasant environment right smack in the center of town.
If you are interested in Spanish emigration to the Americas in the 19th and 20th Centuries, about 30 km west of Santillana in the town of Colombres is the "Archivos de los Indianos" or the Archives of Spanish Emigrants to the Americas.  It is a museum explaining the history of Spanish emigrants; where they came from, where they emigrated to and what their lives were like in the new world. It has an Ellis Island feel to it. If your ancestors came from this part of the world, as mine did, you will find this exhibit fascinating.
Cangas de Onis, Gateway Path to Picos de Europa
Santillana del Mar to Cangas de Onis: 112 km via A-8.
Cangas de Onis is generally accepted to be the gateway to Picos de Europa National Park. This is another good town to park yourself for a couple of days to see everything the area has to offer; the town, the national park and the Covadonga complex of Basilica, holy cave, museum and lakes. It definitely should be part of your itinerary for Asturias.
The area of Cangas de Onis is where the Battle of Covadonga was fought marking the successful beginning of the reconquest of Spain from the Moors in 722 CE.    Today the town straddles the Sella River along with the Roman Bridge, the towns iconic symbol dating from Roman times.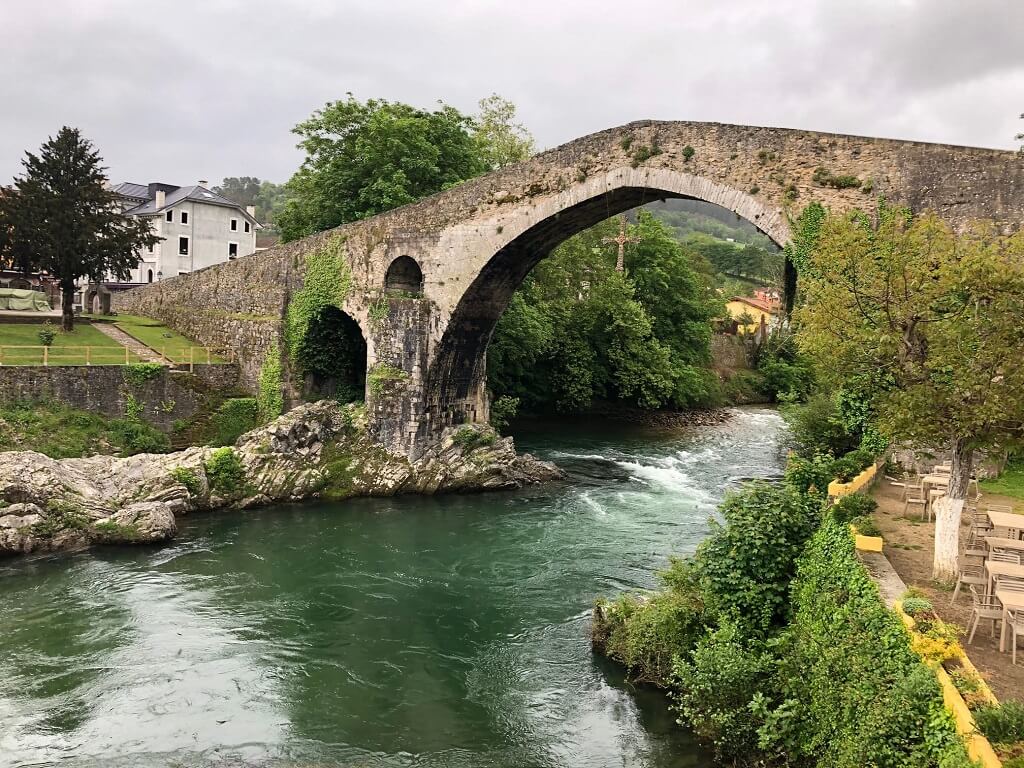 The town has a pretty main street lined with flowers, open-air cafes and stores selling local artisanal products.
One monument that stands out in Cangas is the statue to the Asturian Emigrant, a spunky character with a suitcase and eyes fixed on the distant future.
Picos de Europa National Park
Established in 1918, Picos de Europa is one of the oldest national parks in Europe.  The park is about 246 sq. km of mountain range, rushing rivers, deep gorges and even deeper caves.  Eagles, vultures and wild goats are everywhere. The occasional wolf or Cantabrian brown bear are not unknown.   This is a hikers paradise straddling the two Spanish regions of Asturias and Leon.  One of the most popular hikes is the Cares River Trail which takes hikers over suspension bridges and through natural tunnels.
The historic Covadonga route
Cangas de Onis to the Basilica de Covadonga: 10 km via AS 262
Depending on how much of the Covadonga structures you want to see, an outing here can last from a few hours to two or three days. The sites include:
The Basilica de Santa Maria la Real de Covadonga, a very impressive church built in the late 1800s entirely of pink limestone. Besides being beautiful, the fact that such a magnificent structure was built on a mountaintop over 100 years ago, in the middle of nowhere, is remarkable.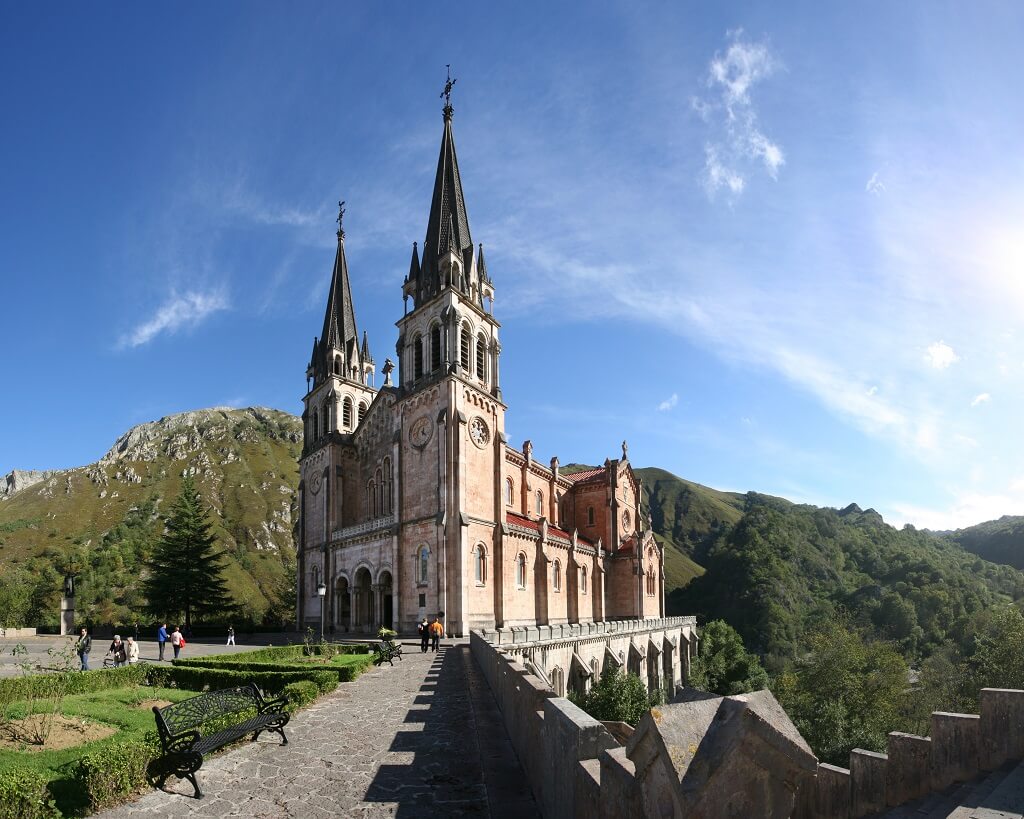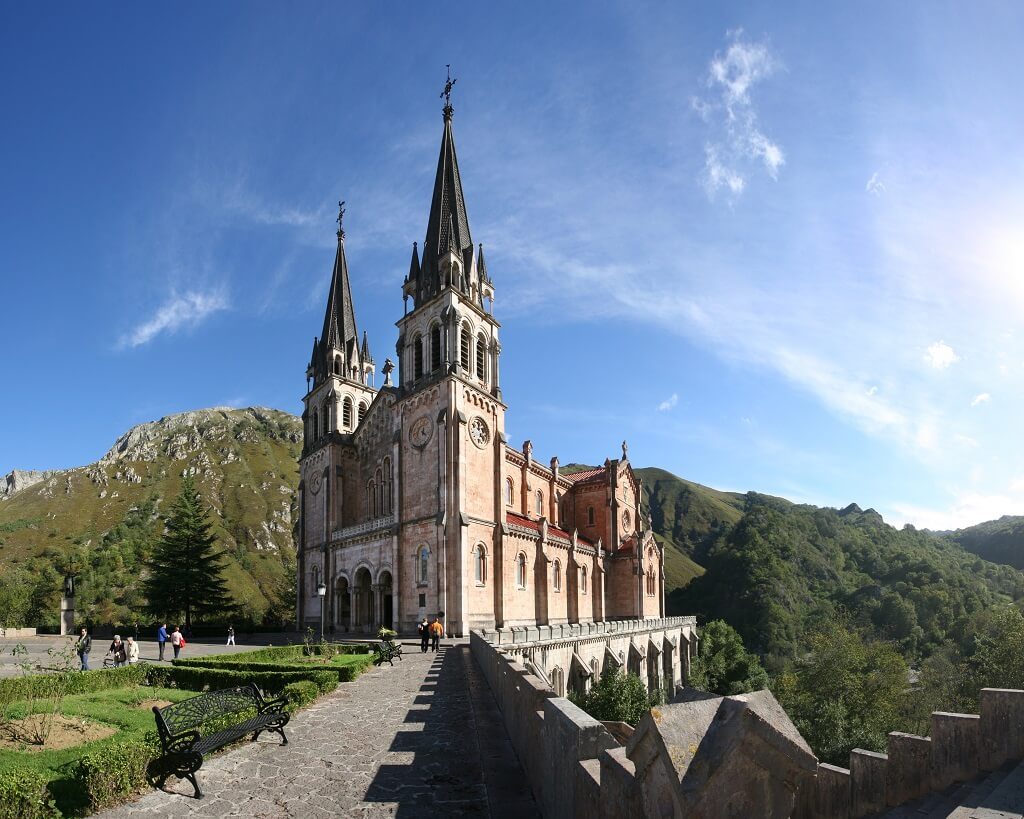 La Santa Cueva (Holy Cave) de Covadonga. What is impressive here is the little church built directly into a cave overlooking a waterfall.  As you walk around you will marvel at this feat of engineering.
The Museum of Covadonga tells of the history of the area particularly the Spanish reconquest of 722 CE from the Moors. It also displays religious works of art.
Covadonga Lakes.  This is some of the most beautiful scenery in Spain. The area is dotted with lakes and surrounded by snow capped mountains and rolling hills.  It is perfect for hiking and photographing nature.

 
Colorful Cudillero
Covadonga to Cudillero: 126 km via N-634 and A-8
Now it's time to leave the crisp mountain air of eastern Asturias and head back to the sunny beaches of the northern coast. Cudillero is the quintessential Spanish fishing village.  The colorful little houses crowd around the dock area and climb ever higher onto the mountainous cliffs.
An ideal afternoon is to have a fresh seafood meal in one of the town's many waterside restaurants then walk it off exploring the winding streets and alleys of this ancient town.
If you fall in love with this picturesque fishing village, you can stay an extra day or two to hike the trails along the cliffs or walk a portion of the Camino de Santiago pilgrim trail that also passes through Cudillero.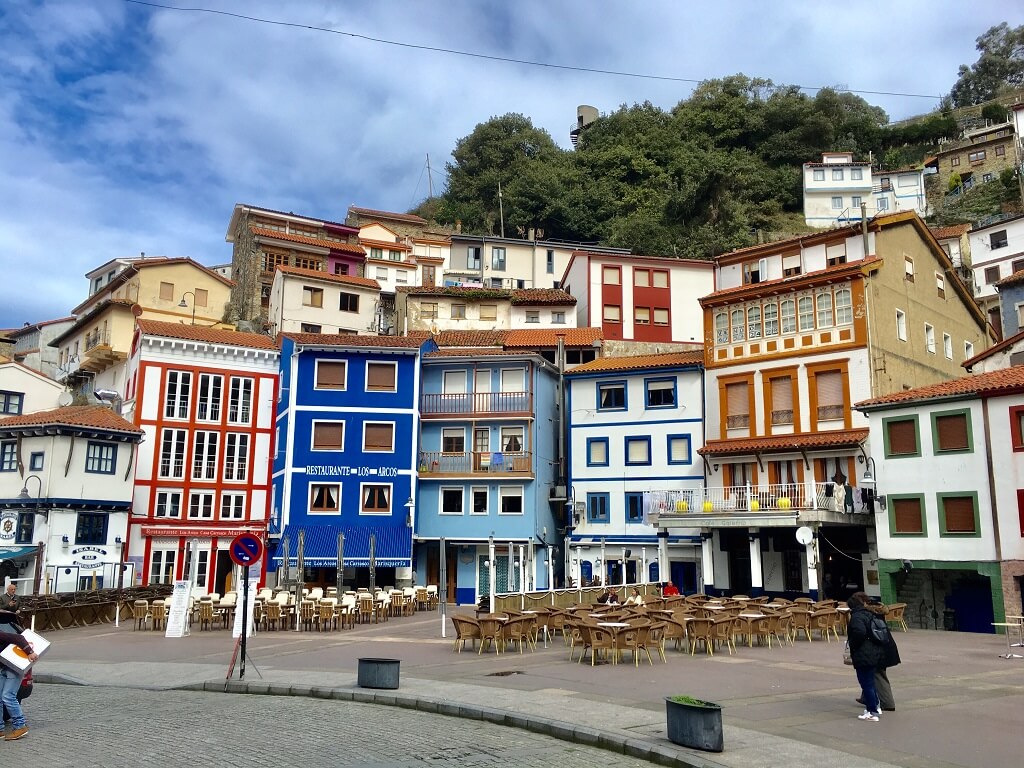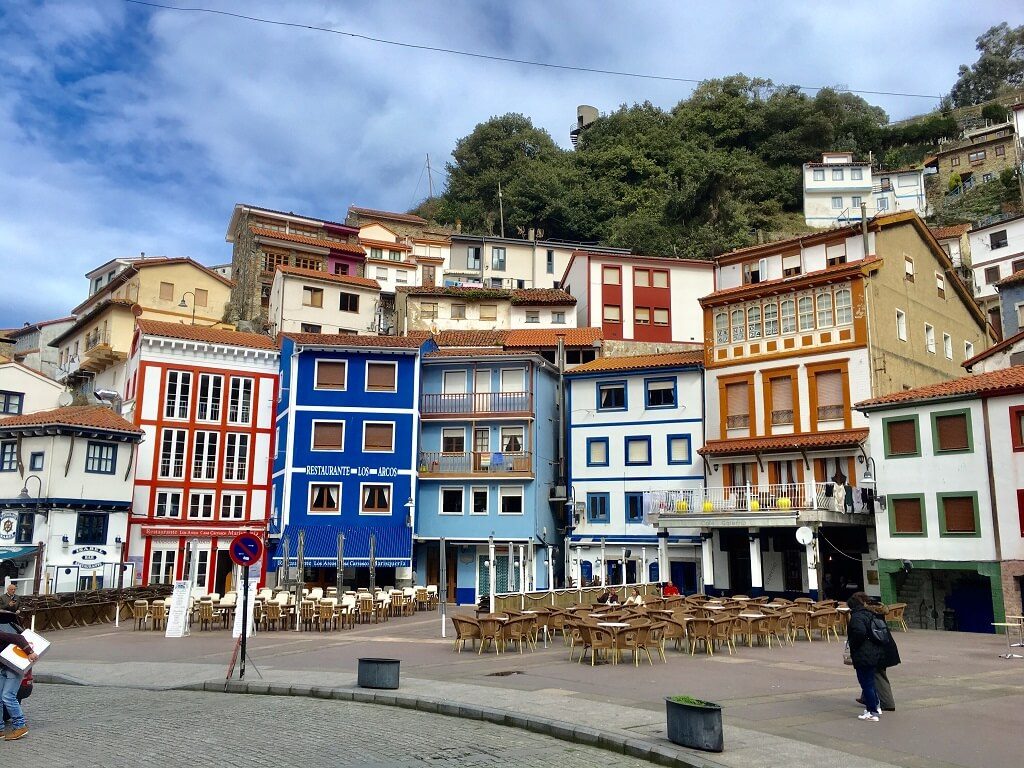 At this point you may have run out of time in which case you can head back to the Asturias airport near the town of Aviles half an hour away.  Or head to Tramundi for a trip to another world.
On your way to Taramundi from Cudillero, make sure to stop in the little town of Ribadeo, which has no great claim to fame other than being the home of seafood restaurant, Cofradia de Rinlo.  This place is amazing! Have a meal here and you'll see what put Ribadeo on the map. Call ahead of time to reserve and be prepared to wait.  This unassuming little eatery is always packed.
Lush, Green Taramundi
Cudilleros to Taramundi: 103 km via A-8
When you are in Taramundi you are in deepest Asturias almost on the border with neighboring Galicia.   Here the people speak an amalgam of Galician and Castillian different from what you hear anywhere else.
The town lies in the Turia Valley which is crisscrossed by several rivers. It is this combination of water, sunshine and a temperate climate that gives Taramundi its lush, green appearance. The vegetation is thick and abundant. The ancient little stone houses peek through the leafy vegetation.  The rivers, creeks and rushing streams are everywhere.  Sounds of rushing water is heard almost everywhere you go.
The accessibility to rushing water helped Taramundi become a milling town. Today you can visit the Museo de Molinos or Mill Museum to see how mills have been operating for hundreds of years.  Another tourist attraction is the family operated Asturian Knife Museum and shop.  For a €2 admission fee the attendants will show you how knives are made and their collection of all manner of cutlery. In the back yard is what is billed as the "largest knife blade in the world,"  a massive blade that may, indeed, live up to its reputation.
With an ever declining population and slim commercial prospects, Taramundi has capitalized on its natural beauty.  Rural tourism is now the growing tourism segment.  Many of the abandoned farm houses have been turned into tourist accommodations where hikers and other nature lovers stay and wander the stunning countryside.  If you can spare a couple of days in Taramundi, do it! It will be one of your favorite spots in this itinerary for Asturias.
Aviles: Last stop on your 2 week itinerary for Asturias
Taramundi to Aviles: 128 km via A-8
Sadly, you've come to the last leg of your 2 week itinerary for Asturias. But there is still plenty to see in Aviles, a pleasant city of 80,000 people. The city was named after Pedro Menendez de Aviles, a Spanish conquistador who explored Florida and settled St. Augustine, the first continuously inhabited European town in the U.S.   Aviles is a port town with good restaurants, wide plazas with stone arches, tree-lined avenues and interesting regional museums.  The town also has a nice collection of architecturally significant 12th and 13th Century churches like St. Thomas of Canterbury and St Nicholas of Bari.
In 2011 the city opened the Oscar Niemeyer Cultural Center Complex in the city's estuary area.    Brazilian architect Oscar Niemeyer has called the complex "an open square to humankind, a place for education, culture and peace." This is Aviles' answer to Bilbao's Guggenheim Museum; a collection of architecturally unusual and unique buildings housing mostly contemporary art.  It is worth a stop if you have the time.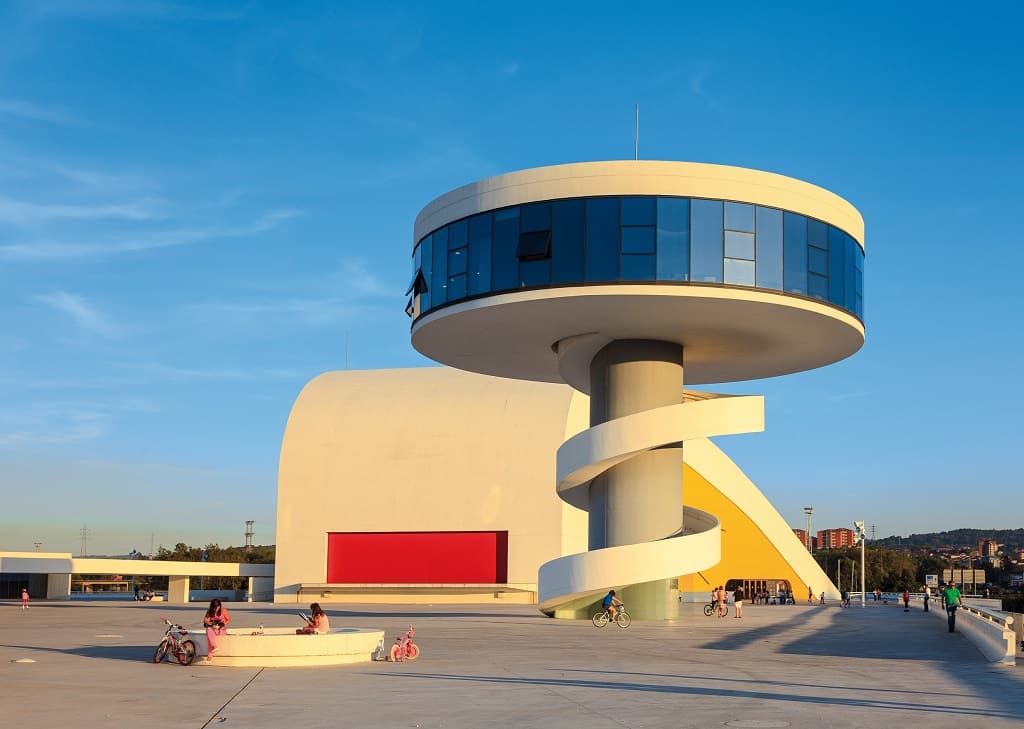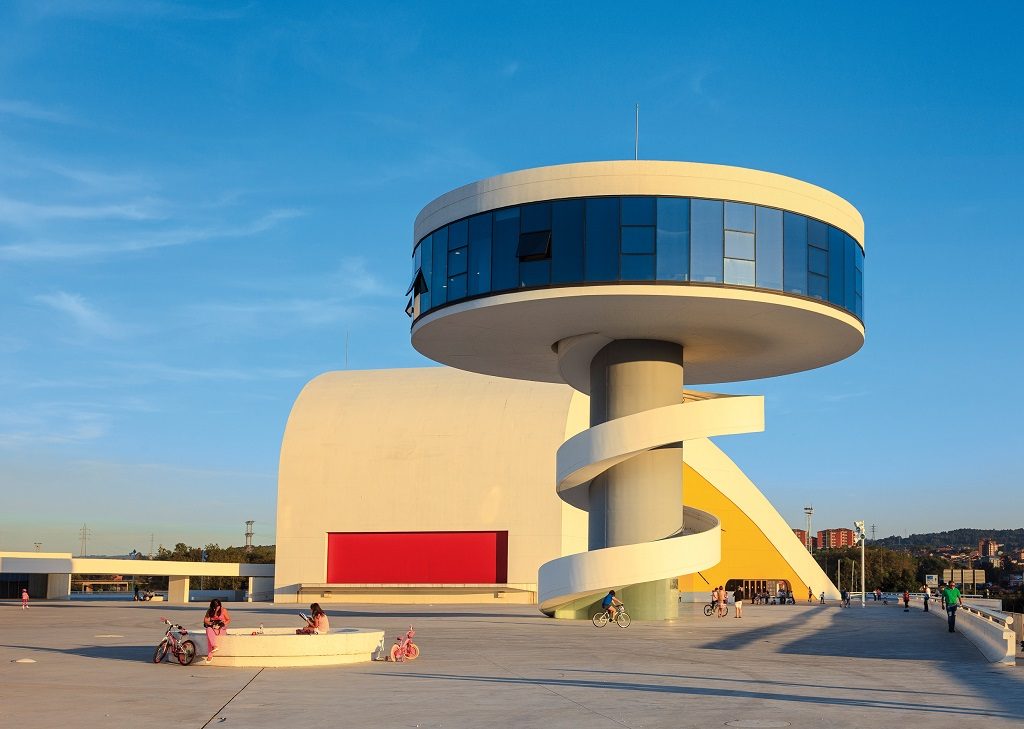 Aviles is about 20 minutes from the Asturias regional airport.  Most connecting flights to Madrid and other key cities leave in the morning so you might want to stay the night in Aviles.  If you do, I recommend Hotel Valle de Oca. They have parking nearby, a good restaurant and it is reasonably priced.
Spain is one of the most visited countries in the world and for good reason. Make sure to explore other exciting destinations in Spain with this handy Spanish travel guide.
If you want to know more about the region before you go, check out these excellent travel guides.
Love Spain? Check out the off-the-beaten-track region of Extremadura, cosmopolitan Barcelona, and remote Gran Canaria. 
What are your thoughts on a 2 week itinerary for Asturias?  Did I miss anything?  What do you think of this Asturias itinerary?  Let us know in the comments section below. And please don't forget to share this post.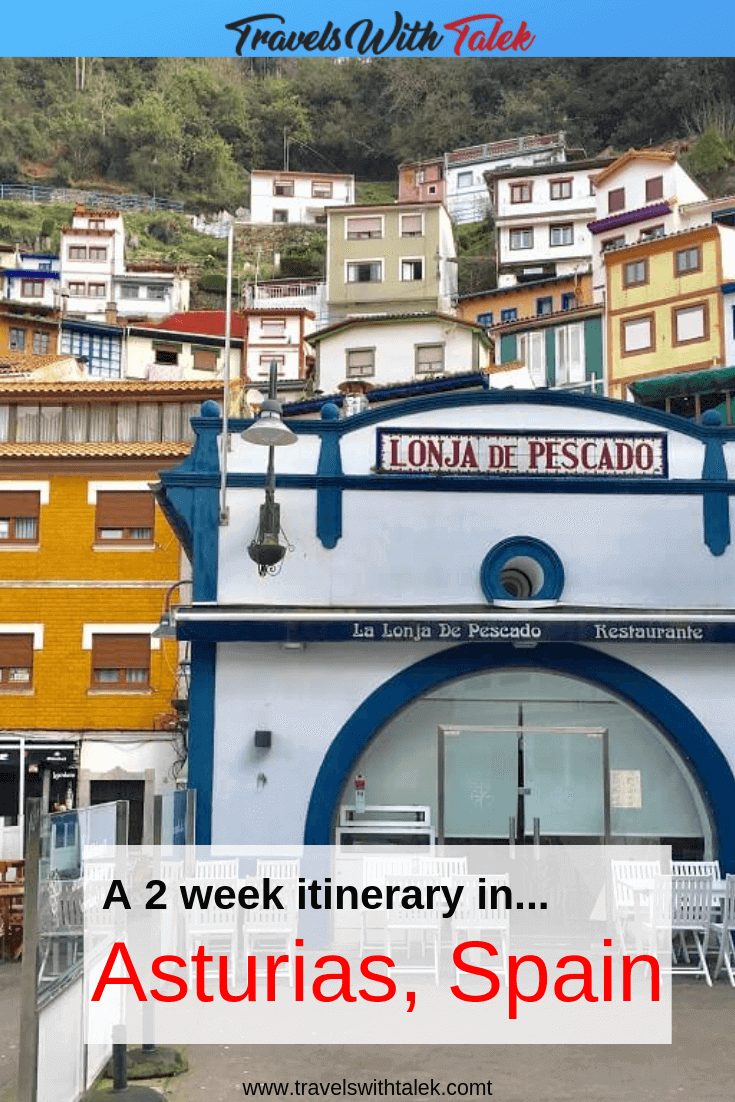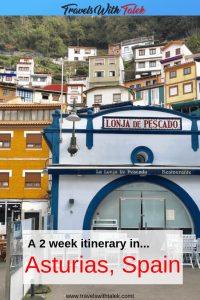 BTW, if you are getting ready for your trip, make sure to take advantage of these useful, money-saving links to book your trip:
I personally use, and can recommend, all the companies listed here and elsewhere on my blog. By booking through these sites, the small commission we earn – at no cost to you – helps us maintain this site so we can continue to offer our readers valuable travel tips and advice.