Updated November 5, 2019
Exploring family heritage can be a fascinating and emotional journey. I recently purchased an ancestry test kit. The results were not a total surprise. I knew our Cuban family originated in Spain. What surprised me was the percentage of Spanish heritage that originated in Asturias, a region on Spain's northern coast.
Naturally I became curious about exploring family heritage in Asturias and determined to explore the area. What I found was a beautiful green region full of history and tradition.
I wrote this article to share my experiences with others who may also be curious about their origins and may want to visit the place where their family journey began.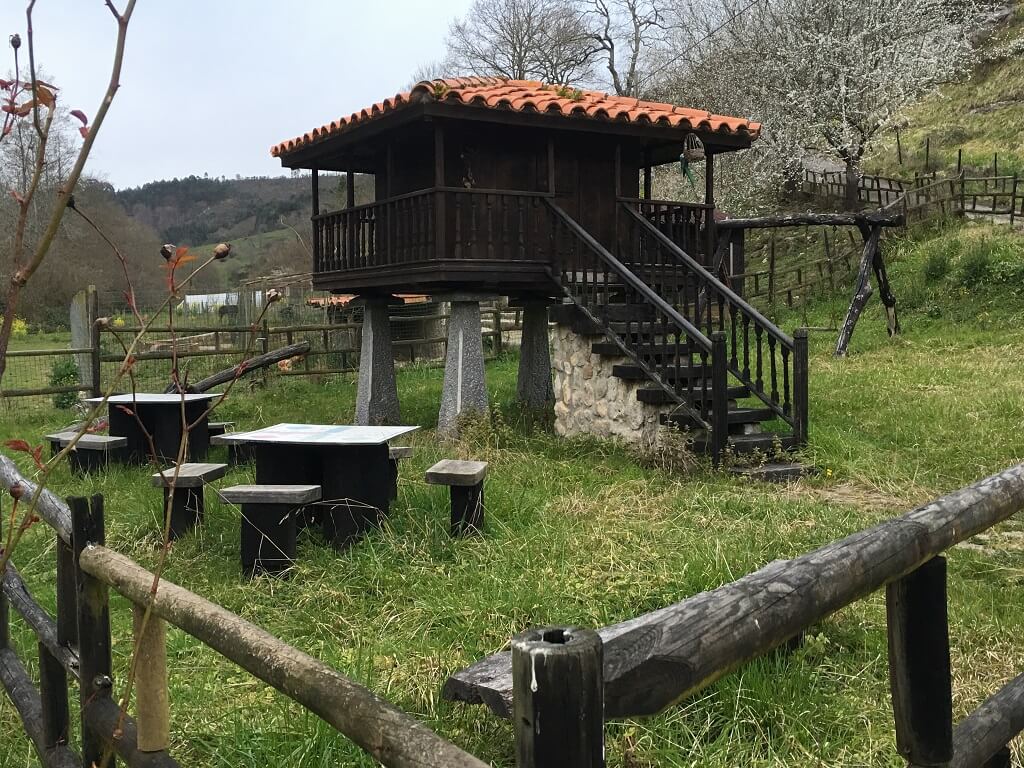 Exploring family heritage in Asturias
Although Asturians have been migrating to the Americas since Spaniards first explored the region, modern Asturian emigration took place throughout the 19th and early 20th centuries, peaking in the early decades of the 1900s.
The largest migrations were to Argentina, Mexico and Cuba but every area of the Americas received Asturian emigrants. As in all migrations, the reasons for leaving run the gamut from economic necessity to adventure.
There are concrete reminders of Asturian emigration throughout the region. One that I found particularly poignant is the Monumento a La Madre Asturiana (Monument to the Asturian Mother).
This large statue stands on the oceanside boulevard of Gijon, a port city on the Cantabrian coast. It depicts the image of a sad woman waving goodbye, presumably to a ship carrying her children to a new world. Children that she knows she will probably never see again.
The statue is a representation of all families that saw their members leave to seek better opportunities in an unknown and faraway land.
Cangas de Onis, a small town near Picos de Europa National Park is famous for its centuries old Roman Bridge.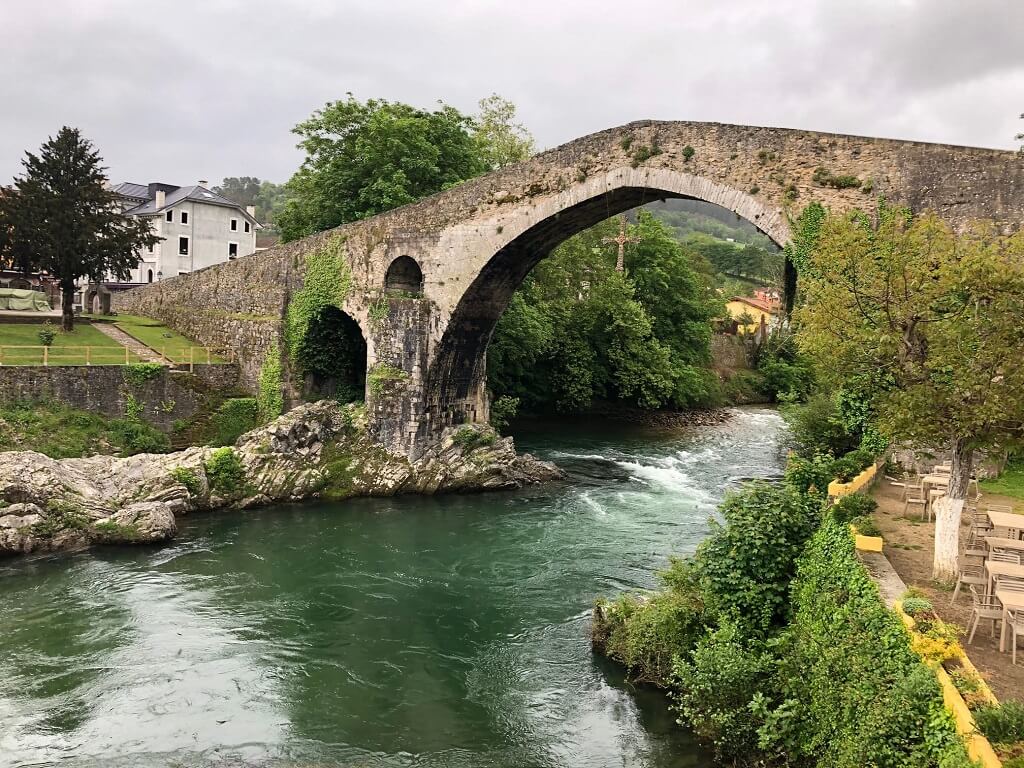 Just a few steps from this bridge sits another emigration related sight, the statue to the Asturian emigrant.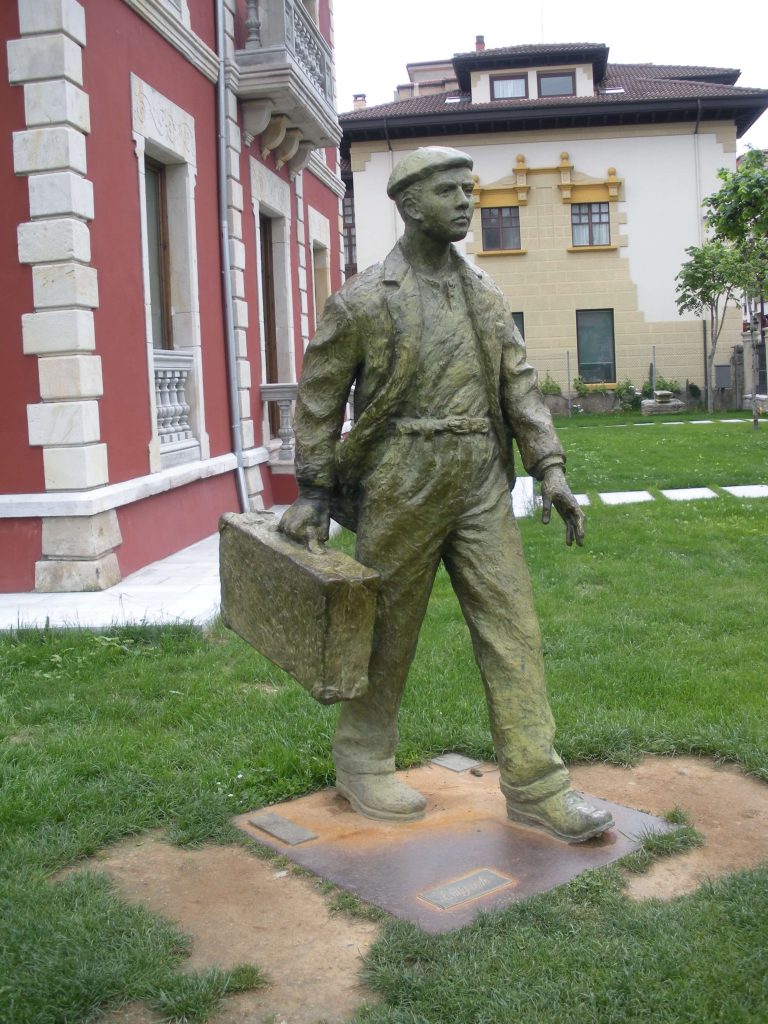 How many Hispanic Americans can look at this statue and imagine their ancestor leaving everything they know, with all their possessions in a little pressed cardboard suitcase, their eyes focusing on what they hoped is a promising future in the Americas.
There was actually a surprising amount of traffic between the Americas and Asturias. Many of the emigrants to the Americas stayed in their adopted countries. Others treated the Americas as a place to make their fortune and return home. Many emigrants returned home to stay after becoming successful. These were called "Indianos" in reference to their travels to the Indies.
These Indianos built large and impressive homes in Asturias reflecting their newly acquired wealth. Many of these "casas de Indianos" or Indiano homes are still standing today. Some houses are abandoned and decaying but others have been beautifully maintained.
The homes tend to be large mansions in light tropical colors of pink and blue with gardens and palm trees. In the town of Colombres alone, on the northeast coast of Asturias, there are over 68 of these homes many of which can be visited. These homes bear little resemblance to the local architecture and look more typical of homes found in Buenos Aires, Havana or Merida, Mexico.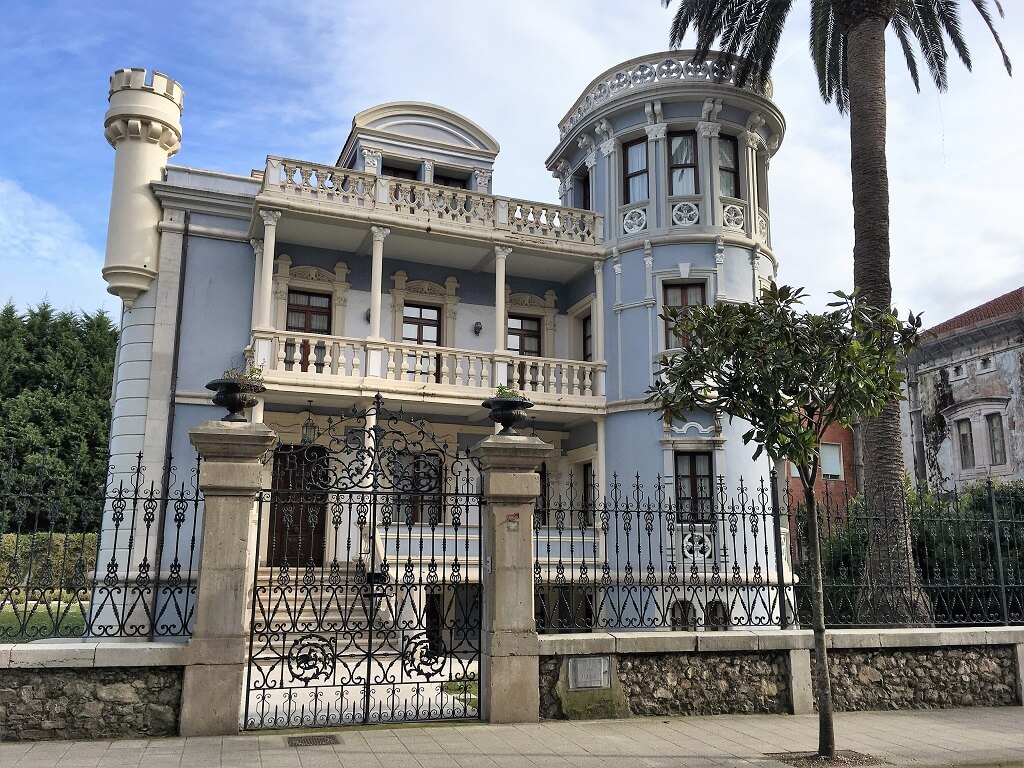 Also in Colombres is the Archivo de Los Indianos or the Latin Americans Archive-Museum of Emigration.
The museum spans the prime emigration years in the late 19th and early 20th centuries. It covers the various emigration corridors from Asturias to Mexico, Argentina, Cuba and other Latin-American countries.
The first floor is entirely dedicated to Cuba. The second floor covers Mexico and Argentina while other countries are represented on upper floors.
The building where the museum is housed is itself a relic of Asturian emigration. It was built in 1906 by an Asturian emigrant who returned from Mexico a wealthy man and wanted to build a stately family home worthy of his fortunes.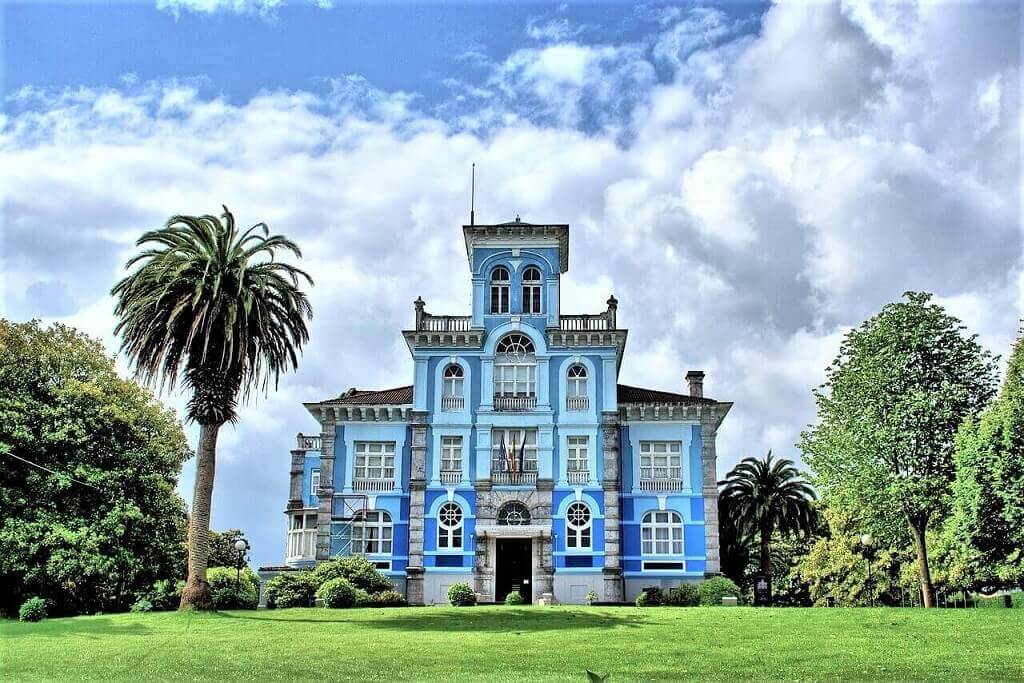 Historical artefacts include posters announcing ship departures for far-flung destinations, photographs of the various Asturian associations that formed in the new world and commemorative plaques honoring the Archivo for keeping the history alive.
The entire museum has an Ellis Island feel to it. I found that the most interesting and poignant part of the museum were the personal stories and the artefacts belonging to the emigrants themselves. Each geographic area has a collection of personal stories told by the families of the emigrants. The family of an unassuming woman who made a textile fortune in Mexico documents her journey. A group of Asturians who traveled to Cuba and then to Tampa smile at you from a 1918 photograph.
Some stories are sad and expose the longing for families left behind that were never seen again. Others are inspirational telling of great triumph over seemingly insurmountable obstacles.
Throughout my visit, I was acutely aware that I was reading the story of my own ancestors.
I was always interested in the immigrant experience since my entire family came from Cuba and before that, apparently, Asturias. It was fascinating and even a little emotional to visit the region and imagine how my ancestors lived or what I would have been like if they had decided to stay in Asturias.
I'm glad I went. I recommend that others visit the land of their ancestors for a truly unique experience. If Asturias is in our DNA, go home and visit. Have you ever explored your family heritage in the land of your ancestors? What's YOUR story? We'd like to know.
If you are curious about your ancestry, you may be interested in a genetic testing kit and accompanying workbook.
What are your thoughts on heritage tourism? Is that something you would like to experience? Let us know in the comments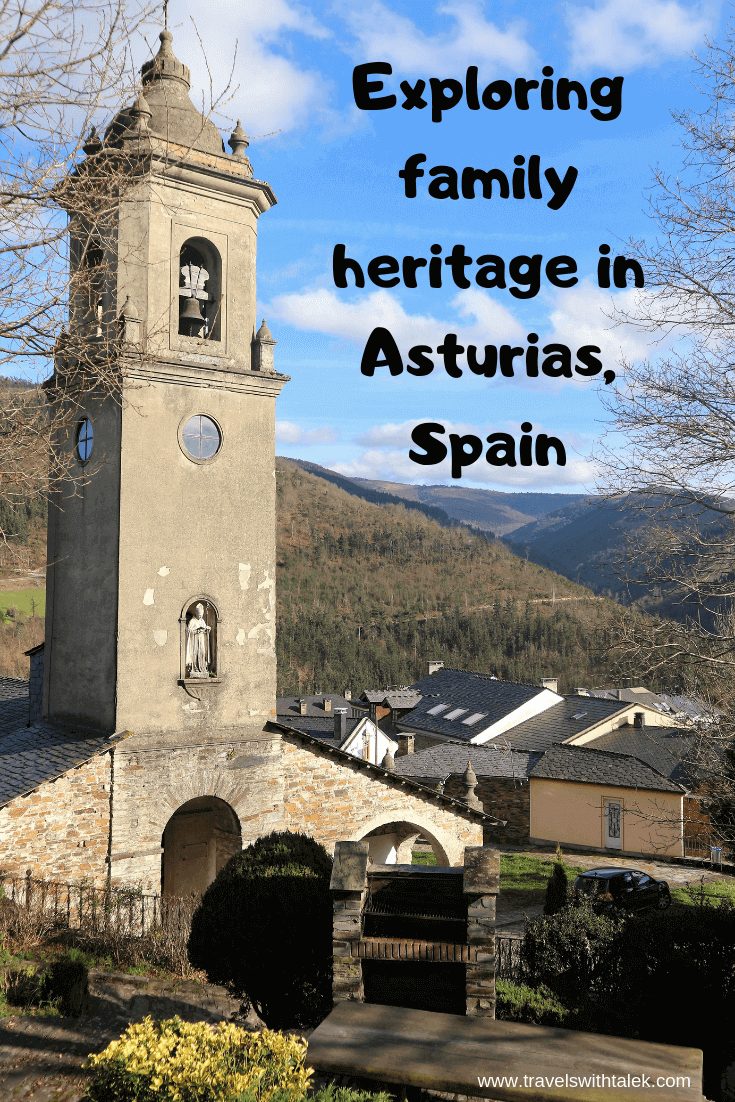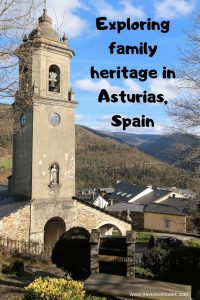 BTW, if you are getting ready for your trip, make sure to take advantage of these useful, money-saving links to book your trip:
I personally use, and can recommend, all the companies listed here and elsewhere on my blog. By booking through these sites, the small commission we earn – at no cost to you – helps us maintain this site so we can continue to offer our readers valuable travel tips and advice.