Looking for bucket list ideas for travel in the USA that are the quintessential soul of Americana? Look no further. We asked travel bloggers what they considered to be top bucket list activities to do in the United States and they did not disappoint. From sea to shining sea, Boston to Los Angeles and places in between, there is plenty here for you to add to your bucket list.
Best bucket list ideas for travel in the United States
Hike to the Hollywood Sign and Griffith Park – Los Angeles, California
Located in Griffith Park, the Hollywood Sign remains one of the most popular sites in Los Angeles. Visitors from around the world who have seen this sign in a movie or television show make the effort to view it either up close or from a distance.
If just viewing the sign interests you, then find your way to the Griffith Park Observatory and you'll have decent views from the parking lot. But for those wanting to get closer, and get some exercise, then put on your hiking shoes for an unusual but iconic bucket list activity. The most popular hike to the sign starts at the same parking lot and is well marked. Unfortunately, even at the conclusion of the hike, the sign is off in the distance, so don't expect to get close enough to touch it. For those wanting to get closer to the back of the sign, the Canyon Drive Trail delivers both great views and a physically challenging hike.
Griffith Park is also a great place for movie buffs since hundreds of films and televisions show have shot scenes somewhere within the 4,200 acres. Both Rebel Without A Cause and La La Land shot scenes at the observatory. The Bat Cave is located on park grounds and Jurassic Park had scenes here.
The park is also home to the Los Angeles Zoo and many other attractions, so if you're coming to the City of Angels, plan to spend a day here.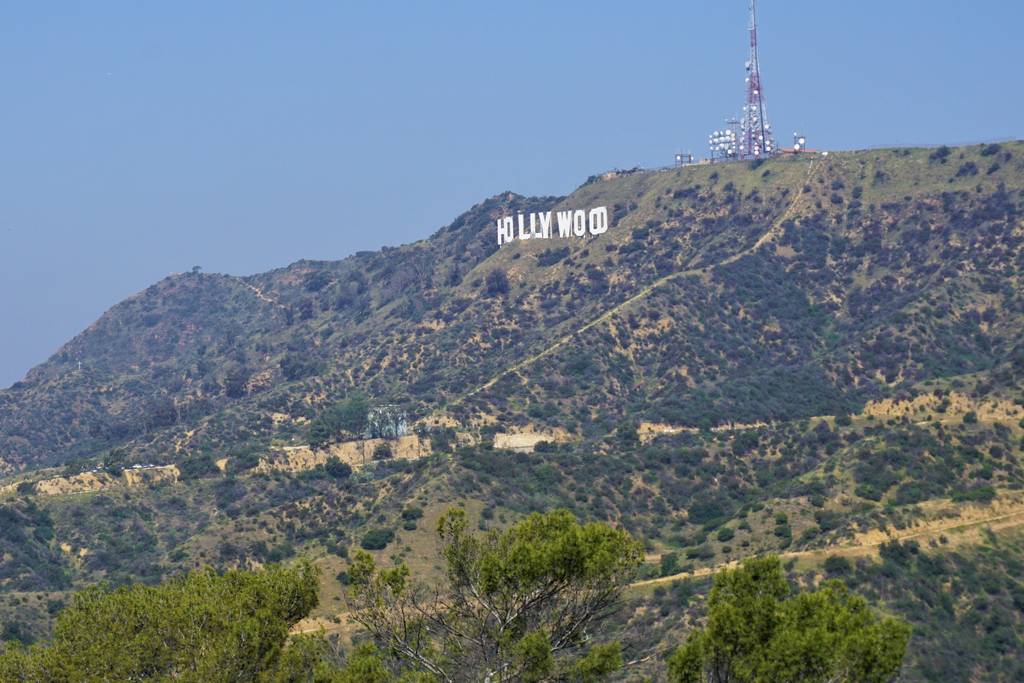 Wendy Lee blogs at Empty Nesters Hit the Road.
Check out Harlem, New York
Here is a bucket list idea that won't disappoint. Visit Harlem in upper Manhattan! Harlem was originally settled by the Dutch who named it after Haarlem, an area in The Netherlands. Today, Harlem is the quintessential trendy New York neighborhood, a vibrant, eclectic place full of jazz clubs, trendy restaurants, amazing architecture and U.S. history…and a great example of classic Americana.
One of the must-do activities in Harlem includes a visit to the famous Amateur night at the Apollo theatre.  Many of the greatest African-American artists have passed through The Apollo Theater since it opened in 1941; Ella Fitzgerald, Billie Holiday, Luther Vandros, The Godfather of Soul James Brown and Gladys Knight to mention a few. The theater's fortunes rose and fell along with the neighborhood but it still remains one of New York's great art venues. Amateur Night happens most Wednesday's and is a must for any visitor.
Harlem is also one of New York's great dining destinations. Two classic favorites are Sylvia's Restaurant for authentic home cooking and Red Rooster. Red Rooster, named after a legendary Harlem speakeasy, is owned by Chef Marcus Samuelsson, cookbook author, winner of many prestigious awards and guest chef at the White House. Red Rooster has been so successful that Chef Samuelsson opened another restaurant in Miami with the same name. Another not-to-be-missed dining experience is Melba's, for fried chicken like you've never tasted.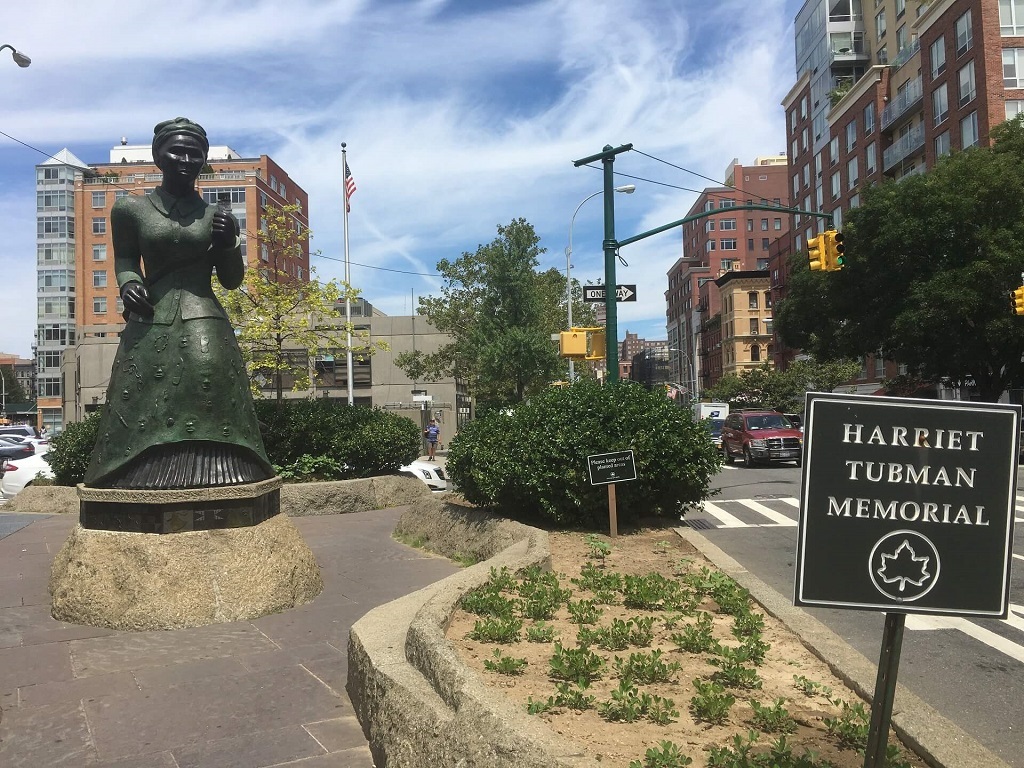 Talek blogs at Travels with Talek
Experience The Grand Ole Opry – Nashville, Tennessee
One of the most uniquely American experiences I can think of, and one of the quirky bucket list ideas, is exploring the country music scene in Nashville, Tennessee. While the honkytonks on Broadway are certainly a good start, I think the most special experience you can have is going for a show at the Grand Ole Opry. The Grand Ole Opry runs three shows a week and is the longest-running live radio broadcast program in United States' history, debuting in 1939 and never stopping.
The Grand Ole Opry combines humorous banter between the host and guests, live music, and finally a headlining band. To be a member of the Grand Ole Opry is considered "making it" in the world of country music, and musicians such as Dolly Parton, Johnny Cash, and Reba McEntire have graced its stage.
One of the other great things about visiting the Grand Ole Opry is that you can take a backstage tour afterwards, where you can see the ornate dressing rooms and learn about which stars got ready where. Getting to go backstage was definitely one of the highlights of my Opry visit. In short, visiting Nashville and not going to the Opry is like visiting New York without seeing a Broadway show – simply a shame!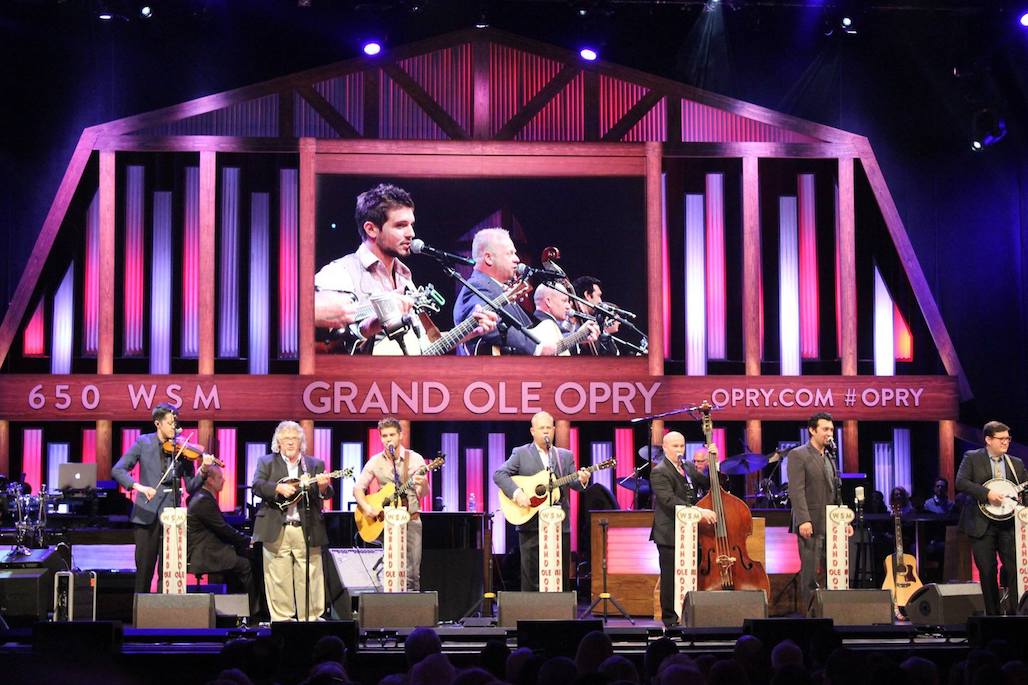 Alison blogs at Eternal Arrival.
Chow down on Kansas City Barbeque, Kansas
While every region of the United States has its own "brand" of barbeque. Kansas City's name has been synonymous with slowly smoked meat slathered in spicy sauce for more than a century. So when you visit the Barbeque Capital of the World, you absolutely must try its tender chunks of beef, pulled pork, and saucy ribs.
Fun Fact: Over the course of American history, there have been more than five accepted spellings for this cooking style. Today the debate boils down to spelling the word with a "c" or a "q" and this cowtown generally aligns with the Kansas City Barbeque Society and uses a "q."
Kansas City's legendary barbeque got its start more than a century ago with Henry Perry. Considered the father of Kansas City barbeque, the Memphis native started selling slabs of ribs on newspaper pages from an early 20th century food truck to workers in Kansas City's Garment District. Today there are literally 100 barbeque joints to choose from!
Some of the most popular barbeque joints include Arthur Bryant's Barbeque, Fiorella's Jack Stack Barbecue, Q39, and Joe's Kansas City Bar-B-Que. If you visit Kansas City in the fall, be sure to experience the American Royal. Touted as the largest barbecue competition in the world, its nickname is the World Series of Barbeque. Barbeque with a baseball reference? Talk about a truly American experience!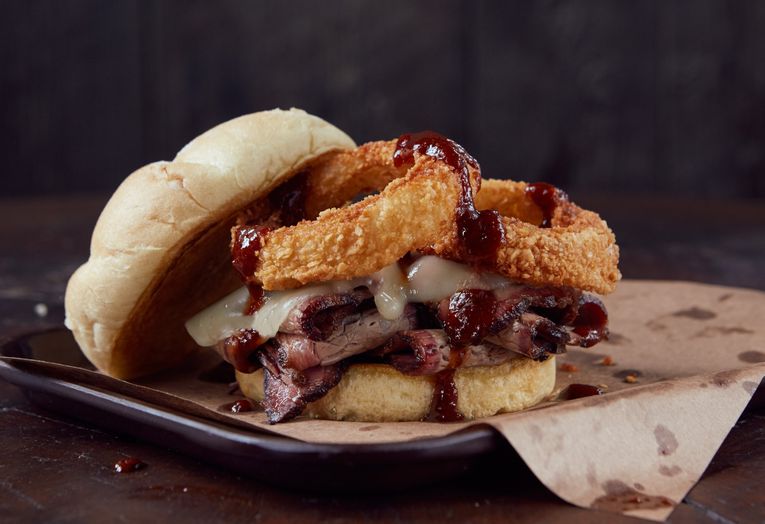 Sage Scott blogs at Everyday Wanderer.
Walk the Golden Gate Bridge, San Francisco, California
This activity belongs in the iconic bucket list ideas for US travel.  If you've seen a few Hollywood movies, you have seen the magnificent Golden Gate Bridge. It is the iconic orange bridge that leads movie goers into a grand entrance. For me it is the exit from the protected Bay Area, out into the vast Pacific Ocean. But more famously, this is the gateway into the Golden State of California and the vibrant San Francisco Bay Area. For generations fortune seekers have crossed the Golden Gate Bridge, arrived in San Francisco, thrived and made the great state of California their home.
Today let's talk about walking on the bridge. Every visitor to San Francisco will drive over the bridge and some will walk. There is a reason.
I have been over our Golden Gate Bridge more times that I can count, but each time the overwhelming feeling of awe takes my breath away. Each time I try to capture the emotion and each time the picture doesn't do justice.
The bridge is enormous and beautiful beyond words. It's like a grand musical instrument where the great orange cables are strings held in place with sturdy support that shapes them into waves. The frequencies from the strings play music to my heart.
If you visit San Francisco, do make it a point drive over the Golden Gate Bridge from San Francisco towards Sausalito. At the end of the bridge, park on the right. At any given point in time there will be hundreds of visitors getting their perfect pictures with the bridge. If you're lucky you'll have the right amount of fog for a romantic scene. If not, get a seat or walk around, the fog will change and you'll see dramatic views of the Golden Gate Bridge, the city of San Francisco, Alcatraz island and sailboats.
If you have an hour or so, walk over the Golden Gate Bridge. Feel your presence in pure magnificence, feel the cool fresh air and have a wonderful day.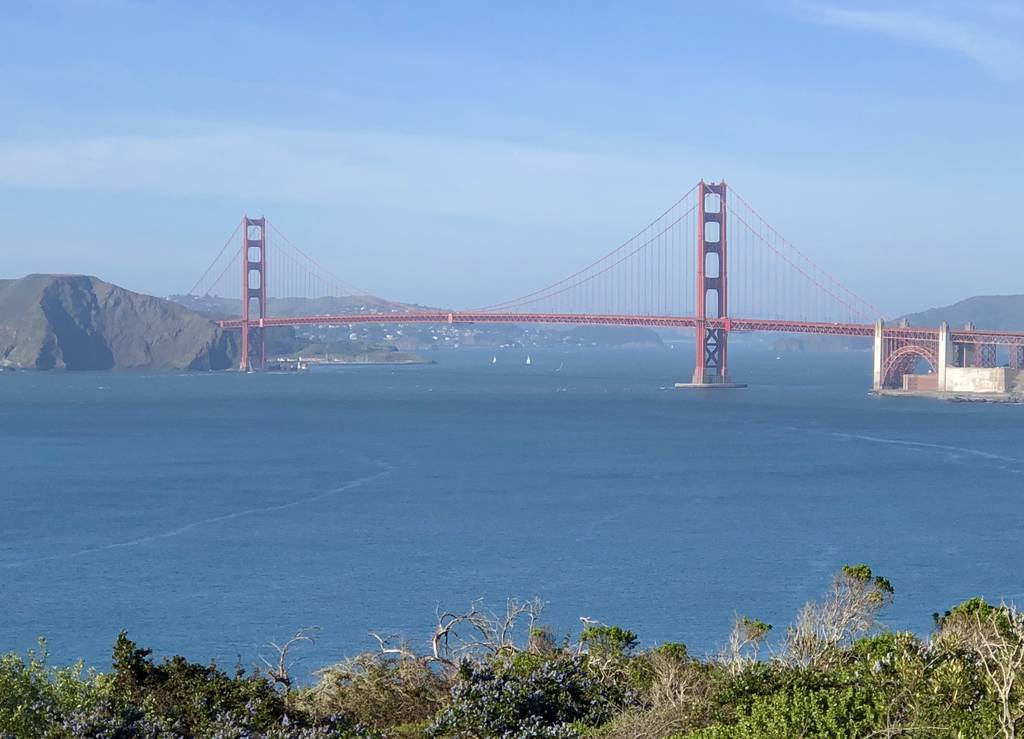 Jyoti blogs at Story at Every Corner.
Spot the Bald Eagle of the United States
The bald eagle is the national bird of the United States. Its symbolism can be seen in artifacts, monuments, and texts throughout the country's history, including on the national currency and the President's official seal. Bald eagles are known for their strength, independence, and majesty, some of the components on which the tenants of the United States were built. Most importantly, bald eagles have been used in association with authority and government power since ancient Roman times, and to the founders of the United States, it seemed the most apt bird to use as the national symbol.
Bald eagles are found only in North America and can be seen in pockets of the United States throughout the year. But, the best time to see them is in winter along coasts and rivers. There are a handful of fantastic locations to see bald eagles nesting, soaring through the skies, and swooping down to rivers and lakes to catch fish.
Alaska has the largest population of bald eagles than anywhere in the United States, with over 30,000 individuals found throughout the state, especially on the southeast coast, such as the Chilkat River. Washington State also has some of the largest eagle nesting sites in the country, such as Nisqually National Wildlife Refuge and the Skagit Wildlife Area in the Skagit Valley. The Blackwater National Wildlife Refuge on Maryland's Chesapeake Bay shores boasts one of the highest concentrations of eagles on the east coast of the United States, though the numbers don't compare to those out west.
Keep your eyes toward the sky, and listen for the bald eagle's distinctive high-pitched, whinnying call, in search of the United States' national bird and symbol! Could this be the ultimate iconic bucket list idea?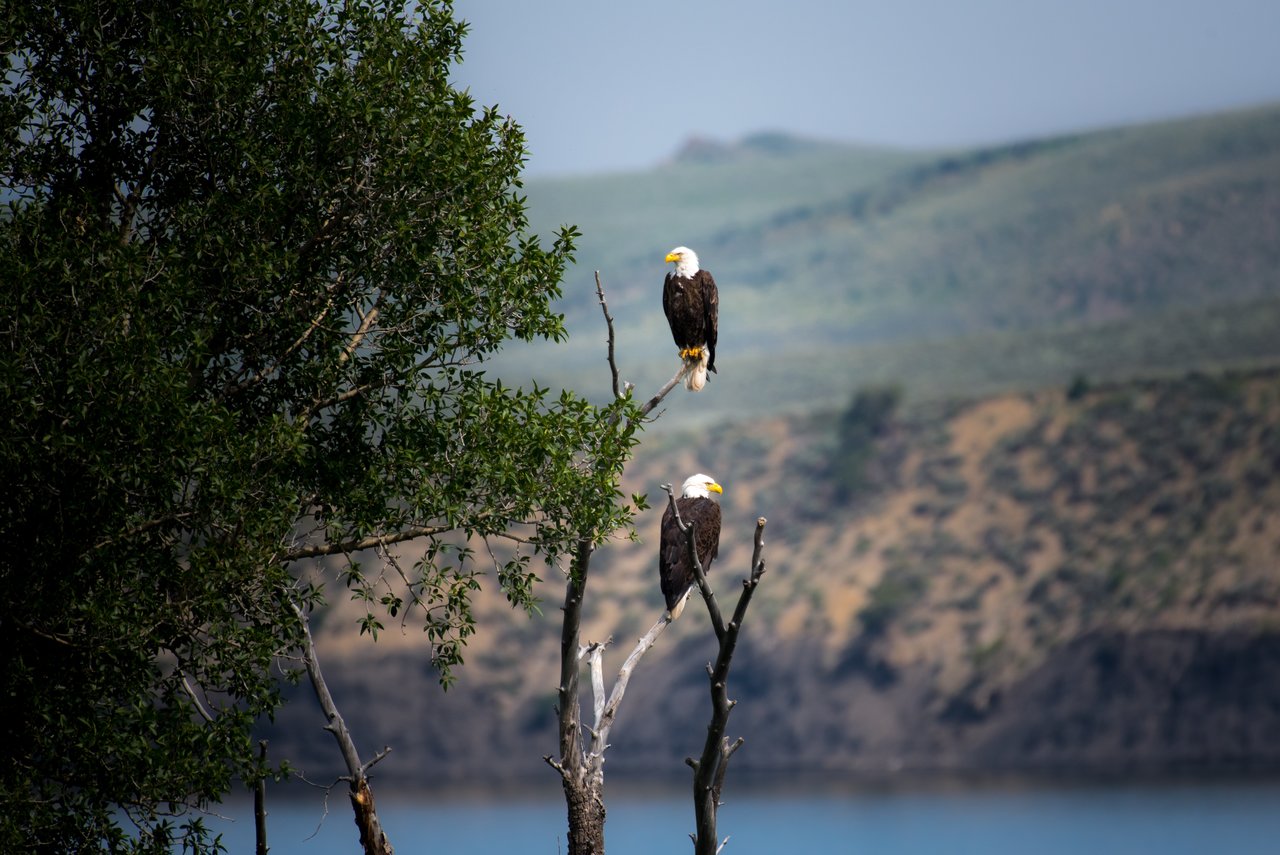 Christa Rolls blogs at Expedition Wildlife.
Walk the Freedom Trail in Boston, Massachusetts
It's hard to imagine anything more iconic Americana than the Freedom Trail in Boston.
Made up of 16 historic sites linked by a 2.5 mile walking trail denoted by bricks, Boston's Freedom Trail takes visitors past incredible pieces of history linked to the American Revolutionary War and emerges as one of the top bucket list ideas for US travel.
Highlights include Paul Revere's house, the site of the Boston Massacre, the Boston Common, the Old South Meeting House (where the Boston Tea Party was organized), Faneuil Hall (where several speakers, including Samuel Adams, spoke out against British rule), the Granary Hill Burying Ground (the final resting place of several well-known patriots, including the 5 victims of the Boston Massacre and 3 signers of the Declaration of Independence), and the Old State House (the seat of colonial government and later state government).
In addition to the historic sites on the trail, the walk itself is a delightful way to experience Boston, winding past some of Boston's most famous sites and iconic neighborhoods, such as the beautiful North End.
Though the Freedom Trail can easily be walked in a day, it can also be savored over a longer period of time–especially be history buffs who want to duck inside each site!
Though some of the historic sites on the Freedom Trail do charge a small entrance fee, the trail is free to walk.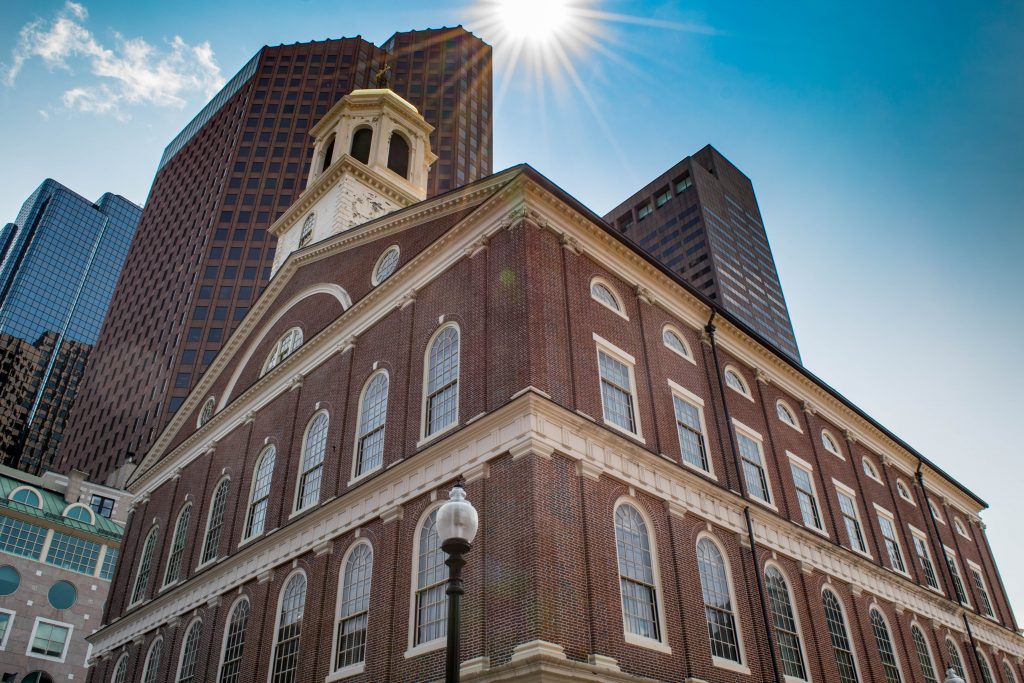 Kate Storm blogs at Our Escape Clause.
Road trip Route 66 Across America
A great American bucket list experience is driving Historic Route 66! This 2451 mile road trip stretches across 8 US states, starting in Chicago, Illinois and travelling through Missouri, Oklahoma, Kansas, Texas, New Mexico, Arizona before finishing up in Los Angeles California. As you travel across the country you'll enjoy the changing landscapes of America.
The route has a lot of history and a lot of unique attractions that'll grab your attention! With the introduction of Interstate travel, Route 66 and the old towns that sat along the road, began to lose business as travellers opted for the faster travel option. Many location and businesses suffered, closing up and turning into ghost towns. However, there were others that fought to get people to leave the Interstate and head back into town to eat in their restaurants and stay in their hotels.
Route 66 travellers will be greeted with giant blue whales, giant rocking chairs, restaurants that serve over 700 varieties of soda (Pops 66 Soda Ranch), natural wonders such as Meteor Crater and quirky accommodation options where you can even stay in a wigwam! Make sure you stop and talk to as many people as possible, they all have amazing stories to tell!
From Route 66 you can easily make side trips to Las Vegas, the Grand Canyon or drive a longer branch of Route 66 which passes through Santa Fe (New Mexico).
At the end of the trip you'll feel like you've accomplished something huge!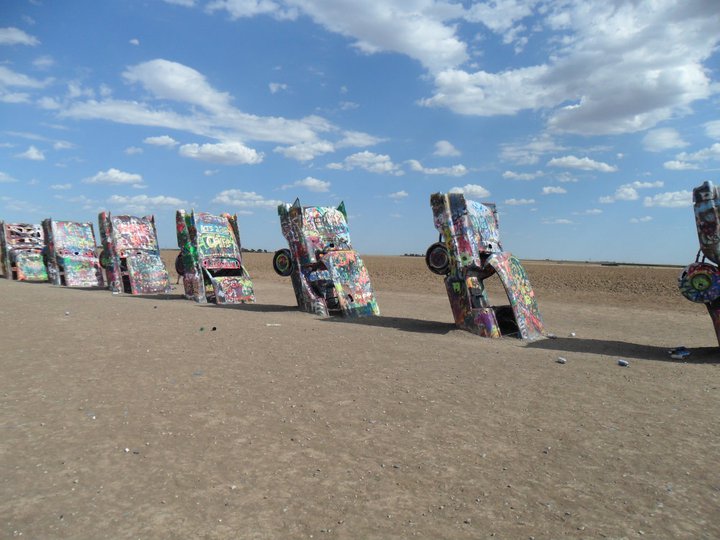 Kylie Neuhaus blogs at Between England and Iowa.
Gape at Niagara Falls, New York
Niagara Falls is a major American summer vacation destination and a big time bucket list idea for couples because so many couples come here on honeymoon. A trip to Niagara wouldn't be complete without experiencing the Maid of the Mist boat tour. Versions of this boat ride began in 1854, so it has been a long-time family tradition. Upon entering the Niagara Falls State Park, guests will park in Parking Lot 1, located at Prospect Point. Hold on to the ticket in case you move your car to another parking area to avoid paying twice. Enjoy the observation deck first since you'll be wet after the ride. The Observation Tower's deck hangs above the whitewater below, providing gorgeous views of the falls. An elevator transports visitors to the base of the American Falls to board their Maid of the Mist boat. Guests are issued blue plastic ponchos but anyone who thinks they'll keep them dry is sorely mistaken!
This twenty minute ride is guaranteed to drench the entire family. The boat trail passes the American and Bridal Veil Falls before turning around in front of the Horseshoe Falls. The sound is deafening! The boats make a slow turn and wait for a few minutes so that guests can get the full effect of the power of the Horseshoe Falls. Bring a change of clothes if you have plans to do anything else that day. Expect long lines, especially during the height of summer vacation and the middle of the day. But there's a reason everyone is smiling in those photos although they're completely drenched!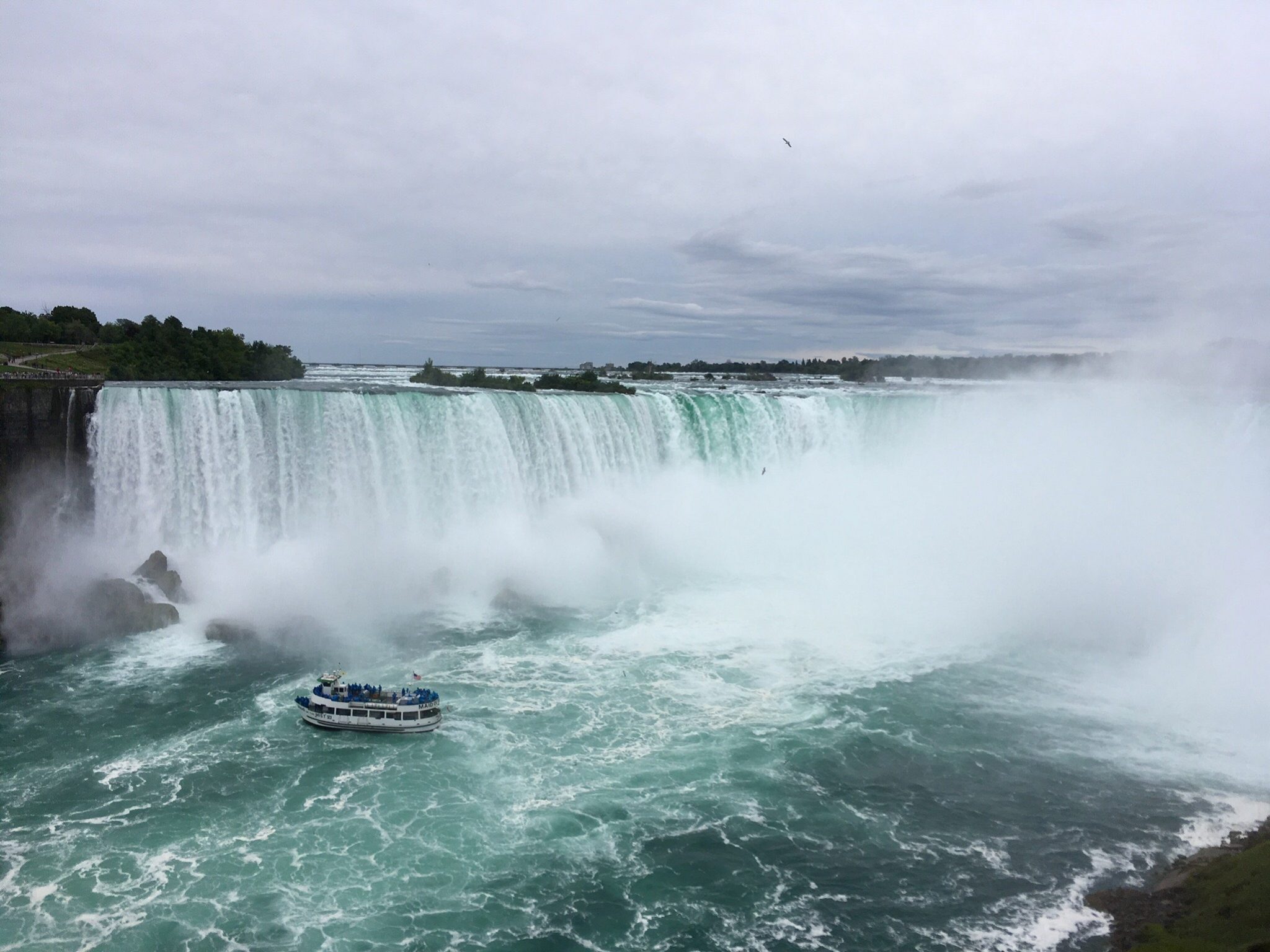 Annick Lenoir-Peek blogs at The Common Traveler.
More bucket ideas for travel in the United States 
Visit the Storm King Art Center in Mountainville, New York
A visit to the Storm King Art Center in Mountainville, New York is one of the most unique travel experiences you will ever have in the USA and a little-known, but worthwhile bucket list objective. Storm King is an outdoor sculpture museum and is spread over hundreds of acres of woodlands, open meadows, and rolling hills. It houses more than 100 pieces of modern and contemporary art; all open to the elements of nature. The sculptures stand in stark contrast against the landscape yet in perfect harmony with it.
The beauty of Storm King in Fall is unparalleled. Apart from the majestic sculptures, you can view some breathtaking fall colors. Storm King also makes for a great summer destination. The entire park is painted green and the clear, blue sky on top just adds to the beauty. You can roll around in the meadows, have a picnic at the café, and even spot a deer or two.
Admission is $18 for adults, $8 for kids above 5, and free for children under 4. The park is closed during winters and a few other public holidays.
If you are looking for a museum that gives you both the beauty of nature and art, then Storm King is the perfect place for you.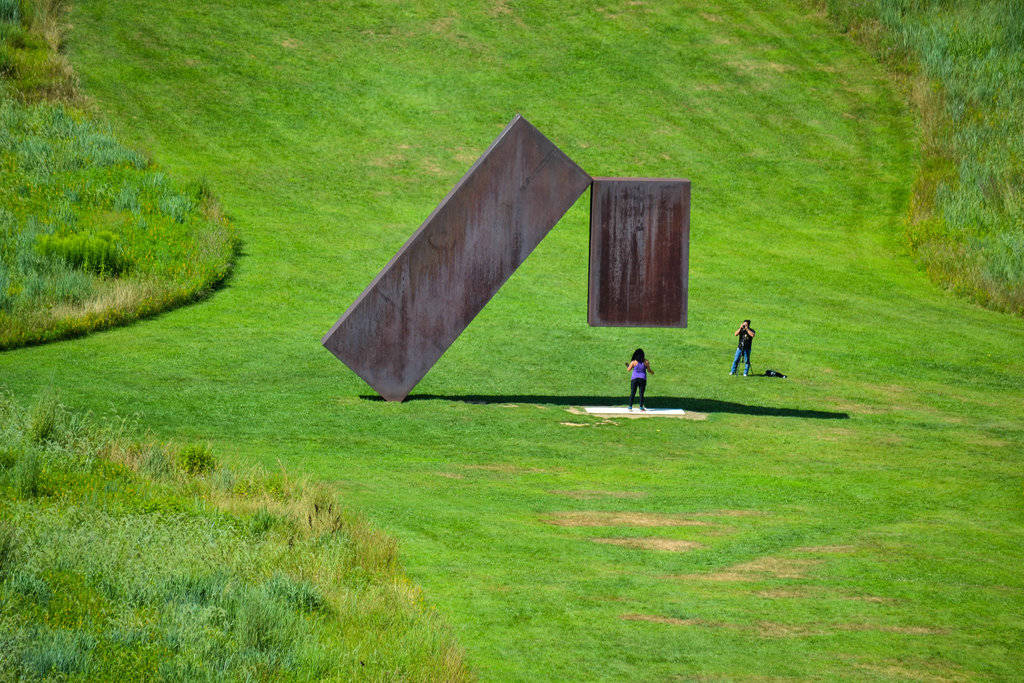 Soumya Gayatri blogs at Stories by Soumya.
Experience the Tunbridge Fair in Tunbridge, Vermont
Growing up in Vermont in the 1970s, everyone knows about the annual Tunbridge Fair. Many of my classmates take time off from school. They get their livestock ready to show. They care for their animals there and even sleep at the fair. I imagine how much fun it would be to live there too. Instead of watching television in the evening, do you go on the Ferris wheel? Instead of meatloaf and mashed potatoes, do you have sausage and peppers for dinner with cotton candy for dessert?
I ask my parents to take me, and my mom immediately says no. "It's rough at night. People get drunk, there are lots of fights. It's not a place for kids." My dad starts to talk about the "girly tent" they used to have back when he was a teenager before my mom cuts him off.
Thirty years after I asked my own parents to take me, I visit the fair. When I arrive, despite what my parents said, it is nothing like Pinnochio's Pleasure Island. Instead I find rides and greasy fair food. I find pig races and a demolition derby. I find elderly Contra dancers dancing to old folk music. In one barn, sap is boiling to make maple syrup, and in another, this year's prize zucchini sits next to the biggest pumpkin I've ever seen. Pies with blue ribbons on them sit across from handmade patchwork quilts made with scraps of calico.
And in the barns, there are my classmates' children. They are brushing their pigs, mucking out the barn, and they are walking their cows down to the river for a bath. And I realize that this is what the fair has always been. What you think of it depends on where you choose to look. And sometimes the simple bucket list ideas are the best.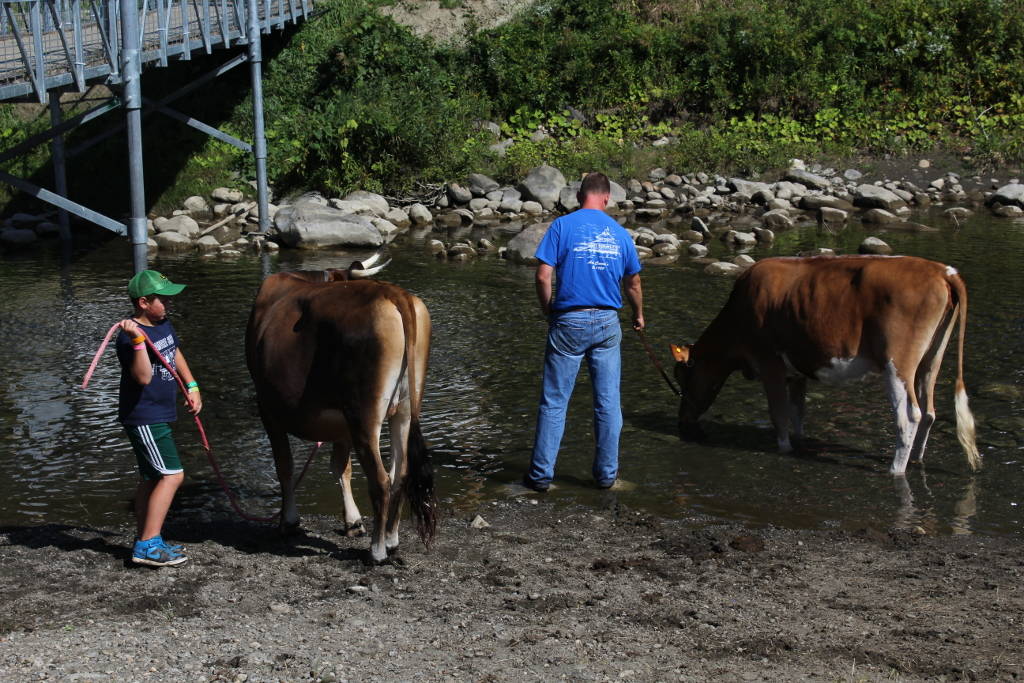 Todd Tyrtle blogs at Go Outside Today.
Hike The Narrows in Zion National Park, Utah
Hiking The Narrows in Zion National Park is one of the most unusual experiences anywhere in the world and, to my knowledge, unique to the United States. Where else in the world can you hike through a narrow slot canyon where the canyon walls are 20 feet wide and 1,000 feet high – in a river? Zion National Park is one of America's most dramatic national parks, and The Narrows is the jewel in its crown. Some sections of the canyon have a narrow path beside the river; however, for most of the hike, the river cuts directly through the canyon walls.
The start is fairly easy; the canyon is about 60 feet wide and the river about knee high. Then, as you slowly crisscross the river, always looking for the easiest route, balancing on the pebbly bottom and braced against the current, the canyon walls start to get closer and the river deeper. The incredibly narrow Wall Street section is worth the effort to get to, and makes a good turning back point. If you go early in the morning, there is a good chance you will have the canyon to yourself for most of the day. It's possible to do the hike one-way, with overnight camping, but the in-and-out day hike is the most popular option. The United States has many incredible national parks, and many awesome hikes, but this is one of the very best of them all.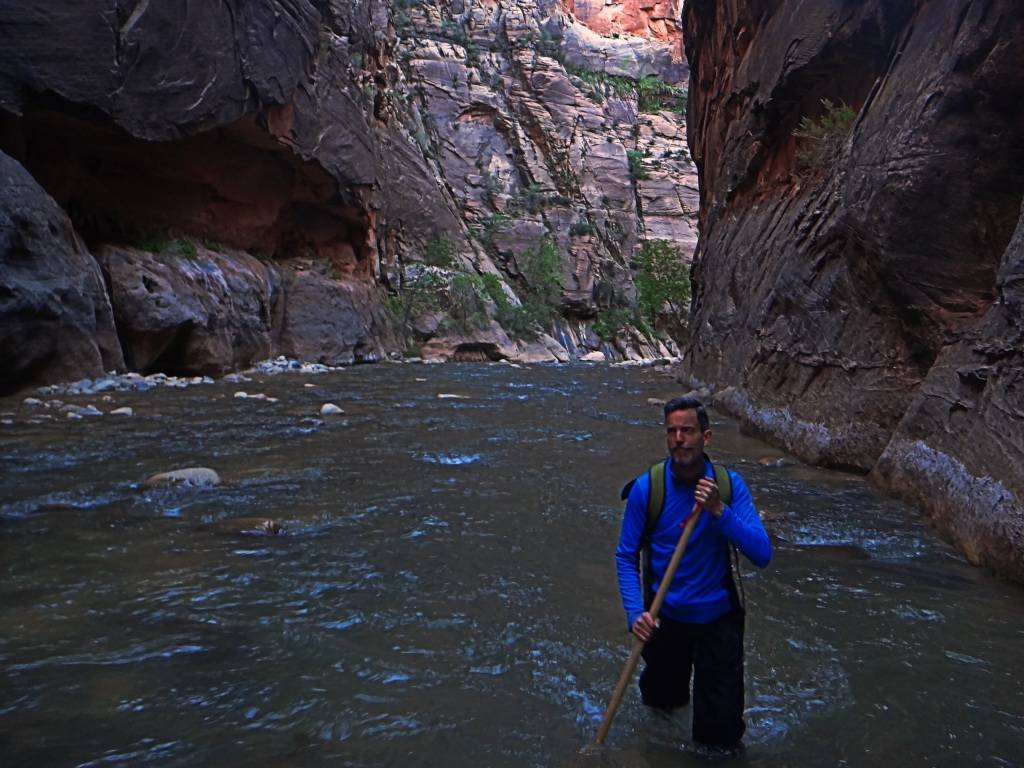 James Ian blogs at Travel Collecting.
Enjoy Disney World in Orlando, Florida
This is one of the classic travel bucket list ideas for the USA for kids and kids at heart. Visiting Disney World is a great way to immerse yourself into Americana. Mickey Mouse is known around the world, and he got his start right in the US. Though Disneyland in California was the original park, with four theme parks, two water parks, a shopping and nightlife district, and more than 30,000 hotel rooms, Disney World is the ultimate place to immerse yourself in all things Disney. A visit to Disney World has a little something for everyone. Kids will love the characters, rides, and atmosphere of the parks. Adults will love all of those things, plus the amazing snacks, desserts, and alcoholic beverages that are an essential part of a trip.
The Magic Kingdom is home to the classic Cinderella Castle and themed lands ranging from Fantasyland to Frontierland. Epcot has two sections – Future World with rides like Mission: Space and Test Track, and World Showcase, which features pavilions representing different countries around the world. Hollywood Studios has some of Disney World's biggest thrill rides and the brand new Toy Story Land. Animal Kingdom is home to the ever-popular Pandora land that comes to life at night and other animal focused attractions.
You can also time your visit for one of Disney's seasonal events like Epcot's amazing Food and Wine Festival, the Halloween parties, or the Christmas season or plan a visit around one of the runDisney races that are held at various times throughout the year. Whenever you go, you're sure to come home with loads of memories, character photos, and mouse-shaped souvenirs.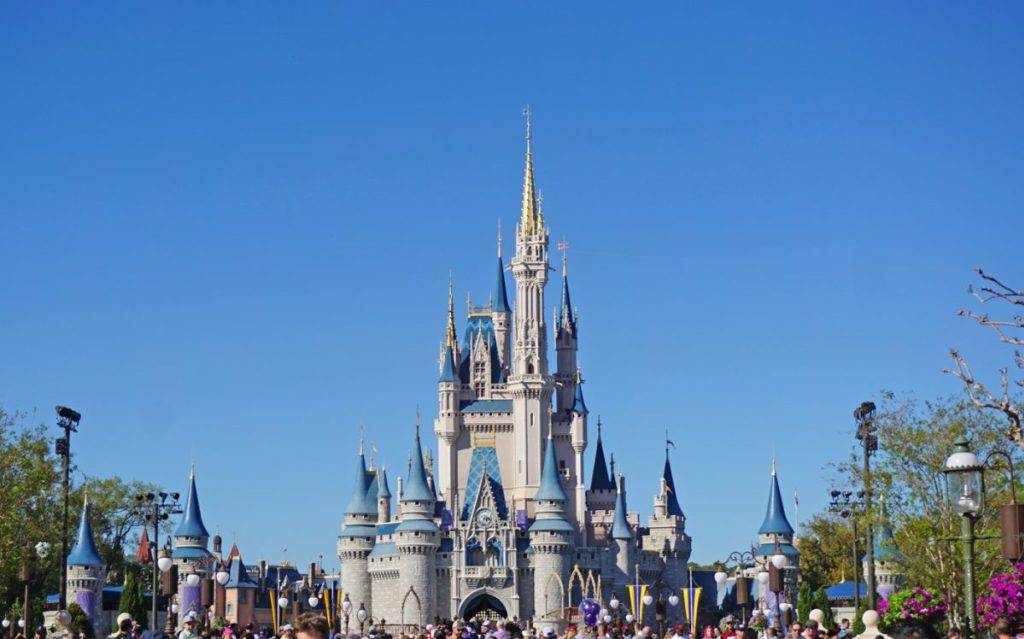 Kris blogs at Nomad by Trade.
Drive Down the Pacific Coast Highway
Driving the Pacific Coast Highway in California is the classic American, cruise down the highway with the top down and wind in your hair kind of road trip. The full drive runs from Mendocino in northern California down to San Diego. But if you want to do the best bits, you can spend a few days roadtripping the Pacific Coast Highway from San Francisco to Los Angeles.
If you need some convincing, there are three reasons why this road trip is to worth doing: waves, wildlife and wine. The coastline has a varied texture with sections of wide open beaches interspersed with dramatic cliffs. The coastline is also a highway of sorts for migratory humpback whales, orca, pacific bottlenose and common dolphins, sea lions, seals and elephant seals. You can see these marine mammals from shore throughout the trip or on a whale watch trip from Monterey. There are major wine growing regions with tasty reds in Monterey, Paso Robles, Santa Ynez valley and Santa Barbara.
If you do the drive north to south, you'll careen right along the edge of the coast for the full way. You can plan overnight stops in cute California towns like Half Moon Bay, Santa Cruz, Pacific Grove, Big Sur, Paso Robles, Cambria and Solvang. America has a love affair with the car and there is no better way for you to express it than on this classic California road trip and best bucket list adventure.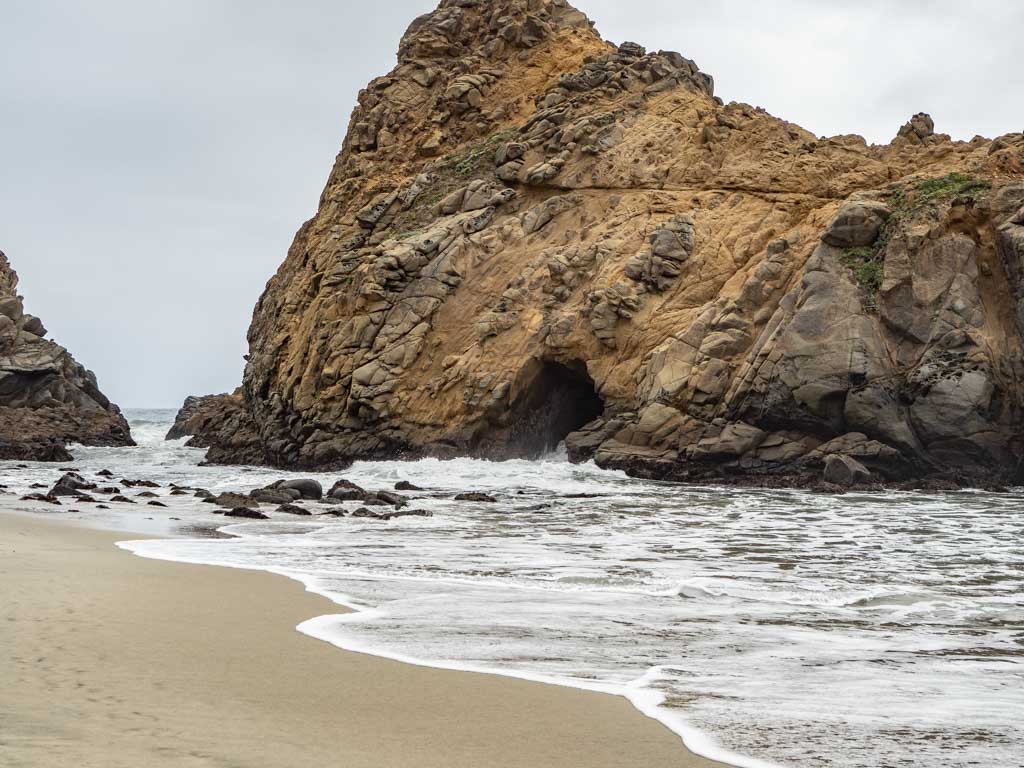 Carol Guttery blogs at Wayfaring Views.
See these classic and unusual bucket list ideas in the US
"Do" a Texas BBQ
It will sound stupid, but out of all American states, Texas always felt like the most American to me. Mind you, I was born and raised in Russia and first visited the USA at the age of nineteen. So, obviously, that notion is based on countless movies and TV-series like Walker, Texas Ranger with Chuck Norris and the like.
Texas with its ranches, cowboys and cattle roaming freely in the fields, has this true American, down-to-earth spirit that every foreigner is looking for when traveling to the USA. Trying the famous Texan BBQ, therefore, is the most American of all American experiences.
From huge megalopolises like Dallas or Houston to the smallest towns like Lockhart and Lexington, every city in Texas has at least a couple of BBQ joints they are proud of. Texans loooove their BBQ! So much so that Texas Monthly creates The List — The Top 50 BBQ Joints in Texas — which is not unlike a Bible for the meat-lovers.
With 50 options to choose from, where do you start? I suggest Franklin BBQ in Austin that was on the top of The List on multiple occasions. It's also good to know that the likes of Gordon Ramsay and Barack Obama visited this place. It may take you four hours of waiting in line to get inside the restaurant, but their fatty brisket is worth it!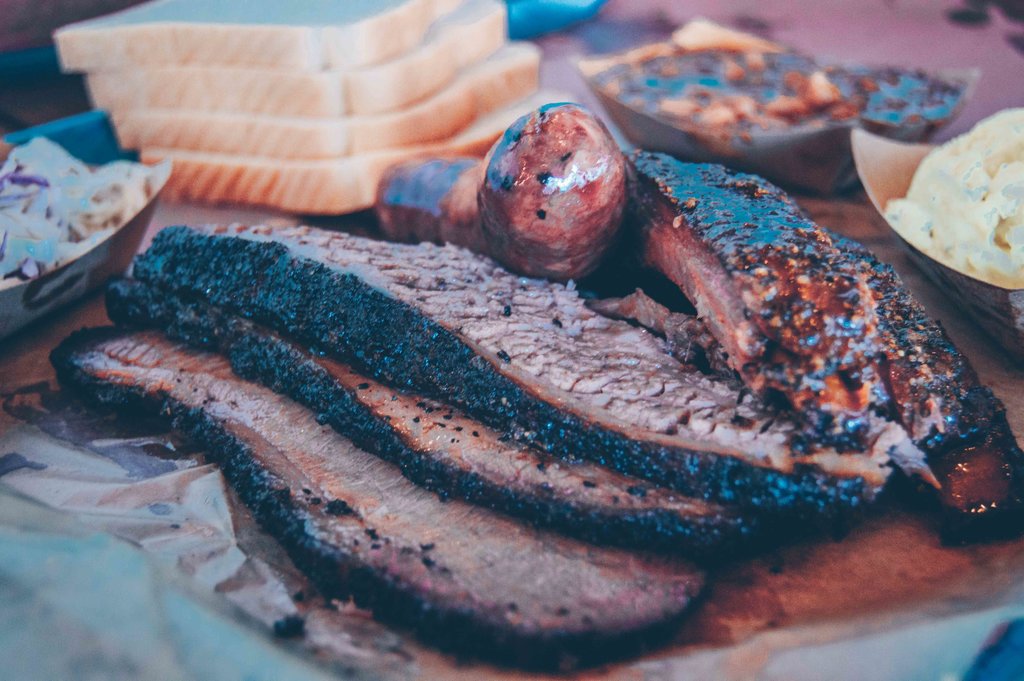 Yulia Dyukova blogs at That's What She Had.
Visit Elvis Presley's home in Graceland, Memphis, Tennessee
No trip to Memphis would be complete without a visit to Graceland, the home of American Music icon Elvis Presley. This USA bucket list idea is certainly up there with the most iconic examples of Americana.
Elvis' Graceland estate is located on the outskirts of Memphis. By today's standards, it is a fairly humble property. The main living spaces and the grounds are open to the public. You will see where Presley spent family time, entertained and even the Jungle room where he died. The lower level of the house is dedicated to family treasures including intimate pictures of he and his daughter Lisa Marie.
Elvis and his parents are buried at the Graceland estate. These along with the stables, the racquetball court and swimming pool are all part of the tour.
The Elvis Museum is not to be missed for any self-respecting fan. This massive property houses all things Elvis! There is an exhibit dedicated to his personal automobiles and those used in his movies plus the automobiles he promoted. If you are so inclined, you can view the costumes he wore when performing in addition to his gold and platinum records. This is just the beginning. Also, on-site you will find Elvis's personal plane, the Lisa Marie, which is open for touring.
Of course, like any museum, you will find gift shops. Additionally, the museum offers three options for dining.
The die-hard fan who doesn't mind being away from the action of Beale Street and other downtown activities might want to consider a stay at the Elvis themed, Guesthouse at Graceland. This newer 450-room hotel near the estate and the museum caters to his fans. Rooms start around $200/nt.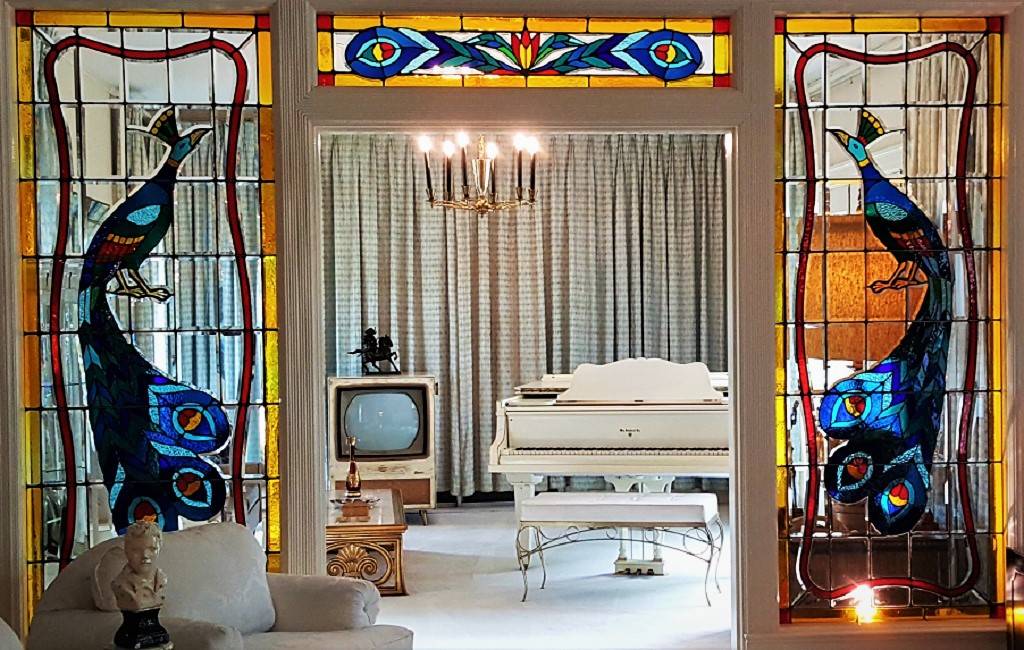 Susan blogs at The GenX Traveler.
Time travel to the Gilded Age: The Newport Mansions of Newport, Rhode Island
The Newport mansions are a collection of spectacular residences built by American billionaires during the Gilded Age. This period is generally accepted to be between 1870 and about 1900.  The late 1800s and early 1900s was a time of  robust economic growth in the northeast U.S. particularly in the utilities, transportation, and real estate sectors. This growth was accompanied by low taxes. It was an age of enormous wealth accumulation leading to ostentatious and conspicuous consumption that makes today's rich appear like paupers.
The very wealthy included the likes of  "old money" families like the Astors as well as the "new money" entrants like the Vanderbilts. They competed to showcase their unprecedented wealth which today can be seen in the elegant mansions of Newport, Rhode Island and also Biltmore in North Carolina.
The Preservation Society of Newport County offers tours of the mansions. Among the most spectacular of these "cottages" are Marble House, former home of Alma Vanderbilt, The Breakers at Ochre Point and Rosecliff, where The Great Gatsby was filmed. Forgetting to add these old-money estates to your U.S. bucket list would be very un-American and you would miss out on one of the best bucket list ideas for traveling in the United States..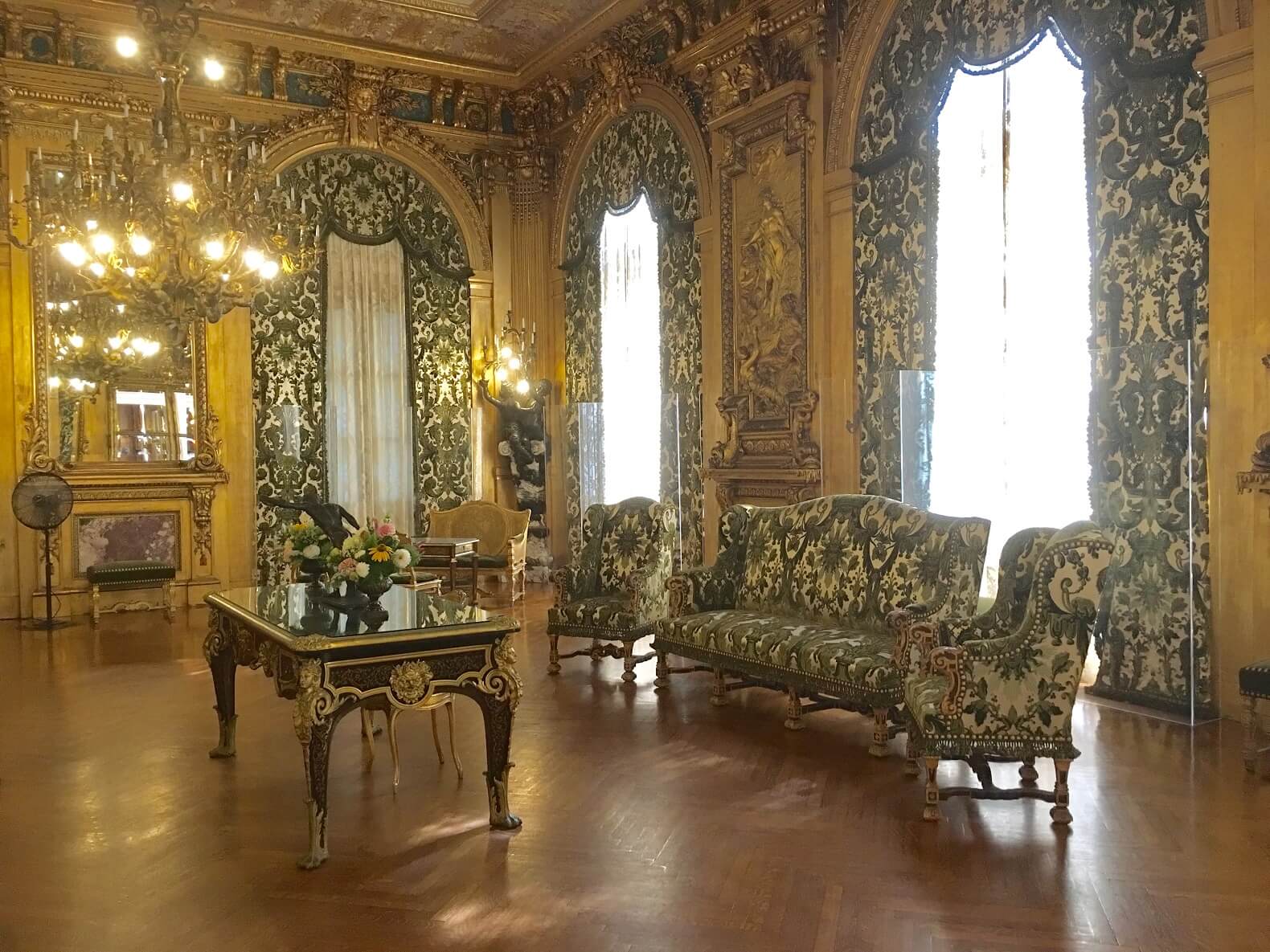 Talek blogs at Travels With Talek
Visit the Financial District, New York City
Your bucket-list trip to America would not be complete without a stop at the birthplace of all commerce for the United States. All financial transactions and businesses began in New York City, in the Financial District, and there are still a ton of historical sites to take you back in time. The first settlers from the Netherlands opened up bars to make a living. Fast forward to the 1800s, people from all over the world were coming to NYC to start businesses of all kinds.
Stock trading started on the streets of the financial district under a buttonwood tree. It progressed into the New York Stock Exchange, which is also located next to the Federal Building, complete with a giant statue of George Washington, the first President of the United States. There is also the oldest church in New York, Trinity Church, which was one of the first things that all immigrants could see from their ships as they arrived into the harbor.
While in downtown New York, you can dine at the oldest restaurant in America, Delmonico's. Before leaving the area make sure you stop at the Trinity Church graveyard to see where Alexander Hamilton, who is considered one of the forefathers of commerce for America, is buried. This walking guide can take you to each historical site, so you can be transported back to the 1800s where American finance all began and still thrives. If this is not one of the most intriguing bucket list tours around, I'm stumped.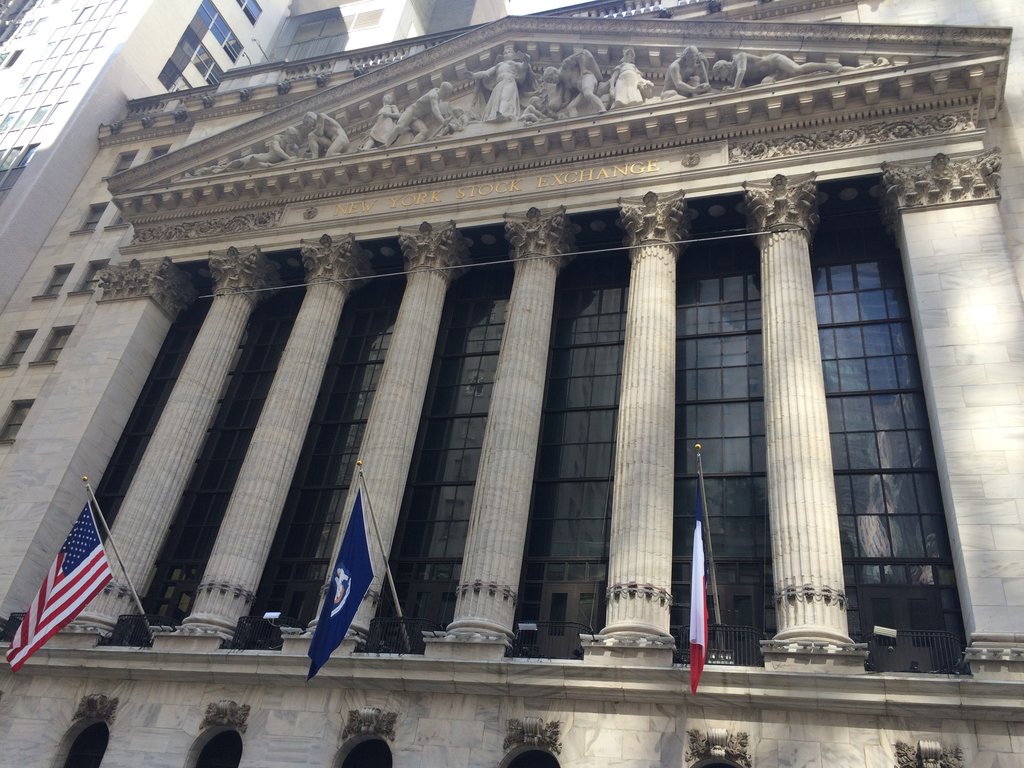 Read more of Jet Set and Forget's adventures here.
More seriously epic bucket list ideas to experience in the US
Live it up in Las Vegas, Nevada
One of the most unique things to do in America is to visit Las Vegas and, in particular, walking the strip. Somehow this relatively small city in the desert has become an icon of utter freedom and the pursuit of happiness. Whatever fantasy a visitor would like to live out, the odds are there is a way to have that experience in Vegas. Want to shoot a machine gun, or drive a race car? Want to dig hole with a bulldozer or jump off a building? You can do it in Las Vegas.
As for me, I was serenaded by a gondolier and went to the top of the Eiffel Tower. I watched the "Beatles" perform, visited the flamingos, and learned all about organized crime. In typical American fashion, Las Vegas has also taken pieces of the great cities and cultures around the world and recreated small pieces of them to build an over the top city of wonders. Where else can you walk from Venice to Paris and then on to Hollywood in less than a mile? Keep on walking, because Luxor, New York, Rome and Rio are all yet to come! There are so many, I couldn't make it to them all.
Of course, the main focus of the city is on the glitz and the glam, and the romance with lady luck. People from all walks of life and all corners of the globe intermingle to experience the glamor for a while, while most dream of hitting it big. The rags-to-riches tale is the essence of the American dream, and in Vegas, it is one that everyone embraces, at least for a while! Most of us don't win, but it is sure fun to imagine it while we play!  One of he most fun bucket list ideas to experience at least once!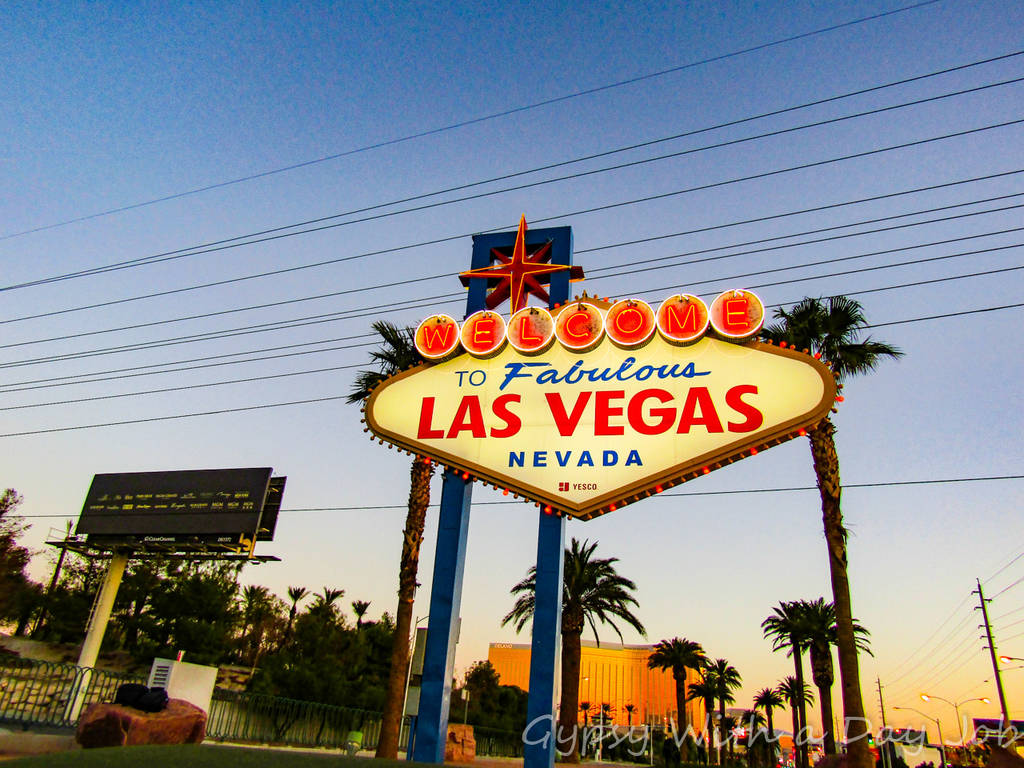 Roxanna Keyes blogs at Gypsy with a Day Job.
Visit the U.S. Space and Rocket Center, Huntsville, Alabama
One of the best hidden gems is the U.S. Space and Rocket Center in Huntsville, Alabama.  This is an American treasure and one of the must-see bucket list places you're sure to enjoy.  While everybody knows about the NASA headquarters at both the Houston and Kennedy Space Centers, only a handful are aware that there is a third center in northern Alabama. This is where America's space program was born.
The U.S. Space and Rocket Center is an active NASA operations center and has many impressive artifacts from the U.S. Space exploration program, such as moon rocks and astronaut suits. Don't miss the highlight of the collection – the Saturn V, a huge replica rocket that was very significant in early NASA exploration. If you have the stomach for it, you can hop on several adrenaline-pumping museum simulators, such as the Moon Shot or the G-Force Accelerator. Or, you can watch a film at the IMAX theater inside the museum complex.
Kids will enjoy the "Space Camp" program, where they'll learn all about space exploration, including training to be an astronaut and learning about the Mission Control center. It is a highly popular program – kids from all over the world attend Space Camp each year.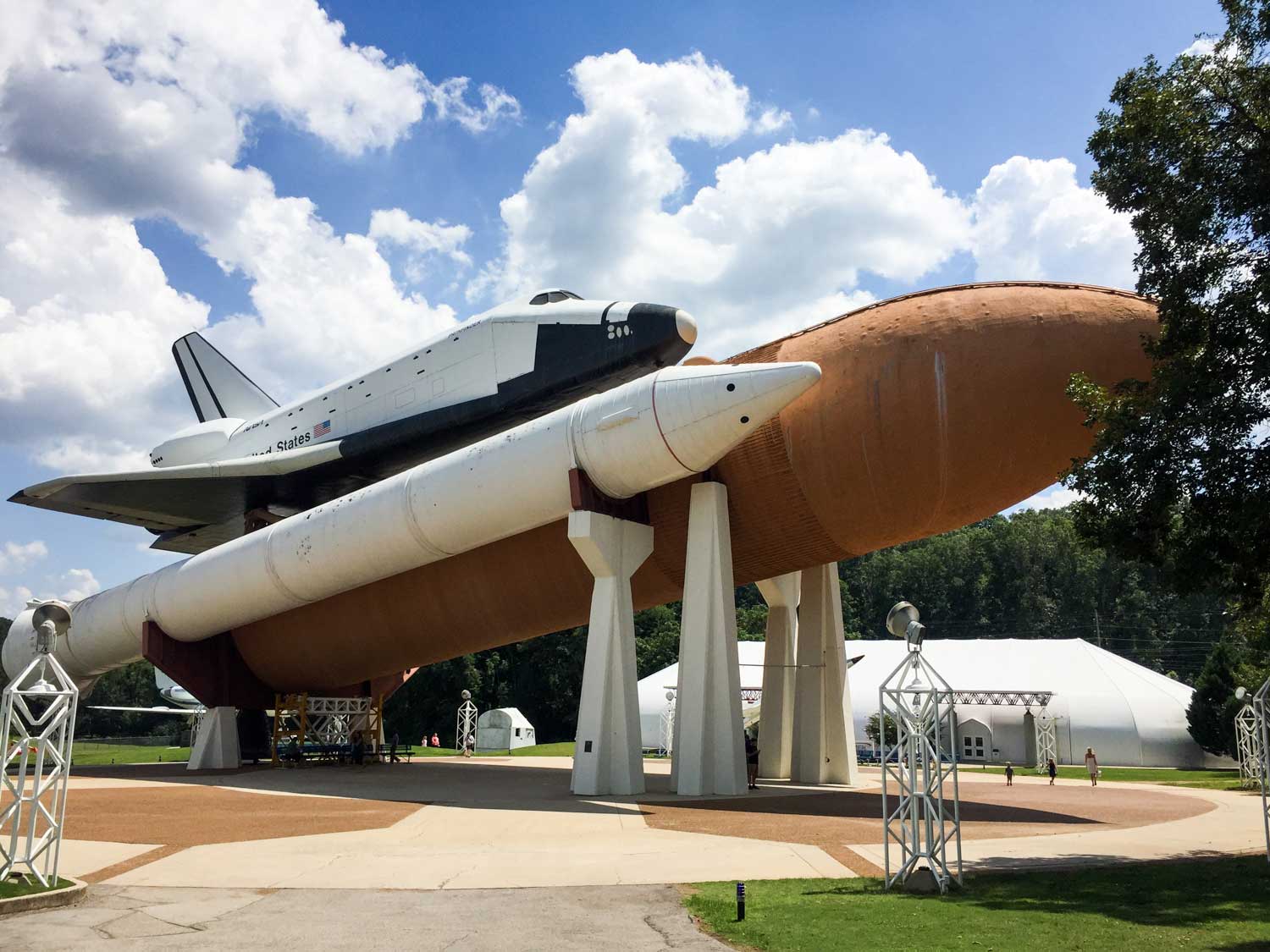 Halef blogs at The Round the World Guys.
Experience Zuni Pueblo, New Mexico
For an authentic bucket list experience of Americana before America even existed, head to Zuni Pueblo, New Mexico.  One of our most memorable travel experiences from our 4-month American Southwest trip is our three days in Zuni Pueblo in western New Mexico. Zuni Pueblo is a fully functional town of over 6000 residents, not a replica of what used to be. Our first stop was the Zuni Visitor Center to get oriented and to get a photo pass. Afterwards, we were free to walk anywhere in the Pueblo. This is unusual and unlike anything allowed in other pueblos that we visited.
The Zuni believe that they are one of the oldest Native American Tribes. Halona, the Zuni Pueblo today, is believed to be the oldest consistently occupied Native American Pueblo.
Ceremonial Center of Zuni Life
Zuni is a Native American Pueblo/Reservation where the people uphold their ancient beliefs and traditions coupled with living a modern lifestyle. We were very lucky to witness a Zuni Pueblo dance with full ceremonial costume and chanting; it felt like a step back in time.
History
A guided tour included Zuni history, visiting various ancient ruins, Zuni legends, and evidence of Zuni ancestors – all very intriguing. A highlight was the guided tour of the Village of the Great Kivas.
Zuni Pueblo Arts and Crafts
The self-guided Zuni Pueblo Art Walk introduced us to the Zuni jewelry, pottery, stone carving, beadwork, art, and people in their daily life – a fascinating education.
Zuni are respected fine artists, stonecutters, jewelers, and crafts people. They are known for their petti-point, needle-point, and especially beautiful silver inlay jewelry. The shops and the artist galleries and studios in Zuni homes are well worth visiting.
Zuni Pueblo Pictures
We were limited by Zuni tribal rules to what and where we could take pictures. Other than photo restrictions for cultural respect, everyone we met was very open and friendly. The Zuni were happy to have visitors, share their history, and answer questions.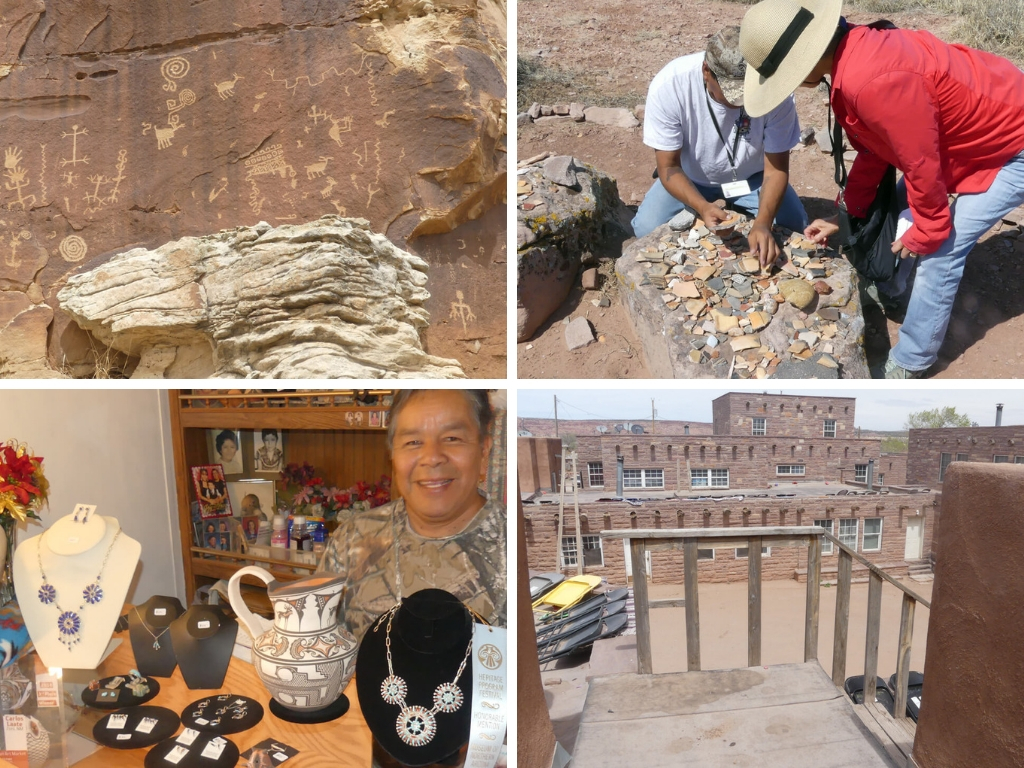 Wendy blogs at Adventurous Retirement.
Marvel at the The Grand Canyon, Arizona
"In the Grand Canyon, Arizona has a natural wonder which, so far as I know, is absolutely unparalleled throughout the rest of the world." — President Theodore Roosevelt
Theodore Roosevelt first viewed the Grand Canyon in 1903. He was greeted with endless views of painted cliffs and plateaus — a breathtaking landscape we can still experience today. The Colorado River carves through the bottom of the mile-deep, steep-walled canyon, traveling for 277 miles in northern Arizona. The Grand Canyon was designated a national monument in 1908, became the nation's 17th national park in 1919 and is one of the quintessential bucket list adventures in the US.
Grand Canyon National Park is the second most visited national park in the United States and is one thing you must see in America before you die. But despite the crowds, it's quite easy to find the same solitude that Teddy Roosevelt experienced if you know where to look. Most visitors drive along the canyon's South Rim, stopping at the viewpoints, snapping photos, and heading on their way. For a more intimate experience, we suggest setting up camp at Desert View Campground and taking some time to explore on foot.
There are no easy trails in and out of the canyon, but if you're in decent shape and pack plenty of water, we highly recommend trekking a few miles into the canyon on the South Kaibab Trail. This hike offers the best inner canyon views for the least amount of effort, but it's still a very steep climb back up to the rim. For a more leisurely stroll, check out the Rim Trail, which is a paved, flat trail that runs along the South Rim for 13 miles, from the South Kaibab Trail to Hermits Rest.
The Grand Canyon is certainly an iconic stop, worthy of more than a drive-by visit. If you've got time to explore, you'll be rewarded with a new appreciation for ancient geological processes and the breathtaking beauty of western America.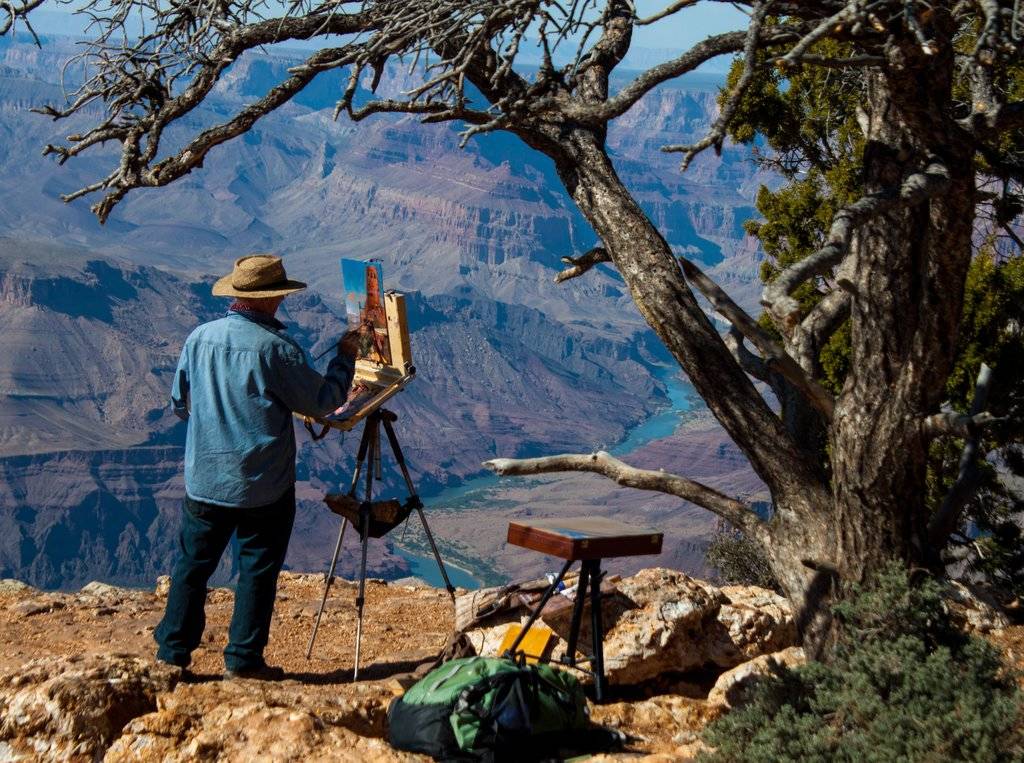 Tara blogs at Back Road Ramblers.
Keep Portland Weird! Portland, Oregon
The slogan "Keep Portland Weird" has become Oregon's biggest city's unofficial motto and mantra. Nowhere does Portland's weirdness manifest better than on its streets. Sample Portland's weird spirit with these must-do American bucket-list activities:
Find the last of the Tiny Horses
In 2005, a local artist tethered toy horses to historic rings affixed to curbs around the city. Hundreds of Tiny Horses appeared in the ensuing years, part of the Horse Project; today only a few remain. See if you can find them, on a sidewalk or elsewhere as a birdhouse turned into a Tiny Horse stable in NW Portland.
Pet a superhero pig
Portland may love its pets but only one of them has superpowers. According to her 9-year-old owner, Wonder Woman the Pig's superpower is "saving people from sadness." And she's pretty good at it: when Wonder Woman the Pig snuffles down the street, admirers and skeptics alike feel their tears dry and hearts melt.
Make a wish at a tree
Where other cities have fountains, Portland has a tree. The Wishing Tree is an elm in NE Portland where you can write a wish on a piece of paper and tie it to a branch or leaf. Started by the property owners in 2013, the Wishing Tree hosts hundreds of wishes, ranging from the mundane to the weird. So read the wishes of those who came before you, write down a wish of your own, and visualize them all into existence. Peace.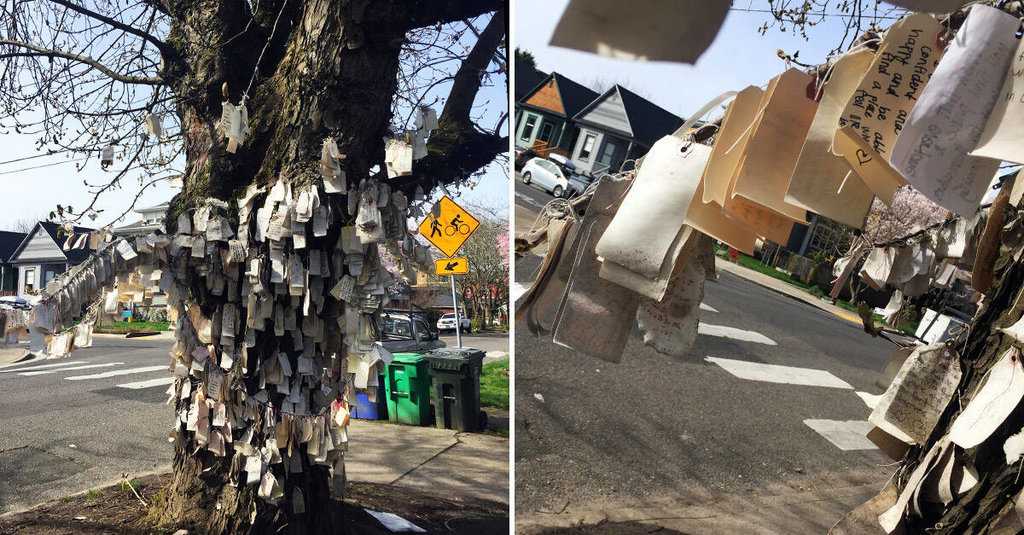 Peter Korchnak blogs at Where Is Your Toothbrush.
Slog through a Cranberry Bog in Massachusetts
Yes, that's "a thing." If you have had a chance to drive through coastal Massachusetts, especially Cape Cod, you will have seen many red bogs in the fall. These bogs are where cranberries native to New England grow.
One of our top bucket list things to do in America? Visit one of these farms! There are a few that let you be part of the experience. You will learn about the history of the farming of this fruit. You will also learn about how the fruit is still farmed. Then comes the best part, donning waders and getting into a flooded cranberry bog. If you can't visit one of the farms, then there are numerous cranberry festivals to attend!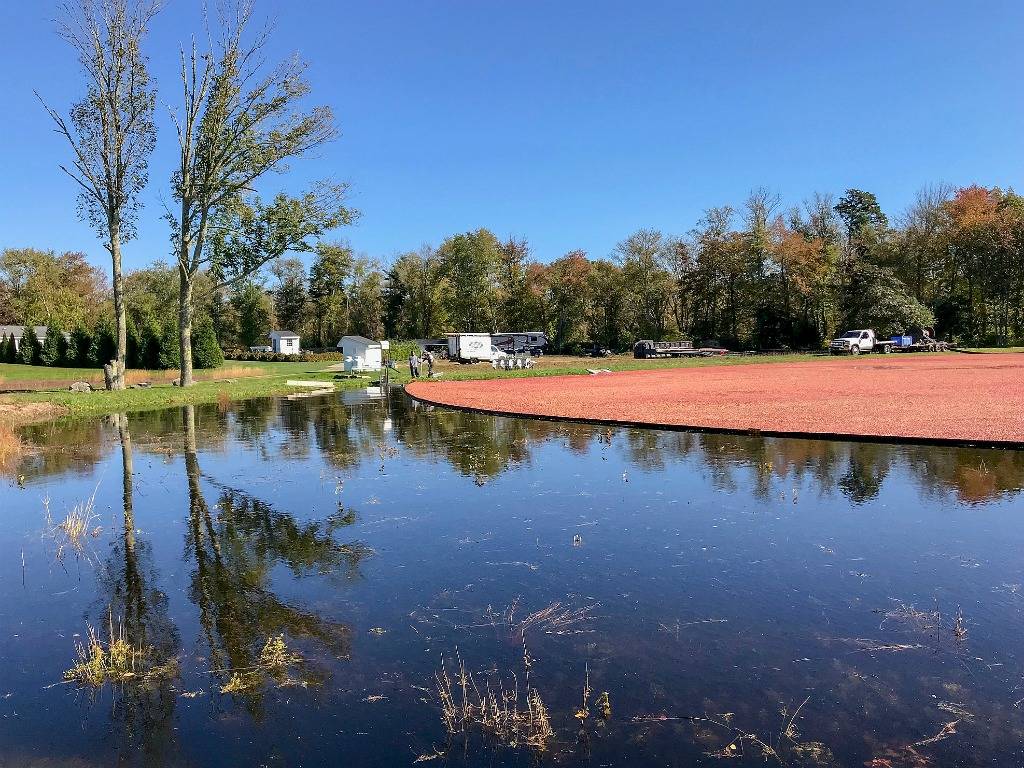 Jamie Italiane blogs at The Daily Adventures of Me.
Immerse yourself in The Deep Blues Fest and the Shack Up Inn, Mississippi
Not far from Clarksdale, Mississippi, home of the famous Blues Crossroads where Robert Johnson is said to have sold his soul to the devil for the ability to play guitar, you'll find the Shack Up Inn. This bucket-list American treasure was originally the Hopson Plantation with sharecropper cabins, this is now a sprawling site complete with accommodation, a music venue and a whole array of interesting objects ranging from stray locomotives on a disused rail track to bottle trees. Here's Americana in a nutshell, with advertising signs from decades-long passed telling a whole social history of times gone by.
We'd arrived in a Mississippi heatwave to enjoy the Deep South Blues Fest. On the Sunday we visited, we'd enjoyed gospel brunch with the Divine Angels, and unwittingly found ourselves the sideshow as the members of the audience who'd traveled the furthest (from the UK) to be there. Afterwards we loitered outside by the sharecropper cabins, listening to a few people jamming before the cigar box blues gig took place. Overhead the sky was full of cotton ball clouds, mirroring the cotton fields beneath. As we wandered the plantation, we realised how lucky we were to hear the blues in its homeplace, and to have come to understand some of its challenging history; proving once again that simple bucket list ideas can be the best.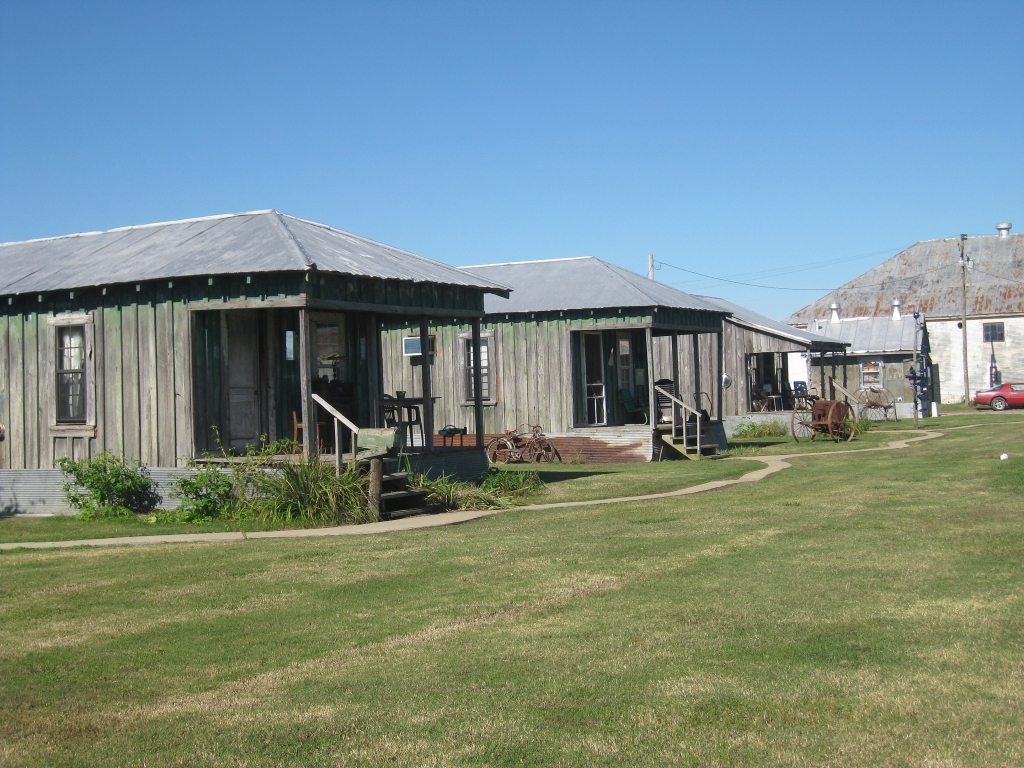 Credit: Thomas R Machnitzki [CC BY-SA 3.0 or GFDL], from Wikimedia CommonsBernadette Jackson blogs at A Packed Life.
Stroll the Art Deco District in Miami Beach
Miami Beach is known for its steamy hot weather, white sand beaches and the iconic Art Deco buildings lining the streets of South Beach. The Miami Beach Architectural Historic District has the largest concentration of Art Deco buildings than anywhere else in the United States, with more than 800 Art Deco, Mediterranean Revival, and Miami Modern (MiMo) architectural style buildings, all worth including in your USA bucket list tour.
They were all constructed in the 1920s and 1930s, when the city marketed itself as a "tropical playground." Strolling along Ocean Drive and Collins Avenue you'll find the cluster of these pastel pink, blue, and yellow buildings with various geometric shapes and elements like porthole windows, ship-like railings and glass blocks of the Art Deco style. And it's also one of our favorite things to do in America before you die.
A great way to see and learn about this historic district and its dazzling architecture is through the walking tour offered by the Miami Design Preservation League (MDPL), a non-profit group devoted to maintaining the area's architectural culture and character.
The guided 90-minute walking tour, lead by MDPL volunteers, provides a meandering look at the history, culture and a bird's-eye view of architecture within the Miami Beach Architectural Historic District.
The tour is an easy walk through the neighborhood that takes you to the exterior (and sometimes interior) of select buildings demonstrating various Art Deco design elements and styles. The daily tour starts at the Art Deco Museum and Welcome Center, 1001 Ocean Drive, departing at 10:30 a.m., with a second tour on Thursdays at 6:30 p.m.
If in the area, the Miami Beach Art Deco District tour is must for anyone interested in learning about the city's history, culture and the elements of Art Deco architecture.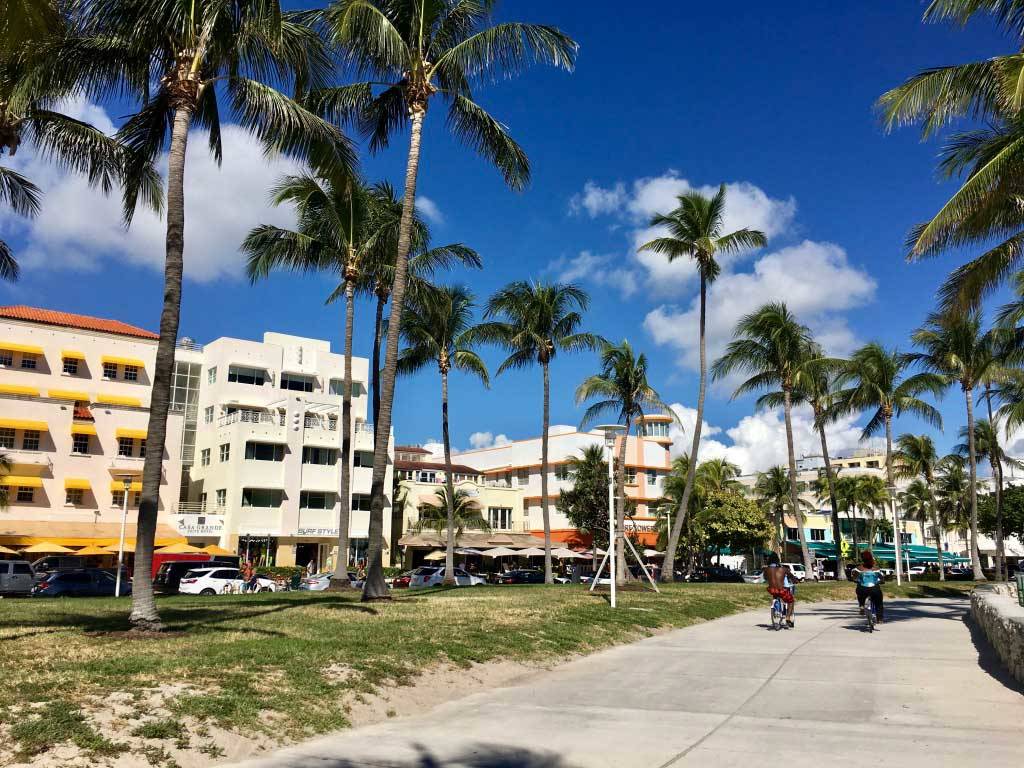 Roslie blogs at Coastlines to Skylines.
Visit the Fort Worth Stockyards, Texas
Texas may not be the first city in the United States that comes to mind when you think of tourist attractions, but if you want to experience cowboy culture in the United States, it is must-visit destination and a must-do bucket list experience.
The city's Historic Fort Worth Stockyards is the only place in the world where you can witness twice-daily cattle drives through the streets at no charge. Although the Stockyards are now more of a tourist draw, with restaurants, petting zoos, and dance halls, this district of Fort Worth will give you a true taste of the Old West. With cobblestone streets and buildings that have been restored to their early 1900's western style, the Fort Worth Stockyards stands out as one of the only historically preserved areas of the city.
For those looking to learn more about the areas cattle ranching history, visit the Stockyards museum. The museum is free to enter and provides a brief history lesson on this original stop along the old Chisholm Trail. You'll learn about the ranching industry and cowboy life as it once was during the western expansion across the United States. You can also tour the stables where you'll see longhorns, reindeer, and horses. At night, visit Billy Bob's and learn to line dance in the largest dance hall in Texas.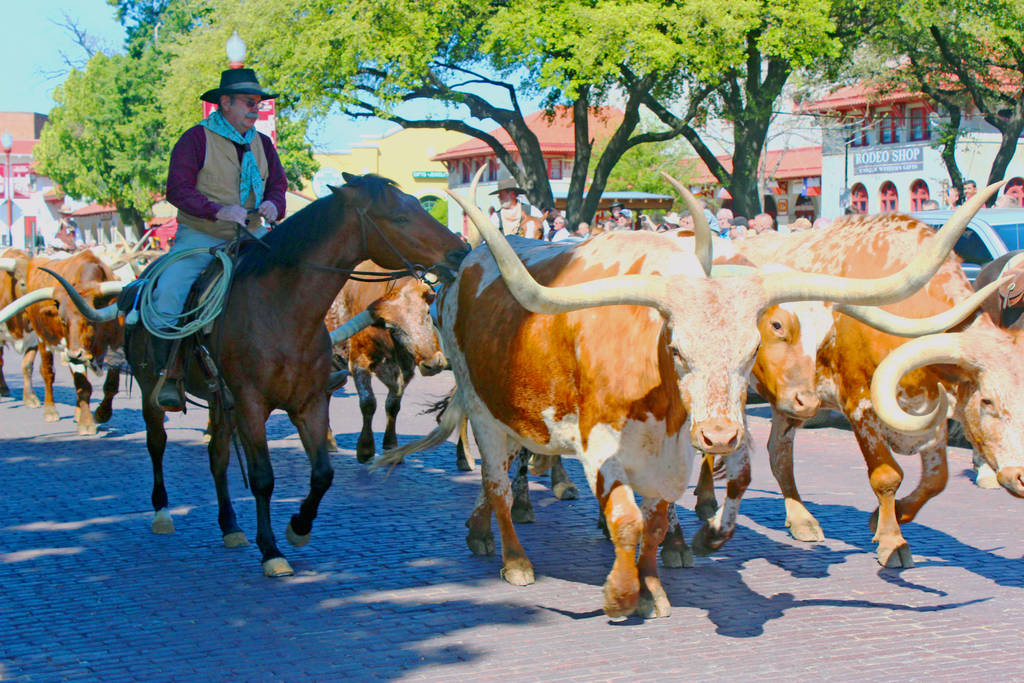 Melissa blogs at Parenthood and Passports.
Go to a cattle auction in Oklahoma City
Growing up I couldn't get enough of cowboy TV shows and movies. I wanted to herd cattle out on the range; I still do. So, when I get a chance to participate in any cowboy-type activity, I'm all in, and in Oklahoma City, I found the most amazing cowboy bucket list thing to do in America.
This is the start of the wild, wild west where the wide-open prairies feed thousands of cattle. Cowboys still ride the ranges, taking care of their herds, and in the city, they come to sell them.
On Mondays and Tuesdays, the auction hall opens. Cowboys and businessmen come from all over to buy lots of cattle, and the best part is that anyone can attend and watch for free. It's a fascinating, somewhat incomprehensible process, but I sat mesmerized through it. If you find yourself in Oklahoma City, check it out!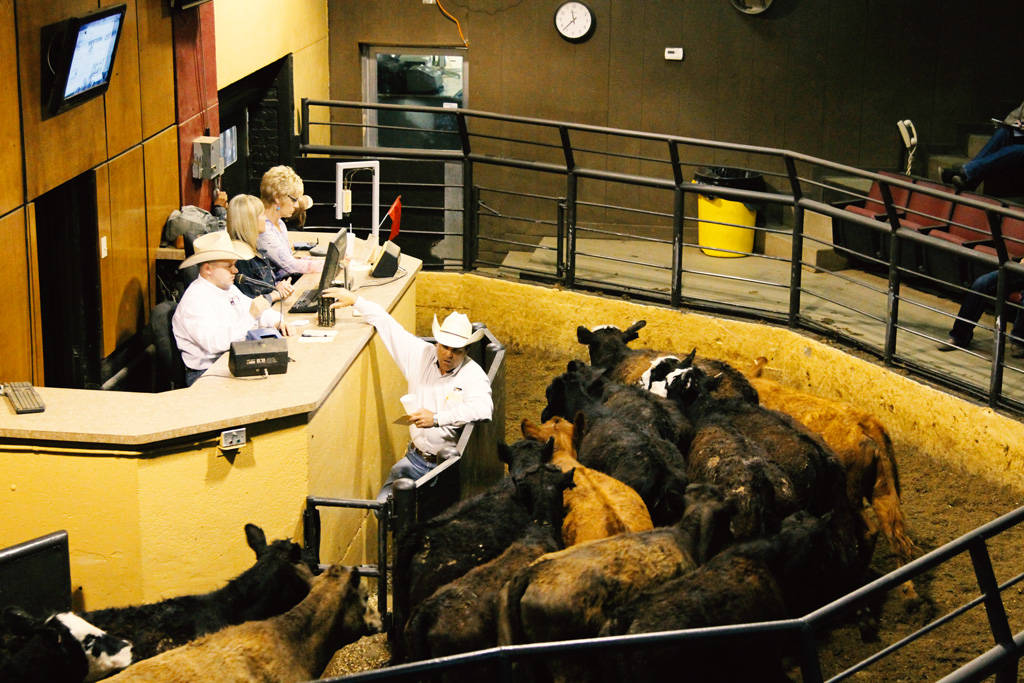 Corinne Vail blogs at Reflections en Route.
Listen to live jazz in New Orleans
New Orleans is a melting pot of cultures with deep French, African and American roots — and one of our favorite bucket list ideas in the U.S.A. The Big Easy is particularly known for live-music venues. Visitors can find live jazz throughout the city every night.
Every time we are in town, we make sure to visit Fritzel's European Jazz Pub, which is considered to be the oldest continually operated jazz club in the city. Fritzel's is located in a nineteenth-century building on Bourbon Street and offers bench seating and unbelievable music.
For two weekends each Spring, the city hosts the New Orleans Jazz & Heritage Festival. Jazz Fest features musicians on multiple stages from 11 am to 7 pm at the Fair Grounds Race Course and leaves visitors their evenings free to experience the New Orleans nightlife in the historic French Quarter.
Many performers are regulars who return every year to entertain Jazz Fest attendees. Live jazz is an integral part of the New Orleans culture, and visitors can find it not only at Jazz Fest or inside the city's many nightclubs but also walking around the city from one of the many street performers.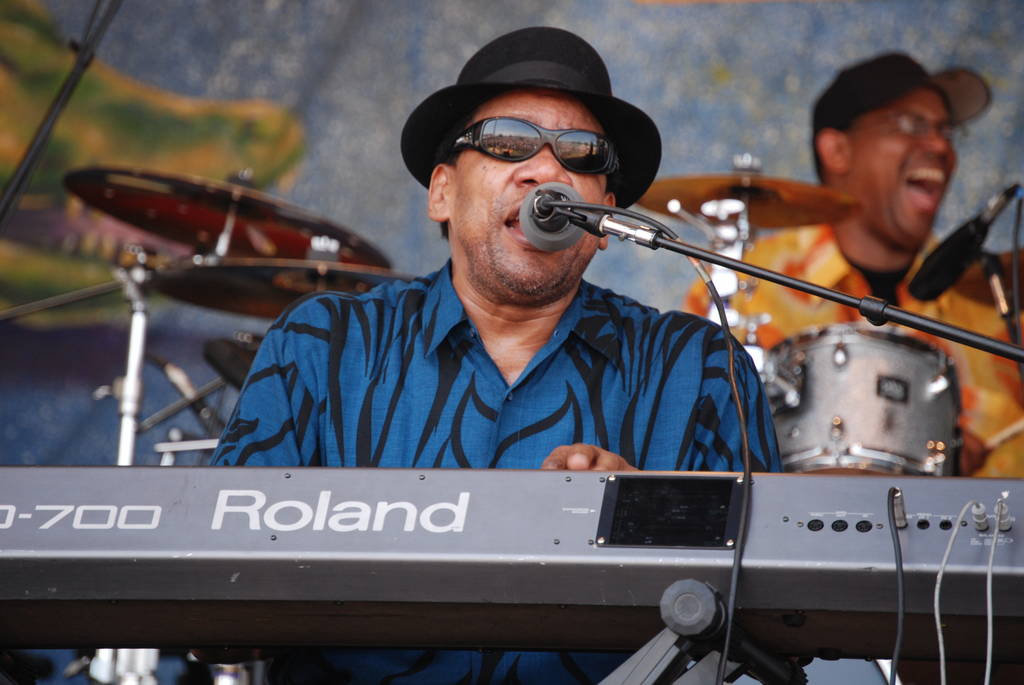 Catherine Swartz D'Cruz blogs at We Go with Kids.
Absorb the energy of 42nd Street, Times Square in New York City
The mother of all the bucket list ideas for travel in the United States is a visit to 42nd Street, Times Square in New York City.  Sure, some say it's tacky, but this electrifying hot-spot has so much going for it that it has to be experienced at least once.
Times Square has historically been the gathering point where all United States congregated—either in person or virtually—to witness great world events. It is where visitors and New Yorkers alike flock to see Broadway shows. Times Square is all energy with its bright digital billboard screens and flashing neon lights.
Here one can enjoy the best jazz performances, classic restaurants, and an in-your-face "alive" vibe unequaled anywhere else. When the song said, "I want to be a part of it" Times Square is what they were talking about.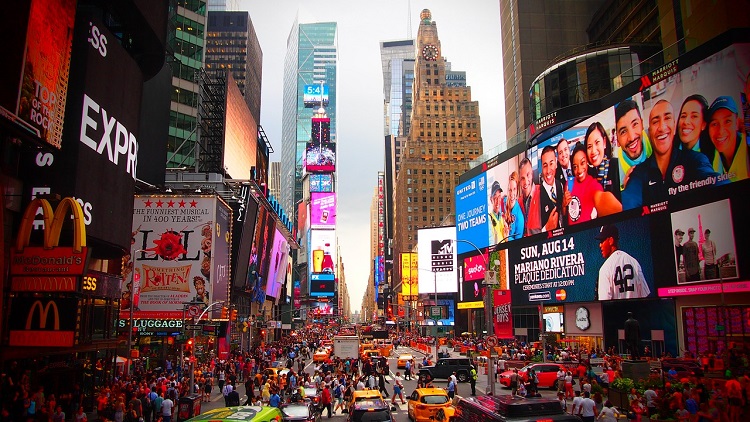 What do you thing of these bucket list ideas for US travel? Do you have a USA bucket list experience that screams AMERICANA!?
For even more bucket list ideas in the United States: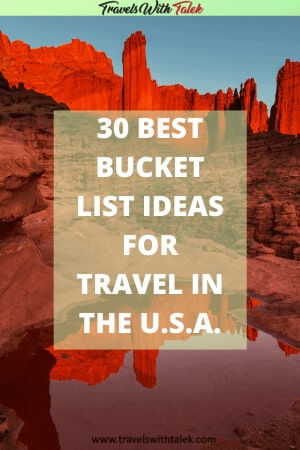 BTW, if you are getting ready for your trip, make sure to take advantage of these useful, money-saving links to book your trip:
I personally use, and can recommend, all the companies listed here and elsewhere on my blog. By booking through these sites, the small commission we earn – at no cost to you – helps us maintain this site so we can continue to offer our readers valuable travel tips and advice.