It's hard to choose the coolest activities in Dubai but here is an attempt. Dubai is a modern-day wonderland of exciting and unusual things to do.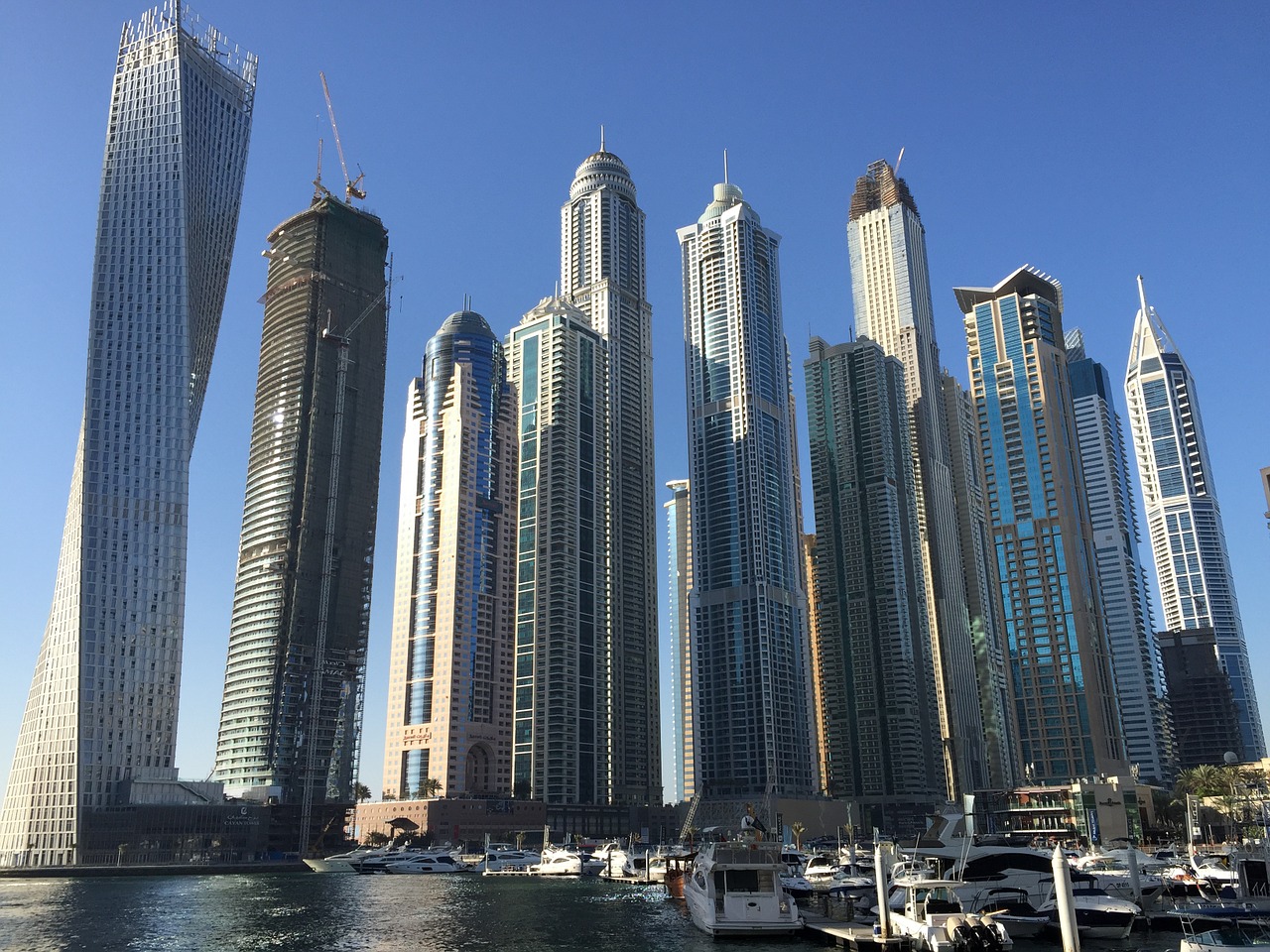 BEST ACTIVITIES IN DUBAI YOU CANNOT MISS
Dubai is one of seven United Arab Emirates (an emirate is a territory governed by an emir or prince) on the southeast coast of the Persian Gulf. It is a desert. It is HOT! HOT! HOT! with average temperatures hovering around 106 in the summer.  So, of course, one of the most popular locations is the ski lodge, complete with artificial snow, lifts and a Swiss Chalet in one of the world's largest malls. The mall also houses a massive aquarium where visitors walk through a glass tunnel surrounded by sharks and giant stingrays. Talk about unusual activities in Dubai. Were you expecting ski slopes in a Swiss Chalet?
As a desert tourist destination, Dubai really maximizes its desert-themed activities; ballooning, sand-surfing and camel races – you'd be surprised how fast these camels can go. One of the most interesting, fun and out-of-the-ordinary activities in Dubai is a jeep safari to a desert oasis for a BBQ and a show with local performers. On the ride to the oasis, the jeep speeds over sand dunes, dropping precipitously over the dips and tottering precariously on the edge of the dune until you are sure you will tip over.  The show includes the standard belly dancer but also something I'd never seen before; a performer dressed in a costume covered in lights that flickered as the artist leaped and swirled against the desert night.  Oh, and camels are ubiquitous at the oasis. These look innocent enough but they can be stubborn, refusing to budge, and they can bite and spit! Going on a camel ride at dusk in the desert is one of the quintessential activities in Dubai.
There are many interesting facts about Dubai. The earliest recorded mention of Dubai is by European merchants in the mid-1500s who described pearl divers. In the early 18th century, Dubai began to develop as a village populated by various tribes. The city's enviable strategic location as a trading center close to major ports helped sustain its growth and lower tax brackets lured traders from other areas. The discovery of oil in 1969 fueled even greater growth and supported infrastructure development and a diversification strategy designed to ensure its growth when oil revenues declined.
Today a modern metropolis has emerged from this tiny fishing village. Iconic structures grace the skyline; the Burj Khalifa, the tallest structure in the world and the Burj Al Arab, a luxury hotel built in the shape of a sail.  You can also visit The Palm and The World, residential developments build on artificial islands designed in the shape of a palm tree and a global map respectively. Just viewing the architecturally interesting structures in this city is one of the most interesting activities in Dubai. If you want to see them all, you'll need more than a week in Dubai. 
A must activity in Dubai is a visit to the Gold Souk, a small covered market lined with gold vendors selling every iteration of gold from jewelry to bullion.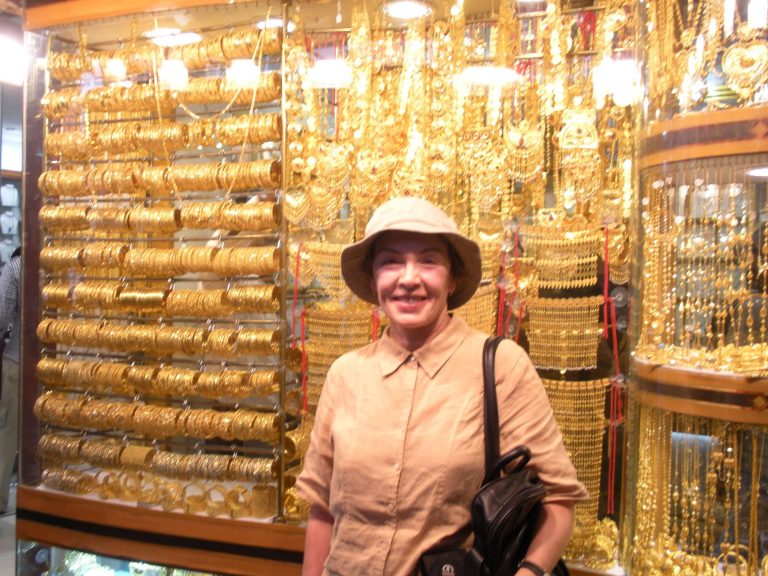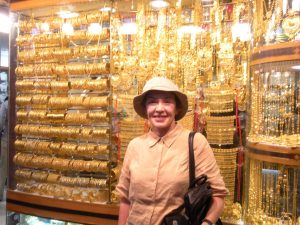 Dubai can be on the pricey side but you can easily limit your expenses with a little street smarts. Look for Iranian restaurants, well known in Dubai for having delicious food at reasonable prices. Do try the street food at local stands serving shawarma, grilled meat wraps, and the outstanding and refreshing tropical fruit juices. Dubai also has a pretty wide variety of hotels at various price ranges from ultra-luxury- which includes the use of a Rolls Royce and personal valet during your stay – to comfortable budget hostels and beach apartment rentals.  For getting around and seeing all the spots easily and cheaply, opt for the hop-on-hop-off bus.
A CULTURAL EXPERIENCE
I want to share a particularly nice experience I had in Dubai.  Dubai women wear burqas.  The more conservative ones cover their entire bodies and leave only the eyes showing. I was in a mall going up on the escalator. A woman in a burqa was coming down. As we passed each other she looked straight at me and smiled.  It was a nice, friendly smile across the cultures that I interpreted as "Hi, nice to meet you.  Welcome. I hope you enjoy your stay here."  People ask me, how do you know she was smiling if she was wearing a burqa?  I knew.
Want more Dubai? Check out this extensive itinerary in Dubai 24/7.
If you need some ideas of what to pack, check out this Dubai packing list.
Learn more about Dubai.
Where to stay in Dubai.
What pleasant cross-cultural experiences have you had on a trip? What are your thoughts on the best activities in Dubai?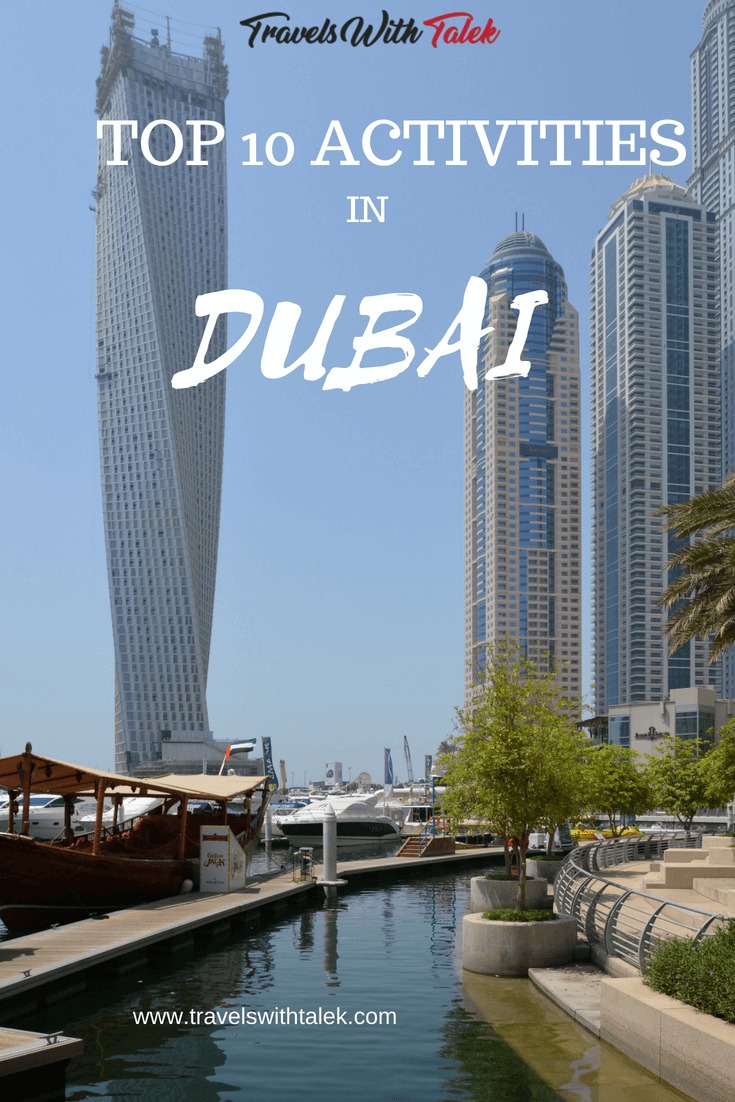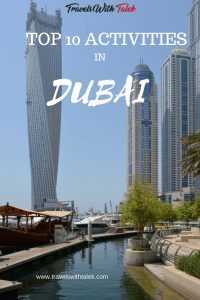 BTW, if you are getting ready for your trip, make sure to take advantage of these useful, money-saving links to book your trip:
I personally use, and can recommend, all the companies listed here and elsewhere on my blog. By booking through these sites, the small commission we earn – at no cost to you – helps us maintain this site so we can continue to offer our readers valuable travel tips and advice.