What are the common travel obstacles that hold YOU back from traveling? Sometimes you are not even aware of them.  Whatever they are, there are many ways to overcome all types of  travel obstacles, even the most stubborn of them.
In this interview with world renowned travel blogger and author, Nomadic Matt, Matt shares his insight into the obstacles, both real and imagined, that keep people from traveling. More importantly, he provides thoughts on how to overcome them and realize your travel dreams.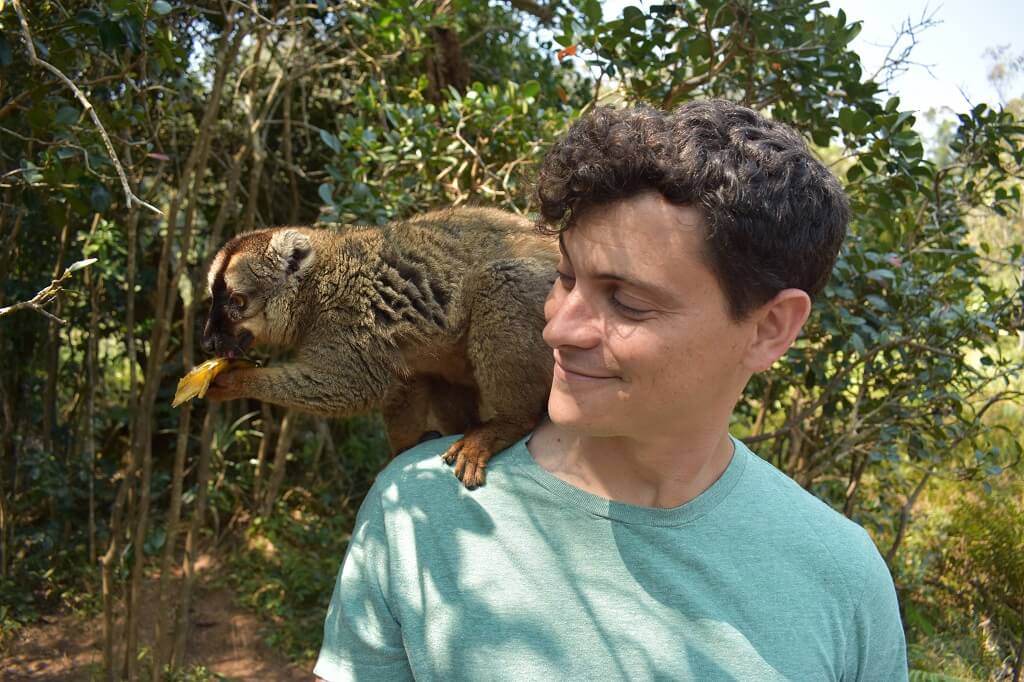 Now, let's hear from Matt.
*****
Common Travel Obstacles and How to Get Around Them
After ten years of traveling the world, I've heard pretty much every excuse there is when it comes to putting off travel. Most of these perceived travel obstacles and excuses are cultural. As an American, I was taught that "travel" means taking a two-week vacation each year — and that's it. Longer trips are for retirement, when you can finally relax and do all the things you've been meaning to do.
It's such an ingrained way of thinking that even I believed it for much of my life.
But, as we start a new year, I wanted to speak up against that way of thinking. Travel isn't something you should wait to do — because there is no guarantee that we'll make it to 65. There's no guarantee that, if we put our travel plans on the backburner, they'll still be there when we're ready to finally travel.
I've seen far too many people wait until it was too late. Don't be one of those people.
To help you make your travel dreams a reality this year, here are the top 6 travel obstacles I see — and how you can get around them!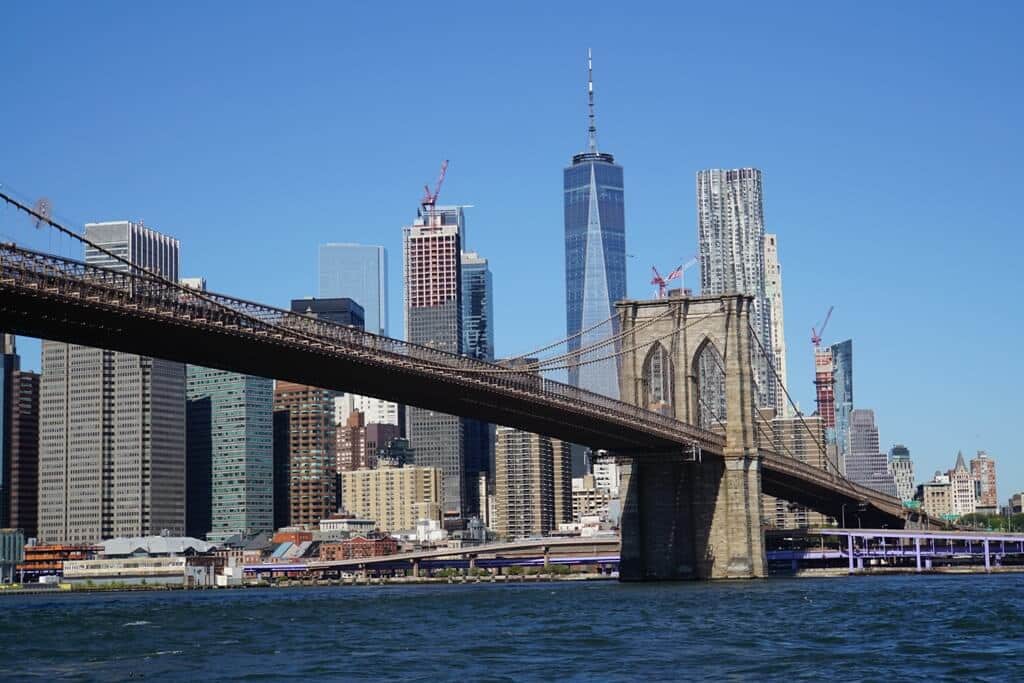 Travel is too expensive
This is probably the most common obstacle people. And while travel is a privilege and many people don't have the luxury of taking trips, the fact is that many people could make travel a reality if they looked at their situation a little differently.
"But I've got bills to pay" is what I always hear from people — which is fair. We do all have bills to pay. But guess what? That's never going to change. There will always be bills to pay, birthdays to get gifts for, weddings to attend, new clothes to buy, groceries to shop for. The list goes on.
Those expenses are always going to exist. That just the way it is. And while maybe in the future we might have more money to spend, that isn't a guarantee. We can lose out job or the stock market can crash or we encounter unexpected expenses. Anything can happen.
If you're waiting so you can go on your perfect getaway, chances are you're never going to actually make that trip happen. That's because there is never a perfect time to travel. The perfect time to travel is a myth. Wait for it, and you'll still be waiting come 2030. You just need to make the most of what you have today — because tomorrow isn't guaranteed.
The good news is that it's never been cheaper to travel the world. Even if you don't want to backpack on a shoestring budget, you can still travel much of the world for $50-100 USD per day. You can learn how to find a cheap flight online, budget accommodations like Airbnb and hostels make finding accommodation affordable, and the sharing economy can connect you with money-saving apps to help you make travel affordable. There are a million ways to make budget travel happen without giving up your comfort.
To get the ball rolling, sign up for any of the best travel credit cards on the market and start earning free points. You can use those points for free flights or hotel stays, saving you the majority of your travel costs. All with no additional spending too! If you're going to do one thing this year to make travel happen, do this!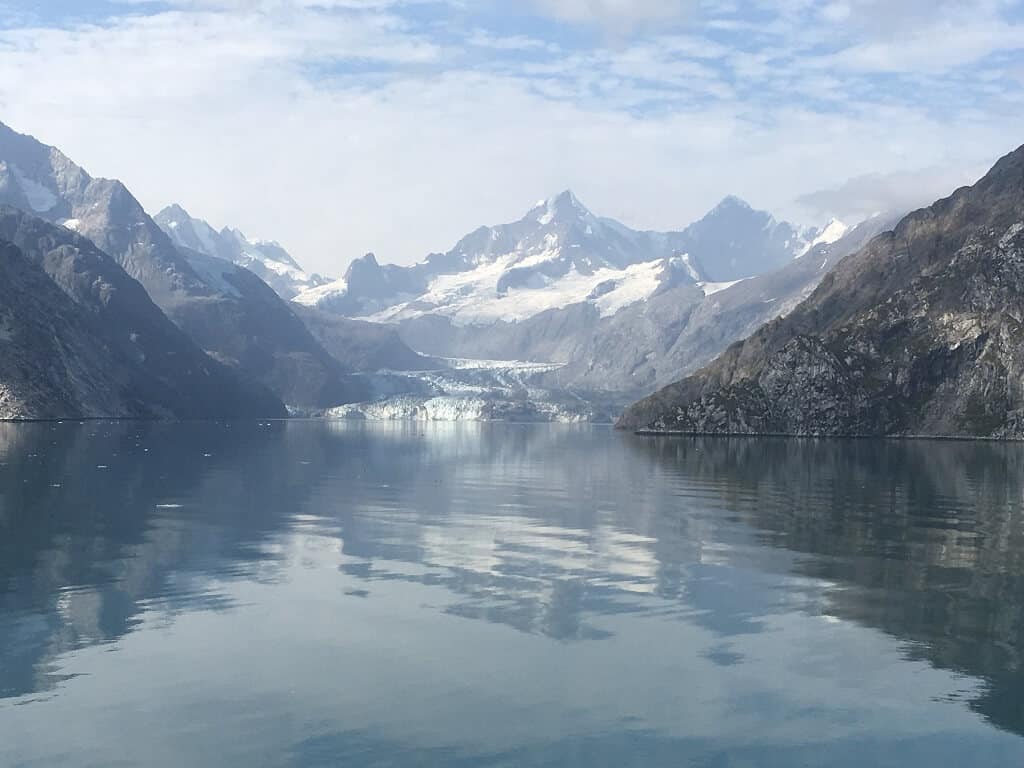 Travel is too dangerous
While there are many regions of the world to avoid, the overwhelming majority of destinations travelers visit are just as safe as back home (if not safer). I often hear many Americans worry about their safety abroad, owing to our penchant for overblown news stories. However, the reality is, there are plenty of countries on every single continent that are safer than the US.
As long as you take some common-sense precautions and learn about common travel scams you'll be fine. Will you occasionally get ripped off a few dollars when haggling? Probably. Will a taxi driver take the long route so you have to pay a dollar or two more? Undoubtedly.
But at the end of the day, that's just a couple bucks. It's not going to ruin your trip or break the bank (and taxi drivers in North America do that too!).
By being prepared and using common sense, you'll be ready for whatever surprises the road throws at you. For everything else, buy travel insurance. That way, even if something does happen you'll be protected.
I don't have enough time
This is a big one for Americans (as well as families). There just never seems to be enough time for a trip — especially if you only have two weeks off per year.
The truth is, if you want to travel more you just need to change your definition of travel. Every weekend is a chance to travel to a nearby city for a quick getaway. Between vacation time and weekends, that's 110 days of travel every year!
Additionally, it's never been easier for families to move abroad for long-term travel while still making money. Remote positions, teaching English, housesitting, and volunteer platforms like Worldpackers.com make it easy for anyone to travel more while lowering their costs. You just need to get creative and think outside the box to overcome any travel obstacle.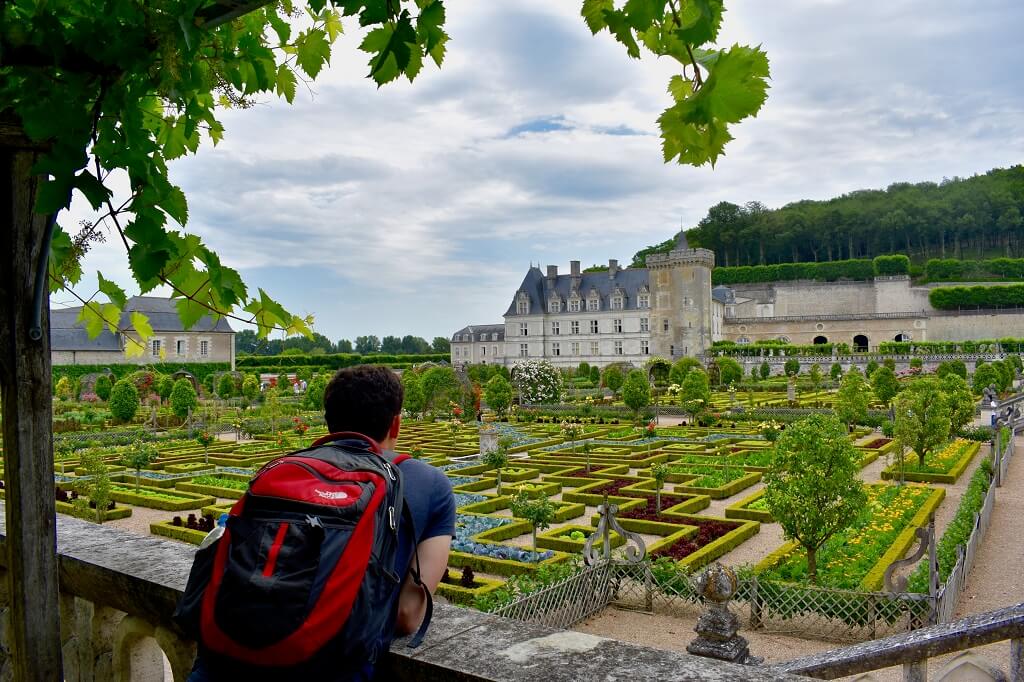 I don't have anyone to travel with and I don't want to go alone
As a solo traveler, I often hear from people who would love to travel more but just don't have anyone to go with. I can definitely relate to this feeling.
Years ago, for one of my first big trips, I had planned to backpack Australia with a friend. He ended up bailing and I just went by myself because I knew that, if I kept waiting for him, I'd never go (he still hasn't been by the way).
On the plus side, I was able to meet tons of people on my trip (and on every trip since). By using websites like meetup.com, thenomadicnetwork.com, and apps like Couchsurfing's Hangouts, you can easily meet people while you travel. This can be for a meal, a day trip, or even a longer journey together if you get along.
I know that solo travel can seem daunting, but to be honest you're never really going to be "solo." You're always going to be stumbling into other travelers and locals alike. People you can join for a meal or a night out, and sometimes even people who you'll travel with for a few days or more.
You can also meet like-minded people on walking tours, in cooking classes, or in your accommodation. In fact, I always meet so many people that it's hard to find time to be alone!
I wouldn't know how to go about planning the trip
Planning a trip (especially a long trip) can be overwhelming. How do I find a cheap flights? What's the best travel insurance company? Do I need visas or vaccines? The list goes on!
Fortunately, there are a million and one blogs, groups, and companies out there to help you reach your travel goals. In fact, you can find everything you need to get started on my blog alone!
There are also lots of awesome tour companies that can do all the work for you if you're not ready to plan your own trip. Even though I love solo travel, I still go on multiday tours because sometimes it's just relaxing to let someone else do all the planning (Intrepid Travel is my go-to company and Talek runs her own tours too. You have lots of options). This is also a great choice for solo female travelers who are hesitant about traveling alone.
And if you do want to plan your own trip, you can find everything you need online. No need for expensive travel agents or overpriced guidebooks. Travel blogs and online travel groups have everything you need for free.

I don't speak the language
This was something I was worried about when I first started traveling. I've come to realize two things since then. First, many people all around the world speak enough English to help you get by. Second, body language is universal. I once said "choo choo" and pretended I was a train in order to communicate that I needed a train ticket — and it worked!
More importantly, these days travelers have access to powerful (and free) online apps like Google Translate. You can download languages offline to use without Wi-Fi so you are never without a means of communication. You can also use the app to take photos on ingredients or signs to translate too. It's super helpful and pretty much eliminates languages barriers so you can travel without worries.
While travel is definitely a privilege, it is also more attainable than we tend to think. Travel obstacles and excuses are always going to be there. And they will stay there, if we let them.
But, if we start to look at travel from a new perspective and are willing to get creative, then it will become much, much easier to make your travel dreams a reality. With some planning, preparation, and prioritizing you can make your dream trip happen sooner rather than later.
You just need to take that first step.
*****
Thanks to Matt for his thoughtful and actionable information on travel obstacles and how to overcome them.
If you want to take that first step, here are a couple of destinations that are ideal for first time travelers as well as the seasoned wanderer.
Don't forget to stock up on the right travel guides and inspirational travel books (including Matt's new book) for your next trip.
What are the travel obstacles that hold YOU back from traveling?  We'd like to know.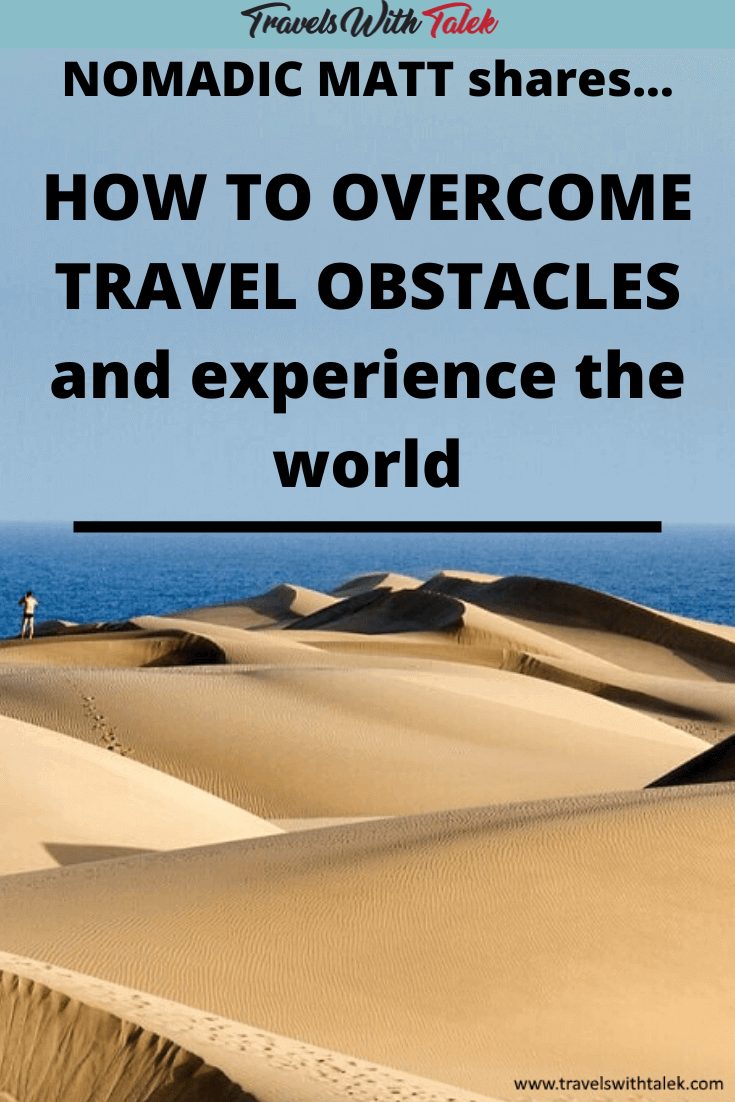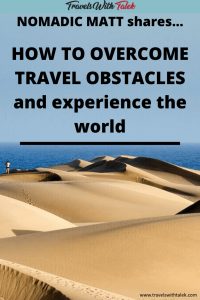 BTW, if you are getting ready for your trip, make sure to take advantage of these useful, money-saving links to book your trip:
I personally use, and can recommend, all the companies listed here and elsewhere on my blog. By booking through these sites, the small commission we earn – at no cost to you – helps us maintain this site so we can continue to offer our readers valuable travel tips and advice.