Punta Cana safety concerns were the last thing on my mind as I strolled through the honey colored beaches of one of the many resorts in the area.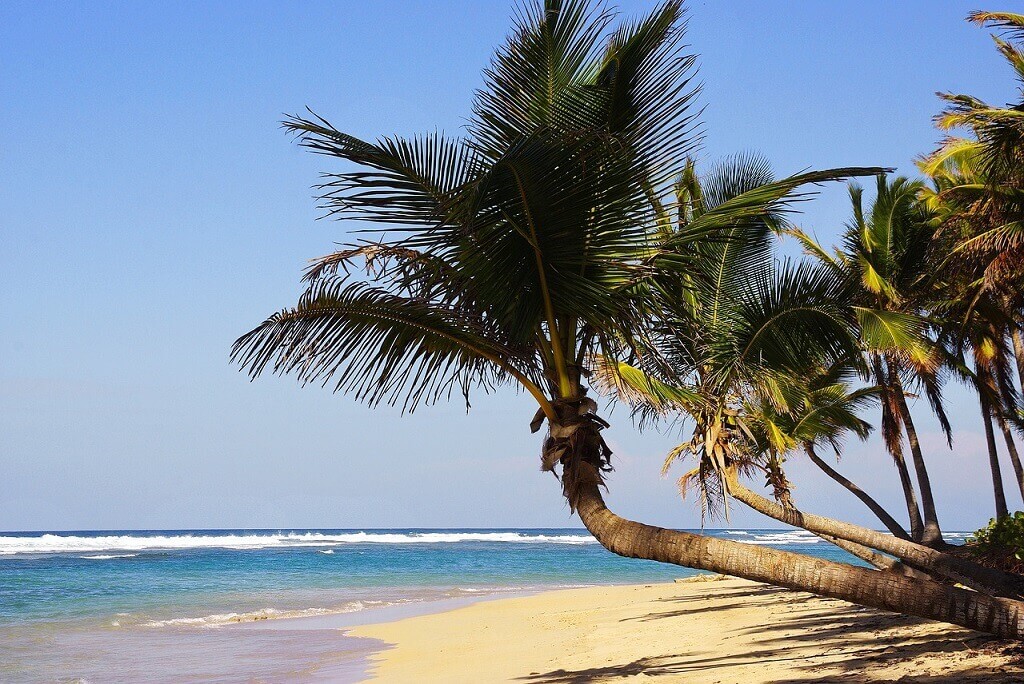 Safety concerns in Punta Cana were also the last thing on my mind as I swam in the crystalline waters of the Caribbean, sampled the local cuisine, dipped in the plunge pool or explored the dense, lush rain forests. This is a paradise.
Punta Cana, a tropical paradise
Punta Cana is an island nirvana in the Caribbean on the very tip of eastern Dominican Republic.  The area faces both the Atlantic and the Caribbean and has ideal weather created by the ocean cross-breezes. Ringed with 34 kilometers of pristine beach, Punta Cana is host to numerous boutique hotels and all-inclusive resorts.
I recently spent time at several resorts in beautiful Punta Cana as a guest of a consortium of hotels promoting the Punta Cana Promise. This Promise is an eight point pledge describing resort food and beverage safety guidelines, policies and security measures detailing what guests can expect at Punta Cana properties.
I was invited because the hotels wanted to communicate the message that it is safe to visit. And it is.
The importance of tourism in Punta Cana
Tourism is certainly among the top industries of the Dominican Republic. This vital revenue generator saw a sharp drop in visitor check-ins last year after several American tourists died.  These unfortunate incidents resulted a frenzy of negative media activity. All the deaths were found to be accidental or due to natural causes. Dominican officials called in the F.B.I. to do their own tests which resulted in a confirmation of no foul play.  In fact, the tourists to tourist-death-ratio was found to be within the standard norm. With over 2 millions visitors a year, the deaths, although tragic, were not unusual.
Still, good news does not sell, and the tragic events caused a reaction totally out of proportion to the facts.   The hotels responded with a concerted and coordinated effort to communicate the reality of the resorts' safety and security.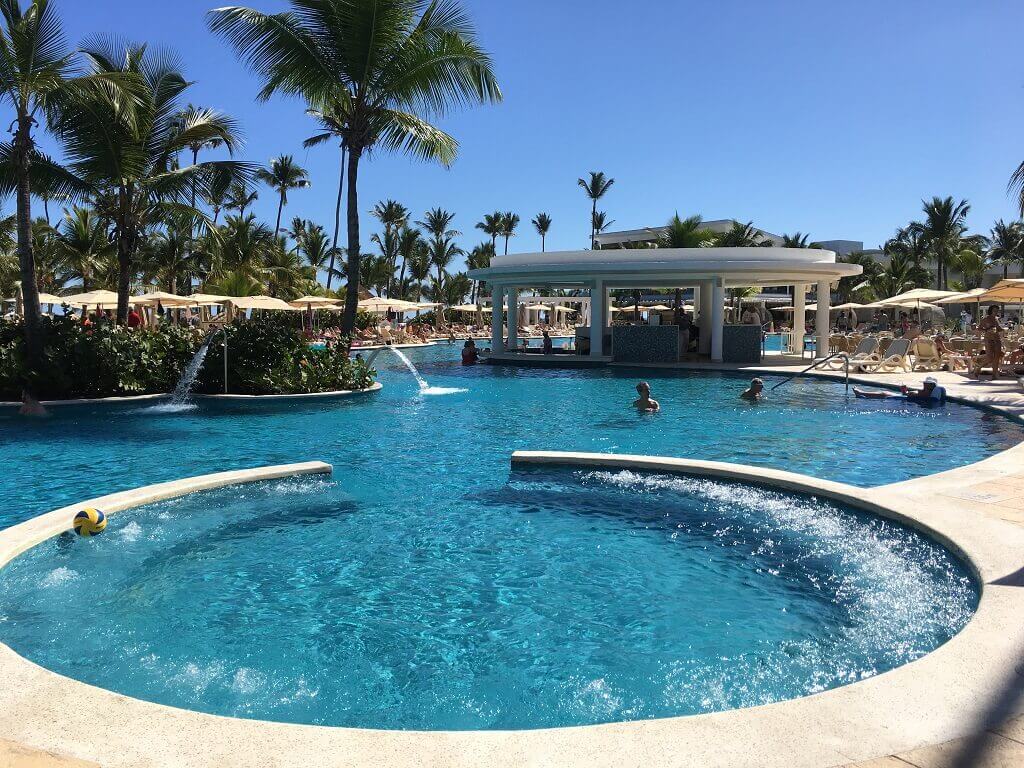 The concept of the Punta Cana Promise was always in effect. Tourist safety and security was always a prime objective of the hotels and resorts. Now it has become more relevant and urgent to communicate the Punta Cana Promise to prospective tourists who have many options for where to spend their tourist dollars.
Safety protocols dispel Punta Cana safety concerns
One of the Punta Cana Promise participants is the Iberostar chain of hotels.
Deep in the resort's kitchens, and dressed in sanitary whites, I witnessed the extraordinary measures taken to ensure food safety from sanitizing glass water bottles (the hotel uses no single-use plastic bottles) to their vendor sourcing protocol.  Vendors must be approved by several levels of authorities both governmental and independent agencies certifying the vendors' sanitary and quality compliance.
The kitchens were spotless and are subject to surprise inspections by independent international agencies. The staff proudly displayed the many certificates of food safety compliance received from the corresponding authorities. All certificates must be renewed on a yearly bases.
And did I mention the food was amazing!!!!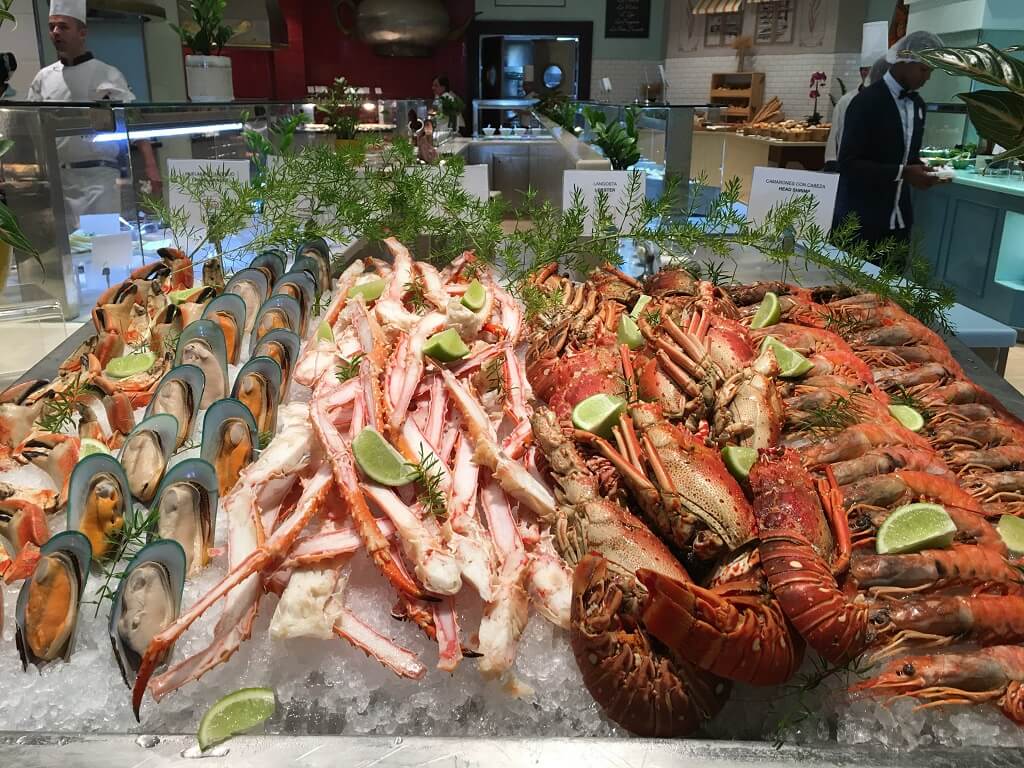 Worth mentioning is the sustainable tourism measures many of these hotels undertake. The Iberostar maintains coral nurseries to safeguard the delicate organisms and ensure their beauty for years to come.
The Melia hotel chain is also a Punta Cana Promise participant and is equally engaged in the safety and security measures.   From onsite 24 hour multi-lingual medical assistance and ambulances to their own fire department – we were reminded several times that the best fire is the one that is never started – the security measures at this hotel chain were impressive.
The staff to guest ratio is very high and employee training extensive. One interesting little tidbit of back office information: any employee that interacts with a guest has a mirror at their desk. They look in the mirror when speaking with a guest to ensure they are smiling which is expected to communicate a pleasant tone to the guest.
RIU hotels made me realize how it is virtually impossible to enter a room without at least seven people knowing who entered and having a record of it.  In this day and age, in hotels the caliber of these Punta Cana resorts, the room entry systems are so sophisticated they are virtually impregnable.
All guests are given a bracelet with an electronic chip that opens the door.  There are no traditional metal keys or key cards involved. Whenever a guest enters the room all they do swipe their wrist at the door to open.  All room entries are immediately reported electronically to a central control point as well as to individual phones belonging to supervisory and security staff. Any entry not caused by the guest or housekeeping is a red flag addressed immediately.
The housekeeping staff uses cleaning solutions certified by independent agencies, rooms are sanitized regularly, there are anti-humidity controls in the air-conditioning for guest comfort and rooms are closed twice a year for deep cleaning.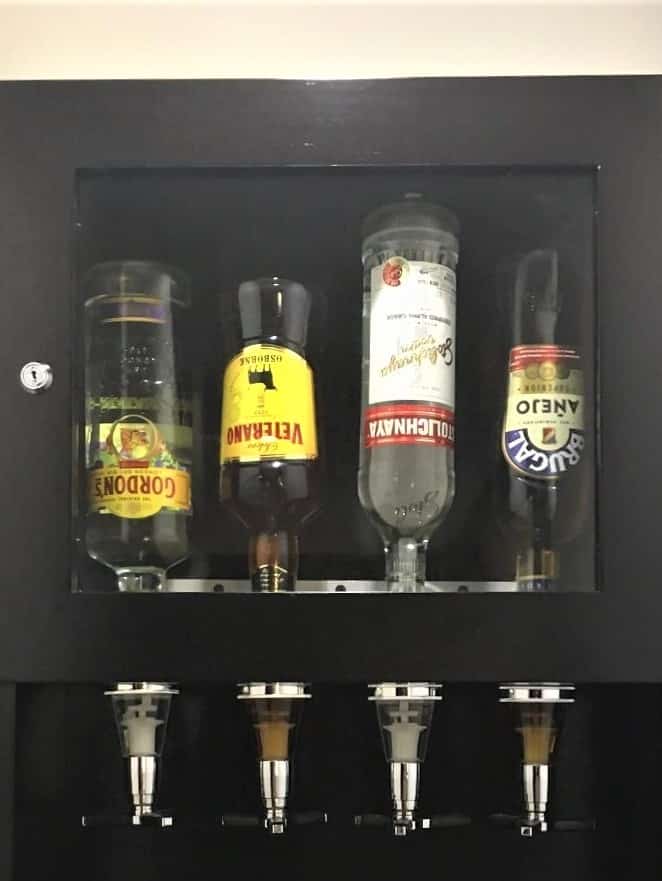 Notwithstanding these super security and sanitary measures, the most impressive security measure I observed was the bar controls.  Rather than have liquor bottles that can be opened outside of a controlled environment, the bottles at the RIU sit upside-down in a locked cabinet. Shots are poured through measured dispensers. The only time the bottles are touched are when they arrive in the room sealed and when they are empty and replaced.  Genius!
Other hotels visited included the upscale Zoetry with its holistic wellness approach and the lovely Bahia Principe Ambar with their extensive list of activities.
One resort with a stellar reputation and tons of activities is the Onyx Punta Cana.
Perception vs Reality
If there ever was an abyss between perception and reality it just may be the safety and security of resorts in Punta Cana and the misguided perception that it is somehow dangerous for tourists.  I found Punta Cana safety concerns to be unfounded. The resorts are super safe, all the more so now with the attention given to the Punta Cana Promise.
Things to do around Punta Cana
Probably the coolest activity is scuba diving in Punta Cana.  All the hotels offer many other aquatic sports either internally or through local providers. These can include kayaking, windsurfing, snorkeling, stand-up paddle boarding, sailing, group boat tours, surfing, catamaran tours and more.
You won't lack for things to do in Punta Cana.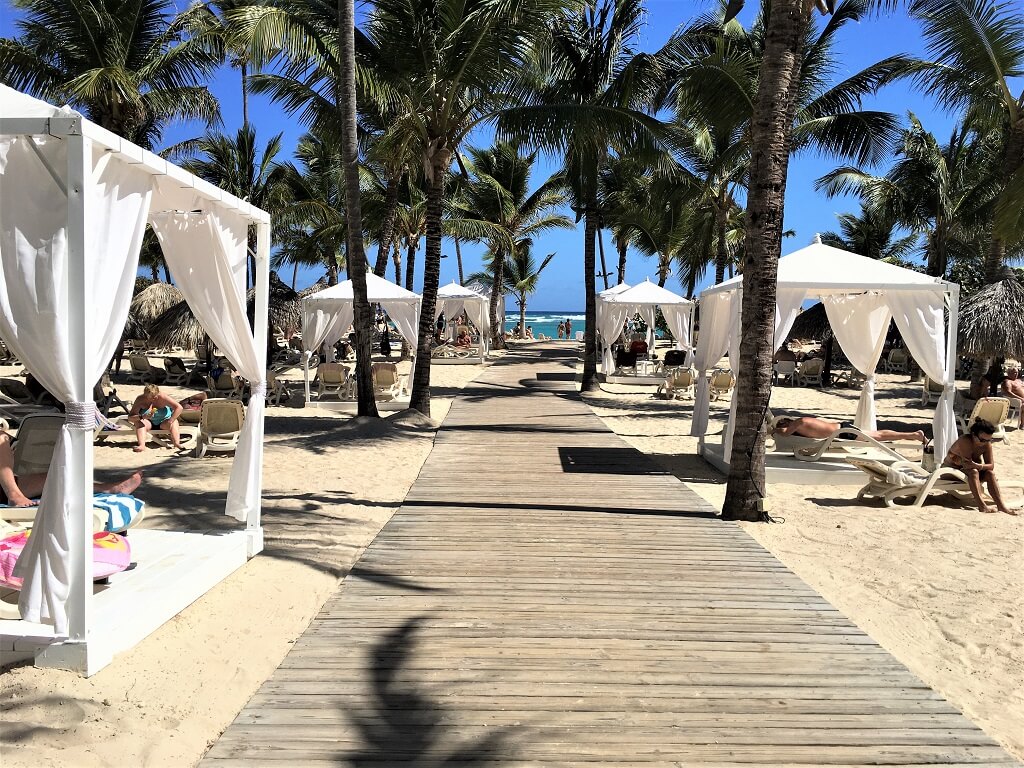 Swim with sharks and manta rays
One unusual activity is snorkeling with sharks and manta rays.  I decided to try this thinking it was a once in a lifetime opportunity.  The guide assured me the nurse sharks were yay big – he extended his arms about two feet apart – and that they were not dangerous.  Believe me, no matter how many times someone tells you sharks are not dangerous, once you get close to them your adrenaline starts to pump.
On the boat the guide said to me, "OK, go over there where the sharks are and snorkle around them." I heard myself say "OK" and then wondered what possessed me.  I soon found myself in a little alcove snorkling near the surface of the water and looking down on not one, but four sharks all of which were considerably over six feet.
I felt a primeval instinctive fear looking at those sharks swimming so close to me.  They're in their own environment whereas I'm in theirs. What if they come in my direction?! How would I get away? If it is possible to perspire in fear while underwater, I did it. But the sharks ignored me as a food option and quickly dispersed.
We also swam close to two giant manta rays called Big Mama and Big Papa.  I've never had an experience like that and will cherish the memory.
This is a biologically diverse nature reserve and a UNESCO World Heritage Park. It is a paradise of flora and fauna with over 500 species of plant and hundreds of species of birds and fish. The park offers an ideal opportunity for hikers to explore many loop hikes inland and along the pristine beachfront.
The park is the site of more than 400 indigenous cave paintings attributed to the Taino Indians, the original inhabitants.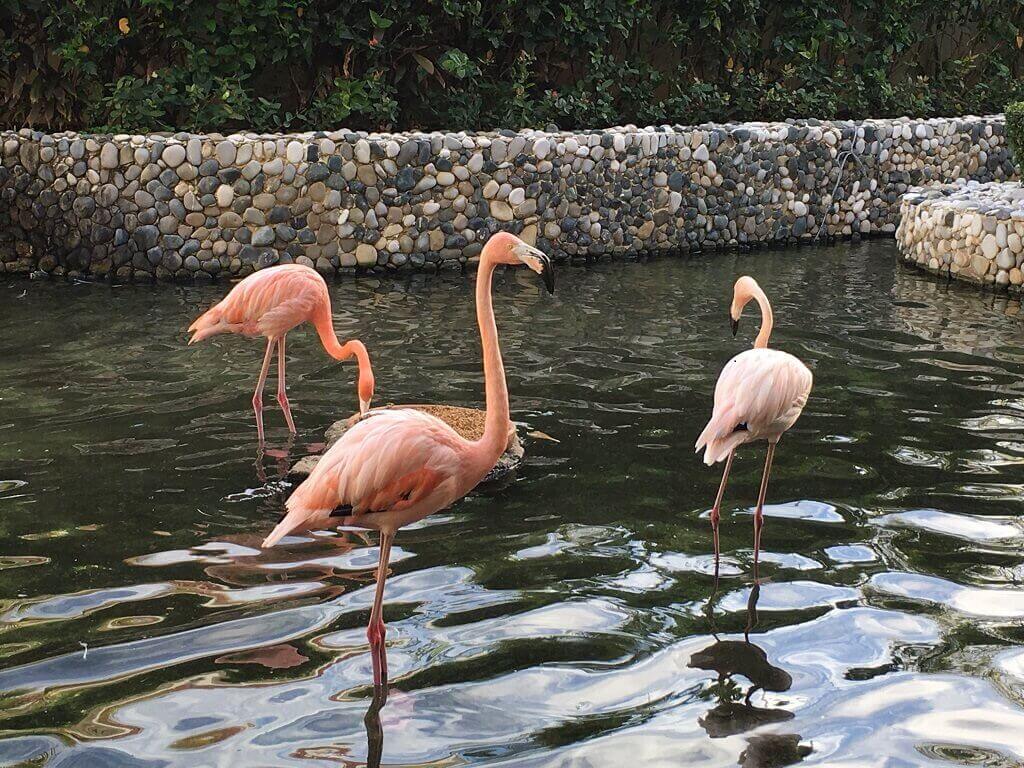 This 1500-acre nature reserve is used for scientific research, nature conservation and recreation. The reserve has many beautiful trails and freshwater lagoons you can swim in. It is also home to a small petting zoo and an iguana habitat.
Saona Island
This island is part of the Cotubanama National Park located south of Punta Cana.  You can reach it via catamaran (2 hours) or speedboat (about one hour) from Punta Cana. There are several companies offering this service from Punta Cana. Your hotel can also arrange a tour for you including lunch.  It makes for a perfect day trip from Punta Cana.
As a protected nature preserve, the island is pristine with water in beautiful varying hues of blue, waves and waves of coconut trees and thick mangroves.
 Santo Domingo
Two hours to the west of Punta Cana, on excellent roads, is the capital city of Santo Domingo. This colonial capital is the oldest continuously inhabited European settlement in the Americas and, similar to the colonial historic center of Old Havana, it is also a UNESCO World Heritage site.
Santo Domingo has excellent international restaurants, a vibrant nightlife and interesting museums.
How to get to Punta Cana
Punta Cana is one of the easiest places to get to from virtually anywhere in the world.
With over 2 million visitors per year, Punta Cana airport (PUJ) is the second busiest airport in the Caribbean. There are many direct flights from U.S. cities, think Boston, New York, Atlanta and DC. Canada is not far behind with direct flights from Calgary, Edmonton and Halifax. There are a surprising number of direct flights from Europe; Amsterdam Frankfurt, Madrid, as well as from Latin America from as far away as Buenos Aires and Santiago de Chile and much more.
The airport is in the town of Punta Cana so transport from the airport to your accommodation is likely to take a maximum of 30 minutes but probably much less. Many hotels and resorts provide shuttle service so check with your accommodation. Otherwise there is taxi service at the airport.
What are your thoughts about Punta Cana safety concerns if any?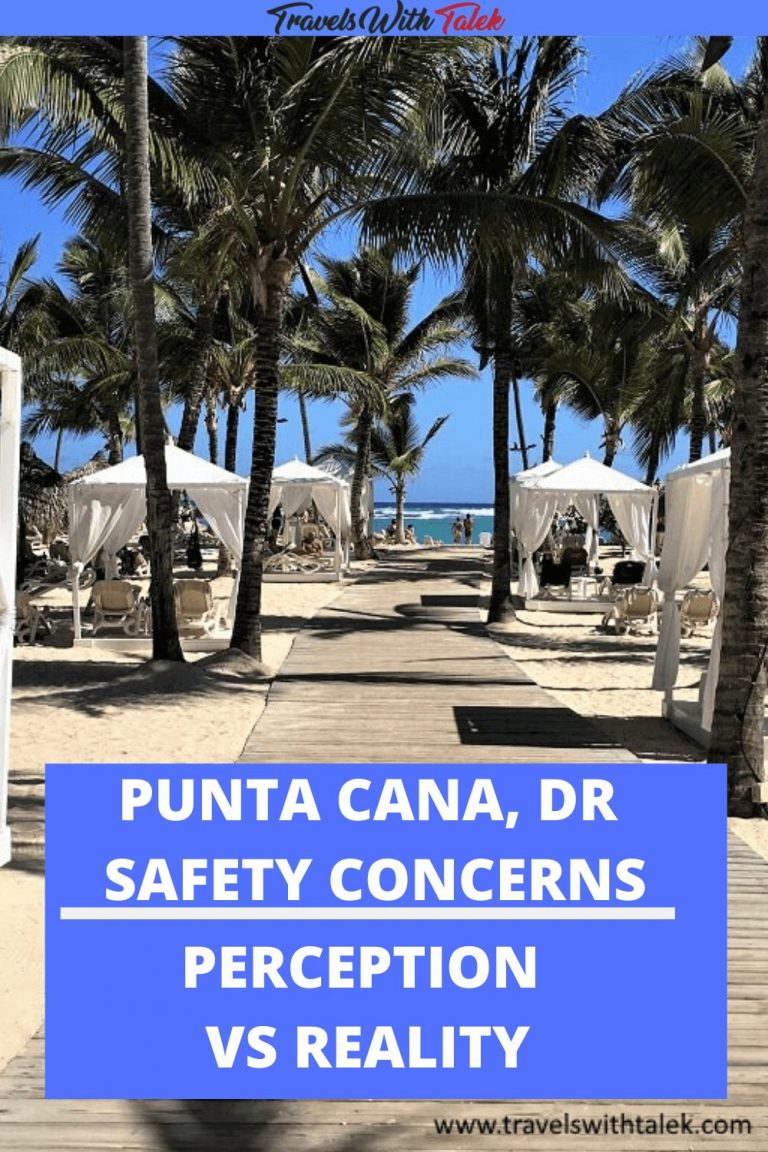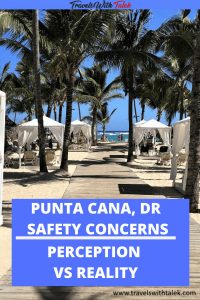 BTW, if you are getting ready for your trip, make sure to take advantage of these useful, money-saving links to book your trip:
I personally use, and can recommend, all the companies listed here and elsewhere on my blog. By booking through these sites, the small commission we earn – at no cost to you – helps us maintain this site so we can continue to offer our readers valuable travel tips and advice.