A Koyasan temple stay should be at the top of your must-do activities in Japan if you want to experience the fascinating, traditional culture.
While I was researching a trip to Japan I read up on interesting and unusual places to stay. I considered accommodations like the traditional ryokan onsen (hot spring spas). I looked at capsule or pod hotels where you sleep in what is  essentially a capsule, certainly one of the coolest things to do in Japan. But the thought of a Japanese Buddhist temple stay just fascinated me.
Select and book a temple stay
Some of these temples are Buddhist monasteries that are over a thousand years old with resident monks and religious services. They tend to be in beautiful and religiously significant areas of the country. What a wonderful opportunity for deeper immersion in a fascinating culture. This is not just reading about the experience, it's living it. A temple stay in Japan is one of those unique experiences that make travel so worthwhile.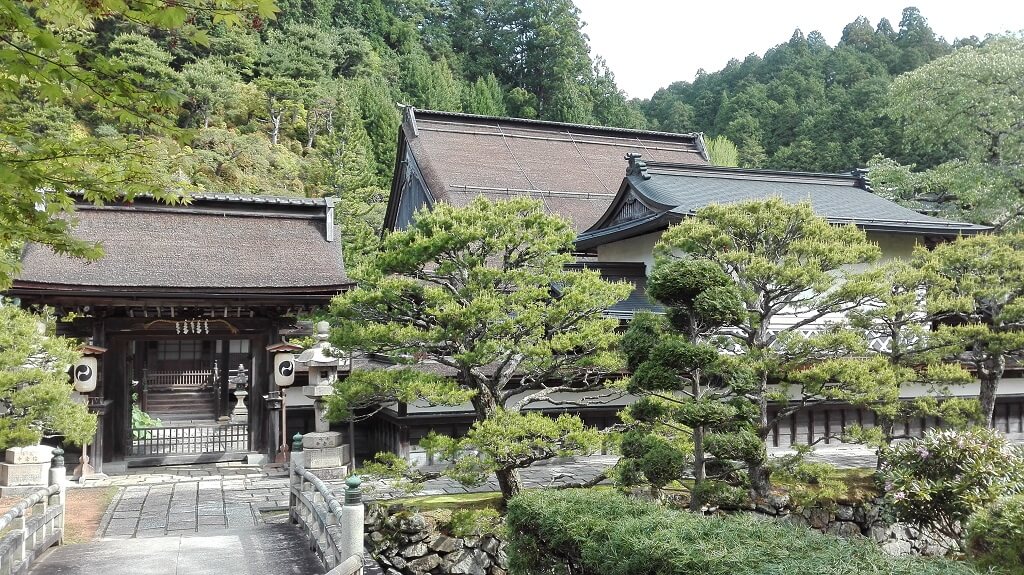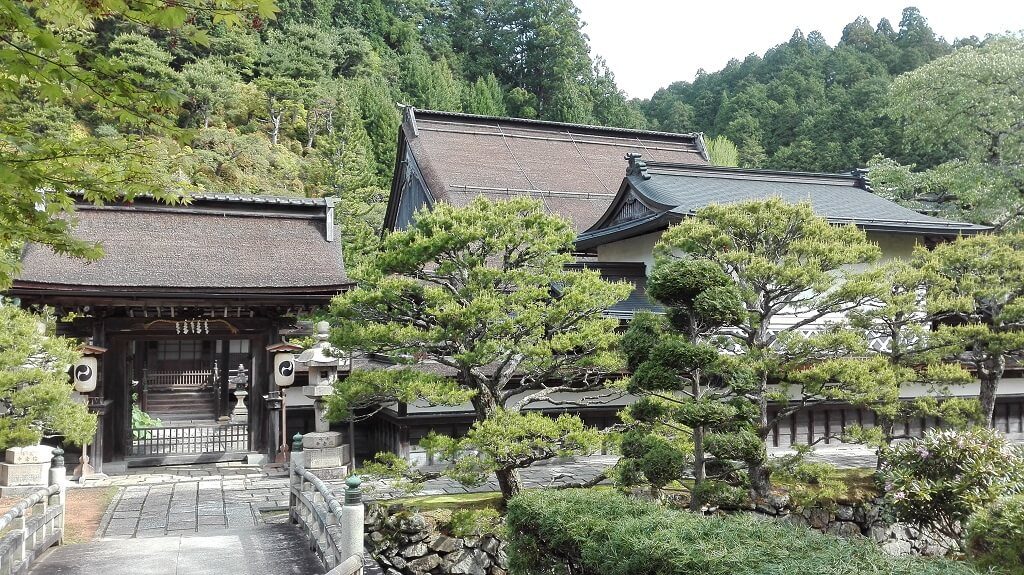 I quickly became totally taken up with the idea of temple lodging in Japan but had no idea how to go about finding and booking the right one. After much groping my way around the web I came across a site with English-speaking staff called Japanese Guest Houses. English is not very common in temples so I was happy to find them. The staff explained the Japanese temple stay process  patiently and professionally. I wasn't sure which temple to choose and they showed me location options, pricing and what's included. I changed my itinerary several times and they accommodated me graciously. The service was excellent which I quickly learned was typical of Japan.
I eventually settled on a temple stay in a Buddhist monastery at a place called  Shojoshin-in, in Koyasan or Mount Koya, a religious community, and booked the stay. "Koya" is the name of the mountain in the area and "san" is a term of respect hence the word "Koya-san" as in Honorable Koya Mountain.
Once you book, they send you an etiquette guide on the dos and don'ts of staying at a Japanese temple or ryokan (traditional inn). I was so happy with the service, I ended up booking both the Koyasan temple lodging and a traditional onsen ryokan, a traditional inn with hot springs.
Be aware that there is a 24 hours response time because the company, Japanese Guest Houses, is in Japan. You can also book through other services like booking.com.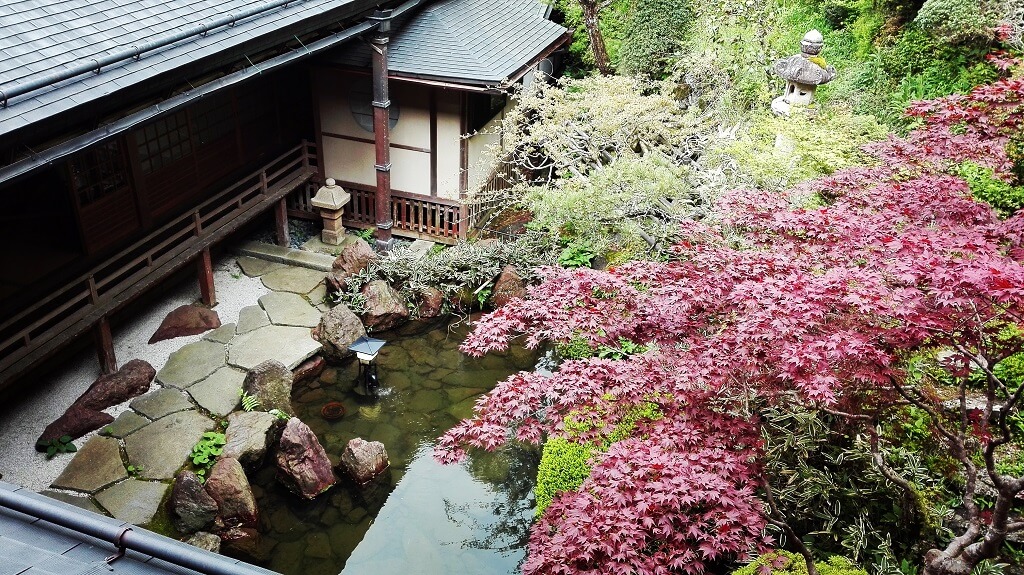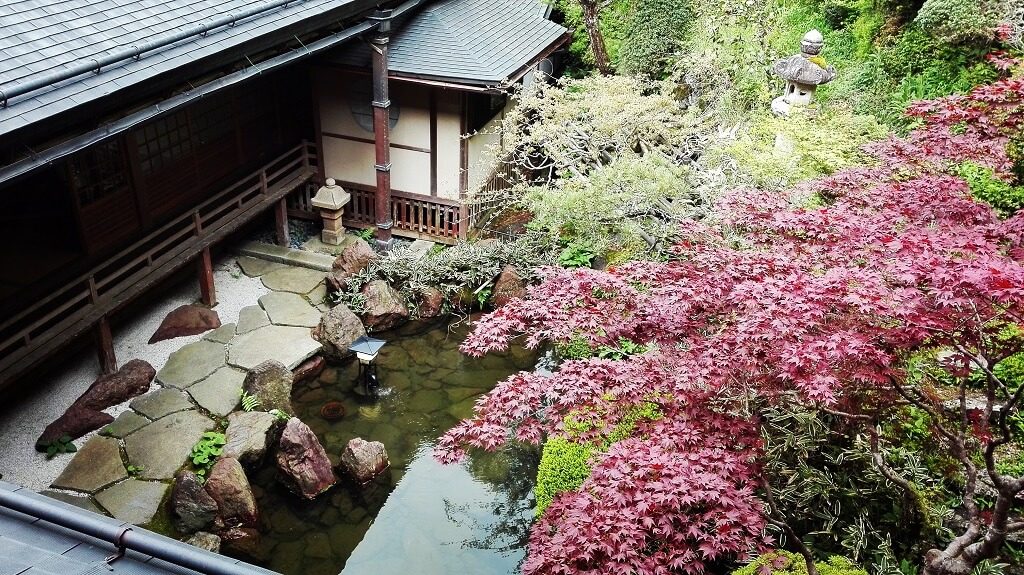 How to get to your Koyasan temple
Getting to remote Koyasan is an experience in itself. After all, it is on top of  Mount Koya. From Osaka you take two trains (make sure you have your Japan Rail Pass), a very picturesque cable car ride (get a good window to enjoy the view) and a bus. But, this being Japan, directions are clearly marked and people are very helpful, so you won't get lost.
Either Kyoto or Osaka are convenient bases from which to visit Koyasan. You may be tempted to make it a day trip. Don't. There isn't enough time to travel there and absorb the culture comfortably.  The objective is the experience of a Koyasan temple lodging.
When you look at Japanese traditional architecture, you have to look at Japanese culture and its relationship with nature. You can actually live in a harmonious, close contact with nature – this very unique to Japan. – Tadao Ando
Click To Tweet
Koya-san was founded in the early 800s CE. The compound grew to include over 120 temples. The adherents of Shingon Buddhism consider the town and mountain sacred because it is the resting place of Kobo Daishi, the religion's founder. His mausoleum lies at the center of the local Okunoin cemetery surrounded by thousands of gravestones and tall cedars. In fact, the area is so meaningful to its adherents that it was named a UNESCO World Heritage Site in 2004. Insider tip: Don't miss the Okunoin Cemetery Night Tour given by local English-speaking monks from the Buddhist monastery.
The Shojoshin temple experience
Once you arrive at Shojoshin-In you quickly realize the level of authenticity you will experience. This is not a Disneyland-esque representation of a Japanese temple. This is the real thing, a working Japanese temple with resident monks and regular religious services. Inside the temple, everything is traditional Japanese. At reception, you kneel on cushions, pay the monk in advance and receive your room number. There are no room keys. This is, after all, a temple.
The monk at reception informed us that morning prayer services would take place at 6 am. I assumed he was just letting me know as a courtesy. In fact, the monks make it clear that you are expected to attend the 45-minute ceremony. Now, some folks may be put off by the thought of waking up at 6 am to attend the services of a religion you know very little about. Go! It is a unique, soothing, beautiful experience which you are allowed to film. Services are open to all regardless of religious affiliation or lack thereof.
In a place like Shojoshin-in, a night at a Mount Koya temple lodging can cost anywhere between 8,000 and 18,000 Japanese yen per person depending on the temple and the location of the room. This cost includes dinner and breakfast. Japanese temple lodgings in less religiously significant cities will be less expensive. It is important to note that many temples will only accept cash. It is also possible to book the room without dinner or any of the meals, but the meals are such an integral part of a temple stay in Japan that you really should sign up for them.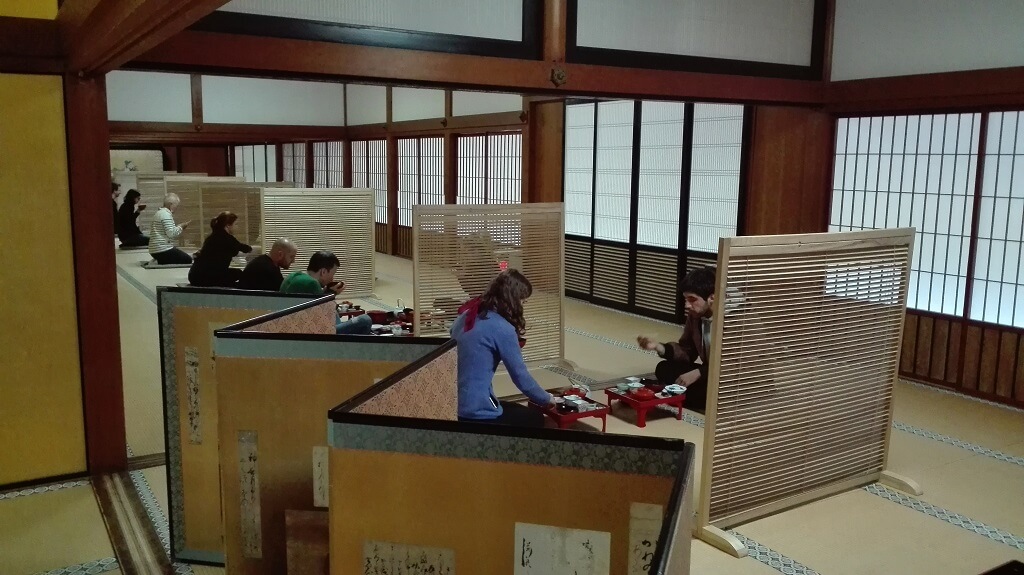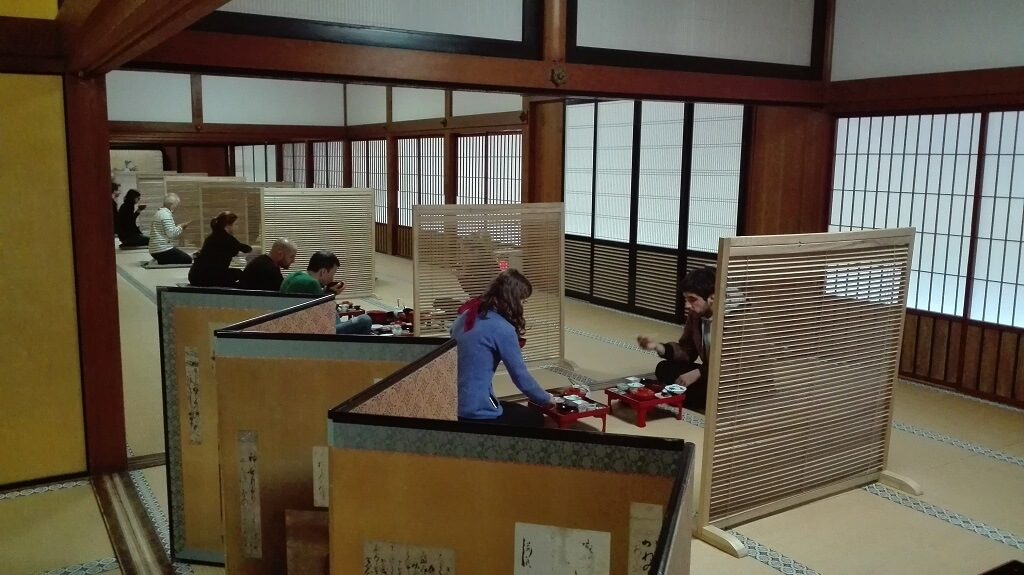 Eat like a monk: A multi-course vegetarian meal
A multi-course Japanese style haute cuisine dinner is called a kaiseki ryori. The temple tries to emulate this traditional kaiseki ryori but only with vegetarian food, in keeping with the Buddhist belief that it is wrong to take the life of a fellow creature. A ryori can involve as many as 20 dishes. The meals are fresh, seasonal, locally sourced, innovative dishes and they are delicious. Surprisingly you don't miss the meat and other ingredients. Creatively prepared dishes make great substitutes for meat. I discovered ingredients I had never experienced before which is always a delight! Breakfast is served after services and dinner tends to be early. Meals are served by monks in communal dining rooms.
The rooms are, as expected, traditional Japanese style with tatami floors and futons laid out on the floor which are then stored away during the day. In winter, heaters are provided in the rooms. Many rooms will face or open out to serene gardens. It's all very relaxing. Wi-Fi is available but there are no TVs.
Shojoshin-in offered gender-segregated communal baths and bathrooms which the monks also use (I saw no female religious personnel).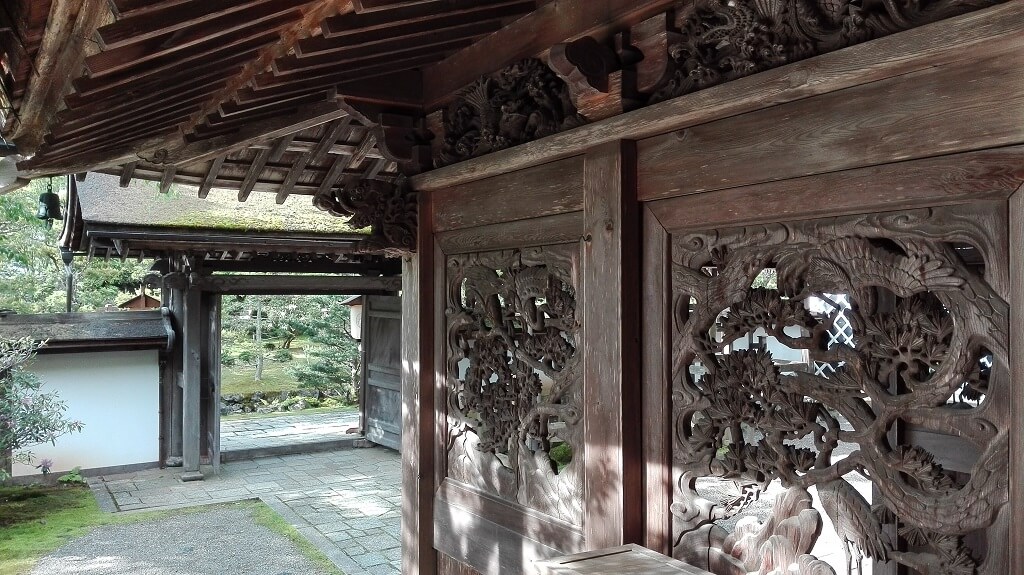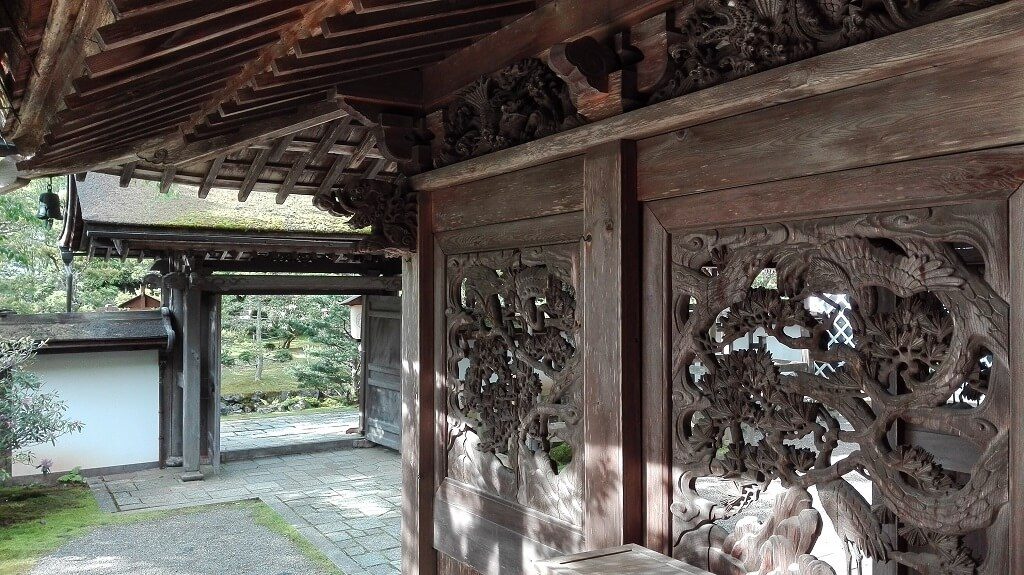 My favorite part of a Koyasan temple stay is being able to explore the temple itself. Most temples are surrounded by tranquil gardens with ponds and decorative statues. The architecture of the temples is also noteworthy with intricately carved wooden structures throughout. Strolling through the temples and gardens is a definite highlight of the stay.  Overall a delightful experience.
Getting around Japan is easy with the Japan Rail Pass
. The Japan Rail Pass is the single most important travel tool I used while in Japan.
Learn more about Japan with these useful country guides.
A Japanese temple stay is an unforgettable cultural immersion experience you should not miss when in Japan. Would you like to go?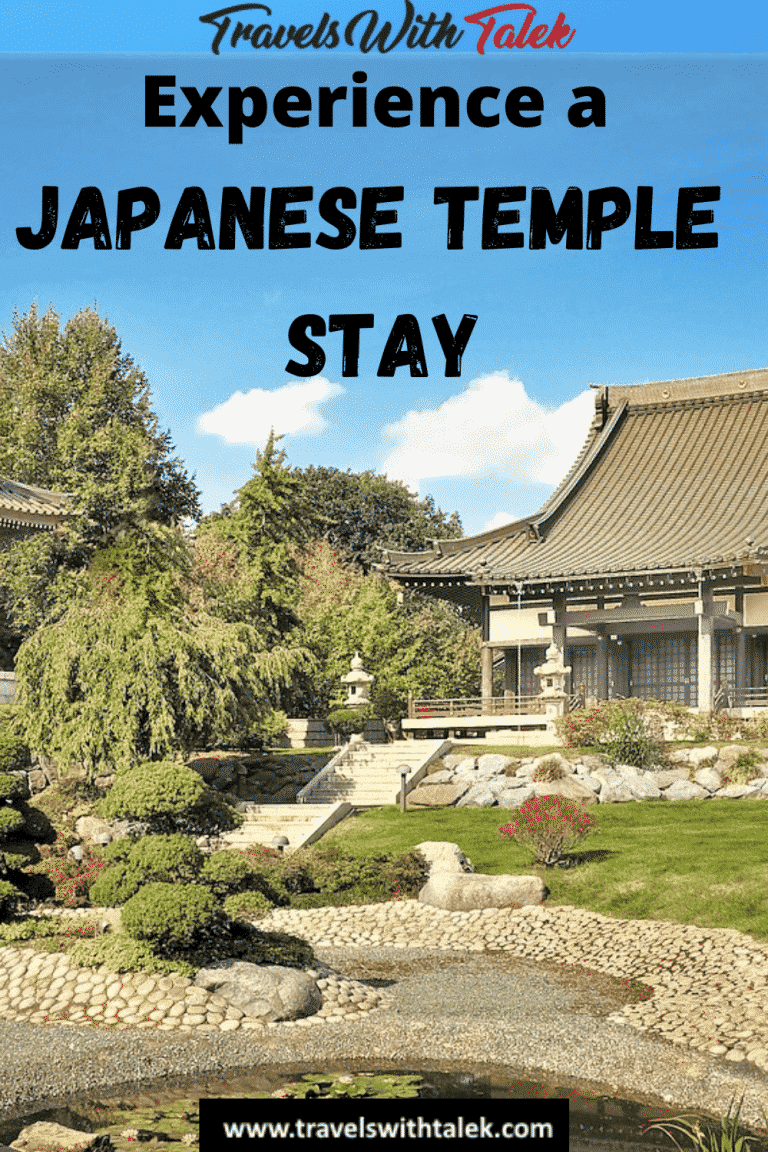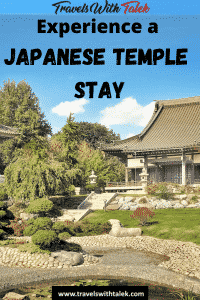 BTW, if you are getting ready for your trip, make sure to take advantage of these useful, money-saving links to book your trip:
I personally use, and can recommend, all the companies listed here and elsewhere on my blog. By booking through these sites, the small commission we earn – at no cost to you – helps us maintain this site so we can continue to offer our readers valuable travel tips and advice.