Updated April, 2021
Travel and experiences in Japan have a reputation for being very expensive. Not so! Like anywhere else, it depends. If you're thinking about a trip to Japan and want to immerse yourself in unique Japan experiences without going broke in the process, consider this list.
Best Experiences in Japan You Will Love
Tour the Tsukiji Fish Market
Once upon a time, the Tsukiji Fish Market in Tokyo was a must-have Japan experience. It was the busiest and the largest and busiest in the world.  Alas!, the property became too expensive to maintain in Tokyo and the inner market along with the famous tuna auction closed in late 2018 to reopen in Toyosu, about 2 km east of Tsukiji in early 2019. The new Toyosu Fish Market is even bigger than the original Tsukiji so it retains its title as the world's largest fish market and is still an incredible Japan landmark.
The outer market in Tsukiji with its many restaurants, shops and a small wholesale remains open and it is still a unique Japan experience.
A local guide will ensure you get exposure to the most interesting aspects and history of the market.  You will also get ample samples of the freshest seafood available. We booked with JapanWonderTravel.com and were very pleased with the value-for-money our guide the company provided. This was one of the best experiences we had in Japan.
Tokyo accommodations don't have to be expensive. Check out the best places to stay in Tokyo, and all around Japan, in all price ranges  here. 
Socialize with Felines at a Cat Café
Cat cafes are places where they serve refreshments and have several cats – usually exotic breeds – wandering around doing what cats do, i.e. ignoring you. If you are a cat lover like me, you may want to visit at least once to be ignored by some truly beautiful creatures.
Cat cafes were invented in Asia around the late 1990s and spread throughout the world from there. The cafes charge in increments of time with a minimum of 10 minutes for about 300 Yen. Mandatory drinks are extra. You can play with and pet the cats but not pick them up or chase them. Some cafes promote specific cats in their windows as if they were celebrities with their own following, as in "Now appearing, Bubbles!" and there is a photo of Bubbles, a long-hair Angora, looking haughty and imperious, or "Come inside and meet Fluffy!"
Lately, these cafes have branched out in the animal kingdom. You can now visit owl cafés and even goat cafes. So basically, these are little petting zoos for a specific type of animal, in locations where they serve coffee. They are pretty much all over the country – they tend to be around tourist areas – so you won't have trouble finding one.
Learn more about Japan and Japanese culture in these handy reference books.
Japan is the most intoxicating place for me. The Japanese culture fascinates me: the food, the dress, the manners and the traditions. It's the travel experience that has moved me the most. – Roman Coppola
Click To Tweet
Savor the Street Food
Japan is "street food central." The food markets may not be as cheap or wonderfully chaotic as in Southeast Asia, but the food is just as delicious. You will find snacks unique to Japan such as chilled, salted cucumber-on-a-stick and tasty tidbits unique to the individual regions. A couple of selections are more than enough for a light meal and one of the top culinary Japan experiences.
Experience an Authentic, Traditional Ryokan Onsen
A ryokan is a Japanese style inn. It has all the classic Japanese furniture and decorations such as tatami floors, sliding doors and sleeping arrangements on the floor. All ryokan have hot public baths. The ryokan onsens feature natural thermal baths fed from underwater streams while the standard ryokan provides regular hot tubs. Most ryokan offer classic Japanese dinner and breakfast. This website, Japanese Guest Houses, will help you navigate the Japanese ryokan and onsen offerings and help you book the perfect one for you. This is truly one of the unique Japan experiences.
Visit the Ancient City of Takayama
While in Takayama in the Japanese Alps, have at least one "Hida beef" meal experience in one of the many fine restaurants. One sure-fire recommendation is "Le Midi" on the corner of Takayama's main street. The beef with rosemary dish was one of the best I've ever tasted…no, seriously. It was so good I wanted to stop total strangers on the street, put the food in front of them, and say, "Taste this!…Go ahead, taste it! I posted the restaurant's facade to Instagram and felt compelled to label it…"Is this the best restaurant in the world?"
Okunoin is Japan's oldest and most well-known necropolis. You need to visit it at night. Talk about your unique Japanese experiences!
Located in the temple town of Koyo-san, this burial site is the final resting place of anywhere from 200 thousand to half a million souls. Nobody is quite sure as the cemetery dates back almost 1200 years.
The night tour is conducted by English speaking monks that discuss the teachings of Shingon Esoteric Buddhism, the history of the cemetery and Koyo-san, legends, and the daily life of the monks. They can also answer questions that visitors will inevitably have when strolling through this fascinating necropolis. The tour takes about 90 minutes at a cost of about 1800 yen if you buy online. This was a highlight of my Japan visit and one of my favorite Japan experiences.
Japan, not only a mega-busy country that thrives on electronics and efficiency, actually has an almost sacred appreciation of nature. One must travel outside of Tokyo to truly experience the 'old Japan' and more importantly feel…
Click To Tweet
Sleep in a Japanese Temple
One of the best places to do this is in the holy city of Koyo-san. Koya-san is a bucolic mountain town about 100 km south of Osaka. It is a UNESCO World Heritage site with over 120 temples, some of which allow overnight guests. We stayed at the Shojoshin-in Temple, which was conveniently located next to the Okunoin Cemetery. Accommodations are comfortable in traditional Japanese style. The meals are vegetarian and served by monks. Guests are expected to attend morning prayer services at 6:30 AM which was pleasant and interesting.  Now there's a Japan experience you won't forget!
Visit Nara Deer Park
Admire the tame deer at Nara Park, one of Japan's great unique experiences. We tend to think of deer as timid, skittish creatures, shy little Bambis that will bolt at the sound of footsteps.  Not so the bold deer of Nara.  These guys will come at you aggressively, like Tasmanian devils, if they think you have food.
Read a detailed description of Nara and the deer park here.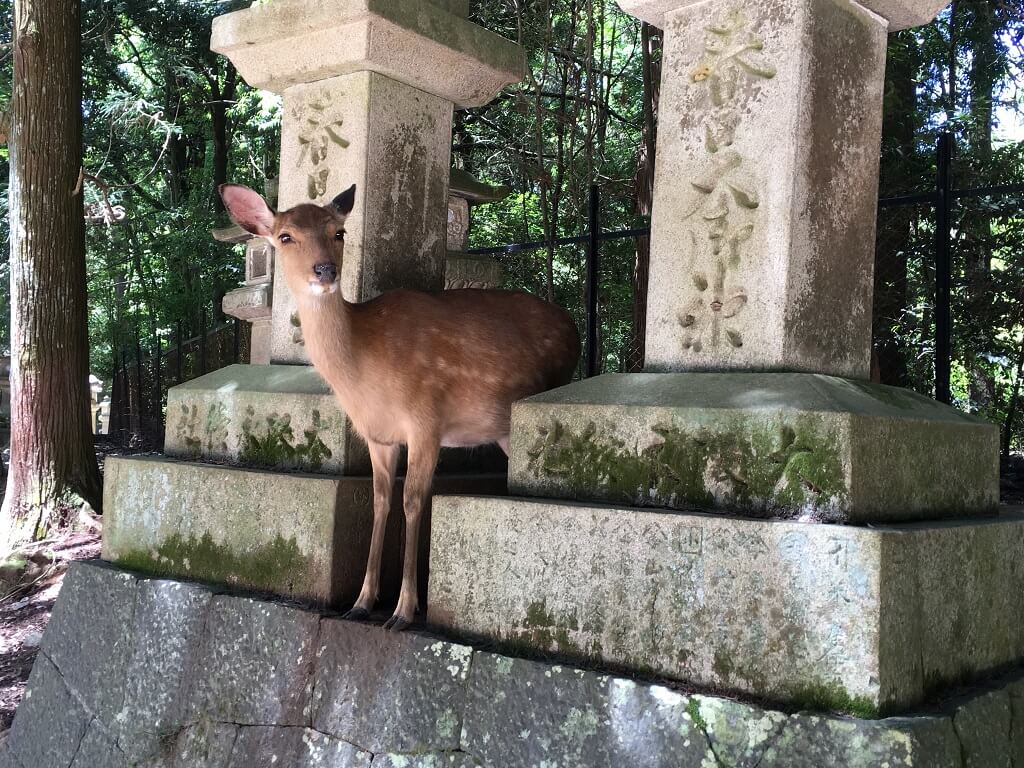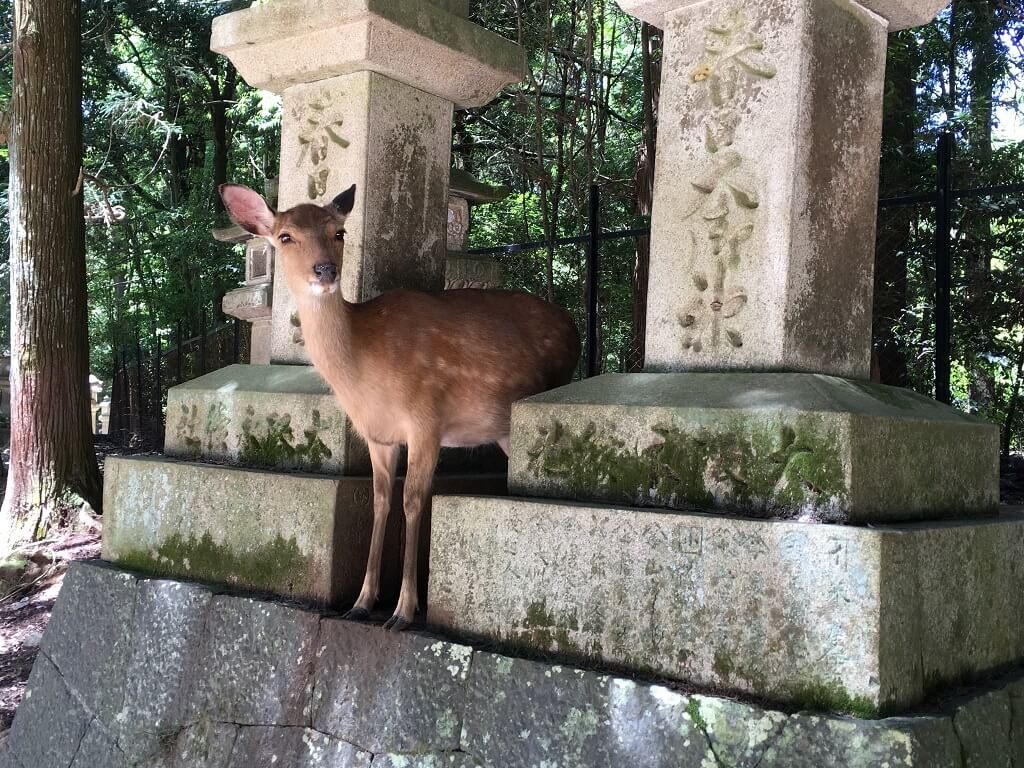 Sample Sake Ice Cream
For one of the tastier unique Japanese experiences, sample sake ice cream – about 250 yen – or any other of the many unusual ice cream flavors. Here is the definitive report on Japanese ice cream.   If you have a sweet tooth, Japan is your Nirvana. Each area of the country has its own regional pastry specialty. It's fun to try different ones and compare them.
Enjoy a Meal of Kobe beef in Kobe
You will find incredibly tender beef in the international coastal city of Kobe. Taste for yourself what all the hype is about. A really nice lunch experience for two at one of the many restaurants specializing in Kobe beef will run you about 8,000 to 10,000 yen depending on drinks. Kobe beef is famous worldwide and sampling it in Kobe is about as Japanese of an experience as you can get.
Check out cool places to stay in Kobe.
Karaoke Your Heart Out
Visit any one of Japan's' karaoke parlors for one of the most fun and tacky Japan experiences. Big Echo is one national chain we frequented in various cities but there are many to choose from. These are found in amusement centers and are identified with garish signs in both English and Japanese. They tend to be on the upper floors of buildings.
Here is how it works. You walk in and tell the receptionist how many people will participate, how much time you want and what you would like to eat and drink, which you can choose from a menu. You can purchase time increments of half hours for about 700 yen. You must order at least one drink. They will assign you a small room with seating, a large screen and a computer tablet from which to select your songs. There are selections in multiple languages.
The English language section we chose from had about 9 out of the 10 songs we wanted, so you are bound to find most of the songs you want. Press "play" on the tablet and start singing. The words will appear on the screen. The booths are sound-proof so no one but you and your group will hear. Make sure to video the performances so you can have a good laugh at yourself later.
Japan never considers time together as time wasted. Rather, it is time invested. – Donald Richie
Click To Tweet
Chill with Japan's #1 Natural Resource
The ultimate in unique Japanese experiences is to chill with Japan's #1 natural resource, its people!
Want to know more about unique Japan experiences? Learn why the Japanese toilet is in a class by itself.
Getting around Japan is easy, but with the Japan Rail Pass
, it is both easy and cheaper.
And here's a 2 week itinerary for Japan if you're looking to plan a long trip and need some ideas.
Which of the many unique experiences in Japan is your favorite?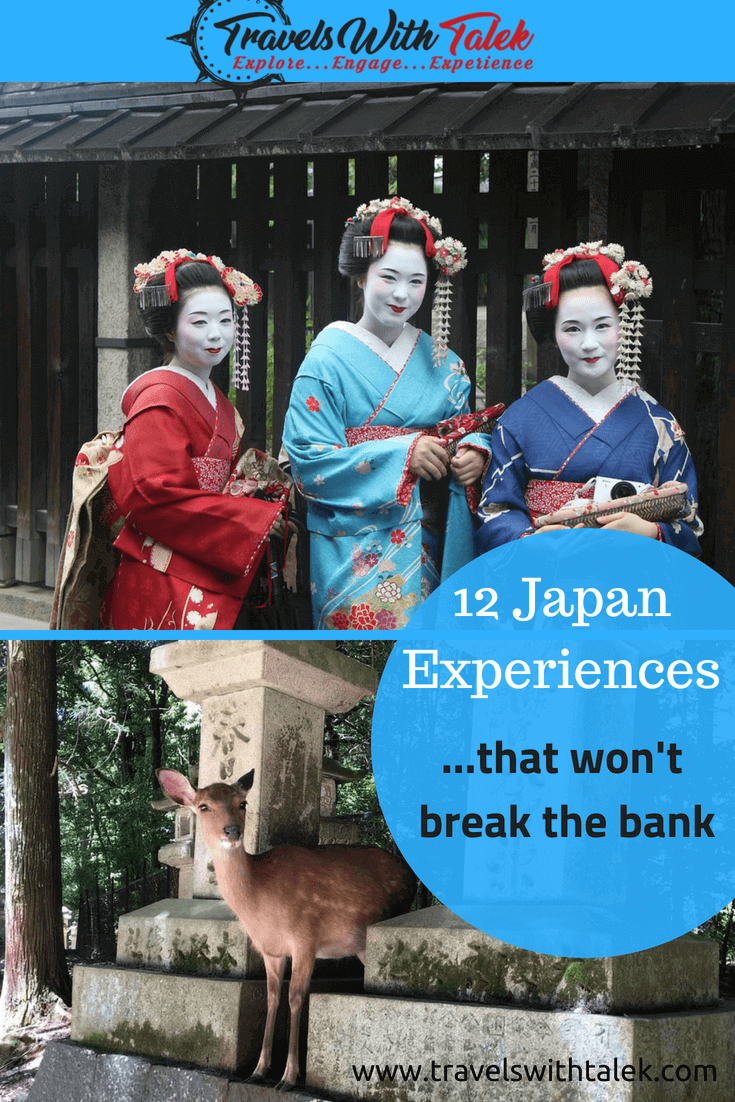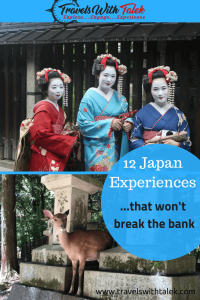 BTW, if you are getting ready for your trip, make sure to take advantage of these useful, money-saving links to book your trip:
I personally use, and can recommend, all the companies listed here and elsewhere on my blog. By booking through these sites, the small commission we earn – at no cost to you – helps us maintain this site so we can continue to offer our readers valuable travel tips and advice.